Are you looking for a list of the best springs near Tallahassee to visit? We have you covered with a list of all the Florida springs you can visit, from springs that are only 20 minutes away, to those perfect for a day trip or even a weekend get-a-way from Tallahassee.
While Tallahassee is landlocked and not located on the Gulf Coast if you are willing to drive 30 minutes to two hours you will find not only some of the best beaches in Florida as but some of the best natural springs in Florida. Perfect for those looking for those looking to do something different year round, as the water in the springs stays between a constant 68-72 degrees.
Florida has over 700 springs throughout the state, the most of anywhere in the world. The springs near Tallahassee we have put together from you are great for families, friends, couples, those looking to just swim and relax, or those looking to dive, or for adventures looking to canoe and kayak.
The springs feature crystal clear water, and many of the springs are located inside state parks, so have amenities such as restrooms, rental equipment, and swimming platforms. You can dive and explore caves that still have Mastodon bones, go tubbing on one of the river runs, or just relax in the natural spring water. Each of the springs showcases nature, while providing fun for all ages!
Did You Find This Post Helpful?
If so, we would love to keep in touch! We enjoy seeing photos and comments about your experiences in Florida! You can follow us on Instagram and we will repost your photos on our feed and comment too! Just tag us at @floridatrippers and hashtag #floridatrippers. We can't wait to see your travels!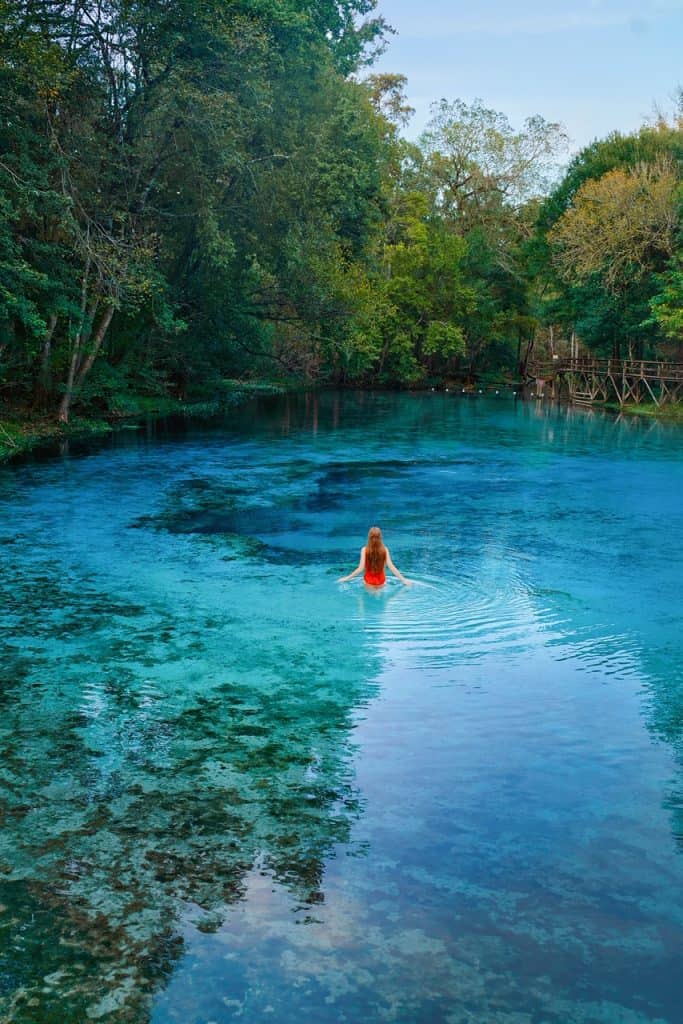 10 Natural Springs Near Tallahassee You Must Visit
Wakulla Springs
Located just 14 miles and 20 minutes south, Wakulla is the closest of the springs near Tallahassee. Wakulla Springs are located inside the 6000 acer Edward Ball Wakulla Springs State Park, right off of State Road 61 and State Road 267. It is the worlds largest and deepest freshwater spring surrounded by a forest of cypress trees. As it is a State Park entry fee is $6 per car, park opens at 8 am and swimming area at 9 am.
The water here is a constant 68-70 degrees year round with around 250 to 300 million gallons pumper per day. And you will find a large two level wooden swim platform that you can jump off ( it is 180 feet deep), as well as a large swimming area that is roped off and sunbathing platforms around the springs. Or take one of the ranger led boat tours that showcase the wildlife such as alligators and manatees as well as the beautiful cypress trees on a tour of the Wakulla river.
For those who dive, you can see remains of Mastodones at 120 feet, the first of which was discovered in 1850's in what is known as the bone cave.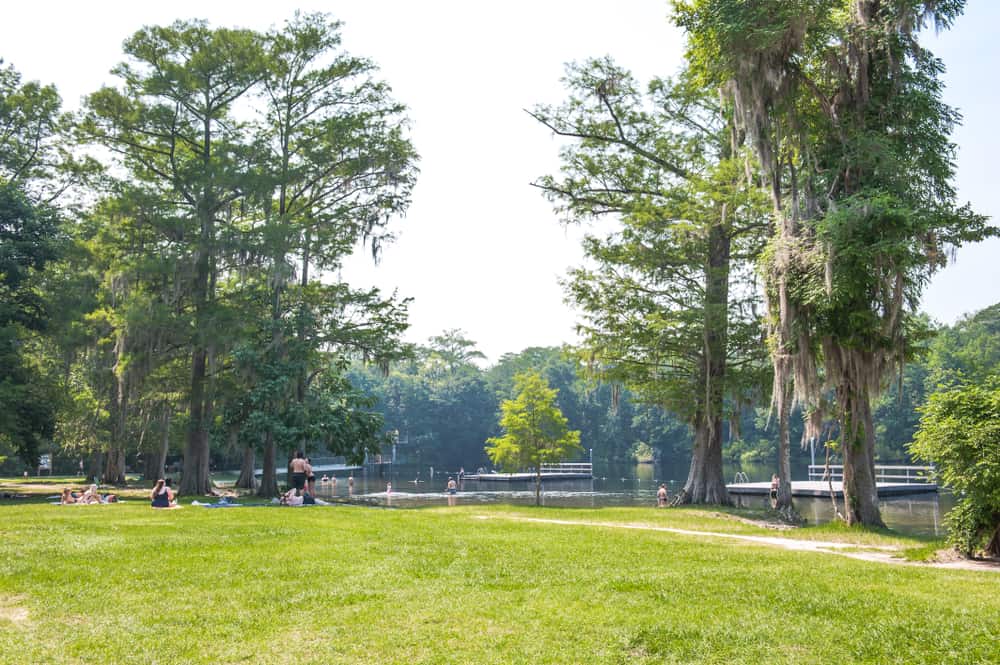 Devils Den
Located just north of Ocala, Devil's Den is one of the further springs from Tallahassee. At 2 hours and 30 minutes or 145 miles this underground spring is worth the drive! The most prehistoric of the prettiest springs. It is best known as a diving and snorkeling spring.
Visitors must descend down a wooden staircase into a cavern that appears to open up into another world. Divers can descend up to 54 feet in the springs (120 feet in diameter) to look through the clear, aqua water that stays a constant 72 degrees, making it one of the warmest springs near Tallahassee.
To enter everyone needs a mask, snorkel, and fins to swim in Devil's Den. Either bring your own or rent them for $10. If you only need one of the three required items, the cost is only $4 per item. Admission is $15 per person Monday through Friday, and $22 per person on holidays and weekends. All visits must be reserved in advance and are limited to 90 minutes.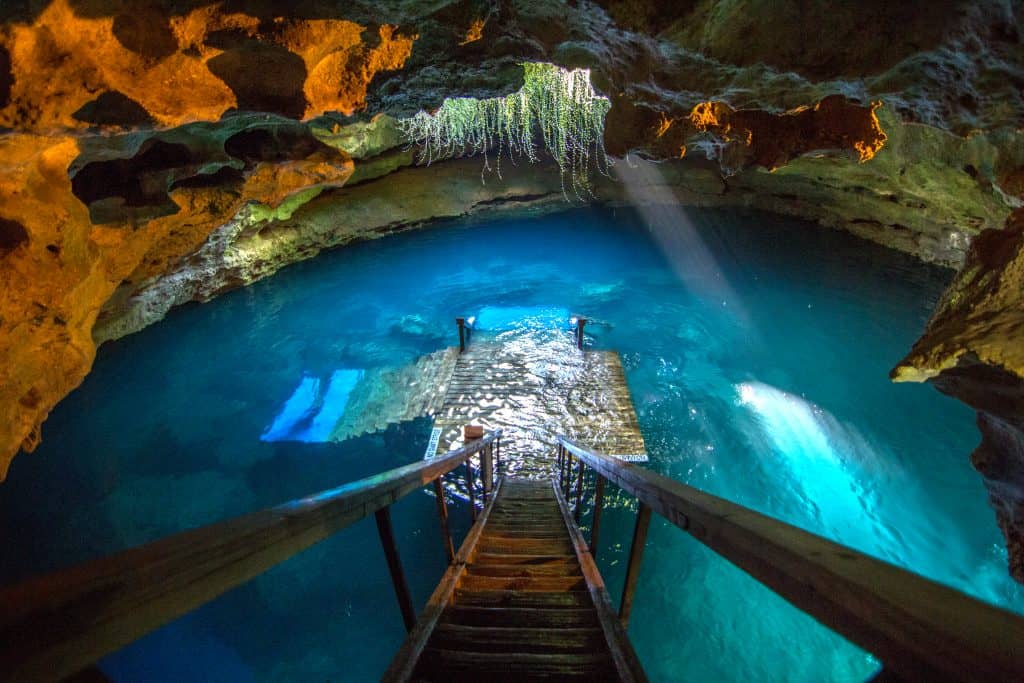 Madison Blue Springs
Madison Blue Springs was voted the #1 swimming hole in the country by USA Today. When it comes to what springs near Tallahassee to visit, this should be on the top of your list at just 1 hour and 66 miles east.
The crystal clear water is surrounded by lush scenery and mature trees and is 82 feet wide and 25 feet deep and a 125 feet spring run to the river there is plenty of space to enjoy at the spring. Manatees are known to swim in the water and you can dive in the underwater cave system or just relax on the small beach and enjoy the spring.
This is one of the 27 first-magnitude Florida spring near Tallahassee. Often referred to as the 'Real Florida' Madison Blue Springs State Park has plenty to offer in and out of the water. As it is a State Park, the admission is $4-$5 per person and $2 for a pedestrian and the park opens at 8 am.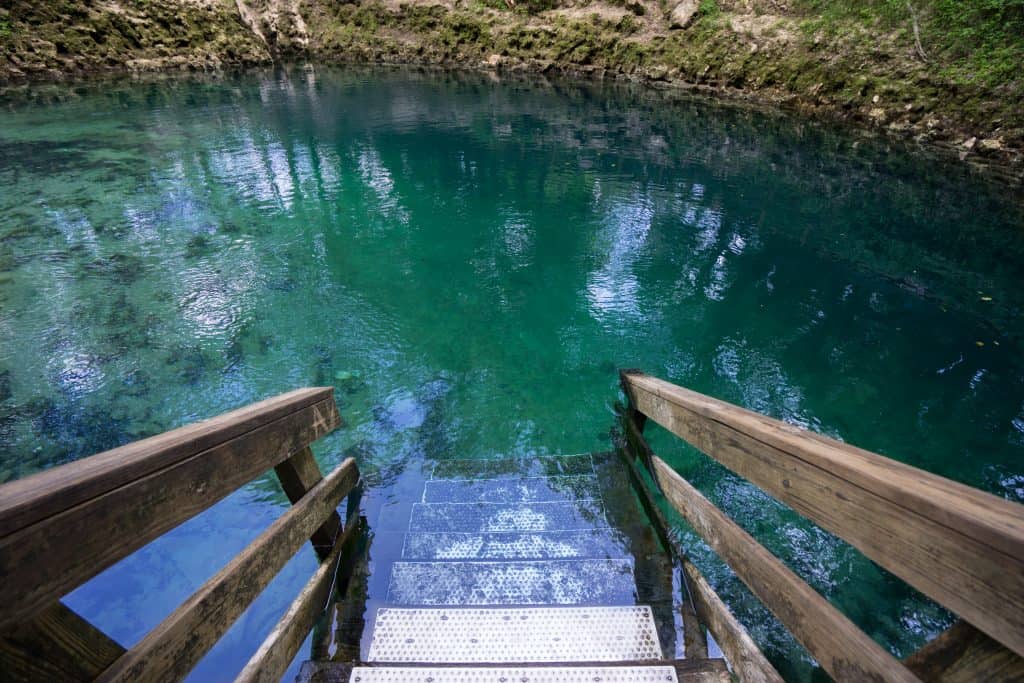 Ginnie Springs
If you have never been to Ginnie Springs, you are in for a real treat! It is the epitome of Florida beauty and home to some of the prettiest crystal clear water in the state. It pumps out 80 million gallons of water every day that stays at 72 degrees yearround round . It is located 2 hours and 130 miles Southeast of Tallahassee, just north of Gainesville.
It is one of the only springs in Florida where drinking is allowed so weekends it can get quite crowded and busy. But with such a large area, it never feels crowded. Ginnie Springs is privately owned and while the cost is on the higher side for Florida Springs at $14-20 it is worth it!
Made up of a group of seven springs with white sand and limestone paths that lead into open into caves, making Ginnie Springs a must for any serious cave divers or snorkelers. Ginnie springs would make for a perfect weekend trip as there is camping( book in advance during summer and weekends), grills, paddle boarding, tubbing and more. The tube run at Ginnie Springs is around 1 hour in time which is one of the longer tube runs.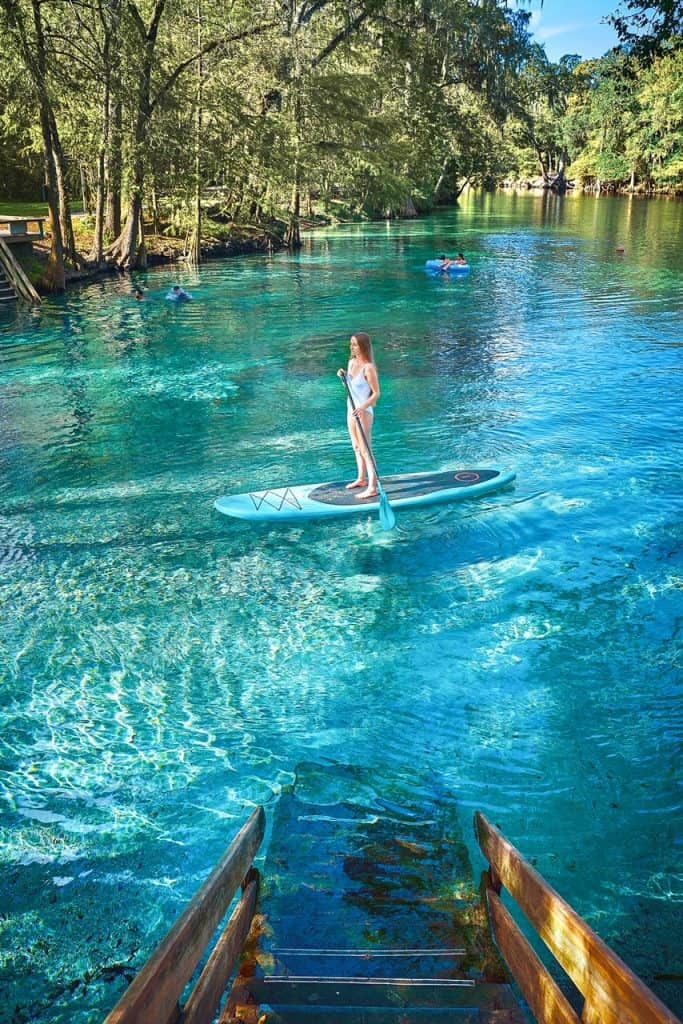 Gilchrist Blue Springs
Gilchrist Blue Springs is a State Park located in North Florida, located 2 hours 15 minutes or 135 miles southeast of Tallahassee. Only 10 minutes from Ginnie Springs, if you are making a weekend visit of the springs near Tallahassee you can visit both on the same trip!
The fee for entry into Gilchrist Blue Springs State Park is between $4-$6 per vehicle, making it very affordable for families or groups. The springs are open from 8am to sunset 365 days a year. There are concessions, picnic tables with grills nearby, and campsites with restrooms so that you can have a fun day exploring the park!
The main spring Gilchrist Blue is 24 feet deep and you can swim above and around the roped off area in the 72 degree water. No swimming is allowed outside the area as alligators are often spotted. Other springs on-site are named and they are Little Blue Spring, Naked Spring, Kiefer Spring, and Johnson Spring.
Paddling in kayaks, stand up paddle boards, and canoes and all are open to be rented at the park, so that you can enjoy the sun and cool off in the springs when needed.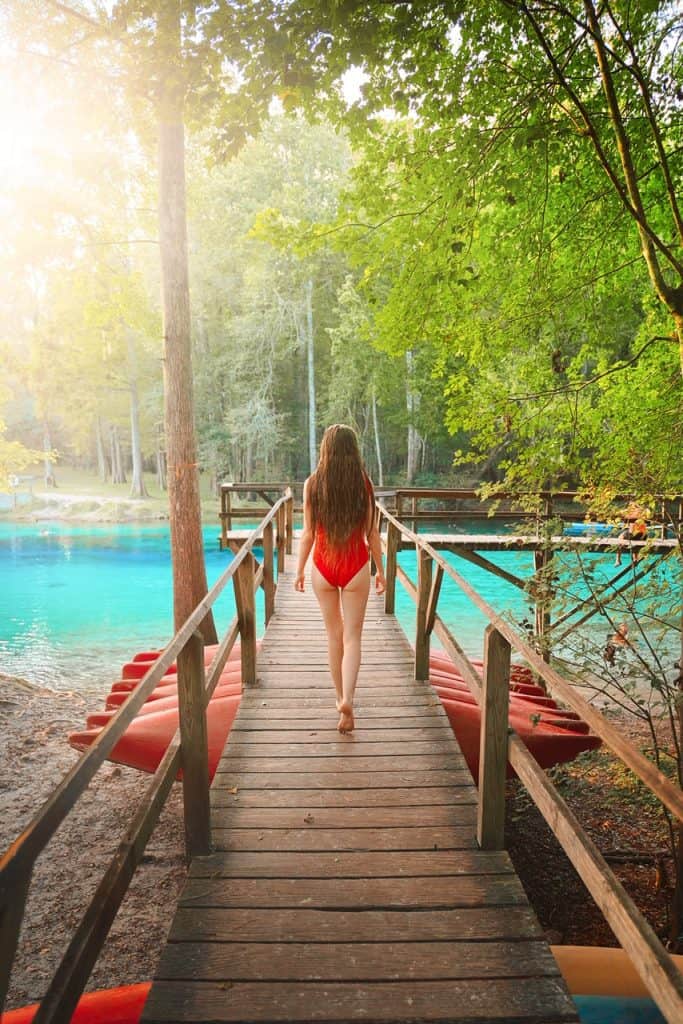 Ichetucknee springs
Ichetucknee Springs is another one of the first magnitude Florida springs near Tallahassee. At just under 2 hours and 100 miles southeast of Tallahassee, it is perfect for tubing, swimming, or even scuba diving! You can also hike, kayak or canoe.
Many come to snorkel or dive the Blue Hole Spring, the only first magnitude spring in the park, with over 67 million gallons of water flowing each day at 72 degrees! The cave starts 40 feet below the surface and has over 600 feet to explore.
Ichetucknee Springs is undoubtedly one of the most popular springs to go tubing in Florida. Tubing is available all year from different starting points; Midpoint (45 mins) or Dampier's Landing (1 hour 30 mins). You can rent tubes at Ichetucknee Springs or bring your own from home or one of the rental shops on the way into the park. There is a bus that brings you back to the parking lot after tubbing and wrist bands can be purchased at the general store.
As it is a state park entrance fees are $ 6 per vehicle. The Ichetucknee General Store sells hot and cold meals, as well as ice cream and sundries that can be eaten at one of the picnic tables locate throughout the area .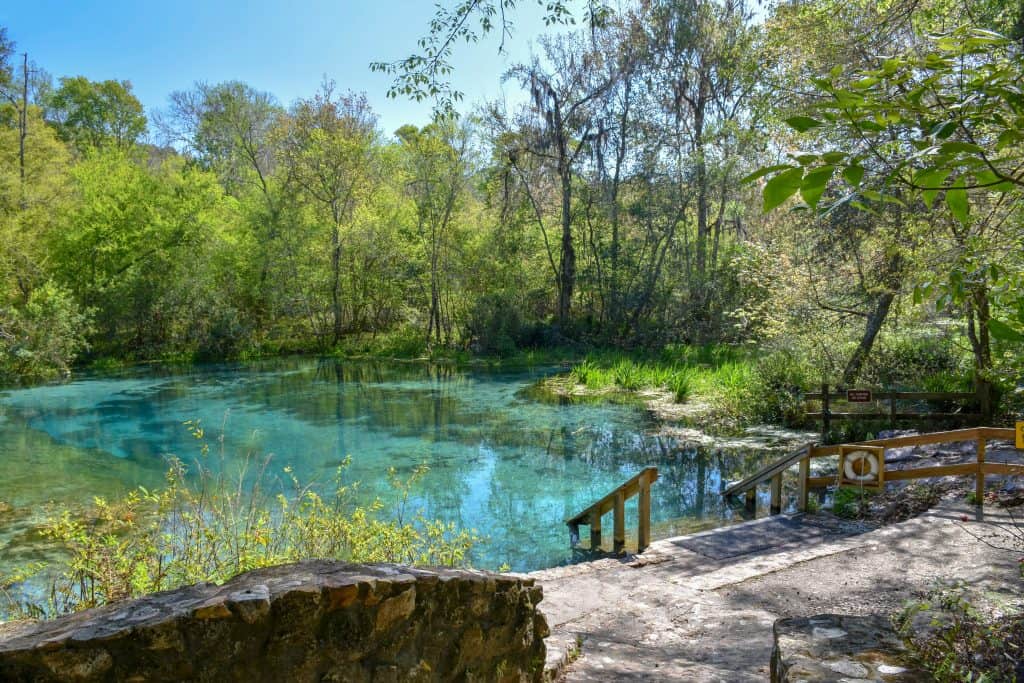 Wacissa Springs
Wacissa Springs is one of the closest springs around Tallahassee. It is just a 30 minute drive and 20 miles away from Tallahassee off state road 59. It is located at the start of the Wacissa River, a river that runs into the Gulf of Mexico and has more than 15 springs to explore, the largest of which is Big Blue Spring.
The best part of visiting this crystal clear spring, is that it is free to visit. There are no amenities so come prepared. There is a diving board locate at the first magnitude spring Big Blue that is over 20 feet deep,and 60 feet wide. Other springs include Thomas, Log and Horsehead springs.
This is a great choice for families as there is a large grassy area around the springs where you can picnic or enjoy the sun, as well as steps leading into the swim area with a rope swing attached to the giant cypress trees in the area. You can also canoe or paddle down the river to explore the other springs.
Rum Island Springs
Rum Island Springs or rum Island Park is one of the cheaper springs near Tallahassee. Located just over 2 hours southeast and 130 miles off of CR 138 on the Santa Fe River. The great thing about this spring in Fort White is that it is located in a public park with restrooms and picnic areas. Entry fee is $5 per car.
Enjoy the 72 degrees second magnitude spring, has a 200 sq foot area where you can swim, float, kayak, canoe or tube in the swimming area. There is a wooden stairway leading to the swimming area, or kayaking down the Santa Fe river.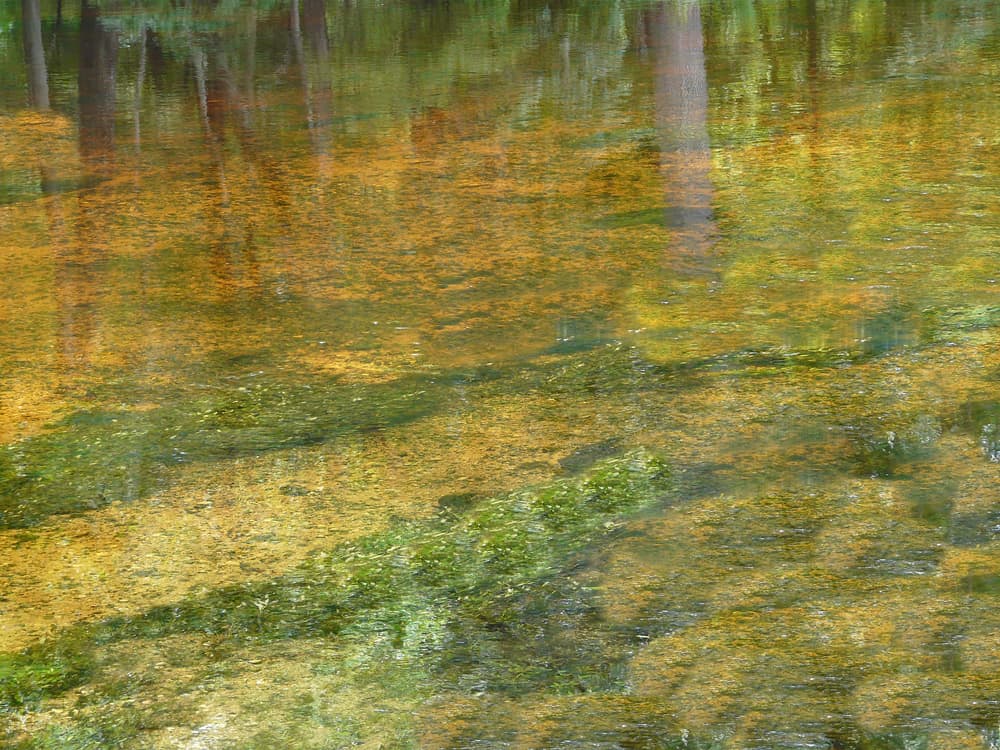 Manatee Springs State Park
Manatee Springs State Park is located Chiefland, just 120 miles and 2 hours from Tallahassee. Take a walk on the 800 foot long boardwalk that brings you to the first magnitude spring inside the cypress forest. For over 10,000 years people have been enjoin the spring here that releases over 100 million gallons of water daily.
As the name suggests, expect to see West Indian Manatees here who use the springs as a winter warm weather haven.
The spring feed into the Suwannee River where you can kayak through, or for divers with certification and a dive partner you can dive here at Catfish hole. It is one of the longest caves in the world. As with other state parks, it is $4 to $6 per vehicle. The water here gets its greenish color from the limestone particles in the water.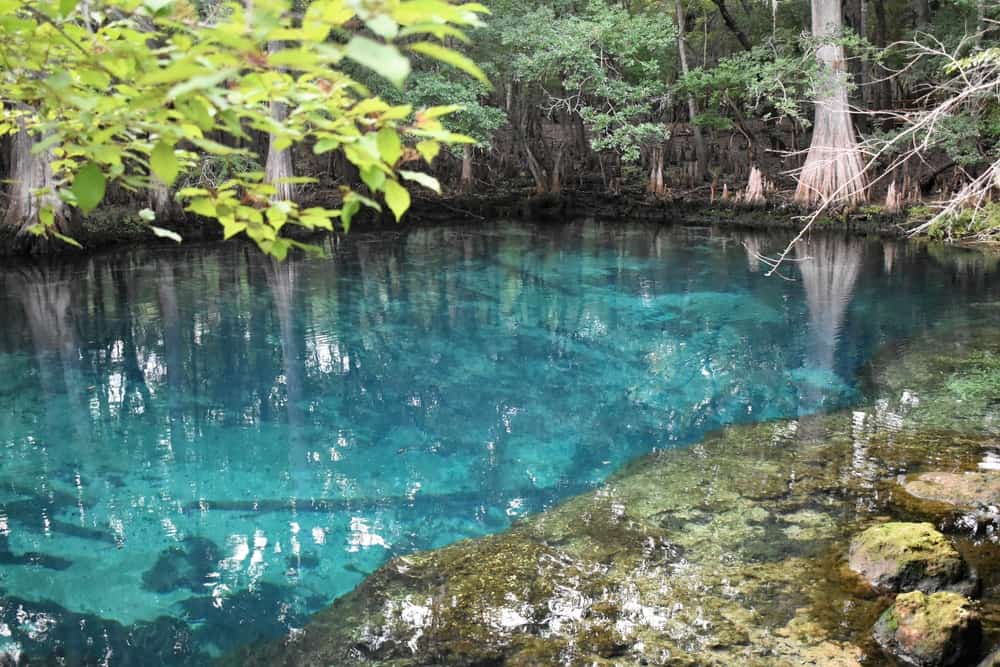 Jackson Blue Springs
At just an hour, or 65 miles northwest of Tallahassee, Jackson Blue Springs in one of the natural springs near Tallahassee. This is another of the best clear headsprings, that showcases turquoise and deep blue hues due to the vegetation on the bottom of the springs.
There is a large swimming area within the Springs recreation area, featuring a diving board, swim platform and a large grassy area with pavilions. Almost 65 million gallons of water a day rushes out of the spring and into nearby Merritts Mill pond.
Not only can you swim and dive here, you can rent canoes or kayaks and snorkels to head to the smaller springs such as Twin Caves, Washtub, and Shangri-La, all of which are located within a mile of Jackson BlueSprings. This is the best springs near Tallahassee if you are bringing your family. There is a playground and slides for children to enjoy, and the springs even has a lifeguard!
For divers, you have to pay a $30 day dive fee and show certification, and you will be awarded with some of the clearest water in the Southwest. Admission to the springs and recreational area is $4 per person, or for resident you can purchase a yearly pass for $30.