Are you looking for the very best Amelia Island Airbnbs? Well, stress no more because we have done all of the leg work for you! Get ready to explore some of the most beautiful homes, cottages, and bungalows with incredibly gorgeous views.
Amelia Island is located on the East Coast of Florida, which is one hour north of Jacksonville. Amelia Island is one of the most romantic and stunning getaways in Florida because it features 13 miles of postcard-beaches, crystal blue waters, and a variety of tropical wildlife.
If you are planning an extended vacation, then you should check out our 15 Fun Florida Road Trips For Your Bucket List! If you want to fully immerse yourself in the Florida experience, then make it a movie night with one of the 15 Best Movies Set In Florida Everyone Must Watch!
What better way to explore a new town than to stay in an Airbnb and get a more authentic local experience! Amelia Island Airbnbs offer you an opportunity to have a more home-like feel with much more privacy than staying at a hotel chain.
You are going to absolutely love visiting Amelia Island not only for the amazing scenery but also for the near-perfect weather year-round! During the Summer months, you may encounter afternoon showers, but they typically don't last very long and they help cool the often hot temperatures.
We promise you that we have a little something for everyone on our list. We will include affordable, moderate, and luxury price ranges as well as a wide variety in style and size. Okay, so let's jump into touring all of these fabulous Amelia Island Airbnbs!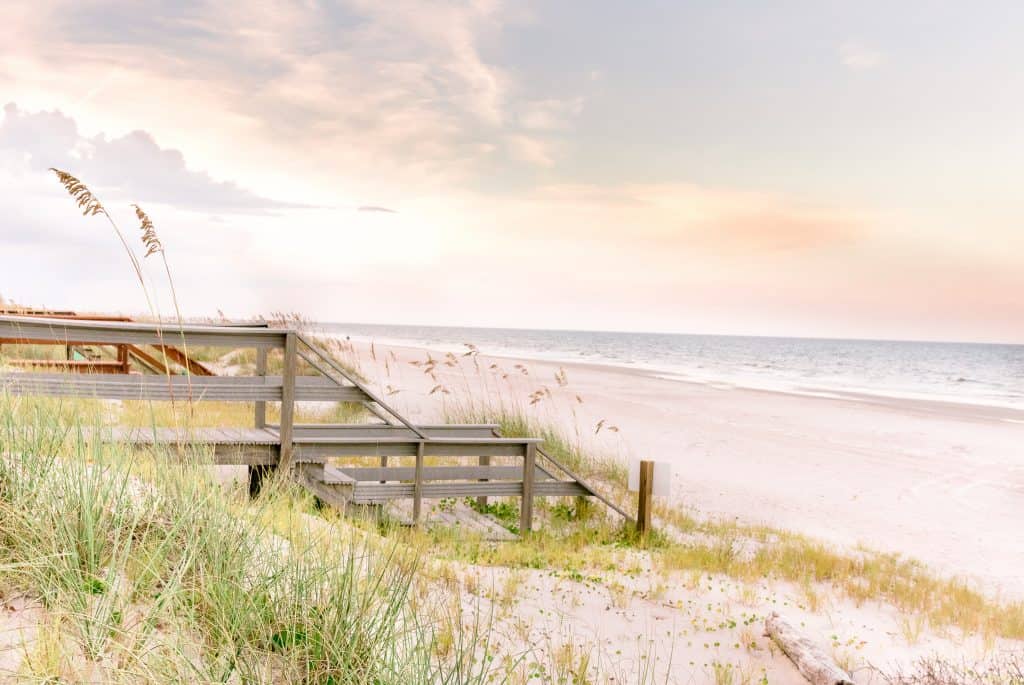 14 Gorgeous Amelia Island Airbnbs (Bungalows, Condos & More!)
Katie's Light
Our first Airbnb is located right on Amelia Island and it presents a very rare opportunity for its guests. Kate's Light is a beachfront replica of the famous Thomas Point Lighthouse on the Chesapeake Bay. The lighthouse replica is incredibly charming and beautiful!
It can accommodate up to 8 guests with 3 bedrooms, 4 beds, and 2 baths. Some of the highlights include a 360-degree wrap-around deck, a spiral staircase, and wooden floors and ceilings.
Katie's Light comes with several large beach towels, sand toys, boogie boards, beach chairs, and it has a very convenient outdoor shower. The décor is comfortable and inviting with a Cape Cod type of vibe.
>>>Check Rates: Airbnb.com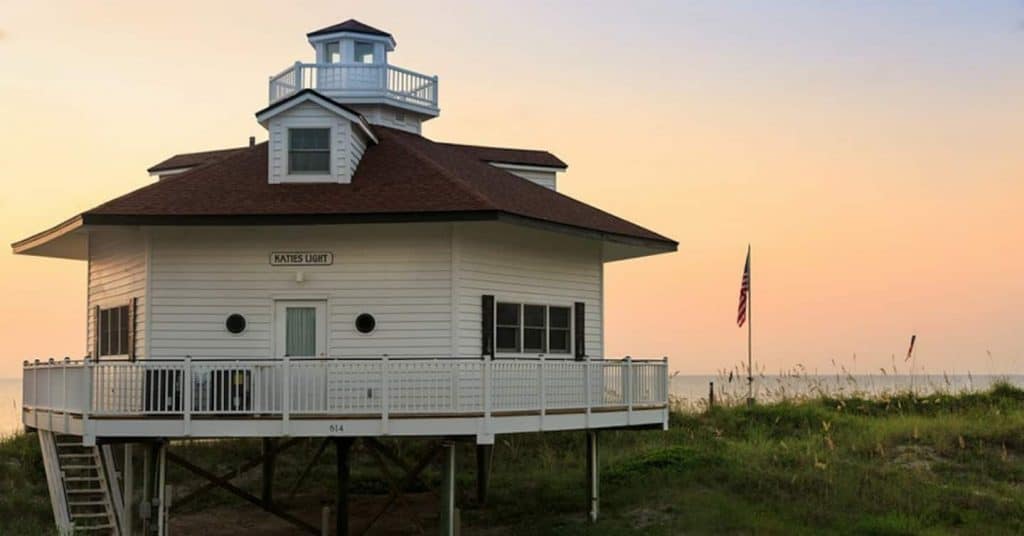 Modern & Spacious Beach House
The Modern & Spacious Beach House is perfect for those looking for a very open floor plan and oceanfront access. The beach house is located on Fernandina Beach which is a city in Nassau County, Florida, on Amelia Island.
The beach house is 1800 sq. ft. and provides some truly amazing ocean views with its large pane windows. It can accommodate up to 8 guests with 3 bedrooms, 4 beds, and 2 baths.
The decor is subtle with soothing colors and warmth from dark hardwood floors. You will find a ton of upgrades throughout the property including stainless appliances, granite countertops, and stunning tiled floor to ceiling showers.
>>>Check Rates: Airbnb.com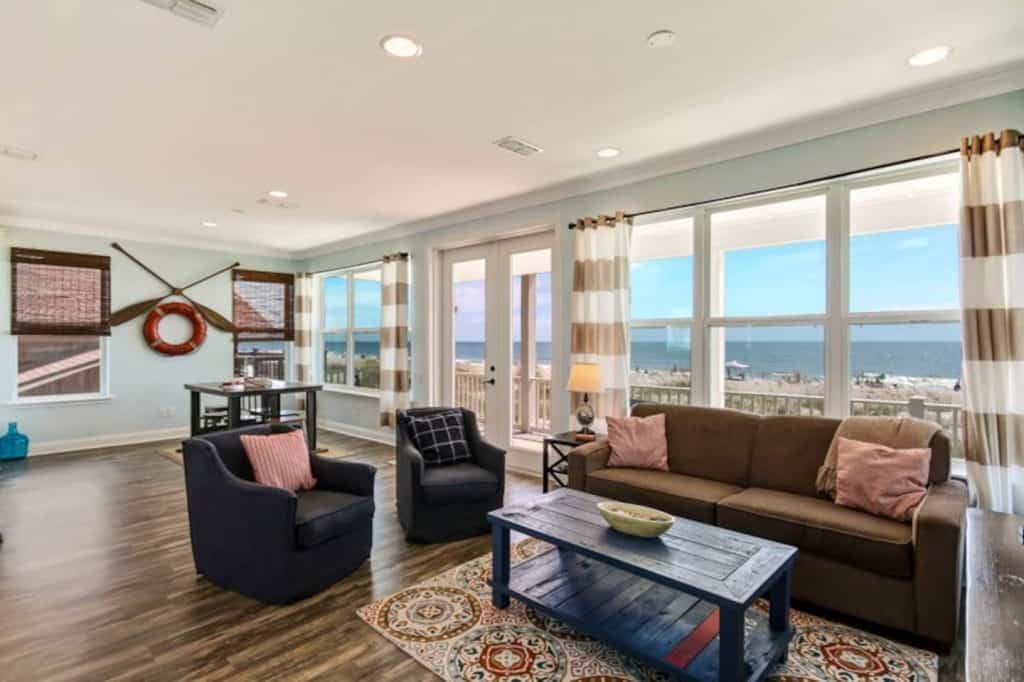 Oceanfront Hideaway
The Oceanfront Hideaway has such a cozy and comforting vibe! The interior walls are set at an angle with gives it a nest-like ambiance. The warm and cozy vibe does not mean it is small by any means, it can accommodate up to 8 guests with 3 bedrooms, 4 beds, and 2 baths.
The color palate is mostly crisp white walls with subtle hints of blue throughout the home. Guests will love enjoying meals on the oceanfront deck, private beach access, and private parking for 4 vehicles.
>>>Check Rates: Airbnb.com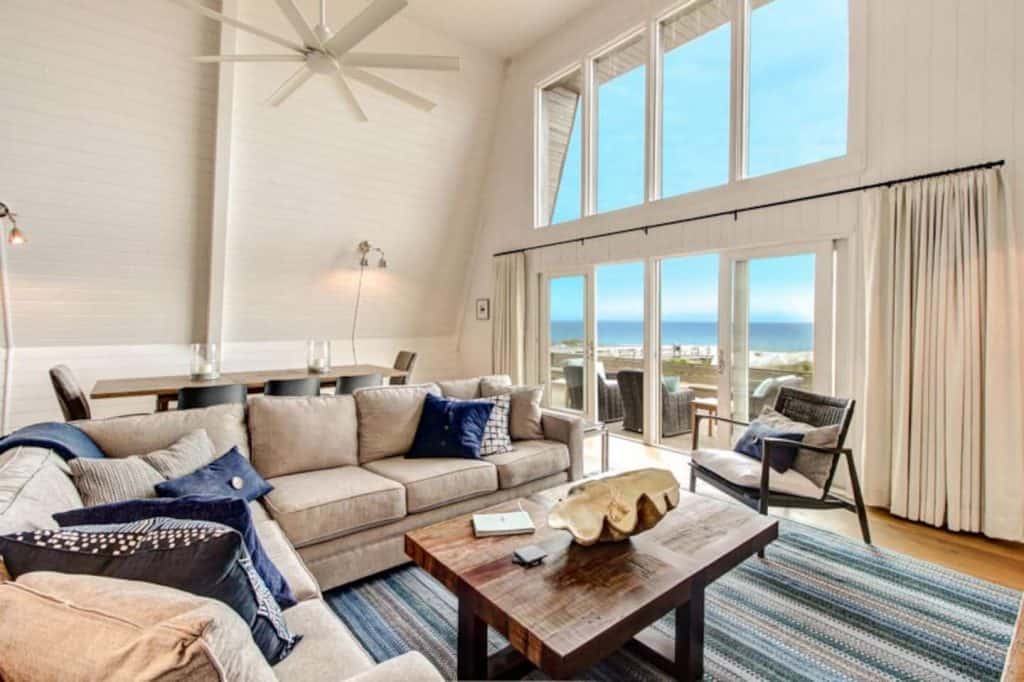 Exquisite Luxury Home
If you want to go all out and really splurge, then this Exquisite Luxury Home is going to be your dream Airbnb on Amelia Island. You will be in awe of the gorgeous private saltwater pool with a large cabana area as well as the massive kitchen that is perfect for entertaining!
The luxury home creates an environment that is perfect for relaxation and fully sinking into vacation mode! Sliding and collapsing doors allow you to fully open the home and give you a personal resort-style ambiance.
You will find only the best high-end touches throughout the home including a filigree front door entrance, marble floors, and leather sofas. The luxury home can accommodate up to 12 guests with 5 bedrooms, 9 bed, and 5 baths.
>>>Check Rates: Airbnb.com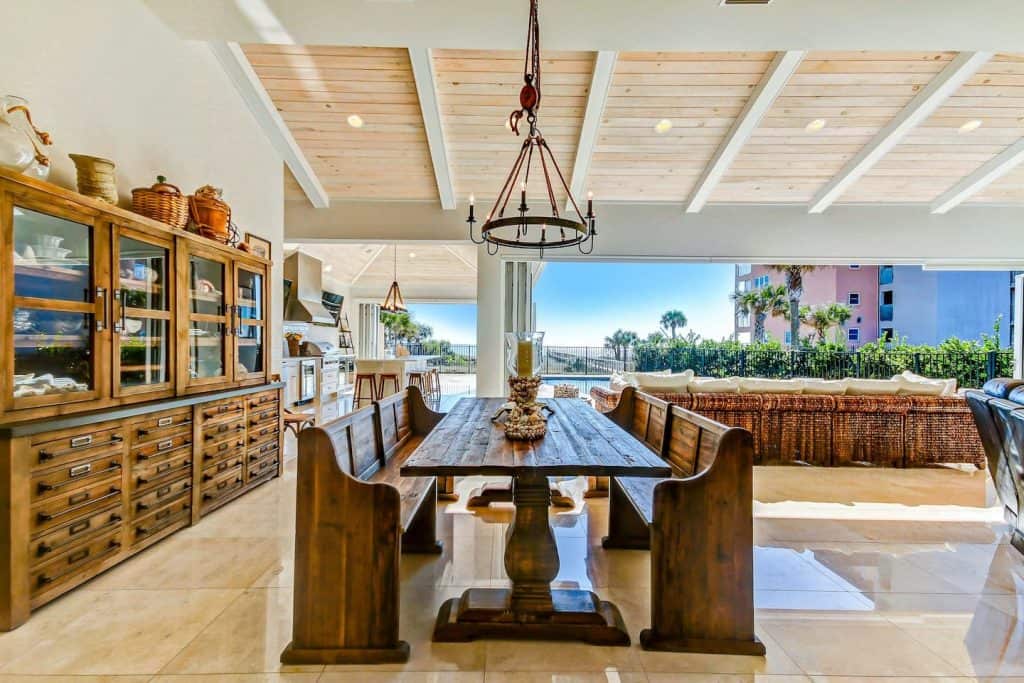 2 Bedroom Beachfront Condo
The 2 Bedroom Beachfront Condo is one of the Amelia Island Airbnbs that is ideal for those looking to stay in the affordable price range. You really get the best of both worlds because this condo is absolutely adorable and it is very affordable too!
The condo has a nice and soothing beachy vibe with light blue meets seafoam green paint. The 20 ft. balcony is the real highlight as it offers wonderful views of Fernandina Beach. Guests will love to watch the sunset over the ocean & might even see some dolphins playing in the waves.
Great for small families, solo travelers, and couples as it can accommodate up to 4 guests with 2 bedrooms, 2 beds, and 1 bath.
>>>Check Rates: Airbnb.com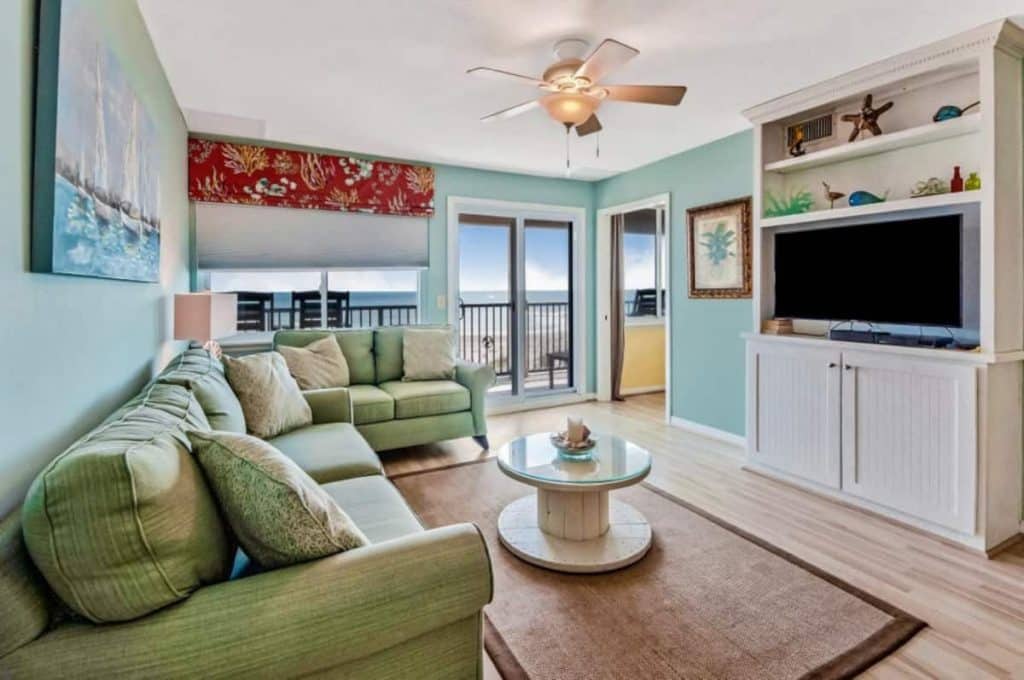 Ocean Breeze
Ocean Breeze is a super cute beach bungalow that is located on the north end of Amelia Island just one block from the beach. Now, Ocean Breeze stands out from other bungalows because it has a very cool rooftop patio!
Sometimes when we think of bungalows, we think of a very rustic vibe, but Ocean Breeze is very modern and refined. The bungalow kitchen includes a glass backsplash, a Keurig Elite coffeemaker, a Ninja Blender, stainless steel appliances, and granite countertops.
In addition to the fabulous kitchen, the bungalow also comes with a beach cooler on wheels, boogie boards, 4 bicycles, beach chairs, and beach towels! Ocean Breeze is affordable and can accommodate up to 6 guests with 3 bedrooms, 3 beds, and 2 baths.
>>>Check Rates: Airbnb.com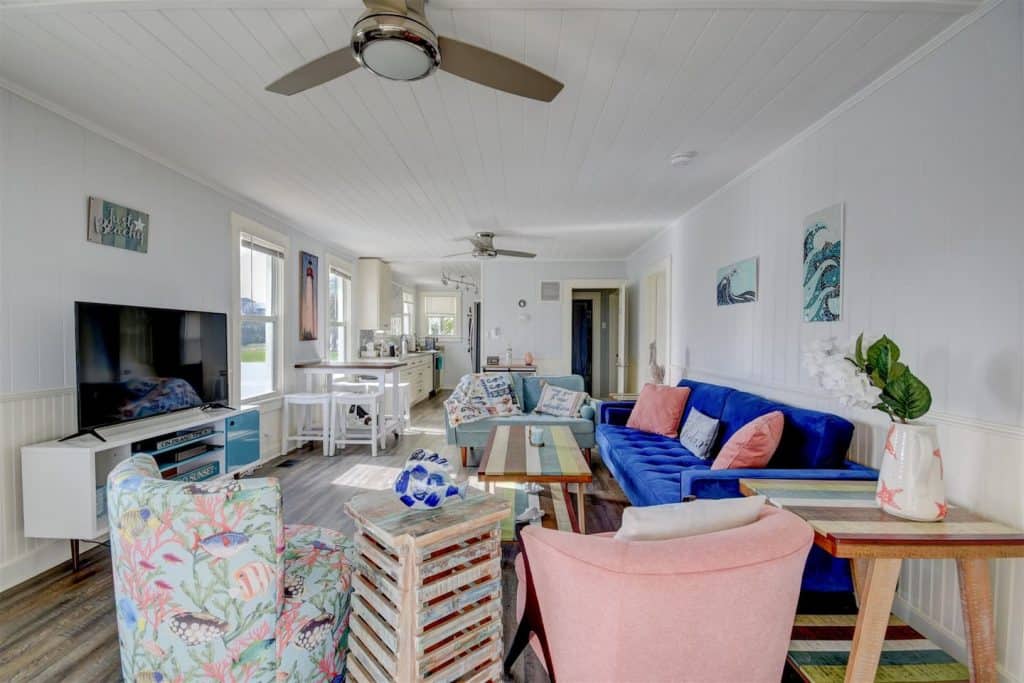 Beach Cottage Oasis
Who doesn't love a good porch swing?! Just close your eyes and picture spending the day at the beach and then unwinding with refreshing lemonade or a cocktail while you swing on the front porch. Sounds heavenly, right?!
The Beach Cottage Oasis will make all of your relaxing front porch swinging dreams come true! The cottage exterior is a very pretty pale yellow and there are pops of aqua on the front door and the swing cushions. Looking at this cottage just makes you smile!
The porch swings aren't the only highlight at this affordable cottage, guests will also enjoy a spacious patio area with two pergolas, lounge chairs, a and bed swing. In addition to those amazing features, the property also has a small separate building in the back that is perfect for playing board games, reading, or meditation.
>>>Check Rates: Airbnb.com
Nestled Under Live Oaks
Searching from something a bit secluded and removed from the main traffic? Well, then staying at this Airbnb that is Nestled Under Live Oaks will be just right!
The home has an art studio meets club lounge type of vibe with modern artwork and eclectic furniture. Some of the highlights include a very large screened-in pool with patio, lush landscaping and large live oak trees, cozy hammocks, and a stainless steel kitchen.
The home is one of the Amelia Island Airbnbs that is moderately priced and can accommodate up to 4 guests with 2 bedrooms, 2 beds, and 2 baths. It is situated on a quiet cul-de-sac and is just a 1.5-mile bike ride to the beach.
>>>Check Rates: Airbnb.com
Tropical Studio With Tiki Bar & Pool
Do you desire a real tropical oasis? Well, then you will adore this super fun Studio with Tiki Bar & Pool! Perfect for couples that want the option to walk to town to get dinner or to grab a drink at a local beach bar and then return to their own private pool.
The studio is extremely affordable and has a bright color palette that evokes happiness and a beachy Florida vibe. In addition to the awesome tiki bar and pool, there is also an outdoor kitchen area with a dining table, a lounge area with a fan, an ocean view, and on-site water aerobics.
Up to 2 guests will love being able to walk to the public beach across the street, taking a guided kayak tour nearby on Lofton Creek, or just lounging by the pool.
>>>Check Rates: Airbnb.com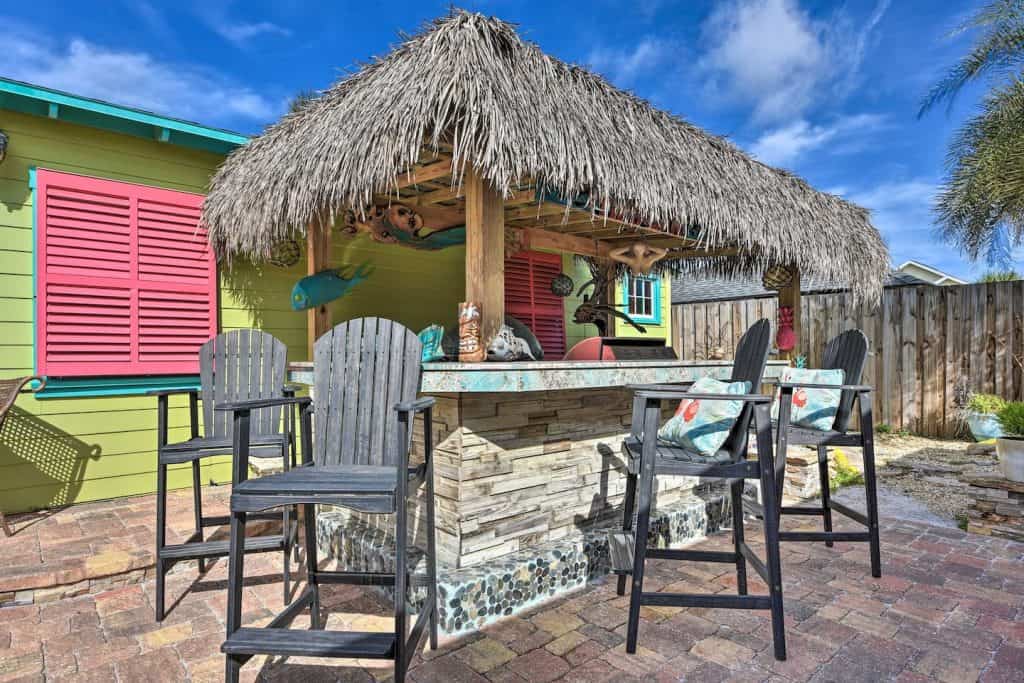 Wrenn Nest
The Wrenn Nest is one of the Amelia Island Airbnbs that can accommodate parties of 4 or less. Conveniently only 5 miles from Historic Downtown and beach-side restaurants, this private home has 2 bedrooms, 3 beds, and 1 bath.
There is a very subtle coastal theme with subdued paint and little hints of natural Florida sea life. The ambiance is comfortable, relaxed, and definitely gives you that cozy homey vibe.
Once again, we have an extremely affordable property that proves that you can be on budget, but you don't have to comprise your comfort and location.
>>>Check Rates: Airbnb.com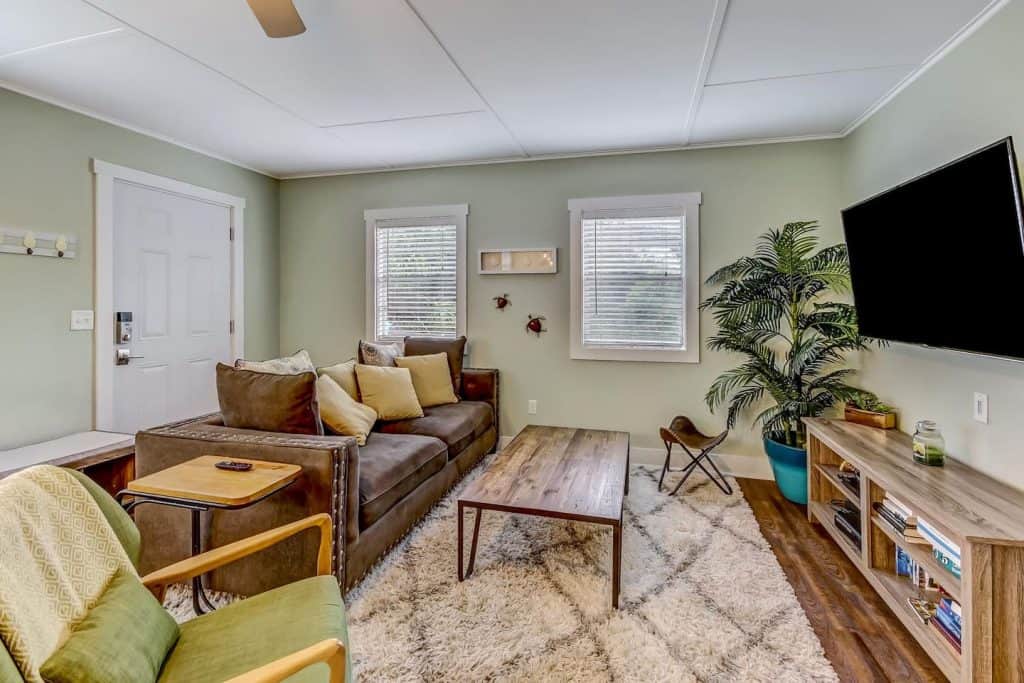 Charming Loft
You can have tons of fun counting flamingos throughout our next Airbnb that just happens to be a Charming Loft. The owners have incorporated everything from artwork to towels and even pillows with this fun little Florida friend.
The loft has two private decks on two levels that offer gorgeous ocean views. Guests will enjoy the Adirondack lounge chairs, two grills, several dining areas, a private beach access walkway, and an outdoor shower.
Up to 4 guests can enjoy this beautiful and affordable loft with 1 bedroom, 2 beds, and 1 bath. Beach towels, everyday cleaning supplies, and laundry facilities are available as well.
>>>Check Rates: Airbnb.com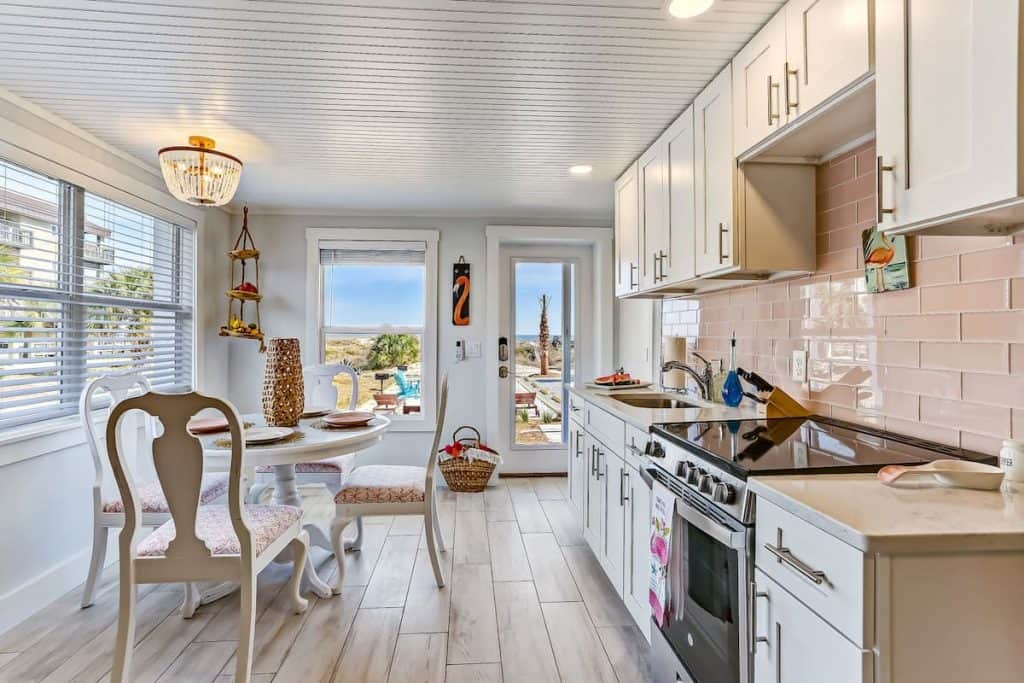 Designer Masterpiece
If you are traveling with a large party or plan on hosting some gatherings during your stay, then you won't want to miss out on this very moderately priced Designer Masterpiece!
Where do we begin?!! Let's start with the fact that this designer home has a rooftop hot tub, a private elevator, incredible oceanfront views, and floor to ceiling windows! Can we talk about a dream home or what?!
Up to 16 guests will feel completely comfortable in this 4,404 square foot luxury home. Guests love that there are 6 bedrooms with 11 beds and 6 baths! Kids will enjoy the sixth bedroom that includes three built-in twin beds with a twin-size trundle below and a flat-screen TV.
>>>Check Rates: Airbnb.com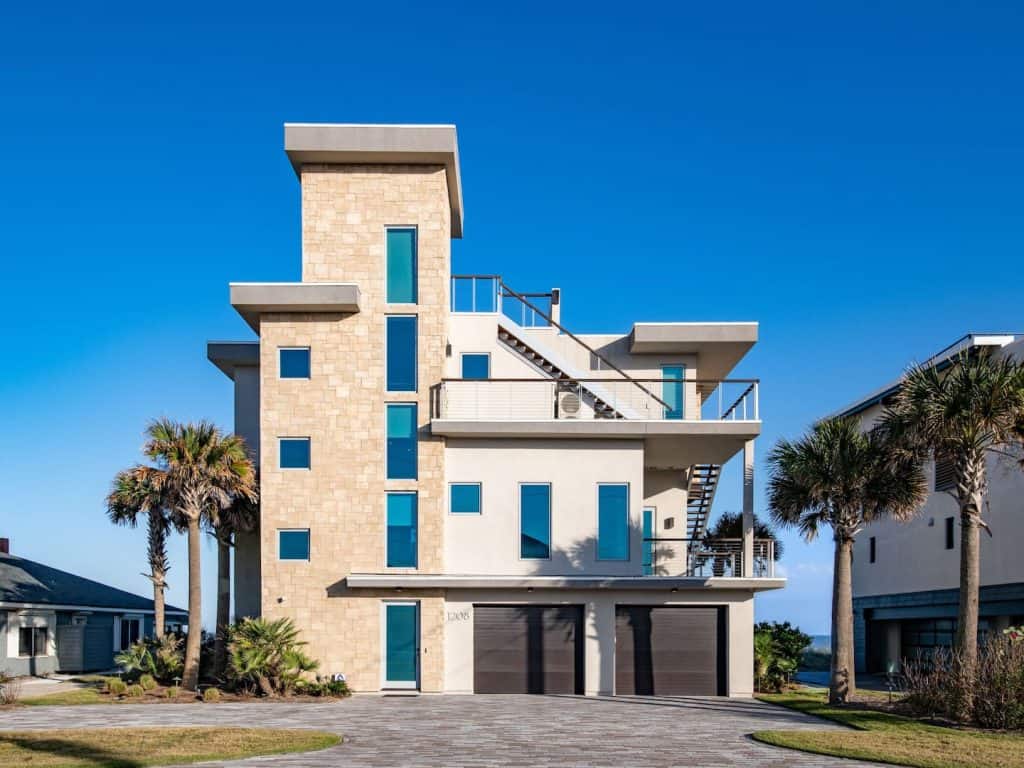 1940 North
1940 North is an oceanfront duplex that has been completely remodeled to create a relaxing beachside environment. The duplex was decorated professionally and it shows!
You will immediately notice the custom furniture pieces as well as the uniquely beautiful rustic chandeliers. The color palette has neutral sandy tones with pops of a lovely shade of orange.
Nearby attractions include Fort Clinch State Park, Historic Centre, tasty eateries, an ice cream parlor, Main Beach Putt-Putt Golf, and a surf shop. Up to 6 guests can be accommodated with 3 bedrooms, 3 beds, and 2 baths.
>>>Check Rates: Airbnb.com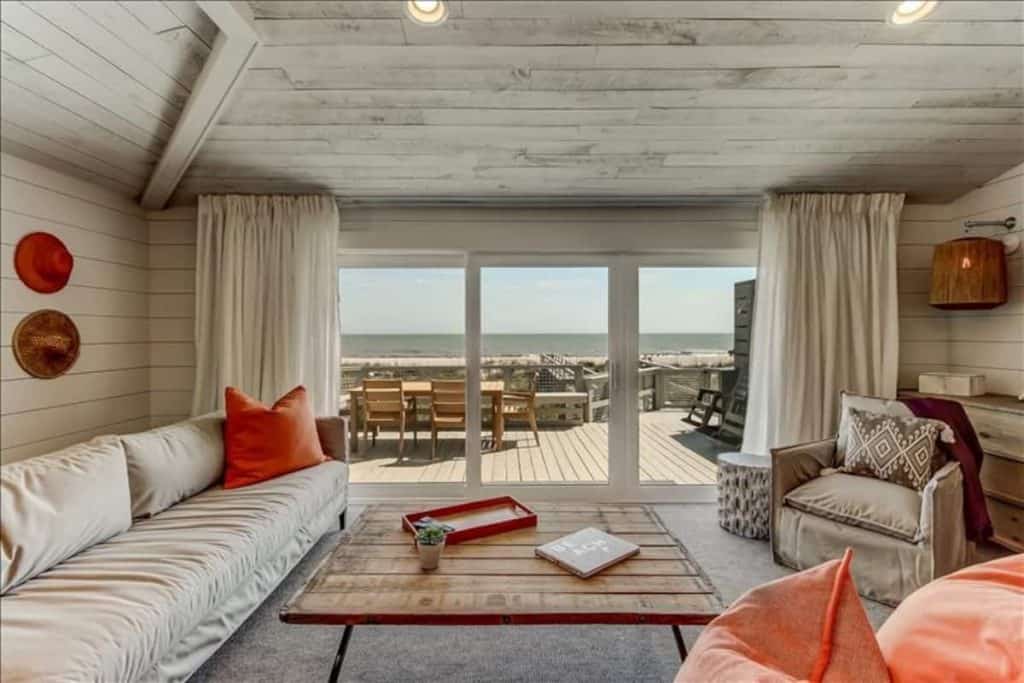 Casa Amelia
Now, you know how we love to go out on a high note, right?! Well, get ready to fall in love with Casa Amelia! Casa Amelia is a stunning home located in a resort-style community.
Casa Amelia is a splurge, but it comes through with breathtakingly gorgeous grounds, décor, and ample lounging space. Exposed wood beams, high ceilings, decorative lighting, and luxurious linens all come together to create a high-end, retreat-style ambiance.
8 guests can enjoy this fantastic home that has 3 bedrooms, 6 beds, and 3.5 baths. Conveniently close to Historic Fernandina Beach, museums, art galleries, and local boutiques.
>>>Check Rates: Airbnb.com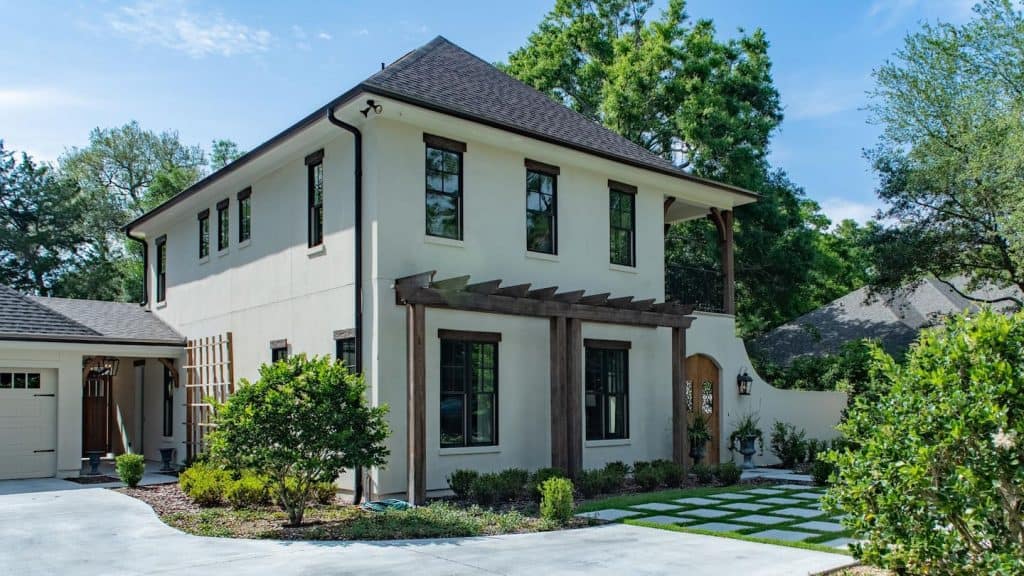 Well, we hope you enjoyed touring all of these great properties. As you can see, Amelia Island is a splendid place to visit! You can't go wrong with any one of these incredible Amelia Island Airbnbs.
Whether you decide to splurge or stick to a more affordable budget, you can have accommodations that make you feel right at home. Safe travels and happy adventuring wishes to you!