Are you looking for the very best Amelia Island Airbnbs? Well, stress no more because we have done all of the leg work for you! Get ready to explore some of the most beautiful homes, cottages, and bungalows with incredibly gorgeous views.
Amelia Island is located on the East Coast of Florida, which is one hour north of Jacksonville. Amelia Island is one of the most romantic and stunning getaways in Florida because it features 13 miles of postcard-beaches, crystal blue waters, and a variety of tropical wildlife.
If you are planning an extended vacation, then you should check out our 15 Fun Florida Road Trips For Your Bucket List! If you want to fully immerse yourself in the Florida experience, then make it a movie night with one of the 15 Best Movies Set In Florida Everyone Must Watch!
What better way to explore a new town than to stay in an Airbnb and get a more authentic local experience! Amelia Island Airbnbs offer you an opportunity to have a more home-like feel with much more privacy than staying at a hotel chain.
You are going to absolutely love visiting Amelia Island not only for the amazing scenery but also for the near-perfect weather year-round! During the Summer months, you may encounter afternoon showers, but they typically don't last very long and they help cool the often hot temperatures.
We promise you that we have a little something for everyone on our list. We will include affordable, moderate, and luxury price ranges as well as a wide variety in style and size. Okay, so let's jump into touring all of these fabulous Amelia Island Airbnbs!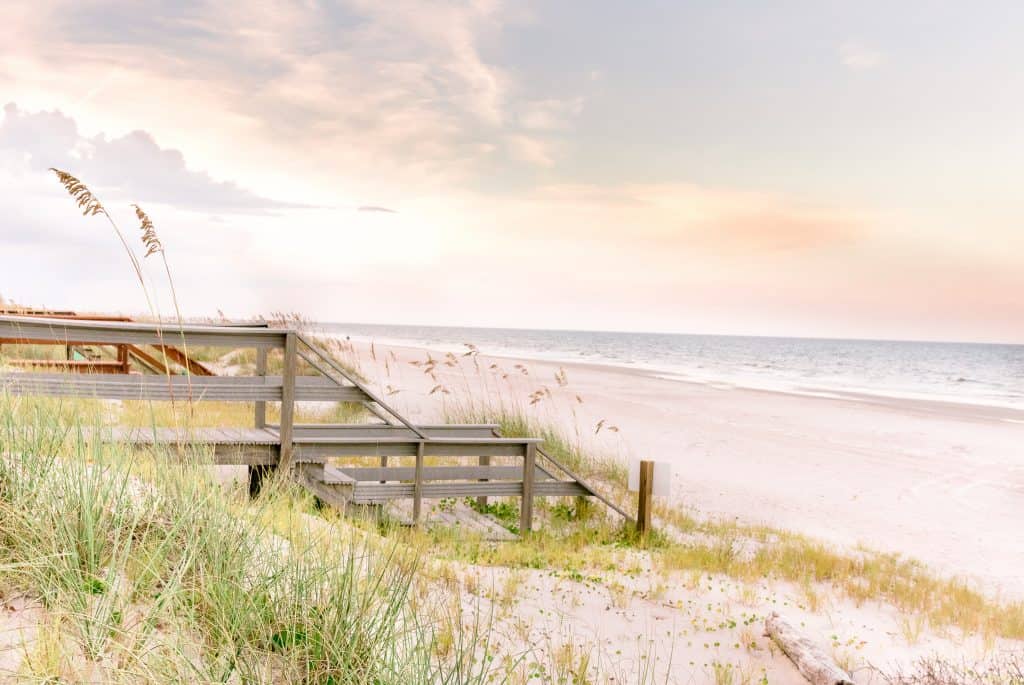 17 Gorgeous Amelia Island Airbnbs (Bungalows, Condos & More!)
Katie's Light
Our first Airbnb is located right on Amelia Island and it presents a very rare opportunity for its guests. Katie's Light is a beachfront replica of the famous Thomas Point Lighthouse on the Chesapeake Bay. The lighthouse replica is incredibly charming and beautiful!
It can accommodate up to 8 guests with 3 bedrooms, 4 beds, and 2 baths. Some of the highlights include a 360-degree wrap-around deck, a spiral staircase, and wooden floors and ceilings.
Katie's Light comes with several large beach towels, sand toys, boogie boards, beach chairs, and it has a very convenient outdoor shower. The décor is comfortable and inviting with a Cape Cod type of vibe.
Check Rates: VRBO.com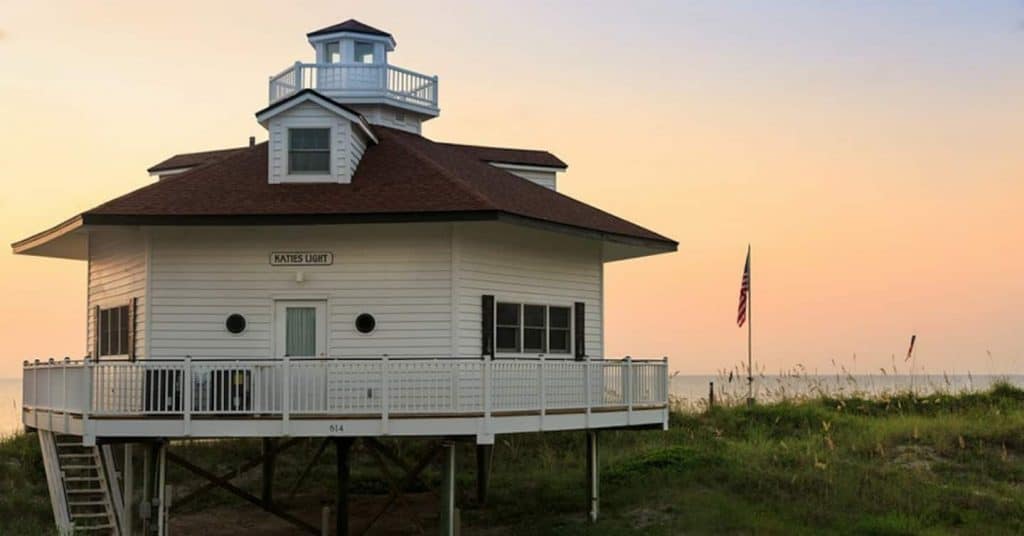 Modern & Spacious Beach House
The Modern & Spacious Beach House is perfect for those looking for a very open floor plan and oceanfront access. The beach house is located on Fernandina Beach which is a city in Nassau County, Florida, on Amelia Island.
The beach house is 1800 sq. ft. and provides some truly amazing ocean views with its large pane windows. It can accommodate up to 8 guests with 3 bedrooms, 4 beds, and 2 baths.
The decor is subtle with soothing colors and warmth from dark hardwood floors. You will find a ton of upgrades throughout the property including stainless appliances, granite countertops, and stunning tiled floor to ceiling showers.
Check Rates: Airbnb.com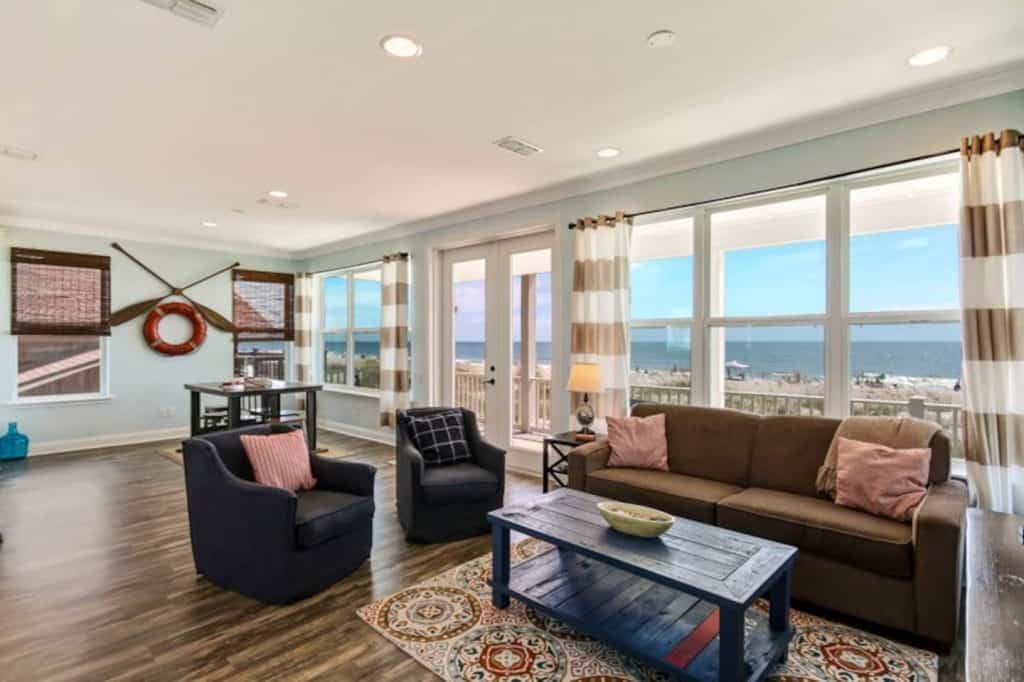 Window To Paradise!
The Window To Paradise! is one of the most beautiful Amelia Island Airbnbs. Found in the Amelia Surf and Racquet Club Villas, you'll be whisked away from the hustle and bustle of every day life.
Found on the second story, the completely renovated villa offers a beautiful view of the pool as well as the Atlantic Ocean, all from your backyard. You'll see these gorgeous views from the master bedroom, the kitchen, and the living room. It doesn't get better than that.
You'll have access to clay tennis courts as well as lush golf courses! Unfortunately, this unit is not pet friendly so you have to leave your furry friends at home as the facility does not permit them.
Check Rates: VRBO.com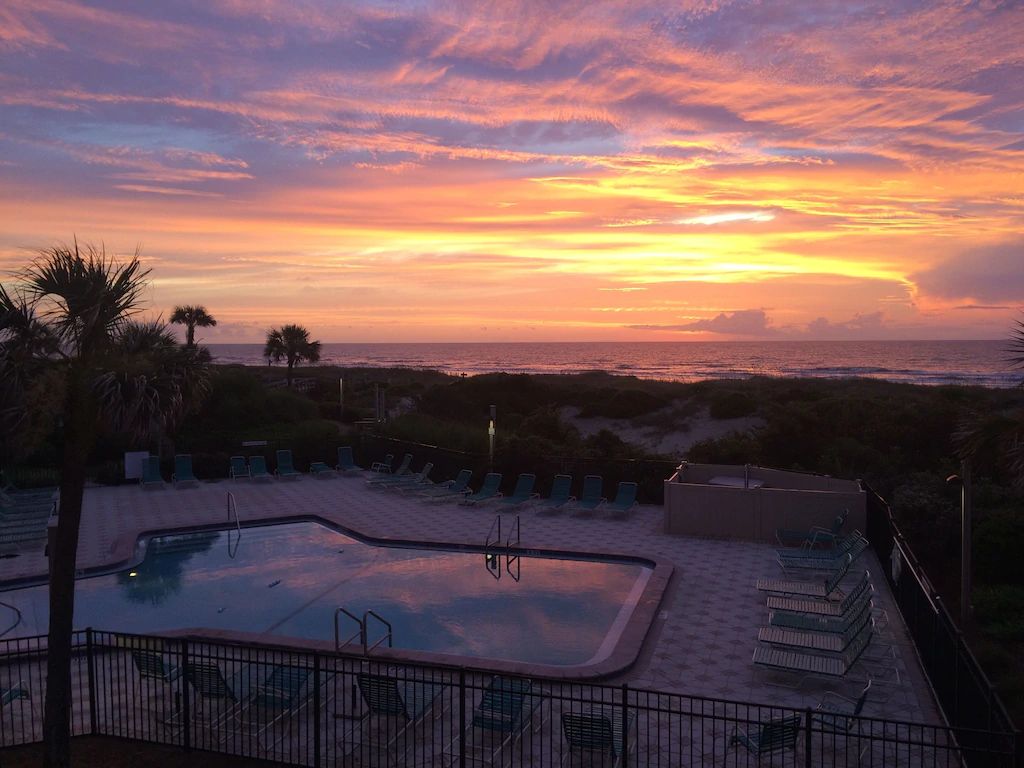 Oceanfront Hideaway
The Oceanfront Hideaway has such a cozy and comforting vibe! The interior walls are set at an angle with gives it a nest-like ambiance. The warm and cozy vibe does not mean it is small by any means, it can accommodate up to 8 guests with 3 bedrooms, 4 beds, and 2 baths.
The color palate is mostly crisp white walls with subtle hints of blue throughout the home. Guests will love enjoying meals on the oceanfront deck, private beach access, and private parking for 4 vehicles.
Check Rates: Airbnb.com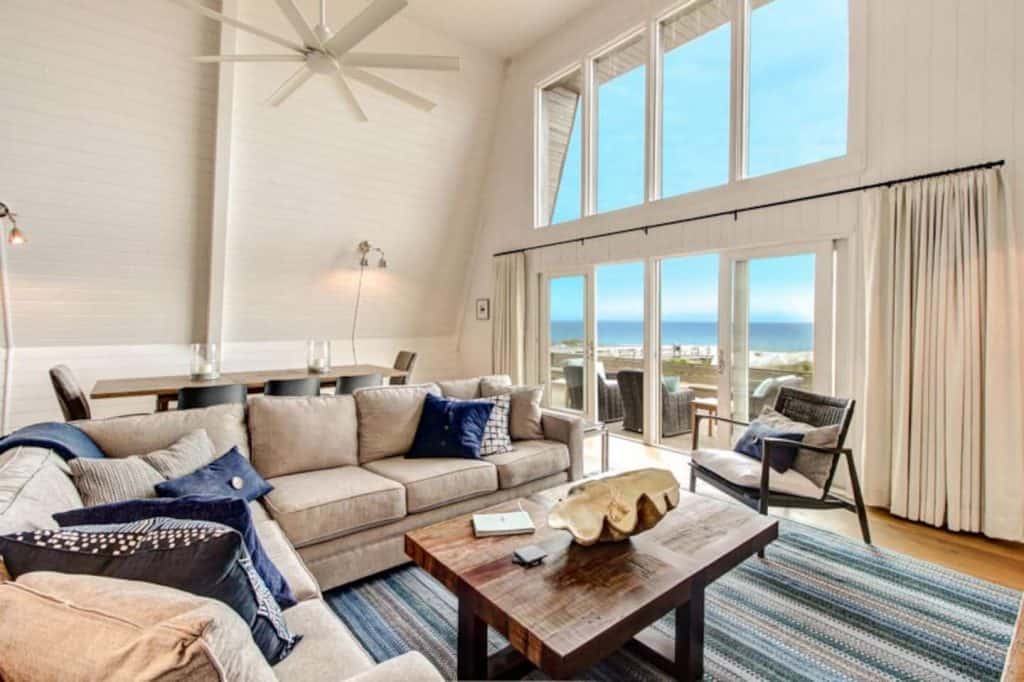 Charming Oceanfront One Bedroom Condo
This second-floor one bedroom condo has been newly updated to offer bright open spaces with perfect ocean views. The Charming Oceanfront One Bedroom Condo is one of the best Amelia Island Airbnbs.
Found in the Amelia Surf and Racquet Club, this listing is well-maintained, beautifully landscaped, and inside of a gated development directly on the Atlantic Ocean. You can enjoy the beach, walk to the Ritz Carlton only minutes away for dinner and drinks, or stroll along the lush pathway outside the developments, saying hi to peacocks.
You're ten minutes away from historic downtown Amelia with great shopping, entertainment, and great restaurants. If you're feeling like more of a homebody, you can enjoy ocean views from your master bedroom with the king-size bed. You can also enjoy the clay tennis courts and golf courses.
Check Rates: VRBO.com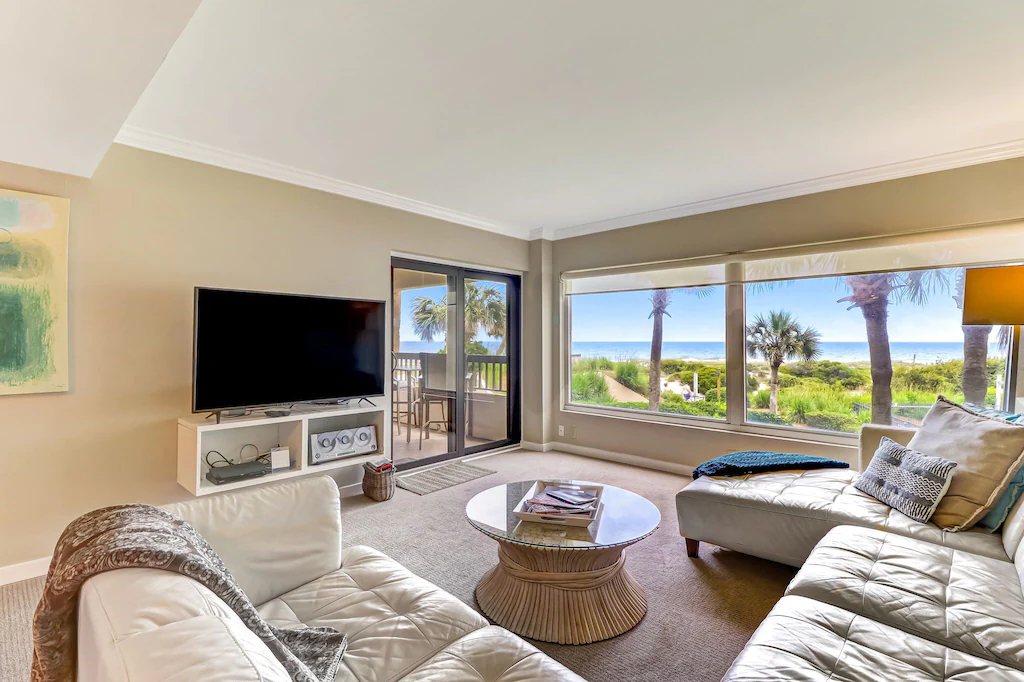 Exquisite Luxury Home
If you want to go all out and really splurge, then this Exquisite Luxury Home is going to be your dream Airbnb on Amelia Island. You will be in awe of the gorgeous private saltwater pool with a large cabana area as well as the massive kitchen that is perfect for entertaining!
The luxury home creates an environment that is perfect for relaxation and fully sinking into vacation mode! Sliding and collapsing doors allow you to fully open the home and give you a personal resort-style ambiance.
You will find only the best high-end touches throughout the home including a filigree front door entrance, marble floors, and leather sofas. The luxury home can accommodate up to 12 guests with 5 bedrooms, 9 bed, and 5 baths.
Check Rates: Airbnb.com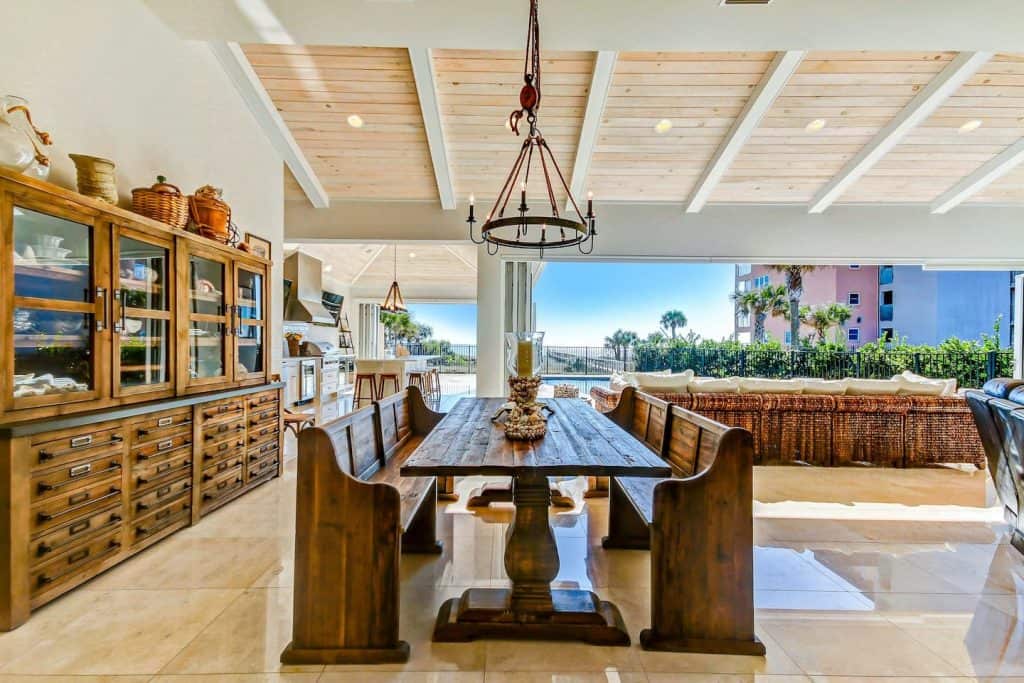 Secluded Lanai
In the beautiful Amelia Landings community, you'll find one of the most beautiful Amelia Island Airbnbs. You'll feel like a royal with the extravagance of this listing, so make sure to snap it up before its booked!
Only two blocks from the beach, this unit offers two separate and private queen suites, each with private and tiled full bathrooms. In the second bath, there's a brand new soaking tub. There are flat screen TVs in the living room and both bedrooms with Infinity upgraded channels as well as free Wifi!
The open floor plan offers split bedroom, new wood floors, and a massive kitchen with Caphalon cookware, blender, crock-pot, toaster, and coffee grinder and maker. There's also private entry to a screened porch from the master suite, an added bonus!
If you choose to enjoy the beach, four beach chairs, an umbrella, cooler, beach bag, and insulated jug are provided. You can also cross the street to access the greenway for cycling, walking, and bird watching. A shorter stroll will get you to the area's local shops and restaurants!
Check Rates: VRBO.com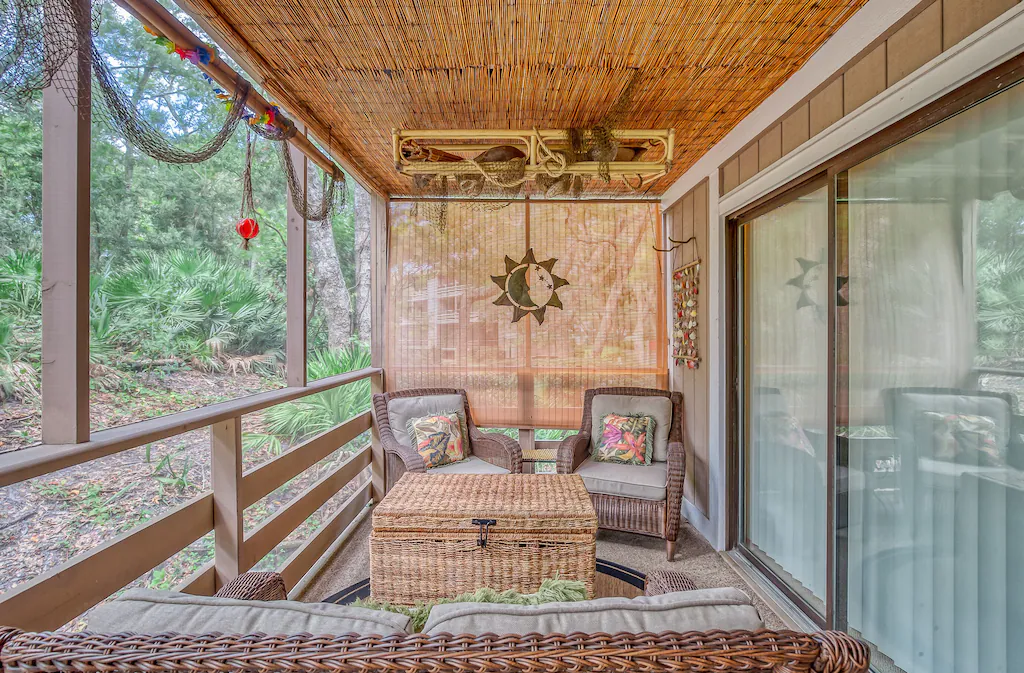 Ocean Breeze
Ocean Breeze is a super cute beach bungalow that is located on the north end of Amelia Island just one block from the beach. Now, Ocean Breeze stands out from other bungalows because it has a very cool rooftop patio!
Sometimes when we think of bungalows, we think of a very rustic vibe, but Ocean Breeze is very modern and refined. The bungalow kitchen includes a glass backsplash, a Keurig Elite coffeemaker, a Ninja Blender, stainless steel appliances, and granite countertops.
In addition to the fabulous kitchen, the bungalow also comes with a beach cooler on wheels, boogie boards, 4 bicycles, beach chairs, and beach towels! Ocean Breeze is affordable and can accommodate up to 6 guests with 3 bedrooms, 3 beds, and 2 baths.
Check Rates: Airbnb.com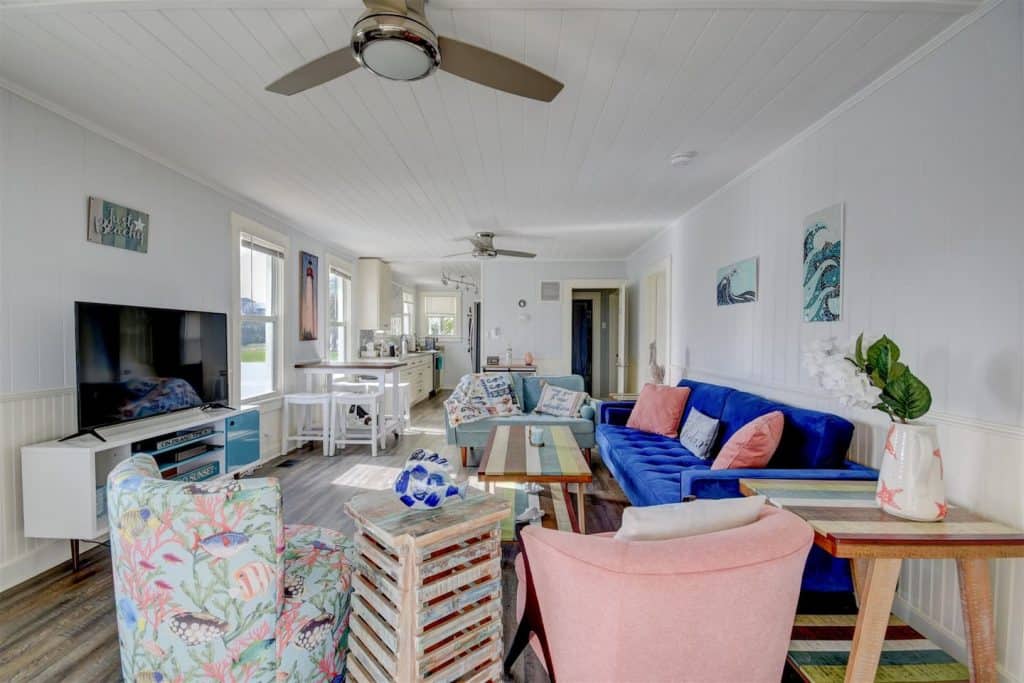 Affordable Luxury Condo
Of all the Amelia Island Airbnbs, this is the heigh of luxury. Nestled in a grove of 100-year-old live oak trees is the Affordable Luxury Condo. You're just a block and a half away from the beach. This villa will make all your island life dreams come true.
This two bedroom, two bathroom private villa has been newly redecorated and updated with new stainless steel kitchen appliances. Just bring your clothes and grab groceries and you'll feel like you're right at home.
The villa is tastefully furnished and equipped with high speed internet, a digital flat screen TV, DVDs, and phones with unlimited long distance! Home amenities include cards, board games, puzzles, and videos. Before going to bed, take a bath in one of the large soaking tubs.
You can also enjoy a screened porch and sun by the largest outdoor pool on the island, play tennis, or picnic at one of the grills. Beach supplies like chairs, towels, umbrella, beach bag, cooler, and boogie boards are provided in the rental.
Check Rates: VRBO.com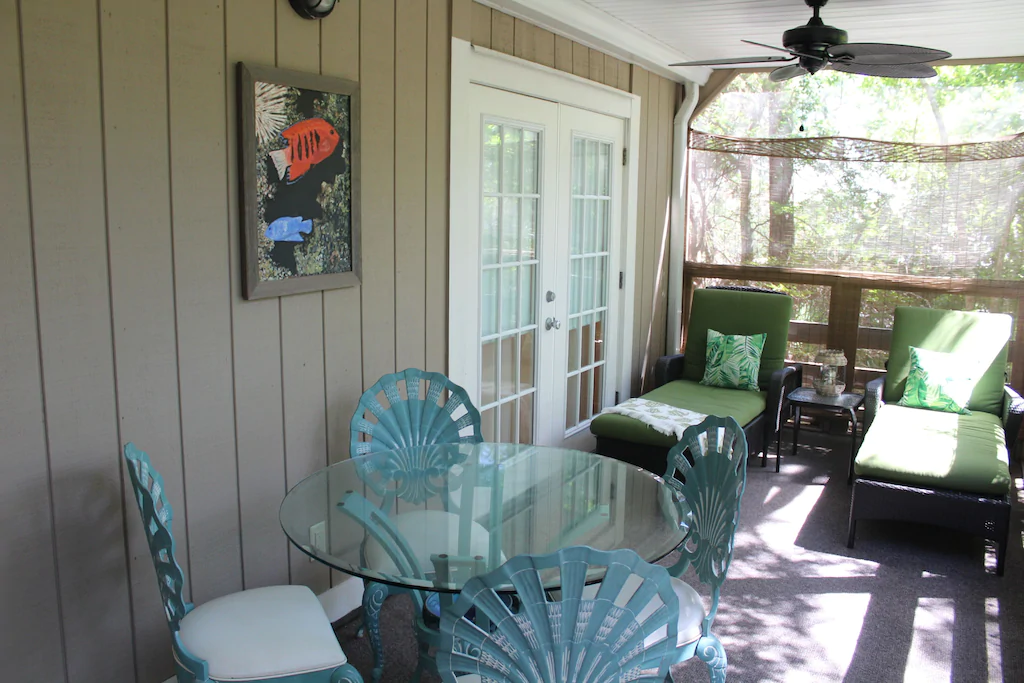 Beach Cottage Oasis
Who doesn't love a good porch swing?! Just close your eyes and picture spending the day at the beach and then unwinding with refreshing lemonade or a cocktail while you swing on the front porch. Sounds heavenly, right?!
The Beach Cottage Oasis will make all of your relaxing front porch swinging dreams come true! The cottage exterior is a very pretty pale yellow and there are pops of aqua on the front door and the swing cushions. Looking at this cottage just makes you smile!
The porch swings aren't the only highlight at this affordable cottage, guests will also enjoy a spacious patio area with two pergolas, lounge chairs, a and bed swing. In addition to those amazing features, the property also has a small separate building in the back that is perfect for playing board games, reading, or meditation.
Check Rates: VRBO.com
Nestled Under Live Oaks
Searching from something a bit secluded and removed from the main traffic? Well, then staying at this Airbnb that is Nestled Under Live Oaks will be just right!
The home has an art studio meets club lounge type of vibe with modern artwork and eclectic furniture. Some of the highlights include a very large screened-in pool with patio, lush landscaping and large live oak trees, cozy hammocks, and a stainless steel kitchen.
The home is one of the Amelia Island Airbnbs that is moderately priced and can accommodate up to 4 guests with 2 bedrooms, 2 beds, and 2 baths. It is situated on a quiet cul-de-sac and is just a 1.5-mile bike ride to the beach.
Check Rates: Airbnb.com
Summer Beach Resort
Inside the Summer Beach Resort, one of the most adorable Amelia Island Airbnbs, you'll find your perfect Florida beach paradise. The search is over for the perfect stay to get you into the island lifestyle you deserve.
The Summer Beach Resort is a two-bedroom townhome that has one king bed, two twin beds, and a sleeper sofa for additional guests. Beautiful live oak trees provide a canopy as you drive towards the complex. You'll love the walking and biking trails along the way.
When you're settle din, you can take a peaceful walk on the beach, or go kayaking or horseback riding nearby. Feeling like a homebody that day? No problem, sit and relax by the refreshing pool!
You're also only a short drive away from historic Fernandina and you can wander down Centre Street to explore an array of shops and wonderful restaurants.
Check Rates: VRBO.com
Charming Loft
You can have tons of fun counting flamingos throughout our next Airbnb that just happens to be a Charming Loft. The owners have incorporated everything from artwork to towels and even pillows with this fun little Florida friend.
The loft has two private decks on two levels that offer gorgeous ocean views. Guests will enjoy the Adirondack lounge chairs, two grills, several dining areas, a private beach access walkway, and an outdoor shower.
Up to 4 guests can enjoy this beautiful and affordable loft with 1 bedroom, 2 beds, and 1 bath. Beach towels, everyday cleaning supplies, and laundry facilities are available as well.
Check Rates: VRBO.com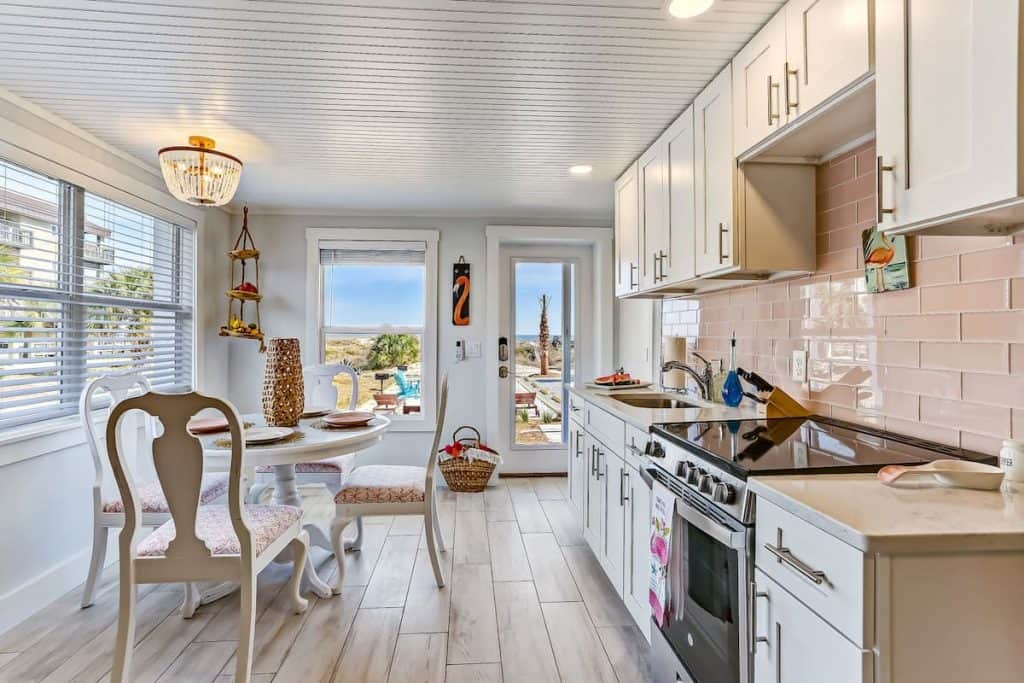 Summer Is Almost Here!
When you think of Amelia Island Airbnbs, you definitely think of summer. This is why the hosts have decided to name this listing Summer Is Almost Here! When the hottest season of the year is approaching, there's no time like the present to book your stay!
This listing is a three bedroom, two bathroom home. Fully remodeled from the ground up. You'll have one king bed, one queen bed, two twin beds, and a sleeper sofa. There's plenty of room for everyone!
You'll have all the amenities of home with a fully furnished kitchen and a private washer and dryer. The beach access is within walking distance as well as Historic Downtown Fernandina only minutes away.
Check Rates: VRBO.com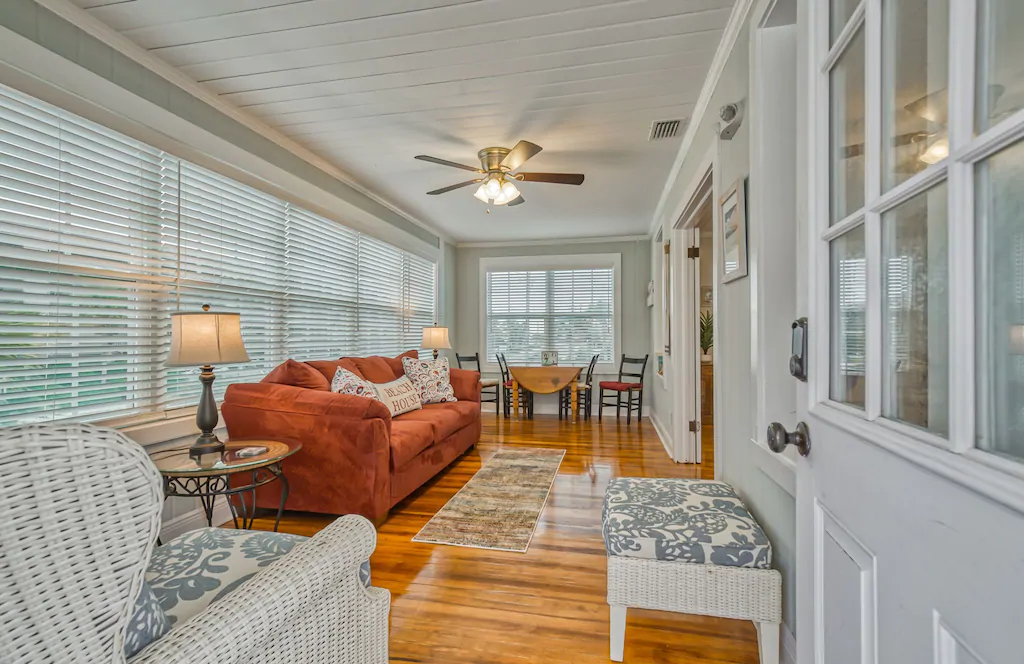 DOG FRIENDLY UNIT!
Not many Amelia Island Airbnbs are dog friendly. This unit is! The lower level home features two bedrooms and two bathrooms. Newly remodeled, you'll have one king, one queen, and one twin bed. There's also a sleeper sofa so there's plenty of room for everyone.
The kitchen is fully furnished and boasts all the amenities to make you feel right at home. You'll enjoy the sand, sun, and sea life while walking down the beach. You'll be within walking distance of Historic Downtown Fernandina, just a couple of minutes away.
If you need more space for your family or just a large group of friends, the hosts also have a unit upstairs. It has also been completely remodeled and has three bedrooms and two full bathrooms, sleeping a total of eight. Keep in mind that the upstairs unit is not pet friendly.
Check Rates: VRBO.com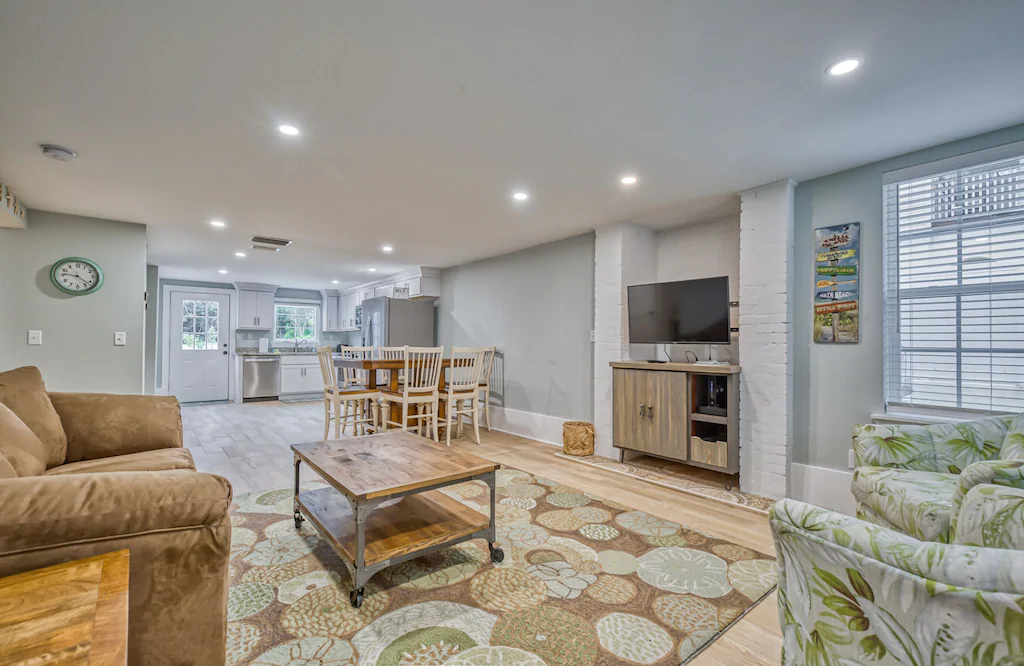 96089 Monteg
How many Amelia Island Airbnbs are pet friendly? At 96089 Monteg, you can bring up to two small dogs under 30 pounds! That's a pretty awesome way to vacation with your furry friend!
96089 Monteg is a beautiful three bedroom, two bathroom home with an island view. And don't worry, if you need to get some work done, there's an office too. The home has a split floor plan with an open-concept kitchen. The living room opens up into a backyard oasis with an enclosed swimming pool.
The master bedroom has an ensuite bathroom as well as a luxurious king size bed! The second bedroom ALSO has a king bed. Unfortunately your last guests in the third bedroom will have to deal with bunk beds. Hope you don't draw the last straw on sleeping accommodations!
This is perfect for extended vacations, as the minimum rental is 30 days. This is perfect for snowbirds who are looking to get away from the cold of up north and just enjoy some fun in the sun!
Check Rates: VRBO.com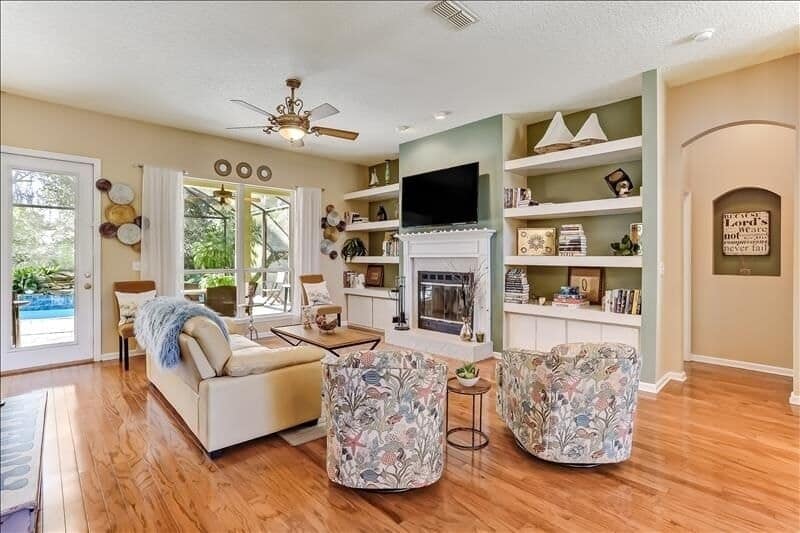 The Mermaid Den
Of all the Amelia Island airbnbs, The Mermaid Den may be the most whimsical! Found on Fernandina Beach, the Mermaid Den is a second-story condo unit that can hold up to six guests. It's perfect for big families or small groups of friends looking for a weekend getaway.
Inside the Mermaid Den, you'll have three bedrooms. There's a king, a queen, and twin bunk beds between the three rooms. There's also two bathrooms, a den/dining room combo, a fully equipped kitchen, washer and dryer, and a large balcony! You'll love the beach decor!
Additional amenities include free Wifi, a TV in the den and master bedroom, and a small movie library. The hosts have also provided a supply of board games, and a rotating paperback library, perfect for reading on the beach. Outside, you'll be surrounded by lush landscaping and shaded by large oak trees.
There's assigned parking for one car. Enjoy the pool and tennis courts at your leisure. While the Mermaid Den is not located beachfront, it's just a 200 yard walk across the road and your toes will be in the sand.
Check Rates: VRBO.com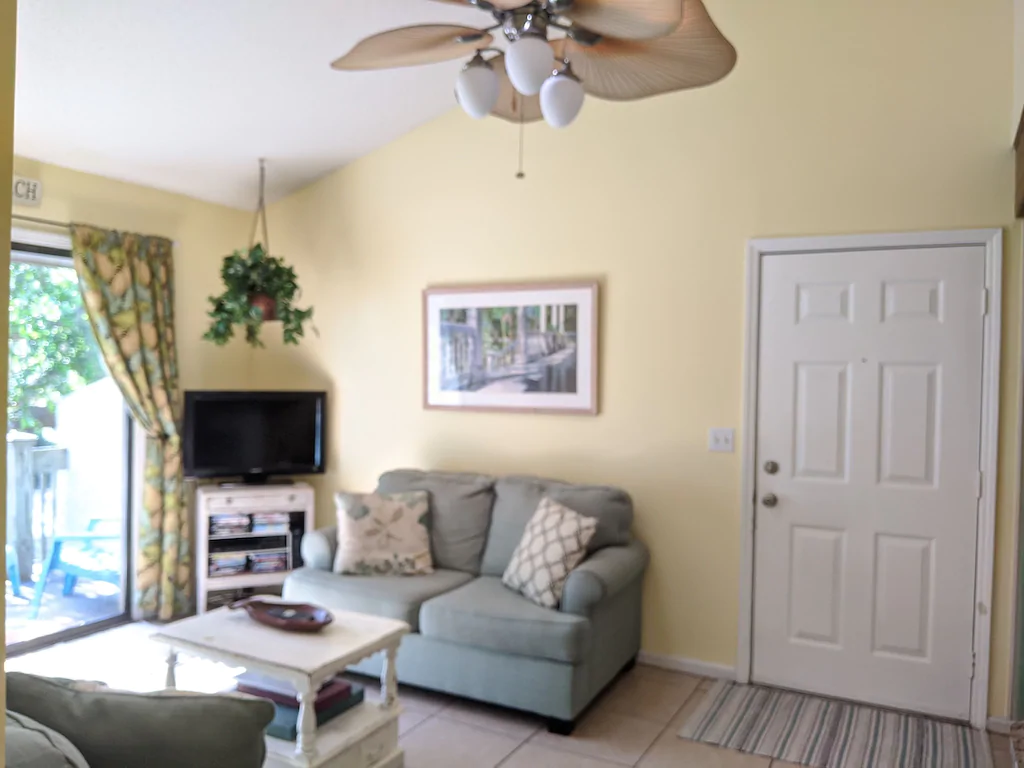 Well, we hope you enjoyed touring all of these great properties. As you can see, Amelia Island is a splendid place to visit! You can't go wrong with any one of these incredible Amelia Island Airbnbs.
Whether you decide to splurge or stick to a more affordable budget, you can have accommodations that make you feel right at home. Safe travels and happy adventuring wishes to you!
Did You Find This Post Helpful?
If so, we would love to keep in touch! We enjoy seeing photos and comments about your experiences in Florida! You can follow us on Instagram and we will repost your photos on our feed and comment too! Just tag us at @floridatrippers and hashtag #floridatrippers. We can't wait to see your travels!