Are you looking for the best beaches in North Florida? We have them all right here for you. We've narrowed down the list of North Florida beaches to bring you nothing but the best. From beaches in Pensacola to beaches near Jacksonville, there is something for everyone on this list.
Florida is a gem full of the best beaches in the world. While south Florida may have a reputation for beaches, the beach spots in North Florida are also some of the best vacation beaches in all of Florida. You can find great North Florida beaches along both the East Coast and Gulf Coast for two totally different experiences.
The North Florida East Coast beaches are incredibly fun. They offer so much, too! East Coast beaches in North Florida offer beautiful views of the Atlantic, great fishing opportunities, sunbathing, water sports, abundant marine life, history, and so much more. While the waters may be a tad bit colder than found on the Gulf Coast, surf is without a doubt better on the Atlantic.
Almost Carribean-like, the Gulf Coast beaches in Florida have warm, clear blue-green waters that are full of marine life. You can catch dolphins playing alongside boats in the water and see them clearly! Not to mention, the sands along the Northern Florida Gulf Coast beaches are like sugar. Shimmering soft white sands against the emerald waters make the North Florida beaches look like a dream. They are so beautiful, you may never want to leave!
But since you have an amazing North Florida beaches trip to get to, let us give you the skinny. Without further delay, we bring you the most beautiful beaches in North Florida.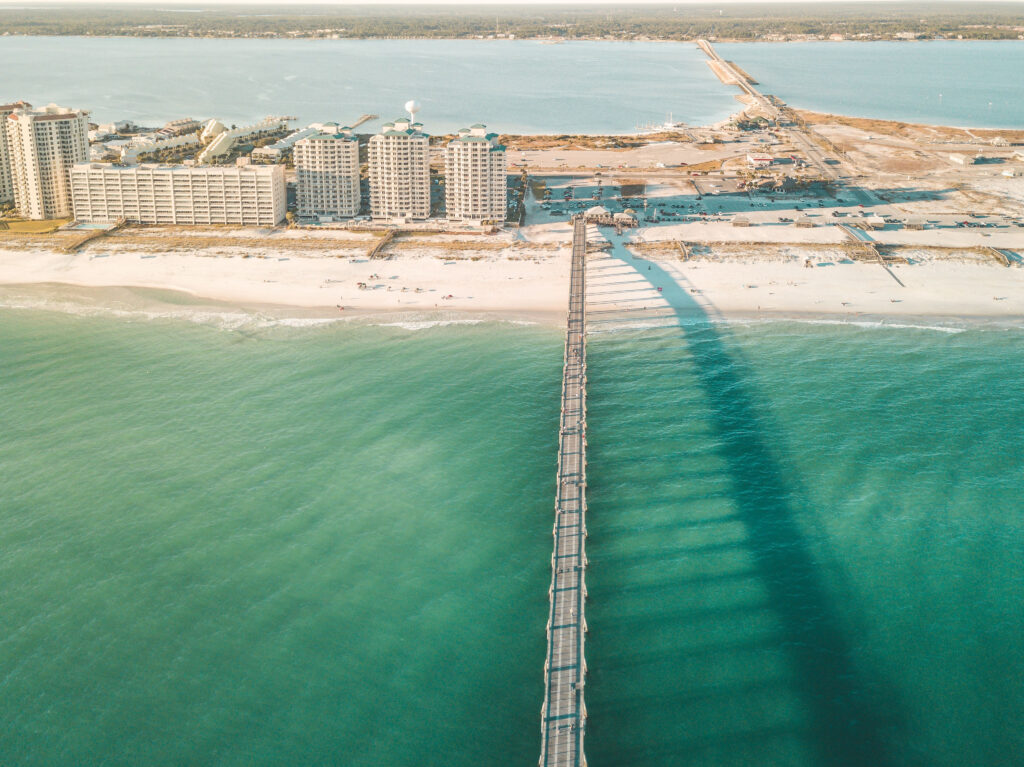 What Is The Prettiest Beach In North Florida?
The prettiest beach in North Florida has to be Navarre Beach. As one of the premier Northern Florida Gulf Coast beaches, Navarre is the ultimate beach to go relax, play, swim, bike, and sunbathe. The iconic soft, sugary white sands of Northern Florida beaches stretch for miles alongside the warm emerald waters and rolling sea dunes of the Gulf of Mexico.
Another reason we love going to Navarre Beaches in North Florida is because this beach does not feel hurried at all. In fact, Navarre Beach is totally unspoiled by chain businesses, so it is left with a very quaint beach-town feel. Without chain businesses domineering the strip, development along the beach is kept to a minimum. Instead, Navarre Beach offers visitors delicious seafood and stays from small local business owners; just the way we like it.
What Is The Northernmost Beach In Florida?
The absolute northernmost beach in Florida is found on Amelia Island. It is called Fort Clinch State Park. Located just a 40 mile drive from Jacksonville, Fort Clinch Beaches are the perfect destination for a day under the sun along the Atlantic Coast.
Not only does Fort Clinch offer some of the great beaches in North Florida, but it is also the site of the best kept Civil War fort in America. In fact, you can still see proof of the strategic importance of Fort Clinch from the Civil War. The cannons are still pointed over the St. Mary's River toward Georgia to this day.
Best North Florida Beaches
Boneyard Beach
If you are on the hunt for the best East Coast beaches in North Florida, then don't miss Boneyard Beach. Located on Little Talbot Island, Boneyard Beach is just a short 20 mile drive outside of Jacksonville.
Boneyard Beach is one of the most iconic and picturesque beaches in North Florida. That's because the beach has the skeletons of old oak trees jutting from its waters.
While most beaches in Jacksonville won't have live oaks growing out of the water, you can find them at Boneyard Beach. They make the perfect backdrop for sunsets and pictures. And yes, you can totally climb on them too!
Boneyard Beaches in North Florida are also a great spot for catching surf, sunbathing, and good times.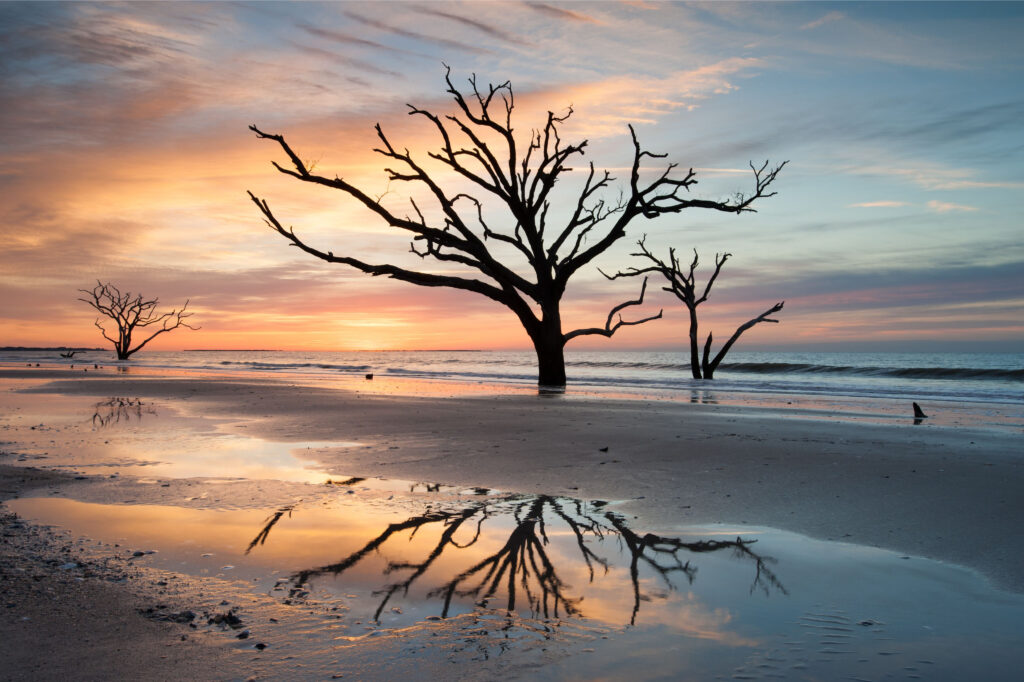 Narvarre Beach
One of the most beautiful beaches in North Florida has to be Navarre Beach. The sugar-white sands and clear emerald waters of Navarre Beach are some of the best Florida beaches on the Gulf Coast. It is also home to the longest pier in Florida too!
Another reason Navarre Beach is boasted to be one of the best Florida Panhandle beaches is because Navarre Beach has miles of natural protected coast line. Navarre Beaches are iconic for the long stretches of thriving sand dunes colored with billowing seagrass in the salty gulf spray.
Also, many animals love call this beach home due to the Navarre Beach Marine Sanctuary. From Navarre beach, one artificial site is located less than 200 ft. from shore and another is found one mile off-shore.
Snorkel around Navarre Beach to see sea turtles, butterfly fish, stingrays, dolphins, and even octopi! It is one of the fun, free things to do in North Florida that kids will enjoy too!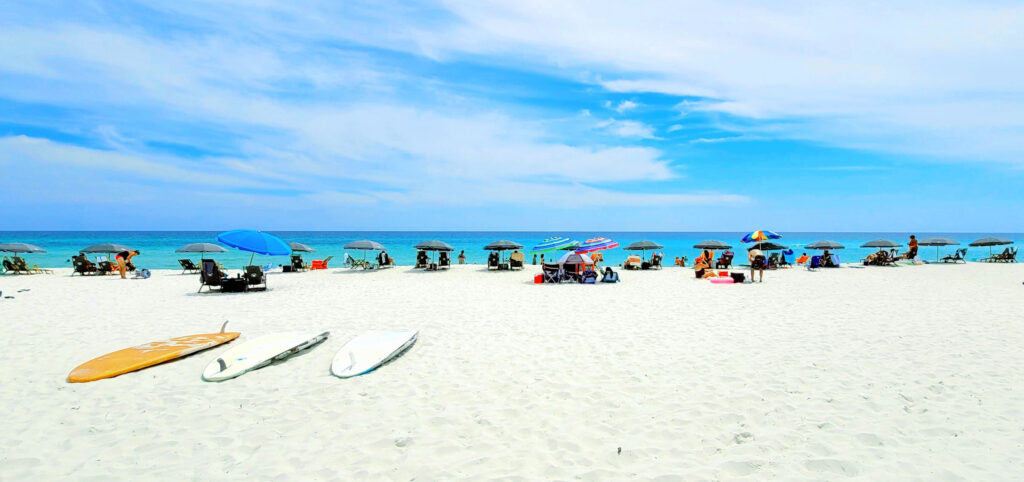 Fort Clinch State Park
Go to Fort Clinch if you are looking for stunning beaches in Jacksonville, as they are only 40 miles away on nearby Amelia Island.
This massive park has 1,400 acres of nature, beauty, and history. Beautiful arching live oaks sweep the landscape for a stunning backdrop at Fort Clinch State Park.
While you are there, you can see a great variety of birds as Fort Clinch is part of the Great Florida Birding and Wildlife Trail. Many serene nature trails wind through the park, including biking trails too. There are even on-site bike rentals available too, so be sure to try out a fabulous joy ride under the oaks.
Another great part about Fort Clinch beaches is the surf. Some of the best surfing in Florida is found in these Atlantic waters.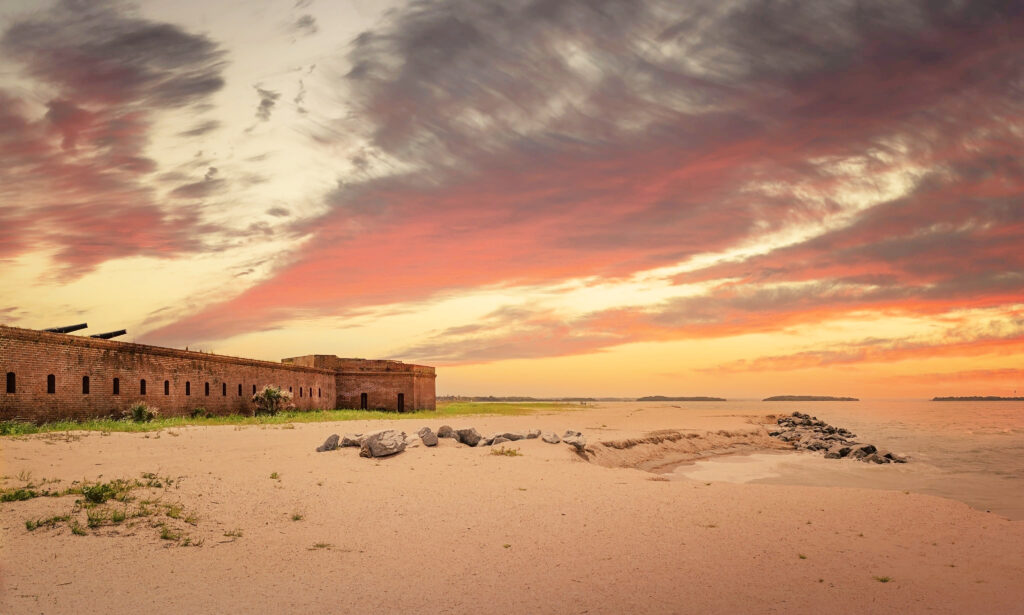 Seaside Beach
One of the nicest beaches in North Florida is called Seaside Beach. It is found along the scenic beach route, 30A. In fact, you may have seen Seaside before as it was the filming location for the 1998 Jim Carrey film, The Truman Show.
Known for perfectly constructed colorful beach houses, Seaside is a popular destination for travelers in the summer. That's because Seaside Beach has plenty of access to the beach as well as calm water inlets. It makes Seaside the perfect destination for stand up paddling, kayaking, and skim boarding.
Seaside Beach also boasts a small town feel, as there are no chain businesses crowding the incredible coastline. Seaside Beach is great for families, friends, or couples to vacation to. Not only is the beach beautiful, but a super convenient beach access is located right in the middle of Seaside's picturesque restaurants, galleries, and shopping.
Our tips for visiting Seaside Beach: rent a bicycle to ride down 30A and visit the local's favorite nearby funky dive bar, The Red Bar. Also, you'll want to walk through the Seaside square near Bud & Alley's restaurant to see the unique local art works as well as the beautiful church tucked away in the back of the shops.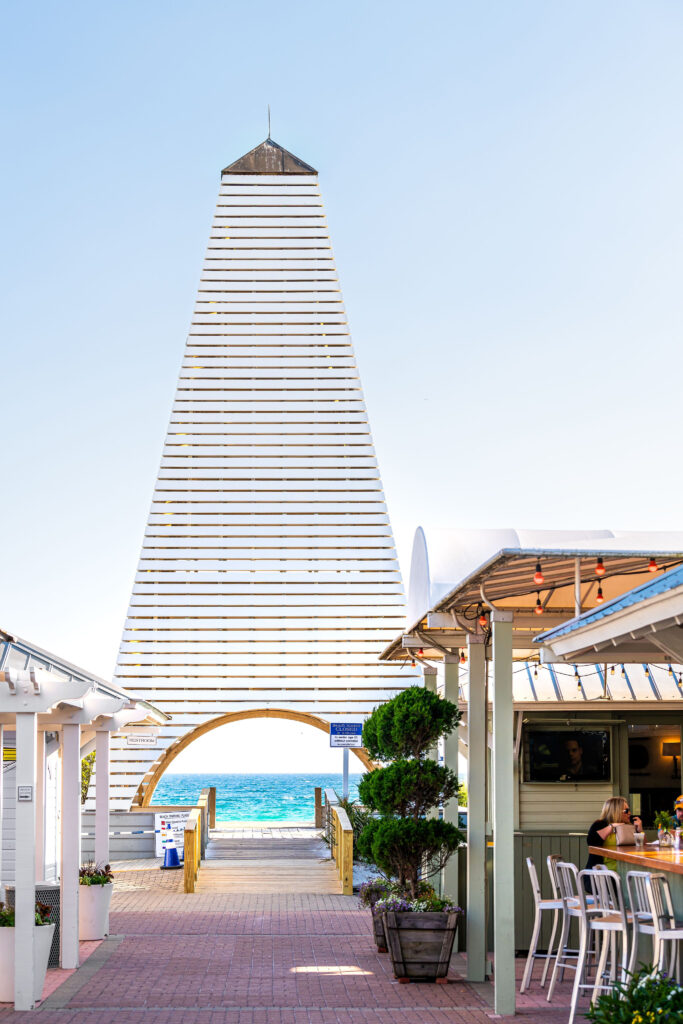 Alys Beach
Alys Beach is one of the most well kept secrets of North Florida. The reason why Alys Beach made the cut on the list of best vacation beaches in North Florida is because this mediterranean themed beach feels as if you have landed in Italy just for a beach day. It is just so utterly beautiful and oozing with class.
Alys Beach is drenched in luxurious eloquence. Stunning architecture brings Alys Beach to life with secluded court yards and green spaces. The stark white facade nearly seems to glow in the psuedo Greek village of Alys Beach. Even the roads leading to Alys Beach are down right iconic- they are lined with perfectly manicured palms.
While there are several convenient access points surrounding Alys Beach community, much of Alys Beach is exclusively private access. Homeowners and vacation rentals alike are given full access. So, if you are wanting a taste of luxury at the nicest beach in North Florida, make sure book a rental house along Alys Beach.
For those still wanting to get a piece of Alys Beach on a simple day trip, stop by and walk through Alys Beach main courtyard to the Caliza Pool. There are many wildly yummy restaurants within the Caliza, including a breath-taking poolside bar.
Fort Pickens
Another one of the best Florida beaches on the Gulf Coast is Fort Pickens on the Santa Rosa Island. Fort Pickens is one of the best beaches to visit in Pensacola and has definitely earned a spot on the list of best things to do in Pensacola.
Fort Pickens is a fan favorite for Northern Florida beaches for many reasons. First, the waters are beautiful and full of marine life. Secondly, the historic forts and batteries can be explored inside and out. Third, because Fort Pickens is part of the National Seashore, there is no development along the coastline. And finally, Fort Pickens is loved for being one of the best beaches to camp at. This tranquil spot just has to be on your list of North Florida beaches to visit.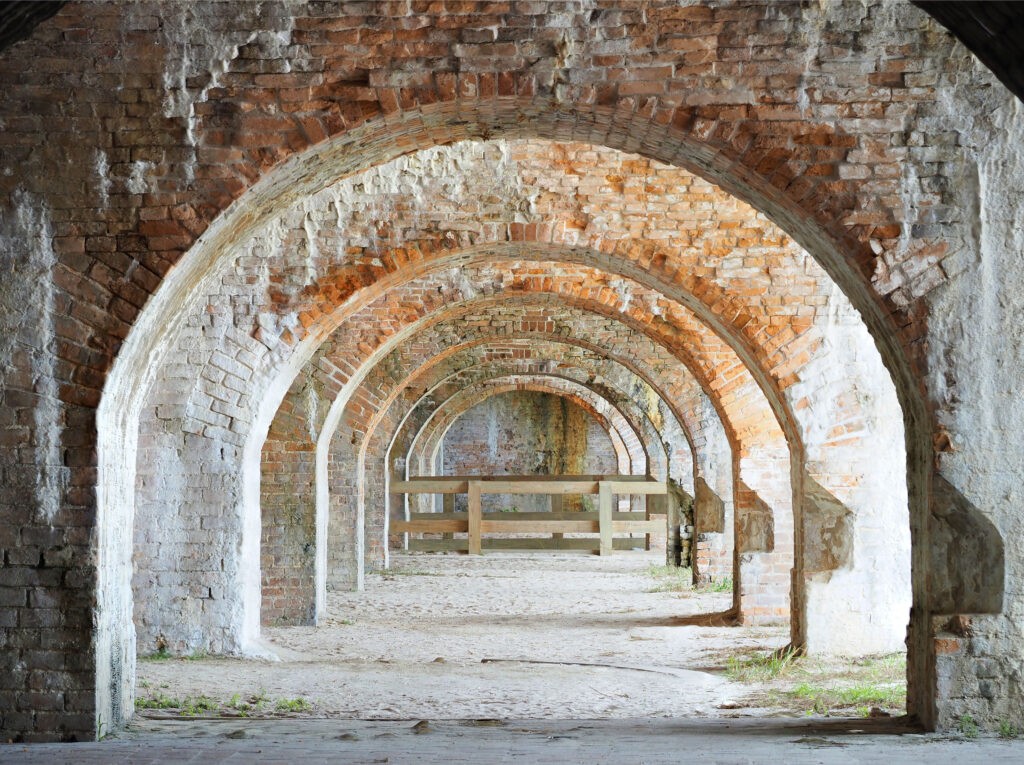 Vilano Beach
Vilano Beach is one of the best East Coast beaches in North Florida, and you can totally park your car on it. That is, if you car can handle the sand of course. Located on the North end of the historic district of Saint Augustine, Vilano is definitely one of best beaches in Saint Augustine that you won't want to miss.
Vilano is the prime beach for surfers and skim boarders to go to. Surfers love that Vilano beach consistently has heavy surf, steep drop off, and strong currents near the Vilano Jetties.
Also, another reason why Vilano beach is one of the great beaches in North Florida is because the fishing pier is such a great spot to watch the sunset over Saint Augustine. Even more, the Vilano Beach town has a great Art Deco vibe. The town also has many beautiful fountains, tasty restaurants, and great stays nearby.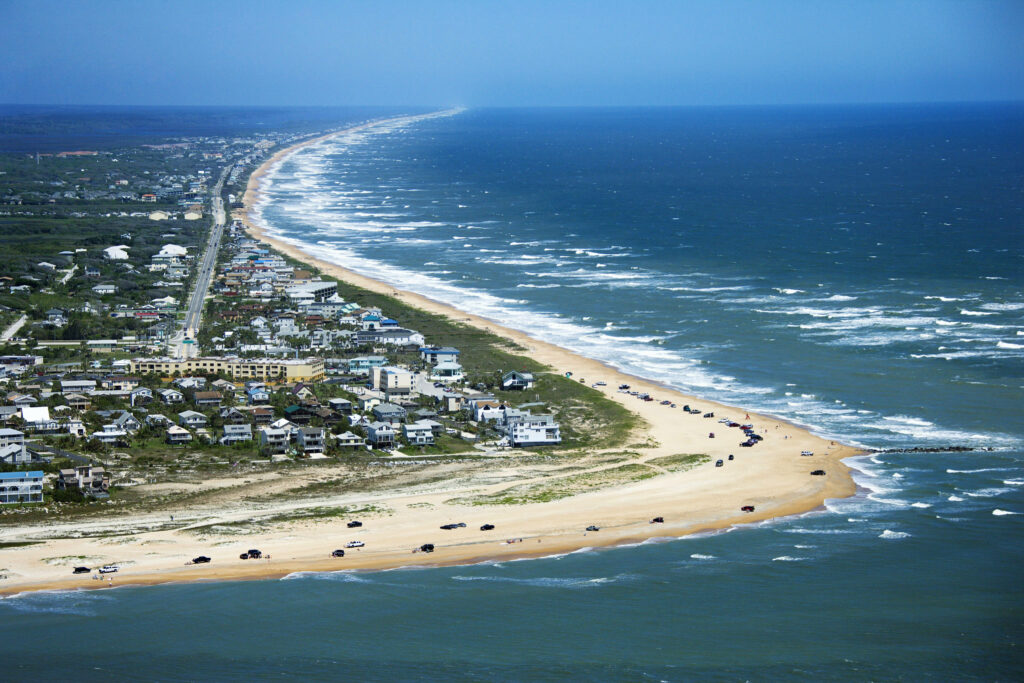 Saint George Island
If you are looking for a quiet beach, visit Saint George Island. This is one of the best spots for anyone looking for beaches near Tallahassee.
Saint George Island is the perfect spot to go shelling, sun tanning, swimming, kayaking, and camping. Despite being consistently ranked as one of the best beaches in the U.S., you can still find plenty of space to relax here as the coastline is not crowded at all. Best of all, Saint George beaches are totally pet friendly, so you can bring your best friend to the beach day out.
Crab Island
If are looking for the most fun Florida beaches on the Gulf Coast, then head to Crab Island. This beautiful man-made island is the hot spot destination for fun under the sun. Locals and visitors alike love hanging out at Crab Island as it is hands down one of the best beaches in Destin FL.
Boats, floating tiki bars, and kayaks gather on the "shores" of Crab Island every year. That's because over the years Crab Island has turned into a shallow sandbar. The now-sandbar stretches on the Northside of the Destin Pass and is very shallow. In fact, most parts of Crab Island are at max 4 feet deep, making Crab Island one of the best North Florida beaches for families.
The catch is that Crab Island can only be reached by boat. However, there are many places to rent boats, kayaks, stand-up paddle boards, and even floating tiki bars along the Destin Harbor.
We have so many tips for visiting Crab Island to share with you too. To begin, we should tell you that Crab Island becomes a bustling hub in the summer, practically turning into a floating village. As many as a hundred boats or more gather on the shallow sandbars during the peak of summer. Get there early morning to afternoon for a good spot. That's also when the boat food vendors are out too. In the summer, Crab Island mobile food boats offer ice cream, BBQ, and even fresh coconuts!
Trust us, Crab Island is on this list of North Florida beaches because it is worth making a trip to visit. With so many things to do in Destin too, this beach vacay is bound to be one of the best yet.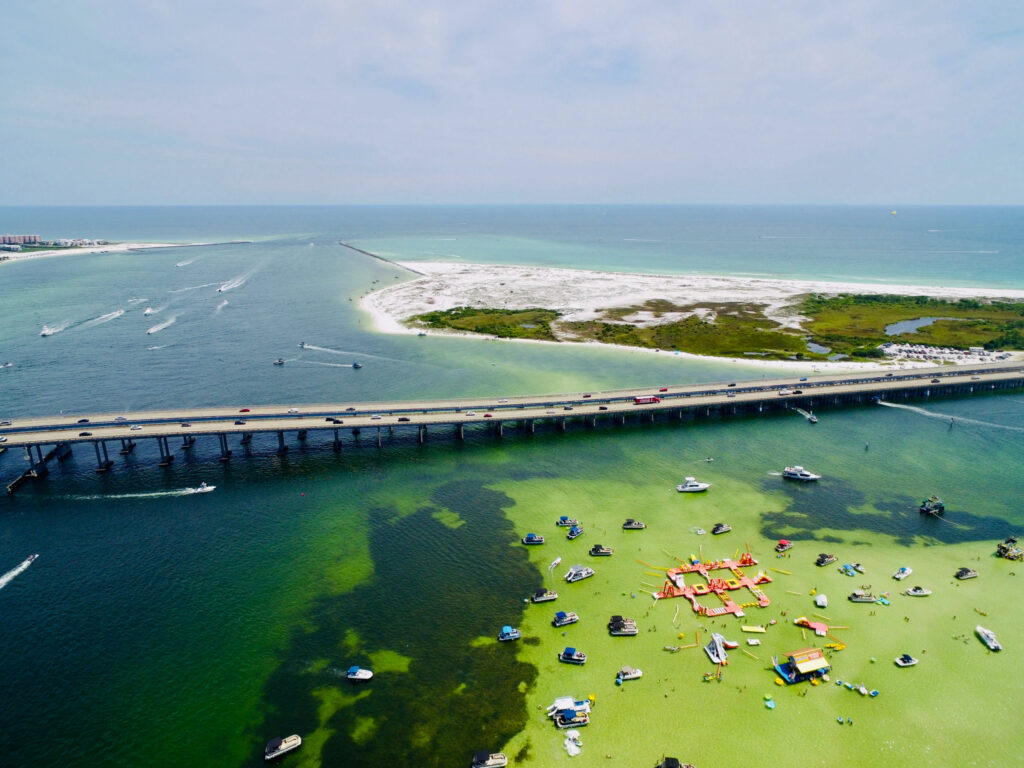 Casino Beach
Another one of Pensacola's best beaches is Casino Beach. While Casino beach is probably one of the most visited beaches in Pensacola, it is the central hub for summertime events, food, and all things fun.
Pensacola's Casino Beach is iconic. The giant towering beach ball will let you know you've reached the right spot. And, in the summer you can hear the Blue Angels Jets and see them in a jaw dropping show flying over this public beach.
With the Boardwalk across the street, the options for pizza, seafood, tacos, and drinks are practically endless. Discover one of the Pensacola Beach staple booze-filled drinks, the Bushwhacker. Its like the adult version of chocolate milkshake on the beach. Yum!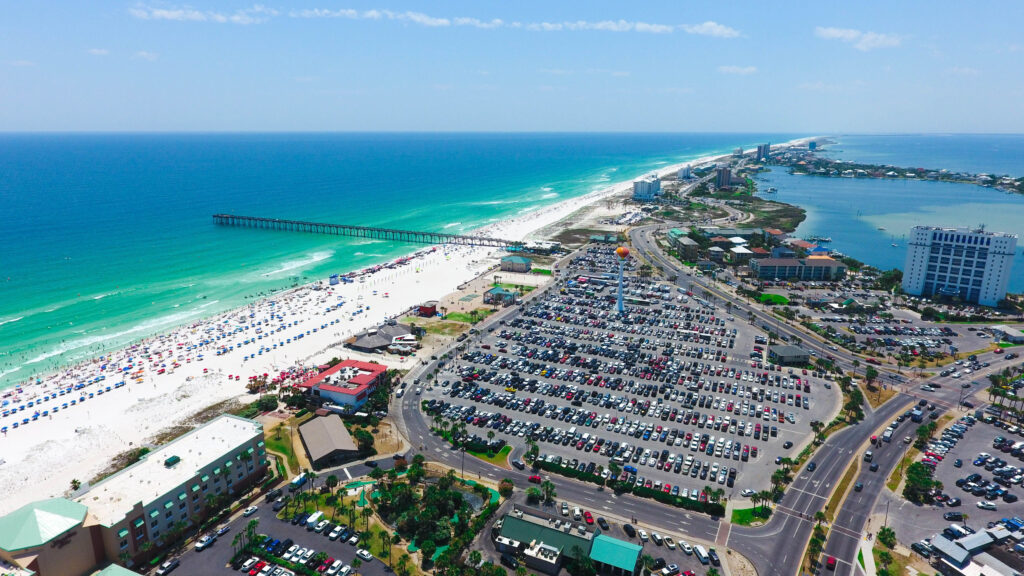 South Ponte Vedra Beach
Another great choice among the best beaches in Saint Augustine is South Ponte Vedra Beach. Just pull off the coastal scenic A1A road to Ponte Verda for more amazing beach spots in North Florida.
South Ponte Vedra takes the beach experience to another level with the seaside resorts, golf courses, and relaxing spas nearby. The mix of relaxed luxury and natural beauty is downright delightful. Its the kind of beach you will want to spend the whole day enjoying. There are grills on the beach too, so pack the hotdogs and hamburgers!
Not to mention, South Ponte Vedra beach has a great coastline for shelling. All along their gorgeous Atlantic beaches, you can find shark teeth, sand dollars, shells, and more.
Ponte Vedra Beach can be accessed by parking at the GTM Visitor Center, or at Mickler's Beach.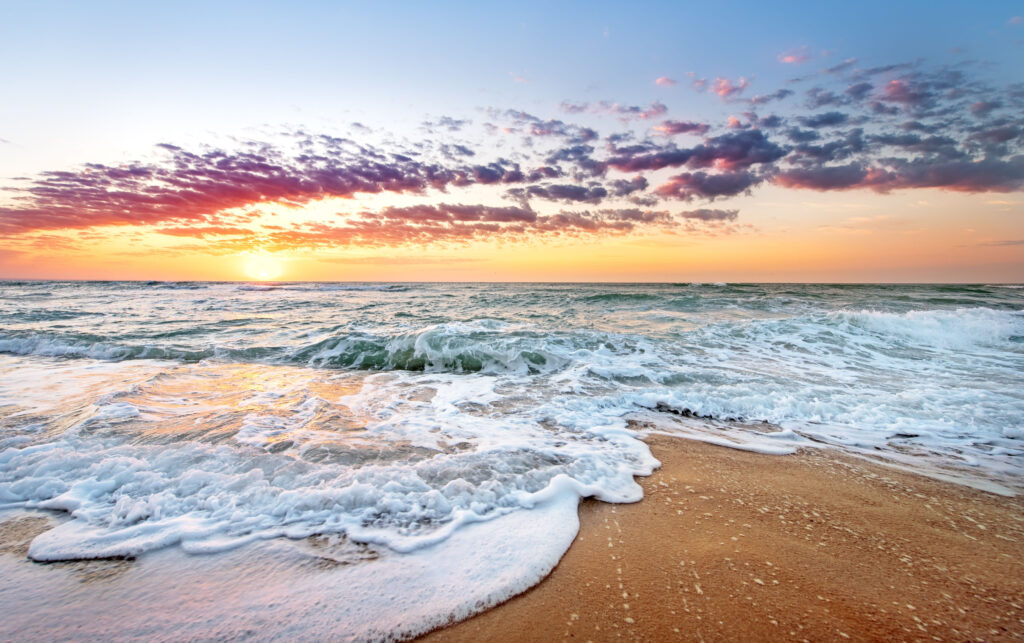 Cape San Blas
If you want a remote beach to hang out at, consider Cape San Blas. This is one of the beaches near Tallahassee, but without the crowds and hustle and bustle. Cape San Blas is the perfect beach for anyone looking for solitude along the shore.
With over 20 miles of white sands, you can find yourself in pure relaxation at the Cape San Blas beaches. Wide shores and 50 foot-tall sand dunes line this part of the Gulf Coast. They are perfect for sunbathing, swimming, shelling, and kayaking.
Cape San Blas is another dog-friendly beach too. Even more, Cape San Blas is actually one of the few horseback riding beaches in Florida.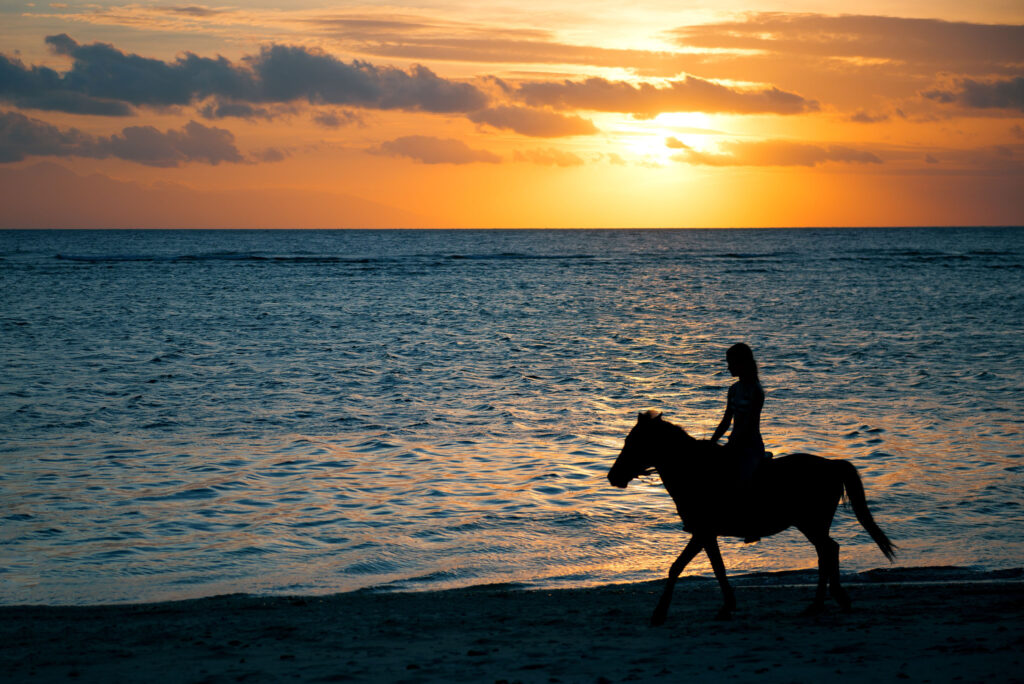 And that is our full list of the best beaches in North Florida. We hope this list helps you discover your perfect oasis. So pack up the umbrellas, sunscreen, and towels for an amazing time at one of these best vacation beaches in North Florida.
All of these beaches are close by other amazing things to do, so check out our tips to help plan the full vacay. We have so many ideas for where to eat, places to stay, and things to do for every beach spot in North Florida. We hope it helps!