If you have never been to Devil's Den, you are in for a real treat! This spring is truly a hidden Florida oasis and it's natural wonder brings Florida beauty to a new level! Having transformed from a simple scuba diving site, to a world class attraction, this spring is something you do not one to miss!
This spring is underground. But the coolest part about Devil's Den is that it is inside a dry cave! This cave has been home to many extinct fossils. Hence the name: Devil's Den Prehistoric Springs!
The natural wonder of this location is something you do not want to miss. From scuba diving, to merely exploring this unique oasis, you won't regret swinging by this spring.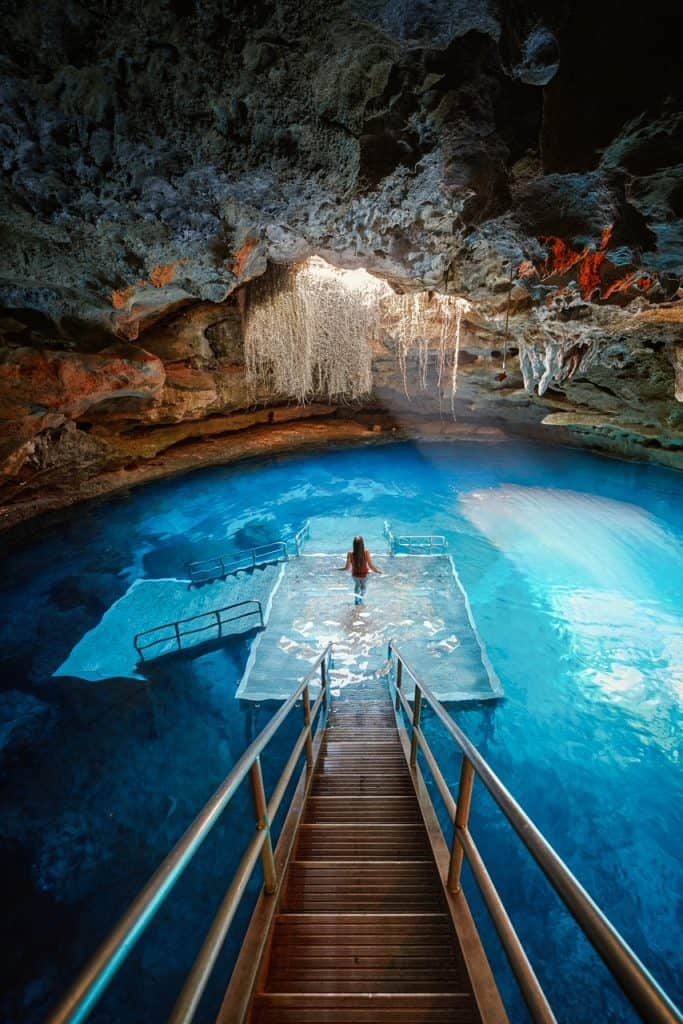 Why is it Called Devil's Den Prehistoric Spring?
This question is asked often! It is first called prehistoric because of the dry cave the spring sits under. In this cave, as mentioned earlier, there are tons of extinct fossils. Some of these are even n display at the University of Florida's Museum of Natural History.
But where does Devil's Den come from? On colder mornings you can steam rising from the chimney opening of the spring and cave. It looks like smoke, thus, early settlers gave this spring the iconic name of Devil's Den.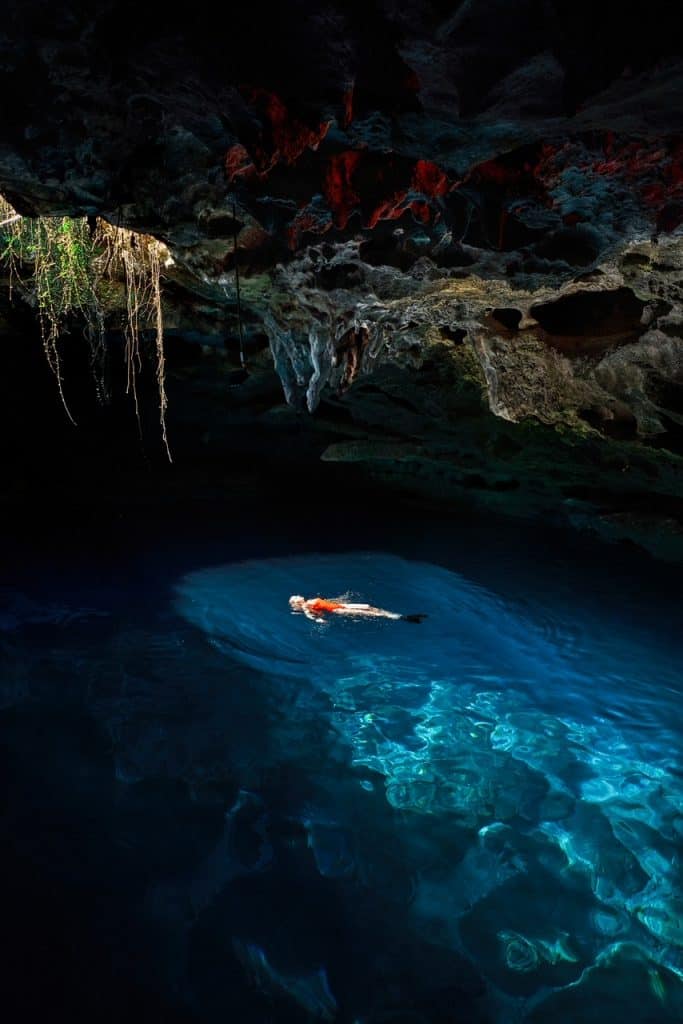 Where is Devil's Den Prehistoric Spring?
This spring is located north of Ocala and South of Gainesville. Devil's Den is located in the small town of Williston's if you know where that is! But it is truly in rural Florida. Despite this, driving off the beaten track is totally worth it for this iconic spot. And this area is also home to Blue Grotto Dive Resort, which is another cave system you can explore.
Having trouble finding it or worried about getting there? Just type in 5390 NE 180th Ave Williston FL, 32696. Or type in Devil's Den Spring in your GPS! Whether you put in the name or the exact address, you will find this place easily. Just remember, let your GPS guide you, as this is rural Florida. This is truly one of the best things to do near Gainesville.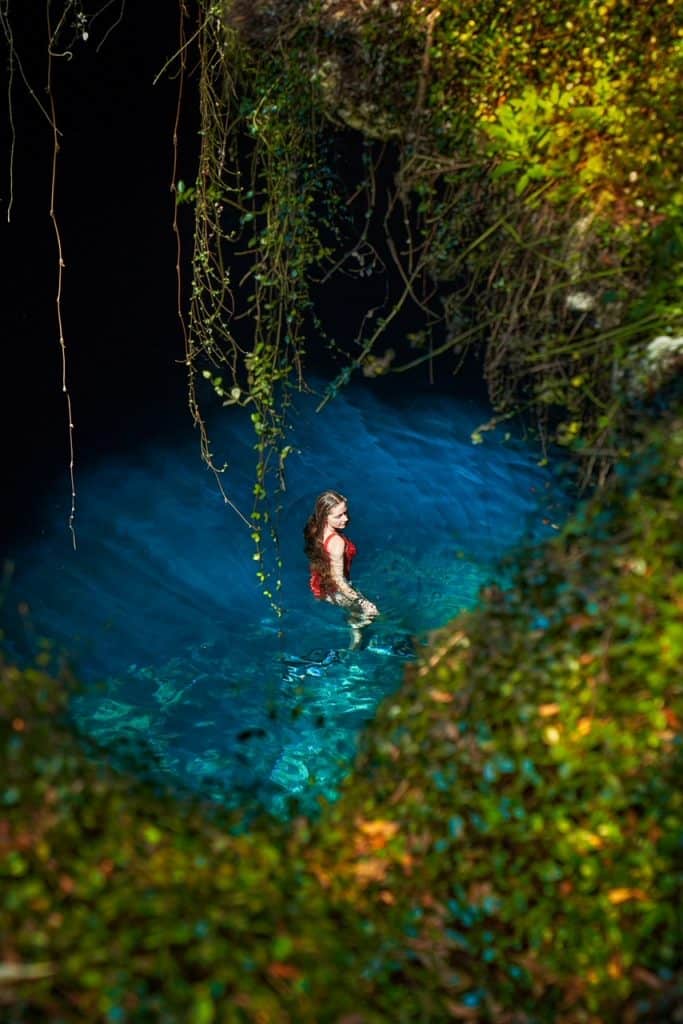 How Much Does it Cost to Visit Devil's Den?
Devil's Den in Florida costs $15.00 a person Monday through Friday. But if you are visiting on the weekend, it is $20.00 a person! And this applies to Holidays as well. But the price also varies depending on what you want to do at the springs and its surrounding areas.
If you are snorkeling here, you can rent snorkeling gear for an additional $10.00. But if you are scuba diving, that original $15.00-$28.00 ups its price to $38.00! And if you want to rent scuba gear, it is an additional $40.00. You can save money by bringing your own equipment, of course!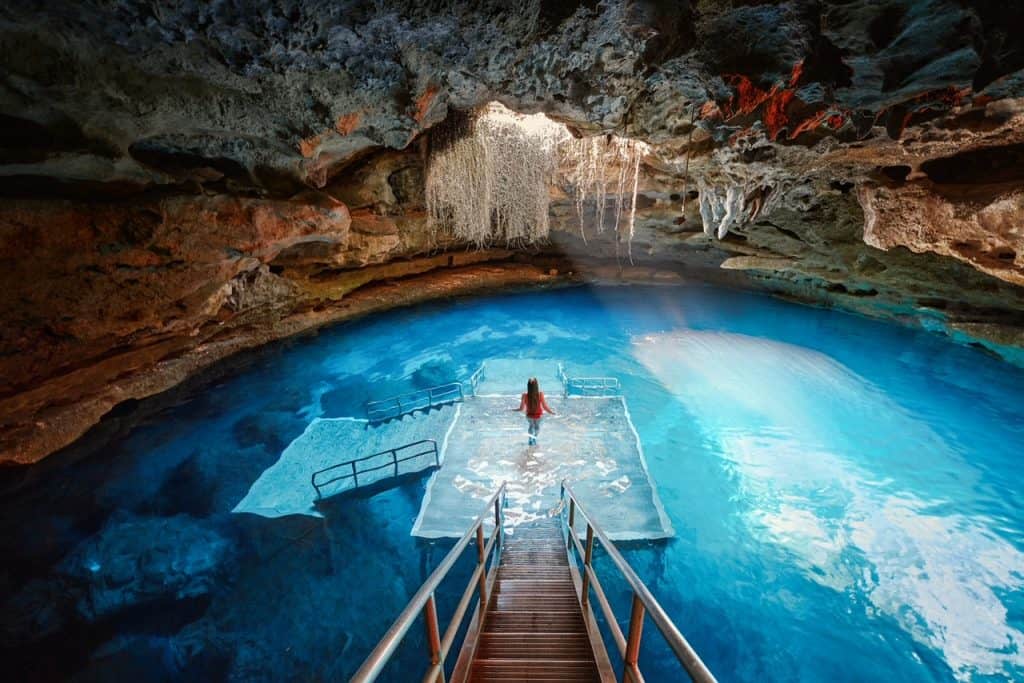 Making a Reservation for Devil's Den
Devil's Den is not a traditional spring where you can just show up and spend the day there. Here you MUST make a reservation to visit. Reservations can be made at their website.
You need to snorkel and go diving by appointment only, so make sure to reserve a day. Each snorkeler and diver must register individually, and if you are under the age of 18, you MUST have a parent on site.
You can reserve your spot at the website: devilsden.com, or you can call at 352-528-3344!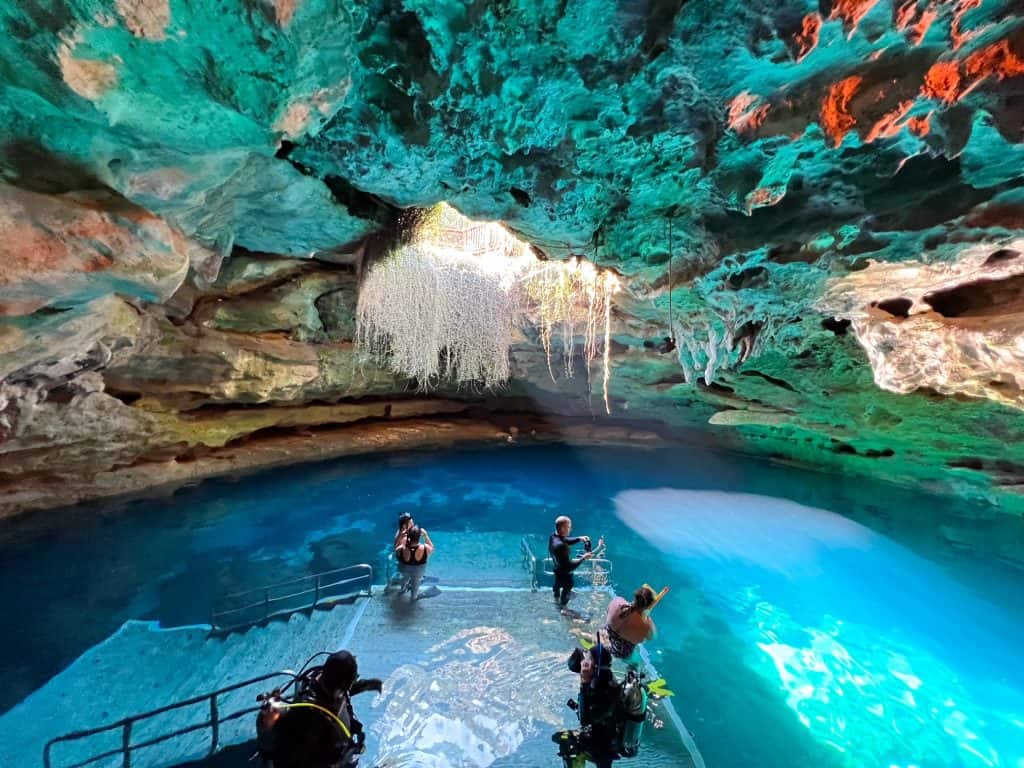 What Time does Devil's Den Springs Open and Close?
Devil's Den is open Monday through Thursday from 9 a.m. until 5 p.m. On the weekends, which includes Friday through Sunday, this spring is open from 8 a.m. until 5 p.m. It is also important to note that the last water entry and reservation is only available 1 hour before closing. This means you cannot enter the spring after 4 p.m.!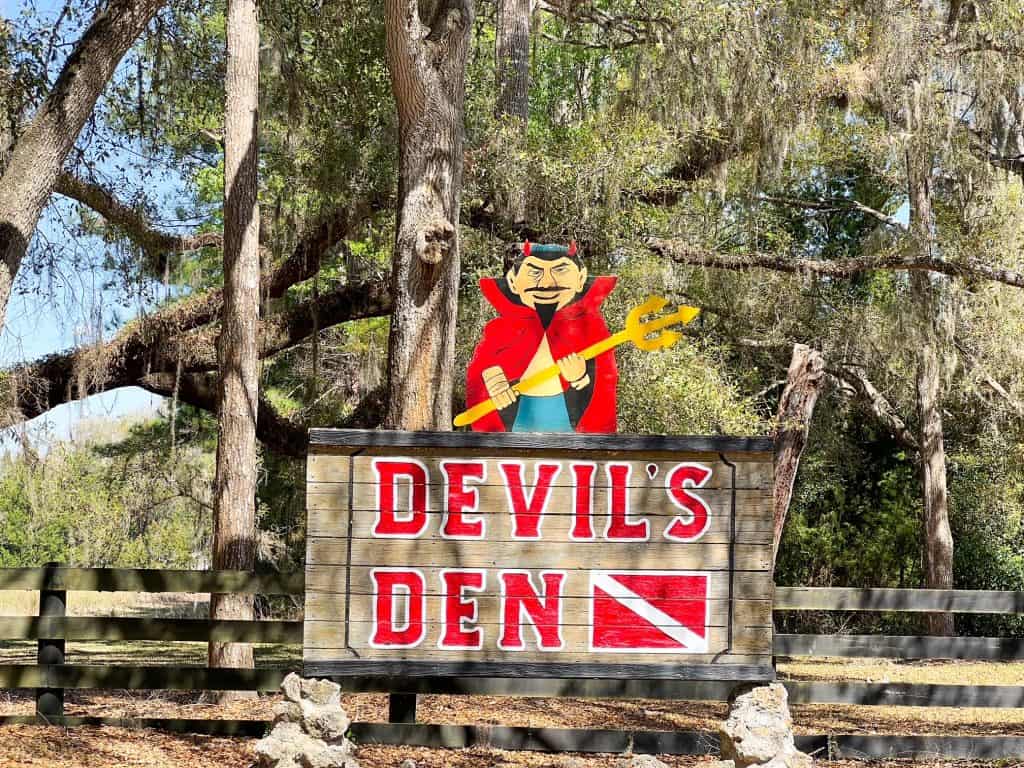 How Cold is Devil's Den Prehistoric Springs?
The crystal clear water at this spring stays at a constant 72 degrees all year long! Being inside a cave, this water temp is pretty consistent, and the ancient rock formations help keep it a bit insulated. However, it is also important to know that these springs are deep, so it can feel a bit cooler the deeper you dive. Bring a wetsuit if you want!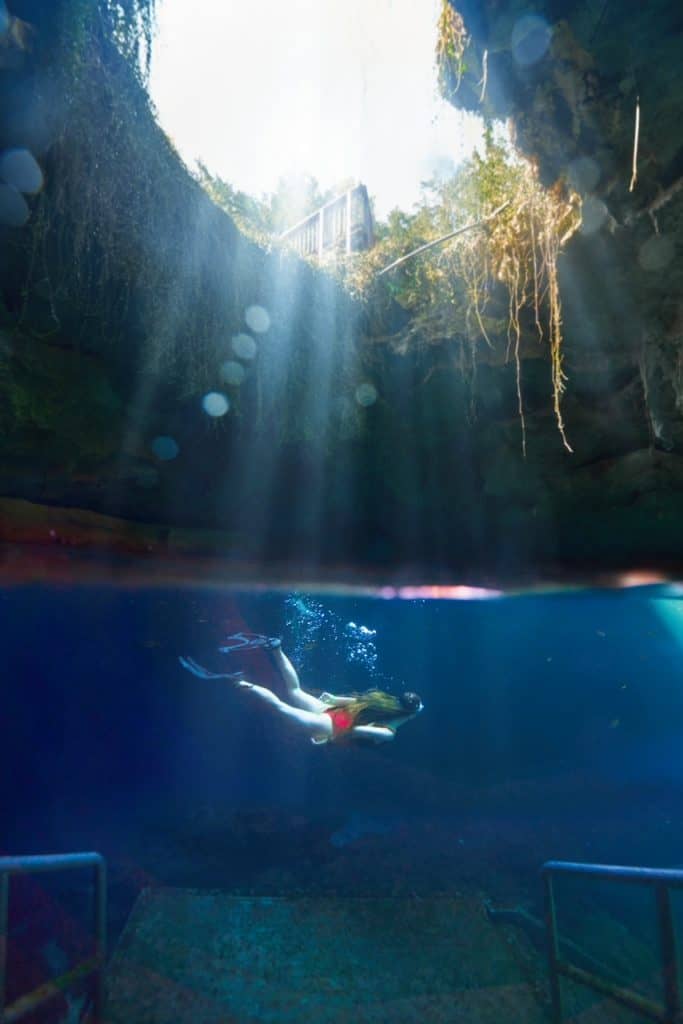 How Deep is Devil's Den?
Obviously the depth of Devil's Den Springs in Florida has to be deep enough to snorkel and scuba dive! But how deep is this natural wonder? This spring has a maximum depth of 54 feet.
Divers and snorkelers can enjoy fantastic views inside the crystal clear water and admire the ancient rock formations that date back 33 million years!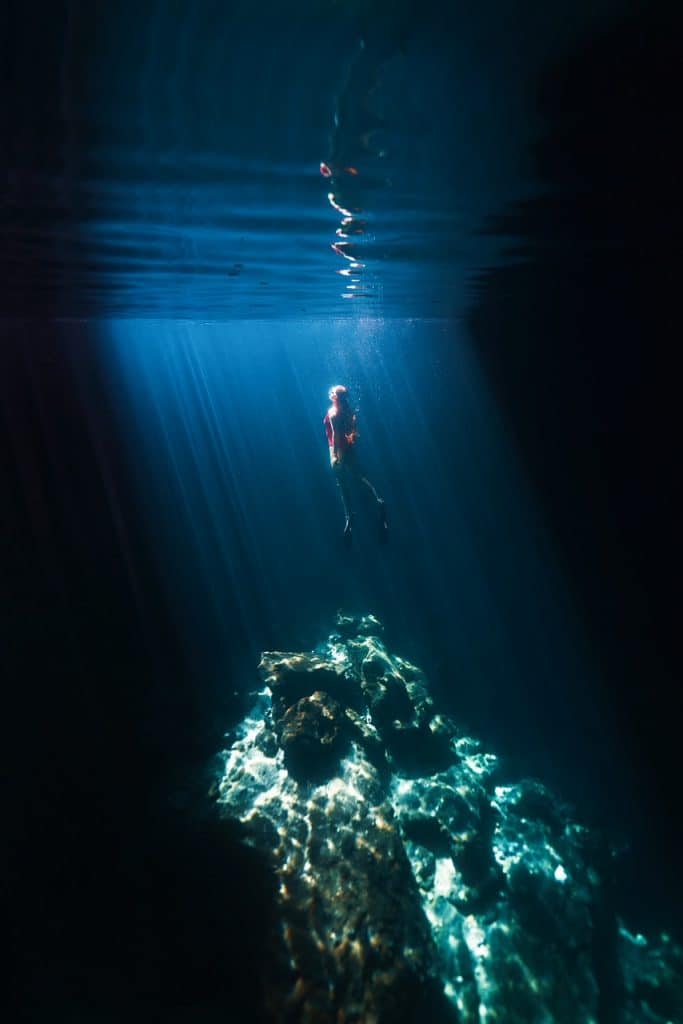 Are there Alligators at Devil's Den?
One question people always ask about the springs in Florida centers around our lovely population of alligators. So, are there alligators at Devil's Den? No!
There are no alligators, sharks or any creepy critters for that matter. Here you may see a few fish and one or two turtles, but that is all. This spring is truly perfect for a calm and quiet diving experience. There is no need to worry about fellow fish or other animals swimming too close to you!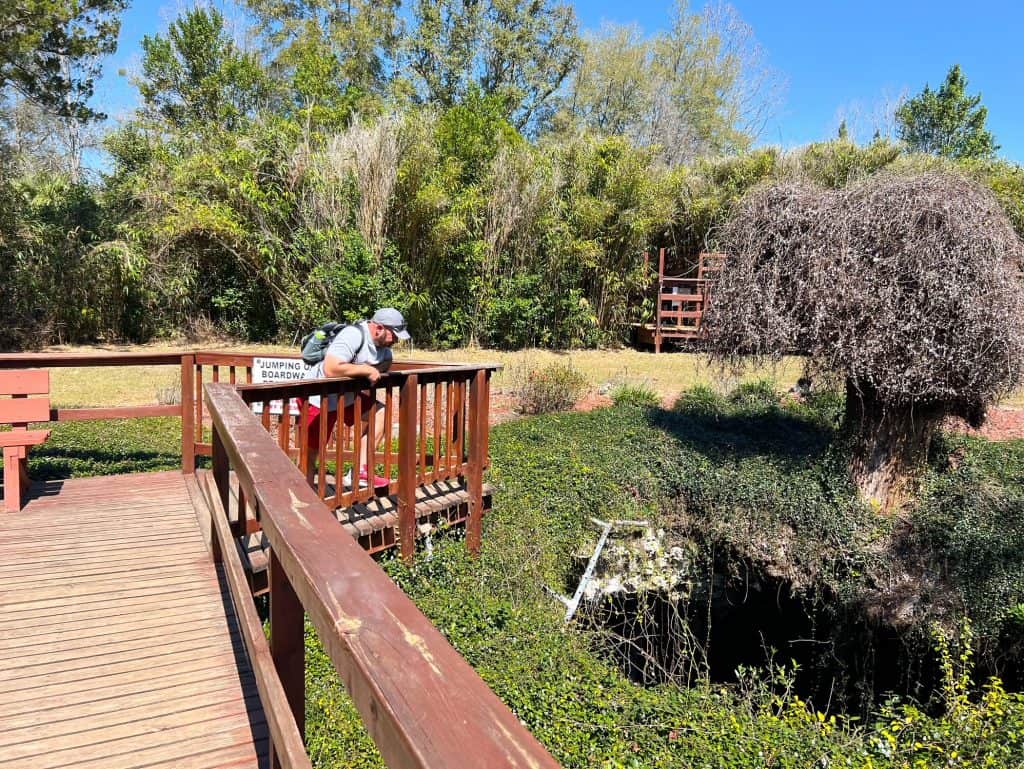 Crowds at Devil's Den Florida
This spring is obviously becoming a tourist destination. So that springs the question (no pun intended), what are the crowds like at Devil's Den? This spring is super popular now, so it can get busy!
However! Because of the reservation system it is never crazy crowded. And if you come right at opening or in the late afternoon, there is less people. This does mean that you will get a little less light rays in the water, though.
At the end of the day, making a reservation is super important and can really impact the crowds. This spring is also still ensuring that social distancing is going on, so the less people the easier this is!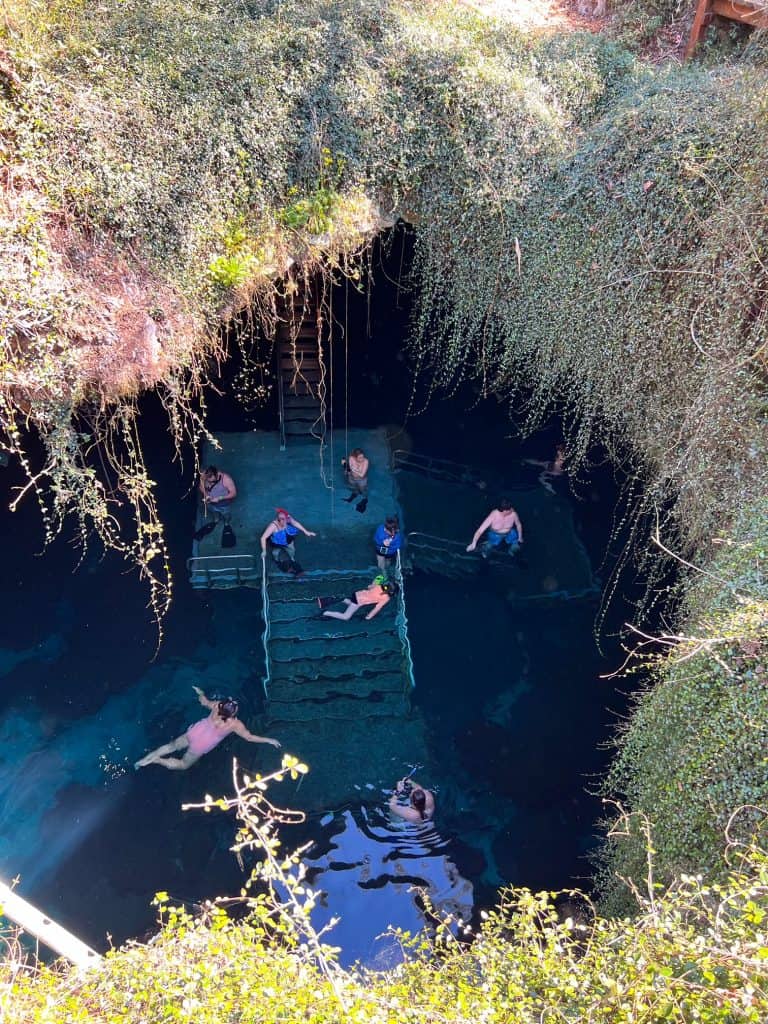 Swimming at Devil's Den
To snorkel, and scuba dive at Devil's Den, you must be a strong swimmer. This is mainly because of the depth of the spring! And you must have a mask, fins, and snorkel on you at all times to help aid in the swimming process.
If you don't snorkel, you can go scuba diving, of course! But it is super important to stress that you cannot stand there and hang out. You MUST be in the water, actively swimming with the use of snorkel or scuba gear. Make sure you are a strong swimmer overall. This spring will require you to fill out waivers saying that you are!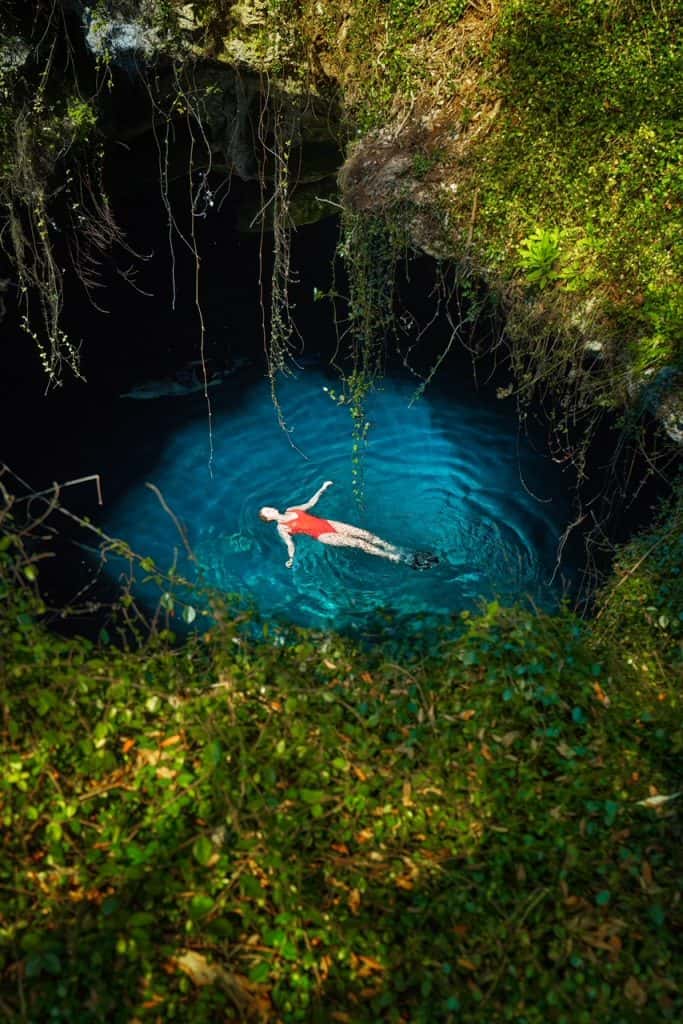 Can I Just go Down and Look at the Spring Without Swimming?
The short answer? NO! There are cameras everywhere in this spring. They are there to ensure safety. And part of those safety requirements and stipulations is the fact that visitors cannot just hangout and look at the spring.
Again, this is for safety reasons. There is only one ladder to get out of the spring, so they don't need the platform exit getting too crowded. It can be a fire hazard! Plus, this platform and ladder gets a bit crowded as is, and Devil's Den just wants to make sure everyone there is safe.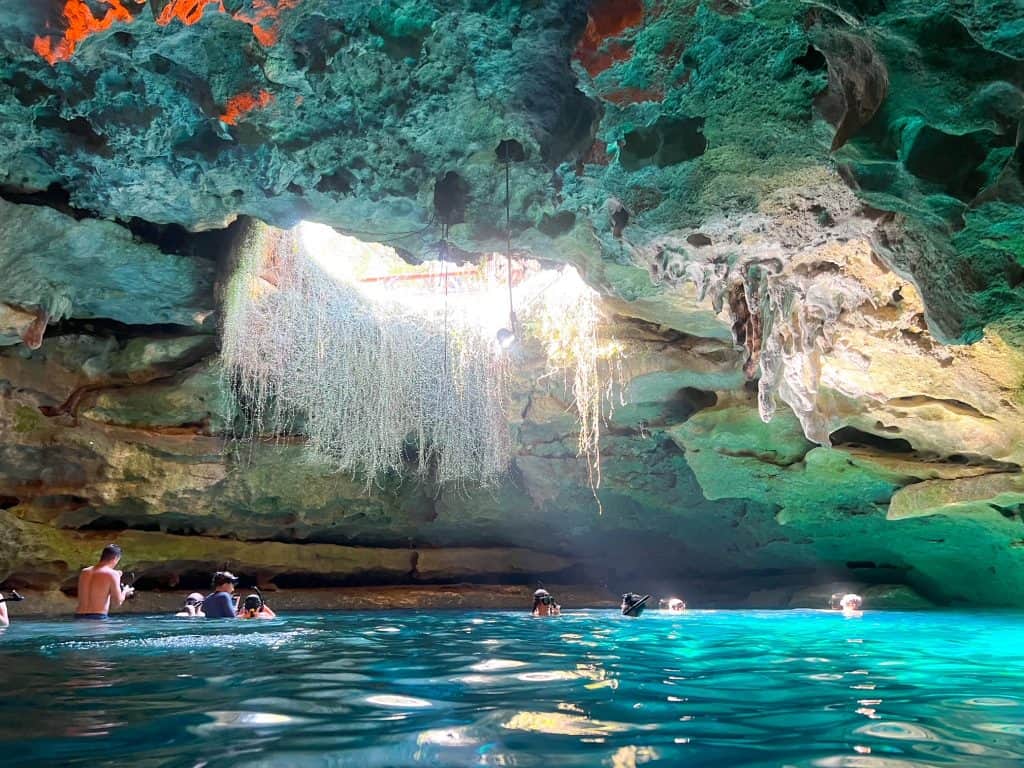 Camping at Devil's Den
You can always spend the night at these springs. The secluded accommodations are great for an overnight adventure! Devil's Den offers 4 cabins that are available for rental. They are identical in size and sleep up to four people.
These cabins also have a kitchen which features a microwave, mini-fridge, and sink. The admission is separate from lodging fees. And the nightly rates start at $140 for one night. But if you stay for more than 3 nights, you'll pay about $105.00 per night!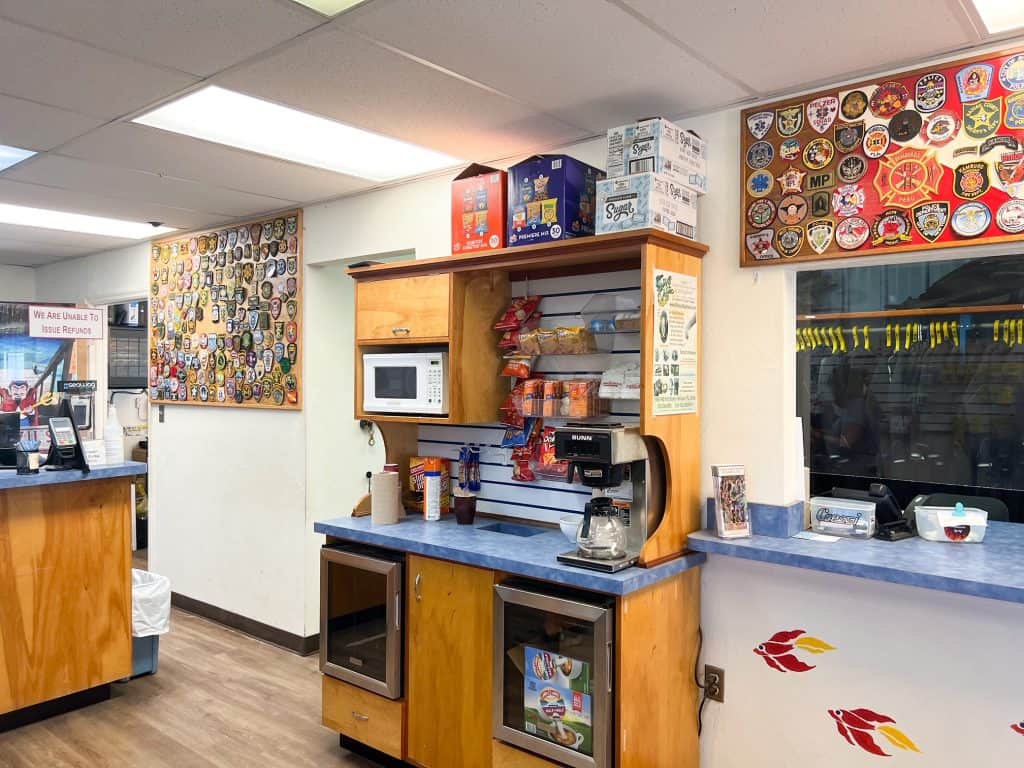 But if you don't want to rent a cabin, you can always pitch a tent at the campgrounds. Here people gaze at the stars and enjoy nature. Some select sites feature electric and water hook ups. There is also porta-potties and bathroom/shower facilities for these sites. It is $12.00 per night, per person to camp in a tent here! And most sites are first come, first serve.
If you have an RV as well, there are 32 sites in which you can stay at. Devil's Den offers 30/50 amp hook-ups, water, and sewer. Once again, admission to Devil's Den is separate, but the length in stay averages between $35.00- $38.00 a night!
Please note that also four-legged friends are welcome but they must be leashed. And make sure to call ahead for any reservation. No matter where you are staying at Devil's Den– the tent campgrounds, RV park, or cabins– they can book out fast! So call ahead!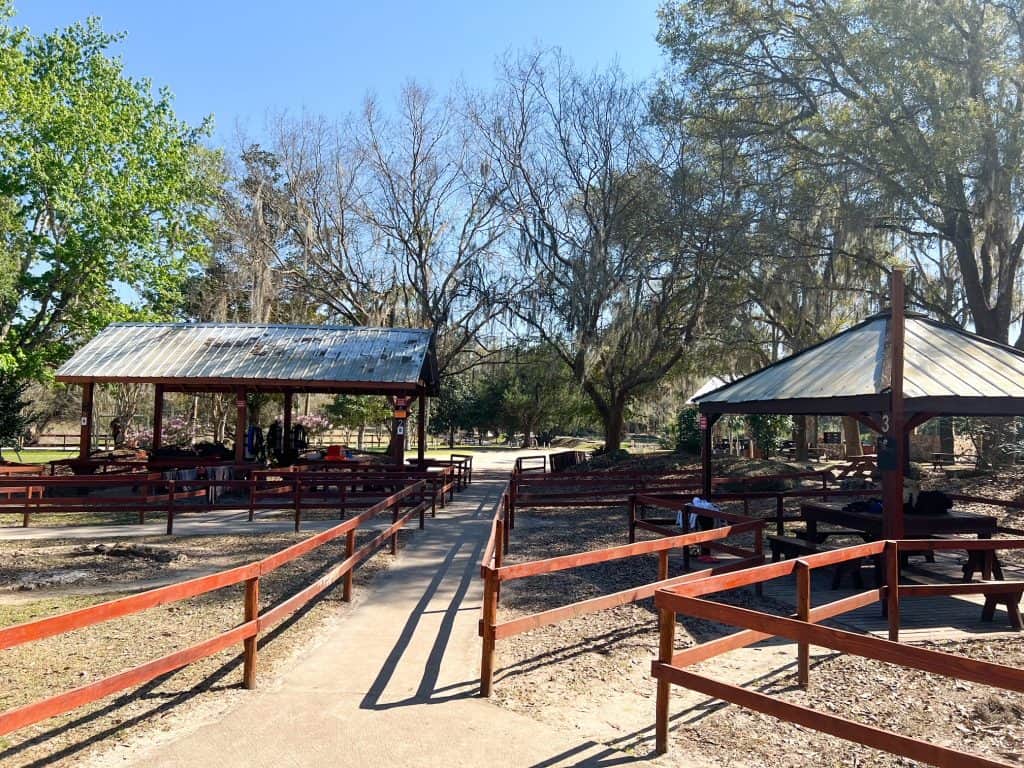 Tips for Devil's Den Prehistoric Spring
Looking for a summary of tips or some quick advice for your visit to Devil's Den? We've got you!
If possible, bring your own snorkel gear to save money! Scuba gear too!
Don't worry about going on the weekend. This spring requires reservations, so if the reservations max out at any time of the day during the weekend, it doesn't matter. It only fills to a certain number!
Don't go to Devil's Den unless you are a strong swimmer!
You can rely heavily on the snorkel gear if you are a weaker swimmer, but this can get boring or tiring, so be careful!
If you want a fantastic view of the light rays, do your best to get a reservation between 12 and 1 p.m.
If you are looking for the lowest crowds, book a reservation for either in the morning or late afternoon.
And don't forget a waterproof phone case with a string! You don't want to drop your phone 54 feet, but you will want photos! We promise!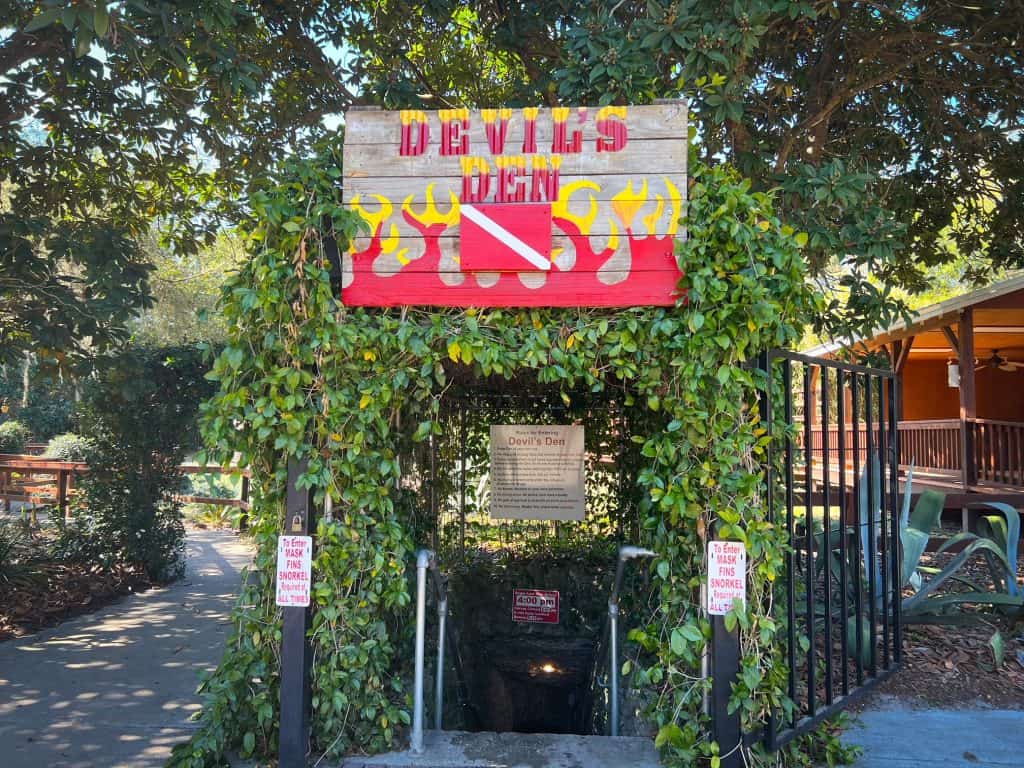 And there you have it folks! Some of the best tips and tricks for visiting Devil's Den in Florida. This natural wonder is becoming more and more popular, so make sure to visit and make a reservation soon. Take a dive, snorkel, or stay a few nights here! We promise you won't regret this hidden oasis. It is like stepping into another world. One you may not want to leave! And if you want more on Springs in Florida, check out our article on Florida's Natural Springs!