Are you looking to catch some rays at the best Panhandle beaches in Florida? You've come to the right place!
Located in the northwestern part of Florida, the Panhandle beaches stretch along the Gulf of Mexico. Gulf beaches tend to have warmer water than their ocean counterparts, thanks to the Gulf Stream.
You can find beautiful white sand and clear blue water at the beaches in the Panhandle.
The Panhandle is home to some awesome Florida State Parks as well as quaint beach towns. It's a mix of natural beauty and cultivated commercialism. Whatever vibe you're looking for, you will be able to find a Pandhandle beach that is right for you!
Beaches in the Pandhandle of Florida include some of the most beautiful beaches in the state. So grab your sunscreen and discover the best Pandlehandle beaches!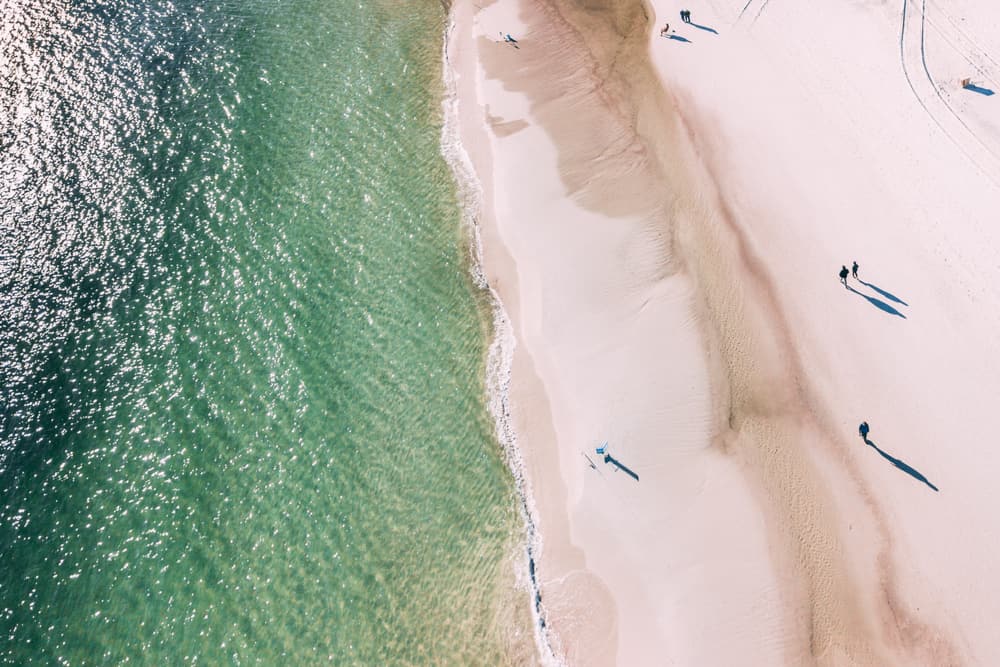 15 Best Panhandle Beaches You Shouldn't Miss
Navarre Beach
One of the prettiest white sand beaches in Florida, Navarre Beach should definitely be on your list of best Panhandle beaches. With a purposefully limited amount of shops and restaurants nearby, Navarre Beach is a great place to relax and connect with nature.
Located near Pensacola, Navarre Beach is accessible via a causeway from the mainland and offers free parking. There you will be greeted by warm, emerald waves.
Navarre Beach is home to the longest pier in Florida, stretching out to almost 8,000 feet long. When you walk out on it, whether to fish or just to gaze at the horizon, you will feel like you're in the middle of the ocean.
Also located at Navarre Beach is the Sea Turtle Conservation Center, where you can learn about these great, shelled creatures and the conservation efforts to protect them. Meet Sweat Pea, a rescued sea turtle who can no longer live in the wild so she serves as an "ambassador-in-residence" at the center.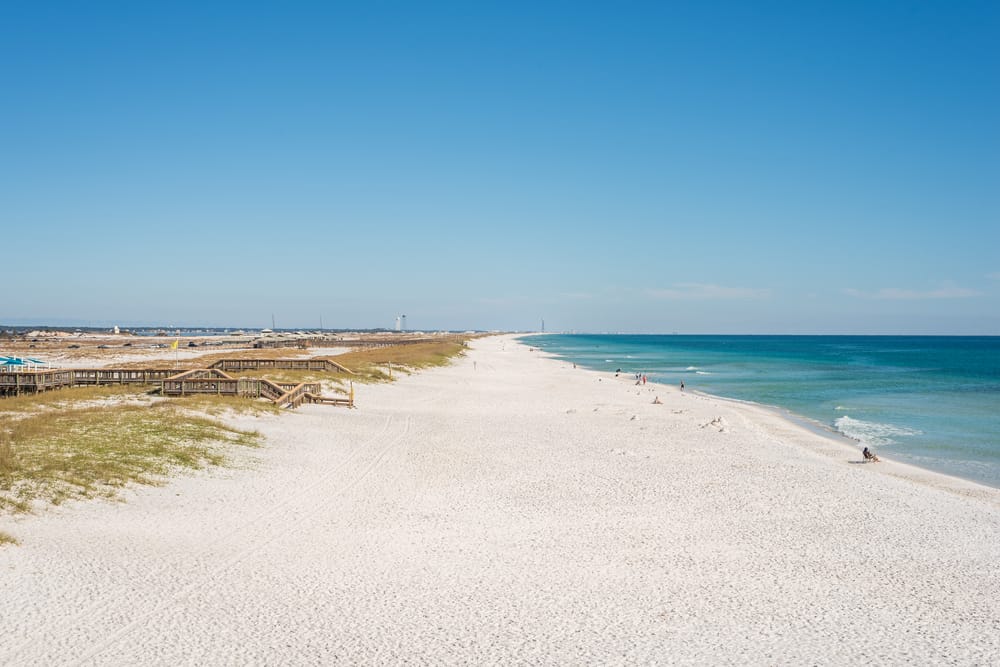 Henderson Beach State Park
Located just off the Emerald Coast Highway is Henderson Beach State Park, which has one of the best Panhandle beaches. Visiting this protected part of the Emerald Coast is also one of the best things to do in Destin.
Follow the boardwalk through 30-foot high snowy white sand dunes down to the beautifully clear water. Henderson Beach is a fantastic spot for swimming, as the water temperature is a nice 75-80 degrees Fahrenheit. However, be aware that a lifeguard will not be on duty, so pay attention to the water condition flags!
There are 60 campsites within the park, and it's particularly popular among RV campers. Since it's a state park, there is a small fee to enter for the day (if you're not camping) so Henderson Beach tends to be not as crowded as the nearby public beaches.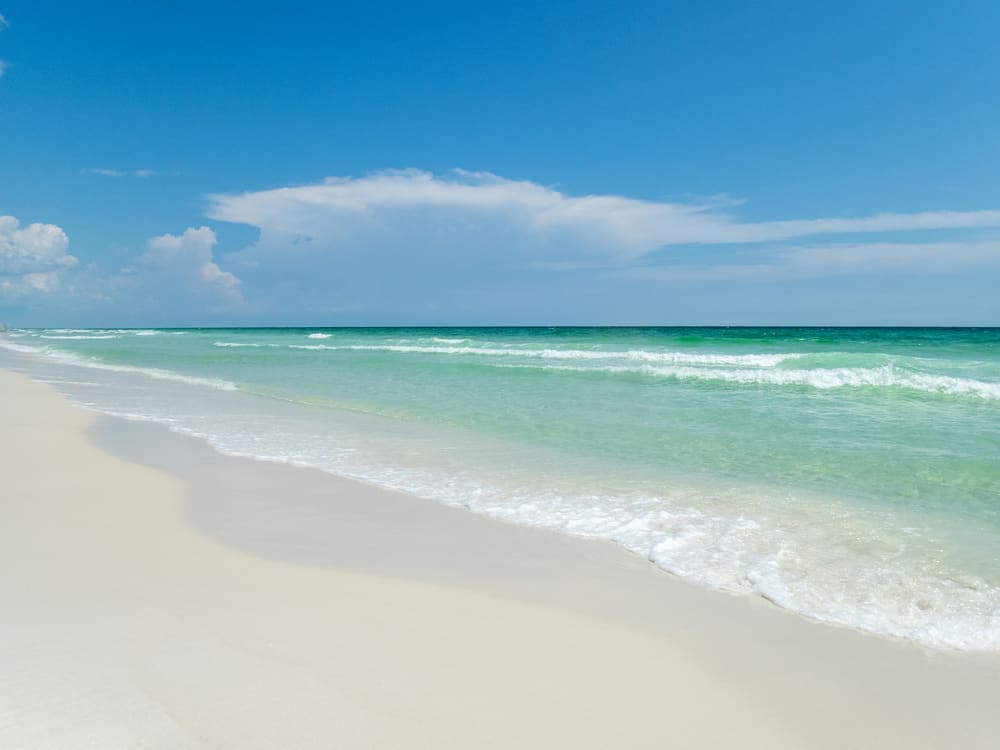 Pensacola Beach
Navarre Beach's slightly busier neighbor, Pensacola Beach is another of the best beaches in the Pensacola area. You'll be able to spot Pensacola Beach from aways away due to its iconic Beach Ball Water Tower.
With almost 20 miles of sugar-white sand and gorgeous blue water, Pensacola Beach is one of the best beaches in the Panhandle.
Stroll the Pensacola Beach Boardwalk where you'll find shopping, good eats, and live music. Pensacola Beach is one of the great Panhandle beach towns to visit with kids as there are plenty of things to keep them entertained.
In addition to swimming try parasailing or snorkeling! There is a pier at Pensacola Beach as well, where you can rent fishing gear from the bait and tackle shop.
Once you've explored the beach and boardwalk, the whole area of Pensacola has lots of fun things to do!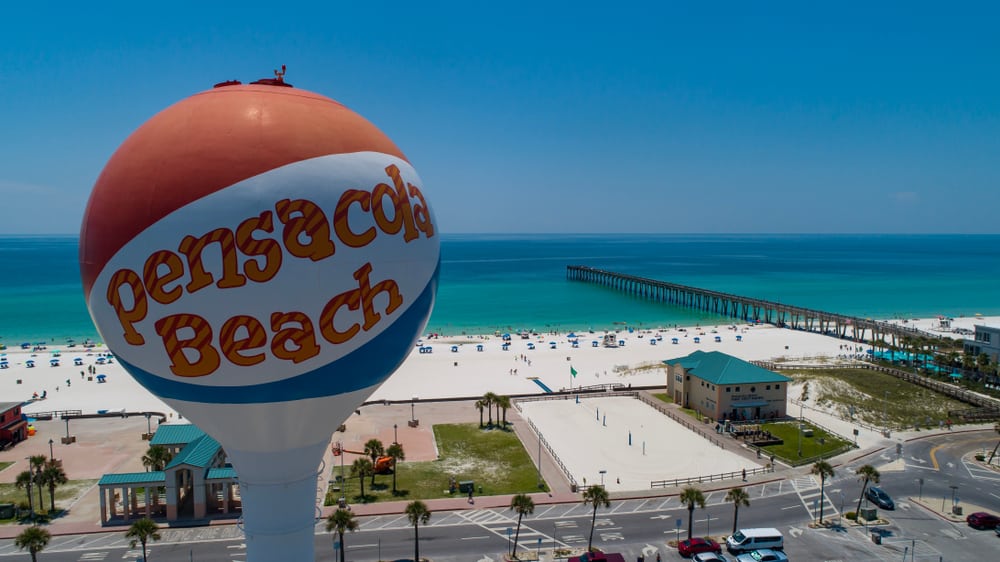 St. Andrews State Park
Located in Panama City, St. Andrews State Park has one of the best Panhandle beaches. St. Andrews has spots for swimming and snorkeling, as it sits between the Gulf of Mexico and St. Andrews Bay.
St. Andrews State Park is a beautiful place to explore. From the clear, green waters that are a snorkeler's delight to the paths through the pines, this State Park offers lots of natural attractions. It's also a popular stopover for migratory birds and butterflies!
For a bonus beach day, you can also take a ferry ride across the channel to the nearby Shell Island.
If you plan on taking full advantage of St. Andrews and would like to camp out, make sure to reserve your spot in advance, as it's a popular place.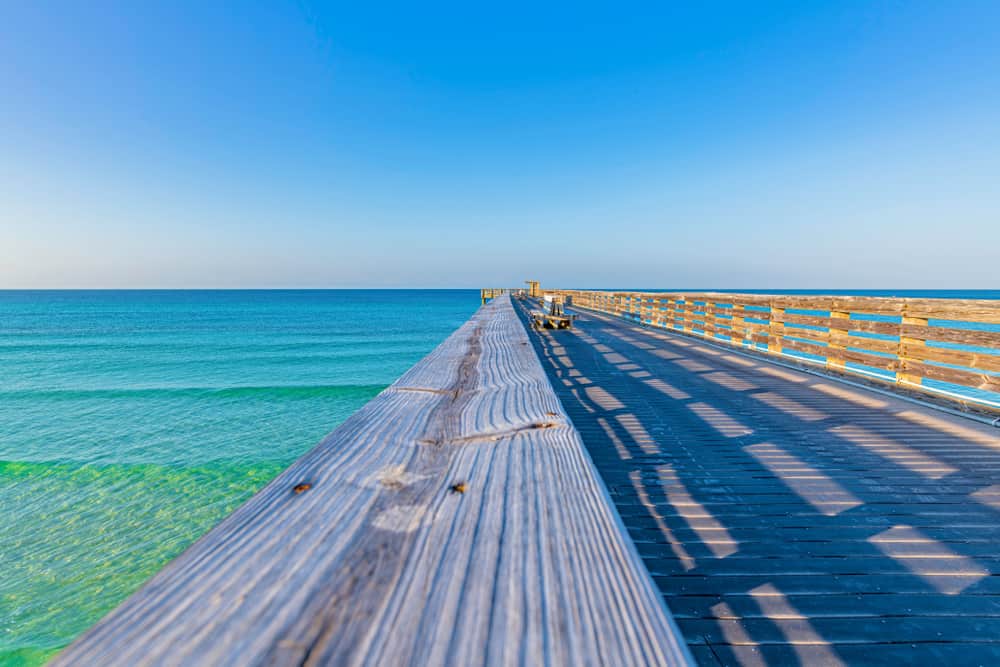 Seagrove Beach
One of the prettiest beach towns in Florida includes Seaside, which is most known for being a filming location for the 1998 movie The Truman Show. As the name would suggest, Seaside sits right on the water, so of course, it has one of the best Panhandle beaches.
Stretching along Highway 30A, Seagrove Beach is a beautiful mile-and-half sandy beach, protected by groves of trees. The water is clear, calm, and warm! Plus Seagrove Beach offers some spectacular sunsets across the Gulf.
For a fun beach day, check out the other things to do in Seaside, like visiting the unique beach pavilions and eating on Airstream Row.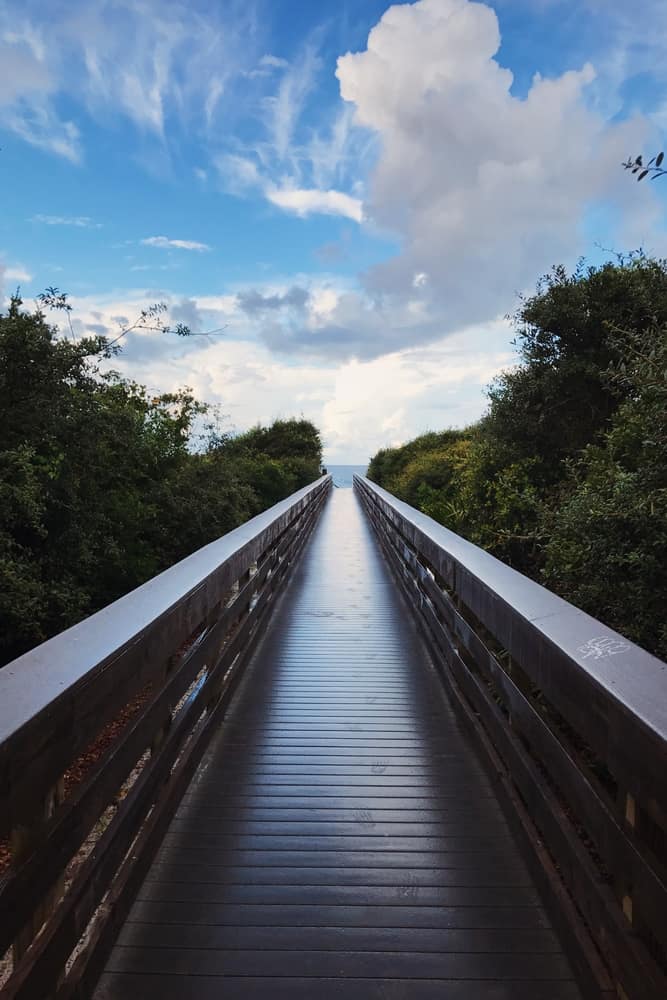 Grayton Beach State Park
Just west of Seaside lies Grayton Beach State Park, another of the great Florida State Parks that has some of the best Panhandle beaches. This State Park is almost 2,000 acres and offers places for swimming, paddling, and cycling.
At Grayton Beach State Park, it will feel like you have a semi-private beach! Revel in the solitude on the clean sand and wander the hiking trails through the dunes. (But don't walk on the dunes themselves, an animal might be living there!)
If you're feeling adventurous, head over to the three dune lakes within the park for a paddle. The dune lakes are a unique mix of fresh and saltwater!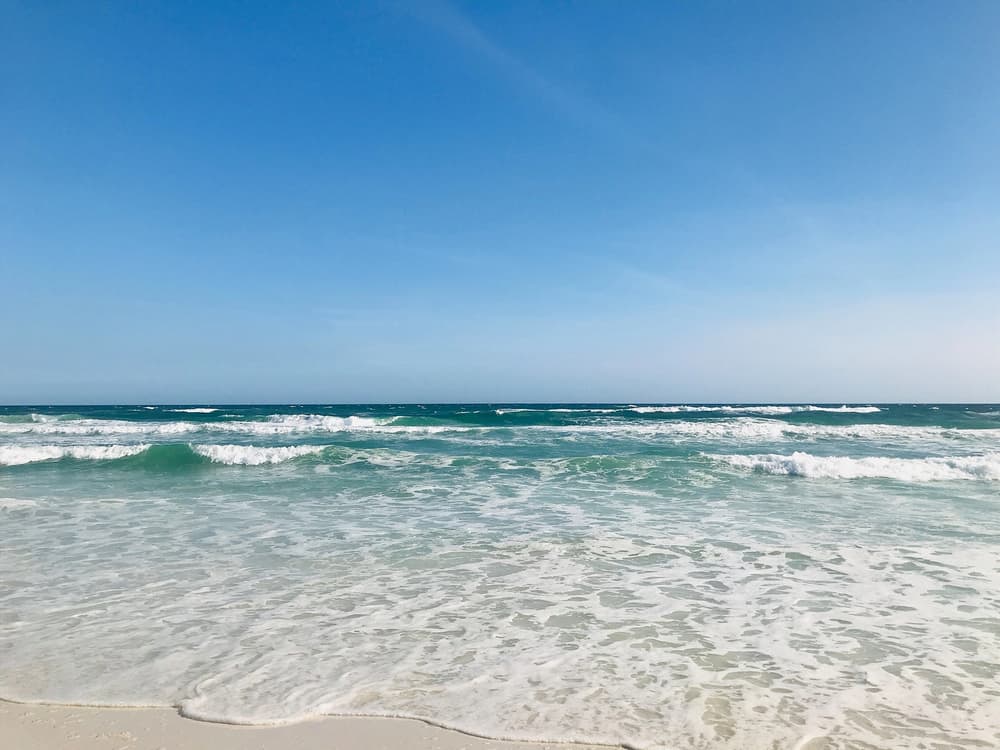 Okaloosa Island
Between Fort Walton Beach and Destin lies the three-mile-long Okaloosa Island, and there you can find some of the best Panhandle beaches. Also technically recognized as part of Santa Rosa Island, Okaloosa Island has various spots to access the ocean.
You can access the beach from the Okaloosa Boardwalk, where you'll also find shopping, ice cream, volleyball courts, and restaurants. There are also numbered beach access points spread amongst the hotels and rentals. The public beach areas all have restrooms and picnic areas, plus seasonal lifeguards.
Okaloosa Island is also a great place for dolphin sightings in the Panhandle!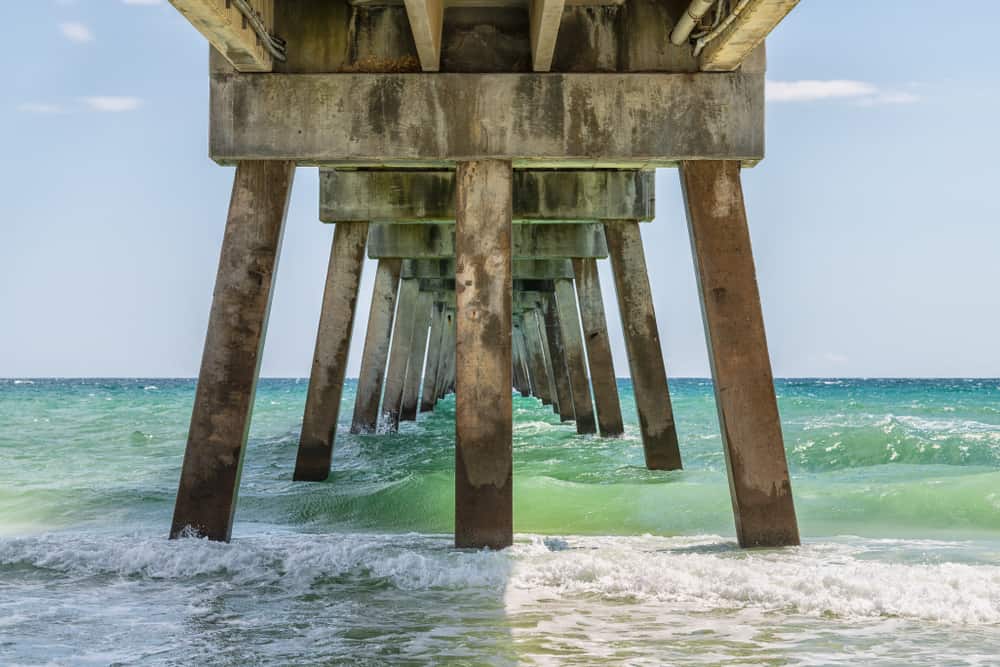 St. Joseph Peninsula State Park
Off the coast of St. Joe, and a two-and-a-half-hour drive from Tallahassee is T.H. Stone Memorial St. Joseph Peninsula State Park, which has some of the best Panhandle beaches for those who are looking for seclusion.
St. Joseph Peninsula sits between the Gulf of Mexico and St. Joseph Bay, and swimming can be found on both sides. From the parking lot, the Gulf beach and the bay are both just a short walk away. No lifeguard is on duty, so be aware of rip tides when swimming in open water.
A true hidden gem of the Panhandle beaches, St. Joseph Peninsula State Park is a popular spot for shelling and wildlife viewing.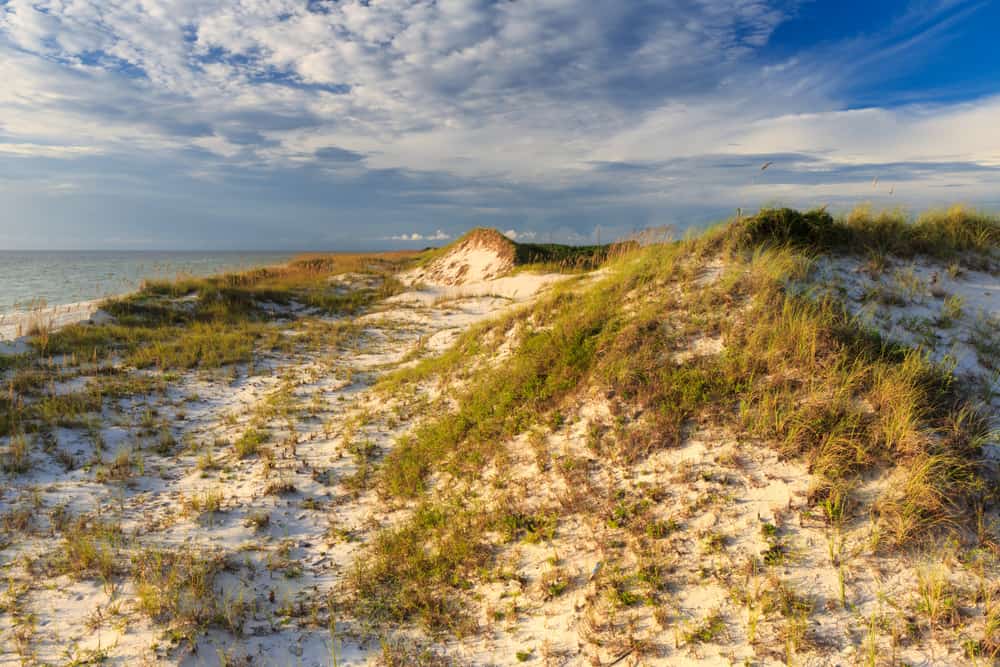 Perdido Key Beach
Perdido Key is a barrier island between western Florida and eastern Alabama and it has some of the best Panhandle beaches. With views of the Gulf of Mexico and flanked by sandy dunes, Perdido Key Beach is a sweet little spot to escape to.
"Perdido" means "lost" in Spanish but Perdido Key is easy enough to find, just a 45-minute drive from Pensacola. However, Perdido Key Beach manages to be one of the less crowded Panhandle beaches, so you can enjoy the clear blue water in peace.
Known for its natural beauty, Perdido Key is home to several parks and reserves, such as Perdido Key State Park and Big Lagoon State Park.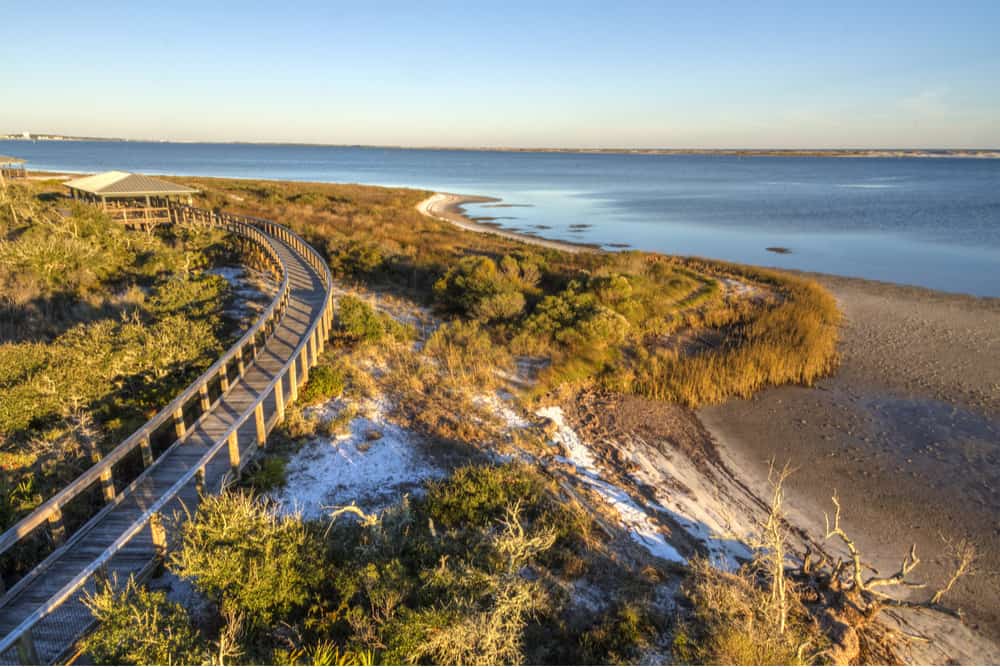 Naval Live Oaks Nature Preserve
North of Pensacola Beach lies the Naval Live Oaks Nature Preserve, where you will find shallow, sandy Panhandle beaches. As part of the Gulf Islands National Seashore, the area's wildlife and natural resources are protected and thus thrive in their natural state.
Naval Live Oaks Nature Preserve was named for the live oaks that shipbuilders were prohibited from using. Now the area boasts over seven miles of coastal hiking trails, with old trees dotting the shore.
There is a picnic pavilion and restrooms at the preserve, and it makes a great place for a picnic with the family. You might even be able to find a spot of beach all to yourself, sharing only with the local wildlife!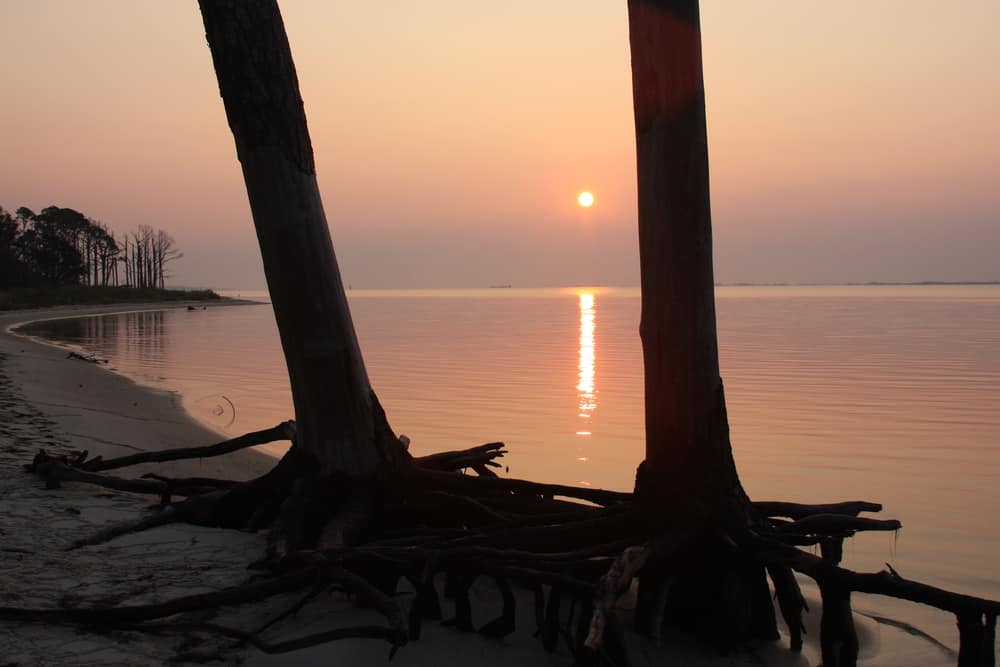 Johnson Beach
Just east of Perdido Key Beach is Johnson Beach, another of the beautiful Panhandle beaches that is part of the Gulf Islands National Seashore. Named for a Black veteran, Johnson Beach is a special place indeed.
There are beach pavilions at which to picnic and lots of space for sunbathing or sandcastle-building. There is also a Discovery Nature Trail boardwalk through dunes and marsh lookouts. And each year in May, there is a commemorative service for Private Johnson.
Rosamund Johnson was only 15 when he lied about his age to join the US Army. In 1950, while fighting in the Korean War, Johnson pulled two wounded fellow soldiers to safety but was fatally shot trying to save a third. He was posthumously awarded the Purple Heart medal when he died at age 17.
In the 1950s, Perdido Key was racially segregated, even down to the beaches, with the west side being "white only". African-Americans had to seek the beauty of the area on the east side of Perdido Key. After the Korean war, it was purposed to name the east end of Perdido Key to honor Private Johnson.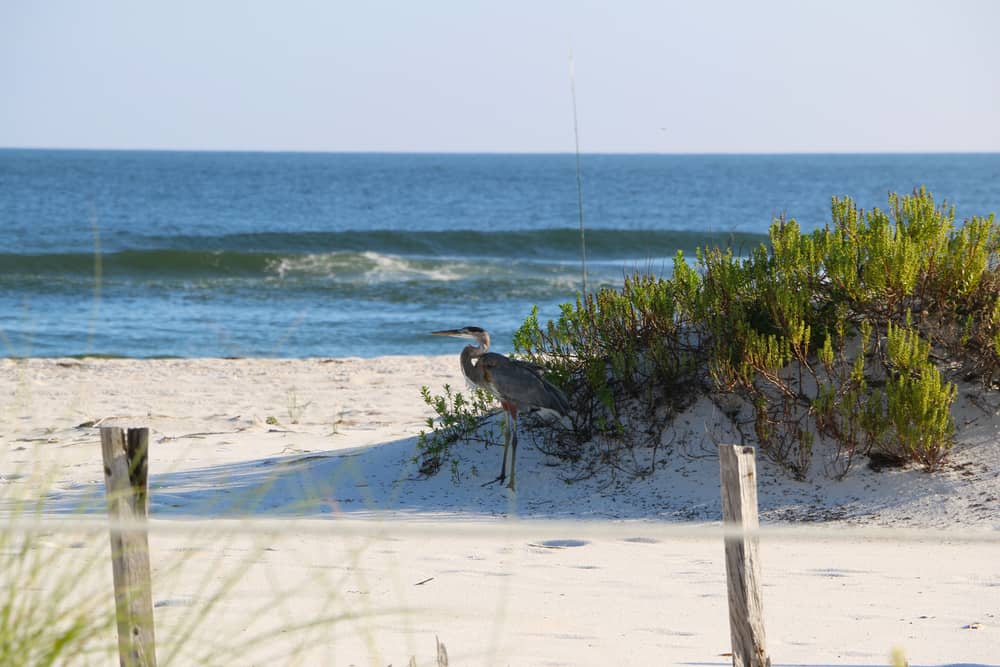 Panama City Beach
The waterfront town of Panama City Beach offers some of the best of the Panhandle beaches. With twenty-seven miles of beachfront, you will be able to find a spot that's just right for you.
Panama City Beach is known for its beautiful white sand and clear blue waters. It is both a popular place for families looking for a fun beach day as well as scuba divers looking for adventure. Panama City Beach claims to have one of the highest bottlenose dolphin populations in the world!
There are almost a hundred beach access points stretching along the Gulf of Mexico. (Some access points provide public parking, while others do not.) Some of the most popular access points are in the 50-60 numbers since these are near the shopping center of Pier Park. You can find a dog-friendly beach near Public Beach Access 58!
Make sure to check out some of the other Panhandle beaches in the Panama City Beach area.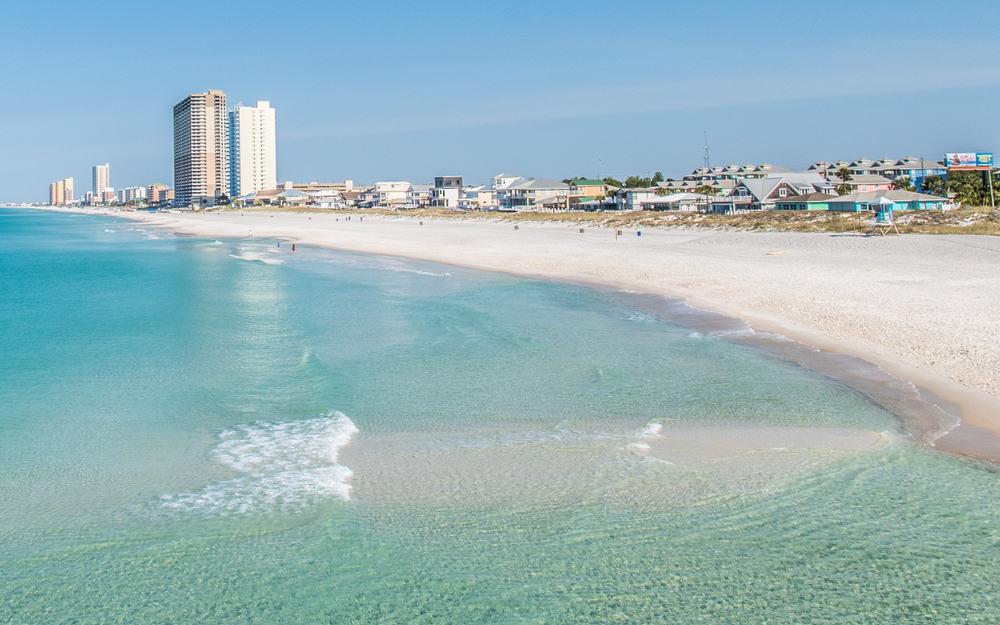 St. George Island State Park
Just east of St. Joseph Peninsula is another area where you can find some of the best Panhandle beaches. St. George Island State Park is a barrier island off of Apalachicola Bay and it is a heavenly strip of undeveloped land.
Officially known as Dr. Julian G. Bruce St. George Island State Park, this state park has a little bit of everything. Not only does it have sugary white sand, but St. George Island is a great place for shelling. You can gaze at the local wildlife, the sunset, or the stars.
Plus can explore the St. George Island Lighthouse, a reconstructed Florida lighthouse that offers a museum and stunning views!
However, the mosquitos can get bad on the bayside, so don't forget your bug spray!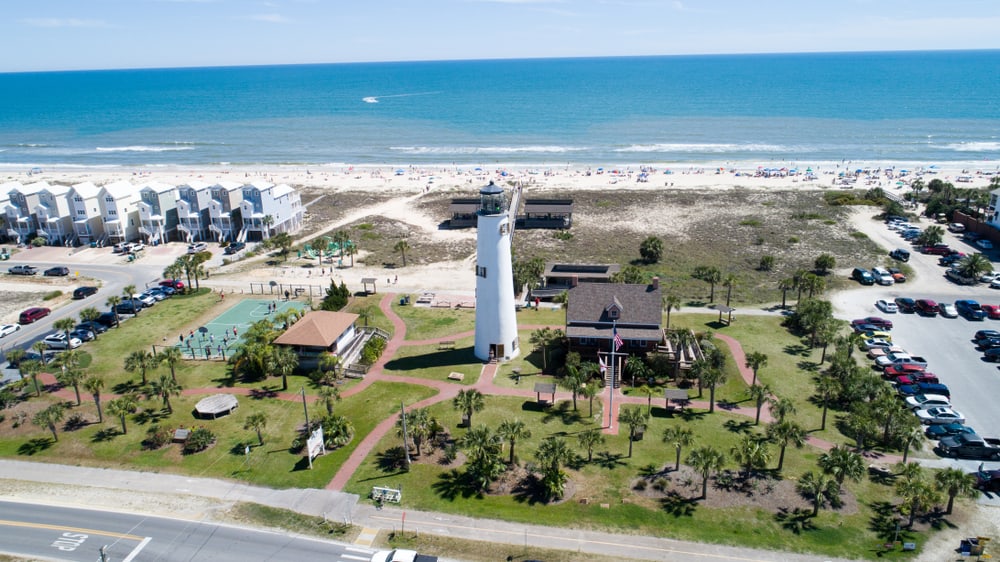 Blue Mountain Beach
One of the more secluded, but still lovely, Panhandle beaches is Blue Mountain Beach. Located between Destin and Seaside, it's a low-key alternative to some of the busier beaches in the Panhandle.
The name can be a bit misleading as there aren't any mountains at Blue Mountain Beach. Legend says that sailors saw the sand dune from afar and thought they were mountains!
There is a bit of public parking and restrooms available at Blue Mountain Beach. When you get tired of sunbathing and swimming in the emerald water, head over to Blue Mountain Beach Creamery for some ice cream!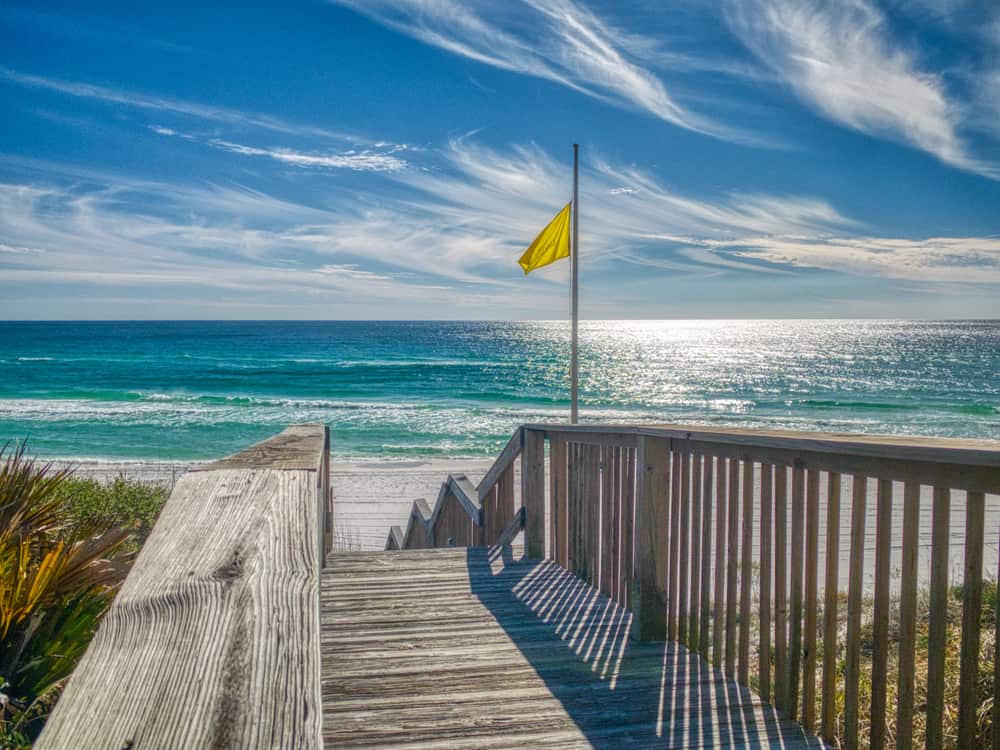 Opal Beach
Another one of the best Panhandle beaches in Pensacola includes Opal Beach. Located off State Highway 399, Opal Beach is part of the Gulf Island National Seashore area as well, so there is a small entry fee if you don't have a Park pass, but it is well worth it.
Named for Hurricane Opal which flattened the dunes to create the beach, Opal Beach is a hidden gem amongst the panhandle beaches. Thanks to the National Park Service, the area is undeveloped so you can wander along the shore and take in the beautiful views.
At Opal Beach, you can find parking, bathrooms, and picnic pavilions. The beach is kept incredibly clean, the water is a beautiful, deep blue, and the sand is the color of…an opal!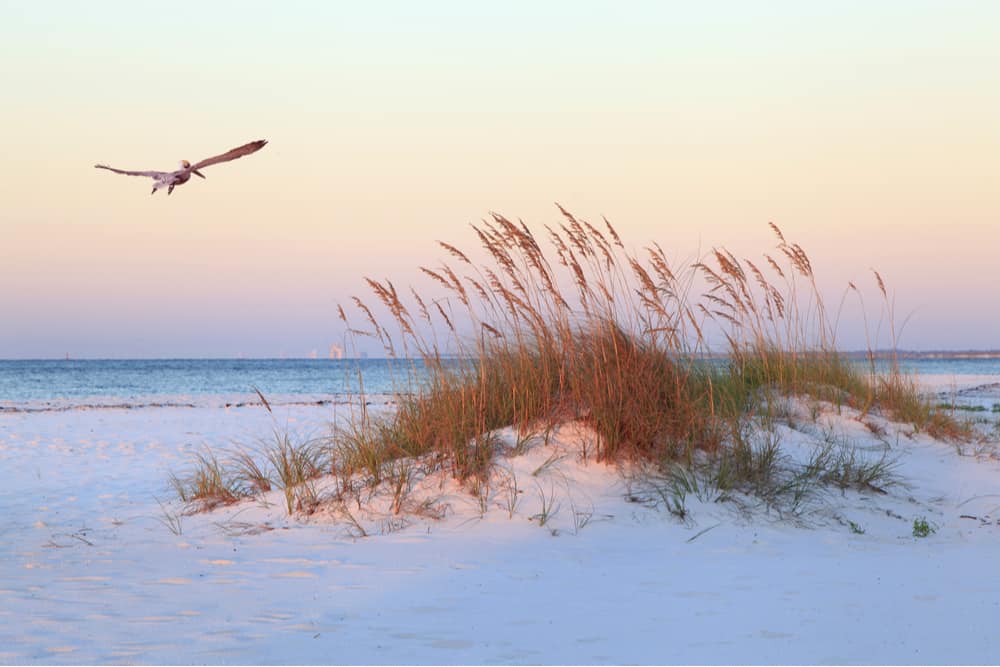 We hope you get the chance to explore the best Panhandle beaches! Beaches in North Florida and along the Gulf are so stunning and are such fun places to visit, whether you are a tourist or a local!