Looking for a list of interesting things to do in Gainesville, Florida? We have you covered with a list of 17 things to do in Gainesville!
Known as the home of the University of Florida, Gainesville has so much more to offer than the university. There are free museums, local Springs, nature preserves, local breweries, historic homesteads and much more to do in Gainesville!
The city of Gainesville was founded in 1854 by Edmund Gaines, is located in North Central Florida. However, there is evidence of the Depford people living in the area as far back as 500 BC!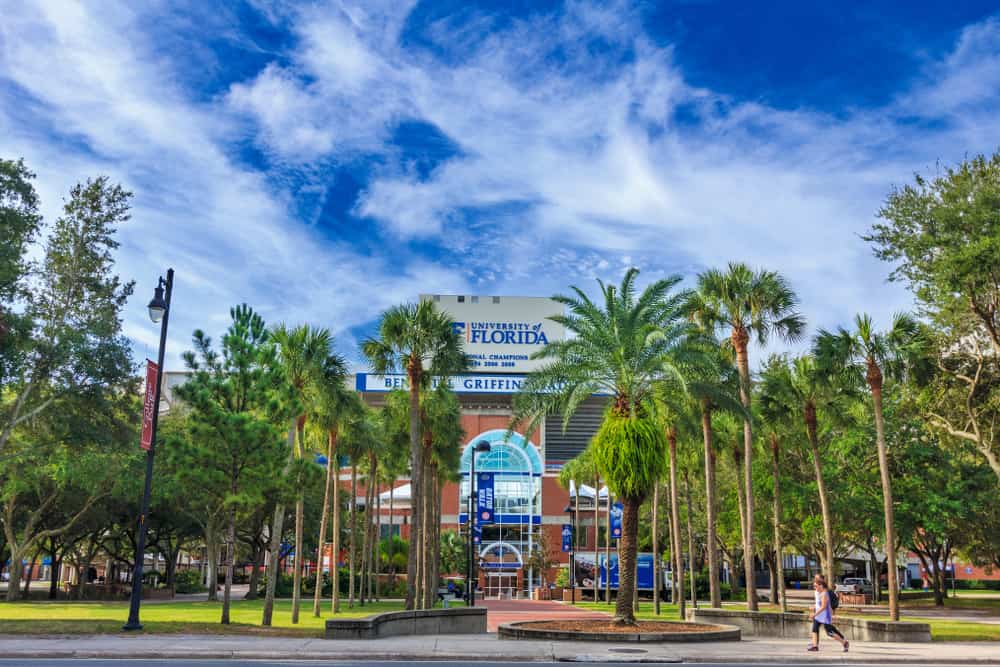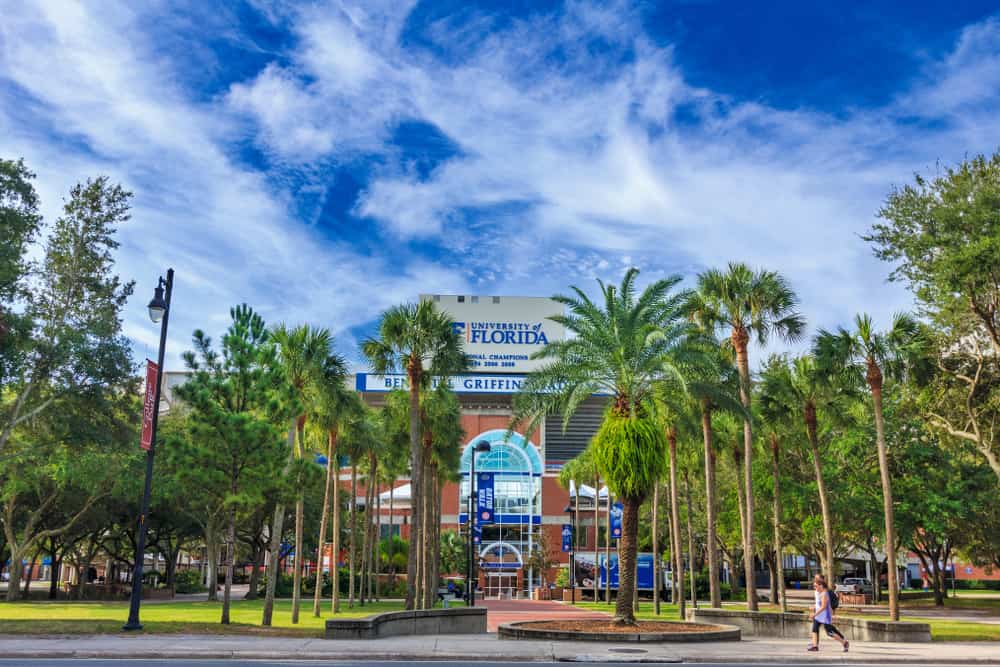 17 Interesting Things to do in Gainesville Florida
Florida Natural History Museum
The Florida Natural History Museum should be on your list of free things to do in Gainesville if looking for an educational museum. Located on the campus of the University Florida, the museum is also home to the Butterfly Rainforest.
For those with children there is a children discovery play area with learning activities and interactive games and books! Perfect place to escape during the hot Florida summers.
The museum takes you through the history of Florida, fossils can be found from the 5 geological time periods of Florida, a cave and hammock forest exhibit, a mangrove boardwalk, and a Calusa leaders house, and Native American Legacy gallery.
An added bonus is that the museum is totally free, with paid admission to special exhibits and the Butterfly Rainforest. Open Monday to Saturday 10 am to 5 pm and Sunday 1pm to 5 pm.
The butterfly Rainforest is home to over 50 species of butterflies with over 1000 butterflies in the enclosure at any time.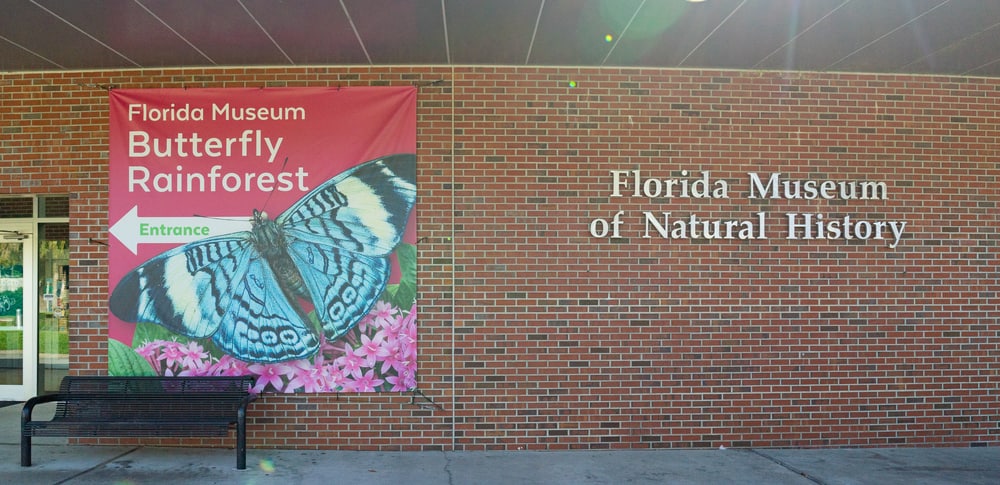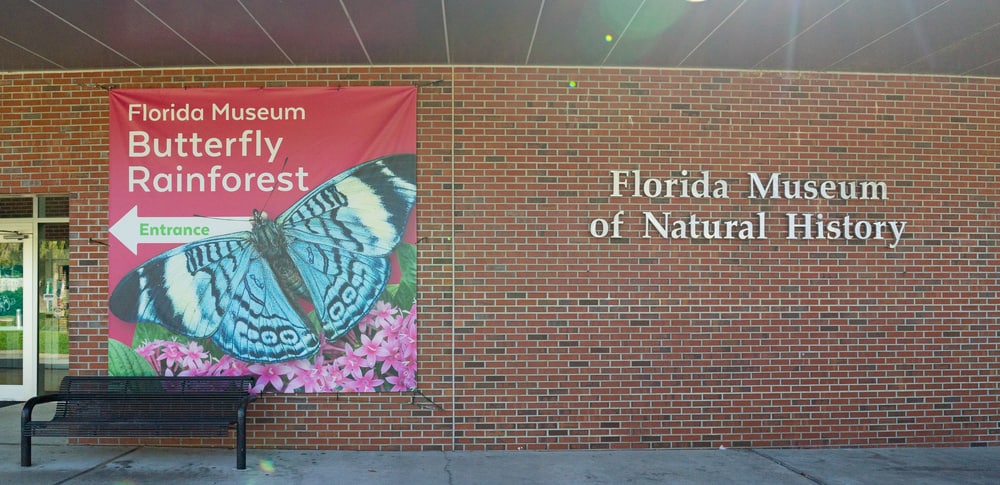 Samuel P. Harn Museum
The Harn Museum of Art is located next to the Florida Natural History museum on the University of Florida Campus. The free museum should be on any art lovers list of things to do in Gainesville.
Opened in 1990 it is one of the largest art museums affiliated with a university! With over 11,500 works of art, the museum has something for everyone to admire.
The Harn museum has 5 collections of works: African Collection, Asian Collection, Modern Collection, Contemporary Collection, and Photography Collection! There is a Monet on permanent exhibit!
As well as an outdoor Zen and water gardens. The museum hosts special events such as museum nights, coffee with Curators, and for those with children Tot Time. There is also a small coffee shop and store for those wanting to relax.
Open Tuesday to Saturday 10 am to 5pm and Sunday 1 pm and 5 pm! There is a $4 parking fee.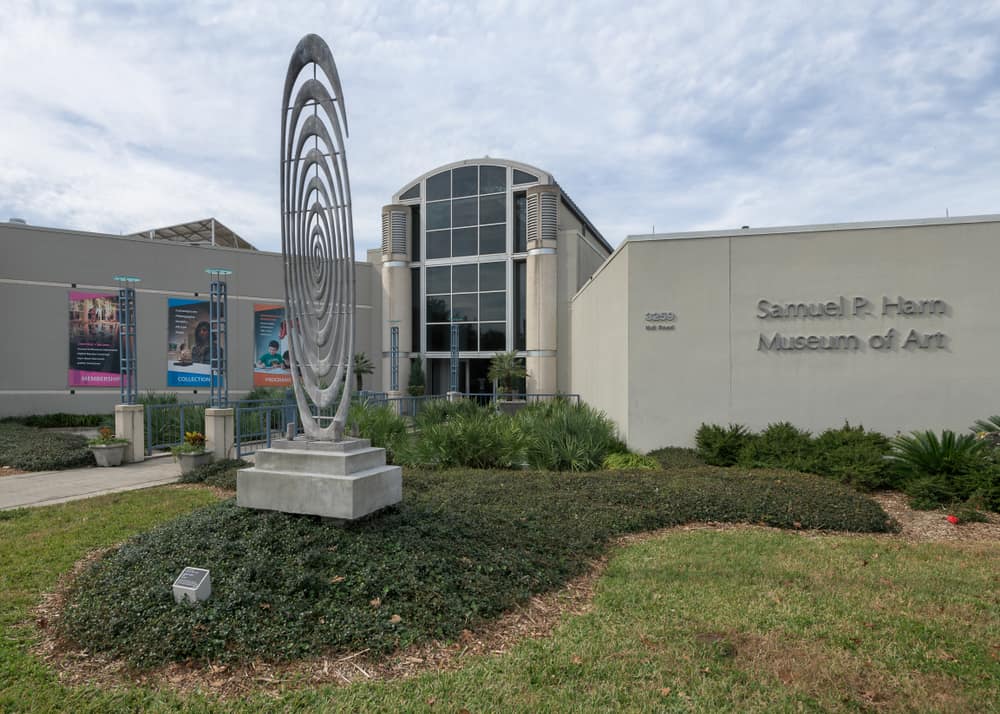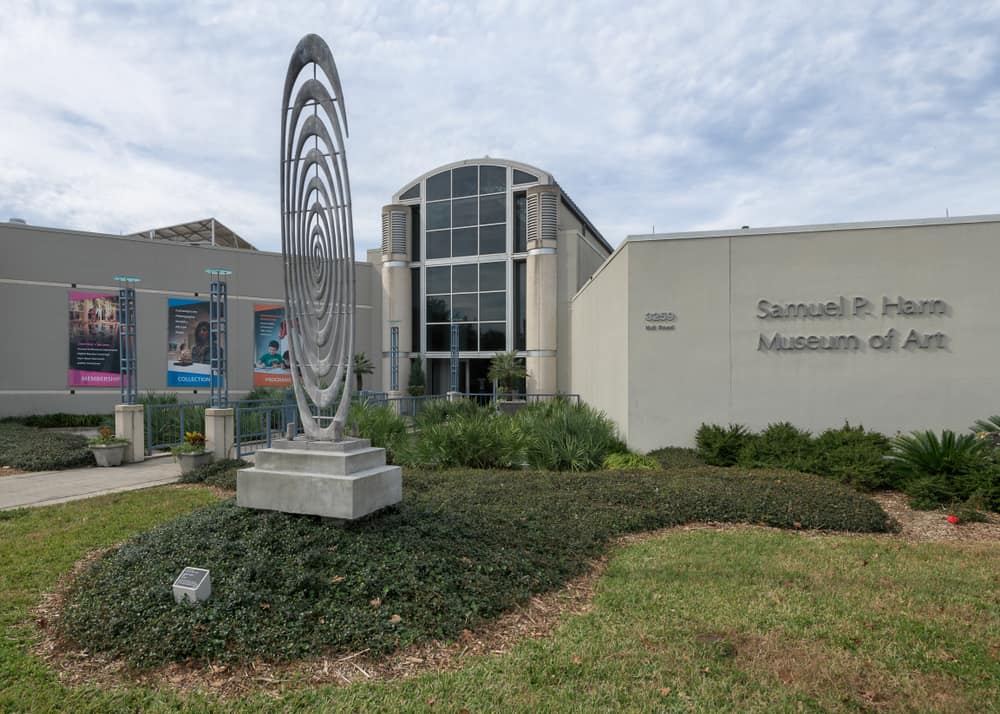 Loblolly Woods Nature Preserve
The Loblolly Woods Nature Preserve is 159 acres of protected forest surrounded by Possum and Hogtown Creek. Loblolly should be on any natures lovers list of things to do in Gainesville.
An outdoor oasis with hiking trails, and wooden boardwalk that follows Hog Town Creek. There is a 2.7-mile loop for both biking and hiking and is dog friendly! Almost all completely shaded this is a great hiking trial year-round.
One of the more popular activities is looking for shark's teeth in the Hogtown creek! The creek flows from Florida Aquifer and is over 10 million years old!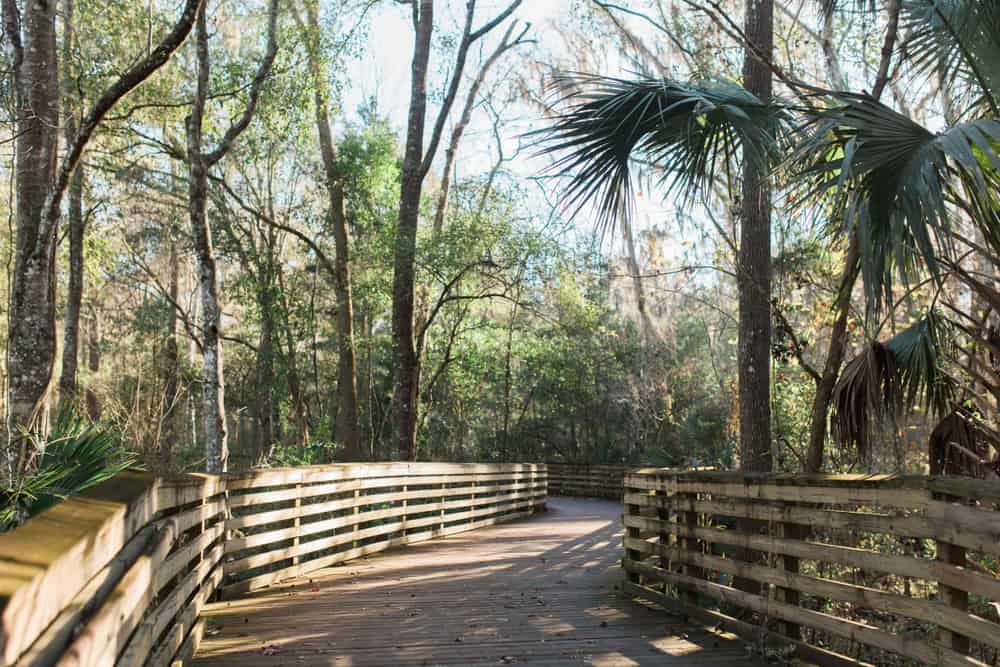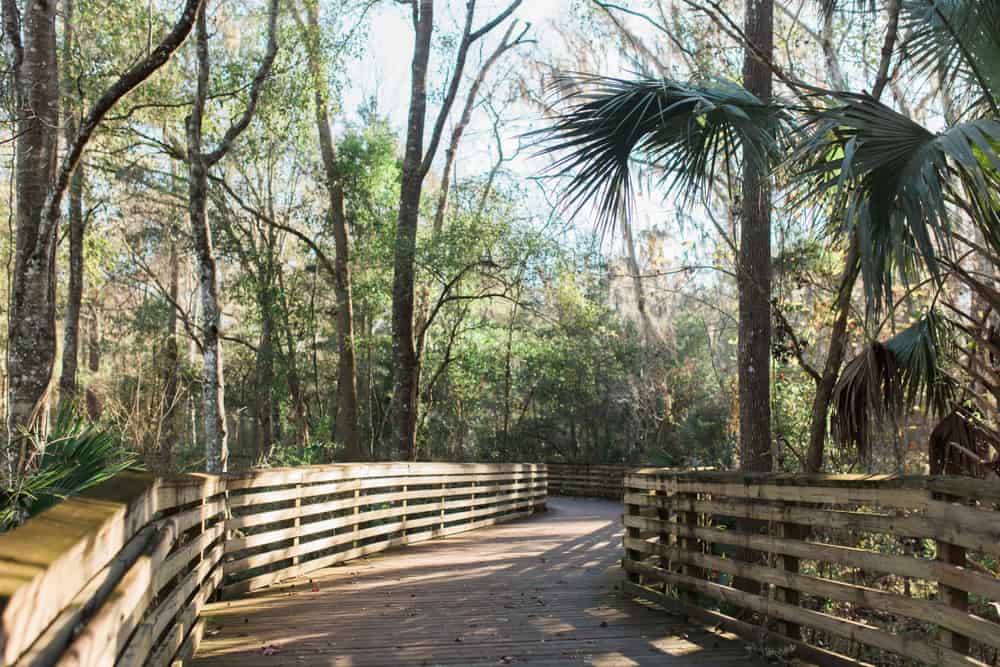 4th Ave Food Park
4th ave food park is located in downtwone Gainesville off of 4th avenue. If looking for good food and a laid back environment add this placed to your list of things to do in Gainesville.
Opened in 2020, you will find an airstream trailer home to Opus coffee, a local Gainesville brewer since 2002. With 5 different restaurants to try, such as Satch Squared, for pizza and waffles, Sublime tacos, Humble Wood Fire pizza, Baker Baker, and Fehrenbacher's Artisinal sausage.
The atmosphere is laid back, with picnic tables and wooden structure out back, compete with a children's playground.
Cade Museum for Creativity and Invention
The Cade Museum opened in 2018 in downtown Gainesville, and is named after Dr. Robert Cade. They have hands on exhibits such as Space: Moon to Mars and Skate at the Cade an indoor ice staking rink during the summer.
The museum should be on your list of things to do in Gainesville if you want to explore STEAM, with hands on experiments and experiences. The mission of the Cade is to "transform communities by inspiring future inventors, entrepreneurs and visionaries."
Open for general admission on Fridays and Saturday from 12 pm to 5 pm, and pre-registered tours on Thursday. Tickets are $12.50 for adults, $7.50 for children over age of 5, free for those 0-4, and $10 for college students and seniors.
Nearby is Depot park, with a food hall, playground, and walking trails.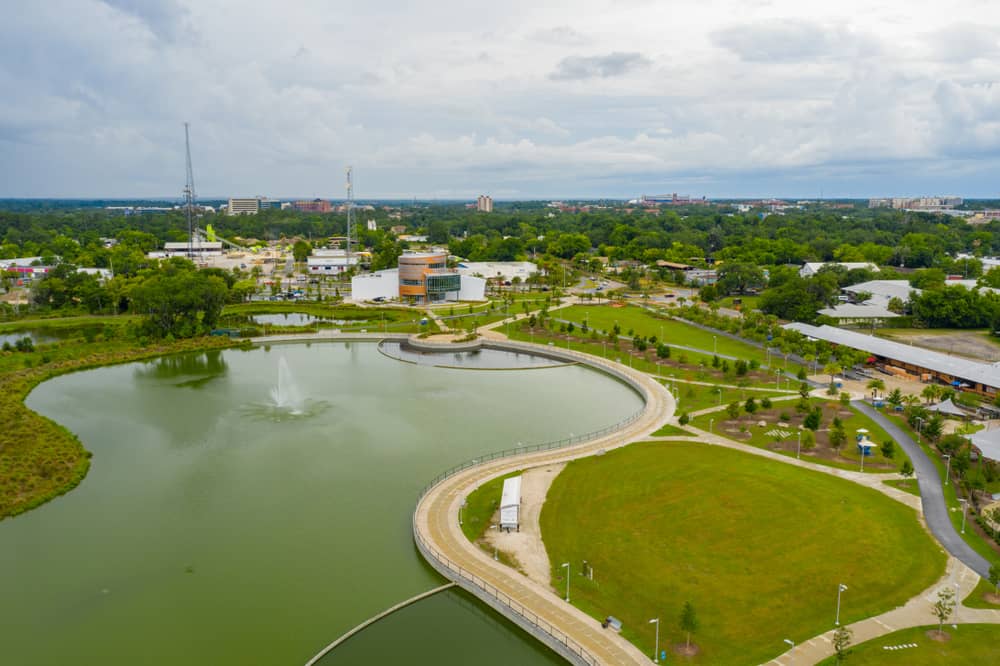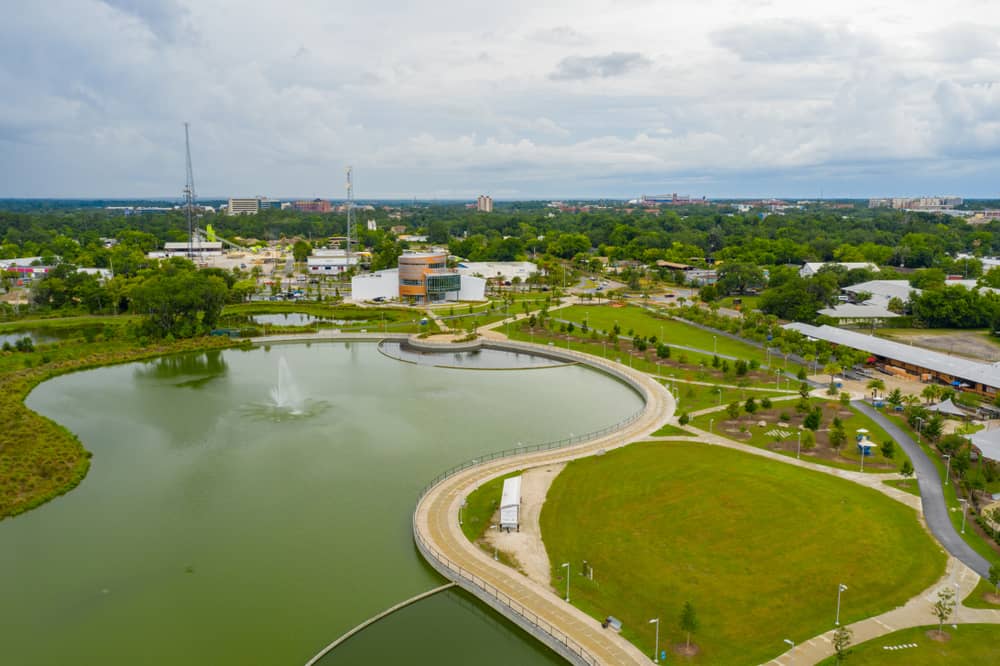 Kanapaha Botanical Gardens
The Kanapaha Botanical Gardens is spread out over 68 acres, and houses 24 collections located around a 1.5 miles paved walkway. The gardens are the perfect escape for those looking for things to do in Gainesville.
Home to the largest collection of Chinese royal bamboo and herbs in the Southeast! The gardens host special events such as the annual Moonlight walk in May, Spring Garden Festival in March, or the Fall Plant sale in October.
There are several picnic spots located around the grounds and restrooms, as well as children's garden with koi pond. The water gardens are a .5-mile loop and is home to giant lily pads, and a maze labyrinth.
The museum is open every day but Thursday, and open 9 am to 5 pm during the week and to 7pm on the weekends.
Admission is $10 for adults, and $5 for children over 5. For those looking for things to do in Gainesville with their dog, the gardens are pet friendly.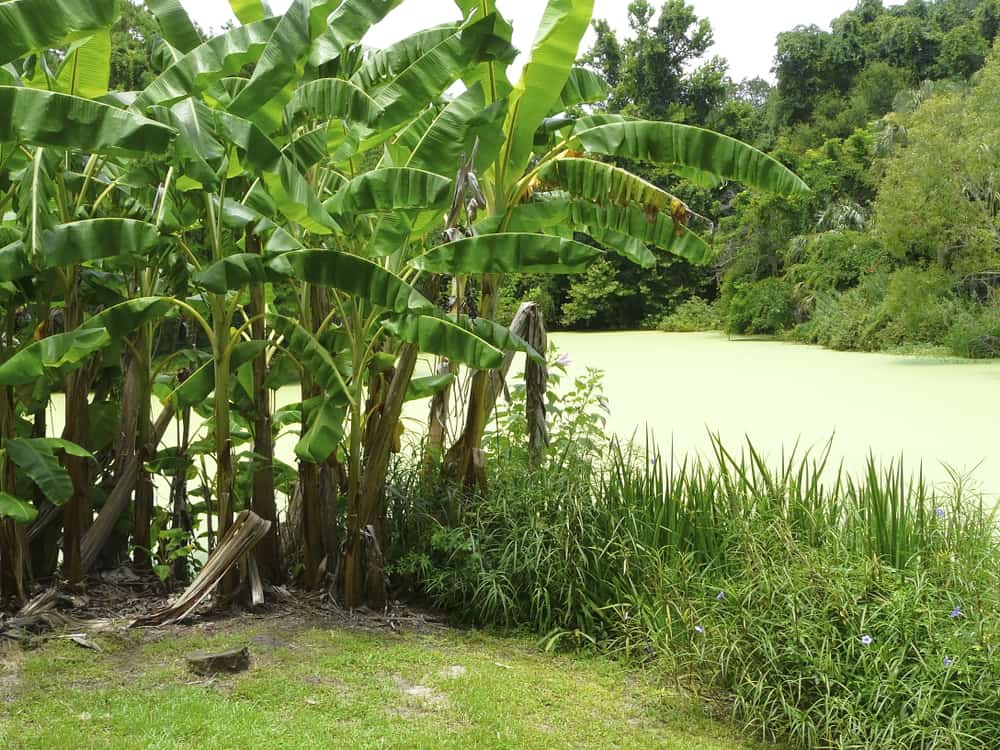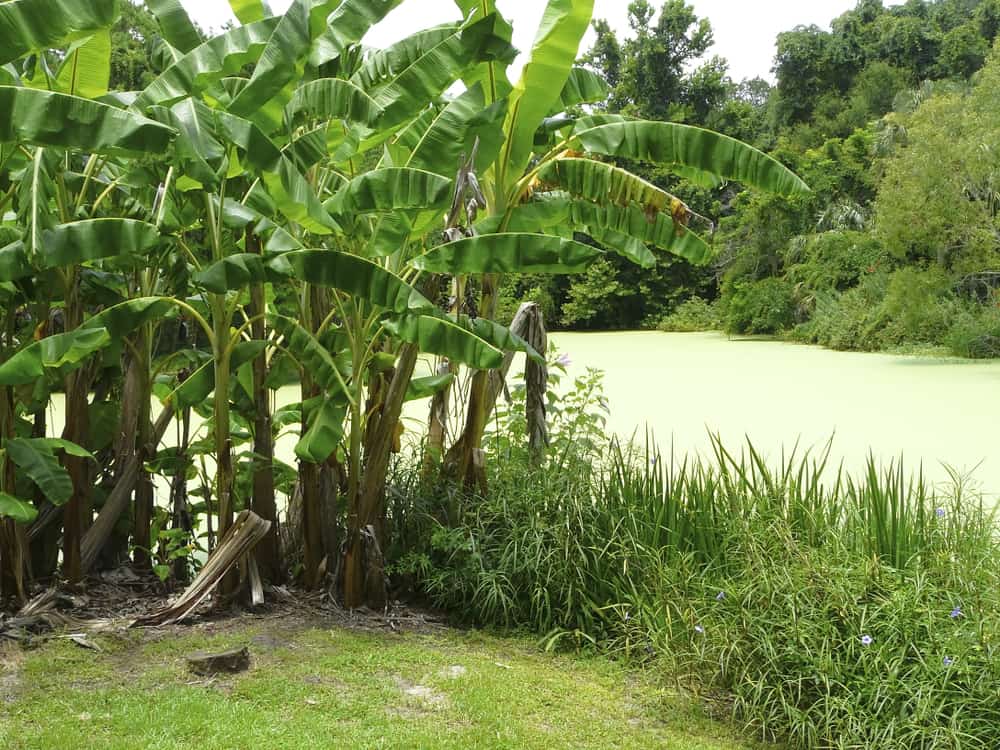 Kika Silva Pla Planetarium
The Kika Silva Pla Planetarium is located on the Santa Fe college campus. Opened in 2006 it is the perfect thing to do in Gainesville for interested in star gazing.
The planetarium has 60 seats for the show under a 34 ft Spitz projection dome with two planetarium projectors! You can watch shows such as the Black Holes, Child of the Universe, Dynamic Earth as well as numerous others. Check the website for show listings and times.
Admission is $6 for adults and $4 for children over the age of 4. And admission for the Music 360 show and LaserFest is $10.
Curtis M Phillips Center for Performing Arts
The Curtis M. Phillips Center for Performing Arts is located on the University of Florida campus, and opened in 1992. The theater seats 1700, and hosts Broadway shows, prominent speakers, and musical shows.
There is also the Squitieri Sutdio theater, a new black box theaters that seats 200 and hosts live music and small show productions.
This should be on your list of things to do in Gainesville if wanting to see live performances and speakers! Check the website for upcoming productions and events.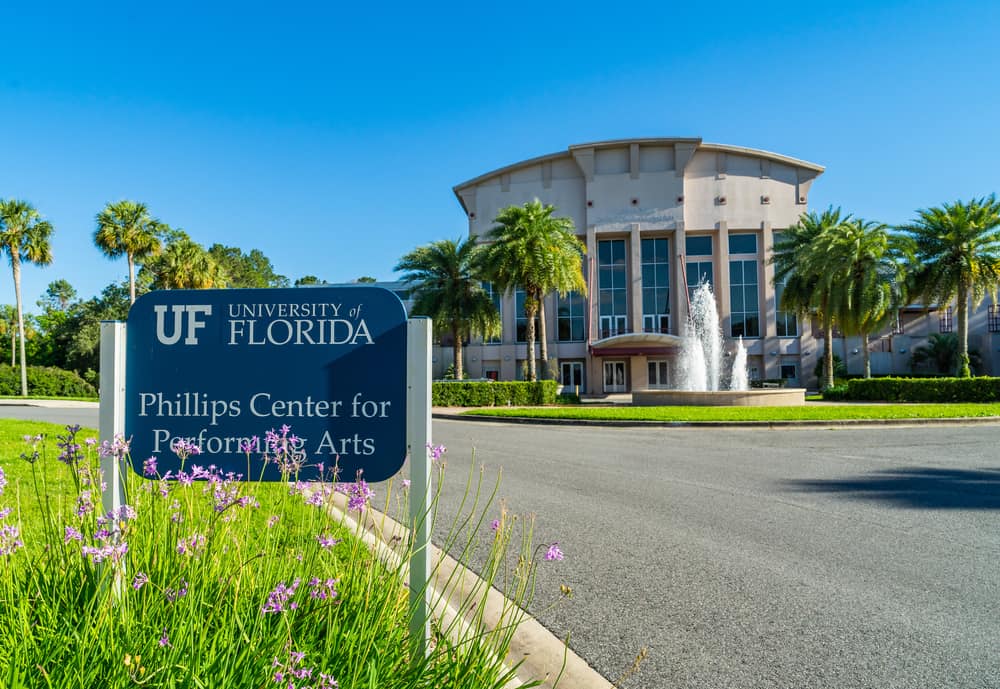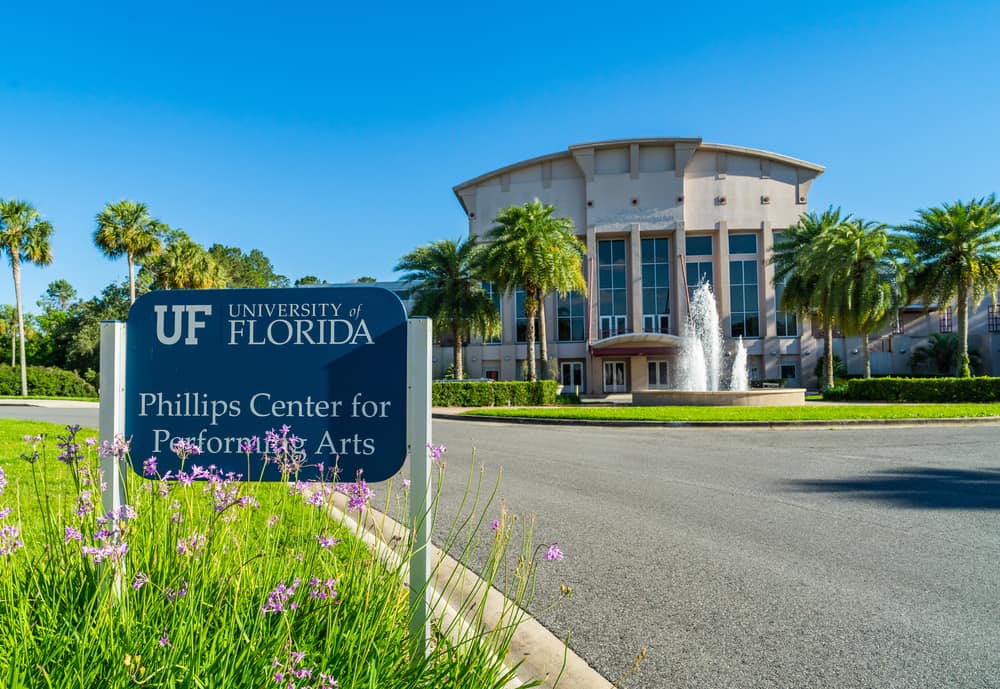 Blackadder Brewing Company
Blackadder Brewing Company is a locally owned brewery in Gainesville Florida just one mile from exit 387 on I-75.
Owned Chris and Sissy, the brewery serves small bites, over 40 beers on tap, and is a relaxing place to hang out. They have an outdoor seating area, games, and darts.
For those looking for a brewery experience Blackadder should be on your list of things to do in Gainesville. They have various local food trucks in the evening. And host a weekly trivia game on Wednesday.
Blackadder's beers have won over 30 awards and is the perfect warm and friendly place to enjoy a craft beer in a cozy pub atmosphere.
Devil's Millhopper Geological State Park
Devil's Millhopper Geological State Park is home to a large sink hole, that is over 120 feet deep and 500 feet wide.
There is a wooden boardwalk leading to a large observation deck of the sinkhole. A forest, swamp and sand hill are all diverse ecosystems you can see at Devil's Millhopper making this State park a unique thing to do in Gainesville.
The name "Devil's" comes from the fact that the sink hole is home to many animal fossiles and bones. The trail is just a .5 mile to the boardwalk and sinkhole. There is also a tour held on Saturdays by Park Rangers.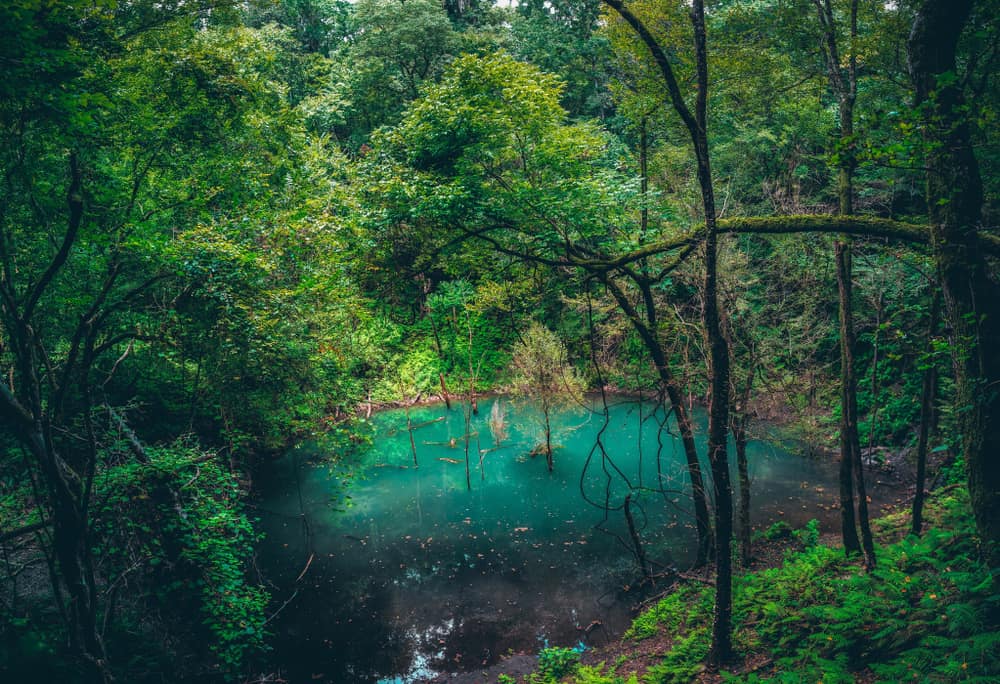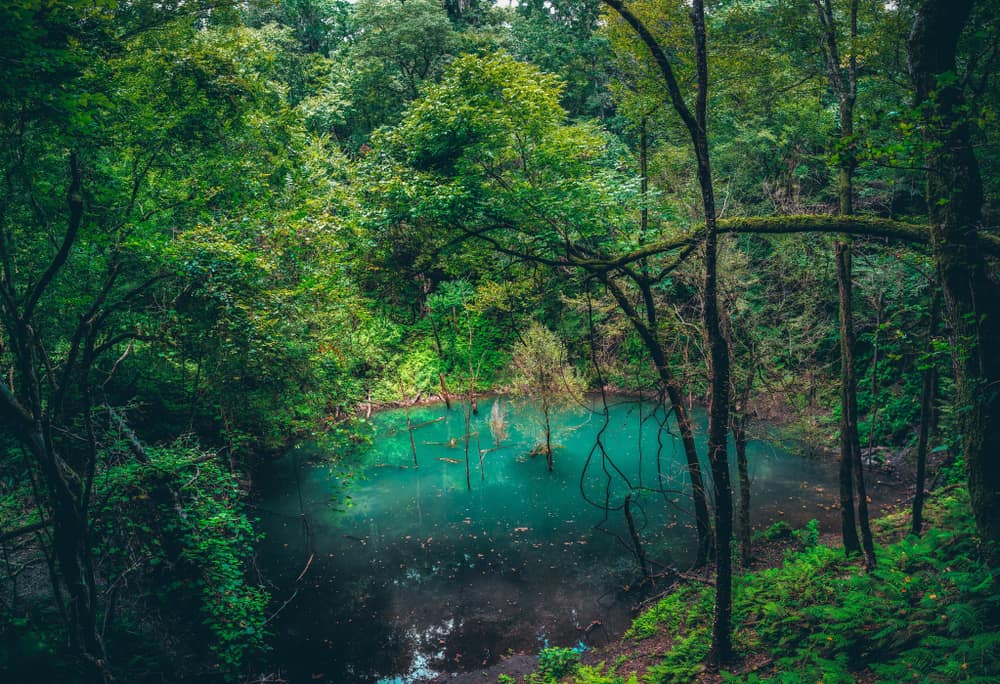 Lake Alice
Lake Alice is also located on the University of Florida campus. The history of the lake dates back to 1000 AD. It is the perfect place to come and relax while viewing wildlife.
You can often see alligators, turtles, birds, and if coming at dusk or dawn the Bats from the UF bat house.
On lake Alice is the Baughman center, a stunning chapel made out of cypress wood. It is home to many weddings and events as the ceilings reflect the beautiful lake.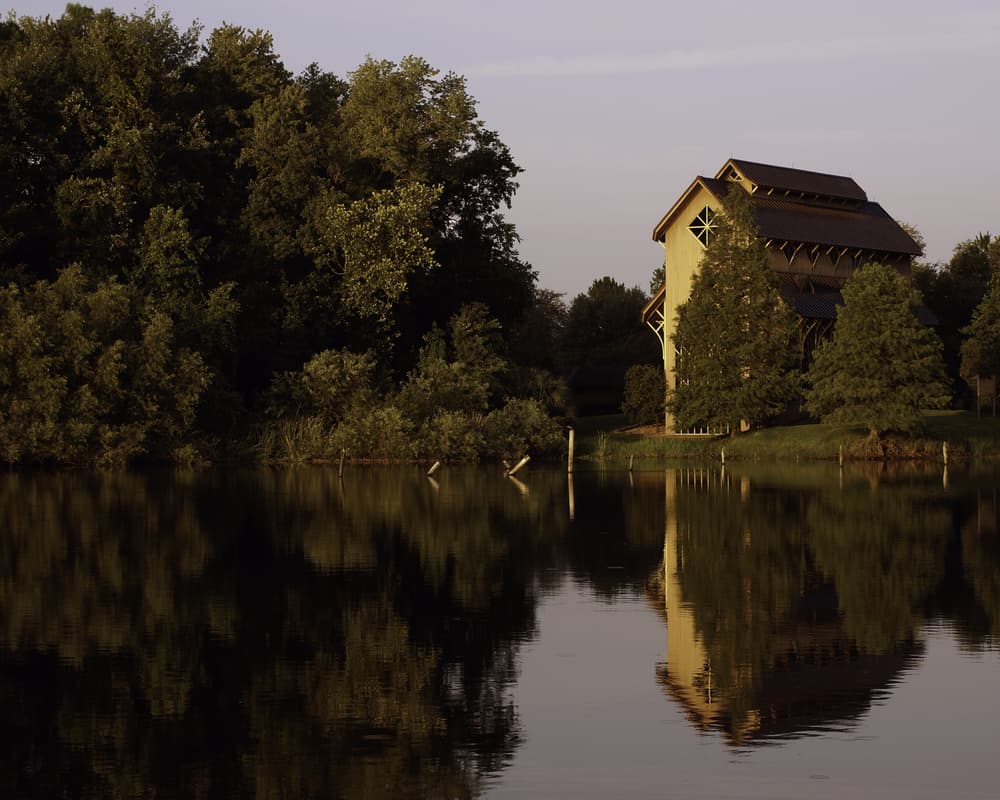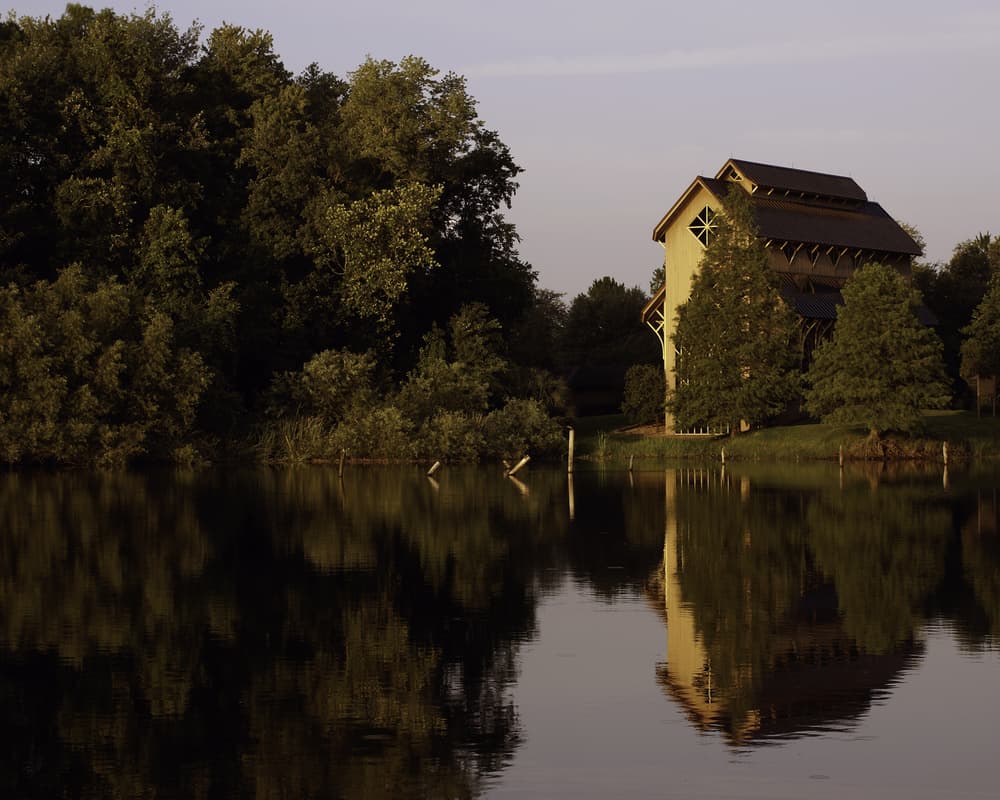 Ben Hill Griffin Stadium
Ben Hill Griffin Stadium is home to the University of Florida football team. If visiting during the fall, make sure to attend a game at "the Swamp" as locals call it.
This 90,000 seat stadium is a popular thing to do in Gainesville for fitness enthusiasts. You will constantly find people running the inside track of the stadiums or up the stadium steps!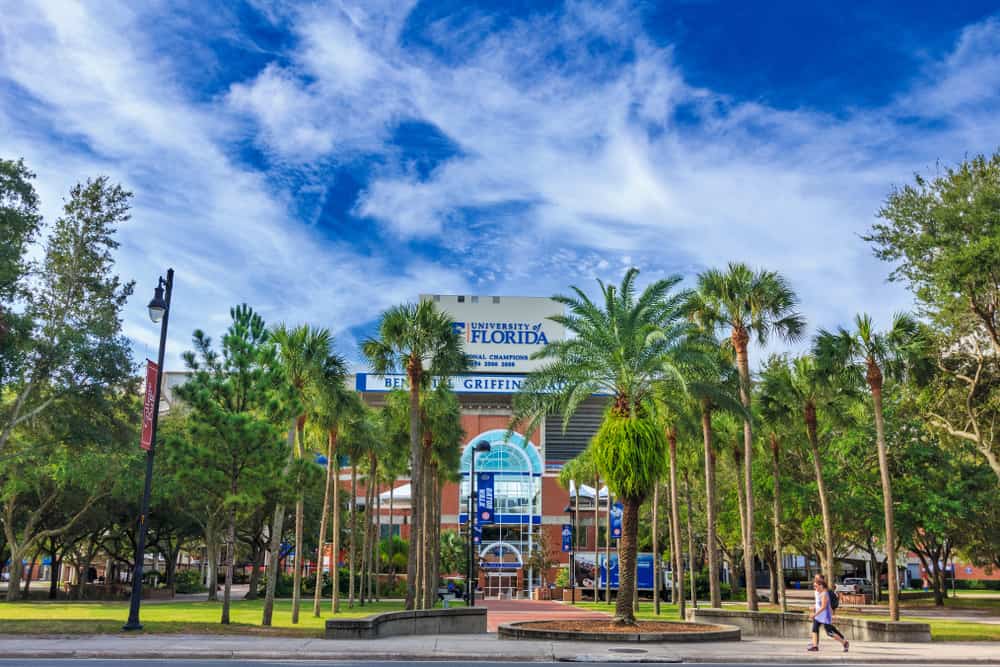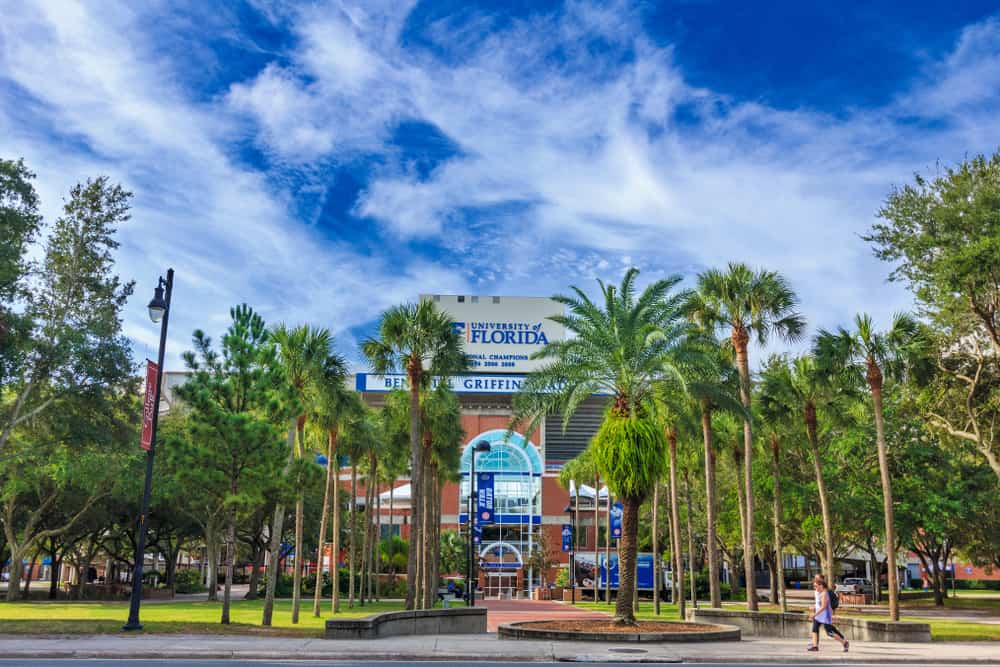 Historic Haile Homestead
The historic Haile Homestead is a colonial plantation home built in the 1854. This is a unique educational thing to do in Gainesville, as the house is known for its talking walls.
The Family and their enslaved labors wrote over 12,500 words on the walls of their home giving visitors a glimpse into history past. The home was built by enslaved labors and is now the Allen & Ethel Graham Visitors Center.
Inside the visitors center you will find exhibits focused around the enslaved labors, their freedom, and 2 videos on slavery in Alachua County. There are daily tours on Saturdays and Sundays at 10:15, 11:15, 12:15 and 1:15, with admission being $5.
Paynes Prairie Preserve State Park
Paynes Prairie Presrve State park is Florida's "first biologically, historically and geologically unique state park". Located just south of Gainesville this state park should be on any visitors list of things to do in Gainesville.
What makes Paynes Prairie a unique thing to do in Gainesville is that you can see bison and horses roaming wild! Visitors can also spot alligators and deer. Once home to the Semionle Indian tribe Paynes Prairie also includes Lake Walburg.
You can explore the eight trails, spread over 23,000 acres and 30 miles of trails or climb the 50 foot high observaton tower near the visitors center for an airel view of the prairie.
Open daily 8 am til dusk and admission is $6 per vehicle or $2 for bicyclist or pedestrians!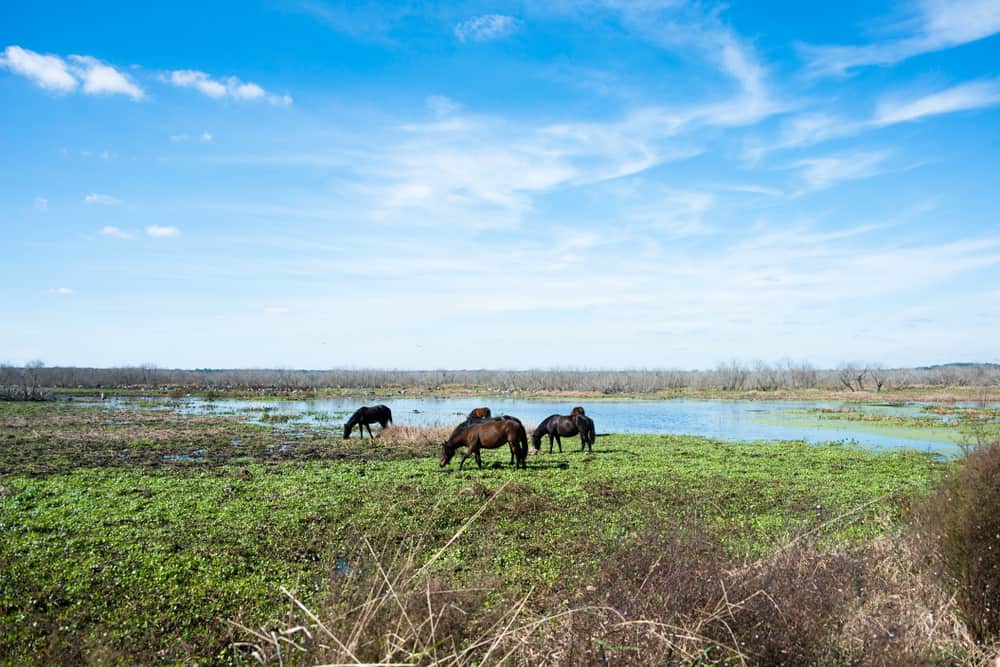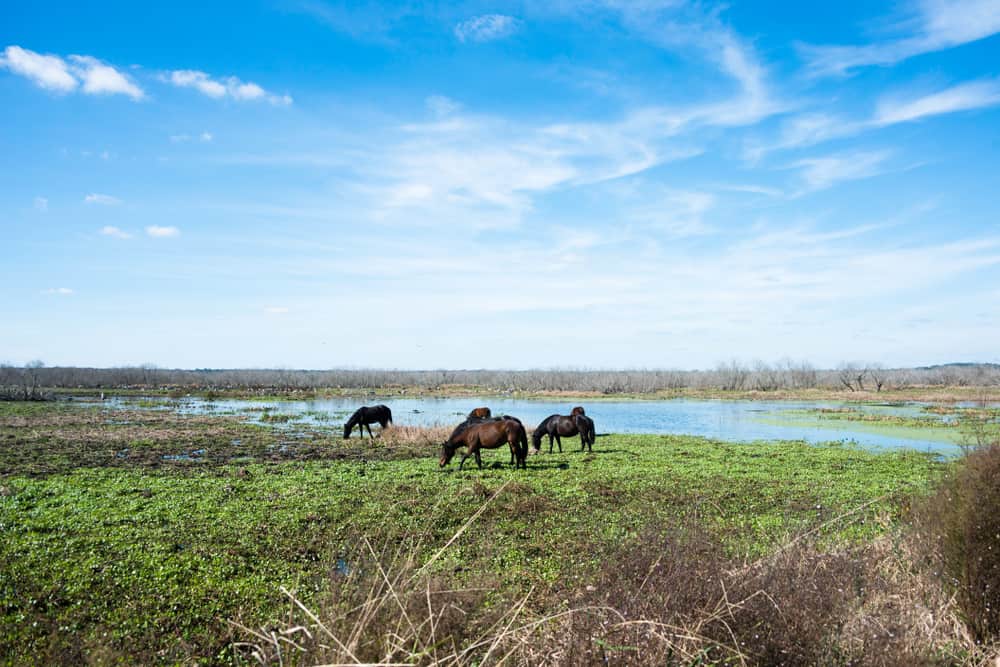 Bluefield Estate Winery
Bluefield Estate Winery is a family owned winery east of Gainesville. Opened in 2006 this wine is unique as it is made from blueberries and muscadine grapes grown on the farm.
A must-visit for any wine lovers looking for things to do in Gainesville. There is a tasting room onsite where mostly fruit wines are sampled, try the Sweet Blueberry or Blackberry bliss!
The tasting room is open Thursday and Fridays from 11 am to 5 pm and Saturday and Sunday 12 pm to 6pm. Tastings are $5 for a flight of 4 wine samples, or $8 for all 8 samples!
Ichetucknee Springs State Park
Ichetucknee Springs State Park is popular with locals and visitors alike as Gainesville has no beaches. Located just north of Gainesville the crystal clear water is fed from the local spring.
Perfect for tubing, swimming, or even scuba diving! You can also hike, kayak or canoe. There is a Birding trail perfect for catching a glimpse of wildlife such as wild turkey, turtles, ducks and otter in this 2,669-acre State park.
Many come to snorkel or dive the Blue Hole Spring, the only first magnitude spring in the park, with over 67 million gallons of water flowing each day! The cave starts 40 feet below the surface and has over 600 feet to explore.
You can also visit nearby Ginnie Springs.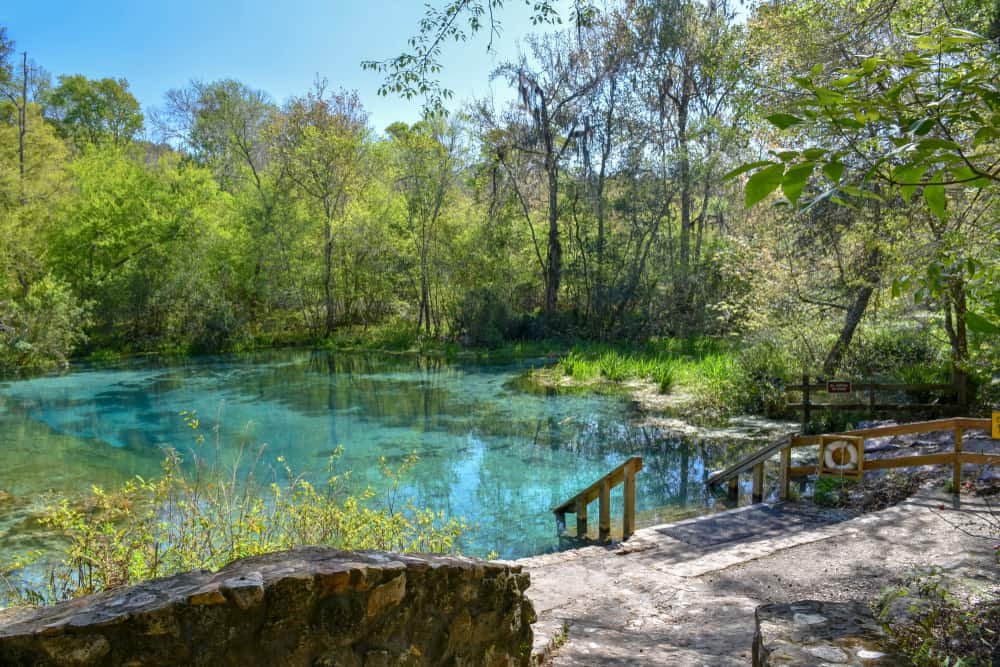 Morningside Nature Center
Morningside Nature Center is a 278-acre nature park, with 7 mile of trails through woodland pines. You can often see turtles, turkeys, skunks and deer.
For those looking for unique things to do in Gainesville there is a Living History Farm. On the farm there is a home and schoolhouse built in the 1840's by Irish immigrant family McCarrolls. There is also a Timucua village located behind the visitors center.
On the first Saturday of the month you can visit for an authentic experience of what life on the farm was like. On Wednesday afternoons from September through May the farm runs barnyard buddies program where children can come and feed the farm animals. This is free of charge and a great thing to do in Gainesville with children.
For those looking to hike there are various trails ranging in length of .5 miles to 7 miles.
Did You Find This Post Helpful?
If so, we would love to keep in touch! We enjoy seeing photos and comments about your experiences in Florida! You can follow us on Instagram and we will repost your photos on our feed and comment too! Just tag us at @floridatrippers and hashtag #floridatrippers. We can't wait to see your travels!