Looking to spend 3 days in Miami but aren't sure what to see? We've got you covered!
Whether you are planning a long weekend in Miami or plan on avoiding the crowds by coming on a weekday, you will have fun in this lively, South Florida city!
Since Miami is well known for its beaches, live music, outdoor adventures, architecture, shopping, and the arts, it can become a bit overwhelming to plan a Miami itinerary. But, you can easily see all of Miami in 3 days!
We have put together a great list of stops so planning can be less stressful, and you can enjoy the sun while strolling the streets in South Florida! This 3 days in Miami itinerary is a great way to see the best of the city, and we know you will enjoy everything this wild city has to offer!
Now, let's start planning a trip to Miami, Florida!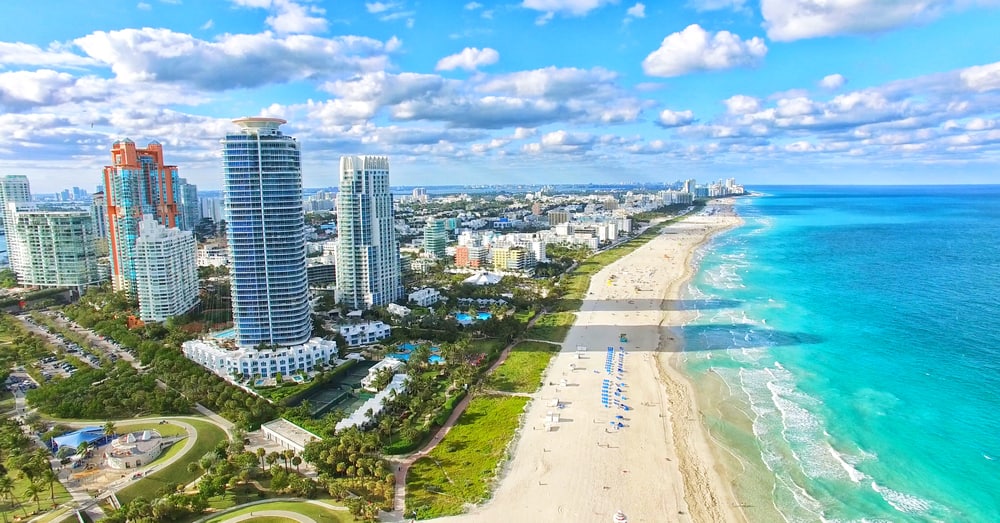 The Ultimate 3 Days In Miami Itinerary
Getting to Miami
Getting to Miami to start your long weekend is easy because South Florida is such a popular travel destination. Luckily, there are two airports you can fly into, which gives you lots of options!
The first airport is Miami International Airport, which is arguably the best airport to fly into when traveling to Miami because it is closer to the heart of the city. You will probably pay a bit more for flights at this airport, but you will also have the option of a variety of carriers such as American, Delta, United, and more.
The second option is to fly into Ft. Lauderdale-Hollywood International Airport, which is about an hour's drive north of Miami itself. This is a smaller airport and is easy to navigate, and typically has lower-cost carriers such as JetBlue and Southwest.
Ultimately the decision is up to you! You may want to even consider driving to Miami, especially if you're already in Florida! Luckily the drive to Miami takes you consistently on long stretches of highways (like 1-75 South). This can be a slightly "boring" drive but it is easy enough!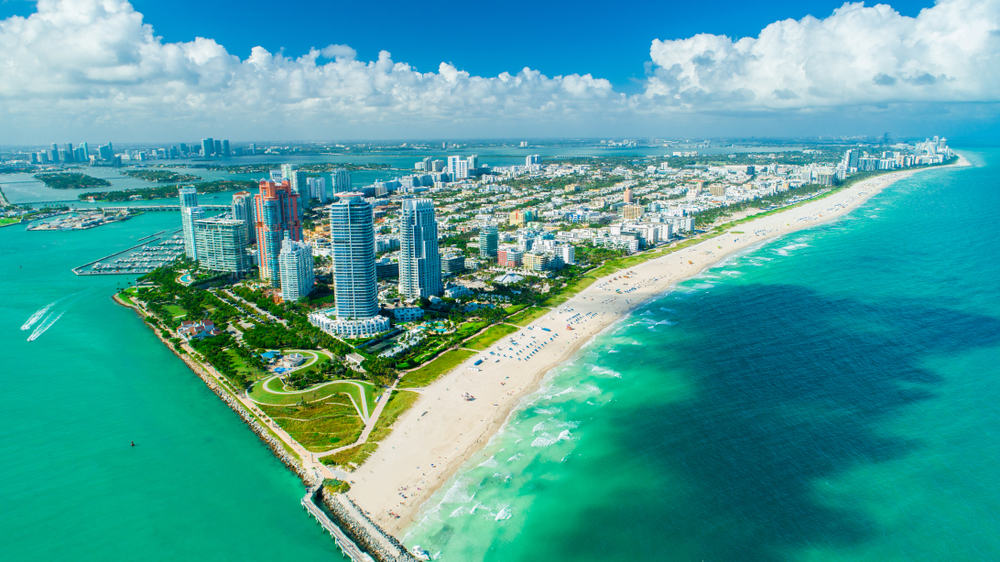 Getting Around During Your 3 Day Vacation in Miami
If you have decided to fly for your 3 days in Miami, you may want to consider how you are getting around. Both the Ft. Lauderdale and Miami International Airport have car rentals if you're interested in driving yourself. You can rent from National, Enterprise, and others!
However, you may also want to consider simply Ubering around. Because everything is fairly close to one another in the city, it may be easier to participate in walking tours and hitching a ride when you have to travel a bit.
For example, an Uber to South Beach from the MIA would cost you less than $20 vs. renting a car for a full day. But whatever you decide to do, just make sure you are prepared to go through a lot of tolls in the city and on the highways and be cautious of parking with meters!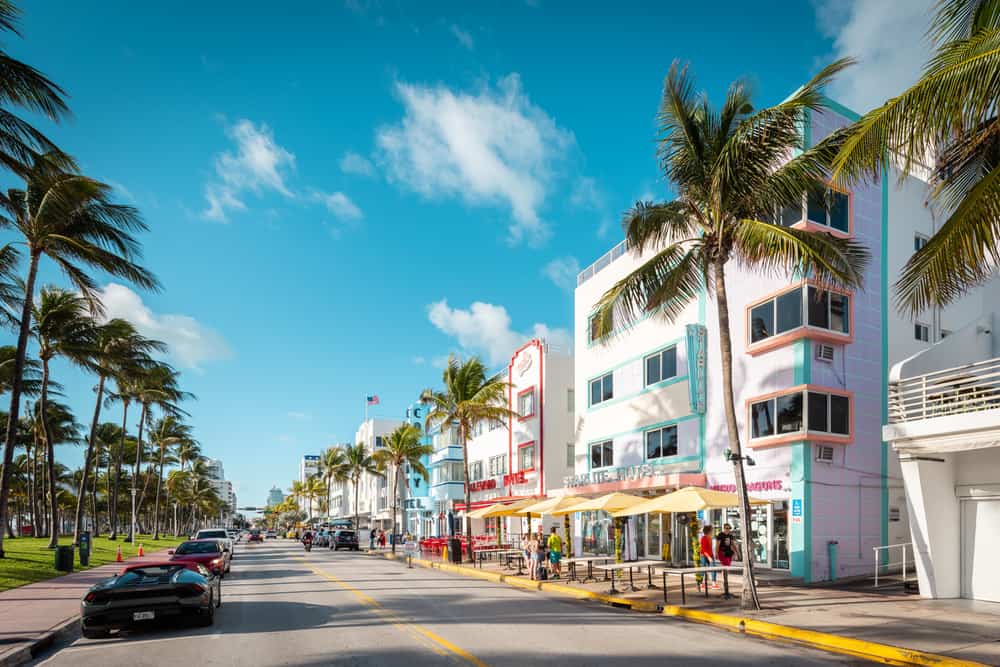 Day 1: Little Havana & Miami's Art District
Stop 1: Little Havanna
After arriving in the city, we recommend heading toward Little Havana to kick off your 3 days in Miami! Little Havana is Miami's vibrant, Cuban heart. It features a vast amount of art galleries and restaurants with cafes that feature Latin flares.
Many cafes have walk-up windows that sell Cuban coffee or cigars. This place is the perfect first stop on your first day because it is close to downtown Miami (just west of it!) and has so much to do. While you are in town, don't forget to check out our list of Best Places For Brunch in Miami!
Calle Ocho Street typically has locals that welcome all of the tourists, and challenge them to a game of dominoes in Maximo Gomez Park. After talking to the locals, and playing some games, you can always see how cigars are made at El Titan de Bronze or sample fun flavors at Azucar Ice Cream Company.
Little Havana also has live performances often at Cubaocho and its clubs, such as Hoy Como Ayer, are great for dancing. The Tower Theatre also hosts great revival and independent films. Ultimately this is such a fun place to explore, so we recommend swinging by the Little Havana Visitor Center and planning out a great afternoon to start your weekend in Miami!
Book Here: Little Havana: Food & Cultural Walking Tour with Lunch
Stop 2: Wynwood Art District
The Wynwood Art District is home to over ten galleries, museums, and other collections. It is one of the first open-air street installations in the world and features a variety of art to explore, making it perfect for your second stop during the first day of your weekend in Miami.
When walking through the district, you can pick out your favorite Wynwood Wall murals from a variety of street artists, swing by local breweries, and even dance in the back of taco shops (Como Taco for the win!).
This art neighborhood lets you explore some of the neighborhood's oldest galleries. Wynwood is Miami's art district after all! You can swing by the Locust Projects and then finish your afternoon at a wine bar!
If you visit Miami in December, then you can come to the Wynwood Market for a unique selection of everything from art to cocktails all to the backdrop of live music. It brings together the best of all Maimi local produce and talent with a festive Christmas flair.
The outdoor adventure, laid-backed local vibe, and immersive art make this district welcoming to tourists and locals alike, so you don't want to miss it during your 3 days in Miami!
Book Here: Wynwood Art District 1-Hour Street Art Tour by Golf Buggy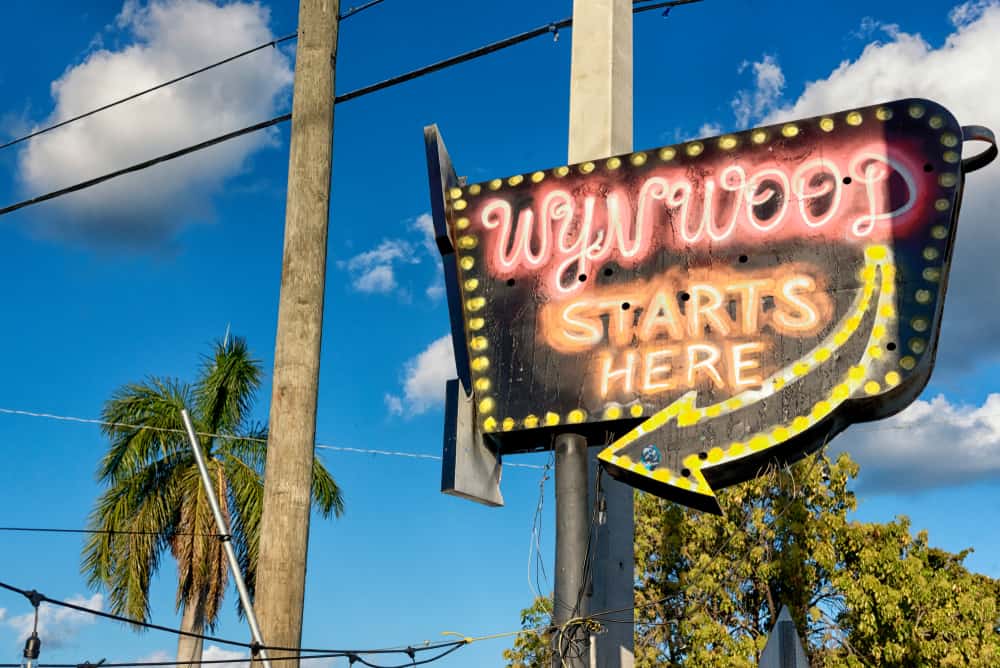 Stop 3: Downtown Miami
We have three stops on the first day of your weekend in Miami just so you can pace yourself and see all you can see, especially once you get to downtown Miami! Downtown Miami is a busy area known for its shops, cultural events, sports events, concerts, museums, and more.
You don't want to miss this part of the city. With its waterfront lined marinas, this place is not only a sight to see but is full of things to explore. While exploring, you can always take a boat cruise through the docks and sail over Biscayne Bay.
You can also visit the History Miami Museum to learn about Spanish conquistadors, and then stop by the Philip and Patricia Frost Museum of Science. The Perez Art Museum is also a great place to explore if you need to escape the Florida sun!
The Shops at Mary Brickell Village keep people busy during the day and evening, and throughout downtown, you are sure to find yourself stopping at great places (maybe the Bloom Skybar or a cool nightclub?) to enjoy food, drinks, and local gems! It's the perfect place to spend your later afternoon and evening during the first day of your three days in Miami!
Book Here: Miami: Sunset Cruise through Biscayne Bay and South Beach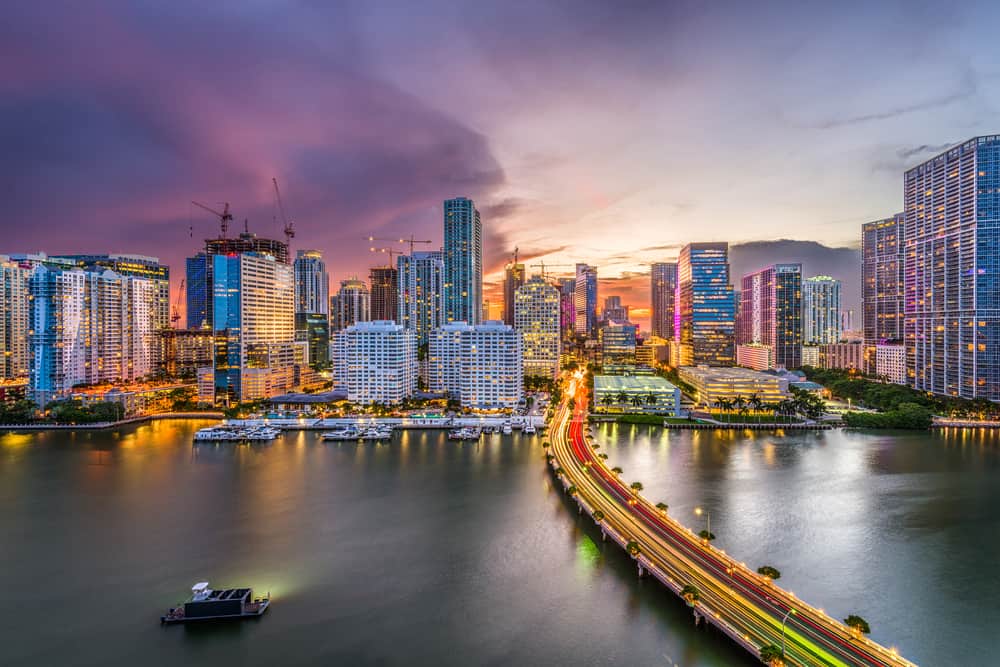 Day 2: Beaches and Sun
Stop 1: South Beach
Would you really be experiencing a vacation in Miami if you didn't spend some time at the iconic South Beach? South Beach is known for its glamorous surrounding area and its white sands and aqua water.
Some say that South Beach glitters–both at night and during the day! This area is fun to hang out in as it attracts everyone for some sun and fun. From tanning, relaxing on the sand, building sandcastles, and soaking up some water, or even renting a jet ski, there is not a dull moment here!
If you are looking for some of the best gay beaches in Florida, head to 12th Street Beach, which is part of South Beach. You will know you have arrived when you see all the Pride flags waving in the ocean breeze.
You can also stop by Haulover Park which is nearby for some fishing adventures, tennis, golf, and bicycle rides. Because you are also in the Art Deco district, you can take a walking tour to enjoy the fine architecture. Make sure to check out some of the best South Beach restaurants, too!
There is no denying the fact that South Beach is an experience. You have to visit or stay here and check it out for yourself, but do be prepared for some crowds on those shores or in the oceanside dining!
Book Here: South Beach: Segway Tour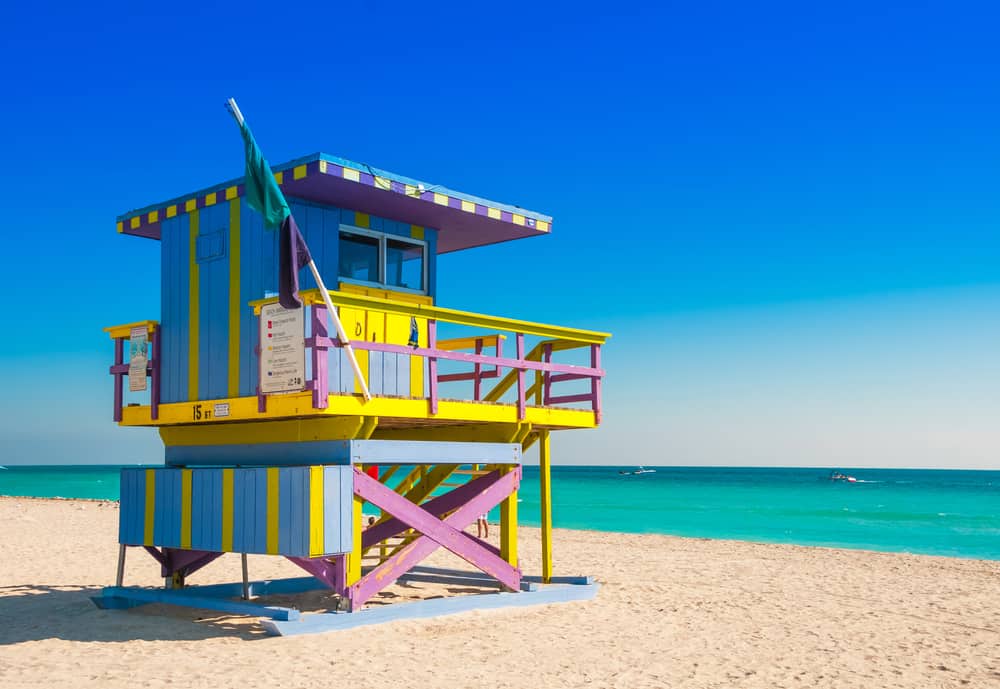 Stop 2: Española Way
After soaking up some sun and water at South Beach, you're probably going to want to grab some food and replenish your energy so you can continue having fun during your weekend getaway in Miami!
We recommend stopping and replenishing along Espanola Way! Here is where you can discover some of Miami's best restaurants, live music, entertainment, shopping, and more!
This historic street, which is SUPER close to South Beach, offers a unique selection of boutiques and specialty stores that offer one-of-a-kind products, celebrity-inspired and run culinary options, and more.
Most importantly though, this street stays true to its 1920s roots and is known for its dancing and dining in the streets: whether its yoga in the park or salsa in the evening, the movement and culture of Espanola Way will be one of the memorable parts of your 3 days in Miami.
Book Here: South Beach: Multicultural Food Tasting Tour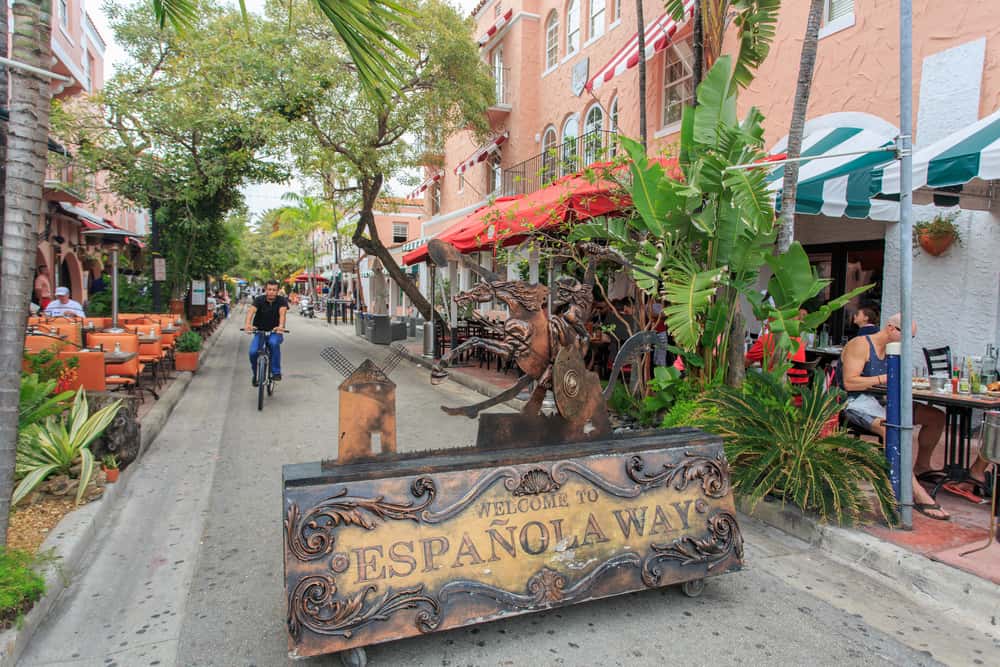 Stop 3: Lincoln Road
Speaking of streets in Miami, Lincoln Road is a pedestrian road that runs east, parallel to the beaches, and is another great outdoor shopping, dining, and entertainment destination to add to your 3 days in Miami itinerary.
This mile-long stretch of road is made for pedestrians only, and its street is always hopping with locals and tourists because of what it features. Lined with mainstream clothing options, casual and chef-driven restaurants, and an IMAX theatre, there is so much to do.
People love to gather at the sidewalk cafes and tables. The umbrella-covered outdoor seating offers great spots to relax and enjoy happy hour or to just relax and people watch!
With some high foot traffic and lots of people visiting, you're sure to experience a lot and witness a lot: from dog-walking locals to street performers, smelling authentic cuisine, and more, this is an experience you don't want to miss!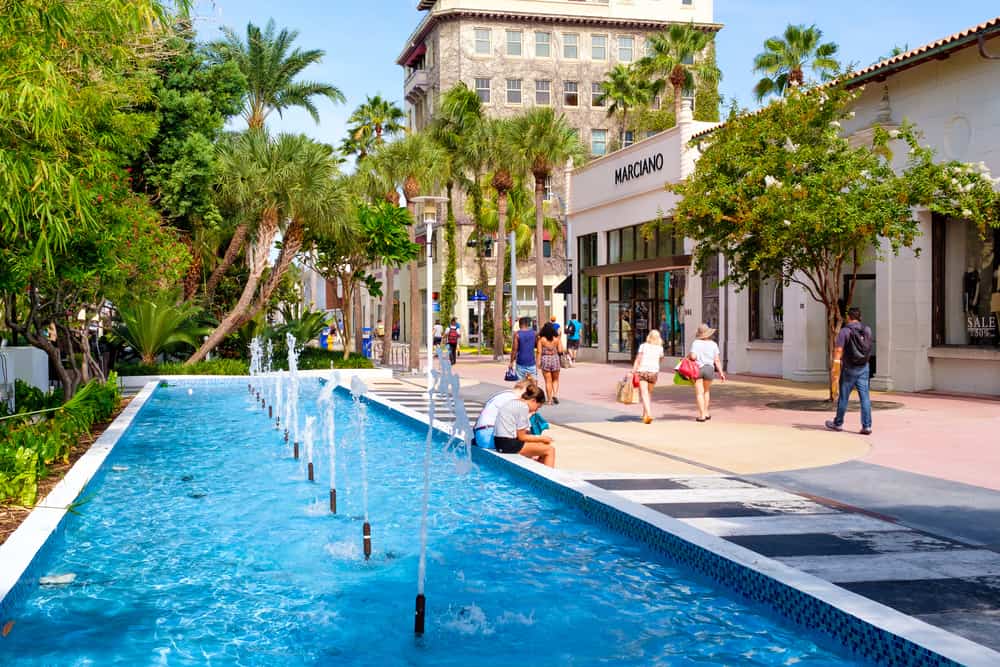 Stop 4: Ocean Drive & Collins Ave
To wrap up your evening on day two of your itinerary for Miami, we recommend heading back to South Beach, but this time, make sure you focus on Ocean Drive and Collins Ave rather than the sun, sand, and water! This is truly one of the best things to do in Miami at night!
This area is central to Miami's evolution as a city that is known for its art, fashion, culture, and entertainment. This edgy street features a mix of restaurants, nightclubs, retailers, and hotels.
The Art Deco District is at full play here, so don't be afraid to hop on a walking tour to learn more about the history and architecture of beach buildings as you witness "the Capital of Cool."
To end your evening on this avenue is to end it at a club, high-class restaurant, or experience that is ultimately trendy. You will not experience any other street like this one, especially in the evenings. From performers to modeling shows, to clubs that are kid-friendly, rooftop bars, and graffiti artist shows, this area draws in creatives, locals, tourists, entertainers, and more every second of every day!
Book Here: Miami: 2-Hour Art Deco Bike Tour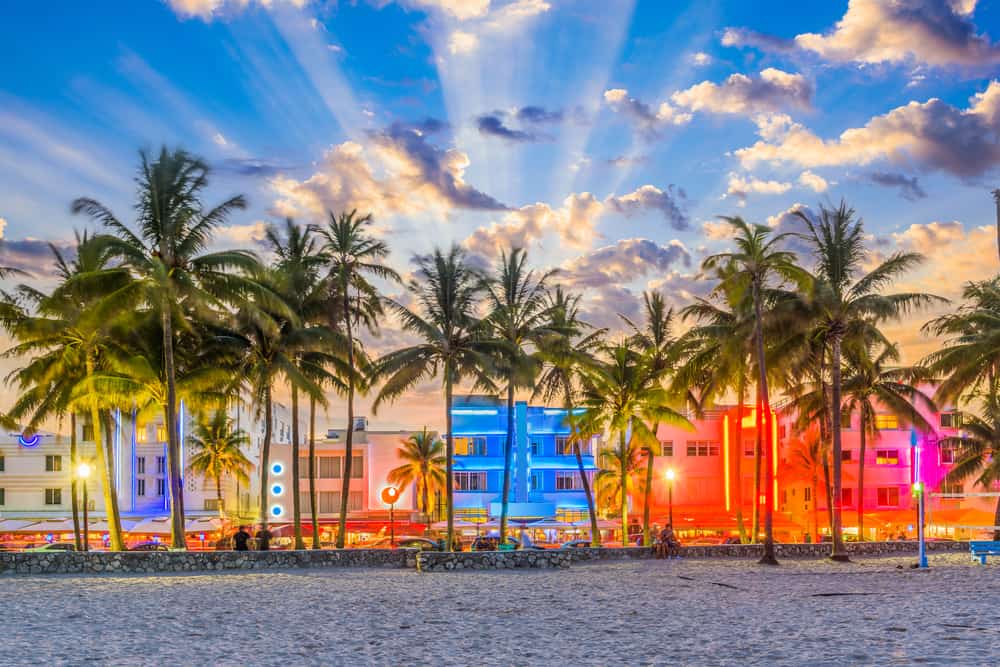 Day 3: Heading Toward Coral Gables
Stop 1: Vizcaya Mansion and Gardens
Vizcaya Mansion and its gardens are part of a breathtaking Gilded Age estate on Biscayne Bay. Across ten acres of well-composed gardens that feature a vast amount of flora, a mangrove shoreline, and more, this is one of the things you must see during your 3-day vacation in Miami.
This unique, cultural gem lets tourists connect to Miami's past as they navigate the Rocklands and acres of this mansion and its surrounding gardens. Through tours, you can learn about the stories of creativity and innovation, of those who built and lived at the estate.
As a cultural hub, this mansion seeks to be a green space for residents and visitors but it is also consistently creating innovative programming for tourists. They even created a virtual family food lab about plants during Covid-19!
This wonderful place also hosts a variety of fun experiences, such as Murder Mystery nights, cultural events, and more. Better yet, every time you visit something new is in bloom so the always changing gardens will always look different in some way!
Book Here: Miami: Vizcaya Museum & Gardens Ticket with Transport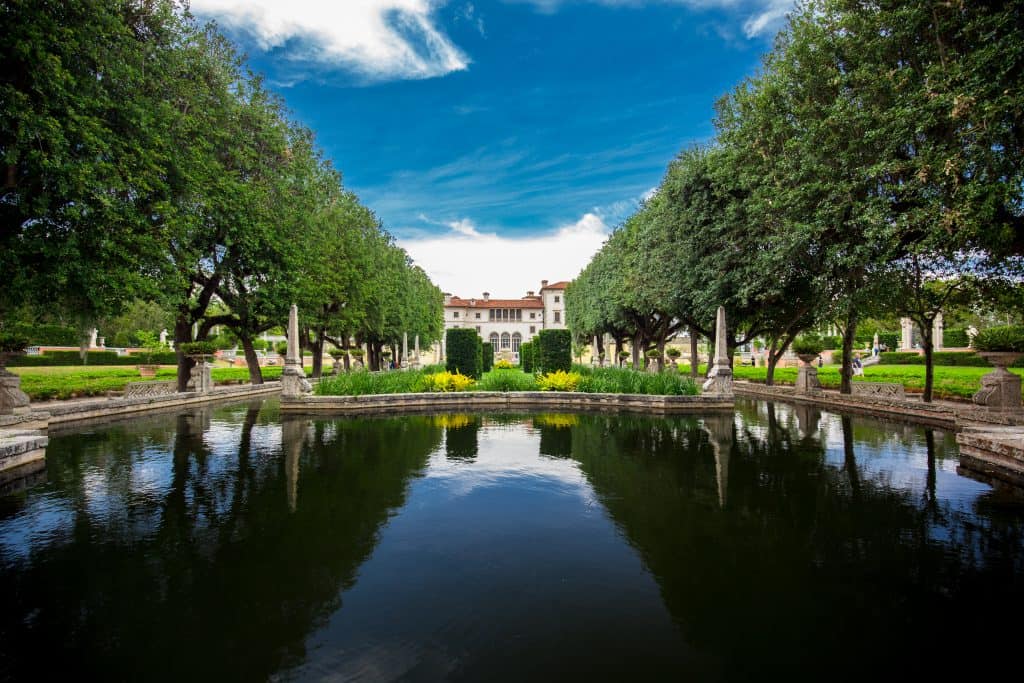 Stop 2: Venetian Pool
The Venetian Pool is a historic U.S. public pool in Coral Gables, Florida. In fact, it is the U.S's largest public swimming pool, which is why we recommend adding it to your 3 days in Miami itinerary. You don't want to miss this!
This aquatic facility is unlike any other. As a main attraction of Coral Gables, thousands of tourists come to visit this pool. Created in 1923 from a coral rock quarry, this 820,000-gallon pool is fed with spring water.
The pool itself is filled and drained nightly to enhance a visitor's experience, but people also love its surrounding areas, which include two lookout towers, and cave-like grottos, which makes swimming more interesting.
The "pool deck" is also accentuated by palm trees, bridges, loggias, and porticos. This gives the pool a completely immersive experience and makes visitors feel like they are in a whole resort area in Miami!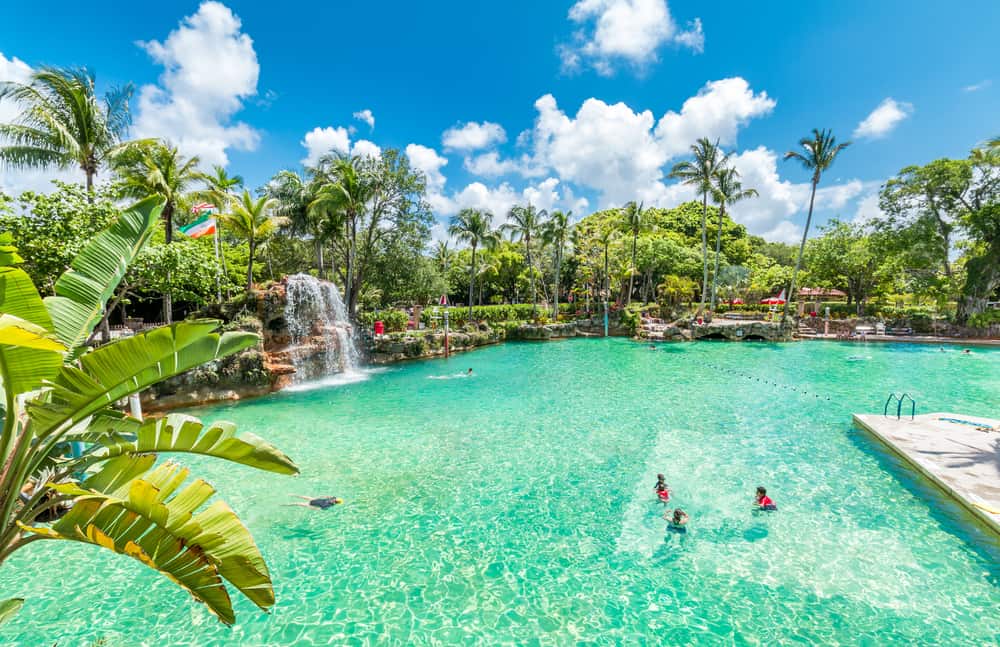 Stop 3: Miami Fair Trade Marketplace
After touring gardens, mansions, and pools, it is then time to visit the Miami Fair Trade Marketplace! On the 3rd day of your long weekend in Miami, we recommend spending some time at this marketplace to explore a great area.
Located inside the Coral Gables Congregational Church, this marketplace was created by a pastor who wanted to create an alternative shop in Miami. In the marketplace, individuals refrain from seeing inhumane practices (such as child labor and sweatshops).
This marketplace supports artisans in over thirty countries by selling their indigenous products. It is super important to stress that all of these products are made under safe working conditions, so we fully support supporting this marketplace!
You can find jewelry, fashion, gifts, food products, and more here. By purchasing these products you are raising the standard of living for the countries they are from through trade and not aid–and you can get some of the most unique souvenirs from your weekend in Miami!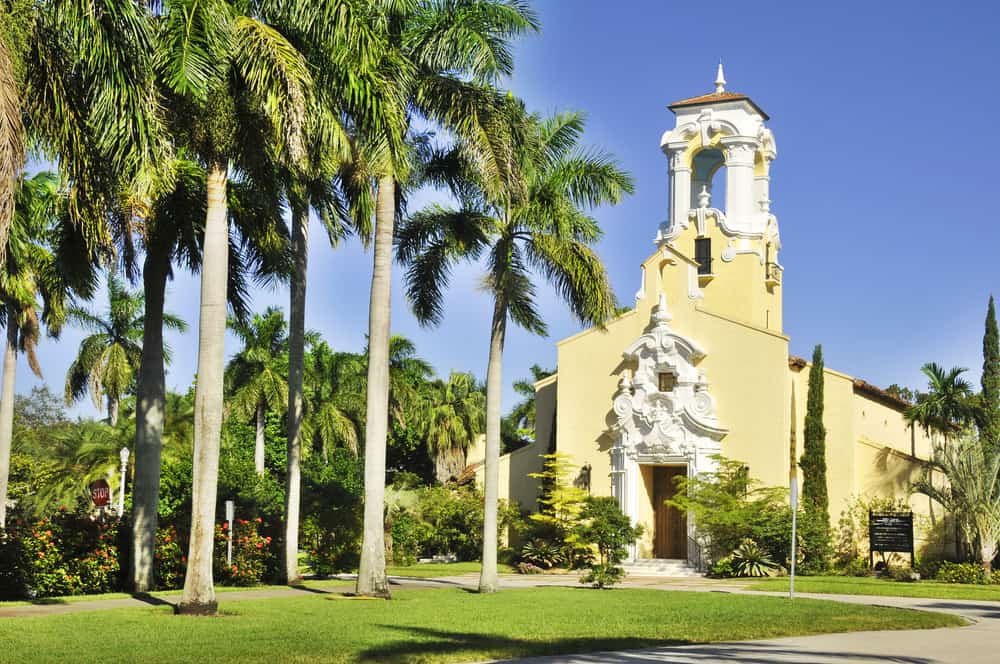 Stop 4: Fairchild Tropical Botanic Garden
If you want more time in beautiful gardens during your 3 days in Miami, then head to the Fairchild Tropical Botanic Garden. This is one of the best botanical gardens in Florida and is a pretty place to spend time in nature away from the hustle and bustle of Miami.
This expansive tropical garden in Coral Gables spans over eighty acres. With panoramic views from the overlook, palm tree glades, butterfly gardens, a farm, and tropical fruit conservatories, there is a lot to see. So much so that, if you didn't feel like walking, you could take a guided tram tour.
Fairchild Tropical Botanic Garden also hosts all sorts of events throughout the year, for all ages. There are watercolor and oil painting classes, pet-friendly live music nights, ice cream-making classes, and even an introduction to beekeeping!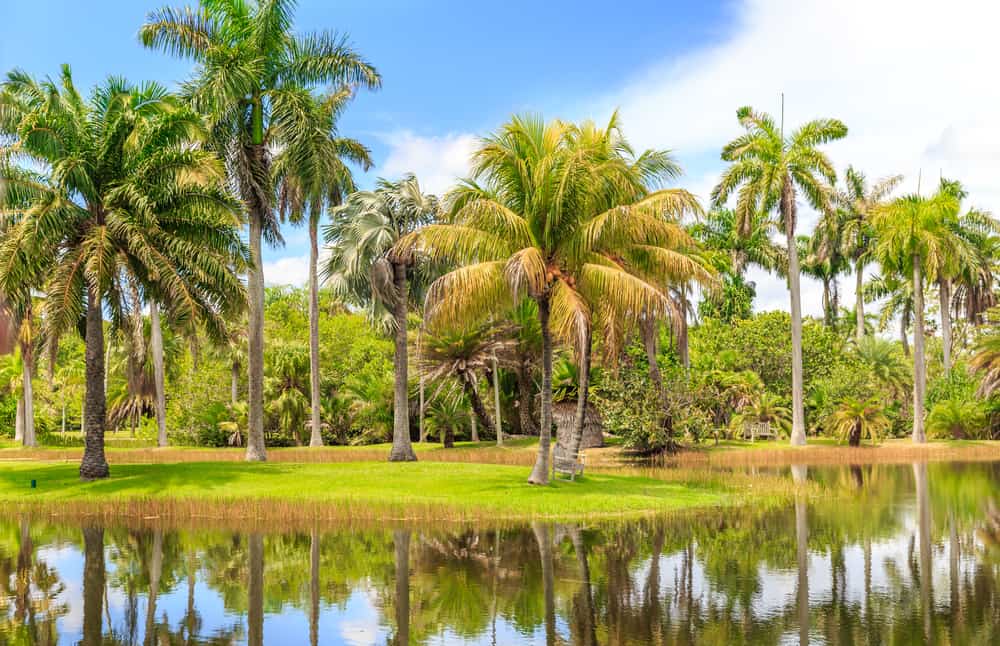 Stop 5: Coconut Grove
To wrap up your 3 days in Miami, we recommend finishing your third day at Coconut Grove! This upscale restaurant hugs the shoreline of Biscayne Bay and is known for its relaxed nature. This is truly one of the Best Places To Stay In Miami!
Alongside the streets are sidewalk cafes, chic shops, and even the Coco Walk Mall. You are able to sit and relax here, grab some great grub, people-watch, and window shop!
But better yet this area also has a variety of green spaces including a mangrove forest and the Barnacle Historic State Park if you want to check out some more of Miami's natural beauty!
Sailing clubs and marinas also dot the water, so feel free to take a seat and watch some water sports, of even rent out some equipment for yourself to finish up your long weekend in Miami on an adrenaline high! Can someone say jet skis or parasailing?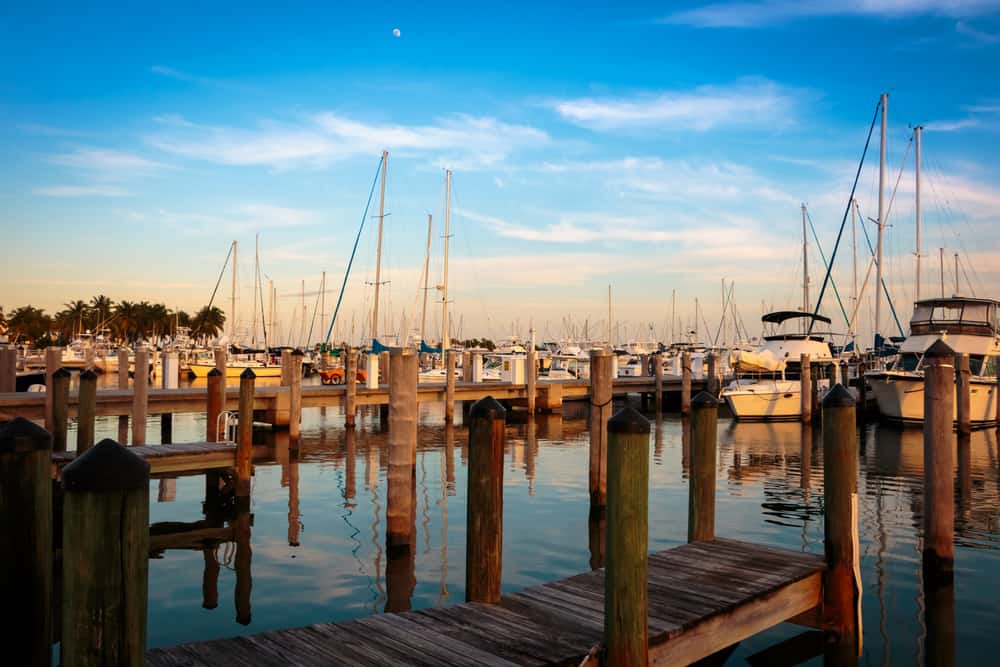 Where to Stay in Miami
It's important to feel safe and comfortable during your weekend in Miami. Because Miami often draws tourists to its streets and beaches each year, there are tons of places to stay, including:
The Mayfair at Coconut Grove
Only 2.5 miles from the Vizcaya Mansion, this boutique hotel is great to stay at because it features a rooftop pool, a spa, and an on-site gourmet restaurant so you can relax no matter when you return to your hotel!
All accommodations are safe, including TVs, wifi, a safe, a minibar, and coffee-making facilities. The bathrooms include stone flooring with marble oversized bathrooms–but better yet, you are only 11 minutes from South Beach!
Mid-Range: The Mayfair at Coconut Grove, Check Rates: Booking.com
East Miami
East Miami is located in the heart of the city and is known for its luxury. Each room is decorated with modern decor, including floor-to-ceiling windows that offer great views of the water.
But even better views can be found at the rooftop bar, and if that doesn't interest you, you can always go relax at one of the four pools, the on-site restaurant, or the fitness center. And with nearby retail shops, movies, bars, spas and more you won't ever be bored!
High-Range: East Miami, Check Rates: Booking.com
Private, Cozy, and Quiet Miami Studio
This cute and simple studio is great if you are looking for a more affordable stay in Miami. It is not big and fancy, but you will have everything you need to make your stay comfortable.
This stay is found in a convenient location in a quiet neighborhood. It is close to public transportation, beaches, grocery stores, and Little Havana.
Low-Range: Private, Cozy and Quiet Miami Studio, Check Rates: Vrbo.com
Little Havana Spanish Style Guest House by Calle Ocho
Found in the heart of Little Havana, this adorable home is perfect for your Miami stay. It is near the Miami Welcome Center and many other Miami attractions.
Up to five people can stay here. The kitchen is fully equipped with anything you might need to cook a great at-home meal. There are also two flat-screen TVs, Hulu, and wifi to keep you entertained after a day of exploring the city.
Mid-Range: Little Havana Spanish Style Guest House by Calle Ocho, Check Rates: Vrbo.com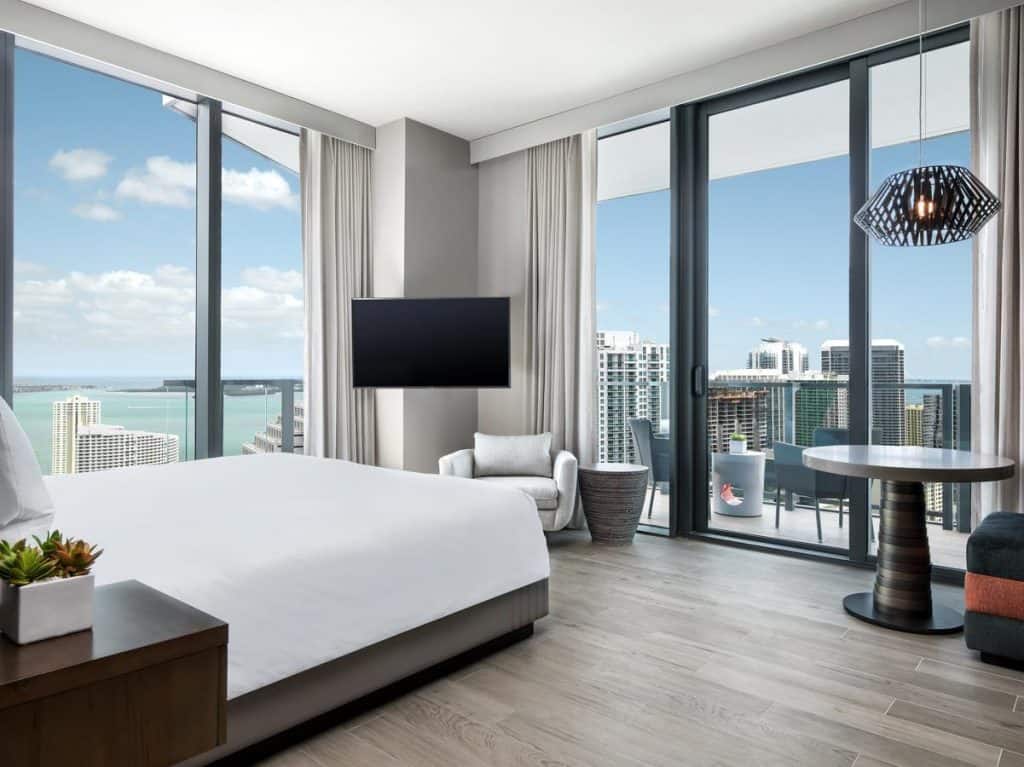 Where to Eat During Your Miami Vacation
There is no denying the fact that it can be slightly overwhelming to decide where to eat during your trip to Miami, just because there are so many options! Whether you are eating by your hotel, near the art district, after the beach, or looking for a cup of great cafe, we recommend you stop by some of the best restaurants in Miami.
Pane & Vino
Pane & Vino near South Beach is an atmospheric Italian restaurant in Miami. The motto of this eatery is "Eating is a necessity. Eating well is an art." Pane E Vino focuses on serving traditional Italian food, and you will leave feeling full.
All the pasta dishes at Pane E Vino are homemade, including lasagna, green Cappelletti, spaghetti, and ravioli. For the main course, they serve chicken, salmon, or steak dishes. For dessert get cannoli, creme brulee, or one of the other tasty treats.
Moshi Moshi
Moshi Moshi is one of the restaurants in Miami to visit if you are craving sushi. They are open 24-hours if you so you can eat any time your tummy starts to rumble. Moshi Moshi is known for its cozy and unpretentious atmosphere as well as its creative sushi rolls.
The restaurant has a variety of cold appetizers such as tuna tataki, crunchy crab ceviche, salmon Crudo, and tuna or salmon tostadas. Moshi Moshi also has plenty of dumplings to choose from like chicken, spicy beef, and pork gyoza served with soy vinegar.
Charly's Vegan Tacos
Tacos are popular in Miami, and you should not miss out just because you are vegan. Charly's Vegan Tacos has you covered! Charly's is a great choice for Miami vegan food and is known for the award-winning vegan nachos and tacos. Everything is made in-house using high-quality vegan ingredients in a very chill atmosphere and artfully presented.
You will also find burritos, Charly's torta, quesadilla, nachos with a chipotle leek cheese and carne asada, street corn, fried plantain, and avocado fries! Is your mouth watering yet?!
GreenStreet Cafe
If you are looking for a great breakfast to start your day in Miami, head to GreenStreet Cafe in Coconut Grove. This restaurant offers outdoor seating and fantastic menu items that are sure to satisfy any taste.
Their rotating selection of specialty pancakes, such as cinnamon roll pancakes, is always a hit. The red velvet pancakes are a crowd favorite and their French toast options are tempting as well.
If you're looking for something savory, any of their made-to-order omelets are excellent, such as their goat cheese and tomato or the spinach and feta. The scrambled eggs with nova and onions or their nova eggs benedict are also popular choices.
The Salty Donut
If you are craving a tasty treat, you will want to check out the Salty Donut. This family-owned restaurant has multiple locations in the Miami area and has amazing donuts and some of the best coffee around.
The Salty Donut focuses on artisanal donuts made in small batches and 100% from scratch. Their craft donuts rotate based on seasonality and never contain any artificial ingredients!
They roast Intelligentsia Coffee, and their specially crafted coffee menu focuses on seasonality. While their roasts' flavor profiles may challenge the norm, they are always a perfect match for their donuts!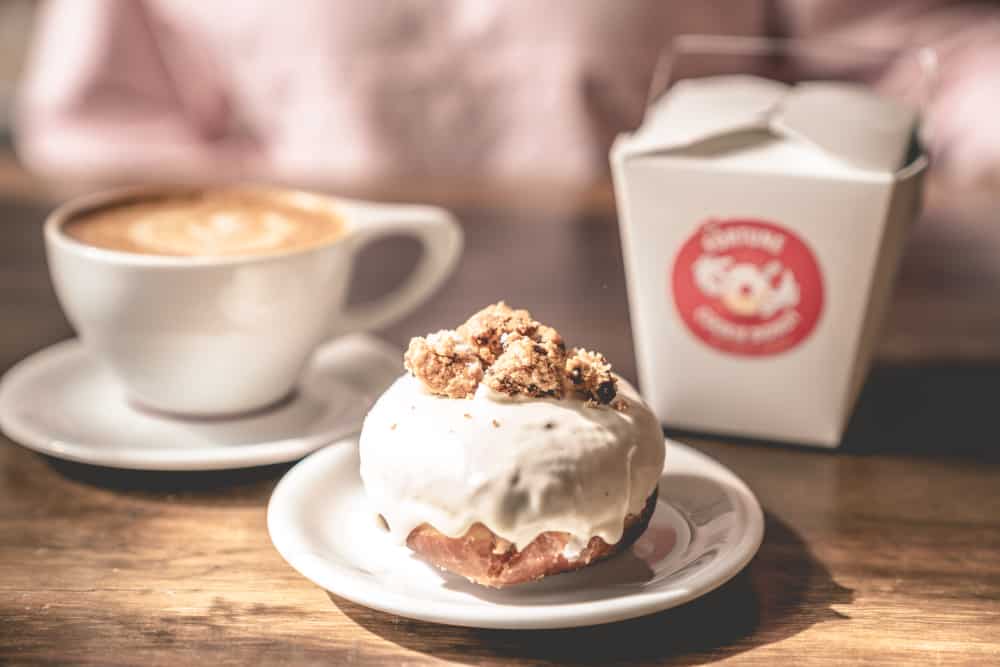 What to Pack for a 3 Day Trip to Miami
If you are not sure how to start packing for Miami, we will walk you through it. You do not want to overstuff your luggage with things you do not need, but you definitely do not want to forget something essential.
T-Shirts With Sun Protection
T-shirts with sun protection are a must-have item for your Miami packing list. No matter where you are from or how dark or light your skin color may be, you still need to protect your body from possible future skin cancer. These shirts are affordable and breathable, keeping you cool in the Florida heat.
Tank Tops
Tank tops are a must for your Miami packing list. If you are visiting Florida any time of year other than winter, you are going to want to pack a few tank tops. This shirt style will keep you cool and free from sweat stains!
Lightweight Shorts
If you want to pack shorts for your Miami trip, consider purchasing an affordable pair of breathable shorts. Sure, jean shorts are okay, but they really hold in the Florida heat! There are great lightweight shorts for men and women.
Dresses
Whether you go for short or maxi, a few dresses will help mix up your Miami wardrobe. Dresses keep you cool and cute all at the same time. In Miami, a colorful dress will make you feel right at home among the bright buildings and lively atmosphere.
Swimsuits
Some might argue this is the most important thing to pack for Miami! You need a swimsuit to make the most of the beaches in Miami! Ladies, get something cute and comfortable. Guys, try swim trunks that are quick-dry.
Flip Flops
Flip flops are great for the beach since they are easy to clean and take on and off. Cheap flip flops are great since they are easily replaced if they are lost, and you don't have to worry about your good shoes being left unattended on the beach.
Sneakers
Classic sneakers are great if you plan on doing a lot of walking in Miami. You do not want your feet hurting after a few hours! Bring a pair that are supportive and will match multiple outfits.
Sun Hat
A sun hat, especially one with UV protection, is perfect for protecting your face from the sun. It will also look cute as you snap some selfies on the beach!
SPF-50 Sunscreen
You 100% need sunscreen if you are coming to Florida! SPF-50 or higher is recommended to keep you safe from the harsh rays. Since it is liquid, you can put it in your checked bag if you fly or buy some when you land. If you are going to swim, get a sunscreen that is waterproof and reef-safe.
Waterproof Phone Case
If you think waterproof phone cases are expensive, think again! These little bag-like cases are super cheap and work very well! They allow you to take your phone in the water or hold it during the rain which here in Florida we get quite a lot of, especially during the summer! This is the waterproof phone case we use and love!
Insulated Water Bottle
An insulated water bottle is the perfect essential to pack for Miami because you will want cold water at all times! Reusable water bottles are great for the earth and keep your water cold! Insulated water bottles like this one are perfect for the whole family and very affordable!
Mesh Beach Bag
This is a beach essential for your three days in Miami! A mesh beach bag will keep everything dry, clean, and safe as you have fun at the beach. Plus, they pack up really small!
Waterproof Dry Bag
This waterproof dry bag is the perfect thing to add to your Miami packing list if you are planning on going boating, scuba diving, or being on or near the water during your trip. If your bag falls in the water or gets wet, the special clasp keeps all your belongings dry!
Polarized Sunglasses
You need to bring a pair of sunglasses to Miami! Sunglasses are an essential part of your Miami packing list because they protect your eyes from sun damage. If you are looking for the best protection possible, consider buying a pair of polarized sunglasses.
Fast Drying Towels
Nobody likes dealing with wet towels! Get fast-drying towels to pack for your Miami trip to save the hassle of carrying around wet towels after your beach day!
And there you have it: the best itinerary for a 3 day weekend in Miami! This city is so full of life–it has a fantastic culture and vibe that cannot be found elsewhere.
So in-between soaking up some sun, enjoying nightlife and art, make sure you are enjoying yourself during your 3 days in Miami! We promise you won't regret it!
Did You Find This Post Helpful?
If so, we would love to keep in touch! We enjoy seeing photos and comments about your experiences in Florida! You can follow us on Instagram and we will repost your photos on our feed and comment too! Just tag us at @floridatrippers and hashtag #floridatrippers. We can't wait to see your travels!