Are you looking for some tips for when you visit Ichetucknee Springs? Look no further! We've got you covered! Ichetucknee Springs is a natural oasis here in Florida. It features spring-fed rivers, lush canopies, and great swimming holes!
When visiting, make sure to travel the pristine waters of this river. It makes for a perfect outing because you can either turn it into an adventure or relax on the water itself! Ichetucknee Springs is known for its warm-weather tubing, but many people don't realize that the upper portion of this state park is a National Natural Landmark.
Here you will witness TONS of wildlife, eight crystal-clear springs, and the 6-mile river itself. And don't forget the natural trails as well! This state park is something you definitely want to see. So pack a suit, and let's go: Ichetucknee Springs State Park is waiting for you!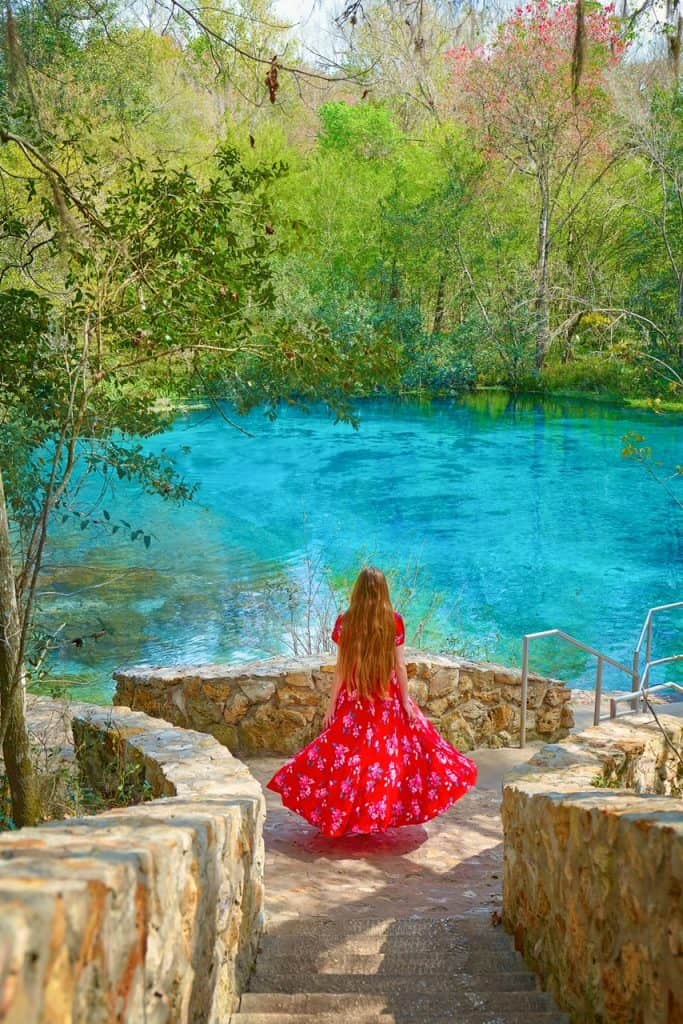 Where is Ichetucknee Springs State Park?
Ichetucknee is located in Fort White, Florida. This is located in North, Central Florida, and it is important to note that the spring-fed river is over 6 miles long, so the span of this park is huge! The river itself lies within most of the Ichetucknee Springs State Park. But beyond this river, Ichetucknee Springs State Park is located to the south of US Highway 27.
Trouble finding it? Here is the exact address: 12087 S.W. U.S. Highway 27, Fort White, FL 32038. Type this in to your GPS, or even the name of the state park! You should be able to find it with ease with the help of your GPS!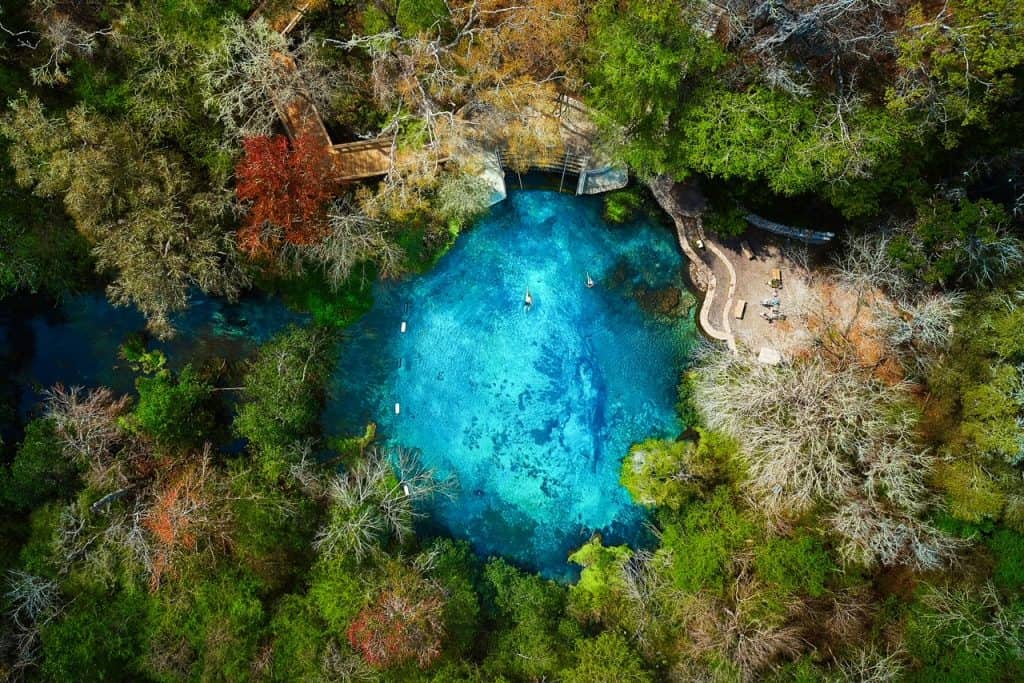 How Much Does it Cost to Visit Ichetucknee Springs?
When talking about admission to the state park, it is $6 per vehicle, and this vehicle should hold between 2-8 people. If you arrive at the state park with just a single-occupant in the vehicle, your admission fee is only $4.
If you are on a motorcycle– either alone or with a partner– it is also $4 to get in here! And for those who stumble across the park on bike, or by walking, they must pat $2 a person. (Speaking of $2, passengers in vehicles who are holders of an Annual Individual Entrance Pass are also only required to pay $2 to get in!).
But there are other fees to worry about at Ichetucknee Springs! Especially if you are doing any sort of renting for water sports (which we will talk about later!). Tubes cost anywhere from $7-30, depending on the 2 tubing experiences you choose from. Kayaks are around $25 and can be rented as a single or tandem kayak. Paddleboards are $40 and up, while canoes are $45 and up!
Tram and shuttle services are also offered by the park concessionarie. These tickets and wristbands can be purchased at the concession facility that is located adjacent to the parking lot by the park's south entrance!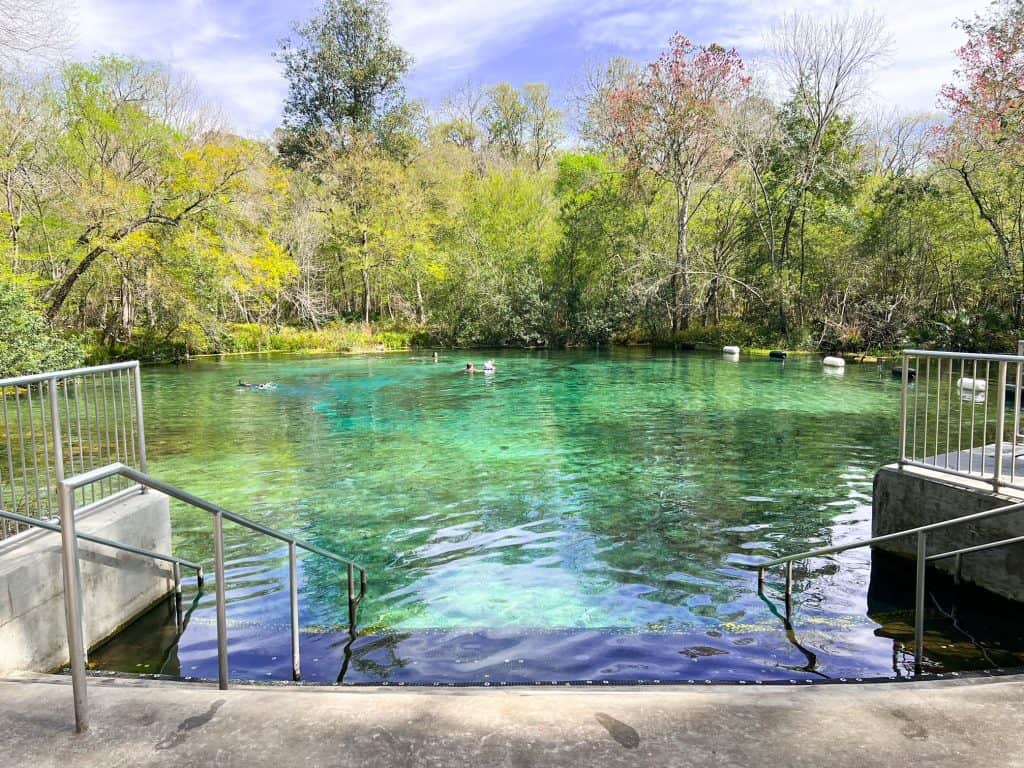 How Cold is Ichetucknee?
It is always great to discover the crystal-clear waters of one of Florida's natural lazy rivers. The river at Ichetucknee Springs State Park is best for paddling and tubing. But how cold is the water here?
Our best answer is to look at the Blue Hole. When exploring this spring at Ichetucknee Springs State Park, you'll enter a world that is deep, cool and inviting. This spring feeds into the river, and you can find fish, caves and turtles 40 feet below the surface! The water here stays at a constant 72 degrees. But do note that some of the other temperatures can change depending on what spring you are at in the park, and where you are in the river!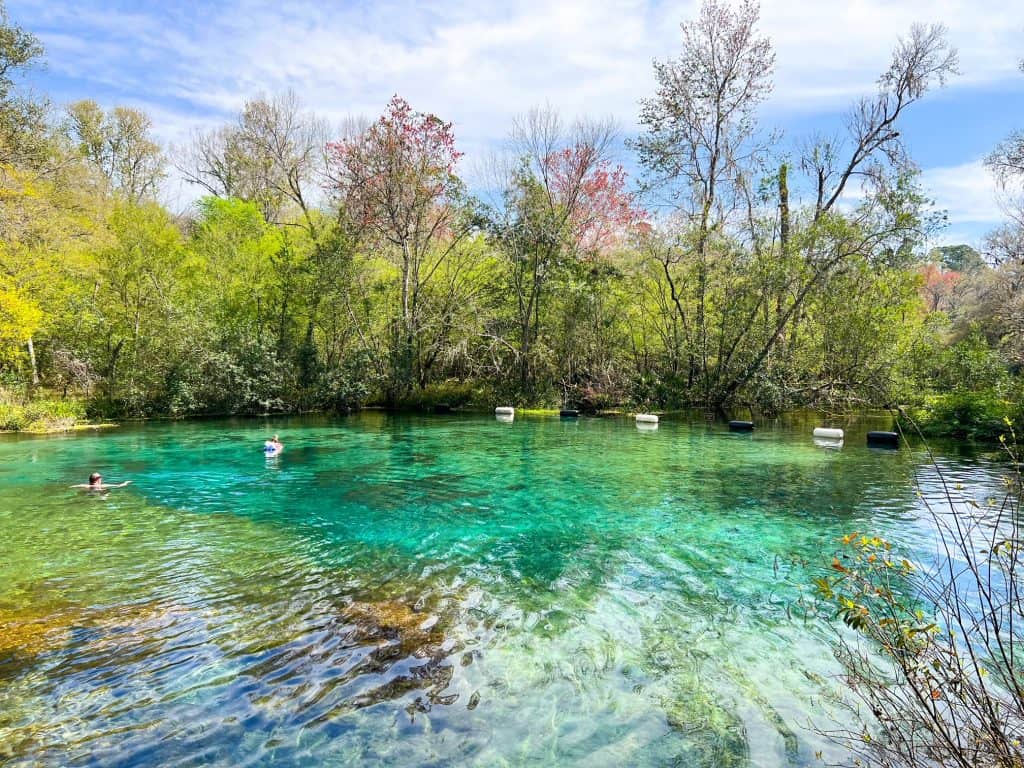 Are there Alligators at Ichetucknee Springs?
If you are visiting Springs in Florida, one of the most common (and reasonable!) questions to ask is: are there alligators here? Well the answer is, yes. But don't worry!
Typically alligators are most active when temperatures are between 82 and 92 degrees. At Ichetucknee springs, the river and springs eventually merge into the Santa Fe River. This is where the water's color and temperature are very different, and where you may see alligators.
As always, when visiting Florida's natural lazy rivers and springs be aware of wildlife that surrounds you! Respect them, too. And be smart. Remember, this was their home first!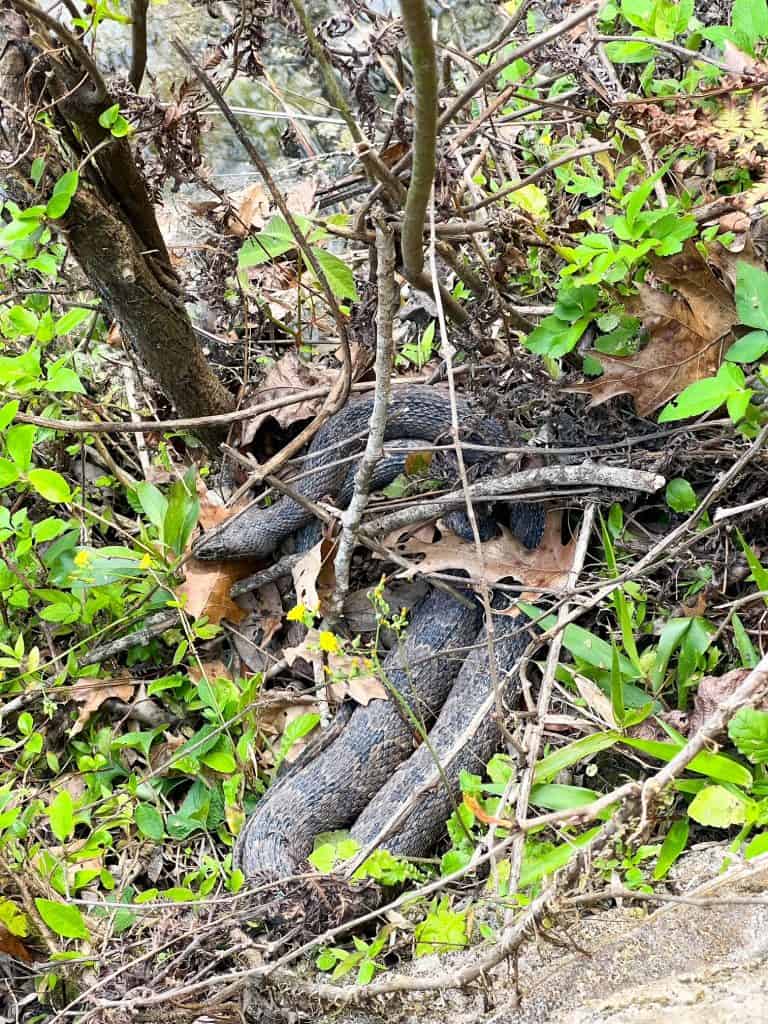 Crowds at Ichetucknee Springs State Park
Ichetucknee Springs often can get overwhelmed with visitors during the summer. For example, on memorial day, this park can draw up to 10,000 people to the park! But please remember that this park is also HUGE, so sometimes the crowds don't seem so bad because everyone is able to spread out.
On a typical weekend, during summer, around 3,000 people can visit this park. We suggest going to the park earlier in the day to avoid this major crowds. The park opens at 8 am. And factor in about 4 hours to enjoy all this park has to offer! Please remember, too, that the river is mainly packed during spring break and summer seasons.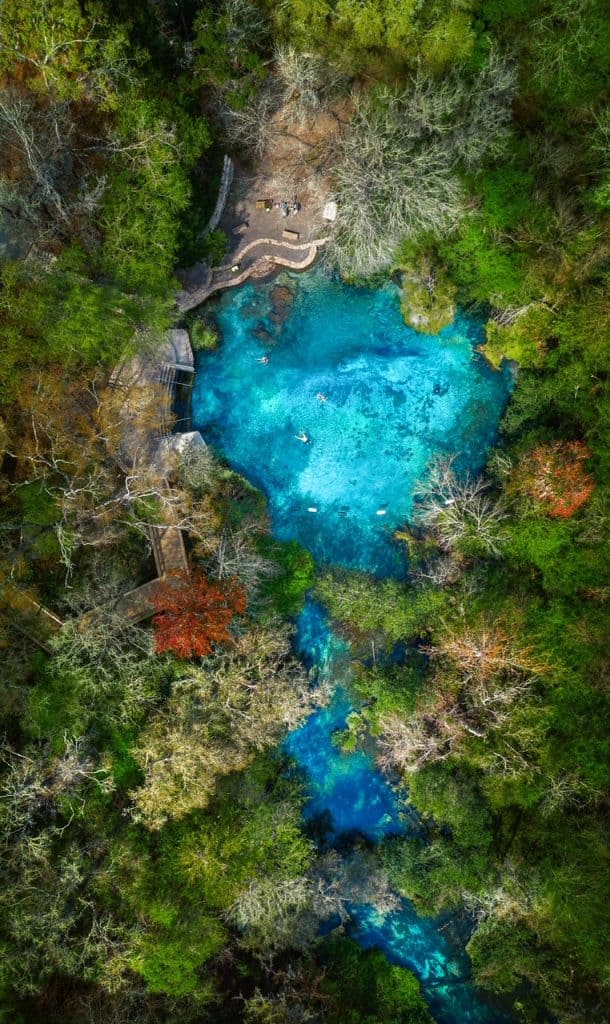 How Long does it Take to Tube down Ichetucknee?
In total, it will take you about two hours to float down to the exit that is known as "The Last Take Out." At this exit, a tram will shuttle you back to the parking area! But if you don't want to spend two hours tubing, there is also an exit at the 45-minute mark. This is called "Dampier's Landing." You can always exit here, but there is no shuttle. You will have to walk back to the South Parking Lot.
As mentioned in the earlier section, this state park opens at 8 a.m. and closes at sunset. So make sure to plan accordingly and give yourself enough time to enjoy all these springs have to offer! Most people factor in about 4 hours to enjoy the river, the springs, the natural trails, the wildlife, and transportation back to the parking area!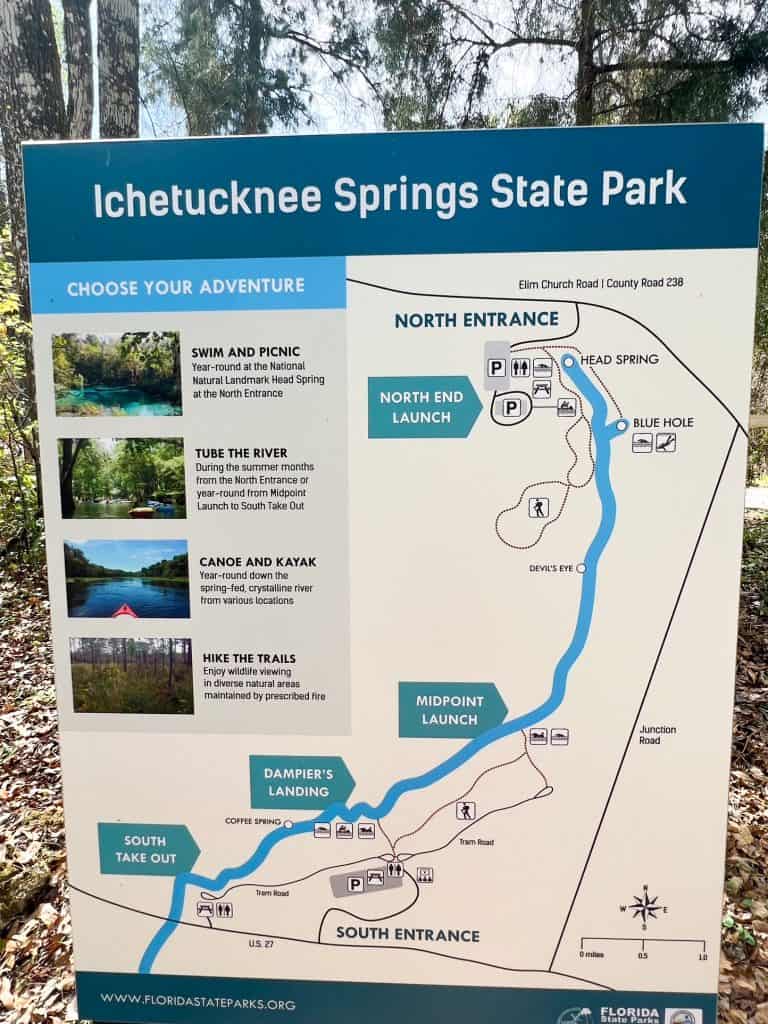 Watersports at Ichetucknee Springs
The best part about Ichetucknee state park is that there are so many things to do here. Canoeing and kayaking are a great way to enjoy the natural beauty of the river. When boating– or paddling– you can see manatees and river otters! This also gives great views of moss-draped cypress, limestone banks and more. Paddling is accessible year-round from the north or south end.
Scuba Diving is allowed at Ichetucknee Springs State Park, but only at the Blue Hole Spring. Divers MUST be cavern or cave certified, and scuba diving is not permitted in the river or at any other springs. Also, please note that divers must be done an hour until sundown and there is a half-mile trail to Blue Hole Springs, so pack light to transport gear!
Snorkeling is available in designated areas, but most importantly, let's talk about tubing! Ichetucknee springs tubing is insanely popular here. Tubes are available for rent within the park, or you can bring your own. Tubes cannot exceed 60 inches in any directions. Tubing is available year round, but please note that food, fishing, tobacco and alcoholic beverages are prohibited when on the river. This helps keep the water and wildlife clean and safe!
Lastly, swimming! First, when at Ichetucknee springs, swim at your own risk. There is no lifeguard on duty. Swimming and snorkeling is available every day of the year from 8 a.m until sunset at the north entrance. Swimmers are encouraged to swim at the head spring, nit Blue Hole Spring should only be swam at if you are experienced. This hole has major depth to it, and a strong current!
And if you're interested in doing more swimming or exploring natural lazy rivers in Florida, check out our articles on the best places to go tubing!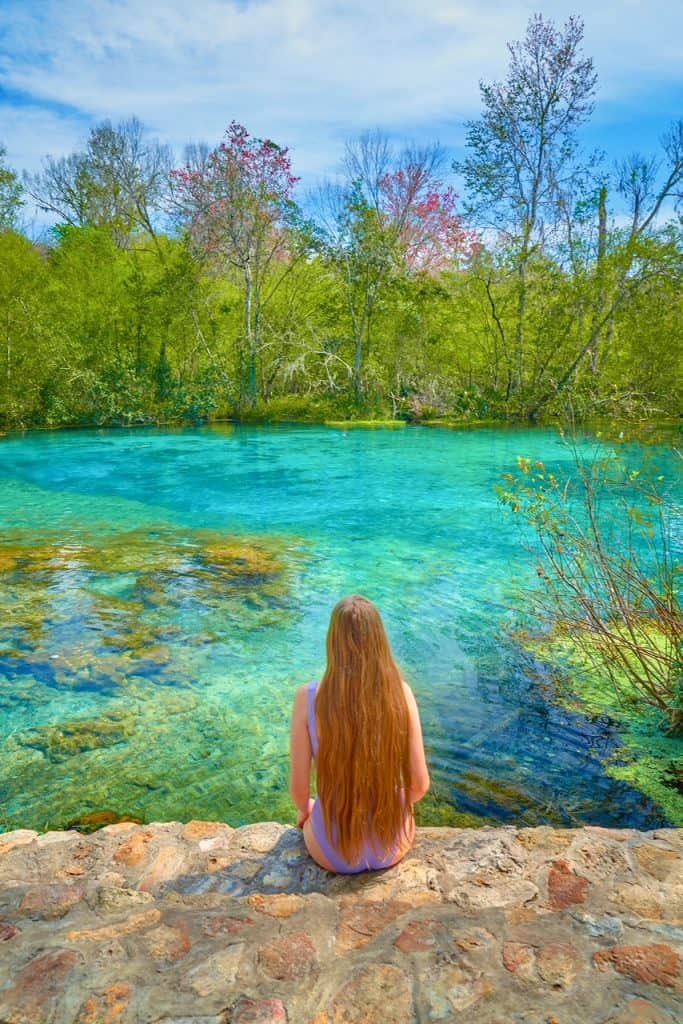 Camping at Ichetucknee Springs State Park
If you are considering Ichetucknee Springs camping, you must check out the Ichetucknee Springs campground! Established over 40 years ago, this campsite is surrounded by thick green foliage, and old oaks!
Each site has a private feel here, and Ichetucknee provides many amenities to make you comfortable. This campsite is located less than 5 minutes away from the North entrance of the springs. The are also only 15 minutes from Ginnie Springs!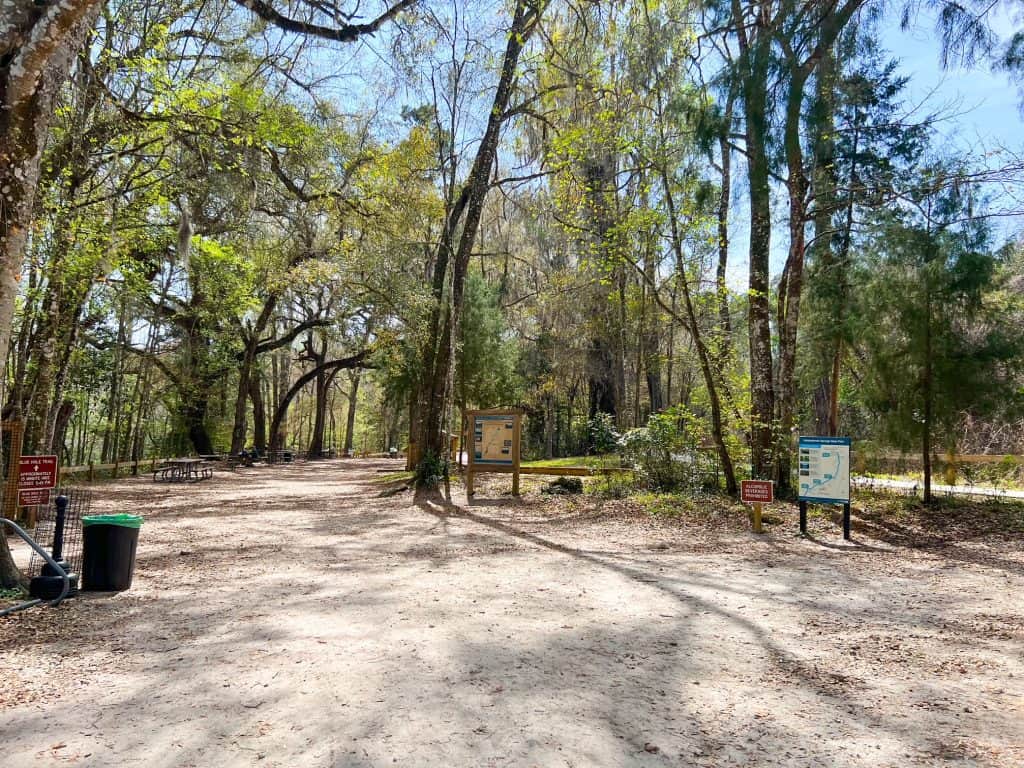 When camping here, you can camp with a primitive tent to get the ultimate natural experience. Remember there is no food and water! But there is a fire ring and picnic table. OR you can tent with electric– these sites have the aded comfort of electricity and community water. Lastly, you can check out camping with a RV hook up. All RV sites have water and 30 AMP electric hook-ups.
The campground amenities now include "The Sunny Shack" which includes lots of yummy snacks, tube rentals, a community bonfire, a main building, a camp store, firewood and ice, and a dump station! You can reserve your camp site today ($20 for primitive, $35 for tent with electric, and $40 for RV!). And this campground now offers rentals on RVs! Check in at 3 PM and out at 2 PM!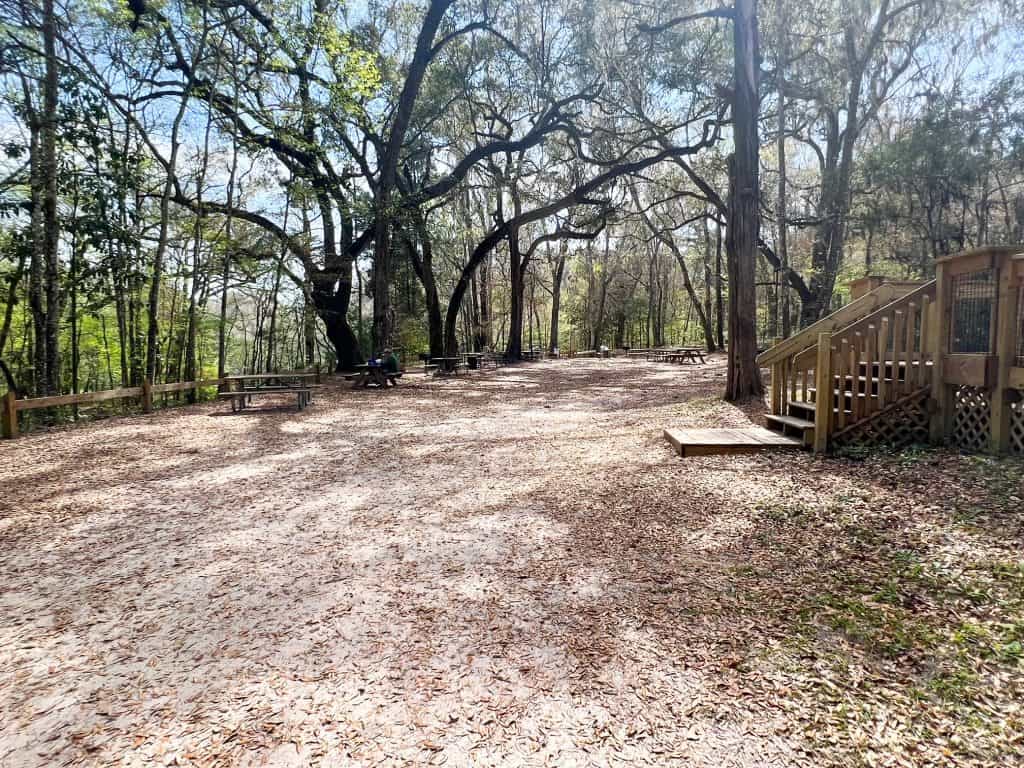 Tips for Ichetucknee Springs
When visiting Ichetucknee Springs, we want to make sure you are prepared! Here are some tips:
Bring your own tubes and gear to save money!
Note that the North Entrance is typically only open for tubing from Memorial Day to Labor Day
No Food, drinks, fishing, alcohol or disposable times are allowed on the river
Bring water shoes (they will help with walking to and from the shuttle!)
Bring a water-proof phone case or small bag for your keys and valuables!
Bring arm floaties for those little ones
If you are scared of being separated from your group on crowded days, you can tie your tubes together!
Bring sunscreen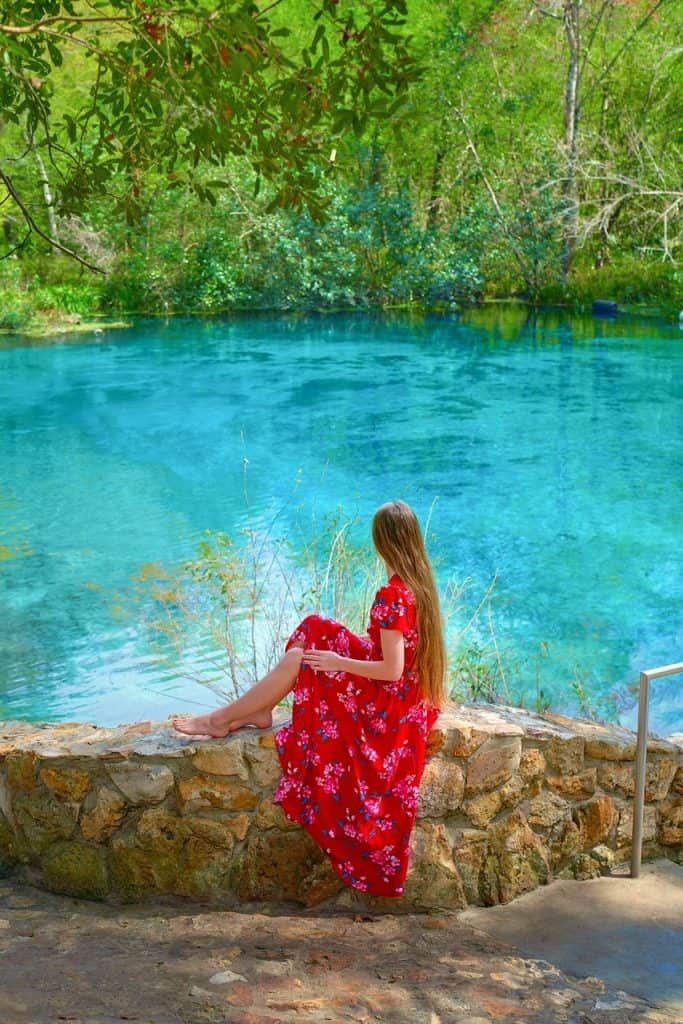 And there you have it, folks! All you need to know about Ichetucknee Springs State Park! So whether you want to snorkel, swim, scuba dive, or enjoy the state park, this is the place to visit. The natural lazy river is a must visit. And you are bound to enjoy all this park has to offer. Just make sure to pack your sunscreen!