If you have never been to Ginnie Springs, you are in for a real treat!
This natural spring is the epitome of Florida beauty and home to some of the prettiest water in the state.
Ginnie Springs makes our list of the Best Springs In Florida! You should make sure to add it to your bucket list!
The water from Ginnie Springs is crystal clear and a gorgeous blue color. The area is pretty large so you can go camping and more when you aren't on the water! The spring pumps out 80 million gallons of water every day.
If you are looking for a pretty place for swimming and water recreation, then Ginnie Springs is for you!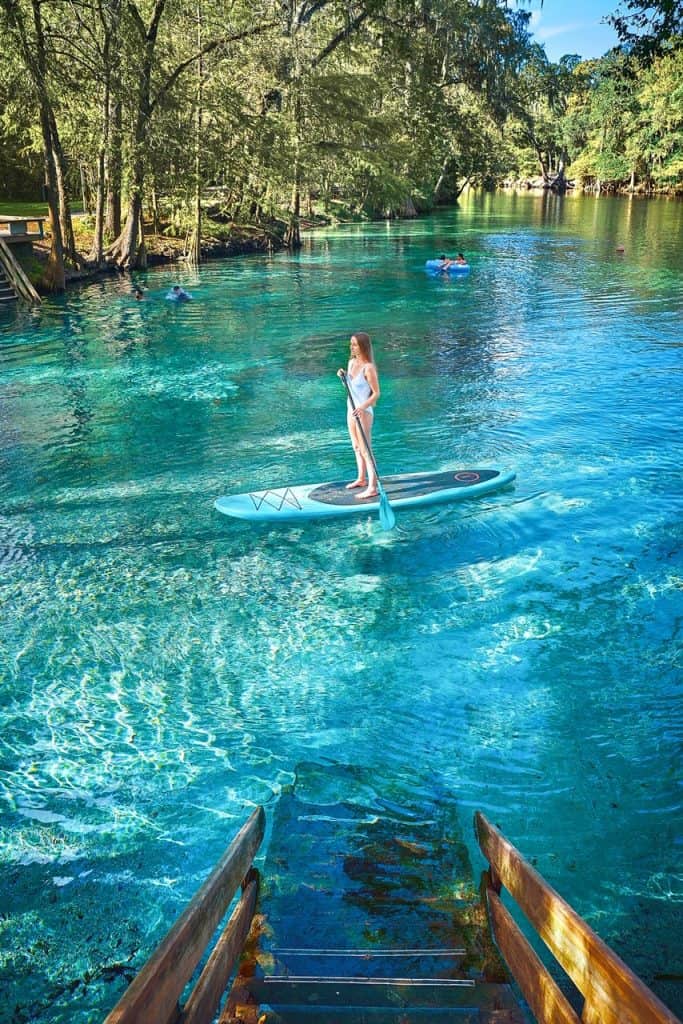 That being said, Ginnie Springs can get quite crowded and busy! It is one of the only springs in Florida where drinking is allowed and frat boys and college kids flock to the springs on holidays and weekends.
Drinking is allowed at Ginnie Springs because it is privately owned, unlike other popular springs which are city or Florida state parks.
We don't tell you this to scare you, though, but to keep your expectations in check. We will share tips on voiding the crowds, so do not worry.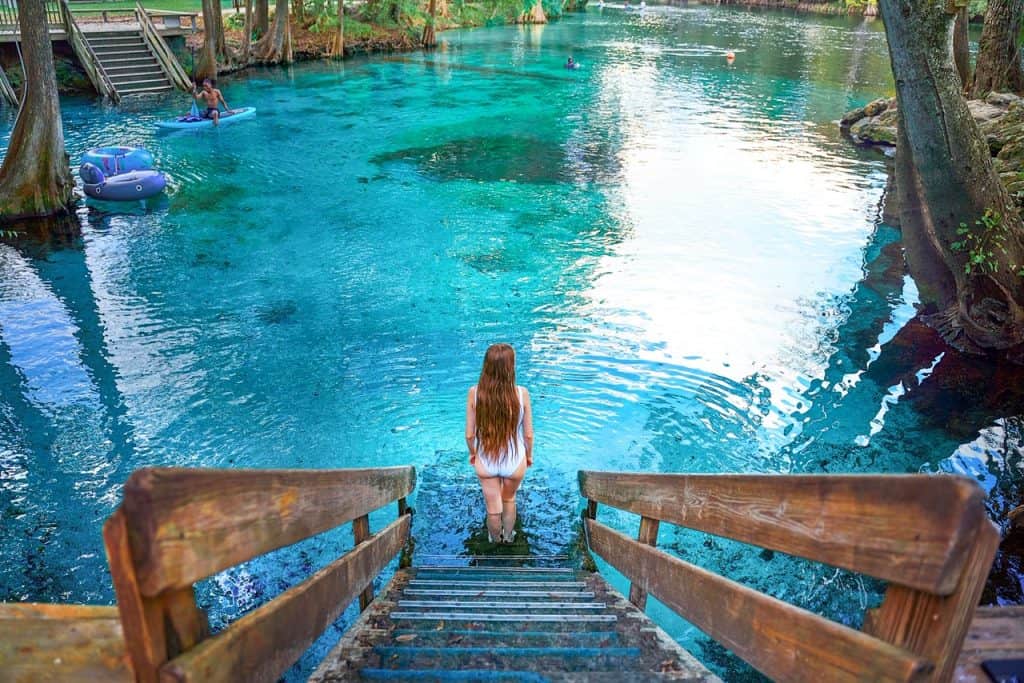 Where Is Ginnie Springs?
Ginnie Springs is located about 6.5 miles away from the city of High Springs. It is one of the best springs in North Florida.
It is about 48 minutes northwest of Gainesville and an hour south of the Florida-Georgia border on 75 Highway.
Although you can visit this spring from Tampa [where we come from], it will set you back about 2 hours one way!
Ginnie Springs is privately owned and it is connected to the Santa Fe river.
Here is the address: 7300 Ginnie Springs Road, High Springs, FL 32643
You can also just type "Ginnie Springs" into your GPS and you will be taken right there!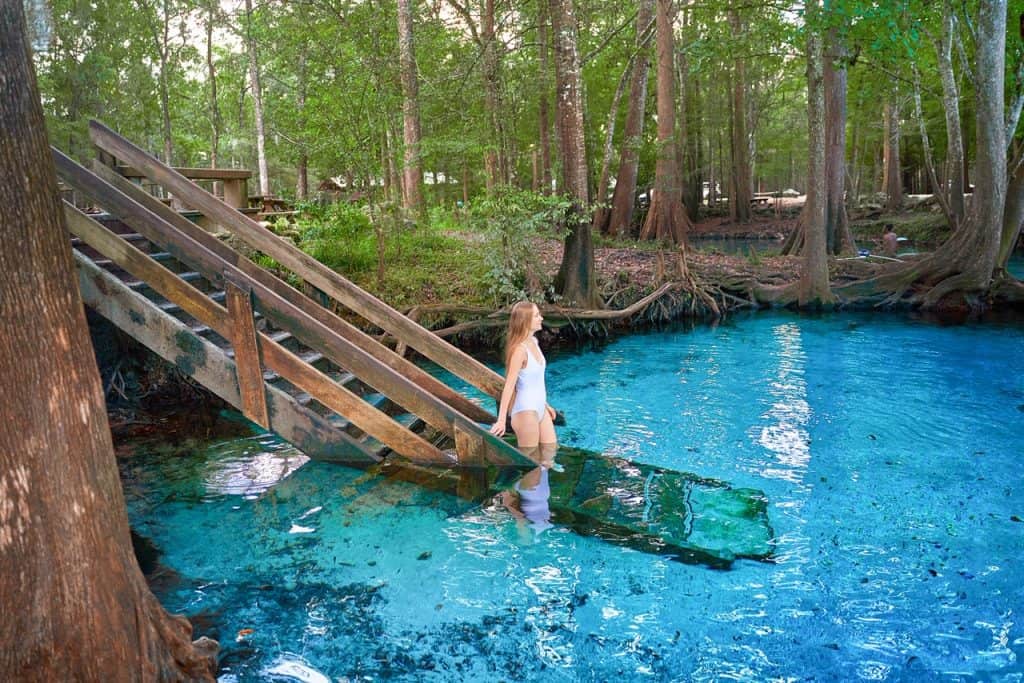 How Much Does It Cost To Visit Ginnie Springs?
There is no easy answer when it comes to the admission fees for visiting Ginnie Springs, FL!
There are so many things to do there, from camping and diving to paddle boarding and general admission!
Unlike other springs in Florida such as Kelly Park/Rock Springs which are more affordably priced, Ginnie Springs is actually quite pricy!
The general daily prices are:
Adults "Off-Season" Rate: $15
Adult "Season" Rate: $20
Children ages 5-12: $5
Children 4 & Under: Free
There are also prices for scuba diving in the caves, regular diving, camping, and more! For a full pricing list, you can check out the Ginnie Springs Website!
As I mentioned above, $15-$20 per person is on the steeper side when visiting springs in Florida. Ginnie Springs is one of the prettiest springs so it is worth the cost, but I want you to be prepared!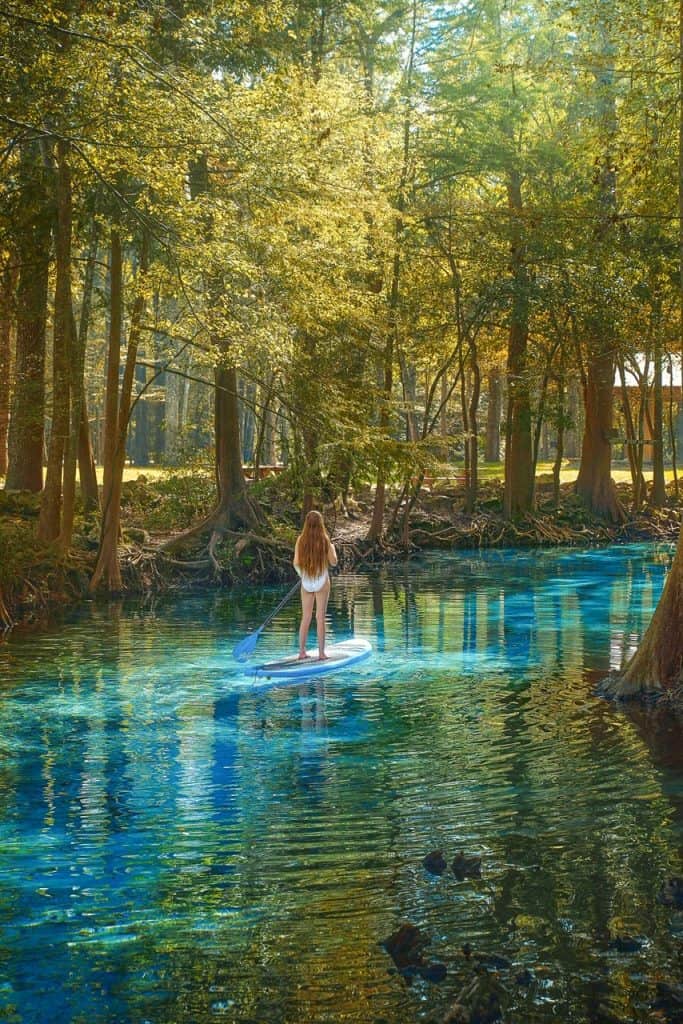 What Time Does Ginnie Springs Open And Close?
Hours for Ginnie Springs change with the day of the week and also the season!
If you are staying at the campground, then the springs are open 24/7 for you.
For everyone else, it depends on what time the sun sets. For example, during the winter, the park will close between 6-8 pm. Sometimes it is later!
And again, the hours change depending on if you are visiting during the week or on the weekends!
Please check out the Ginnie Springs website for more information on the exact hours! Don't follow your GPS or Google as they both say the springs are open 24/7 which isn't exactly true!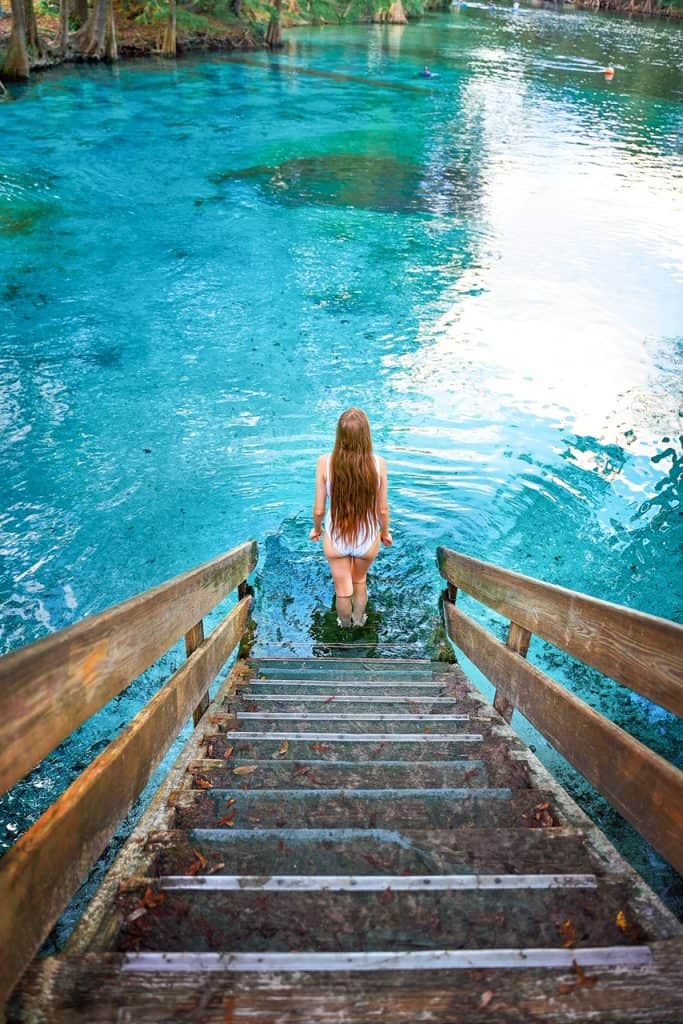 Map Of Ginnie Springs
Below is a map of Ginnie Springs so you can get an idea of how the park is laid out!
You will be given this map when you check in and when you pay upon arrival. If you are not given a map of the park, simply ask at the front desk!
Ginnie Springs is a larger park compared to some springs, so having a map is handy if this is your first trip!
Our favorite part of Ginnie Springs is over by Devil's Eye which you can see marked on the map. You come in, turn right, pass a parking area, and then the second parking area is where it is!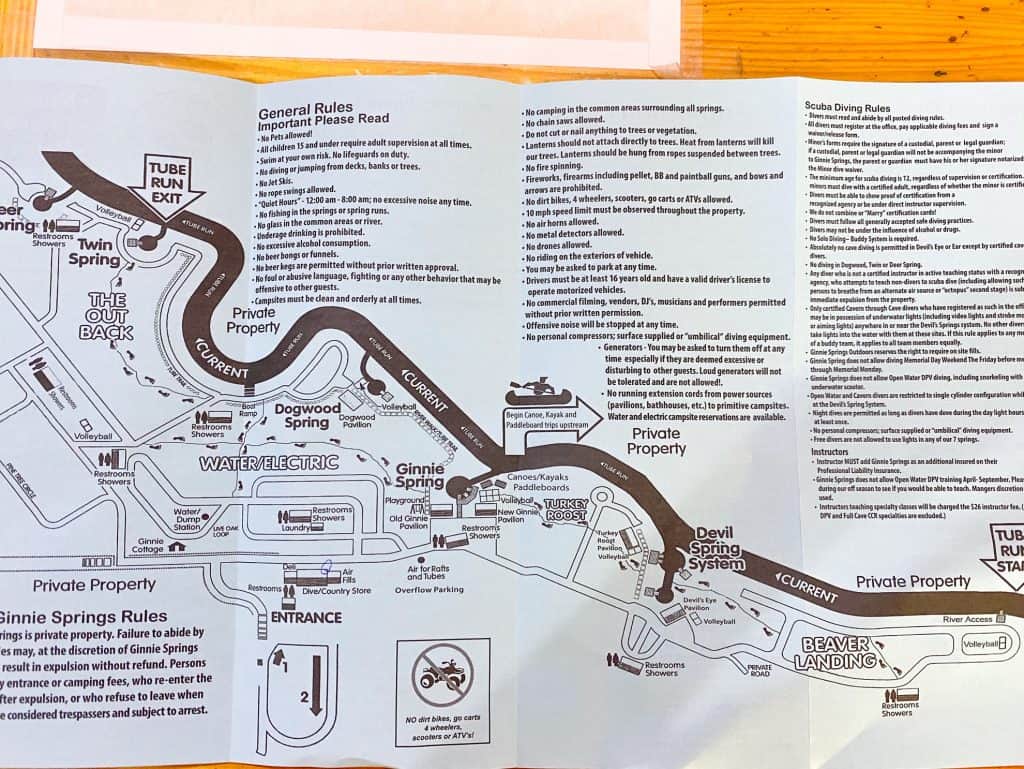 How Cold Is Ginnie Springs?
Ginnie Springs is a constant 72F/22C at all times!
If you ask me, a Floridian, then this is darn cold! If you are someone that doesn't live in Florida or a similar warm climate, then this is probably super nice swimming water for you!
When swimming at Ginnie Springs, I do find it super cold! So you can swim around and when you get cold, get out and relax in the Florida sun before you do it all over again!
Of course, you do not have to go in the water to enjoy it! There is other water fun available. You can tube, paddleboard, kayak, etc!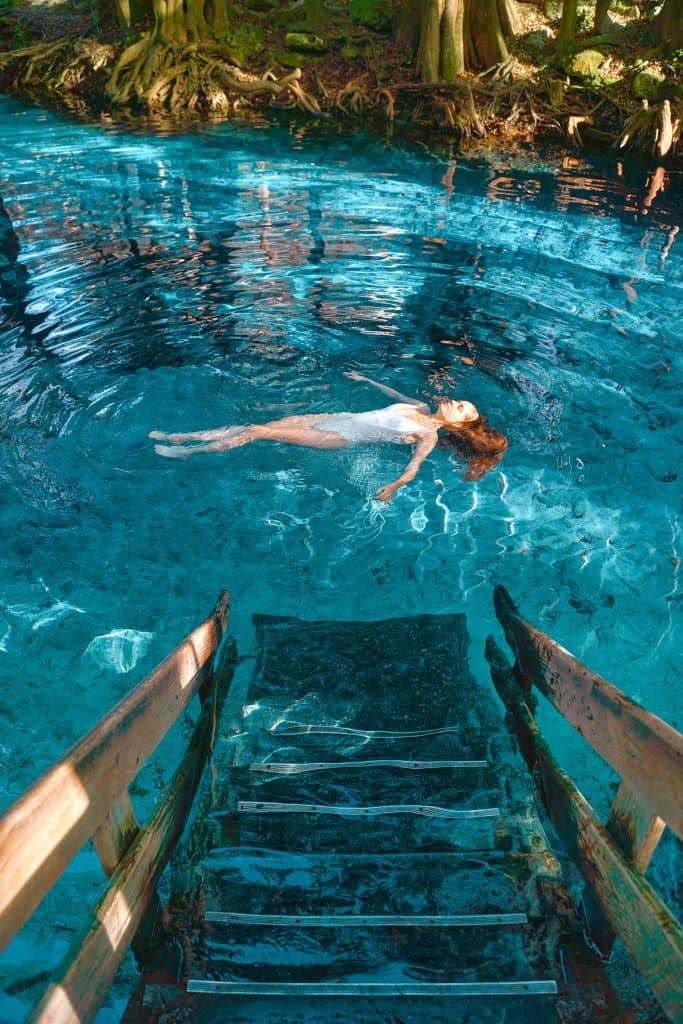 Best Time to Visit Ginnie Springs, Florida
Ginnie Springs can be visited any time of the year, but the season does affect some aspects. Each has its pros and cons. Here is a monthly breakdown to help when planning your Ginnie Springs trip.
Winter
Visit Ginnie Springs in the winter if you are okay with cooler weather. The high temperature will range from the mid-60s to the low-70s F, or mid-10s to low-20s C.
Of course, the cooler air means the water will seem warmer at its consistent 72F/22C. The sky is cloudiest this time of year, but the chance of rain is low.
Winter also means sunset is earlier and the springs close earlier. However, there will be fewer people, which means you can find a private spot for yourself.
Winter also means the chance of spotting manatees in Florida because they seek warmer water this time of year.
The Upside: Off-season prices, fewer crowds, chance to see manatees, the water feels warmer, low chance of rain
The Downside: Cooler weather, cloudy, springs close earlier
Spring
Spring is great because the crowds are still low and the weather starts to warm up. Expect the high temperatures to be in the 80s F, or high-20s to 30s C.
The manatees will start to move on at the beginning of the season.
The Upside: Fewer crowds than in high-season, weather is warm, cloudy
The Downside: Will probably miss the manatees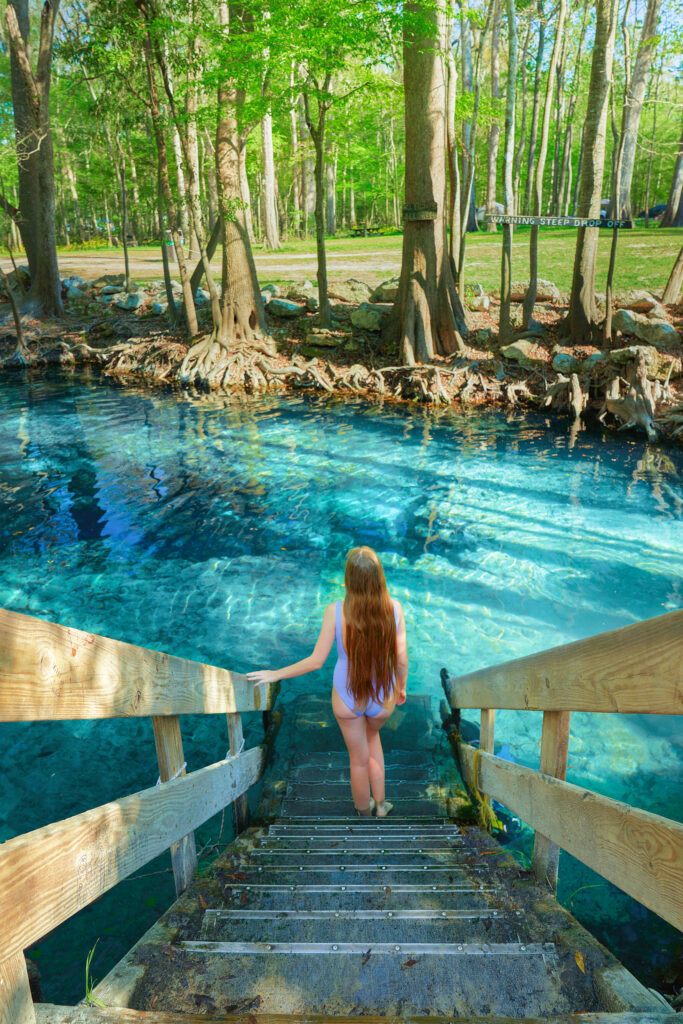 Summer
Summertime is when Ginnie Springs is the busiest. This is a great time for a family vacation or to relax during a break from college.
The weather this time of the year is at the hottest. Expect the highs to be in the high-80s and low 90s F, or in the 30s C.
With the air temperature so high, the spring water will seem chiller for Ginnie Springs swimming, but it is a great time for kayaking and stand-up paddleboarding.
Summer also has the highest chance of rain, so keep that in mind.
The summer days are longer and a late sunset means the springs are open later. You will have more time to relax and have fun.
The Upside: Best time for summer family trips, springs are open later
The Downside: Very crowded, higher price, the water feels chillier, a higher chance of rain
Fall
As people go back to school in the fall, the crowds will thin at Ginnie Springs. The temps are still warm with highs in the mid-70s to high-80s F, or the 20s C.
While it gets cloudier, the chance of rain goes down.
The Upside: Crowds start to diminish, warm weather
The Downside: Still a chance of rain early in the season, starts to get cloudy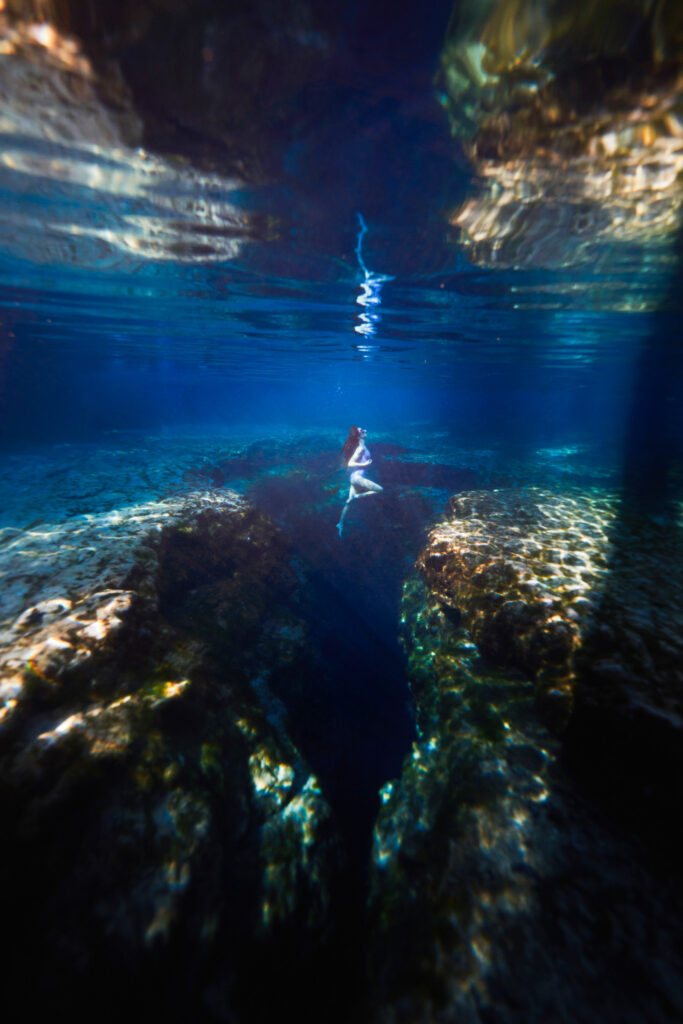 Crowds At Ginnie Springs
On the weekends in summer and on holidays, Ginnie Springs in Florida can get quite busy!
Since it is near college towns, during holidays this can attract a college-age crowd.
I have been to Ginnie Springs multiple times during the weekdays, and it has been very chill. It is usually always pretty family-friendly, especially if you are on the river. There are just more people!
Unlike other springs in Florida, Ginnie Springs rarely fills to capacity so there is no need to rush there super early to make sure you get in.
That being said, if you want to camp at Ginnie Springs, you should make your reservation in advance, especially during the summer!
Drinking is allowed and on weekends, especially Saturdays in summer, it can be busy.
For the least crowds, go during the off-season or shoulder season such as October or April. Otherwise, just go in with an open mind!
As long as you are prepared, you will not be disappointed or surprised when you arrive!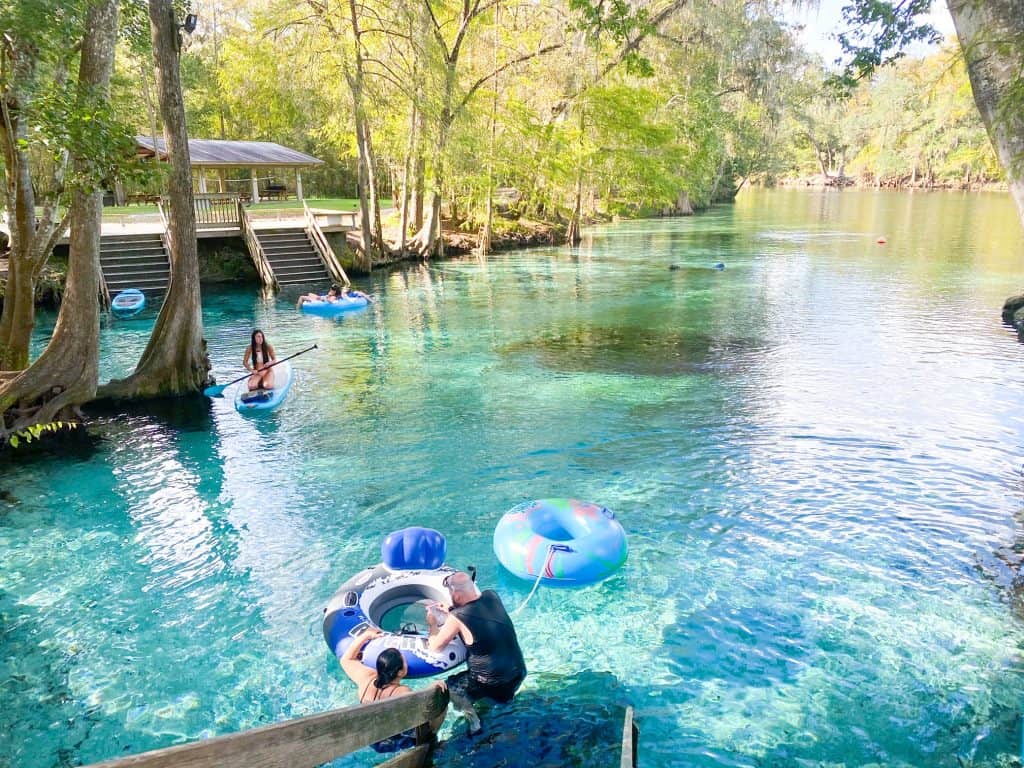 Are There Alligators At Ginnie Springs?
Something you need to know about Florida is any body of freshwater, such as a river, lake, or spring, always has the possibility of having an alligator.
This should be the rule of thumb for anyone at all times in Florida!
However, alligators are usually not at Ginnie Springs in Florida as it is way too crowded.
Ginnie Springs is connected to the Santa Fe River so if you are tubing for miles down the river, you may see an alligator on the river.
Alligators don't like people and a whole bunch of people splashing around is NOT what the alligator has in mind as a fun day. Trust me, they will stick to the banks of the Santa Fe River and well away from all the ruckus swimmers create!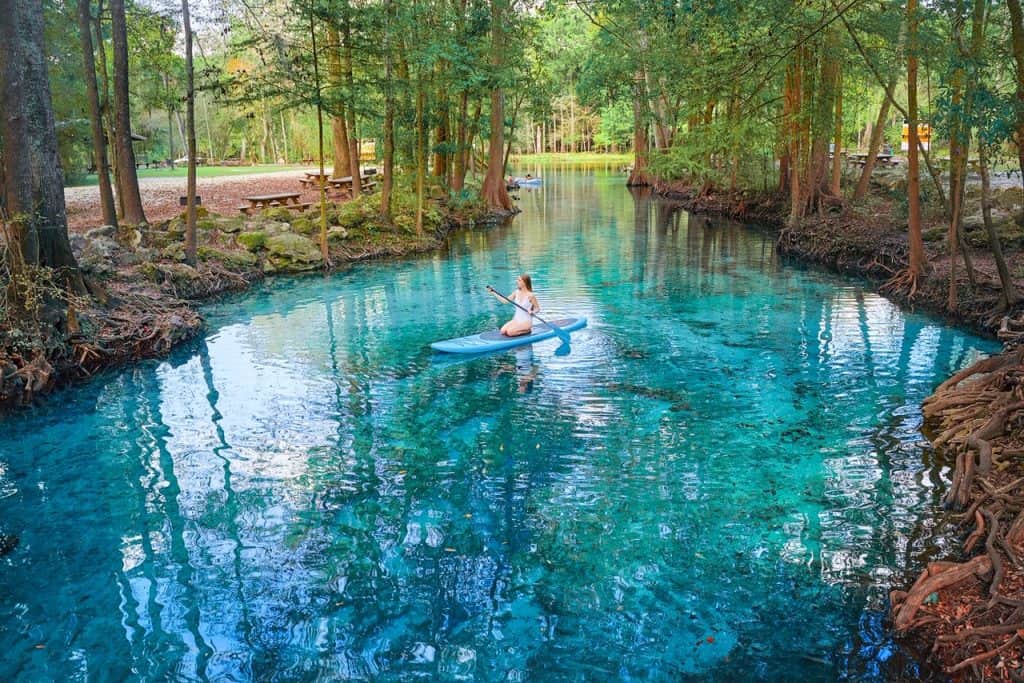 Tubing At Ginnie Springs
Tubing is one of the most popular activities at Ginnie Springs!
You can walk to the start of the tube run and pick up your tube then walk back and do it again once you reach the end!
The tube run at Ginnie Springs is around 1 hour in time which is one of the longer tube runs. Some only last 15-30 minutes!
Because of the length and scenery, this natural lazy river is one of the best places for tubing in Florida!
The downside to tubing at Ginnie Springs is you are tubing on the Santa Fe River, not in the actual spring itself.
As a result, the water is dark and murky and you cannot see what is beneath you. It is also deeper water.
People swim in the Santa Fe River all the time and this is one of the most popular things to do in Ginnie Springs!
You can bring your own tube and there is no size limit! You can also rent tubes at Ginnie Springs when you arrive. There is also a free air-fill station.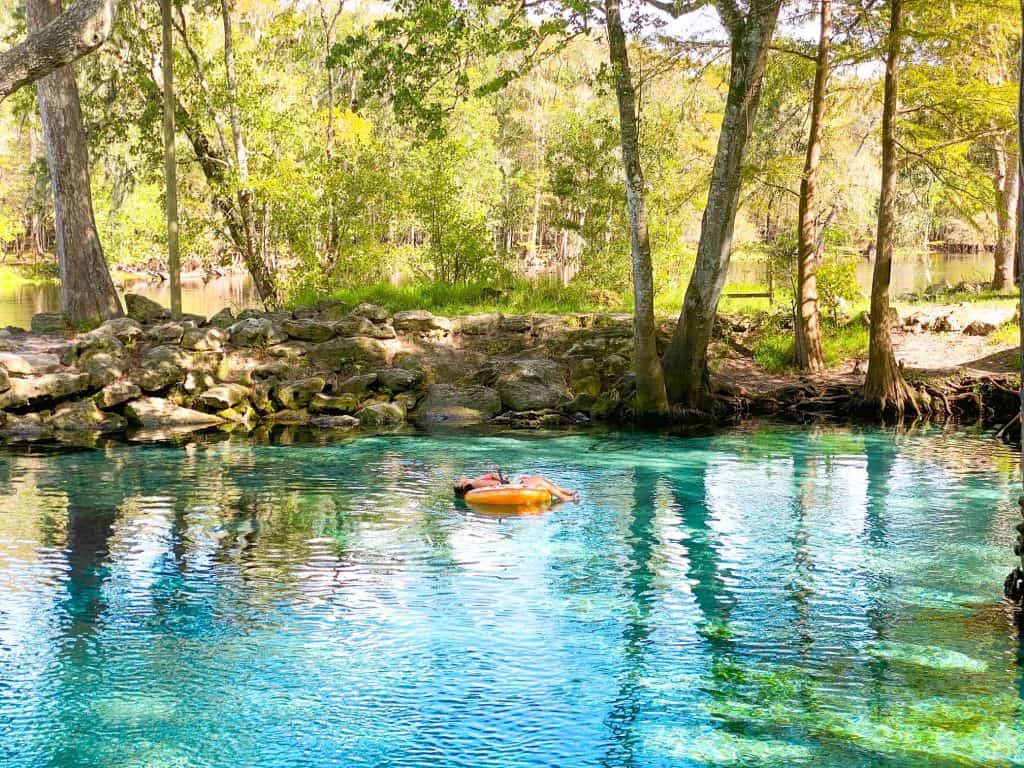 Watersports At Ginnie Springs
Aside from tubing, you can also do kayaking, stand-up paddle boarding, and canoeing at Ginnie Springs, Florida!
You can bring your own gear or the general store has everything you need to rent.
Each rental is $15 for three hours or $30 for six hours. Rentals also include life vests and paddles.
This is a good deal if you plan on taking turns with people in your group.
If you have your own kayak or canoe but need paddles, you can rent those separately for $6.
Keep in mind that they stop renting at 11 am for the six-hour rentals and at 2 pm for the three-hour rentals. All equipment must be returned by 5 pm.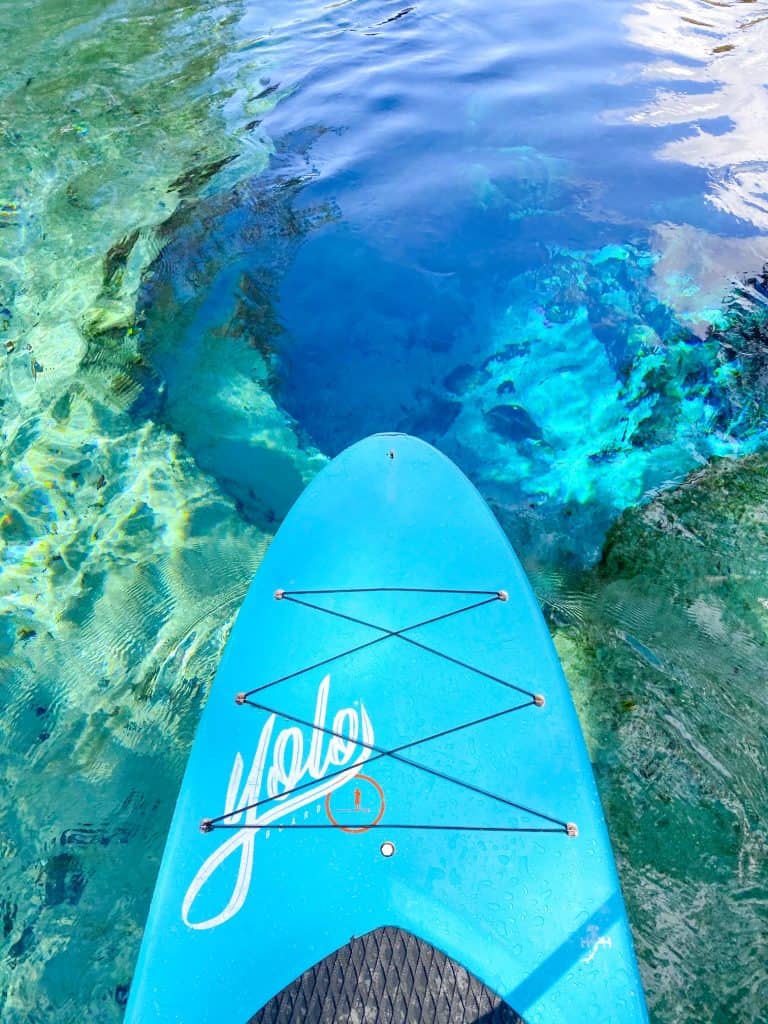 After you have acquired your kayak, stand-up paddle board, or canoe, it is time to explore the water.
There is no pick-up service available, so you must first paddle upstream against the current. The workout is worth it though for the relaxing and scenic journey back.
Soak up the Florida atmosphere and keep an eye out for birds and other wildlife on the Santa Fe River.
This is one of the best places for kayaking in Florida, and you are sure to have a great time.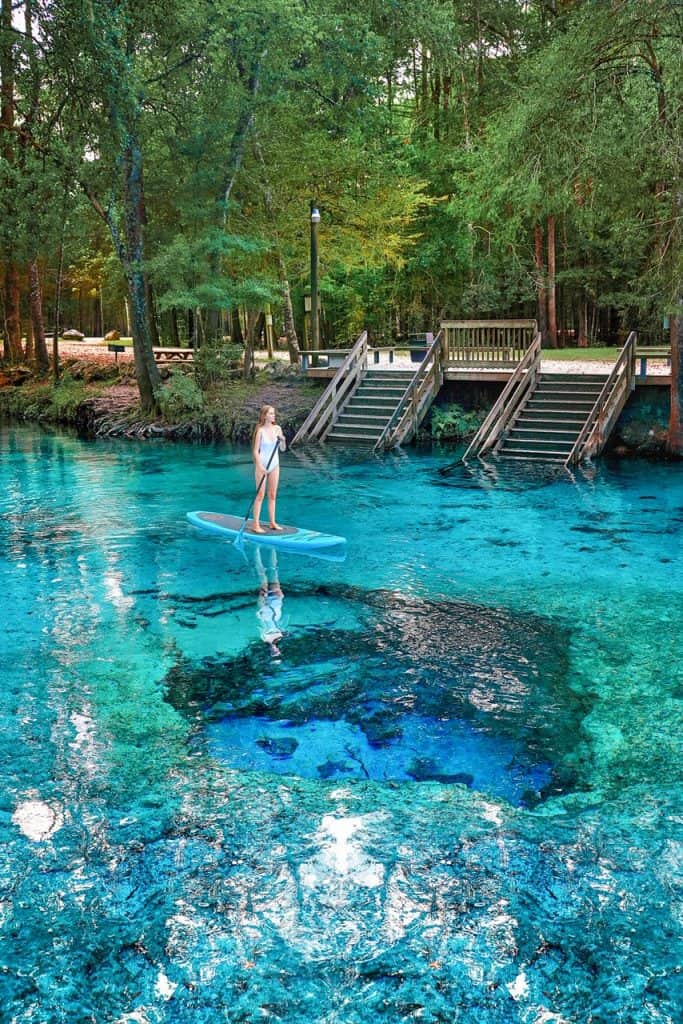 Diving At Ginnie Springs
Ginnie Springs is one of the best places for scuba diving in Florida! The water is clear and there are cool underwater caves to explore.
There are three areas for certified divers to explore: The Ginnie Ballroom, the Devil's Spring System, and the Santa Fe River.
To save money, you can bring your own gear. However, they have anything you would need for snorkeling or diving available to rent.
You must be certified to rent scuba gear or dive in the springs. Know your abilities and do not enter the caves without experience.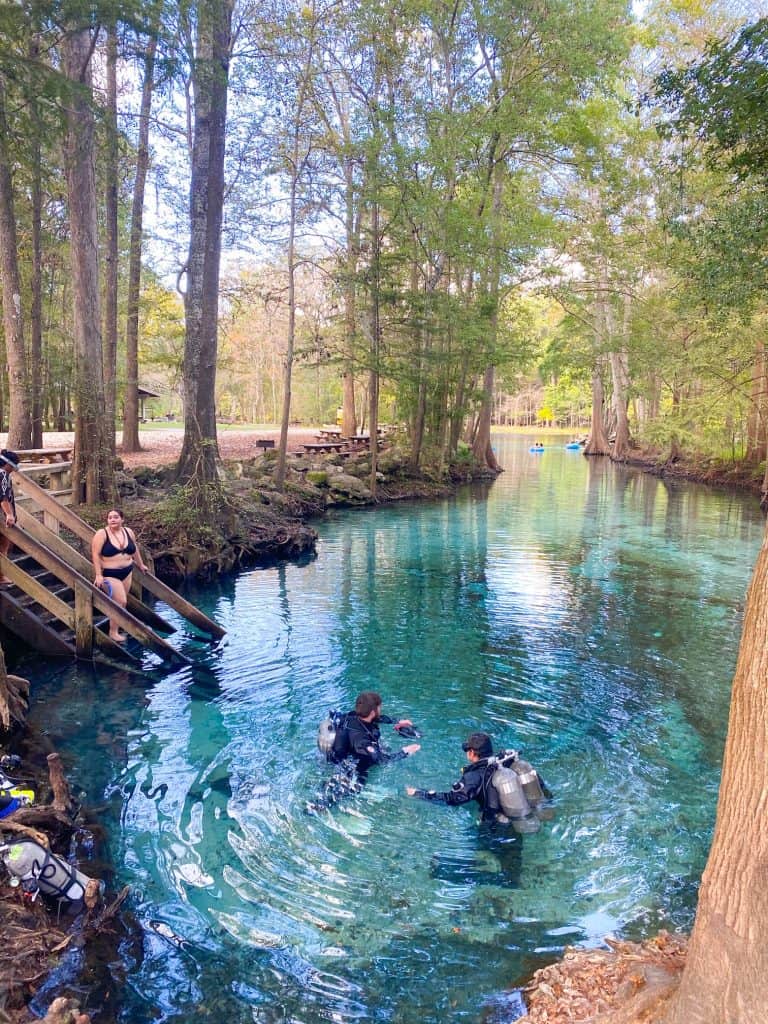 Some of the most popular spots to dive are Devil's Eye, Devil's Ear, and Devil Spring. These caves have cool rock formations and the crystal-clear water allows you to see it all.
Devil's Spring is about 50 feet deep and even from the bottom, you can view the sky.
If you are experienced, you can bring a dive light into the Ginnie Cavern. You will love the unique, amphitheater-sized, Ginnie Ballroom.
Whether you dive deep or just snorkel near the surface, you will love experiencing some of the clearest water in Florida. Make sure you bring a wetsuit to stay warm!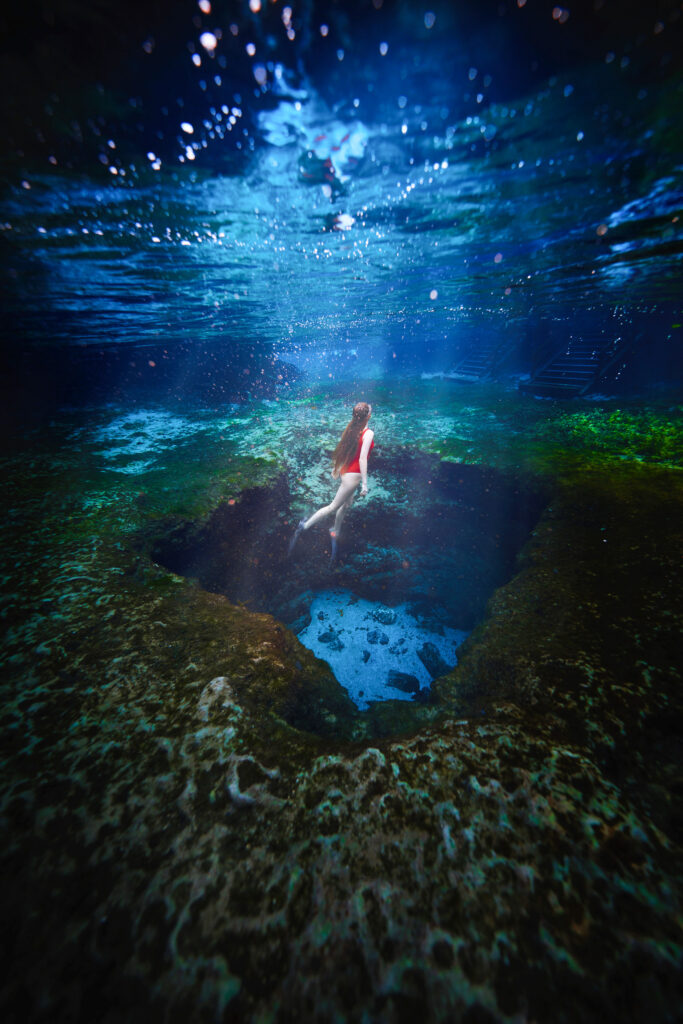 Camping At Ginnie Springs
Camping is super popular at Ginnie Springs! It is truly one of the best places for camping in Florida because of how unique it is and how much there is to see and do!
Prices for camping at Ginnie Springs range depending on the time of year you are going and what type of campsite you want!
Prices per night run from around $25-$30 per adult and $8 per child.
There are full hookups and partial hookups offered.
Since you can only swim until the sun goes down, the campground is where the partying and drinking happens and the bathrooms and facilities can get a little muddy or dirty because of this.
Primitive camping is allowed too if you want to just pitch your tent somewhere that isn't a campsite, such as along the Santa Fe River.
Of course, you cannot stay at a campsite that is a more expensive tier than you paid for, but you should be fine otherwise!
For the most up-to-date pricing and hours, make sure to check out the Ginnie Springs website!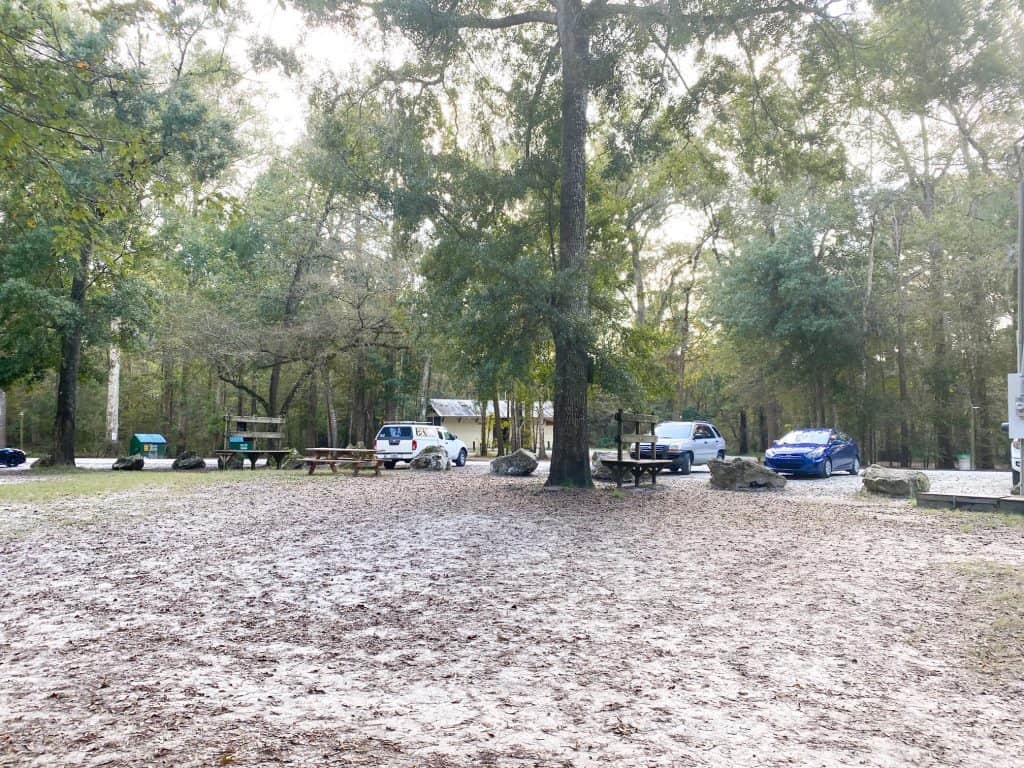 Tips For Ginnie Springs
Here are a few more quick tips for Ginnie Springs, High Springs.
Of course, one of the best reasons to visit Ginnie Springs is for the photos! If you are looking to get the best photos of Ginnie Springs without people, you will want to take photos at opening or closing time.
You can also go during the off-season or during a weekday as we do and you will have the whole place to yourself [pretty much!].
As I mentioned above, drinking is allowed at Ginnie Springs so if you are a big drinker, why not take advantage as most springs don't allow it?
Bring your cooler and enjoy but remember to respect others!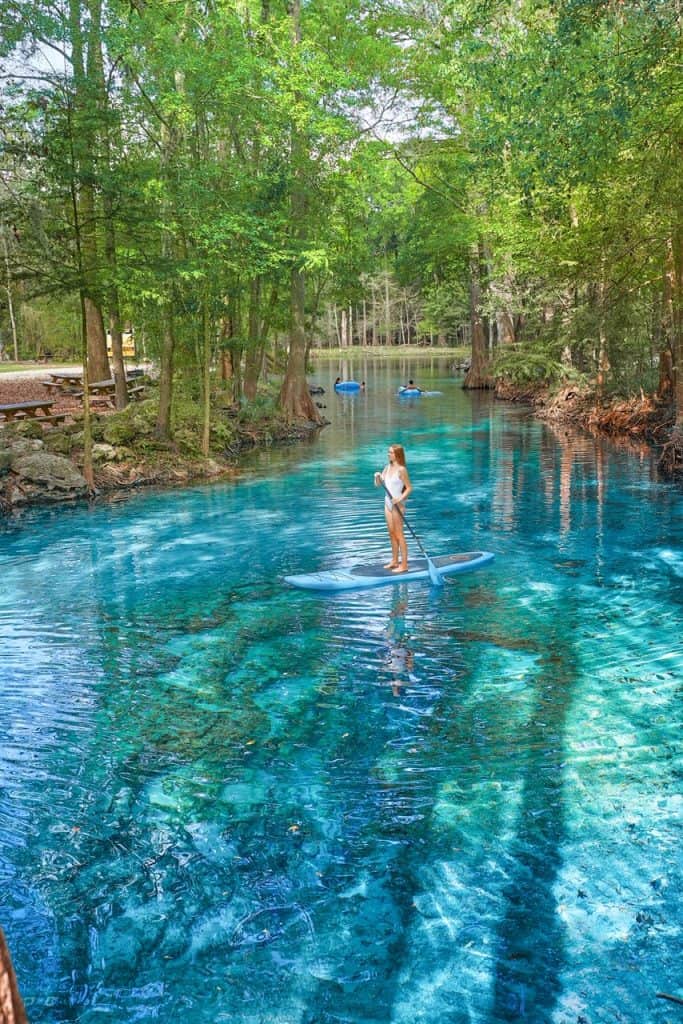 Sadly, dogs are not allowed at Ginnie Springs so you will have to leave them at home. If you bring a dog, you will be turned away!
If you are diving, 100% wear a wetsuit, and do not cave dive unless you are certified and have practiced. People have died!
People have not died from alligators at these springs so you really don't have to worry about that though!
You can bring your own tube of any size or you can rent one from the general store!
The front office also has food and drinks, gear, and more if you need to purchase something upon arrival!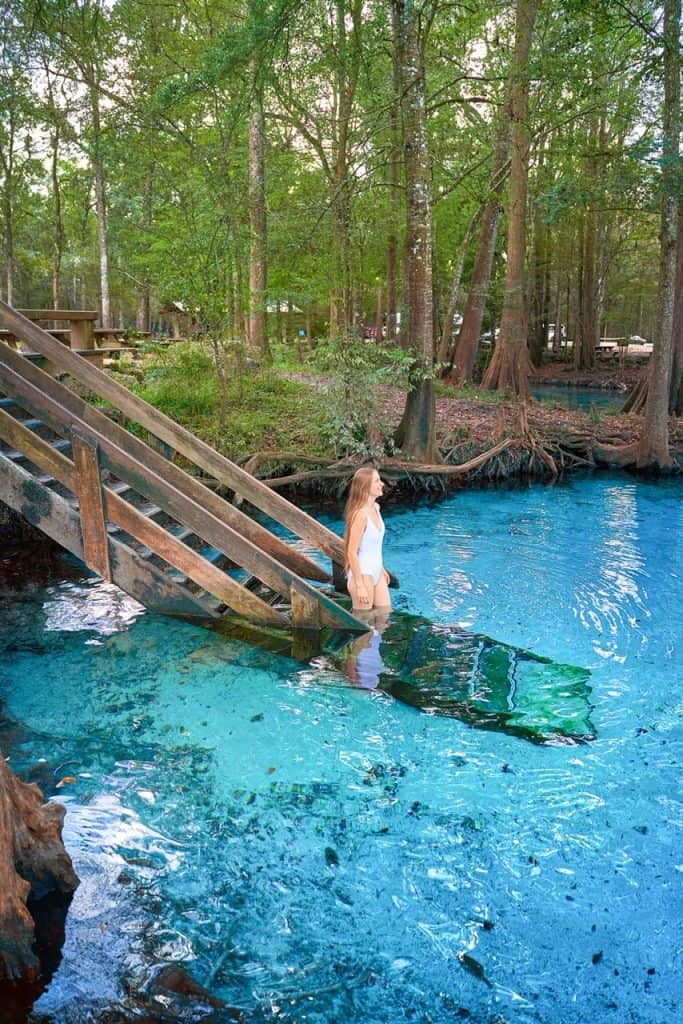 Where to Stay Near Ginnie Springs
If you do not want to stay at the Ginnie Springs campgrounds, there are other options nearby perfect for a weekend getaway in Florida.
BlueGem Motel
The BlueGem Motel in High Springs is a great budget option with rooms that are simple but cozy. The rooms include flat-screen TVs, a fridge, a coffee machine, and AC to cool you down in the summer.
The property has a garden, terrace, and snack bar for guests to enjoy. It is also just a few miles from Ginnie Springs and other fun attractions
Check Rates: Booking.com
Huck's Hideaway Near the Santa Fe River
Huck's Hideaway in Forth White is a private vacation home perfect for a family of five. Surrounded by trees, the two-story house really does feel like a secret hideaway. The Santa Fe River is only a short walk away.
The house has a full kitchen, comfy furniture, and even a wood-burning stove in the living room. You will love having this home to escape back to after a day of fun.
Check Rates: Booking.com
Hotel Indigo Gainesville
If you want some luxury while staying in Florida, the Hotel Indigo in Gainesville is a great choice! You will love the modern furniture and many amenities.
The property has an on-site restaurant and a bar where you can grab a cocktail. There is a ton of outdoor seating featuring a firepit. If you want a workout, there is a fitness center too.
This hotel is also near many of the best things to do in Gainesville as well as shops and restaurants.
Check Rates: Booking.com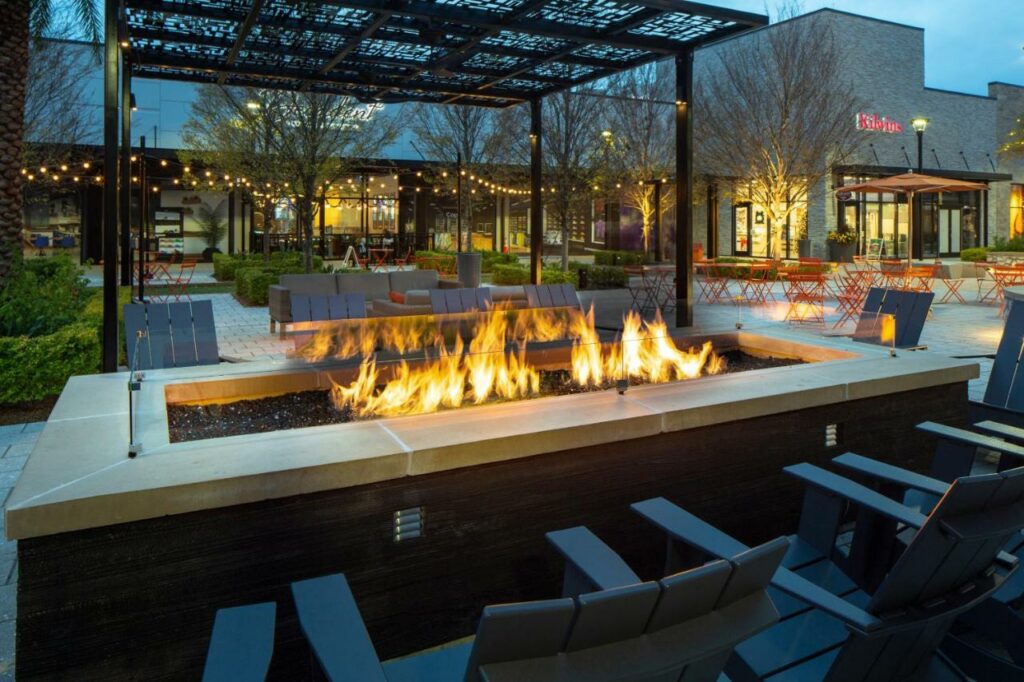 All in all, Ginnie Springs is a very fun place to visit and one of the coolest Florida oasis locations you can visit!
I hope you enjoy visiting as much as we do, even if it is on a busier or hotter day.
If you want to visit another Florida spring, check out Gilchrist Blue Springs State Park which is right next door.
Did You Find This Post Helpful?
If so, we would love to keep in touch! We enjoy seeing photos and comments about your experiences in Florida! You can follow us on Instagram and we will repost your photos on our feed and comment too! Just tag us at @floridatrippers and hashtag #floridatrippers. We can't wait to see your travels!