If you have never been to Ginnie Springs, you are in for a real treat! It is the epitome of Florida beauty and home to some of the prettiest water in the state.
Ginne Springs makes our list of the Best Springs In Florida and it should be added to your list too!
The water from Ginnie Springs is crystal clear and the area is pretty large so you can go camping and more when you aren't on the water! It pumps out 80 million gallons of water every day.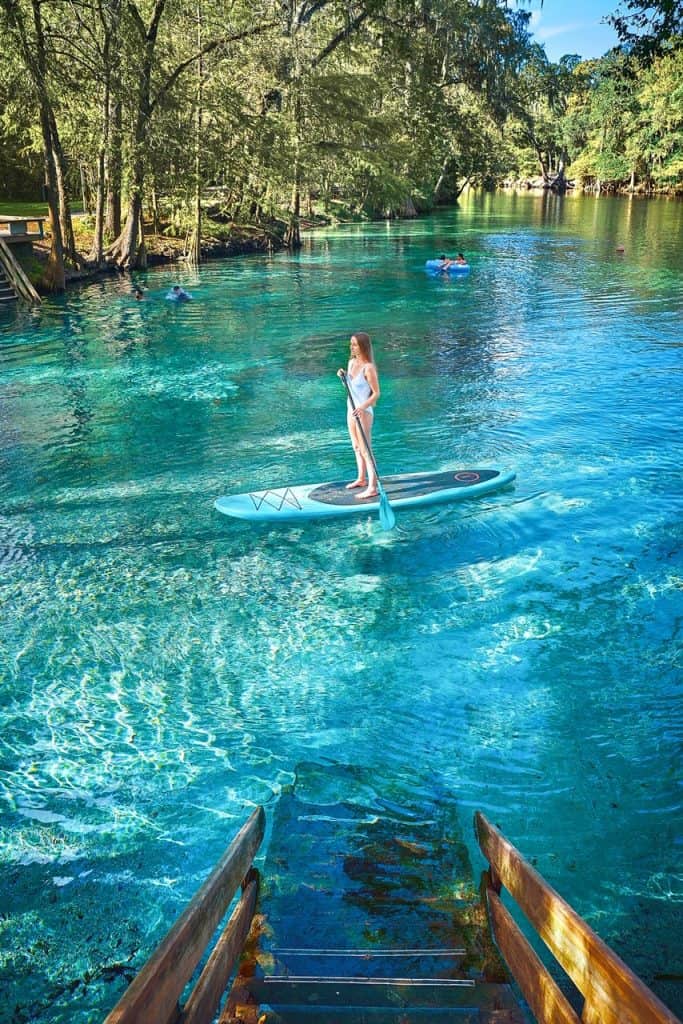 That being said, Ginnie Springs can get quite crowded and busy! It is one of the only springs in Florida where drinking is allowed and frat boys and college kids flock to the springs on holidays and weekends.
Drinking is allowed at Ginnie Springs because it is privately owned, unlike other popular springs which are city or Florida State Parks.
I don't tell you this to scare you, I tell you this so that you can be prepared and so that I can provide you with tips on how to avoid the crowds.
Before you go, check out our post on how to get the most out of Ginnie Springs!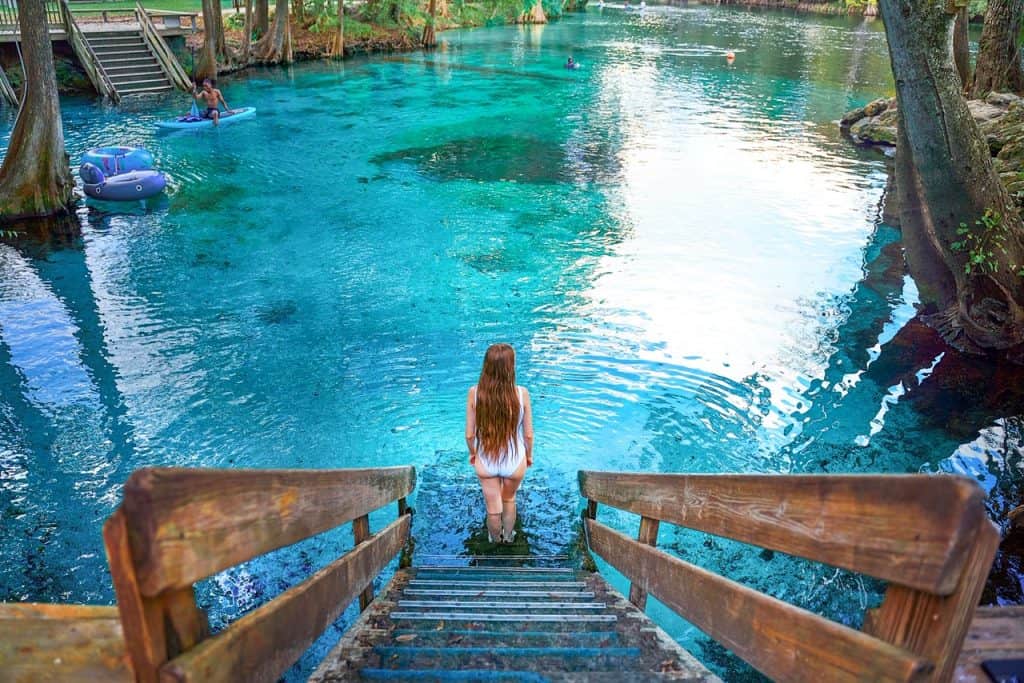 Where Is Ginnie Springs?
Ginnie Springs is located about 6.5 miles away from the city of High Springs in Florida.
It is about 48 minutes north west of Gainesville and an hour south of the Florida Georgia border on 75.
Although you can visit it from Tampa [where we come from], it will set you back about 2 hours one way!
Ginnie Springs is privately owned and it is connected to the Santa Fe river.
Here is the address for Ginnie Springs: 7300 Ginnie Springs Road, High Springs, FL 32643
You can also just type "Ginnie Springs" into your GPS and you will be taken right there!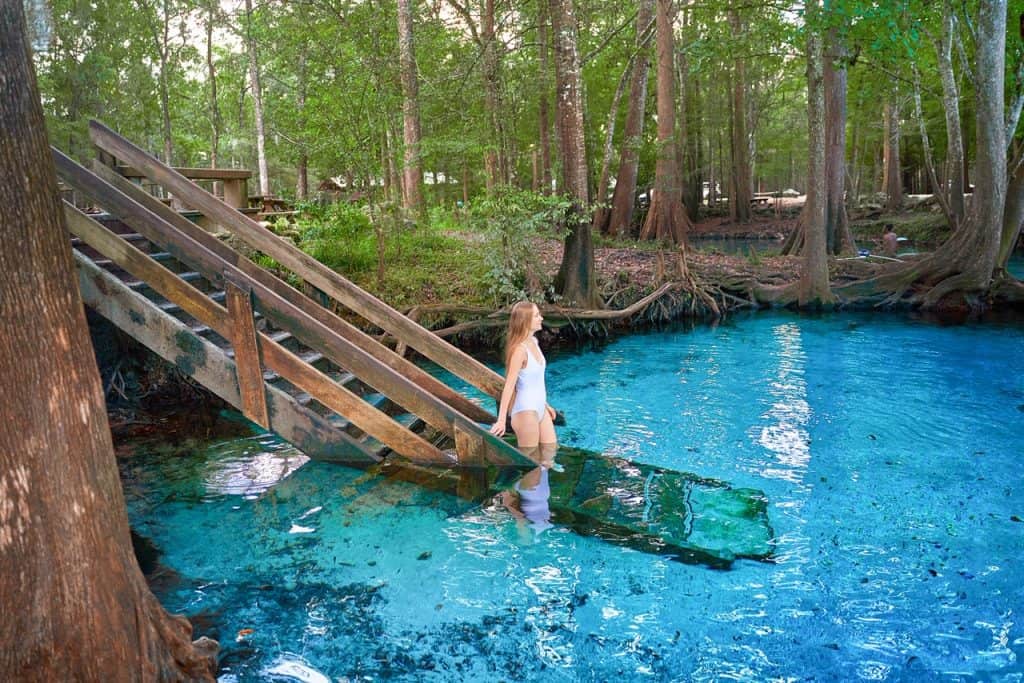 How Much Does It Cost To Visit Ginnie Springs
There is no easy answer when it comes to the admission fees for visiting Ginnie Springs!
There are so many things to do there, from camping and diving to paddle boarding and general admission!
Unlike other springs in Florida such as Kelly Park/Rock Springs which are more affordably priced, Ginnie Springs is actually quite pricy!
The general daily price for visiting Ginnie Springs is:
Adults (Sunday – Wednesday)$14.02
Adult Summer Rate (Thursday – Saturday)$19.40
Children ages 6-12 $3.73
Children 5 & under Free
There are also prices for scuba diving for cave diving, regular diving, camping and more! For a full pricing list, you can check out the Ginnie Springs Website!
As I mentioned above, $14-$20 per person is on the steeper side when visiting springs in Florida. Ginnie Springs is one of the prettiest springs so it is worth the cost, but I want you to be prepared!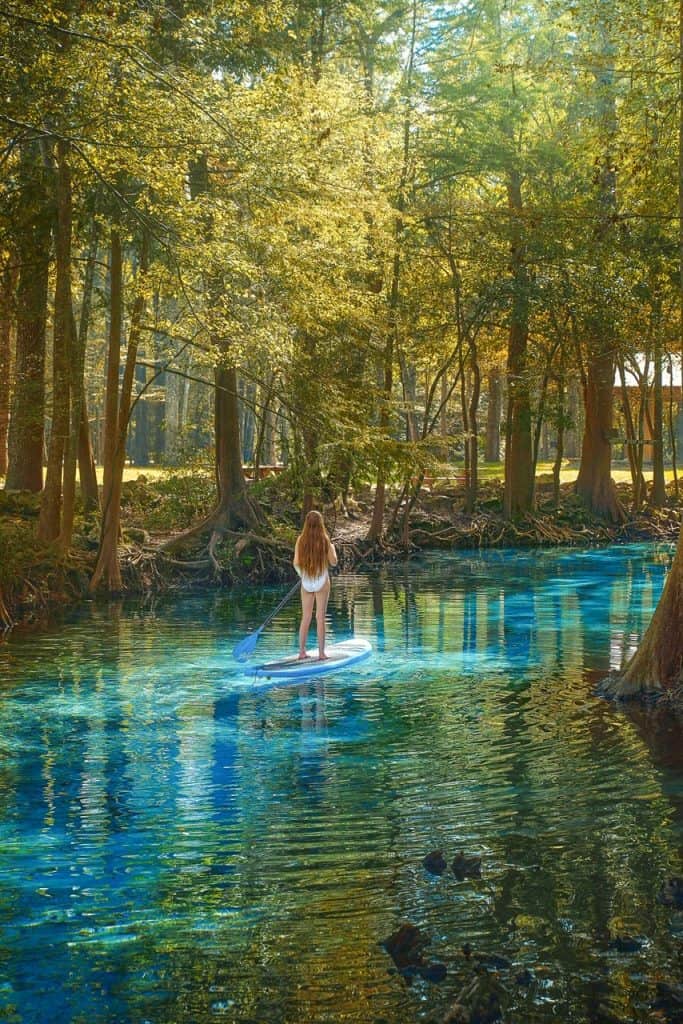 What Time Does Ginnie Springs Open And Close?
Hours for Ginnie Springs change with the daty of the week and also seasonally!
If you are staying at the campground, then Ginnie Springs is open 24/7 for you.
For everyone else, it depends on what time the sun sets. For example, during the winter, the park will close between 6-8pm. Sometimes it is later!
And again, the hours change depending on if you are visiting during the week or on the weekends!
Please check out the Ginnie Springs website for more information on exact hours! Don't follow your GPS or Google as they both say the springs are open 24/7 which isn't exactly true!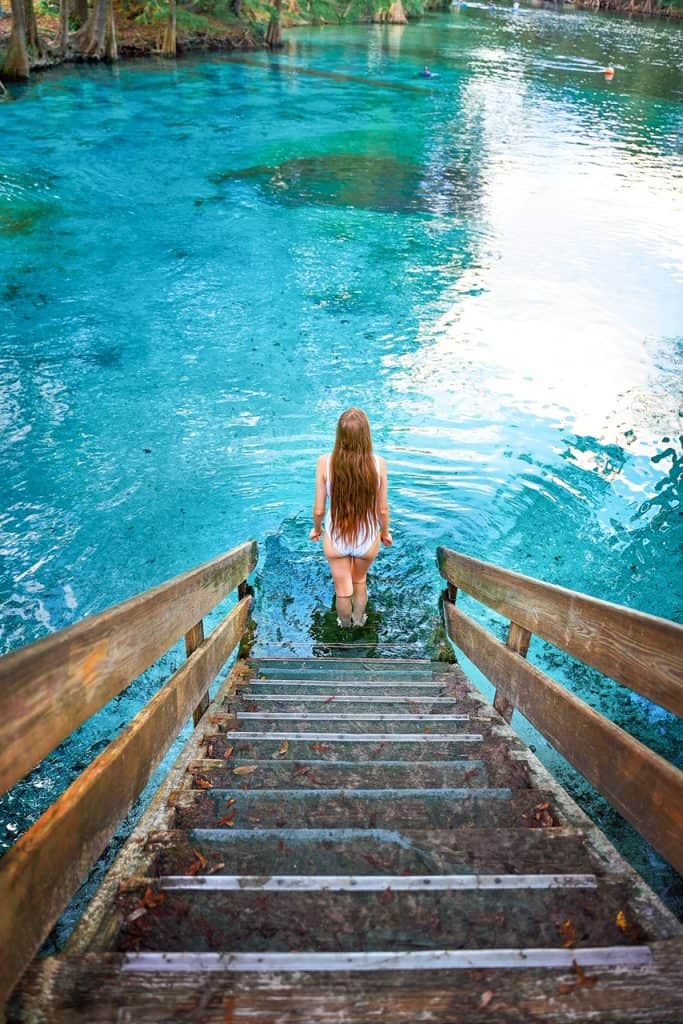 Map Of Ginnie Springs
Below is a map of Ginnie Springs so you can get an idea of how the park is laid out!
You will be given this map when you check in and when you pay upon arrival.
If you are not given a map of the park, simply ask at the front desk and you shall receive!
Ginnie Springs is a larger park compared to some springs, so having a map is handy if this is your first trip!
Our favorite part of Ginnie Springs is over by Devil's Eye which you can see marked on the map. You come in, turn right, pass a parking area, and then the second parking area is where it is at!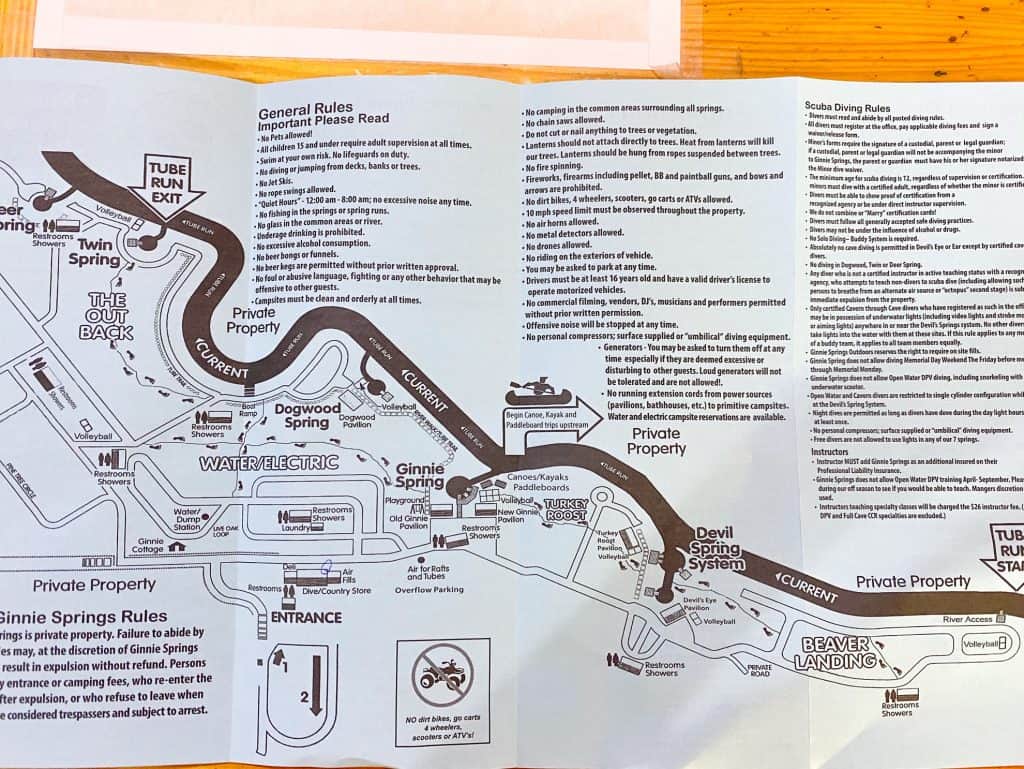 How Cold Is Ginnie Springs?
Ginnie Springs is a constant 72F/22C at all times!
If you ask me, a Floridian, then this is darn cold!! If you are someone that doesn't live in Florida or a similar warm climate, then this is probably super nice swimming water for you!
When swimming at Ginnie Springs, I do find it super cold! But that is why you can tube/paddle board/kayak etc!
So you can swim around and when you get cold, get out and relax in the Florida sun before you do it all over again!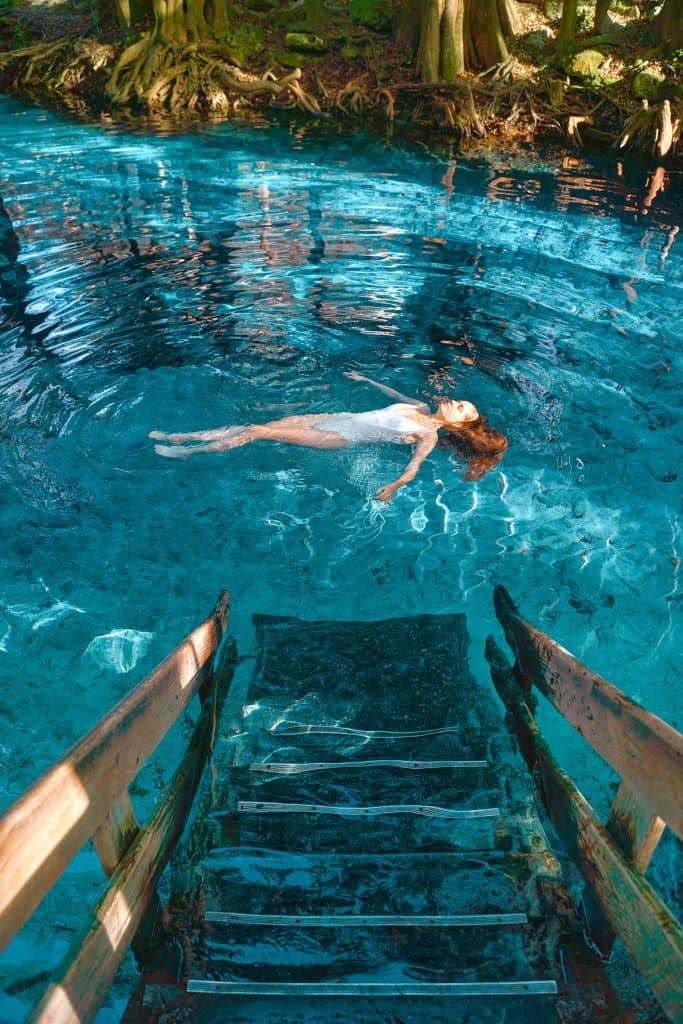 Are There Alligators At Ginnie Springs?
Something that you need to know about Florida is that in any fresh body of water such as a river/lake/spring etc, there is always the possibility of seeing an Alligator.
This should be the rule of thumb for anyone and at all times in Florida!
However, alligators are usually not at Ginnie Springs as it is way too crowded.
Ginnie Springs is connected to the Santa Fe River so if you are tubing for miles down the river, you may see an alligator on the river.
Alligators don't like people and a whole bunch of people splashing around is NOT what the alligator has in mind as a fun day. Trust me, they will stick to the banks of the Santa Fe River and well away from all the ruckus swimmers create!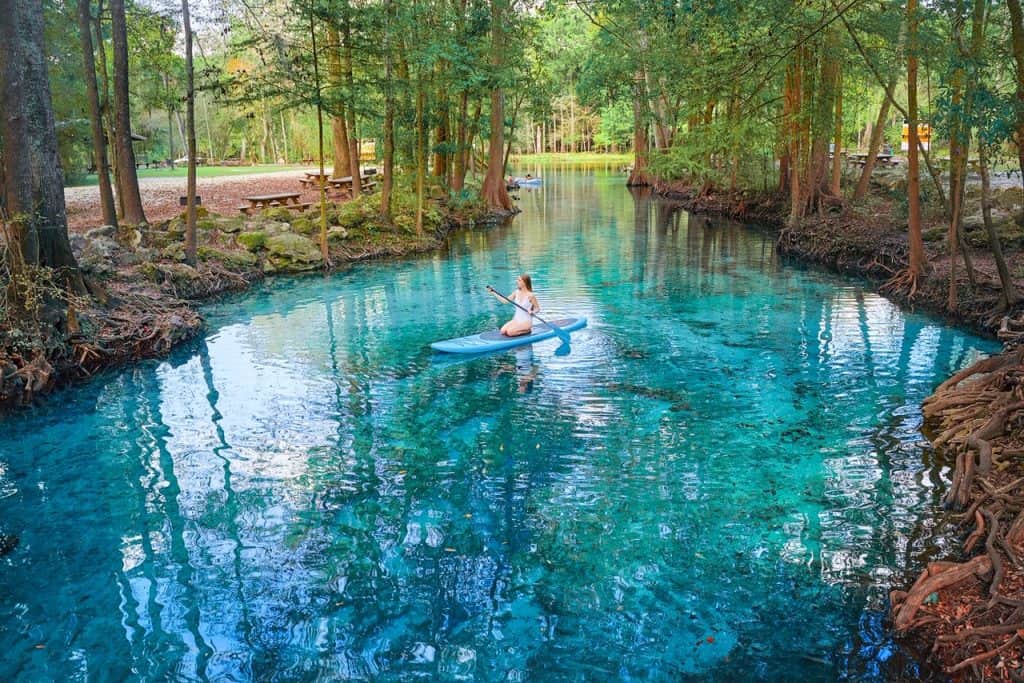 Crowds At Ginnie Springs
On the weekends in summer and on holidays, Ginnie Springs can get quite busy!
Since it is near college towns, during holidays, this can attract a college-age crowd.
I have been to Ginnie Springs multiple times during the weekdays and it has been very chill.
It is usually always pretty family friendly, especially if you are on the river, there are just more people!
Unlike other springs in Florida, Ginnie Springs rarely fills to capacity so there is no need to rush there super early to make sure that you get in.
That being said, if you want to camp at Ginnie Springs, you should make your reservation in advance, especially during the summer!
Drinking is allowed and on weekends, especially Saturdays in summer, it can be busy.
For the least crowds, go during the off-season or shoulder season such as October or April. Otherwise, just go in with an open mind!
I don't tell you this to scare you, I only tell you this to prepare you so that you are not disappointed or surprised when you arrive!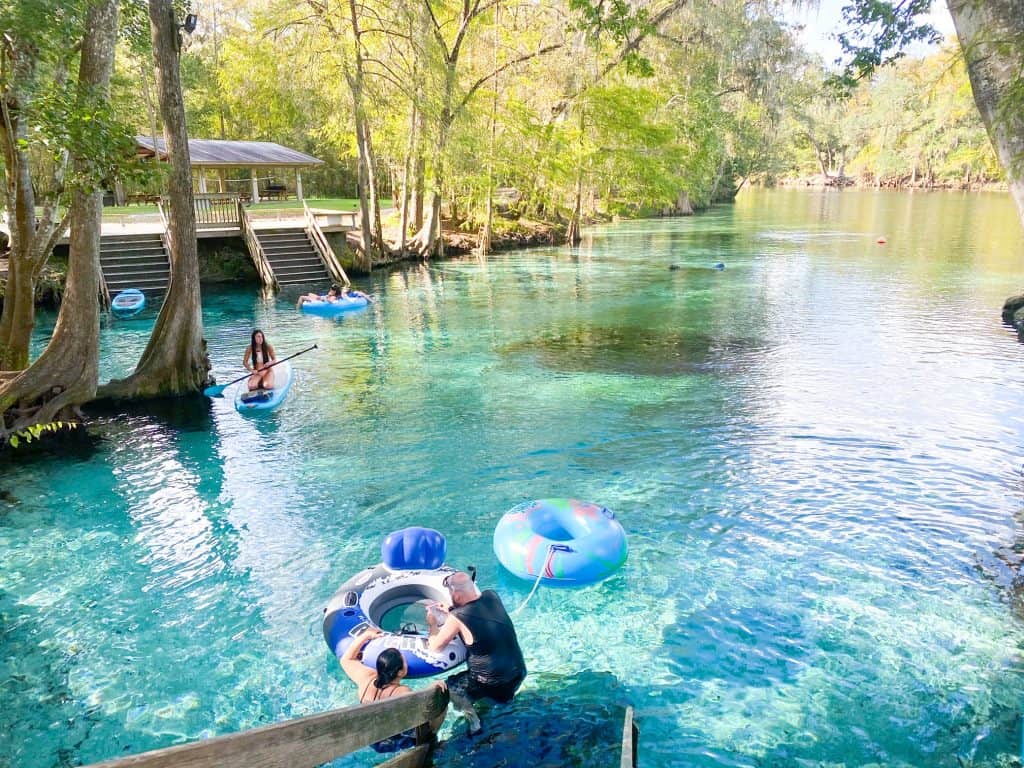 Tubing At Ginnie Springs
Tubing is one of the most popular activities at Ginnie Springs!
You can walk to the start of the tube run and then pick up your tube and walk back and do it again once you reach the end!
The tube run at Ginnie Springs is around 1 hour in time which is one of the longer tube runs. Some only last 15-30 minutes!
The downsides to tubing at Ginnie Springs is that you are tubing on the Santa Fe River, not in the actual spring itself.
As a result, the water is dark and murky and you can not see what is beneath you. It is also deeper water.
People swim in the Santa Fe river all the time and this is one of the most popular things to do in Ginnie Springs!
You can bring your own tube and there is no size limit! You can also rent tubes at Ginnie Springs when you arrive.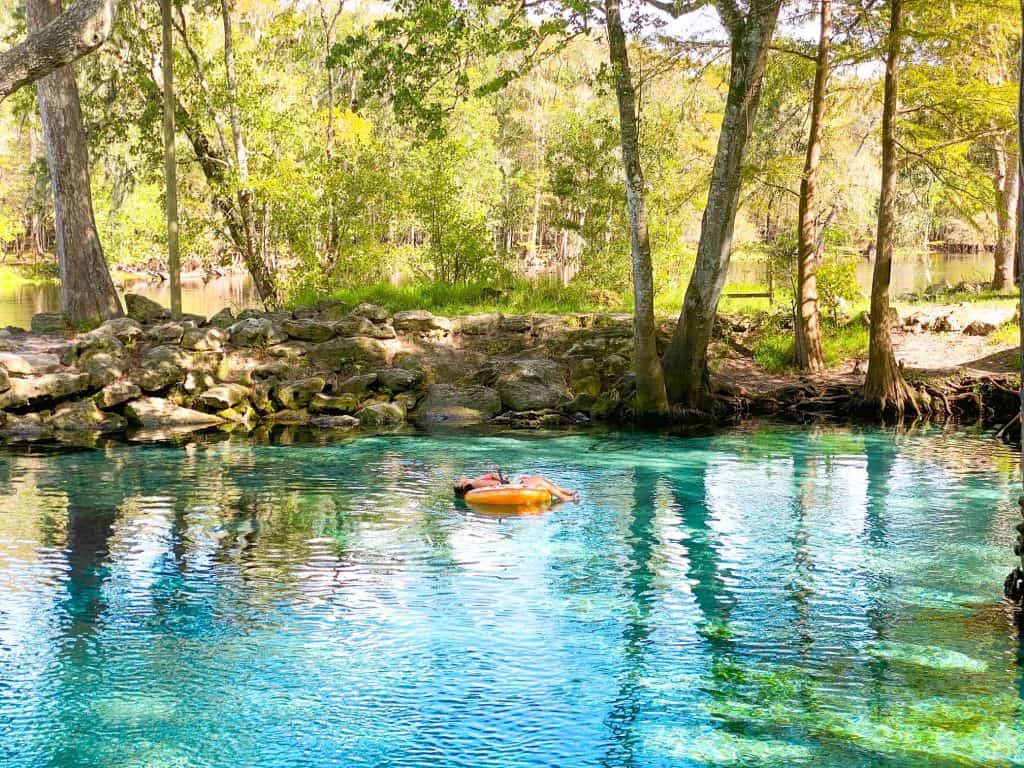 Watersports At Ginnie Springs
Aside from tubing, you can also do kayaking, stand up paddle boarding, and canoeing at Ginnie Springs!
They are all popular and we love doing stand up paddle boarding!
There is no drop off service so you have to paddle upstream at the start which really sucks!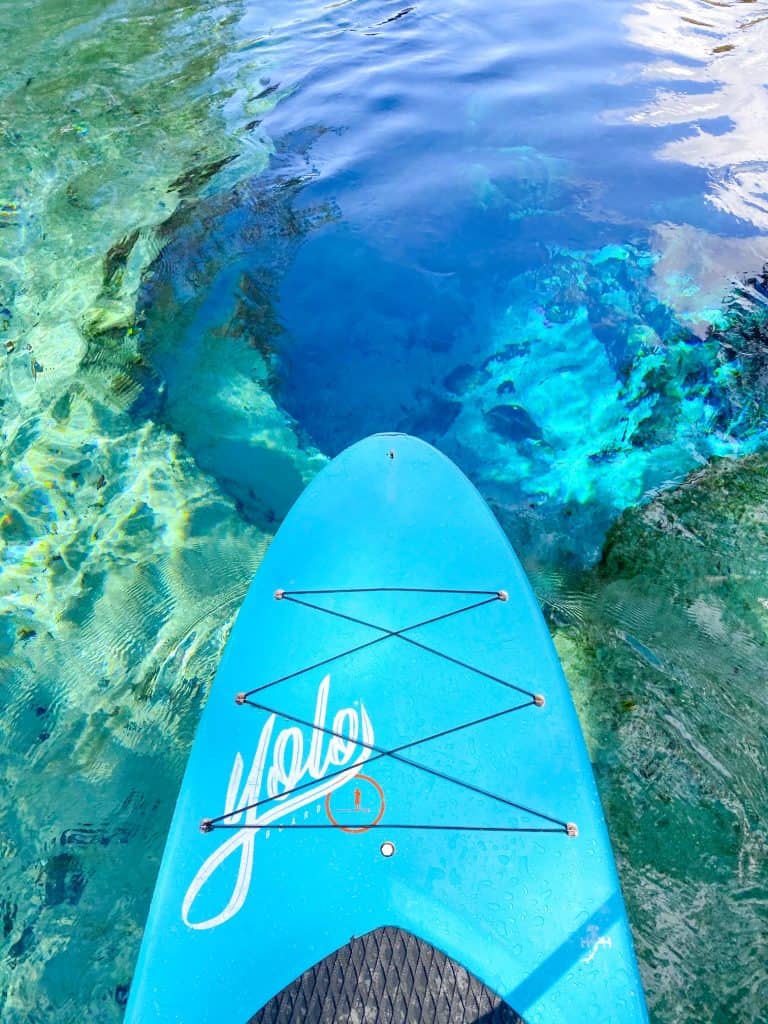 But tons of people do it and it is very popular.
You can rent kayaks, stand up paddle boards, and canoes for $12 for 3 hours. If you want to rent it for 6 hours, the cost is $20.
We think that $12 is an amazingly affordable rate and we love drifting over the springs when we visit on a SUP!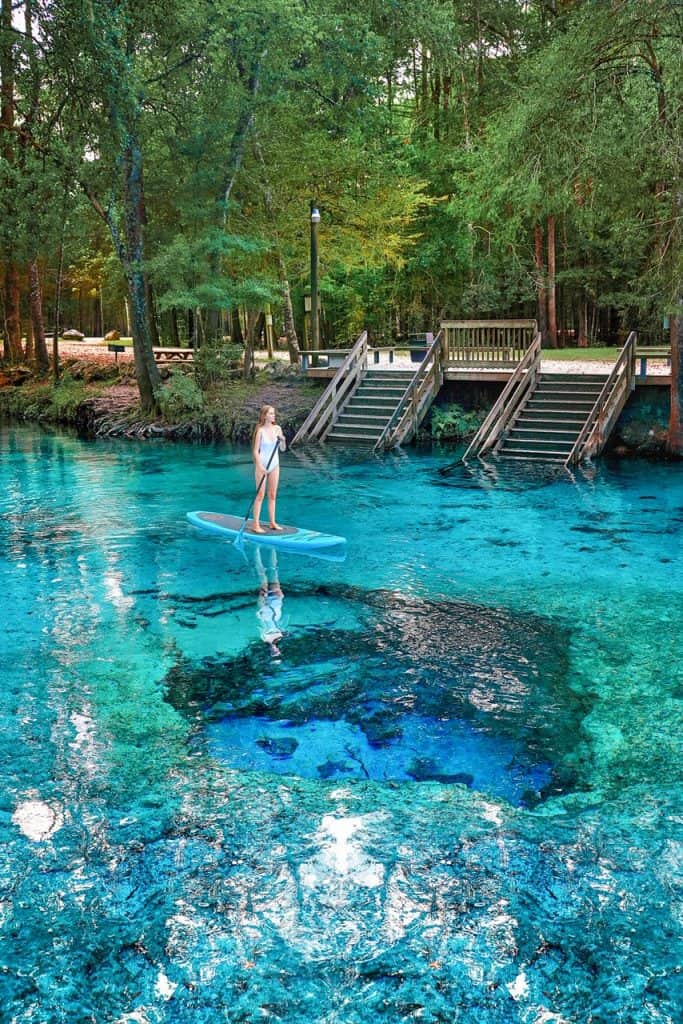 Diving At Ginnie Springs
Diving is very popular at Ginnie Springs, but you are going to want to wear a wetsuit as the 72 degree water gets cold quite quickly!
I have not dove at Ginnie Springs, but my sister and Dad have and they have done the devils cavern dives in the past!
You can scuba dive around the openings of the caves, or if you are an experienced cave diver, you can explore the caverns that Ginnie Springs has to offer!
Please do not try and dive the caves if you are inexperienced because people have died!
The best places for diving at Ginnie Springs are Devil's Ear, Devi's Eye, and Devil's Spring.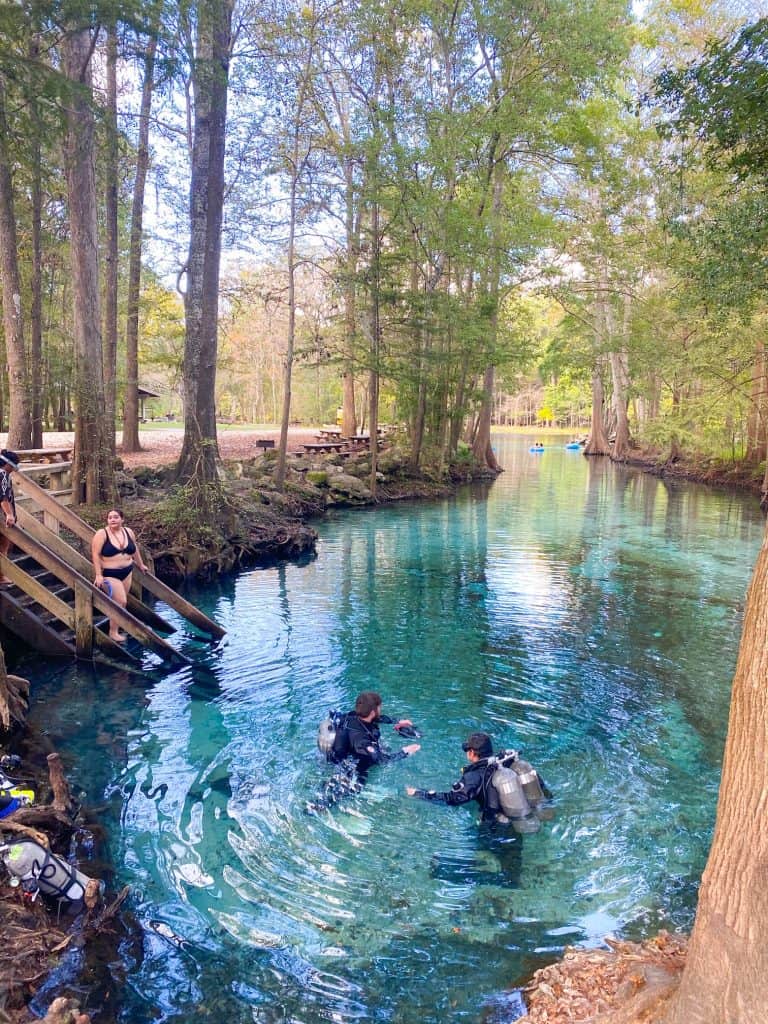 Camping At Ginnie Springs
Camping is super popular at Ginnie Springs! It is truly one of the best places for Camping In Florida because of how unique it is and how much there is to see and do!
Prices for camping at Ginnie Springs range depending on the time of year you are going and what type of campsite you want!
Prices run from around $22-$35 per adult and $7 per child.
There are full hookups and partial hookups offered.
Since you can only swim until the sun goes down, the campground is where the partying and drinking happens and the bathrooms and facilities can get a little muddy or dirty because of this.
You are also allowed to "free camp" if you want to just pitch your tent somewhere that isn't a campsite, such as along the Santa Fe River.
Of course, you cannot stay in a campsite that is a more expensive tier than you paid for, but you should be fine otherwise!
For the most up to date pricing and hours, make sure to check out the Ginnine Springs website!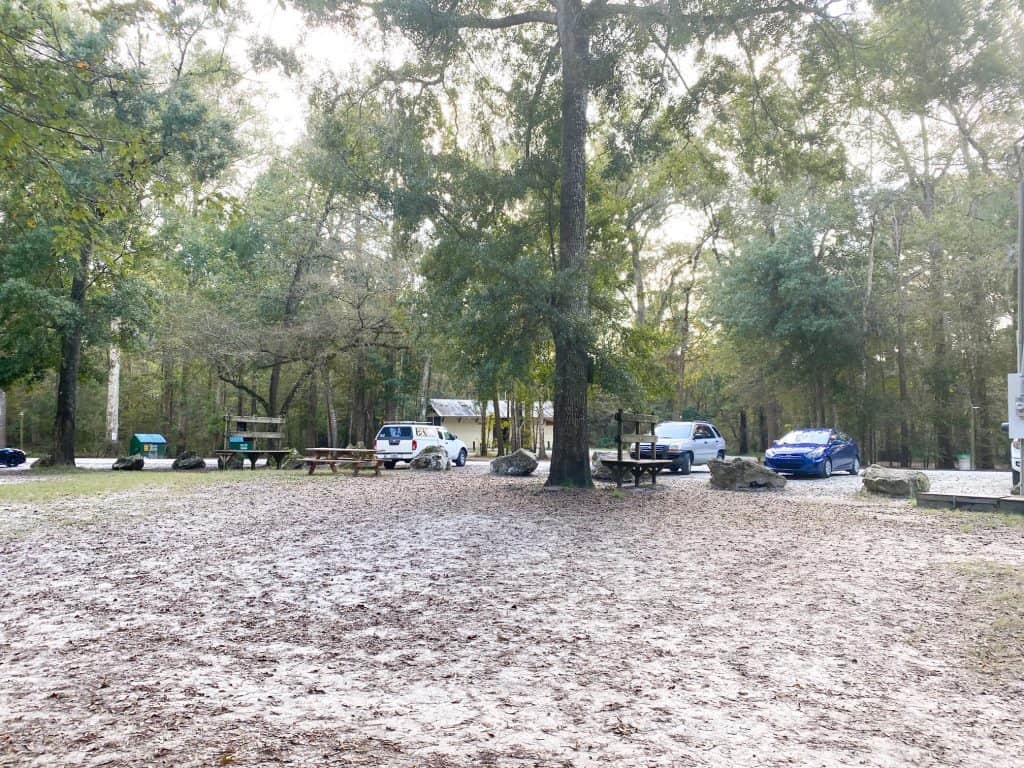 Tips For Ginnie Springs
Of course one of the best reasons to visit Ginnie Springs is for the photos! If you are looking to get the best photos of Ginnie Springs without people, you will want to take photos at opening or closing time.
You can also go during the off season or during a weekday like we do and you will have the whole place to yourself [pretty much!]
As I mentioned above, drinking is allowed at Ginnie Springs so if you are a big drinker, why not take advantage as most springs don't allow it!
Bring your cooler and enjoy but remember to respect others!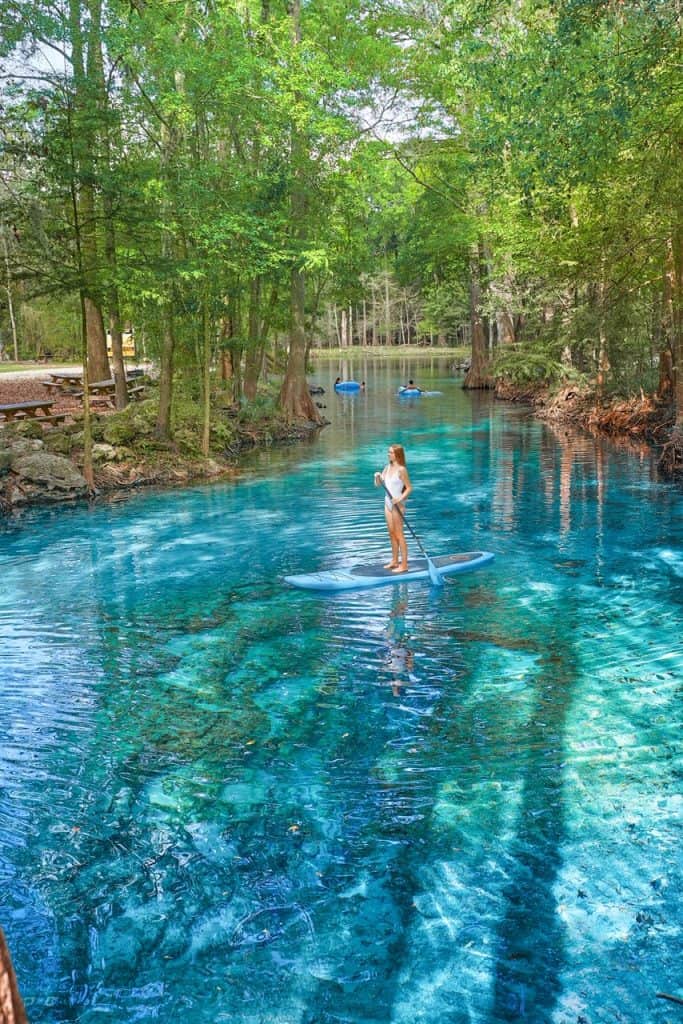 Sadly, dogs are not allowed at Ginnie Springs so you will have to leave them at home. If you bring a dog, you will be turned away!
If you are diving, 100% wear a wetsuit and do not cave dive unless you are certified and have practiced. People have died!
People have not died from alligators at Ginnie Springs so you really don't have to worry there though!
You can bring your own tube or any size or you can rent one from the Ginnie Springs office!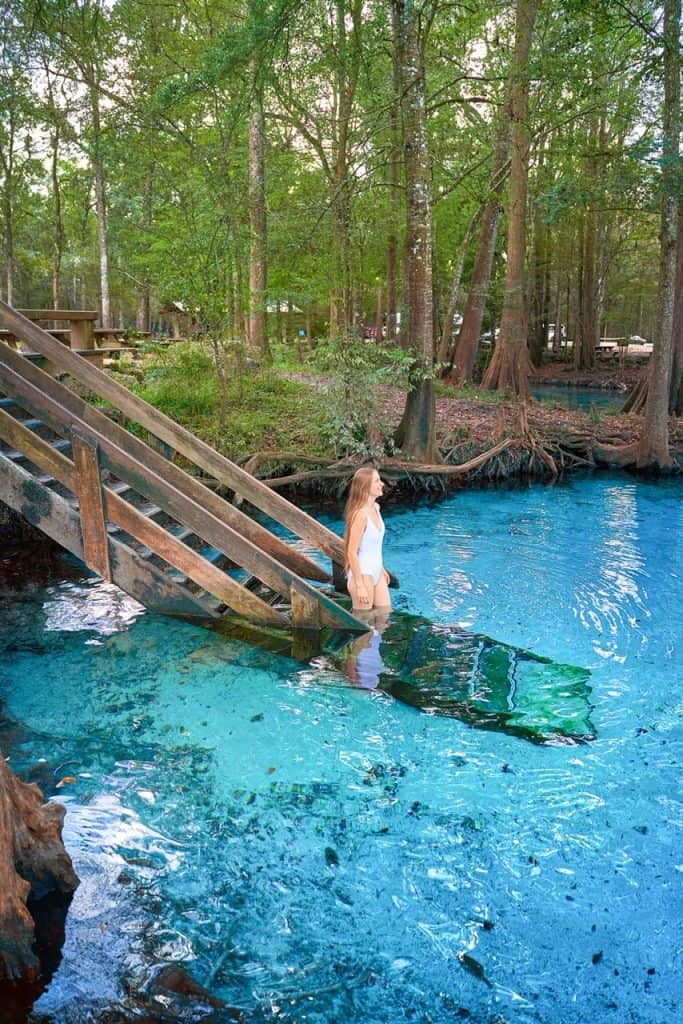 The front office also has food and drinks, snacks, gear and more if you need to purchase something upon arrival!
All in all, Ginnie Springs is a very fun place to visit and one of the coolest Florida oasis locations you can visit!
I hope you enjoy visiting as much as we do, even if it is on a busier or hotter day.
Did You Find This Post Helpful?
If so, we would love to keep in touch! We enjoy seeing photos and comments about your experiences in Florida! You can follow us on Instagram and we will repost your photos on our feed and comment too! Just tag us at @floridatrippers and hashtag #floridatrippers. We can't wait to see your travels!