Ready to find a fantastic Florida oasis? Look no further than Rainbow River Springs State Park! This serene park features sapphire-blue waters that are over 10,000 years old. On top of this, visitors love to see the ornamental gardens, waterfalls, and sloping hills of this park.
So whether you are tubing, swimming, kayaking, or walking through the mossy hammocks, you will fall in love with this gorgeous state park. We know you will love the diverse aquatic habitat, the flow of the spring and more.
This oasis is truly a stunning example of Florida's unique landscape. Visiting Rainbow River Springs State Park will take you to a new world. So plan your visit soon to one of the best Springs In Florida!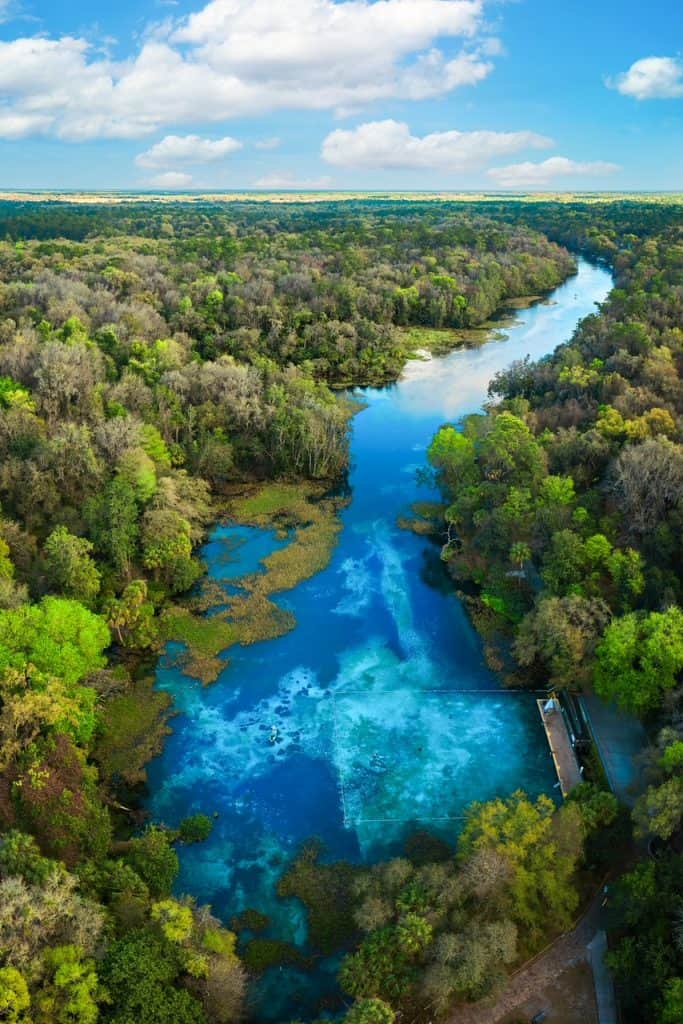 Where is Rainbow Springs State Park?
Rainbow springs is located in Dunnellon, Florida. It is Florida's fourth largest spring and can be found in Marion County. It is closest to major cities like Ocala, FL, and Lady Lake, FL. This means you can take 41 easily to get to it!
Looking for the exact address? Type in 19158 SW 81st PI Rd, Dunnellon, FL 334432. Your GPS will take you to the springs and state park easily! Or better yet? Just type on Rainbow Springs State Park to your GPS– we promise either will work and get you to your destination!
How Much Does it Cost to Visit Rainbow Springs?
First, it is important to note that Rainbow springs is open from 8 a.m. until sunrise, 365 days a year. So plan accordingly! When you are visiting the springs, it costs $2 a person to get in. Children under 6 years old are free!
But there are other fees you may want to consider outside of admission. For example: renting tubes! It cost $20 a person to rent a tube. This includes your 2 hour trek down the river, and it also includes your tram ticket back to parking!
But if you are not tubing, consider kayaking. You can rent a kayak for 1 hour for $16, or you can rent it for a full day for $50. This is similar to canoes: canoes are $22 for an hour, and $60 for a full day!
A new feature this state park offers as well is guest services inc. This service provides sandwiches, snacks, drinks and ice cream at the main headsprings. This is ONLY available on WEEKENDS, and while it is not a mandatory fee, we felt we should mention it so you become aware of how much money to bring!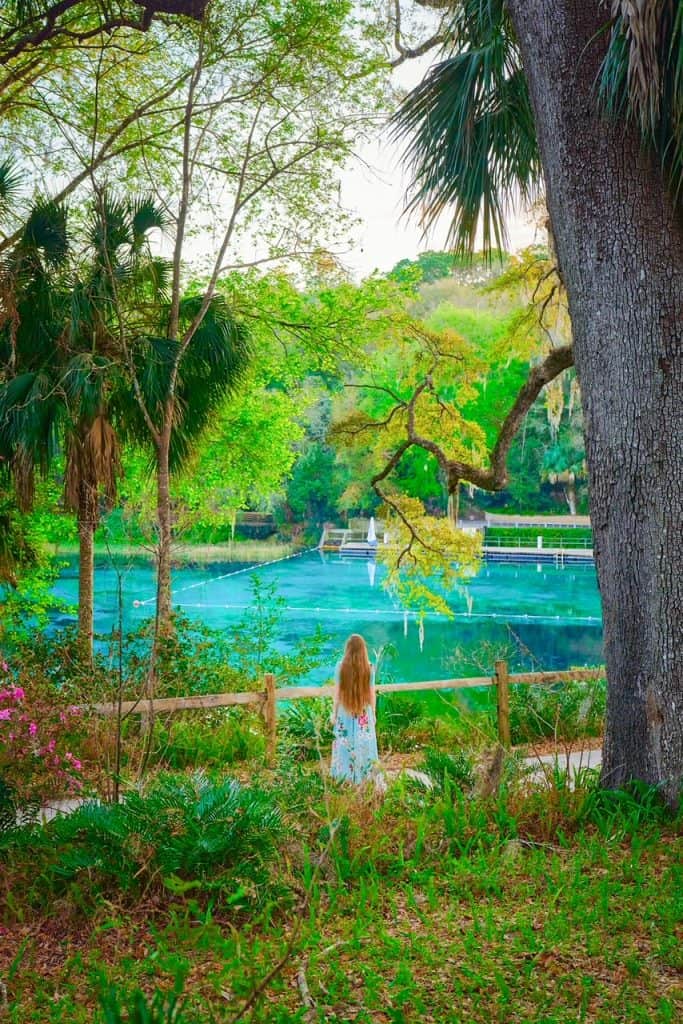 How Cold is Rainbow River?
The springs and river of Rainbow Springs State Park in Florida average from 5 to 18 feet in depth. This means the water temperature can slightly vary in certain areas: the more shallow the area, the warmer it may be, for example.
Typically, however, the water temperature averages about 72 degrees. And this is year round too! Don't forget that this state park is open 365 days a year, so this temperature should be fairly consistent even in those winter months.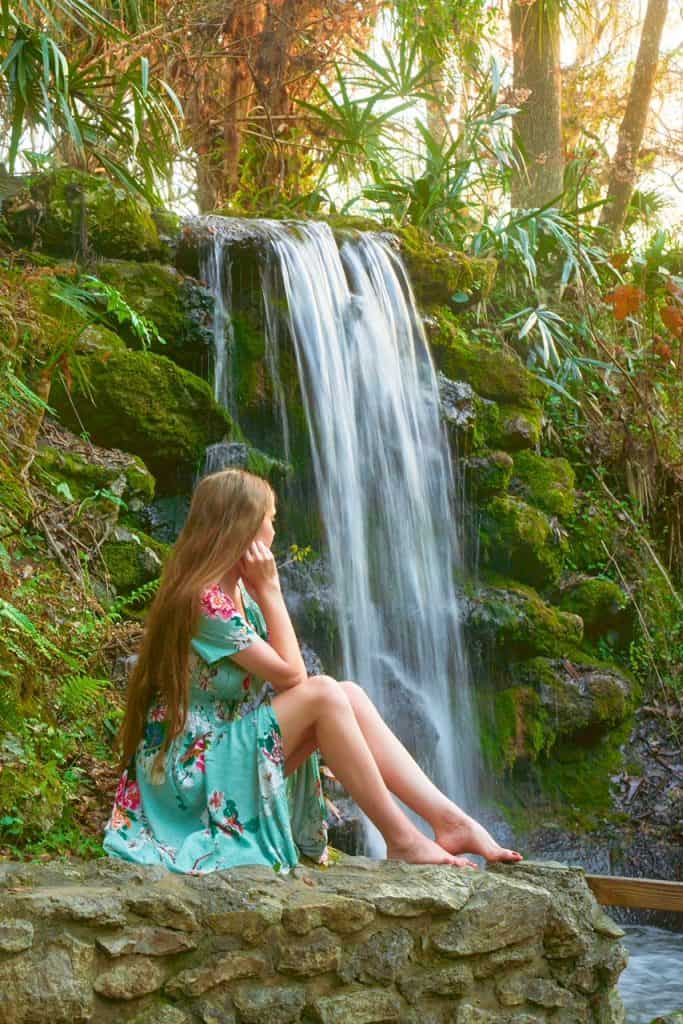 Are there Alligators at Rainbow Springs?
One question we always get when talking about Florida's natural springs is: are they any gators there? The short answer is yes. As this river is a natural body of water, it is home to many fish, birds and reptiles.
Typically, the swimming areas are a little more clear of these gators, but when you kayak down the river, you are more likely to see one. Generally speaking, alligators prefer murky water, so this crystal water does turn them away on occasion. Just remember to always be respectful of the wildlife if you do see one. This was their home first!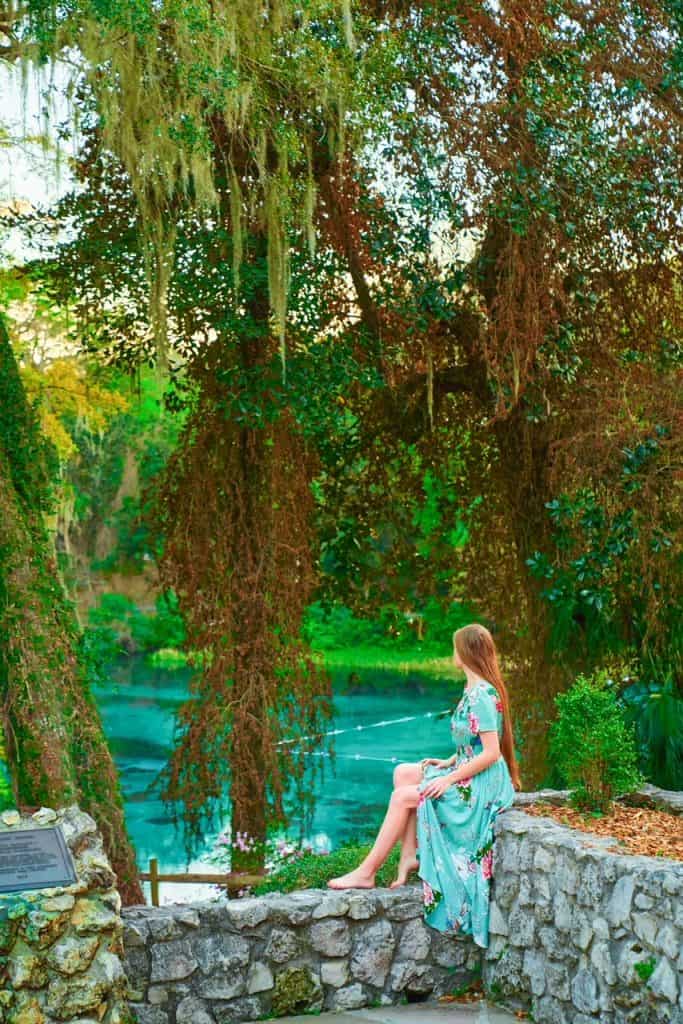 Crowds at Rainbow River
One thing you need to know about Rainbow River is that it can get very crowded. In particular, there is high visitation to the springs on the weekends and holidays. The headsprings entrance will close when the park reaches capacity. This means that no vehicles or pedestrians will be allowed in, NOT EVEN registered campers. This means you need to plan accordingly.
If you also leave the park when it is at capacity, you will not be able to re-enter Rainbow Springs until the following day. The renting experience can get very crowded, so you can always bring your own tubes to avoid the crowds and craze of that area.
But this is not all negative!! If you get to Rainbow Springs during opening (8 a.m.) you are more likely to avoid these large crowds. And when you are tubing down Rainbow River springs the crowds spread out. This means that the floating is much calmer and you won't have to deal with the crowds then!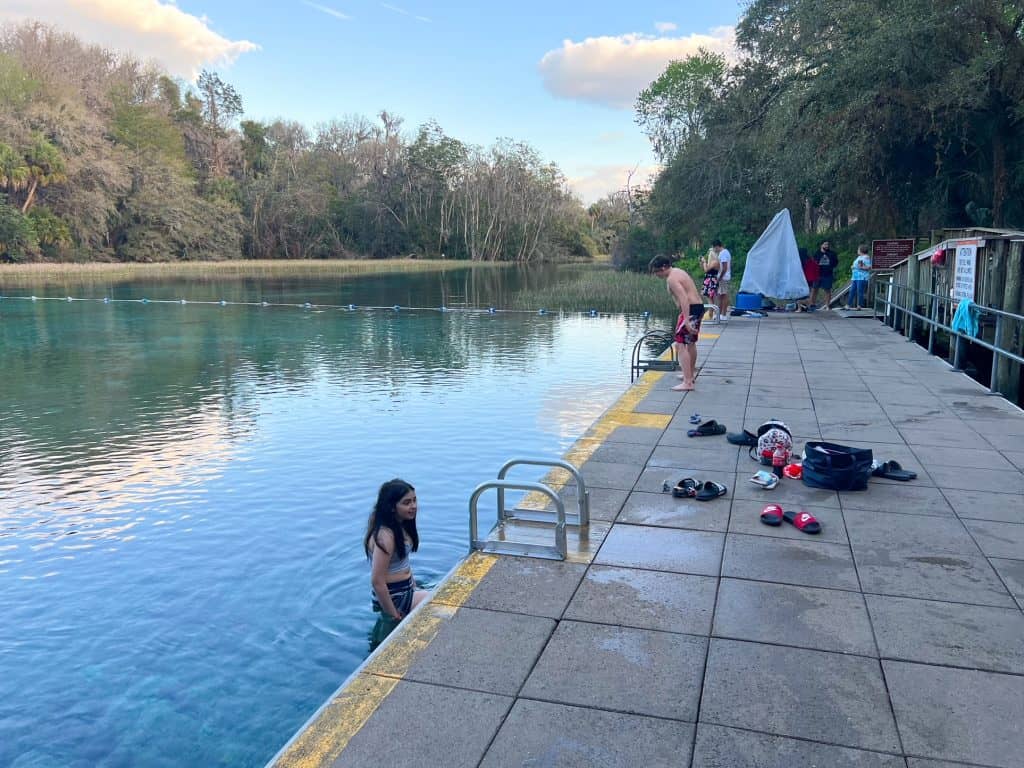 Waterfalls at Rainbow Springs
What sets Rainbow springs apart from other Florida springs is the waterfalls. Three man-made waterfalls were made when this park was previously owned as a private attraction. During this time, the spring offered glass-bottom boat tours, an aviary, a zoo, a garden, and the waterfalls of course!
Now, minus most of the fanfare, the waterfalls still exist. Hikers can enjoy walking a 2.5 mile path that take them by these three waterfalls. Here they can also see the native plant garden before reaching the visitor center. This is a great way to explore the beauty of Florida!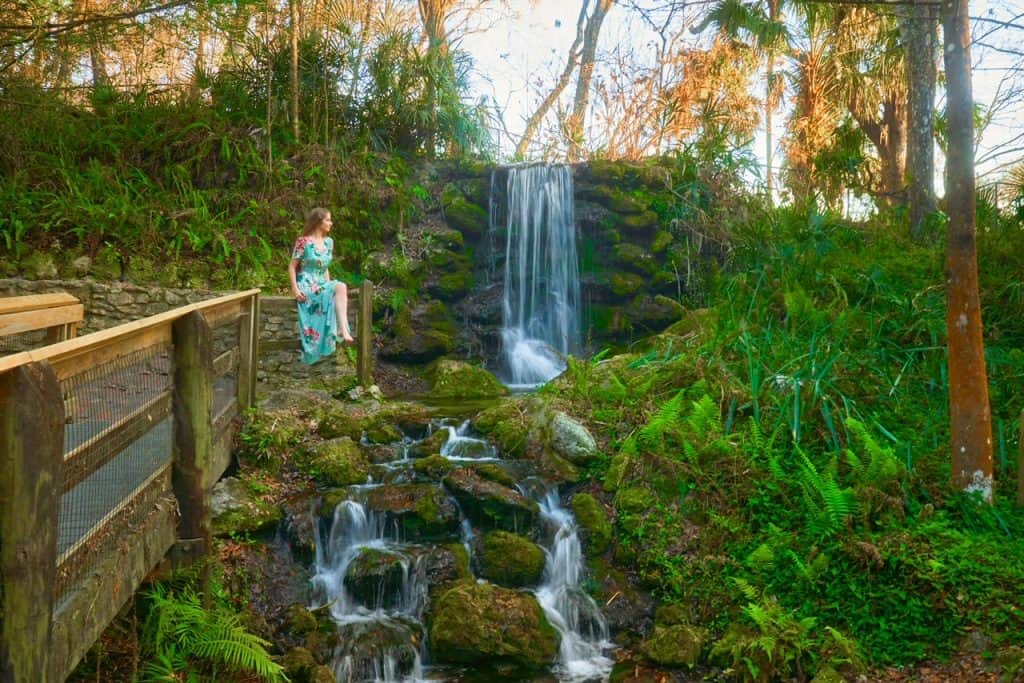 How Long does it Take to Tube Down Rainbow River?
Rainbow Springs State Park is super popular, so this is a common question we get. The trip down the river itself is about 4 miles long. It can generally take 2-3 hours if you are in a kayak or canoe. But if you are just tubing, it can take up to 4 hours to get from start to finish!
Please remember that the tubing entrance is closed October through March for the winter season. And remember that it opens the First Saturday in April, and lasts until the end of September. As you reach those autumn months, though, don't be afraid to call to confirm opening! Facilities may close due to weather.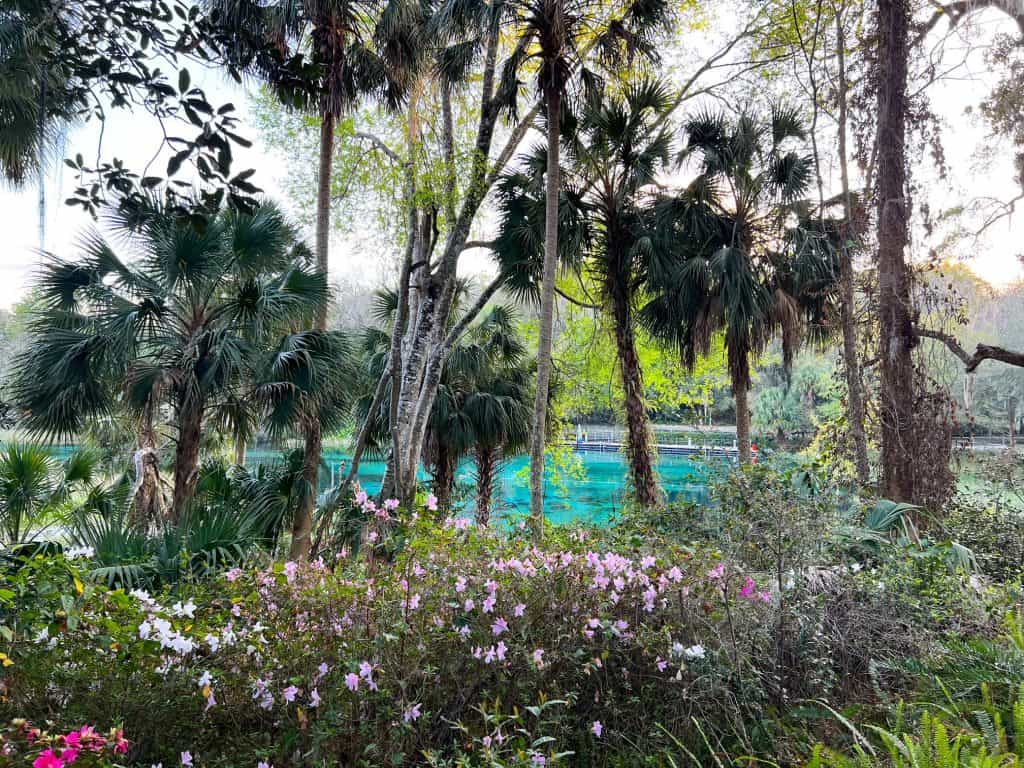 Watersports at Rainbow Springs State Park
There are plenty of things you can do at rainbow springs: birding, camping, fishing, geo-seeking, hiking, picnicking, and more! But of course, most people come for the water sports. This spring offers visitors the opportunity to go tubing, swimming, snorkeling, and paddling.
If you are paddling, you get to paddle under moss-draped cypress trees and see river otters! This is truly one of the best places for Kayaking Near Tampa!
There are daily canoe and kayak rentals available in the park, but please note disposable food and beverage containers are NOT allowed. If you go snorkeling, please know it is only allowed in the buoyed swimming area!
For swimming, the headsprings are the best place to swim. The depth averages between 10-18 feet, and the water is 72 degrees as mentioned earlier. Rafts, tubes and balls are not allowed in this area for safety reasons, and you MUST be a strong swimmer. There is no lifeguard on duty.
Lastly, if you go tubing at Rainbow Springs in Florida, please note this is super popular but also a wonderful experience. Tubes are not allowed within the headsprings. You must visit the tubing entrance which is located at: Southwest 180th Avenue Road, Dunnellon. And remember, tube rentals are $20 a person!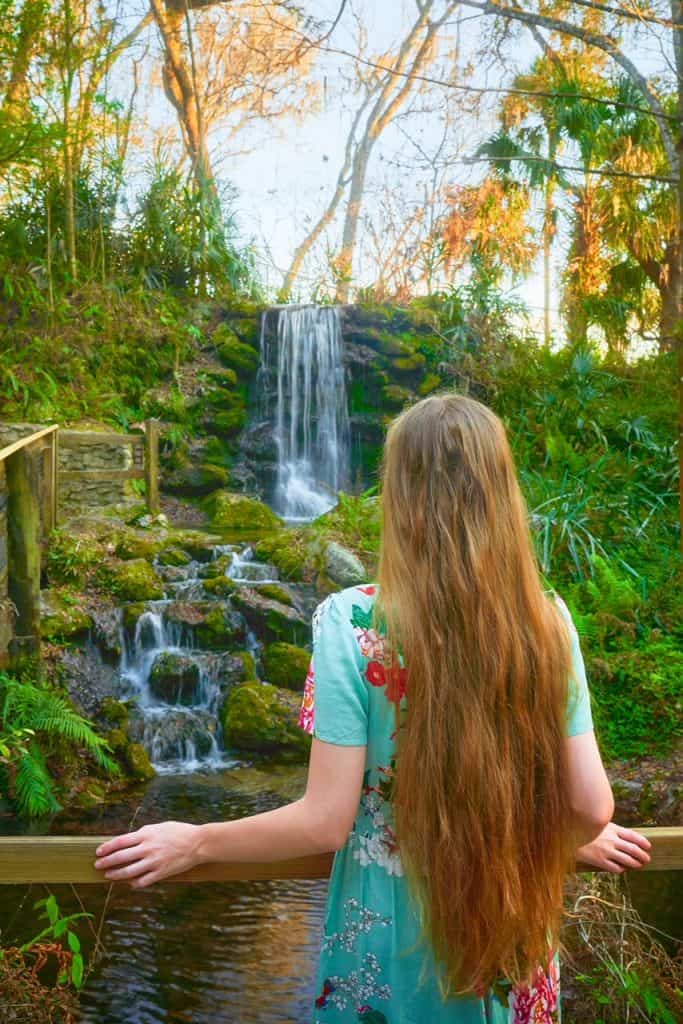 Camping at Rainbow Springs State Park
Rainbow Springs State Park's campground is located along the river as a separate facility. It is just a few miles away from the headspring. Here you can rent and reserve a spot at either an RV site or a tent site.
If you rent at an RV site, you will have water, electric, and sewer hook-ups. These areas also include a dump station, and pets are welcome! Although they are not permitted in swimming areas or buildings.
The tent-only site are hike-in sites. They offer some water and electric services, and vehicles cannot park here. All amenities at these campsites include a campground store, showers, restrooms and laundry.
When camping, access to and from the river is available. Here you can fish, swim or paddle! And as a reminder, the campground office can rent your paddle equipment. For reservations, visit the Florida State Parks reservations website, or call 800-326-3521.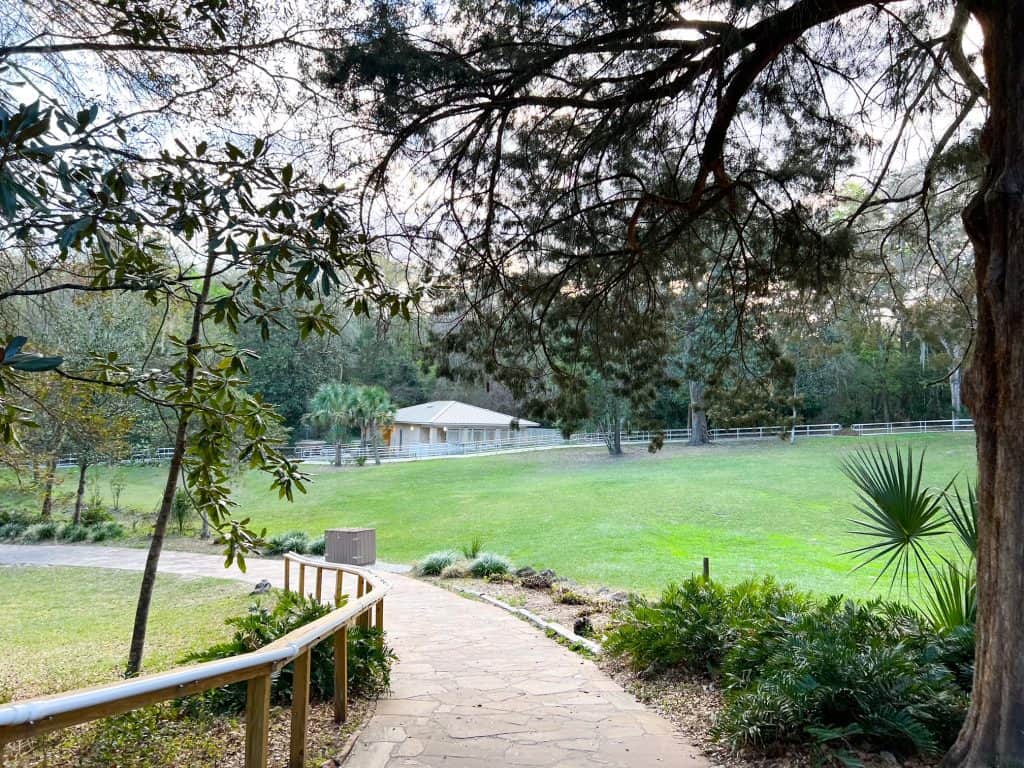 Tips for Rainbow River
We don't want you going to this wonderful Florida oasis without feeling prepared! Thus, here are some last minute tips for Rainbow Springs:
Make sure to know the difference between the main entrance, the tubing entrance and the camping entrance.
It is illegal to possess disposable food or beverage containers on the water.
Fishing is not permitted in the upper mile of the river.
Snorkelers must use a divers down flag.
Bring your own tube (less than 60 inches both ways) to save renting money.
Check the dates: if it is a weekend or holiday, arrive early!
Bring sunscreen!
Bring a mesh laundry bag to hold your items so they don't float away!
Pack your own snorkeling gear.
Waterproof cases are your best friend!
Consider water shoes!
Don't park outside the park: make sure to only park in designated areas, otherwise you may be towed!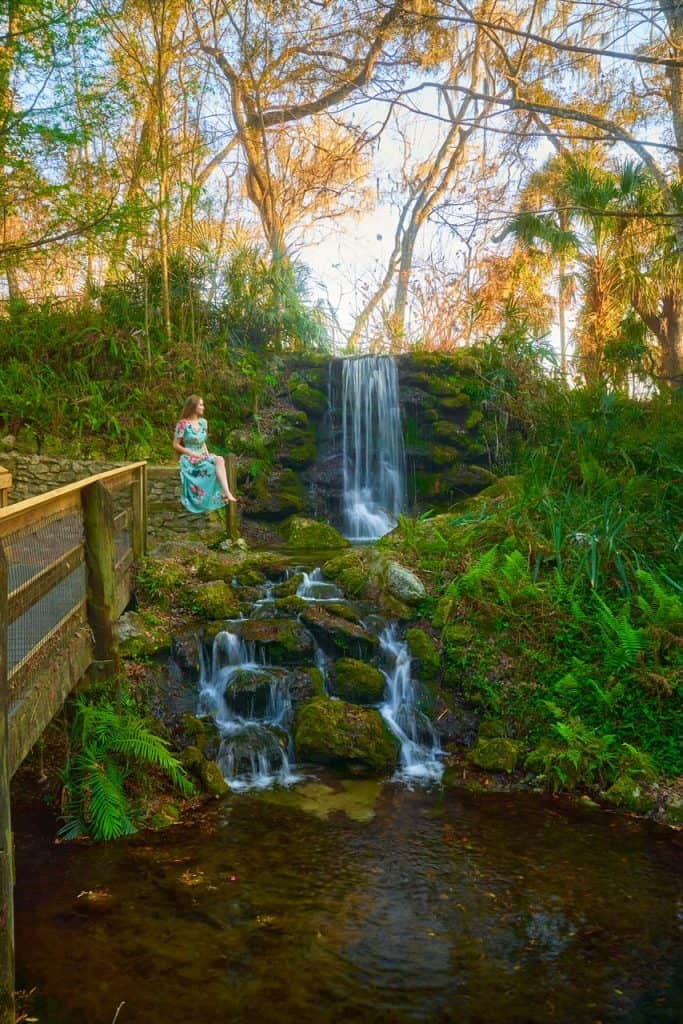 And there you have it folks! Some of the best tips and "need to know" information about Rainbow Springs. This state park is truly a great Florida Oasis. We promise you will love the hikes, waterfalls, tubing experience and more! Float away and relax, friends! And as always, reference our natural springs article for more on Florida springs!