Planning a vacation in Key West and looking for Key West hotels? Look no further, we have the perfect article for you. We will walk you through where to stay in Key West, hotels in Key West near Duval Street, and Key West accommodations for every budget. The hotels we have picked have a customer rating above 8/10, so you know that they are all great hotels.
Key West is the southernmost point in the USA and is actually closer to Cuba than it is to Miami. The drive to Key West is an epic trip that everyone should do once. 42 bridges link Key West to the mainland with the pretty amazing 7-mile bridge. If you want to make the most of the drive from Miami to Key West here are 16 Best Stops On Your Miami To Key West Drive.
Before you plan your trip, make sure to check out The Best Times To Visit The Keys where we break down each month and talk all things weather!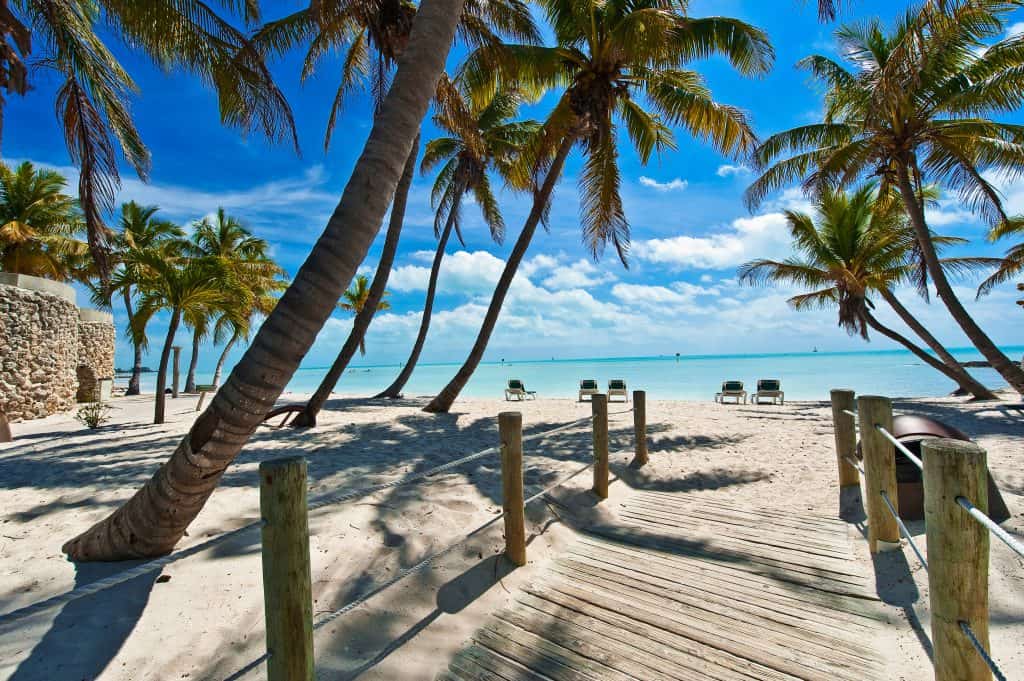 The temperature in Key West is tropical, with '70s and '80s in the winter months. The best time to visit is March and May when the temperatures are good and the prices tend to be cheaper. Key West is an expensive place to live and visit, so the cheap hotels in Key West may seem more like moderate pricing to you.
The island is tiny, only four miles long and two miles wide, with the historic old town taking up over half this area. Saying that though, this tiny island packs a punch and you will always find something to do.
Key West is a place that we feel everyone must visit once; a colorful, vibrant, unique place where you can just sit back and relax or party the night away. The beaches are tropical, the sea is beautiful and the sunsets are epic. If you haven't watched a sunset at Mallory Square then you don't know what you are missing.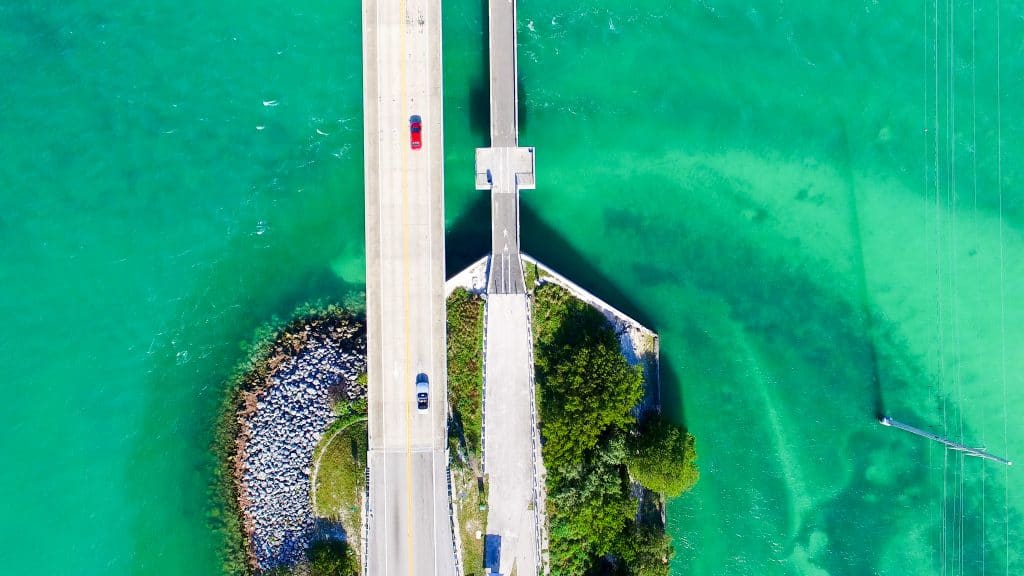 It's a place that also has a lot of history and some lovely colonial properties; we have even found you a few you can stay in.
If you are looking for things to do in Key West we suggest you take a look at this article. I'm sure you will be pleasantly surprised at how much this area has to offer. And if you are looking for places to eat here are 16 Best Restaurants In Key West Everyone Should Try.
We definitely recommend a trip to Duval Street; it's a lively area full of restaurants, bars, live shows, and street performers. Mallory Square is also a must-visit as well as a perfect place to watch the incredible sunsets. There are lots of things to do as the square also has unique shops and restaurants. And if you love a bit of history then Earnest Hemingway's house should be high on your list.
And if you love water sports Key West has you covered, offering a variety of water sports to try. Key West is also a diving paradise with the third-largest barrier coral reef in the world known, as the Florida Straits, extending 150 miles north and 70 miles west.
It's also a great place to get on your bike to explore as it's so small and you can't get lost.
Now that we have convinced you that Key West is a great place to visit, let's dive into which Key West hotels we recommend and the places to stay in Key West.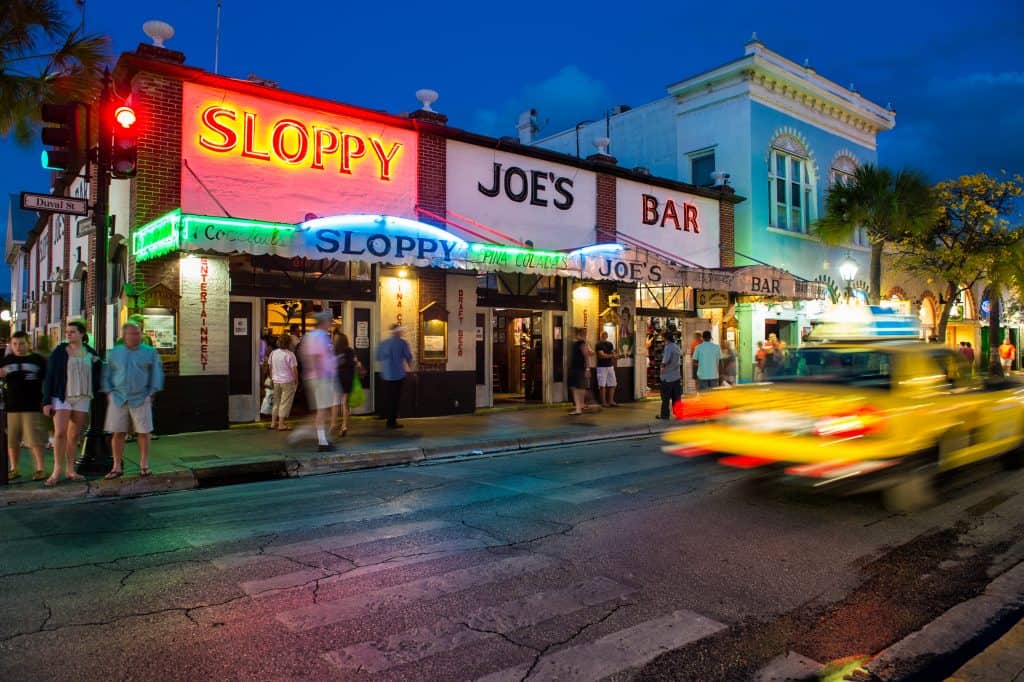 Best Luxury Key West Hotels
Key West has some amazing luxury hotels and here we have picked some of our favorite Key West accommodations for a special stay. We suggest you pick one of these for that special stay. Some of them have a great location, some stunning surroundings and some are just plain old beautiful!
Margaritaville Key West Resort & Marina
This waterfront hotel is located in the old town and Historic Duval Street is just 6 minutes' walk away. If you are looking for hotels in Key West near Duval Street, consider this one.
Margaritaville Key West has an outdoor heated pool and hot tub and has everything you would expect from a great hotel. This hotel is fresh, modern, and has the most beautiful outside space. This is truly one of the Best Places To Stay In Key West!
Parking is available on site and guests comment on the great location and the beautiful grounds.
A great hotel in an amazing location that really has that Key West feel.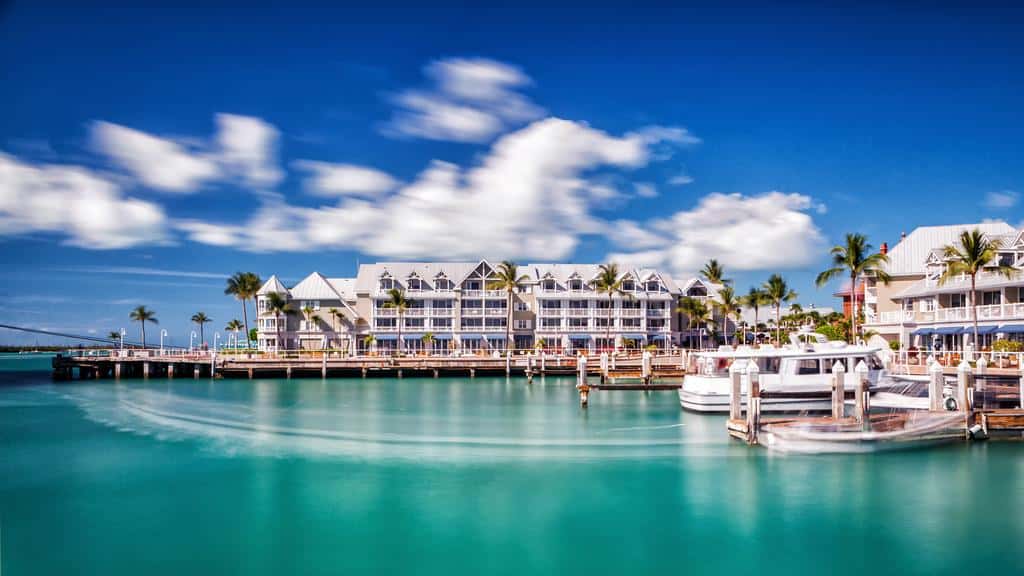 Parrot Key Hotel & Villas
Surrounded by lush landscaping and gardens, the Parrott is nestled along the Florida Bay and offers 4 outdoor pool areas.
The hotel offers lots of activities such as kayaking, a spa, and massages. It is a short drive from the old town and does offer a complimentary shuttle into the old town.
This is Where To Stay In Florida if you are looking for something unique!
Guests comment on how helpful the staff are and how large the rooms are. This hotel has a chic beach style with an envious location.
If you don't mind not being in the old town this hotel is a great option.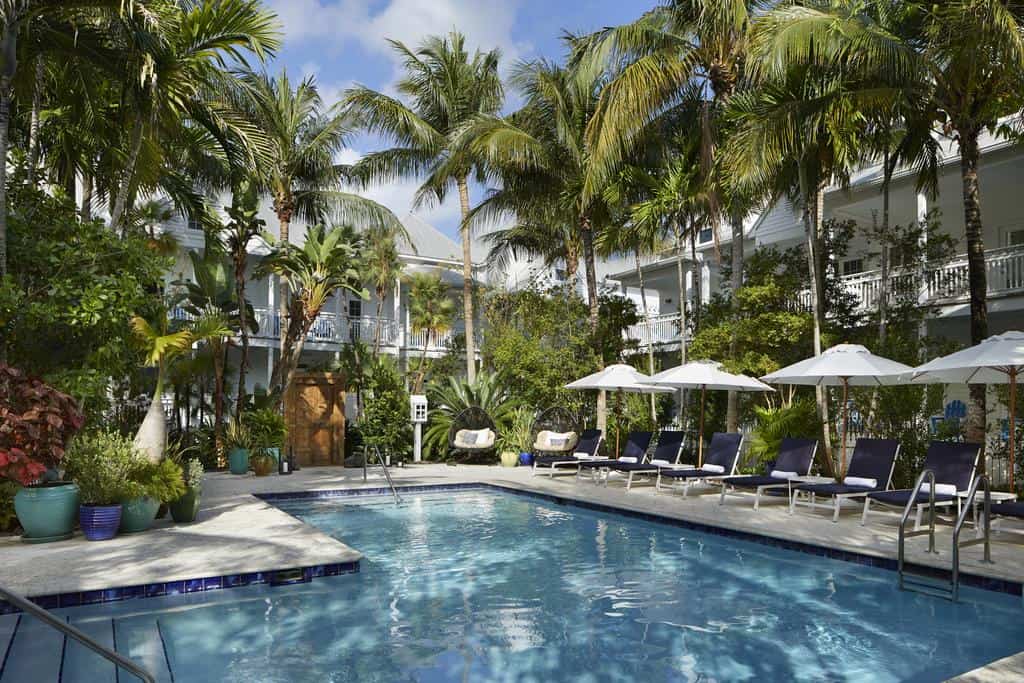 Ocean Key Resort & Spa, a Noble House Resort
When we think of Key West we think of hotels like this, it is such a vibrant, lively place. If you like your hotel with pops of color and some quirky features then this hotel is for you. This is truly one of the best luxury hotels in Florida!
Ocean Key Resort & Spa overlooks the Gulf of Mexico and features a spa a pool and amazing sea views.
Mallory Square plaza is a minutes' walk, so the location is excellent and there are plenty of amazing places to hang out in the hotel too, such as the waterfront Hot Tin Roof and the Liquid Poll bar.
Guests comment on the unique charm and the great location.
This is a luxury hotel in Key West, right in the heart of it.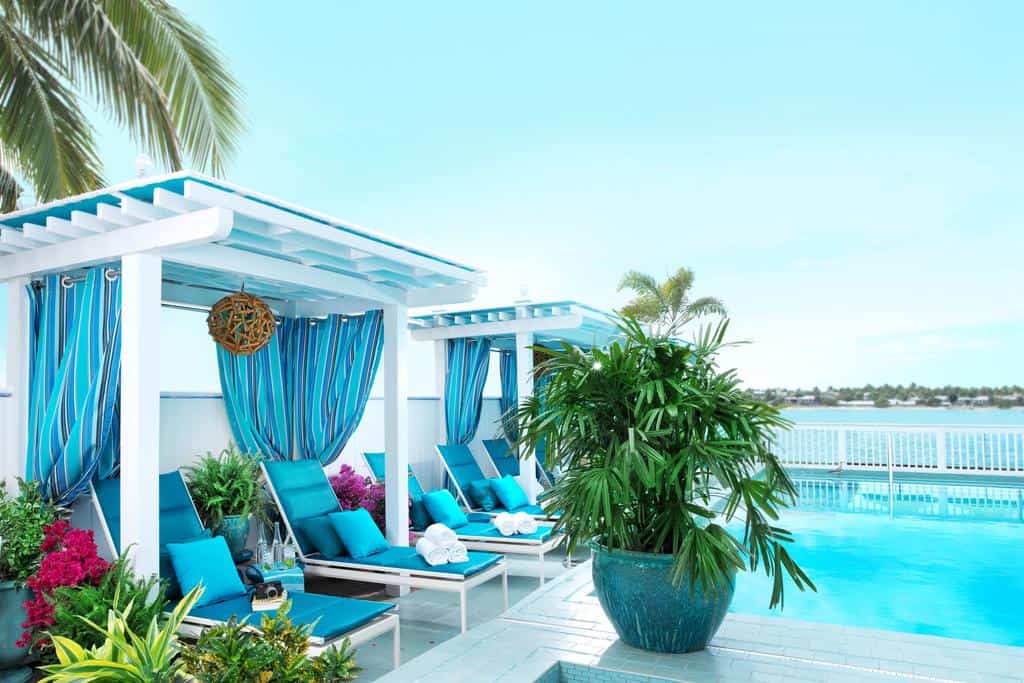 Oceans Edge Key West
Oceans Edge is a blue and white dream, luxury beach style. The hotel has panoramic water views and 6 swimming pools. This place is stunning.
Duval Street is 19 minutes' drive away, so if you want luxury a little bit away from it all, this hotel is for you.
Make sure to check out our list of the Best Resorts In The Florida Keys! There are some really epic resorts featured for couples, families, and more.
Guest's rooms come with water views and a balcony or a patio.
Guest accommodations feature views of the water and include a balcony or patio.
This really is Key West with added luxury.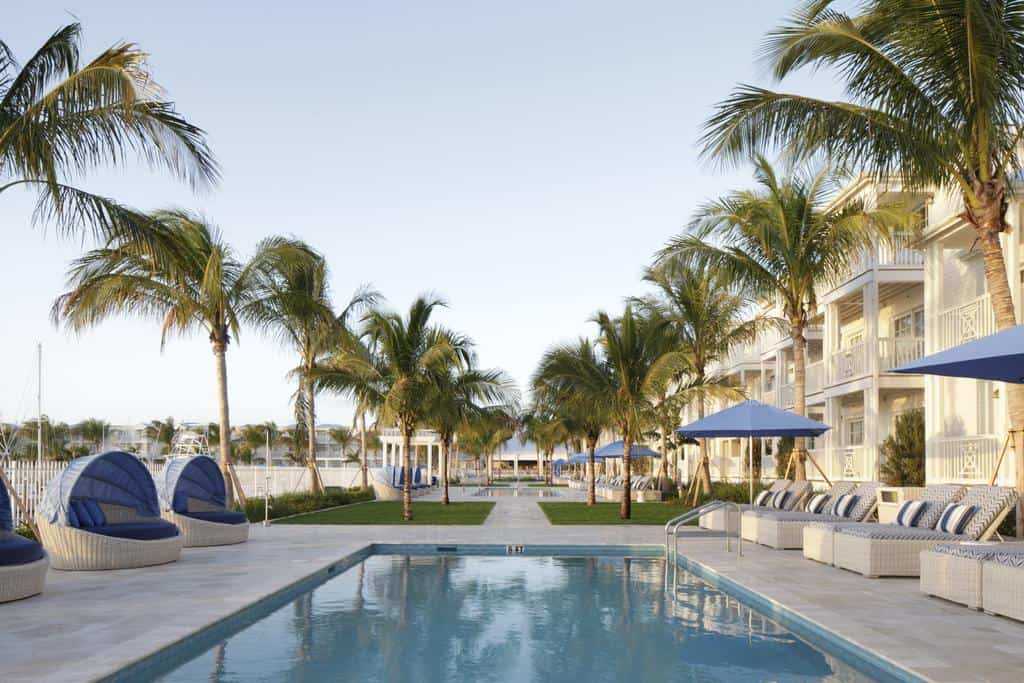 The Perry Hotel Key West
Want to arrive by boat? No problem, this hotel has you covered. The Perry is modern chic and stunning, located at the Stock Island Marina and just one bridge from Key West.
This luxury accommodation features two dockside sea-to-table restaurants, two waterfront pools, and a boutique. This is truly one of the Best Places To Stay in The Florida Keys!
Guest rooms have oversized private balconies and the hotel has direct marina access and a complimentary shuttle service to Old Town. Duval Street is about a 5-minute drive away.
If you don't mind the drive then this hotel is well worth it.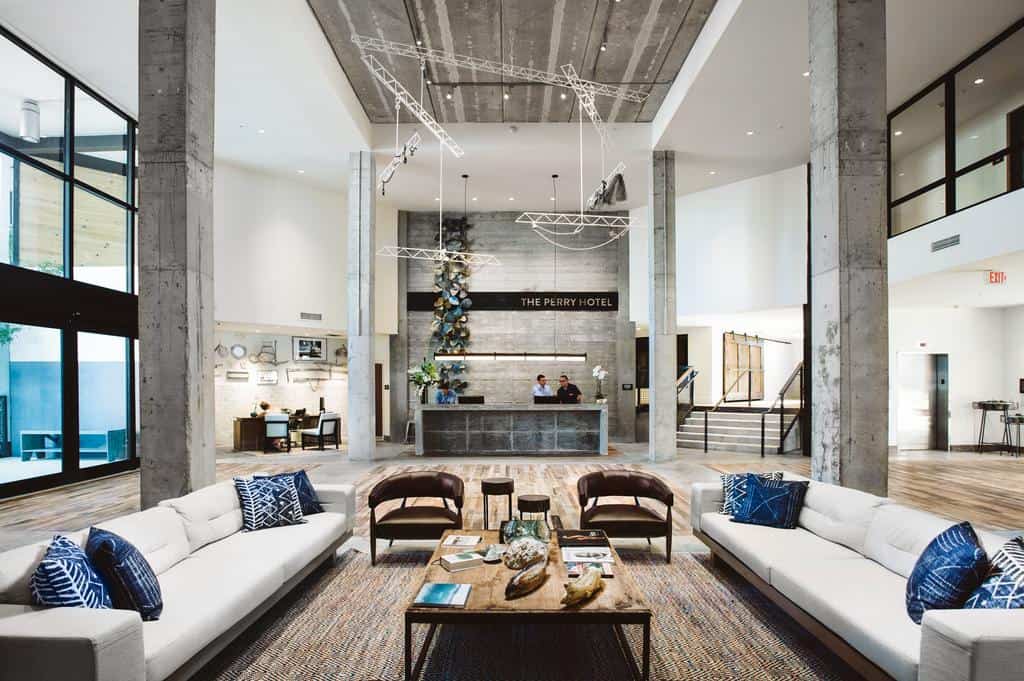 Best Mid-Range Hotels In Key West
For the mid-range hotels, we have chosen mainly 3-star hotels with a rating of about 8/10 from guests. We have included one adults-only hotel, just because it's so lovely it couldn't go without a mention. You may find these mid-range hotels pricier than you are used to but it is Key West and not a lot comes cheap. If you are looking for places to stay in Key West that are more affordable and still have a little luxury, this is the place to look.
Barbary Beach House Key West
This is a lovely mid-range hotel just over one and a half miles from Duval Street.
Barbary Beach House has an outdoor pool and American breakfast and parking are available. This hotel is fresh, has an incredible pool area and some of the rooms have beautiful views of the beach. If you are looking for somewhere to stay in Key West with kids we feel this would be a good option. The location is great but out of the way, so children won't be disturbed.
Guests comment on how friendly the staff are and how beautiful the rooms are.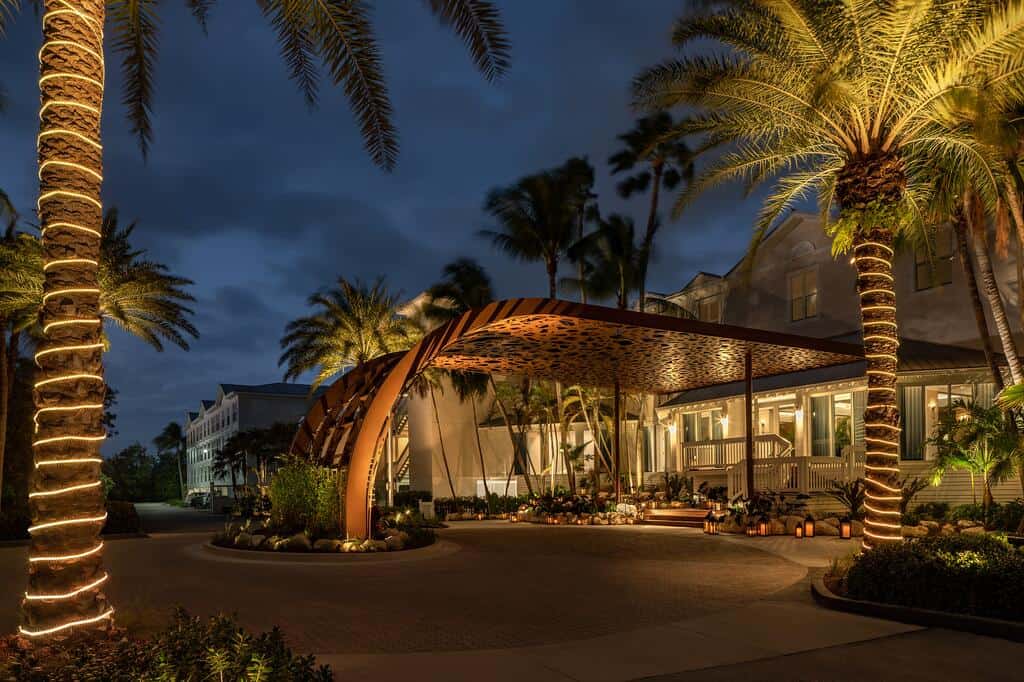 Truman Hotel
If you love color and quirky then Truman is for you. It's bright, cheerful and is ½ mile from South beach,
It has a lovely outdoor pool and modern rooms with iPod docking stations and flat-screen TV and a refrigerator. Some rooms also have private patios.
The Truman is 6 minutes' walk from the Ernest Hemingway Home and Museum. Duval Street is a 7-minute walk away.
This is a funky hotel and guests love the location, the large rooms and friendly staff. A really great option for Key West lodging.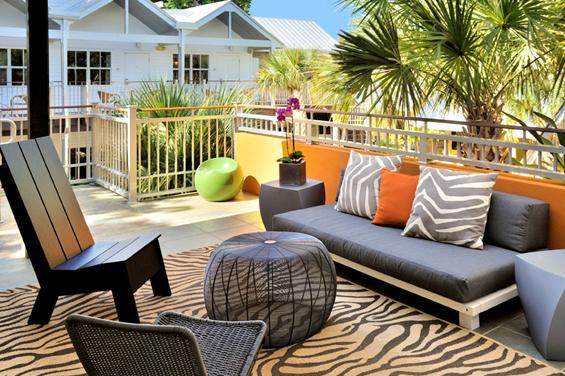 Southernmost House Hotel
This hotel is adults only but we had to include it because the building is just so beautiful; it's a pink and green Key West dream.
Southernmost House has an outdoor pool, a sun terrace, and an on-site bar and is 200 yards from the Duval Street District.
Some rooms have views of the sea, pool or garden and some feature seating areas.
Continental breakfast is serves daily and parking is available. If you want a stay that is kid-free then this is the hotel for you.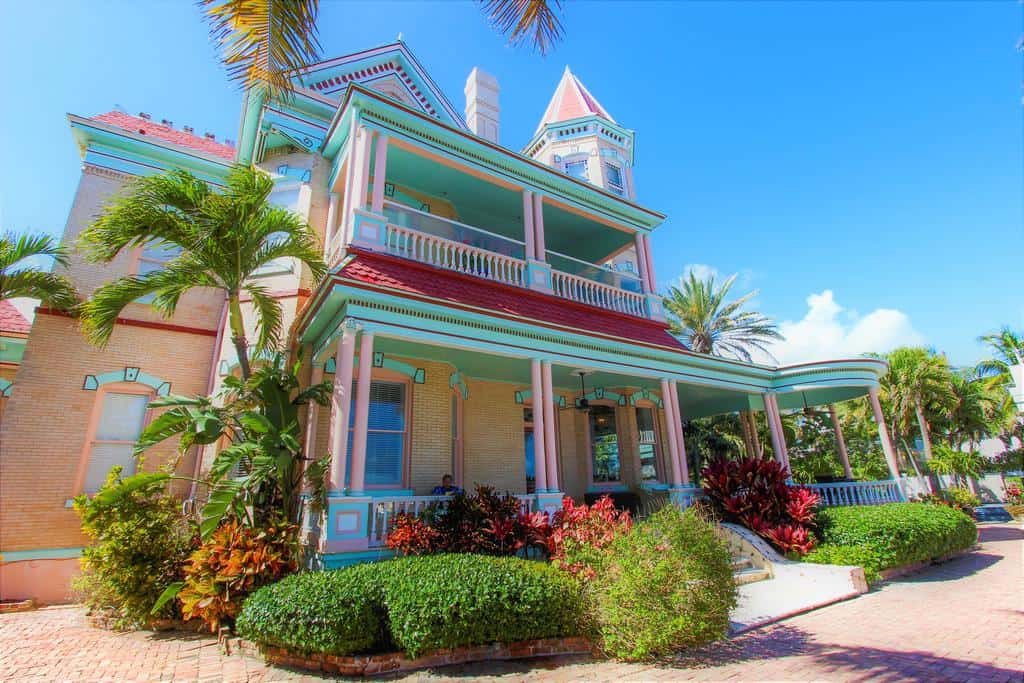 Silver Palms Inn
A colorful, fun hotel that is a 9-minute walk from the Ernest Hemingway Museum.
Rooms overlook the pool or city and have private balconies. Parking is available and the hotel serves continental breakfast,
Guest comment on how clean Silver Palms Inn is and the fact that it feels really cozy and comfortable. Another hotel we feel would be great for families.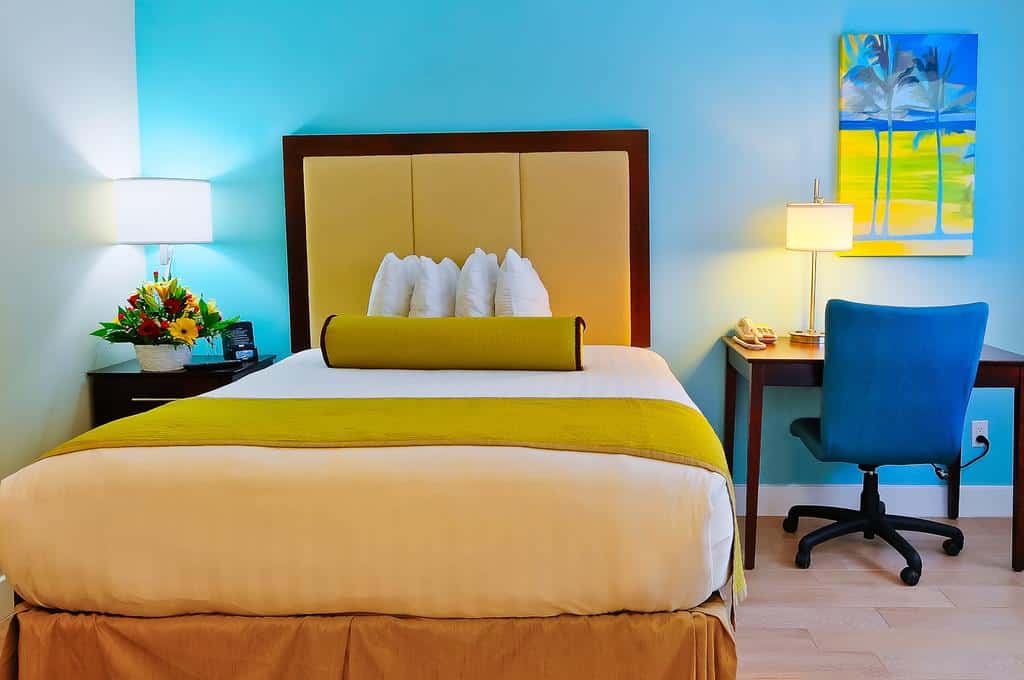 Kimpton Lighthouse Hotel
A lovely hotel in a beautiful building, decorated in a very chic style.
Located opposite the Ernest Hemingway Home and Museum, it's right in the heart of it.
Kimpton Lighthouse has an outside heated pool, complimentary breakfast on-site and poolside bar.
Duval Street is only a five-minute walk away; what more could you want.
Guests comment on how beautiful this hotel is and the friendly and attentive staff. This hotel really is a little gem.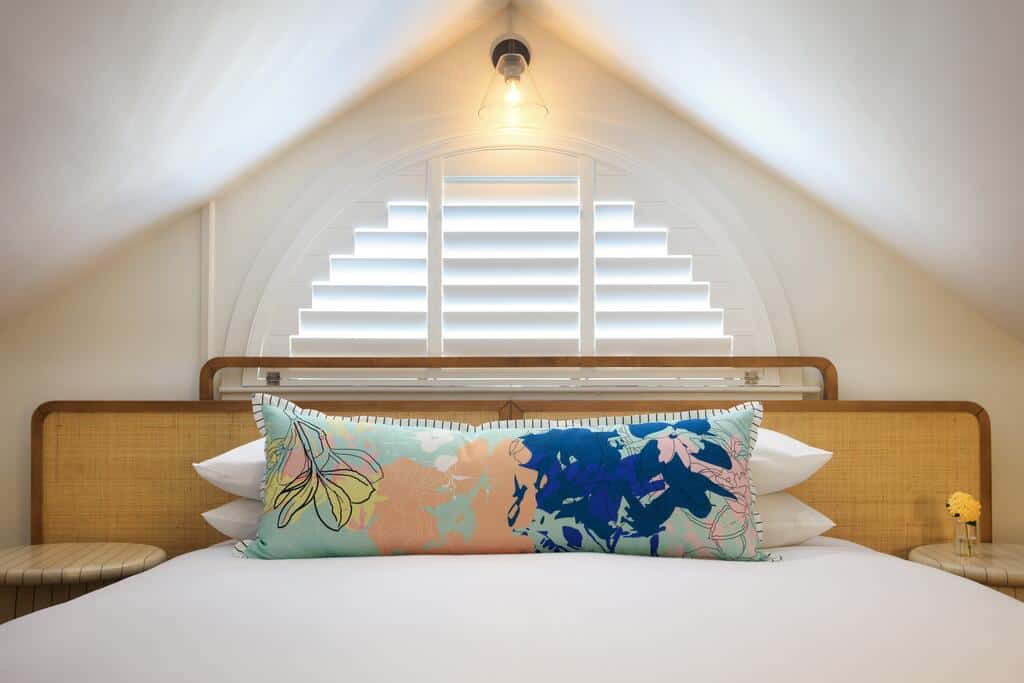 Best Cheap Hotels In Key West
We are not sure that there is such a thing as a cheap hotel in Key West unless you want to stay in dorms. Here we have picked 2-star and high guest-ranked accommodation, some are more motel style and other more bed and breakfast; they all look delightful and the guests love them.
Blue Marlin Motel
This is a fun, vibrant option if you are looking for something more affordable.
The guest rooms are simply styled and have a TV, a microwave, fridge and coffee facilities. There is a heated outdoor pool and continental breakfast is available.
Blue Marlin is a short drive from the popular attractions and restaurants of Duval Street.
People love this place, commenting on the cleanliness, friendly staff and large pool. We feel this would be a good cheaper option if you have children.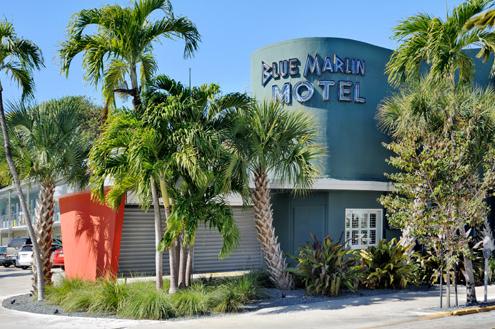 Southwinds Motel
Another great, simply-styled, and affordable option, Duval Street is just a 2-minute walk away, so it's in a great location.
Southwinds has three pools and a patio, microwave, and refrigerator are included in all rooms
Guests love the location of this motel and comment on how clean and comfortable it is.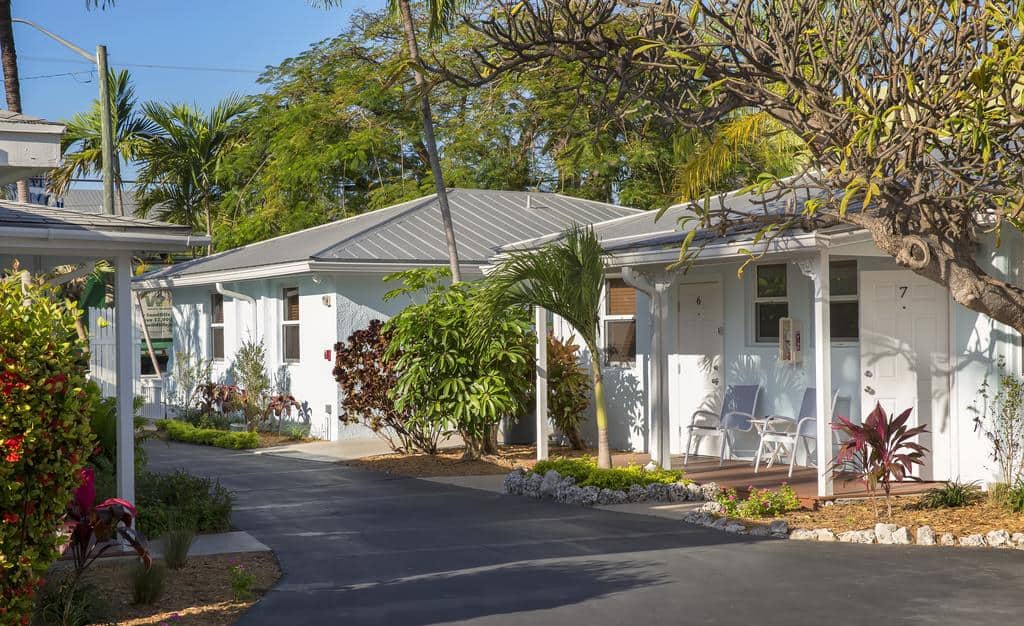 Curry House
A great affordable option in a lovely colonial building, this hotel offers breakfast by the private outdoor pool, so we just had to include it.
Duval Street is 900 yards away and guests experience balcony views and a relaxing outdoor seating area. Curry House also has a garden you can enjoy.
Guests love the location because it is in the heart of the action but far enough away so it doesn't interfere with your sleep.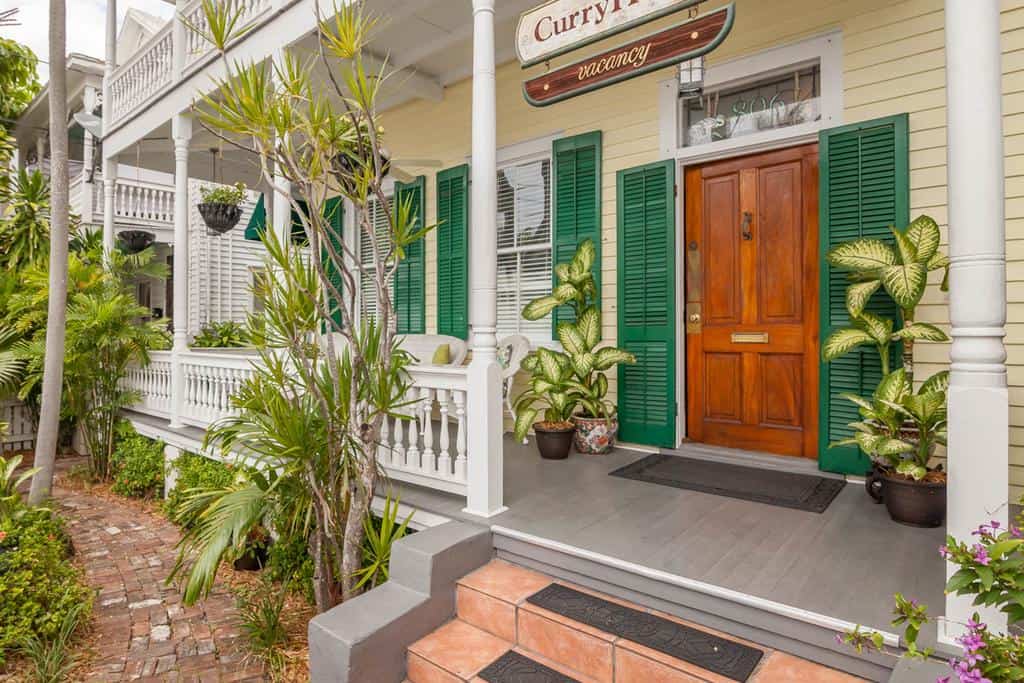 Travelers Palm Inn
A lovely, clean and fresh hotel at an affordable rate.
Travelers Palm has an outdoor pool and all units have an oven and refrigerator.
There is a garden and a sun terrace and this hotel is 0.7 miles from Duval Street. It's a great little hotel in a convenient location at a cheaper price point.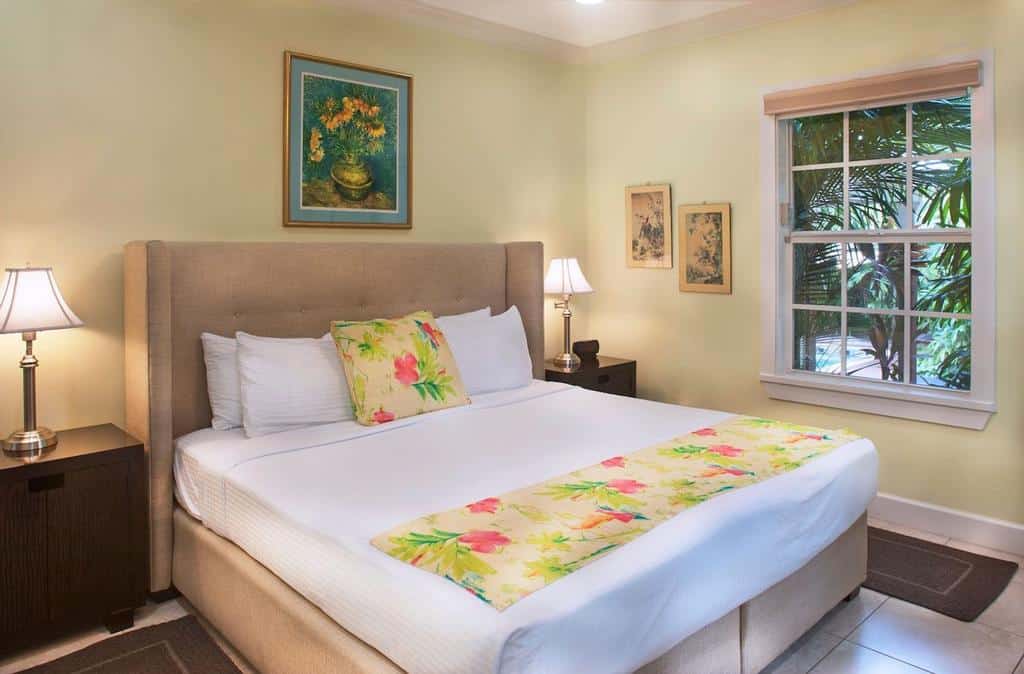 Seaport Inn
A rather twee hotel located in the heart of the historic Seaport District in Old Town.
It's set in a lovely historic building with every room having a flat-screen TV. Mallory Square is just 750 yards away so it's in a great location.
Guests love Seaport Inn citing the big rooms, location, and cleanliness of the property as plusses.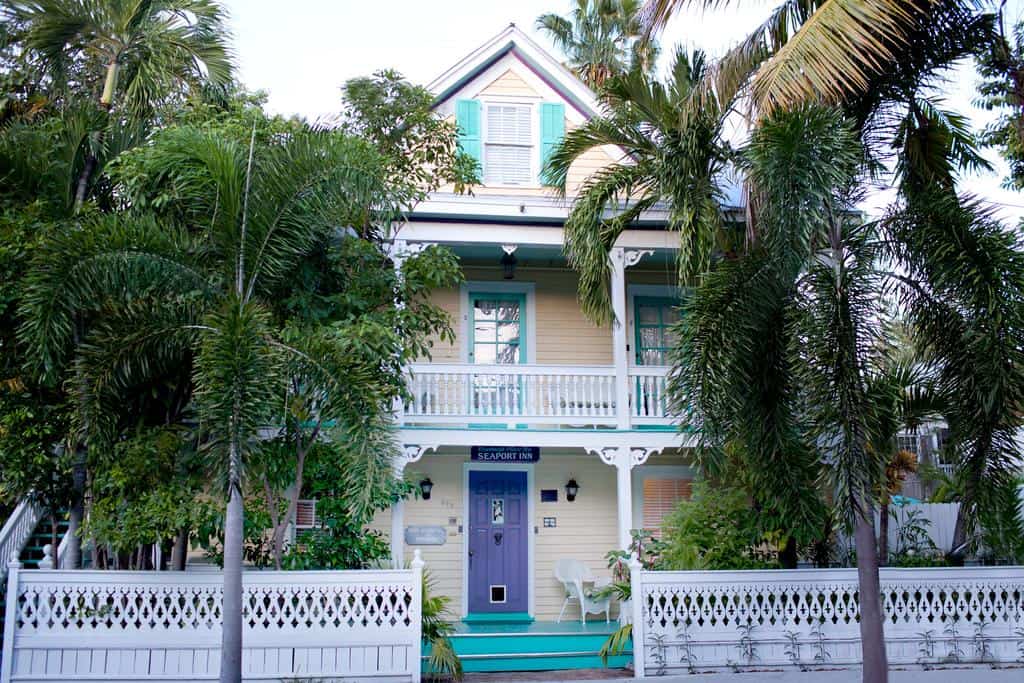 If you are looking into going to Key West we hope you have found this article helpful. Whether you were looking for Key West hotels, where to stay in Key West with kids, or cheap hotels in Key West, we hope you have found what you are looking for.
Please let us know how your vacation goes and if you stay in these properties please tell us how much you enjoy them.