Are you looking for the best restaurants in Key West, Florida? This is a guide to the best dining in Key West that everyone should try!
As the final island at the end of the Florida Keys road trip, Key West gets millions of visitors every year.
While there are plenty of things to do in Key West, this pretty Florida island is known primarily for two things: for being the southernmost point in the continental U.S. and for its food.
Planning your trip to Key West last minute?
Make sure to book ahead! Hotels and tours often sell out the closer you get to your trip. Here are our top picks for Key West!
Top Experiences And Tours In Key West:
Top Places To Stay In Key West:
Between the abundance of fresh seafood and the fame of key lime pie, many people find themselves searching for where they can find the best food in Key West.
This list of the most amazing restaurants in Key West has everything you need to know.
Do not forget to check out the best bars in Key West as well!
Before you plan your trip, make sure to check out The Best Times To Visit The Keys where we break down each month and talk all things weather!
Now, let's look at where to eat in Key West, FL!
Did You Find This Post Helpful?
If so, we would love to keep in touch! We enjoy seeing photos and comments about your experiences in Florida! You can follow us on Instagram and we will repost your photos on our feed and comment too! Just tag us at @floridatrippers and hashtag #floridatrippers. We can't wait to see your travels!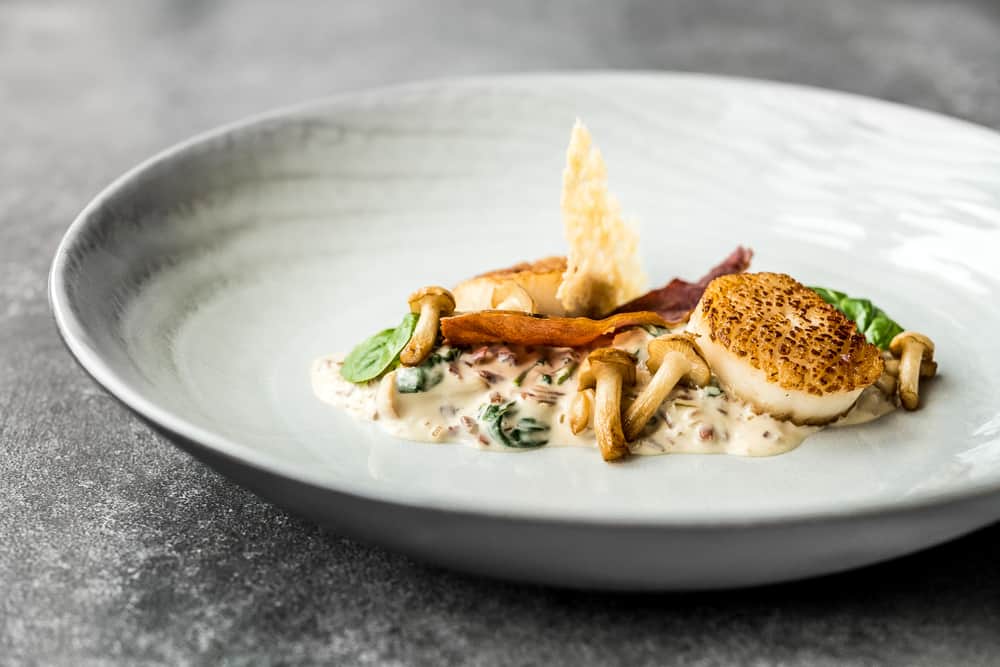 17 Best Restaurants In Key West, FL, You Must Try
Blue Heaven
Blue Heaven makes it on just about every list of the best places to eat in Key West.
Situated in the historic Bahama Village, this weathered, blue building and island-style menu have made their mark on the Key West food scene.
Open for breakfast, lunch, and dinner, you can enjoy the island flavors from Blue Heaven no matter what time of day.
Devour Richard's very good pancakes with pineapple, try some fresh snapper in the yellow submarine sandwich, and savor the popular Caribbean "BBQ" shrimp.
Blue Heaven also offers a couple of vegan and vegetarian options.
You can enjoy all of these wonderful plates in the lovely outdoor garden seating area where you can soak in the warm Key West sunshine.
And keep an eye out for the famous chicken and cat friends that like to roam the property.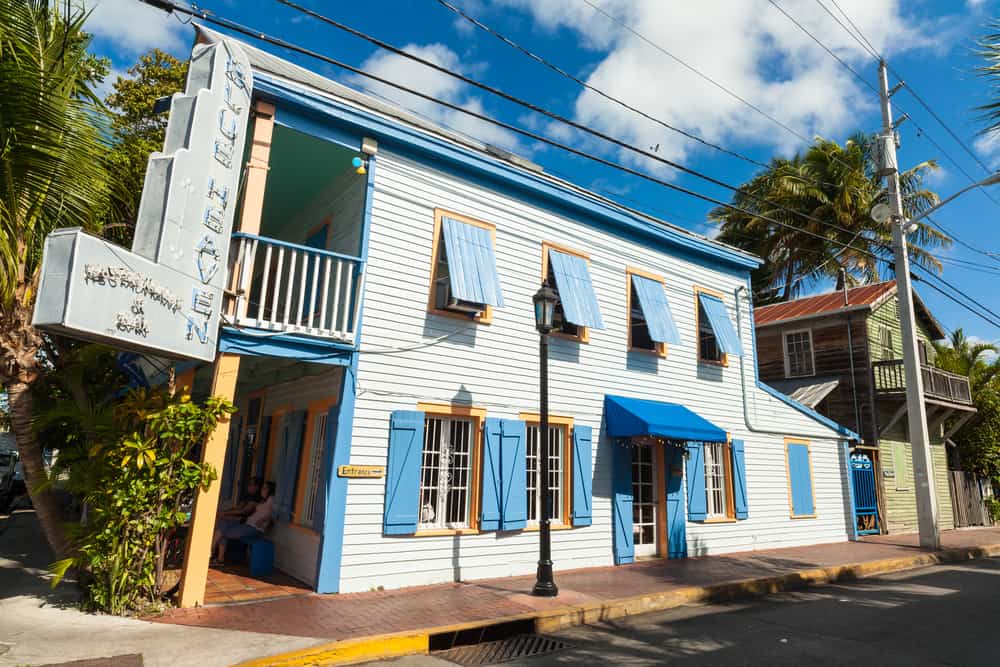 Latitudes
Latitudes is one of the classiest good restaurants in Key West. To reach this fancy restaurant, you'll actually have to hop on a free ferry, because Latitudes is on an island of its own!
In other words, the experience of dining at this Key West restaurant will be memorable before you even step foot in the restaurant.
Once you make your way onto the property, Latitudes only gets more memorable from there. With waterfront seating, delicious food, and excellent service, you'll definitely want to come back to this amazing eatery.
And because it's open for breakfast, lunch, and dinner, you can come practically anytime you like!
The classiness of Latitudes can be seen on the menu, regardless of the time of day. For breakfast, savor the lobster benedict. For lunch, try the surf & turf burger. And for dinner, twirl up the Key West pink shrimp carbonara or cut into the lemon-glazed yellowtail snapper.
There are also a few vegetarian and vegan options on the menu.
Bagatelle
Bagatelle has the best brunch in Key West. While many best Key West restaurants only serve up brunch on the weekends, Bagatelle prepares this fun meal seven days a week.
There are so many scrumptious brunch plates for you to choose from at Bagatelle.
Dive into a crab cake benedict, try something sweeter with crispy fried French toast, or pick something savory like the braised pork sandwich with pineapple slaw.
As an added bonus, Bagatelle has a breakfast hangover happy hour from 9 to 11:30 a.m. every morning, during which you can enjoy fun alcoholic beverages.
Try Kim's watermelon breeze, Duval paloma, or Tennessee peach lemonade made with Jack Daniel's Tennessee whiskey.
While brunch is definitely the highlight of Bagatelle, this restaurant is open for all meals every single day. So if instead of mimosas and eggs benedict, you'd rather have pork tenderloin or swordfish, you can do that as well.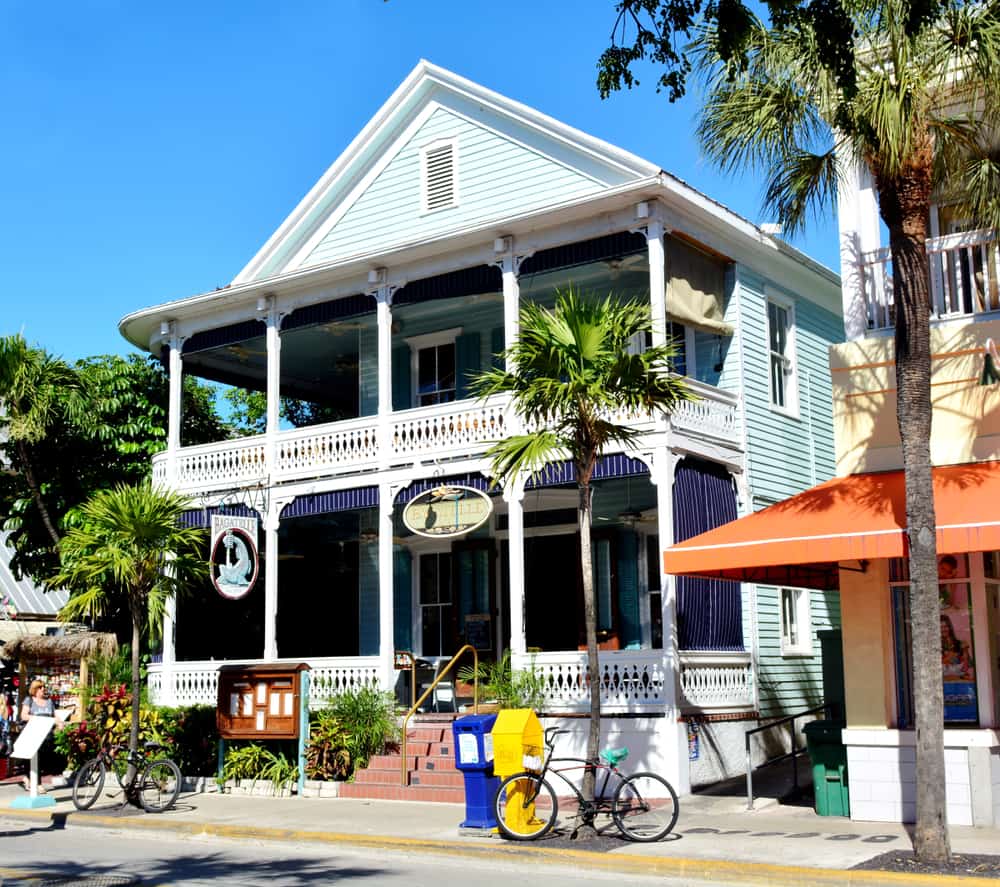 Hot Tin Roof
There are a few different top Key West restaurants that try to claim they have the best seafood in Key West. Hot Tin Roof is one of them and for good reason.
Situated right on the blue waters of Key West Harbor, Hot Tin Roof is the perfect combination of an amazing atmosphere and fantastic dishes.
As you delight in the masterful plates served at this waterfront restaurant, watch the sunset paint the sky in a beautiful array of yellows, oranges, and pinks.
The food at Hot Tin Roof is a fun fusion of Floridian, Caribbean, and Latin American flavors.
At breakfast, try the noble benedict, a fabulous eggs benedict paired with a crab cake and key lime hollandaise sauce.
At dinner, pick between grilled churrasco with tostones and seared local grouper with coconut curry. And don't forget to finish off your meal with a slice of iconic key lime pie.
This is a great place to add to your weekend in Key West itinerary. It is one of the best Key West restaurants on the water!
The Café
While the name of the Café might be simple, the dining experience at this Key West restaurant definitely isn't.
Within the blue-tiled exterior, the Café boasts brightly colored walls, tons of artwork, and a fun atmosphere.
Open for breakfast, brunch, lunch, and dinner, the Café serves up delicious food from a variety of international cuisines. You can have Pancho's huevos rancheros for breakfast, kung pao tofu for lunch, and blackened mahi mahi for dinner.
The Café also happens to be one of the best restaurants in Key West for vegetarians and vegans. With a veggie burger that has garnered rave reviews and a vegan version of key lime pie, many vegetarians and vegans find themselves making multiple trips to this welcoming eatery.
First Flight Island Restaurant & Brewery
First Flight Island Restaurant & Brewery has a bit of history behind it.
The First Flight building was originally owned by the revolutionary Pan American World Airways, a major US airline from 1927 to 1991. As a matter of fact, this building was where the very first Pan Am tickets were sold in 1927!
Today, you'll notice the flight theme has carried on a little bit. Between the name, the flight attendant cutout gracing the entryway, and a ton of flight-themed décor, the mark of Pan Am still exists.
It even continues all the way to the drink menu, with cocktails like pilots paloma and salty stewardess.
As for the food at First Flight, it embraces a modern American feel with a splash of the seafood and Caribbean influence found in Key West.
Try anything from the fish tacos with mango salsa to the brisket panini with caramelized onions to the Caribbean pork with sweet plantains.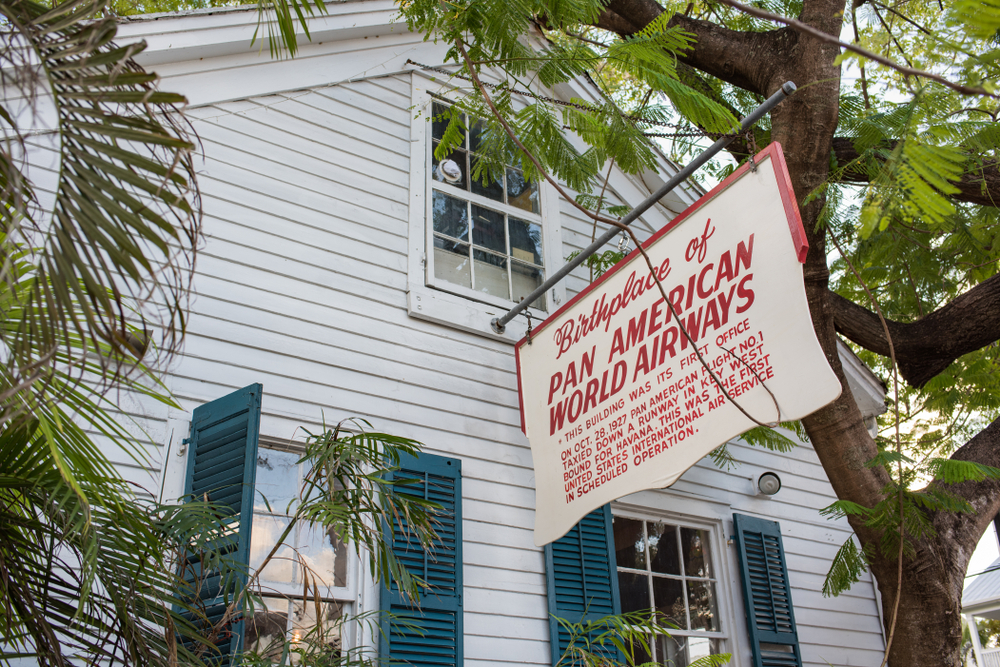 Nine One Five
Nestled in a renovated Victorian house, Nine One Five offers an amazing atmosphere and some of the best Key West food.
When guests first pull up to Nine One Five, they'll likely note the bright blue awnings and the traditional white trim lining the patio and balcony.
Then, once they enter, they'll leave the history behind and embrace the modern atmosphere. With an extensive bar, lovely twinkle lights, and tasteful accent walls, the contrast between the interior and exterior is stark, but not unwelcome.
Nine One Five is open for both lunch and dinner, but the latter is when Nine One Five truly gets to shine. As a matter of fact, it is one of the places for the best dinner in Key West.
Start your meal with a light burrata salad with arugula and fig balsamic. Then, share small plates of absurdly addictive asparagus and fancy grilled octopus with a special someone.
Finally, delight in a main dish of your choice, whether it be the locally sourced fresh fish with squid ink fettuccine, seared diver scallops, or a 10-ounce New York strip steak.
Banana Café
This French-inspired restaurant serves up some of the best crepes in town, savory or sweet. Enjoy them for breakfast, lunch, or dinner – or even as a snack in between!
Try everything from the breakfast-themed la super crepe to the seafood-filled la mahi piccata crepe to the popular homemade key lime pie crepe. This is possibly the best breakfast in Key West!
There are, of course, some heartier plates served at Banana Café as well. At breakfast, enjoy a classic quiche Lorraine or croque monsieur.
At lunch, be a little adventurous and try the baked escargot. For dinner, half-roasted duck, seafood risotto, and French country chicken are all great options.
There are also a good number of vegetarian options available at Banana Café.
This is what to eat in Key West for something sweet!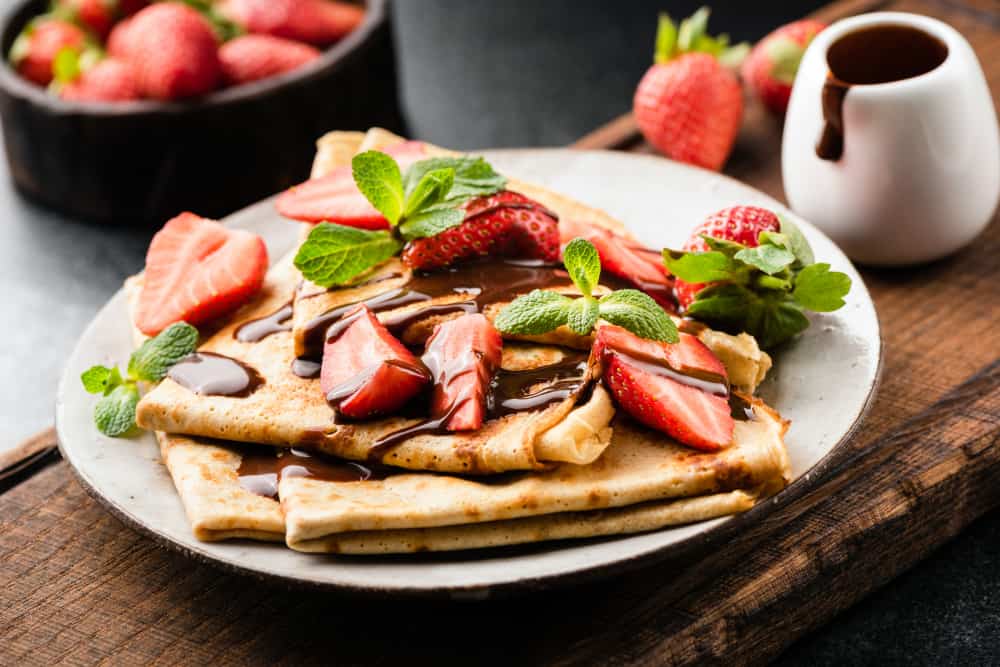 Garbo's Grill
Garbo's Grill is actually a food truck with a fun vibe and fantastic food. Parked behind Grunt's Bar, this shiny Airstream trailer dishes out some of the best food in Key West.
Everything on the menu is pretty casual from tacos to hot dogs to burgers – but all with a fun twist.
The fresh shrimp in the yum yum shrimp tacos are glazed in a mango, ginger, and habanero marinade.
The kogidog is a hot dog topped with kimchi, daikon, citrus soy dressing, and sriracha. The umamiburger is just an all-around classic burger with applewood bacon, heirloom tomatoes, and gouda cheese.
Unfortunately, there aren't any vegan or vegetarian options at Garbo's Grill.
El Siboney Restaurant
As you've likely noticed by now, most dining in Key West centers around seafood. El Siboney Restaurant offers a little bit of a reprieve from shrimp, fish, conch, lobster, and crab with its Cuban-inspired dishes.
Named after an indigenous tribe that lived in Cuba hundreds of years ago, El Siboney doesn't look like much at first with its unassuming brick exterior.
El Siboney has two different locations – one on Key West and one on the neighboring Stock Island. Just about every dish on the menu has somehow managed to become a favorite.
You'll come to understand why the family-owned restaurant has made its mark on the Floridian island chain.
With an extensive menu, customers return again and again, not only to savor their long-time favorites but also to try something new.
If you're new to Cuban food, try the Cuban mix sandwich. Try the roast pork with yuca and a tamale for a crowd favorite. For the most authentic take possible, try the albondigas, traditional Cuban-style meatballs.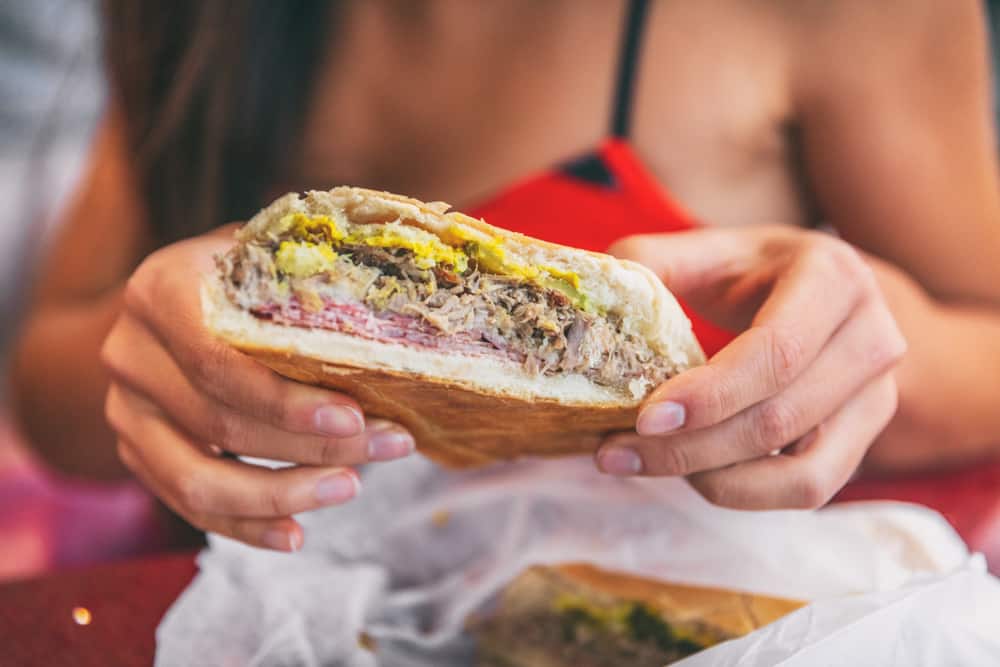 Glazed Donuts
If you're not looking for a full meal, head to Glazed Donuts.
Glazed Donuts claims the title of the southernmost donut shop in the continental United States. This unassuming little storefront serves up some of the boldest flavors on the island.
Enjoy the tanginess of the key lime pie donut, devour the decadent chocolate lover's donut, or try something a little funky like the pineapple upside-down brulee donut.
It is important to note that Glazed Donuts often sells out before they close at 1 p.m. When they do, they close up shop early.
If you really want to try one of these amazing donuts, consider having a donut as a breakfast pastry, because they sometimes sell out as early as 9:30 a.m.!
Santiago's Bodega
Santiago's Bodega is known as a fun, eclectic tapas restaurant in Key West.
Open every day for lunch and dinner, Santiago's Bodega is filled with tasty dishes that will make you want to dine here more than once during your time in the Florida Keys.
With an amazing array of cold and hot tapas, you can mix and match these small plates and share them with the rest of your group.
Start with a trendy charcuterie platter, get a little adventurous with the beef carpaccio, try the thyme-encrusted petite rack of lamb, and enjoy the popular bacon and basil-wrapped mushrooms.
Considering how busy Santiago's Bodega can get, you should definitely make reservations in advance. It's rare that they accept walk-ins, so if you want to eat here, be sure to plan ahead.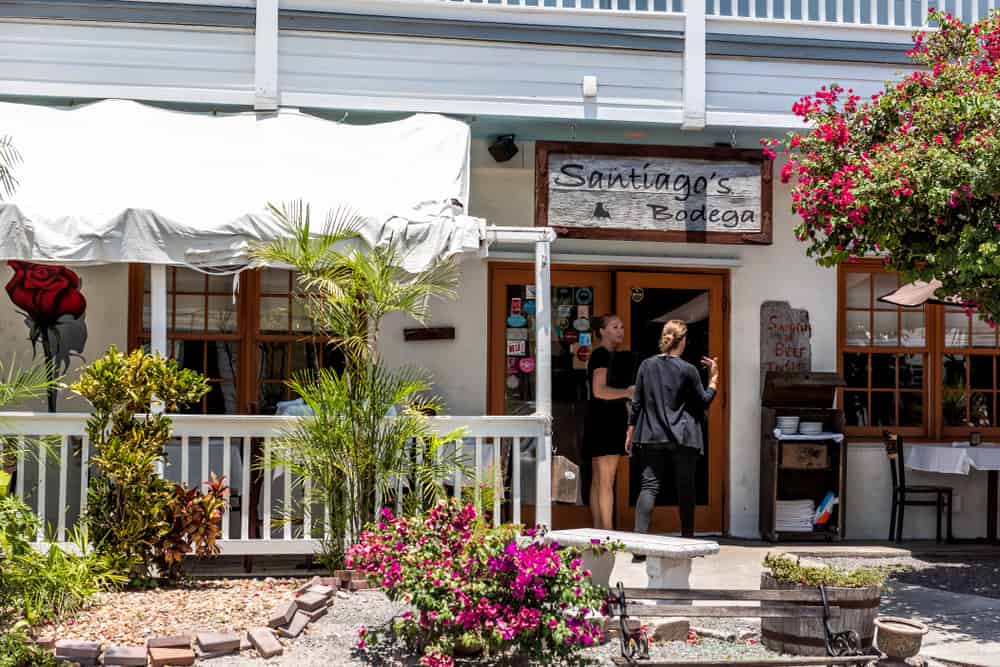 Café Marquesa
Situated in the four-star Marquesa Hotel, Cafe Marquesa is one of the most elegant spots in Key West. This romantically lit restaurant prepares delicious dinner dishes and presents wonderful service.
Run by Chef Graham Dailey, an apprentice of the famous Anthony Bourdain, there's no question why the food at Café Marquesa receives rave reviews.
Start your meal with oysters Rockefeller, complete with bacon, arugula, and scallions. Enjoy crispy hogfish with parmesan grits or beef tenderloin with truffle parmesan frites as your entrée.
Finally, pick between chocolate pot de crème, key lime pie, and beignets for dessert.
This fancy restaurant only has fifty seats, so be sure to make reservations in advance if this is one of your must-visit restaurants in Key West.
Date & Thyme
At first, you might think Date & Thyme is an odd choice for this list of the best restaurants in Key West. After all, it's not seafood-focused and it doesn't serve key lime pie.
Rather, Date & Thyme serves healthy, organic foods like avocado toast, acai bowls, and tempeh wraps.
But who doesn't love a little variety? Plus, it's the perfect Key West restaurant if you happen to have any vegetarians or vegans in your group.
In addition to the healthy options for breakfast and lunch, Date & Thyme also serves up a wide array of juices, smoothies, and coffees.
Feel cleansed after drinking the carrot zing juice, taste the topical flavors of a mango tango smoothie, and get a much-needed burst of energy from a classic latte.
While the menu is primarily vegetarian or vegan, there are some options for meat eaters on there as well.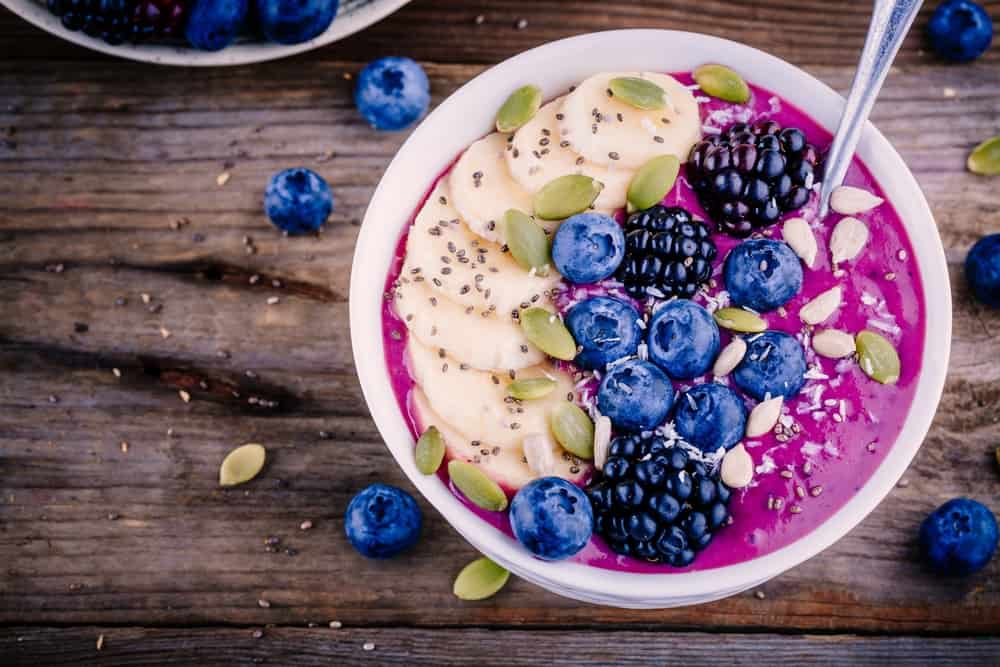 Hogfish Bar & Grill
Situated on Stock Island, the island just before Key West, Hogfish Bar & Grill requires about a fifteen-minute drive from the southernmost tip of the U.S.
Hogfish Bar & Grill sells itself as one of the best seafood restaurants in Key West, and for good reason. With fresh seafood and an oceanfront location, Hogfish Bar & Grill is a spot frequented by Florida Keys locals.
While it is open for all three meals, most people visit for lunch or dinner. The hogfish tacos and hogfish sandwiches are two of the most popular items on the menu.
But there are other wonderful seafood dishes worth a try, including the Caribbean conch ceviche, the grilled hogfish fillet with blackened scallops, and the golden fried shrimp po'boy.
For the vegan and vegetarian guests, options are limited but still available.
While the food is a big part of why diners come to this Key West eatery, it's not the only reason. The live local music on weekends and waterfront views definitely help to keep guests coming again and again.
Eaton Street Seafood Market
Eaton Street Seafood Market is one of the coolest restaurants on the island and arguably the place to get the best lunch in Key West.
Situated in a vintage gas station, Eaton Street Seafood Market embraces a retro vibe and serves up some of the best seafood in town.
The seafood at Eaton Street Seafood Market really can't get any fresher. As a matter of fact, the locals know to come here to buy fresh fish for themselves to cook at home.
But you can also order your favorite type of seafood and a cook will prepare it for you right there and then. Consider trying the golden grilled lobster tail, the hearty shrimp salad sandwich, or the fried conch strip basket.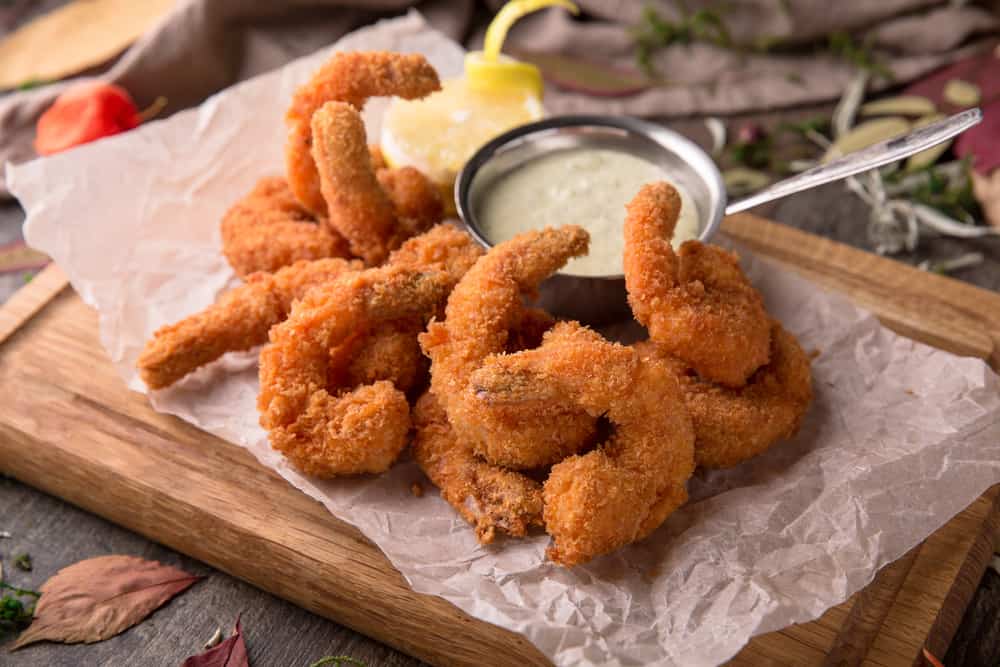 Sushi Song
If you are craving the best sushi in Key West, head to Sushi Song on the famous Duval Street.
This sushi bar has locations open all throughout Florida and the Key West location is just as delicious! You will love the mix ot tradition and innovation.
You will find many classic sushi rolls as well as signature rolls with fun names such as Spiderman, Shut Up Liz, and Voodoo.
Even if you are not a fan of sushi, there are tasty options. There are soups, salads, ramen, and stir-fried rice dishes. There are vegetarian options too. Whatever you choose, you will be satisfied!
You will quickly agree this is one of the good places to eat in Key West, Florida!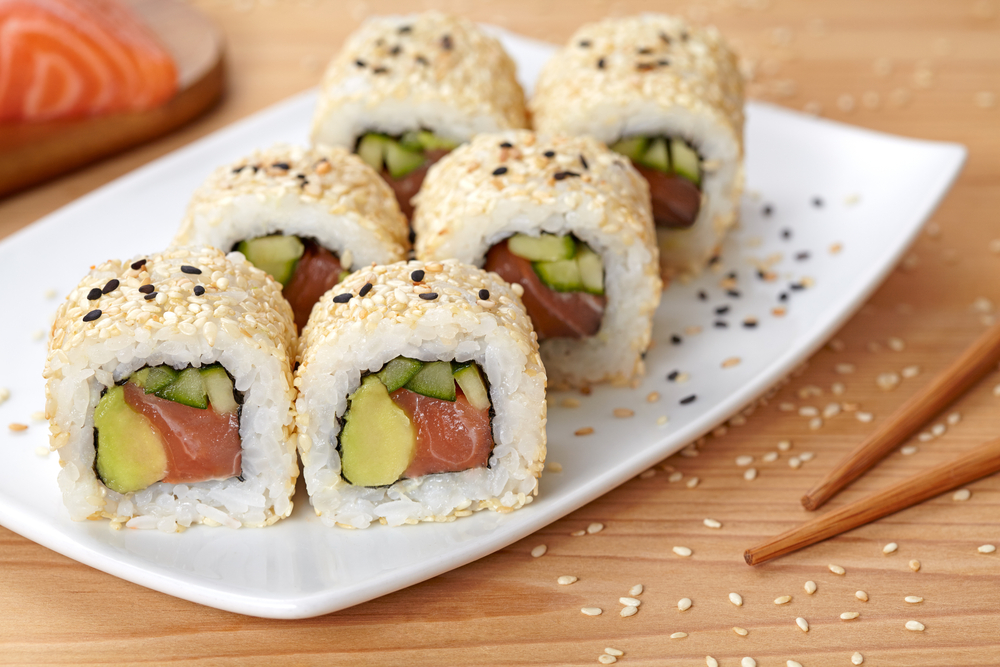 Did You Find This Post Helpful?
If so, we would love to keep in touch! We enjoy seeing photos and comments about your experiences in Florida! You can follow us on Instagram and we will repost your photos on our feed and comment too! Just tag us at @floridatrippers and hashtag #floridatrippers. We can't wait to see your travels!