Are you looking for a list of the best restaurants in Florida that you must try? We have you covered with some of the best food in Florida!
We have chosen some of the best Florida restaurants across the state from the southernmost tip in Key West and southern hotspots of Miami to St. Augustine and Jacksonville on the Atlantic Coast, Tampa and Sarasota on the Gulf, to inland central Florida like Gainesville and Orlando. Continuing on the panhandle with Panama City Beach!
We even have the perfect Florida Road Trip to hit all the destinations and try our some new restaurants in Florida! We have chosen a mix of restaurant and cuisine styles from food trucks to high end dining with Cuban, Italian, Seafood, Asian and French inspirations. Chefs at these restaurants use their culture, background, and unique flavor profiles to create delicious recipes.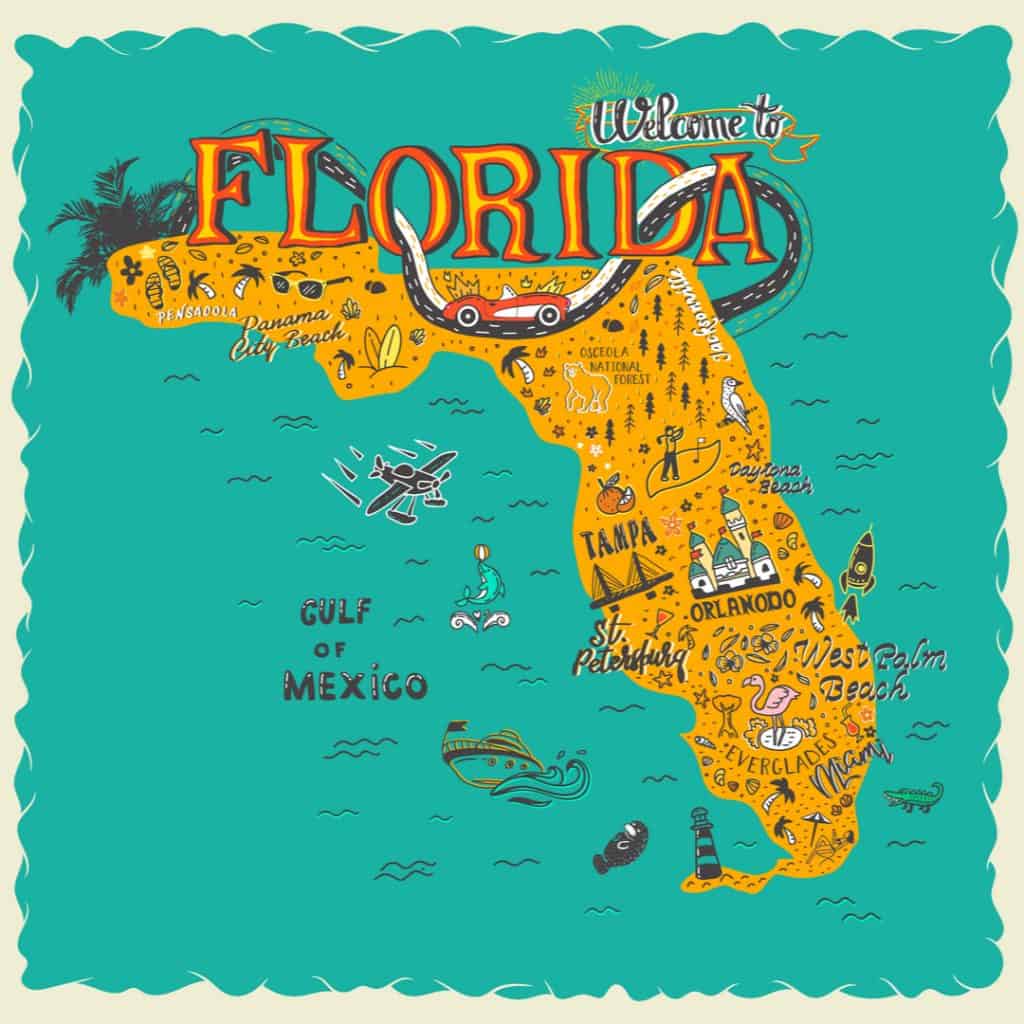 17 Best Restaurants In Florida You Must Try
Latitudes (Key West, Florida)
Latitudes is one of the classiest restaurants in Key West. Are you looking for a restaurant in Florida that provides and experience as well? To dine at Latitudes you'll actually have to hop on a free ferry, because Latitudes is on an island of its own! The experience of dining at this Key West restaurant begins before you even arrive at this upscale restaurant.
Once you arrive Latitudes continues to wow diners. Here you will be seated waterfront dine on delicious food, and receive excellent service! Open for breakfast, lunch, and dinner, you can come practically anytime that you would like to experience this one of a kind restaurant in Florida!
Latitudes has more of an upscale menu than most dining establishments in Key West. For breakfast enjoy menu items like lobster Benedict. For lunch, try the surf & turf burger. And for dinner, the locally sourced Key West pink shrimp carbonara or lemon glazed yellowtail snapper. For those that are vegetarian and vegan they offer several menu choices.
Hurricane Seafood Restaurant (St. Petersburg, Florida)
For the last 42 years Hurricane Seafood Restaurant has been delivering some of the best nightlife and food in Saint Pete Beach! Just like the storm, the Hurricane is hard to miss! Located on the corner keep an eye out for the bright green restaurant!
The Hurricane is a favorite dining establishment of both locals and tourists from all over the world! This restaurant is family operated by the Falkenstein Family. It is one of the best restaurants in Florida for the freshest Gulf Seafood served in a casual island setting.
What makes this one of the best restaurants in St. Petersburg is that a different menu is served on each of the three floors! The original Hurricane menu including "Mom's 1945 Crabcake Melt" is served on the ground floor. On the second level or the beachfront Level 2 you can look forward to menu items like pork potstickers, peel and eat shrimp, and a mahi-mahi fish spread, all while taking in million-dollar gulf views!
The top level is the Rooftop South Deck Bar. Perfect for those wanting to share menu items like the Wing Ding Basket or Landshark Beer-Battered Shrimp Basket. If you still have room in your stomach, have all-day breakfast with a massive two-egg sandwich with your choice of meat, bread, and cheese.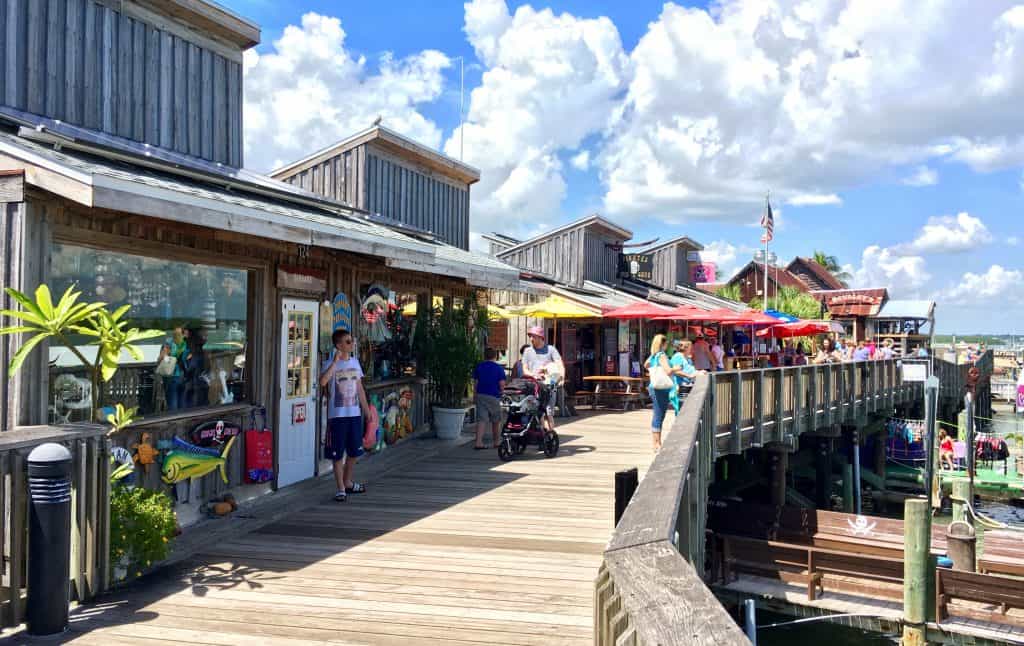 Table 23 (Tallahassee, Florida)
Table 23 is one of the best restaurants in Tallahassee located in Midtown Tallahassee. The atmosphere at Table 23 is casual dining under a canopy of oak trees with affordable prices! They are known for some of the best barbecue and comfort food in Florida.
The ethos behind the restaurant is southern hospitality for friends and families to dine on delicious food with amazing service! This is the place to dine if looking for family style restaurants in Florida.
The Sunday Brunch served from 10 am to 12 pm features shared plates like biscuits and apple butter, sticky buns, deviled eggs, fried green tomatoes, or a southern take on a charcuterie board. They offer $5 Mimosas and Bloody Mary's alongside the brunch menu. Or try more traditional breakfast foods like Benedicts, shrimp and grits, chicken and waffles and guacamole toast.
The dinner menu features shared plates like pecan crusted okra, wings, cheese curds, coconut shrimp, egg rolls, pimento cheese to salads and handhelds. Like burgers, tacos, southern reuben to main dishes like ribeye, filet, grouper, and herb crusted chicken. Come hungry and ready to share tapas style!
Table 23 serves up a large cocktail menu and sources beer from around the state like Cigar City from Tampa and Swamp head from Gainesville.
Salt Rock Tavern (Oldsmar, Florida)
Salt Rock Tavern is one of the best restaurants in Oldsmar serving bar food and tavern food in an elevated way complete with a full bar. The Happy hour includes specials like $6 martini's, $5 wines and sangria, and $3 pints!
From small plates like jumbo shrimp cocktail, oysters, bacon wrapped scallops, tuna poke, coconut shrimp bites and twin filet bites. They serve delicious flatbreads and handheld sandwiches like the Ybor Burger with guava jelly, swiss cheese and bacon!
Main entrees like stuffed sea bass and fresh caught grouper, steakhouse stir-fry, baby back ribs, filet and bone-in ribeyes to shrimp Alfredo and crispy ginger salmon.
Salt Rock Tavern serves an early bird menu called Supper Club and is one of the best restaurants in Florida for early bird dining. Served on Sunday's from 2 pm on and Tuesday to Saturday open until 6pm. It is a price-fixed menu for $16.90 and include salad and dessert and entrees. Pick from menu favorites like chicken rock-n-blue, fish and shrimp, filet kebobs, or coconut crusted shrimp.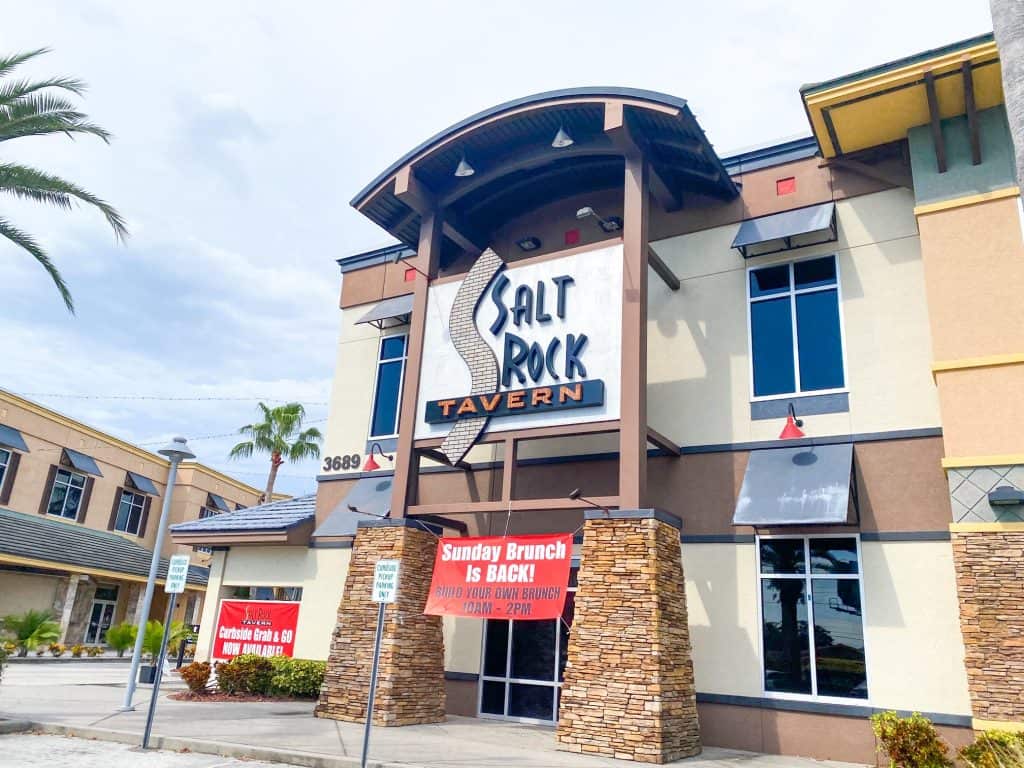 Cibo (Fort Myers, Florida)
Cibo is one of the most popular restaurants in Fort Myers and one of the best restaurants in Florida for homemade Italian inspired dished. You will need to make reservations in advance to dine here. They are open daily 4 pm to 9 pm and on Friday and Saturday nights until 10 pm.
Make sure to check the website as daily specials for the week are posted to let guests know of the special rotating menu items served that week in advance. The menu always consists of entrees like fresh fish, meat, ravioli of the day and soup posted!
Cibo serves an Italian inspired menu popular appetizers include formaggio di capra fritto or fried goat cheese, ricotta gnocchi, calamari. Try the house made ravioli special, Mama's meat lasagna, and chicken veal or eggplant parmagiana if in the mood for pasta.
The seafood entrees include frutti di mare with lobster, shrimp, scallops, calamari, fish and more over fettuccini. Or parmesan crusted cod and grilled Atlantic salmon.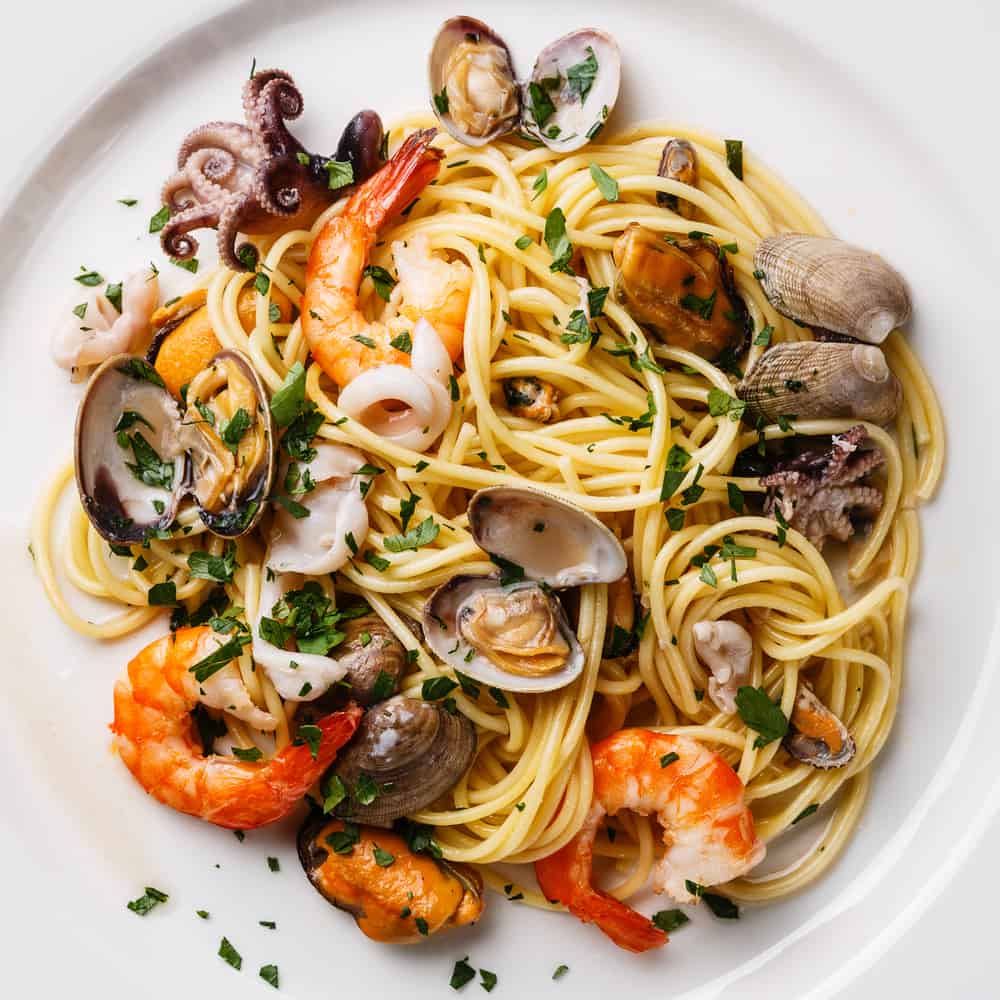 Vito's Chop House (Orlando, Florida)
Are you looking for one of the best restaurants in Florida? If so, Vito's Chop House was voted one of the 10 best steakhouse in the United States. The menu focuses on steak and upscale Italian food making it one of the best restaurants in Orlando.
Vito's steaks are USDA prime grain-fed hormone free aged beef and grilled over Florida citrus wood. On the menu you will also find Vito's homemade meatballs simmered in homemade sauce and covered with provolone and chicken parmigiana with san Marzano tomatoes!
If you are gluten-free and still craving Italian food and pasta head to Vito's Chop House one of the restaurants in Orlando that has a separate gluten free menu! All entrees are served with salad and garlic cheese bread!
Vito's Chop House prides itself of sourcing local! Try the Florida Stone crab claws. If in the mood for an extravagant seafood dinner order the seafood tower with colossal shrimp cocktail, Alaskan red king crab legs, Florida Stone Crab claws, and blue crab meat!
One of the menu favorites for pasta is the Rigatoni Bolognese. Vito's makes the pasta and sauce from scratch and it is topped with rich Italian marscapone cheese. Or try the potato crusted Chilean Sea Bass or if in the mood for steak the Chateaubriand for 2 carved table-side!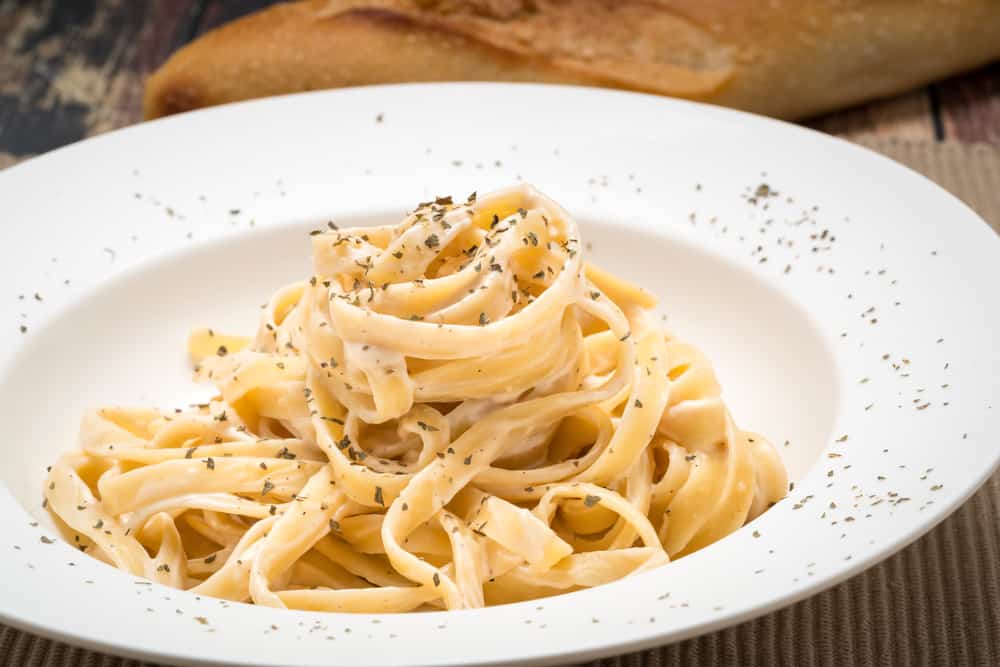 David's Sno-balls ( Panama City Beach, Florida)
David's Sno-balls consistently makes the lists of the best places to eat in Panama City Beach. This is an American style restaurant in Florida serving quick bites in a casual setting with a New Orleans flare.
Located on the beach this restaurant in Panama City Beach is a favorite of tourists and locals alike. Serving po-boys with shrimp, oysters, catfish or roast-beef. Alongside Jambalaya, Muffuletta, red beans and rice and hot dogs. All the New Orleans staples.
For something sweet try Sno-balls which is shaved ice for dessert that come in 47 different flavors and options like adding ice cream. Or maybe you are in the mood for a New Orleans beignet. There is a nice outdoor seating area and the restaurant has that Big Easy atmosphere.
Columbia Restaurant (Tampa, Florida)
Columbia restaurant is a great pick for romantic date night in Tampa. Located in Ybor City, Columbia celebrates over a century of history, culture, and cuisine of the area. Plus the atmosphere is amazing!
Columbia gained popularity when it was transformed from a simple Cuban Cafe into a vibrant dining experience with live music and flamenco dancing. For over 115 years and five generations the oldest restaurant in Tampa Bay has been run by the same family. They serve some of the best food in Florida!
Once inside the restaurant you will experience something truly special. Whether you admire the talented flamenco dancers, the incredible ambiance or the hospitality provided by the staff Columbia aims to delight diners.
The iconic menu include the must order savory "1905 salad," traditional chicken and yellow rice, sangria by the pitcher, and the legendary flan. Sharing a meal here is special serving up some of the best cuban food in Florida! Dining at the Columbia Restaurant is truly to taste the inspiring culture of the region, and of those that founded it.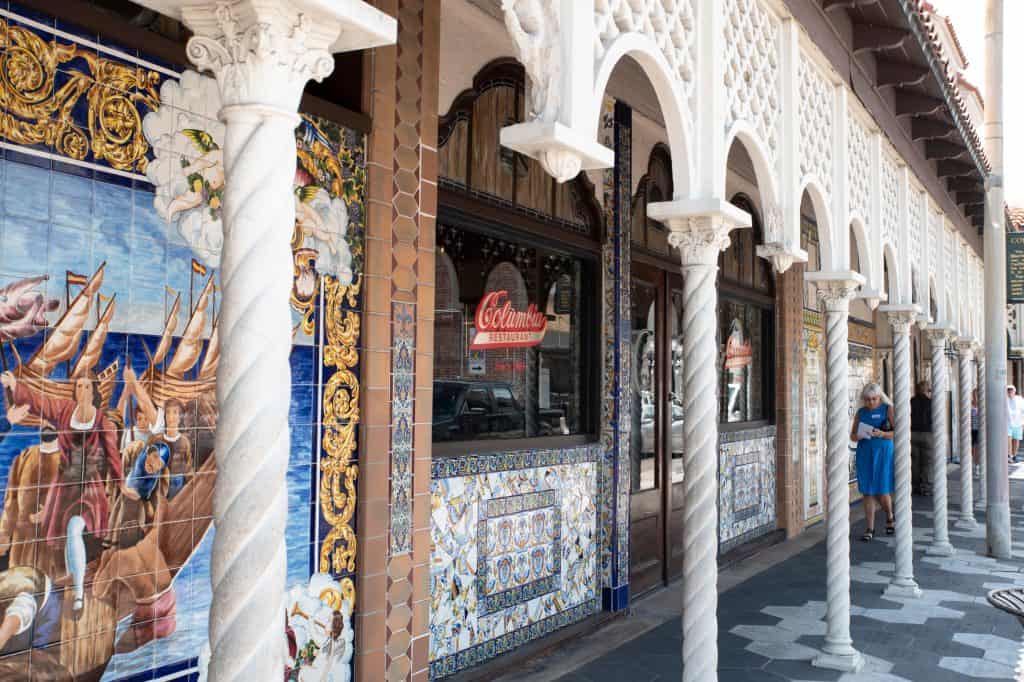 Satchels Pizza (Gainesville, Florida)
If looking for pizza restaurants in Gainesville Florida make sure to visit Satchel's Pizza. Located on the East side and opened in 2003 Satchels is an eclectic atmosphere complete with an old VW van, both indoor and outdoor seating and greenhouse and bar area.
This establishment is CASH ONLY! And during busy times the wait is up to 45 minutes once you order! But worth the wait, and you can take a look around the property! If looking for one of the best pizza restaurants in Florida head to Satchel's!
Order the Satch Salad for the table it is big enough to share and it's delicious! Either create your own pizza with a large selection of toppings or go for one of the favorites like "The Mama" with four toppings, or a Pesto and White pie! Satchel's also offers a flax and millet crust!
They opened up a second restaurant Satch Squared at the 4th Ave Food Park that serves personal deep dish pizza's as well!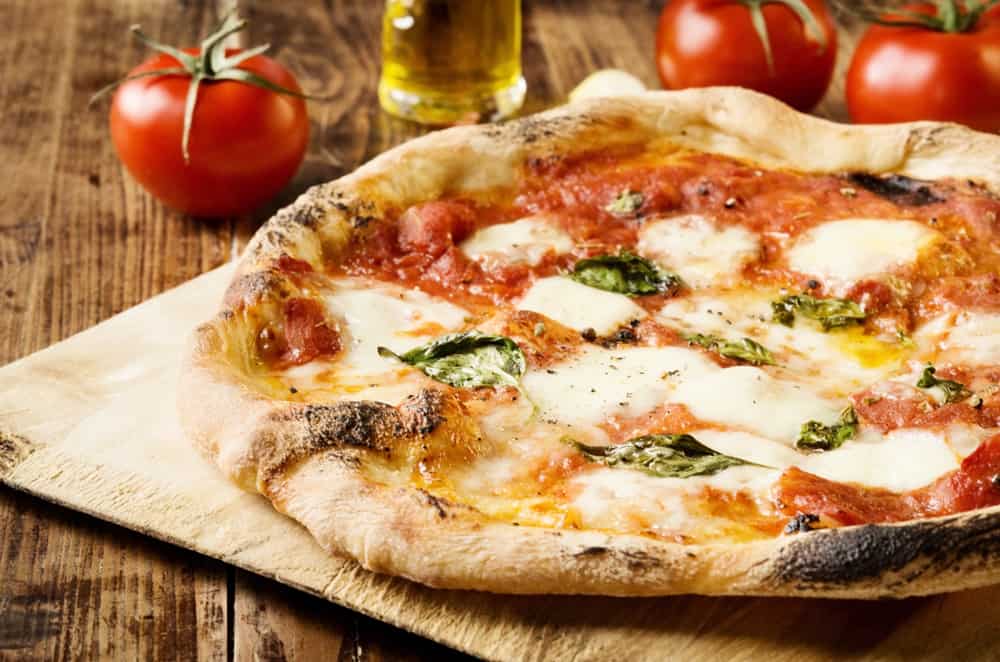 Three ( Miami, Florida)
Try breakfast at Three located in Wynwood district of Miami. It is a unique restaurant in Miami with a concept that includes a culinary school, the No. 3 Social rooftop lounge, and a restaurant. The brunch menu is influenced by the tropical flavors of Miami and others from around the globe.
Menu highlights include Platano Maduro Pancakes, or the sweet plantain pancakes served with a banana-passion fruit jam, whipped cream, and vanilla bean maple syrup. The Aged Manchego & Tomato Jam on Brioche as well as the Fried Chicken 'N Toast and the Huevos Rancheros are all standout menu options.
Brunch cocktails include The Rabbit Pose with white rum, fresh pressed carrot juice and grapefruit bitters make this drink smooth and tart. The "punch of the day" is mixed with rum and sparkling wine to create the Brunch Punch. The Late Bloomer cocktail is also a great choice with vodka and the flavors of elderflower, apple, lemon, and basil.
Cafe Roti (Lakeland, Florida)
Cafe Roti serves Indian and Pakistani fusion cuisine with an Americanized twist! The recipes used at Cafe Roti have been passed through generations providing diners with an authentic and delicious meal!
This is one of the restaurants in Lakeland that serves both lunch and dinner menu with plenty of vegetarian options! If looking for great vegetarian restaurants in Florida try Cafe Roti.
The lunch combo can be either vegetarian, chicken or beef and is served with basmati rice, plain or garlic homemade naan with onion bhajia with your choice of sauces!
For dinner start try an appetizer such as samosa or kebobs or the daily soup of the day. Everything is homemade. For entrees they offer lamb or shrimp in addition to lunch choices. You choose your own sauces for the meal. If in the mood for sweet try Korma, traditional tikki masala for chicken, the vindaloo pairs well with lamb, and the madras is spicy!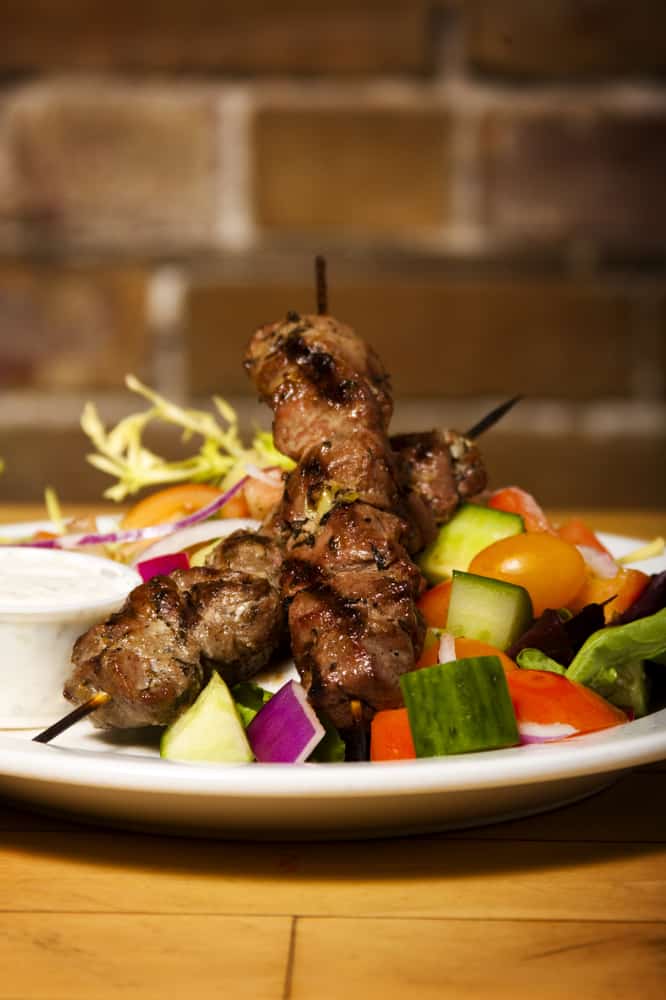 Owen's Fish Camp (Sarasota, Florida)
Owen's Fish Camp serves up some of the freshest seafood with a southern twist in Sarasota. Located in Burns Court Owen's Fish Camp has eclectic Florida decor and is one of the best restaurants in Sarasota for seafood served in a casual no frills setting.
Try the fresh caught market special of day served with a lemon caper butter, brown butter hollandaise, green tomato salsa or fish camp tartare at this unique restaurant in Florida.
Entrees include the Pecan Crusted Trout, Jambalaya with seafood, Seared Scallops, Cornmeal crusted Catfish, or a vegetable succotash. However, they are best known for the Low Country Boil for two with king crab, shrimp, mussels, clams, potato and corn.
If dining for lunch try the fried soft shell crab sandwich or fried green tomato BLT, burger with pimento cheese. Leave room for the bourbon pecan pie or black cherry pie!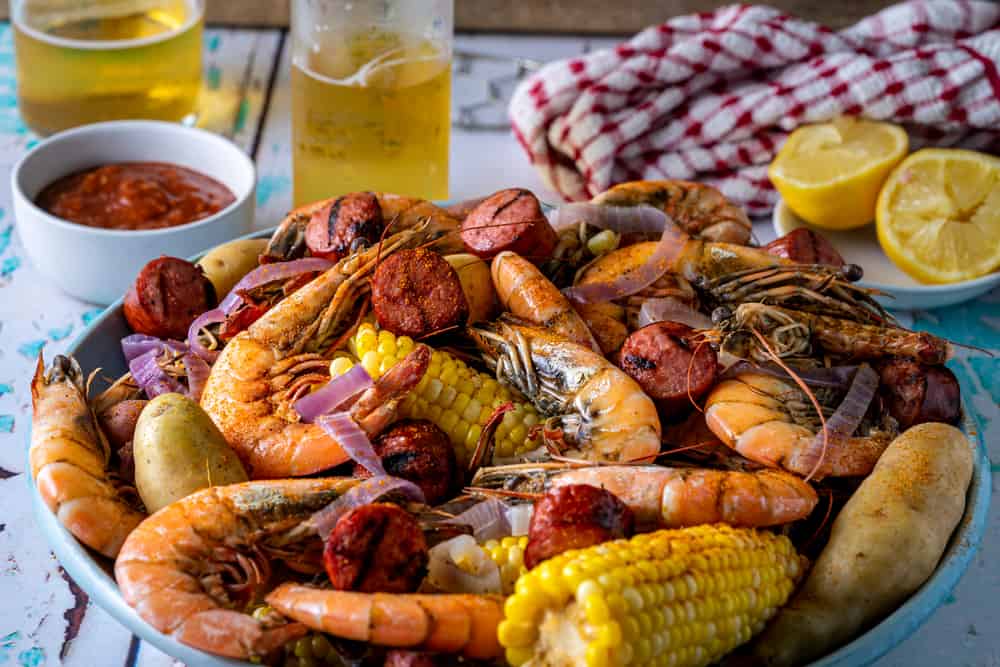 Matthew's (Jacksonville, Florida)
Are you looking for a restaurant in Florida with an amazing Chef's Tasting menu? If so head Matthew's Restaurant is located in the San Marco area of Jacksonville. Chef Alex Yim menu is influence by French techniques with a Mediterranean flare using farm to table ingredients and sustainable seafood!
The "M Lounge" offers a happy hour Monday through Fridays from 4:30 pm to 6:30 pm with $7 bar bites, $5 craft beers and wine.
Matthews is one of the best restaurants in Jacksonville. If celebrating a special occasion try the Chef's Adventure Tasting Menu. Chef Yim's six-course menu is a culinary showcase and can be paired with a wine tasting menu as well!
The dinner menu has starters that include seared foie gras, scallops and escargot. Main Entrees include Japanese A5 wagyu, local caught grey grouper, tempura tofu for the vegetarians in the group, the Ribeye or Berkshire pork chops.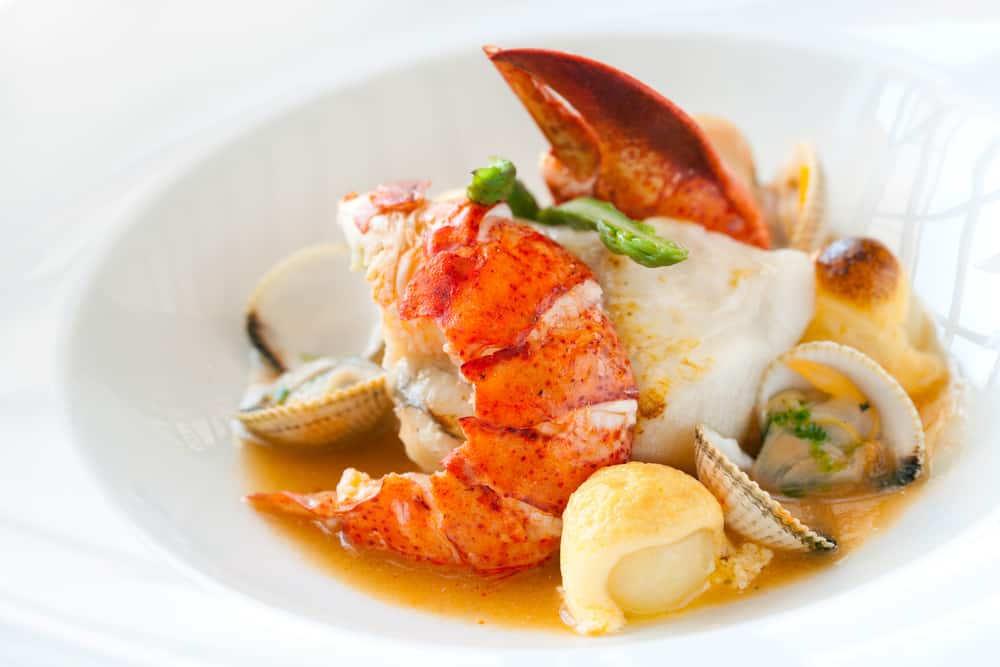 Uptown Scratch Kitchen (St. Augustine, Florida)
Uptown Scratch Kitchen is one of the food truck restaurants in St. Augustine. On our list of restaurants in Florida we had to showcase a food truck as they have gained popularity in the last few years and none better than Uptown Scratch Kitchen.
As the name suggests they use local fresh ingredients and prepare everything on site. Patrons praise the portion size and flavorful food. Popular dishes include the fried chicken with roasted garlic and rosemary, fish and chips with local caught cod, shrimp etoufee, burgers, and Philly cheese steaks, and an Autunm Apple Salad with a homemade bourbon dijon.
There are picnic tables near by to sit and enjoy your meal.
Ban Thai & Sushi (Clearwater, Florida)
While the location is unassuming Ban Thai & Sushi, one of the best restaurants in Clearwater. It is also one of the best hole-in-the-wall restaurants in Florida for both Thai food and sushi!
The expertly appointed decor creates a warm and inviting aura transporting you to Thailand. There are two options for seating either regular table or the ornamentally decorated booths perfect for a date night in the Bay Area.
We suggest starting with seaweed salad which is big enough for the table before choosing a main courses. With most Thai restaurants you can choose the spice level for you own preference and the flavors are delicious. We love the Chicken Pad Thai for its sweet peanut flavor.
If you are ordering sushi you are in luck. Ban Thai servers some of the biggest rolls! Try the Tuna Tornado Roll or Crunchy Roll with tuna, salmon, and escolar. Or a wider variety of other options.
For dessert sample lychee of top of homemade coconut ice cream! Or a delicious plum wine to end a romantic evening.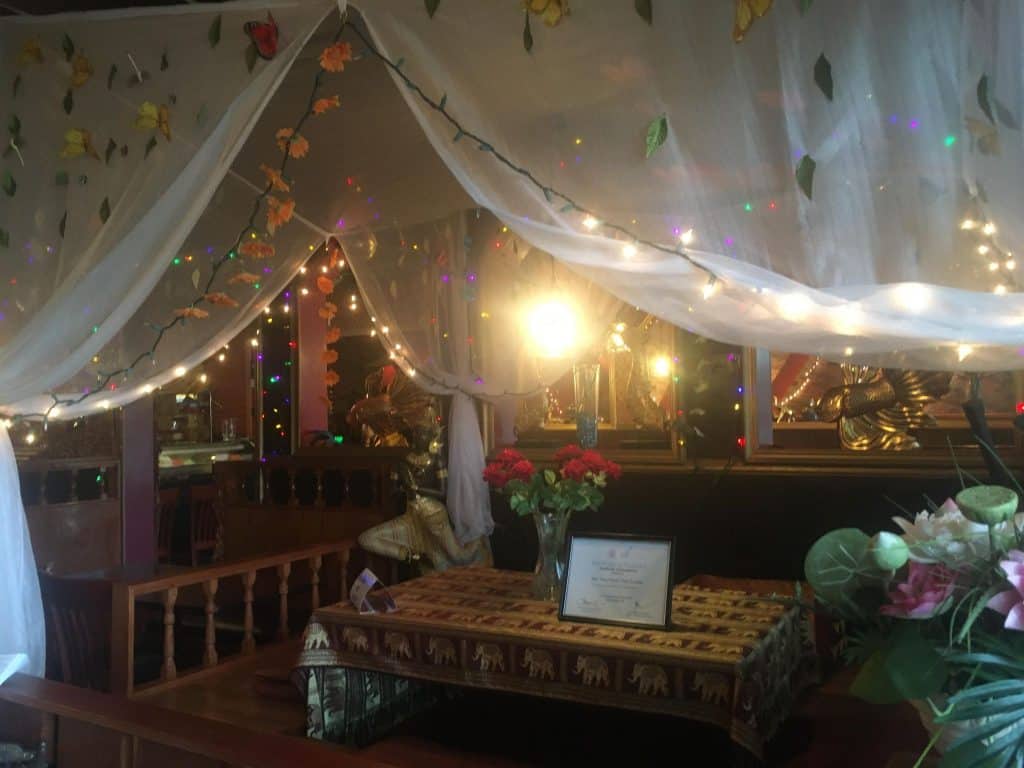 Lona Cocina & Tequileria ( Fort Lauderdale, Florida)
Lona Cocina & Tequileria is one of the beachfront restaurants in Fort Lauderdale. If looking for an authentic Mexican restaurant in Florida with a twist head here!
The best part of dining at Lona Cocina is the oceanfront breeze and atmosphere complete with delicious cocktails and amazing service. Try menu items such as Tuna Tostada, Mexican Ribs or Lobster Quesadilla for starters.
For main courses try the Skirt Steak with roasted Adobo peppers, Drunken Grouper, Salmon Mole and Shrimp Tacos. Sit on the large outdoor patio and be wowed by Chef Pablo Salas's dishes. If you are adventurous or love tequila try any of the over 200 Tequila's and Mezcal on hand.
21 Spices (Naples, Florida)
Indian cuisine is known for featuring a wide array of spices in the dishes, and the name of this restaurant plays on that aptly named 21 Spices. Located in Naples it is one of the best contemporary Indian Restaurants in Naples.
The dinner menu has entrees like tandoori Pacific salmon, spicy sikandari lamb shank, or the classic chicken tikka masala. Not to worry for those who are vegan and vegetarian 21 Spices has a dedicated vegan menu with delicious dishes like Anuli's vegetable tikka masala, aloo gobi, and green bean vindaloo. Making this one of the restaurants in Florida perfect for those looking for a vegetarian option!
Inside the restaurant there is a wall dedicated to showcasing the myriad of spices used in not only the restaurant but in Indian cuisine as well. 21 Spices has a unique and inviting atmosphere created with dim mood lighting and Indian-inspired light fixtures.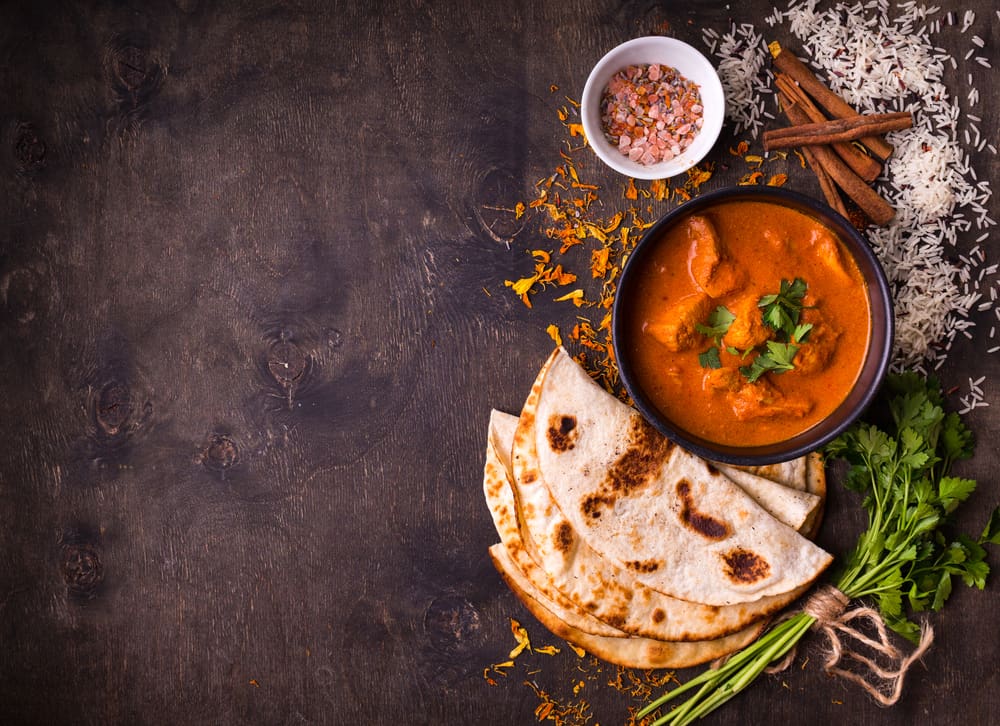 Did You Find This Post Helpful?
If so, we would love to keep in touch! We enjoy seeing photos and comments about your experiences in Florida! You can follow us on Instagram and we will repost your photos on our feed and comment too! Just tag us at @floridatrippers and hashtag #floridatrippers. We can't wait to see your travels!