For those looking for amazing spots for kayaking in Tampa Florida, we have you covered! Checkout out this list for kayak rentals in Tampa.
Kayaking is one of the best ways to explore Tampa by the water. As you explore these Florida state parks, natural preserves, and natural springs you will get to experience a different side of Florida. Choose from beginner kayaking spots like downtown Tampa or St. Pete to kayaking around islands only accessible by water. Keep you eyes out for manatees, dolphins, and more.
Choose to rent single, random or even a glass bottom kayak. The self-guided tour from the self-guided blueway water trails, to guided tours of the unique ecosystems surrounding Florida coast. Kayaking is Tampa is perfect for a daytime activity or even a sunset tour where you can watch the legendary Gulf coast sunsets. Check out all the top sports below of where to go kayaking in Tampa.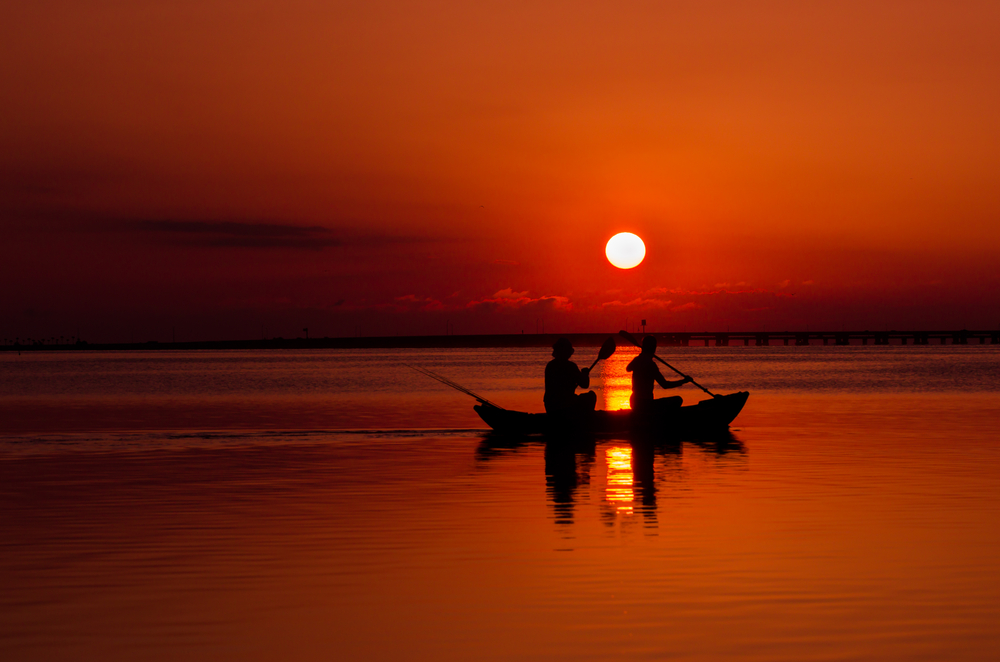 12 Best Places For Kayaking In Tampa FL (And Nearby!)
Shell Key Preserve
One of the best spots for kayaking near Tampa Florida is Shell Key Preserve. It is located about 40 minutes from Tampa, at the very south end of St. Pete. Shell Key preserve is an 1800 acre wildlife preserve perfect for kayaking and canoeing.
The route is around 2-mile and it can only be accessed by boat or kayak/canoes. Take a break from kayaking at one the best beaches in Tampa perfect for just relaxing or shelling!
For those looking for kayak rentals in Tampa, there are plenty of outfitters who give guided tours out to Shell Key Preserve as well as daily rentals! Most of the guided tours are 3 to 4 hours, offering kayakers the opportunity to get up close to the mangroves tunnels, and protected ecosystems.
Often times you can spot dolphins, manatees, sea turtles, birds and more! Some outfitters even rent glass bottom kayaks for a truly spectacular trip. This is a super fun thing to do in Tampa with kids!
Downtown Tampa Bay and Saint Pete kayaking
If you live or are staying in downtown Tampa, you can go kayaking in Tampa Bay giving you amazing views of the Tampa skyline. There are plenty of rental shops for kayaks, canoes and stand up paddle boarding in Tampa.
The water is known to be calm, and is perfect spot for beginners who want the adventure without venturing too far!There are also tours offered so that you can explore the city of Tampa by water. Another option is to kayak along the riverwalk area, rent a double kayak for a fun date activity or with friends.
In St. Pete the "blue way" offers miles of paddling trails with parking and designated landings and drop in points! The Skyway Fishing pier is a great spot where you will often see people fishing from kayaks. After exploring St. Pete from the water, check out our guide of things to do in St. Pete!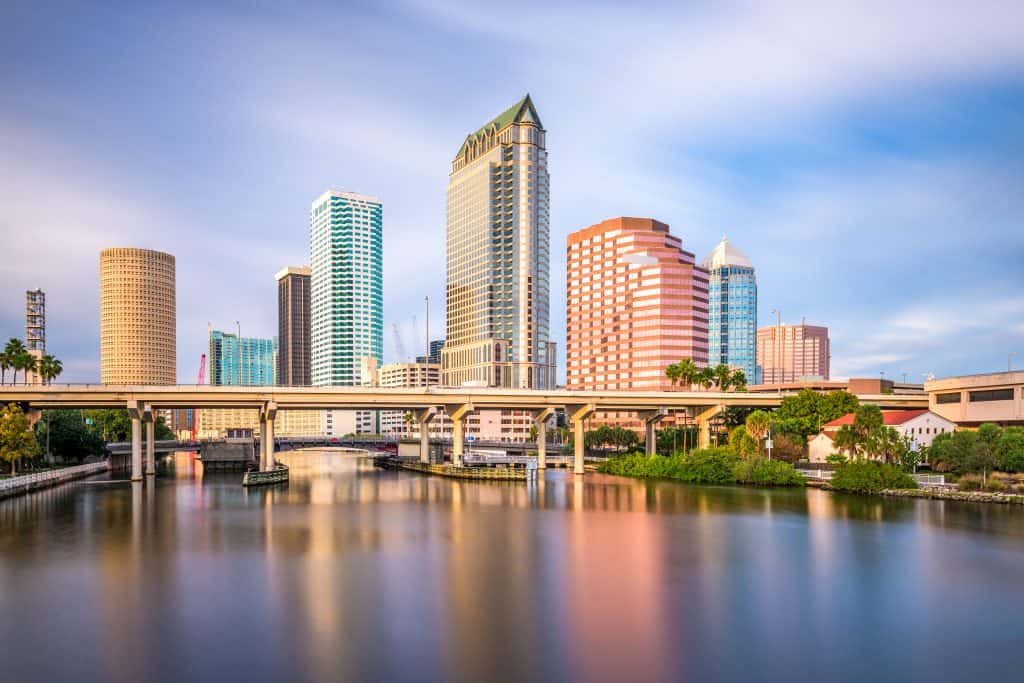 Rainbow River
Rainbow River is one of the spots for kayaking near Tampa FL! Located about 1 hour 40 minutes north, near Ocala it is worth the drive! We have an entire post, on the oasis that is Rainbow River State Park. Entry fee is $2 per person.
So whether you are tubing, swimming, kayaking you will fall in love with this gorgeous state park! You will feel miles away from the city under moss-draped cypress trees and crystal clear water along one of the most gorgeous Florida rivers.
The trip down the river itself is about 4 miles long. For those kayaking and canoeing it takes about 2-3 hours and for those tubing about 4 hours. No need to bring your own kayaks, as rentals here are 1 hour for $16, or $50 for full day. Canoes are $22 for an hour, and $60 for a full day! It cost $20 a person to rent a tube. This includes your 2 hour trek down the river, and it also includes your tram ticket back to parking!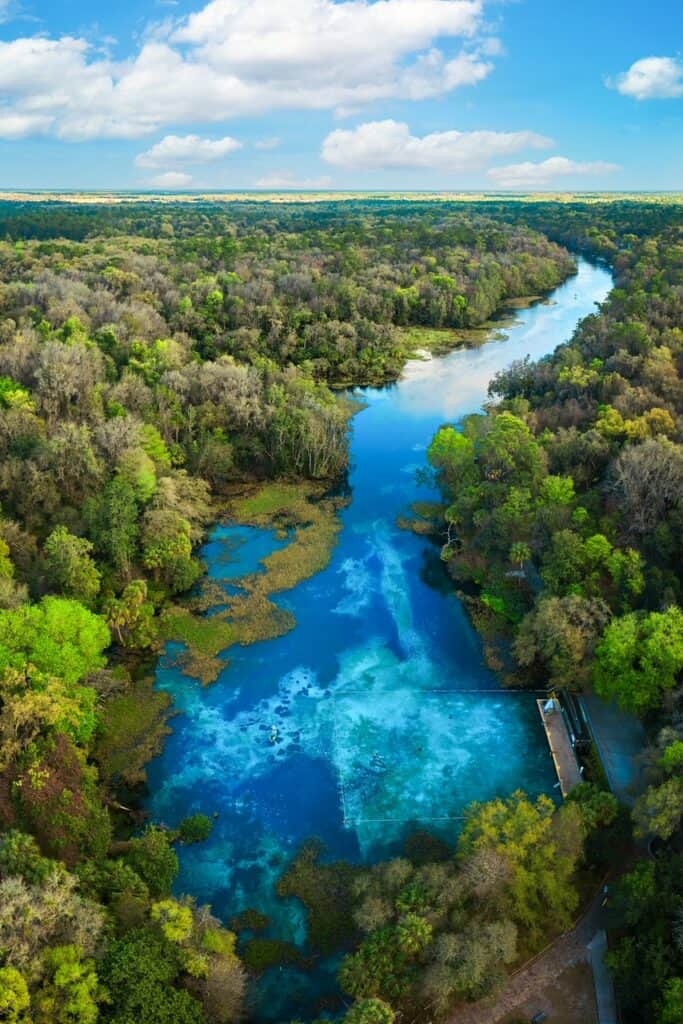 Longboat Key
Longboat key is near Anna Maria Island, and another great spot for kayaking near Tampa. There water is shallow and calm, with tons of sandbars to explore making it great spot for families looking for a fun activity!
There are plenty places for kayak rental in Tampa, as well as tours offered around Longboat Key. As you paddle around the mangroves at Bayfront park keep your eyes out for pods of dolphins or manatees. OR try a sunset kayak tour where you can watch the spectacular sunset over the gulf coast.
It is also home one of our favorite things To Do In Sarasota , Beer can island is on Longboat Key, and has been a favorite of Terrances for years! Not to be confused with Beer Can Island in Tampa!
Honeymoon Island
Next on the list is one of our favorite spots in Florida, Honeymoon Island State Park ! Located about 45 minutes away from Downtown Tampa it is the a great option for kayaking around Tampa.
As it is a state park, the price to visit is $8 per vehicle. If you want to kayak, you can rent them through the concession stand and kayak around the bay area. Or if you own kayaks or paddleboards, you can explore Pelican Cove. For those who want a longer kayaking trip, follow the marked kayaking trail out to Caladesi Island. You will paddle through mangrove forest, seagrass flats and finally arrive at white sand island of Caladesi.
For those who enjoy kicking back in nature, Lido Key Beach offers Eco-Paddle, where visitors can rent kayaks or paddle boards and make their way through the wild mangrove reserves found in the area, really soaking up one of the most unique Florida wildlife habitats.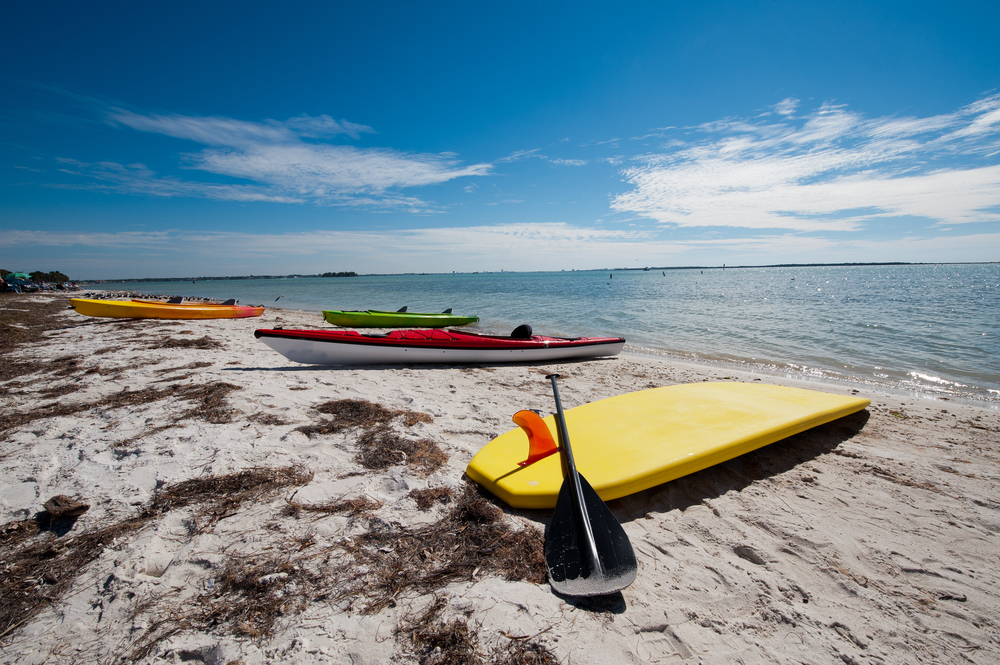 Little Manatee River
Little Manatee River is another state parks of Florida to visit, and a great place for canoeing in Tampa. One of the Tampa kayaking tours is through Canoe outpost who we highly recommend, for both rentals and tours. Take the moonlight tours offered on Saturday's closest to the full moon for a unique and serene nighttime kayak or canoe trip. After the paddle trip, enjoy live music and roasted marshmallows
There are over 28 miles of kayaking trails to explore here, with narrow and winding paths that are easy to follow. The two most popular paths are Canoe outpost to the fish camp, which is 6 miles and takes about 2-3 hours to complete. Stop half way and have a picnic under the trees or enjoy a stop at the sandbar. The second most popular path is 579 bridge to Canoe outpost this is a challenging trip with fast current and over 3 hours of paddling times!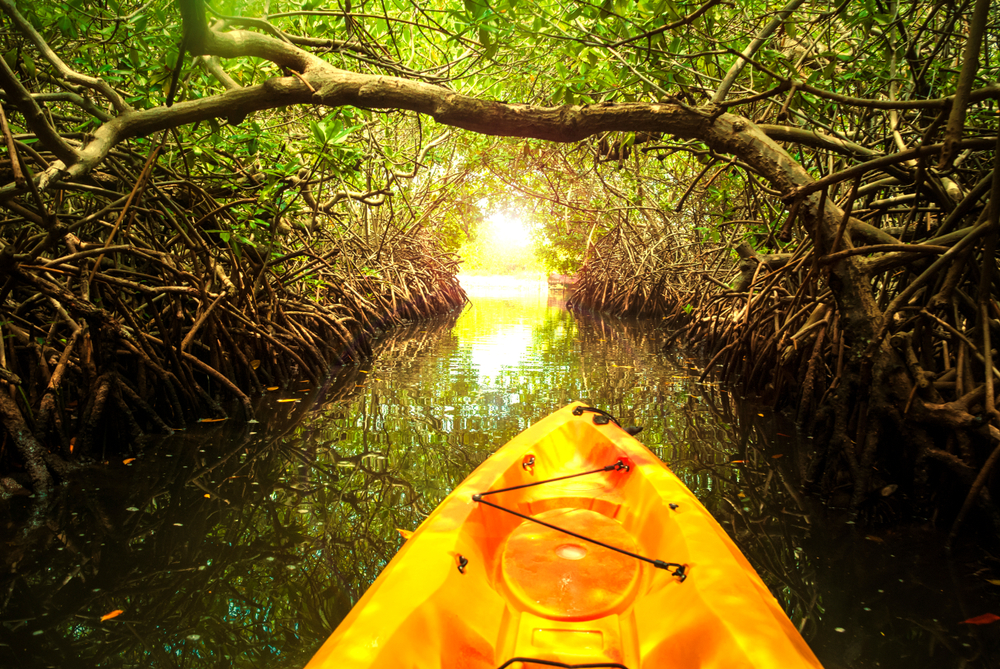 Tarpon Springs
If you are looking for spots that offer kayaking with manatees, head to Tarpon springs. Only 45 minutes from Tampa this is a great spot to go if you are short on time. There are also lots of things to do in Tarpon Springs so you can totally make a day of it.
In Craig Park there is Spring Bayou a freshwater spring that attracts manatees between December and March. Launch your kayak along the southern bank of the Anclote River. Or take one of the Florida paddling trails, where you can head north or south depending on how long you want your trip to take ( average 1 – 3 hours)!
However, we recommend if you can going on a tour. A local guide will have much more knowledge of where the manatees are preferring to hang out at the moment. Rent one of the completely clear kayaks, as it gives you an amazing view of the underwater ecosystems. You might even get lucky and see manatees swimming under the kayaks.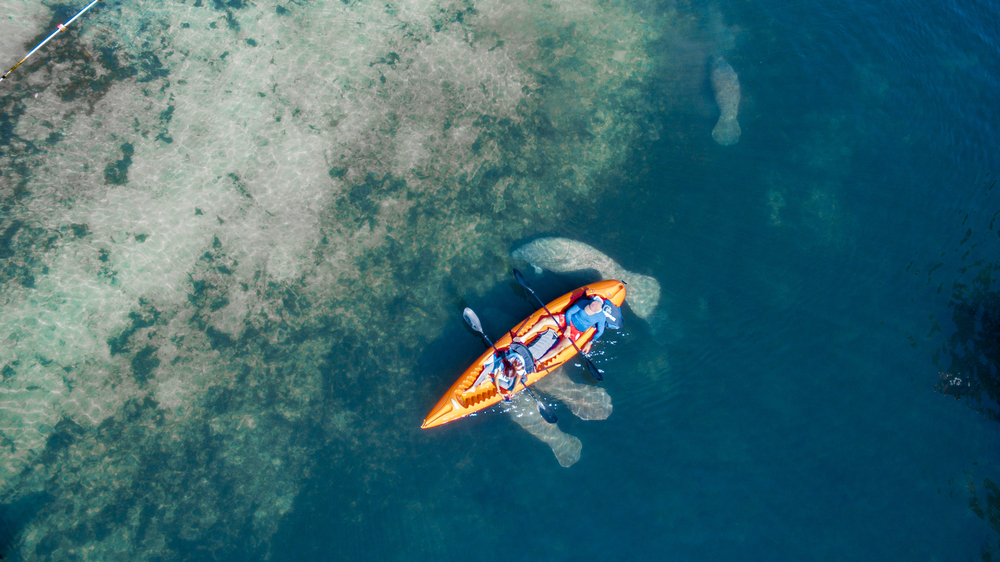 Fort Desoto
We call Fort de Soto, a costal Florida playground! You can rent kayaks and canoes from Topwater Kayak Outpost for $23 for an hour all the way up to $70 for a full day. Kayak along the 2.25 mile paddling trail through the mangroves. For longer trips kayak to Egmont Key. For experience paddlers take the 10 miles trip around Mullet Key!
It offers some of the best kayaking in Tampa for beginners. The 5.6 mile trip takes about 2 hours to complete. The shallow water is calm without a strong current perfect for those kayaking in Tampa with children. The trip out to Mullet key is for experienced Kayakers as you will have to cross open water with a current and strong winds.
Kayak along the mangroves, where you will see tons of fish, manatees and dolphins. We recommend renting one of the sit on top kayaks for increased stability for the protected shallow water of the backwater area.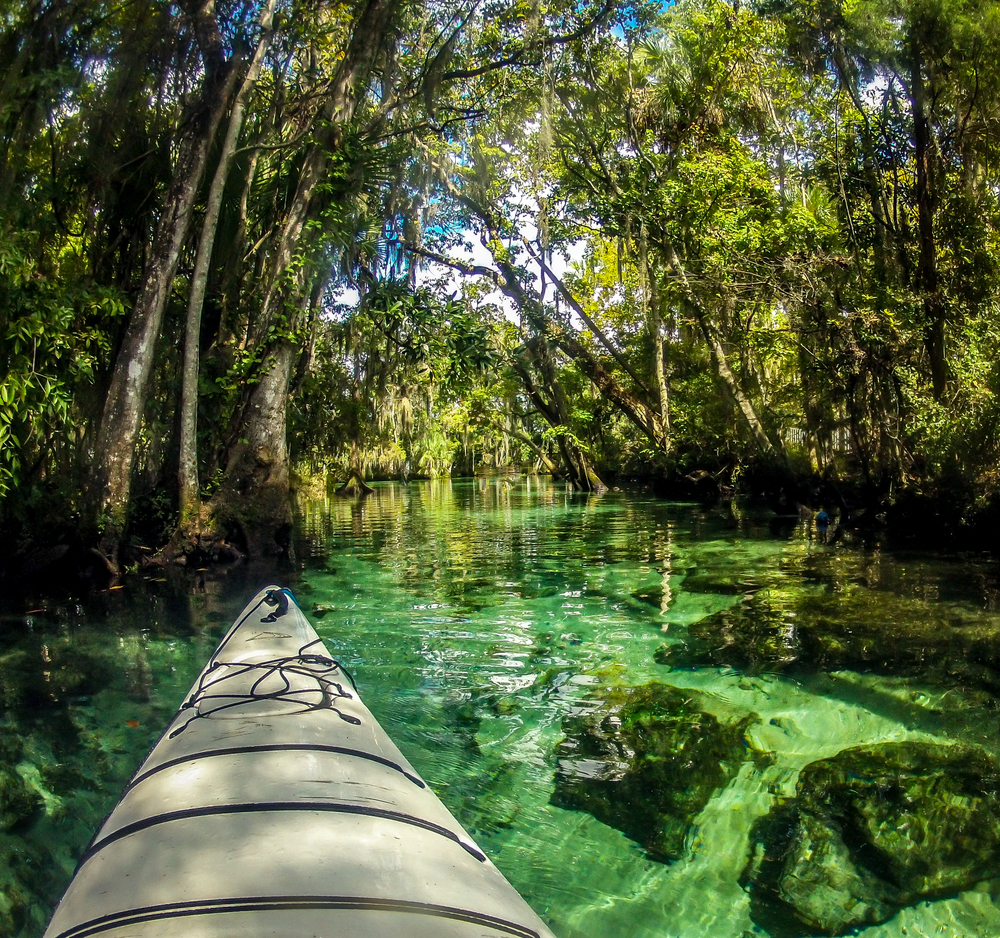 Weeki Wachee River
Weeki Wachee River is one of the best natural springs near Tampa to visit. Located just about an hour from Tampa, it is one of the spots for kayaking around Tampa. Come to enjoy the family friendly mermaid show reminiscent of Old Florida . After, explore one of the deepest freshwater cave system in the country.
We suggest taking the kayak trip down the 6 mile spring run. Visitors will paddle along the crystal clear water under the amazing cypress tree canopy. Whether you choose to kayak, paddle board or canoe the water says a constant 72 degrees year round. Don't worry through, there are plenty of places to stop along the trip and jump into the water.
For those who put in at the state park, during the the first 1.5 miles through the state park, you are not allowed in the water! However, once outside the state park, you are free to jump into the water. We suggest taking one of the guided eco-tours that teach about the natural ecosystem you are paddling through.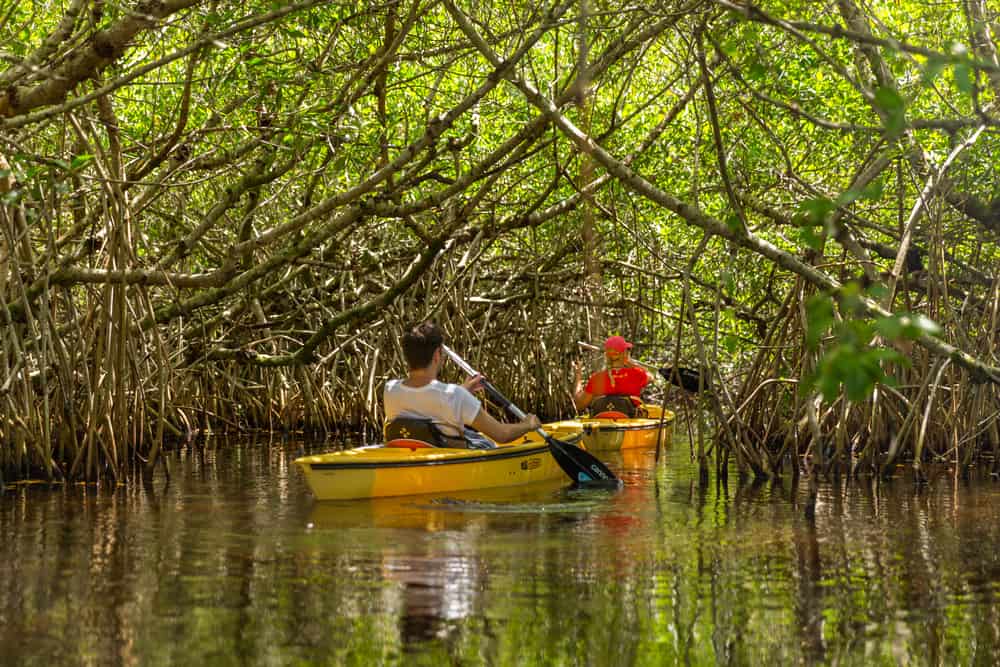 Weedon Island Preserve
This 3000 acer natural preserves motto is "a place to remember" and trust us you will want to keep coming back here. Weedon Island Preserve is one of the places for kayaking near Tampa and is perfect for those who don't want to drive too far. There are opportunities for paddle boarding, kayaking, and even a nature center.
The preserve is one of the most visited paddling trails in St Pete. Along the south paddling trail you will paddle along some of the longest mangrove tunnels in the US through open seagrass beds and mud flats.
Choose from the four mile long south paddling trail that takes about 3 hours to complete. Or the two mile north trail that takes about 1. 5 hours to complete. Both are very well marked for those who choose not to take a guided tour. You can either canoe, kayak or stand up paddle board here. Best part is there are no alligators, snakes or anything else in the water here to worry about!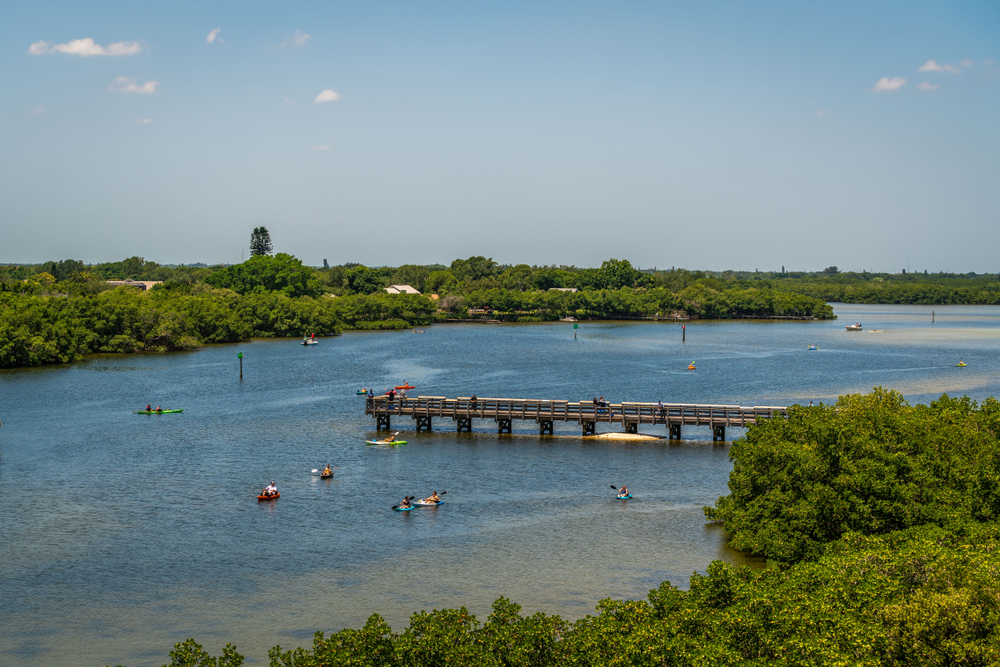 Terra Ceia Aquatic Preserve
Another of the florida state parks , Terra Ceia offers an amazing backdrop for kayaking around Tampa Florida. Just a 30 minute drive south, and you will be greeted by three different paddling trails: Bishop Harbor Blueway, Frog Creek and Terra Ceia Paddling Trails. Best of all it is free to enter this state preserve.
Terra Ceia is known as an archaeological site that dates back to 8,000 B.C. As you paddle along the undeveloped coastline surrounded by mangroves tunnels and calm waters, you will discover nature around you . Unlike other kayaking trails we have suggested, the trails here are unmarked.
Hillsborough River
Another one of the Florida state parks, the Hillsborough River state park offers over 30 miles of paddling trails. The entrance fee is $6 per car. The best part is just minutes from Tampa, making it the perfect spot for kayaking in Tampa!
The trail starts at the state parks and ends at the city of Tampa's Rowlett park. While there are class-II rapids on several parts of the river, there is sections of the river for every level of kayaker. It is also the perfect spot for canoeing in Tampa, with many outfitters offering tours for both several hours and half day. This is one of the best options for those who want to see tons of wildlife during their trip!
For expert kayakers take the popular 5 mile Seventeen runs one of the most challenging paddling runs in Florida! This 6 hour trip takes kayakers through narrow twists and turns, with swift upstream currents and class-II rapids. However, for leisurely kayakers or beginners take the north run, which is a 3 mile scenic trip that provides a calm trip.