Are you new in town and need to find a hearty breakfast in Key West? Never fear, we've got you covered!
Key West plays host to a variety of different cultures and cuisines. From mom-and-pop diners to bougie foodie hot spots, and even ethnic cuisines, you're bound to find something new you'll fall in love with.
Planning your trip to Key West last minute?
Make sure to book ahead! Hotels and tours often sell out the closer you get to your trip. Here are our top picks for Key West!
Top Experiences And Tours In Key West:
Top Places To Stay In Key West:
You could be getting ready for a scuba diving adventure at Vandenberg or preparing to explore the national parks. Even if you're just hitting the beach, breakfast is still the most important meal of the day!
Even if you're a local, there are bound to be some breakfast spots you've missed. So rise and shine, we've listed our top picks to find the best breakfast in Key West restaurants that is worth rolling out of bed.
Before you plan your trip, make sure to check out The Best Times To Visit The Keys where we break down each month and talk all things weather!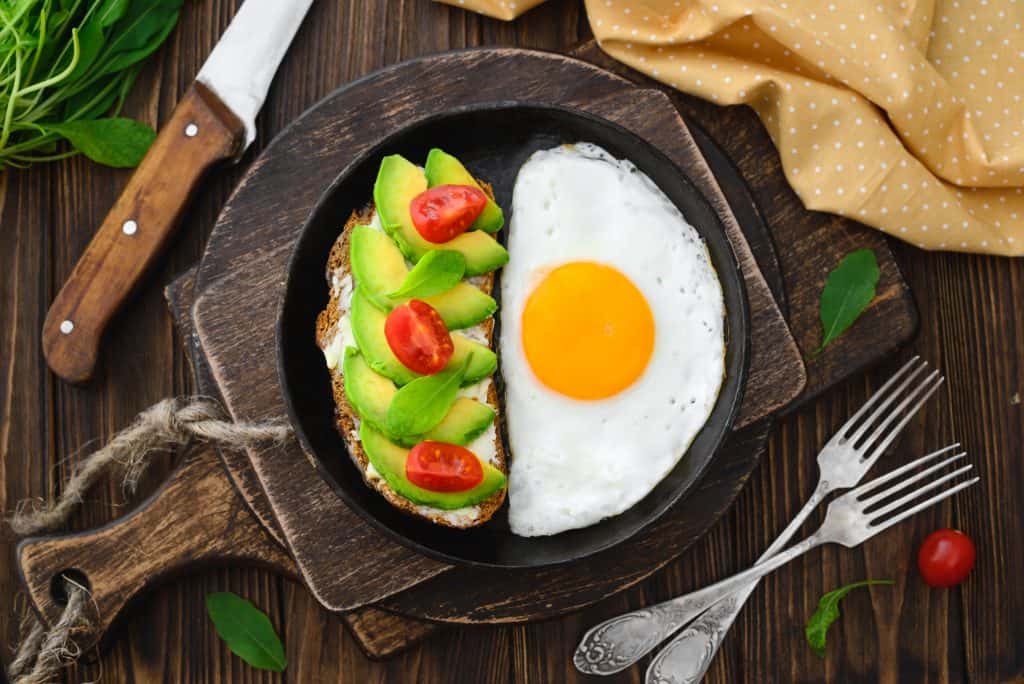 14 Best Places for Breakfast in Key West
Blue Heaven
An iconic landmark, you'll find the best breakfast in Key West at Blue Heaven. Also known as Ricky's, here you'll find the best Floridian-Caribbean Cuisine.
Run by self-proclaimed free spirits, Suanne and Richard, dine under a canopy of tropical foliage. Sails are strung between trees providing shade.
You'll notice the chickens and cats roaming the grounds. Don't be alarmed, they're somewhat of local celebrities!
Found in the historic Bahama Village, Blue Heaven is casual and friendly. But don't let the whimsy spoil you. The food at Blue Heaven should be taken seriously!
Every day until 2 PM, enjoy breakfast with the roosters! Try Richard's Pancakes made from scratch with banana, pineapple, pecan, or blueberries!
On Sunday, Blue Heaven turns it up a notch. With Sunday specials, you'll eat like a king! Try Lobster and Grits, the Florida Shrimp Omelette, or the Good Morning Bruschetta.
Of course, is it really Key West if you don't share a piece of authentic Key Lime Pie at the end of your meal?
Find Blue Heaven at 729 Thomas Street. Dining hours are 8 AM – 2 PM for breakfast every day. Blue Heaven reopens for dinner from 5 – 10 PM daily as well.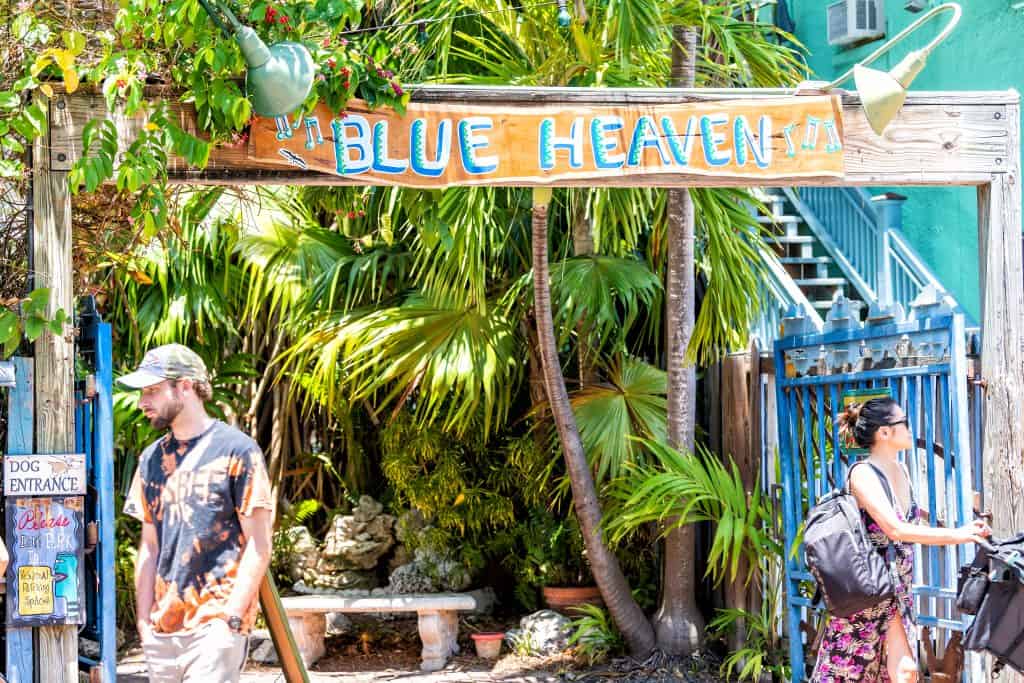 Breakfast Club, too
Don't you forget about the Breakfast Club, too when searching for the best breakfast in Key West! At the Breakfast Club, too, the most important meal of the day is served all day!
Guaranteed to fill your belly and spirit, the Breakfast Club, too dishes out hearty portions and local favorites. Don't forget to try the scrumptious Cheddar Biscuits.
Indulge in the Lobster Benedict, Chorizo Hash, Stuffed French Toast, or the Rosemary Dijon Sausage. Salads, sandwiches, and burgers round out the lunch menu.
Is it truly brunch without a cocktail? The Breakfast Club, too has 11 different Bloody Marys and 11 Signature Mimosas. You won't find any bottled mix here. All drinks are made from scratch, to order every time.
If you don't want to indulge in libations, enjoy delights from the artisan espresso bar furnished by Gratitude Island Coffee. A portion of all profits is donated to the Key West Turtle Club, which rehabilitates sea turtles.
Banana Cafe
A French Bistro in the heart of downtown, you'll find the Banana Cafe has some of the best breakfast in Key West! Enjoy easygoing fare only two minutes away from the Key West Butterfly and Nature Conservatory!
On the menu, you'll find classics done creatively with a Caribbean twist. Choose from breakfast crepes, egg sandwiches, and omelettes cooked how you like them.
Local favorites include the French Egg Sandwich! Eggs, ham, caramelized onion, and Swiss cheese are layered on a croissant with breakfast potatoes. Yum!
On the menu dedicated to Eggs Benedict, you can find options that switch out the ham in the classic recipe. Try it with blackened shrimp, lobster, or smoked salmon!
Even if you arrive later in the morning and don't want breakfast, you can order from lunch options like Baked Escargot, the Quiche of the Day, or yummy Shrimp Mac & Cheese.
Find the Banana Cafe on 1215 Duval Street. Breakfast and lunch are served from 7:30 AM – 10 PM daily.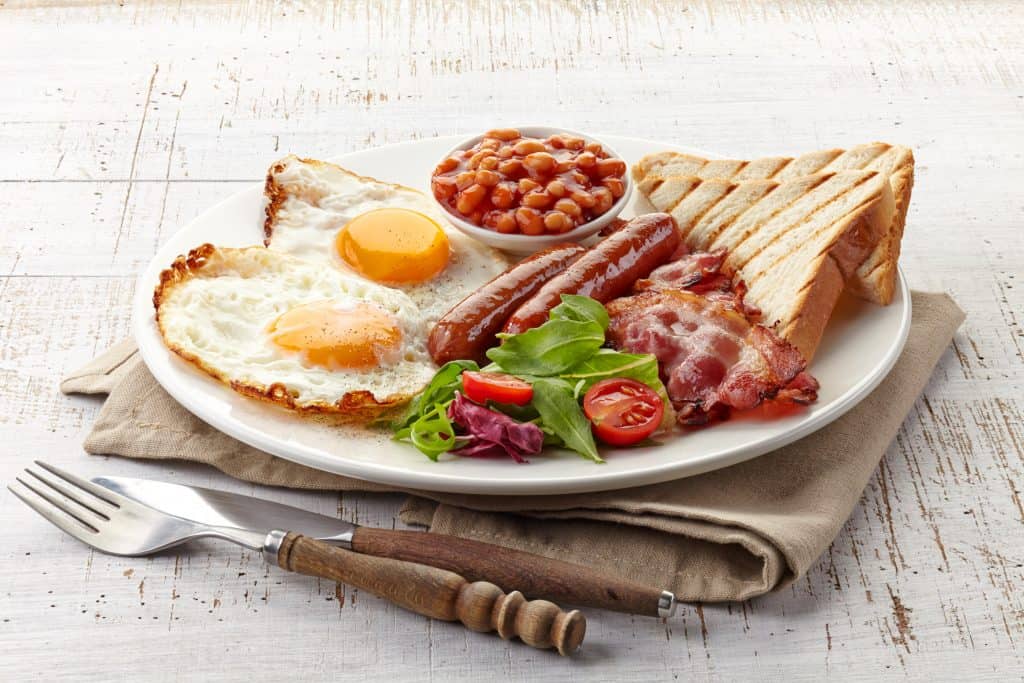 La Creperie French Cafe
Whether you're more into savory of sweet breakfasts, at La Creperie French Cafe, it doesn't matter. You can have both! Of course, the best breakfast in Key West involves crepes!
La Creperie French Cafe has been running for 19 years. Key West has been enjoying the tropical garden under a beautiful patio, the best breakfast in Duval Street.
Why not begin with an omelette, a Croque Monsieur, a panini, or a traditional American breakfast? Your biggest decision though will undoubtedly be whether you order a crepe or a galette.
While similar in appearance, crepes and galettes are very different! Crepes are made with wheat flour and have a sweet filling. Galettes are made from buckwheat flour and paired with more savory flavors.
Try the La Fermiere which is a galette filled with sausage or a veggie bechamel sauce. La Parisenne has brie, bacon, and apples. La Complete Traditionnelle has ham, swiss, a sunny egg.
Find La Creperia French Cafe at 300 Petunia Street. They are open from 7:30 AM – 3 PM daily.
Bagatelle
Imagine walking up to your friend's house on a chilly evening. You're welcomed with love into a warm comfortable atmosphere over which to share a meal.
At Bagatelle, one of the best breakfast places in Key West, you'll get that cozy experience. Bagatelle serves a seafood-focused menu in an 1884 house with a huge wraparound balcony for people-watching.
It's not just the best breakfast on Duval Street. Brunch is Bagatell's specialty served from 9 AM – 4 PM. In addition to summer-themed libations, enjoy a bright, fresh menu of breakfast classics.
Indulge in the Banana Foster French Toast for a sweet delight. Or choose between western, spinach, or lobster omelettes.
For those who prefer the "lunch" part of brunch, we highly recommend the thick and creamy Lobster Mac & Cheese. Don't forget to try the Crab Cake served with a passionfruit basil remoulade.
If you want an adult beverage, try the Tennessee Peach Lemonade made with Jack Daniels, peach puree, and club soda. For something more "Florida," try the Duval Paloma made with Blue Agave Tequila and grapefruit juice fresh from Florida groves!
Find Bagatelle on 115 Duval Street, open daily from 9 AM – 10 PM. Breakfast Happy Hour is from 9 – 11:30 AM and evening Happy Hour runs from 4 – 6 PM.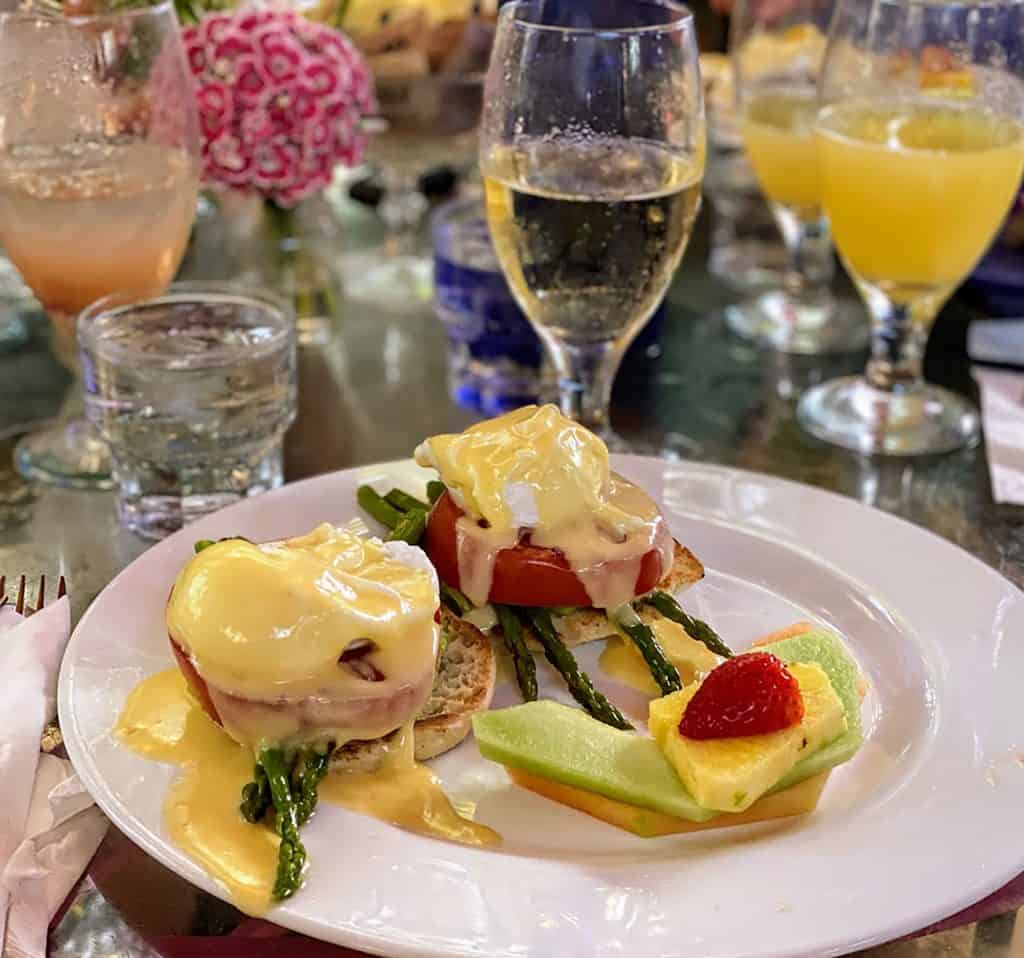 Moondog Cafe
Right next to the Ernest Hemingway House, you'll find one of the most quaint breakfast places in Key West! Moondog Cafe sits quietly in a relaxed garden cottage!
With separate menus for breakfast and dinner, it doesn't matter if you miss breakfast at Moondog. You can always find something tasty on the menu no matter the time of day.
Inside, you'll find an eclectic setting with murals on the walls. Cats and a french bulldog peek through stylized flowers and plants.
As you gaze at a wall-mounted, lit bicycle whose wheels form the vowels in the word "moon," you'll hear the hiss and aroma of an espresso machine at the bar.
Try the Quiche Lorraine with roast ham, applewood bacon, caramelized onion and gruyere cheese. You also can't go wrong with Breakfast Tacos or Huevos Rancheros, either.
If you're looking for something sweet, you're in luck. Moondog Cafe is also a full bakery! In addition to croissants, cinnamon rolls, and Gateau Breton, you'll love baked breakfast sweets like Brioche French Toast and Blueberry-Lemon Quinoa Pancakes.
Find Moondog Cafe at 823 Whitehead Street, open daily from 7:30 AM – 9:30 PM.
The Cafe
Are you tired of hardly any vegan or vegetarian options when you go out to eat? Have no fear, The Cafe serves the best Key West brunch that is also health-conscious!
At The Cafe, the word is "Rock the Veg!" The windows are covered with Christmas lights and the walls are plastered with stylish chalk doodles. It's just a fun atmosphere in here.
Breakfast is served every Monday through Friday until noon. If a dish on the menu doesn't fit your dietary habits, then simply ask your server for the vegetarian or vegan version.
We love the Belgium Waffle piled high with the freshest fruit and almonds. The Veggie Benedict switches out ham for huge slabs of shiitake mushrooms, always a winner.
On Saturday and Sunday, mornings switch to brunch service! We love the Polenta Cake Benedict with lemon-caper hollandaise. You can't go wrong with the Caprese Egg Sandwich with house basil pesto, garlic spinach, grilled tomatoes, and fresh mozzarella.
Find The Cafe on 509 Southard Street. Check out their cool vibe on Mondays through Fridays from 9 AM – 10 PM. On Saturdays and Sundays, get brunch from 9 AM – 4 PM and dinner from 5 AM – 10 PM.
Hot Tin Roof
Inside the Ocean Key Resort next to Mallory Square, you'll find Hot Tin Roof. A charming seaside eatery with open-air patios, at Hot Tin Roof, you'll find the best breakfast in Key West.
The restaurant's logo features the silhouette of a cat standing on a rooftop. This is because the restaurant's name pays homage to the Pulitzer Prize-winning play by Tennessee Williams, Cat On A Hot Tin Roof.
Chef Scott Maurer spins the traditional American style and twists it with small plates with Latin American influences. He has brought his expertise from 20 years working in the food and beverage industry.
His culinary achievements make Maurer a perfect fit for Ocean Key Resort. When you dine, you'll see his masterful blend of Cuban flavors, local seafood, and fresh produce.
Find Hot Tin Roof on 0 Duval Street. Breakfast is served from Monday through Saturday from 8:00 – 11:30 AM and on Sunday from 8:00 AM – 12:45 PM. Dinner is served daily from 5 – 9 PM.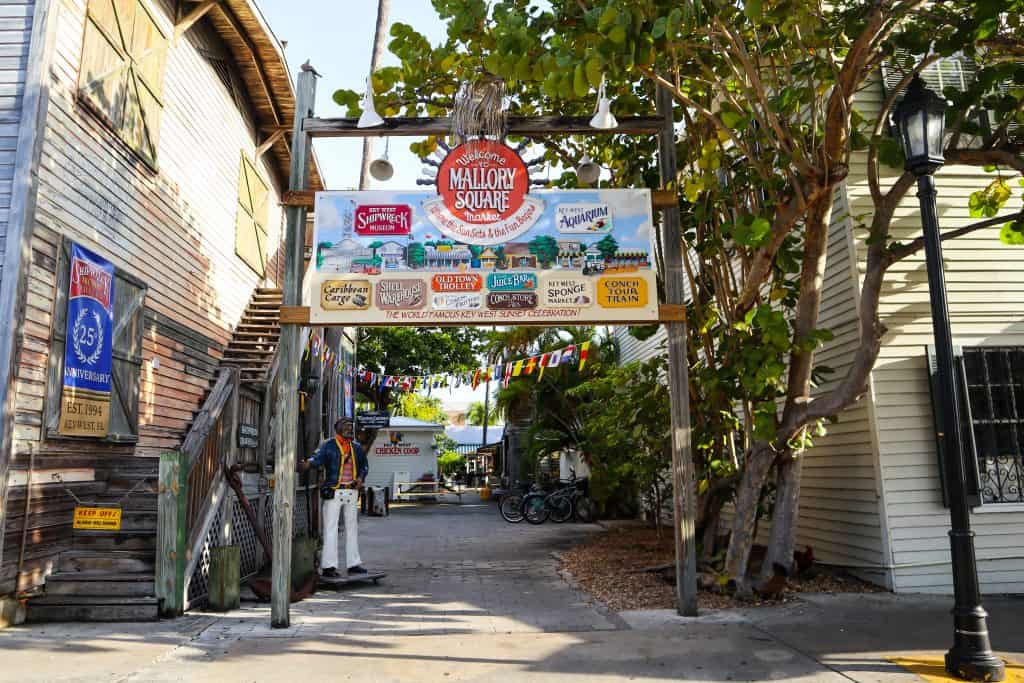 Camille's
When you want the best breakfast in Key West, why don't you go to a place where that's their specialty? Camille's serves the best brunch in Key West because that's the only meal they're open for!
Every customer is treated like family at Camille's. Every dish is cooked to order using only the freshest ingredients. Unlike many chain restaurants, Camille's buys fresh seafood every day.
Specializing in Indian recipes, you'll see many interesting options on Camille's menu. Starting at 11 AM, you can order dishes like Bhuna Lamb, Samosa Chaat, and Keema Matar.
If you want vegetarian options, don't worry. You can also find something to eat! Try the Mushroom Matar or the Dal Makhni!
You can always find American breakfast classics like specialized and decadent omelettes and possibly the best Eggs Benedict in all of Key West.
Find Camille's on 1202 Simonton Street. Dining hours are 8 AM – 10 PM, but keep in mind delivery and takeout is only available until 2:30 PM.
Southernmost Beach Cafe
Whether your visit to Key West is a romantic vacation or a weekend getaway, sometimes you want your meals to feel like a vacation too.
With the stunning views, you'll enjoy the most idyllic breakfast in Key West at Southernmost Beach Cafe!
The beaches, the ocean, and Cuba only 90 miles away is Southernmost Beach Cafe's backyard. That will be your view when you dine here, experiencing local flavor, boat-to-table seafood, and a Caribbean twist, all in one.
Chef Matt Slattery's skills lie in the asian-fusion department. You'll fall in love with the eastern influences within his menu.
Only at Southernmost Beach Cafe, you'll find a seamless blend of Caribbean and Asian Cuisine. All the ingredients incorporated into the menu are always locally-sourced.
Switch up the protein in your Key West Brunch from egg to avocado in the Ahi Tuna Stuffed Avocado. The Drunken Scallops are Southernmost's signature dish: you have to taste the umami to believe it.
You can find Southernmost Beach Cafe on 1405 Duval Street. Dining hours are 8 AM – 9 PM every day!
Azur
Located in the heart of Old Town, you'll find a brunch in Key West so refined you'll have to treat yourself! Only a few blocks away from Duval, Azur is calling you!
Azur, founded by wold restauranteurs and chefs Michael Mosi and Drew Wenzel, features Mediterranean specialties. This is probably the most unique dining experience on the island.
In a shaded terrace or a freshly-renovated dining room, you'll have a hearty breakfast featuring new twists on your favorite classics. If you're lucky, maybe you'll be seated by the waterfall.
The decadent brunch menu offers elegant and innovative dishes for all tastes. Get something light like the Key Lime French Toast or savory like the Crab Cake Benedict!
If you're more in the mood for frittatas, our favorite is the Fresh Spinach & Sheep's Feta. You also can't go wrong with the Pear and Frisee salad with dates and gorgonzola.
For something heartier, try one of the unforgettable sandwiches. The Crabcake BLT may be the most delicious thing in all of Key West!
To find Azur, simply head down to 425 Grinnell Street. Brunch hours are 9 AM – 3 PM daily, but you can also attend dinner from 5:30 – 10 PM daily.
Cuban Coffee Queen
Downtown in the heart of Key Lime Square, you'll find one of the best breakfast places in Key West. At Cuban Coffee Queen, you'll find authentic Cuban cuisine.
Cuban traditions run rampant in the recipes and of course, the coffee. Here you'll taste authentic Cuban coffee and Cuban toast: the way it's supposed to taste!
Try the Sunrise Special for a great deal. You get a 12 oz cafe con leche and half of a Key Wester sandwich. It has 2 eggs, American cheese, and a choice of ham, bacon, sausage, chorizo, turkey or pork on pressed Cuban bread.
For a bit of spice in your morning, try the Cuban Poppers. The combination of cream cheese and jalapeños on Cuban bread will wake you up in the most savory way.
Mix up your breakfast routine with a blended smoothie made from 100% fruit. Some recipes use local bee pollen to help with allergies, while others actually just use Emergen-C!
Find Cuban Coffee Queen at 5 Key Lime Square. Hours are 7 AM – 7 PM, daily.
Goldman's Deli
Every town has its hidden gems, and Key West is no different. For some of the best breakfast in Key West, look no further than Goldman's Deli.
Inside a strip-mall in Overseas Market, Goldman's Deli is very easy to miss. But once you get inside and try the famous boiled n' baked bagels, you'll never forget them.
Named for the co-founder, whose family recipes grace the Goldman's Deli menu. Choose from omelettes, deli burgers, and delicious homemade soups. Everything on the menu tastes like it would in a New York deli.
Goldman's of course is famous for their bagels with savory flavors like garlic and cranberry. Pair with one of a variety of delicious spreads: nova, sriracha, veggie, scallion, and honey walnut.
It only gets better with an array of breakfast burritos. If you're trying to be good, get the Hearty Breakfast Burrito, which highlights chicken sausage with a variety of colorful vegetables on a sun-dried tomato wrap.
For a true taste of New York, try the Nova and Latke Platter, served with applesauce, sour cream, two eggs, and a bagel or toast.
Find Goldman's Deli at 2796 Roosevelt Boulevard. Breakfast is served on Monday through Saturday from 6:45 AM – 3:30 PM. On Sunday, hours are 7 AM – 3 PM.
Did You Find This Post Helpful?
If so, we would love to keep in touch! We enjoy seeing photos and comments about your experiences in Florida! You can follow us on Instagram and we will repost your photos on our feed and comment too! Just tag us at @floridatrippers and hashtag #floridatrippers. We can't wait to see your travels!