Are you looking for the perfect weekend in Key West? If so we have put together a three-day itinerary for your weekend in Key West! We have put together the best things to do in Key West. Your weekend in the Keys will be spent enjoying history, restaurants, state and National parks, beaches, nightlife, and more. We have crafted a plethora of tours to enjoy on your weekend trip to Key West!
Planning your trip to Key West last minute?
Make sure to book ahead! Hotels and tours often sell out the closer you get to your trip. Here are our top picks for Key West!
Top Experiences And Tours In Key West:
Top Places To Stay In Key West:
The first day of your Key West Itinerary will be spent exploring all the historical sites in Key West, the second day will take you to Dry Tortugas National park or Bahia Honda State Park and Day three will be spent exploring a corral, a food tour and shopping.
Before you plan your trip, make sure to check out The Best Times To Visit The Keys where we break down each month and talk all things weather!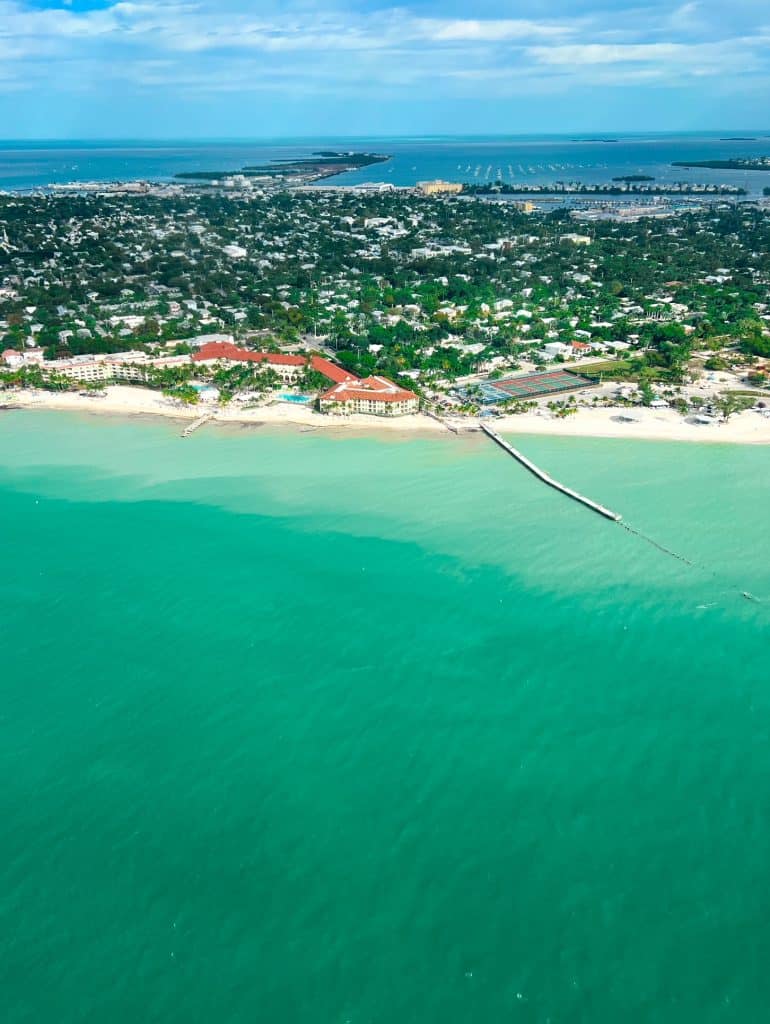 Getting To Key West
Getting to a Key West weekend getaway is very easy! You can arrive by car, plane or boat.
If arriving by plane, the closest large international airport is Miami (MIA). Located just about a 3 hour drive north. If you do not want to rent a car, there is a shuttle bus from both FLL and MIA airport to Key West. However, you can also fly into Key West airport!
If driving you have the opportunity to stop along your drive through the Florida Keys. Located about 160 miles south of Miami, why not explore the upper and middle keys on your way to your weekend getaway in Key West.
For those coming from Fort Myers or Marco Beach areas, you can take the Key West Express ferry. The journey is 3.5 hours.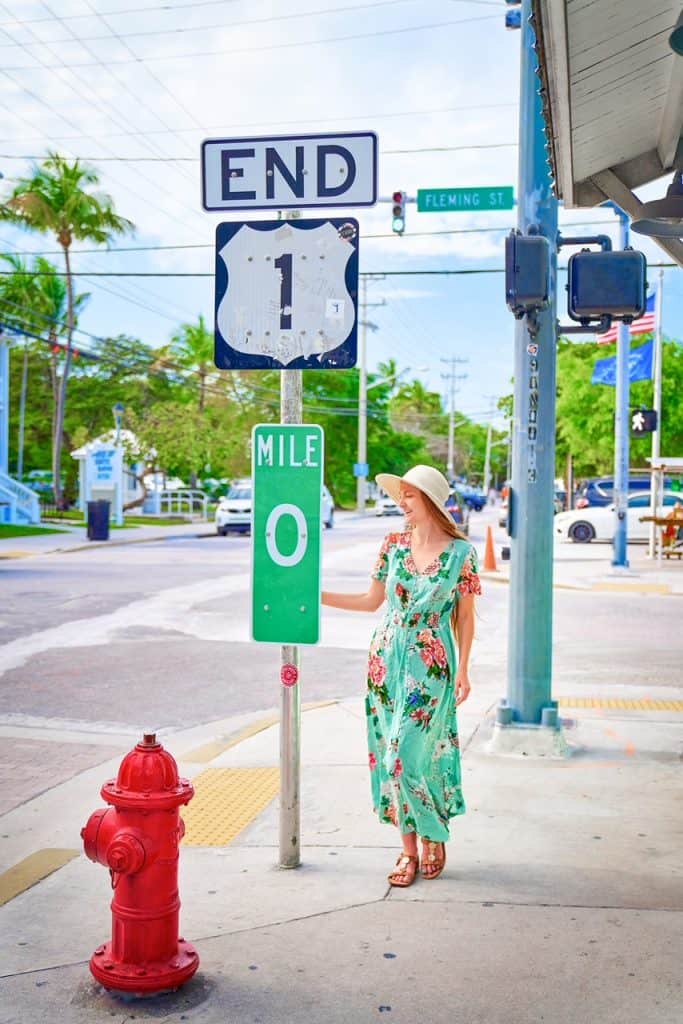 Getting Around During Your Key West Weekend Trip
We HIGHLY recommend renting electric bikes to explore during your weekend trip to Key West. It is such a fun way to explore with the fresh ocean breeze on your Key West weekend getaway. Another fun way to see the city is on a bike tour complete with a slice of Key Lime pie after biking all day!
You can use your own car if driving or rent a car at the airport. This is a great option if you want to explore the upper and middle Keys on a long weekend in key west.
Uber is easy to find here, and the hotels have shuttles. Key West is also a very walkable city, and you explore the downtown area on foot. Or try the hop on the hop-off trolley that operates through the city. You can book a tour here!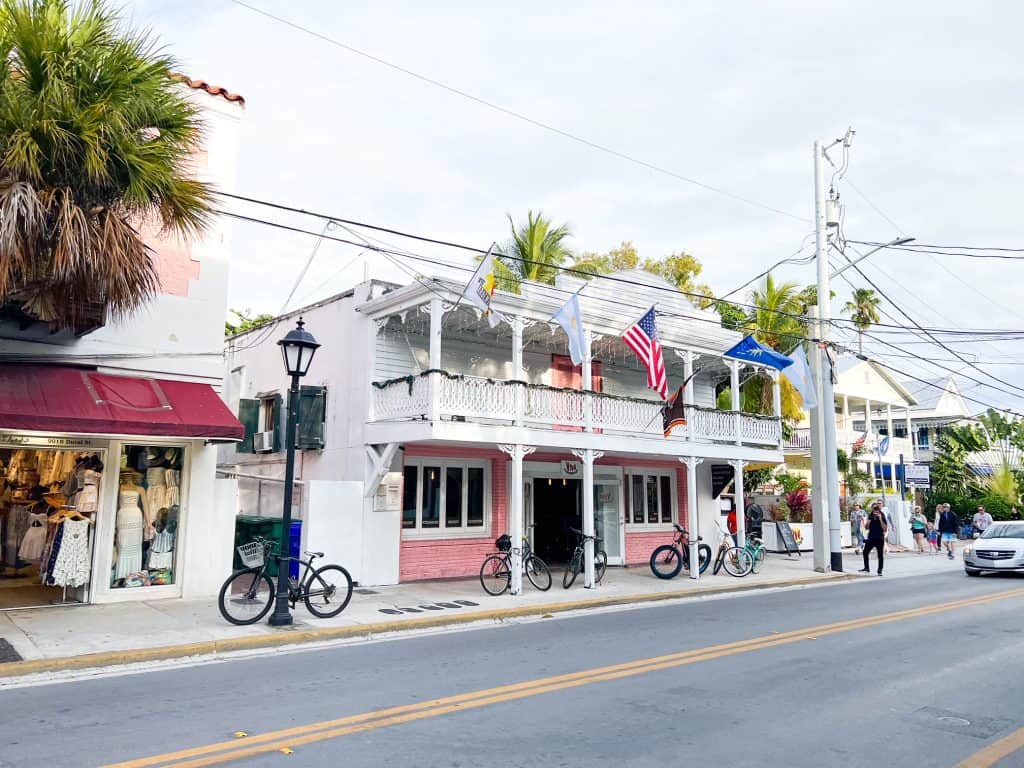 Day 1
Are you a history buff? On the first day of your Key West weekend itinerary, we suggest exploring the historic sites across downtown Key West. Explore the home of a great American author or the winter getaways of former U.S. Presidents!
After a full day exploring and learning the history, it will be time to let loose on your weekend in Key West! Head on one of the amazing sunset cruises around the harbor or stay on land and enjoy a pub crawl across Duval street!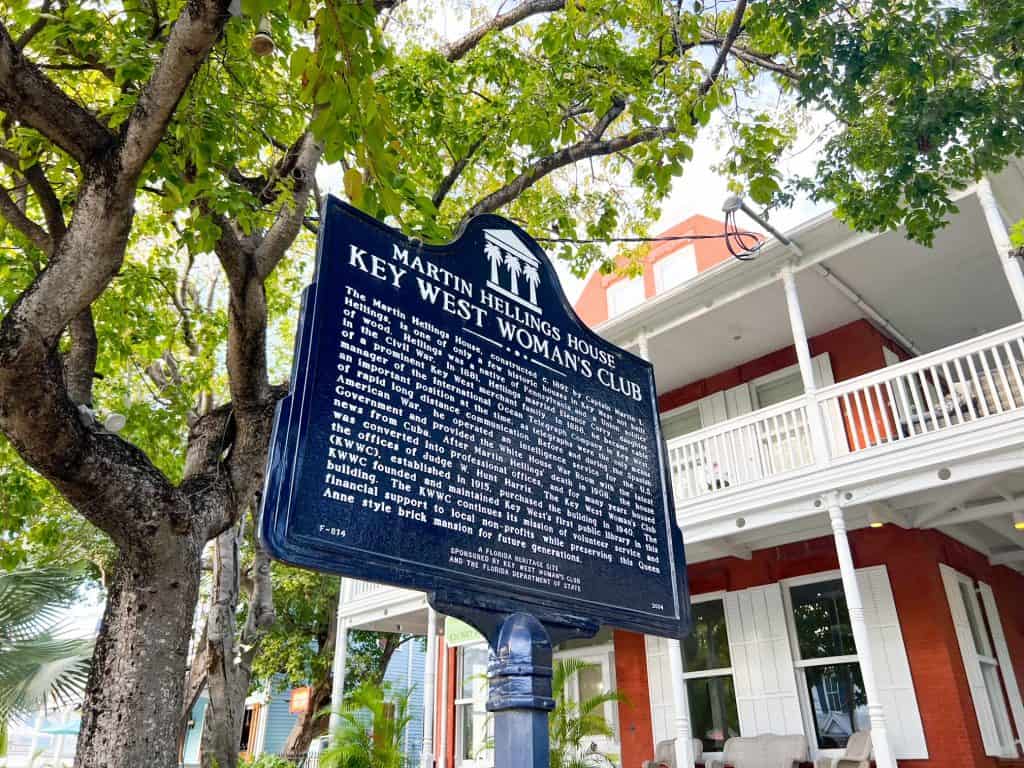 Stop 1 : Breakfast in Mallory Square
Located on the water in the Old Town, Mallory Square is the center of Key West. The Square has shops and restaurants that the whole family can enjoy! Why not start your day with breakfast here! We suggest breakfast at Cuban Coffee Queen.
Choose a hearty Key West-style breakfast or a Cuban breakfast to start fueling your body before spending the day exploring Key West!
After breakfast explore Mallory Square where street vendors and performers are often present.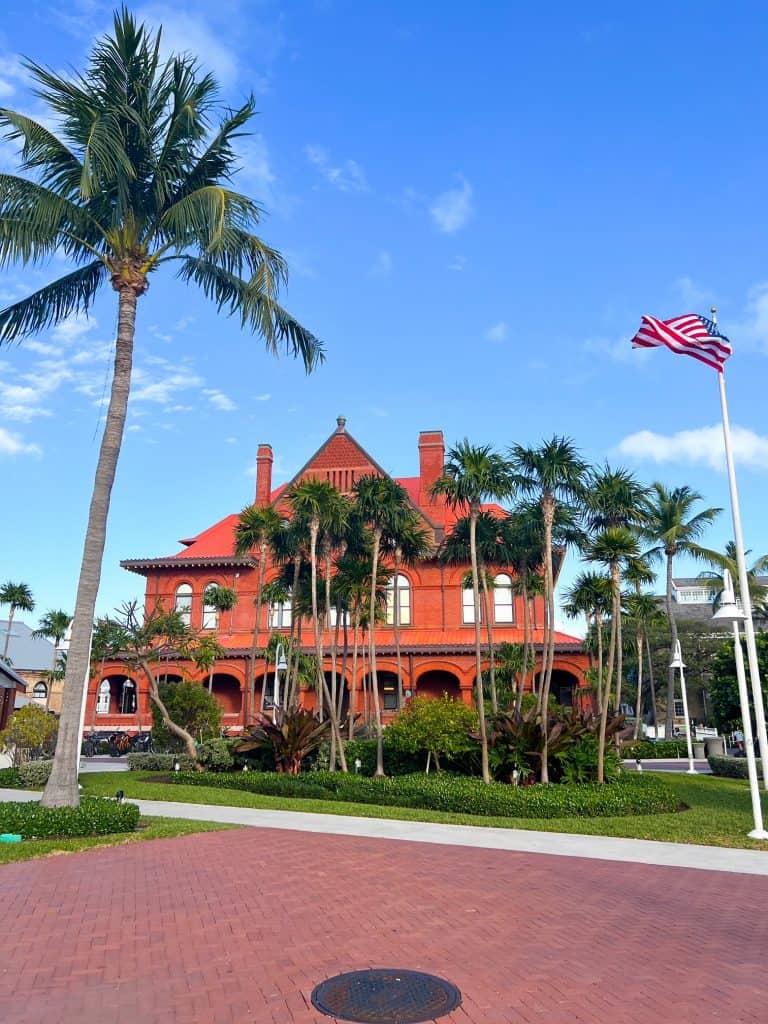 Stop 2 : Harry S. Truman's Little White House
Built in the 1890s, Harry Truman's Little White House is Florida's only presidential museum and is one of the best places to learn about American history.
Named after Harry Truman as he used this home as a winter getaway from DC. He use the house from 1946 through 1952. Presidents Taft, Eisenhower, Kennedy, Carter, and Clinton have all visited as well.
The entrance is $20 per adult or $10 per child. Included is a tour of the home and grounds where visitors can see how presidents lived while on their weekend in Key West!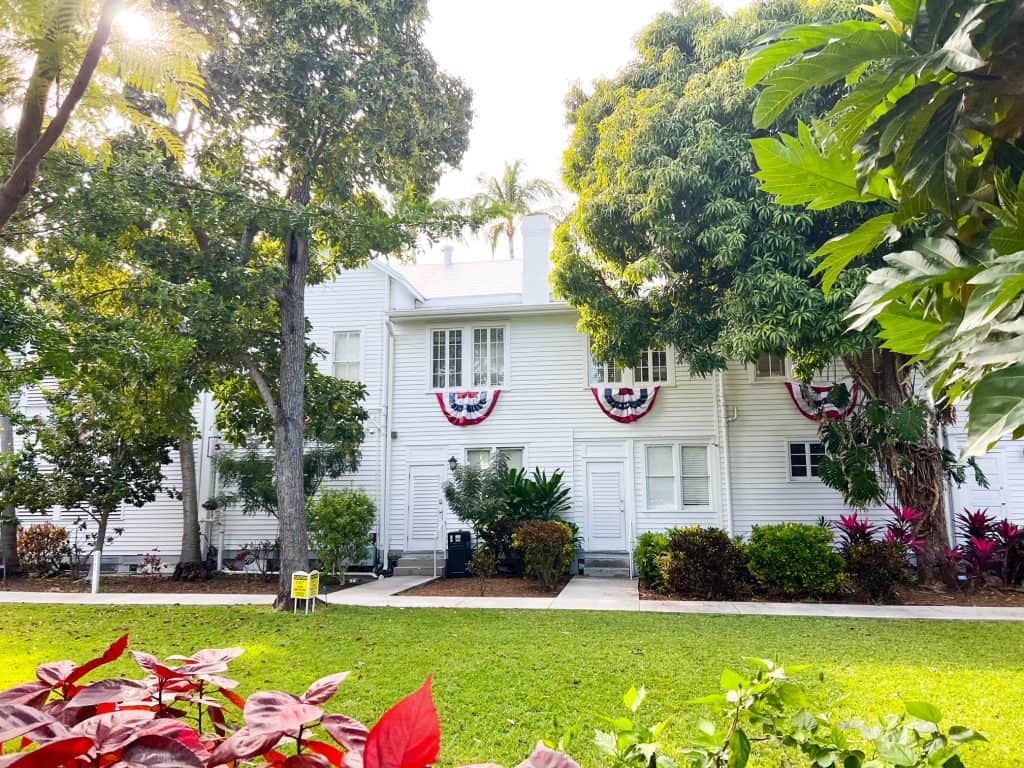 Stop 3: Ernest Hemingway House
The next stop on your Key West itinerary is the Ernest Hemingway House. Located just a block from Duval street, the Hemingway House is a Spanish Colonial-style mansion. It is full of the famous writer's personal items, historic furnishings, photographs, paintings, and more.
This is a must-see Key West destination for anyone who loves history, architecture, or literature! Worth noting the grounds are filled with the famous six-toe cats that are descendants of cats that roamed the grounds while Hemingway himself lived in the house!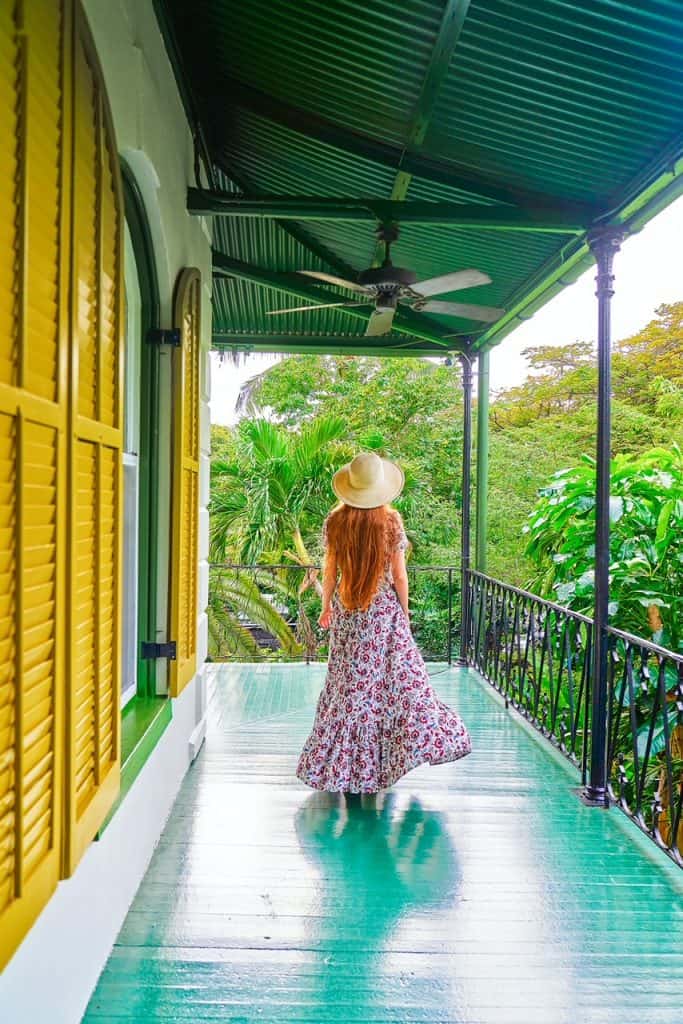 Stop 4 – Sunset Cruise
Whether you are in town for a Key West couples getaway, a Key West girlfriend getaway, or a Key West bachelorette party we have the perfect way to end your first day! Why not end your first day with a Sunset Cruise with Buffet Dinner and Open Bar! There is truly nothing like being out on the calm and peaceful ocean while watching a gorgeous sunset.
On this two-hour cruise around the harbor, you will be fed a delicious dinner with favorites including pulled pork in mojo sauce, black beans, and rice, fish, mixed vegetables, pasta with mini shrimp, and more. You can dance on the upper deck, or sip a cocktail and watch the sunset!
For those looking for something a little more relaxing why not hop aboard the 2-Hour Sunset Sail on Schooner America 2.0 tour with two viewing decks and the calmness of open water.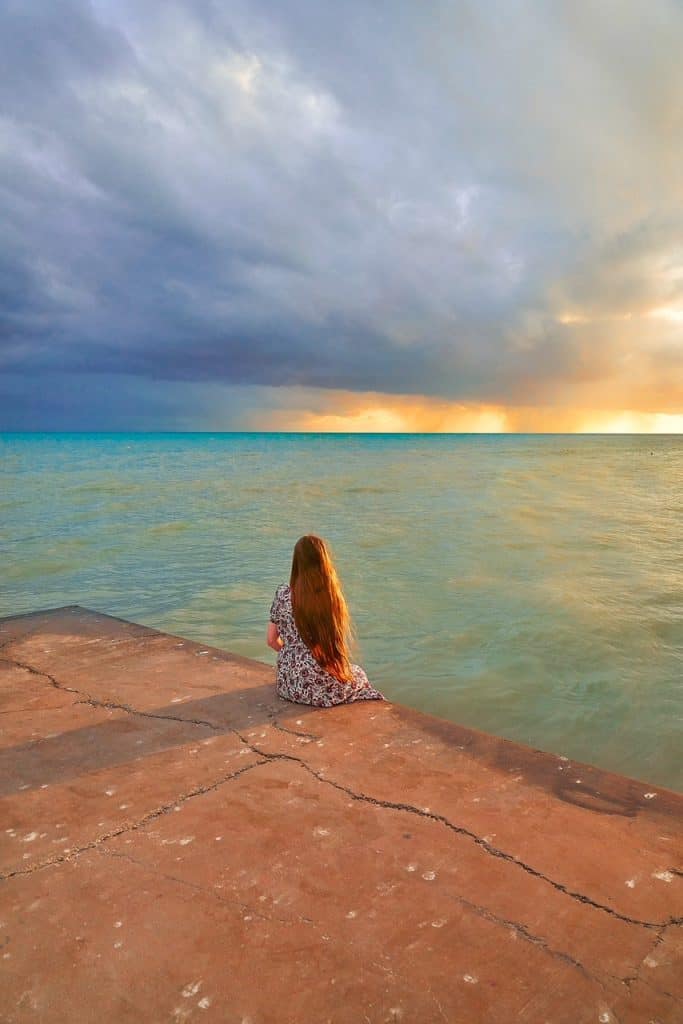 Optional: Stop 5 -Pub Crawl
If you would rather stay on land, to end your first night on your weekend trip to the Florida Keys try a Duval Street Pub Crawl! Key West is known for its nightlife on Duval street, so why not let a tour guide you into the hottest spots in town with your admission and a cocktail at each stop included!
For those looking for a fun night out why not book this Drag Queen Guided tour that takes you to the most happening nighttime destinations in Key West! Featuring drinks, karaoke sing-alongs, dancing, and all the drama that comes along with being in the presence of a world-famous drag performer!
Make sure to check out the best bars and nightlife in Key West!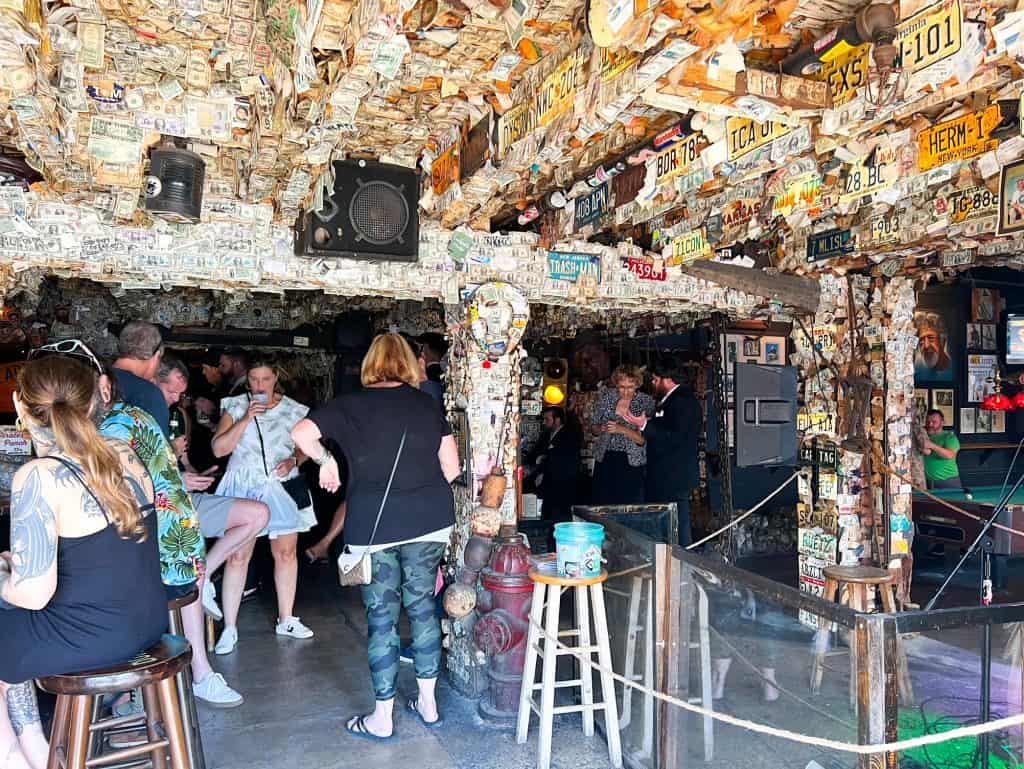 Day 2
On Day 2 of your weekend in key west, we suggest heading on a day trip to Dry Tortugas! You can either do a half-day seaplane tour or a full-day boat tour! Check out our guide to avoid the big mistakes plus tips when visiting Dry Tortugas National Park!
After your trip to one of the best and hardest to reach National Parks, why not relax downtown and grab dinner and drinks on the water! You can pack and lunch even an alcoholic beverage to enjoy while on the island!
If getting to the Dry Tortugas is not an option on your trip, why take a day trip to Bahia Honda State Park!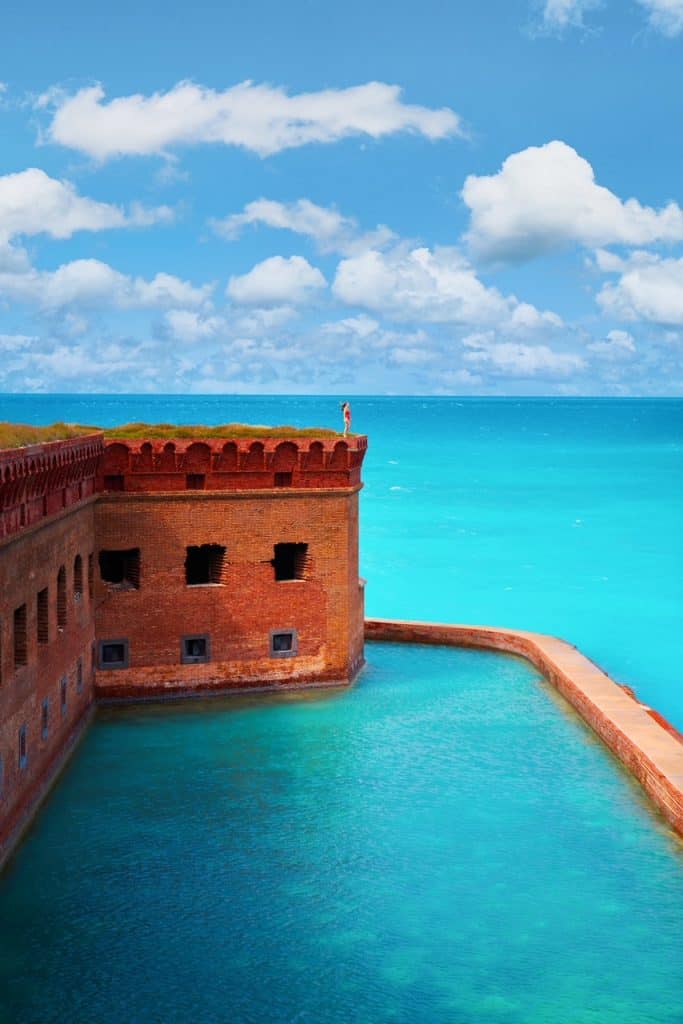 Stop 1 : Dry Tortugas Day Trip
Dry Tortugas is a 100-square mile park made up of seven small islands and is located just about 80 miles from Key West. This tropical paradise is also home to the well-known and magnificent Fort Jefferson. A visit here mixes nature, history, and transports visitors to a remote place!
The only way to visit here is by private or chartered boat tour, chartered seaplane tour, or the Yankee Freedom Ferry. Reservations for the ferry fill up very quickly, so you'll need to plan several months in advance. It is worth noting that the visit to Dry Tortugas can cost several hundred dollars and needs to be booked in advance. But it is 100% worth it!
For those who are adventurous enough, why not spend the night for some primitive camping in Florida!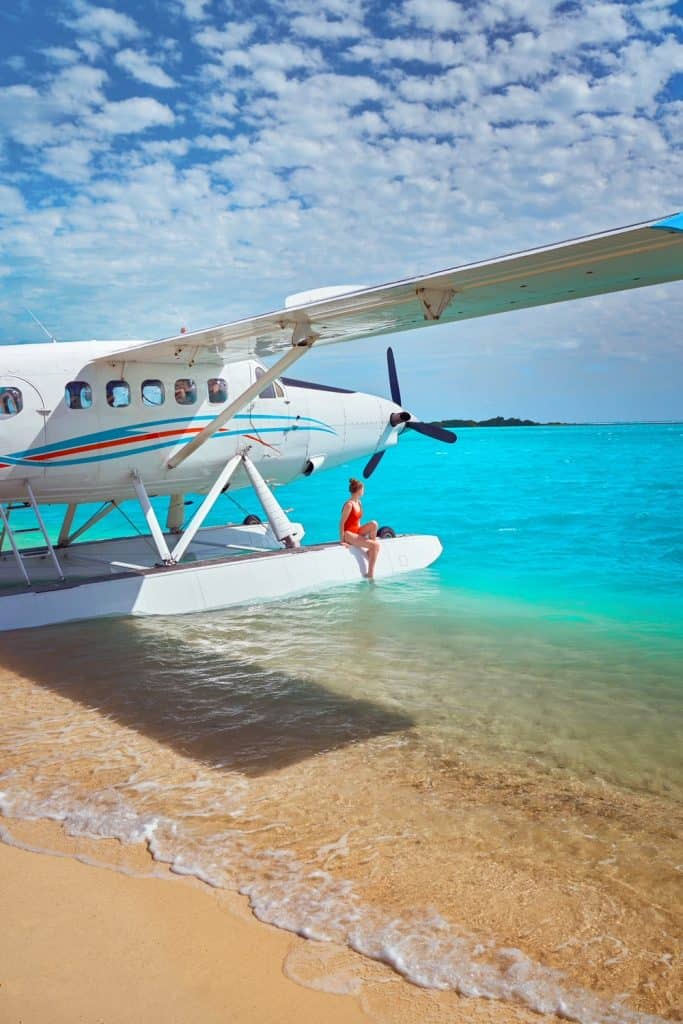 Stop 2 : Visit Fort Jefferson
Most of the iconic photos you see from the Dry Tortugas is the red brick, Fort Jefferson. Take a tour of Fort Jefferson to learn about the island chain's historical past as a prison. It once housed nearly 2000 inmates. You can also take a self-guided tour as well with numerous plaques spread across the fort. Make sure to put this on your list when doing a Florida Keys Road Trip!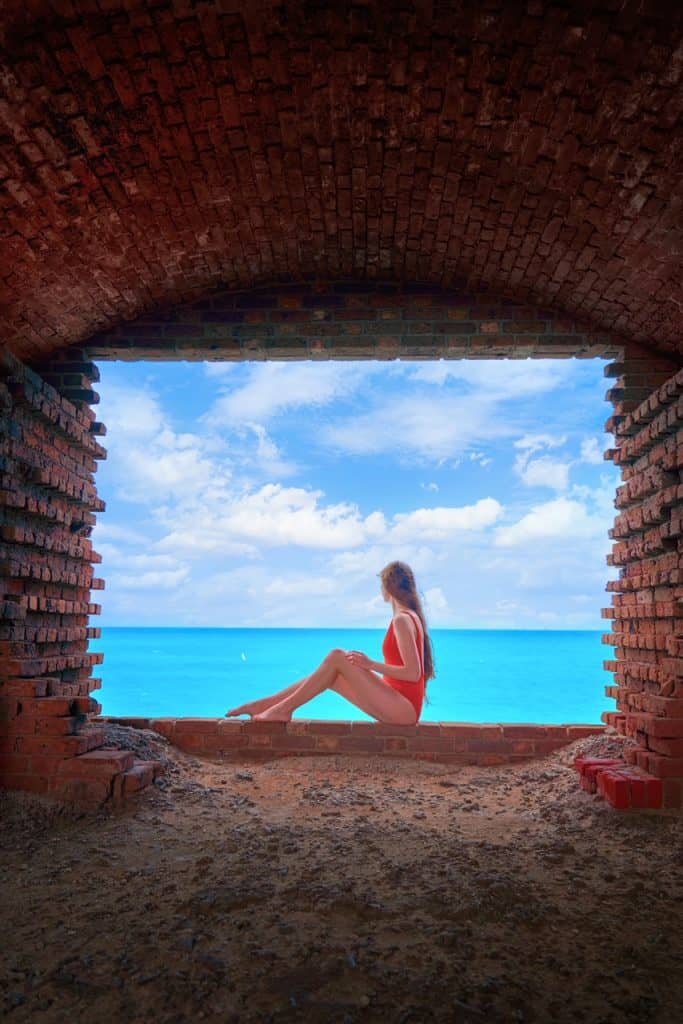 Stop 3: Snorkling
No weekend in Key West is complete without a trip to Dry Tortugas. It is a great spot for snorkeling and scuba diving around the National Park. Less than 1% of the National Park is on dry ground, making the Dry Tortugas an underwater paradise!
With crystal clear water, gorgeous coral some rising 50ft high, it is truly spectacular! There are fish species here that don't exist anywhere else in the world. Keep an eye out for sea turtles as the island is named after the Spanish word for turtles!
The popular spots to go, scuba dive, include the Maze, the Bat Caves, Dante's Inferno, Texas Rock, and the Windjammer Wreck one of the most beautiful shipwrecks in the world.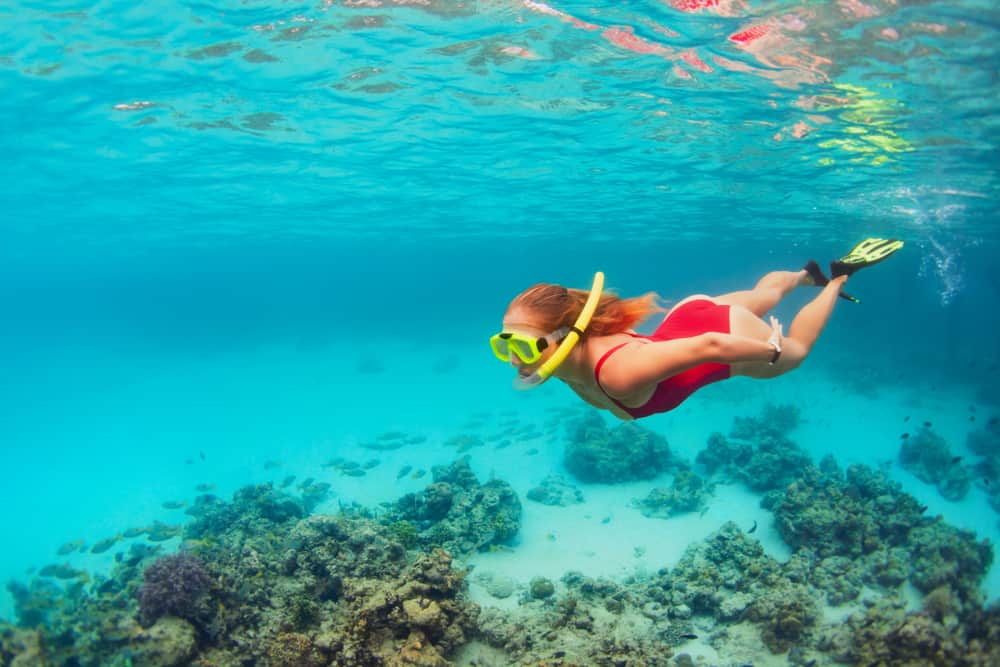 Optional: Bahia Honda State Park
For those who don't have the time or budget for Dry Tortugas, head to Bahia Honda State Park. We have an entire guide on what to explore here!
Known for its iconic Florida Key scenery, sandy beaches, clear waters Bahia Honda State Park is the best place to visit on a weekend in Key West. Just under 40 miles from Key West, it only costs $8 per vehicle to visit!
You will want to arrive early on weekends or holidays as once capacity is hit, the park will close!
Make sure to check out some of our other favorite things to do in the Lower Keys in addition to Bahia Honda or check out our list of the Best Florida Keys Beaches for some more ideas of places to visit!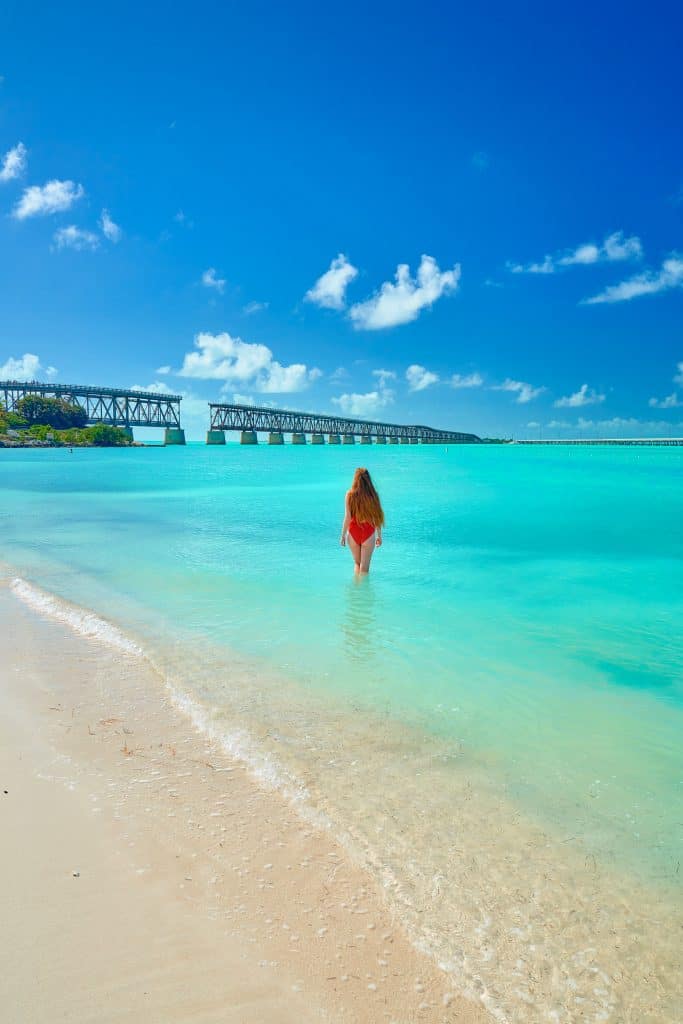 Stop 4: Dinner at Blue Heaven
You are sure to have worked up an appetite after exploring Dry Tortugas! We suggest heading to one of the best restaurants in Key West for dinner.
Head to the historic Bahama Village where you can enjoy the island flavors. From the fresh snapper in the yellow submarine sandwich to popular Caribbean "BBQ" shrimp or a vegan and vegetarian option, there are plenty of options!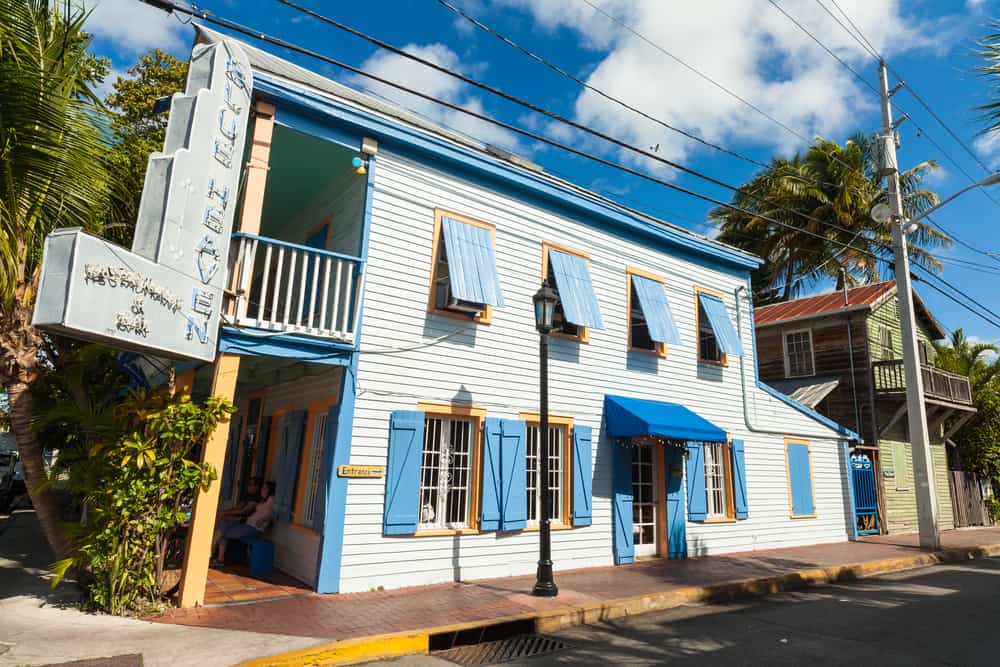 Stop 5: Ghost Tour
After you return from your half-day trip to Dry Tortugas or Bahia Honda, why not spend your evening on a ghost tour of Key West! The best part is you will be transported by trolly along with the spooky and haunted sites across the island.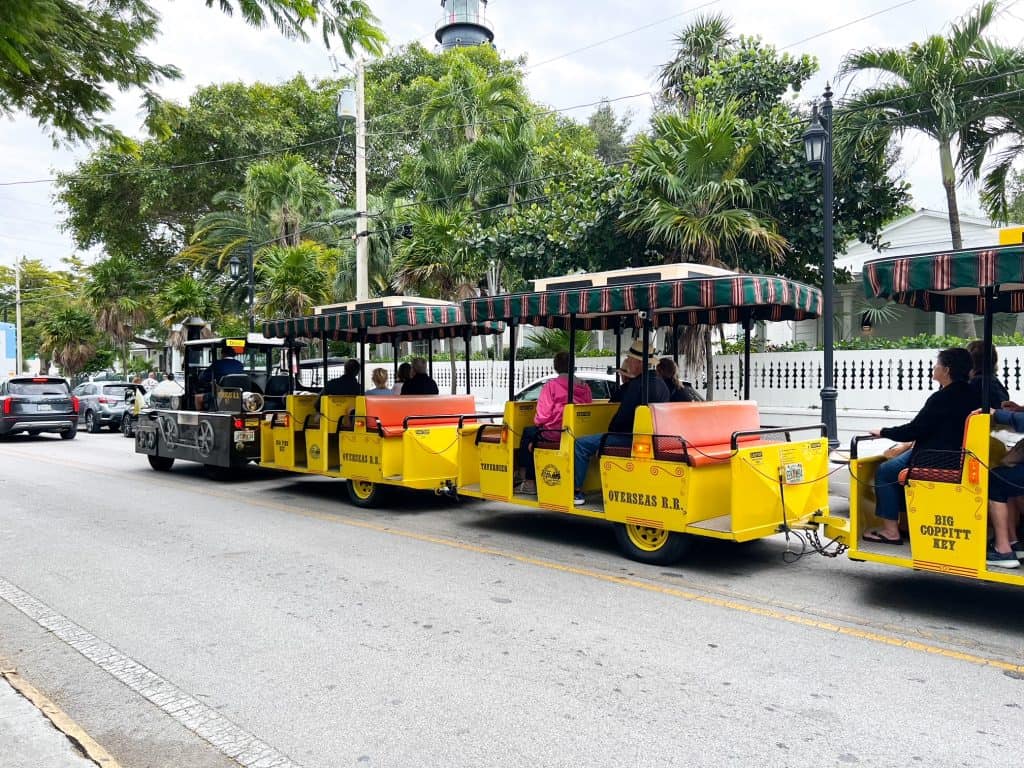 Day 3
On day 3 of your weekend in Key West itinerary, you will be taking it easy after a jam-packed first two days and nights! You will start with an amazing boozy brunch spot, followed by either snorkeling the reef, taking food out, or purchasing handmade leather sandals!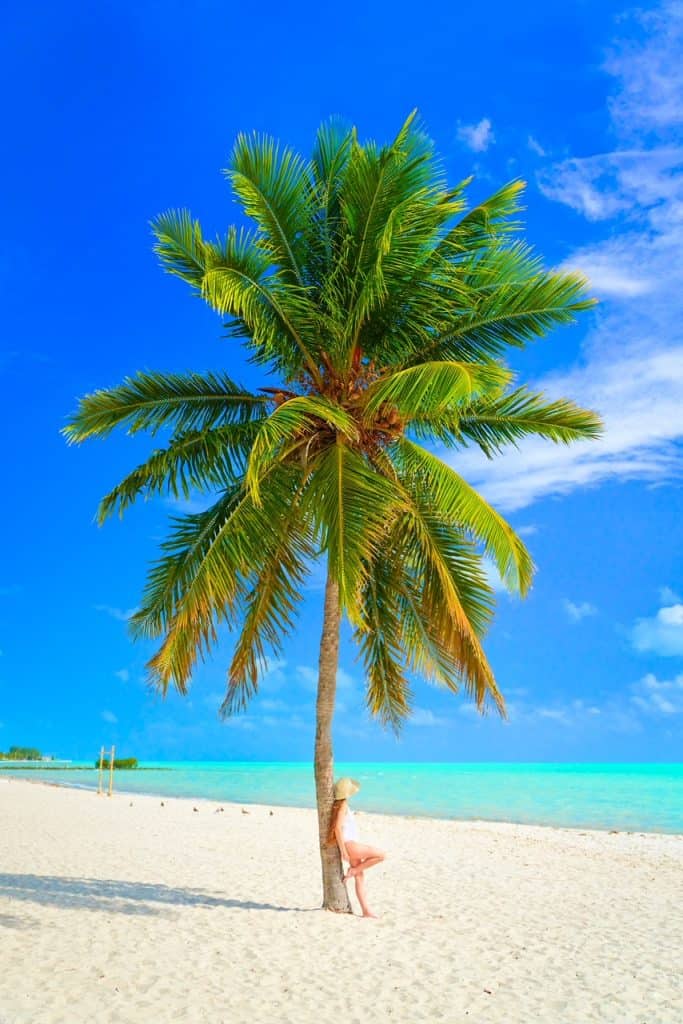 Stop 1: Brunch at Bagatella
Bagatelle serves a breakfast hangover happy hour from 9 to 11:30 a.m. every morning. If you had a late night during your Key West bachelorette party head here, where you can enjoy fun alcoholic beverages with scrumptious brunch plates. Dive into a crab cake benedict, crispy fried French toast, or braised pork sandwich with pineapple slaw.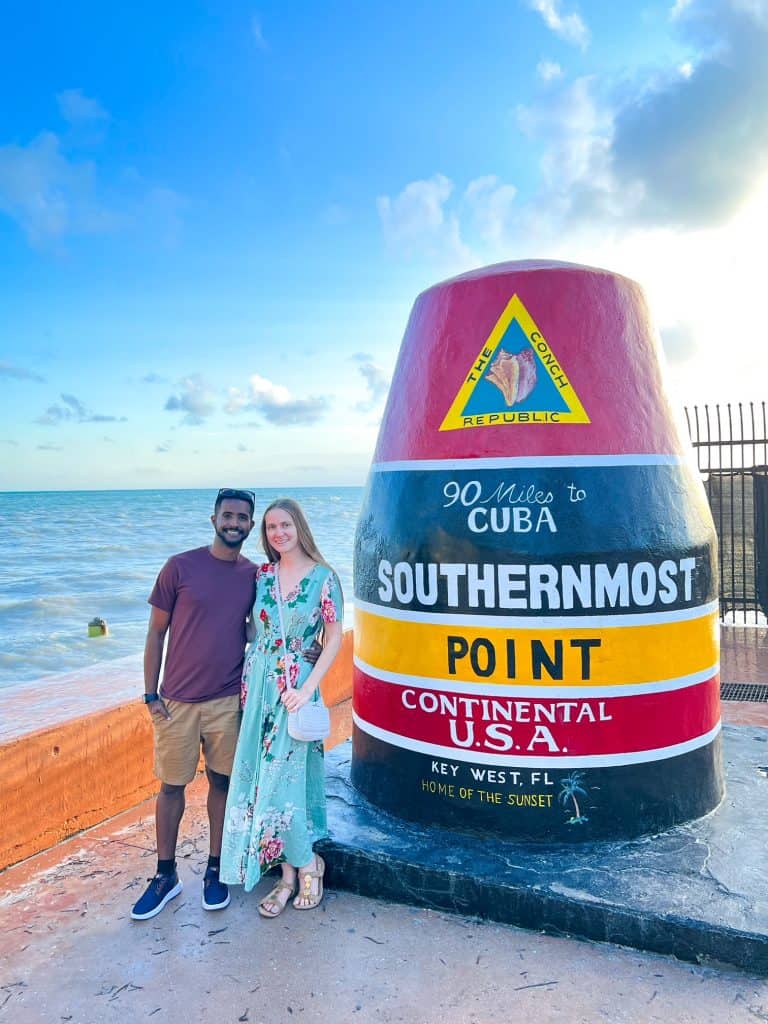 Stop 2 : Snorkeling and Breakfast
On stop 2 of your Key West getaway itinerary why not take a Key West: Reef Snorkel Morning Tour with Breakfast & Mimosas! This tour is 3 hours where you will visit the third longest reef in the world, snorkel, and enjoy a delicious breakfast accompanied by mimosas on your trip back to port!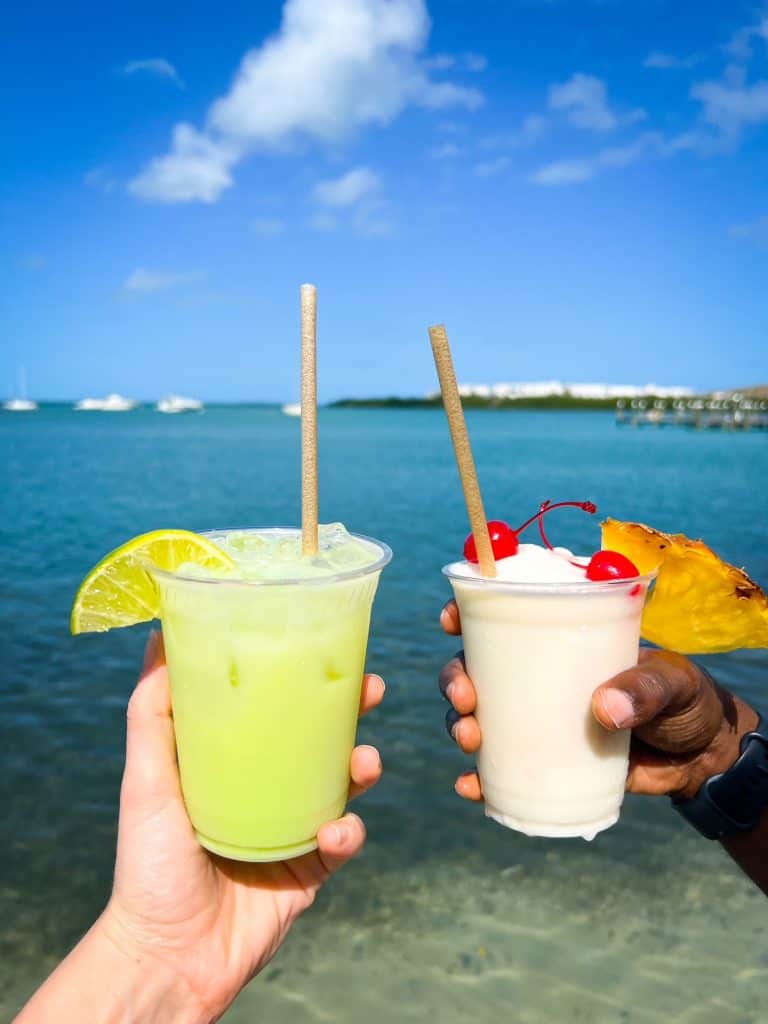 Stop 3: Optional : Key West Food Tour
Next up, for those who want to stay on land is a Southernmost Food and Cultural Walking Tour! On this 5 stop tour, you will get to taste some of the most famous foods of Key West. Think conch fritters, fresh fish tacos, and the amazing key lime pie! Head to hole-in-the-wall places you would never find on your own!
Stop 4: Smather's Beach
On your 3 days in Key West, you must visit one of the beaches. With half a mile of soft sand, Smathers Beach is the one to go to if you like lively, fun-filled beaches.
Smathers is a great beach with something for everyone like swimming, snorkeling, kayaking, parasailing, sunbathing, and beach volleyball. Plus there are food vendors and beautiful palm trees shoreline perfect for picnicking under!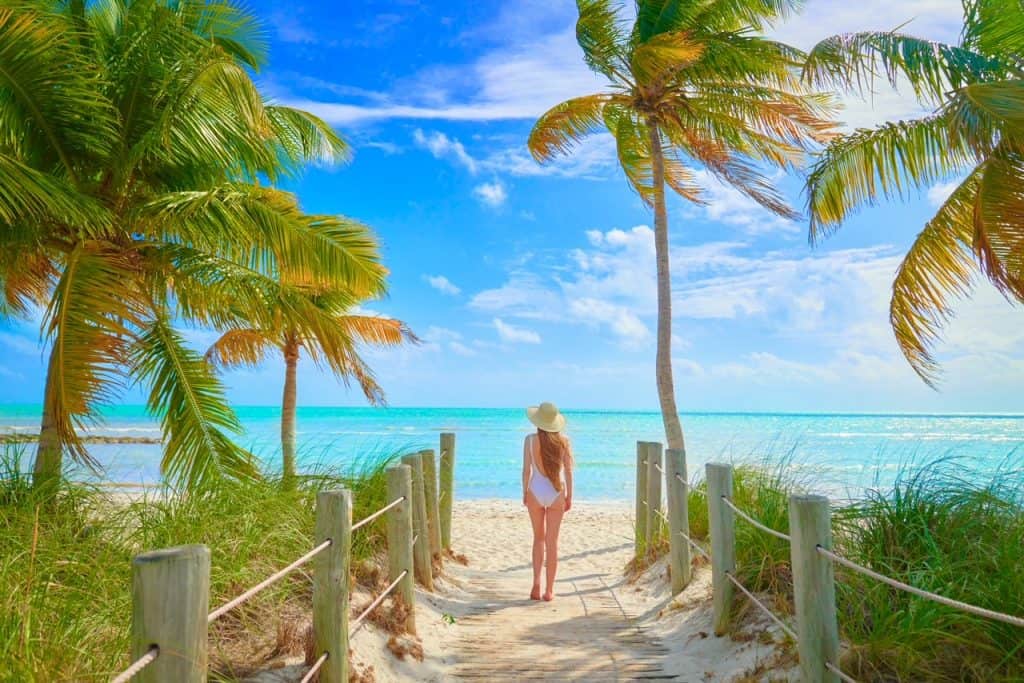 Stop 5: Kino Sandal Factory
Since 1966, the Kino Factory has been a staple of any Key West weekend trip! Stop in the purchase handmade leather sandals that are hand-cut and produced on-site in this traditional sandal factory! Choose from over 17 styles with various color combinations for men, women, and children.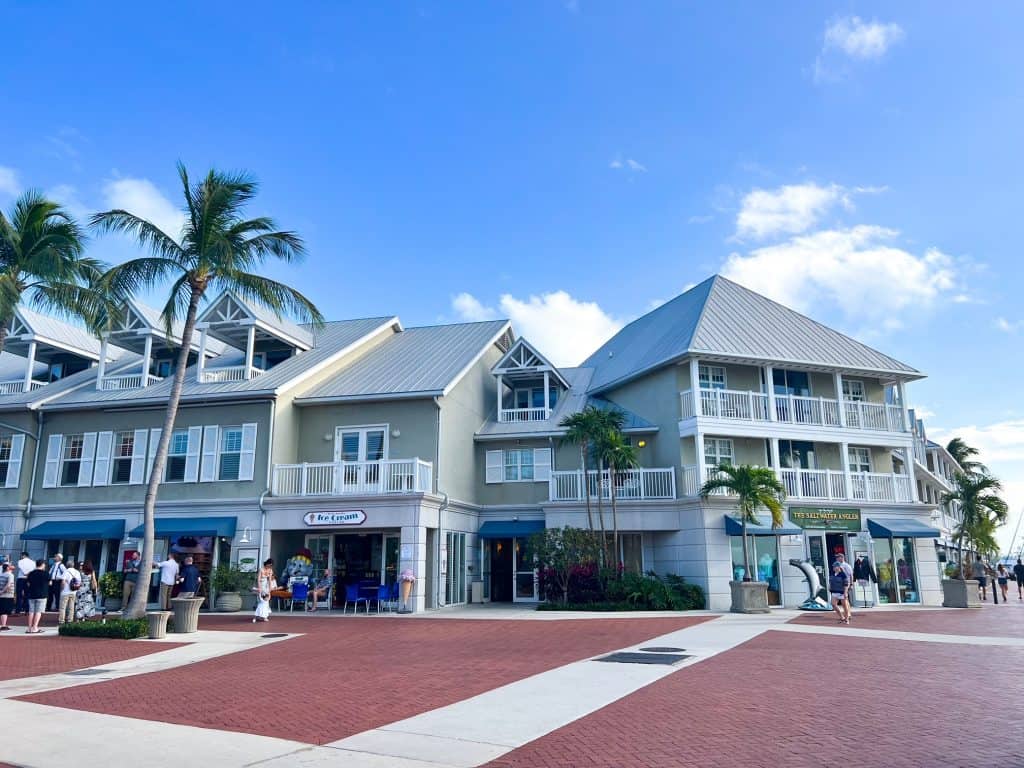 Where To Stay In Key West
There are plenty of options if looking for places to stay in Key West! From hotels, home rentals, camping, and more!
Make sure to check out our list of the Best Resorts In The Florida Keys! There are some really epic resorts featured for couples, families, and more.
The Saint Hotel Key West, Autograph Collection
If you are looking to be in the heart of the action, The Saint is located just 4 minutes from Duval Street. This upscale hotel is also close to Ernest Hemingway and Smathers Beach. While the rooms are small, they are well-appointed and bright and airy, or splurge for a much larger suite!
Amenities include a restaurant and bar on-site as well as a chic outdoor pool with a waterfall and Dj on the weekends.
Check Rates: Booking.com
Key West Marriott Beachside
On our most recent trip to Key West, we stayed at the Key West Marriott Beachside. Located on 7 prime acres with oceanfront access with the pool as the centerpiece of the resort. This is truly one of the Best Places To Stay in The Florida Keys!
From the hotel's marina, you can rent jet skis, kayaks, and paddleboards. There is a complimentary hotel shuttle downtown multiple times daily. Many of the balconies are oceanfront allowing you to relax and enjoy a sunset or ocean breeze from your town room!
If you have a car parking is $25 a night!
Check Rates: Booking.com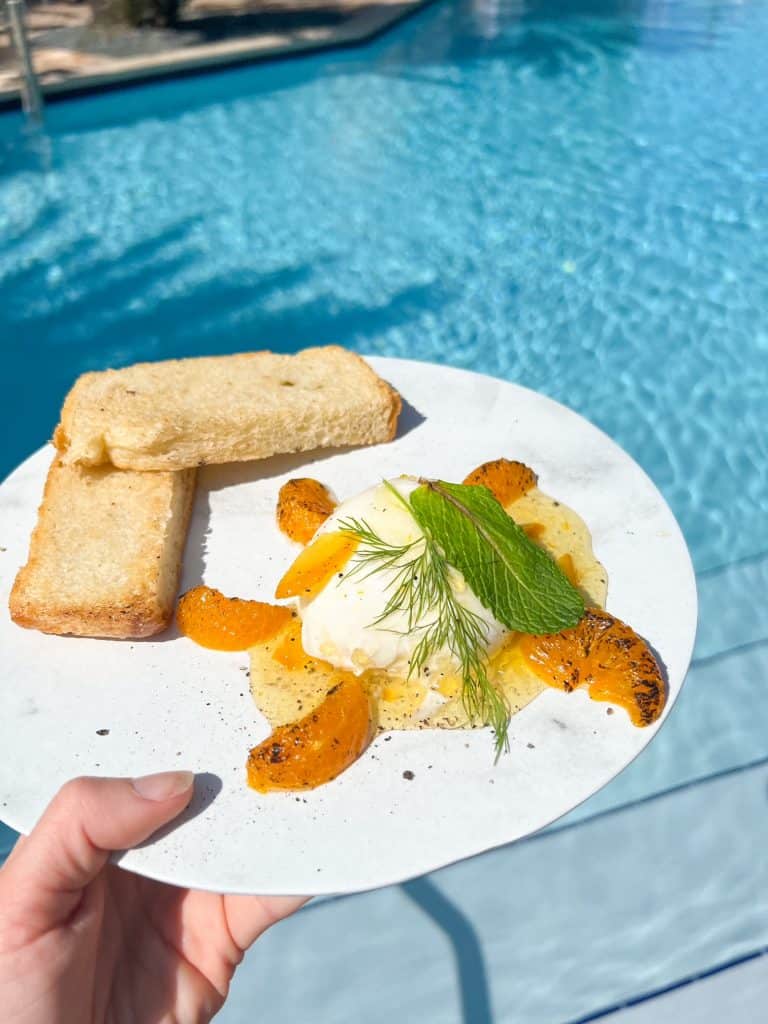 Dog-Friendly Home With Private Pool
Are you planning an extended weekend in Key West and want to bring your pups with you? This Dog-Friendly Home With Private Pool is the place to stay!
Located in Central Key West, you are in a prime location for exploring shops, restaurants, beaches, historic landmarks, and dog parks! The home is ready to accommodate up to 3 guests with 2 bedrooms, 2 beds, and 1 bath.
>>>Check Rates: VRBO.com
Waterfront Oasis
This 2 bedroom 2 bath home has amazing views of the ocean. This property can sleep 6 people in 4 beds. This is truly one of the Best Places To Stay In Key West!
The property features plenty of outdoor seating, a grill, and a pool table. The home comes with life jackets and kayaks so that you can explore the channel that the house sits on.
>>>Check Rates: VRBO.com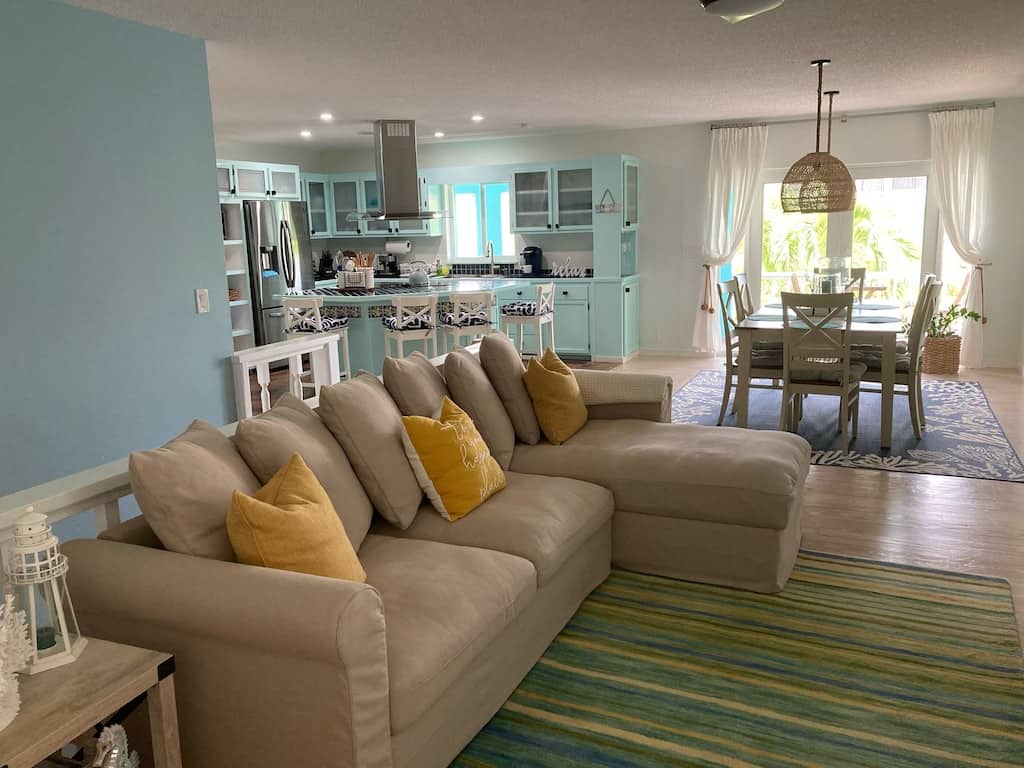 Where to Eat During Your 3 days in Key West
Latitudes
Latitudes is one of the classiest restaurants in Key West. To reach it you'll have to hop on a free ferry because Latitudes is on an island of its own!
With waterfront seating, delicious food, and excellent service, it's open for breakfast, lunch, and dinner. For breakfast, savor the lobster benedict. For lunch, try the surf & turf burger. And for dinner, twirl up the Key West pink shrimp carbonara or cut into the lemon glazed yellowtail snapper.
Banana Café
This French-inspired restaurant serves up some of the best crepes in town. Enjoy them for breakfast, lunch, or dinner.
Try everything from the breakfast-themed la super crepe to the seafood-filled la Mahi piccata crepe to the popular homemade key lime pie crepe. At lunch, be a little adventurous and try the baked escargot. Or for dinner enjoy the half roasted duck, seafood risotto, and French country chicken. There are also a good number of vegetarian options available at Banana Café.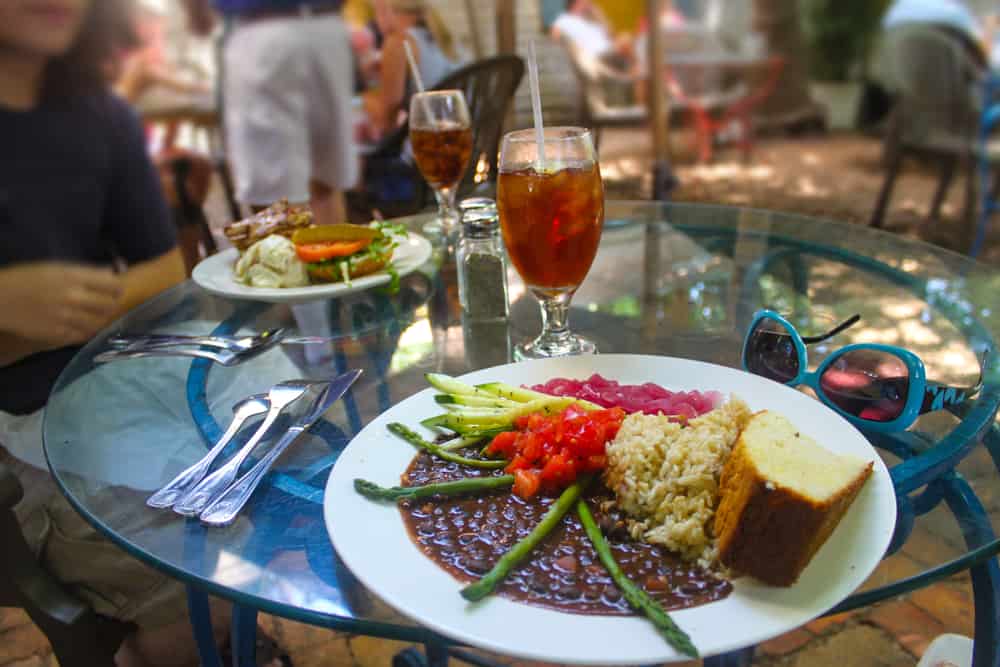 Hogfish Bar & Grill
Situated on Stock Island just 15 minutes from Key West, is Hogfish Bar and Grill. Known for its fresh seafood and oceanfront location, it is frequented by Florida Keys locals.
The hogfish tacos and hogfish sandwich – named after both the fish and the restaurant – are two of the most popular items on the menu. There is live music on the weekends.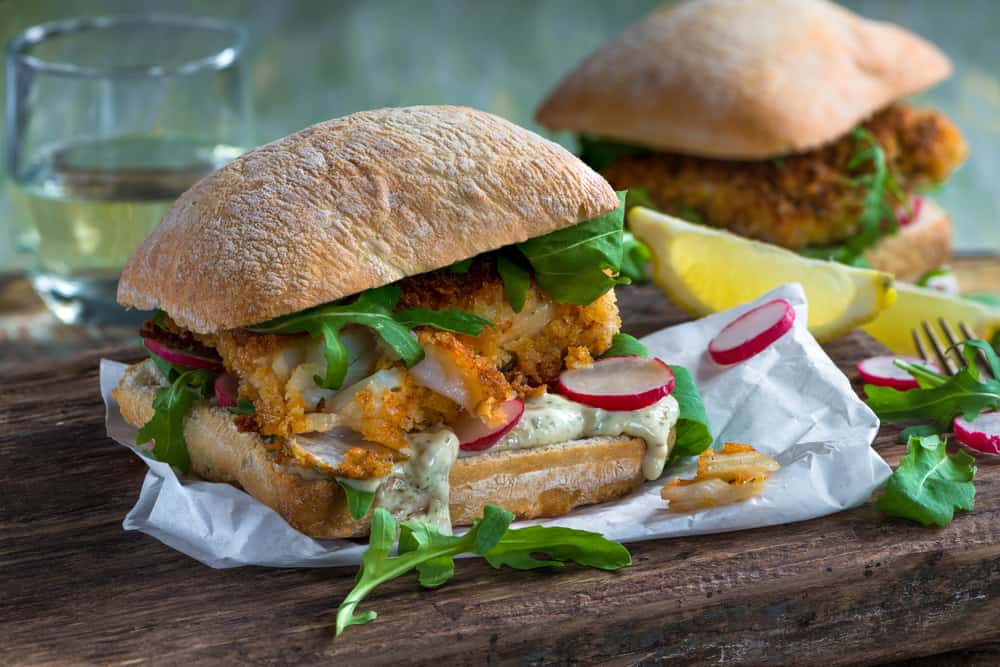 The Cafe
Those looking for vegan and vegetarian options will want to head to The Cafe. Breakfast is served every Monday through Friday until noon. If a dish on the menu doesn't fit your dietary habits, then simply ask your server for the vegetarian or vegan version.
On Saturday and Sunday, mornings switch to brunch service! We love the Polenta Cake Benedict with lemon-caper hollandaise. You can't go wrong with the Caprese Egg Sandwich with house basil pesto, garlic spinach, grilled tomatoes, and fresh mozzarella.