Looking for the best places to catch the sunset in Clearwater? Look no further than this article. Of course we know there are places for sunset like Pier 60 Sunset, and Sand Key. But did you ever think about catching the sunset from a rooftop deck? Or how about while on a sunset cruise? Consider visiting the Palm Pavilion on Clearwater Beach and other places!
We all know Clearwater Beach is famous for its white sand and stunning blue water. And while I personally love both of those things, I also can never pass up the opportunity to visit the west coast to see its stunning sunsets.
So whether you're staying at Clearwater Beach for vacation, or just taking a day trip to do something fun in the area, stay for the evening. Watch the sun dip below the horizon of the water, and enjoy. It's like magic.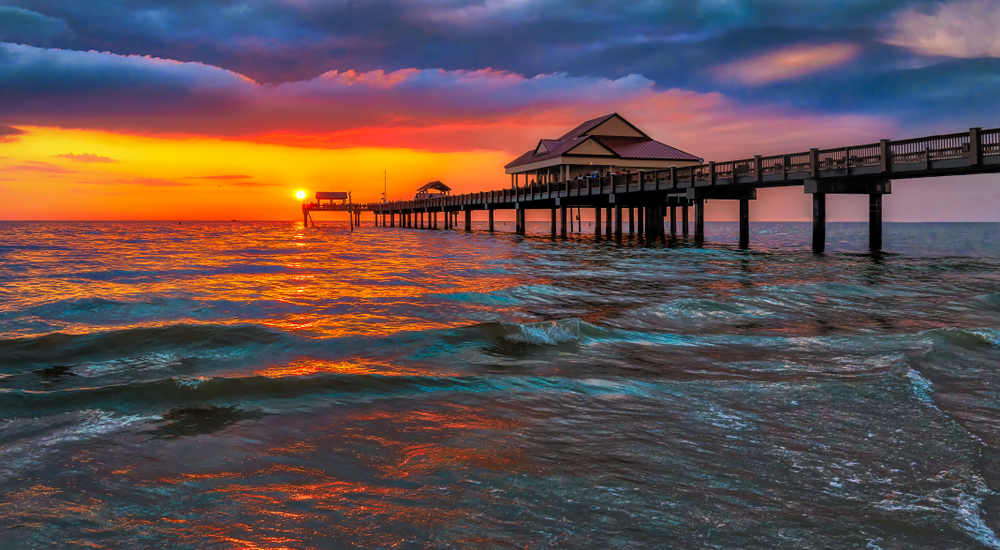 1. Pier 60 Sunset
When looking at where to watch the sunset in Clearwater, consider the most iconic location! Pier 60! This fishing pier/recreational park stretches 1,080 feet into the Gulf and offers dire views of the setting sun, making a Pier 60 sunset something you must see when visiting.
While this place is popular amongst fishermen, you can also walk the boardwalk and browse souvenirs, t-shirt shops, and stop to purchase from snacks! Between all of this and the live entertainment, the sun setting across the waves is a must see view.
This is our favorite spot for sunset in all of Florida!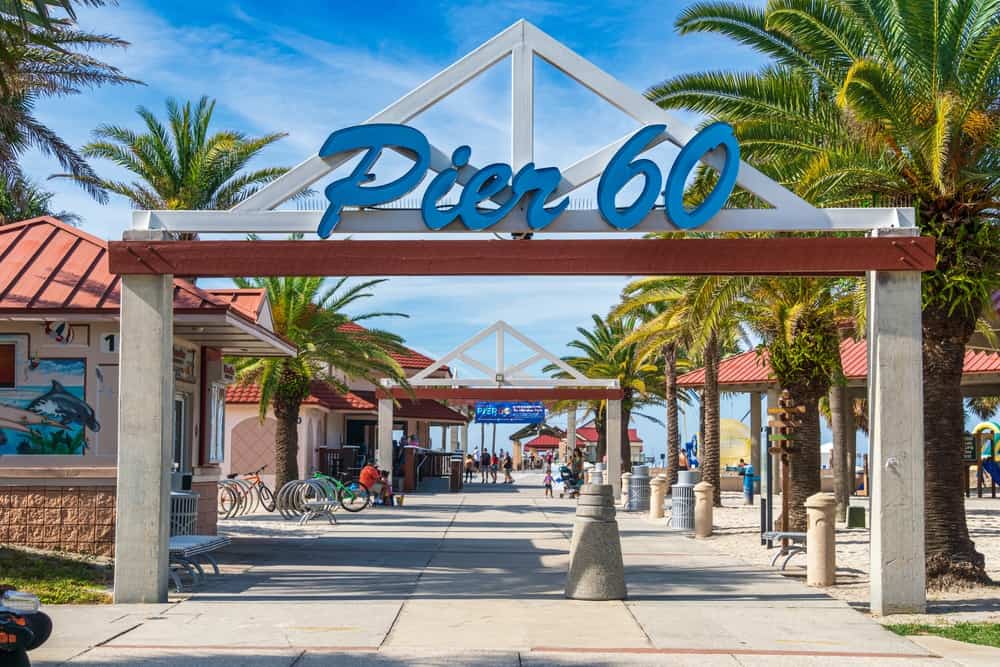 2. Captain Memo Sunset Cruise
What better way to see a sunset then be on the water? This pirate themed day cruise is located in the heart of Clearwater. For over 40 years , this cruise ship has brought family fun to many!
Legend has it that Captain Memo and his wife Panama Pam sailed to Florida from California in a 30 foot sailboat via the Panama Canal. Today, these pirates take guests on a fun adventure that features complimentary drinks, water gun battles, treasure hunts, pace painting, pirate stories, and dance parties.
But if you really want to catch a sunset view on the cruise, book those evening times! Enjoy champagne and then the sunset around 7:00 P.M. every day! And make sure to make a reservation in advance: this ship fills up fast because it is the best cruise option for a Clearwater Beach Florida Sunset!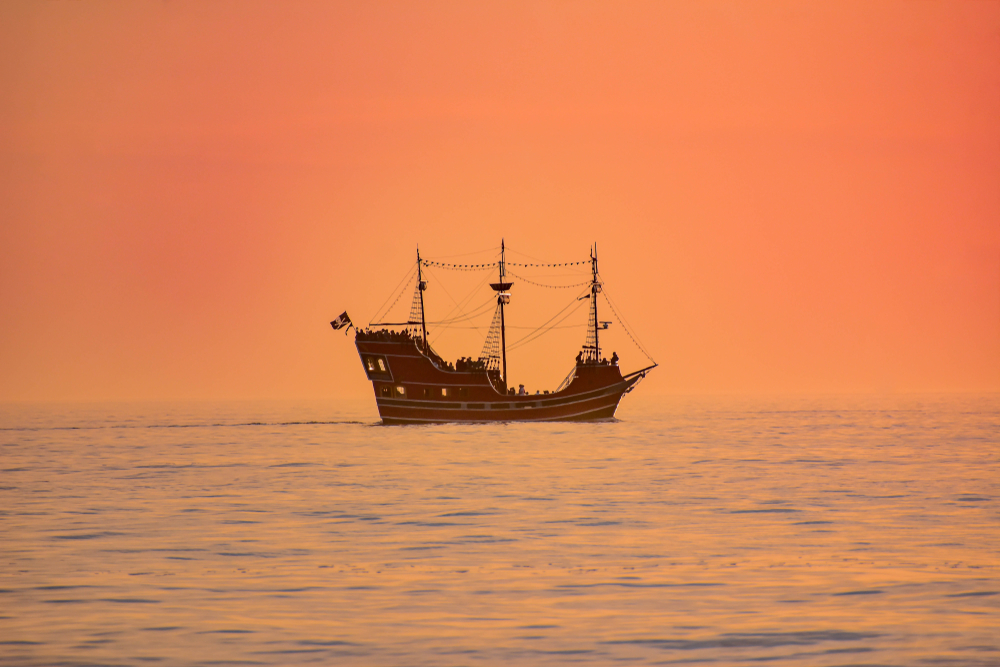 3. Sand Key
A Clearwater Beach sunset is not complete without viewing it from the hidden gem of Sand Key. I call Sand Key a hidden gem as many tourists don't know it exists, and thus, it is usually a more private oasis.
This stunning park features pristine white beaches, is great for shell hunting, and offers picnic areas which makes it perfect for enjoying a snack during sunset.
Sand Key features two parts: the park and the beach. These two distinct areas are perfect for guests and cost only $5 to visit! Just make sure to only stay 30-45 minutes after sunset, as they do close the park after sun down.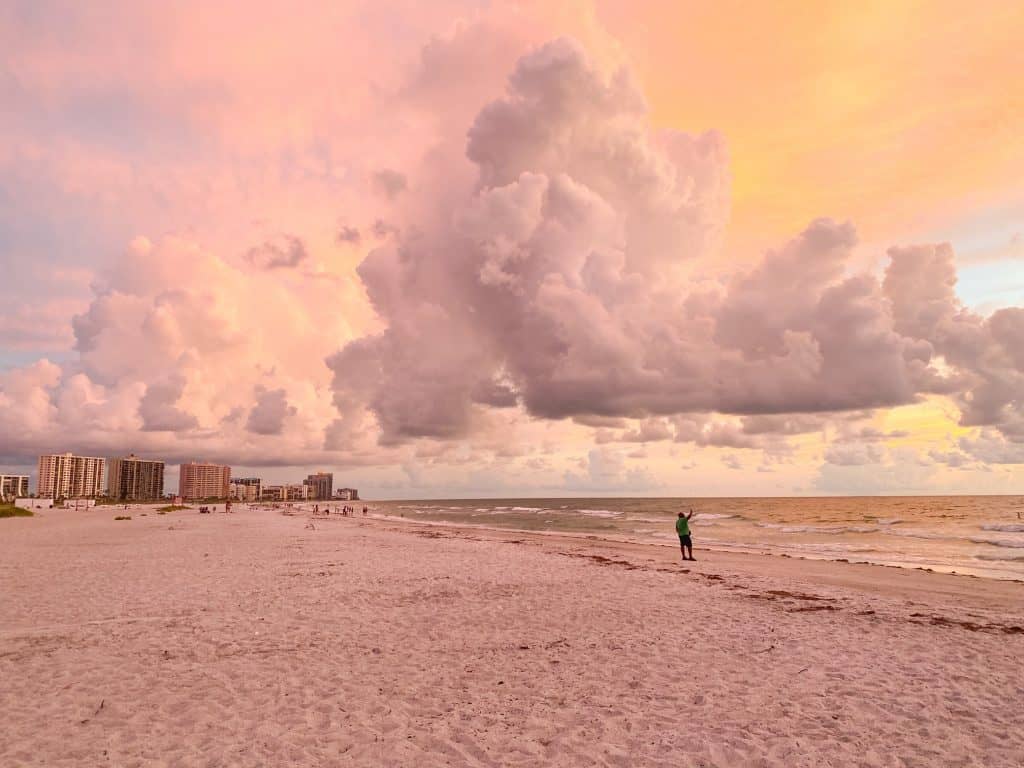 4. Palm Pavilion Beachside Grill & Bar
Laid back and casual, Palm Pavilion is where the locals hang out. Since it's opening in 1926, this restaurant has been the location for views. The beach is at their front door, giving a perfect view of a Clearwater Beach sunset.
The bar and grill is also famous for its live entertainment, which just adds to the vibe of the place. Guests flock here for seafood, steak, and specifically the shrimp and crab chowder.
This is a first come, first serve spot. So come in early and grab food and a drink! Wait times can lengthen, especially when the sun is about to set, so you want to make sure you have your spot. Get your free sunset with dinner!
BONUS: The Palm Pavilion Inn is located near the Palm Pavilion Bar and Grill! Voted best Boutique Lodging, this may be another go to spot to view sunsets at! Plus you get to stay near the beach after the sun goes down!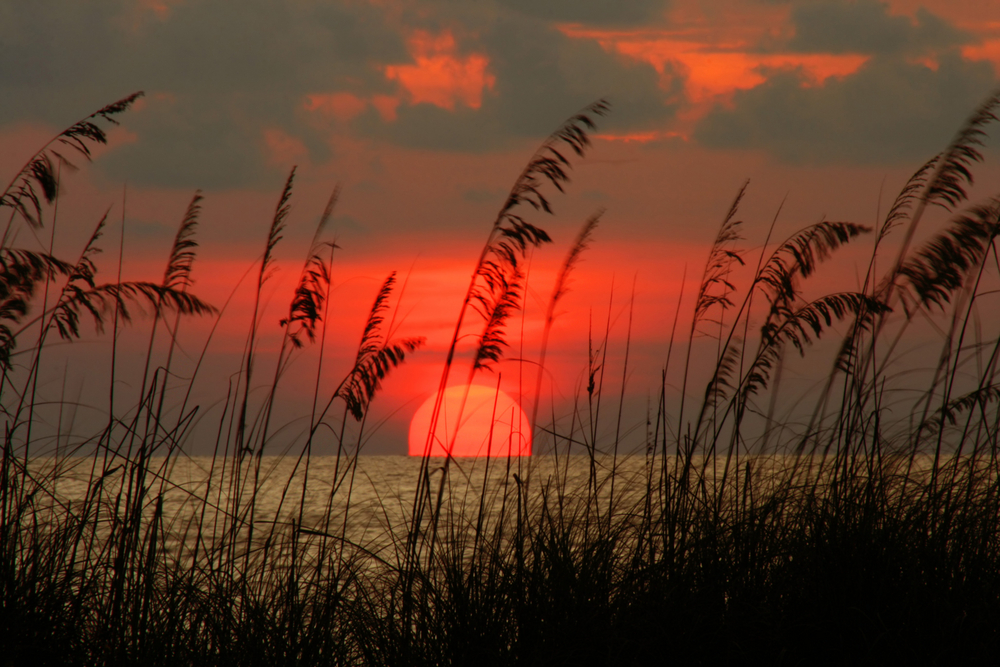 5. Sunset Yoga at Indian Rocks
Is there any better way to relax than yoga? How about yoga during sunset on the beach?! Hatha Yoga is offered twice a week in Indian Shores, by Town Hall. But if you want to meet on the beach, this group meets three times a week on the beach at 22nd Ave North!
Align your skin, muscles and bones, and open the Chanels of your spine so energy can flow freely. Hatha translates so the "ha" means sun, which is perfect, for as you are stretching, your will be witnessing the gorgeous sunset.
This is a powerful tool for self-transformation, and a great way to explore Indian Rocks. The small town of 4,000 gives off total beach vibes, and it is a hidden gem to explore for locals and tourists!! In my experience, combining the yoga, sunsets and Oktoberfest every October is not to be missed!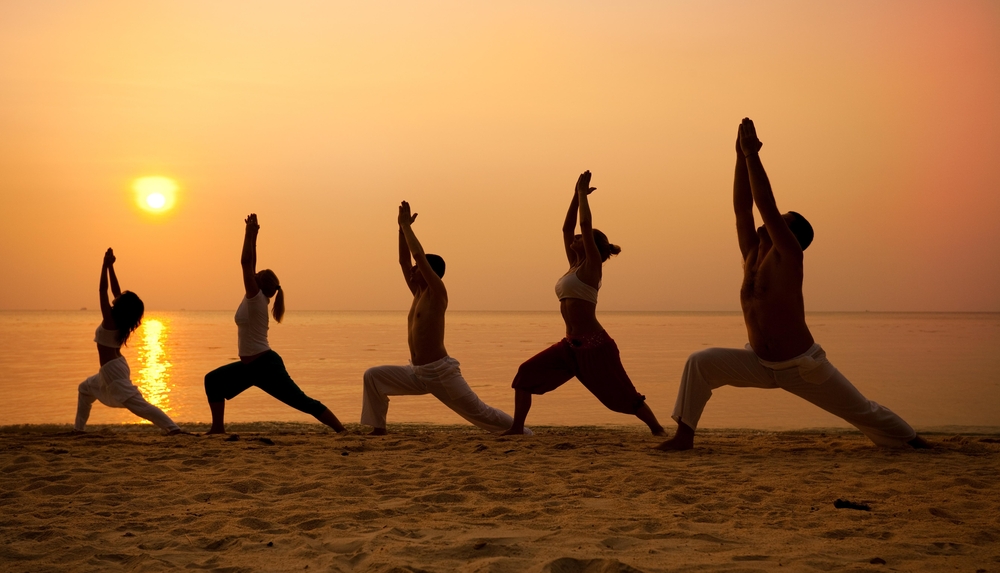 6. Rooftop Deck at Hurricanes
I personally love a good rooftop deck. If you're like me and enjoy sunsets, but don't always want the sand, a restaurants deck may be the perfect middle ground for you! In a way, I consider the rooftop decks like a Clearwater pier sunset, as you get an unmatched and heighten view of the sun and water.
At Hurricane you get to enjoy a classic and historic restaurant that is located just across the street from the Gulf. The twin bars on the rooftop offer spectacular sunset views. So much so that locals and tourists have flocked here every night for the past 43 years!
The food here is also to die for. The wild-caught seafood is mouthwatering. Order appetizers, entrees, drinks and desserts. Either way, you will be dazzled with the restaurants three levels of dining and complimentary views.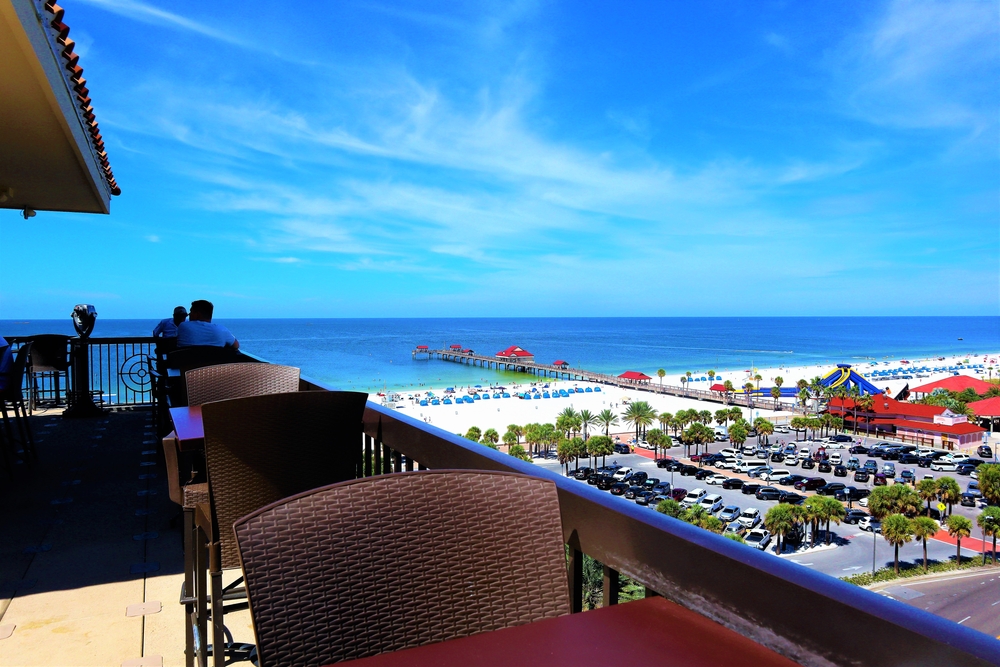 7. Honeymoon Island State Park
Honeymoon Island isn't technically in Clearwater, but we wanted to consider this in the "where to watch the sunset on Clearwater Beach" discussion because it is close enough to Clearwater!
This park is home to over 4 miles of beaches and 3 miles of trails. The trails lead to a pristine virgin slash pine forest, which is great for exploring before catching the sunset.
But the white-sand beaches, rocky coastlines, and driftwood lined mangroves are something that make this park picturesque. You may even feel like you are not in Clearwater anymore! This is one of our favorite spots to visit, whether you are staying for the sunset or not!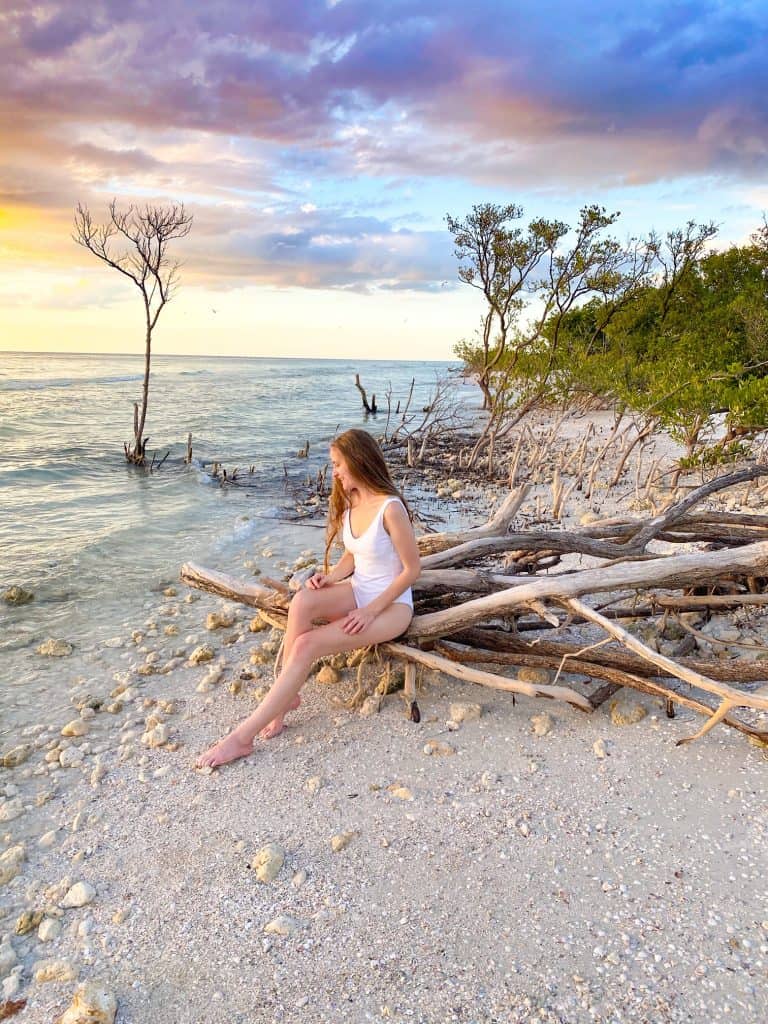 8. Hyatt Regency Clearwater Beach Resort & Spa
What is more relaxing than a beach resort and spa? A beach resort and spa at sunset, duh! Lie back in comfortable lounges and enjoy a sunset with a cocktail or dinner. The Hyatt Clearwater Beach Resort and Spa feature lush landscapes, huge pools, and Gulf vistas.
From eight floors up, you'll get a prime view of the sunset from the pool deck! Or if you want something more intimate or private, you can always book a room and enjoy the views from a private balcony. The public beach in front of the resort is always an option, too. And the Clearwater sunrise view is pretty great!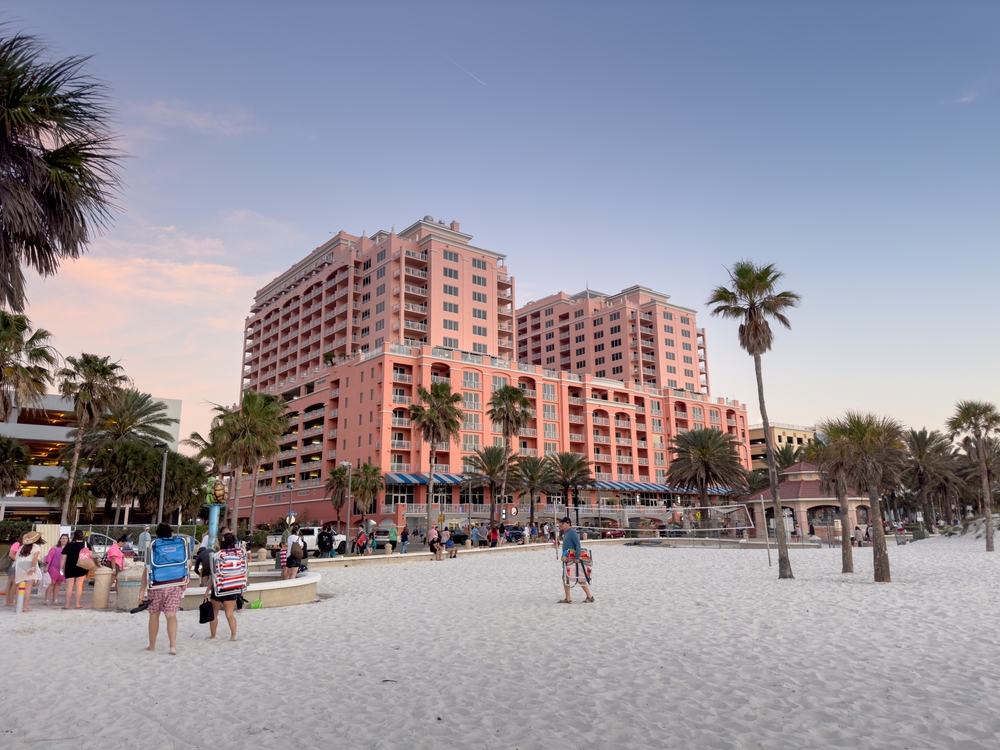 9. Hubbard's Marina Sunset Cruise
Take a 1.5 hour sunset cruise to enjoy the views! A sunset cruise in Clearwater isn't hard to come by, but we want to recommend Hubbard's Marina Sunset Cruise. This tour launches from John's Pass near Maderia Beach.
On the cruise you will pass by multi-million dollar homes, which are worth the view itself. Your guide will narrator the entire hour and a half cruise, and free beer and wine will flow throughout your cruise experience!
The sunset skies of pink, orange, blue and yellow will be breathtaking as you move through the waves. The open deck allows you to relax and view the sky without any limitations or obstructions!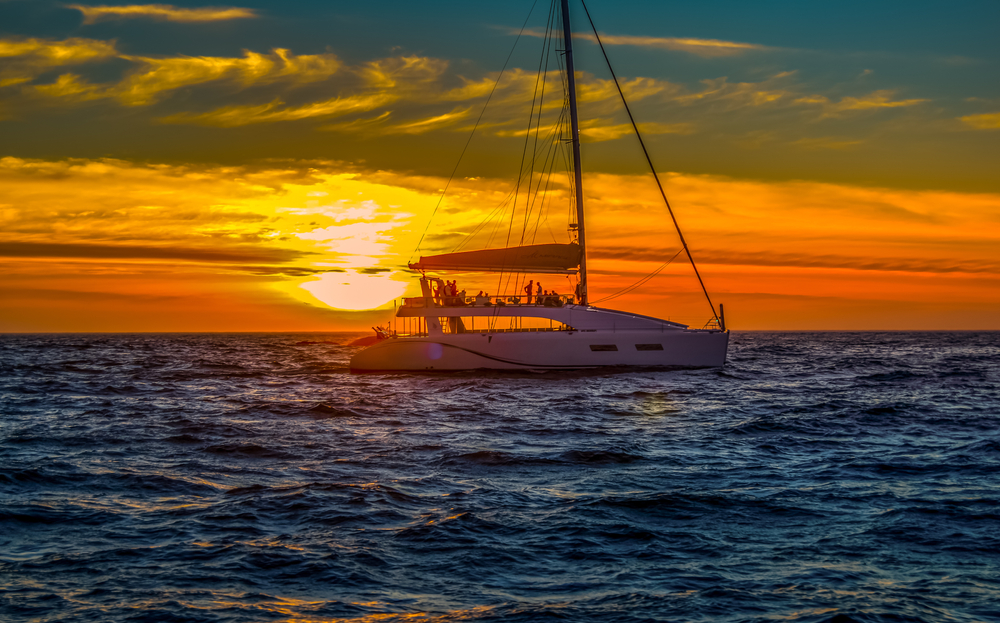 And there you have it folks! The best places to catch a sunset in Clearwater FL. From restaurants to cruises and beaches, there are endless options. The most wonderful thing about Florida is that there will nearly always be a stunning sunset, so why not check out all of these places and let us know which you think offers the best view? Happy gazing! See a Clearwater sunset today!