Looking for the best sunsets in Florida? Then look no further! From beaches in Key West, to the coast of Fort Desoto, and even from a rooftop view in Sand Key, there are tons of options. We all know Florida is famous for its gorgeous beaches, which only means that we have stunning sunsets too.
I personally love going to catch a sunset on a weekday evening. There is nothing more calming than ending a stressful day with the gorgeous beach views. While I typically just spend my evenings at the more popular sunset beaches in Florida– such as Clearwater or St. Petersburg– there is a variety of other places to explore too!
So, when considering places to watch the Florida sunset, don't discount the unexpected. Try out a sunset cruise in Florida! Or drive an extra mile to go checkout a pier! Better yet? Grab a drink at a rooftop bar and sit back and enjoy. Either way, you'll never be disappointed.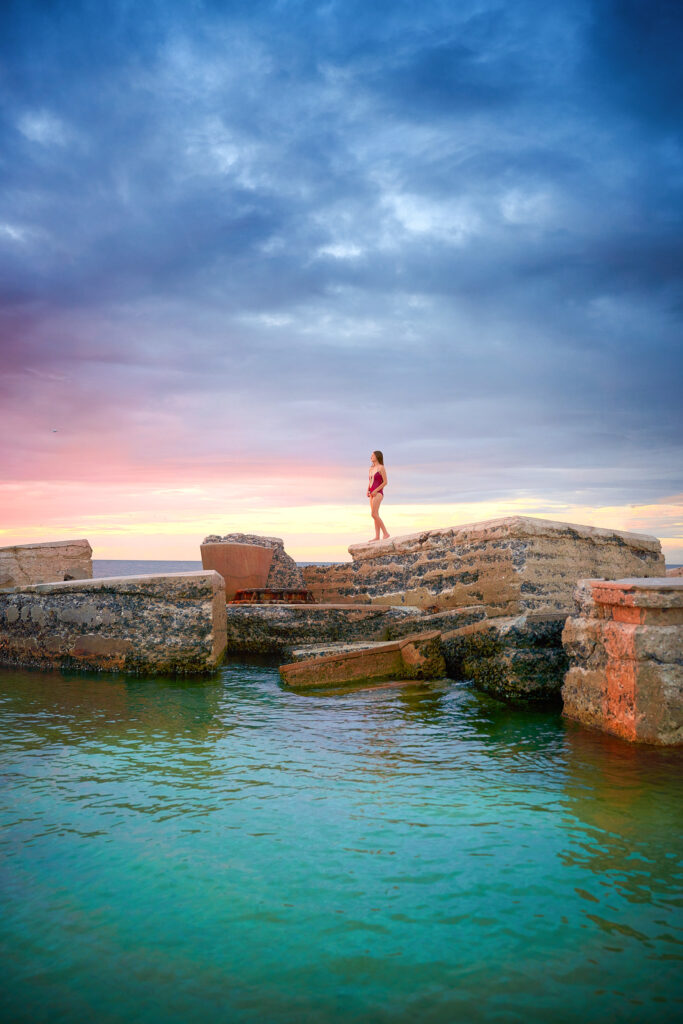 1. Key West Sunset Celebration Mallory Square
Famous for the best Florida sunsets, Mallory Square holds more than 26,000 square feet of shops, boutiques, art galleries, exhibits, and restaurants. It is located right on the water, so this is a must-see-attraction. Of all the things to do in Key West, Mallory Square is the spot!
You can spend a full day here: start with breakfast and a classic cafe con leche, and then head to an art gallery, like the Wings of Imagination. Shop at Nature's Treasures and then enjoy local nightlife! But only after the stunning sunsets. On the square you'll see the most iconic colors, always setting behind street performers and vendors.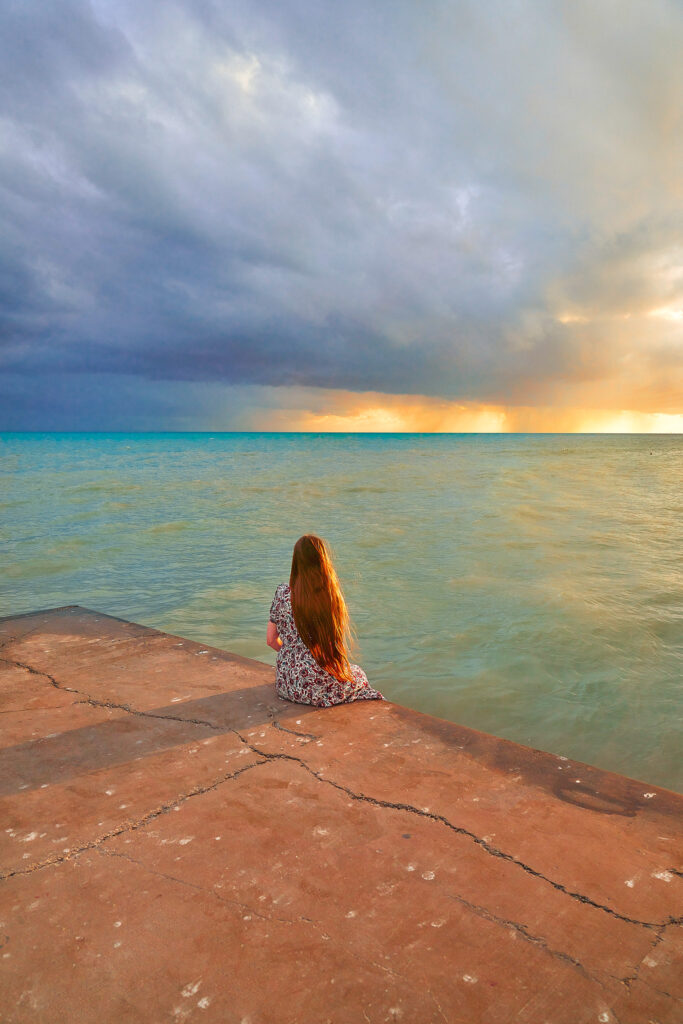 2. Pier 60 in Clearwater
When looking for where to watch the sunset in Florida, consider this iconic location: Pier 60! This fishing pier and recreational park stretches 1,080 feet into the Gulf and offers dire views of the setting sun, making a Pier 60 sunset something you must see when visiting. This is my personal favorite location to go to!
While Pier 60 is popular amongst fisherman, you can also walk the boardwalk and browse souvenirs, t-shirt sops, and stop to purchase fun snacks! Between this and nightly live entertainment, the sun setting across the waves is a must see. This is a top Florida ocean sunset.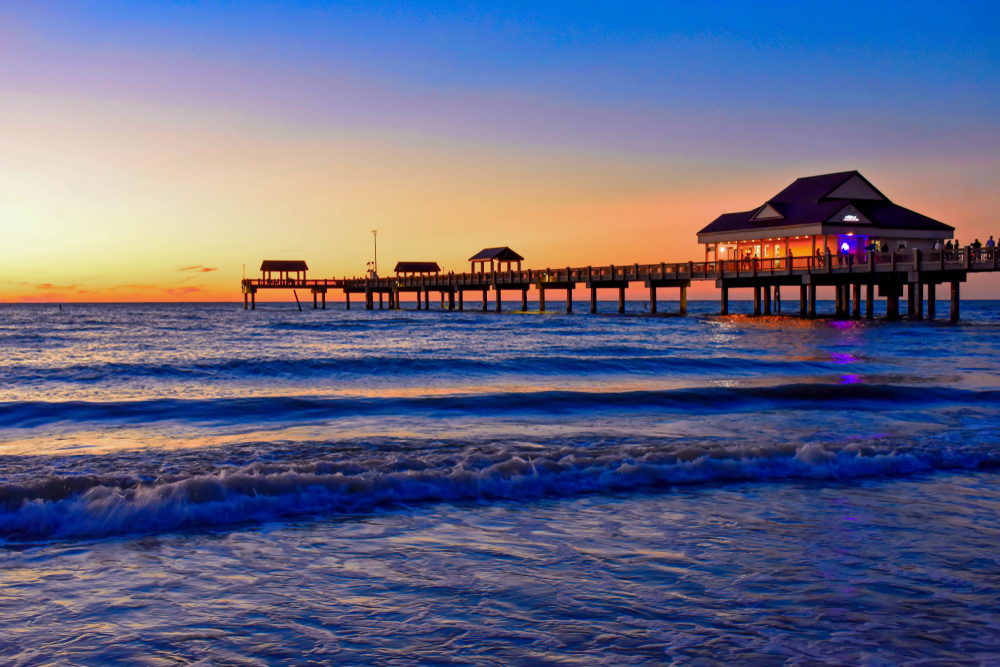 3. Fort De Soto
Fort De Soto is a true coastal playground in the sunshine state! With the perfect blend of natural coastal beaches and a unique history, you'll find abandoned forts, white beaches, and gorgeous sunsets here. With over seven miles of waterfront, 238 campsites, 15 picnic shelters, seven miles of paved trails, two swimming centers, and historic forts, this is a place you don't want to pass up on.
Although Fort De Soto is not a Florida State park, it is the largest park in Pinellas Country Parks. You'll love how much there is to do, how easy it is to visit, and more. The beaches open at 7 am and close at sundown, so when you visit, make sure that post that stunning sunset, you are hading out to respect the rules!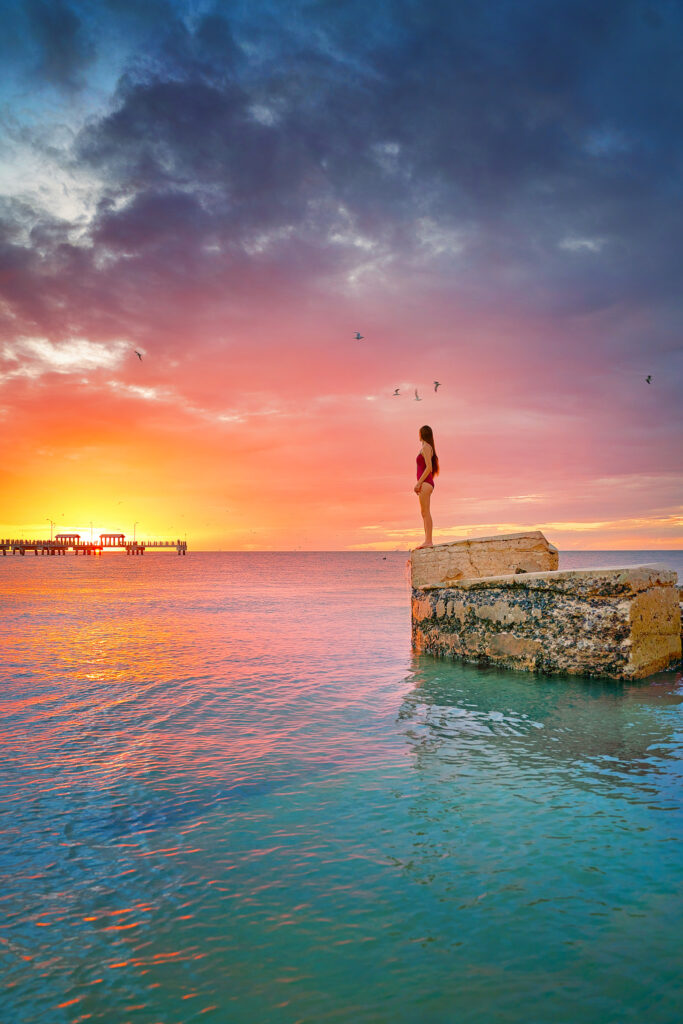 4. Lovers Key State Park
Previously destined to become home of condos and beach homes, Lovers Key State Park has thankfully been saved. It is now home the beaches and mangrove forests that will continuously be preserved for everyone to enjoy.
Here you can hop in a kayak our lounge on the shore. There is a ton of canals and lagoons to explore, and many guests see manatees and shorebirds nearby. The turquoise waters make it picturesque, so when looking where to watch the sunset in Florida, consider here. For only 8 dollars a day, you can really intertwine with nature. Or if you want to just come and enjoy the sunset, know you won't be interrupted by crazy tourists, or over-populated buildings.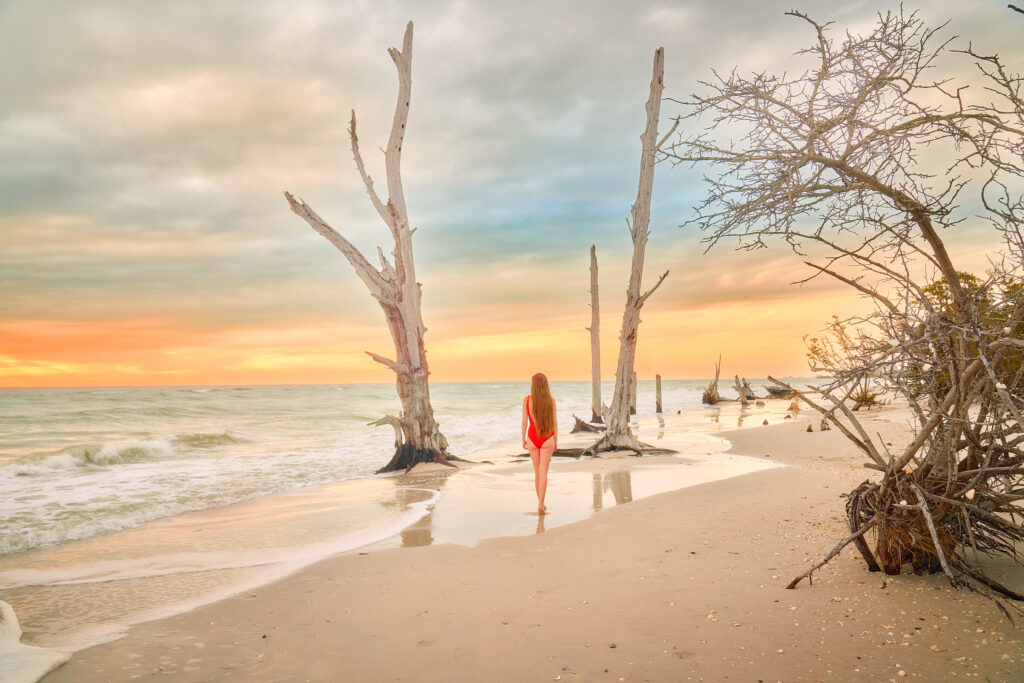 5. Sand Key Florida
I personally love checking out Sand Key Florida! Of all the beaches to watch the sunset in Florida at, this is a great alternative to the more popular beaches. It is less busier than the typical spots, like Clearwater, but is nearby for those visiting from Tampa or St. Petersburg.
This calm island features 95 aces of minimally developed property. There is beach access and park access, and with the warm waters, white sand, and always present wildlife, this is a picture perfect place to see sunsets in Florida. You may even see loggerhead turtles! So enjoy a meal from a food truck, stop by a dog park if you have a four-legged friend, or even go near the fishing piers. There is so much to do at Sand Key.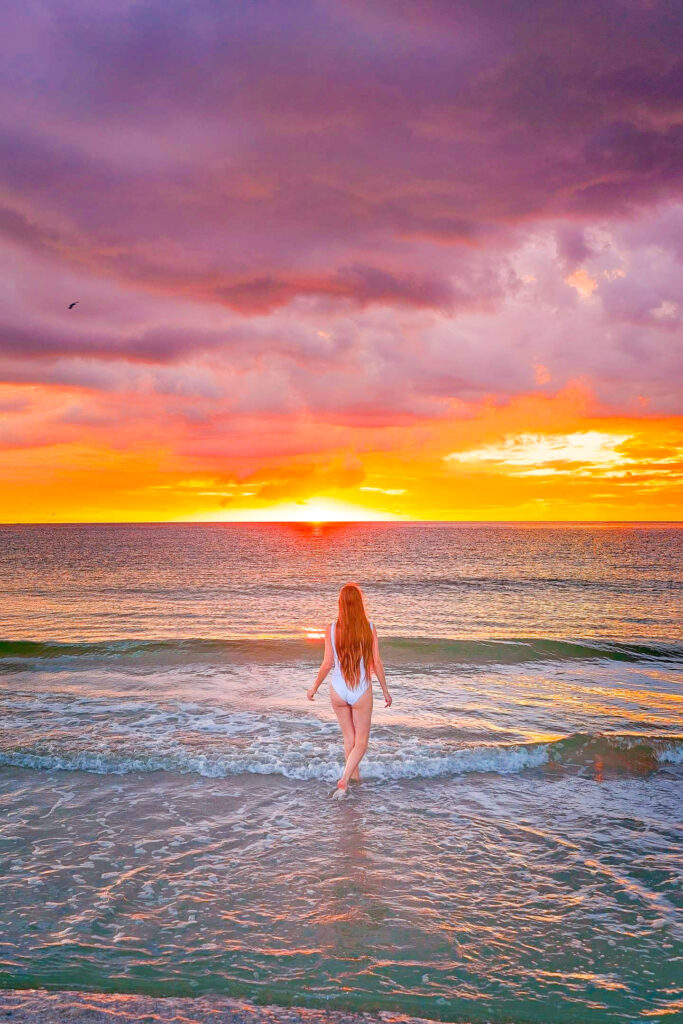 6. Captain Memo Sunset Sail
When most people think of seeing sunsets in Florida, they think of just seeing them on the shore or by the coast. but what about a sunset cruise in Florida? Be on the water and watch the rays dip below the waves. Captain Memo's is a pirate themed day cruise that has been running for over 40 years and offers sunset sails!
These pirates take guests on a fund adventure that features drinks, water gun battles, treasure hunts, and stories during the day. But if you want to relax and see the sunset, simply book the evening times. With champagne and stunning views, reservations are recommended.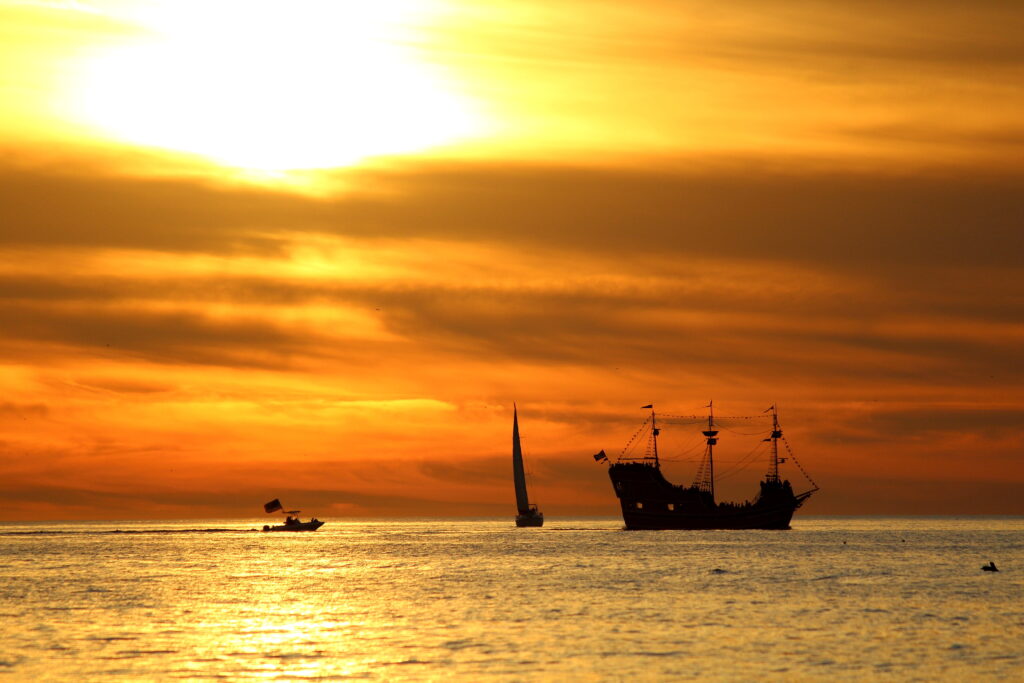 7. Naples Pier
Residents say that Naples have the best sunsets in Florida. This means you should totally head down and check out the historic pier on Naples Beach! Not only is this one of the best free things to do in Naples, but it is unforgettable too.
The pier itself stretches for over 1,000 feet int to Gulf of Mexico. You can sit on the edge of the pier for up-close-and-personal view of the setting suns. The surrounding beaches are also perfect for shelling, and there is always aquatic life swimming around the pier!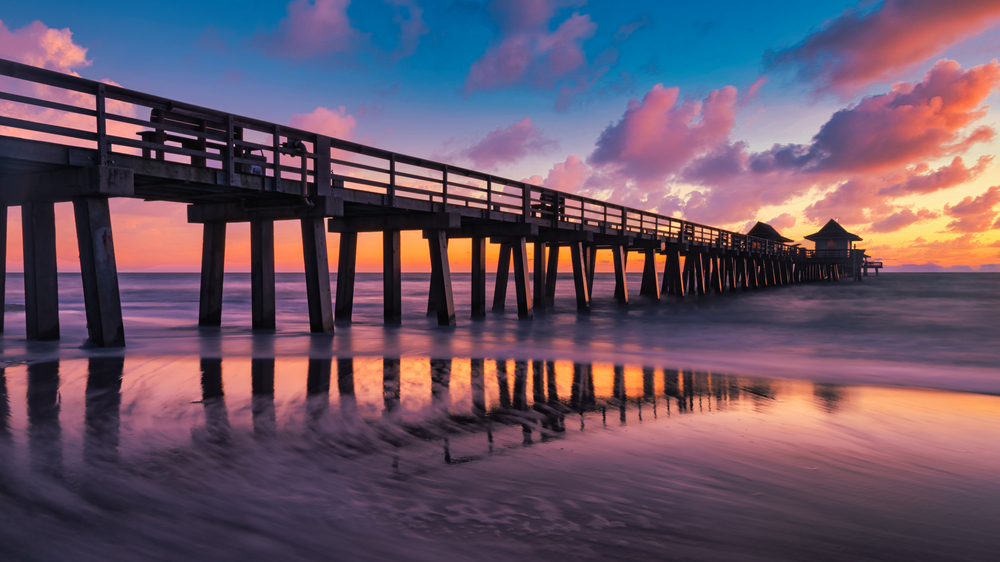 8. Gulf Islands National Seashore
The lure of the Islands in the Gulf of Mexico will have you coming back for more each time you visit. The emerald coast water, white beaches, lively marshes, and iconic landscapes make exploring such fun! There are hidden gems everywhere.
This national seashore stretches for over 160 miles in length. You can find beaches along the northern coast of the Gulf in both Mississippi and Florida. Check out the barrier islands, the historic forts, bayous and more. Take a ferry cruise, look out for ranger programs, camp the beach, but definitely stay for sunsets!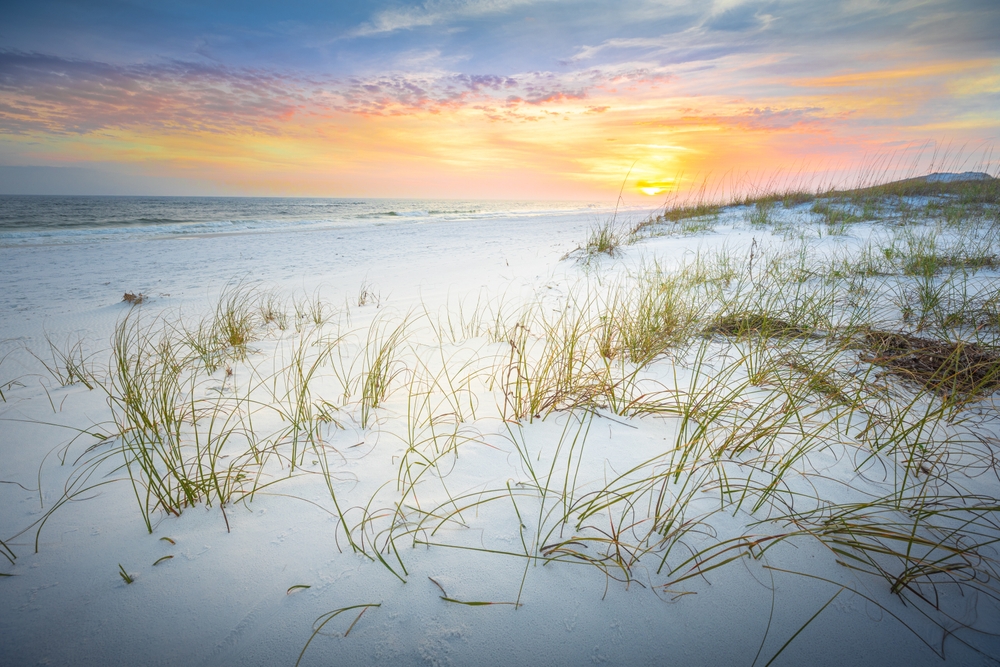 9. Honeymoon Island State Park
Honeymoon Island State Park is one of the barrier islands located just off Palm Harbor. This island stretches over 385 acres of land and features over 4 miles of shoreline, so no matter where you are on the beach, you'll have a great view of the sun. This is one of the top beaches for sunset in Florida!
I personally love the rocky coastline here, and how the driftwood and mangroves make for aesthetic photos, whether you are there for sunsets or not. I also love how you can get onto Honeymoon Island if you are driving, biking or walking! Just know that if you show up one hour before sunset, admission is half price, so take advantage of that!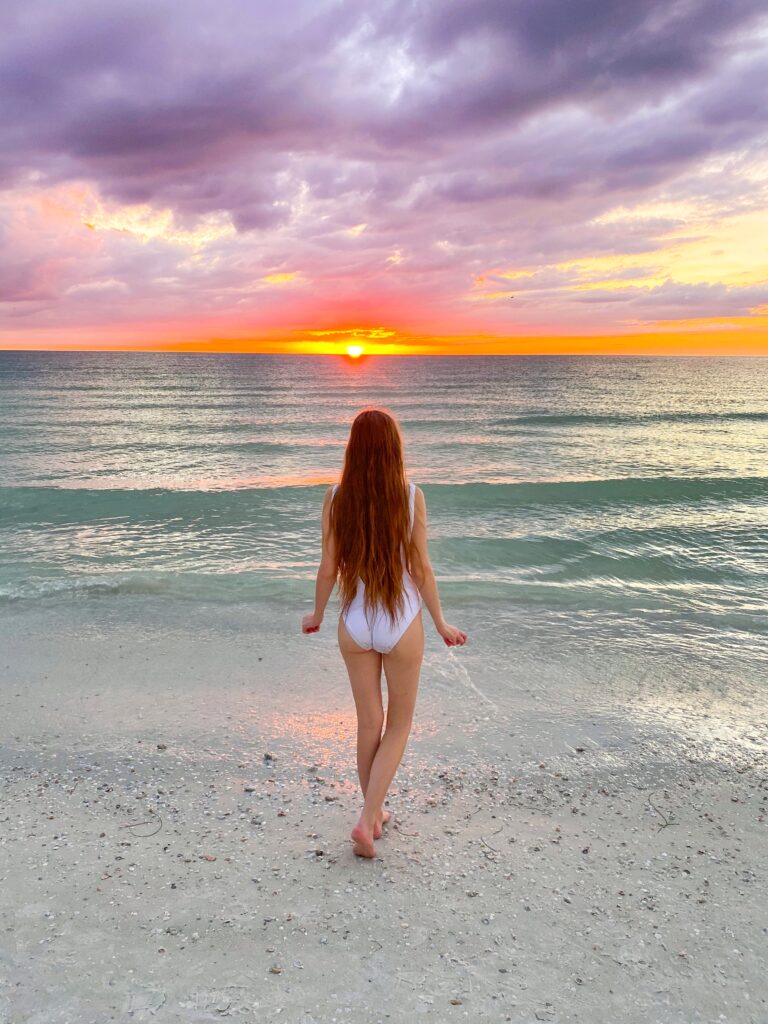 10. Rooftop Deck at Hurricanes
I love a good rooftop deck! And if you are like me and enjoy sunsets, but don' always want to deal with the mess of sand, a restaurants patio or deck may be the perfect middle ground for you. The unmatched and heightened view of the sun and water are perfect.
One rooftop I regularly flock to is Hurricanes in Clearwater. This is a classic restaurant that is located right across the street from the Gulf. Locals and tourists have been coming here for 43 years, and the twin bars on the rooftop offer spectacular sunset views. Factor in wild-caught seafood, desserts and drinks? Sign me up!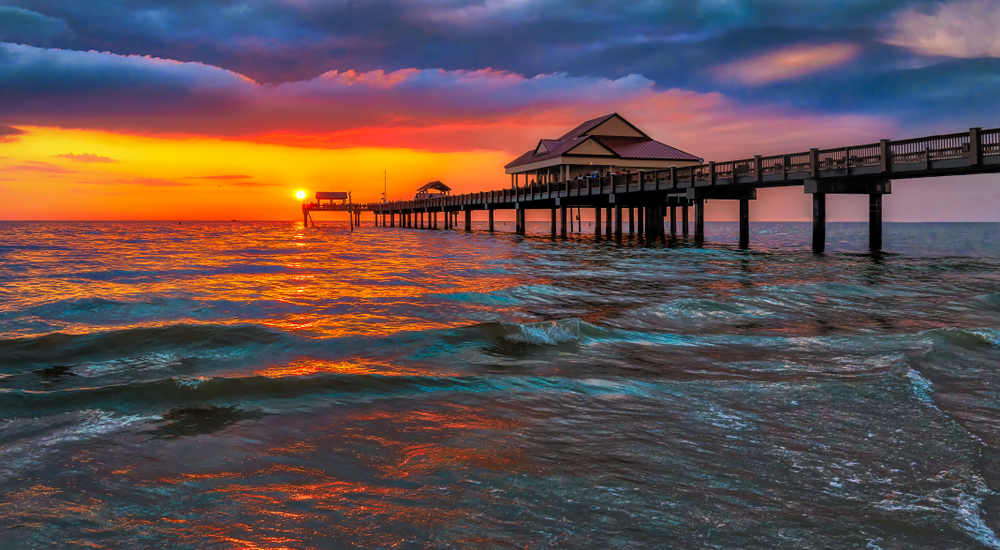 11. Jupiter Inlet Lighthouse
When people think of sunsets in Florida, they may not think of the eastern coast. But thanks to Jupiter, you can see a stunning sunset on this side of the state! The Jupiter Inlet Lighthouse is a towering, red icon that you cannot miss. This is one of those unique places to watch the Florida sunset at.
Located right off the coast, you'll get a Western facing view of the lighthouse for your sunset! You can also take a lighthouse sunset tour (or a moonrise tour, if you're interested), which allows you to get an up-close experience. It will be insanely colorful!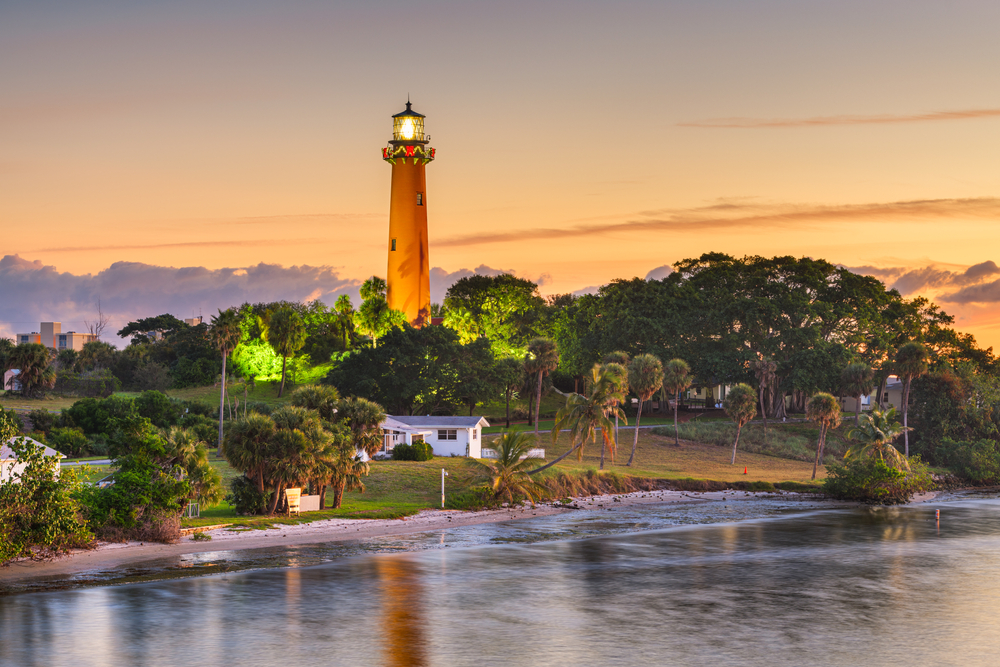 12. Yacht Starship Sunset Dinner Buffet Cruise
Sometimes you want something more than just a sunset! What about a sunset cruise that also offers dinner? Yacht Starship is a Clearwater boat and cruise line that allows you to go on an adventure on the waterways of the beach.
Take in gorgeous views on the open-air top deck. Enjoy the complimentary open bar! And gouge at the buffet! For over two-hours, dining aboard this yacht is refreshing and relaxing. And you get up-close and personal with the stunning sunsets of Florida. Just book your reservation in advance!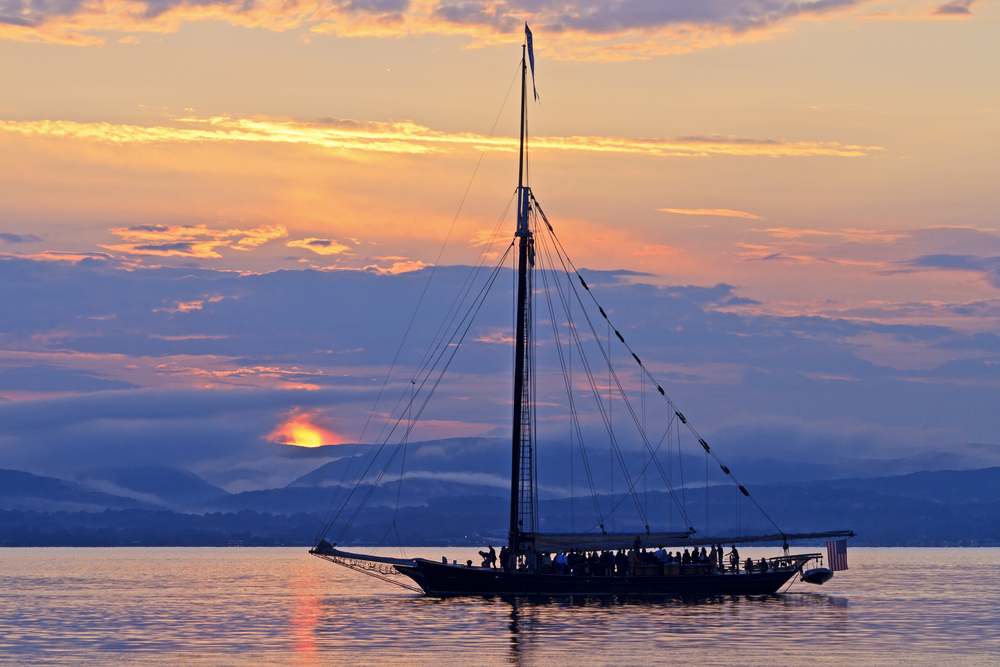 The beautiful sunset beaches in Florida will always have a special place in my heart. You can see a Florida sunset today, in fact. Take a trip and go relish in the colors of the sky. You won't be disappointed in what the sunshine state has to offer as the sun begins to set.