Hello water lovers, this list of the prettiest waterfalls in Florida is for you!
Do you love extreme water sports like white water rafting and swimming against the current? Check out these Florida waterfalls!
Would you like to experience a peaceful trip to a natural spring complete with the sound of rushing water above you? Check out these Florida waterfalls!
Do you relish in creative designs and unique watery places to explore? Check out these Florida waterfalls!
Natural waterfalls in Florida are a great way to get your outdoor fix.
Nothing can ever compare to the sights and sounds of nature. And one of the best sounds in nature is the sound a waterfall makes when it's crashing down in front of you.
This is especially true for Florida waterfalls because just like snowflakes, no two are alike. They don't sound alike, and of course they don't look alike either!
While the natural waterfalls in Florida are truly unparalleled, there are actually some great man-made ones too! These Florida waterfalls will inspire you with their creative additions to what nature has already provided.
Either way, visiting these waterfalls in Florida will be a one-of-a-kind adventure you won't soon forget!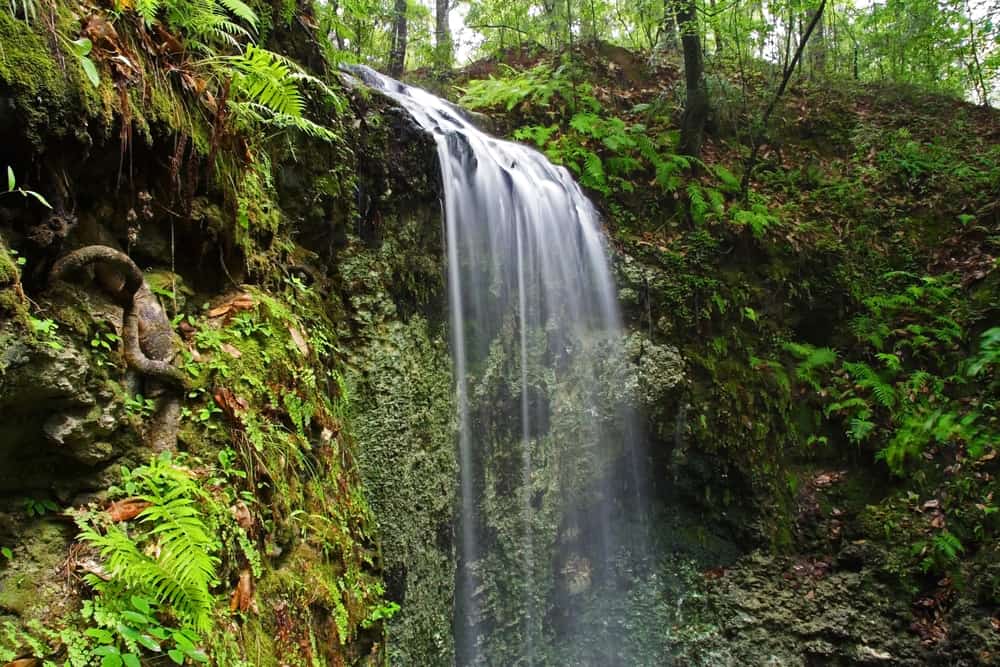 Prettiest Waterfalls in Florida
Natural Waterfalls
Falling Waters State Park- Chipley (Panhandle)
Falling Waters State Park is in Florida's Panhandle just a few miles south of the town of Chipley. The park itself spans 171 acres, or about a quarter mile.
Falling Waters State Park is one of the prettiest natural waterfalls in Florida. It is also the largest of all the waterfalls in Florida standing a whopping 73 feet high!
This state park, as well as many of the others on this list, are great examples of making lemons into lemonade. Don't worry, we will explain.
The Falling Waters State Park is not just a waterfall. It is a series of sinkholes one of which is so large and deep it formed a natural waterfall.
You may have previously though of sinkholes as something scary or dangerous, but protected inside of this state park they become a beautiful natural phenomenon for you to observe.
The waterfall at Falling Waters flows initially into a 100 ft deep, 20 ft wide sinkhole. Once it reaches what appears to be the bottom of a sinkhole, the waterfall continues underground into a large cave.
Sometimes a rainbow accompanies the flow of the water, so we highly recommend checking it out just after it rains.
One of the best things about Falling Water Falls is that you can actually feel the mist from the water! If being that close to water or a sinkhole sounds a little too intense, you can also view the waterfall from a further away platform and stay dry!
If you enjoy camping, you can also stay the night at this state park's campground. And if that wasn't enough to sell you, Falling Waters has a large lake which is perfectly safe for swimming and is surrounded by a gorgeous white sand beach.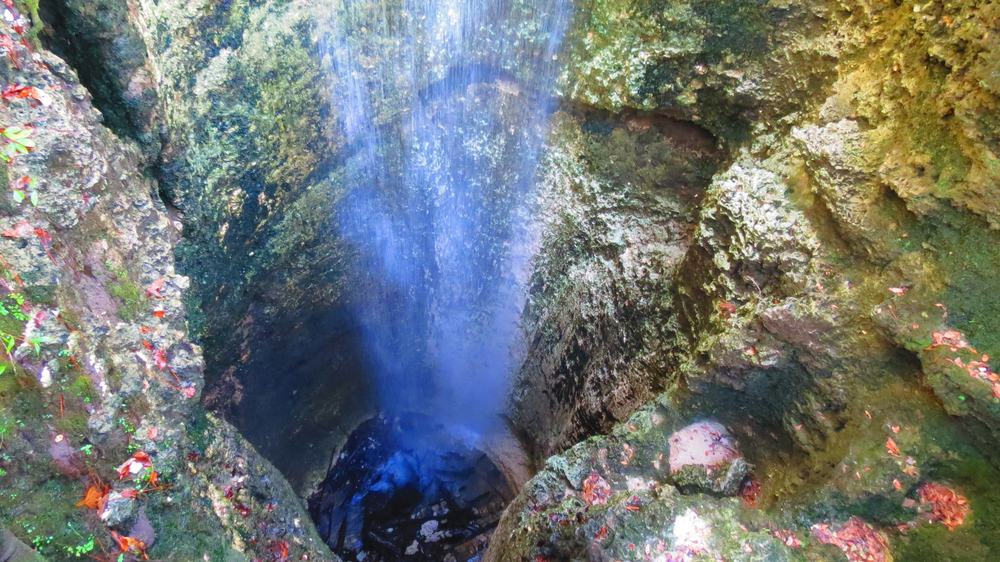 Falling Creek Falls- Lake City (North Florida)
Falling Creek Falls is one of the easiest natural waterfalls in Florida to get to. Its accessible location is just north of Lake City close top Interstate 10.
One of the things Florida is famous for is its substantial volume of limestone. A large majority of the waterfalls in Florida are made of this type of rock.
Falling Creek Falls is no exception. The waterfall is just over 10 feet tall, draping over a limestone cliff onto limestone boulders.
Falling Creek Falls has a couple of other interesting features. If you visit after it rains, make sure to get a close up look at the bottom of the waterfall.
Rain often causes this area to form bubbles, and they stick to the limestone rocks below. It looks just like a giant natural bubble bath!
The other interesting thing is the color of the water itself. It is often said to look like rootbeer because of its caramel color combined with the bubbles at the bottom.
Falling Creek Falls also has hiking trails and a scenic boardwalk, so you can get great photos of the waterfall and surrounding forest.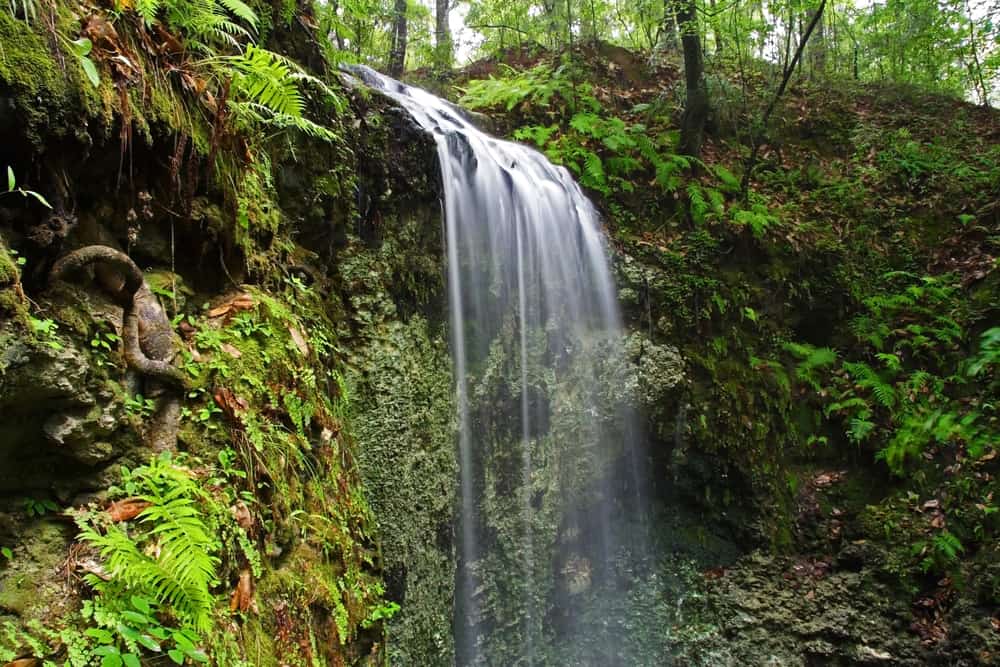 Devil's Millhopper Geological State Park- Gainesville (North Florida)
Last but not least for natural waterfalls in Florida is Devil's Millhopper. Devil's Millhopper is a Florida State Park located in the northwest corner of Gainesville.
Devil's Millhopper is a great escape. It's quiet and full of vegetation and animal life, often being described as a miniature rainforest!
Much like the above waterfalls, Devil's Millhopper was formed by limestone collapsing into a sinkhole.
What makes Devil's Millhopper even cooler is that the state park actually allows you to go inside of the sinkhole. It is about 120 feet deep in total and 500 feet across.
Because more than 100 feet of rock layers have been exposed by this sinkhole, it is an extremely rare sight, even for Florida. The rock layers include not just limestone but quartz and other minerals, as well as fossilized remains and shark teeth.
Guided tours are available for anyone wanting to learn more about the geology and history of Devil's Millhopper.
You can learn about the diverse ecosystem of plants and animals, and see some of the fossils scientists have found in the area (you may even find a fossil of your own). Because of the deep layers of exposed limestone, the fossils found at Devil's Millhopper have contributed a lot to scientists who do geological research.
You have to walk down a large flight of wooden stairs to get to the bottom, so be prepared for a little bit of a hike. If you get tired, there are multiple observation decks along the way (although we recommend checking them out even if you're not tired)!
You can also picnic with your furry friend, as they allow leashed pets to accompany you into the park!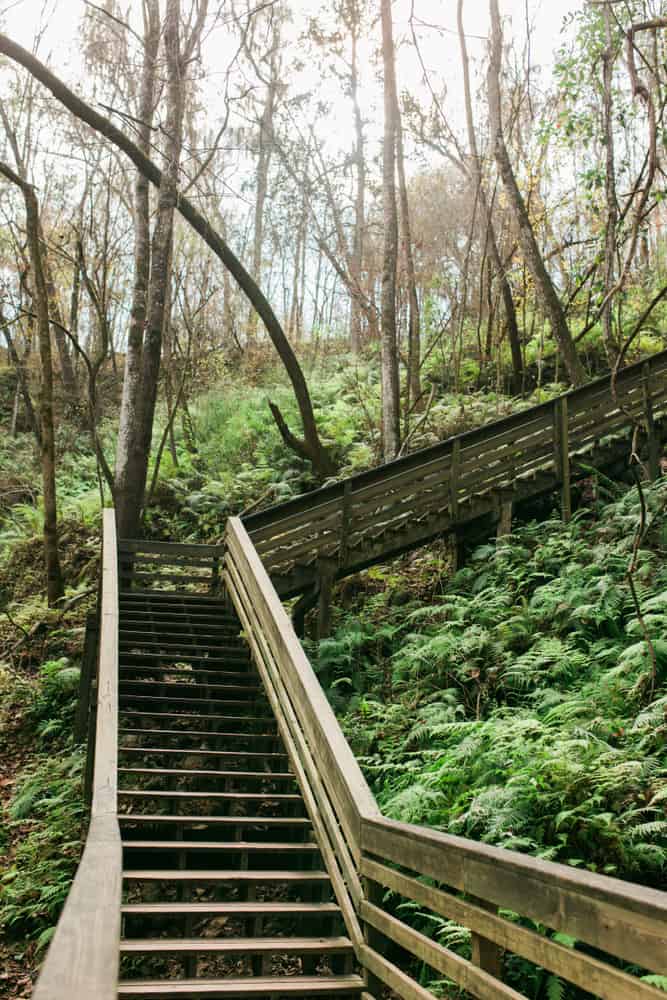 Other Waterfalls
Rainbow Springs- Dunnellon (Central Florida)
Rainbow Springs is a beautiful Florida destination located just north of Dunnellon on Florida's west coast. The water at Rainbow Springs is a sight to behold!
From far away the water appears a bright turquoise blue, but up close it is so clear you can see right to the bottom.
Swimming in one of Florida's springs is an absolute must. Rainbow Springs is the fourth largest in the state, but that's not what makes it unique.
At Rainbow Springs, you can swim in spring water under not one, but six waterfalls! This is definitely a spot you shouldn't miss.
Rainbow Springs also offers about a million different cool things to do; tubing, kayaking, snorkeling, hiking, wildlife tours, and many more!
Tubing is a favorite and although you can't take your tubes to the Rainbow Falls, you can use them on the neighboring lazy river!
The lazy river has two end points so you can enjoy it for a long ride or a short one! The long way takes about four hours on a tube and the short about an hour and a half.
It only costs $20 to float on the lazy river all day, tube included. They also include a shuttle service from the end of the river back to the parking lot you.
If you bring your own tube, they knock a few dollars off the price to go in the lazy river. And if you just want to swim in the spring with the waterfalls, park admission is only two dollars!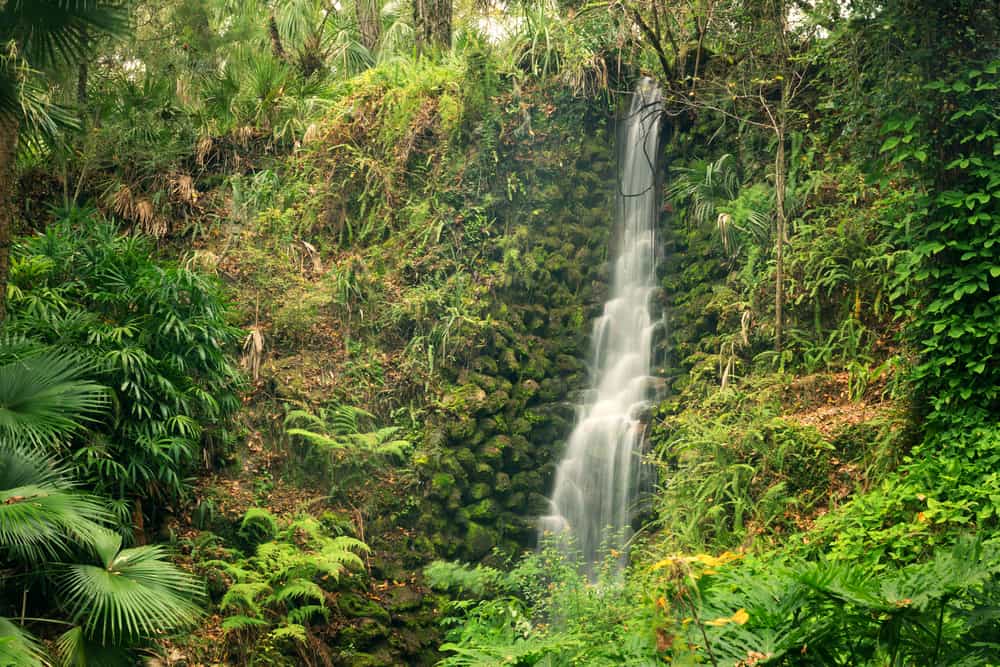 Torreya State Park/Weeping Ridge Trail- Bristol (Panhandle)
Torreya State Park is just 13 miles north of Bristol in the Florida Panhandle. It spans almost 22 square miles, and is one of the larger Florida State Parks appearing on this list.
One of the things Florida is known for is having flat terrain. This is one of the most interesting waterfalls in Florida because this state park has an elevation of 3,000 feet which is almost unheard of in the Sunshine State.
Hiking along Weeping Ridge Trail is the best way to reach the waterfall. If you plan on backpacking, you can pay a small camping fee and actually spend the night in the great outdoors.
The plant and animal species you will encounter here are extremely diverse, many of them not found anywhere else in the state. And if you visit in late spring, be sure to look out for some gorgeous magnolia blooms.
The hiking trails at Torreya State Park are some of the most difficult in Florida because they are quite steep, so if you are a serious hiker, this is the spot for you!
Steinhatchee Falls- Steinhatchee (North Florida)
Steinhatchee Falls is a protected tract of land spanning 1766 acres of northwest Florida, and surrounding the Steinhatchee River.
The Steinhatchee River is located in what is known as Florida's Big Bend. The Big Bend is that section of the west coast where it starts to curve into the Panhandle.
This area is made up of largely swamp and forest so it is definitely one of the best Florida waterfalls for hiking and getting your wilderness fix.
There is a 3 mile hiking trail which ends right at the waterfall. The waterfall at Steinhatchee Falls is a small one but incredibly scenic.
In addition to hiking, the Steinhatchee Falls tract and the neighboring Steinhatchee Rise tract both offer activities like fishing, biking, swimming, camping, and horseback riding!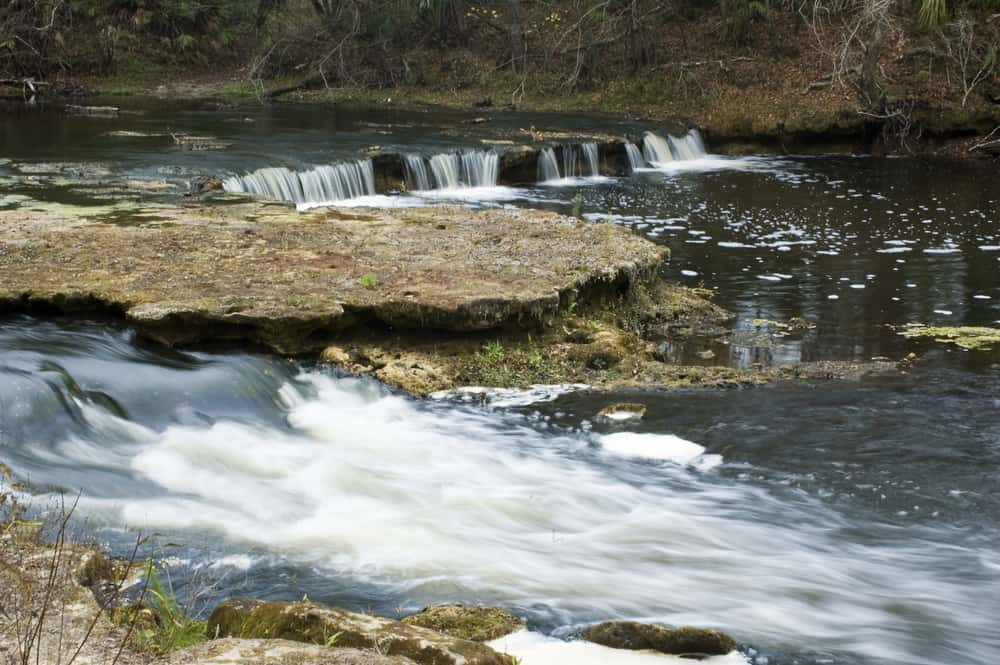 Big Shoals State Park- White Springs (North Florida)
About a mile east of White Springs, Florida lies Big Shoals State Park, positioned right on the Suwannee River.
When you think of Florida bodies of water you probably picture a calm clear spring, or maybe a beach with a few small quiet waves. The Suwannee River however is quite the opposite!
Big Shoals State Park does not have a traditional waterfall, but rather the whitewater rapids of the river. These are the only rapids in Florida to have earned Class III Whitewater status.
For this reason, many people like to take their canoe or kayak for an adrenaline filled ride down the rapids. This activity however should only be attempted by those with some whitewater rafting experience.
If a voyage down the river sounds a bit too intense, bird watching, hiking, biking, and picnicking are great ways to experience the view without actually getting in the water!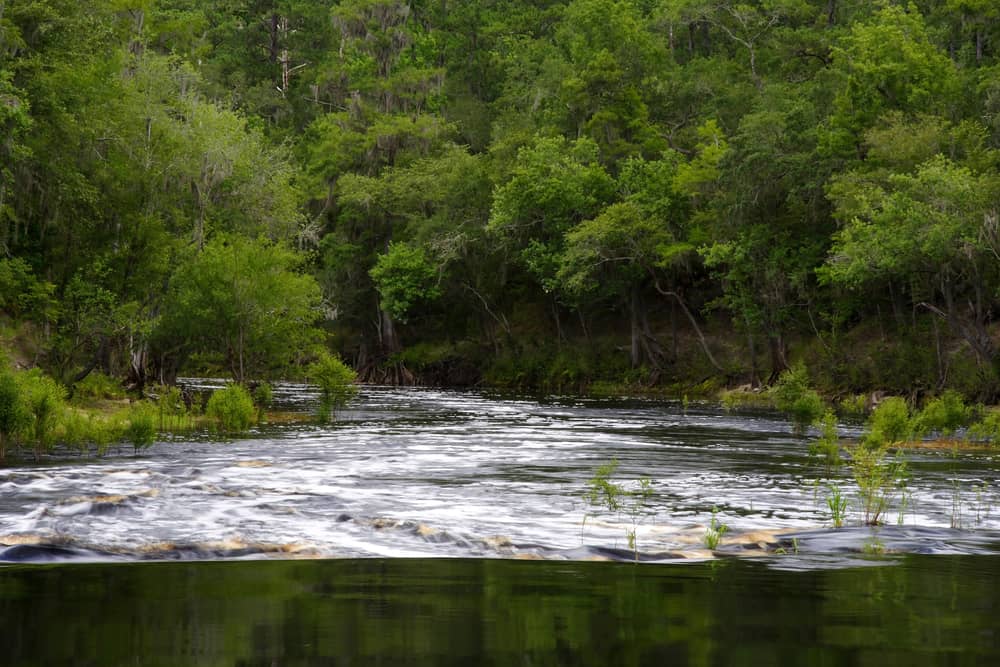 Camp Branch Conservation Area/Disappearing Creek- Live Oak (North Florida)
Not too far from Big Shoals State Park, the Camp Branch Conservation area is also situated on the Suwannee River, about a 20-30 minute drive east. Also similar to Big Shoals State Park, this location is less waterfall that it is rapids.
The Camp Branch Conservation area is home to the Disappearing Creek Loop which is a path that connects with the Florida Trail. As the name suggests, Disappearing Creek Loop follows a river that seems to quickly travel downhill and disappear.
Sinkholes have once again carved out the limestone here, and the "disappearing" waterfall actually just looks like it is disappearing when it dead-ends into a steep sinkhole. Take a hike down the riverbanks of Disappearing Creek Loop and see for yourself!
If you are going to hike at Big Shoals, come prepared. The banks of the river are very narrow and much steeper than one would normally expect for Florida.
Morikami Museum and Japanese Gardens- Delray Beach (South Florida)
The Morikami Museum and Japanese Gardens is located west of Delray Beach. It serves as a center for Japanese history, art, and culture.
Morikani Park consists of a museum, a Japanese restaurant, a library, and six gardens. Throughout these gardens, you will find several gorgeous man-made waterfalls for your viewing pleasure, all inspired by real Japanese designs.
You can take a relaxing walk through the gardens and just feel all your cares melt away. The purpose of these beautiful garden designs are to remove you from the material world and touch you on a deeper level.
If you are looking for the perfect way to de-stress, this is one-hundred-percent the place for you.
The Morikani also celebrates many Japanese festivals, hosting guests so they can really experience the culture first-hand!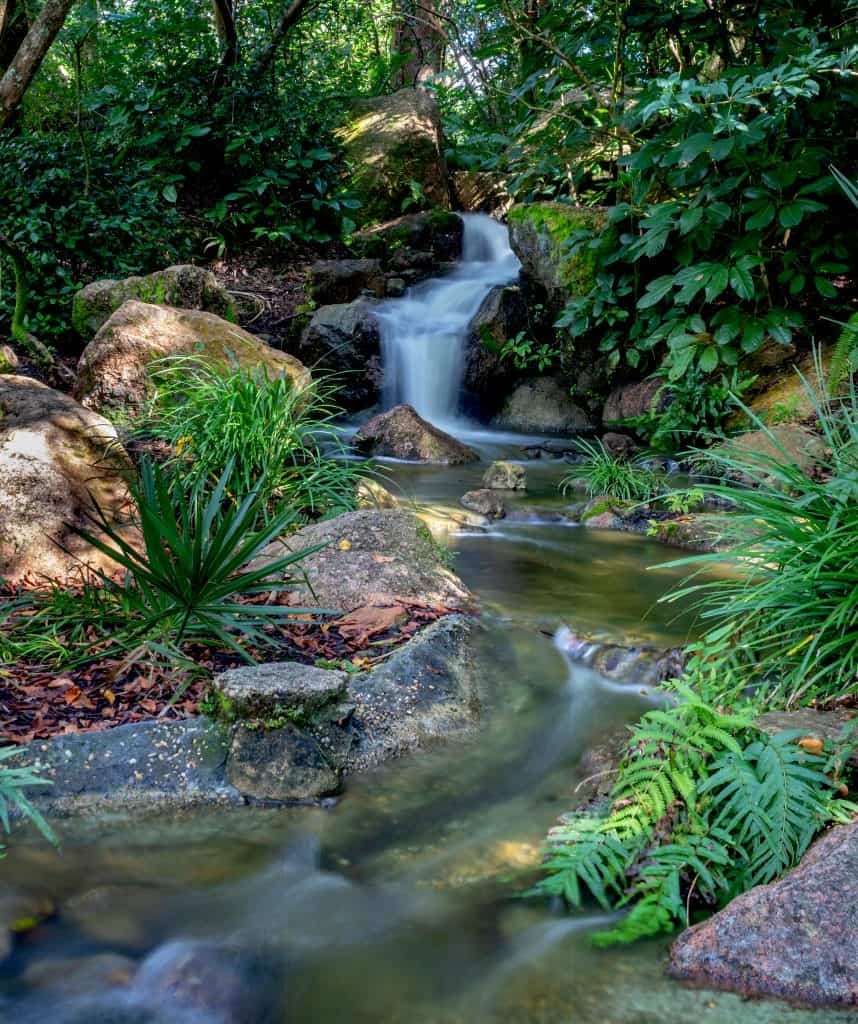 Although waterfalls in Florida may not be the first thing that comes to mind for your tropical vacation, we hope you've been inspired to visit some of these locations!
Natural waterfalls in Florida are extremely well maintained and not too crowded, so this is a great way to experience nature to its fullest potential. The man-made or man-maintained Florida waterfalls also have some incredible views and some super fun activities.
Whether your interest is hiking, biking, whitewater rafting, or just taking photos of beautiful landscapes, Florida waterfalls have unlimited scenic entertainment!
If you need help finding a place to stay on your trip to any of these cool Florida waterfalls, we highly recommend checking out an Airbnb. And since many of these locations are close together, it might be worth taking a road trip to visit them all!
Did You Find This Post Helpful?
If so, we would love to keep in touch! We enjoy seeing photos and comments about your experiences in Florida! You can follow us on Instagram and we will repost your photos on our feed and comment too! Just tag us at @floridatrippers and hashtag #floridatrippers. We can't wait to see your travels!