Looking for the best Airbnb in Florida for your upcoming trip to the Sunshine State? We're hoping to make your job a bit easier with these suggestions. 
Florida is a tourist hot spot with tropical weather, beaches, Disney World, and national parks.
Whether you're taking an airboat through the Everglades, snorkeling in Ginnie Springs, or sun tanning at Miami Beach, you're sure to have a memorable time in this beautiful state. To get the most out of your trip however, you'll want to make sure you have the perfect Florida Airbnb lined up for your stay.
As you look through our unique Airbnb suggestions, you'll understand why an Airbnb can be an ideal alternative to a more generic hotel. The often less expensive prices and more personal homey feel of the Airbnbs will provide you with a more authentic Florida experience.
Find the Airbnb in Florida that resonates the most with you, pack your bags, and don't wait a minute more to bask in the Florida sunshine.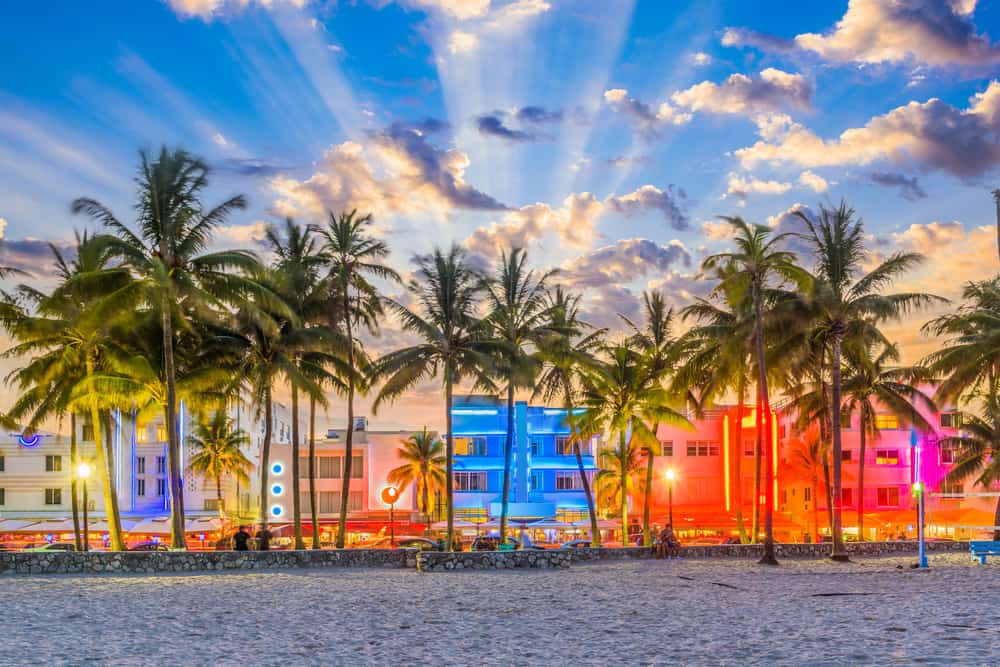 20 Best Airbnbs In Florida (Cabins, Treehouses, & More)
Unique Waterfront Tiny Cottage
This not only is one of the cutest cabins in Florida, it's also the perfect getaway for those who love the Florida outdoors! The Dragonfly cottage will fit the bill for the best villas in Florida!
If you love the Florida outdoors, you'll love this property off the Suwannee River in Fanning Springs. Fronting Bell Spring, one of the most beautiful springs in Florida. You have immediate access to swimming, kayaking, canoeing, and paddle boarding!
You'll be staying on 1.5 acres of spring front property with live oak trees, a canoe and kayak launch, dock, and fire pit. Inside the cottage, you'll have 256 square-feet with big amenities. There's a queen size bed, cozy fireplace, and a full bath with shower.
There's also a refrigerator, microwave, two burner hot plate, electric skillet and griddle, crock pot, blender, and a big toaster oven! Outside, you'll love the outdoor shower and watching the sun go down while you sit in the Adirondack chairs.
Check Rates: VRBO.com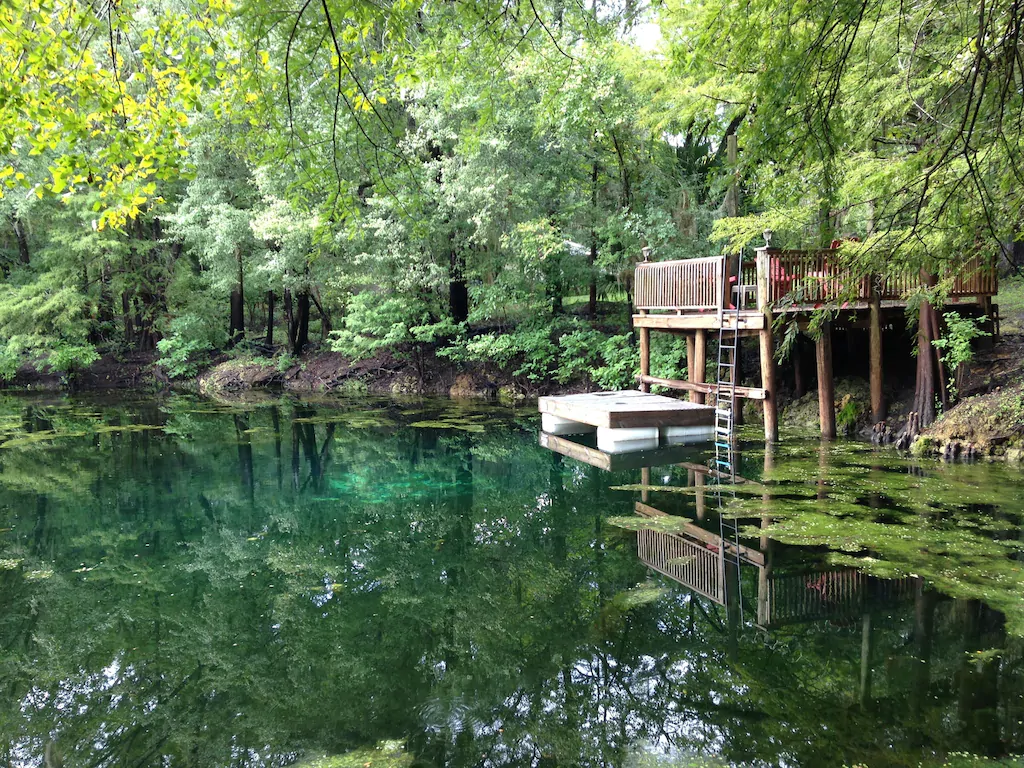 Coastal Dunes Beachfront Condo
The Coastal Dunes Beachfront Condo is located in Destin, right on the beach! You must see these photos! The condo has been professionally designed and decorated in an ultra-chic fashion. It's one of the best vacation rentals in Florida.
You will immediately notice the beautiful wood-inspired tile floors, hand-blown glass artwork, and clear acrylic barstools. The entire color palette creates an ambiance of pure sophistication and relaxation.
Enjoy your morning breakfast with views of crystal blue waters while dining on your private balcony. Then, later enjoy swimming and sun-bathing on the private beach or at the pool. At night, you can check out nearby beachfront restaurants. The spacious luxury condo can accommodate up to 6 guests with 3 bedrooms and 3 baths.
Check Rates: VRBO.com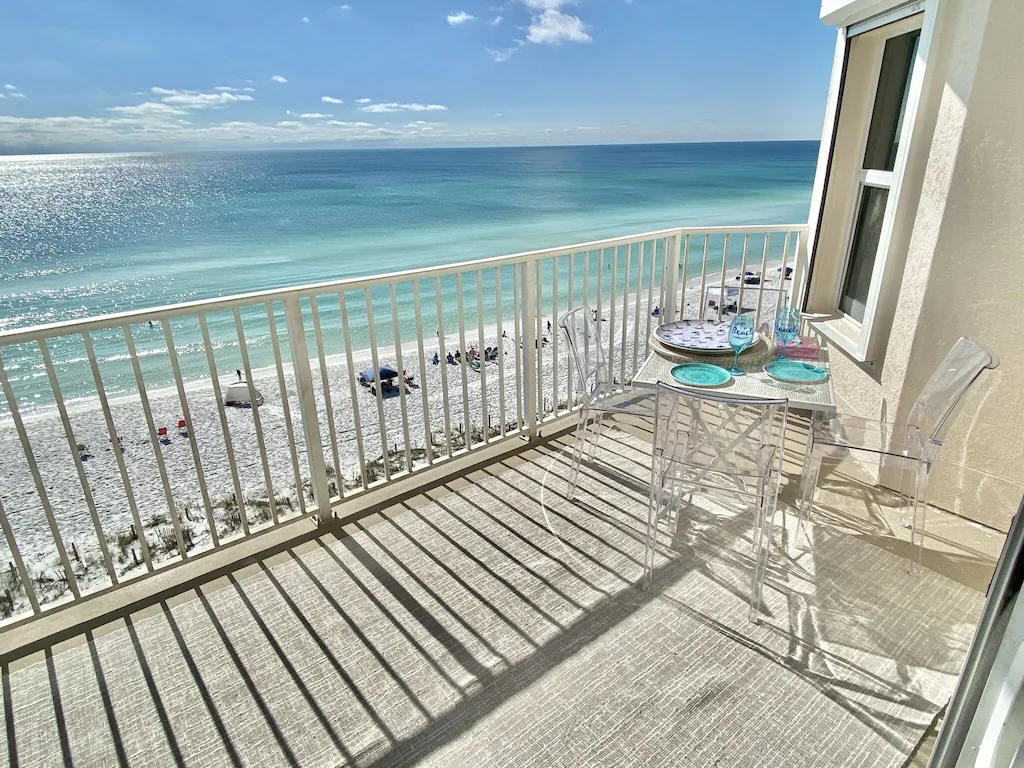 Over-water Bungalow Retreat
Now, you don't have to travel all the way to Tahiti to stay in an Over-water Bungalow Retreat! In Crescent City, we discovered an amazing bungalow that is perfect for a peaceful trip! It is in the luxury price range and centrally between Saint Augustine, Daytona, and Orlando.
The bungalow can accommodate up to 8 guests with 2 bedrooms and 3 baths. Special features include 2 screened-in porches, lake views from all windows, and a fireplace. If you are searching for relaxation and solitude, then this is the VRBO in Florida for you!
During your stay, you will have access to 2 kayaks and a paddle rowboat. You can fish, paddle, and sightsee on the lake during the day and then roast marshmallows at night next to the firepit. If you decide you want to explore some nearby attractions, then you should take a peek at 17 Fun Things To Do In Daytona.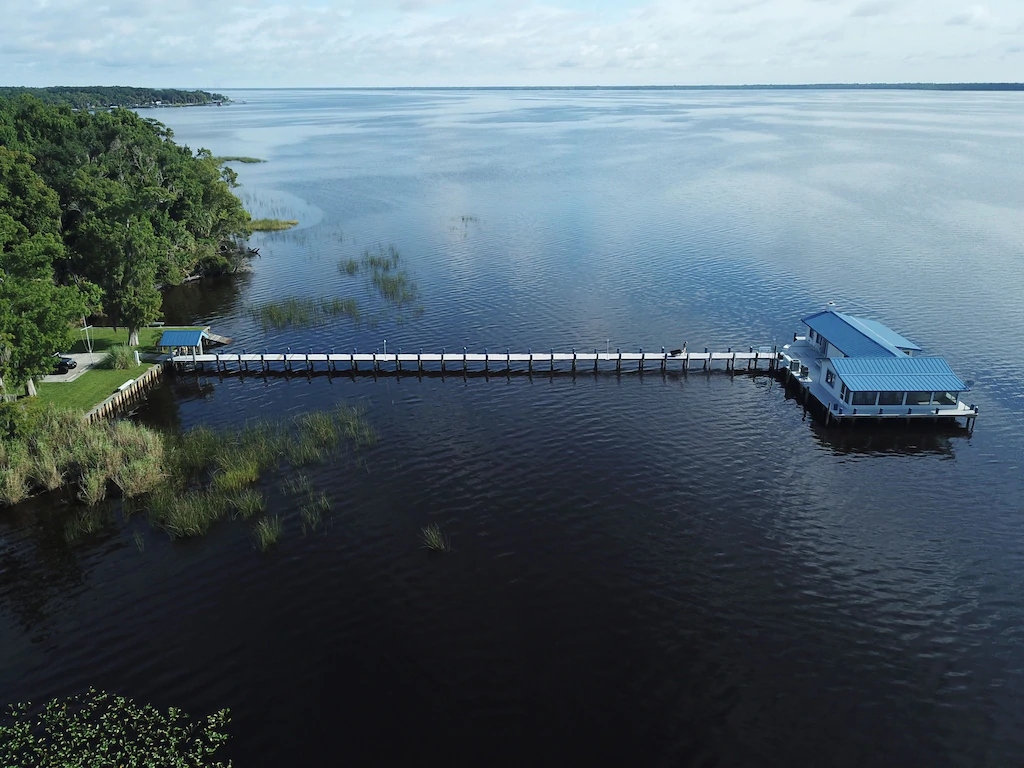 Spanish Villa With Guesthouse
Traveling with a large party, then you will absolutely adore the Spanish Villa With Guesthouse! Located in posh Palm Beach, you will be right in the center of upscale dining and shopping.
The Spanish Villa is a 1920's gem that can accommodate up to 10 guests with 3 bedrooms and 2.5 baths in the main home. You will also have access to a gorgeous guesthouse with 1 bedroom, 1 bath, and a kitchenette.
Luxury amenities include a heated pool, a hot tub, lounge areas, 2 bars, and a grill. Get ready to enjoy your very own private oasis! Staying a while, then check out these 16 Fun Things To Do In West Palm Beach!
Check Rates: VRBO.com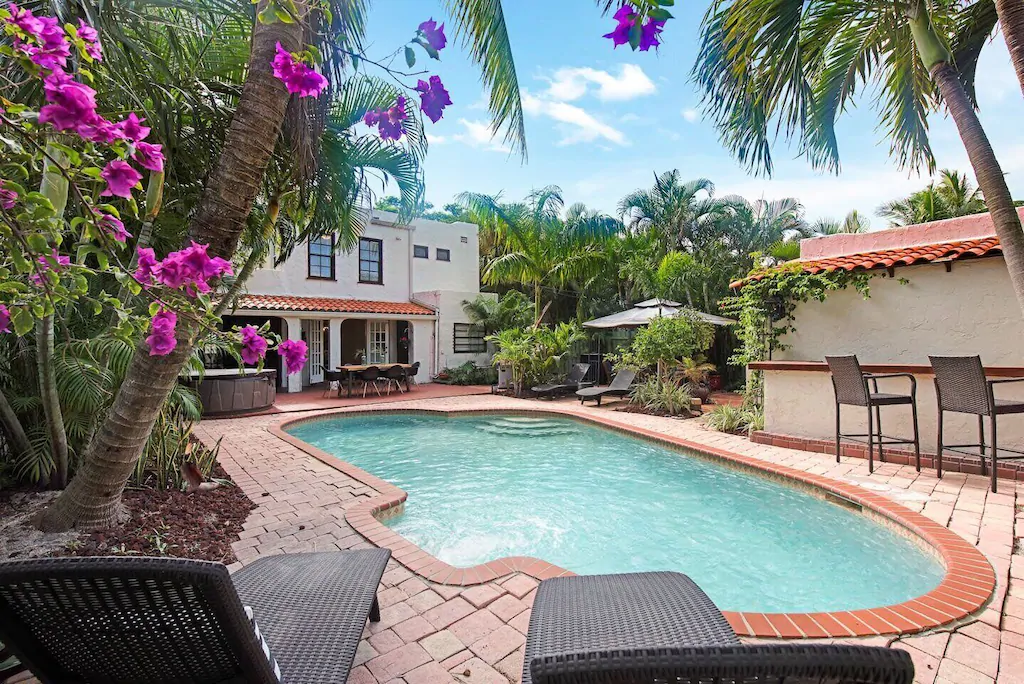 Hi-rise Corner Apartment
The Hi-rise Corner Apartment is located in Miami and features ocean, river, and city views! Floor-to-ceiling windows allow you to really appreciate the amazing views.
The apartment includes luxury amenities at a moderate price point. Amenities include an on-site gym, pool, spa, and sauna. No expensive was spared when furnishing or decorating this VRBO in Florida.
Up to 4 guests can be easily accommodated with 2 bedrooms and 2 baths. The main suite features a king size bed with panoramic views of the Miami River and gorgeous yachts. Special highlights include motorized window blinds, a safety lock box, and marble floors and countertops.
Check Rates: VRBO.com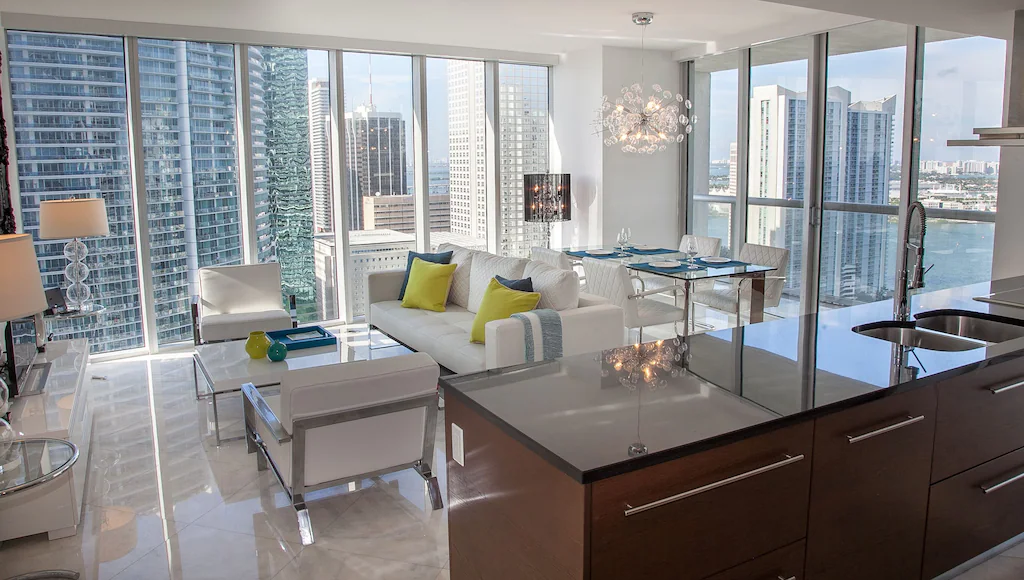 HGTV Canal Front Home
Now, we travel to the Florida Keys to view our next VRBO in Florida. The HGTV Canal Front Home a special treat as it was completely redecorated and redesigned by HGTV. The kitchen features marble countertops and a spacious island that makes cooking a breeze!
Some of the awesome amenities include a private custom canal-side pool, a private dock, and an outdoor covered dining area. The moderately priced home can accommodate up to 8 guests with 3 bedrooms and 2 baths.
Nearby activities include charter fishing, kite surfing, and paddleboarding. In addition, the Dolphin Research Center and the Florida Keys Aquarium are just a few miles away.
Check Rates: VRBO.com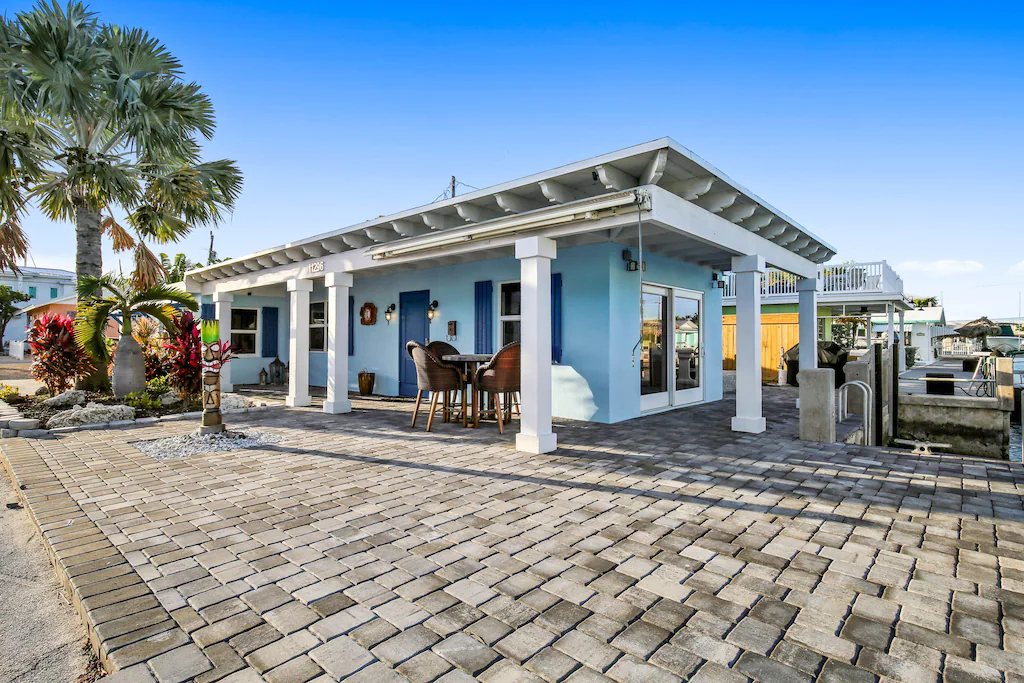 Yurt At Danville
Prepare for a peaceful, romantic getaway at the yurt in Geneva, Florida. A stay at this Airbnb in Florida can certainly be described as glamping.
You won't be dripping in luxury in the yurt, but you can definitely expect a cozy, comfortable experience in a magical environment. The inside of the yurt is beautifully decorated, with plenty of space and sunlight streaming through the windows and skylights.
The charming yurt that makes you feel very much at home is made even better with a firepit and grill on the outside deck and Bobo and RJ, your alpaca neighbors, waiting to greet you outside.
The Airbnb is part of a much larger property with a number of other Airbnb accommodations on site, goats and horses, and a pub where you can grab a beer with the hosts and other guests. If you're looking to explore beyond the property, 500 acres of park land await you just beyond the backyard.
Click Here To Check Rates On Airbnb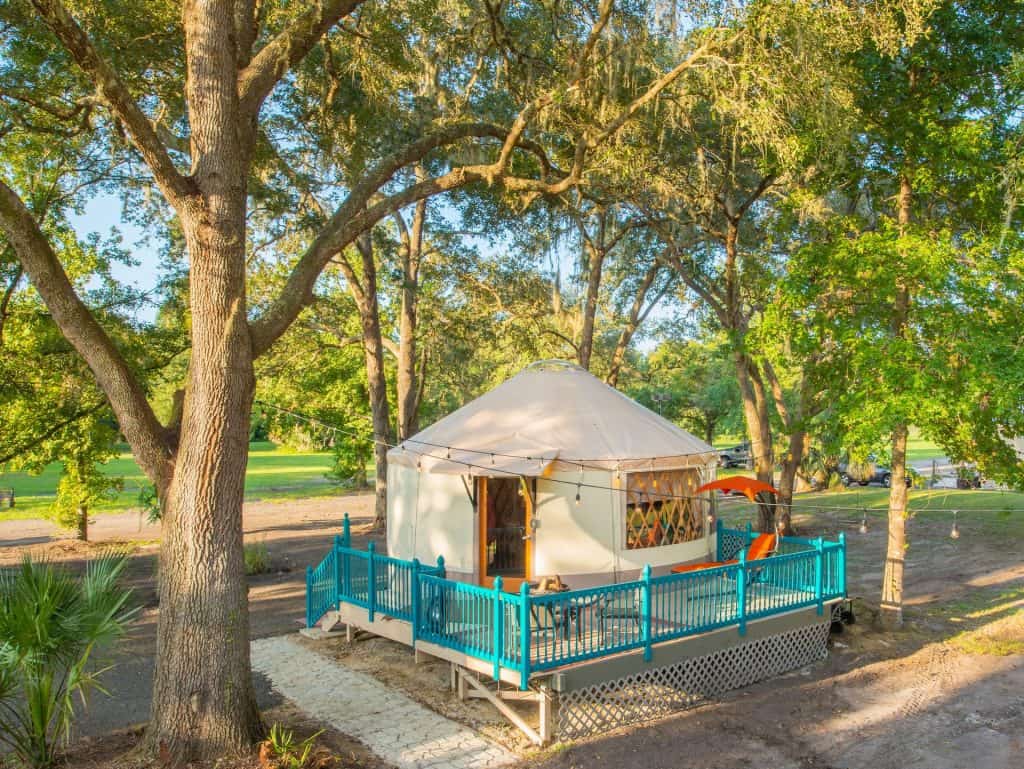 Villa Las Palmas
Enjoy one of the best Florida VRBOs in Cape Coral. On an oversized lot with a ton of privacy, Villa Las Palmas was renovated in 2017. You'll find modern amenities in one of Florida's oldest neighborhoods!
A hop, skip, and a jump from Miami, you'll enjoy a brand new kitchen with granite countertops, new baths, new flooring, a new paved pool deck, and a billiard table! Three bedrooms offer two kings and one queen size beds. This vacation rental in Florida is great for big groups.
You also have access to a screened-in pool where you can enjoy sunshine all day long. There's also a dining set for six and a barbecue grill. Just beyond the screened-in porch, there's a private dock with a Tiki hut. You can also use the two kayaks and two bicycles on the property!
Keep in mind that there is a fully refundable $300 security deposit. Per local ordinance, the minimum rental period for vacation homes in Cape Coral is seven nights.
Check Rates: VRBO.com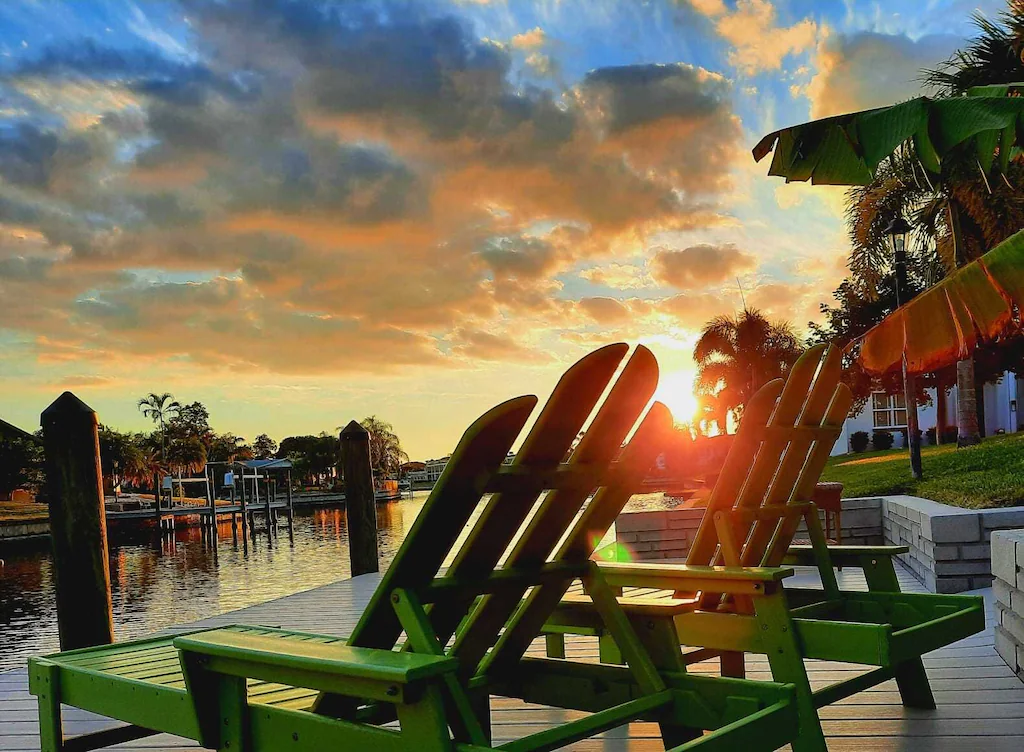 Treehouse at Danville
The Treehouse at Danville is the ultimate slice of paradise located on the same property in Geneva, Florida as the Danville Yurt. You'll never want to leave this enchanting oasis where the hosts have taken unbelievable measures to create the most inviting environment possible.
This Airbnb in Florida feels like a playground for adults (children are not allowed due to safety reasons). The treehouse has everything you could want in one space including a staircase and tree trunk elevator, a hot tub, an outdoor shower, accent lighting, a swing chair, and a tiki hut.
Your actual sleeping accommodation up in the tree is a yurt as well, and is just as beautifully and thoughtfully decorated as the Danville Yurt previously mentioned on this list. You might think you're dreaming as you lie in bed with the twinkling lights enhancing the mood from outside your window.
Every couple needs to experience this romantic getaway at least once in their lifetime. It's a magical experience you won't soon forget.
Click Here To Check Rates On Airbnb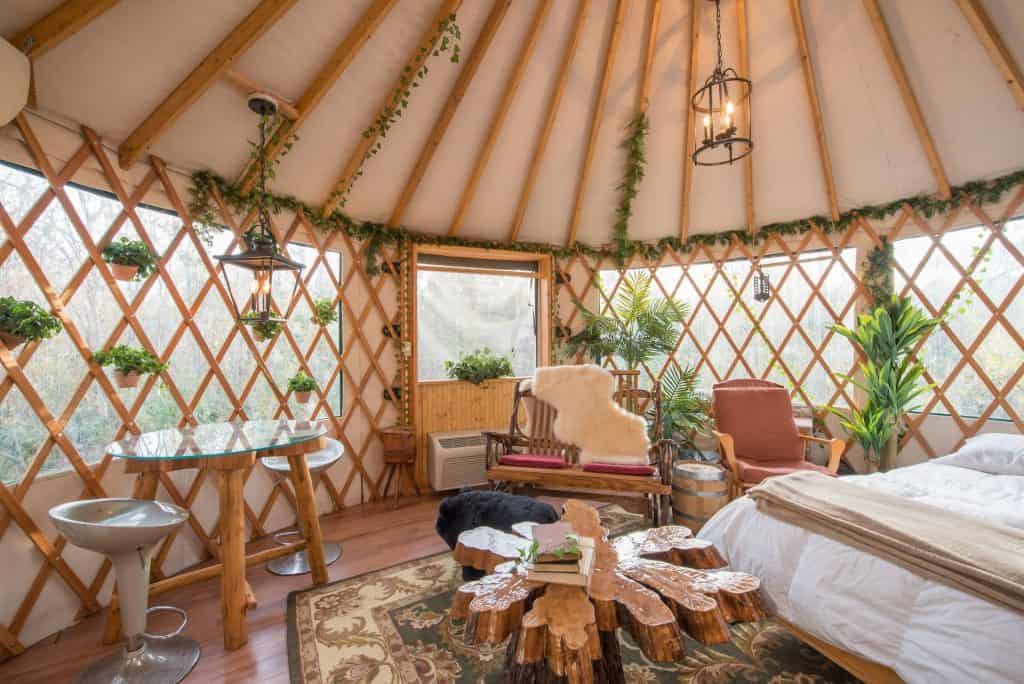 Casa Sangria
If you're looking for beach houses in Florida, then you need to stay at this Cottage, only steps away from the beach! One of the best beach houses in Florida, this Florida VRBO is aptly named Casa Sangria.
This three bedroom beach cottage gem has completely brand new furnishings. It's only a 2 minute walk to the beach from the property and you have two kayaks to explore Lemon Bay where you can often see dolphins! it's also just a five minute walk to Stump Pass State Beach Park.
This cottage offers free wifi and a television with all premium movie channels for free! Common area amenities include a courtyard swim spa with waterfall, ping-pong table, two kayaks, a laundry room, and charcoal grills! You also can head over to the Sand Bar or White Elephant Pub for island nightlife and live music.
Check Rates: VRBO.com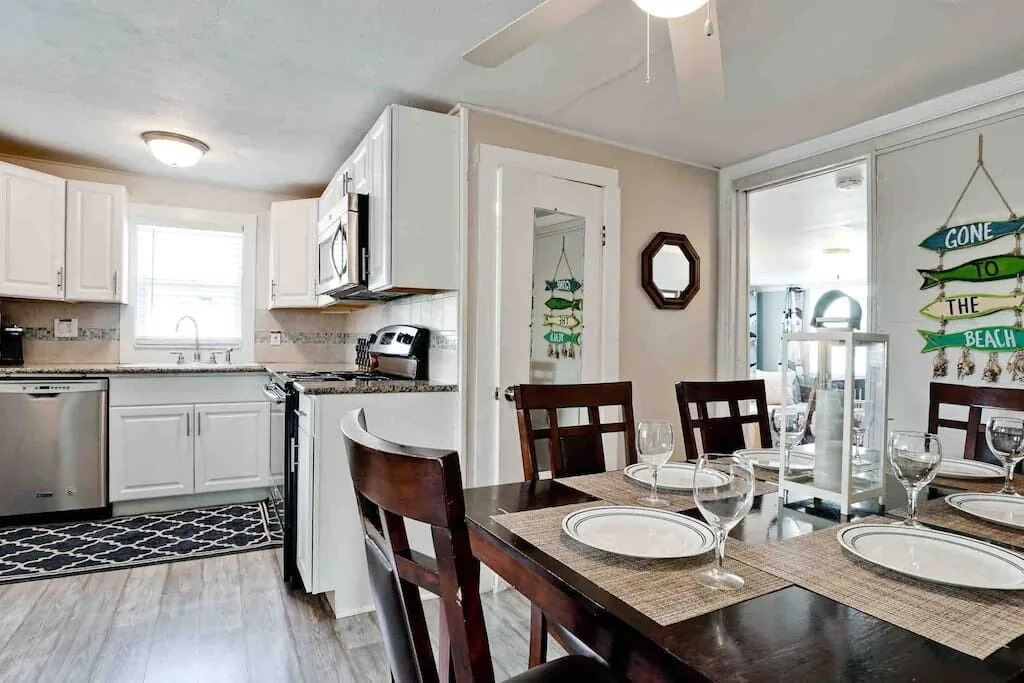 Pure Miami Beach
You can't plan a trip to Florida and not visit its iconic beaches. There's no better way to do that than by staying at this beautiful beachfront Miami Airbnb.
There are few things quite like waking up to a view of the ocean with pristine turquoise water luring you in. Pure Miami Beach offers you spectacular views from its crisp, modern interior as well as ridiculously easy beach access without even having to cross a street.
The price of your stay includes beach chairs, a beach umbrella, beach towels, snorkel gear, tennis rackets and access to the tennis courts in the complex as well as access to the onsite pool and gym. You'll also have free parking for one car, a rare luxury in the Miami Beach area.
This is one of a collection of Airbnbs these hosts offer in this same condo complex. A stay here will make you never want your Florida vacation to end!
Click Here To Check Rates On Airbnb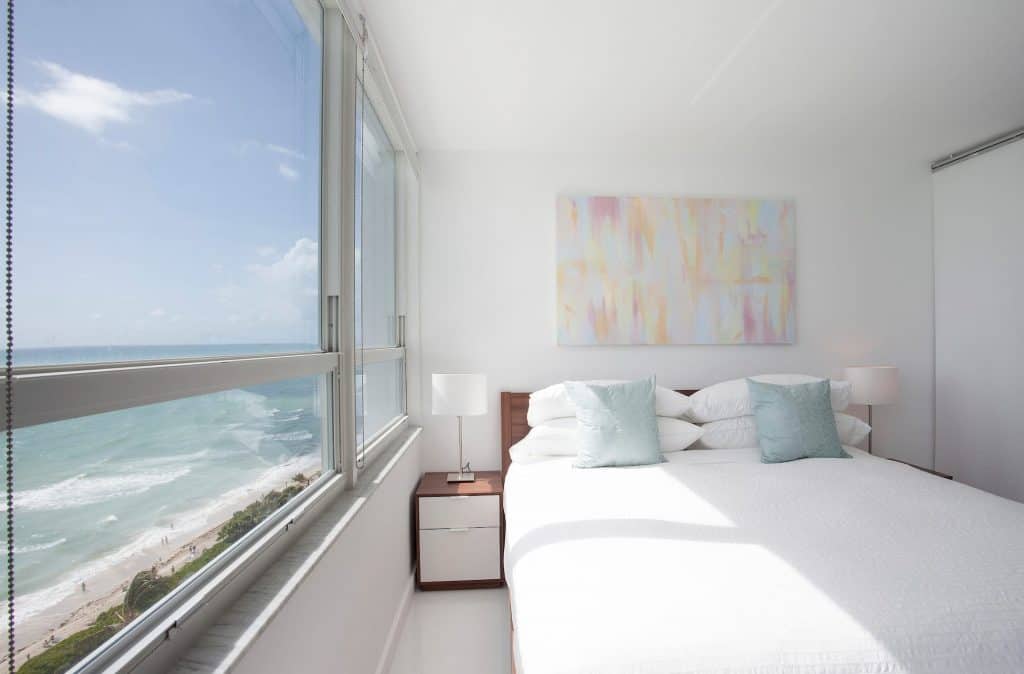 Treehouse Townhome
This isn't your average treehouse. Right on the shores of Pensacola, you'll love staying in this perfect getaway made for your family!
The treehouse townhome will allow you to wake up to coffee on the kitchen balcony as you watch island life begin at sunrise with dolphins in sight on the shoreline. The manicured lawn provides a great view of the boats in the dock. You can even lay down a blanket and stargaze the night away!
Inside there's a well-stocked kitchen as well as a grill. The inside is freshly decorated in bright island colors. There's even a beach service that will deliver beach chairs and umbrellas! You don't even have to pay, it's included with your rental!
Check Rates: VRBO.com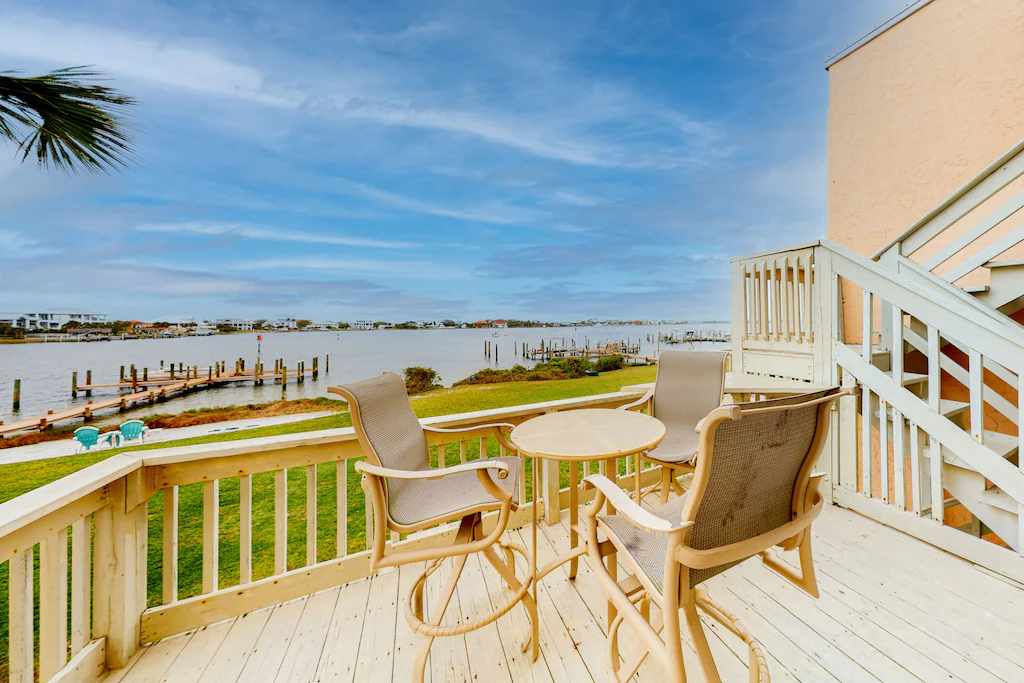 Vintage '71 Airstream
The Vintage '71 Airstream Airbnb in Florida is the definition of cute. It is located on a property in Bradenton, Florida within a short walk or drive of the Palma Sola and Anna Maria Island beaches. It is truly one of the Best Airbnbs Near Tampa!
The cozy airstream is perfect for two guests with a King bed (and a pullout couch if you're looking to bring a small child along). You also have access to a pool and Jacuzzi on the site if you're looking to cool off or warm up before you curl into bed and turn on your favorite movie on the movie projector in the airstream.
Throughout your stay you're also likely to encounter chickens walking around as well as the friendly and adorable American Eskimo dog.
Though space inside this Florida Airbnb is limited, you're provided with everything you need to have a memorable and relaxing stay. So go ahead and take a load off in this stress free zone at the airstream tiny house.
Click Here To Check Rates On Airbnb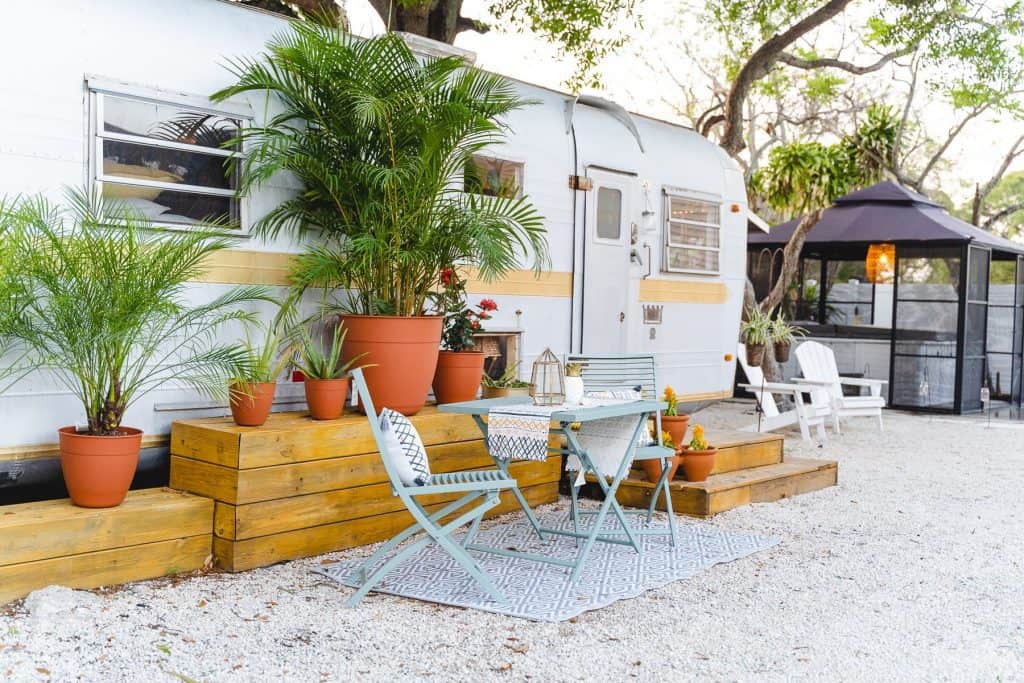 Hollinsed House
When you're staying in Key West, you want to have the best island life experience. That's what you'll get at Harvey's Haven, or better known as the Hollinsed House!
In the heart of Old Town Key West you'll be just one block from Duval Street! Best for two people, this unit is both removed from integrated in the best activities that Key West has to offer. You'll have the best of both worlds all in this ground floor studio suite.
The house is charmingly furnished with a king bed, double futon, dining table, and tropical artwork. There are transomed window and an open floor plan create a breezy atmosphere. There's also a full kitchen with a coffeemaker, oven, stove, and more!
Outside, you'll find lush tropical surroundings. The Victorian architecture is complemented by gardens and a courtyard fountain. Enjoy the lounge chairs beside the heated pool or sit at an outdoor dining table underneath the palms.
Check Rates: VRBO.com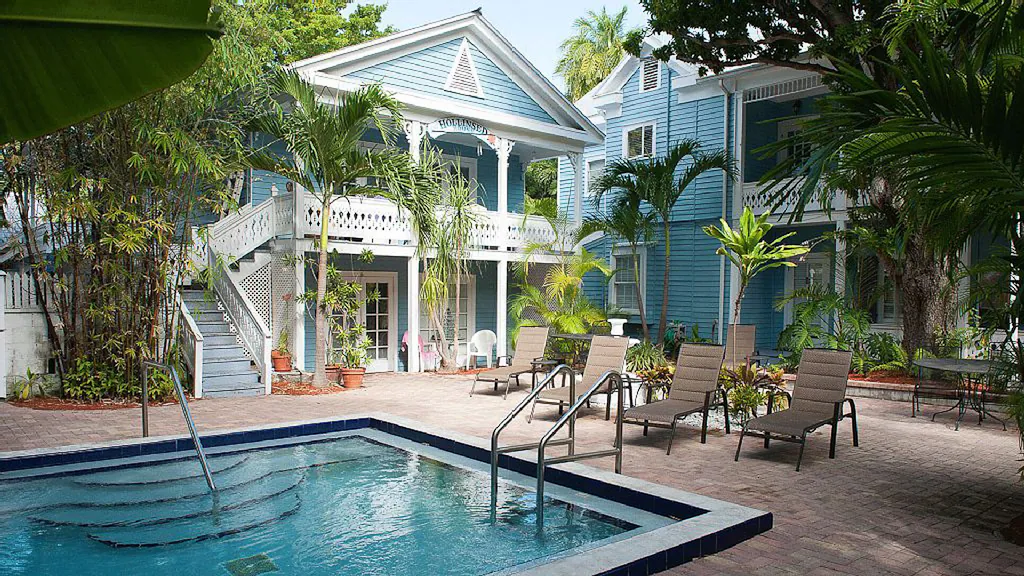 Sanctuary Of Light
Enjoy quiet seclusion in this 2 person Pensacola, Florida Airbnb. Though the Sanctuary of Light bungalow is located in the host's backyard you feel as though you have your own private space free from the noise and distractions of the outside world.
The bungalow is aptly named with ample windows and large French doors letting in an abundance of light throughout the day. If you're concerned about the light affecting your sleep there are blackout curtains to darken the space.
The bungalow is very conveniently located in a neighborhood not far from downtown, Pensacola Beach, and Bayview Park where you can rent kayaks and paddleboards.
When you return from your adventures outside, take a seat on the deck and soak up the sun away from the crowds. You're sure to feel right at home in this cozy Florida Airbnb.
Click Here To Check Rates On Airbnb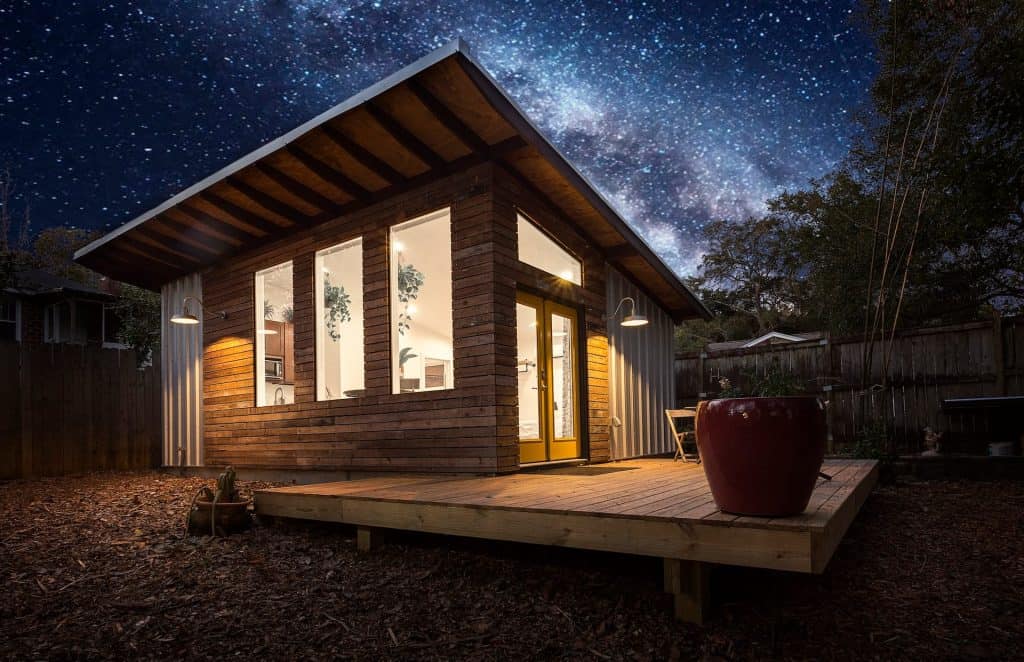 Casa Habana
At this Florida VRBO, you'll be right in the heart of Miami. Nestled in Little Habana, one of Miami's most historic and oldest neighborhoods, you'll love the proximity you have to culture. Welcome to Casa Habana!
On a ground-level unit, you'll find a newly renovated space! The kitchen is fully equipped with appliances, so you're ready to cook if you please! In the bathroom, you'll be provided with towels, shampoo, and soap, all complimentary.
This unit is pet-friendly. All rooms have Smart TVs, ready for you to stream your favorite shows. Just log into your accounts and you're good to go. There is street parking available and there is also a washer and dryer available on the property.
Check Rates: VRBO.com
The BoatHouse
When you're looking to relax in Tampa Bay, you're going to want to check out one of the best Florida VRBOs right on the Hillsborough River. With views of downtown Tampa, you'll love relaxing at the BoatHouse.
The BoatHouse has one large bedroom with a King size bed and en suite bathroom and shower. There's also another half bathroom with a stacked washer and dryer. The kitchen has breathtaking views of Tampa's skyline and you can enjoy the private dock and wave to boaters and kayakers that pass by.
The house, built over 50 years ago, has all the charm of an old Florida home. A clean, comfortable getaway, you'll have everything you need here. There's also fast speed wifi to keep you connected to the rest of the world!
You're just a short ride away from all the best sights Tampa has to offer. Hop on the Pirate Water Taxi at the marina next door and take a cruise down the river to the Tampa Riverwalk. There you'll have access to the best restaurants, museums, and parks that Tampa has to offer!
Check Rates: VRBO.com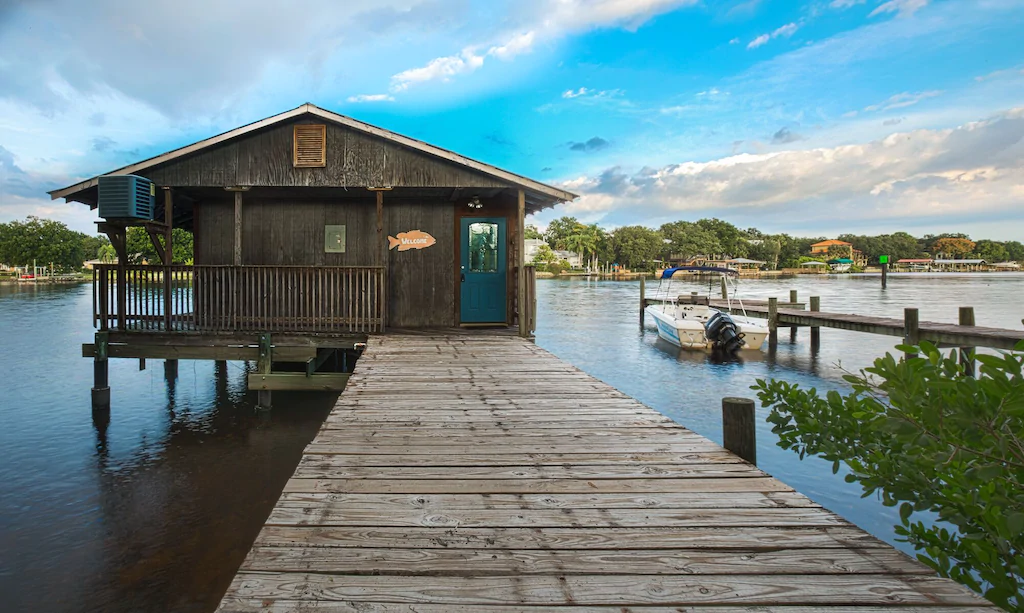 Safety Harbor Sanctuary
Florida has so many wonderful small towns, and Safety Harbor is one of the best on the east coast. When you want to enjoy a neighborhood that's been featured in Lifetime movies, you need to stay at the Safety Harbor Sanctuary.
In this fantastic location, you'll enjoy a spacious four bedroom, two bathroom home. There's even a pool! Inside there's lot of comfortable living spaces with soft couches and inviting bedrooms.
The outdoor living areas feature lush bamboo and tropical landscaping! In addition to the pool, you'll feel safe with a 6 foot privacy fence and love the beautiful gazebo. When you're not playing in the pool, you'll have lounge chairs and two other different seating areas to relax and enjoy.
Check Rates: VRBO.com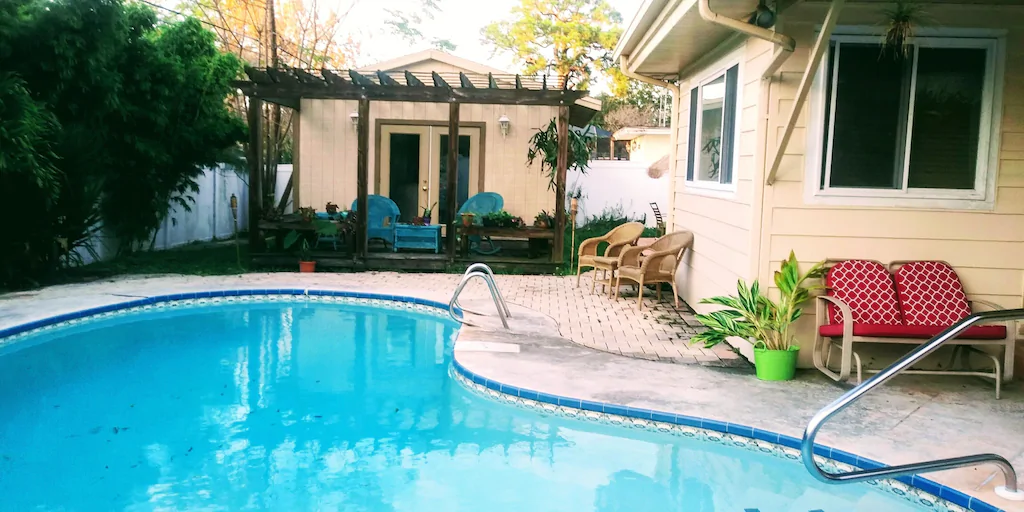 Harbor Island Gem
North Florida is a wonderful place to vacation, especially the historic city of Saint Augustine. When you're looking for a place to stay, you're going to want to look at the Harbor Island Gem.
Right on the edge of the San Sebastian inlet, this home screams historic St. Augustine architecture. You'll be staying on the first floor of a two story home. Don't worry, the first floor apartment has a separate entrance from the upstairs apartment.
Watch sailboats and shrimp boats pass by from the screened-in porch. Grab a drink and you can watch the tide come in and birds flitting about. Harbor Island offers a sense of secluded tranquility while you'll be only a short walk away from the historic district of St. Augustine.
Check Rates: VRBO.com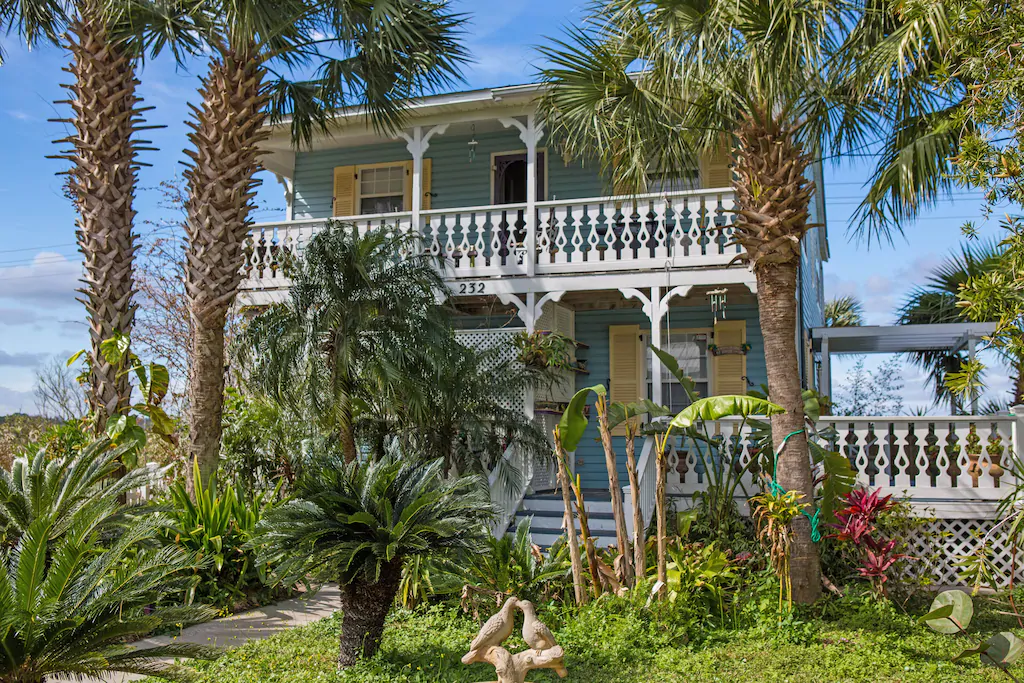 Marco Island Getaway
If you haven't been to Marco Island, you're missing out! The largest of 10,000 Islands, mangrove-lined estuaries lie just south of Naples. Marco Island's beaches and surrounding sandbars offer some of the best shelling in the world. This is why you need to get to the Marco Island Getaway.
This Florida VRBO is a beach chic styled condo, completely renovated in 2017. With lots of comfortable living spaces, you'll also find a kitchen with granite countertops, stainless steel appliances, and many upgraded features in amenities.
You'll be in the Anglers Cove complex which spans over 13 acres. The complex will grant you access to two different pools, two spas, and two tennis courts! There's a quiet balcony that overlooks the garden and pool area.
This is a perfect location, because while you enjoy the seclusion of the neighborhood, you'll be minutes away from the best beaches, water sports, shopping, and restaurants. In particular, you can walk to the Dolphin Tiki restaurant and Rose Marina!
Check Rates: VRBO.com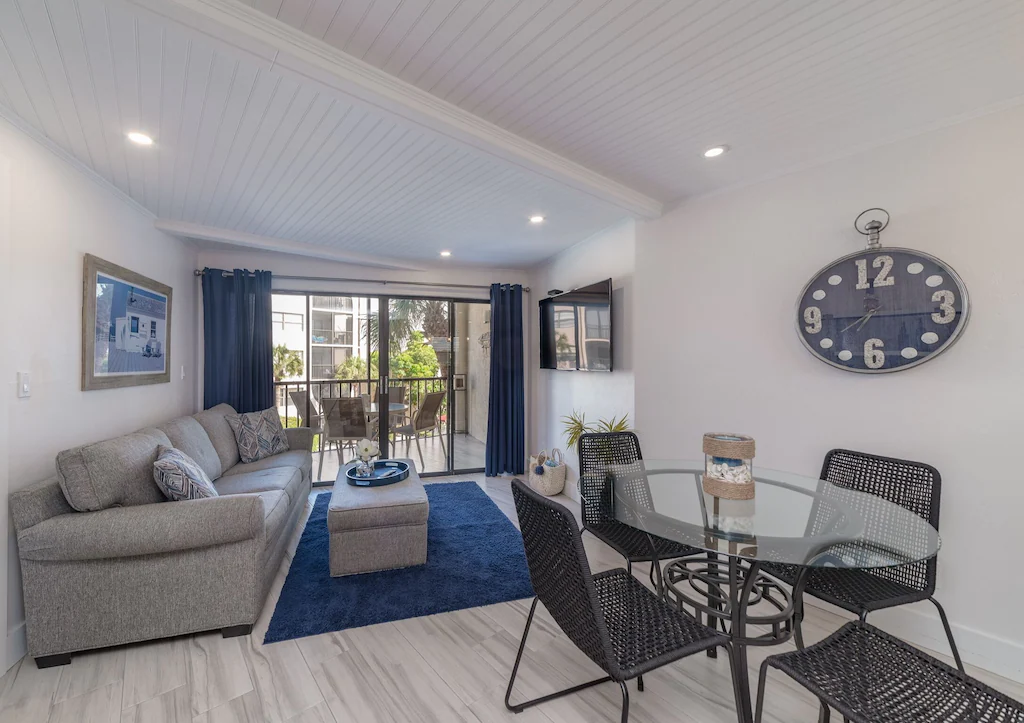 Did You Find This Post Helpful?
If so, we would love to keep in touch! We enjoy seeing photos and comments about your experiences in Florida! You can follow us on Instagram and we will repost your photos on our feed and comment too! Just tag us at @floridatrippers and hashtag #floridatrippers. We can't wait to see your travels!