Looking for the best Airbnb in Florida for your upcoming trip to the Sunshine State? We're hoping to make your job a bit easier with these 12 suggestions.
Florida is a tourist hot spot with tropical weather, beaches, Disney World, and national parks.
Whether you're taking an airboat through the Everglades, snorkeling in Ginnie Springs, or sun tanning at Miami Beach, you're sure to have a memorable time in this beautiful state. To get the most out of your trip however, you'll want to make sure you have the perfect Florida Airbnb lined up for your stay.
As you look through our unique Airbnb suggestions, you'll understand why an Airbnb can be an ideal alternative to a more generic hotel. The often less expensive prices and more personal homey feel of the Airbnbs will provide you with a more authentic Florida experience.
Find the Airbnb in Florida that resonates the most with you, pack your bags, and don't wait a minute more to bask in the Florida sunshine.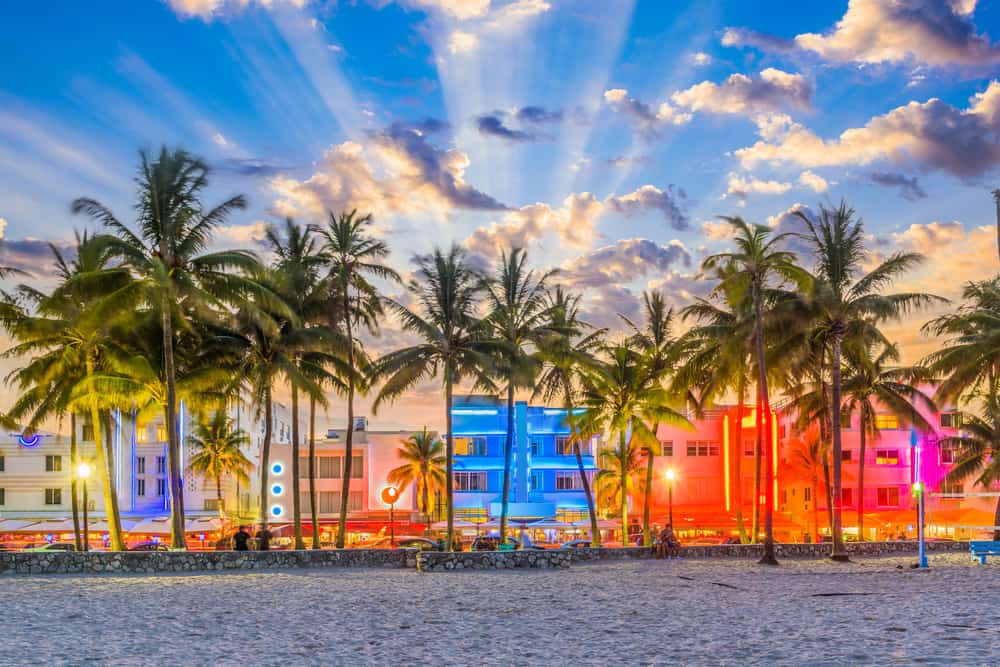 12 Best Airbnbs In Florida (Cabins, Treehouses, & More)
Yurt At Danville
Prepare for a peaceful, romantic getaway at the yurt in Geneva, Florida. A stay at this Airbnb in Florida can certainly be described as glamping.
You won't be dripping in luxury in the yurt, but you can definitely expect a cozy, comfortable experience in a magical environment. The inside of the yurt is beautifully decorated, with plenty of space and sunlight streaming through the windows and skylights.
The charming yurt that makes you feel very much at home is made even better with a firepit and grill on the outside deck and Bobo and RJ, your alpaca neighbors, waiting to greet you outside.
The Airbnb is part of a much larger property with a number of other Airbnb accommodations on site, goats and horses, and a pub where you can grab a beer with the hosts and other guests. If you're looking to explore beyond the property, 500 acres of park land await you just beyond the backyard.
Click Here To Check Rates On Airbnb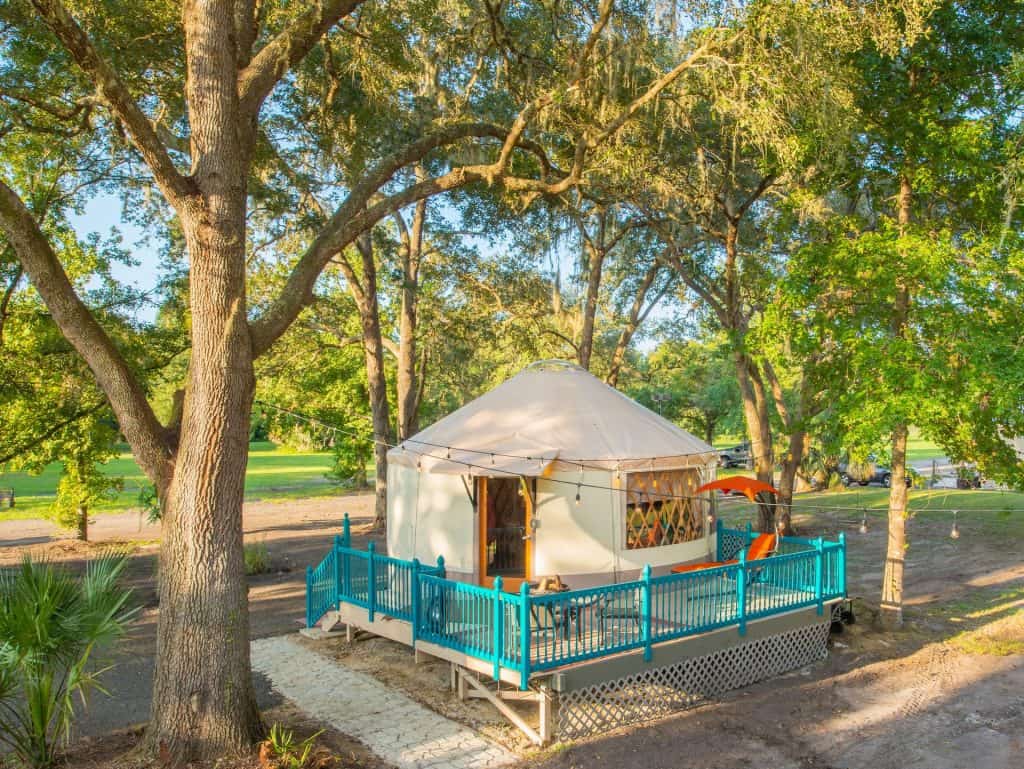 Treehouse at Danville
The Treehouse at Danville is the ultimate slice of paradise located on the same property in Geneva, Florida as the Danville Yurt. You'll never want to leave this enchanting oasis where the hosts have taken unbelievable measures to create the most inviting environment possible. 
This Airbnb in Florida feels like a playground for adults (children are not allowed due to safety reasons). The treehouse has everything you could want in one space including a staircase and tree trunk elevator, a hot tub, an outdoor shower, accent lighting, a swing chair, and a tiki hut.
Your actual sleeping accommodation up in the tree is a yurt as well, and is just as beautifully and thoughtfully decorated as the Danville Yurt previously mentioned on this list. You might think you're dreaming as you lie in bed with the twinkling lights enhancing the mood from outside your window.
Every couple needs to experience this romantic getaway at least once in their lifetime. It's a magical experience you won't soon forget.
Click Here To Check Rates On Airbnb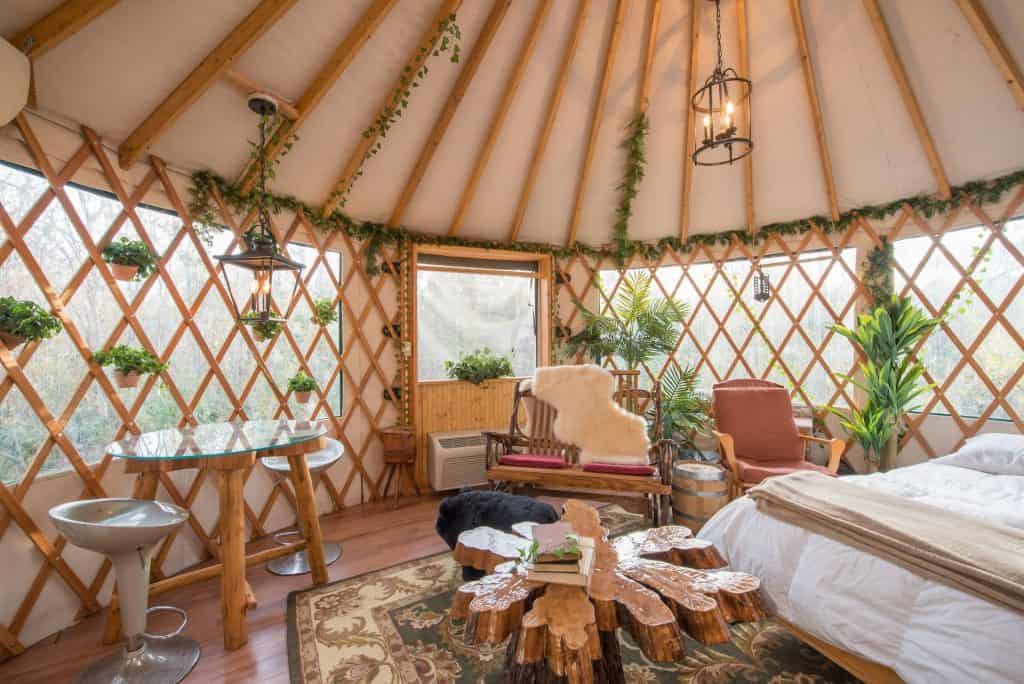 Pure Miami Beach
You can't plan a trip to Florida and not visit its iconic beaches. There's no better way to do that than by staying at this beautiful beachfront Miami Airbnb.
There are few things quite like waking up to a view of the ocean with pristine turquoise water luring you in. Pure Miami Beach offers you spectacular views from its crisp, modern interior as well as ridiculously easy beach access without even having to cross a street. 
The price of your stay includes beach chairs, a beach umbrella, beach towels, snorkel gear, tennis rackets and access to the tennis courts in the complex as well as access to the onsite pool and gym. You'll also have free parking for one car, a rare luxury in the Miami Beach area.
This is one of a collection of Airbnbs these hosts offer in this same condo complex. A stay here will make you never want your Florida vacation to end!
Click Here To Check Rates On Airbnb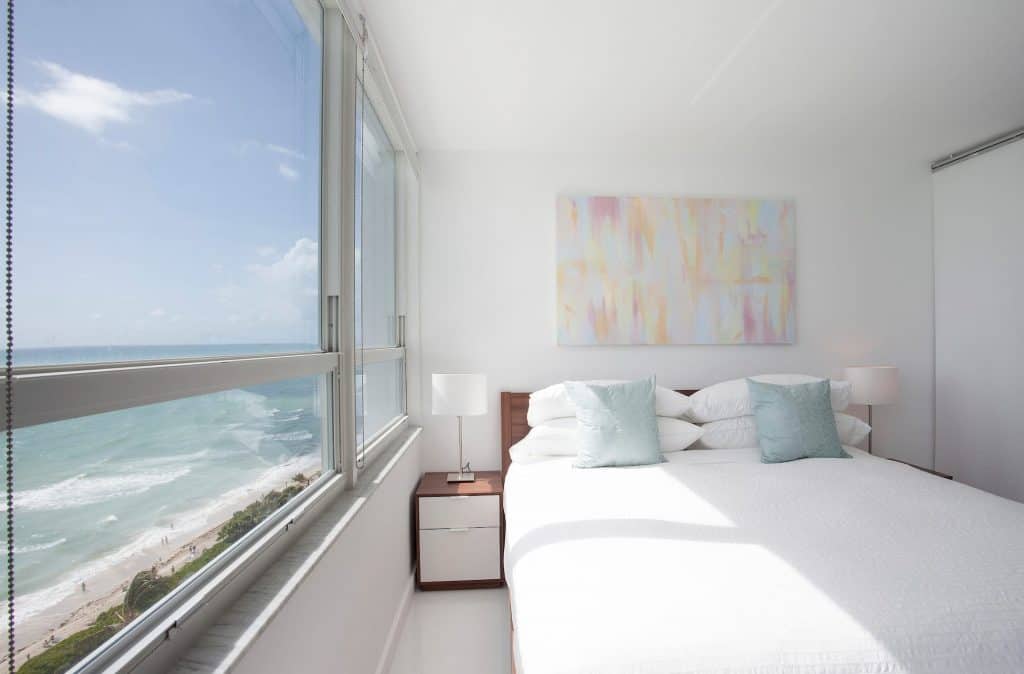 Vintage '71 Airstream
The Vintage '71 Airstream Airbnb in Florida is the definition of cute. It is located on a property in Bradenton, Florida within a short walk or drive of the Palma Sola and Anna Maria Island beaches. It is truly one of the Best Airbnbs Near Tampa!
The cozy airstream is perfect for two guests with a King bed (and a pullout couch if you're looking to bring a small child along). You also have access to a pool and Jacuzzi on the site if you're looking to cool off or warm up before you curl into bed and turn on your favorite movie on the movie projector in the airstream.
Throughout your stay you're also likely to encounter chickens walking around as well as the friendly and adorable American Eskimo dog.
Though space inside this Florida Airbnb is limited, you're provided with everything you need to have a memorable and relaxing stay. So go ahead and take a load off in this stress free zone at the airstream tiny house.
Click Here To Check Rates On Airbnb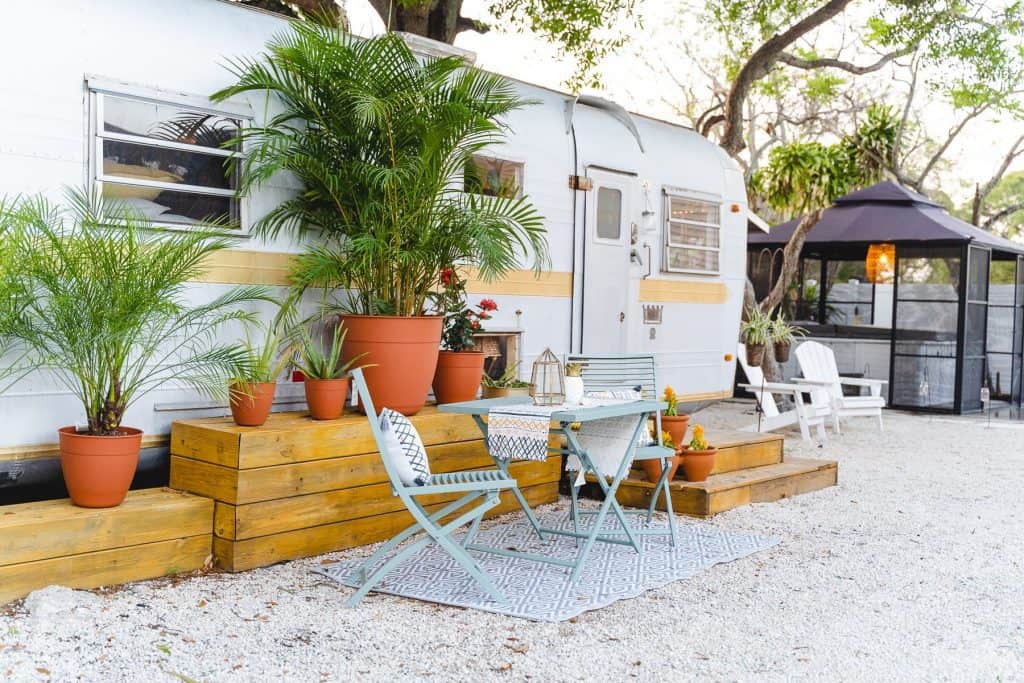 Sanctuary Of Light
Enjoy quiet seclusion in this 2 person Pensacola, Florida Airbnb. Though the Sanctuary of Light bungalow is located in the host's backyard you feel as though you have your own private space free from the noise and distractions of the outside world. 
The bungalow is aptly named with ample windows and large French doors letting in an abundance of light throughout the day. If you're concerned about the light affecting your sleep there are blackout curtains to darken the space.
The bungalow is very conveniently located in a neighborhood not far from downtown, Pensacola Beach, and Bayview Park where you can rent kayaks and paddleboards.
When you return from your adventures outside, take a seat on the deck and soak up the sun away from the crowds. You're sure to feel right at home in this cozy Florida Airbnb.
Click Here To Check Rates On Airbnb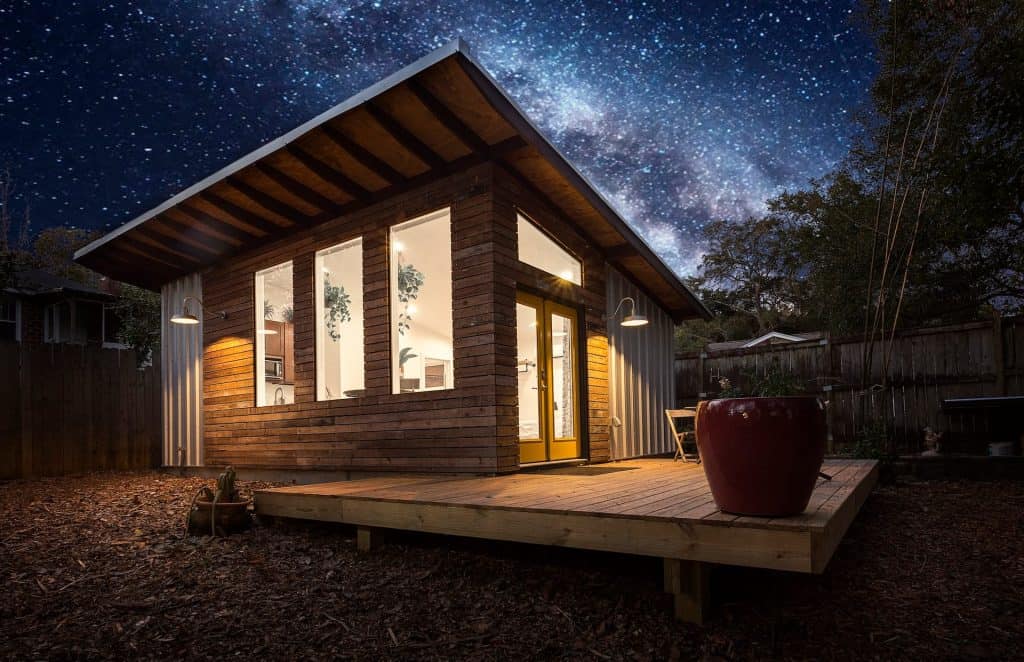 Orlando Venice
If you've ever wanted to experience tiny house living, now's your chance at this unique Orlando Airbnb. The Venice is parked right on the edge of Lake Fairview in Orlando Lakefront, a tiny house community. 
With a paddleboard, kayak, and two fishing poles to use from either of two fishing docks to keep you occupied, you're sure to quickly fall in love with life at the lake. The Venice is located just a short distance from downtown Orlando, but staying at the lake allows you to escape the hustle and bustle of the city.
The unusual construction of this tiny home includes a garage door that rolls up to reveal the patio so you can enjoy the Florida sunshine from both inside and outside the house. Expect plenty of fresh air and good times during your stay at The Venice.
In order to reach the loft bed in this tiny home you'll have to climb up a makeshift ladder, so we recommend this location only to more agile guests.
Click Here To Check Rates On Airbnb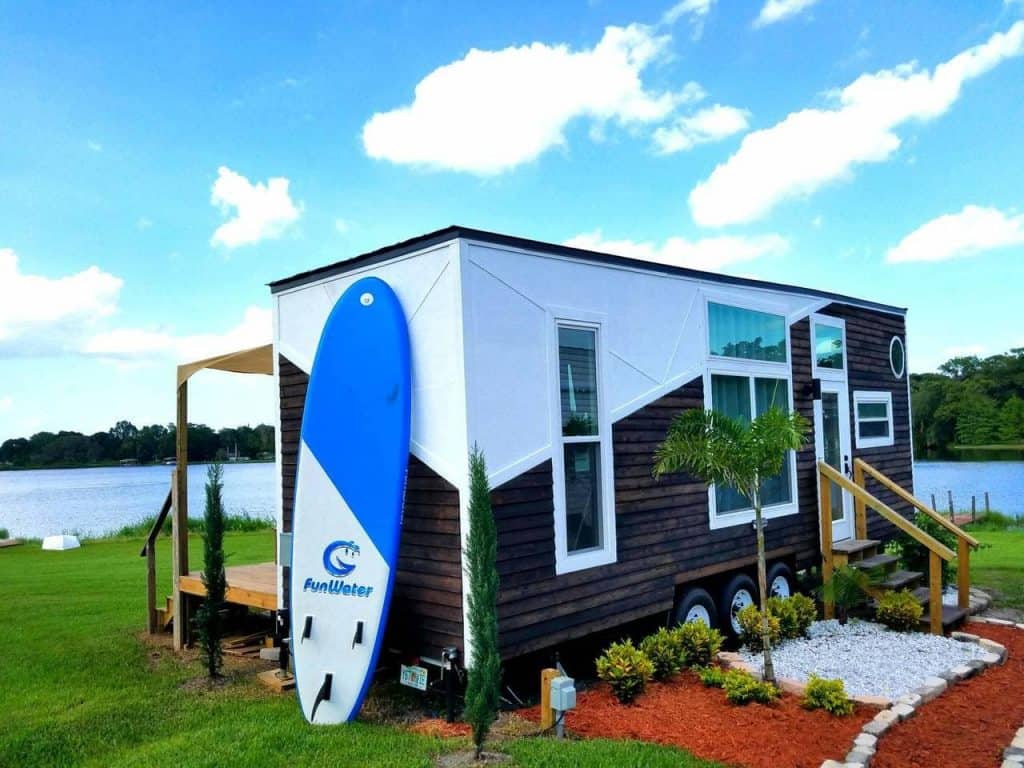 Hidden Beach Unit 1
If you're looking for beach house rentals in Florida, this Hidden Beach Airbnb in Key West is where you want to be. Though it's not an inexpensive stay, you're given so much more than just a relaxing Airbnb space to sleep in at night. 
Each day you'll wake up to the sound of waves outside your window before making your way to the deck and down to the private beach. Right next to the Airbnb is the Waldorf-Astoria Reach Resort whose beach and pool you'll be given access to as well.
From the Airbnb you're just a short walk away from the famous Duval Street with its shops, restaurants, and party atmosphere. You're also a short driving distance away from the Dry Tortugas National Park if you're looking to venture a little further outside the little beach bubble you'll be living in.
Whether you're napping on a beach towel, renting paddle boards next door, keeping your eyes out for a manatee, or indulging in the delicious Caribbean-American food at Louie's Backyard, you'll never want to leave this beach paradise.
Click Here To Check Rates On Airbnb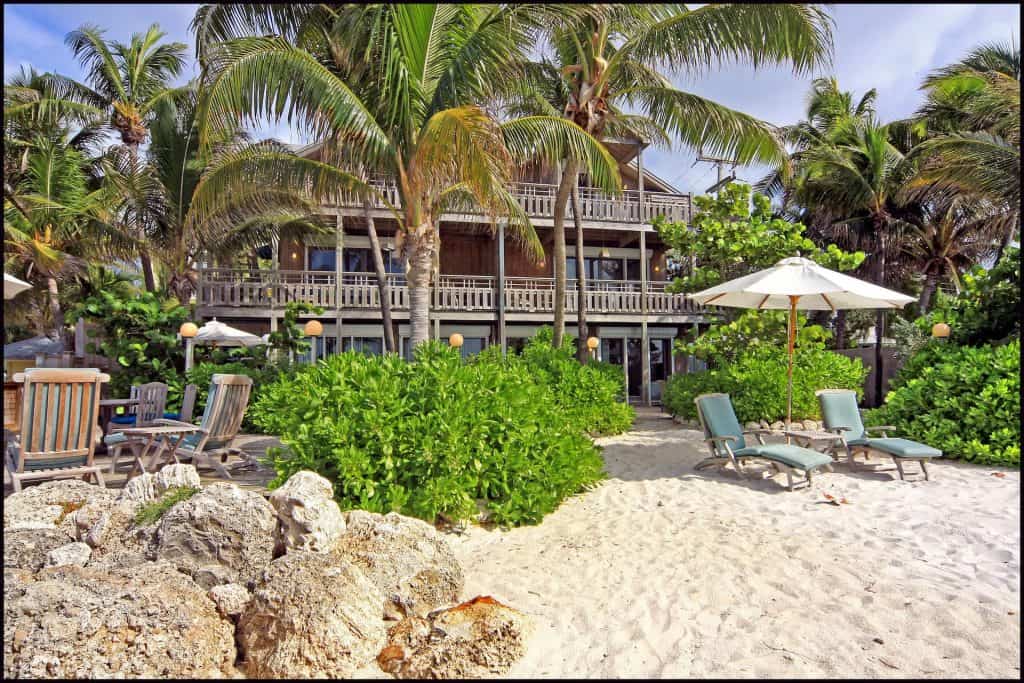 Treehouse In The Woods
Treehouse In The Woods is the second treehouse Airbnb in Florida to make our list and you'll soon see why it deserves to be here. Located in Kissimmee, the treehouse will land you relatively close to Disney World and Universal Studios if you're planning to immerse yourself in all things Disney during your trip.
Despite its proximity to Disney, the Airbnb itself is a secluded little getaway in the woods. It's the perfect place to set up a board game, read a book, and talk with your significant other well into the night.
After an adventurous day, you can look for tree frogs by the pond and relax in the hammock underneath the treehouse while watching the sunset before venturing back into the house itself. You'll feel cozy and happy as a child in this unique Florida Airbnb.
Take note that a ladder is required to reach the bed, and the hosts also do not allow any guests under the age of 16.
Click Here To Check Rates On Airbnb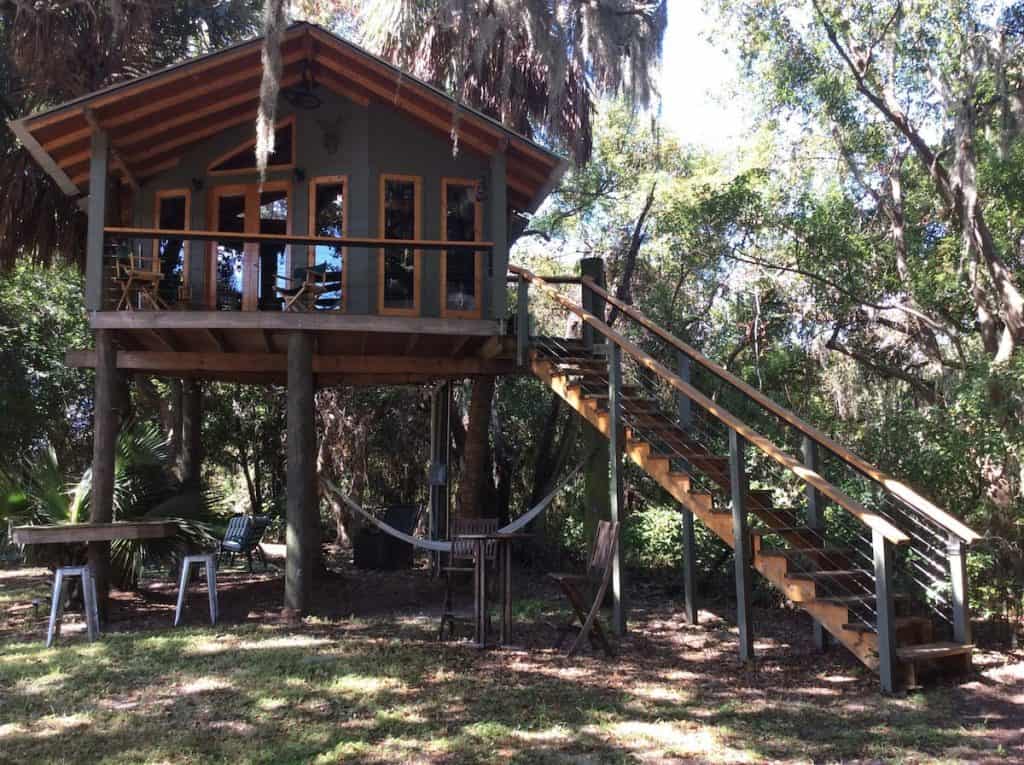 Clearwater Beach Modern Waterfront 1st Floor
This hip, modern Airbnb in Clearwater is an industrial-chic style apartment with bright white walls and accents of color throughout. If you're looking for an Airbnb in Florida close to the beach, look no farther.
The Airbnb is right on the water with a fishing dock outside and the beach just minutes away. You might even be lucky enough to experience some dolphin sightings throughout the day.
You can enjoy a cup of coffee from the patio before heading out for some beach day fun. When you're all wiped out and have eaten your fill at a nearby restaurant, you can return to the quiet of the apartment and reminisce on your day as the sun goes down.
Go ahead and gather up a group of friends because with 2 queen beds and a sofa bed this 6 person Florida Airbnb is the perfect place to spend a weekend at the beach.
Click Here To Check Rates On Airbnb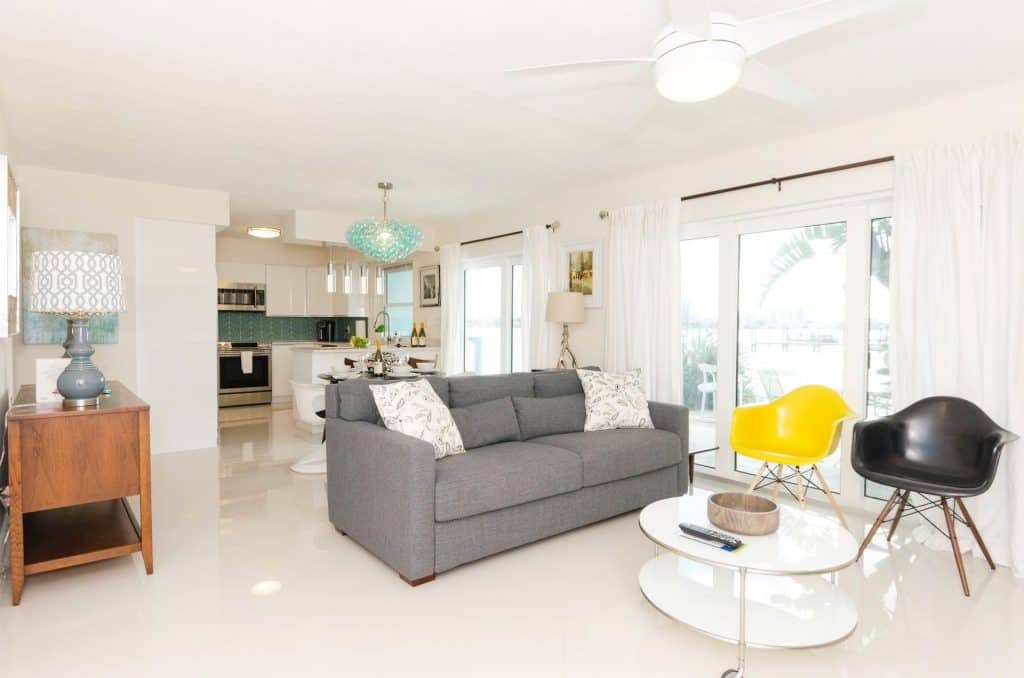 Downtown Dunedin B&B- Rustic Cabin with Pool
Looking for cabins for rent in Florida to maximize your vacation? This rustic cabin Airbnb in Dunedin, Florida is the perfect location to settle in with your family and begin what will undoubtedly be a fantastic trip.
A handful of wonderful beaches are located nearby including the four miles of beach at Honeymoon Island State Park just 5 miles north and Clearwater Beach 5 miles to the south. The cabin is also located right in downtown Dunedin so you'll have access to plenty of restaurants and shops.
If you'd prefer to hang out around the cabin there's a shared pool, fire pit and grill for your use on the property. Not to mention the beautiful wood and designs in the interior of the cabin make time spent indoors enjoyable as well.
Though this Florida Airbnb doesn't have the classic seclusion so often associated with cabin life, it still provides plenty of peace and quiet and is a welcoming space to come "home" to after a full day of outdoor activities. Please note that although the cabin is available for up to four guests, any guest after two requires additional payments.
Click Here To Check Rates On Airbnb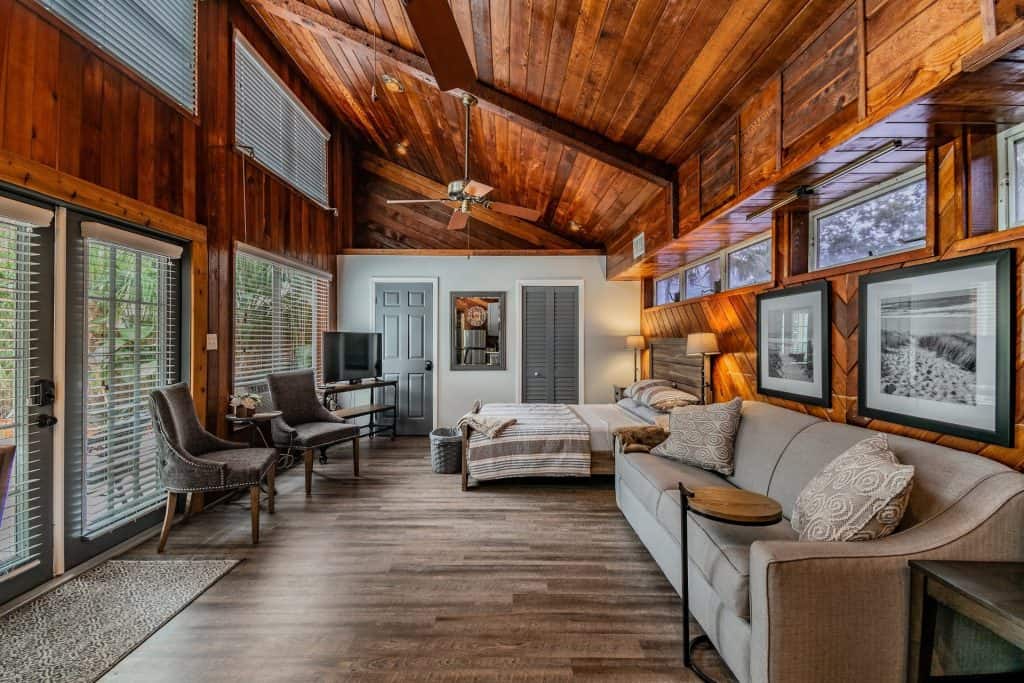 Magic Clubhouse
The Magic Clubhouse is a Disney sensation that is a dream for children. This Florida Airbnb can house up to 15 guests, so gather the kids and head to this Kissimmee, Florida wonderland. 
This Airbnb is located just 4 miles from Disney World for easy access to a day full of fun at the park. But why limit the Disney magic to the parks when you can experience a world full of Disney at your Airbnb too?
Each room has a different theme from the Avengers and Frozen to Harry Potter and Pirates of the Caribbean, and some even come with dress up costumes. The backyard is full of fun for the kids as well with a Jurassic lab, a Seven Dwarfs cottage, and a pool for the whole family to cool off in.
Though this Florida Airbnb is not inexpensive, it is perfect for groups of families to vacation together and split the cost. Book now for some major parent brownie points.
Click Here To Check Rates On Airbnb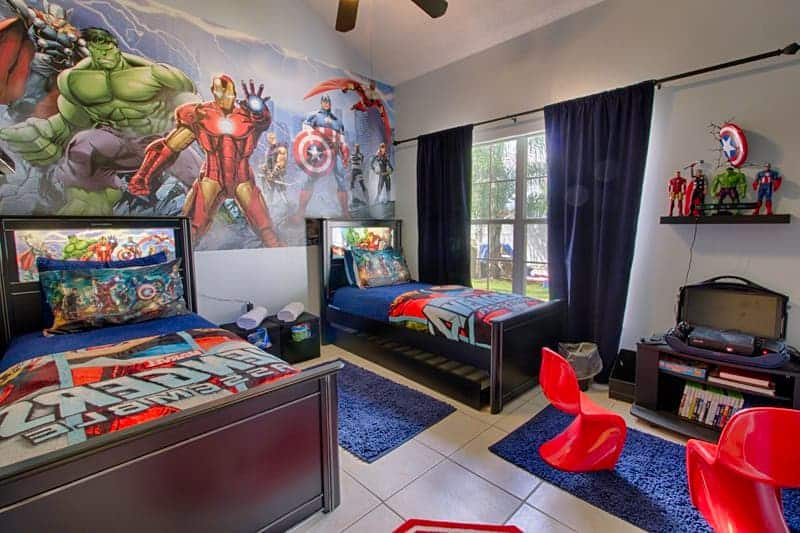 The Salty Seahorse-Unique Floating Barrel Cabin
The Salty Seahorse is suited to more adventurous types. This Key Largo floating barrel cabin is the best Airbnb in Florida for those willing to roll with the punches because the weather can play a big part in your stay.
Be prepared to be rocked to sleep at night by the waves which can be a magically relaxing experience on a calm weather day. This is also very much a glamping experience, so prepare for your stay as you would a camping trip.
Pack light because there's not a lot of space in the cabin and you'll only be able to take what fits in the kayak that you'll use to row to the cabin. There's also no AC and the power is all solar generated so you'll need to be on the more conservative side in your power usage.
However, if you approach this vacation fully understanding that you'll be glamping, it can be a truly special experience. Whether you're fishing and grilling from the deck or watching dolphins, manatees, fish and jellyfish from the panoramic window, this Florida Airbnb will leave adventurous guests with a trip they'll never forget.
Click Here To Check Rates On Airbnb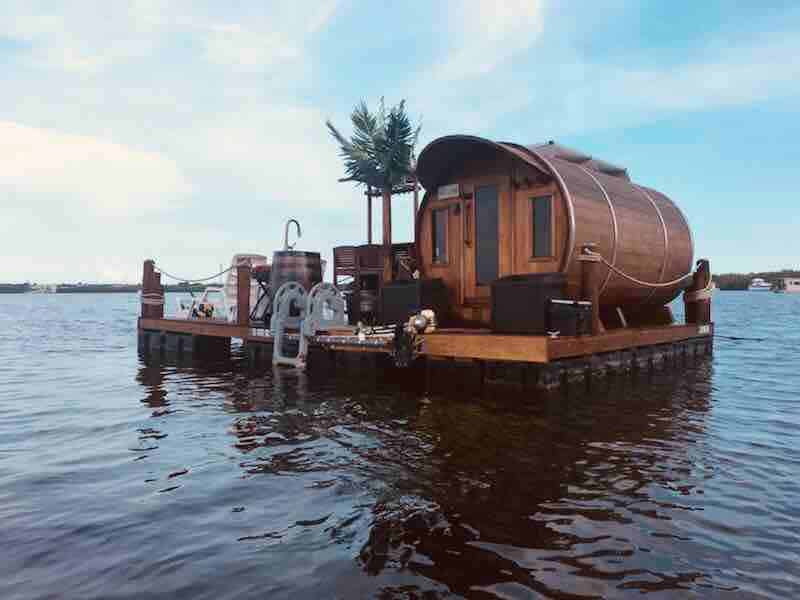 We're thrilled you've chosen to call the beaches and bayous of Florida your home for your next vacation. With so many unusual structures and enviable locations, we hope you'll find an Airbnb in Florida from this list that suits you.
Whether you're enjoying all things Disney at the happiest place on earth, or adventuring through Florida's outdoor landscape you're sure to have a wonderful time in the Sunshine State. If you have any questions or comments, please feel free to let us know below.