It's no mystery that the main event in Clearwater is the beaches, so we've got the best Airbnbs in Clearwater, Florida for you! The shorelines draw in millions of tourists each year. If you've never experienced Florida's most beautiful beaches, this is your time.
How many other areas have multiple beaches ranked as the best beaches in the country, and even the entire world? Clearwater Beach and St. Pete Beach have earned themselves spots lists published by Trip Advisor, USA Today, and the Travel Channel.
The beaches in Clearwater and St. Petersburg are surrounded by the blue-green waters of the Gulf of Mexico. All of the sands are sugary and white. Incredibly smooth, you won't need water shoes to protect your feet on most of these beaches.
AirBnbs are becoming more and more convenient to rent, and hosts are reliable and friendly. AirBnbs are incredibly convenient in Clearwater because they are so close to the beach. You'll never have to walk more than a few feet to arrive right on the beach.
Whether you're looking to stay for a weekend or a few months, we've got you covered. Choose between entire apartments, condominiums with rooftop terraces, and secluded hideaways to house you in the height of luxury. Here are our favorite AirBnbs in Clearwater! Don't forget to check out our list of the best things to do in Clearwater Beach!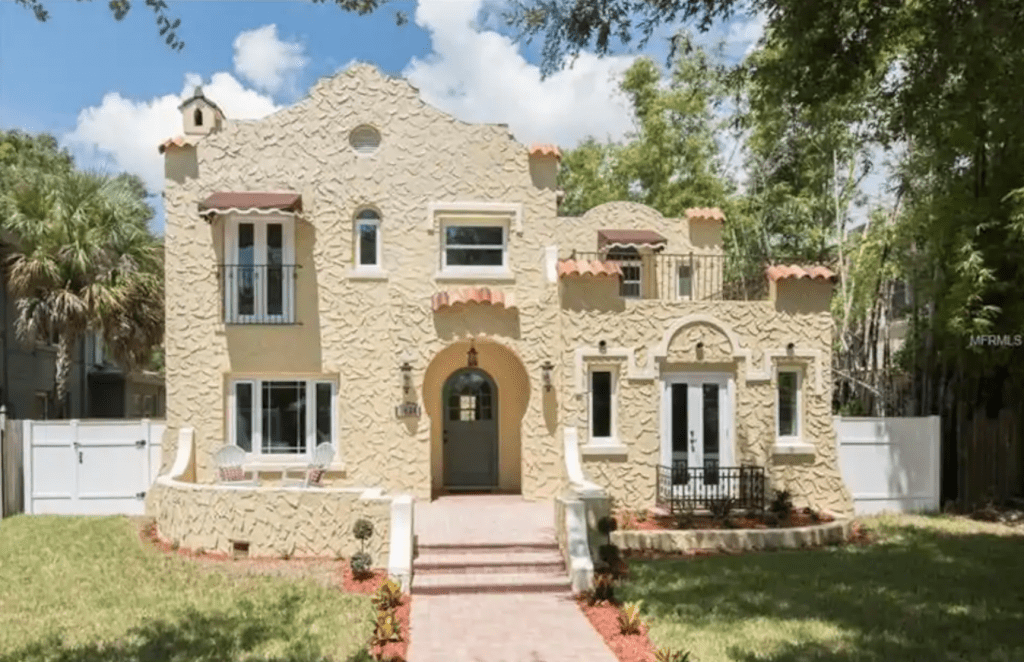 15 Best Airbnbs In Clearwater (Condos, Cottages, & More)
Jacuzzi on the Roof
Starting our list of the best vacation rentals in Clearwater off strong with this beautiful property. This VRBO is located only 600 feet from one of the best beaches in Florida. You can enjoy epic sunsets over the Gulf of Mexico while grilling dinner or relaxing in the hot tub on your private rooftop terrace.
The property can comfortably sleep 10 in 6 beds in 4 bedrooms. It has 2.5 bathrooms. One of the bathrooms has a very luxurious soaking tub. The host has thoughtfully provided beach chairs, towels, umbrellas,toys, and a 'sand cart' so you can get it all to the nearby white sandy beaches.
Check Rates: VRBO.com
Beachfront Luxury Home
It's easy to see why this property tops our list of best vacation rentals in Clearwater Beach. This is a truly unique house located at the very point of Clearwater beach. As you can see from the photos its the only home on this stretch of beach, so you'll have lots of white sandy beach to yourself.
The house has beautiful finishings and a dreamy wraparound porch. You'll be able to catch the Gulf of Mexico sunsets from all angles! The property can sleep 10. It has 5 beds and 3 bedrooms. It has 3 full bathrooms complete with updated finishings. You're sure to have an amazing time relaxing on your own stretch of private beach in Clearwater!
Check Rates: VRBO.com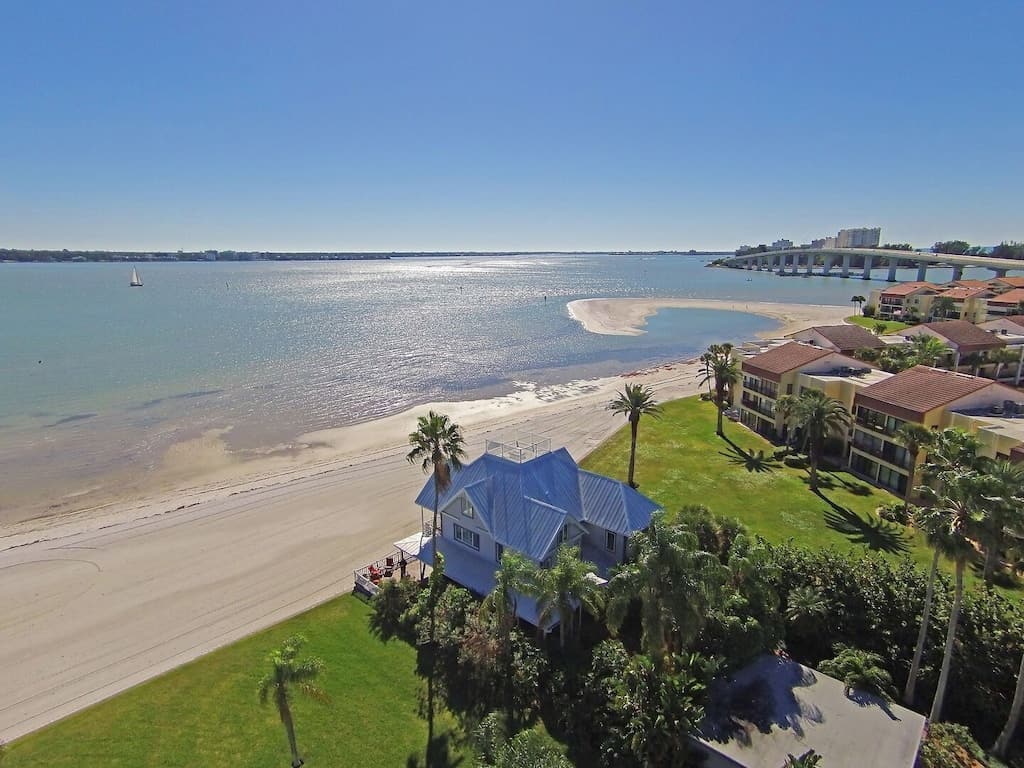 Comfy Cottage
Steps away from the beach, you'll have this entire bungalow to yourself on your next vacation getaway. The Comfy Cottage is one of the most quaint Airbnbs in Clearwater!
Over two separate units with private entrances, you'll have access to 2 bedrooms, 2 baths. The Comfy Cottage can hold up to 4 guests. Comfy bedrooms have cable TV and there is free wi-fi throughout the units.
Inside the bright, white kitchen, you'll have views of the waters. Along with beautiful granite countertops, you'll find all the comforts of home and will feel comfortable cooking your own meals.
You'll be steps from downtown, the water taxi, and many of the shops and restaurants in Clearwater! Laundry facilities are shared by both facilities, as well as a barbecue grill area.
Check Rates: VRBO.com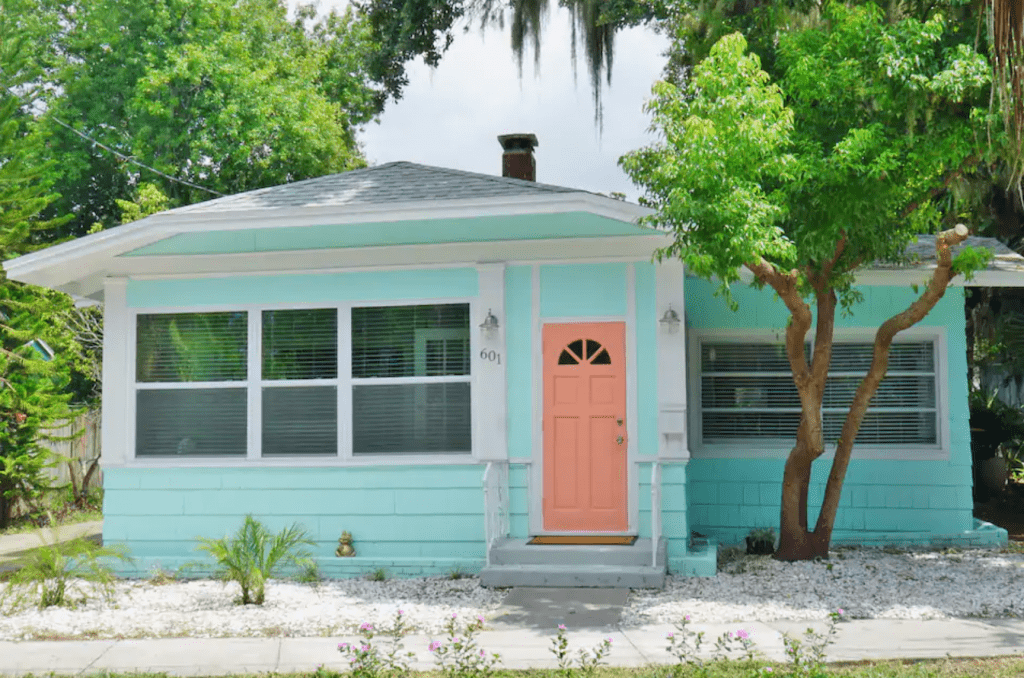 Private Waterfront Guest Room
If you're planning your trip on a budget, this is the entry on our list of Clearwater vacation rentals for you! You'll get all the amenities of a glorious waterfront home, for a fraction of the cost.
This is a guest space with a private entrance within a larger home. It has one bathroom and one bedroom. It is completely separate from the owner's home and is accessed through a secluded courtyard. The space has a mini-fridge and a microwave, but no stovetop. It is located super close to the Pinellas Bike trail to bike into town for dinner!
You'll have access to the amazing infinity-edge pool and the property's private dock. Because of the freshwater streams that pour into the bay, there is great fishing and lots of wildlife to observe from the dock.
Check Rates: VRBO.com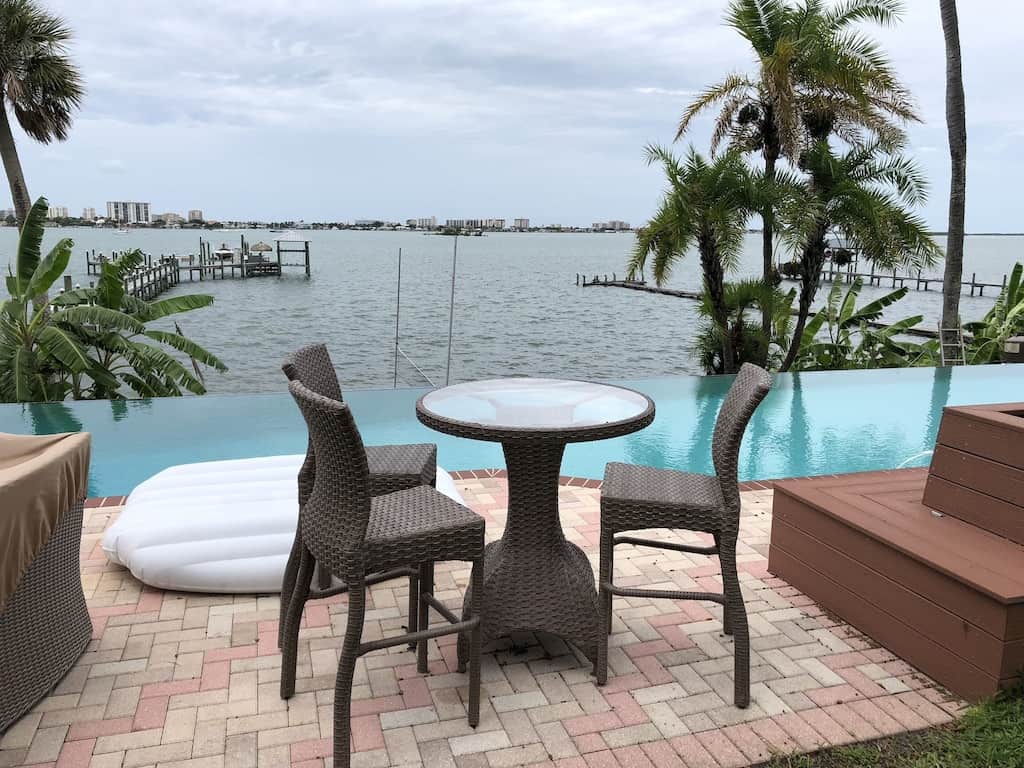 Casa Del Prince
In the lower Cresent Lake neighborhood, you'll find one of the most charming Clearwater vacation rentals in the area! The Casa Del Prince is an entire studio apartment waiting for your next adventure.
You'll unique shabby chic sleeping and sitting area furnishings with a French design motif. The brilliant brass decorative touches will remind you of Louie Armstrong's trumpet!
Apartments feature all the comforts of home, including your own in-unit washer and dryer. A full kitchen will make cooking a snap, with pots and pans, spices, plates, and silverware.
Enjoy quick and easy access to downtown shopping, dining, and entertainment as well as the beautiful Bayfront Beach Drive area!
Check Rates: Airbnb.com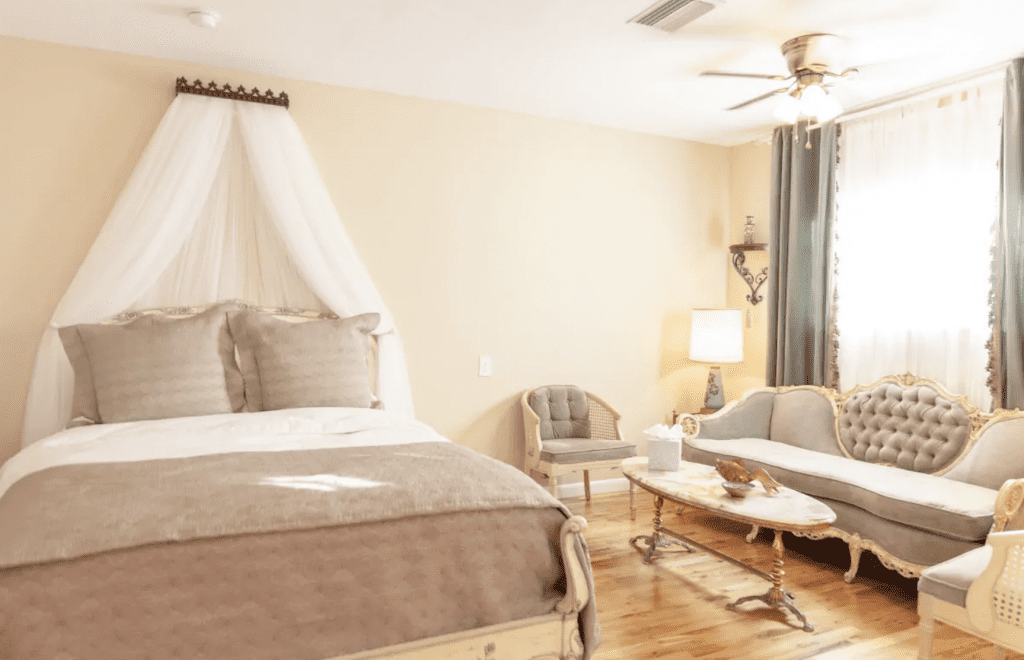 Townhouse with Roof Terrace
This cheery yellow townhome would make a great place to stay on your next trip to Clearwater Beach. It is only a 5 minutes walk to the beach. There's a lovely dock off the back as well.
The VRBO can sleep 6 guests in 3 bedrooms. It has 2.5 bathrooms and an open-plan kitchen. You'll have access to the property's private dock and heated pool. This townhouse has a private elevator, making it great for guests with limited mobility.
Check Rates: VRBO.com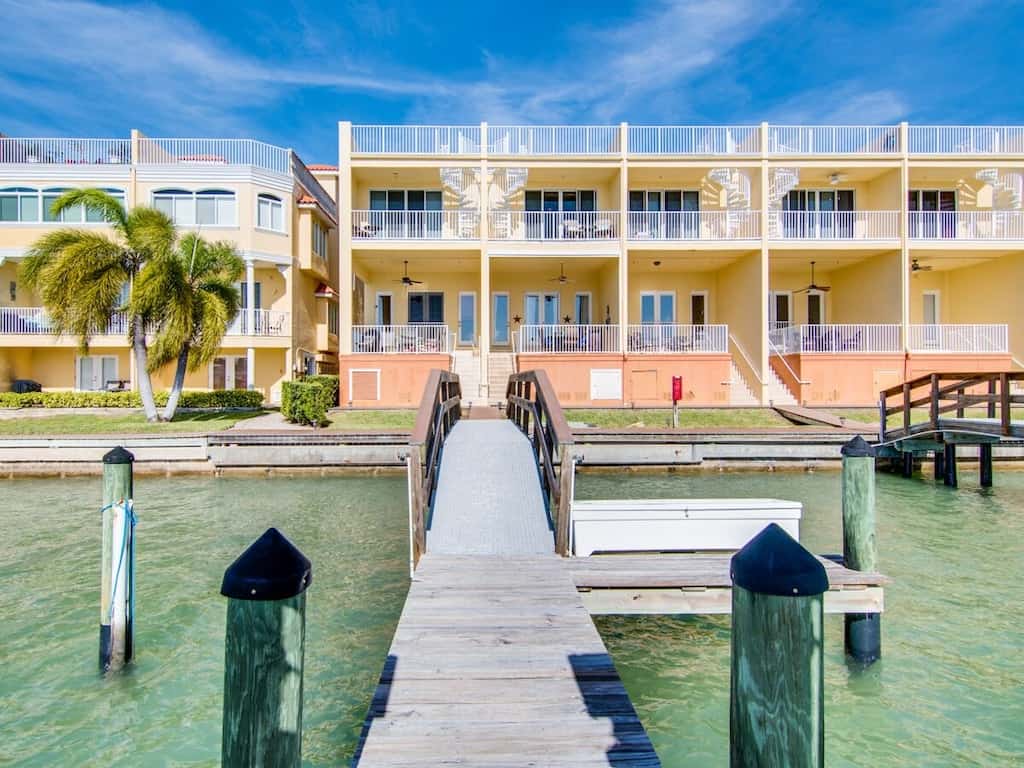 Beachside Condo
For a posh stay near Bellair Beach, check out the beautiful Beachside Condo, one of the best Clearwater Airbnbs in the area!
This beautiful condo has private access to Belleair Beach and
a pool just steps away from your apartment! You'll enjoy more solitude here than you would on a public beach.
The condo is completely renovated with brand new furniture, beds, paint, flooring, and a fully furnished balcony overlooking the city. You're only a five-minute drive away from Clearwater Beach!
The two bedrooms are spacious and inviting: one with a king bed and the second with two singles. The full kitchen even has a Keurig, so don't forget to pack those pods!
Check Rates: VRBO.com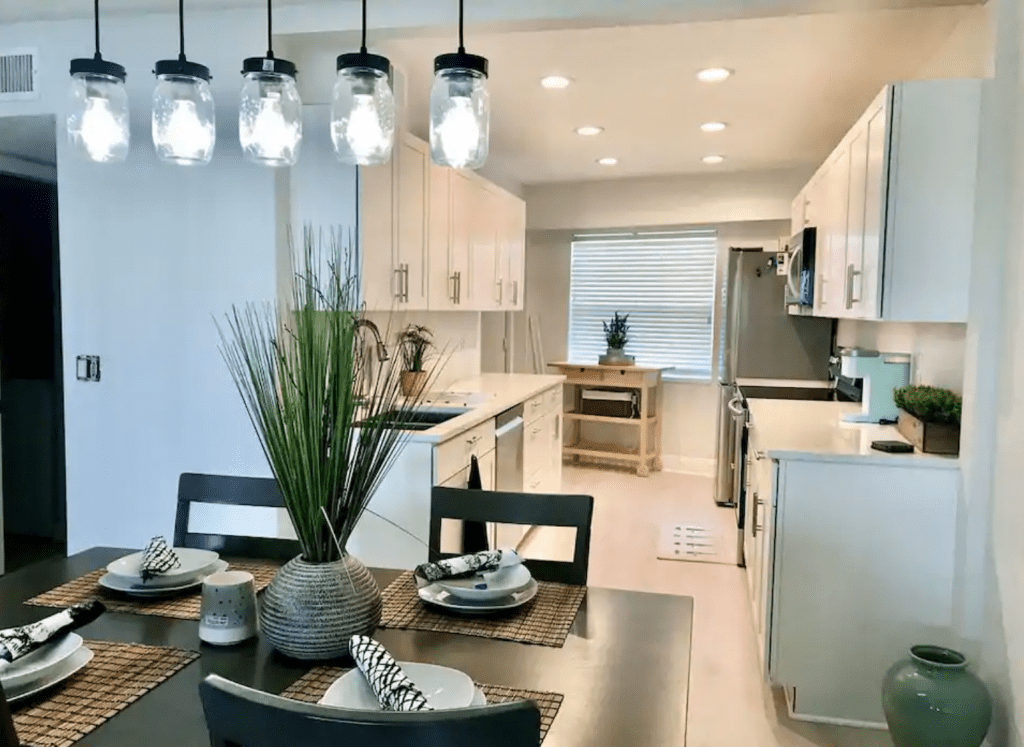 Clearwater Beach Beauty
This spacious home is located at the North end of Clearwater Beach. The home is 1400 square feet and can sleep 8 guests. Its got 2 bedrooms and 2 full bathrooms.
The home has a lovely courtyard for soaking up the Florida sunshine. Located just steps from the famous Clearwater Beach, this is a wonderful spot to relax and unwind. This cozy home is a great spot for your next family vacation!
Check Rates: VRBO.com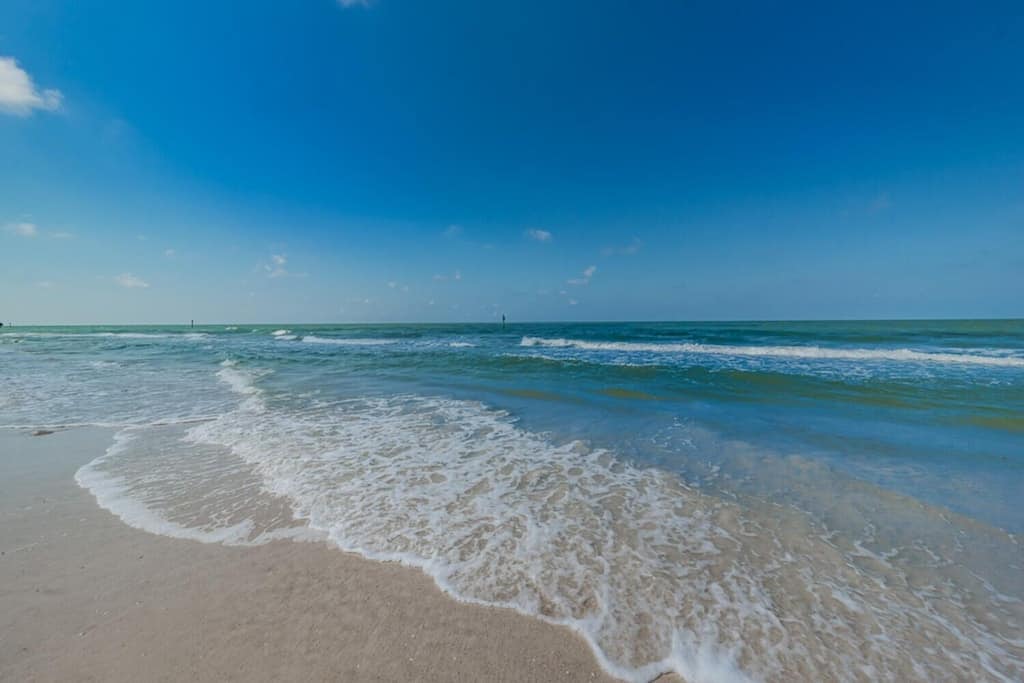 The Bay Esplanade House
This VRBO in Clearwater Beach has a private house and a private pool! This 2,500 square foot house would be a great choice for your next vacation. The Bay Esplanade house has been newly updated, but it was built in the 1970's and retains some of that charm.
The house is 2,500 square feet and has 5 bedrooms. All 5 of the bedrooms feature a private TV! It can sleep up to 14 guests. This home has 3 full bathrooms.
The Bay Esplanade House is located less than a mile from Clearwater Beach. A nice bonus: if you want to bring your boat along there is a public boat ramp across the street from this property.
Check Rates: VRBO.com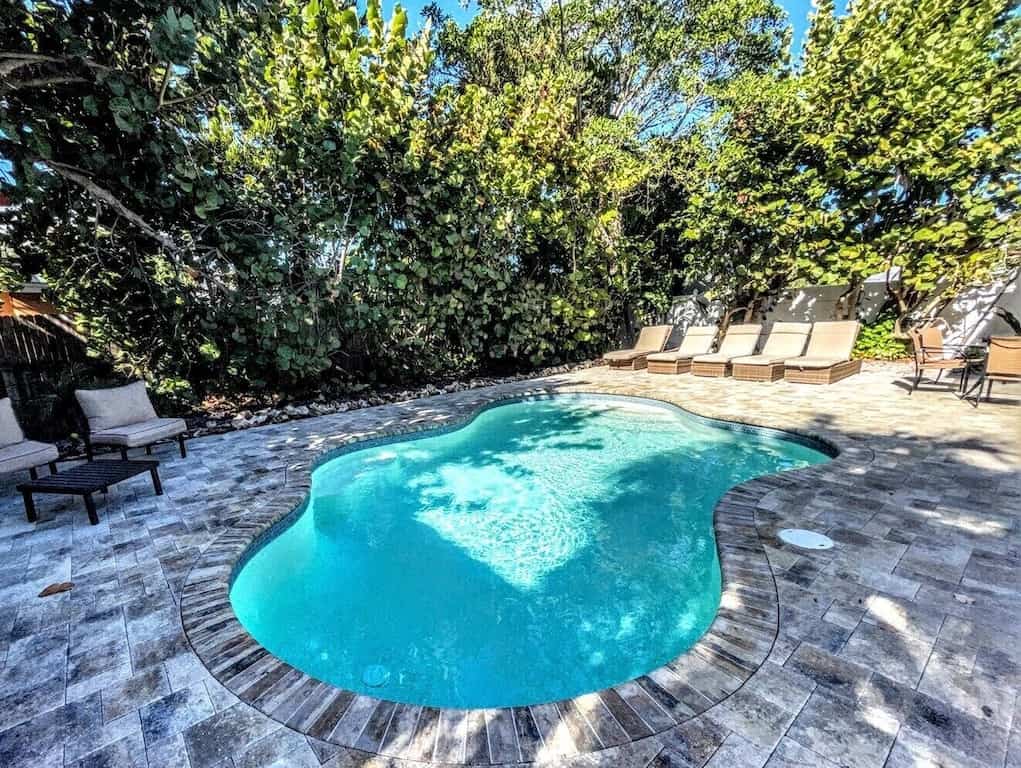 Townhouse with Rooftop Terrace
This next Clearwater Beach Airbnb is absolutely massive! It's a 2700-square foot, 4 story townhouse with four bedrooms and three and a half baths!
If you're looking to stay with a large group on Clearwater Beach, this townhouse will exceed your expectations. With a rooftop terrace including a fire pit, outdoor seating, and an outdoor dining table, there's no better way to enjoy Clearwater Beach!
Inside you'll find four bedrooms, easily sleeping up to 10 guests! You'll have access to a heated pool, elevator, full kitchen, as well as games and toys for the family. Inside the garage, you'll find parking for three cars as well as pool floats, beach toys, and several bikes in the garage.
With just a 10 minute walk to Clearwater Beach, you're literally just steps away from one of the best beaches in Florida! Perfect for families, the Townhouse won't disappoint.
Check Rates: Airbnb.com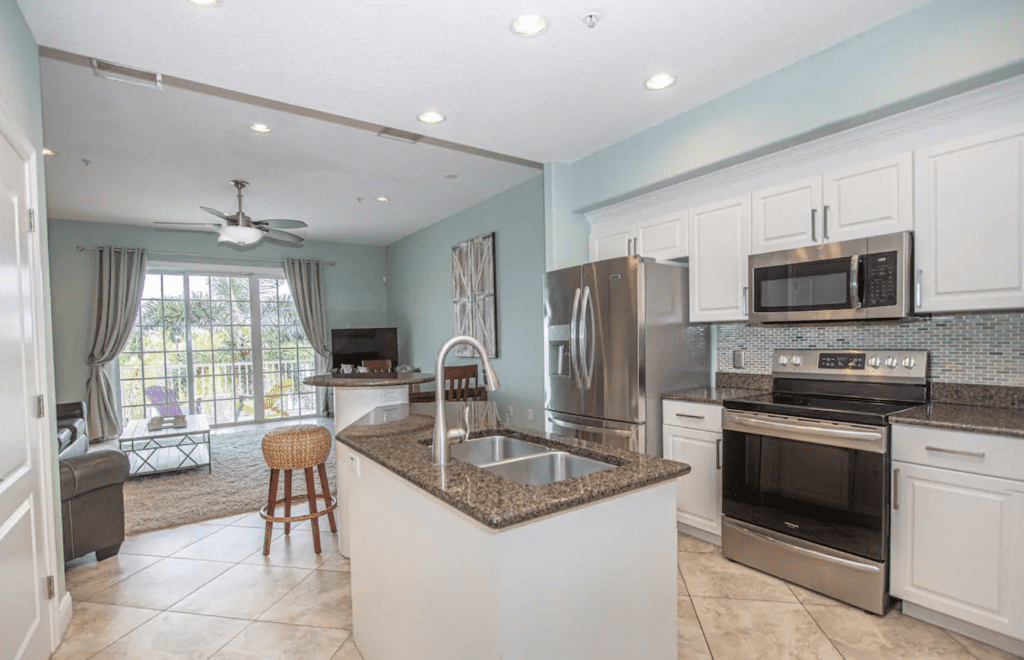 Waterview Apartment
One of the best Airbnbs in Clearwater, the Waterview Apartment will welcome you to Clearwater Beach with a spacious until on the 8th floor of a high-rise on the shoreline with a sparkling view of the Gulf of Mexico.
With 2 bedrooms and 2 bathrooms, the Waterview Apartment easily sleeps six guests. The kitchen has beautiful granite counters, and hides a washer and dryer in its cabinets! Share meals over a breakfast bar or the dining table with seating for six.
In the living room, enjoy cable TV on the flat screen on the comfy couch and recliners. Open up the living room sliders to enjoy the balcony. The view from the balcony is a great place to watch for dolphins, manatees, and boats on the water.
Outside, you'll have access to an expansive pool deck with lounge chairs, shuffleboard, and a heated swimming pool. All with beautiful views of the Gulf of course!
Check Rates: VRBO.com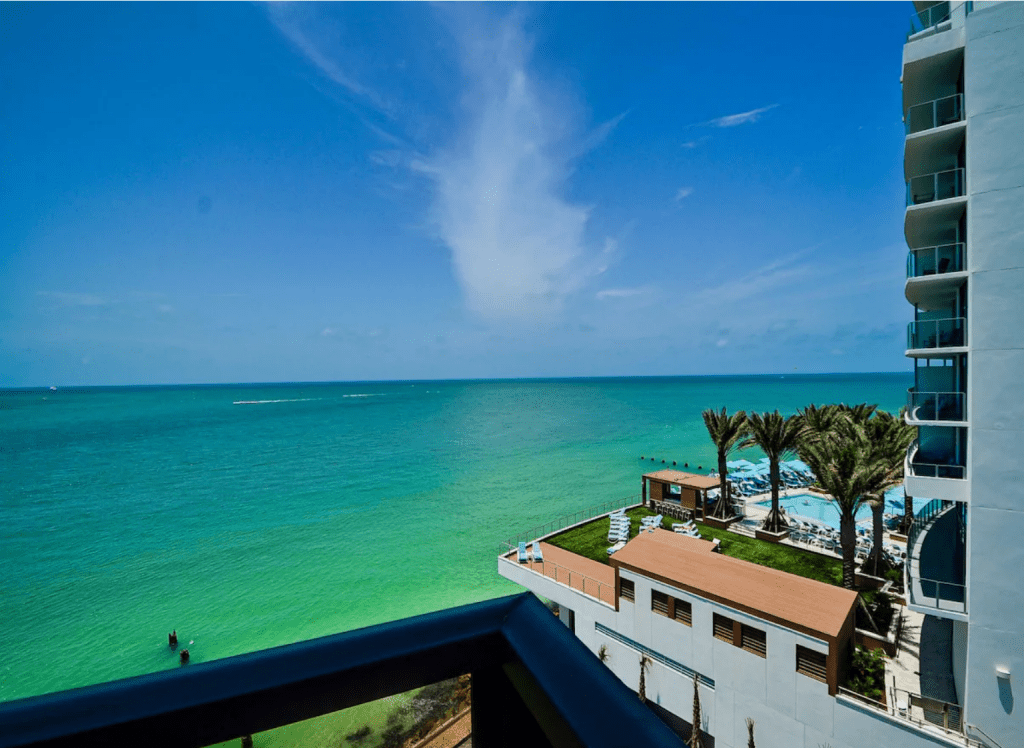 Sta N Pla Apartment
This Clearwater Beach Airbnb is an apartment located on the intercoastal waterfront in Clearwater Beach. You're only a two-minute walk away from the shore, and only a five-minute walk away from Pier 60.
With a private entrance, the apartment is tastefully furnished in a New Mexico chic style. A studio with a full kitchen, you can sleep two guests on the queen bed, also with a bathroom.
You'll have access to a communal pool, but it does close at sunset. The community strictly enforces quiet hours from 10 PM to 8 AM, so be mindful and don't play any loud music!
Very quaint with no television, you'll be forced to enjoy the nature and beaches around you, which we think is a good thing!
Check Rates: Airbnb.com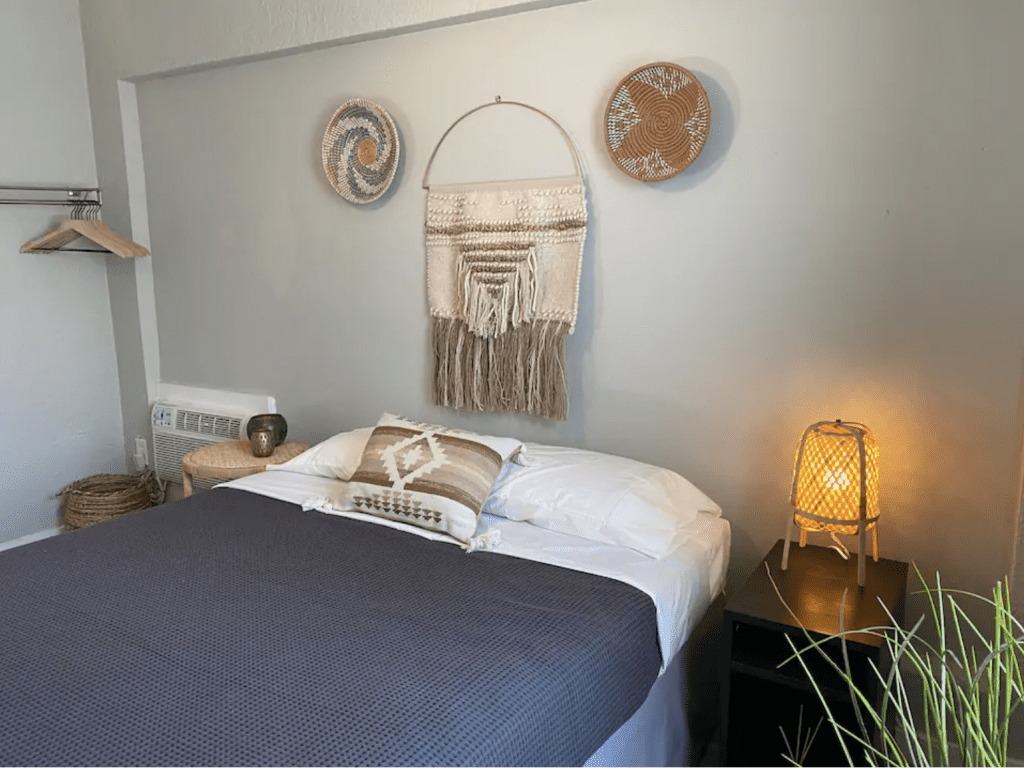 King Condo
If you're looking to stretch out and take heavenly naps on your Clearwater vacation, this is the VRBO for you! It is a 1 bedroom 1 bathroom top floor condo. There is a luxurious king-size bed in the bedroom and a large flat-screen TV.
The newly updated kitchen and bathroom of the King Condo are also beautiful and luxurious. The apartment can sleep 3 guests if you utilize the new pullout couch in the living room.
The amenities in this condo complex include a 24-hour fitness center, a clubhouse, and a heated pool. Located only a couple of miles from Clearwater Beach this is a great choice of VRBO for your next adventure.
Check Rates: VRBO.com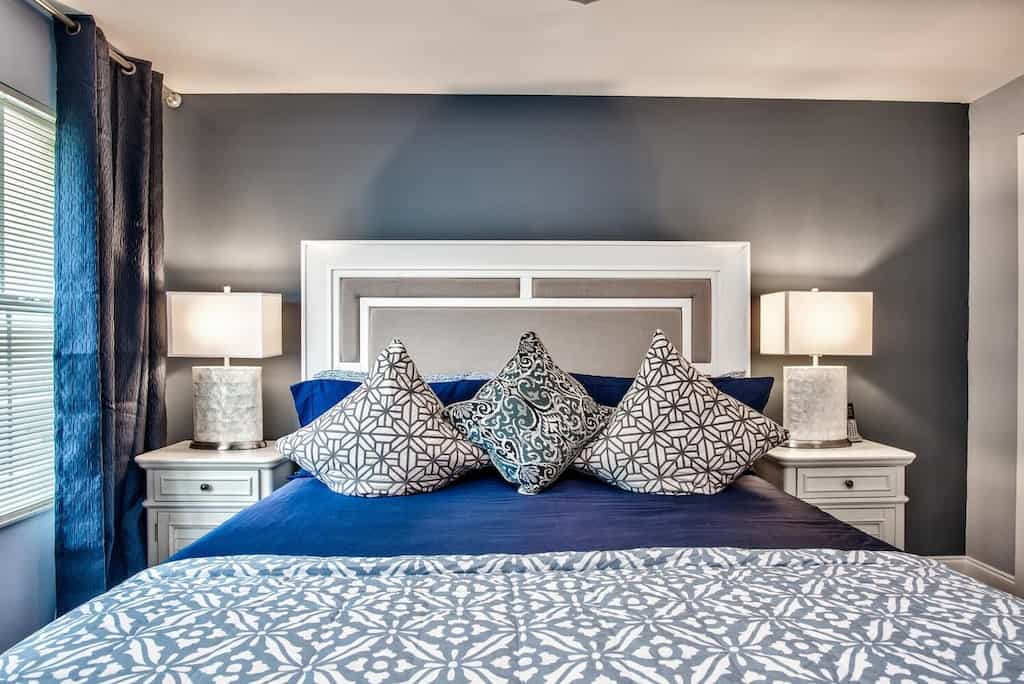 Heavenly Hideaway
In one of Clearwater's best-kept secrets, you'll be staying at the Belleair Beach Club in a superb beachfront getaway! The Heavenly Hideaway, one of the best Airbnbs in Clearwater, has a beachy vibe perfect for your next vacation.
Easily able to sleep four with two bedrooms and two baths, enjoy the comforts of home with an open floor plan and living space with cable TV. You'll be able to prepare an intimate dinner with an elegant kitchenette with multiple appliances.
Steps away from Belleair Beach, you can enjoy a secluded, quiet beach experience. For a more robust beach experience, Clearwater Beach is only a short drive or bike trip away.
You also have access to a lovely pool area that overlooks the gulf with an expansive patio, chairs, and two grills. You can even enjoy a lush garden area if you're looking for some greenery hidden in the sand.
Check Rates: Airbnb.com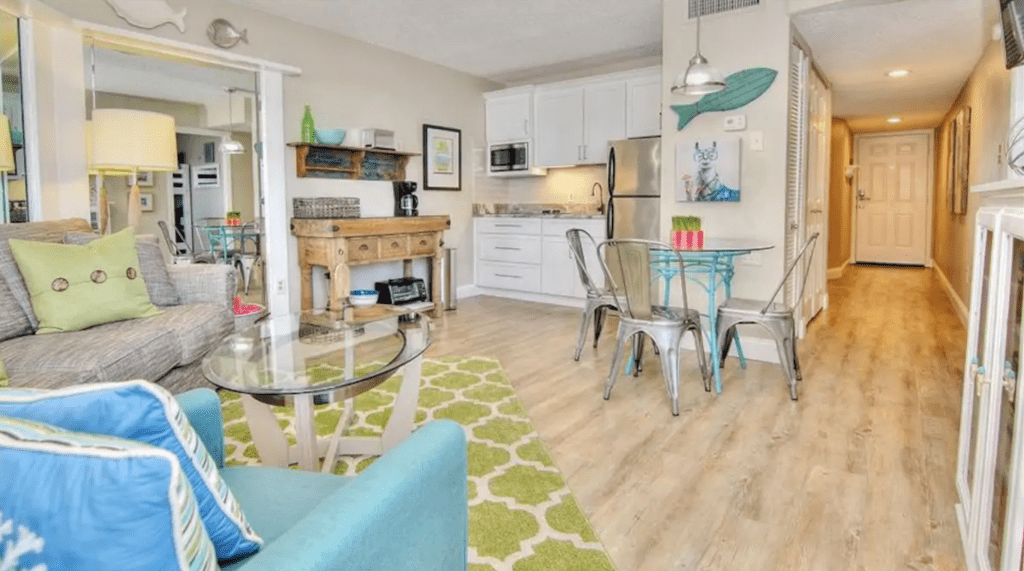 Oceanfront Pool Condo
One of the best Airbnbs in Clearwater, the Oceanfront Pool Condo is only two blocks from the Clearwater Beach shoreline! You're also only 3 miles away from Caladesi Island as well!
In the two-bedroom, two-bath unit, you can easily sleep eight guests looking to make the most of their time in the Bay Area. You'll wake up to beautiful ocean and harbor views and see why Clearwater Beach is the best beach in the country.
The open living area, brightly lit with natural light includes a fully-equipped kitchen with stainless steel appliances, a breakfast bar, and an adjacent dining table. On a private porch, enjoy the sunset with wrought iron furnishings before retiring to the bedrooms with flat-screen cable TVs.
Check Rates: VRBO.com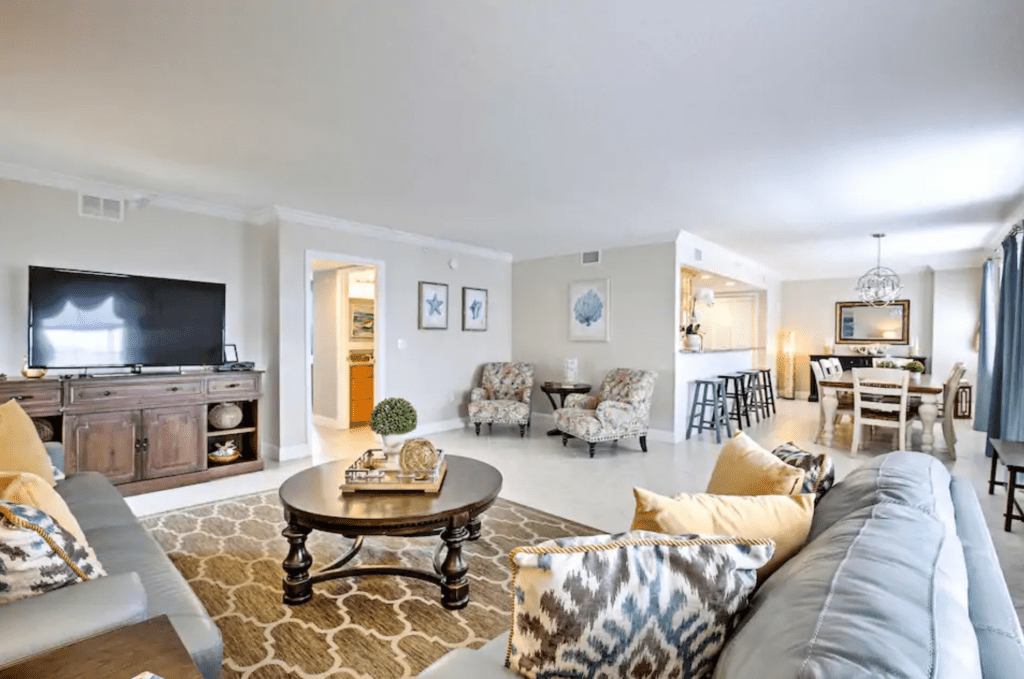 Wyndham Oceanfront Condo
If you're looking for the best oceanfront condos in Clearwater Beach this one is definitely a strong contender! It is very chic and modern. This condo complex has lots of amenities including a fitness center, a heated pool and a spa! The unit has 1 bedroom and 1 bathroom. It can sleep 4 guests.
The condo unit itself is also very special. It's got beautiful views of the white sandy Clearwater beach and Gulf of Mexico. The modern furnishings are elegant and beautiful. Wait until you see the luxury of the bathroom, which features double sinks and a huge shower.
Check Rates: VRBO.com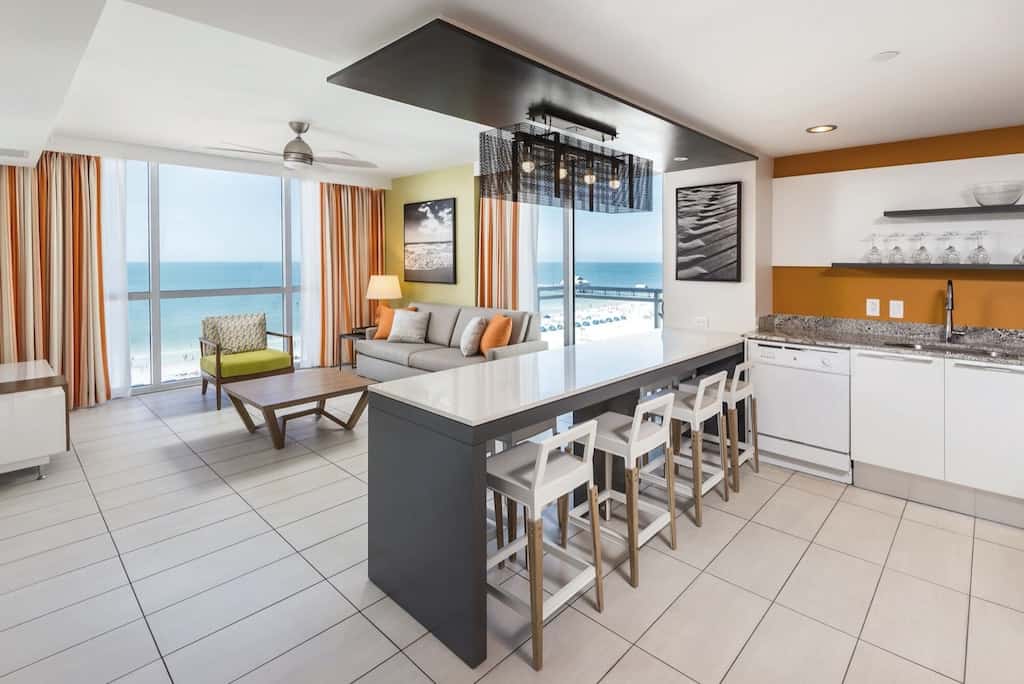 Luxury Beachfront Penthouse
Rounding out our list of Clearwater Florida vacation rentals is this gem! 2,400 square feet of luxury just for you on the tippy-top floor. The views are amazing, and you'll be able to take it all in from your 53-foot balcony.
You and your 7 guests can live like Clearwater Beach royalty in this Penthouse. It is decadently furnished and features lots of modern art. The kitchen and bathrooms could be straight from a modern homes magazine. You'll love the two-person soaking tub in the master bath.
This penthouse has 3 bedrooms, 6 beds, and 2.5 bathrooms. Located right on the white sands of Clearwater Beach, this Penthouse location can't be beaten. This is the perfect place for your next luxury holiday.
Check Rates: VRBO.com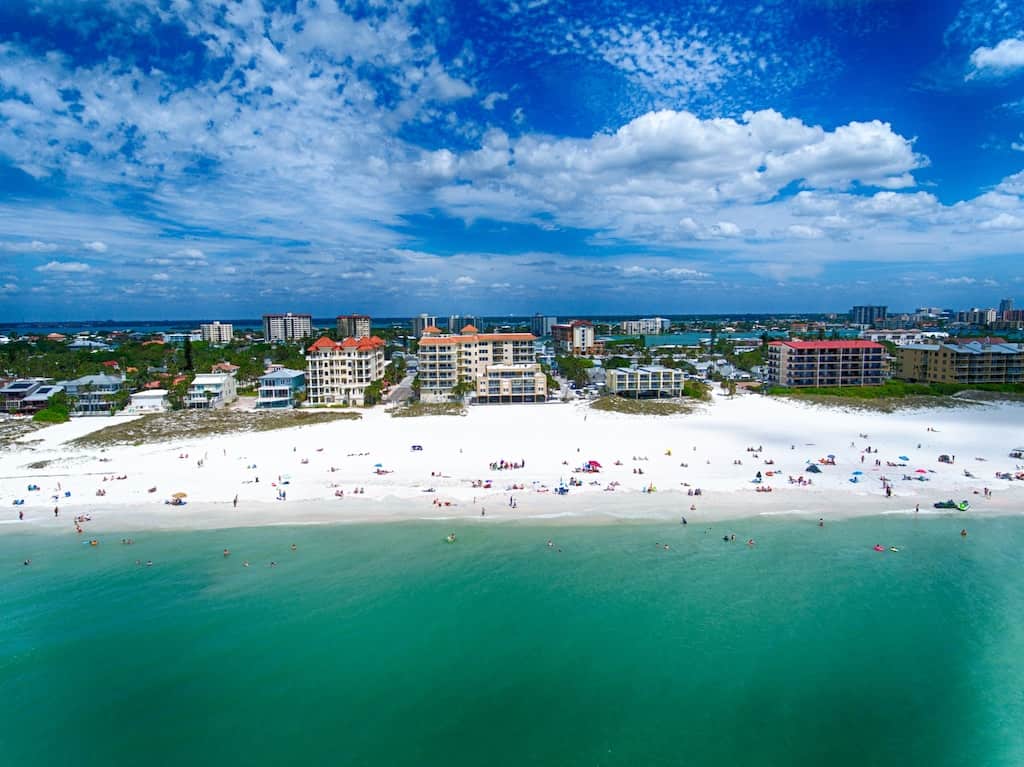 Did You Find This Post Helpful?
If so, we would love to keep in touch! We enjoy seeing photos and comments about your experiences in Florida! You can follow us on Instagram and we will repost your photos on our feed and comment too! Just tag us at @floridatrippers and hashtag #floridatrippers. We can't wait to see your travels!