Are you in search of the best Airbnbs in Pensacola? Well, you are in luck because we are going to share our most favorite properties and give you all of the details! No longer will you have to sift through over 300 properties because we have done the work for you!
Get ready to simplify your vacation planning as you view properties with spectacular views, prime locations, and luxurious amenities. Our list includes price points that range from affordable to moderate and all the way to luxury.
Pensacola is a beautiful city located in Florida's panhandle. Stunning beaches with crystal clear water stretch out along Pensacola's coastline. The community is diverse with military families, snowbirds, and young professionals.
So, why should you stay at an Airbnb? First of all, you can save money and get more space in the process. Secondly, you can experience a more private and quiet stay. Thirdly, staying at an Airbnb allows for a more home-like ambiance and comfort.
Are you a foodie, then you won't want to miss out on these 15 Delicious Restaurants in Pensacola! Do you love to pack your itinerary, then you should check out these 14 Fun Things To Do In Pensacola!
Alright, are you ready to see these fabulous accommodations or what?! Let's jump right into touring all of our favorite Airbnbs in Pensacola and find the perfect one for you!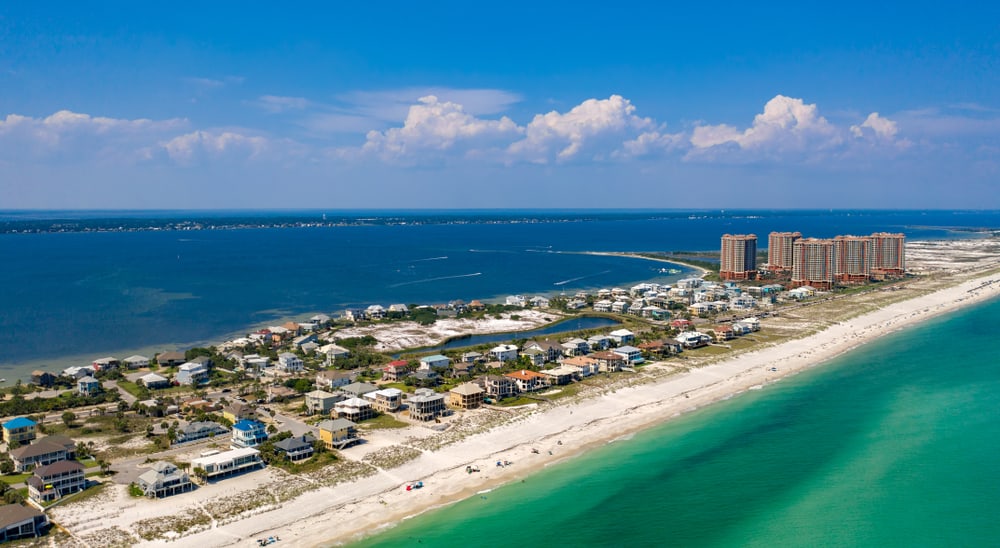 14 Best Airbnbs In Pensacola (Beachfront, Pools, & More!)
Lost Key Golf & Resort Villa
The Lost Key Golf & Resort Villa is one of the best Airbnbs in Pensacola because it has several luxury amenities. Guests will love the golf course, tennis courts, and private beach club pool.
The villa is moderately priced and can accommodate up to 12 guests. There is a lovely coastal theme throughout the décor which creates a welcoming vibe.
>>>Check Rates: Airbnb.com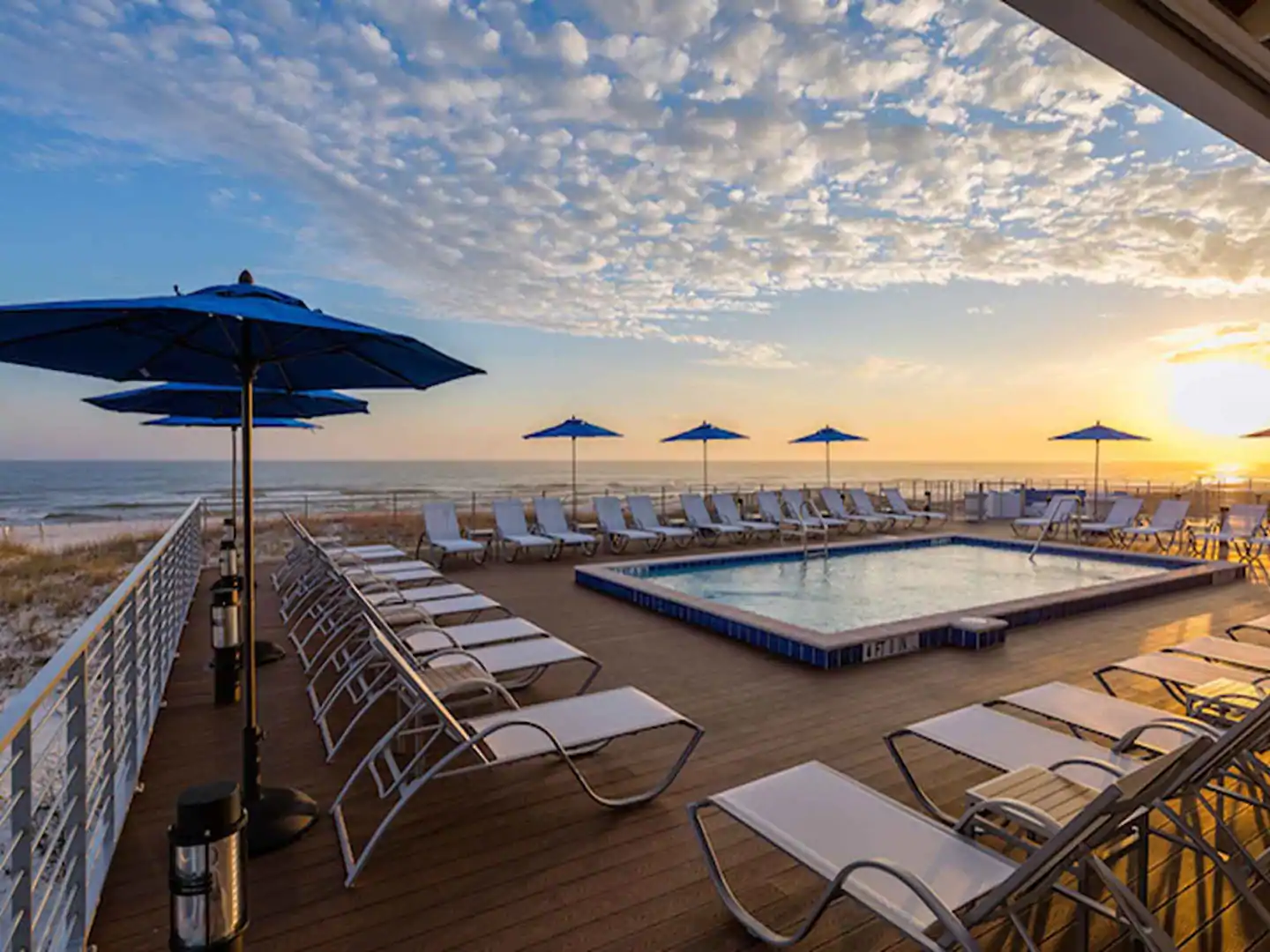 Waterfront Home On Perdido Bay
Our next stop is a gorgeous Waterfront Home On Perdido Bay that happens to be located in Alabama. Even though this home is not located in Pensacola, it is only a 40-minute drive away.
Once you see all of the photos, you will immediately understand why we included this beautiful waterfront home. Some of the highlights include a large wood deck that extends out to a private dock, exposed wood beams, porch swings, and outstanding views of the bay.
The waterfront home is moderately priced and would make a fabulous home base for a large family or group. You can spend all day at the beach in Pensacola and then retreat to this oasis.
>>>Check Rates: Airbnb.com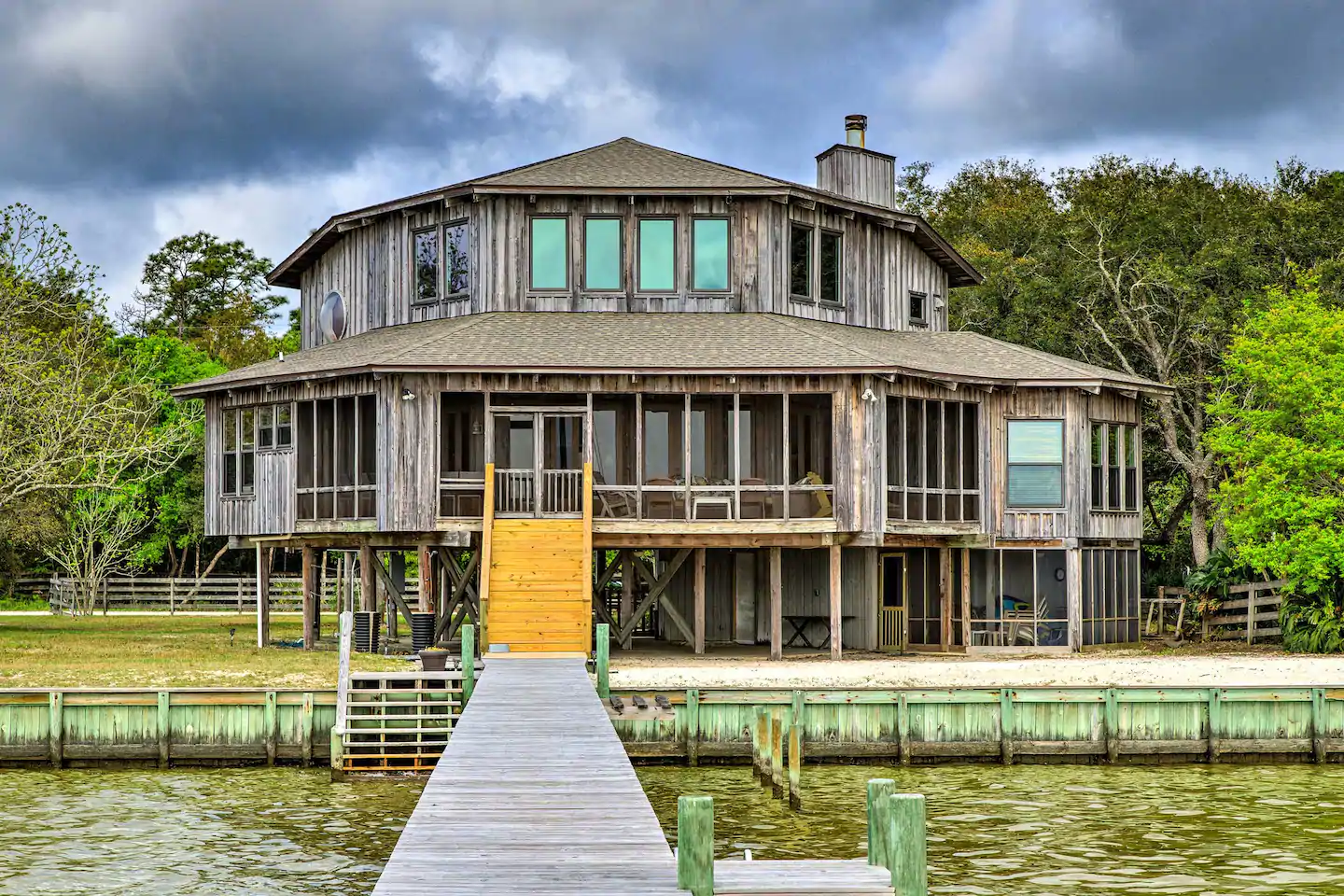 Downtown Pensacola Waterfront Condo
The Downtown Pensacola Waterfront Condo is conveniently located 2 miles from Downtown, 11 miles from Pensacola Beach, and 15 miles from Perdido Key beaches.
The condo is affordable and it is located right on Bayou Chico with two balconies that overlook a marina. Guest will frequently see pelicans, dolphins, and jumping mullet.
>>>Check Rates: Airbnb.com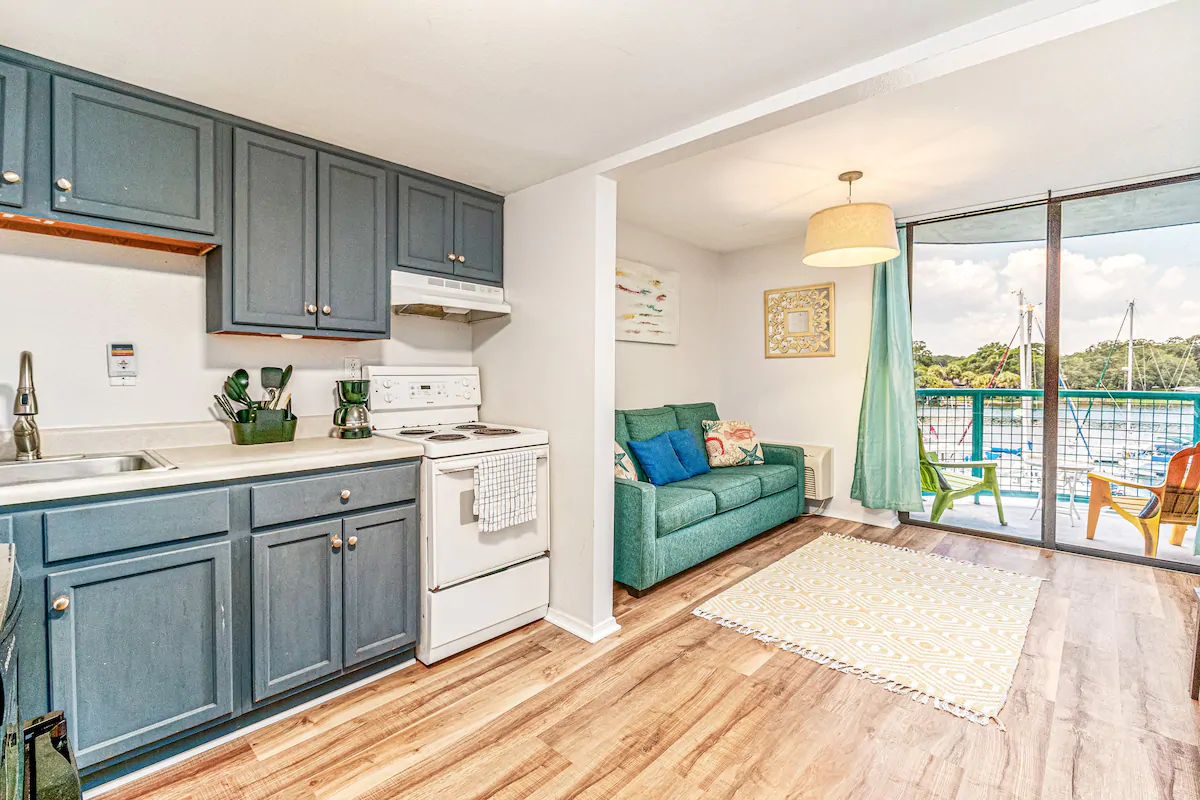 Historic Downtown Suite
The Historic Downtown Suite is situated right in the center of Downtown, so it is great for those looking for a lively area. The suite is within walking distance of shopping, dining, festivals, and the ferry.
Perfect for solo travelers or couples as the suite can only accommodate up to 2 guests. The décor is crisp and modern with a mostly gray and white color palate.
>>>Check Rates: Airbnb.com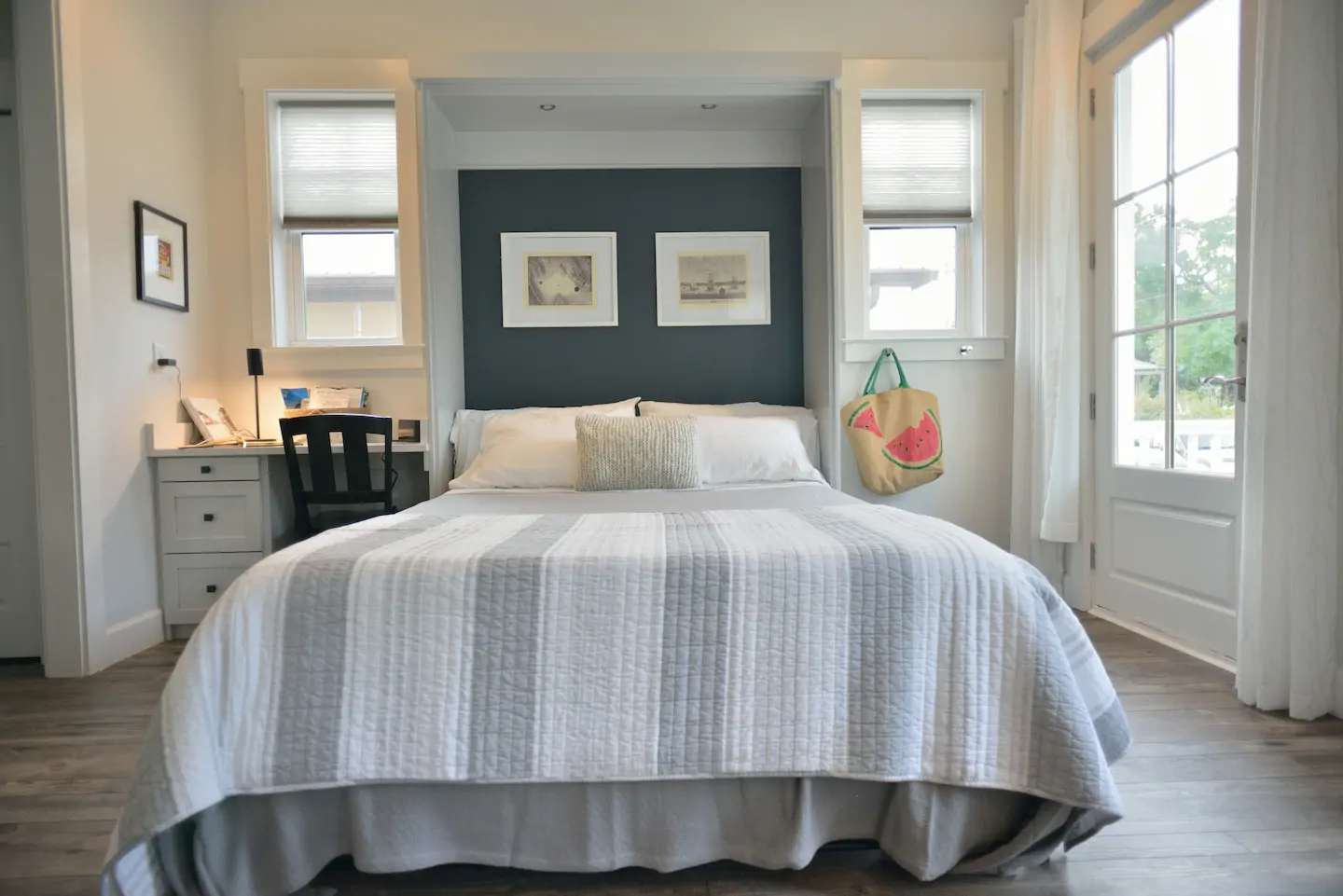 Blue Wahoo Apartment
The Blue Wahoo Apartment is also located in Downtown Pensacola, but it is listed at a luxury price point. Guests will love the designer furnishing and impeccable decor.
Bruce Beach is across the street, where you can fish, enjoy paddle boarding, or go kayaking. The apartment has a small patio that is perfect for breakfast in the morning. Additionally, there is a small balcony that is great for viewing stadium fireworks in the evening.
In addition to the beach, you can also walk to the Blue Wahoo baseball stadium, Pensacola Bay Marina, dining, bars, museums, and theaters. Up to 4 guests can comfortably stay here with 2 bedrooms, 2 beds, and 2 baths.
>>>Check Rates: Airbnb.com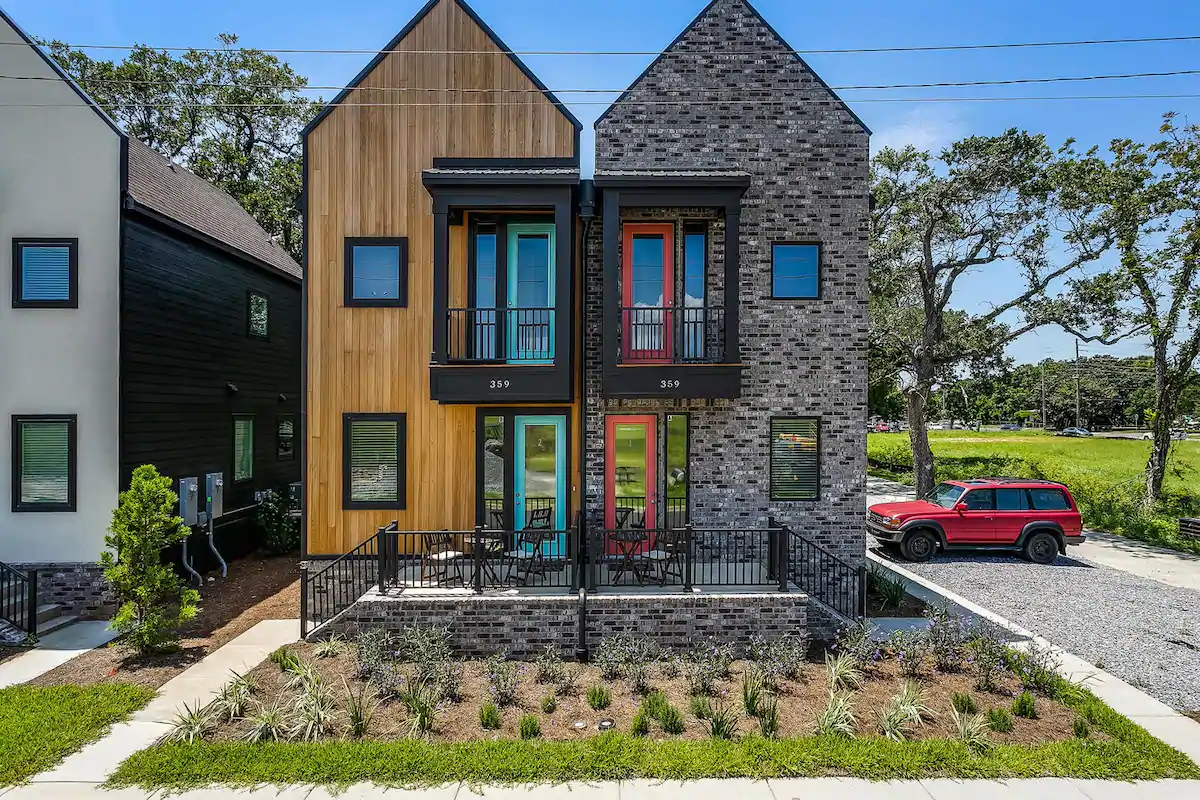 1850s Historic Cottage
Feast your eyes on this 1850s Historic Cottage has been renovated so beautifully that it graced the cover of Pensacola Home and Garden Magazine in 2020. You will be greeted by a striking red door that is perfectly offset by crisp white paint and dark wooden shutters.
You will see the attention to detail can be noted throughout this amazing piece of history. Some of the highlights include the bronze finished porch lights and the red flower design in the wrought iron garden fence.
The interior is modern and just as stunning with soothing colors. The cottage is moderately priced and located only a half a block from Seville Square. Local shops and dining are also close by, about two blocks away.
>>>Check Rates: Airbnb.com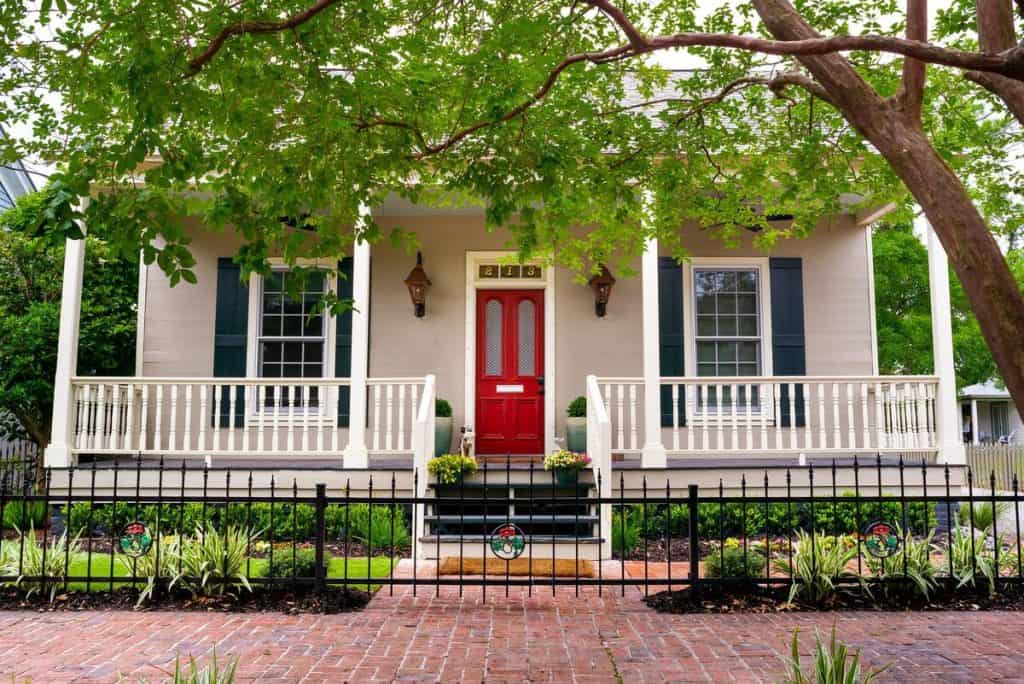 "Salty Kisses" Luxury Beach House
The "Salty Kisses" Luxury Beach House is truly a dream vacation destination! Not only does it have 5 gulf front suites, but it also includes a private boardwalk to the beach and an elevator to access all three floors.
The outdoor space is amazing because each deck is spacious and includes outdoor seating and dining tables. Designer furnishings are used throughout the home as well as high-end technology.
Entertainment amenities include an Xbox, a foosball table, an air hockey table, and several 70-inch TVs. "Salty Kisses" is definitely a splurge, but well worth your money when you see its beauty and all it has to offer.
>>>Check Rates: Airbnb.com
Eco-Friendly Eclectic Cottage
Okay, so where are all of our environmentally minded folks?! Do you have a passion for offsetting your carbon footprint, but you're not thrilled with the idea of staying in a tent? Well, then this affordable, Eco-Friendly Eclectic Cottage is just the right place for you!!
The owners take great pride in keeping the home eco-friendly by using earth-friendly cleaning products, offering full recycling, and having a split thermostat for energy efficiency.
Two bicycles are provided for guests to use while exploring the surrounding area. The cottage is situated near Downtown, so you are in a prime location for the beach, dining, and shopping. Up to 3 guests can be accommodated.
>>>Check Rates: Airbnb.com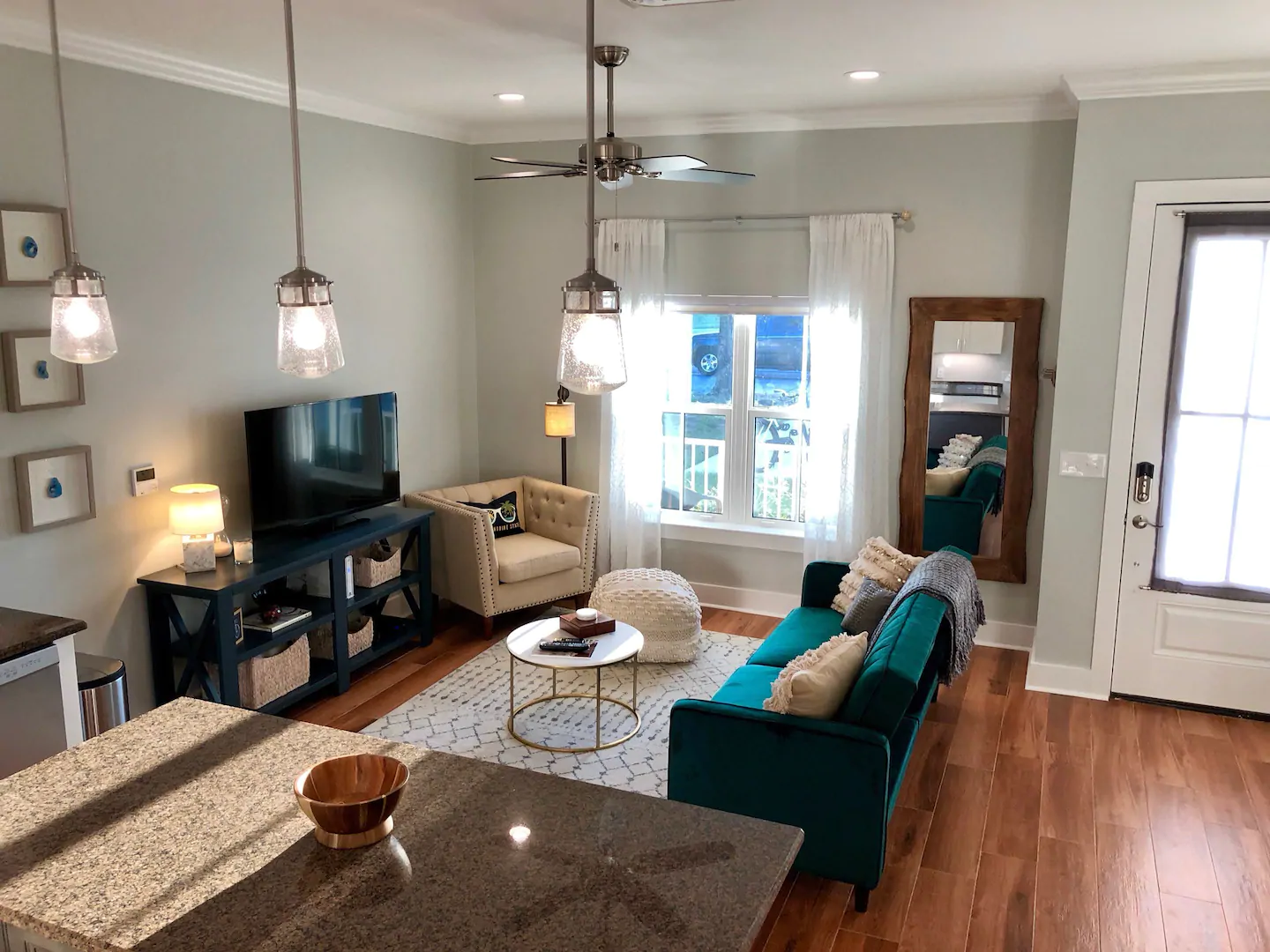 Sanctuary Of Light
The Sanctuary Of Light is one of the Airbnbs in Pensacola that features a lovely blend of modern décor and natural elements. The bungalow is super cute and would be fantastic for solo travelers or couples.
Pensacola's biggest park is located only one block from the cottage and allows visitors to enjoy kayaking, paddleboarding, long relaxing strolls on paved pathways, and tennis.
The bungalow is affordable and located in a quiet historic neighborhood with lush landscaping and mature trees.
>>>Check Rates: Airbnb.com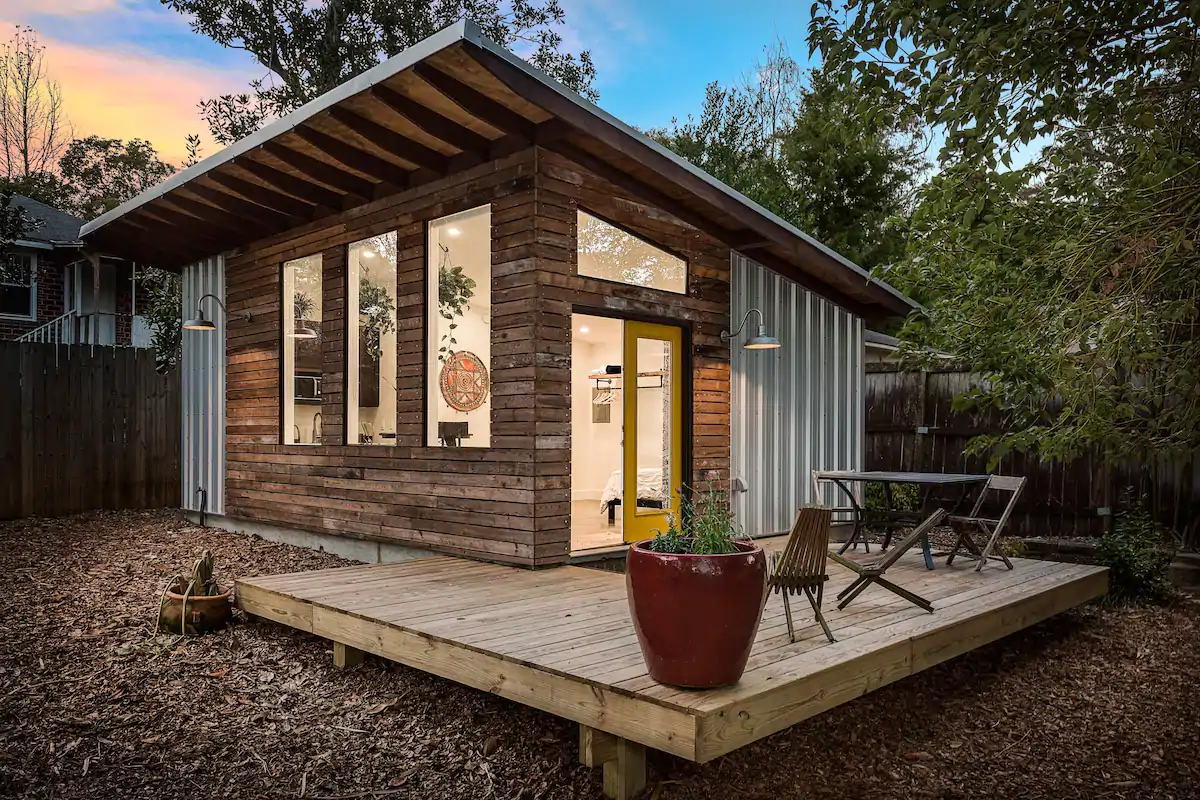 Historic Townhome With Boat Slip
The Historic Townhome With Boat Slip reminds us of the perfect writer's retreat. It is warm, inviting, and filled with historic architectural elements.
Antique furniture, exposed brick walls, and wood floors all come together to create an outstanding space that you won't want to leave. Highlights include a waterfront deck, lush landscaping, and a front stoop with a small bistro table.
The townhome is affordable and can accommodate up to 4 guests and you can bring your own boat up to 34 feet. Nearby attractions include Downtown Pensacola, Blue Wahoos Stadium, and Pensacola Beach.
>>>Check Rates: Airbnb.com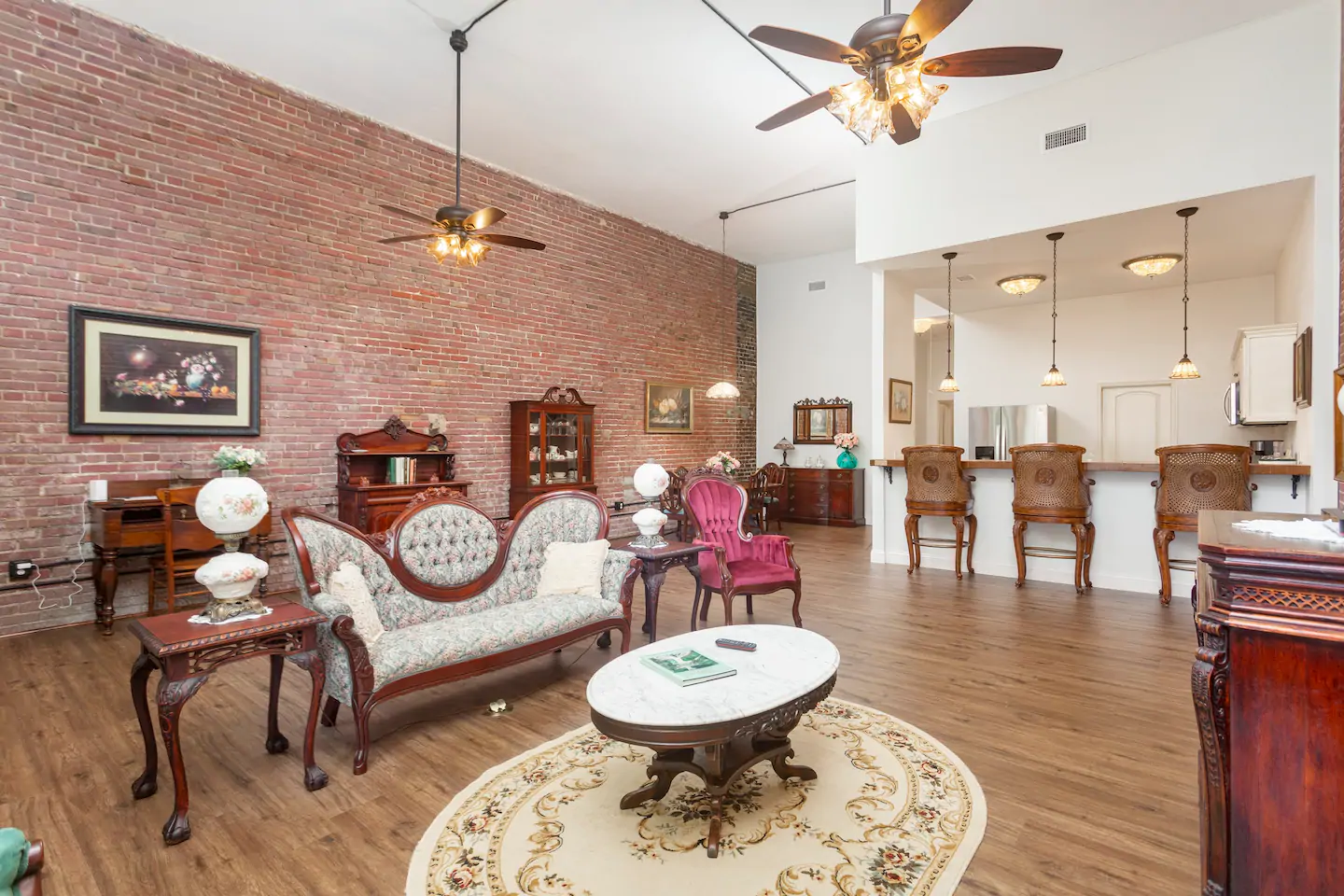 Baywatch
Baywatch is a large and spacious home that would allow you to spread out and feel relaxed. The beach house is moderately priced and has an upbeat ambiance with natural light and brightly colored walls.
The beach house is pet-friendly, so bring your furry loved ones with you. Guests will really enjoy morning breakfast on the front deck and relaxing afternoons by the private pool.
Up to 16 guests can be accommodated with 8 bedrooms, 8 beds, and 8 baths. Highlights include a very open kitchen with a large island, bar seating, 2 fridges, 2 dishwashers, and 2 ovens.
>>>Check Rates: Airbnb.com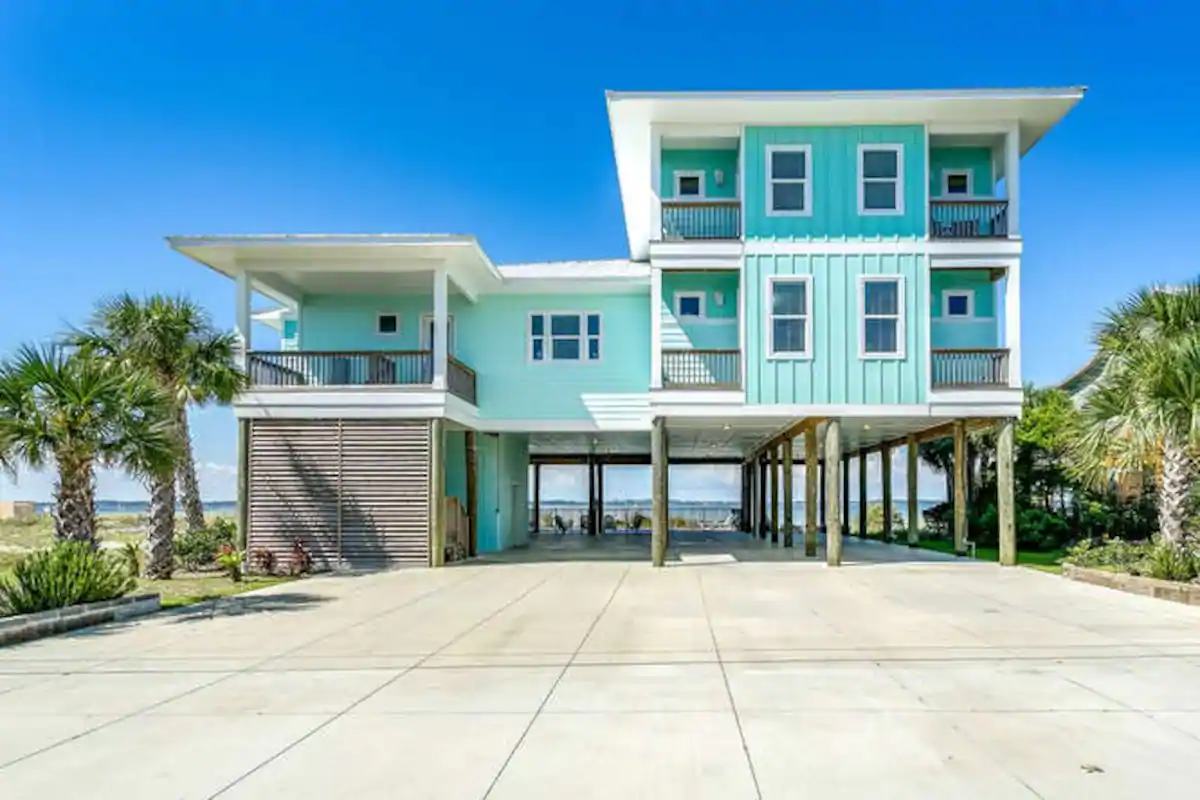 Awesome A-Frame Retreat
The Awesome A-Frame Retreat is one of the Airbnbs in Pensacola that is affordable and located close to Downtown and beautiful beaches. An abundance of natural light enters the home through skylights and large windows.
The décor is fresh and light with subtle coastal and nature-related elements. One of the real standouts is the brick fireplace that has been whitewashed. The A-Frame is pet-friendly, can accommodate up to 6 guests, and it is close to parks, dining, and shopping.
>>>Check Rates: Airbnb.com
1973 Argosy Airstream
Are you looking for a really unique and quirky experience? Well, then you must check out this super romantic 1973 Argosy Airstream! The Airstream has been fully restored and features a shabby chic vibe.
The Airstream can accommodate up to 3 guests with 2 beds, 1 bath, and a small kitchen. The owners have included bikes, kayaks, and canoes that guests are welcome to use for no additional cost.
It is pet-friendly but requires a $25 non-refundable deposit. You will be within walking distance of Downtown and the beach. Don't miss out on this extremely affordable Airstream that is perfect for couples or solo travelers.
>>>Check Rates: Airbnb.com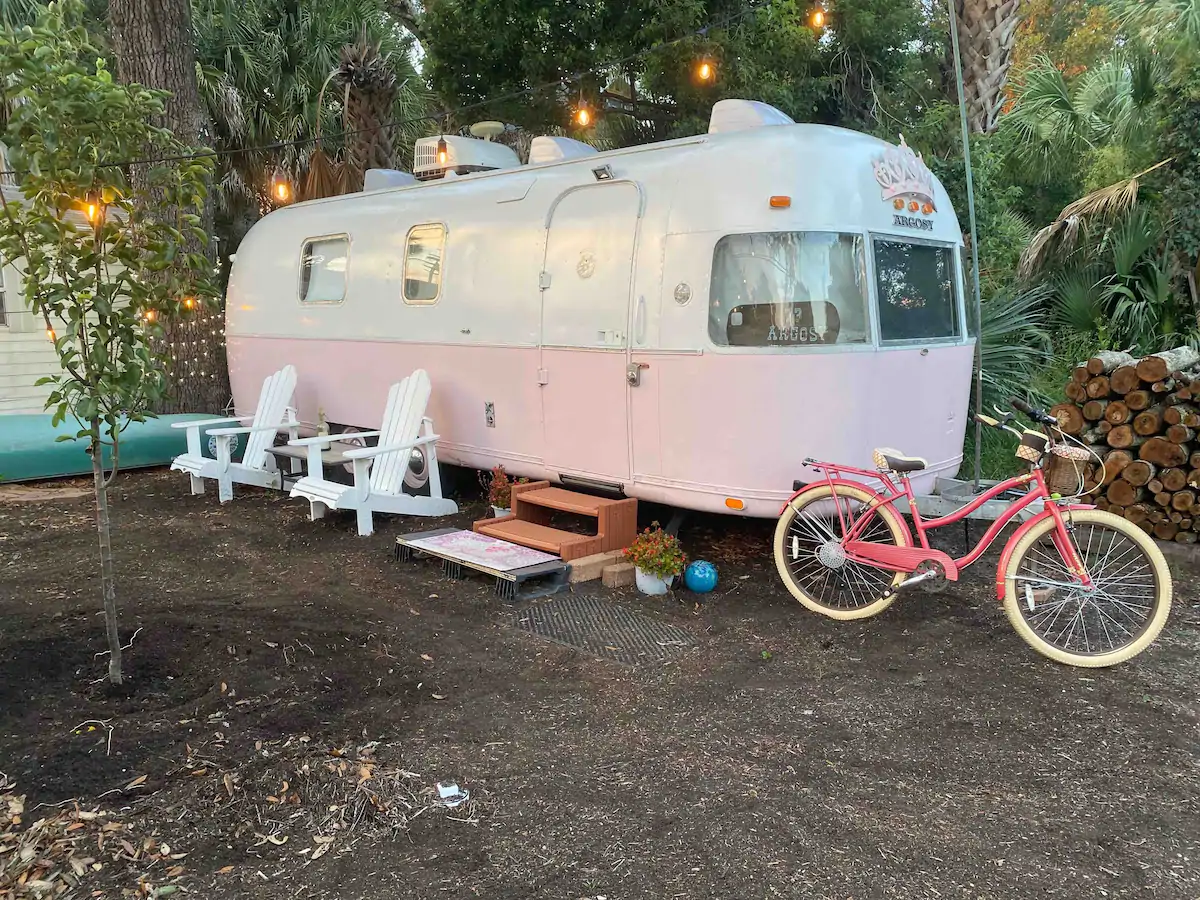 Vista Del Mar Luxury Condo
The Vista Del Mar Luxury Condo features breath-taking views of Johnson's Beach State Park. Guests will love lounging on the large private terrace.
Some of the incredible amenities include private garage parking, an indoor heated pool, an extensive workout facility, a Sonos sound system, and a resort-style pool. It falls somewhere in between the moderate to the luxury price point.
The décor is extremely modern and sophisticated. Up to 13 guests can be accommodated with 5 bedrooms, 7 beds, 5.5 baths. Kids will love the custom bunk beds with charging stations. Adults will adore the spacious floor plan with water views from most suites.
>>>Check Rates: Airbnb.com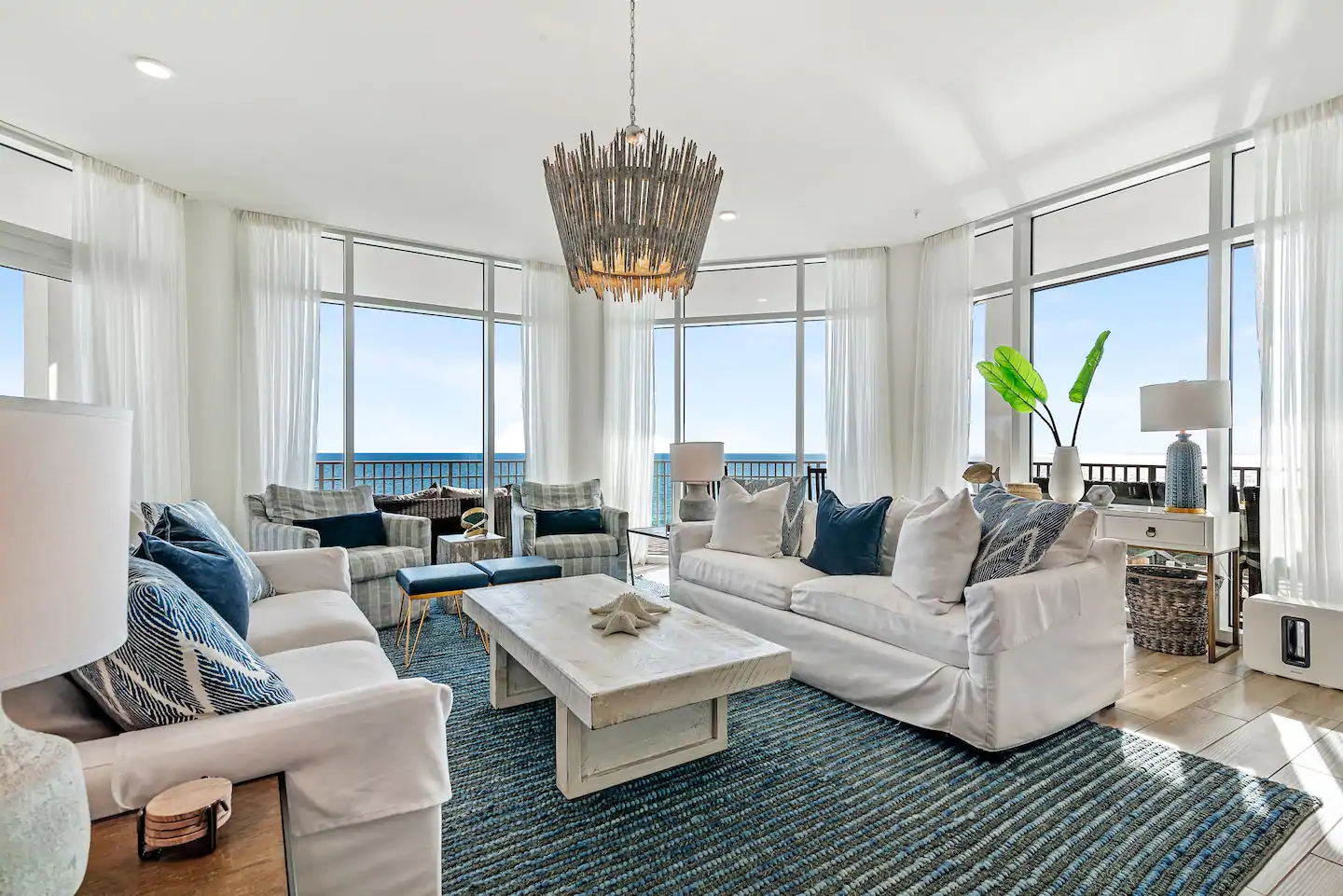 Well, we hope you have enjoyed viewing all of these fantastic Airbnbs in Pensacola. As you can see, visiting Pensacola can be done on every budget and Airbnb properties provide visitors a wide range of options. We hope you have an amazing vacation filled with tons of adventure!