Are you in search of the best vacation rentals or Airbnbs in Pensacola? Well, you are in luck because we are going to share our favorite properties and give you all of the details! No longer will you have to sift through over 300 properties because we have done the work for you!
Get ready to simplify your vacation planning as you view properties with spectacular views, prime locations, and luxurious amenities. Our list includes price points that range from affordable to moderate and all the way to luxury.
Pensacola is a beautiful city located in Florida's panhandle. Stunning beaches with crystal clear water stretch out along Pensacola's coastline. The community is diverse with military families, snowbirds, and young professionals.
So, why should you stay at an Airbnb? First of all, you can save money and get more space in the process. Secondly, you can experience a more private and quiet stay. Thirdly, staying at an Airbnb allows for a more home-like ambiance and comfort.
Are you a foodie, then you won't want to miss out on these 15 Delicious Restaurants in Pensacola! Do you love to pack your itinerary, then you should check out these 14 Fun Things To Do In Pensacola!
Alright, are you ready to see these fabulous accommodations or what?! Let's jump right into touring all of our favorite Airbnbs in Pensacola and find the perfect one for you!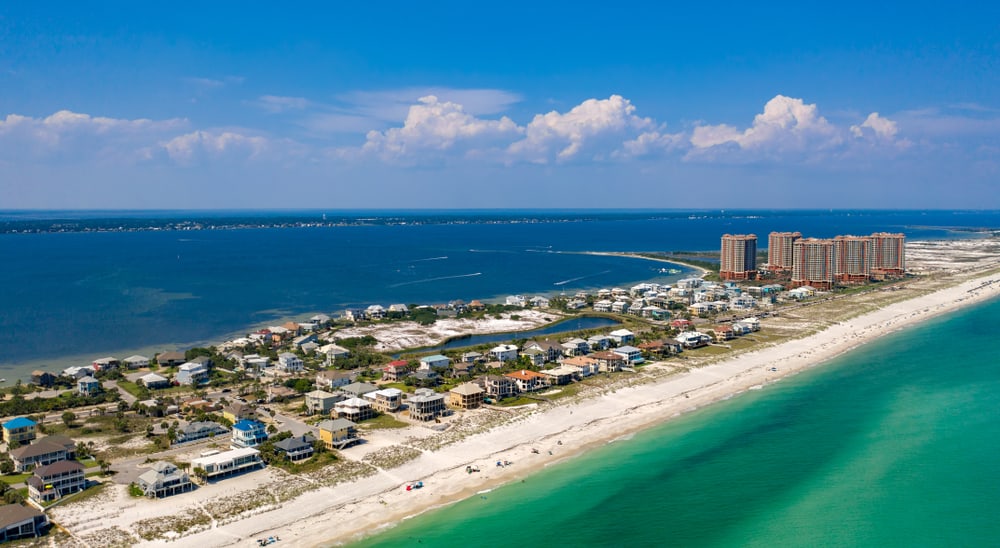 18 Best Airbnbs In Pensacola (Beachfront, Pools, & More!)
Lost Key Golf & Resort Villa
The Lost Key Golf & Resort Villa is one of the best Airbnbs in Pensacola because it has several luxury amenities. Guests will love the golf course, tennis courts, and private beach club pool.
The villa is moderately priced and can accommodate up to 12 guests. There is a lovely coastal theme throughout the décor which creates a welcoming vibe.
Check Rates: VRBO.com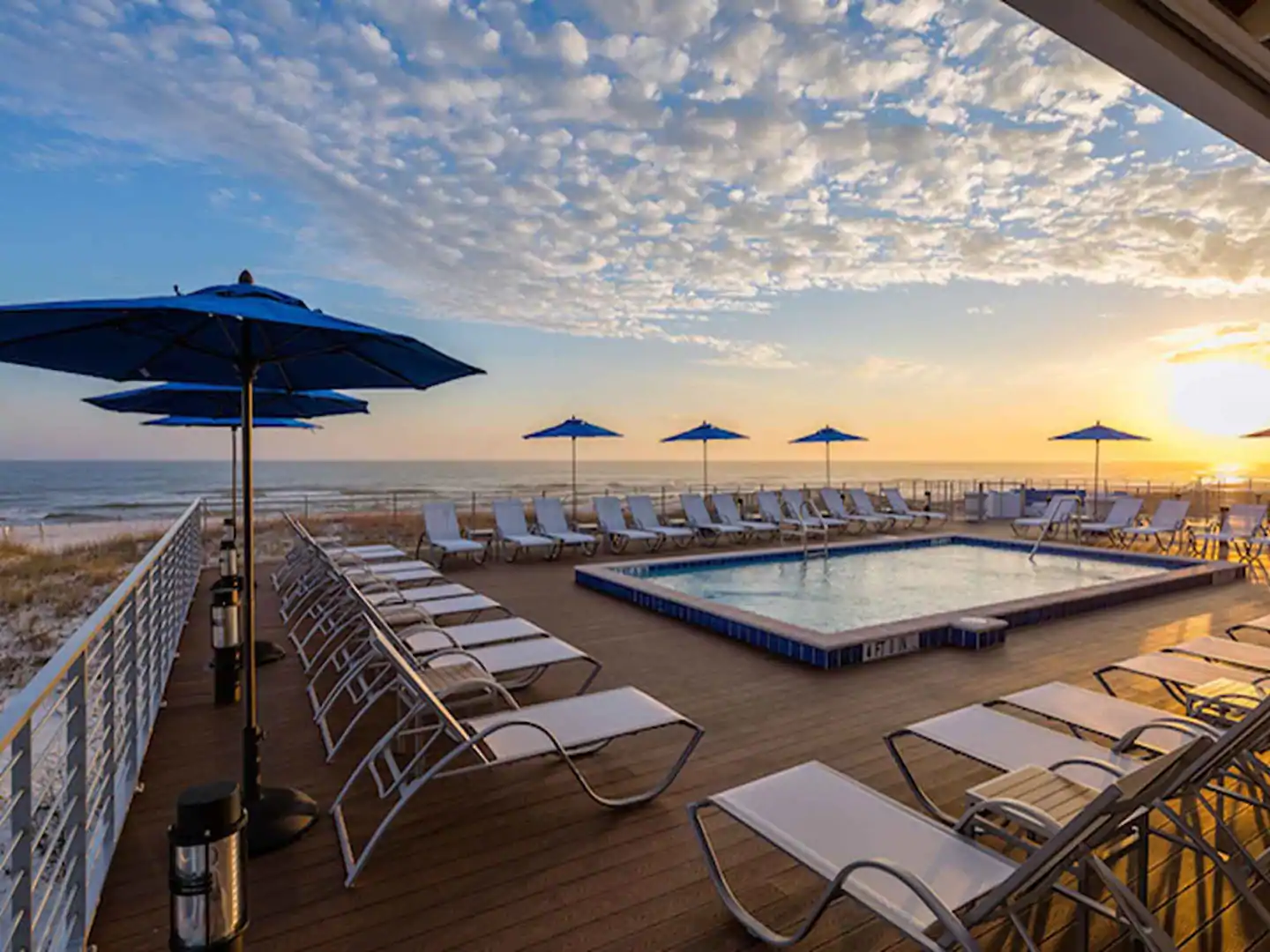 Waterfront Home On Perdido Bay
Our next stop is a gorgeous Waterfront Home On Perdido Bay that happens to be located in Alabama. Even though this home is not located in Pensacola, it is only a 40-minute drive away.
Once you see all of the photos, you will immediately understand why we included this beautiful waterfront home. Some of the highlights include a large wood deck that extends out to a private dock, exposed wood beams, porch swings, and outstanding views of the bay.
The waterfront home is moderately priced and would make a fabulous home base for a large family or group. You can spend all day at the beach in Pensacola and then retreat to this oasis.
Check Rates: Airbnb.com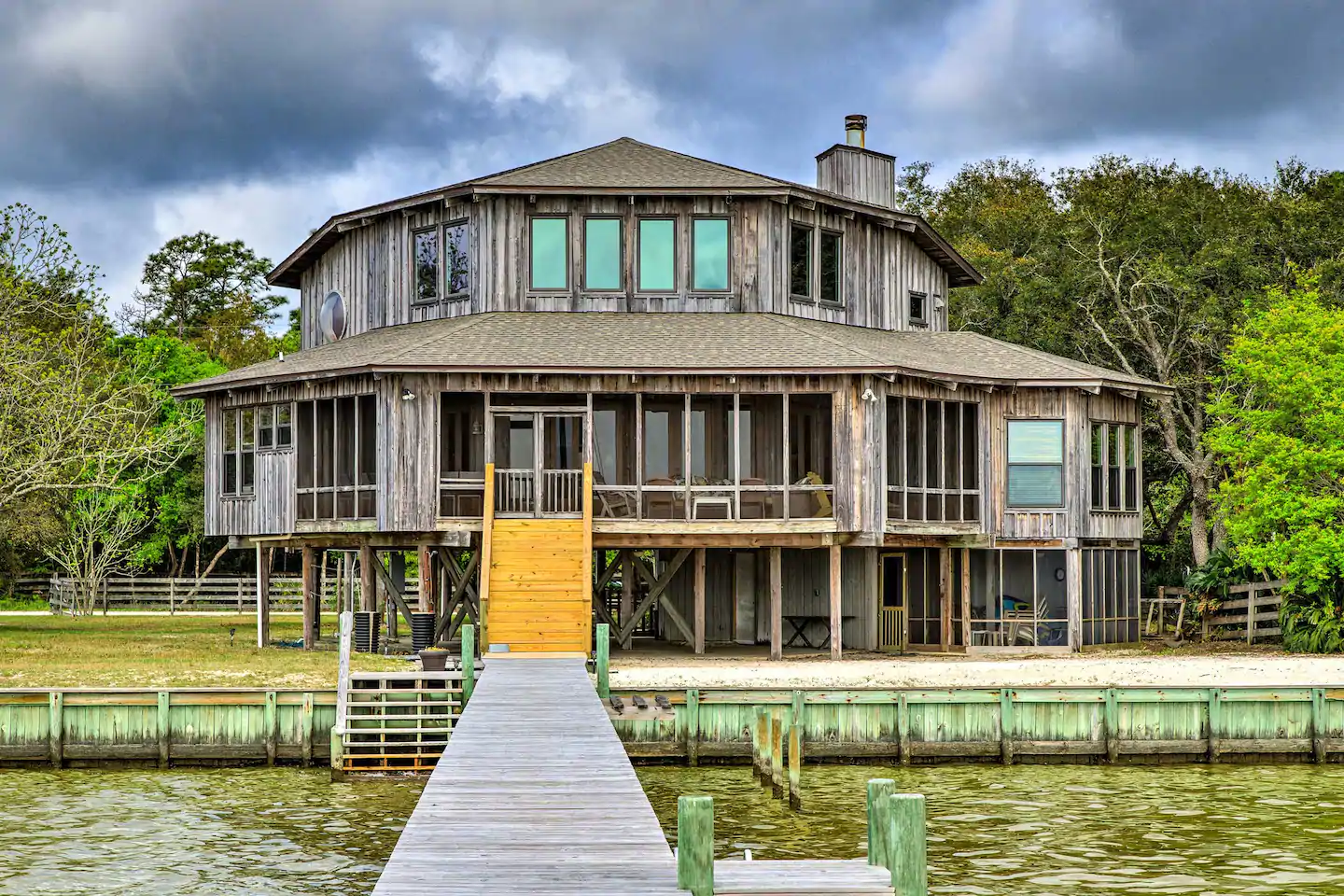 Modern Cottage in Historic East Hill
Historic East Hill is one of Pensacola's oldest neighborhoods. It's here that you'll find one of the best vacation rentals in Pensacola. The Modern Cottage in Historic East Hill is one of the best Airbnbs in Pensacola.
Tucked away in the owner's shaded backyard, the 600 square-foot cottage will be your place of serenity on your vacation. You're surrounded by quaint homes and tons of parks, so bring your running shoes.
The listing is also located just five miles from the airport, three miles from downtown Pensacola, and only eight miles away from the white sand beaches. There's even a brand new Publix grocery store three blocks away, walking distance!
Perfect for couples, the cottage has one bedroom and one bathroom and sleep two. There's a television with cable, a stocked kitchen, and a lovely deck and patio area.
Check Rates: VRBO.com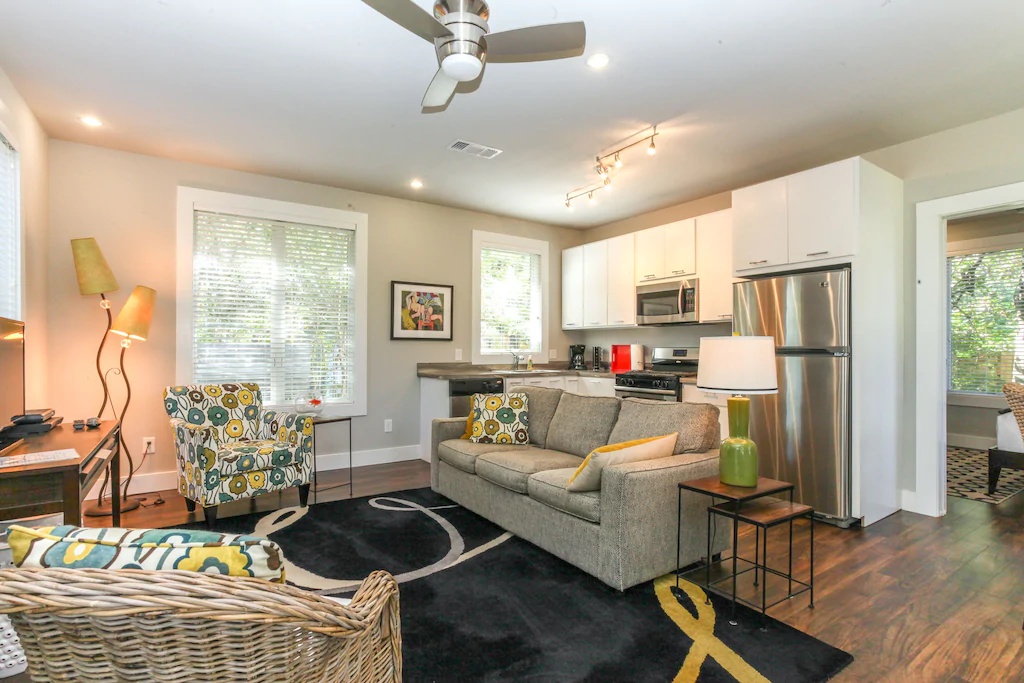 Seabird Shack
This bungalow is one of the best Airbnbs in Pensacola. If you're looking for the cutest vacation rentals in Pensacola, check out the Seabird Shack. It has three bedrooms, and sleeps six: perfect for families or groups of friends!
Don't pay for multiple motel rooms when you can enjoy a cozy living space with hardwood floors, lots of space, and a nice backyard and patio area. There's a queen in the master bedroom, and double beds in the two guest rooms, comfortable sleeping six.
You're only five minutes to downtown, ten minutes to naval air station, and fifteen minutes to the beautiful beaches. Make sure to visit Joe Patti's Seafood shop next door!
Check Rates: VRBO.com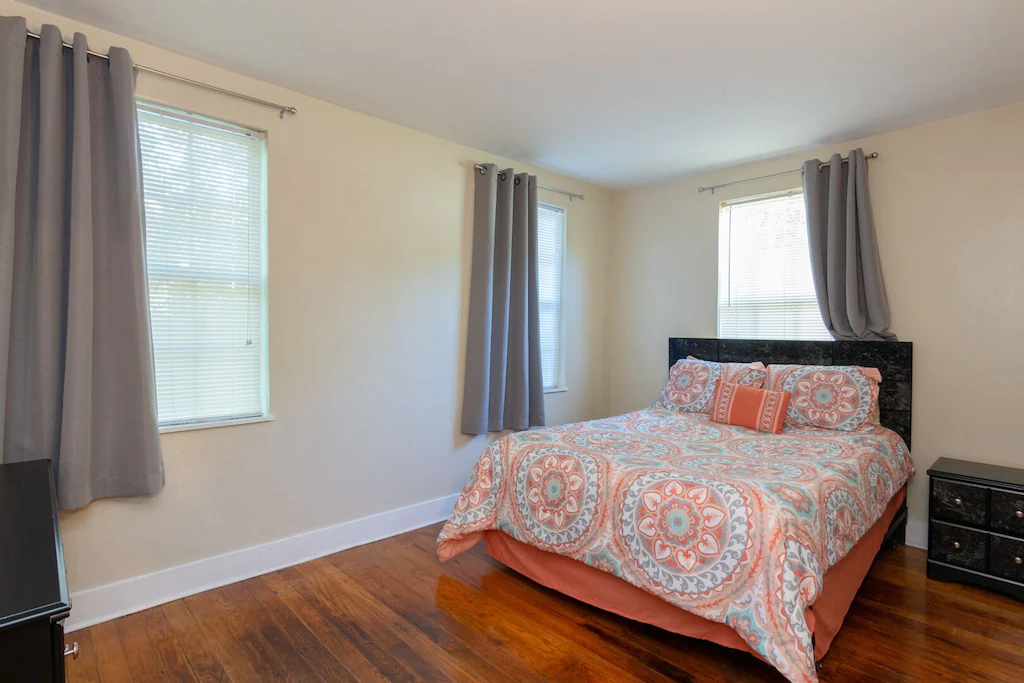 Blue Wahoo Apartment
The Blue Wahoo Apartment is also located in Downtown Pensacola, but it is listed at a luxury price point. Guests will love the designer furnishing and impeccable decor.
Bruce Beach is across the street, where you can fish, enjoy paddle boarding, or go kayaking. The apartment has a small patio that is perfect for breakfast in the morning. Additionally, there is a small balcony that is great for viewing stadium fireworks in the evening.
In addition to the beach, you can also walk to the Blue Wahoo baseball stadium, Pensacola Bay Marina, dining, bars, museums, and theaters. Up to 4 guests can comfortably stay here with 2 bedrooms, 2 beds, and 2 baths.
Check Rates: Airbnb.com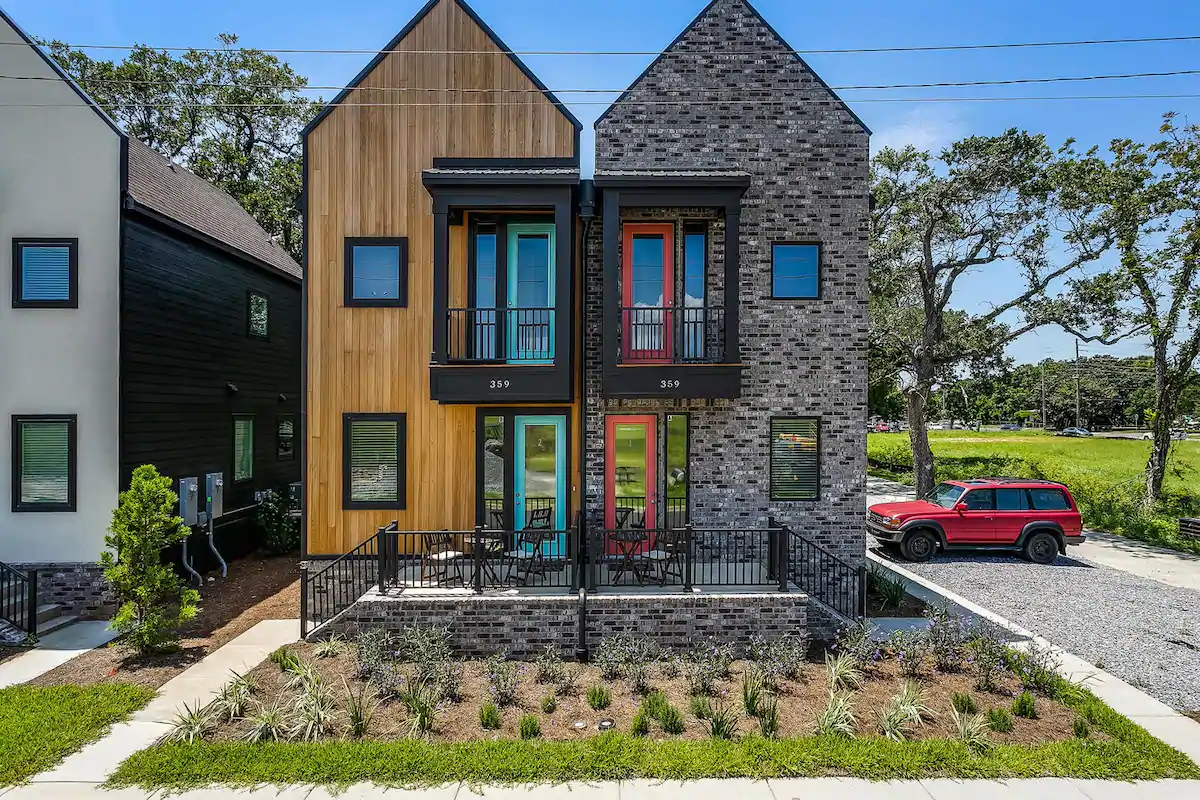 1850s Historic Cottage
Feast your eyes on this 1850s Historic Cottage has been renovated so beautifully that it graced the cover of Pensacola Home and Garden Magazine in 2020. You will be greeted by a striking red door that is perfectly offset by crisp white paint and dark wooden shutters.
You will see the attention to detail can be noted throughout this amazing piece of history. Some of the highlights include the bronze finished porch lights and the red flower design in the wrought iron garden fence.
The interior is modern and just as stunning with soothing colors. The cottage is moderately priced and located only a half a block from Seville Square. Local shops and dining are also close by, about two blocks away.
Check Rates: Airbnb.com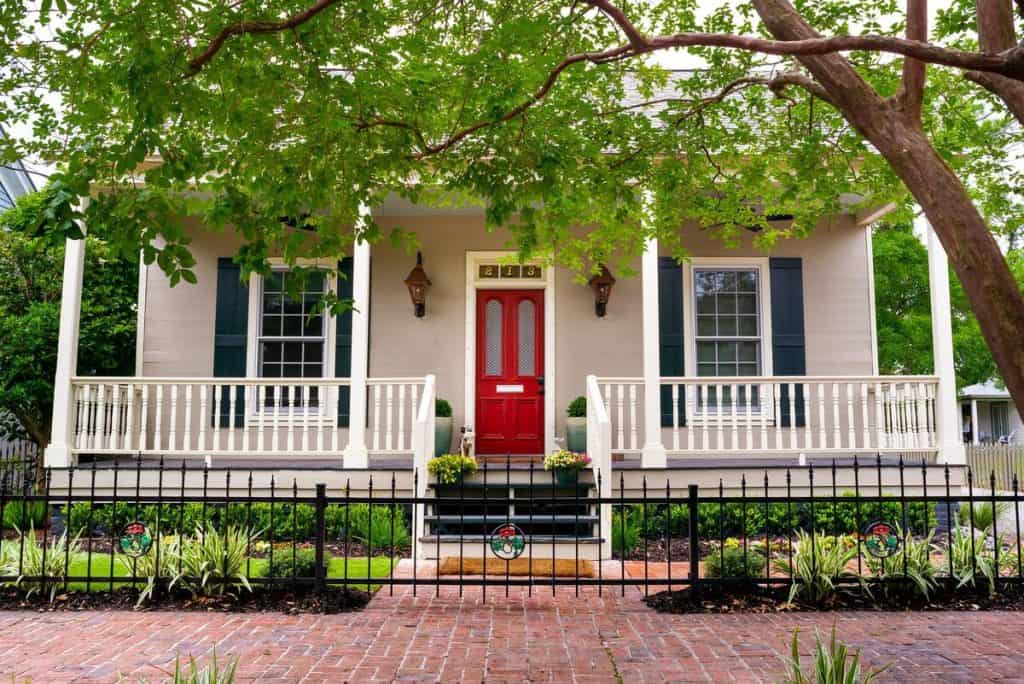 Flamingo Pad
When you look through the pictures, you'll understand why this is one of the cutest Pensacola VRBOs. With bright pink walls, the aptly named Flamingo Pad is one of the most adorable Airbnbs in Pensacola.
In East Pensacola heights, this two bedroom, one bath home offers hardwood floors and plenty of windows to let in that natural Florida sunshine. There's a queen bed in the master and a futon in the guest area.
In the large fenced backyard, you'll find space that's perfect for hanging out. You can even bring your pets! There's a gas grill and patio furniture. If you don't want to cook out, you're within walking distance to bars, restaurants, laundromats and the bayou!
Check Rates: VRBO.com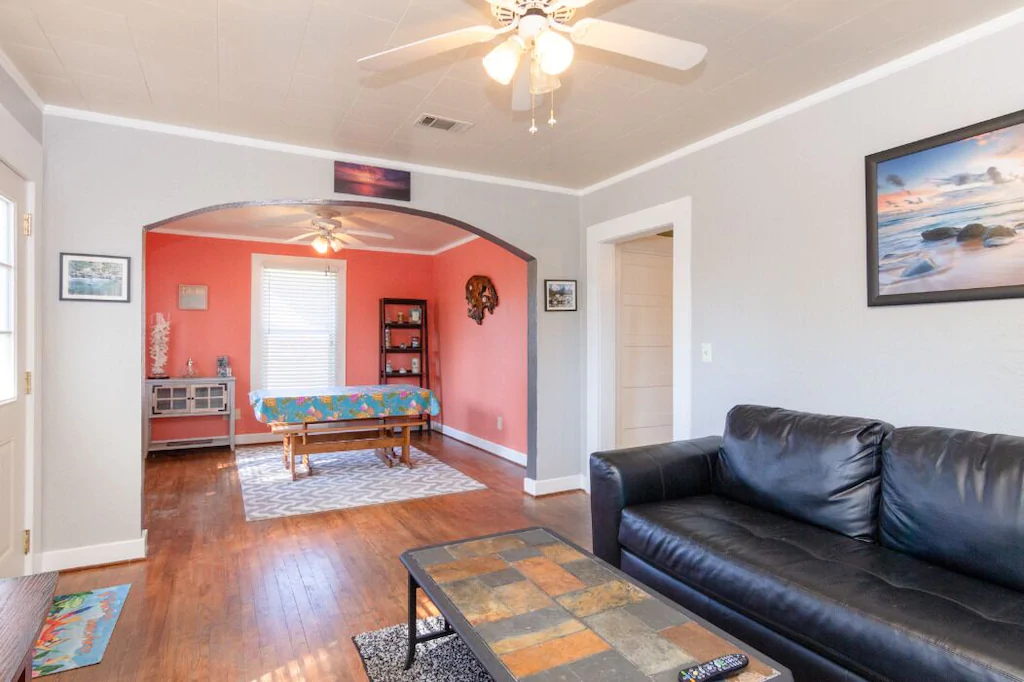 Eco-Friendly Eclectic Cottage
Okay, so where are all of our environmentally minded folks?! Do you have a passion for offsetting your carbon footprint, but you're not thrilled with the idea of staying in a tent? Well, then this affordable, Eco-Friendly Eclectic Cottage is just the right place for you!!
The owners take great pride in keeping the home eco-friendly by using earth-friendly cleaning products, offering full recycling, and having a split thermostat for energy efficiency.
Two bicycles are provided for guests to use while exploring the surrounding area. The cottage is situated near Downtown, so you are in a prime location for the beach, dining, and shopping. Up to 3 guests can be accommodated.
Check Rates: Airbnb.com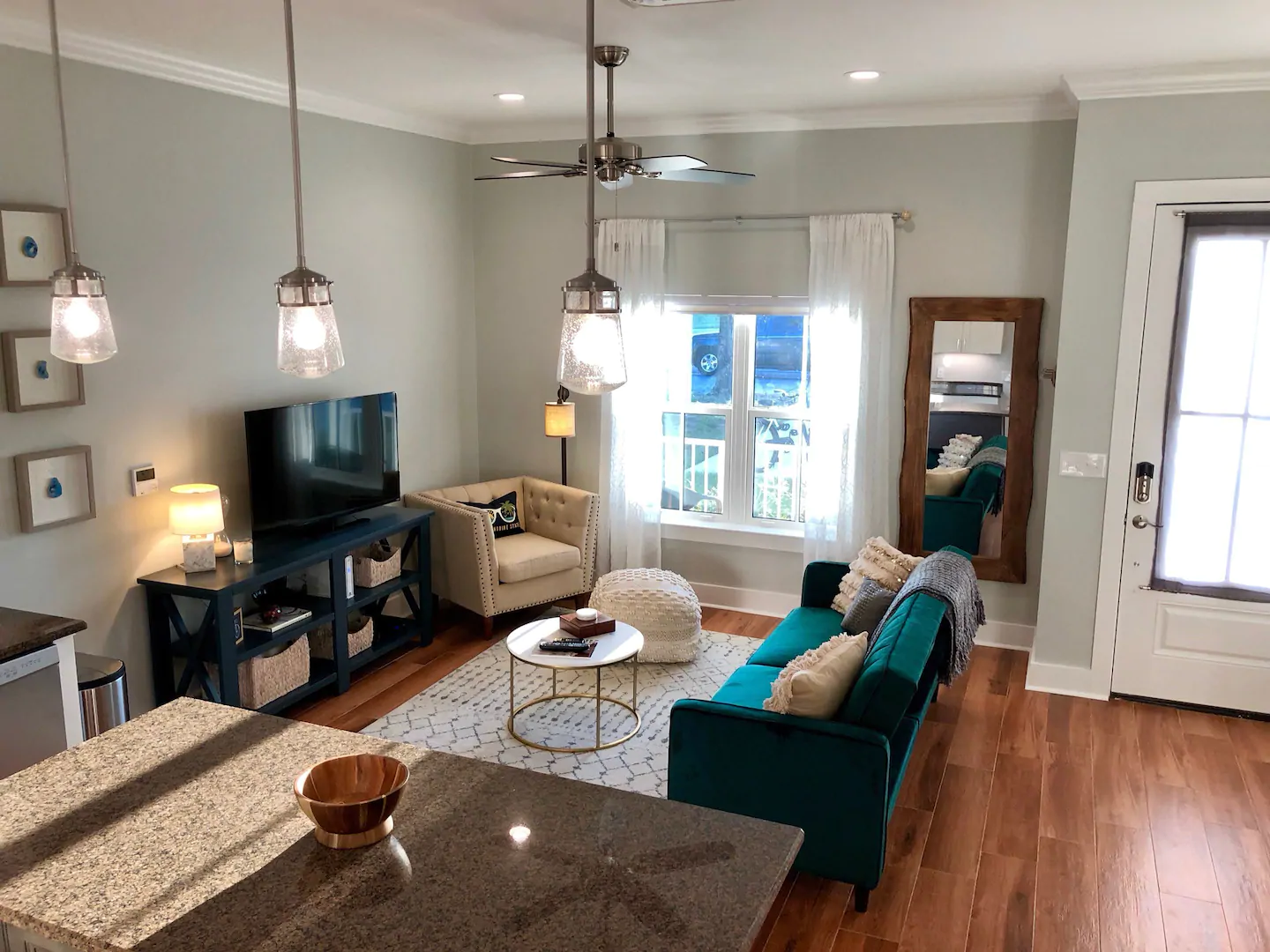 Sanctuary Of Light
The Sanctuary Of Light is one of the Airbnbs in Pensacola that features a lovely blend of modern décor and natural elements. The bungalow is super cute and would be fantastic for solo travelers or couples.
Pensacola's biggest park is located only one block from the cottage and allows visitors to enjoy kayaking, paddleboarding, long relaxing strolls on paved pathways, and tennis.
The bungalow is affordable and located in a quiet historic neighborhood with lush landscaping and mature trees.
Check Rates: Airbnb.com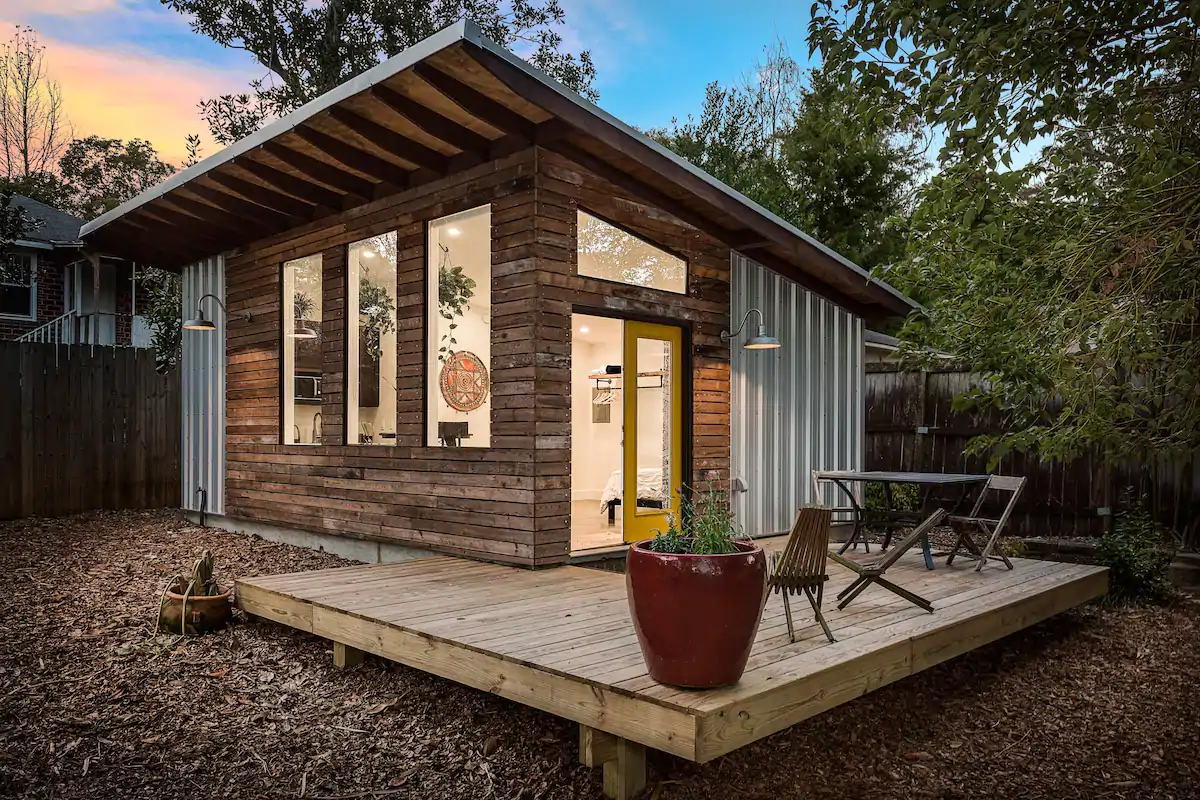 Shore Break
If you're looking for a beautiful, private cottage that scream Victorian luxury, then you're in luck. One of the most quaint Airbnbs in Pensacola is the Shore Break. Once you flip through the pictures, you'll understand what the hype is about.
You'll be staying in the Historic North Hill District of Downtown Pensacola within walking distance of Palafox Street with restaurants, shops, and nightlife. You're also near Joe Patti's Seafood Market and the Blue Wahoos Baseball Stadium!
The private cottage is adjoined to the rear of of a beautiful 1890s Victorian Historic home. It has it's own entrance, so you won't be bothered by the owners. There's a full kitchen, a queen size bed, chest dresser, and nightstand with a walk-in closet. The living room has a futon, electric fireplace, and Smart TV. You can sleep four people here!
Check Rates: VRBO.com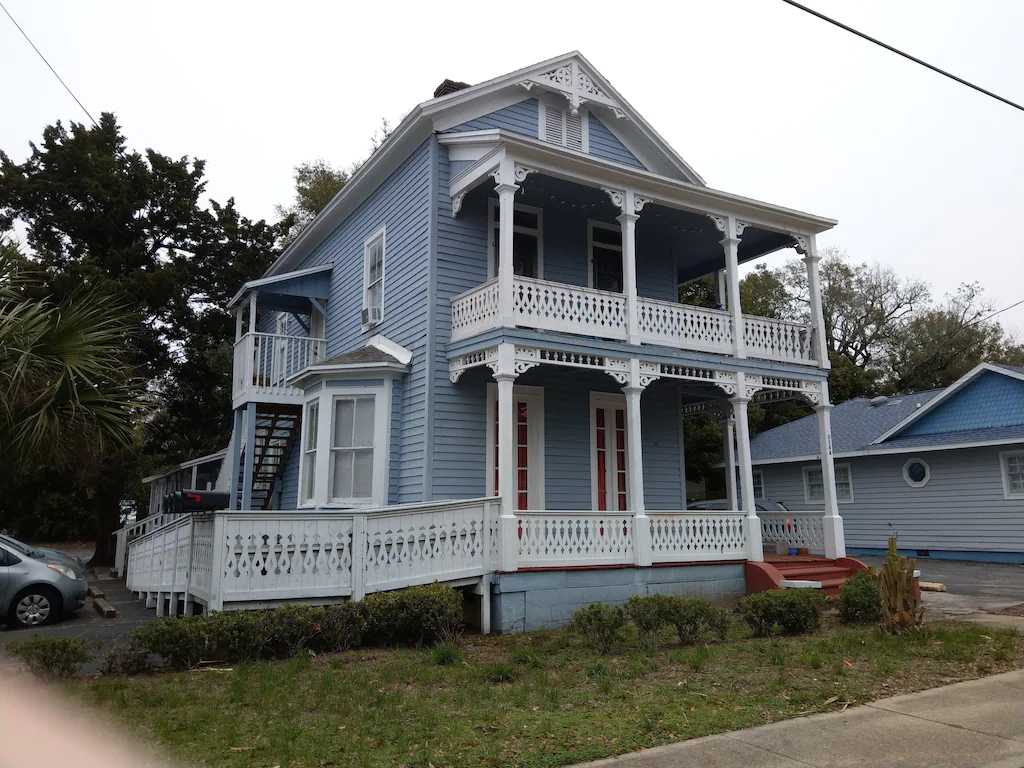 Remodeled Downtown Cottage
Just one mile from the heart of downtown, this is one of the best Airbnbs in Pensacola is you want to be close to what's happening in the city! You'll be staying in the historic Belmont-DeVilliers district at the Remodeled Downtown Cottage.
Inside there are two queen beds in two bedrooms with two baths, and an additional queen sofa bed in the living room. The entire space has been completely remodeled with gorgeous custom features.
The kitchen is accented with walnut in the stove hood, bar stools, doors, and furniture. It is also equipped for cooking at home! Both bathrooms have tiled showers and onsite laundry is available. Internet is provided as well as a television with cable.
Check Rates: VRBO.com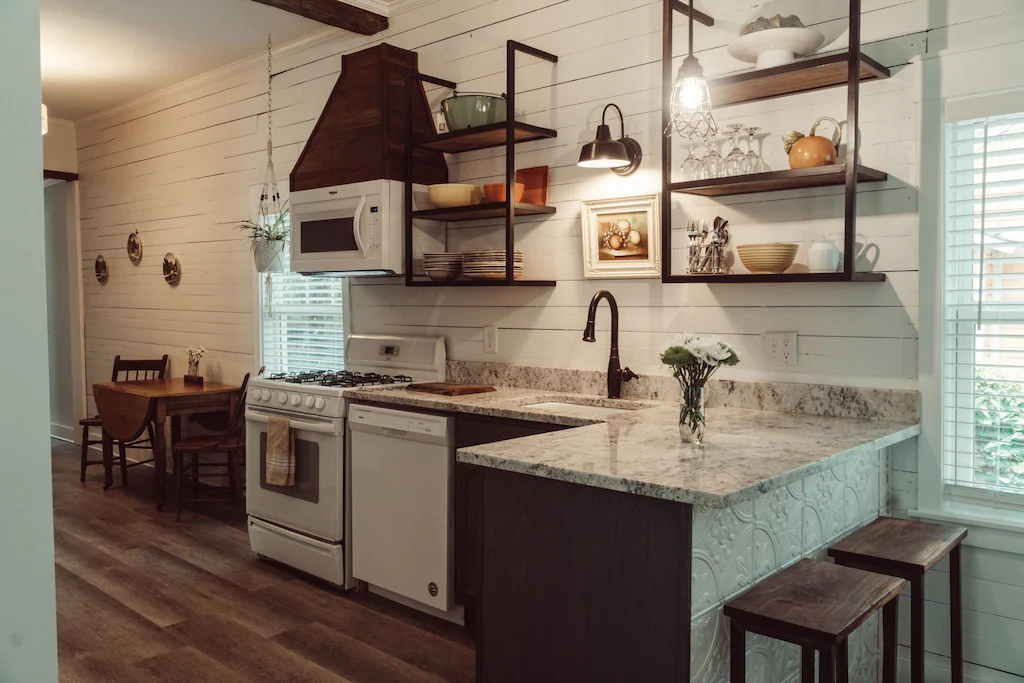 Tommy's Zen Garden and Cottage
Tommy's Zen Garden and Cottage is the perfect getaway for a couple. One of the most quaint Airbnbs in Pensacola, this cottage was actually hand-built by the owner.
The host has been a private chef for over 15 years and has lived in the main 100-year-old house for more than 20 years. Ask him about about jazz, wine, good food, and the area: he's a Pensacola native.
This zen space is very private and you are welcome to bring your fur babies! Just make sure to bring a kennel if you plant o leave them alone. There are several parks and dog parks within walking distance of the cottage.
You'll also enjoy a beautiful outdoor shower among the lush garden and a beautiful claw-foot soaking tub.
Check Rates: VRBO.com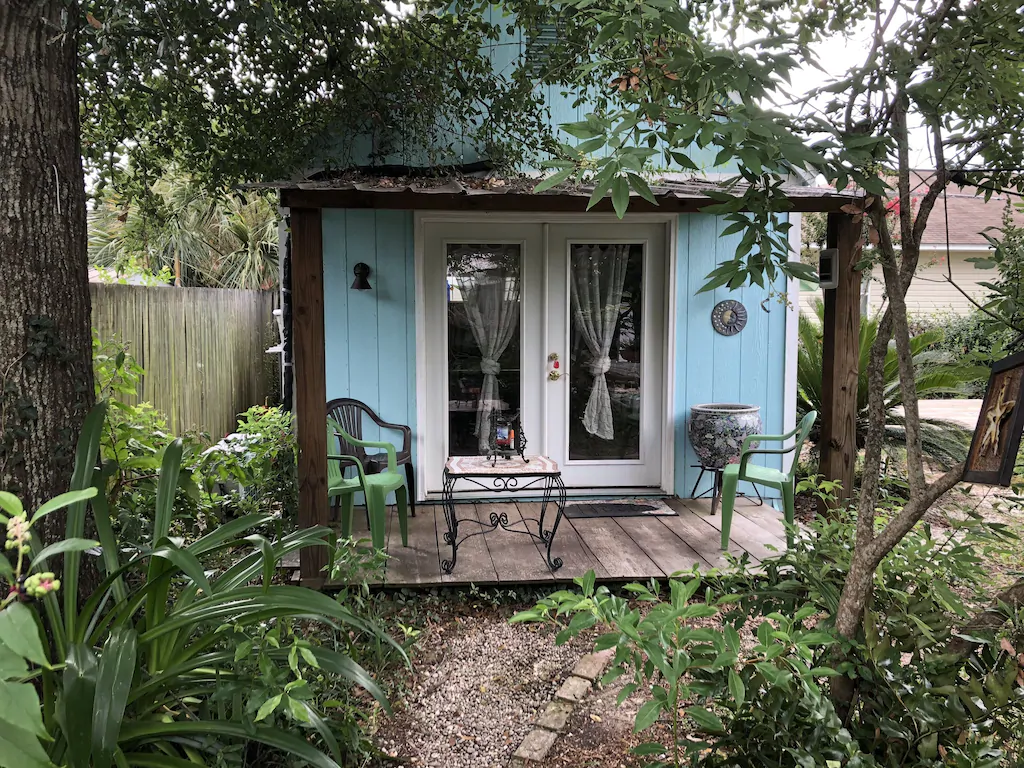 Little Red House
In the Old East Hill Preservation District, you'll find the Little Red House, one of the best VRBOs in Pensacola. A beautiful private home, the front yard is gorgeously appointed with lush crepe myrtle trees that bloom with pretty pink flowers.
The Little Red House has its own private courtyard and sits just blocks away from all the great downtown festivities! One block away you'll find the Civic Center and the Palafox Market. A few blocks down, you'll find historic downtown Pensacola with great restaurants, museums, galleries, and festivals in Seville Square.
The hosts live upstairs, so you everything you need will be on the first floor of the house. Perfect for couples, you'll find a king bed in the master bedroom. There's also a washer and dryer, Satellite TV, and wifi. Ample parking is included.
Check Rates: VRBO.com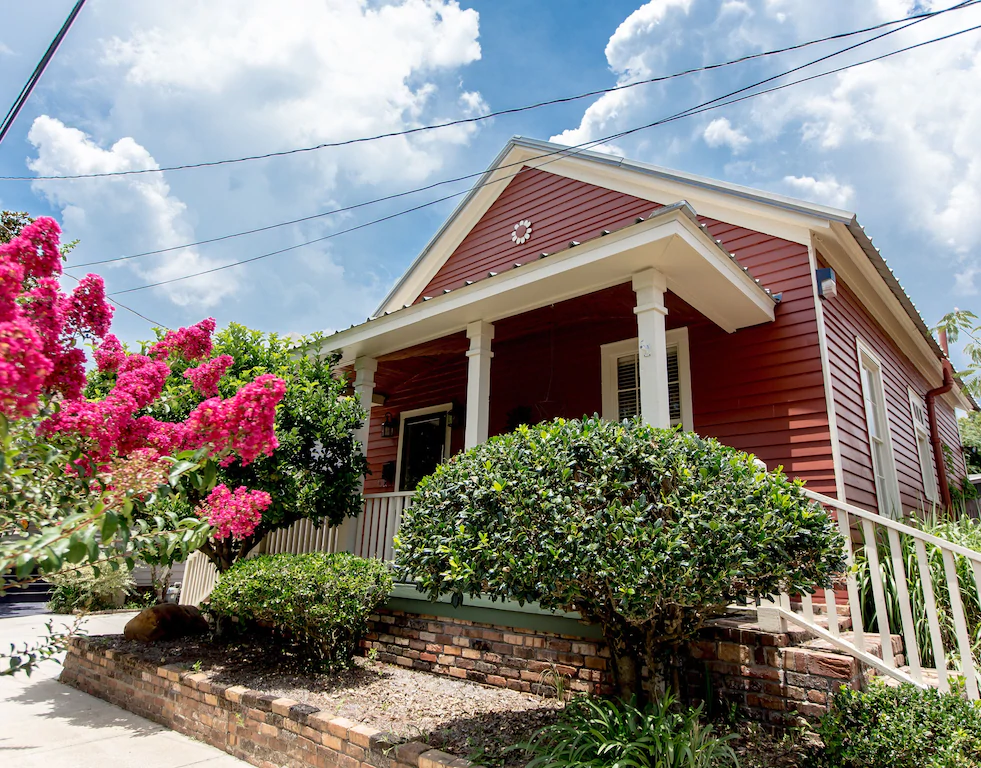 Vista Del Mar Luxury Condo
The Vista Del Mar Luxury Condo features breath-taking views of Johnson's Beach State Park. Guests will love lounging on the large private terrace.
Some of the incredible amenities include private garage parking, an indoor heated pool, an extensive workout facility, a Sonos sound system, and a resort-style pool. It falls somewhere in between the moderate to the luxury price point.
The décor is extremely modern and sophisticated. Up to 13 guests can be accommodated with 5 bedrooms, 7 beds, 5.5 baths. Kids will love the custom bunk beds with charging stations. Adults will adore the spacious floor plan with water views from most suites.
Check Rates: VRBO.com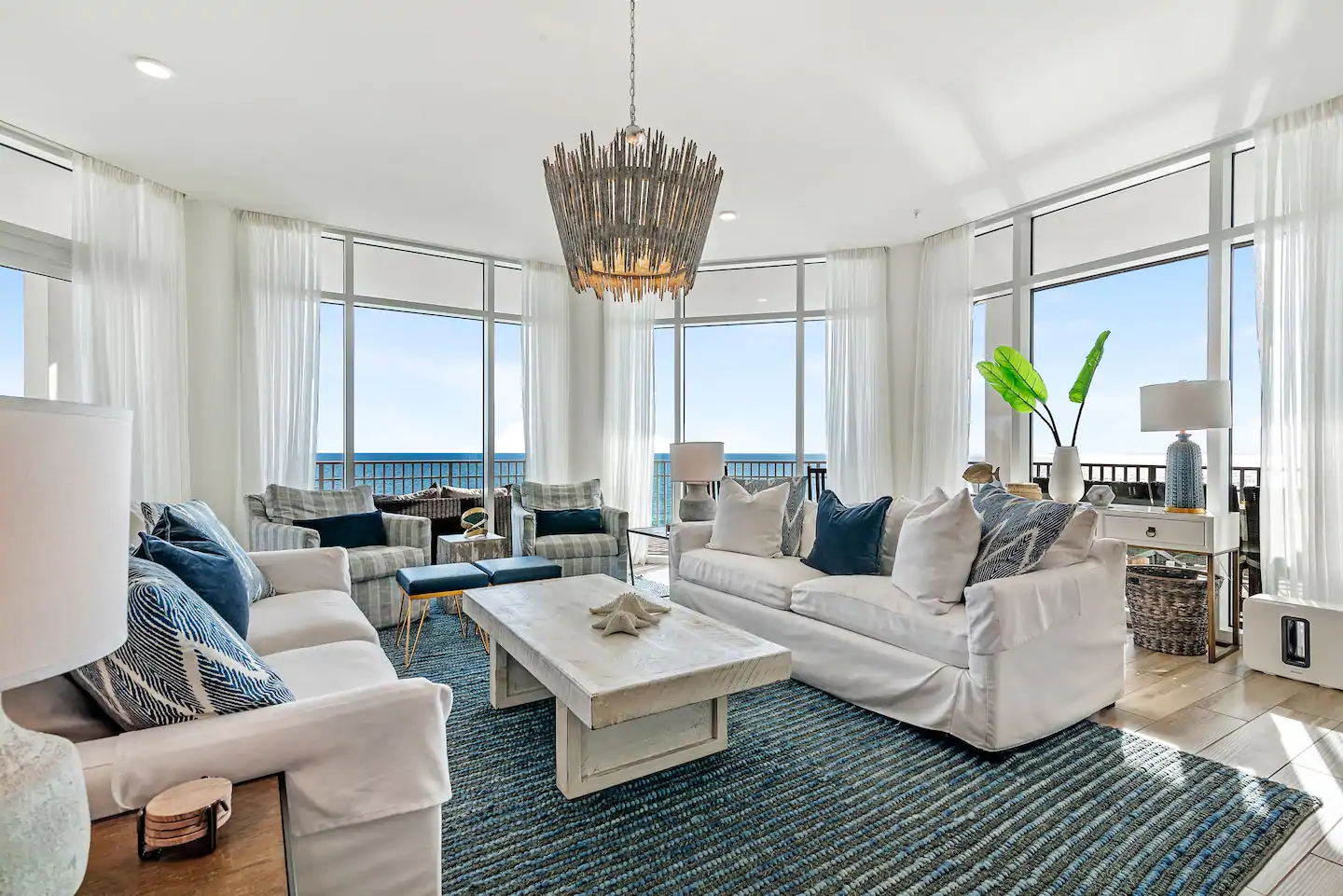 The Gathering House
The Gathering House in Pensacola is the perfect place to call home while you're visiting family, friends, or enjoying the beautiful beaches. The space is new, it's beautiful, and most important of all, it's relaxing.
With modern furnishing and a spacious living area, you'll be able to share this space with your entire family or your friends. There are three bedroom with six beds, so this space can comfortably sleep eight people!
The kitchen has a microwave, stovetop, coffee maker, refrigerator, and a farmhouse sink. There's also a washer and dryer as well as a television with cable/satellite! You're 100 steps to Corinne Jones Park, 450 steps to Bruce Beach, and 500 steps to Nick's Boathouse and Joe Patti's World Famous Seafood Market.
Check Rates: VRBO.com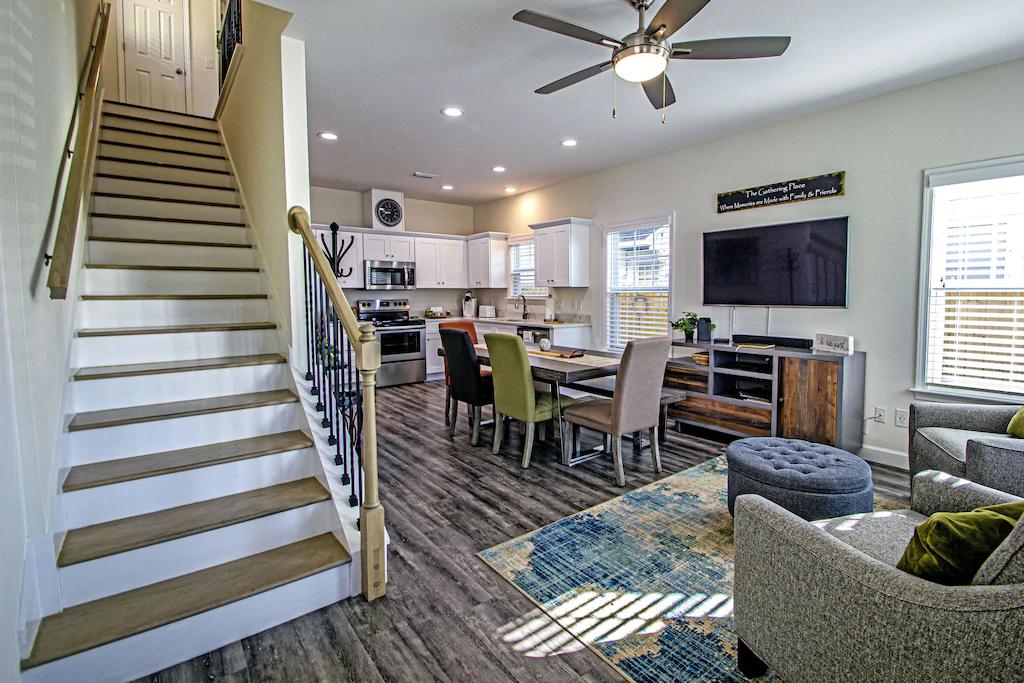 Downtown Dreams
Living in Florida's most extensive historical neighborhood is truly magical and we have decided to make our carriage home available so that others can enjoy this beautiful area for themselves and create a wonderful vacation experience.
The carriage home is approx. 400 sq ft of living space and is positioned to the rear of the property for a more private and secluded feeling. You have your own private access and will take the outside stairs to reach the home. The unit was designed for two adults to enjoy comfortably. There's a queen size Murphy bed that can be stowed into the closet if you'd like more floor space during the day. And for guest with a small child, the couch also makes out into a double bed. There's a full kitchen and bathroom as well as a large walk in closet with washer & dryer. There's also a 40 inch smart TV with Netflix included!
Guest will enjoy their own private second floor front porch to enjoy the morning's coffee or wind down the day enjoying our fantastic Florida weather. If requested, two bikes will also be supplied at no charge for you to enjoy the downtown area.
Check Rates: VRBO.com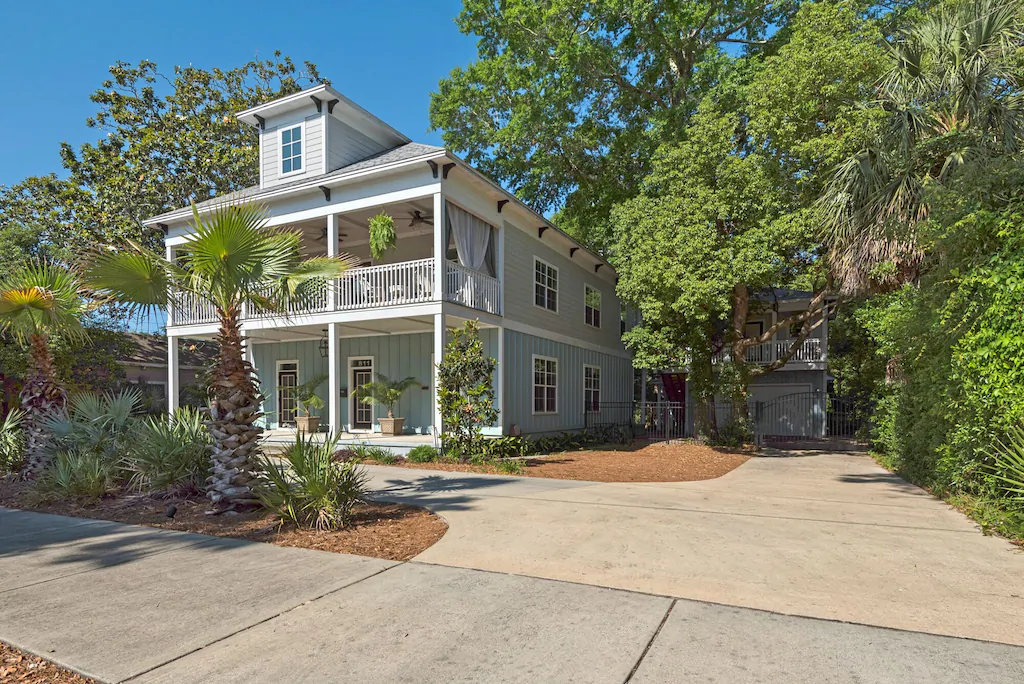 Downtown Funhouse
This Pensacola VRBO just screams Florida luxury. You'll love staying at the Downtown Funhouse, one of the most relaxing Airbnbs in Pensacola.
The Downtown Funhouse is a shotgun bungalow that was built in the early 1900s. It has a newly renovated bathroom. You'll also find a feature that truly qualifies it as home worthy of the Sunshine State: a Florida Room, or a cozy area for families!
The house is five minutes from downtown Pensacola and ten minutes from Pensacola Beach. There are two bedrooms. The master has a queen bed, and with pullout couches, you can comfortably sleep six. You'll also have free wifi, a washer and dryer, and a TV with cable!
Check Rates: VRBO.com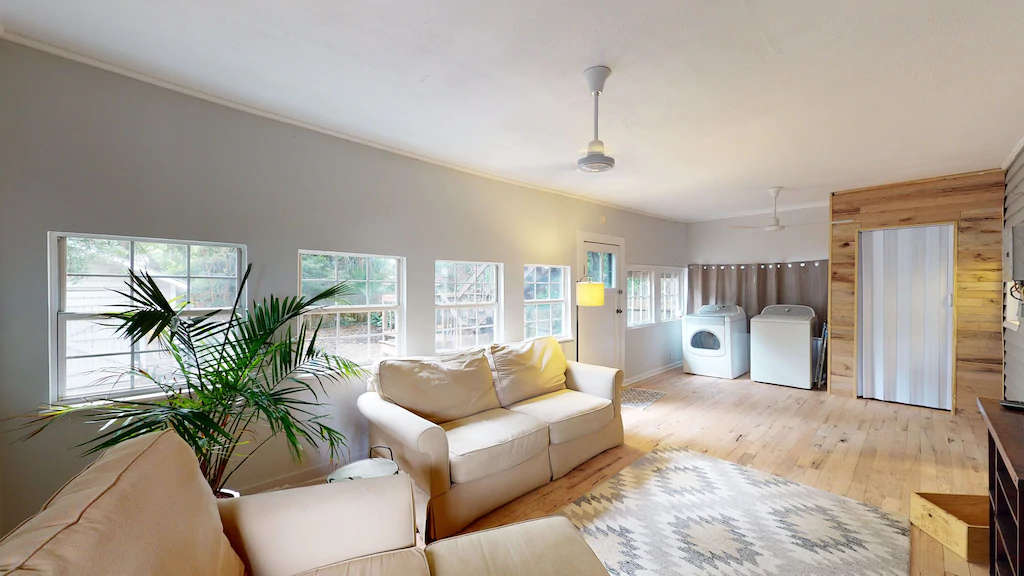 Downtown Oasis
Our last listing is special for a few reasons. Not only was this home built in 2020, it is a two story home decorated in a "New Orleans style." Combining Florida with the Big Easy? What could be better?
In the Downtown Oasis, you'll be in the heart of downtown Pensacola. There are three bedrooms, each with their own full bathroom! Hooray for privacy! You'll have access to three bicycles, too. You can be some of the first to stay in this sparkling clean home!
You'll be four blocks away from Palafox Street for food trucks, pub fare, and down-home casual eateries as well as white-tablecloth establishments! You're also three minutes away to Joe Pattis seafood. The beach is only a nine minute drive away, or you can take the ferry from downtown to Fort Pickens National Seashore.
Check Rates: VRBO.com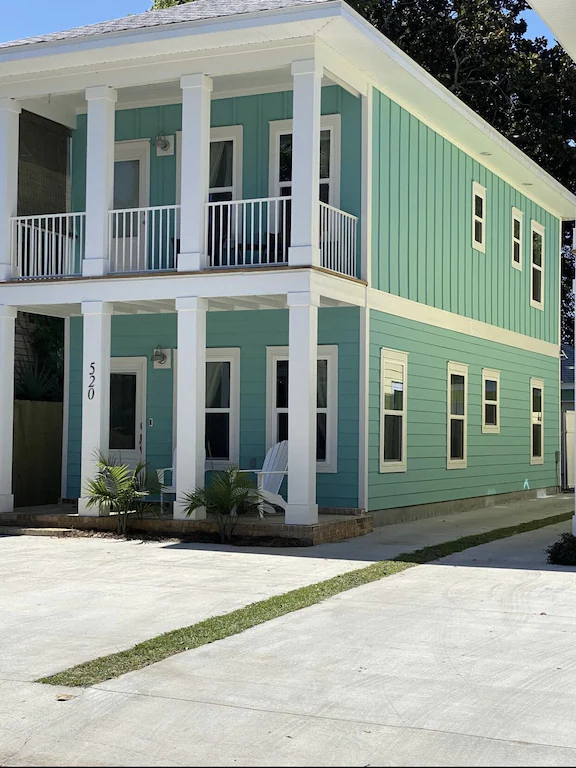 Well, we hope you have enjoyed viewing all of these fantastic Airbnbs in Pensacola. As you can see, visiting Pensacola can be done on every budget and Airbnb properties provide visitors a wide range of options. We hope you have an amazing vacation filled with tons of adventure!
Did You Find This Post Helpful?
If so, we would love to keep in touch! We enjoy seeing photos and comments about your experiences in Florida! You can follow us on Instagram and we will repost your photos on our feed and comment too! Just tag us at @floridatrippers and hashtag #floridatrippers. We can't wait to see your travels!