Are you looking for a list of the best restaurants in Destin you must try? We have you covered with the best places to eat during your visit to the Florida Gulf Coast!
Destin is located between Pensacola and Panama City, and there is something for everyone to enjoy. Whether it's the shops and restaurants downtown, the water parks, or the quirky festivals, you'll leave with nothing but smiles.
It is no secret that the Gulf Coast features some of the best beaches in Florida, and as such seafood here is as fresh as it comes! We have put together a list of the best places to eat in Destin during your visit.
From seafood restaurants that catch and process all their own fish, to many of the area restaurants sourcing ingredient locally, casual beach front eats, Italian and Pizza, a four star steakhouse, to breakfast and brunch spots popular with locals and tourists alike.
Make sure to check out our list of the best beaches in Destin for your trip!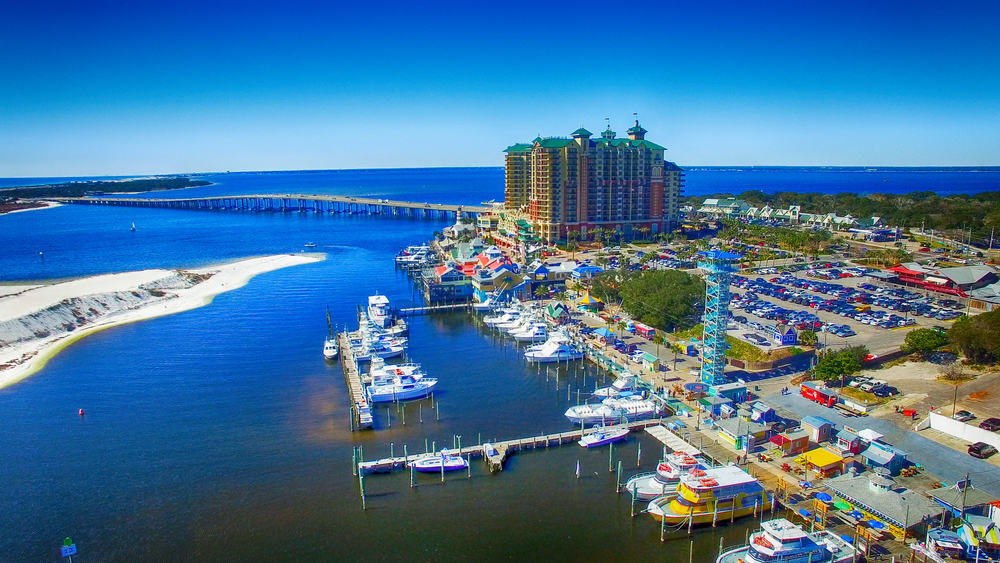 15 Best Restaurants In Destin You Must Try
Boshamps Seafood and Oyster House
Boshamps Seafood and Oyster House has been one of the harbors best restaurants in Destin for over 40 years. This family friendly restaurant strives to serve up some of the freshest seafood in a casual setting. No more white table clothes and dress code at Boshamps.
This waterfront restaurant in Destin serves up Gulf seafood with a southern flare all while overlooking the beautiful harbor. Start your meal with a family sized appetizer like fried green tomatoes and jumbo lump crab, local blue crab claws, or back Forty Farms spinach and artichoke dip grown by a local farm! Or as the name states, try some oysters from the raw bar.
If you are looking for the freshest seafood in Destin, order the off the docks special that is whatever is caught local that day! For those looking for seafood baskets try the Boshamps basket with snapper or grouper with southern slaw and fries. Non-seafood dishes include country captain or smoked farm chicken served with local veggies, an Angus filet with yellow squash casserole and green beans or the Bobo's Burger.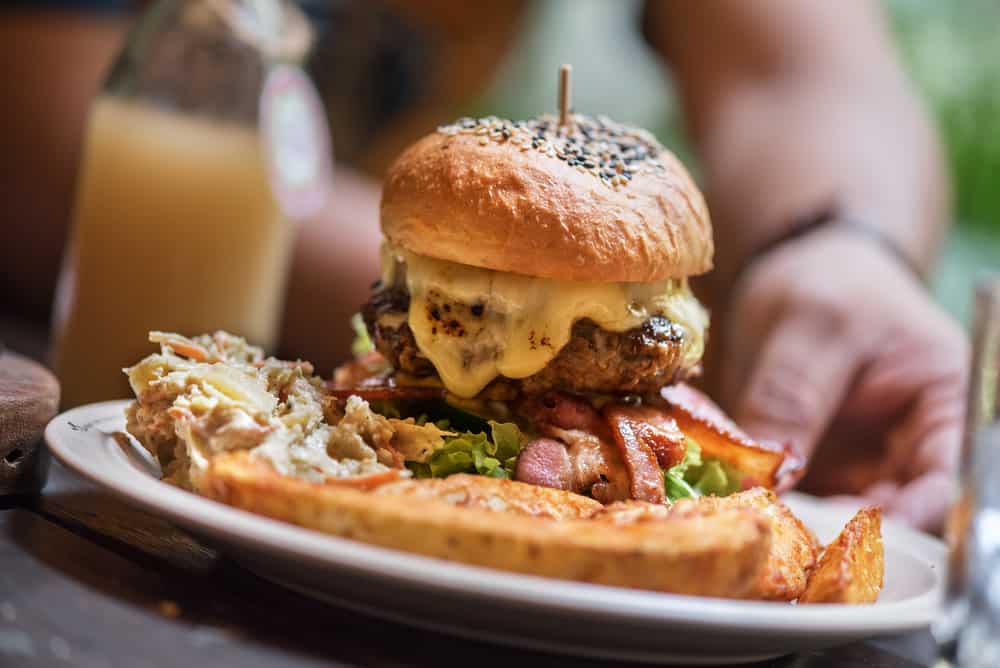 Marina Cafe
Marina Cafe has been in business for over 30 years and is one the most awarded Destin restaurants. This is your choice if you are looking for fine dining or a special occasion restaurant in the area. They offer an amazing happy hour from 5 to 7 pm daily with half priced wines and beers, and chef special menu. And from 5 to 6 pm you can enjoy BOGO entree specials in the bar area.
On the dinner menu, start with the soup of the day, blackened grouper cheeks, carpaccio of Wagyu beef wih shaved parmesan, jumbo lump crab cakes, gulf shrimp and collard green spring rolls or a delicious salad such as fried oysters with goats cheese, greens, and bacon.
They have rotating specials on the menu like seared New Bedford scallops with delicata squash, sautéed Gulf grouper with a key lime beurre blanc, Gulf jumbo shrimp and grits, or for those looking for a vegetarian option the veggie plate. Or order one of the prime steaks such as ribeye or filet served with lyonnaise potatoes.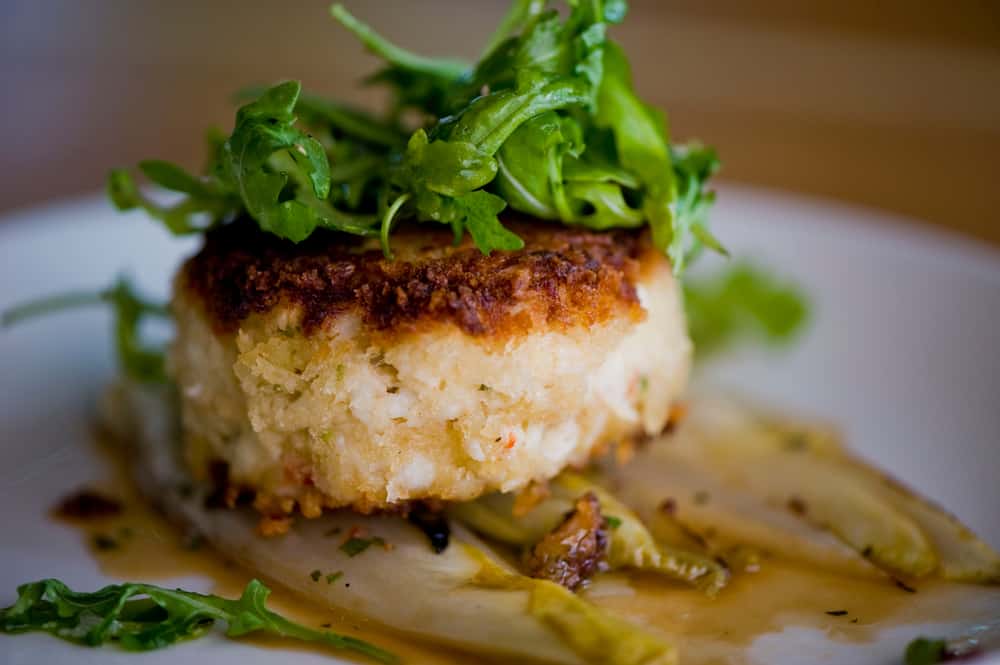 Surf Hut
Located on Miramare beach, Surf Hut is one of the relaxed beachfront places to eat in Destin. Opened in 2014, they are known for epic views, lifesized beach games, and delicious food. They source locally caught seafood that is processed in their own facility the same day!
If spending a day on the beach this is the perfect place to stop in for lunch, fill up on a burger, fried gulf shrimp, BBQ ribs, or local caught fish sandwich while enjoy a drink or a 32 oz beach bucket. On the full menu you can choose between oysters, house smoked tuna dip, endless summer seafood salad with scallops, crab, mandarin orange and roasted pecans.
The shoreline tacos are popular with choice of pulled pork, blacked shrimp, grille fish or a combo of all three. For heartier fare you can choose your own catch, top it with sauce and choose your cooking style. Or choose to have it fried. For non-seafood lovers choose from chicken or beef shish kabobs, ribs and burgers.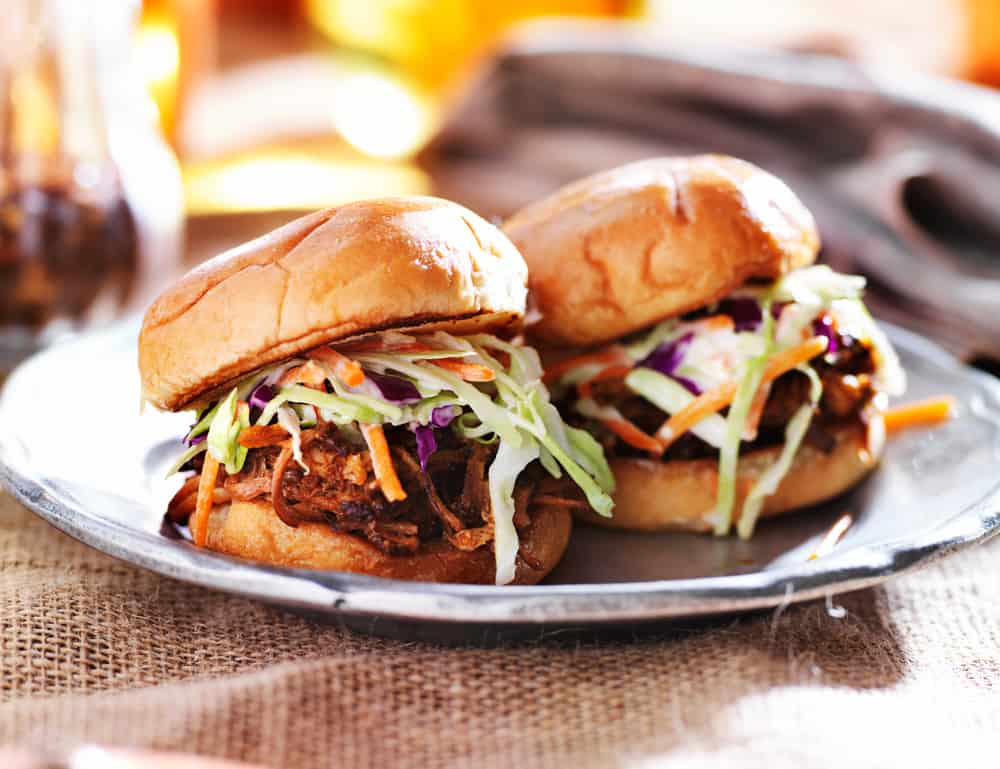 Harbor Docks
Opened in 1979, Harbor Docks is one of the oldest family owned Destin restaurants. Just like other restaurants in the area they process own seafood through their wholesale market while locally sourcing produce and serving only made from scratch dishes. Lunch is served from 11 am to 4 pm, and dinner from 4 pm till close.
The lunch menu features smoked tuna dip, boiled shrimp, fried green tomatoes, Gulf fish tacos, sandwiches such as fried shrimp, chicken, or green tomatoes, Thai fried rice or stir fry, as well as a fresh catch of the day platter.
Dinner menu expands on the lunch offering with Gulf grouper parmadine with crabmeat and parmesan cheese, bacon wrapped stuffed Gulf shrimp, a Chef's platter with blackened catch of the day topped with lump crab meat and fresh veggie of the day, surf and turf, and Paneed chicken sauteed in herb cream sauce.
Harbor Docks also serve a full sushi menu with both Nigiri and speciality rolls.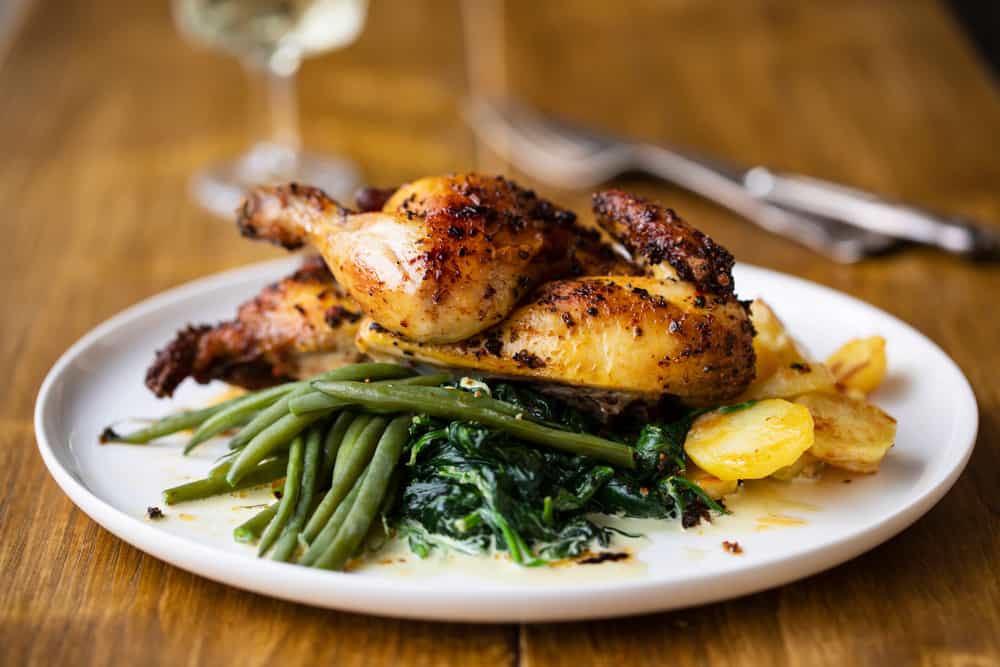 Mimmos
If you are looking for the best restaurants in Destin serving Italian, head to Mimmos. Open daily from 11 am to 10 pm they serve up some of the best Italian dishes in the area in a vibrant setting. Stop in for lunch, dnnner, or just dessert and drinks.
Mimmos lunch menu features Italian classics like calamari fritti, a selection of meats and cheese or oven bake stuffed eggplant. They have a large selection of salads like arugula with shaved parmesan or a chopped salad with smoked salmon. They have a large selection of Italian sandwiches such as chicken parm, meatball, caprese, and unique pasta sandwiches. As well as a full menu of pasta dishes.
Th dinner menu builds on the lunch offering with the large assortment of pasta dishes as well as main courses. Try the chicken scaloppini with prosciutto, Mimmo's Marsala a house speciality, chicken, veal or eggplant parmegiana as well as pizza and calzones.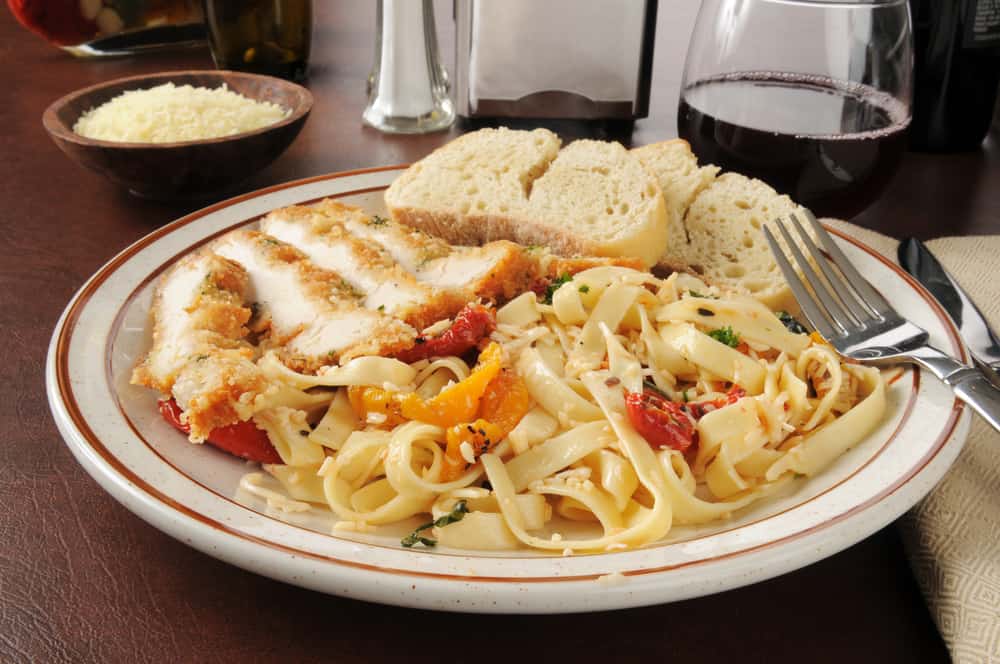 The Crab Trap
The Crab Trap is where to eat in Destin, if you are looking for beach front dining and fresh local seafood. There are three locations in the panhandle area, one in Destin, one in Fort Walton Beach and one in Perdido Key. A sister restaurant of the Surf Hut they also process all their own seafood.
Start your meal here with raw oysters, southern style crab cakes, the award winning seafood gumbo, or mozzarella sticks. As the name suggest this is the place to come for crab! From snow crab, to garlic Dungeness crab, Alaskan crab to fresh local caught fish with your choice of topping from crab to housemade salsa, fried seafood and chicken tenders.
Other signature house dishes include jumbo shrimp skewers, beach pastas with cajun chicken or crab and shrimp linguine, and wild caught sea scallops with garlic butter served over rice.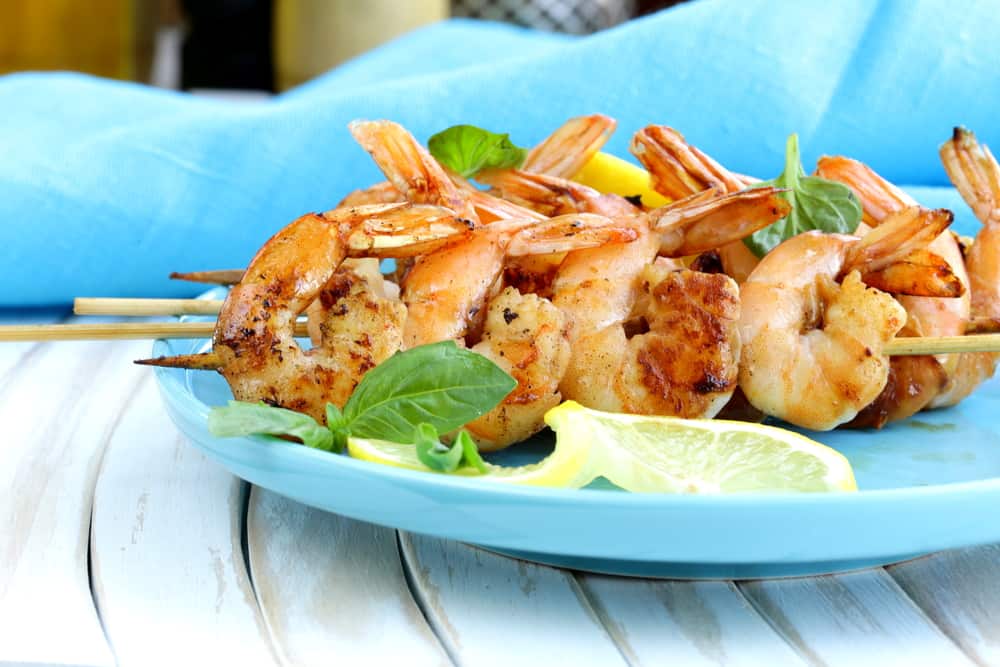 Seagar's
Located inside the Hilton Sandestin Beach Resort, you will find one of best restaurants in Destin. This AAAA four diamond steakhouse is the only one of its kind in the area with an equally amazing wine list that features over 600 private label wines. From the rich wood tones and leather to live piano music, Seagar's is an experience in upscale dining.
First course includes shrimp cocktail, French onion soup, Hudson Valley Foie Gras, Prime Filet Tartare, and a custom seafood tower. The selection of USDA prime steaks include steak Diane, NY strip, porterhouse, Chateaubriand for two. Then there is the custom cut of a filet mignon from 8 to 12 oz as well as custom entree additions that can be added to any steak.
For seafood entrees there is pan roasted diver scallops, seared snapper with crispy skins, and South African cold water lobster tails to dover sole that is filleted table-side and broiled rock lobster. As with traditional steakhouse, sides include potatoes, truffle fries, jumbo asparagus, creamed corn, and sautéed mushrooms.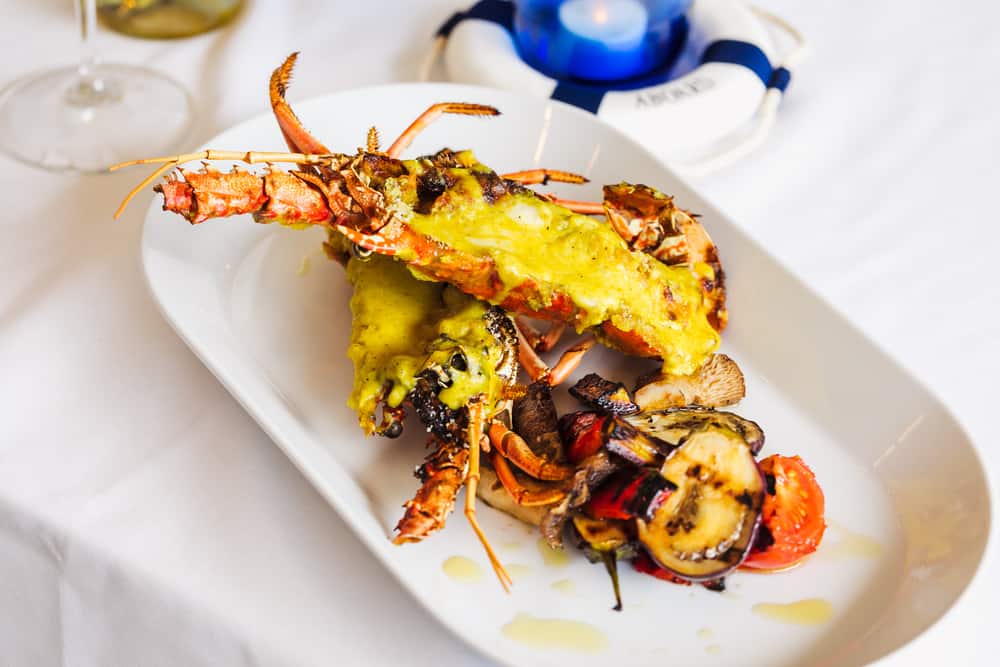 La Paz
La Paz serves some of the best food in Destin if looking for Tex-Mex. For almost 30 years, they have sourced their ingredients locally, and seafood from Harbor Docks seafood market and shrimp from Apalachicola. They are only open for dinner from 4 pm to 9 pm serving up Gulf Coast seafood fused with Mexican flavors.
Try the famous iron skillet fajitas with tri-color peppers and onions serve with homemade guacamole, sour cream and war tortillas with beans and rice. Choose your protein from fresh catch, Gulf shrimp, steak, chicken, or a combo.
The Gulf Coast seafood entrees include Championes a grilled fresh catch with mango salsa, Chimayo with Mexican chiles, Fish tacos, and Pina en la Playa a jerk spiced grilled fresh catch. While the classic entrees include street taco platter, smoked pork belly tacos, enchilada and quesadillas. Pair with one the house made margaritas, cocktails, or local craft beer.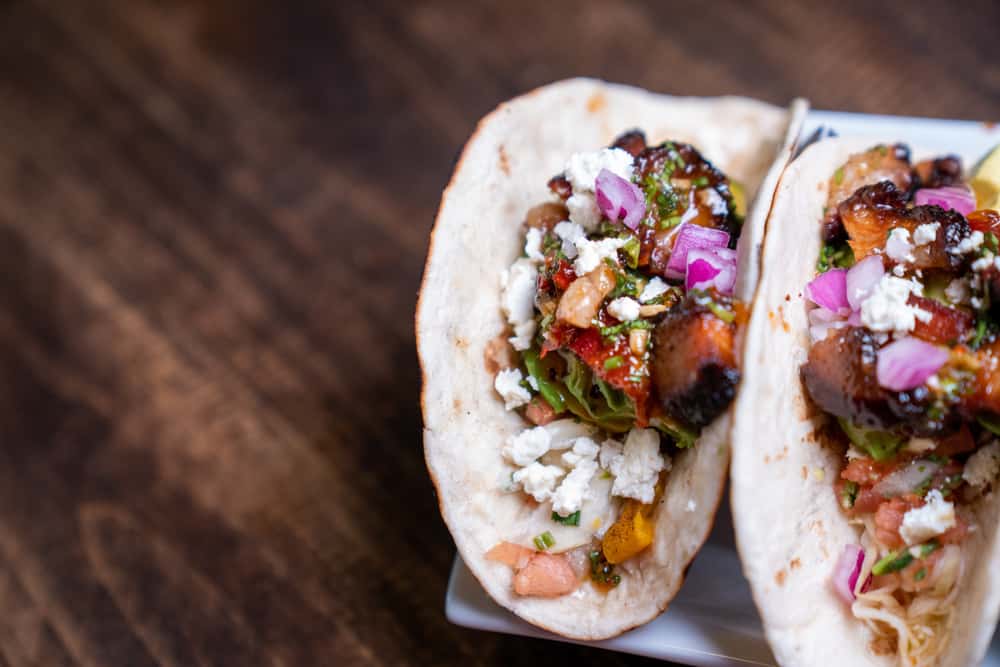 Vinny McGuire's Irish Pub
Vinny McGuire's Irish pub started off back in the 70's as a small pub, opened their second location in Destin Harbor. The 615 seat restaurant is decorated by the more than one million signed dollar bills hanging from the walls and ceilings. The host special events and have live music.
This is one of the best lunch places to eat in Destin with daily specials from 11 am to 3 pm. For those looking for brunch restaurant in Destin head here on Sunday from 11 am to 2pm. They call it the Irish Coffee Brunch as it includes Irish Coffee both frozen or hot and homemade French quarter beignets. Choose from omelettes and Benedict or Belgian waffles served with bloody Mary's or bottomless mimosas.
On the dinner menu you will find Senate Bean Soup the same recipe that was served in the US senate in 1977, and the pub still serves it for only 18 cents! Other menu items include seafood specialties, pasta dishes, steak and chops that have been voted as some of the best in the Gulf Coast. They also own Vinny McGuire's Pizza restaurant next door.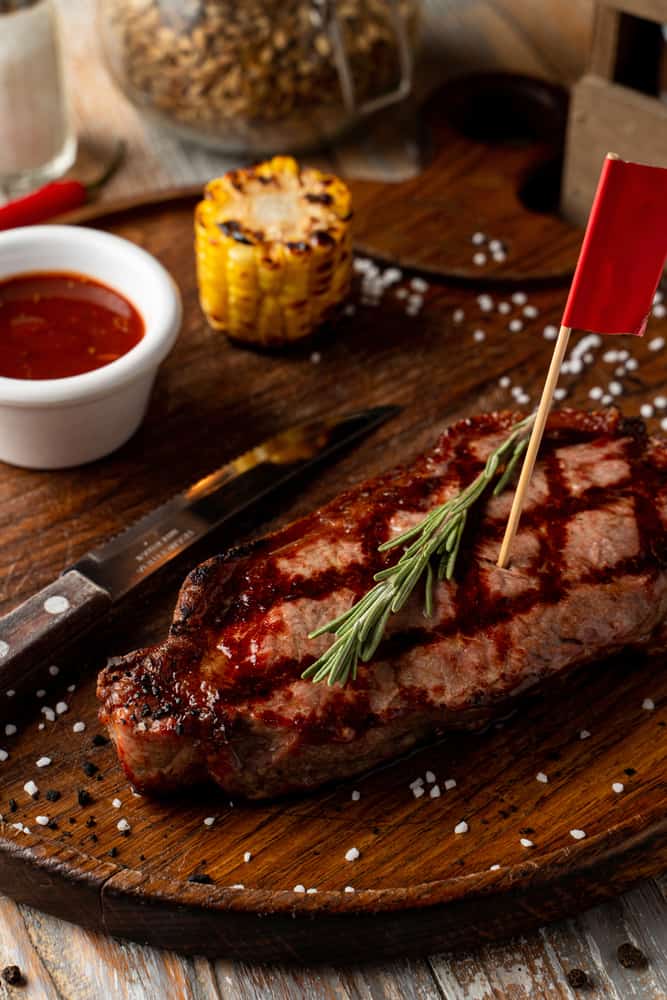 Crackings
Family owned and operated since the late 90's, Crackings is the best of the breakfast places to eat in Destin. They are closed on Mondays, and open Tuesday to Sunday from 7 am to 2 pm. Everyone raves about the delicious breakfast foods served here.
From the famous lobster gouda grits, for Benedict's try the Gulf Coast with red snapper, Maque Choux with fried green tomatoes and crab cakes, omelets include costal with shrimp or the Captains with lobster and avocado, or the vegan spinacado omelet. On the sweet sides you have banana foster pancake and waffles, praline pecan filled with sweet cream.
Brunch menu items include huevos rancheros, fish and grits, chicken pot pie, avocado toast, biscuits and gravy and more.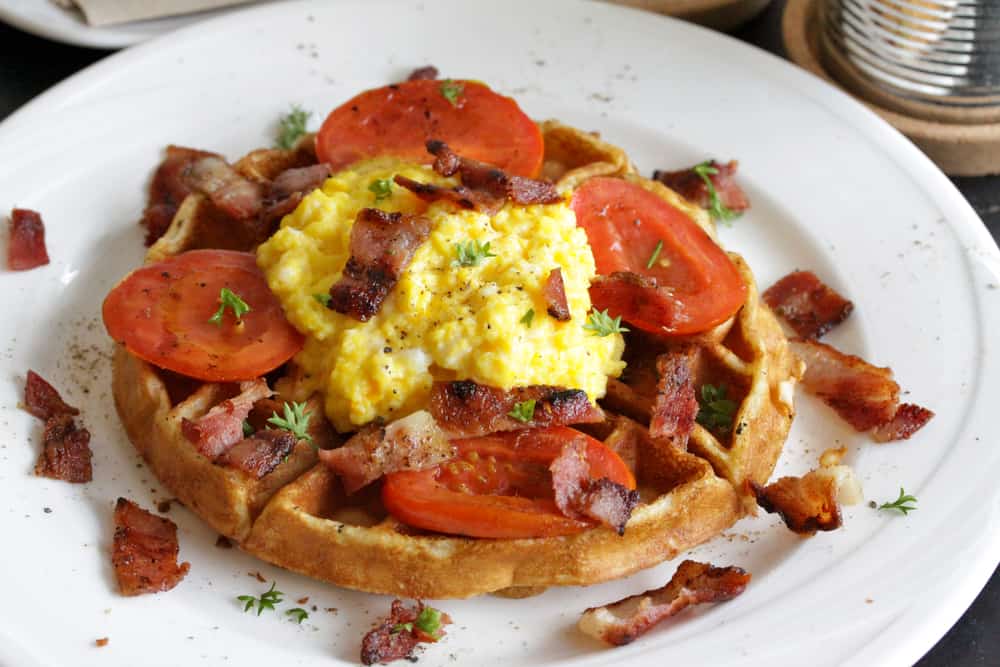 Real Thai Fusion
As the name suggests if you are looking for Thai fusion places to eat in Destin, Real Thai Fusion should be at the top of your list. Located in the Rufus Ray Plaza the owners blend Thai flavors with the Gulf coast. Closed on Sunday, they are open for lunch Monday to Friday from 11 am to 3 pm, and for diner 5 to 8:30, and on Saturday ar open 12 to 8:30 pm.
All your favorite Thai dishes can be found on the menu from summer rolls, vegan rolls, chicken satay, to a combo appetizer platter. For traditional soups you will find Tom Yum, Tom Koa both of which can be made vegetarian. As can all entrees, either choose chicken, beef, seafood, or tofu.
Choose from Pad Ginger, Pad Thai, Drunk Man noodles, Thai chef fried rice, a large selection of curries, such as the seafood curry, or the red Snapper.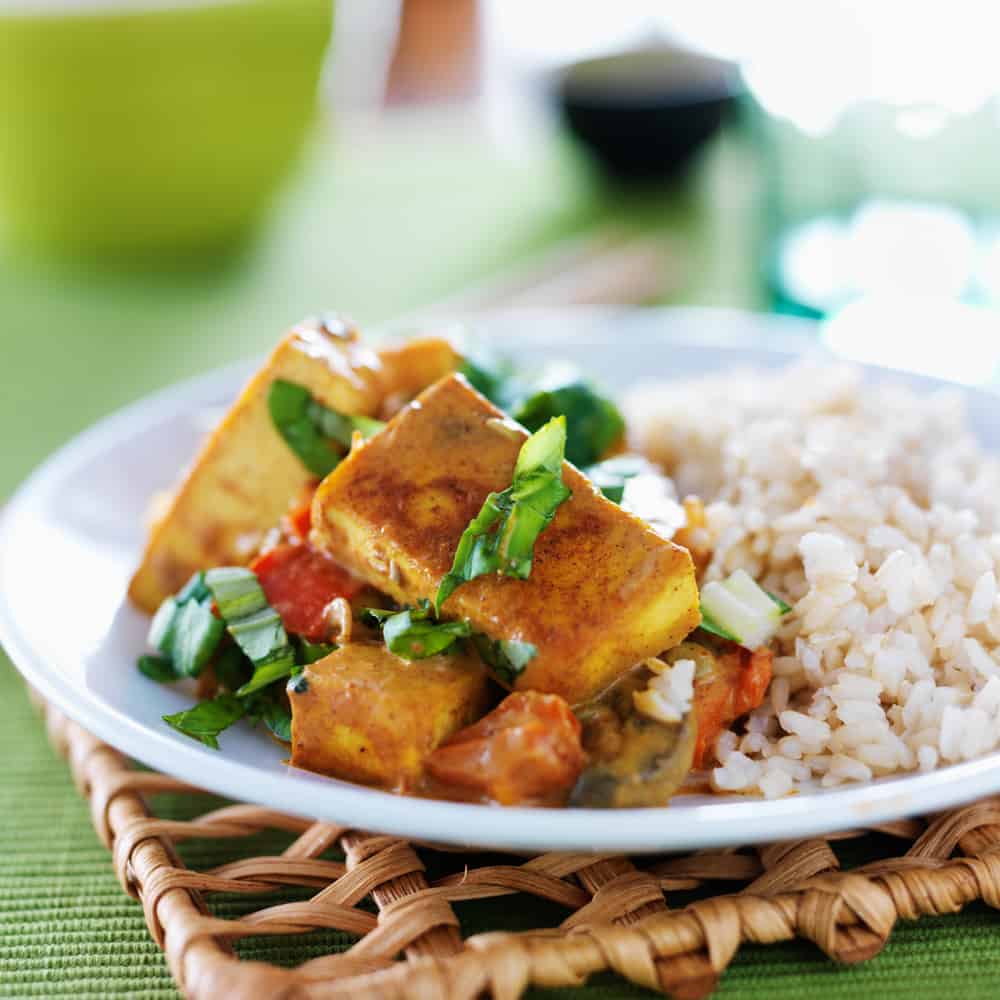 Merlin's Pizza
Since first opening their doors in 1999, Merlin's pizza has been the go to place for those on the Gulf coast craving pizza. The believe in using the best ingredients, making everything fresh daily to use. They source produce locally too!
You can build your own pizza from a small to an x-large featuring the dough and sauce that are made in house daily. Start with crusty choose meats, cheese, sauces and veggies. Or go for one of the classics like the bacon cheeseburger deluxe, Hawaiian luau, pepperoni explosion or a house specialty pie. Choose from Pollo Bella with marinated chicken and veggies, the seafood deluxe in a creamy Alfredo sauce or the buffalo wing pizza.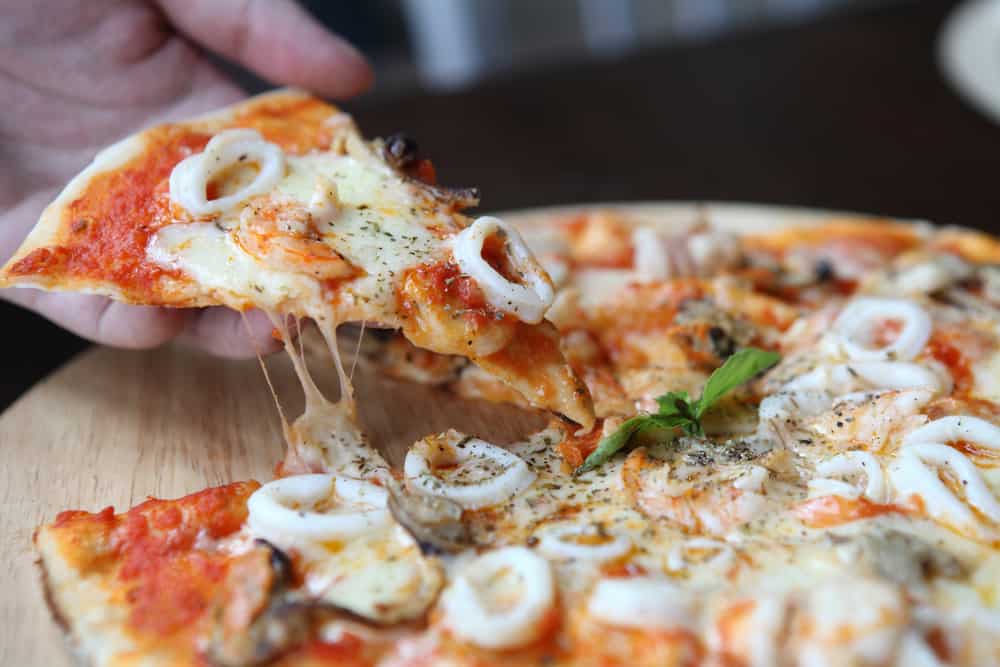 The Back Porch
Since 1974, The Back Porch has been on every list of the best restaurants in Destin. What started as a little beach shack serving seafood and oysters with a view has turned into a beachfront dining destination, serving delicious Gulf Seafood in a laid back and casual setting.
They are known for inventing the chargrilled Amberjack fish sandwich, and popularizing this not popular fish in the Gulf. Or try one of the other fish sandwiches like snapper, grouper or fried oyster. House specialities include Grouper Destin grilled and topped with shrimp, porch crab cakes, or crab stuffed Gulf shrimp. If you are hungry and to sure what to order try the Fisherman's trio with Gulf grouper, Amberjack and yellowfin tuna!
At the Back Porch the oyster menu includes fried oysters, back porch style topped with cheese and crab, and of course oysters on the half shell.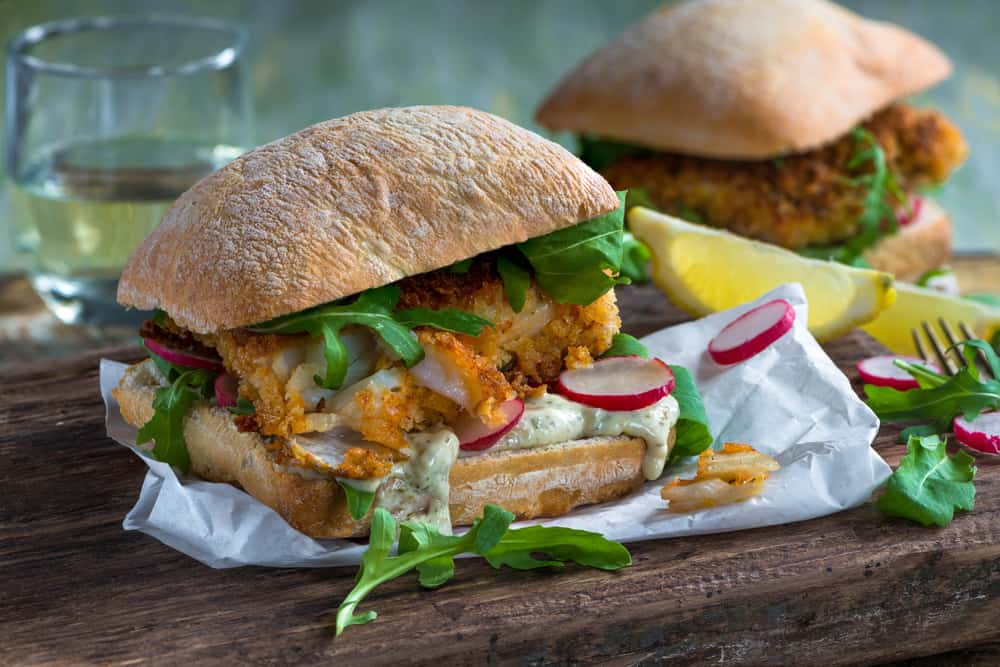 The Craft Bar
The Craft Bar is one of the best restaurants in Destin for gastropubs. They have four locations in the area serving a wide variety of craft cocktails, beers, and spirits they also have a full menu featuring locally sourced ingredients and everything made from scratch in house. The menu is constantly changing here with the seasons and what is available locally.
Stop in for $5 happy hour between 2 – 6 pm weekdays, with appetizers like hot chicken and biscuits and pulled pork quesadilla with cocktails such as the Scorched earth with gin, cucumber, house citrus syrup and rosemary in a smoked glass. Or for Monday's Burger night and Sunday Brunch.
On the food menu you will find everything from chèvre and avocado dip, sliders, fish tacos, charcuterie plate, blackened steak salad, craft bar Cobb, and mains such as fresh catch of the day, market street meatloaf or jumbo shrimp. Dinner entrees include steak frites, fish and chips, lamb burgers or the side bar veggie plate.
The drinks menu includes craft bar classics like tequila mocking bird, basil smash, gin gin mule or the cally a habanero infused vodka. On tap they serve beers from 81Bay, Church Street brewing, Funky Buddha Brewery, and Idyll hounds from Santa Rosa beach and Oyster city.
Local Market
If you are looking for the best lunch restaurants in Destin, head to Local Market. Not only are they a local favorite, they donate 1% of sales to provide hot meals for those in need in the area via their food truck. They brine all meats in house and try to source ingredients locally.
For the lunch menu they serve a daily sandwich and blue plate special that changes daily. Known for their sandwiches served with a side you can choose from the Cubano, Italiano, French Dip, Rueben, and a local Market Club. For vegetarians they have a grilled cheese and a veggie sub as well as a full salad menu and smoothies.
Dinner is served Tuesday to Sunday from 4 to 9 pm and every entree comes with a salad a side. From pork chops, NY strip, baked ziti and veggie kabobs there is something for everyone on the menu.
Don't forget to check out some of the best beachfront hotels in Destin for planning your trip!
Did You Find This Post Helpful?
If so, we would love to keep in touch! We enjoy seeing photos and comments about your experiences in Florida! You can follow us on Instagram and we will repost your photos on our feed and comment too! Just tag us at @floridatrippers and hashtag #floridatrippers. We can't wait to see your travels!