Are you searching for the best Airbnbs in Sarasota? Well, look no further because we have you covered! We have done all of the leg work and found the most amazing Airbnbs in Sarasota that will enhance your trip to Florida.
Our list includes luxurious, affordable, quirky, and cozy accommodations. So whether you are wanting a super chic beach house or a more secluded vibe, you will be able to find it right here!
Staying at one of these Airbnbs in Sarasota will give you a home away from home experience that tends to be missing at big hotel chains. In addition, you typically get a more private ambiance and definitely have the opportunity to save money. These are just some of the reasons to choose one of these Sarasota vacation rentals.
Sarasota is a gorgeous town to visit with nearly perfect weather year-round and some of the most stunning sunsets you will ever witness! And don't worry about filling your itinerary because here are the 16 Fun Things To Do In Sarasota!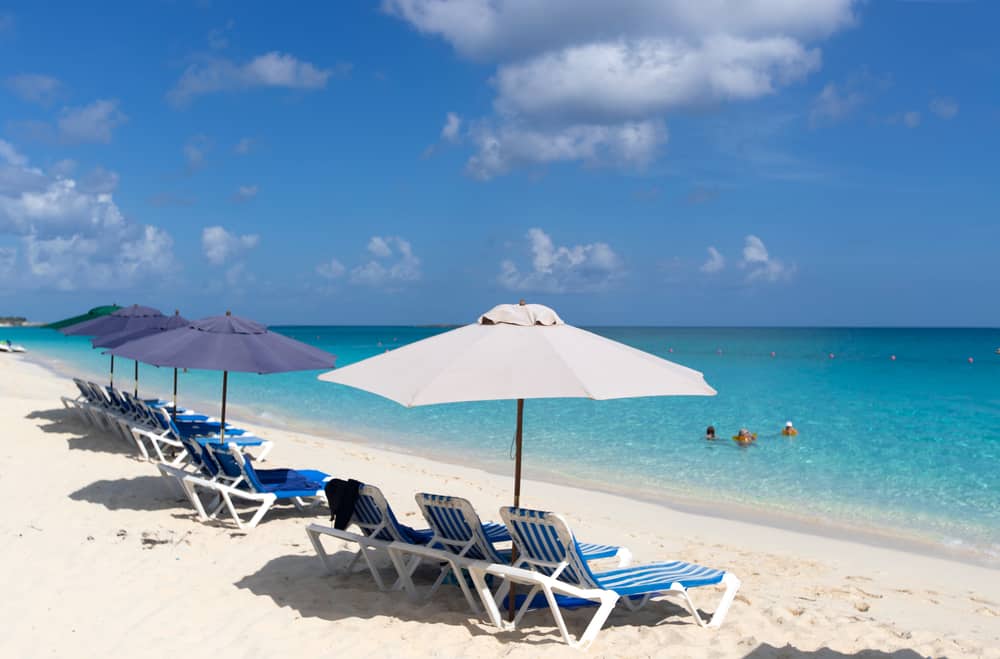 15 Best Airbnbs In Sarasota (Beach Houses, Cottages, And More!)
Luxury Villa
Okay, so let's start off with a bang!! The Luxury Villa is situated near Siesta Key Beach and features a private indoor/outdoor pool and hot tub! This first entry on our list of Sarasota VRBOs truly has a spa-like atmosphere that can't be beaten.
The Villa can accommodate up to 8 guests with 4 bedrooms, 5 beds, and 3 baths. Amenities include a boat lift, an elevator, a three-car garage, and two kitchens.
This Villa is located so close to the famous Siesta Key Beach and only a 5-minute walk to Siesta Village with shops, dining, and bars. Nearby activities also include jet skis, para-sailing, boating, fishing, shopping, and a lively arts community.
Check Rates: VRBO.com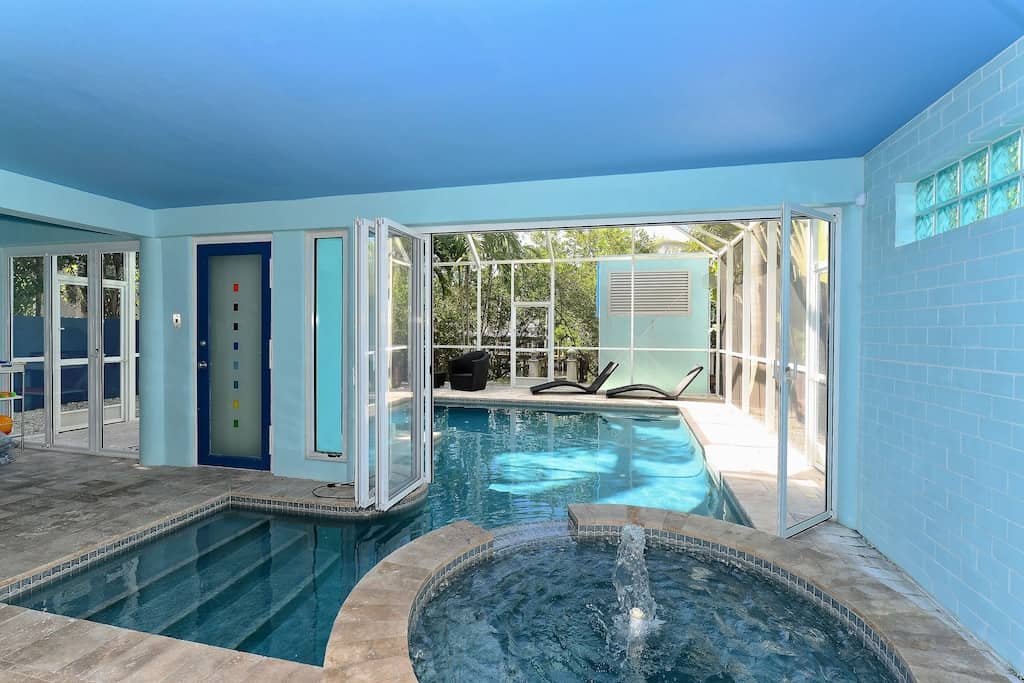 The Cottage Next Door
This Cottage is a great option for those looking for a spacious home with a cozy vibe. The cottage is one of the moderately priced Airbnbs in Sarasota and it features a fenced-in yard and two bicycles so you can zip around Downtown Sarasota.
The cottage was built in 1925 and has been lovingly updated. The décor is modern, bright, and fresh. This lovely home can accommodate up to 4 guests with 2 bedrooms, 2 beds, and 1 bath.
Located just minutes from Downtown Sarasota and Marie Selby Botanical Gardens. Here are the 15 Best Restaurants In Sarasota You Must Try during your visit!
Check Rates: VRBO.com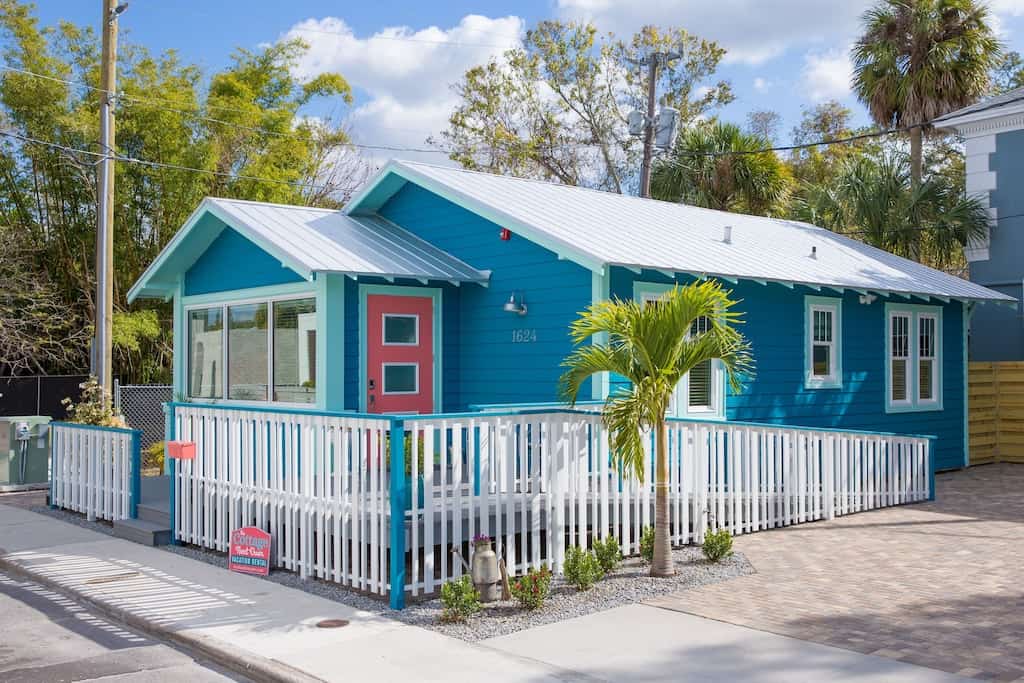 Private Lakefront Oasis
The Lakefront Oasis features a relaxing backyard with a sparkling swimming pool. The landscaping is lush and tropical with lots of palm trees and potted plants. The backyard has a screened-in portion that contains the pool and outdoor dining area. You'll love relaxing without worrying about the Gulf Coast bugs.
This lakefront house can accommodate up to 7 guests with 3 bedrooms, 5 beds, and 2 baths. The property is only a twelve-minute walk or five-minute bike ride to the village shops and beach. It is located on Lake Nancy and has some truly relaxing vibes.
Amenities include a washer and dryer, bicycles, an outdoor dining table, and a full kitchen. If you love spending most of your time relaxing by the pool, then this will be one of your favorite Airbnbs in Sarasota.
Check Rates: VRBO.com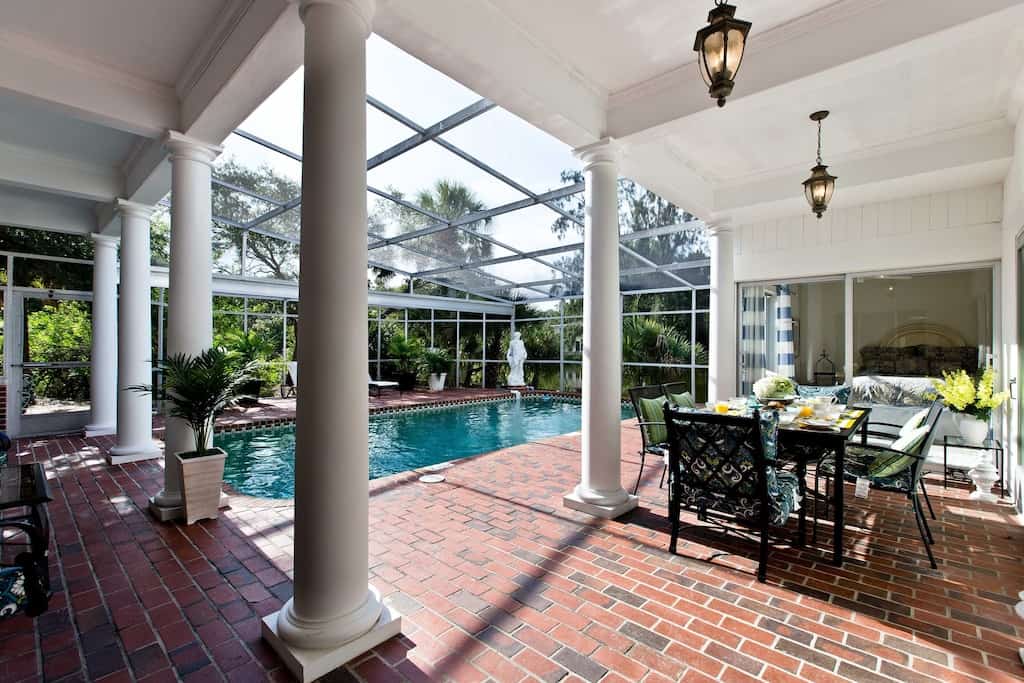 Gulf Side Condo
The Gulf Side Condo is just a short palm-lined walk away from Crescent Beach. Crescent Beach has fine white quartz sands that make it a Florida favorite. You'll love collecting seashells and watching the sunset from this gem of the Sarasota oceanfront rentals.
This Condo can accommodate up to 5 guests with 2 bedrooms, 4 beds, and 2 baths. Amenities include laundry facilities, two pools, a fitness facility, a hot tub, and a sauna. It is located on Siesta Key near four amazing beaches and the Art Museum.
Check Rates: VRBO.com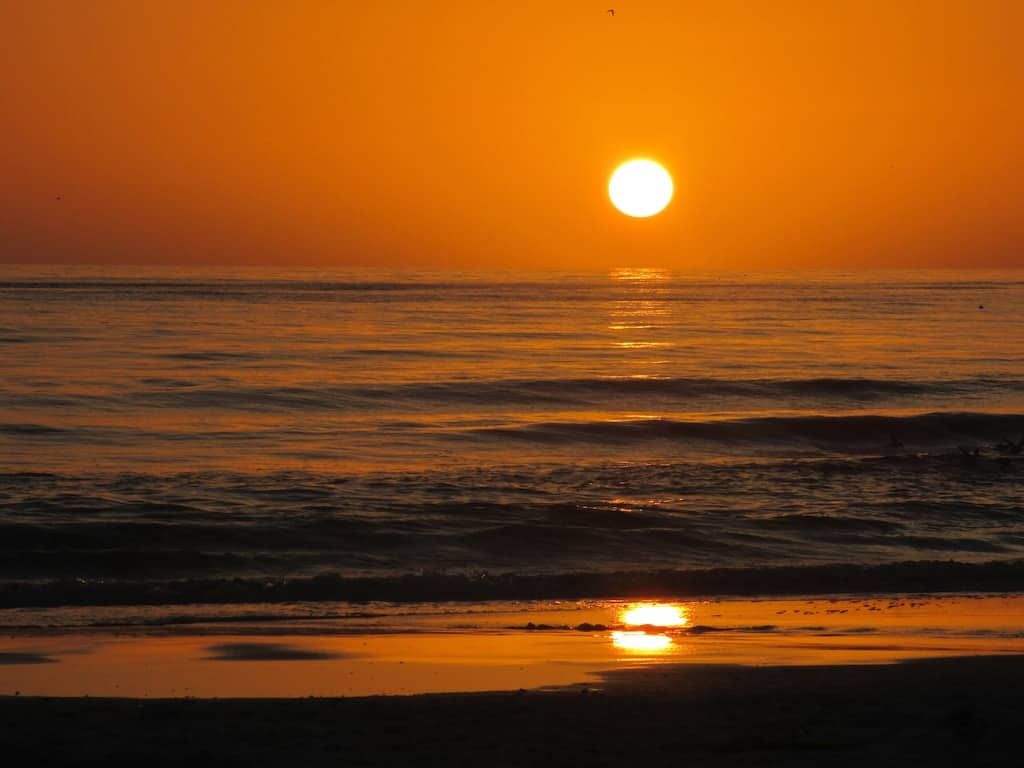 Vintage '71 Airstream
Okay, so our next stop is definitely one of the more quirky options among the Airbnbs in Sarasota! The Vintage '71 Airstream is perfect for those looking for something a little outside of the typical box.
It is absolutely adorable and charming with a mostly white décor that has pops of yellow and green. Amenities include a large pool area, a hot tub, a water slide, and a keystone coral fire pit.
The Airstream would be so cute for a romantic getaway or an independent traveler as it can accommodate up to 2 guests with 1 bedroom, 1 bed, and 1 bath.
Perfect for sticking to a budget because it is set at an extremely affordable price point! Located just slightly outside of Sarasota, the Airstream is situated in Bradenton, which is still within close proximity to several stunning beaches.
Check Rates: Airbnb.com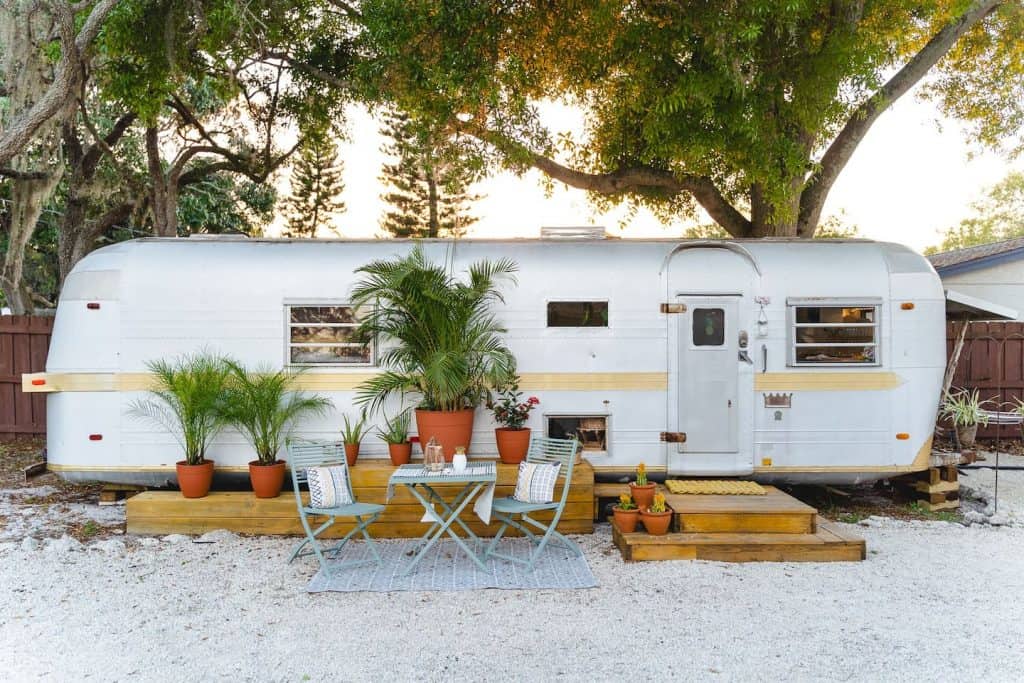 Modern Marvel
If you're looking to splurge, then Modern Marvel is definitely going to pique your interest!! Modern Marvel is the perfect name for this property as it is one of the most breath-taking Airbnbs in Sarasota!
First of all, this outstanding home is located directly on the Gulf of Mexico in the private Siesta Key Village. Secondly, it has some of the best amenities you will ever see. Thirdly, it can accommodate large traveling parties.
The views are spectacular from the bedrooms as well as from the rooftop deck. Amenities include a covered pool patio with bar, a Jacuzzi/Spa, a heated resort-style pool, hammocks, ping pong tables, and a private putting green.
Modern Marvel can accommodate up to 12 guests with 4 bedrooms, 6 beds, and 5 baths. There is also an elevator that provides easy access to all floors.
Check Rates: VRBO.com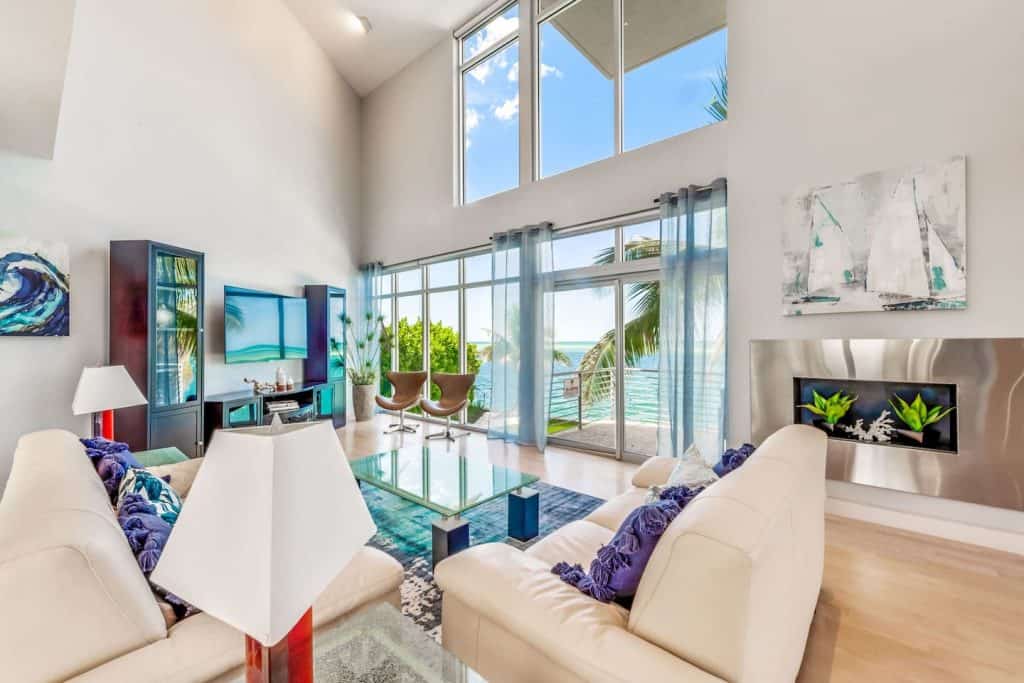 Private Backyard, Heated Pool
If you're looking to rent a private home in Sarasota without breaking the bank, this is the property for you! This entry on our list of the best VRBOs in Sarasota is 1620 square feet. It was built in 1962 and remodeled completely in 2014. This home is a short drive from the best beaches and downtown Sarasota!
It has 3 bedrooms, 4 beds, and can sleep 6 guests. It boasts 2 fully updated bathrooms and a beautiful modern kitchen. The backyard of this property is a real showstopper with tropical landscaping, a gas grill, a private pool, and 600 square foot deck.
Check Rates: VRBO.com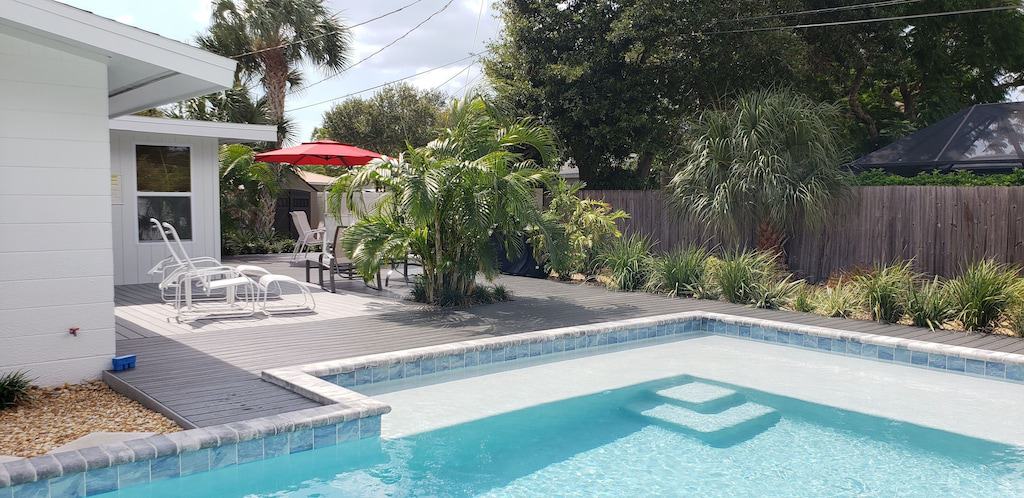 Studio with a Private Pool
This studio is another one of the Airbnbs in Sarasota that provides comfortable accommodations at a bargain price point. What's really great about this studio is that it is completely private which makes it an absolute steal!
The highlights are the screened-in private pool, light & bright interior, and amazing corner soaking tub. This property can sleep 2 guests in one bed. It has one very spacious bathroom with a shower and soaking tub.
Check Rates: VRBO.com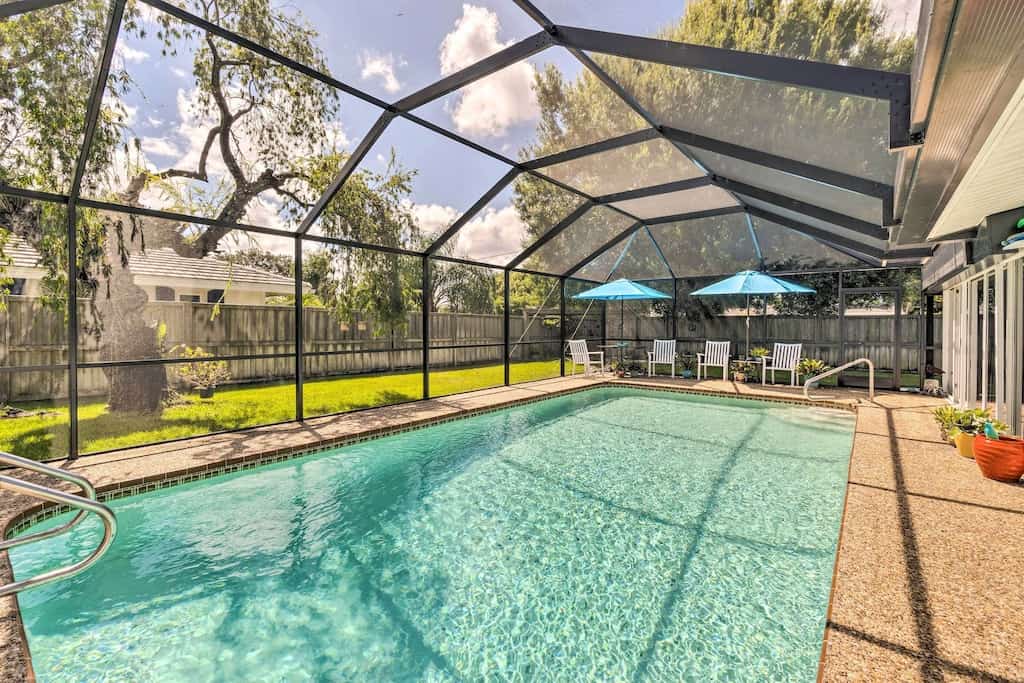 The Downtown Carriage House
The Downtown Carriage House can accommodate 2 guests with 1 bedroom, 2 beds, and 1 bath. This property is located in the desirable Laurel Park neighborhood of Downtown Sarasota.
Some of the highlights include the updated bathroom and kitchenette, the host provided bicycles and beach chairs, and the walkability score of 86/100. Everything you could need for an amazing Florida vacation is within walking distance of this property.
Check Rates: VRBO.com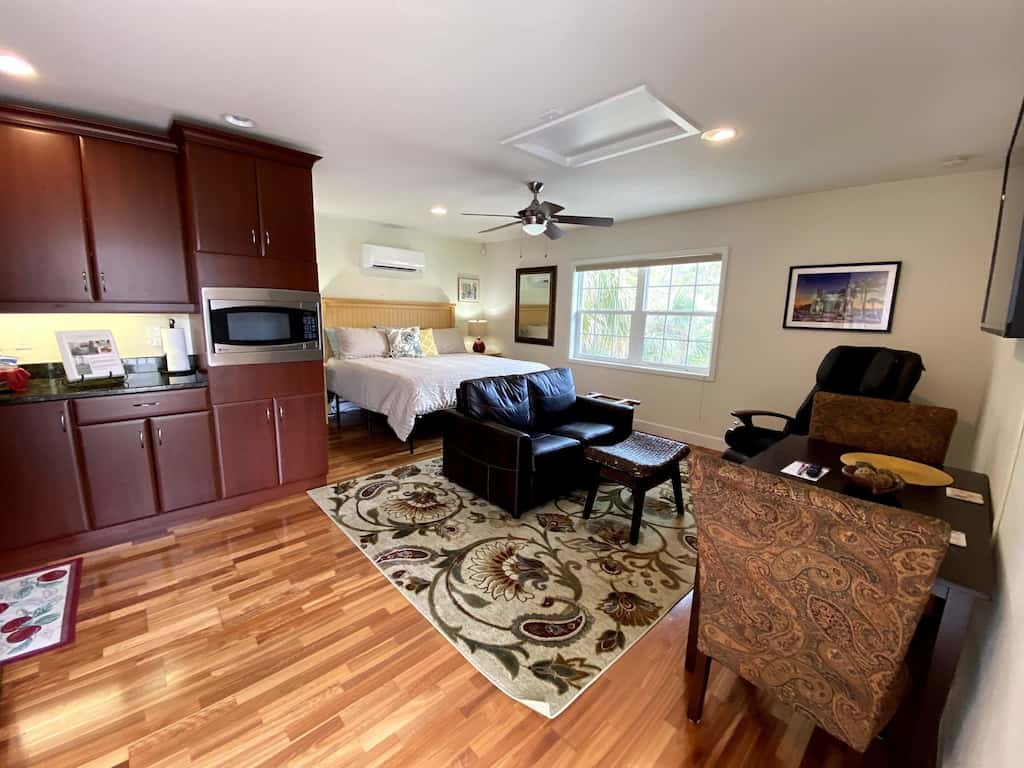 Beachfront Condo
Staying at this Beachfront Condo will give you the relaxing Florida vacation experience of your dreams! Located directly on the prestigious Longboat Key, you will be able to enjoy complete serenity in this beautiful suite.
This spacious condo can sleep 6 guests in 4 beds in 2 bedrooms. It has two full bathrooms. It has a cozy, homey feel. This condo complex has only 6 units, so it feels more secluded and private.
The amenities of this condo complex include a heated saltwater swimming pool, barbecue grills, and a boardwalk down to the private beach.
Check Rates: VRBO.com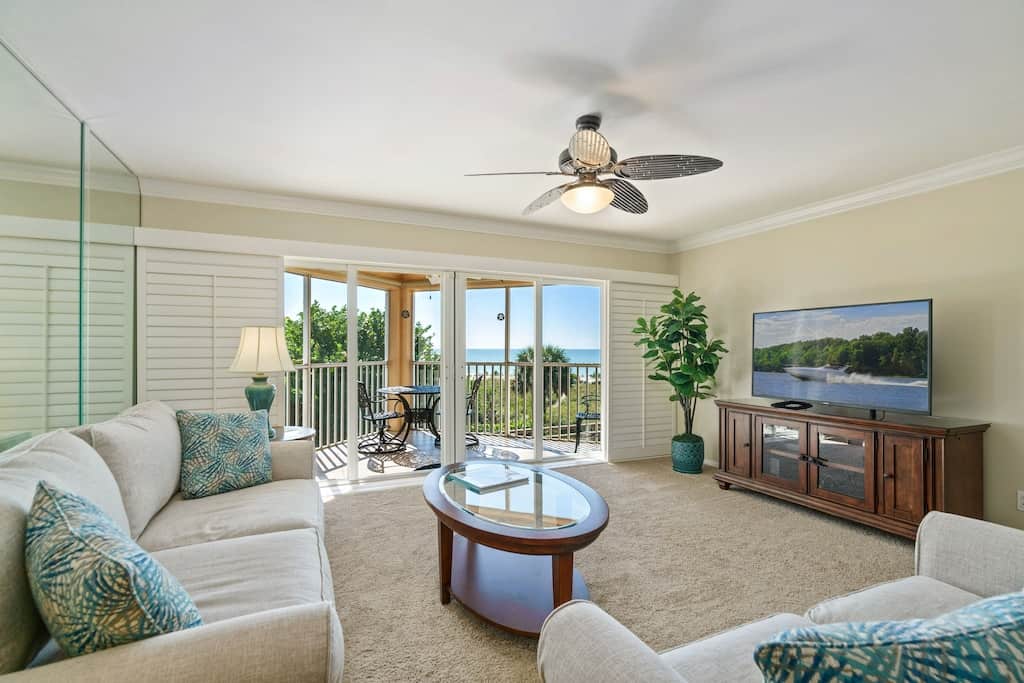 Downtown Tiny House
The Downtown Tiny House is one of the Airbnbs in Sarasota that is perfect for a romantic getaway! Tiny living strips away all of the extra stuff that sometimes gets in the way of connection.
Get back to basics and enjoy the serenity that comes along with it! This tiny house delivers on charm and comfort. The décor is colorful and uplifting. Everything is arranged to make the most of the space and create an environment that is easy to maneuver.
In addition to the adorable interior space, guests can enjoy the front porch seating, as well as the outdoor dining table and hammock. The tiny house can accommodate up to 2 guests with 1 bedroom, 1 bed, and 1 bath.
What's really great about this tiny house, is that it includes a small seating area, a small kitchenette, and a small refrigerator. So, you get a bargain rate without sacrificing any comforts of home.
Check Rates: VRBO.com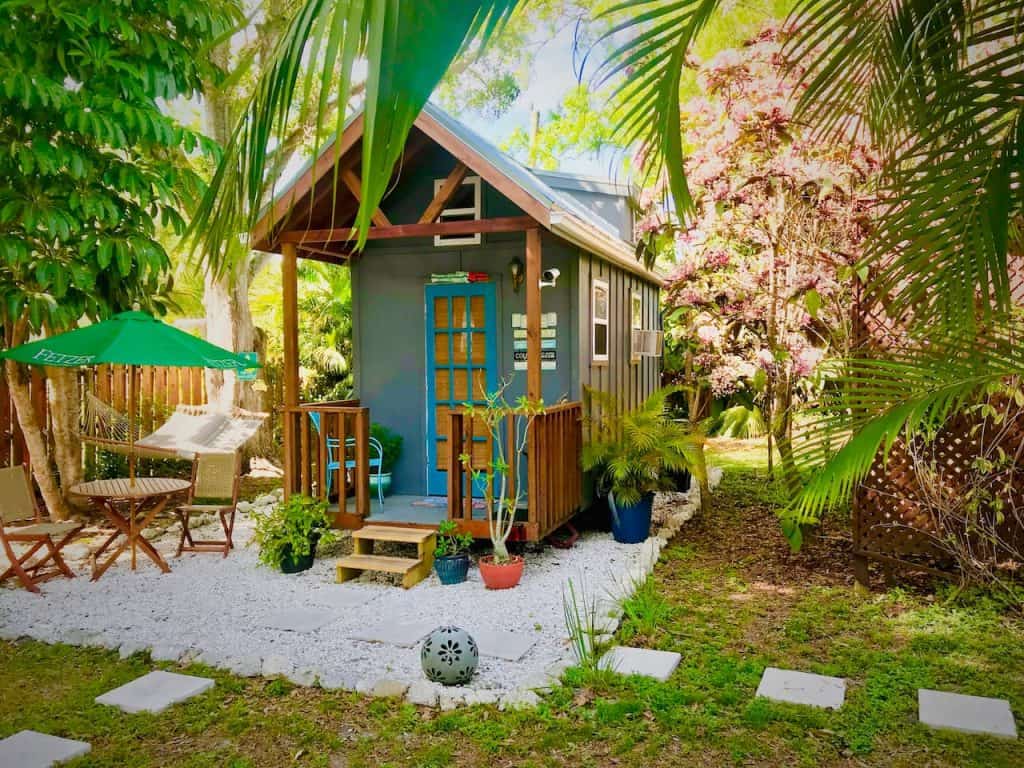 Tropical Hideaway
The Tropical Hideaway is a private home that can accommodate up to 4 guests with 2 bedrooms, 2 beds, and 1.5 baths. The ambiance is very Home & Garden meets tropical oasis.
Some of the highlights include the cathedral ceilings, the wrap-around screened-in porch, the lush landscaping, a koi pond with a fountain, and a stone bridge porch entrance that sits right under some lovely oak trees.
Plenty of areas indoors and outdoors to relax and unwind. The floor plan is spacious and includes a very large open kitchen that would be perfect for entertaining.
The price point is extremely affordable especially when you take into account all of the special features and its close proximity to the beach.
Check Rates: Airbnb.com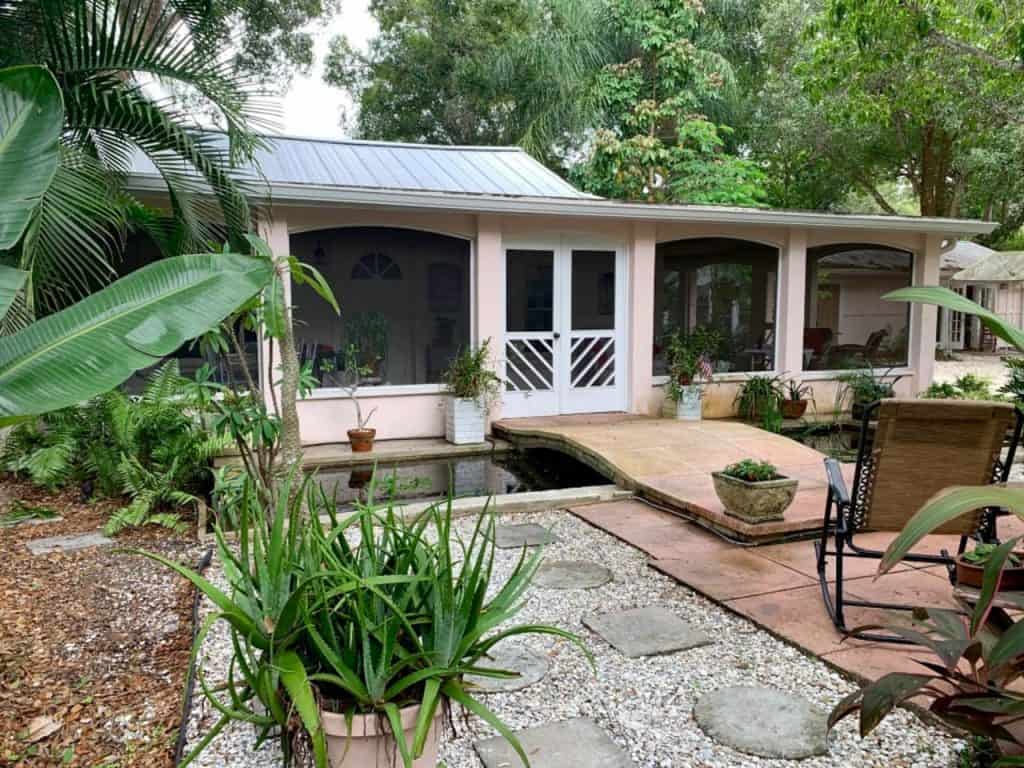 Casa Azul
Casa Azul is great for couples or individual travelers 2 bedrooms and can sleep 3 guests. It has one bathroom. The décor is warm and eclectic with lots of custom woodwork.
Casa Azul boasts a washer dryer and a private backyard with a patio. This is another fantastic option that is budget-friendly, fully private, and in a prime location in Sarasota. Casa Azul is located on a quiet street near Whitaker River and Bayou, so it's a great environment to relax and unwind.
Check Rates: VRBO.com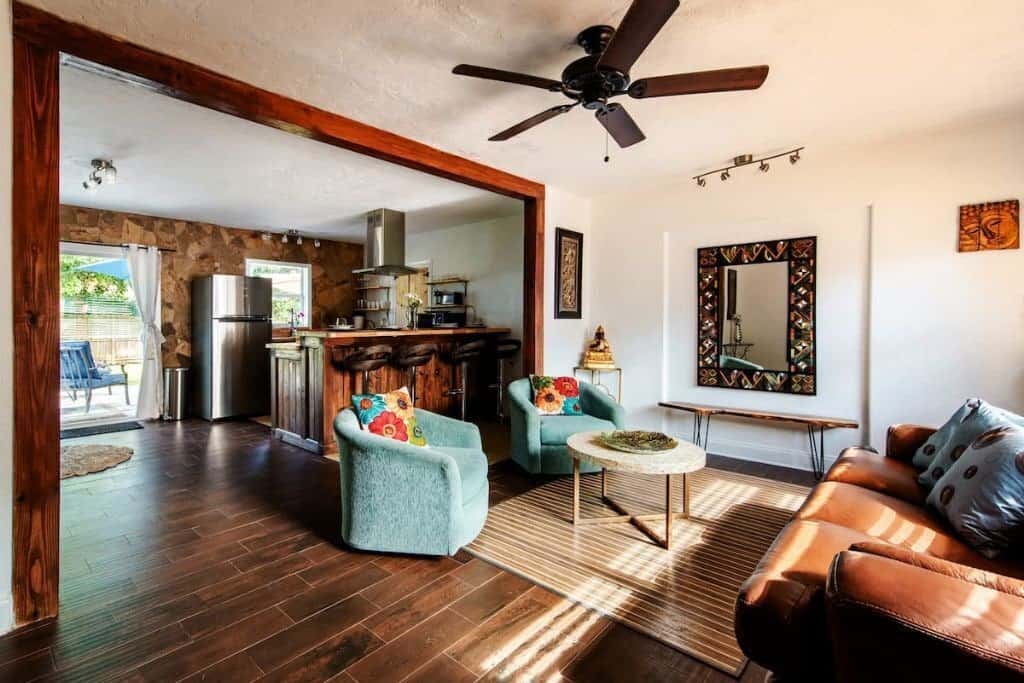 Resort-Style Home
Attention all folks traveling with a large party, this one is for you!! The Resort-Style Home is one of the Airbnbs in Sarasota that can accommodate up to 8 guests with 4 bedrooms, 5 beds, and 2 baths.
The entire home has been fully remodeled and it is absolutely gorgeous! In addition to the stunning interior, you will fall in love with the heated pool and Jacuzzi that is surrounded by palm trees and has a water feature.
This moderately priced home is conveniently only 4 miles from the stunning Siesta Key Beach. Also within walking distance of Rick's French Bistro, Trader Joe's, and Bay Island Park.
Check Rates: VRBO.com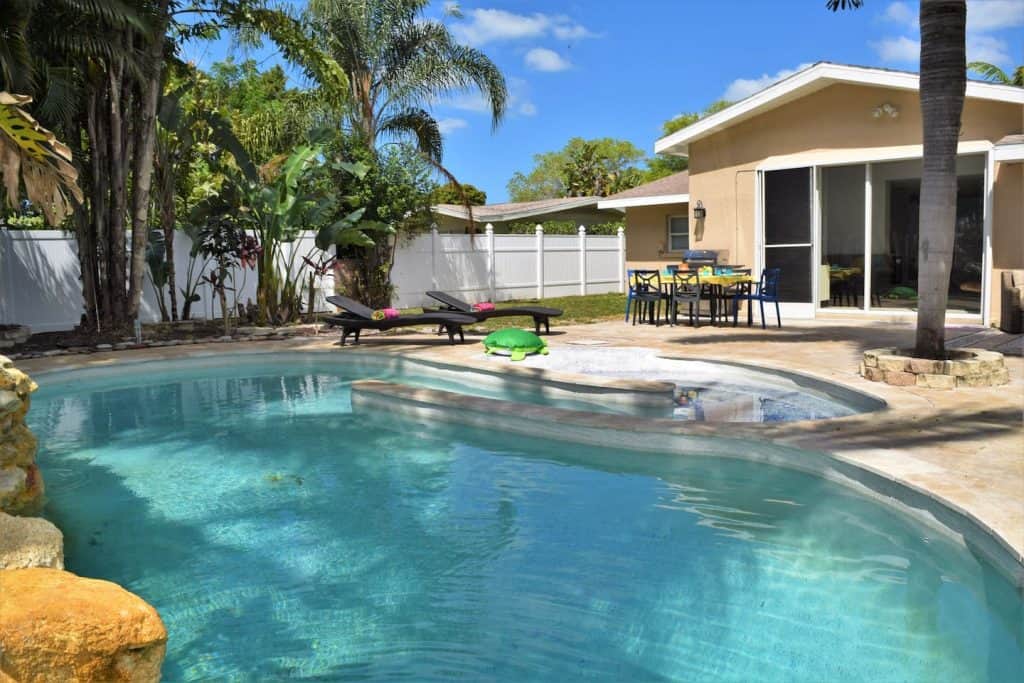 Dream Island
WOW! The aptly named, Dream Island, is located on Lido Key and it is your dream vacation house come to life! We just can't say enough good things about it.
Dream Island is definitely one of the Airbnbs in Sarasota that is set at a luxury price point, but it is worth every penny! The pool is the superstar of the home as it features nearly 1600 square feet of water that encompasses the entire rear courtyard of the home.
The decor is sublime and expertly designed with subtle coastal elements and unique accent colors. Dream Island can accommodate up to 16 guests with 8 bedrooms, 12 beds, and 8 baths.
Check Rates: Airbnb.com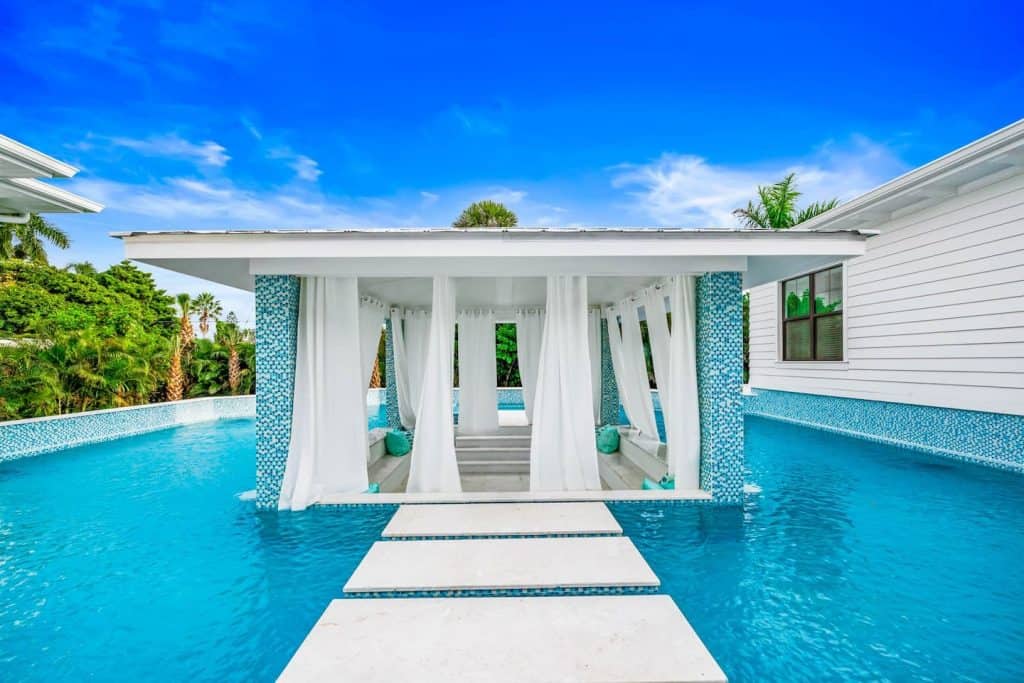 Well, we hope you have enjoyed touring all of these amazing Airbnbs in Sarasota. As you can see, you can find some incredible accommodations at all price points! We wish you safe travels and a wonderful time visiting Sarasota.