With sunny skies and clear water, the best snorkeling in Florida is right around the corner! A snorkeling destination, you can always find beautiful waters for snorkeling!
It doesn't matter if you're an experienced diver or a so-so swimmer: Florida has it all. Dive into an underwater cavern or swim alongside manatees. Wade through a protected lagoon or jump into the open ocean.
Florida is the only place in the continental United States with a subtropical climate. Because of this, you can snorkel here all year long! Even during winter in Florida, the water will still be warm enough if you travel down south.
Most of the best snorkeling in Florida can be found in the Florida Keys, but there are notable exceptions on the East Coast. You can even snorkel in Florida's natural springs that are further north, as their waters are 72 degrees all year.
Remember that the coral reefs you will see are protected. Do not take anything. Do not touch anything!
If you haven't taken the time to experience the underwater fun, you're missing out. Simply grab your mask and some fins and you're a few strokes away from the best snorkeling in Florida!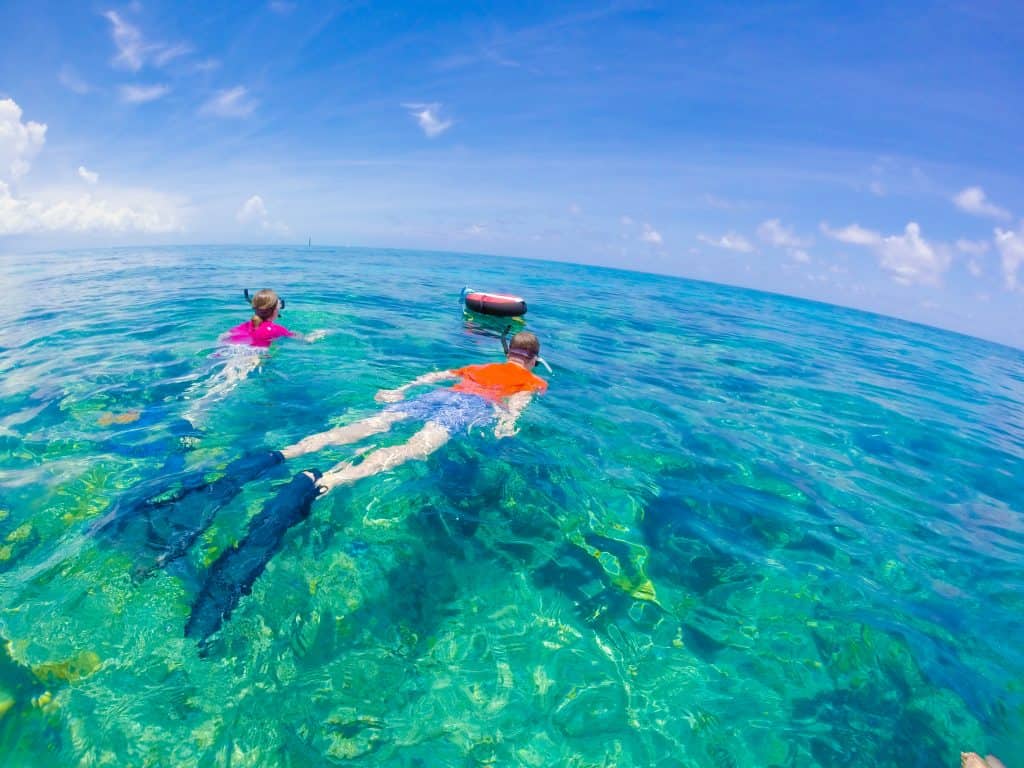 15 Pristine Places For Snorkeling In Florida
Fort De Soto
Accessible by car via the Pinellas Byway, you can find some of the best snorkeling in Florida at Fort De Soto. Even better, you don't need to get on a boat to get to the best spots!
While there are 7 miles of waterfront at Fort De Soto, there are also a few different beaches you can explore! It is home to some of the best stretches of Beaches in Saint Pete and Clearwater!
We also love Battery Bigelow which is a submerged part of the fort near the fishing pier. Snorkeling chest-high out in the water, we found loads of crabs of all sorts, live sand dollars, and even a sea urchin!
Camping at Fort De Soto is super fun! It is one of the best spots for Camping In Florida and is affordable and a unique experience!
With 238 family-camping sites and a primitive youth camping area, you can easily spend the entire day searching through the waters. Then retire to your campsite for the night to relax until the morning!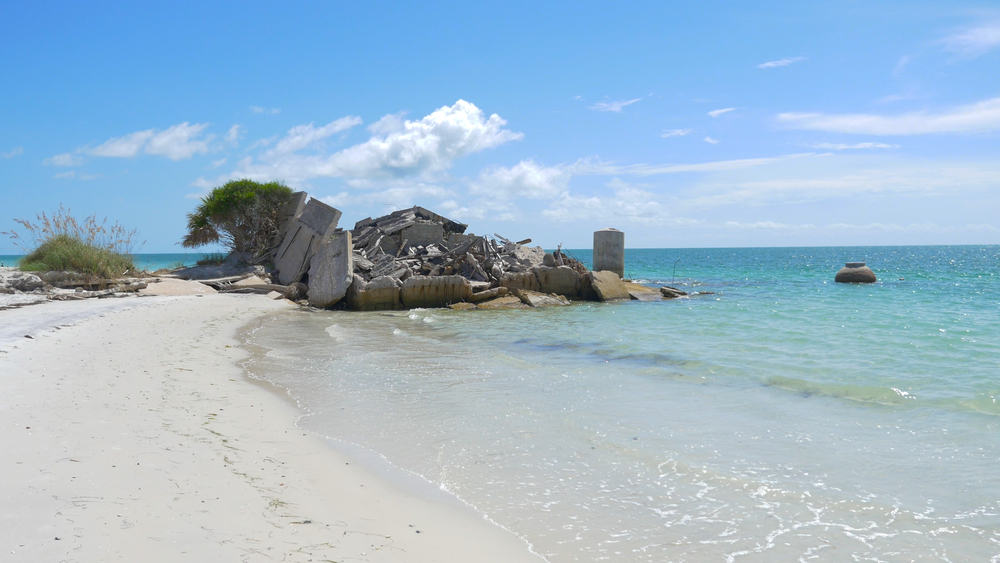 Dry Tortugas National Park
If you're looking for the best snorkeling in Key West, then look no further than Dry Tortugas National Park. Arguably one of Florida's most beautiful hidden gems, you won't a prettier destination for the best snorkeling in Florida!
70 miles west of Key West, Dry Tortugas is actually made up of seven islands and the historic Fort Jefferson. Here, nature, history, and relaxation meet to form something quite special.
Because the only way to get here is by ferry or chartered, you should plan your journey in advance. The Dry Tortugas Ferry is $190 per person. This includes park entrance as well as breakfast, lunch, and complimentary snorkeling equipment plus a tour of the Fort.
Because these are some of the most vibrant coral reefs in Florida, expect to see tropical fish, coral, starfish, and queen conchs. Also, keep your eyes open for sea turtles! Tortugas is Spanish for turtles, after all. This is truly home to some of the best snorkeling in the Florida Keys!
Don't forget to look out for the Historic Coaling Pier Pilings, the Moat wall, and the Coral heads. Charter your own boat and you can also snorkel Little Africa Reef and the Windjammer Wreck.
We recommend visiting from April to November when the winds are less strong. The tides will be less turbulent as a result so you can have a relaxing time viewing the water's treasures!
For more tips, check out our full guide on how to explore Dry Tortugas!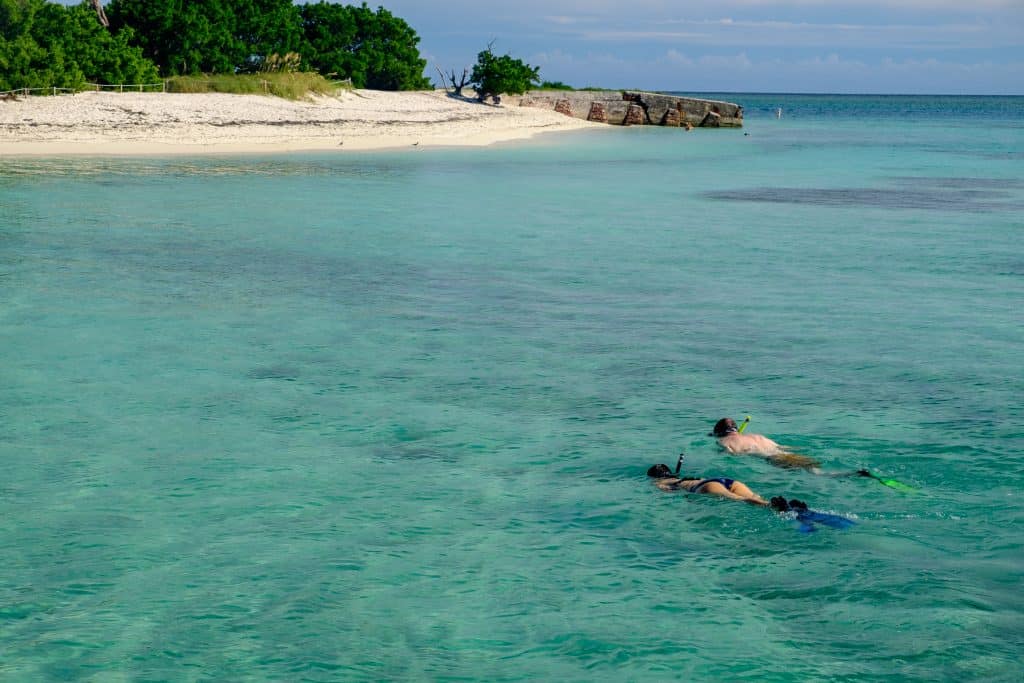 Ginnie Springs
Perhaps the most popular of Florida's natural springs, Ginnie Springs attracts so many tourists for many reasons. A big draw? It's also one of the best Florida snorkeling spots!
48 minutes northwest of Gainesville, you'll find a set of seven springs to explore. Open from sunrise to sunset, you can easily spend the entire day snorkeling. If you are staying at the campground, you'll have access to the springs 24/7.
When you snorkel at Ginnie Springs, you'll see many species of wildlife through the clear blue waters! Look out for large gar, mullet, catfish, turtles, and bass!
You are welcome to bring your own snorkeling equipment, but if you need to rent gear, never fear! Ginnie Springs Outdoors can rent you a mask, snorkel, and fins for only $12!
Because Ginnie Springs can become incredibly crowded, we recommend you visit during the off-season or on a weekday! Generally, if you do so, you'll have the entire park to yourself!
For more information, check out our full article about Tips For Ginnie Springs!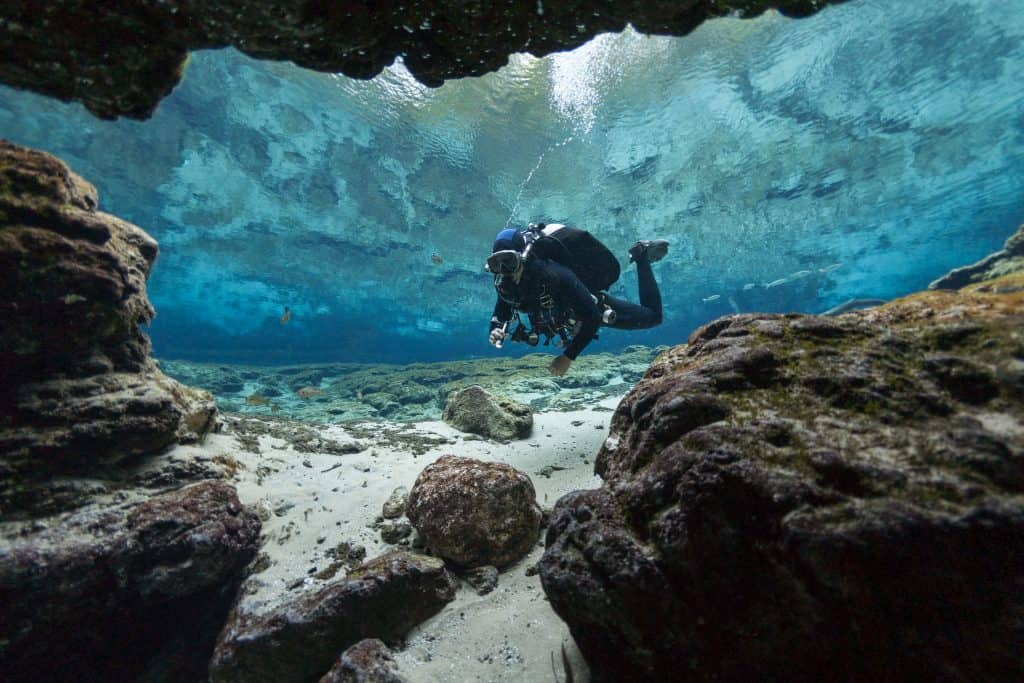 Devil's Den
Located just north of Ocala in Central Florida, Devil's Den is actually underground. Because Devil's Den is the most prehistoric of Florida springs, here you'll find the best snorkeling in Florida.
Visitors walk down a wooden staircase into a cavern that appears to open up into another ethereal world. If you're looking for a truly unique snorkeling experience, Devil's Den is for you!
Divers can descend up to 54 feet in the springs (120 feet in diameter) to look through the clear, aqua water which is always 72 degrees! Light filters from holes in the rock above to create a glimmering world to explore.
Each person needs a mask, snorkel, and fins to swim in Devil's Den. You can either bring your own or rent them for an additional $10. If you only need one of the three required items, the cost is only $4 per item.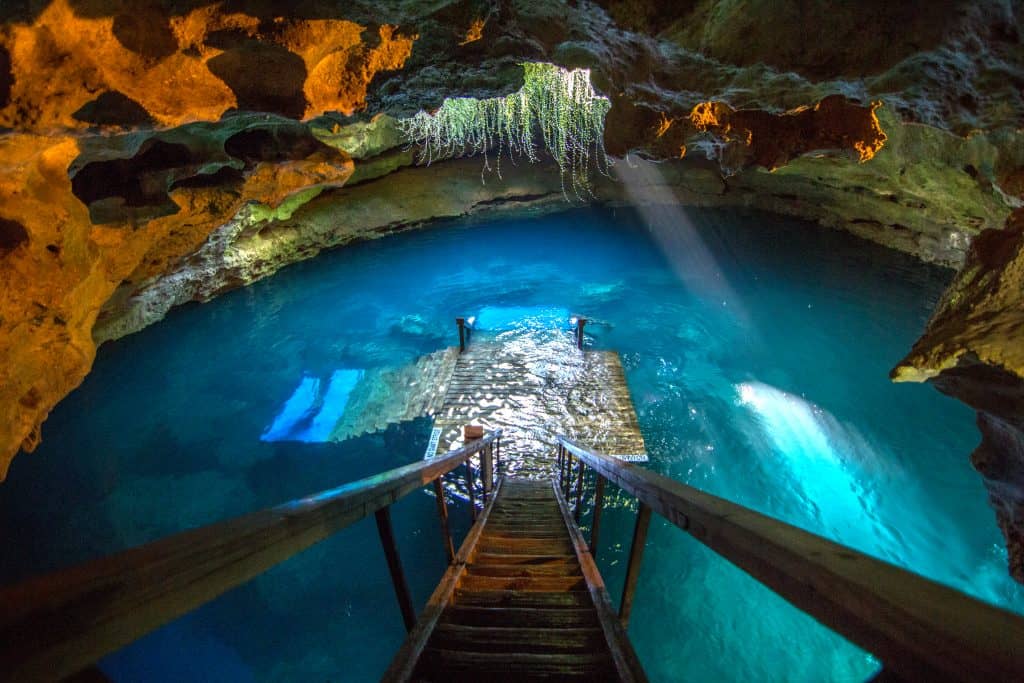 Bahia Honda
When people visit the Florida Keys, they tend to only visit the most famous beaches like Key West and Key Largo. We're here to tell you that you simply can't miss Bahia Honda State Park, home to some of the best snorkeling in Florida!
Here you'll experience breathtaking views that bring out the best of Florida's beauty. Palm-lined shores sparkle with gin-clear waters. An old, historic bridge stands as a reminder of yesterday.
You have two choices for snorkeling at Bahia Honda: by yourself near the shore or on a guided snorkeling tour! No matter what you choose, you can't go wrong.
Bring your own snorkeling gear to the shoreline and you'll catch sights of the seagrass beds and rocky bottom beneath. Here you'll see spiny lobster, starfish, and queen conch fluttering around.
You can also take the Coral Reef Park Co. snorkel boat tour for a guided adventure of a lifetime! Here you can explore the Looe Key National Marine Sanctuary! Depths can vary from 5 feet to 70 feet, perfect for all levels.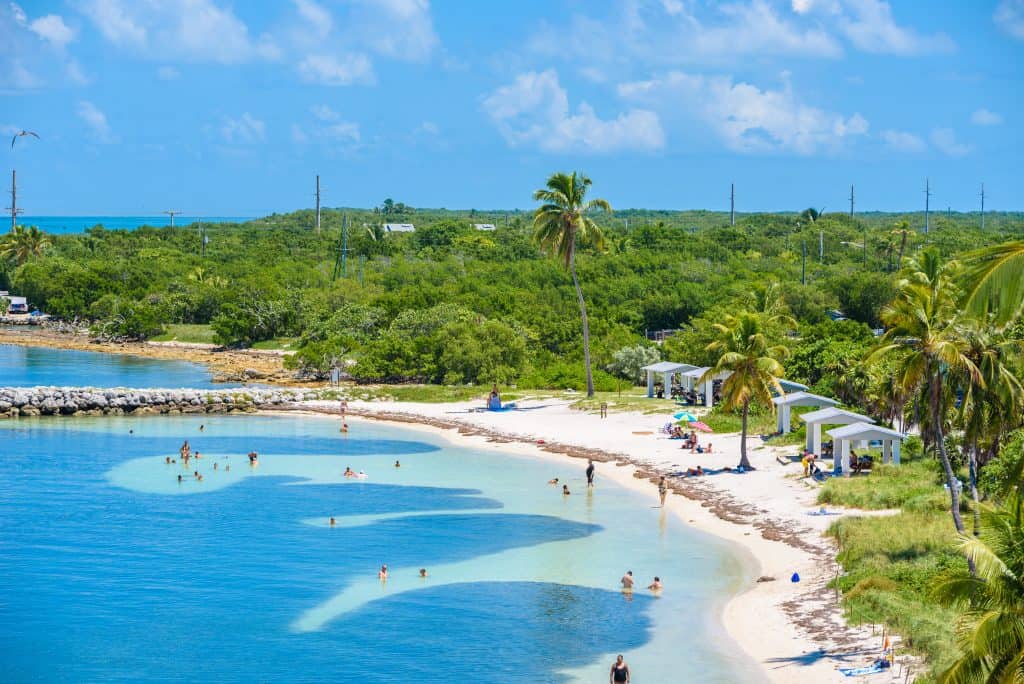 Florida Keys National Marine Sanctuary
For some of the best snorkeling in Florida, why not head to the Florida Keys National Marine Sanctuary? The only barrier coral reef in North America, this sanctuary is the third-largest coral barrier reef in the entire world!
There's a lot to see and do here. With extensive mangrove forest and seagrass fields, you can also see a lot of shipwrecks! Fourteen of them are nationally recognized historical sites!
If you snorkel along the sanctuary's Shipwreck Trail, you can see nine historic ships buried just a few miles offshore. Their stories are incredible: why they were traveling here and exactly what difficulties they faced navigating these waters.
The Florida Keys National Marine Sanctuary does not host any snorkeling or diving tours. Instead, they recommend booking such trips with Blue Star operations, so as to protect the sanctity of the area.
This is because the sanctuary is covered in Special-use Research Only Areas. No snorkeling or diving is allowed within them. Set aside for research purposes only, it is paramount you avoid them!
Also of interest is lobster season! If you're looking for lobsters, head to the sanctuary from August 6 through March 31. For a sure thing, sport lobster season takes place the last consecutive Wednesday and Thursday of July.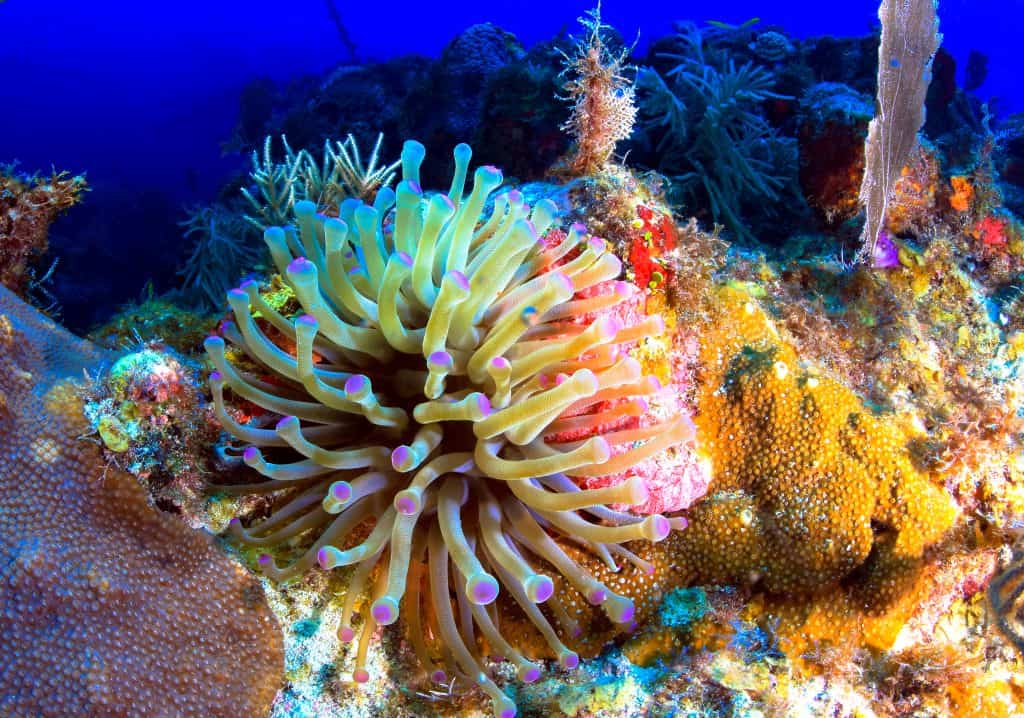 Crystal River
Accessible by launching from King's Bay Park, Three Sister Springs is one of the best springs in Florida. Just about 90 minutes north of Tampa Bay, the waters are always crisp, clear, and perfect for the best snorkeling in Florida!
Three Sisters Springs is actually part of a large network of about 40 natural springs called Crystal River. Notable for its luscious scenery, Three Sister Springs is the only place in Florida where you can swim with manatees!
Swimming tours are given in Three Sisters Spring, where aggregations of manatees are most common. Before you swim with the manatees, you will be required to take a course on proper manatee etiquette. Remember, you are a guest in their home!
Swimming access to Three Sisters Springs is open daily, from sunrise to sunset. Sometimes the springs may be closed during manatee season. This happens when there are enormously large populations of manatees in the water.
Keep in mind that if you're going snorkeling in Three Sister Springs, you will not have access to the famed boardwalk. To get there, you must go through the City of Crystal River's services from 8:30 AM – 3:30 PM and pay a small admission fee.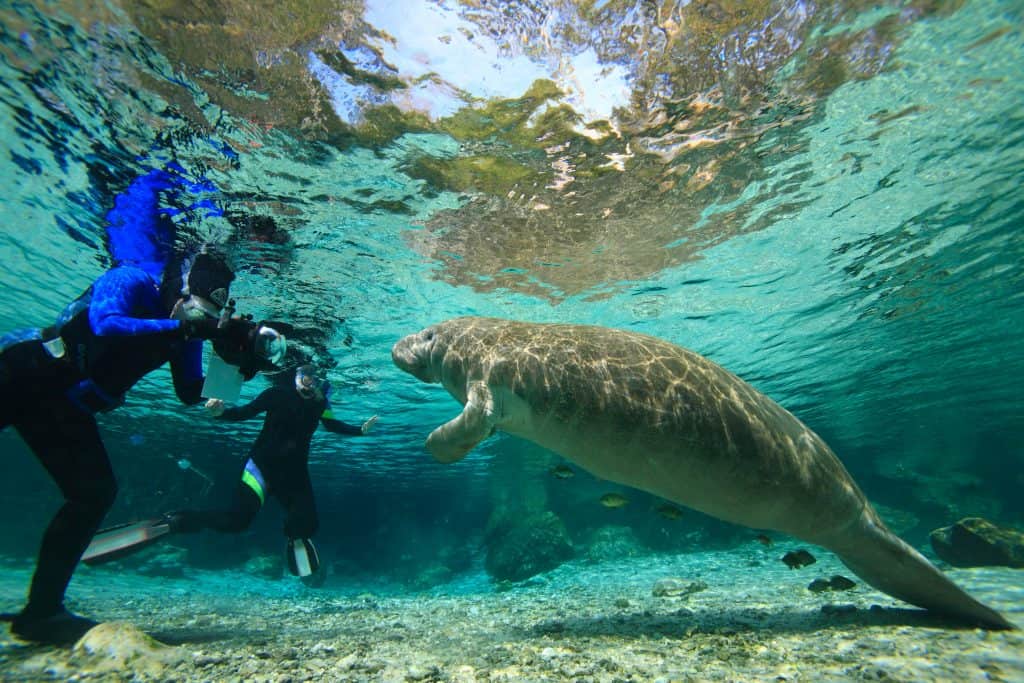 Destin
Destin is known as the "Luckiest Fishing Village in the World," but did you know it also hosts the best snorkeling in Florida? On the Emerald Coast, west of Panama City Beach, head to Destin for a multitude of snorkeling destinations!
Destin is known for its emerald-green waters, which allow for easy viewing of marine life! You can see everything from schools of fish to stingrays, seahorses crabs to anemones, even sea urchins and sea turtles!
For calm waters for snorkeling, head to Norriego Point. Find access at the west end of Gulf Shore Drive. Then simply head to the protected jetties for snorkeling fun!
One of the best beaches in east Florida, Henderson Beach State Park offers clear views and excellent conditions for snorkeling. The Gulf waters are always warm and ready for swimmers.
Another popular location is at the East Pass and Destin Jetties. Because the structure is man-made, it has become a series of artificial reefs for sheepshead, snapper, redfish, and barracuda. You can also see octopuses and hermit crabs!
Be warned, the waters at the East Pass and Destin Jetties may be incredibly choppy. We recommend going to snorkel at slack high tide. The currents and visibility will be safer, especially for weaker swimmers.
You also have the option of taking a guided tour with Destin Snorkel! For three hours, you'll be guided to excellent sites where you can see native Florida animals you can't see directly from the shore. Look out for flounder and burrfish!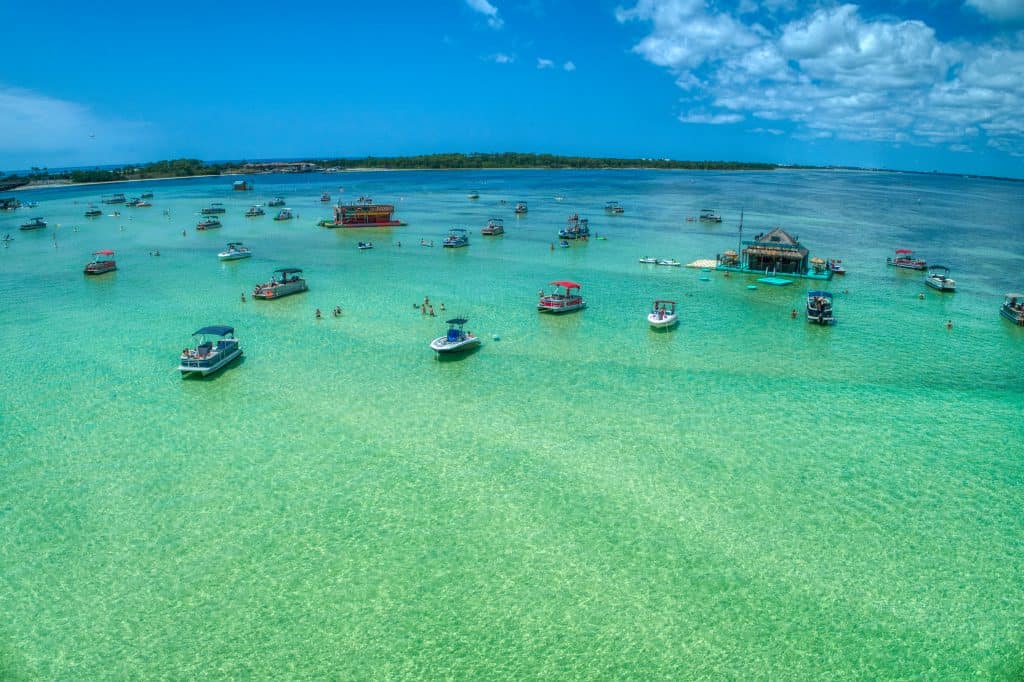 John Pennekamp Coral Reef State Park
The first undersea park in the United States, John Pennekamp Coral Reef State Park in Key Largo is 70 nautical miles of beautiful coral reefs! And swimming is permitted, so bring a mask and fins for some of the best Florida snorkeling!
A Florida National Marine Life Sanctuary, the living, shallow-water coral reefs are alive and vibrant with color. Divers from around the world travel here to experience the area's extraordinary wildlife.
The Florida Parks service has rental gear available: $3 for a mask or snorkel each, and $4 for fins. You even get to keep the snorkel! If you haven't been snorkeling before, we recommend getting used to the equipment just offshore.
Then board one of the three main snorkel boats in the park! The majority of the best reefs are not accessible by swimming, so take one of the two and a half hour trips, weather permitting. Admission costs $29.95 for adults and $24.95 for children.
The boat tour will take you to the gorgeous shallow reefs like White Banks Dry Rocks, Grecian Rocks, Banana Reef, and Key Largo Dry Rocks! The water may become 20 feet deep, but don't worry, you're required to wear a life vest anyway!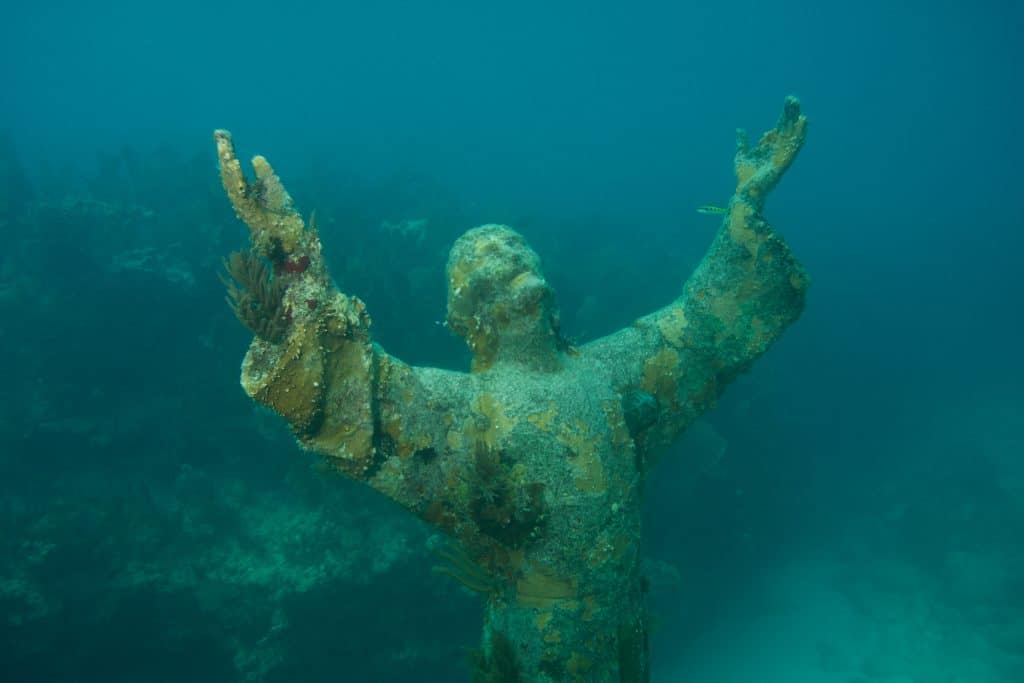 Pigeon Key
Pigeon Key is a tiny island off of the Seven Mile Bridge, inevitable on your road trip from Miami to Key West. Why not bring some gear and stop off to experience the best snorkeling in Florida at Pigeon Key?
Because most of the area is privately owned and visitors are not welcome, snorkeling in Pigeon Key is operated by the Pigeon Key Foundation and Marine Science Center. Admission is $12 for adults and $9 for kids 5-13.
Once you get there, you'll be taken to Pigeon Key from Marathon by speedboat. A tour will take you through 11 historic buildings, which housed Henry Flagler's workers who built the Seven Mile Bridge.
Now you're free to hit the water! We recommend trying the area just off the dock, near the beach, and around the opening of Pigeon Key's saltwater pool. Be careful, the currents around the island might be swift.
Keep in mind, snorkeling gear is not provided. You must bring your own dive flag as well! If you plan on snorkeling, you must fill out a snorkel liability release form, available at the Visitor Center.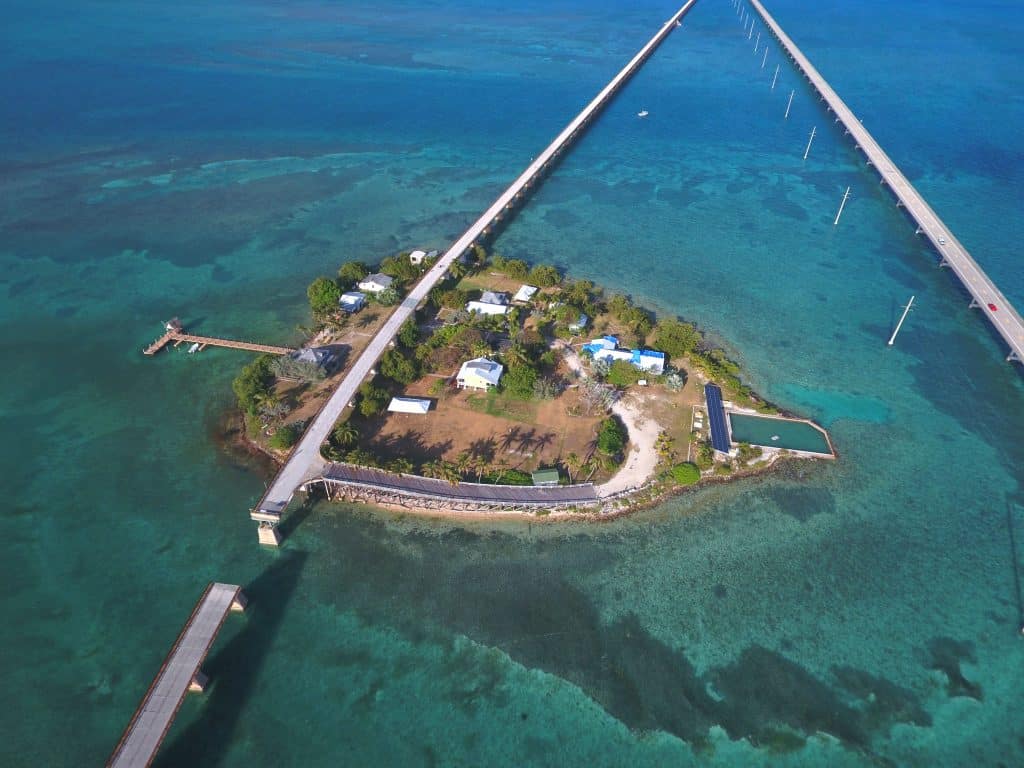 Point of Rocks
If you've ever been to Siesta Key, you already know it's one of the best beaches for families just a short drive away from Sarasota. Did you also know it is also one of best snorkeling beaches in Florida?
Tucked away beyond the shores of Crescent Beach lies Point of Rocks. A series of limestone rock formations, here you'll find the best snorkeling in Florida! Perfect for beginners, the waters are calm and only 20 feet at its deepest point.
Point of Rocks is so exciting because of the variety of wildlife you'll see. In addition to schools of small fish, you'll see crustaceans, crabs, snook, red sponges, and algae.
When you go, plan on bringing your own mask, snorkel, fins, and a diver down flag. Especially if you plan on venturing out into further waters, this flag alerts other divers you're in the area.
We highly recommend arriving early in the day. Parking at Beach Access 12 only affords 20 parking spots. Otherwise, you'll have to park at a lot further away and take the trolley.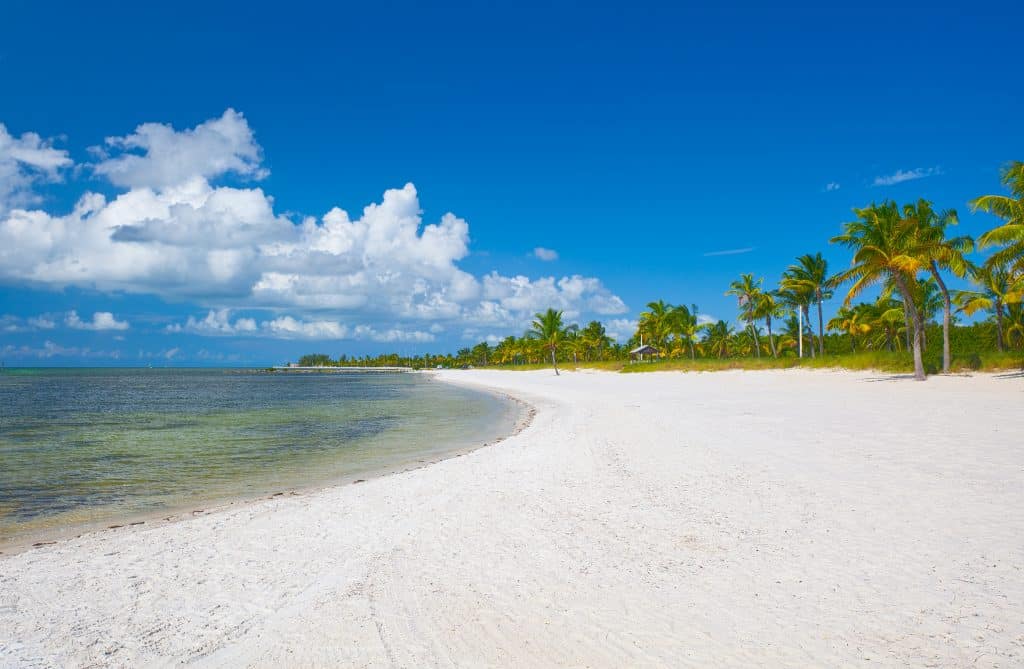 Peanut Island
Near the Lake Worth Inlet, you'll find one of the best spots for snorkeling in South Florida in West Palm Beach. Just off the coast of Riviera Beach, mask up and dive in at Peanut Island!
Named for its original function as a shipping terminal for a peanut oil production plant, Peanut Island is only 79 acres, but its small size provides a quiet intimacy perfect for your next day trip.
Because the waters are a pristine turquoise, Peanut Island boasts great snorkeling sites in the lagoon! The rock breakwaters have become an artificial reef that houses incredible marine life.
In the calm waters through the mangrove channels, you'll be able to see parrotfish, starfish, lobsters, sea sponges, barracuda, shrimps, and crabs! If you're lucky, you might see a Green moray eel popping his head out of the rocks to say hello!
Because you can't drive to Peanut Island, getting there might seem daunting. You can take a water taxi for $10, or simply kayak the 300 yards to get there.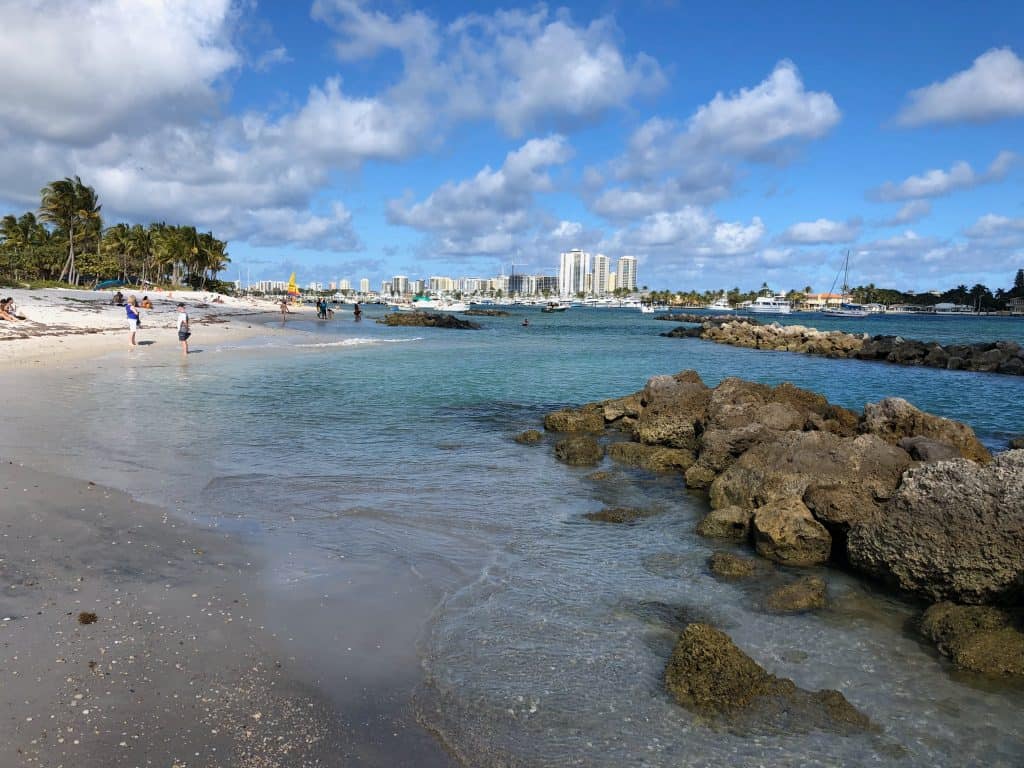 Half Moon Preserve
When you think of Miami, nightlife and restaurants come to mind. But did you know that Miami is home to some of the best snorkeling in Florida? In the Half Moon Preserve, you'll find an exciting adventure.
Named for its sunken treasure, the Half Moon Preserve is actually a full shipwreck! Originally the Germania, the preserve attracts divers because of its illustrious history.
Originally built as a German racing yacht in 1908, the ship traded hands many times. It was claimed by the British as a war prize before being renamed the Half Moon. After becoming a floating bar and restaurant during Prohibition, she sunk off the coast of Miami.
Today, as the Half Moon rests on her port side, you can see her today. Although the waters here are not deep, you will need a boat to get there.
Luckily, there are an abundance of dive shop and snorkel excursion opportunities! Most excursions will take you along the Emerald Reef where the Half Moon lies. Most of these excursions range from $40-45 per adult!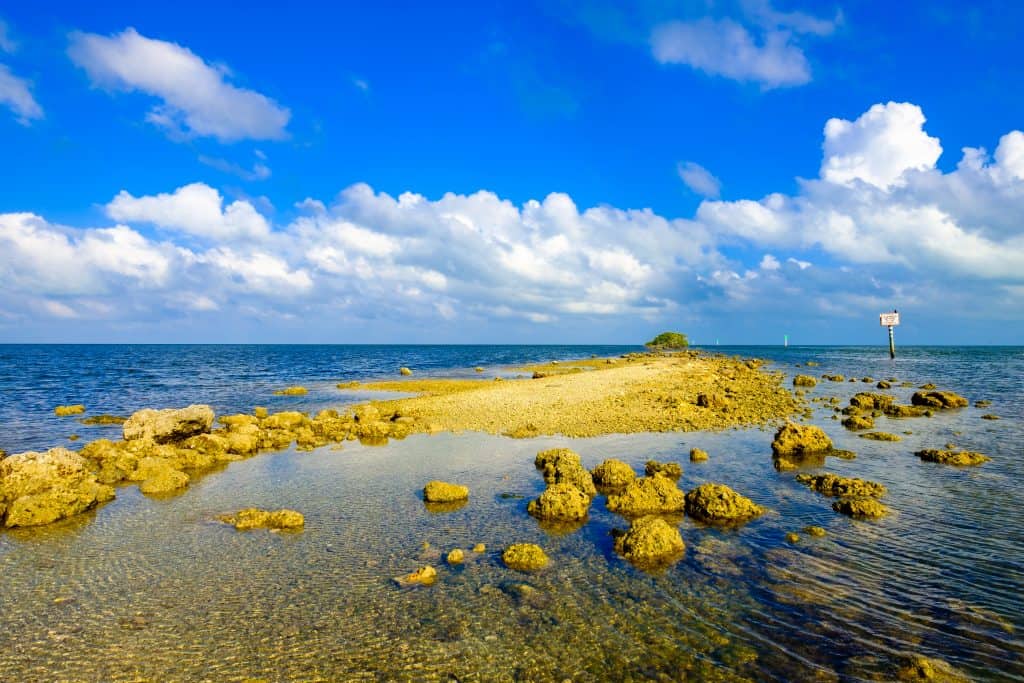 Phil Foster Park Snorkel Trail
Local snorkelers will tell you that some of the best snorkeling in Florida can be found around the Blue Heron Ridge in Riviera Beach. Palm Beach County wanted to take this spot and make it even better!
Thus, the Phil Foster Park Snorkel Trail was born! An artificial, man-made reef, the trail spans 800 feet. The best part? You can swim to it from the shoreline and the water is only 6-10 feet deep!
Built to attract and house rare wildlife, you'll find squid, octopus, and spotted rays here. At the western end of the trail, three 5-foot-long concrete statues of hammerhead sharks were added for their ambiance.
The trail can be a bit hard to find, as there are no markers. We recommend swimming out straight from the lifeguard stand on the beach! Divers here love to talk about what they've recently seen, so don't be shy!
Phil Foster Park has no admission fee, but we do recommend arriving earlier rather than later. The parking lot is free and tends to fill up quickly on weekends.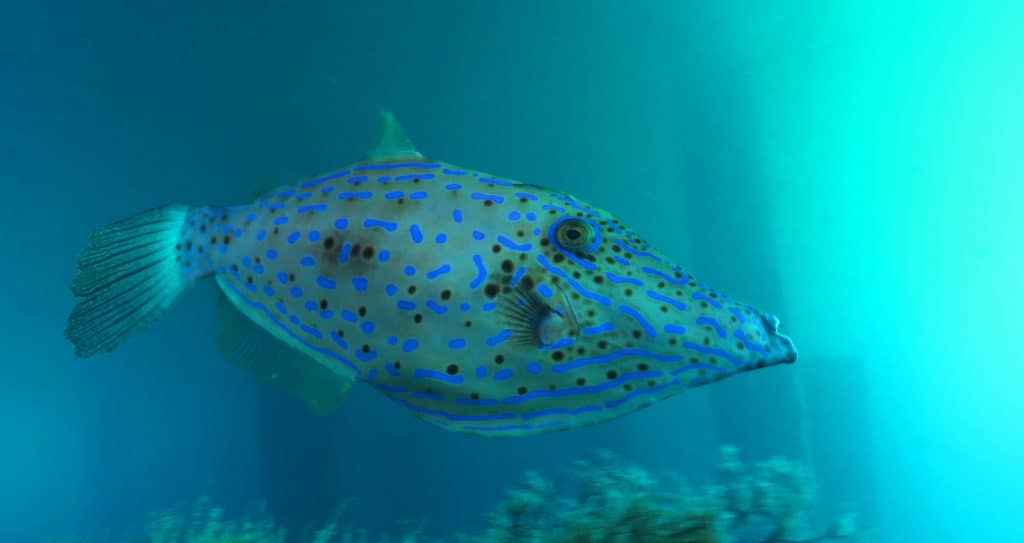 Twin Ledges
Found about 400 yards off the Fort Lauderdale coast, you can find the best snorkeling in Florida! The Twin Ledges Reef affords fantastic views of Florida's seabeds.
Be warned, Twin Ledges is not easy to reach and is only for experienced snorkelers! Because it is so far out, you will need to get there via local snorkeling excursion boat!
As soon as you dive into the boat, don't be alarmed if the porgies or bar jack start nibbling on you! They're just accustomed to being fed! Swim away from your boat to find more peaceful areas.
As you swim down, head for the rockier formations. There's little to nothing to see in the sandier areas. You'll see Surgeonfish, sergeant major fish, and pufferfish! But don't approach too quickly or they'll hide in the rocks.
Before you go, check with your excursion to see if they provide a meal. If not, then plan to bring food or purchase snacks and drinks from the shops at the marina.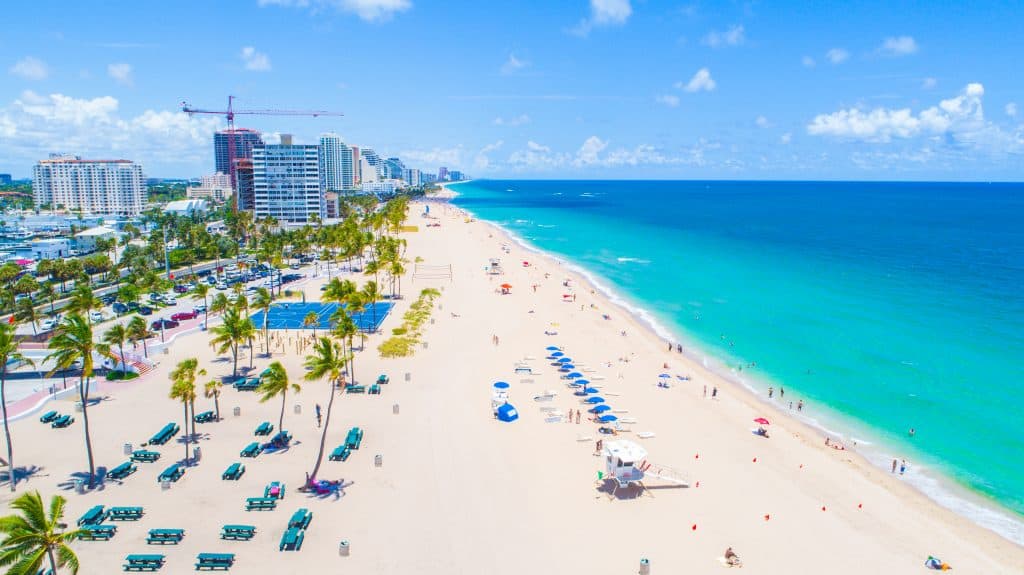 Did You Find This Post Helpful?
If so, we would love to keep in touch! We enjoy seeing photos and comments about your experiences in Florida! You can follow us on Instagram and we will repost your photos on our feed and comment too! Just tag us at @floridatrippers and hashtag #floridatrippers. We can't wait to see your travels!