Are you visiting Florida and looking for the best beaches in Jacksonville? Then look no further! Below are listed some of the best beaches near Jacksonville that are worth checking out.
Located in the northeastern part of Florida on the Atlantic Ocean, Jacksonville has many nicknames that reflect its vibrant community, including "the River City on the Sea" and the "Gateway to Florida." The location where the current city rests has a long and varied history, and it is the largest city-by landmass-in the contiguous United States. It has almost 900 square miles of space and over 20 miles of white sandy beaches along the coast.
The city has much to offer visitors, including a popular zoo, fun restaurants and bars, and an extensive riverfront and canal system along the St. John's River. There can be found a wide variety of urban parks that lend a touch of nature to the metropolis of over a million people.
But above and beyond those attractions, of course, are the beaches. From Neptune Beach, where you can experience some of the most spectacular sunrises and sunsets on the east coast of Florida, to Little Talbot Island, a state park that boasts some of the most interesting ecosystems in the United States, you will not be disappointed.
All of the beaches close to Jacksonville are family friendly and spacious enough to not be overcrowded, so let's take a look at the top beaches in Jacksonville, Florida.
10 Best Beaches in Jacksonville, Florida (And Nearby!)
Neptune Beach
Just 17 miles away from the city proper is one of the top beaches in Jacksonville: Neptune Beach. Neptune Beach is an oceanside community in and of itself that offers visitors a more laid back experience.
Neptune Beach is located between Atlantic Beach to the north and Jacksonville Beach to the south. It is a quieter spot with pristine sand and some of the best views of sunrises and sunsets along the eastern coast of Florida.
Besides the regular fun to be had at the beach, such as swimming, sunbathing, or simply playing in the sand, there is also surfing, biking, or other more active pursuits to be found. Also, when beachgoers tire of lounging around the sand, the Neptune Beach area offers an array of fun and tasty restaurants as well as a wide variety of boutiques for seaside shopping.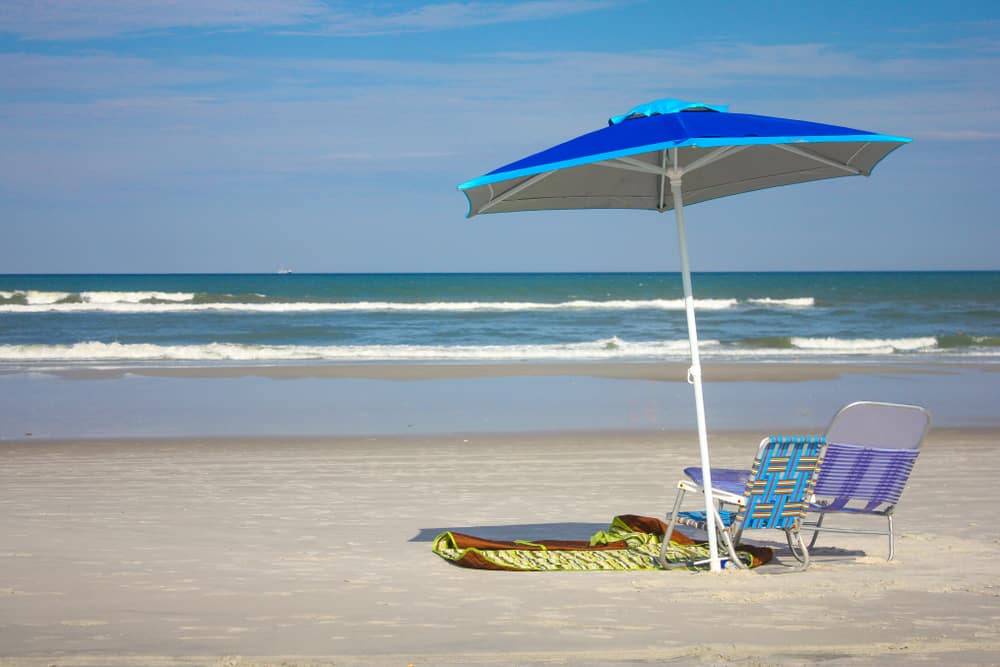 Little Talbot Island
Little Talbot Island is a Florida State Park, and despite being only a little over 20 miles from downtown Jacksonville, it is certainly one of the best beaches in Jacksonville for nature lovers. There is, of course, the beautiful white sand beach for swimming and surfing, but there is a lot more than that.
There are hiking trails, bike rentals, and a campground, and lots of wildlife to see, including shore birds, deer, armadillos, and bobcats, among other species.
There are also some very unique geographical features like the Boneyard Beach, which is an area covered with live oaks that have been bleached over the years that people can climb; and Blackrock Beach, which contains some of the oldest rocks in the world made from decayed vegetation and sand.
The park is open daily from 8:00 a.m. to sunset, but it closes after the park has reached capacity. There is a small fee to enter.
Mayport Naval Station Beach
Located along the Atlantic Ocean at the mouth of the St. John's River, the Mayport Naval Station, 17 miles from downtown Jacksonville, is home to one of the immaculate white sandy beaches near Jacksonville.
Because of its location on the Naval Station, which itself is found near the small fishing village of Mayport, the beach there is usually less crowded than some of the other beaches in the area, so it is a good option for those who love a beautiful beach with more space to spread out.
As Mayport is a very active Naval station, one fun thing is that anyone spending time on the beach has the opportunity to see Navy ships going in and out of port–always an impressive sight. The beach itself offers many rentals including boogie boards, canoes, kayaks, BBQ grills, and fishing gear, amongst other things, and it is open from sunrise to sunset year round, definitely making it one of the best beaches in Jacksonville.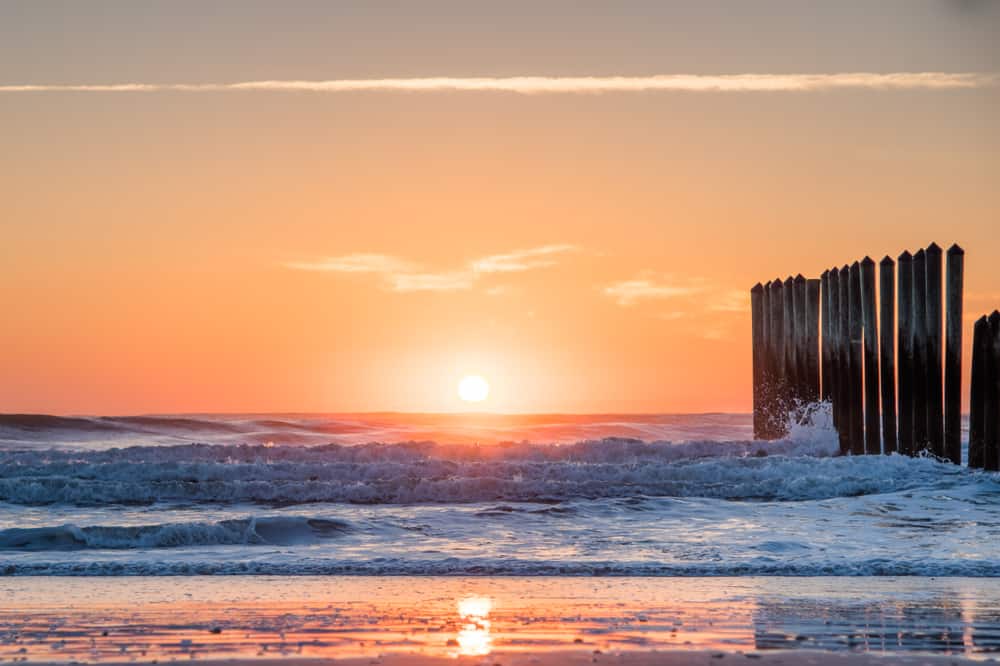 Jacksonville Beach
Located about 30 minutes from downtown Jacksonville, Jacksonville Beach is another of the beautiful beaches on Florida's northeastern shoreline. Known for its soft, white sand, the beach is wide enough and long enough for all the fun visitors might wish to have.
There are places to rent chairs and umbrellas as well as sporting gear such as surfboards or kayaks. The water along Jacksonville Beach provides some of the best surfing in the area. And hotels line the beach, with quick, easy access to the shore.
There are also several waterparks in the area for family friendly fun and many restaurants for visitors to choose from after a day of playing at the beach. Another point of interest that makes Jacksonville Beach one of the best beaches in Jacksonville is the long, scenic fishing pier that extends for nearly a quarter of a mile into the ocean, delivering amazing views of the surrounding waters. There is a small fee to walk on the pier.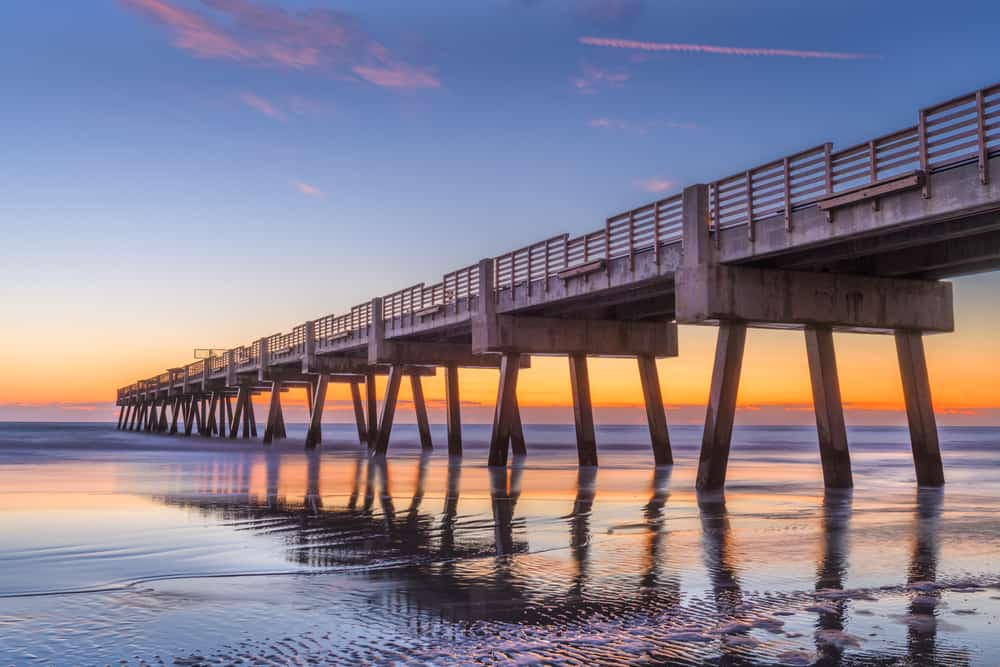 Atlantic Beach
The northernmost of the three main beach communities near Jacksonville (alongside Neptune and Jacksonville), Atlantic Beach is a smaller community with beach bungalows, and a laid back feel, and almost no tall buildings to interrupt the skyline.
The beach, less than 30 minutes from downtown Jacksonville, offers the same amenities as the other two beaches, but the area at Atlantic Beach provides a long, flat sweeping shoreline that makes it one of the best in the area for surfing and kayaking.
Like the Neptune Beach area, the town of Atlantic Beach includes a variety of small restaurants and novelty stores for dining and shopping, and there are several different kinds of rentals to be found, including beach cruisers for peddling down the expansive boardwalk. It is also one of the best beaches in the area for finding shells to take home as souvenirs of a visit to one of the best beaches in Jacksonville.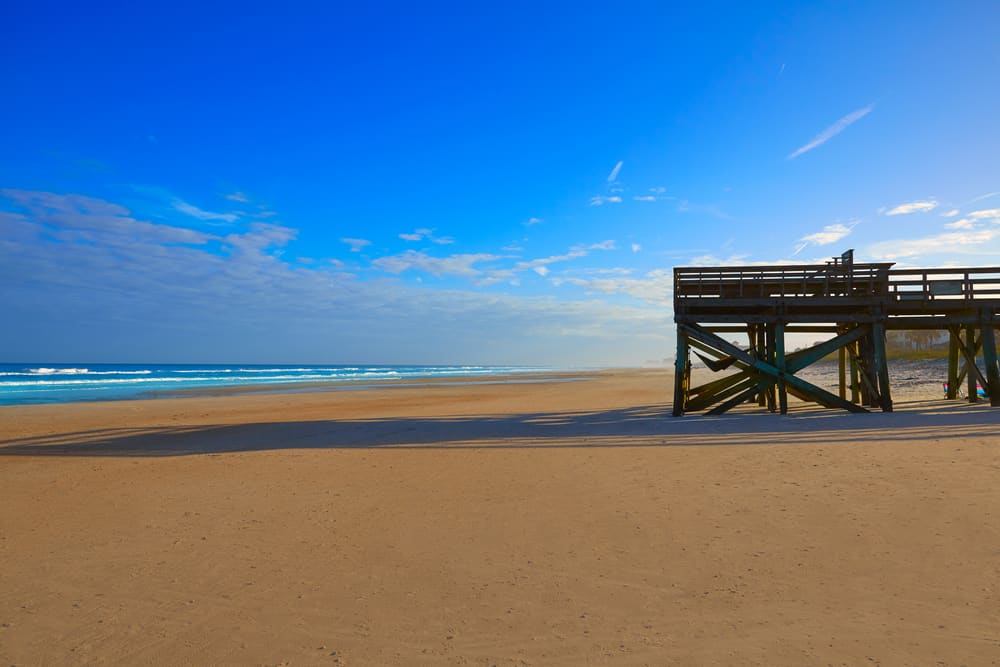 Ponte Vedra Beach
20 miles southeast of Jacksonville, Ponte Vedra Beach is a luxury community known for its beaches, wildlife, spa, tennis, and most famously, golf. The PGA Tour and The Players Championship are both played at the TPC Sawgrass golf course. Sawgrass happens to be the course where Tiger Woods won The Player's Championship in 2001 and was dubbed a "better than most" player.
Besides the luxury and sports facilities, Ponte Vedra Beach is filled with a vast array of natural beauty. Mickler's Landing is the access point for the beach, and it boasts 40-foot sand dunes, which are amongst the highest found in Florida. The beach conveniently near Jacksonville is handicap accessible and dog friendly, and no cars are allowed on the beach, so it maintains its pristine appeal. Horseback riding is allowed along the beach with a special permit.
Just south of Mickler's Landing is the Guana Tolomato Matanzas Reserve, which is a wildlife habitat filled with fresh water streams, creeks, and lagoons as well as a huge diversity of plants and animals to experience, especially their famous sea turtles, which the Reserve takes care of. All of these things together help make Ponte Vedra Beach one of the best beaches in Jacksonville.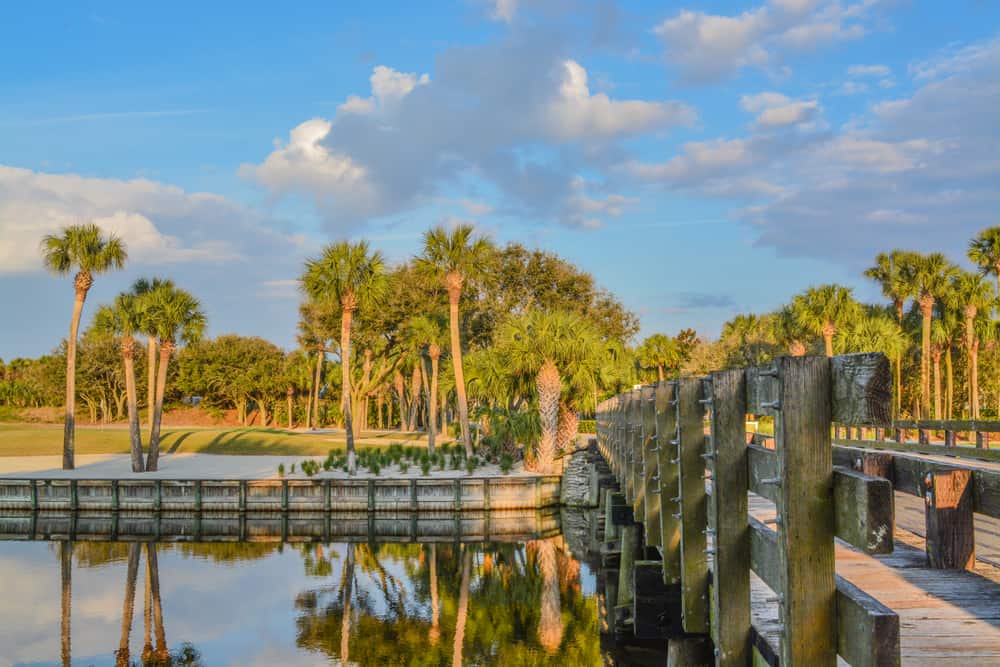 Fort Clinch State Park
Located at the northernmost point of Amelia Island, less than 40 miles northeast of Jacksonville, Fort Clinch State Park is one of the best preserved Civil War forts in the United States. Florida was part of the Union during the War, and the cannons that visitors can still see on site are pointed across the St. Mary's River into Georgia, making it a strategically important site at the time. The Fort is open for visitors to explore where they can learn about life as a Union soldier in Florida.
But that is only one small part of the 1,400 acre State Park. Those who love to explore nature will love to experience the hiking and biking trails found throughout the park, overshadowed by huge arching oak trees. The park also provides fun for those who like to camp, bike, fish, paddle, or go searching for shells and shark teeth on the beach. And as is true of most of the beaches in Jacksonville, there is good surfing, swimming, and sunbathing to be had as well.
Fort Clinch State Park is open 8 a.m. to sunset daily, with the Fort itself open 9 a.m. to 5 p.m. There is a small fee to park and a small fee to visit the Fort.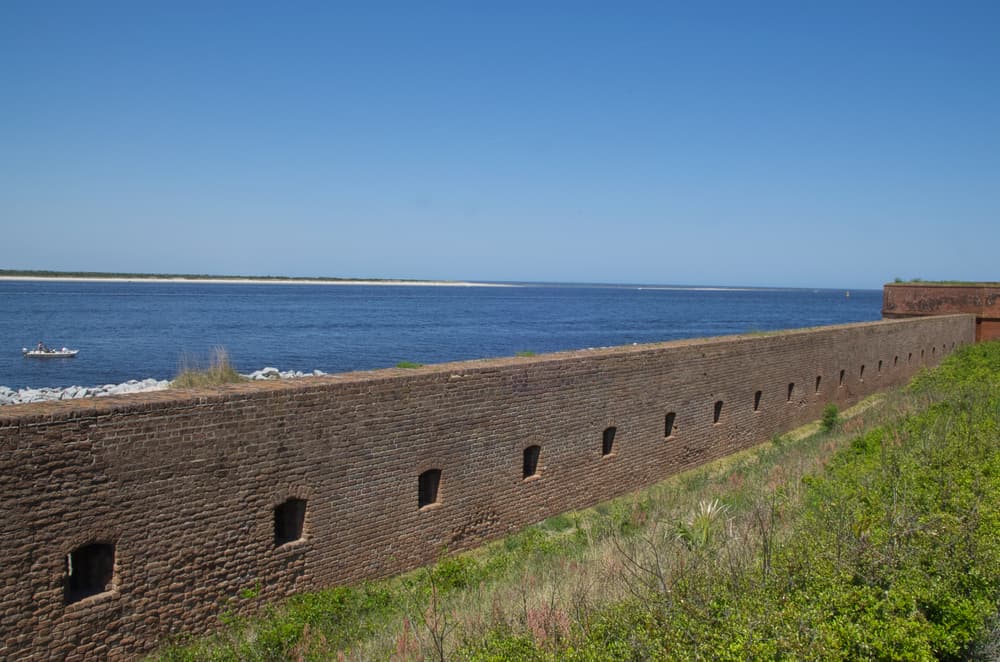 American Beach
Another beach located around 40 miles northeast of Jacksonville on Amelia Island is American Beach. It is a small community with beautiful vistas and a peaceful, laid back atmosphere. American Beach has the tallest sand dunes in Florida, topping at 60 feet before rolling gently down to the white sandy beach where visitors find great surfing, swimming, and other fun beach-related activities.
This small beach near Jacksonville also has a long, interesting history as it is said to be America's first African American Beach, founded in the 1930s when Jim Crow laws were still in effect and African Americans weren't allowed on many of the other best beaches in Jacksonville. One section of the American Beach community, containing 67 buildings, was made a Historic District to preserve the areas history, and in 2002 it was added to the U.S. National Register of Historic Places.
In 2014 American Beach opened a museum that tells the story of the area through collected objects, videos, and photographs, which is open to visitors on weekends for a small fee. For the past couple of years visitors have gathered to celebrate Juneteenth in honor of African American history, which American Beach is a notable part of.
Huguenot Memorial Park
Huguenot Memorial Park is found 22 miles northeast of Jacksonville on a peninsula located between the Fort George River, St. John's River, and the Atlantic Ocean, so it's basically surrounded by water. Because of this, it is a great spot for anyone who loves to fish.
Along with the white sand, prevalent in the beaches near Jacksonville, there is everything a beachgoer could ask for when visiting the shore, including concessions, grills, picnic shelters and tables, a new playground (as of 2021), surfing facilities, a boat launch area, as well as great locations for kayaking. There are also basketball courts and tennis courts for those who wish to spend time away from the water.
Huguenot Memorial Park has waterfront camp sites, hiking trails, and is actually part of the Great Florida Birding Trail, with amazing opportunities for those who like to do some birdwatching. There are over 200 different species of birds, including several varieties of terns, gulls, and skimmers, among others; and it is the resting ground for the endangered Red Knots which travel between the Arctic Circle and Chile yearly, stopping in the area on the way.
Visitors can drive and park directly on the beach, although the sand is soft, so it's best to have a four-wheel drive vehicle; otherwise there are parking lots and walkways to get to the shore. The beach is open 6 a.m. to 7 p.m. daily, and there is a small fee to enter the park.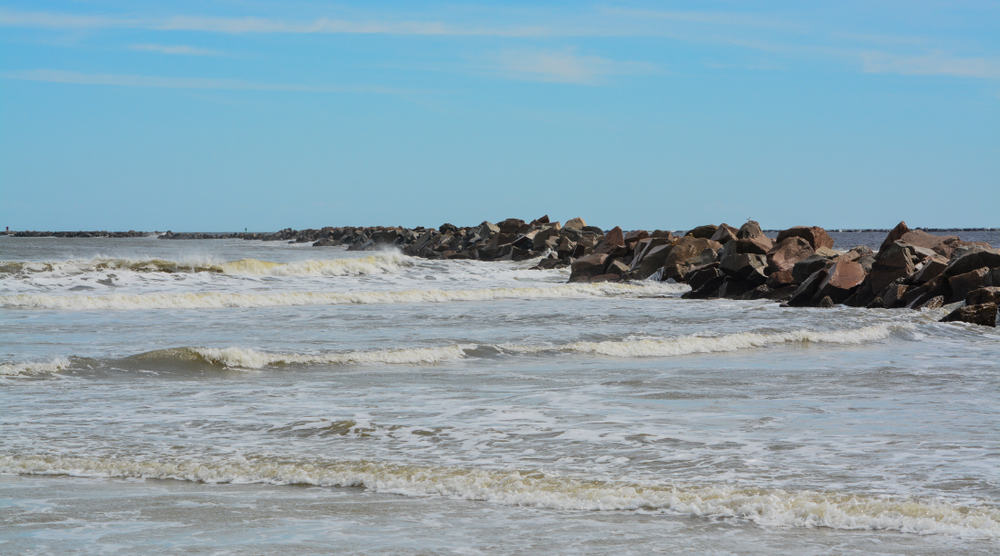 Fernandina Beach
Fernandina Beach is the northernmost city along the Atlantic coast of Florida, located on Amelia Island about 35 miles northeast of Jacksonville. It is a seaport that is beloved by its inhabitants as it is an easygoing and beautiful location filled with tasty restaurants and unique boutique stores. It is located on the southern coast of St. Mary's River directly across from Georgia.
Those looking for the best beaches in Jacksonville will enjoy the 13 miles of clean, white sand beaches with abundant wildlife and cool, calm blue waters offering up an abundance of beach-related activities.
And those interested in history are sure to love the story behind the city that at one point or another belonged to 8 different nations. In its heyday, Fernandina Beach was a rich and bustling Victorian trading port, and the city has kept up the historic old town for visitors to see what the city was like back then.
Every October Fernandina Beach has its famous shrimp festival that offers a wide variety of entertainment, food, and shopping. And the area is also known for its yearly Book Festival, supporting and encouraging reading and writing.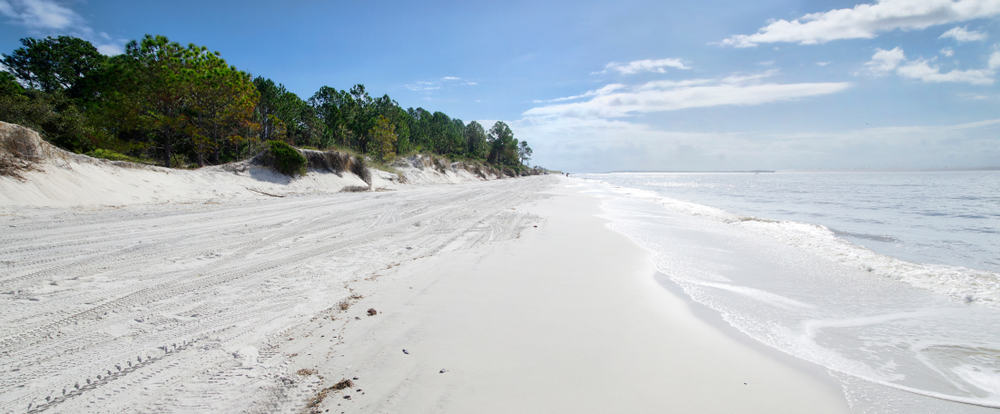 Want to Find Out More about Beaches in Florida?
These are just a few of the many beautiful beaches in Florida. If you'd like to find out more you can read about some family friendly beaches all over Florida. Or you can read about more beautiful east coast beaches to be found in Florida.