Wondering which of the Florida east coast beaches to visit? The Atlantic coast of Florida has some great beaches to offer including the world-famous Daytona and Cocoa Beach to the iconic South Beach in Miami.
The Beaches in east Florida are all unique each offering the discerning traveler something different. In this article, we will walk you through our favorite Atlantic beaches in Florida. We will give you all the information you need so you can decide which beaches on Florida's east coast you would like to visit.
So are you ready for us to take you through our picks of the best Florida east coast beaches?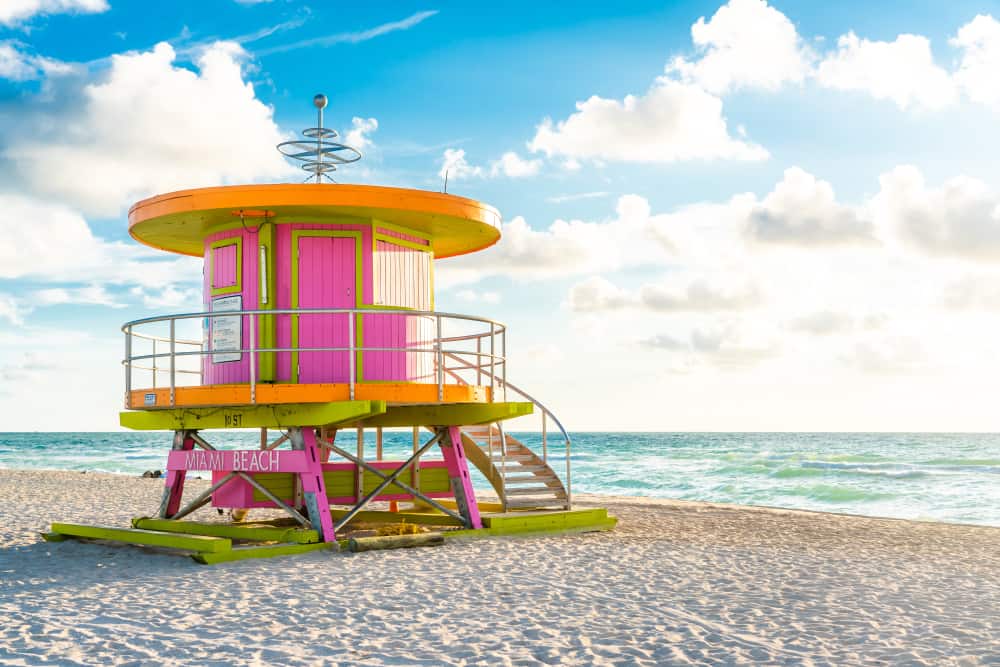 14 Beautiful Florida East Coast Beaches
Miami South Beach
We couldn't talk about the Florida east coast beaches without including Miami South Beach. It has all the hallmarks of the beautiful Floridian beaches, sugary white sands, and crystal-clear turquoise however it also has something else. It has a vibe, a culture that is rarely experienced anywhere else. This place is just alive.
Known by locals as SoBe this was the first section of Miami Beach to be developed. Now the white sands are surrounded by pastel art deco masterpieces and the sight is truly breathtaking. All topped off with the iconic colorful lifeguard stands designed by William Lane who donated his design services after Hurricane Andrew hit.
Some say that South Beach glitters and we couldn't agree more. South Beach is glamourous, beautiful, and lively. There is never a dull moment here.
Be prepared for crowds as it does get busy but believe us this is an experience you don't want to miss.
20 Fun Things To Do In Miami You Can't Miss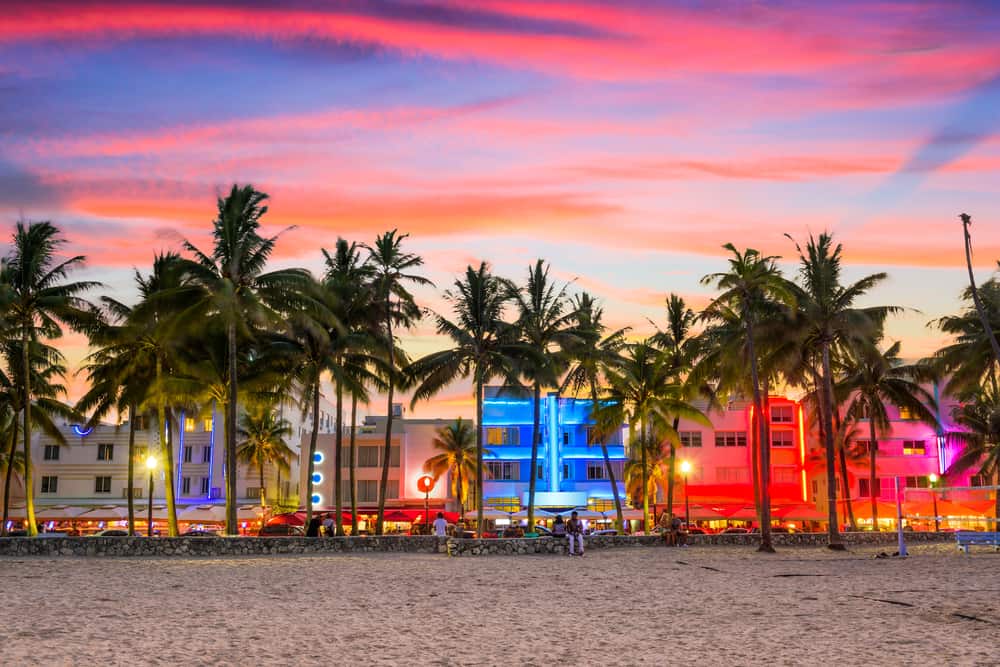 Saint Augustine Beach
If you have never been to Saint Augustine you are in for a treat. It has a distinctly Spanish feel and is known as the oldest city in the U.S.
When it comes to the Florida east coast beaches this area has a lot to offer. St. Augustine boasts 42 miles of beautiful beaches so there are plenty to choose from. Here though we will focus on St. Augustine Beach.
St. Augustine Beach is located on Anastasia Island and you will find plenty to do there. There is a pier, a playground, fishing, volleyball courts, restaurants, shopping and you can even drive onto the beach.
It's a lively area in a beautiful location full of charm. If you like beauty, charm, and history then this beach is for you.
14 Best Things To Do In Saint Augustine You Can't Miss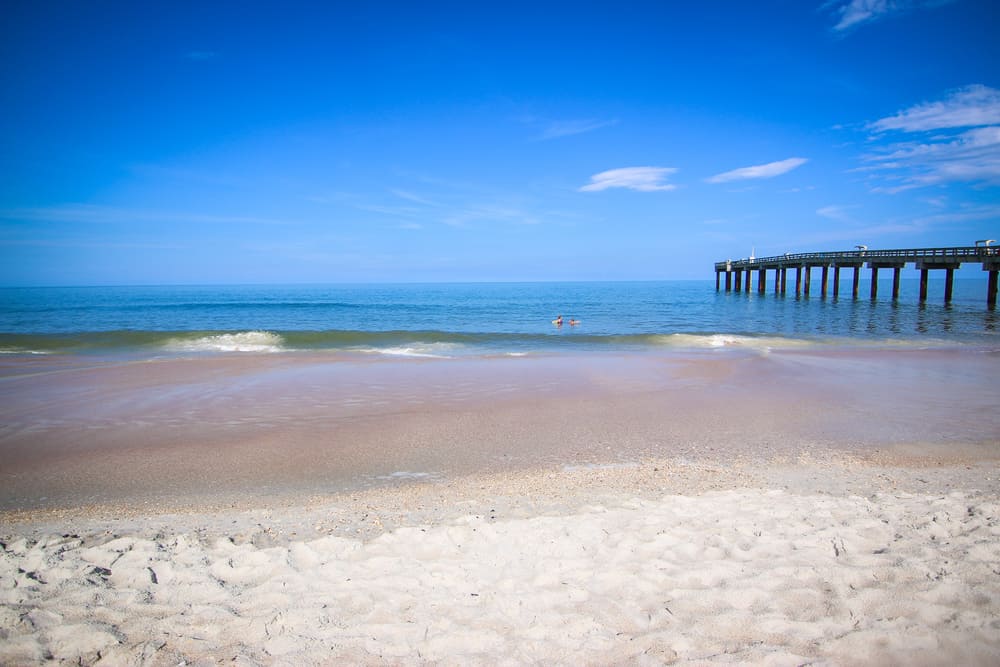 Jacksonville Beach
Jacksonville Beach is one of the Florida east coast beaches located in northeast Florida's "First Coast. This beach has it all including a newly redesigned golf course and a famous fishing pier.
You will also find vast stretches of beautiful white sand, 22 miles in fact. This area has something to offer everyone and is a great place for families. Jacksonville is a unique blend of history, leisure, and recreation.
This beach also offers some of the best waves in the area for the surfers out there and dolphin sightings are pretty regular.
There is so much to see and do around this area. Little Talbot Island State Park for example also has an incredible beach. Take a look at our 14 Fun things to do in Jacksonville post to plan what else to do in the area.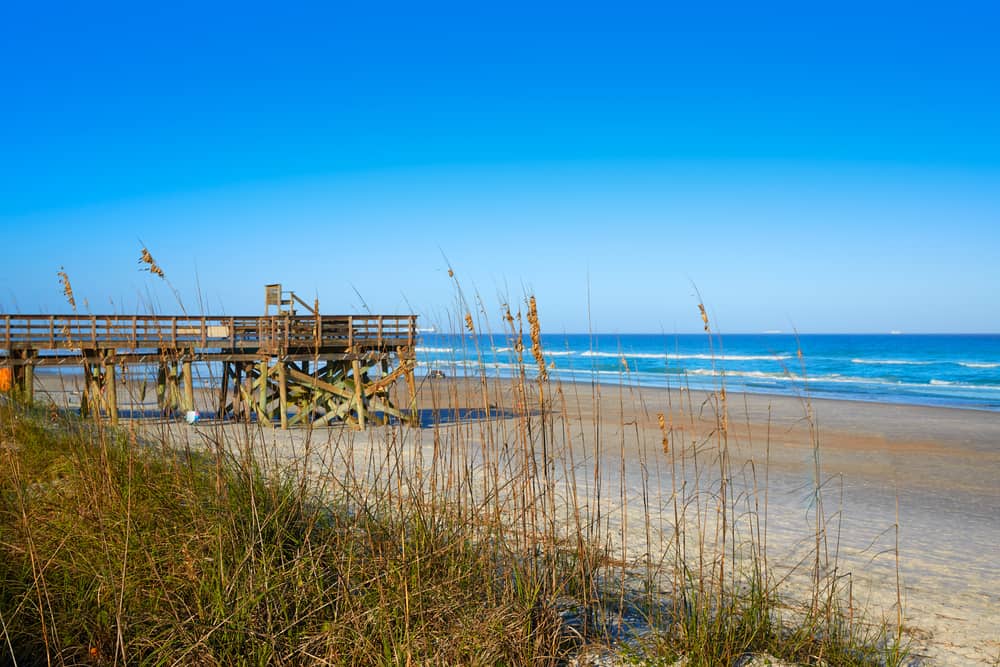 Amelia Island -Fernandina Beach
The Condé Nast Readers' Choice Awards panel consistently rank Amelia Island among the Top 10 U.S. Islands. With 13 miles of pristine white sandy beaches, it's not hard to see why. Of all the Florida east coast beaches we think the beaches of Amelia Island are well worth a visit.
This area is known for its unspoiled natural habitats, uncrowded beaches, history, and luxurious hotels and resorts. When it comes to the Atlantic coast of Florida, beaches don't get better than this.
There are two main beaches on the island, Main Beach and Fernandina Beach. We love Fernandina Beach, it's a great family beach and also good for shelling.
Amelia Island is on our list of 12 Prettiest Islands in Florida to Escape to. Take a look to see our other picks.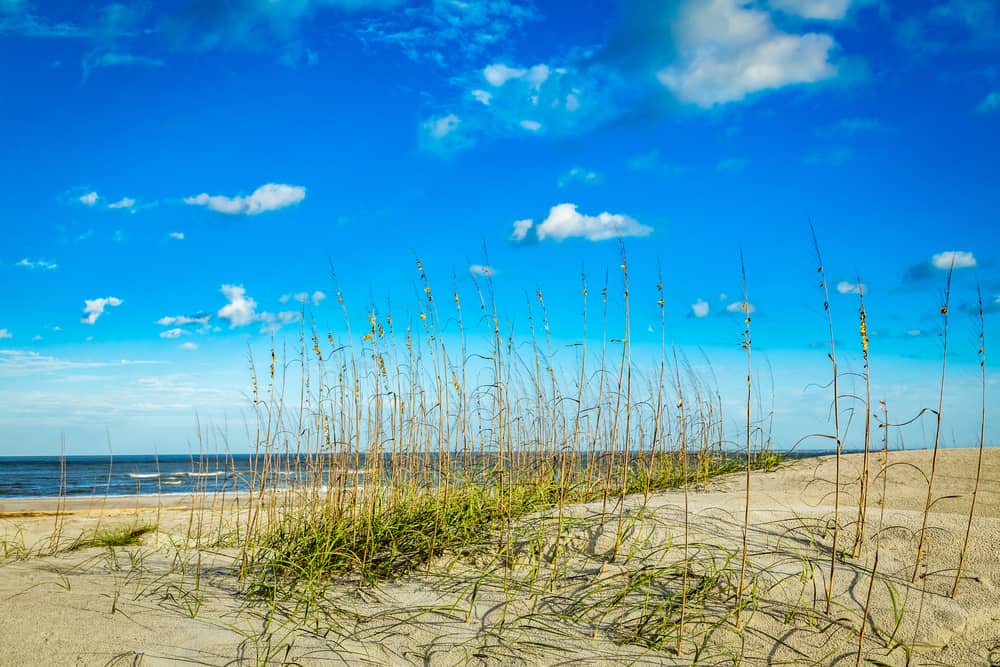 Daytona Beach
Perhaps the most famous of all of the Florida east coast beaches Daytona beach is known as "The World's Most Famous Beach".
This beach has a wide expanse of beautiful sugary white sand and the waves and cooling breeze make it a perfect location. Perhaps what Daytona is most famous for though is the fact that you can drive down it. During Spring Break Daytona beach turns into a hive of activity and the cars can be something else.
It is a busy beach but due to its size there always seems ample space and you can find quieter locations if you don't like being in the action.
It's also a great place to learn to surf as the waves never get above 5 ft and the sandbar break means the surf is quite consistent.
If you are after a beach with all the amenities and a lot to offer then this beach is definitely for you. We feel it's a beach that everyone should experience at least once and there are lots to do in the surrounding area too.
17 Fun things to do in Daytona Beach Florida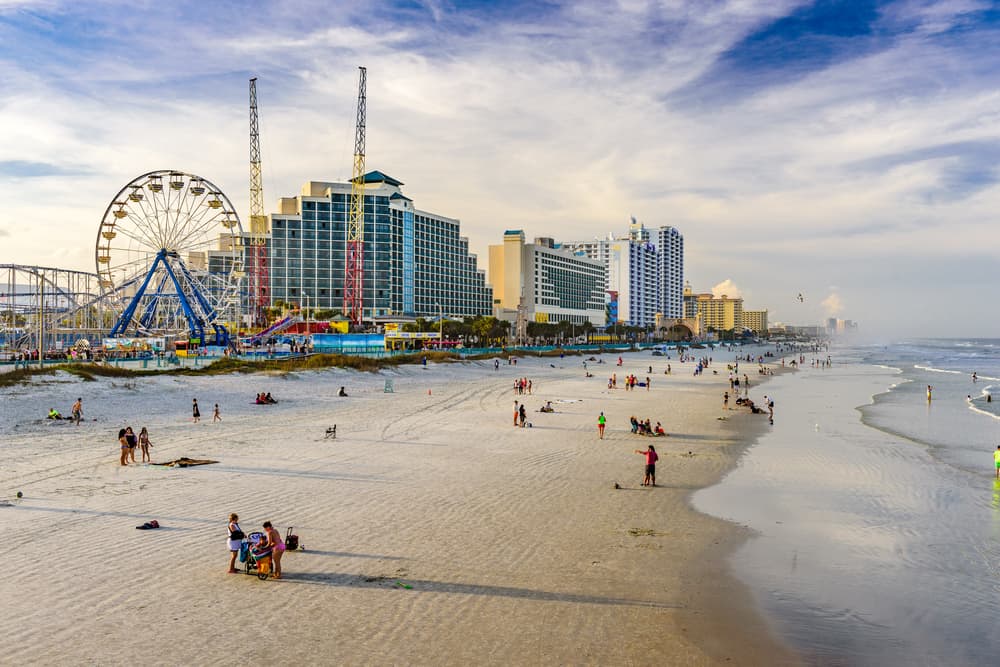 Cocoa Beach
Cocoa Beach is somewhat of a Florida east coast beaches legend. As well as been a great beach close to Orlando its also home to 11-times World Surf League #1 pro, Kelly Slater, and the world-famous Ron Jon Surf Shop.
While it's a great beach for beginner surfers and longboarders it also has a lot to offer none surfers too.
First is proximity to Orlando makes it a great break from the hectic theme parks. It's also a very clean wide beach and the pier provides great fishing. You will find everything here including beach volleyball, wind and water sports, surf rentals, and paddleboarding to name but a few.
We feel that Cocoa is like a baby Daytona in a way but with a more laid back vibe.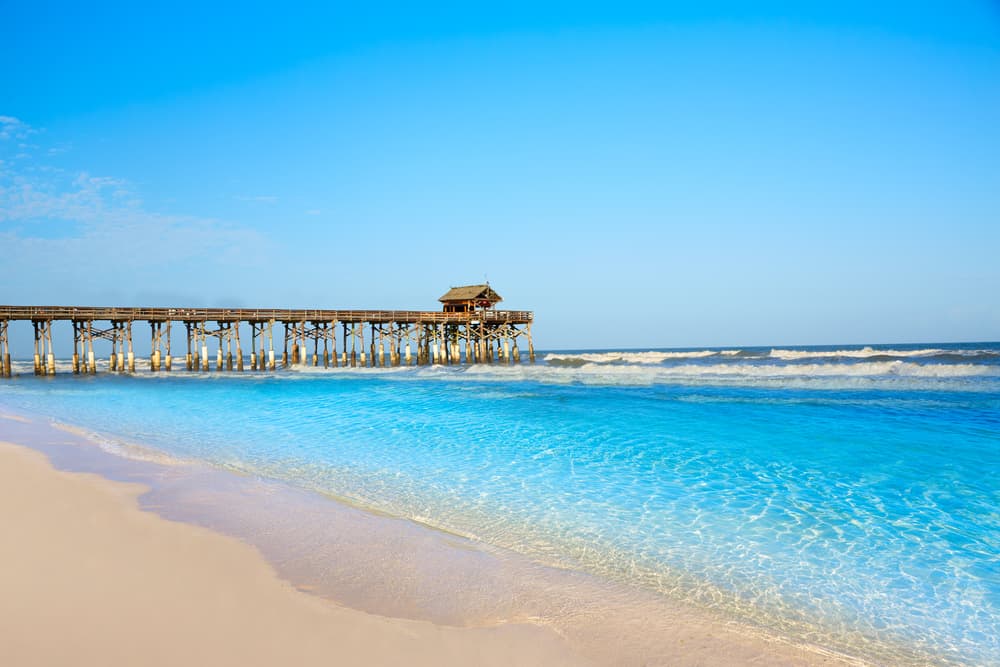 Palm Beach
Let's get a few things straight first West Palm Beach and Palm Beach are not the same. West Palm Beach does not in fact have a beach and is on an Intracoastal Waterway. Palm Beach is separated from West Palm Beach by three bridges and is on the ocean.
Now we have that straight let us tell you Plam Beach is a total gem. It's a pristine picture of pure groomed heaven with some of the most amazing houses, clubs, and shopping areas. It also has the honor of been voted as one of the safest places in the world to live or visit.
Some of the beachfront is private but you have access to some parts. In the hurricane season, the waves here can reach up to 15 ft and it has some of the biggest waves in Florida.
There is also lots to do in the West Palm Beach area. Take a look at our article 16 Fun Things To Do In West Palm Beach Florida to get some ideas.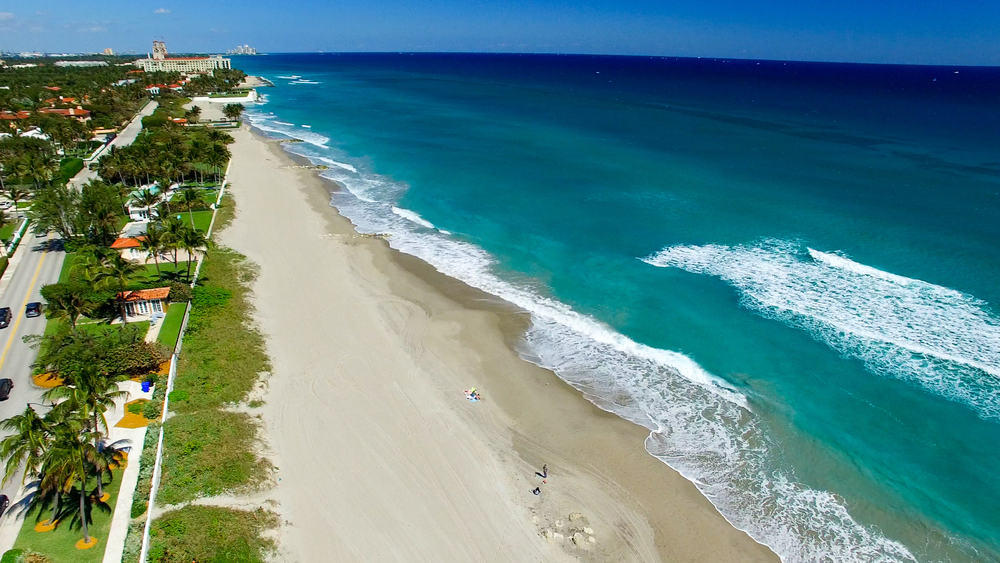 New Smyrna Beach
If you are looking for some Florida east coast beaches with consistent waves then New Smyrna Beach is the one for you. Known by locals as 'the wave magnet' there are 13 miles of beach here ripe for surfing.
Of all the east coast beaches New Smyrna Beach has the most biologically diverse estuary in North America. It is home to some 400 species of birds, dolphins, manatees, alligators, turtles, and many more. It's a great beach for wildlife lovers. This diverse wildlife has earned it the name of 'The Shark Bite Capital of the World'. Just be aware of whom you might be sharing the waters with here.
This is a beach that offers something different than the Florida norm.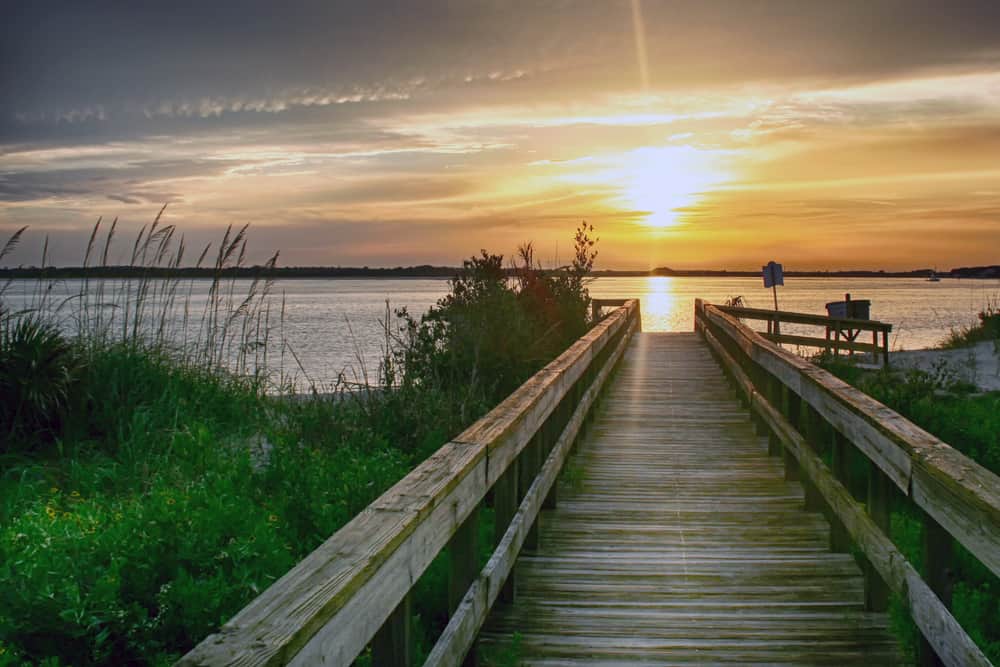 Vero Beach
Vero Beach is a haven for good watersports and fishing. On the area known as the treasure coast, the beaches are peaceful and surrounded by nature.
The best beach in the area is South beach about 10 minutes from the shopping district. Sexton Plaza Beach is the closest to downtown and Jaycee Park Beach has a much more relaxing. The boardwalk here is also great for an evening stroll.
Whichever beach you choose you won't be disspainted.
14 Fun Things To Do In Vero Beach Florida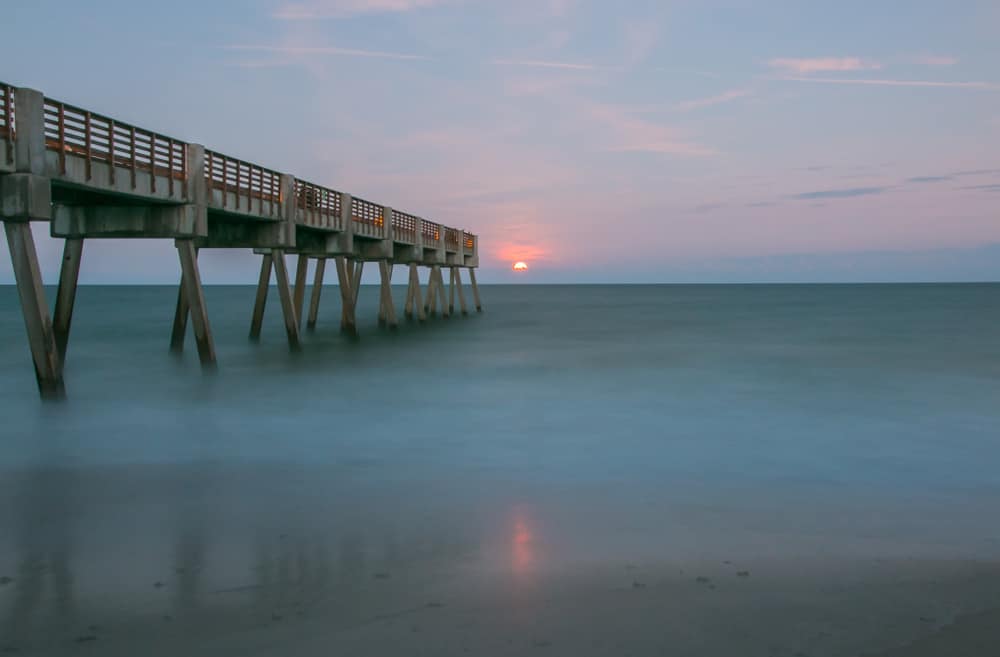 Fort Lauderdale Beach
Fort Lauderdale has more than seven miles of beautiful beaches and Ocean Rescue supervises two miles of it with 15 year-round, permanently staffed lifeguard towers. It's a very safe family beach with an award-winning wave wall and signature beachfront promenade.
There is a lot to do here Including boating, windsurfing, jet-skiing, and volleyball. For the more adventurous try snorkeling, scuba diving, or deep-sea fishing. All topped with a variety of sophisticated hotels, delicious restaurants, and lively bars.
A beautiful beach with lots to do.
If you love snorkeling just north of Fort Lauderdale Beach you will find Lauderdale-By-The-Sea. It is considered one of the best beaches in the area for snorkeling and diving and there is a reef within swimming distance.
The Space Coach is also a great place to go stargazing.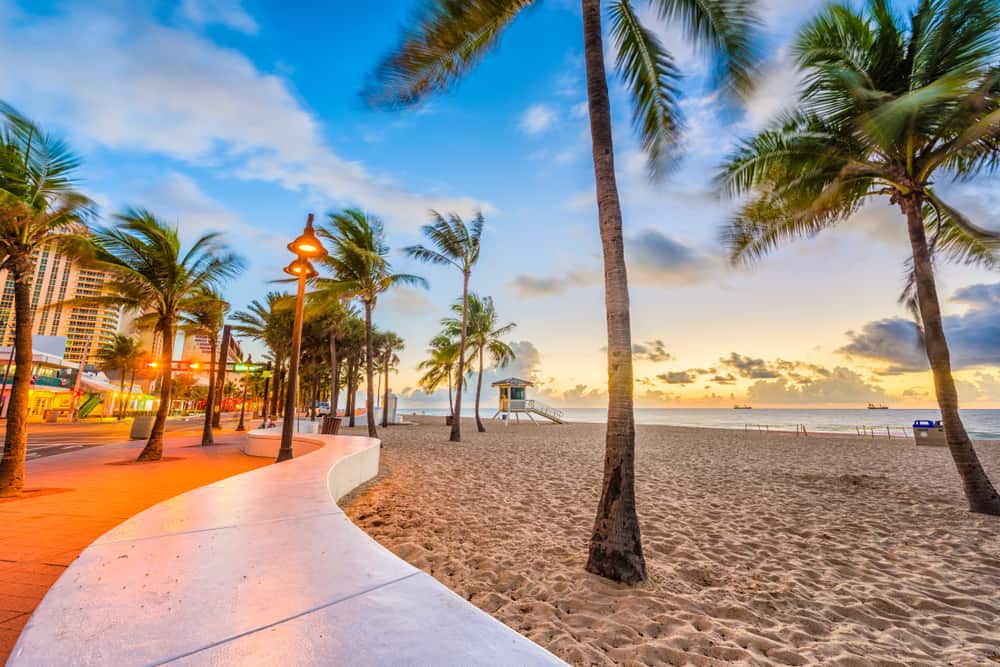 Melbourne Beach
On Florida's Space Coast Melbourne has miles and miles of unspoiled beaches.
Situated on the barrier island just across the Indian River from Palm Bay it's within an easy drive of Kennedy Space Center. You will find undeveloped stretches of beach, good waves for surfing, and all the beach amenities you would expect.
However, the reason to really come here is the sea turtles. The barrier island is a vital part of the local ecosystem and is the nesting ground for sea turtles. If you visit during nesting season ( summer months) take a night tour to see them you won't regret it.
One of the Florida east coast beaches that is pretty unspoiled.
If you are looking for other places to see sea turtles take a look at our article 7 Best Places To See Wild Sea Turtles In Florida. Also, this area is great for horseriding.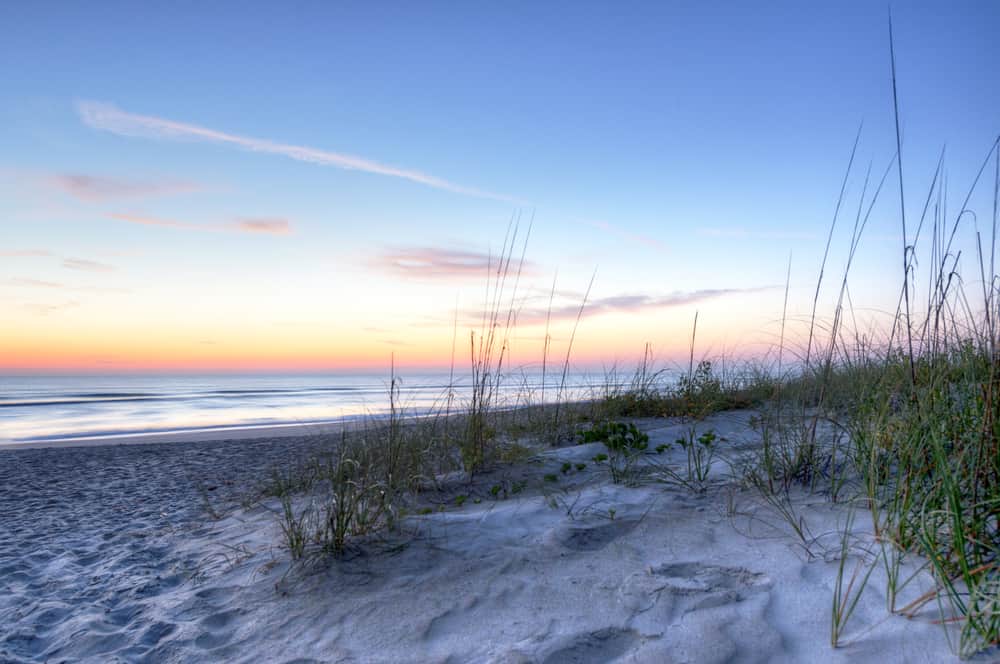 Delray Beach
Once named as the "Most Fun Small Town in the USA" the Delray Beach area is a fun-loving seaside village with a lively main street.
Nestled between Boynton Beach and Boca Raton It's a hidden gem of Palm Beach County. Winning several other awards such as Coastal Living Top 10 Happiest Seaside Towns and 3-time winner of the coveted All-America City award. Some describe this area as a mix between South Beach and Key West.
The beach is stunning like most Florida beaches but you come here for the vibe. This a beach with a thriving art scene, a lot of culture, and interesting history. There are so many great Restaurants in Delray Beach you need to check out too!
If you are a surfer you might want to check out Boynton Beach which is close by.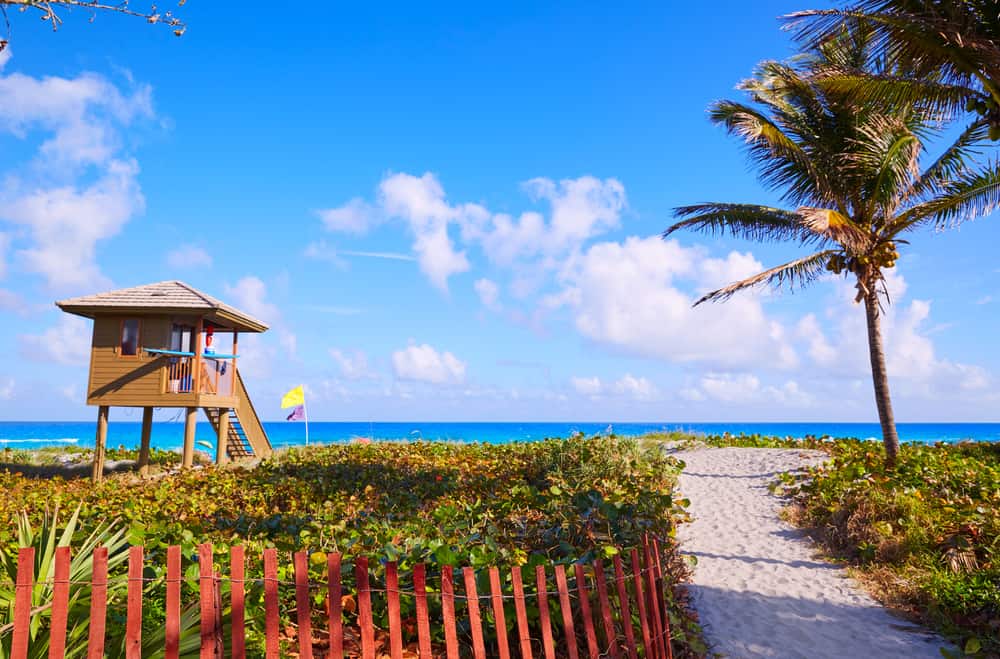 Jupiter Beach
Named by Coastal Living magazine as one of the Top 10 Happiest Seaside Towns in the USA Jupiter has a lot more to offer than it's the beach, however, the beach is something special.
At the confluence of the Loxahatchee River, Intracoastal Waterway, and the Atlantic Ocean it's a great beach for watersports. Here the Gulf Stream flows nearest to the United States making the water a comfortable 78 degrees which is a bonus.
It's also a great beach for children to swim safely too. Jupiter itself is also a great place to visit the lighthouse is well worth a peek.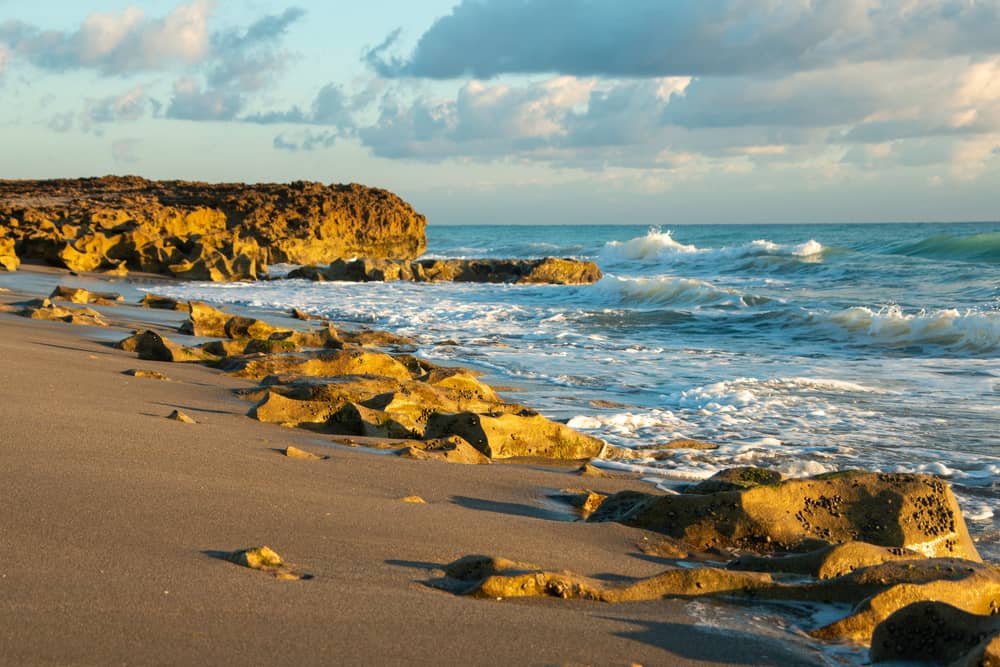 Jenson Beach
Tucked away between Fort Pierce and West Palm Beach is Jenson Beach. Once known as the "Pineapple Capital of the World" the area still holds an annual pineapple festival and you will find carved pineapples on the white picket fences.
The area has earned a reputation for its seafood fine dining and this charming area also several species of endangered sea turtles during nesting season.
Boating, sailing, fishing, skiing, surfing, and scuba diving are all popular and some say this area has a laid back Key West feel.
Every Thursday head downtown for Jammin' Jensen a lively live entertainment and food event.
While you are here why not take a visit to the Manatee Observation and Educational Center it's not too far away.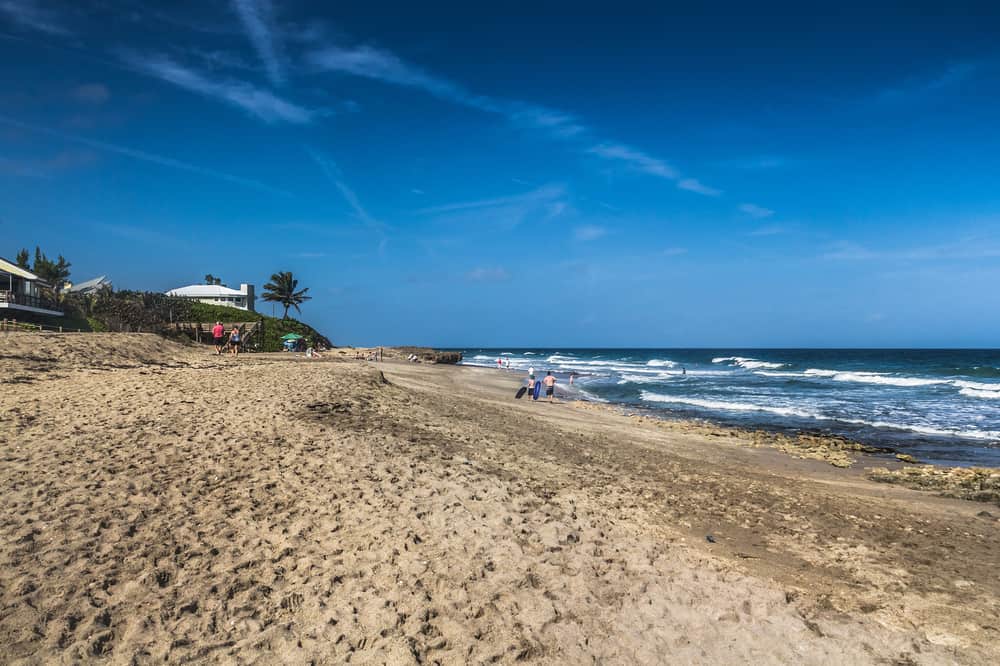 Whichever of these Florida east coast beaches you choose to visit we know you will have a great time. Florida Atlantic beaches always tend to have more breeze and more waves than the Gulf Coast and we find ourselves not getting as hot on the east coast of Florida.
We are aware we have missed some great beaches out of this too so if you would like to add any mention them in the comment so others can see them too. We hope this article convinces you to visit the Atlantic coast of Florida.