The Sunshine State's shorelines are undoubtedly beautiful, but which are the best family beaches in Florida? When you're traveling with your family, you want clean waters, smooth sands, and certainly to avoid large, rowdy crowds.
How many other states have multiple beaches ranked as the best beaches in the country, and even the entire world? Clearwater Beach and St. Pete Beach have earned themselves spots on lists published by Trip Advisor, USA Today, and the Travel Channel.
Because of Florida's subtropical climate, the waters are comfortable year-round. The waters reach their lowest temperatures in January at 70 degrees. August is the warmest at 88 degrees.
When visiting the beach, we recommend of course bringing sunscreen! Even in the cooler months, the sun's rays are just as damaging. Wear your swimsuit under your clothes so you can jump right into the water. Bring a waterproof bag for your phone and keys!
If you plan on swimming, check to see if there is a lifeguard on duty, especially if your family includes small children. Familiarize yourself with beach warning flags: double red means no swimming at all, green means no hazard.
If you're having trouble picking a Florida beach destination for your next family vacation, we've got you covered. Whether you want to build sandcastles, hunt for shells, or just play in the surf, Florida's prettiest beaches have it all.
Here are some of the best beaches in Florida for families!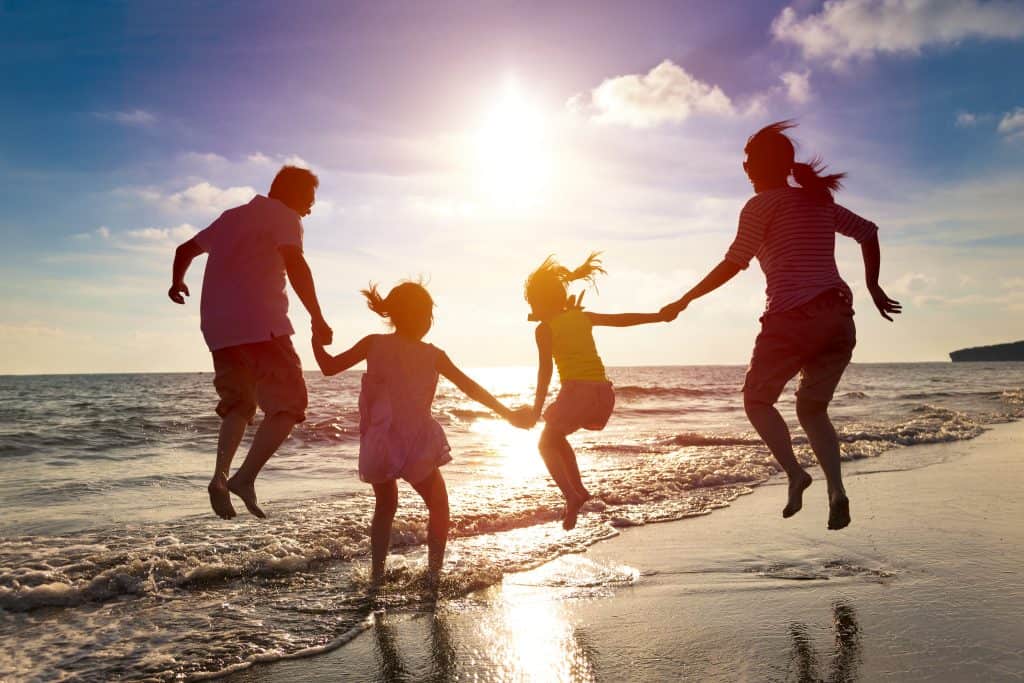 17 Family Beaches In Florida Everyone Will Love
Panama City Beach
A quick two-hour drive west of Tallahassee will take you to one of the most popular beaches in the entire United States! Just off of Highway 30A, at Panama City Beach, you'll find over 27 miles of coastline to enjoy at one of the best beaches near Tallahassee.
While inundated with college students during spring break, you'll find that Panama City Beach becomes family-friendly during the rest of the year. With white, sugary sands and turquoise waters from the gulf, you'll find playgrounds and amusement parks nearby.
If your family enjoys a walk on the wild side, then get ready! Enjoy multiple opportunities for an adventure like jet skiing, parasailing, and scuba diving. You can even airboat through the marshes just beyond the shores of the beach!
Panama City Beach is also known as the Seafood Capital of the South! You're right next door to some of the best seafood joints, serving up the best daily catches. If you happen to be in town for the Gulf Coast Jam, a three-day country music festival on the beach, then you are in for a fun weekend!
Where to Stay Near Panama City Beach
Mid-range: Hyatt Place Panama City Beach Check Rates: Booking.com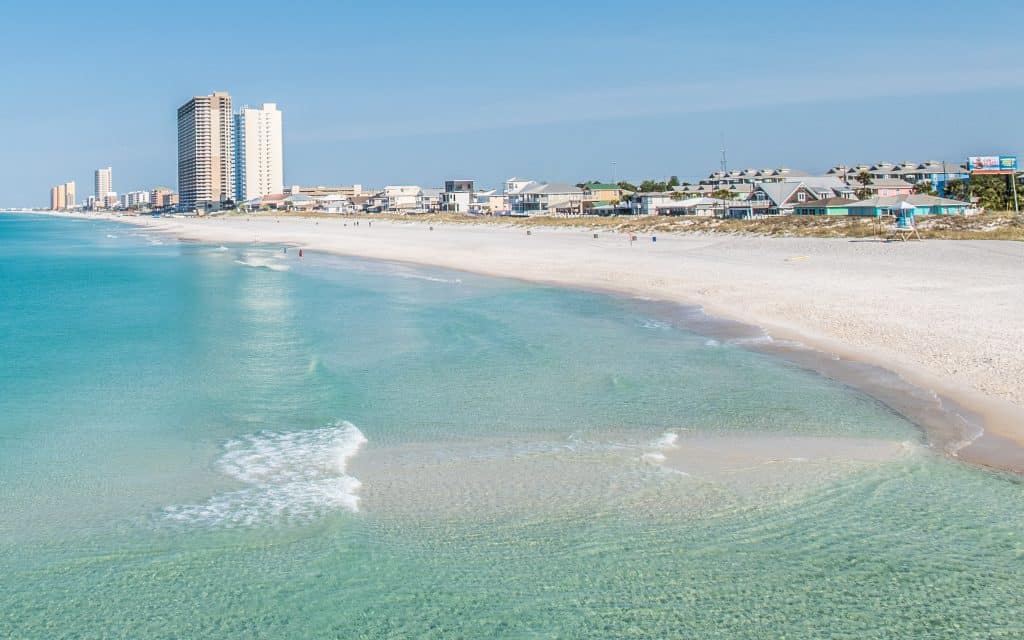 Daytona Beach
An hour northeast of Orlando and an hour south of St. Augustine, you'll find one of the best Florida beaches for families! Located on the Atlantic Ocean just four hours up the coast from Miami, Daytona is best known for the Daytona 500.
Daytona Beach caters to families with kids, and especially kids at heart. With 23 miles of pristine shorefront, Daytona is recognized as one of the best beaches, period. The sound of small children laughing and playing is just as common as the sound of the waves crashing onto the shore.
Even the attractions in Daytona Beach are family-friendly! At the legendary boardwalk and pier, you'll find a giant Ferris wheel, a video game arcade, and restaurants!
At Ocean Shoppes, you'll find a brightly colored building filled with restaurants and shops. Also, across the street is Screamers Park. Enjoy one of the thrilling rides!
If you're visiting from May 15 to October 31, keep your eyes peeled. Parades of sea turtles flock to the sands of Daytona Beach to lay their eggs. Not only is it great "edutainment," it's just fun to watch.
Where to Stay Near Daytona Beach
Mid-range: Hard Rock Hotel Daytona Beach, Check Rates: Booking.com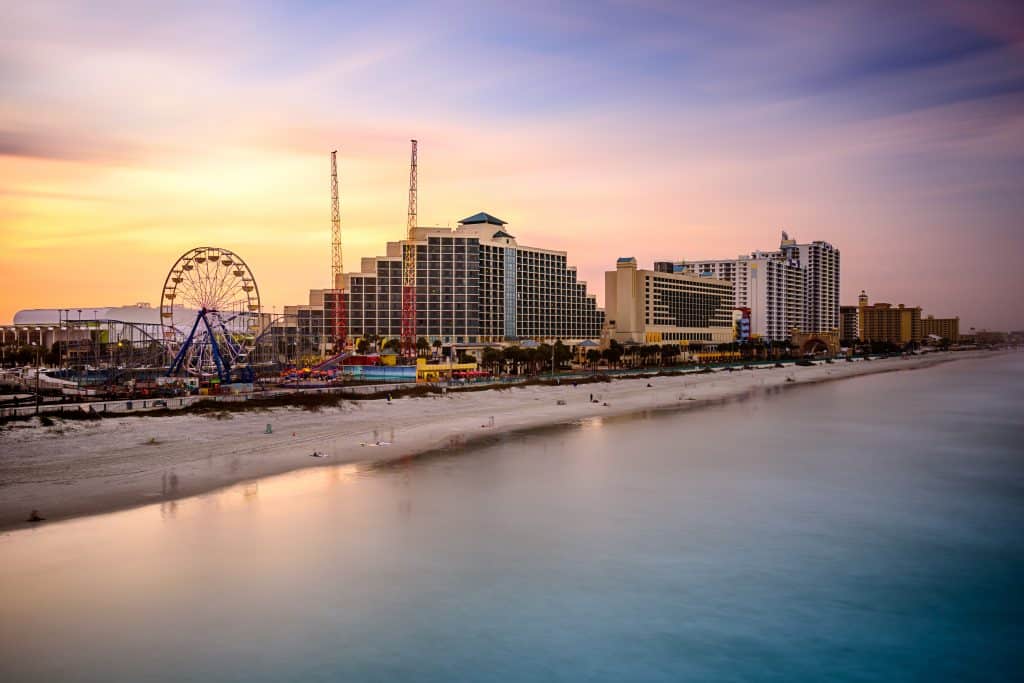 Clearwater Beach
All right, folks, this is the big one. Arguably the best beach in Florida, Clearwater Beach has been named the #1 beach in America by multiple sources like TripAdvisor, USA Today, and Forbes. Don't forget to check out our list of the best things to do in Clearwater Beach!
You heard us right! This means that Clearwater Beach has won the coveted title over the best beaches in Hawaii, California, and the Carolinas. So what makes Clearwater Beach one of the best family beaches in Florida?
As Florida's best paradise, Clearwater Beach boasts calm ocean waters and powdery, white sands. The city works hard to maintain cleanliness, raking the sand each morning to ensure the sand stays sugar-soft, perfect for sandcastles!
Clearwater Beach is also one of the few beaches where lifeguards are on duty year-round. If you're an anxious parent, you won't have to worry about the weaker swimmers in your family. Help is always seconds away!
A few times a month, Sunset Cinema screens family-friendly movies. How cool would it be to watch Jaws on an actual beach? You can also find the best festivals in Florida here like the Clearwater Offshore Nationals for boaters and the Sugar Sand Festival for kids!
Clearwater Beach is also home to some of the best restaurants in Clearwater. Make sure to check out Frenchy's Rockaway Grille while you're still at the beach. Later when you want a nice night out, try Ocean Hai, or head further down the beach for a historic dinner at the Columbia.
Where to Stay Near Clearwater Beach
Mid-range: Courtyard by Marriott Clearwater Beach, Check Rates: Booking.com
For more options, check out our favorite Airbnbs in Clearwater as well as hotels!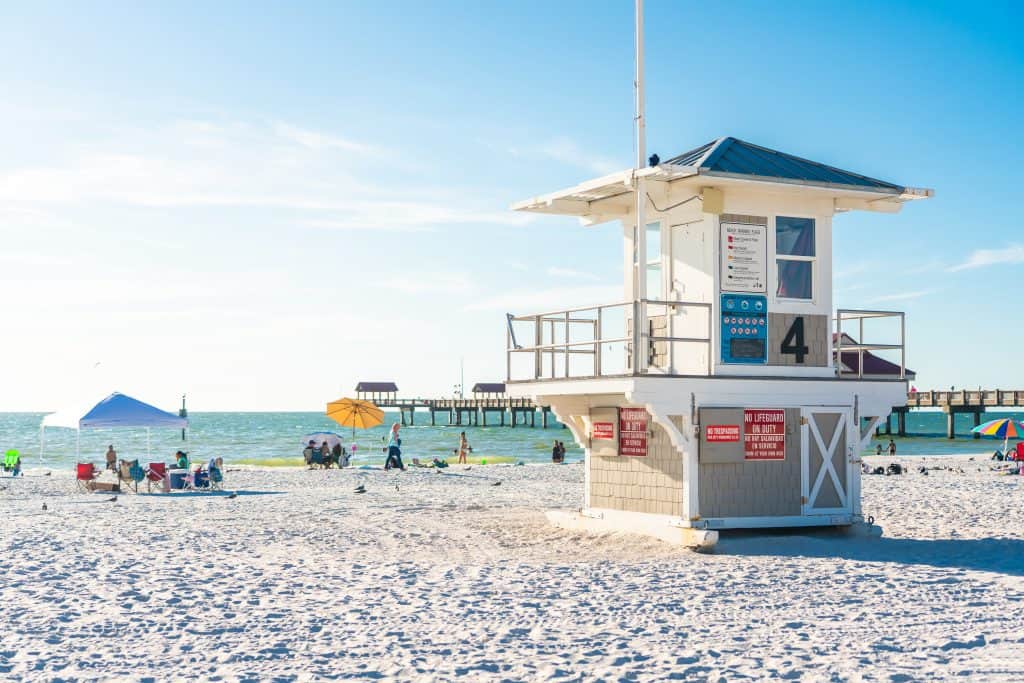 St. George Beach
One of the prettiest islands in Florida, St. George Island is home to one of the best quiet family beaches in Florida. St. George Beach wins when it comes to rest and relaxation.
With an untouched coastline, the pristine white sands showcase the beauty of the Gulf Coast. Your family will love simply sunbathing on the shoreline, swimming in the warm Gulf waters, or kayaking. The little ones will love collecting shells, too!
Many locals have chosen to have a beach home in this area because of its secluded nature. Your neighbors will be the native Florida wildlife on the island's marshes, untouched by development.
Don't be afraid to bring the family dog, either! St. George Beach is pet-friendly! No longer do you have to feel guilty about getting a dog-sitter and leaving Fido at home.
If you want more adventure during your trip to St. George Island you can charter a boat for fishing offshore. Take one of the best hikes in Florida along the 6-mile paved pathway along the beachfront! You can even experience the great outdoors with great camping options nearby, too!
Where to Stay Near St. George Island
Mid-range: Ocean Mile D-3, Check Rates: Booking.com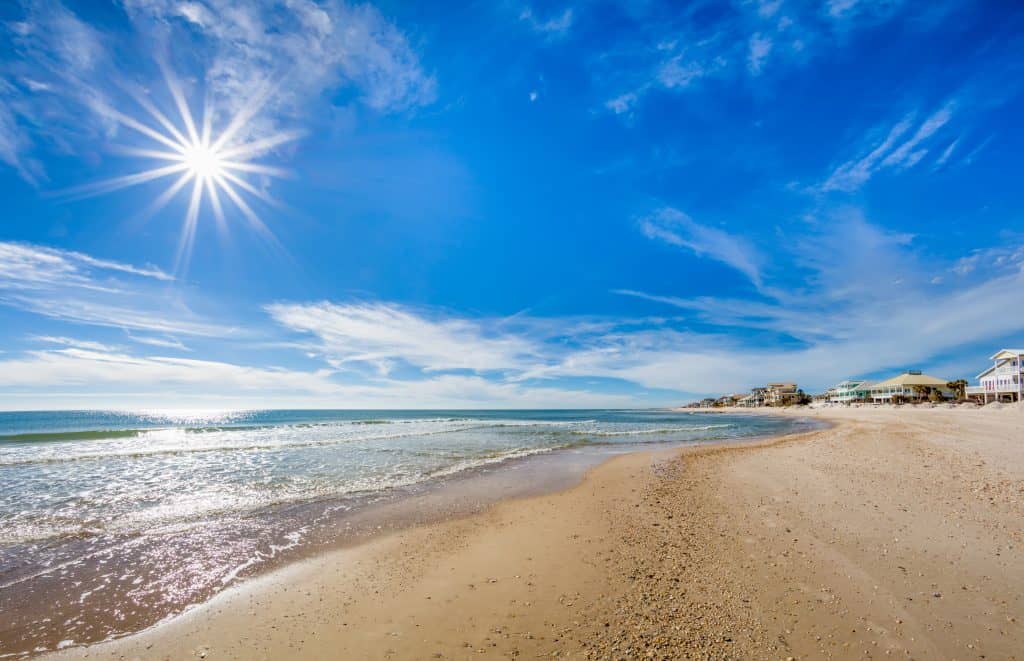 Deerfield Beach
Just south of Boca Raton and north of Pompano Beach, you'll find one of the best family beaches in Florida. Deerfield Beach is a charming beach town with more than meets the eye.
Of course, the main attraction of Deerfield Beach is well…the beach. With pristine beaches, open access, and a fantastic boardwalk, you won't find better family attractions in Florida.
The shorelines of Deerfield Beach are famous for another reason as well. Rated as one of the nation's cleanest and most environmentally safe beaches, Deerfield Beach has earned certification as a "Blue Wave Beach" from the Clean Beach Coalition as of 1999!
Ride the Blue Wave when it comes to deciding how and what to eat! At the Deerfield Beach Green Market, enjoy the freshest produce and natural goods every Sunday! If you miss it, don't worry, the family can enjoy shopping at the market's home, the Cove Shopping Center.
If your family errs on the whimsical side, check out the Florida Renaissance Festival! You'll experience an authentic week filled with period costumes, medieval themes, and an abundance of nostalgia!
When it's time for mom and dad to have some alone time, Deerfield Beach has some of the best fine dining restaurants around. If you plan your trip right, experience the Deerfield Beach Wine and Food Festival, one of the state's best festivals, a glorious party for your palate.
Where to Stay Near Deerfield Beach
Mid-range: DoubleTree by Hilton Hotel, Check Rates: Booking.com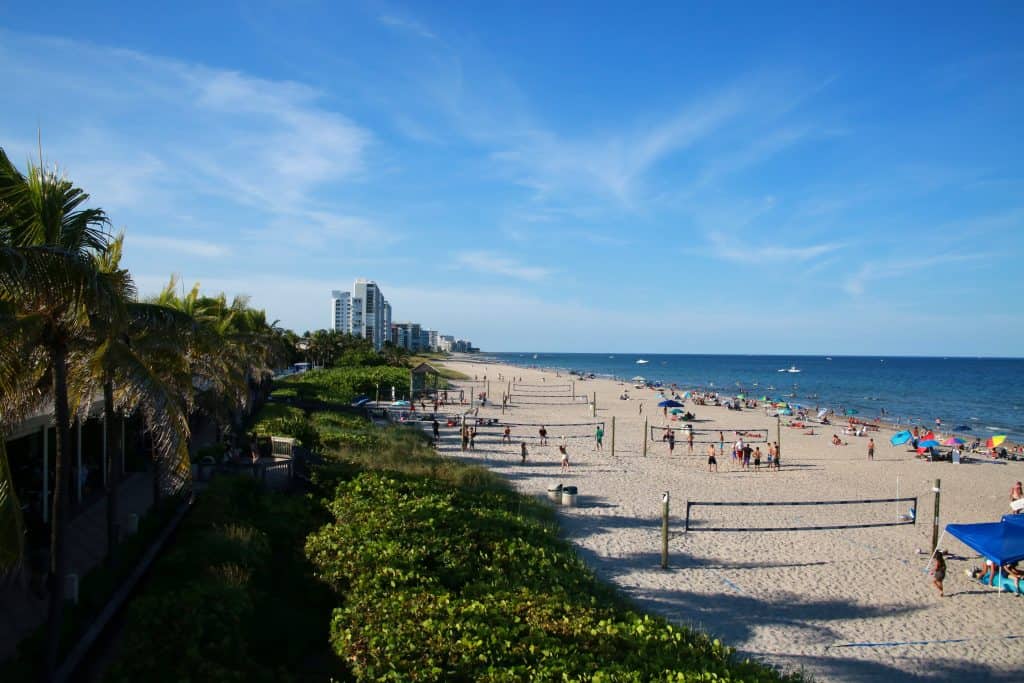 Fort De Soto Beach
At the very tip of St. Petersburg, you'll find 1,136 acres of five interconnected islands. Bask in the majestic, diverse ecology of the park, encompassing mangroves, wetlands, palm hammocks, great hiking trails, and a series of the best family beaches in Florida.
Also a national park, Parents Magazine named Fort De Soto Beach Park the #1 Best Beach For Families in 2011! Nothing beats these family-friendly beaches in Florida.
Along the seven miles of waterfront, you'll bask in the sun on almost three miles of beautiful white-sand beaches. A natural sandbar makes a natural "kiddie pool" perfect for little swimmers.
Dad can enjoy fishing on the piers, each furnished with a food and bait concession. You're likely to snag spotted sea trout, snook, and redfish! Mom can rest easy knowing there is a lifeguard on duty.
You can even bring your furry friend to join in the fun! Fort De Soto has a dedicated off-leash dog beach! Have fun watching your pup play in the waves.
If the family doesn't want to leave just yet, take advantage of the campgrounds! There are plenty of amenities to keep everyone busy, like the Quarter Master Museum, playgrounds, two large swim centers, boat launches, and nature trails.
Where to Stay Near Fort De Soto Beach
Mid-range: Crystal Bay Historic Hotel, Check Rates: Booking.com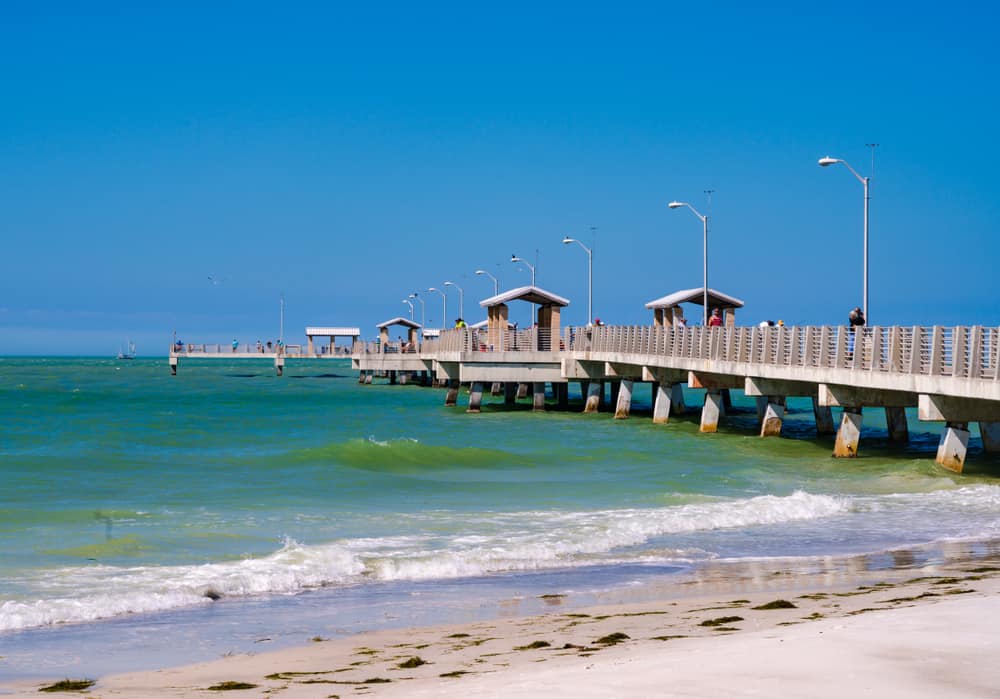 New Smyrna Beach
To the south of Daytona Beach, discover one of the best family-friendly beach vacations in Florida! New Smyrna Beach, a surfing hub on the Atlantic coast, also includes the gorgeous Canaveral National Seashore!
At New Smyrna, the beaches are wide and flat with golden-hued sands. The community is rooted in local culture and art, full of personality. A prime location for surfers, New Smyrna Beach is perfect for families because of its "small town" charm.
The area offers those with children hours upon hours of fun! Spend a day building an epic sandcastle or swimming in the ocean. Take it to the next level with some surfing lessons and learn to hang ten!
We're going to dispel the rumors now. Yes, the Guinness Book of World Records did declare New Smyrna Beach as the "Shark Attack Capital of the World." Take this with a grain of salt, as the beach earned this title simply because of ridiculous overcrowding and irresponsible behavior in one small area of the beach.
When you're all beached out, ride go-karts at the amusement park nearby! Learn about the local wildlife at the Marine Discovery Center, or check out the arts district for some quirky galleries!
Where to Stay Near New Smyrna Beach
Mid-range: Anchor Inn NSB Bed and Breakfast, Check Rates: Booking.com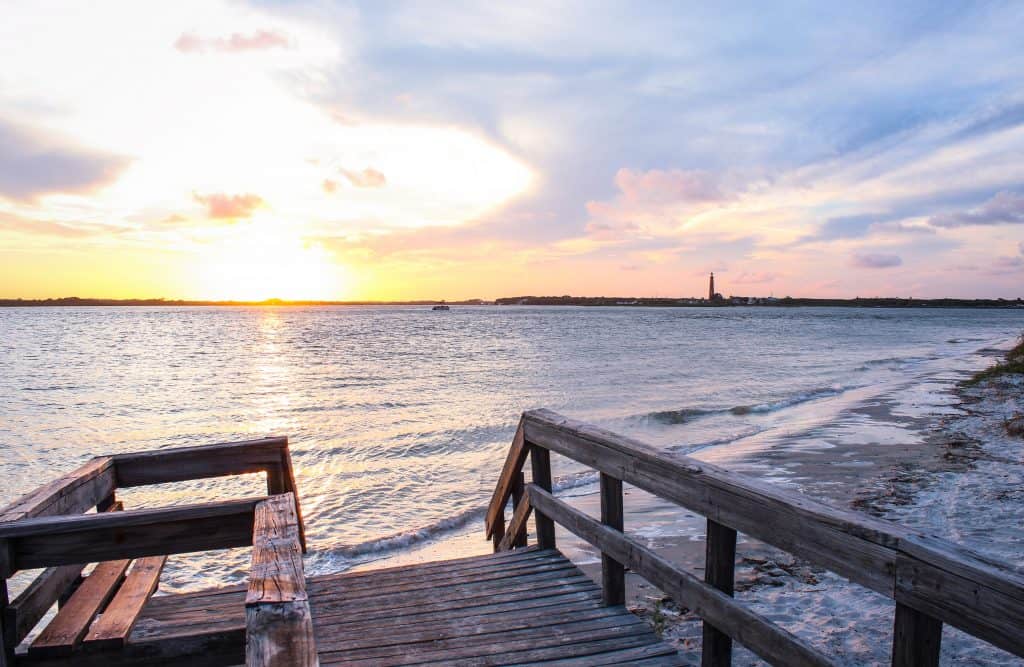 Cocoa Beach
The clean, wide beaches along Florida's Space Coast offer something for everyone in the family, whether it's a calm, peaceful day under the sunshine or a fast-paced adventure that gets your blood pumping.
The beautiful, warm waters and versatility of Cocoa Beach make it one of the nicest family beaches in Florida. Check out the Cocoa Beach Pier to dine at one of the delicious restaurants, have a drink during happy hour, or shop at a quaint boutique while live music fills the air.
The pier also provides great fishing spots and a killer view of the Atlantic Ocean. Beach, water sport, and fishing equipment rentals are available, not to mention the beach volleyball court for a great game.
For a taste of Cocoa Beach's surf culture, head to the beach early in the morning to watch locals and pros alike catch some waves. The coal shops create handcrafted surfboards and stand-up paddleboards. The iconic Ron Jon Surf Shop, which is the largest surf shop in the world, is a can't-miss. Not to mention it's open 24 hours.
Cocoa Beach is also one of the best beaches near Orlando for families. Since it is only about an hour from Disney World, it is a great day trip for your family Florida vacation!
Make sure to check out our list of the Best Things To Do In Cocoa Beach for your trip.
Where to Stay Near Cocoa Beach
Mid-range: Beach Place Guesthouses, Check Rates: Booking.com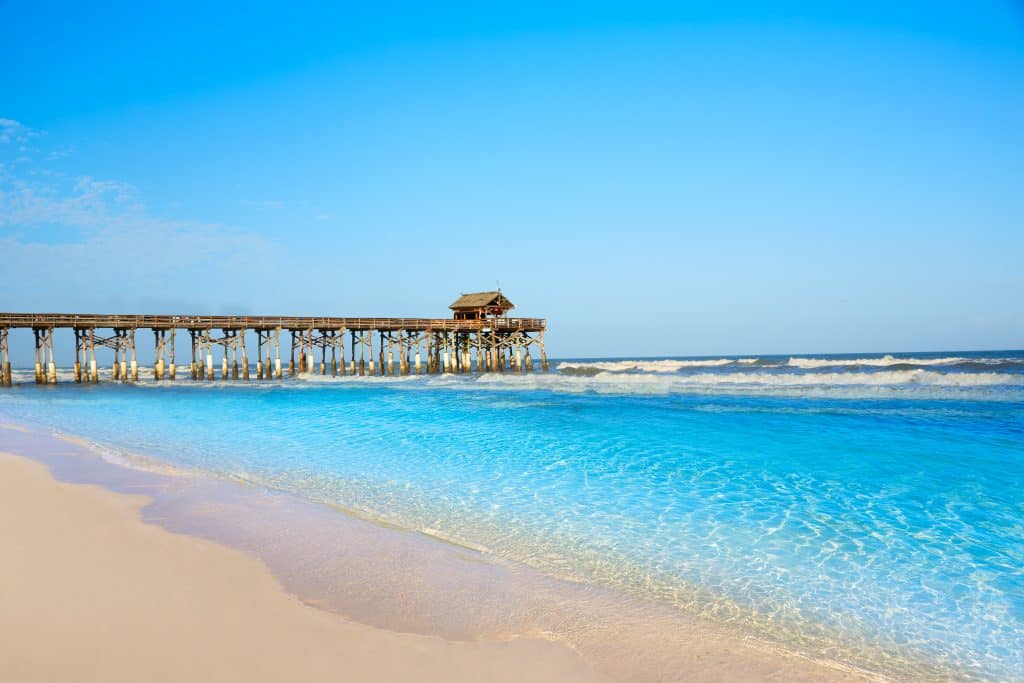 Vero Beach
If you're taking a road trip through Florida make sure to stop in Vero Beach after leaving Miami or heading south from Daytona Beach. This laid-back small town will not disappoint. It is one of the best Florida beaches for kids!
With only a population of under 15,000, Vero Beach was first named a town in 1919. In 1957 the first bridge was built to connect the barrier islands with the mainland!
Since then, many celebrities like Oprah Winfrey, Michael Jordan, Mike Tyson, Jay Leno, Jennifer Lopez, and Taylor Swift have discovered the beauty of Vero Beach. If a family vacation here is good enough for A-listers, then anyone can have a great time here!
Known as "the gateway to the tropics," the wide sandy beaches on the Atlantic make Vero Beach an old-fashioned beach vacation. You and the family will love playing in the sand, beach volleyball, and looking for shells.
If you're looking for extra activities for the kids, have no fear! Check out the McClarty Museum, one of Florida's coolest museums, which showcases real pirate treasure! Peter's Grove Nursery is a great place for kids to see mini farm animals and learn about the region's farming heritage. Kountry Kitchen With Love is the epitome of an old-fashioned diner experience. However, be aware it is cash only! If you forget though, there is an ATM located inside the restaurant. Make sure to check out our list of the best restaurants in Vero Beach!
Where to Stay Near Vero Beach
Mid-range: Staybridge Suites, Check Rates: Booking.com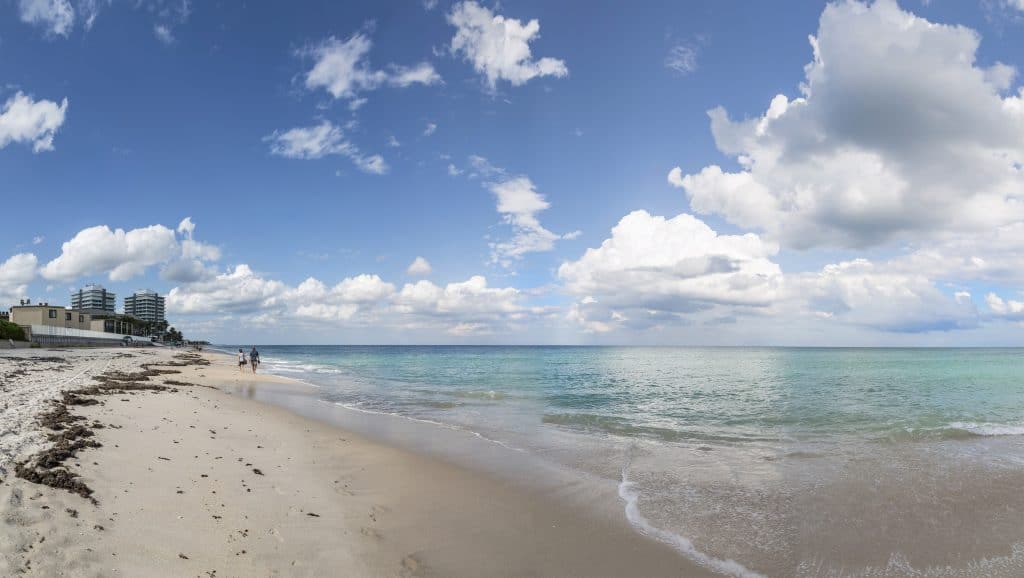 Sanibel and Captiva Islands
Just off the coast of Cape Coral and near Fort Myers, you'll find two of the prettiest islands in Florida waiting for your escape to paradise. Sanibel and Captiva Islands are all about the outdoors. As a result, you'll feel the magical current in the air through the island's slightly off-kilter vibe.
Unbeatable because of its secluded nature, the beaches of Sanibel and Captiva feel like they're at an upscale resort. Some of the best family beaches in Florida, the sand glitters so brightly that it hurts your eyes, and kids love the shelling opportunities.
Because Captiva boasts some of Florida's best beaches, you'll find some of the clearest waters for swimming, scuba diving, and parasailing. Head to Bowman's Beach, one of the best dog beaches in Florida! Additionally, Turner Beach is great if you don't want to travel by car.
For the most unique dining experience that captures the quirky vibe of Captiva Island, you must visit the Bubble Room. Kids will love its Florida Christmas Wonderland vibe, and palm trees are strung with lights year-round. You'll also always see a tiny model train running through the themed rooms.
Where to Stay Near Sanibel and Captiva Island
Mid-range: Song of the Sea Check Rates: Booking.com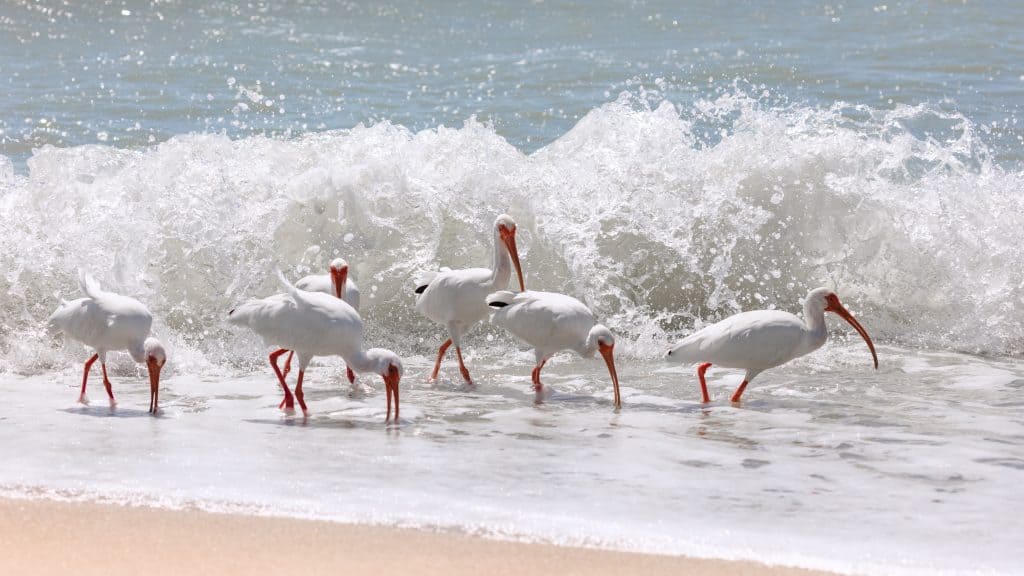 South Beach
We know what you're thinking, isn't South Beach the nude beach? How could it possibly be family-friendly? Well, you know how rumors can be. They're overly-exaggerated and spread like wildfire. South Beach is actually one of the best beaches in Miami for families!
South Beach is the mother of all beaches in South Florida and is continually rated one of the best in the world. The expansive sandy shoreline allows room for an expansive family setup. Visitors from hundreds of countries come here to play in the turquoise waters.
You and the entire family will get a kick out of South Beach's lifeguard stations. Architect William Lane donated his design services after Hurricane Andrew hit. Now, his lifeguard towers have become the symbol of all Miami Beach.
Keep an eye out for food carts along the sands; they're actually delicious. If you really want to tire out the little ones, rent jet skis or head to Lummus Park nearby for volleyball, a fun playground, and a great hiking trail.
Once you're all beached out, make sure to check out Miami's food scene. Here you'll find everything from famous Farmers' Markets and cantinas to rooftop bars and art deco diners. Better yet, ditch the kids with a sitter and head to one of the best spas in Florida for some kid-free rest and relaxation.
Where to Stay Near South Beach
Mid-range: Avalon Hotel, Check Rates: Booking.com
For even more options, check out our favorite Miami Airbnbs and boutique hotels in Miami.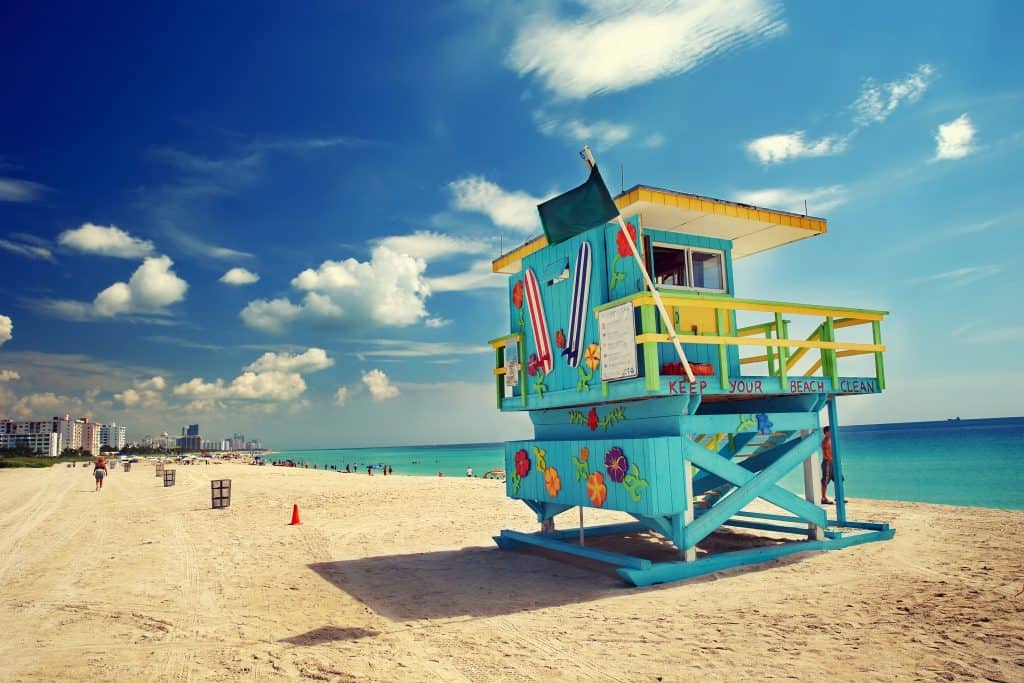 Fort Lauderdale Beach
If you haven't been to Fort Lauderdale and its beaches in while, you may think it's a heathen playground for those looking to get their fifteen seconds of fame on "Girls Gone Wild." We're here to tell you those days are LONG gone.
Today, Fort Lauderdale has some of the best beaches near Miami for families. You're more likely to see families just like yours enjoying the sunshine, taking advantage of the weather, and enjoying the resorts and attractions of the area.
The Greater Fort Lauderdale does have many family beaches in Florida, but the most accessible remains the main stretch on A1A drive. A great place to start, it's less crowded than say, South Beach, but offers the same white sand and crystal clear waves.
If you have older children, then take advantage of Fort Lauderdale's small-city charm. Head over to Las Olas Boulevard which runs perpendicular to the beach. Your teens will love the endless shops and boutiques!
If you have small children who just love the beach, take advantage of the Funky Fish Kid's Day. With a day package from the Villas by the Sea Resort, mom and dad can finally get some alone time.
The day package runs from 10 AM – 3 PM and includes snorkeling lessons, boating, fishing, scuba camp, and other customizable activities! If five hours isn't enough, there's an overnight camp as well, with "Beach Hotel Camp Sleepovers."
Where to Stay Near Fort Lauderdale
Mid-range: Coral Key Inn, Check Rates: Booking.com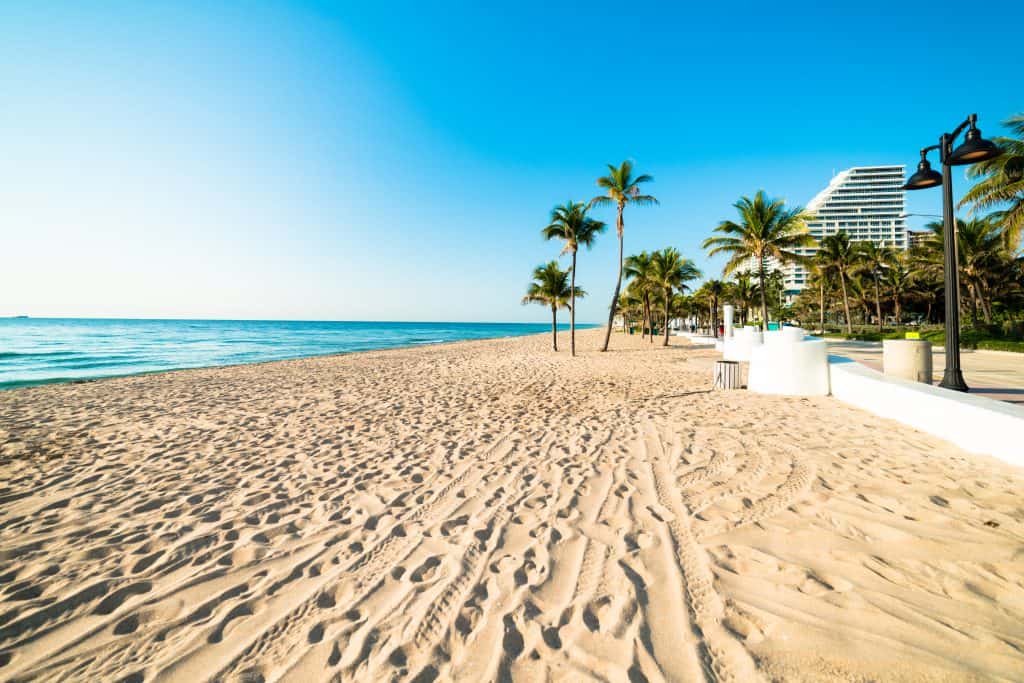 Venice Beach
Like many top Florida beaches along the Gulf Coast, Venice Beach near Sarasota has soft, pristine sand to dig your feet into and settle down for a fantastic day of sunbathing or playing an awesome game of beach volleyball at one of the two courts available.
Visitors can bring their own grub and set it up in the picnic area. Alternatively, there's a concession stand as well as numerous cafes and restaurants along the shore.
Lifeguards are on duty year-round, so there's no worry about safety, and there are restrooms and outdoor showers available for guests to wash away the sand and salt of the day. Even better, the parking is free!
The beautiful, warm Gulf waters make Venice Beach one of the best kid beaches in Florida that's ideal for swimming and boating. Beachcombing is one of the locals' favorite pastimes as the beach is brimming with treasures like fossilized shark teeth and lovely shells.
During turtle nesting season (May – October), you and your family may even spot turtle nests or turtles hatching and making their way back to the ocean! It's important to be mindful of these events so as not to disturb these amazing marine creatures.
The Venice Public Fishing Pier is a great place to not only fish but also spot dolphins and shorebirds. Not to mention it's right by the only dog-friendly beach in Venice, Brohard Park.
Families can also walk or bike along the paths through the Venetian Waterway Park, where they may even spot wild alligators in the water. At the end of the hike, guests are rewarded with the ruggedly beautiful Caspersen Beach. Though it's not as immaculate and manicured as the main Venice Beach, the dramatic rock formations feel like you're in Hawaii!
Where to Stay Near Venice Beach
Mid-range: Inn at the Beach, Check Rates: Booking.com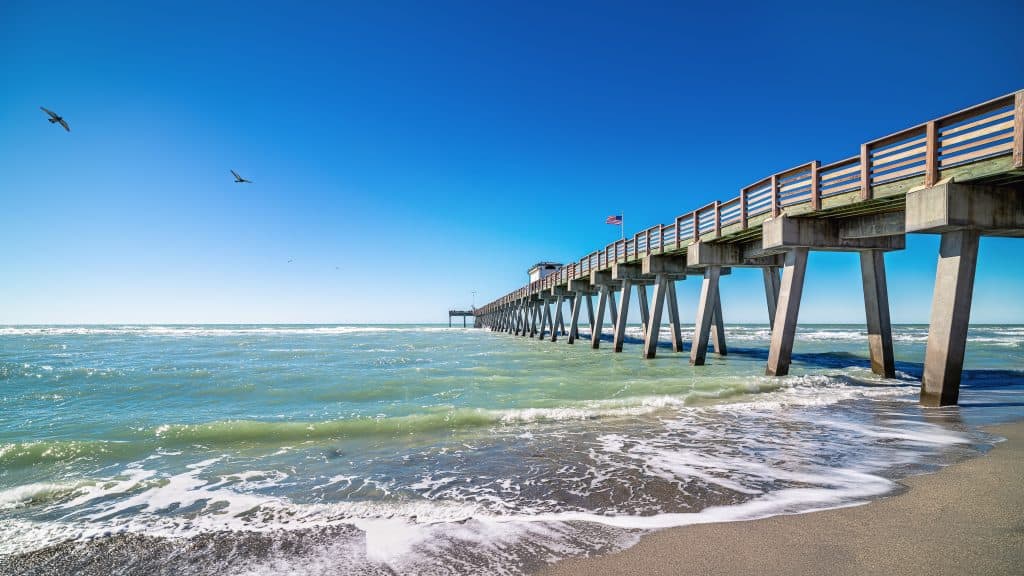 Siesta Key Beach
In Spanish, "siesta" means a short nap. Naturally, Siesta Key, one of the best family beaches in Florida, is also one of the best beaches for relaxation. The powdery white sand, tranquil ocean waves, and soft breezes will lull you into comfort.
Families can find many vacation rentals and hotels right on the beach, with easy access to the shoreline. You can also charter a boat, rent vehicles, and equipment for water sports, or book a fun excursion like parasailing or snorkeling.
Enjoy free yoga on the beach early in the morning. On Sunday evenings, try the exhilarating Siesta Key Drum Circle that will make the entire family feel the beat and move with it.
The evenings are ripe with live music coming from many sandy beach bars. The scent of delicious, fresh seafood from nearby restaurants wafts through the air. Don't forget to grab a cone at the local ice cream shops.
When not directly on the beach, opt to ride a bike around town to the small boutiques and cafés in Siesta Key Village and feel the fresh breeze for a laid-back experience or use the free trolley to get around.
Where to Stay Near Siesta Key Beach
Mid-range: The Sea Spray Resort, Check Rates: Booking.com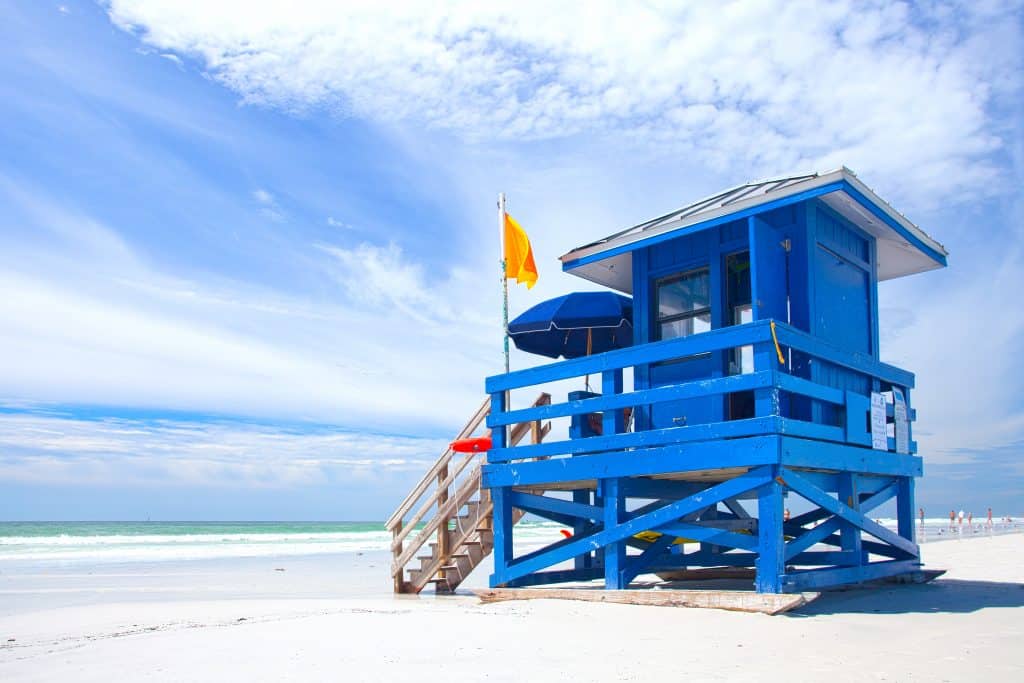 Fernandina Beach
On the northeast coast of the Sunshine State lies one of the best family beaches in Florida – Amelia Island. Tourists and locals alike visit this barrier island for a refreshing dip in the pristine waters and to admire the abundant native wildlife.
Amelia Island is the perfect spot for a weekend getaway whether you prefer to stroll along the shore of one of the top Florida beaches, lounge under an umbrella with a favorite beach read, or explore the historical sights on the island influenced by the French, Spanish, and English at different points in time.
Families will love one of the most magnificent experiences on Amelia Island, horseback riding on the beach! It's the only state park in Florida that allows it.
Families have an opportunity to get a closer look at the real Florida, including the salt marshes, coastal maritime forests, and the stunning beaches where shells and shark teeth are waiting to be discovered.
The George Crady Bridge Fishing Pier offers a place to cast your line in hopes of a good catch. Fishing bait and tackle supplies as well as snacks and refreshments are available at the On the Line Bait and Tackle Shop nearby.
Where to Stay Near Amelia Island
Mid-range: SpringHill Suites by Marriott, Check Rates: Booking.com
For even more options, check out our favorite Amelia Island Airbnbs and hotels.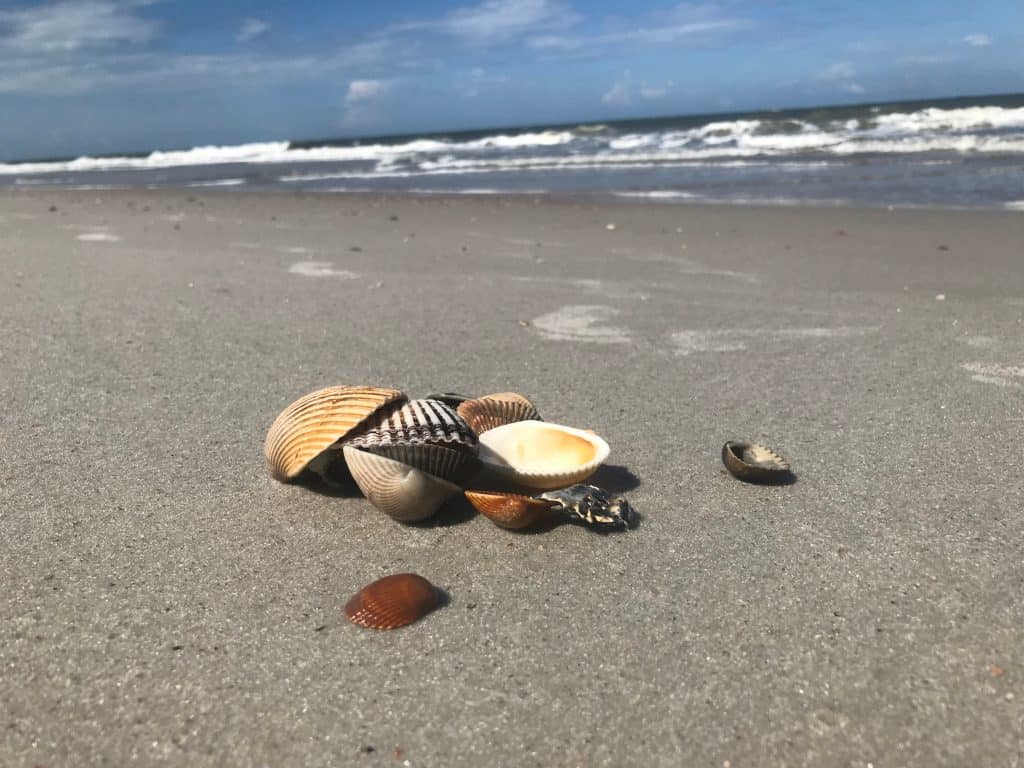 St. Augustine Beach
St. Augustine is the oldest city in the country and is also one of the best family vacation spots in Florida. There are over forty miles of coastline for the whole family to enjoy!
St. Augustine Beach on Anastasia Island is perfect for kids and adults since there are so many fun things to do. Rent some beach equipment and claim a section of the beach for your family to hang out at on a sunny day. You can even bring along your dog as long as they stay on a leash.
Lather in some reef-safe sunscreen and spend time swimming, surfing, kiteboarding, and more. Split the family into teams for a beach volleyball game or see who can build the best sandcastle. Younger kids will have a blast climbing on the playground.
The compact, white sand makes this beach great for riding your bike. Driving a 4×4 vehicle is allowed with a permit. Doesn't that sound like a fun way to experience one of Florida's best family beaches?
There is also a fishing pier, bait shop, restaurants, and shops to keep you entertained. Nearby Anastasia State Park is great for canoeing, hiking, and wildlife viewing.
Where to Stay Near St. Augustine Beach
Mid-range: Courtyard by Marriott, Check Rates: Booking.com
For even more options, check out our favorite hotels on the beach.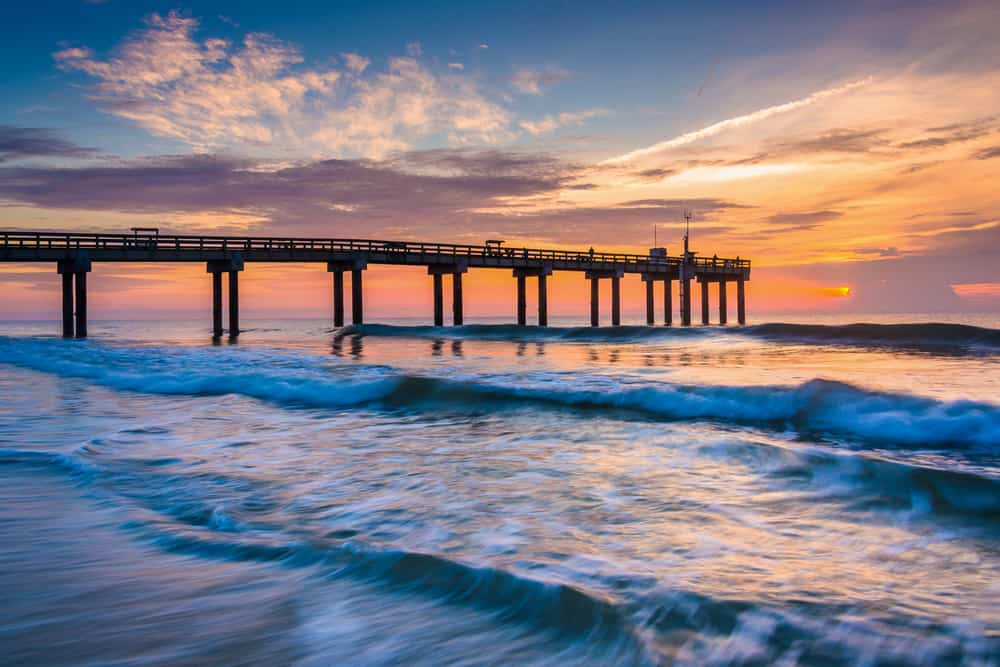 St. Pete Beach
St. Pete Beach, just outside of St. Petersburg, is one of the best beaches in Tampa for families. TripAdvisor even named it the No. 1 Beach in the U.S. in 2021. This award-winning beach is overlooked by the bright pink Don CeSar resort which dates back to 1928.
If you are looking for one of the best white sand beaches in Florida for families, then look no further than St. Pete Beach. This beach is known for its laid-back vibe and family-friendly atmosphere.
Kids will have fun searching for shells and wading in the clear water. Kayaking, canoeing, boating, windsurfing, and parasailing are more ideas for spending time in the water.
As you swim, make sure to be aware of your surroundings, since stingrays and jellyfish are known to be in the area. Shuffling your feet as you walk helps to scare away rays. Beware of rip currents as well.
When you want to escape the heat, head to the Historic Corey Avenue Shopping District or dine at one of the many restaurants and bars.
Where to Stay Near St. Pete Beach
Mid-range: Westwinds Waterfront Resort, Check Rates: Booking.com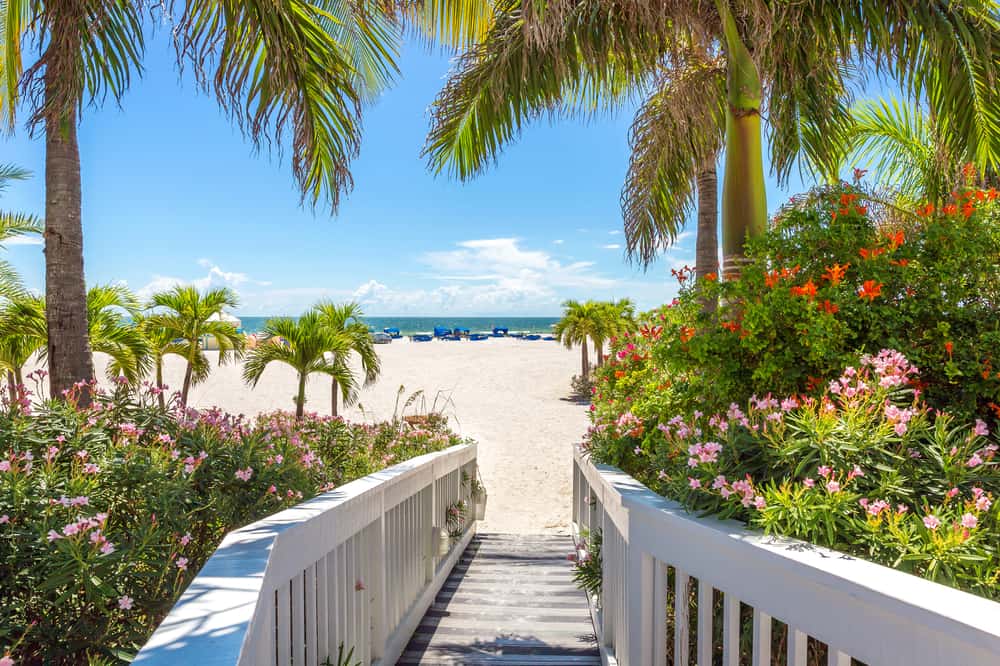 Did You Find This Post Helpful?
If so, we would love to keep in touch! We enjoy seeing photos and comments about your experiences in Florida! You can follow us on Instagram and we will repost your photos on our feed and comment too! Just tag us at @floridatrippers and hashtag #floridatrippers. We can't wait to see your travels!