If you're looking for a walk on the wild side, why not visit one of the nude beaches in Florida? The idea sounds daunting, we understand, but if you've got a little bit of exhibitionist in you? Why not?
As long as there have been beaches in Florida, people have been taking their clothes off there. Even before it was legal! In fact, many enthusiasts have been arrested for their nude protest of the law.
As a result, lawmakers have made nudity legal in special areas or even entire beaches. Remember, you can't just walk onto any old beach and disrobe at will!
If you haven't been to a nudist colony or nude beach, we need to emphasize the following: they're not a sexual place! Just as in all other aspects of life, people are more worried about themselves than they are you!
Simply put, people go to nude beaches in Florida for their relaxed, and well… clothing-free environments. It's a place to chill out and be free.
Be warned: some of the spots on this list are on family beaches! Nudity is generally more allowed rather than it is totally legal! Disrobe at your own risk! But we'll get to that later.
So if you're naked and unafraid, get ready. Pack a cooler, make sure to wear a little more sunscreen, and leave your inhibitions at home. It's time to visit the best nude beaches in Florida.
Did You Find This Post Helpful?
If so, we would love to keep in touch! We enjoy seeing photos and comments about your experiences in Florida! You can follow us on Instagram and we will repost your photos on our feed and comment too! Just tag us at @floridatrippers and hashtag #floridatrippers. We can't wait to see your travels!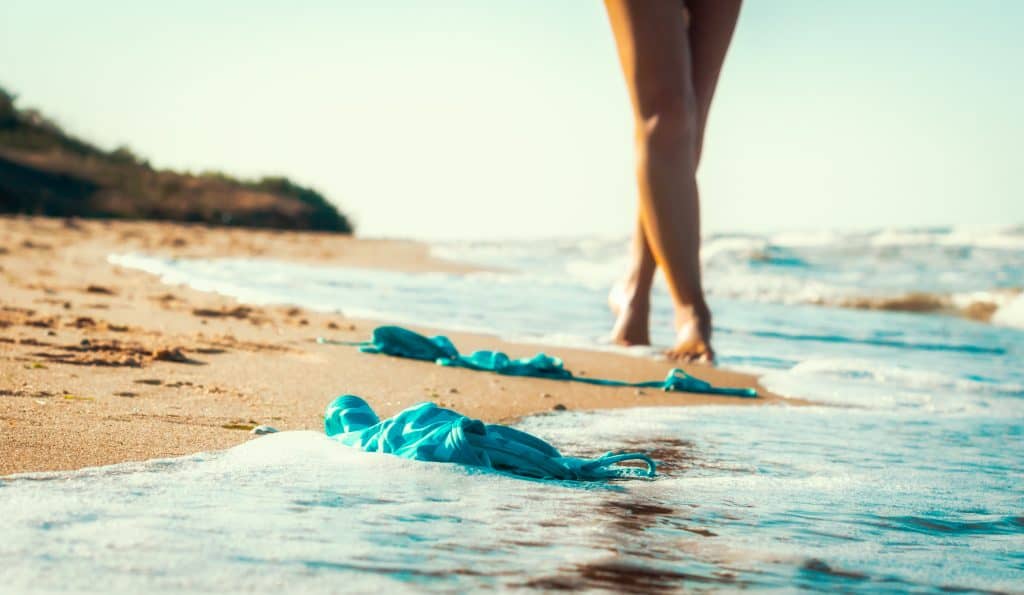 8 Best Nude Beaches In Florida To Be Naked and Unafraid
Blind Creek Beach
On the east coast in Fort Pierce, just to the south of Vero Beach, you'll find one of the best Florida nude beaches. While one of the most remote, Blind Creek Beach lives up to expectations.
While beautiful, Blind Creek Beach may feel isolated. We hope you don't mind the eight mile drive from the Jensen Beach Causeway. But once you've arrived and taken off your skivvies, you'll understand why locals go nuts for this beach.
When you think of nude beaches in Florida, you may not think of ecological beauty. But Blind Creek Beach feels like untouched, uncivilized Florida at it's finest.
Whether you're spying the hermit crabs scuttling across the shore or hoping for a glance at some sea turtles, you'll feel like a Florida native. Let the lush foliage melt your inhibition and take you away!
Haulover Beach Park
If you're a nude beach in Florida first-timer and need a place to feel comfortable? You can literally dip your toe in the water at Haulover Beach Park in Miami!
Of all the beaches in Miami where nudity is acceptable, Haulover Beach Park should be your first stop. Found along the southern side of Bal Harbour, many unsuspecting runners and joggers have been surprised as they come upon a bunch of nudists!
At any given time, you'll find hundreds of naked sunbathers and swimmers. Trust us, they've seen it all before. Nothing phases them! Don't worry about getting comfortable at first, nobody will be looking at you.
Because the beach is in Haulover Park, you will have to park on Collins Avenue and walk underneath the road. Once you get to the best Miami nude beach make sure to check out the Nude Drum Circle and volleyball tournaments!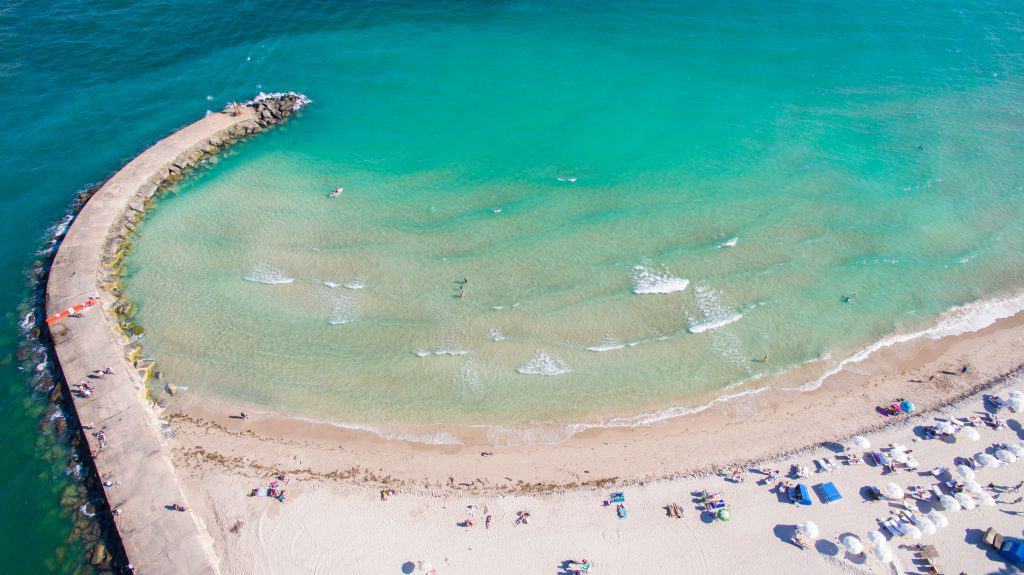 Boca Chica Beach
If you're looking for a Key West nude beach, then you're in luck! At Boca Chica Beach, you can bare it all and enjoy the beauty of one of Florida's most beautiful destinations.
Boca Chica Beach has already claimed its status of Florida beauty even without the element of nudity. The beaches in Key West are Caribbean-style coral reef beaches. Boca Chica Beach is no exception.
Accentuated by flowers and mangroves, the waters here are crystal clear. Make sure to bring a snorkeling mask to see the live coral reefs beneath you. Area of the beach may be rocky, so wear appropriate footwear!
Unfortunately, there is one downside to Boca Chica Beach. You can't drive there! There is good news though. A ferry operates regularly to take guests to one of the prettiest nude beaches in Florida.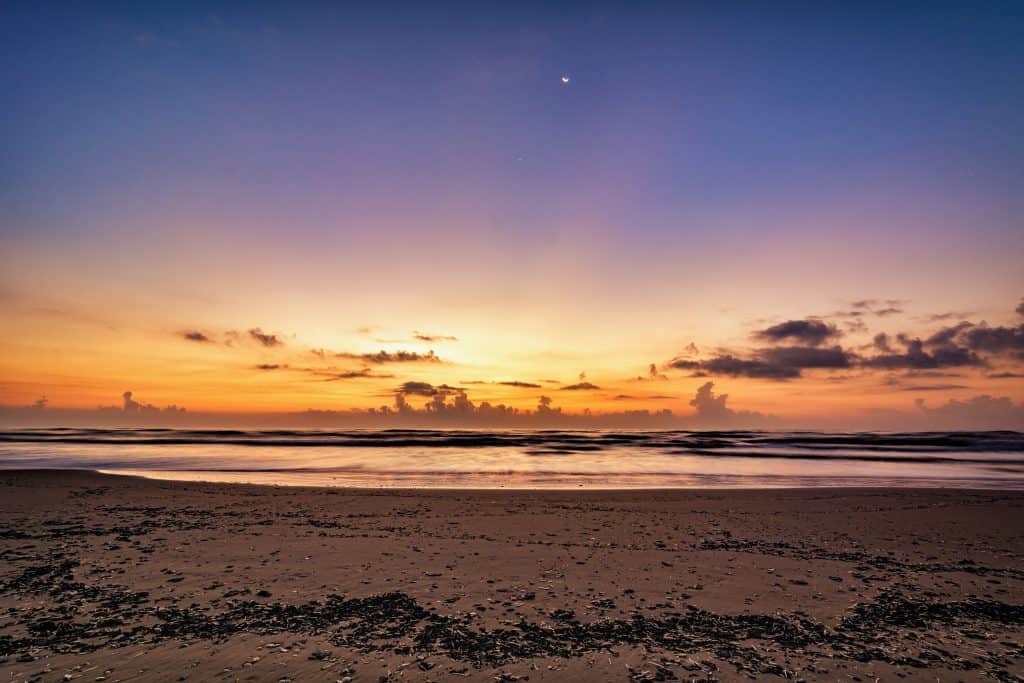 Playalinda
If you've been following us here at Florida Trippers, you might think of Merritt Island National Wildlife Preserve as a Florida bucket list destination. Filled with manatees, alligators, and native Florida animals, this can't be a good place for a nude beach, right?
Wrong! If you head a little further down the beaches, you'll find Playalinda up near Access #13. Playalinda's beauty is typical of Central Florida. The waters are a deep blue and the sands are thick but soft beneath your feet.
When you're not lounging on the beach in your bathing sui–we mean birthday suit, you can enjoy everything that Merritt Island National Wildlife Preserve has to offer. Just please go clothes if you do go hiking! Ouch!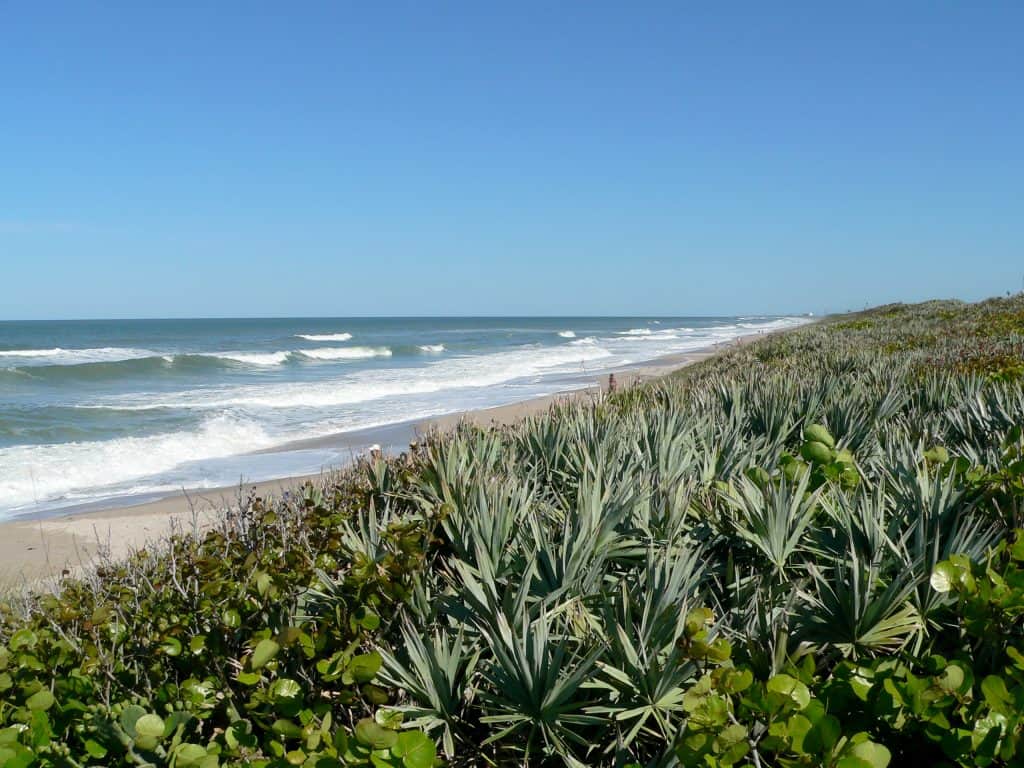 Cypress Cove Nudist Resort
In Kissimmee, right outside Orlando, you won't find a beach on the ocean per say. But you will find a welcoming nudist resort with a gorgeous beach on a lake!
The Cypress Cove Nudist Resort will be your one-stop destination for rest, renewal, and relaxation. Visitors who stay overnight absolutely rave about the resort's accommodations!
The 300-acre facility includes a 50-acre lake, 130 acres of protected wetlands, 20 acres of recreation, and even a residential community. Accommodations include 84 villa hotel rooms and apartments, and a modern campground / RV park.
If you're not about lake beaches, then you can enjoy the stunning pools! Meander around the tropical-themed resort, or enjoy activities like pickleball, swimming, paddleboating, and more!
If you don't mind that this nude beach in Florida is on a lake, then head to the Cypress Cove Nudist Resort! You will love your au natural vacation!
St. Lucie Inlet
Before Blind Creek Beach was legally designated a nude beach, there was the St. Lucie Inlet! One of the more secretive nude beaches in Florida, this is a local hidden gem.
Before throwing caution (and swimsuits) to the wind, we must caution you. The St. Lucie inlet is not an official nude beach. When you visit, disrobe at your own discretion and use your best judgement!
Because the beach lies on the edge of the inlet, you're faced with incredible views of the water. The sunsets are absolutely breathtaking!
A reason this secluded spot is popular? The surrounding mansions are celebrity favorites! One of them even belongs to Celene Dion!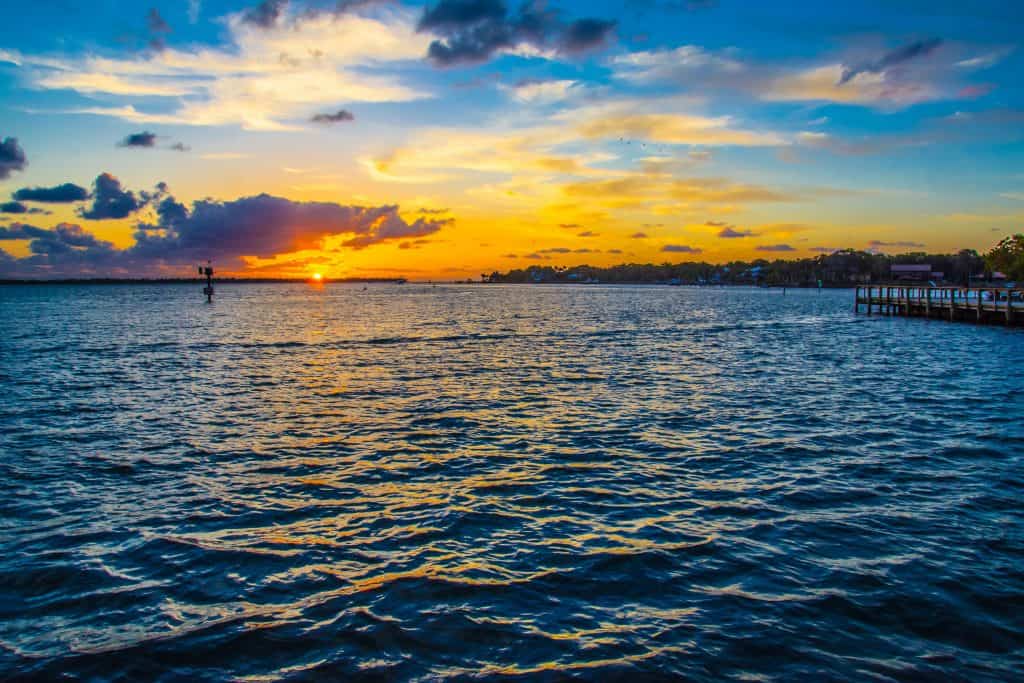 Apollo Beach
The Canaveral National Seashore sits on a preserve owned by NASA with a beach that shares a name with the most famous moon missions. But did you know that Apollo Beach is a secret haven for nudists?
Nude sunbathing and swimming isn't legal here, technically. But in most cases, if you keep to yourself you'll be fine! Don't bother anyone, and they'll leave you alone.
Any of the nudists who love Apollo Beach will have a bit of advice for you. Take the time to make the trek to the more deserted parts of the beach. This way, you'll avoid anybody giving you trouble.
To be honest, what's better than the feeling of having your own private beach? Once you've got the perfect tan, then put your clothes back on and head to Mosquito Lagoon, where you can see manatees from November to April!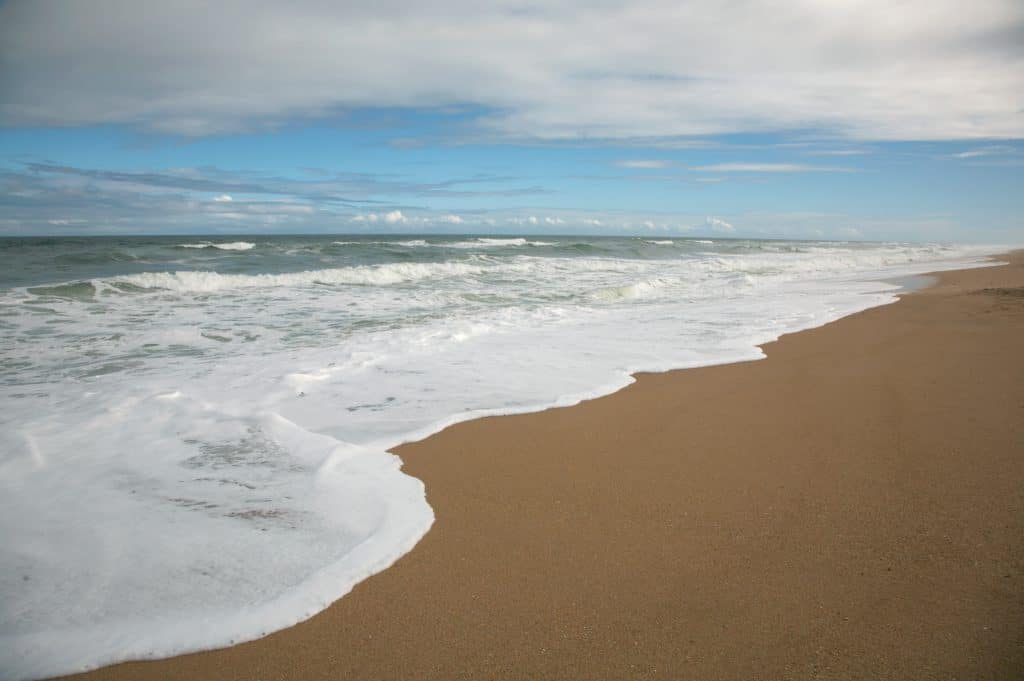 Hobe Sound
If you're ever in Jupiter seeing the lighthouses or surfing, then you need to make your way to Hobe Sound. Not only one of the best nude beaches in Florida, but it might also be the most breathtakingly unique.
The waters here are not the calmest, so swim with caution. Because the beach is rocky, we advise bringing a pair of appropriate beach shoes.
Here, you will not only have the same glamour of celebrity mansions adjacent. You'll also be close to Blowing Rocks, where waves crash against limestone formations!
If you get bored of sunbathing, you also have the option of reclothing and exploring some of the best hiking trails in Florida. There's also a great boat expedition that will take you along the Hobe Sound Pipe Crossing.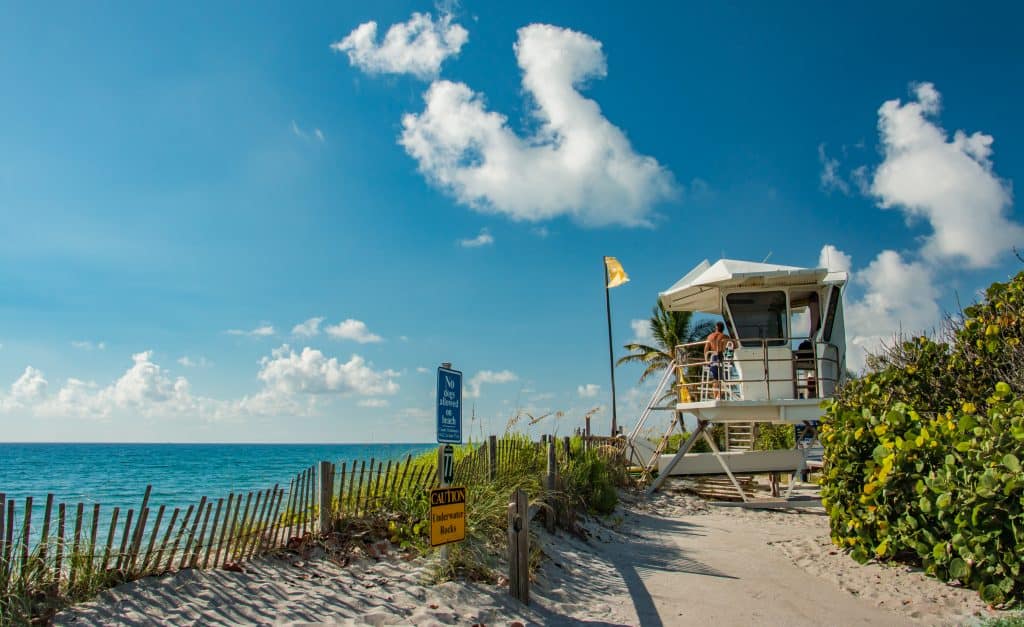 South Beach
Perhaps the most infamous of all Miami's beaches, South Beach is many tourists' first stop on any South Florida road trip. Its allure? The nude sunbathers.
Before the era of smart phones with high tech cameras and social media, South Beach was a nudist's haven. Considered the American Riviera, topless tanning and nudity was basically the norm.
Today, with the rise of amateur "photographers" who scour South Beach for subjects worthy of their dirty doings, nudity has decreased. It is still acceptable, however!
If you do decide to take it all off, we advise going on a weekday or to find a less populated stretch of sand to sunbathe. Just make sure to keep an eye out for weird guys with cameras.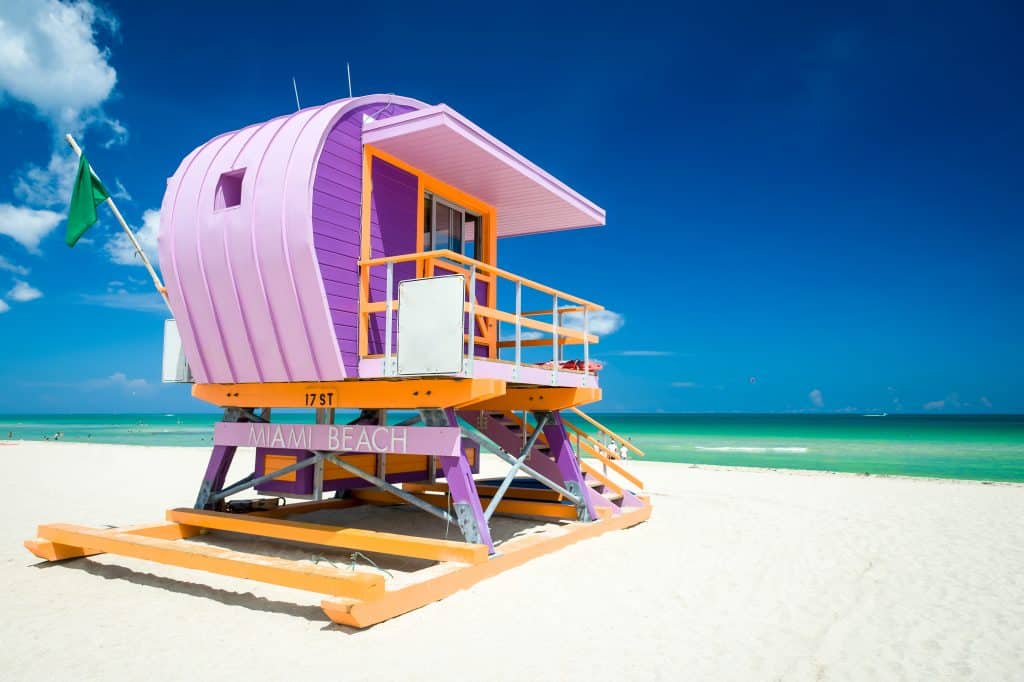 Did You Find This Post Helpful?
If so, we would love to keep in touch! We enjoy seeing photos and comments about your experiences in Florida! You can follow us on Instagram and we will repost your photos on our feed and comment too! Just tag us at @floridatrippers and hashtag #floridatrippers. We can't wait to see your travels!