So you're looking for the best beaches in Saint Augustine? Look no further, you have come to the right place! Now, we know that there aren't necessarily a TONS of beaches in Saint Augustine, so we have made sure to include some in the surrounding area too!
Saint Augustine is one of our favourite places in Florida for many reasons. It is the oldest city in the US, so there is so much history here. The spanish architecture is super stunning, and we love the haunted history that Saint Augustine carries too!
Saint Augustine and the surrounding area has over 42 miles of beautiful beaches for you to explore, and they all have their own unique charm and things that make them special! Whether you're looking for a full day out on Saint Augustine beach, or want to explore some hidden gems such as Vilano Beach, there will be something for you on this list!
If you're extending your stay in Saint Augustine, we recommend checking out our Saint Augustine Hotels on the Beach post for some great hotel options!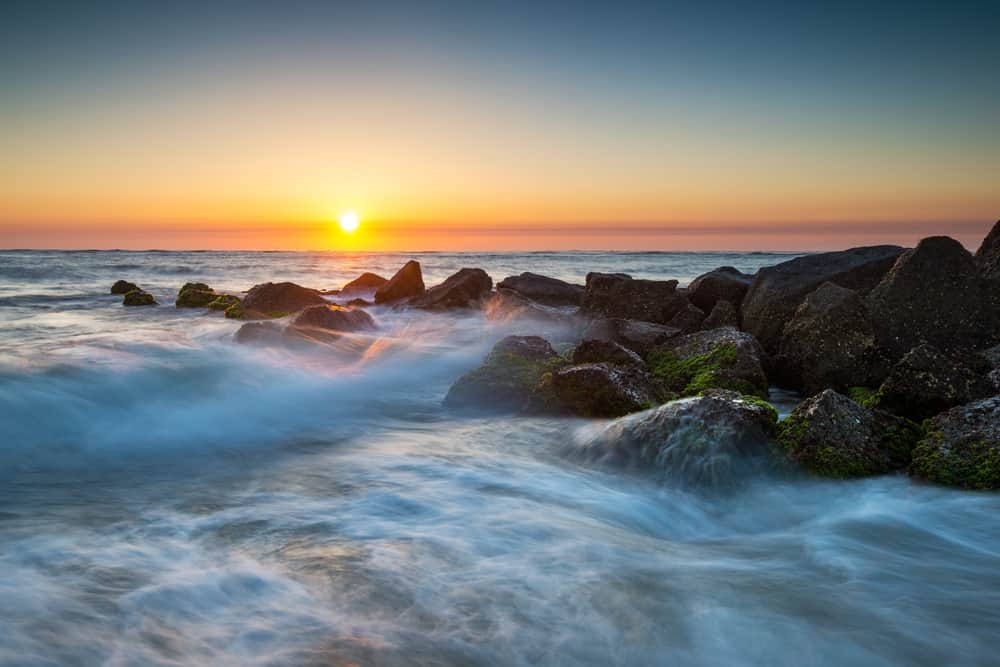 St Augustine Beach
St Augustine beach is definitely one of the best beaches in Saint Augustine if you are looking for the perfect beach, as St Augustine beach pretty much has everything that you could ever want! It has also been listed #8 in Southern Living Magazine's list of 25 Best Beaches in America!
St Augustine Beach has everything you could ever need for the ideal beach vacation. St Augustine beach is one of the best beaches in Saint Augustine for families as there's a beachfront park, a pavilion, and even a splash park and a sand volleyball court!
The hard-packed sand of St Augustine beach makes it ideal for a bike ride as well as sunbathing (and don't worry if you forget your sunscreen, Barney's Beach Service has everything that you need!) and there are a tonne of water activities to take part in. The waves at St Augustine beach attract surfers, paddle boarders, and many more! You can rent or buy any of the equipment you need from PIT Surf Shop.
After a long day of having fun at St Augustine Beach, there are plenty of amazing restaurants within walking distance from the shore. We have included some on our Best Restaurants in Saint Augustine post!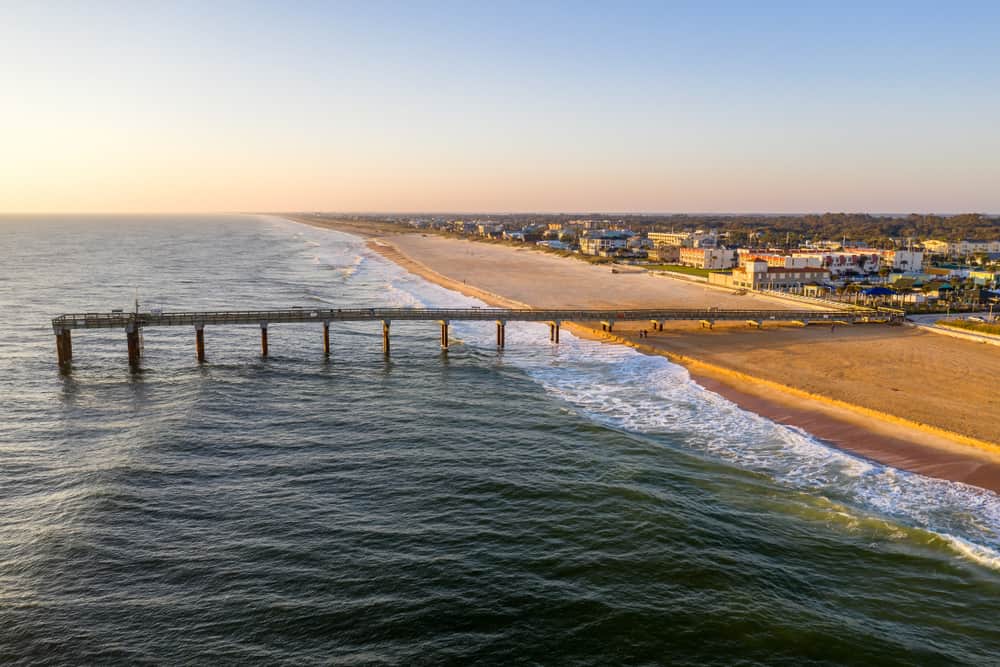 Crescent Beach
Crescent gets its name from the shape of this gorgeous coastline. It's located just south of Saint Augustine on Anastasia Island in St Johns County. Crescent Beach has some of the most unspoiled and scenic shoreline in the area, which makes it one of the best beaches in Saint Augustine for beachcombers and eco-tourists.
The sand at Crescent Beach is also hard-packed, making it one fo the best beaches in Saint Augustine for long walks, bike riding and beach volleyball. You can also enjoy the usual surfing, swimming, and boogie boarding. You can also take part in boating from the marked public access points on the A1A.
If you're looking for a beach that is less congested and more quieter than some other beaches in the Saint Augustine area, Crescent Beach is calling your name! And with that gorgeous white sand, how could you resist!?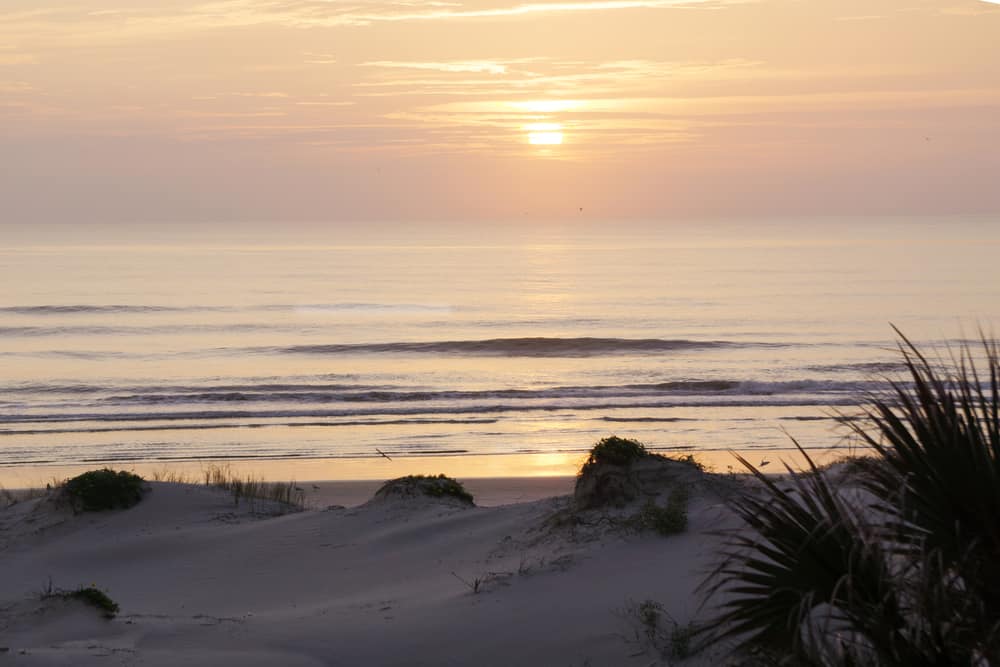 Butler Beach
Located on Anastasia Island just two miles away from St Augustine Beach, this is one of the best beaches in Saint Augustine if you're looking for something quiet and serene.
This beach comes with a lot of history too, as Butler Beach played a significant role in the civil rights movement in the 1960s. The beach is named after Frank B. Butler, a local African-American businessman and leader in the civil rights moment, bought this land and for a long time, it was the only beach between Jacksonville and Daytona that welcomed African-Americans. Even though beaches in Saint Augustine were de-segregated by law at the time, the reality was much different. Butler Beach was sandwiched between the two "white only" beaches of St. Augustine and Crescent beach.
The wade-in that was held in St Augustine beach in the summer of 1964 led to a violent confrontation and numerous arrests which attracted a lot of media attention. This influenced Martin Luther King Jr. to visit Saint Augustine and the Civil Rights Act to be Signed later that same year.
Today, Butler Beach is home to a vulnerable dune ecosystem that houses the endangered Anastasia Island beach mouse and the gopher tortoise.
Even though Butler Beach is one of the more quieter beaches in Saint Augustine, there are still full facilities here including restrooms, picnic tables, showers, and a pavilion.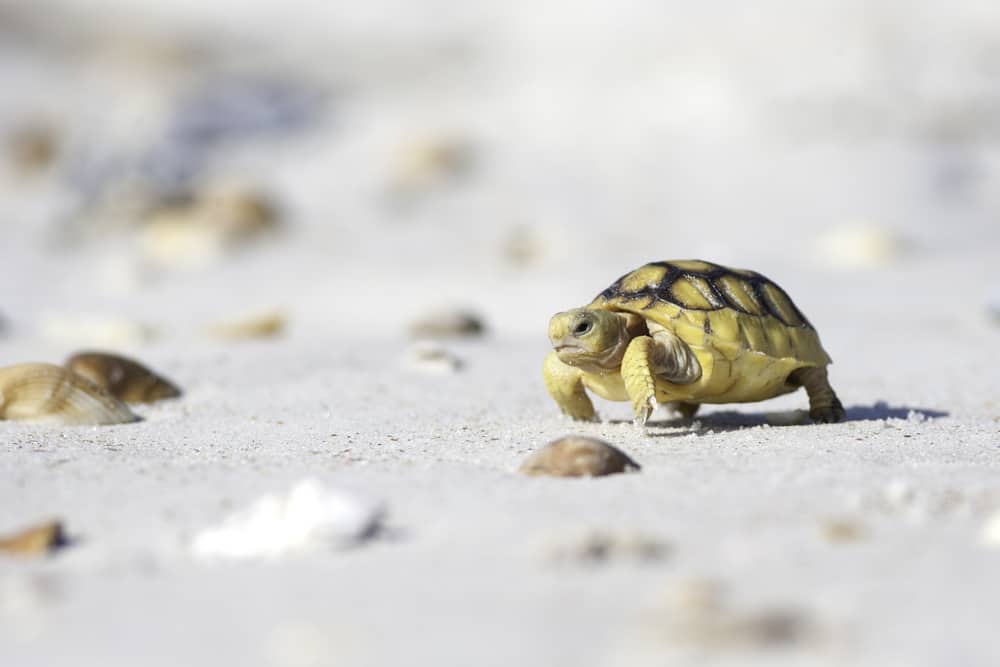 Vilano Beach
Vilano Beach is one of the best beaches in Saint Augustine if you are looking are looking for a hidden gem – Vilano Beach is one of Saint Augustine's best kept secrets!
It's located just north of Saint Augustine's downtown historic district and was known to be enjoyed by Henry Flagler's millionaire friends in the late 1800s. Visitor's often miss and pass it by as they off State Road A1A to cross the Vilano bridge into Saint Augustine – but it's definitely not a beach to miss!
Tucked away in the charming little beach town of Vilano Beach, the whole town is wonderfully Art Deco with filed fountains and a retro pier. Vilano Beach is the perfect choice if you're wanting to make a day out of your beach visit, but without the hustle and bustle of Saint Augustine as there are plenty of dining options in Vilano Beach!
If you're a fan of water sports, we think this is one of the best beaches in Saint Augustine that suits your needs! The heavy surf and strong current makes Vilano Beach ideal for surfing and skim-boarding.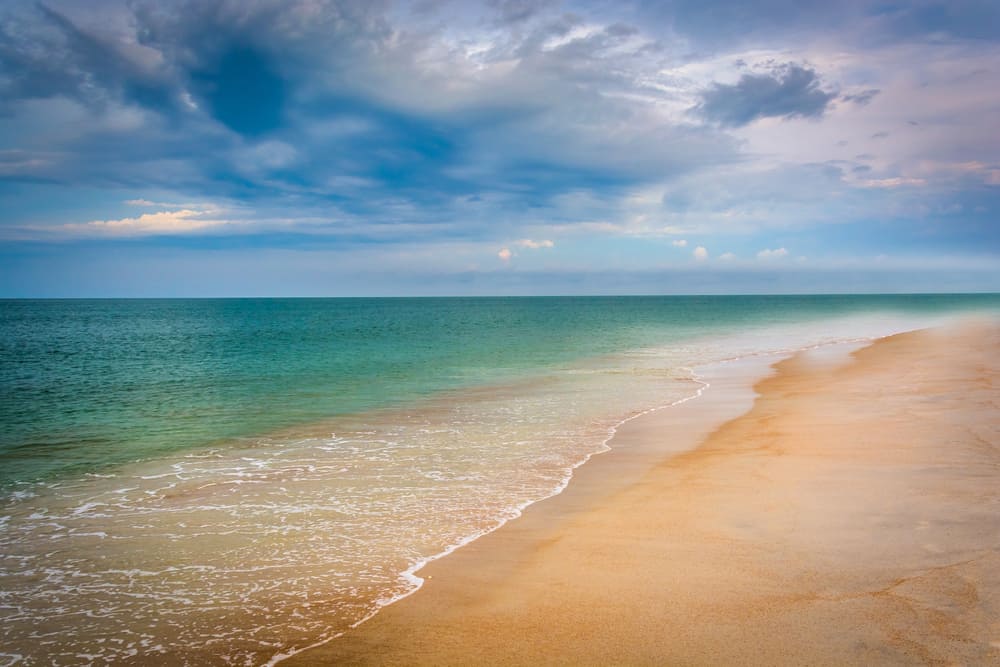 Anastasia State Park Beach
If you've heard of Saint Augustine, you probably know of Anastasia State Park – it is one of the most popular state parks in Florida! And for good reason too. Anastasia State Park has just about everything a beachgoer could want; swimming, sunbathing, surfing, fishing, sailboats, paddle-boarding… It is, without a doubt, one of the best beaches in Saint Augustine if you're looking for a beach with a tonne of things to do.
Anastasia State Park is located just 1.5 miles from historic downtown Saint Augustine and has four miles of beautiful white quartz sand, sand dunes, and lagoons surrounded by rich tidal marshes.
Anastasia State Park Beach is one of the more beautiful beaches that Saint Augustine has to offer. Being a protected bird sanctuary, there's a wide variety of birds to see, as well as turtles and other wildlife. There's many different nature trails for you to walk that take you through the sand dunes. It's an amazing spot to catch a spectacular sunrise!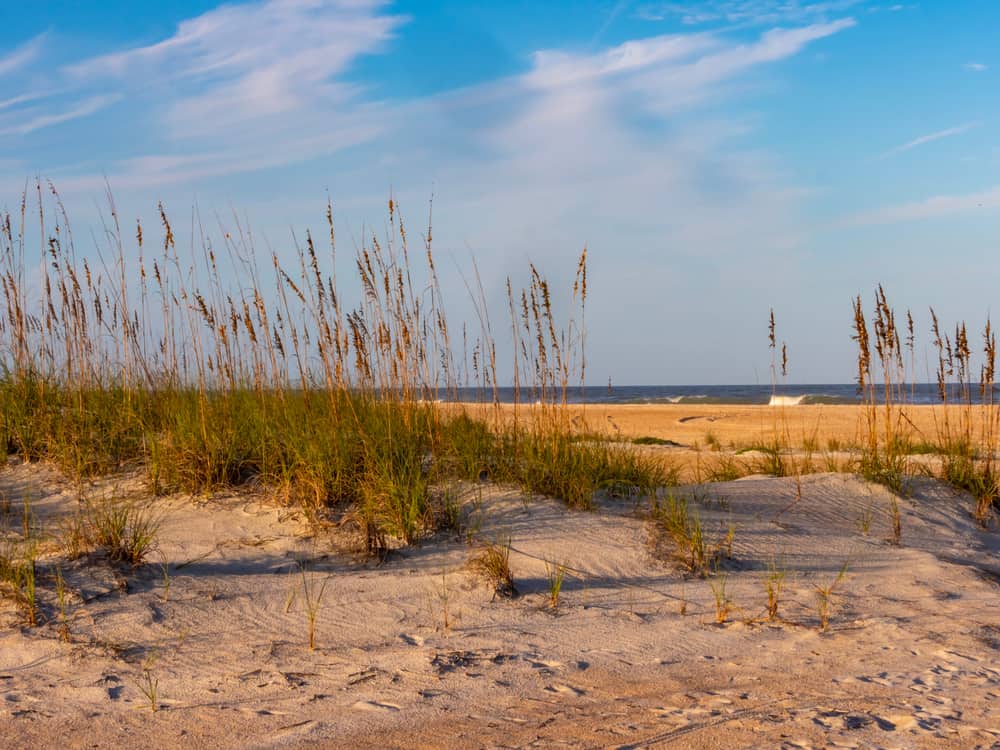 South Ponte Vedra Beach
If you're a fan of shelling, then South Ponte Vedra Beach is one of the best beaches in Saint Augustine for you! Many shells line the shores of this beach and beautiful sand dunes. Some of the most breathtaking resorts are located in Ponte Vedra, as well as some great golf courses.
The gorgeous white sands of South Ponte Vedra Beach makes it perfect for sunbathing or for a beach picnic with friends or family. There is a really relaxed and luxurious atmosphere at this beach. It's type of place where you could happily spend the whole day sitting on the sand and laughing with friends!
There are even grills located at this beach, which makes it deal for an evening barbecue as you watch the sun set over the water – we couldn't think of a more perfect evening!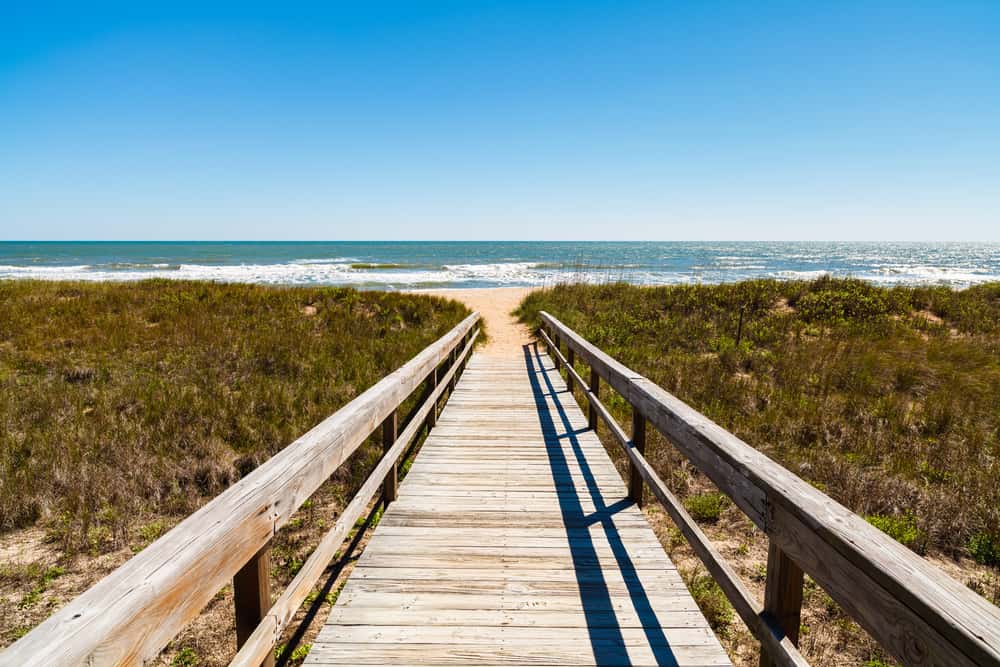 Guana Tolomato Matanzas National Estuarine Research Reserve
Located north of Saint Augustine's historic district, GTM Research Reserve is 74,000 acre preserve that has over four miles of beautiful, pristine, coquina sand beaches lined with 35-foot dunes. Whilst you can enjoy the traditional beach activities here such as sunbathing, swimming, shelling, surfing, and fishing, the real beauty of this park lies in the other things you can do!
This is one of the best beaches in Saint Augustine if you're a fan of trails and hikes, as GTM Research Reserve has over 10 miles of trails through a variety of preserved habitats, natural trails, and old service roads. You can walk, bike, or even ride horses through these trails!
If you have your children with you, make a stop at the Environmental Education Center Visitor Center to learn about estuaries through exhibits and scavenger hunts!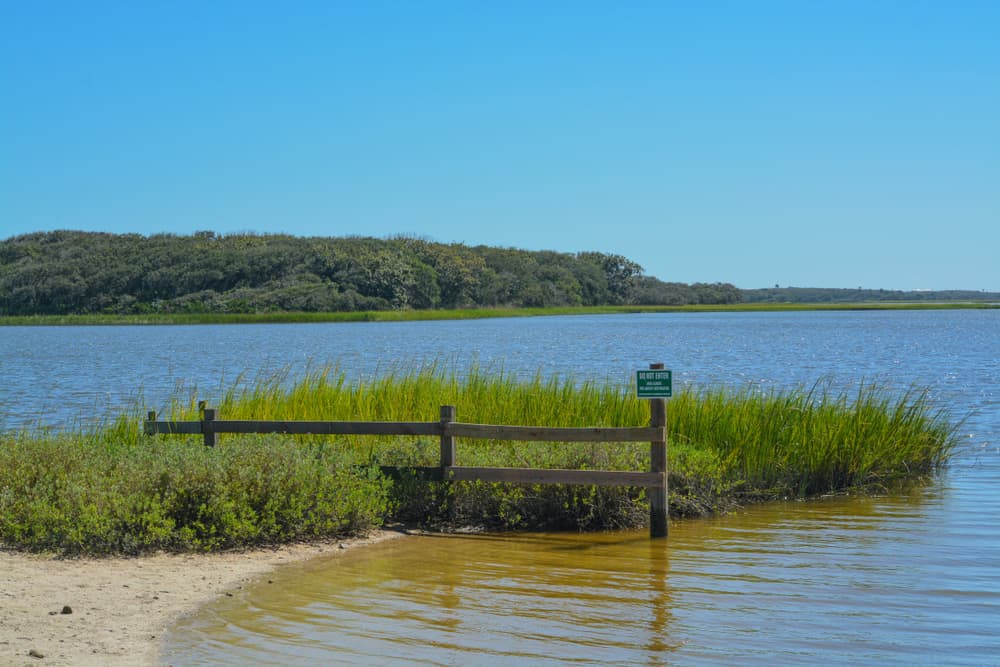 And that's our list of the best beaches in Saint Augustine! We hope you have found something to your liking and have found the perfect beach for you to visit! We know you will love all that Saint Augustine has to offer as much as we do!