Did you know there are 175 state parks in Florida?
Parks are essential: they provide environmental, aesthetic, and recreational value to Florida's sub-tropical landscape. Parks preserve some of the state's most beautiful landscapes so they can be enjoyed for generations to come.
Florida parks offer some of the most spectacular hiking trails and keep our nature wild. The Sunshine State's National Parks usually get top billing, but state parks provide a wider array of options for guests. Choose from natural springs, waterfalls, beaches, and so much more!
If you're looking for a slice of heaven but would like to avoid crowds, consider a weekend getaway to one of the state parks in Florida.
A visit to one of these beautiful havens will instill a sense of state pride. Share in Florida's history and nourish your soul in nature. There is a state park in Florida for everyone!
Now let's take a better look at the best state parks to visit in Florida!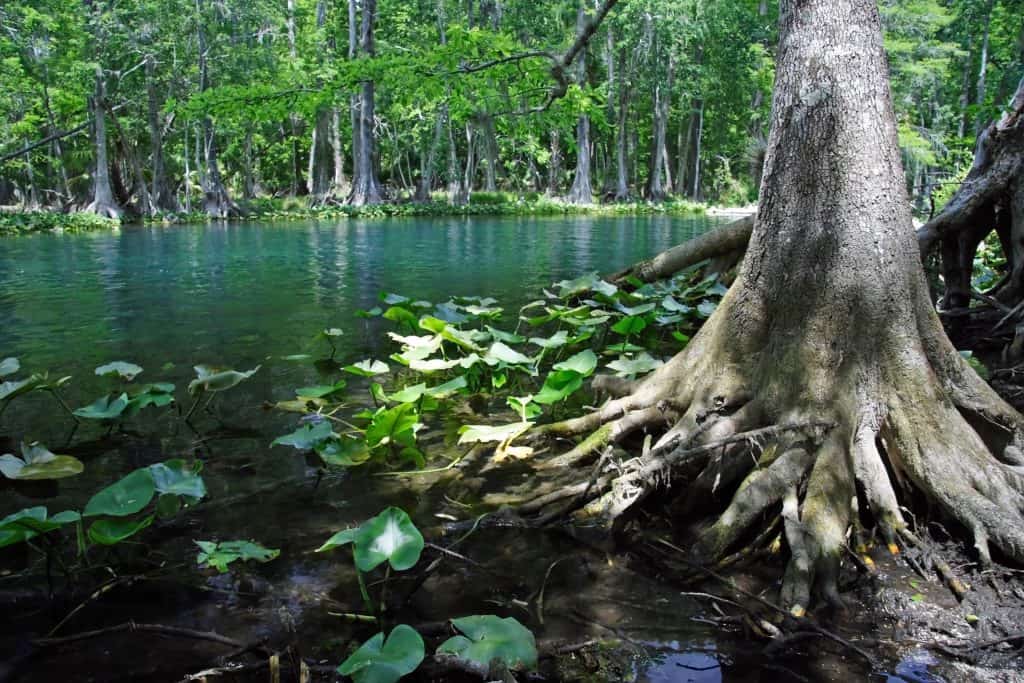 25 Best State Parks In Florida You Should Visit
Eden Gardens State Park
Near Point Washington in the panhandle, Eden Gardens is one of the best North Florida state parks which will transport you back to the time of hoop skirts, oil paintings, and Victorian-style architecture!
The centerpiece of the park is the Wesley Mansion. Built in the 1890s by William Henry Wesley and his family, the grounds served as a lumber company that operated through World War I.
Today, the mansion and its surrounding gardens have been transformed into this jewel of a park. Lush oak trees are draped with Spanish moss that blows in the salty air from the Choctawhatchee Bay. Tours of the mansion are still given today.
Hold hands with someone special underneath the 600-year-old Wedding Tree. Enjoy lunch in one of the many shaded picnic areas. Afterward, wander the grounds on one of the beautiful nature trails.
Edge Gardens State Park is also home to many exciting Florida festivals in the area, like the Fall Vintage Film Series, Christmas Candlelight Tours, and the beautiful Camellias Fest.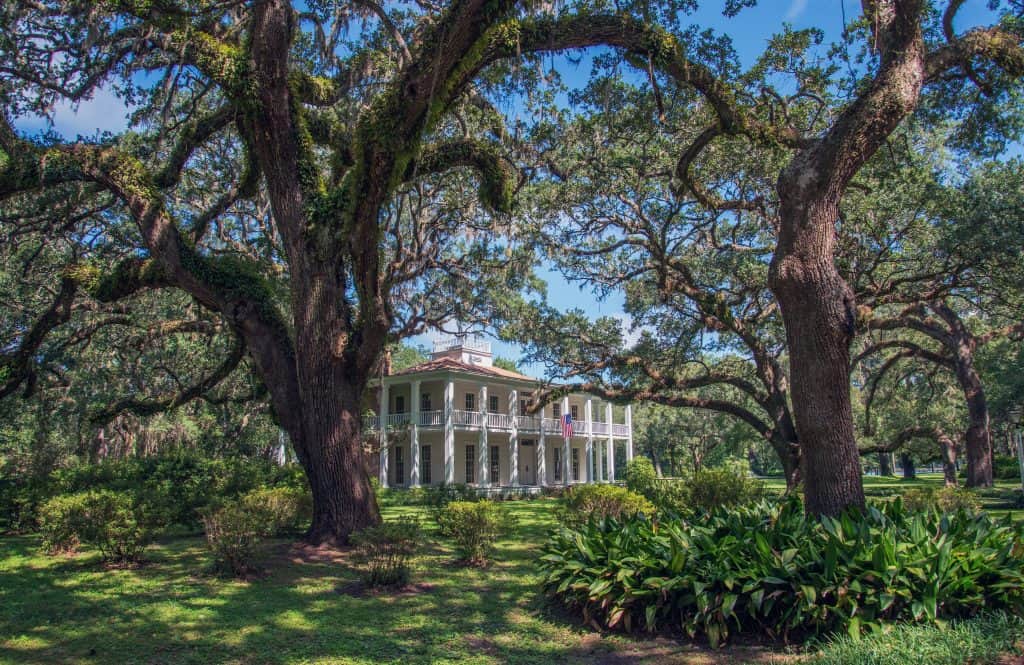 Myakka River State Park
One of the oldest state parks in Florida, the historic Myakka River State Park is one of the most exciting things to do in Sarasota! The beauty of the Myakka River is palpable. It was named a Florida Wild and Scenic River, the only one in the state to be given this high status.
On the 58 square miles of the park, the Myakka River winds through wetlands, prairies, hammocks, and pinelands. You'll see tons of Florida wildlife including white-tailed deer and a variety of birds like osprey and limpkins. The Myakka River is also one of the best places to see wild alligators in Florida.
The highlight of the park is the canopy walkway. Created as an outdoor laboratory, this is your chance to see the trees and wildlife up close! Climb up 25 feet and walk through the towering hammock canopy to see vultures on the tops of live oak and sabal palms.
If you're a birder, you can't miss the Birdwalk, a walk through trees onto the marsh floodplain to see some of the rarest birds in Florida. The best time to see the most wildlife is when the water levels in the floodplain are low, usually around January through March.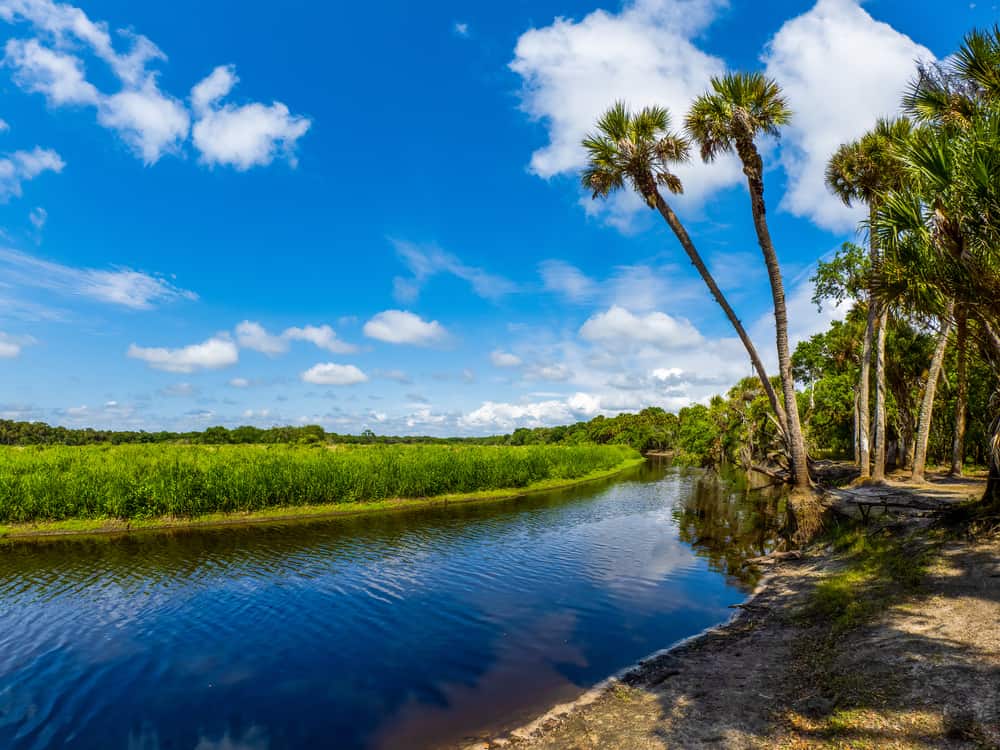 Honeymoon Island State Park
Just a short drive from Tampa in Dunedin, Honeymoon Island State Park is frequented by over 1 million visitors each year. It is one of Florida's best-loved parks. You'll enjoy walking the four miles of beach along a 3-mile trail through one of the last remaining virgin slash pine forests.
Because the shores of Honeymoon Island are perfect for shelling, you'll see many people hunched over looking for that elusive jewel to take home. Be careful of the sea turtle nests!
Honeymoon Island also has one of the best dog beaches in Tampa Bay! Now you don't have to feel guilty about leaving your best friend at home. Bring your pup on a six-foot leash and frolic in the waters of the Gulf of Mexico.
Our favorite thing to do is take a walk on the sand spit. Park at the northernmost parking lot, head to the beach, and walk north along the shores. What was once just two sand bars has grown into 2.5 miles of serene beach over the past 40 years.
Based on the name alone, you can tell this is one of the most romantic state parks in Tampa. Of course, it is great for a honeymoon or just a relaxing day trip with your partner.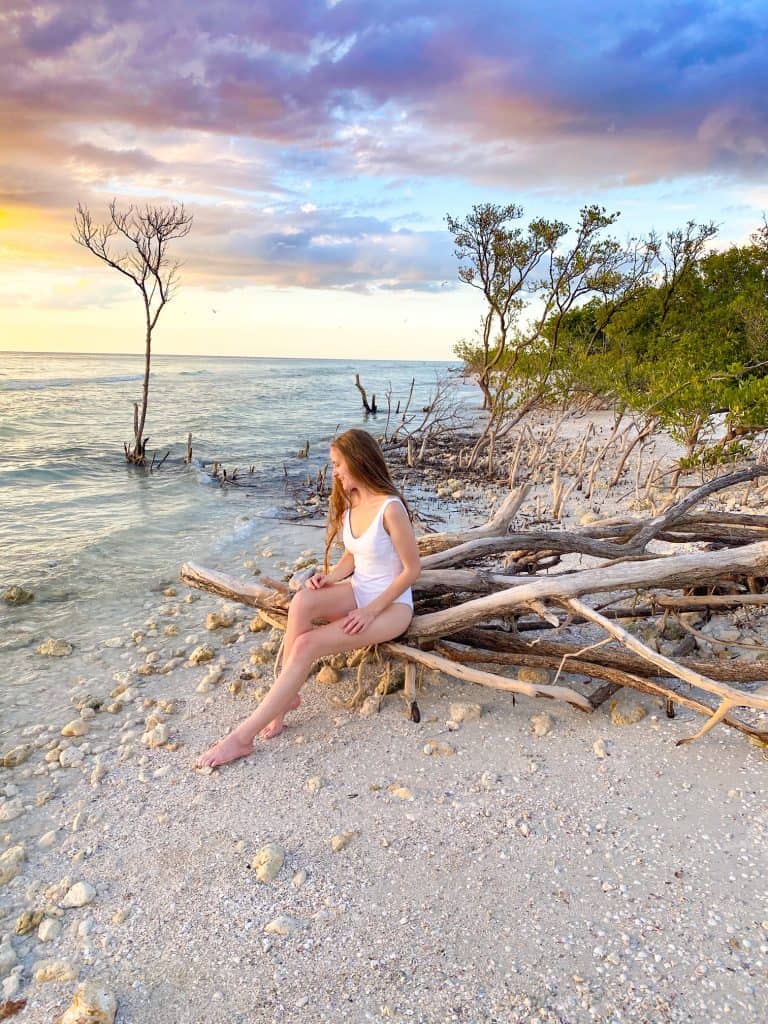 Bahia Honda State Park
When people visit the Florida Keys, they tend to only visit the most famous beaches found in Key West and Key Largo. We're here to tell you they're missing out! Bahia Honda State Park on Bahia Honda Key is one of the most beautiful things to do on your drive from Miami to Key West.
Visitors to the park experience breathtaking views of what makes Florida the Sunshine State. Palm-lined shores are lapped up by clear waters. Balmy breezes will keep you warm year-round at one of the best South Florida state parks.
Explore the world just underneath the waters of Bahia Honda on a self-guided snorkeling tour. Among the seagrass beds and rocky bottoms, you'll catch a glimpse of spiny lobster, starfish, and queen conch poking their heads out to say hello.
Make sure to check out some of our other favorite things to do in the Lower Keys in addition to Bahia Honda!
Perhaps the most beautiful thing to do at Bahia Honda is star gaze. Once the sun sets on the turquoise waters, stars fill the night sky and the beaches become a magical wonderland. Walk the Old Bahia Honda Bridge and gaze up at the constellations, or just lie back in a beach chair and let the majesty wash over you.
No matter what you do here, Bahia Honda is bound to become one of your favorite state parks in the Florida Keys!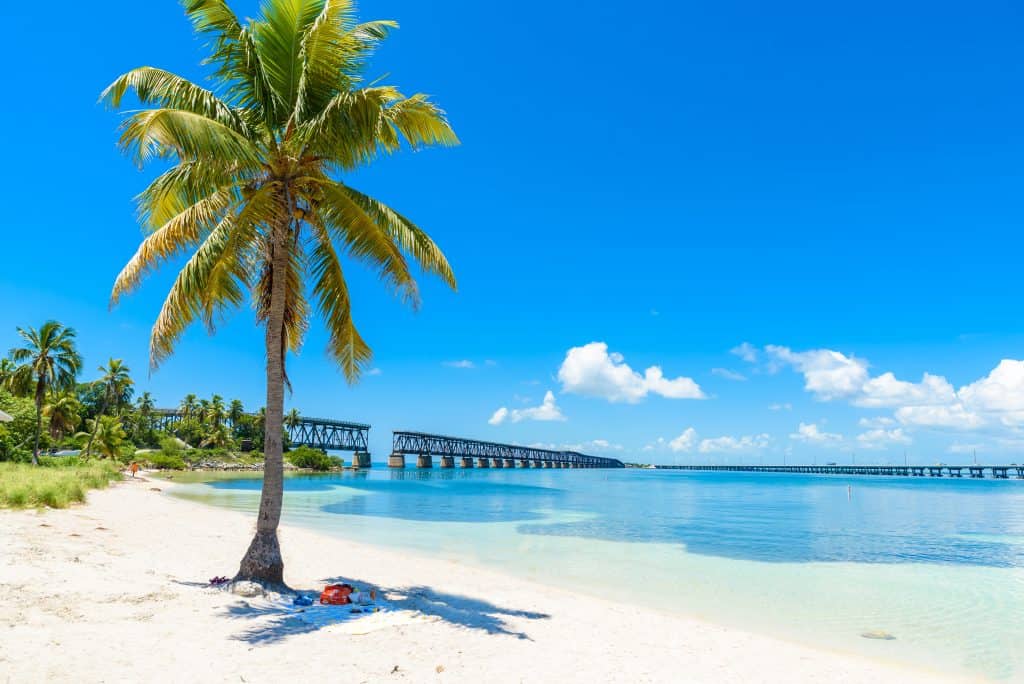 Ybor City Museum State Park
No day of fun in Tampa would be complete without a visit to Ybor City. While you're there, why not learn the origins of this historic Florida city at the Ybor City Museum State Park?
When Don Vicente Martinez Ybor first came across the swamps and pine scrubs that became Ybor City, he built what would become the "Cigar Capital of the World." In the museum, housed in the Ferlita Bakery, you'll trace the city's cultural roots.
Next to the bakery is the casita, or "little house" in Spanish. A tour through this house demonstrates what life was like for a cigar maker in the early 1900s.
Then, head to the garden, which is picturesque with its old lampposts and fountains. Here, you will fall in love with one of the best state parks in central Florida.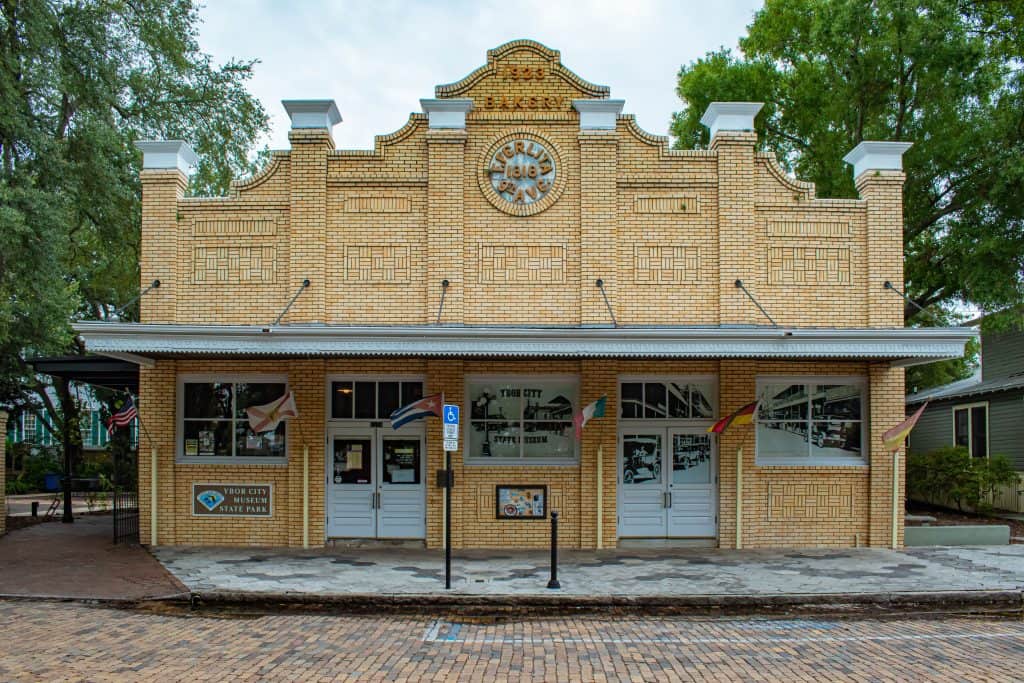 De Leon Springs State Park
Notable explorer Ponce De Leon thought that Florida's natural spring waters were the "Fountain of Youth," his key to immortality. While we can't promise you a dip in the De Leon Springs State Park in Volusia County will make you any younger, you will feel refreshed as you bask in the park's beauty.
The springs are about 60 feet in diameter with deep turquoise waters. At the center, water gushes up, bubbling a few inches above the surface. Escape the summer heat and take a swim in the spring, which is a refreshing 72 degrees year-round.
Take the Eco/Heritage Boat Tour and sail through the De Leon Springs State Park and Lake Woodruff National Wildlife Refuge. You'll learn about the 6,000 acres of the park and its notable sights like the sugar cane mill and grist mill.
De Leon Springs State Park is also one of the best state parks near Orlando. It is only about an hour north of the entertainment hub and is the perfect place to get away from the big city.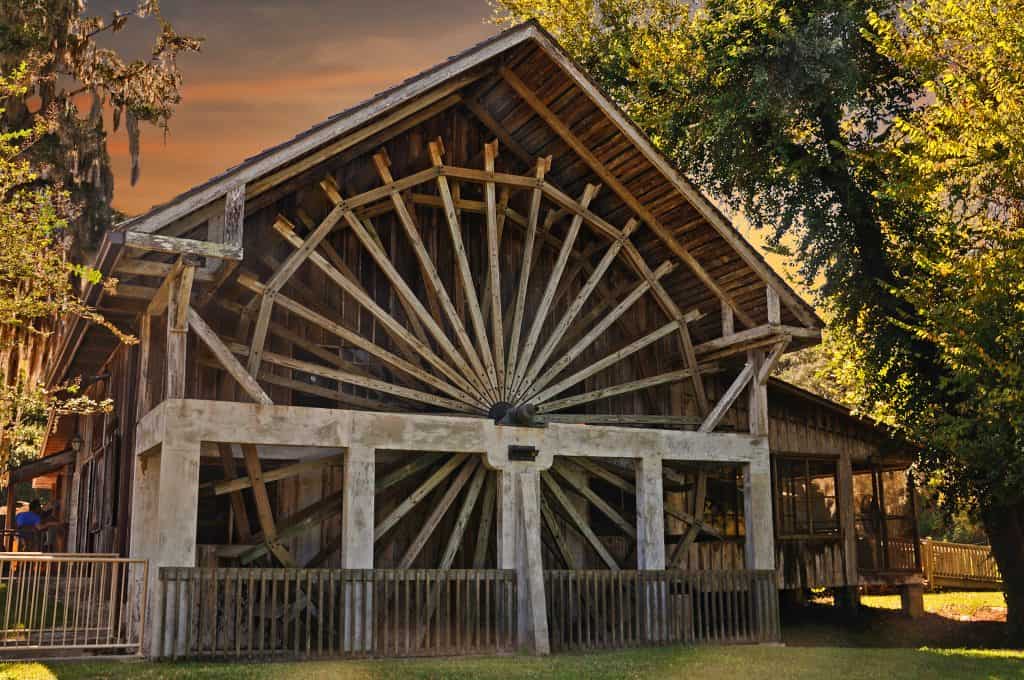 Falling Waters State Park
Falling Waters in Chipley is one of the most unique state parks in the Florida panhandle for one big reason. You'll find a 73-foot tall, stunning waterfall!
This water feature is technically not a waterfall, but a series of sinkholes. When the limestone first pored and cracked, it created sinkholes so expansive and deep that it formed one of the prettiest, natural waterfalls in Florida.
Initially, water flows into a sinkhole 100 feet deep and 20 feet wide. From there, it continues to a large cave underground. After that, the water flows into the cascading falls surrounded by thick trees and lush ferns. The water's final destination is still unknown.
Stand on the platform right next to the falls, and you can feel the mist from the pouring water. We recommend visiting right after rainfall. You might see a rainbow in the mist!
Once you've seen the falls, you are free to camp overnight on the grounds. Traverse the hiking trails to experience the gradient sloping of northern Florida. Don't forget to see the migrating butterflies in the butterfly garden.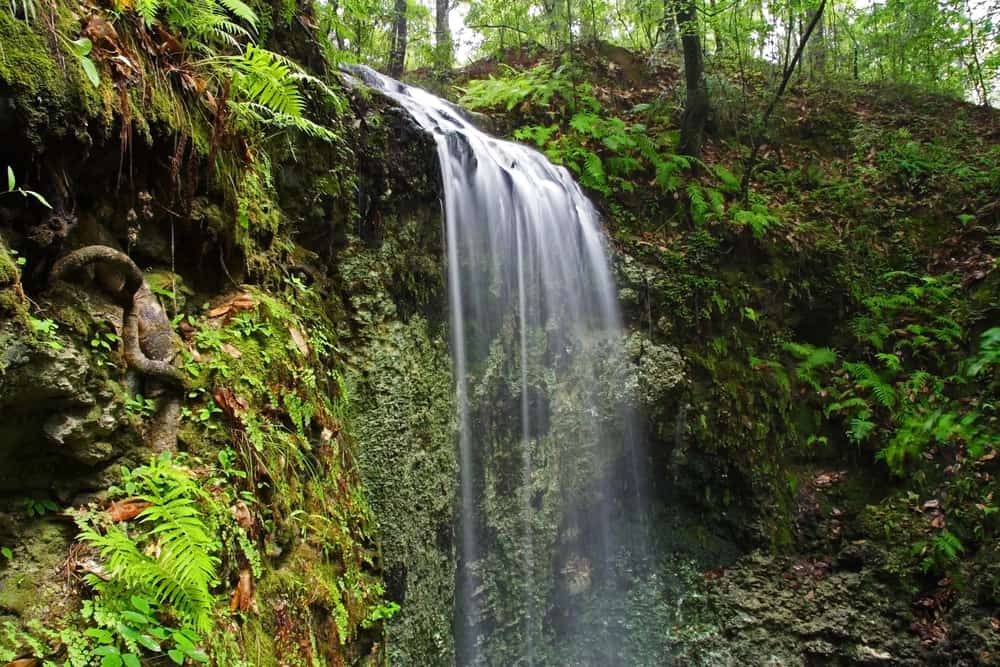 Blue Springs State Park
In 1970, a group of researchers tracked manatees migrating to these springs from the St. John's River to find warmer waters. Two years later, Blue Springs State Park was founded and is still one of the best places to see wild manatees in Florida.
One of Florida's best natural springs, the waters of Blue Springs never go above or below 72 degrees. Once you've submerged yourself in the cool waters, swim upstream to see the spring actually boil up from the limestone underneath your toes.
In addition to swimming, the park offers three pavilions on a first-come, first-serve basis. These are great areas to relax with friends or family. There are also pavilions on the lawn, where you can cookout on charcoal grills and sunbathe.
If you're not the strongest swimmer, have no fear! There are tubing, kayak, and snorkeling rentals available at the concessionaire. You can also take river boat nature tours, segway tours, or guided kayak tours!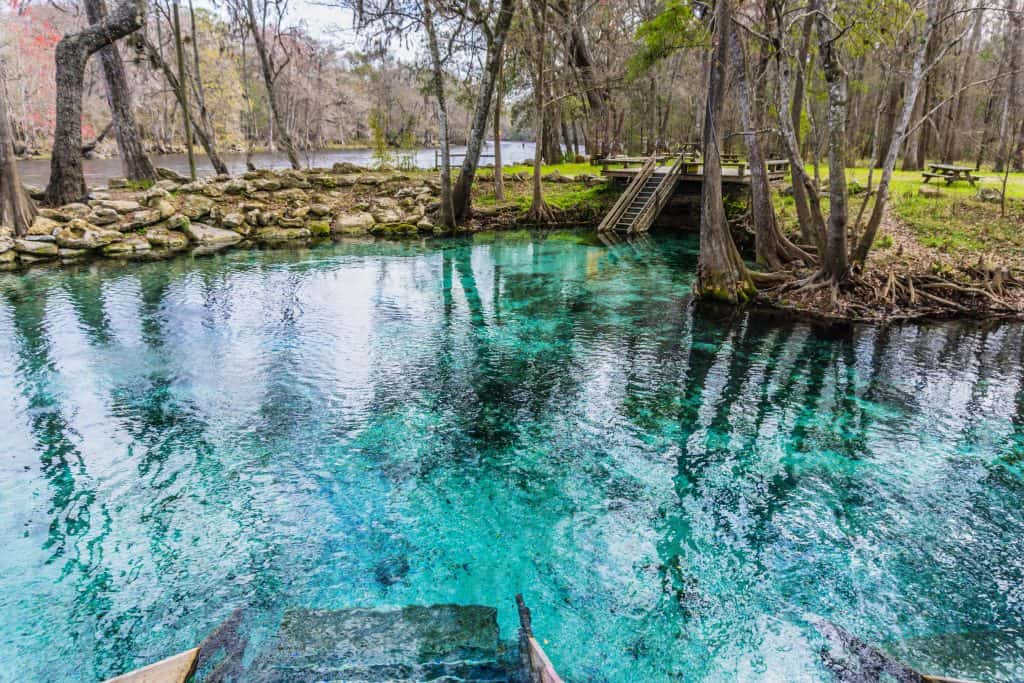 Lovers Key State Park
For years, the only way to access Lovers Key was by boat. It was said that only lovers would make their way out to the shores to enjoy solitude and peace. Today, these beaches are part of four barrier islands that now make up Lover's Key State Park!
Unsurprisingly, Lovers Key is still regarded as a romantic hotspot and is one of the prettiest Florida state parks for couples! Between the mangrove forests, sugar-sand beaches, and the chance to spot manatees or a pod of dolphins, the park is a perfect backdrop for weddings.
On your visit, take advantage of the two miles of beachfront with fantastic shelling and gorgeous sunsets. Take your pick between hiking and biking trails to explore the maritime hammock and float through the inner waterways on a kayak or canoe.
The Park Store offers kayak, canoe, and bike rentals for your convenience. Food and beverages are sold, and don't forget the delicious ice cream!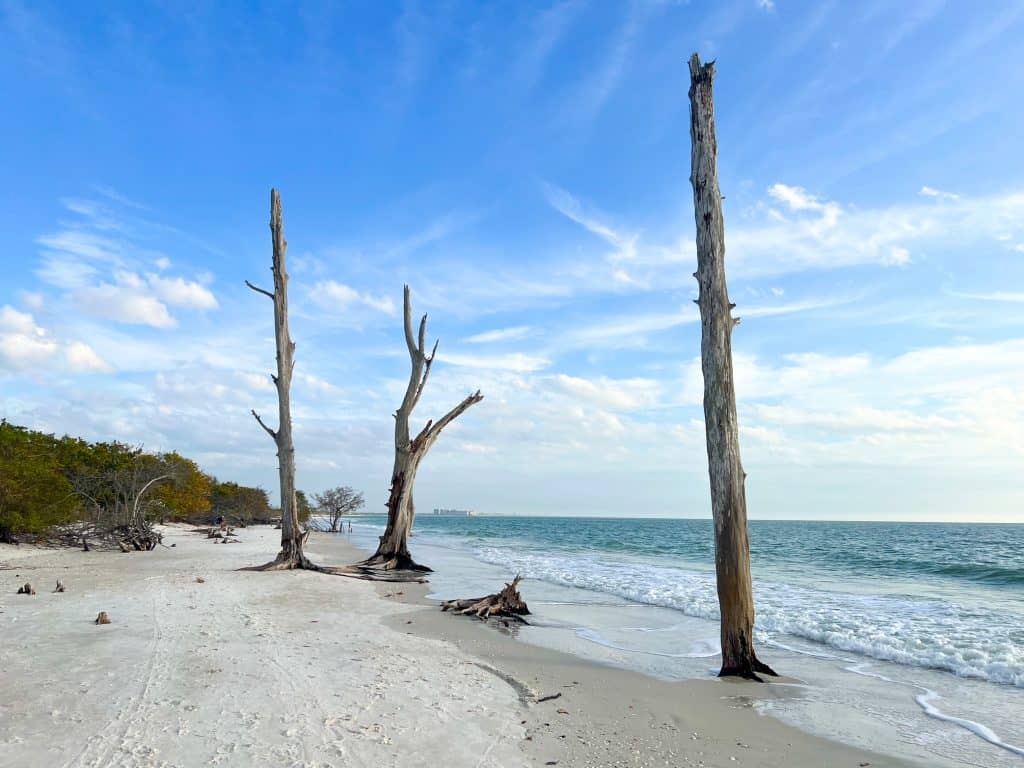 Florida Caverns State Park
For a truly unique and out-of-this-world experience, you absolutely must visit the only one of the state parks in Florida to offer cave tours to the public! Just northwest of Tallahassee, Florida Caverns State Park is a subterranean wonder!
This North Florida state park offers guided tours every single day except Christmas and Thanksgiving. These tours are described as "moderately strenuous," so put on your hiking boots. You'll marvel at the array of stalactites, stalagmites, flowstones, and draperies.
Outside the caverns, take a dip in the Blue Hole swimming area! This natural spring is a favorite to beat the Florida heat. Be careful, since at its deepest point, the spring is 97.6 feet deep and there is no lifeguard on duty. Swim at your own risk.
Enjoy canoeing, kayaking, and fishing on the scenic Chipola River! This is your opportunity to see wildlife like herons, egrets, alligators, and even beavers.
If you visit in November, you can attend the annual Sugar Cane Festival and learn how early Florida settlers thrived on this crop. In December, join in the festivities of Caverns Christmas when the park is completely decorated. Hot cider and cookies are provided!
If you are looking for awesome state parks in north Florida, you need to add Florida Caverns State Park to your itinerary!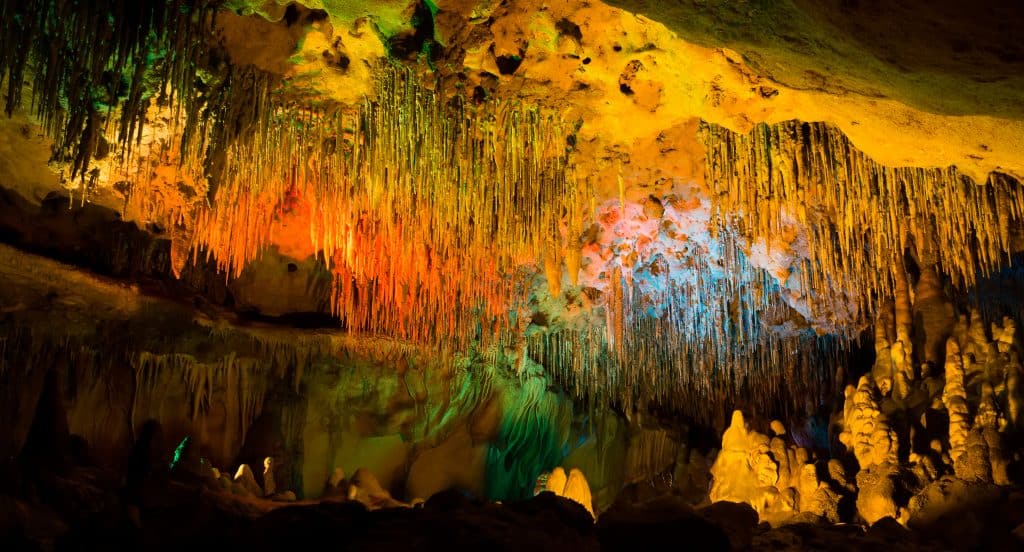 Curry Hammock State Park
Halfway between Key Largo and Key West, you'll find a group of islands beckoning you with the call to adventure. Curry Hammock State Park protects mangrove swamps, Rockland hammocks, and seagrass beds that are essential to the Florida Keys ecosystem.
Rent a kayak or paddleboard and take your choice between two trails on Little Crawl Key. You'll paddle your way through a mangrove tunnel, deep lagoons, sandbars, and open ocean. If you look closely at the water's bottom, you'll see starfish, horseshoe crabs, and upside-down jellyfish!
Perhaps the most exciting thing to do is kiteboarding! Secure yourself to a board on the water, and let a kite pull you across the turquoise waters of the bay!
If that's a little too scary, there are always groups of kiteboarders on the water. It is just as exciting to sit and watch from a safe distance!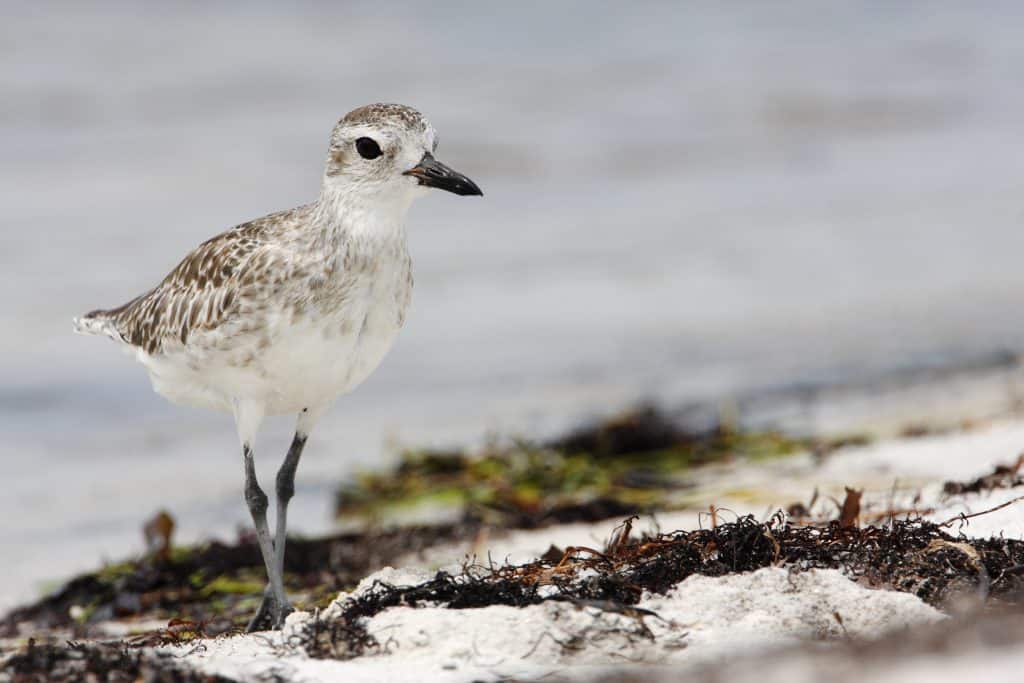 John Pennekamp Coral Reef State Park
The first undersea park in the United States, John Pennekamp State Park in Key Largo is 70 nautical miles of beautiful coral reefs! If pine trees and hiking trails are getting old, trade in your hiking boots for a snorkel and jump in!
As a Florida National Marine Life Sanctuary, the living, shallow-water coral reefs are alive and vibrant with color. Divers from around the world travel here to experience the area's extraordinary wildlife.
While the park boasts mangroves and tropical hammocks, the reefs are the star attraction. You are permitted to scuba dive and snorkel to get a closer look. If you want to stay dry, rent a glass-bottom boat to see the beauty underneath you!
For a truly unique experience in one of the prettiest state parks in the Florida Keys, exploring the underwater worlds of Key Largo is a must!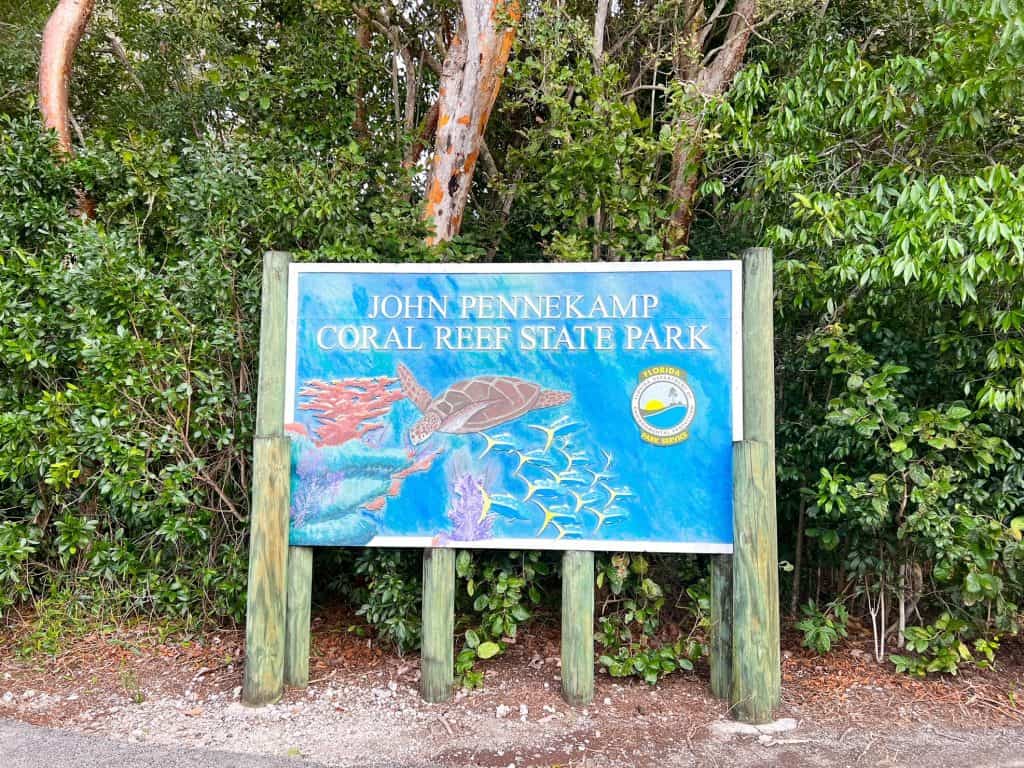 Rainbow Springs State Park
Rainbow Springs State Park is Florida's fourth-largest natural spring! Archeological evidence indicates that people have been enjoying this spring for over 10,000 years. If that's not enough to get you to check out this state park in Florida, we don't know what will!
The park is found in Dunnellon and with something for everyone, it is one of the most fun things to do in Ocala! Enjoy the hiking trails which are popular for birding. You can see owls, hawks, and woodpeckers. Bring a packed lunch to enjoy on the lawn with picnic tables, grills, and pavilions.
The cool, clear waters of the headspring attract swimmers year-round. The water is between 5-18 feet. While there is a small wading area for toddlers, a lifeguard is only on duty during the summer months. Be ready to keep an eye on your small swimmers!
While swimming is only allowed in the buoyed area, there is a separate entrance for tubing, kayaking, and canoeing! Keep in mind there is no swimming with the manatees at this spring if they are present.
We recommend arriving as early as possible! The park will close once it reaches capacity. Park admission is $2 per person, but children under 6 are admitted for free!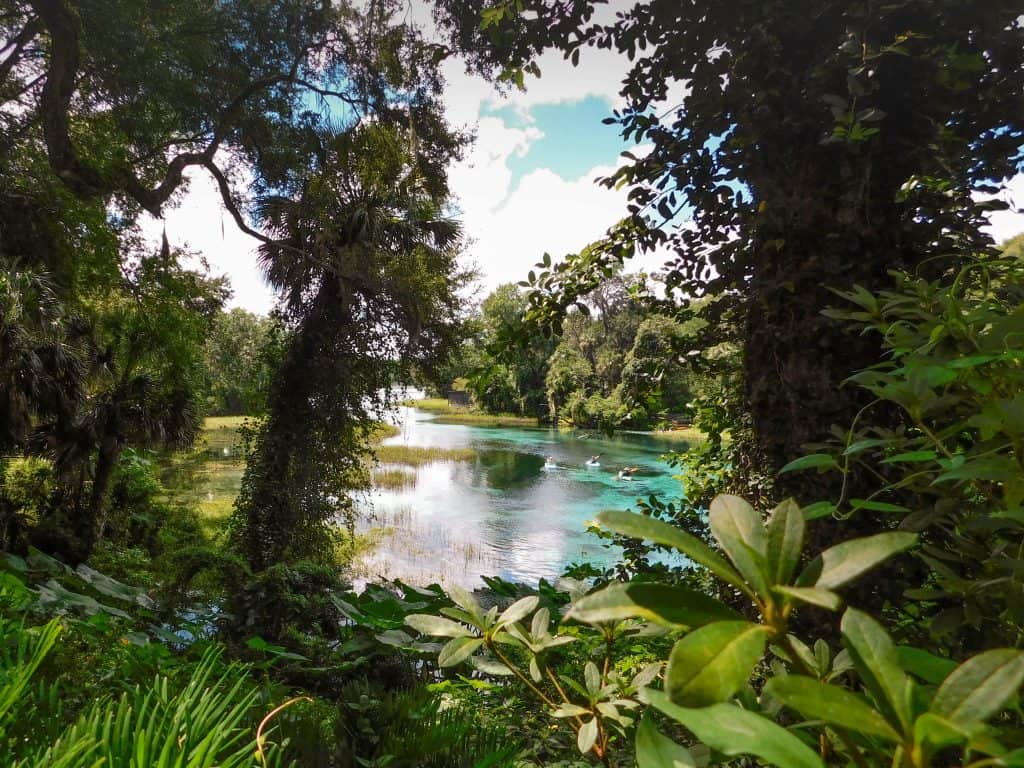 Cayo Costa State Park
Captiva is one of the most beautiful islands in Florida, but it also houses one of the prettiest untouched islands that is now one of the most gorgeous state parks in Florida. You'll be in awe of the nine miles of beaches and acres of pine forests, oak-palm hammocks, and mangrove swamps.
Cayo Costa is only accessible by boat or kayak. No worries, several charter boat services provide ferry access so you can go explore!
The beaches on Sanibel and Captiva are pristine, and Cayo Costa is no exception. The shores are perfect for shelling, swimming, snorkeling, and sunbathing. Anglers regularly catch flounder, tarpon, and whiting.
Make your visit an overnight stay by renting out a cabin! With three bunk beds each, a cabin can comfortably house six people. Picnic tables and ground grills are found at each cabin. While this is primitive camping with no electricity, modern restroom facilities are available.
Beautiful nature trails meander through the grounds where you will see many endangered birds migrating. To learn more about the island's ecology and history, go to the amphitheater to watch one of the educational programs hosted by the state!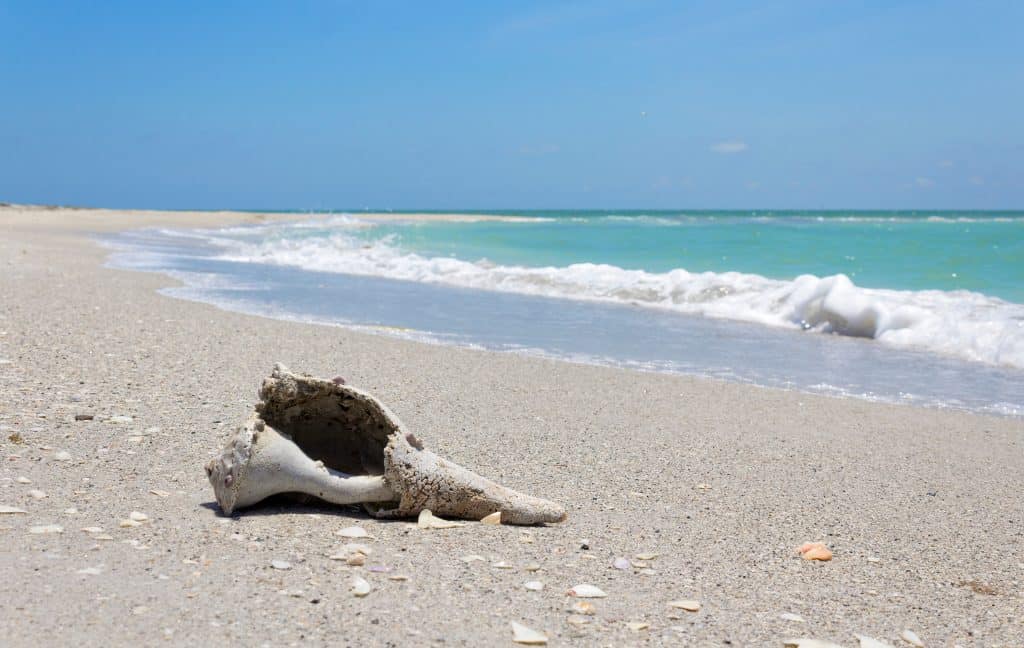 Weeki Wachee State Park
Weeki Wachee State Park, just north of Tarpon Springs, is a still-standing monument to the Florida tourism of yesteryear. Part state park and part entertainment haven, this is one of the most unique state parks in Florida.
Did you know that you can see mermaids at Weeki Wachee? Okay, mermaids aren't actually real, but you can see professional divers don mermaid tails and swim in the waters from the spring! This entertaining show is magical and sure to bring wonder to the whole family.
Weeki Wachee is actually a set of natural springs in Florida where you can go swimming, tubing, and kayaking! When the manatees migrate to warmer waters in the winter months, you will more than likely encounter some poking their heads out to say hello.
Weeki Wachee is also home to Buccaneer Bay, a water park for all ages whose water comes directly from the springhead! Because the water is 72 degrees year-round, this is a truly natural way to beat the Florida heat!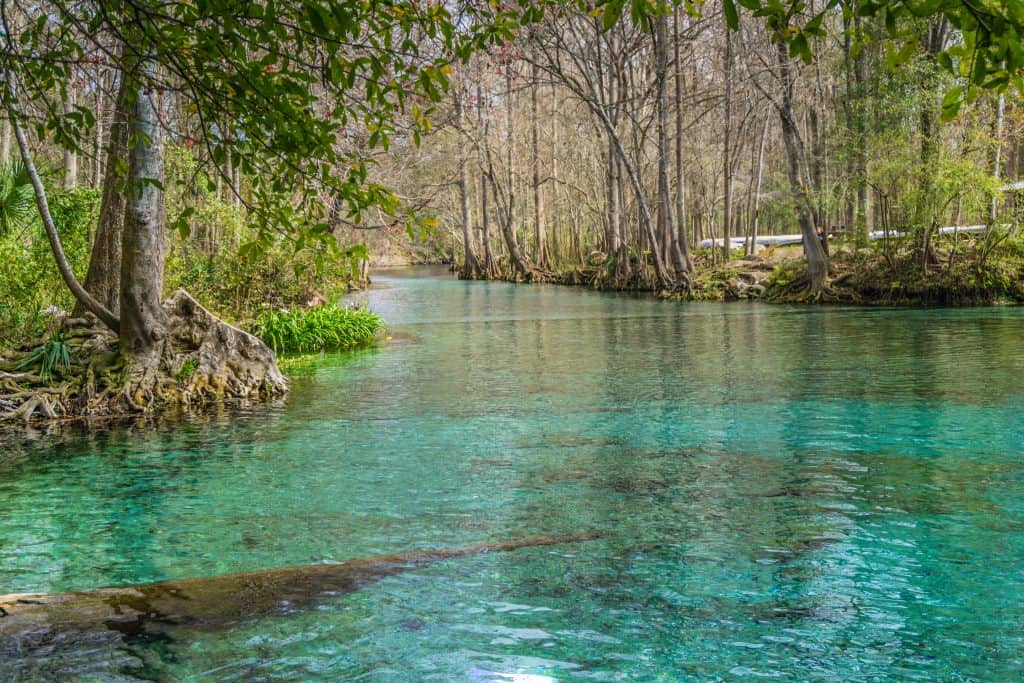 Sebastian Inlet State Park
Ten miles south of Melbourne Beach, you'll find one of the best central Florida state parks for fishing, surfing, and observing rare wildlife. Sebastian Inlet State Park is located on the tip of two barrier islands that forms the boundaries between Brevard and Indian River counties.
Sebastian Inlet has multiple fishing jetties and is one of the best state parks in Florida for casting a line. It is considered a premier saltwater fishing spot on the East Coast! Anglers regularly catch fish like Spanish mackerel, redfish, and snook.
If you visit during June and July, you can see loggerhead sea turtles nesting on a ranger-led walk. If you're lucky, you can see baby sea turtles eating the seagrass beds off the Indian River Lagoon. The most endangered whale species, the Right Whale, can be seen on the coast as well.
Take a hike on the one-mile Hammock Trail. Rentals are available for canoeing and kayaking on the Indian River Lagoon. Be patient and you'll have the chance to see bobcats, alligators, and even river otters!
Sebastian Inlet boasts three miles of beach perfect for swimming. Only a portion of the beach offers lifeguard protection from Memorial Day through Labor Day. Because the inlet is known for its waves, those with small children should swim in the gentler waves of "The Cove" to the north.
This Florida state park is famous for its surf breaks, "First Peak" and a third of a mile south, "Monster Hole." The contour of the ocean floor rises, causing waves to rise up and form long lines, giving surfers a long ride back to shore.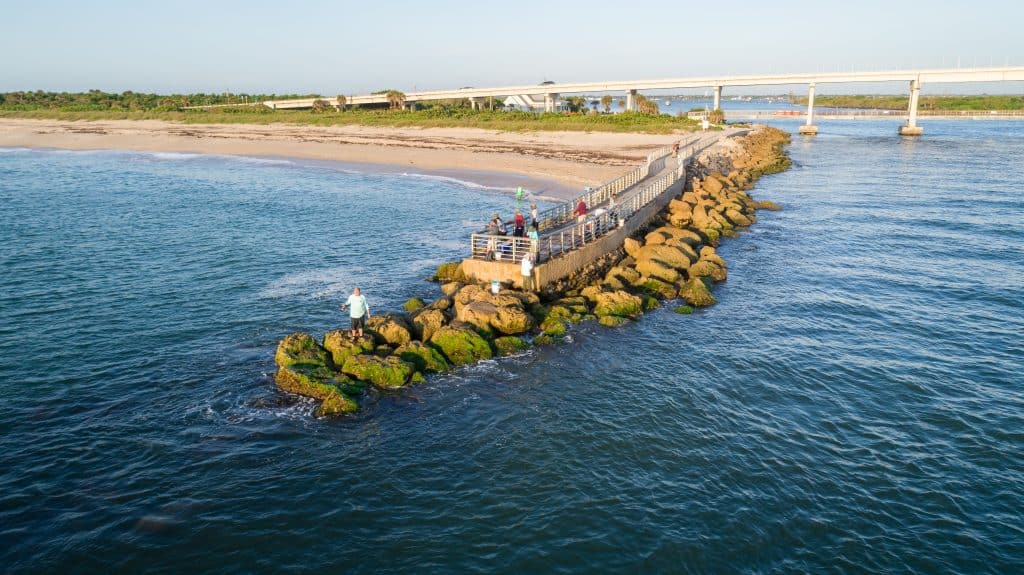 O'Leno State Park
One of the best places to unplug and unwind in nature is O'Leno State Park. Here you will find sinkholes, hardwood hammocks, river swamps, and sandhills. This is one of the oldest state parks in Florida, developed by the Civilian Conservation Corp in the 1930s.
O'Leno State Park is the perfect place to launch your canoe and relax on the bubbling waters of the Santa Fe River. Look out for a mysterious part of the river where it disappears underground and then suddenly reemerges miles away, seemingly in the middle of nowhere!
You'll find over 20 miles of hiking, biking, and equestrian trails through the grounds. The most popular is the 1.5 mile River Trail. Start by crossing a 90-year-old suspension bridge. From there you'll walk the riverbanks through scrubby flat woods and sandhills before emerging into the river swamps.
To extend your stay, take advantage of one of the 61 family campsites. Each one is equipped with water, electricity, an in-ground grill, and picnic tables. Centrally located is a modern bathhouse! This is one of the best state parks in Florida with camping and making family memories.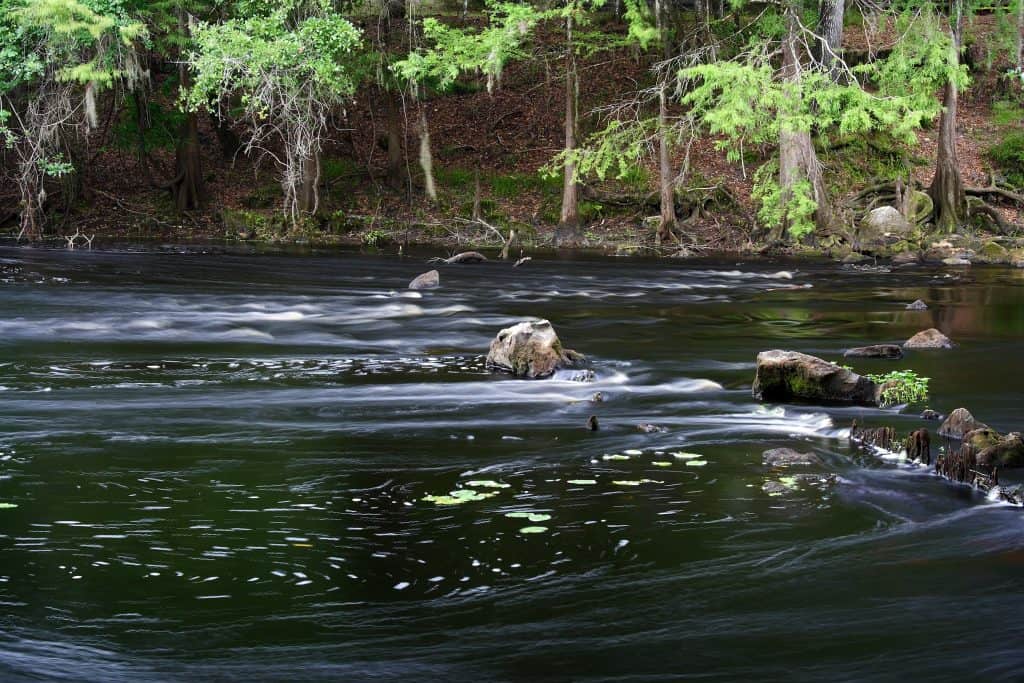 Windley Key Fossil Reef Geological State Park
On your way to Key West, visit a park unlike any other. Windley Key Fossil Reef is a geological wonder, completely made of fossilized coral! The park was built on the quarry that was used to create the famous Floridian Henry Flagler's railroad.
Today, the quarry has been preserved and transformed into five, short, self-guided trails. As you walk along the 8-foot tall quarry walls through a hardwood hammock, you'll see cross-sections of the ancient coral. You'll be in awe of the 40 types of trees and plants that are only found in the Florida Keys.
If you take a trip to the Alison Fahrer Environmental Education Center, you'll find displays and information about the native foliage exclusive to the area. You can also learn about the Florida Railroad System, an integral part of Florida's industrial history.
Make sure to pack a lunch to enjoy on the picnic tables while you bask in the gorgeous rock formations left behind over years of hard work. This is easily one of the best Florida state parks for history lovers.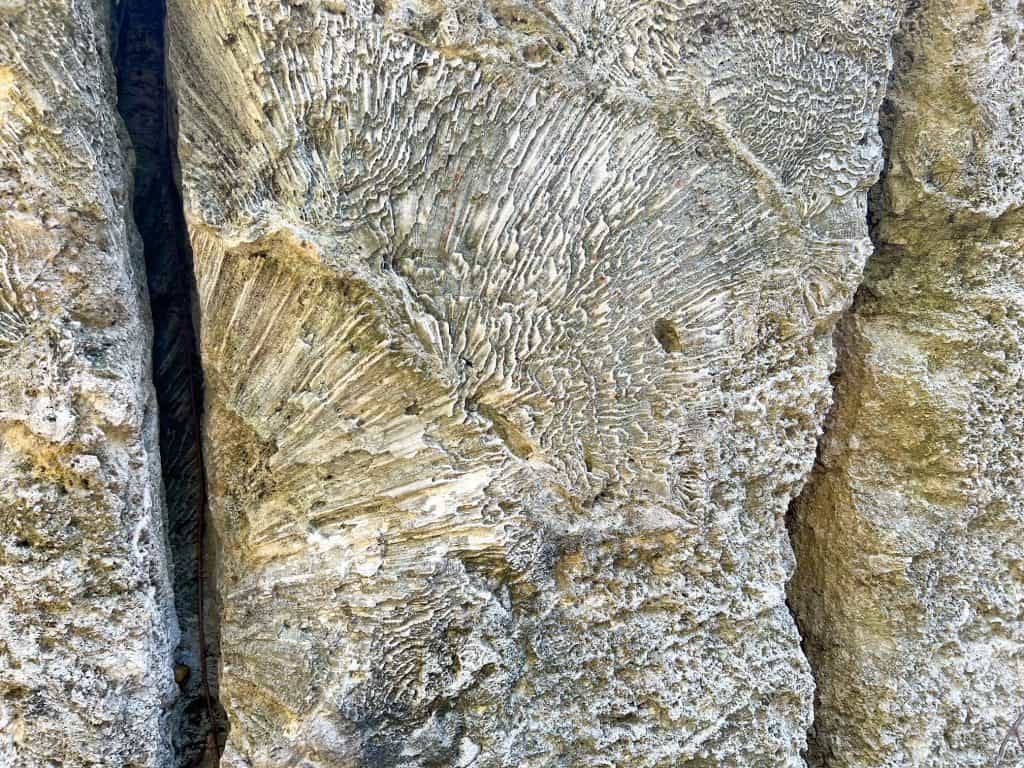 Big Talbot Island State Park
If you are looking for cool parks in Florida, Big Talbot Island State Park is one of the best places to visit in Jacksonville! Known as a premier location for nature study, bird-watching, and photography, this island is made up of smaller state of Florida parks that offer something for everyone!
The most unique feature of the park is Boneyard Beach. On the shores, oak and cedar trees have been salt-washed by the ocean. They once stood near the shore, and the remnants litter the beach now like skeletons. The state asks that you only take pictures and memories, as this is a nature preserve.
Popular for bird-watching, Big Talbot Island is home to a variety of species. You'll find black skimmers, piping plovers, and terns on the beach. Through the marshes look out for wood stork, egrets, and herons.
Take a self-guided adventure and explore the marshes, forests, and beaches on the Blackrock Trail. The Big Pine Trail will take you through the marshes. Old Kings Highway is a perfect way to get lost in the maritime forest.
If you launch a boat from the north end of the island, you can tour the salt marshes! If you want a more organized experience, arrange a guided kayak tour with Kayak Amelia.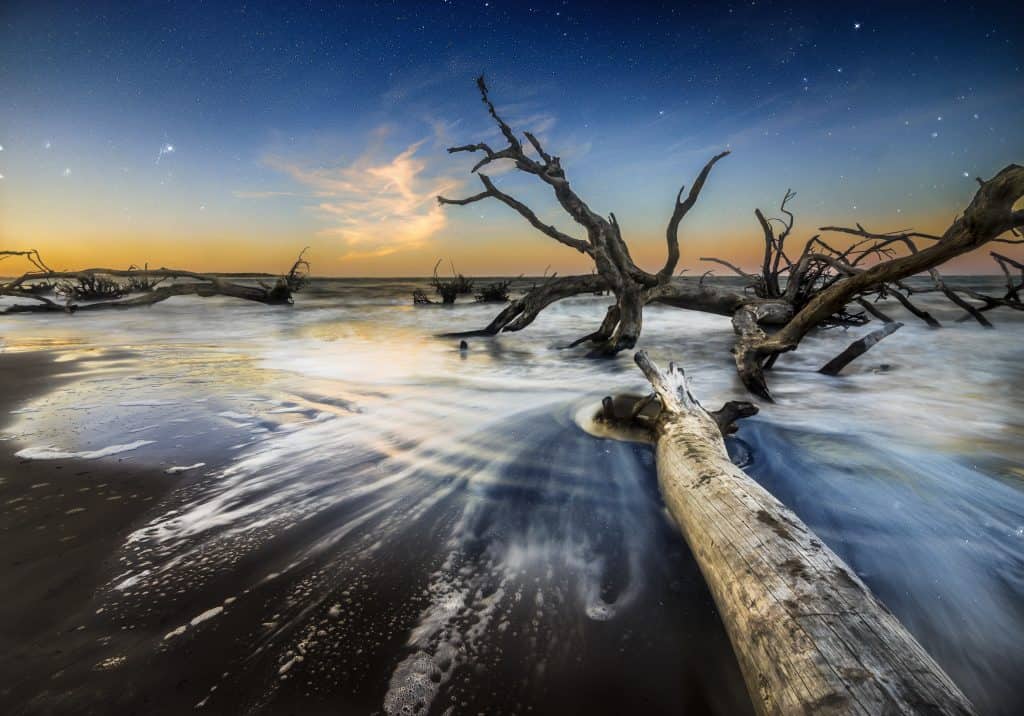 Bill Baggs Cape Florida State Park
What would a trip to a beach be without a real lighthouse? This state park in Florida is home to the Cape Florida Lighthouse, the oldest building in South Florida. Minutes from Miami, you'll find stunning views, especially at sunset.
Named by Ponce De Leon in 1513, this area has always stood as a beacon of freedom. Seminole Native Americans once fought here for their right to keep Florida their home. Fugitive enslaved people and Black Seminoles hid out here before they could safely seek refuge in the British Bahamas.
The centerpiece of this park's history is the lighthouse, which has survived over 200 years of erosion, hurricanes, and war. It once guided sailors around Florida's reefs, and today she still stands tall.
Today, go up to the balcony to get unbeatable views of Biscayne Bay. Because the waters are crystal-clear, you can frequently see pods of dolphins, manatees, and Florida stingrays.
Since this is one of the best state parks near Miami, it is easy to enjoy during your Florida vacation!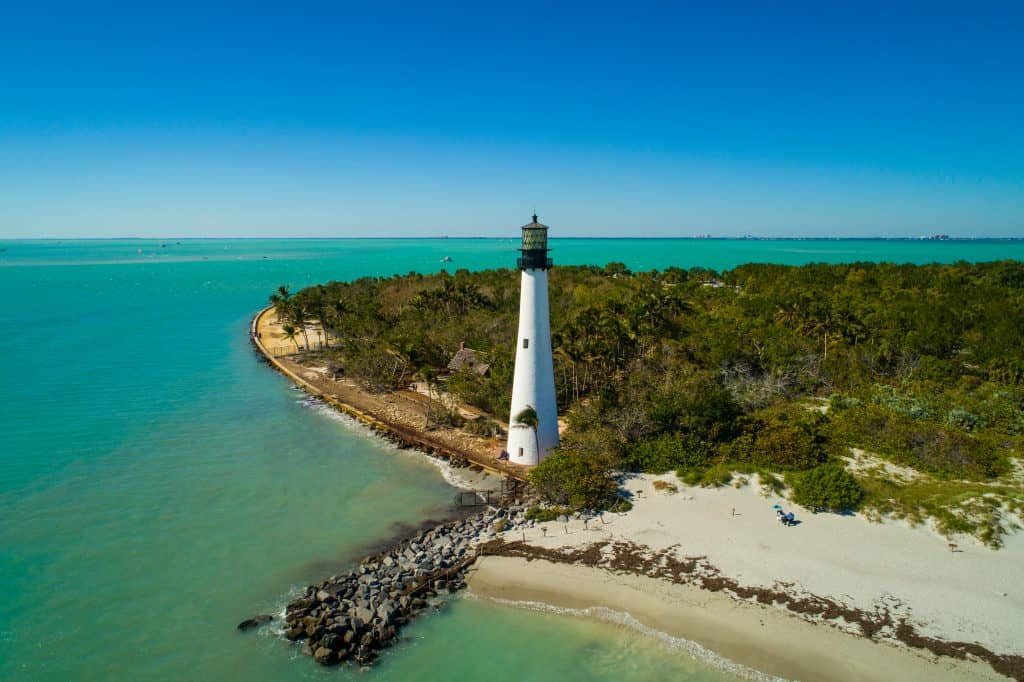 Koreshan State Park
Florida has welcomed all sorts of pioneers, but perhaps the strangest of all was Cyrus Reed Teed, who sought to create a "New Jerusalem" here with his religion, Koreshanity. The colony believed the entire universe existed in a giant, hollow sphere.
Luckily, what the Koreshans left behind is anything but! A visit to Koreshan State Park is a step back in time. As you walk through the eleven immaculately restored buildings, you'll learn about life a century ago in a very eccentric community.
Tours of the Koreshan settlement are conducted twice daily. If you visit from January through March, you can stop at the Cast Iron Cafe to taste foods and desserts eaten by the Koreshan! All of the food is prepared in an authentic 19th-century wood-burning stove.
This park is beautiful for another reason: the Koreshans didn't skimp on decorating. They imported a variety of flora from around the world. Monkey puzzle trees from Australia drop seed pods the size of footballs! They also brought sausage trees from Africa. You'll also find mango trees, eucalyptus, and bamboo.
With the architecture and rare plants, this is easily one of the most unique south Florida state parks and s a must-see attraction!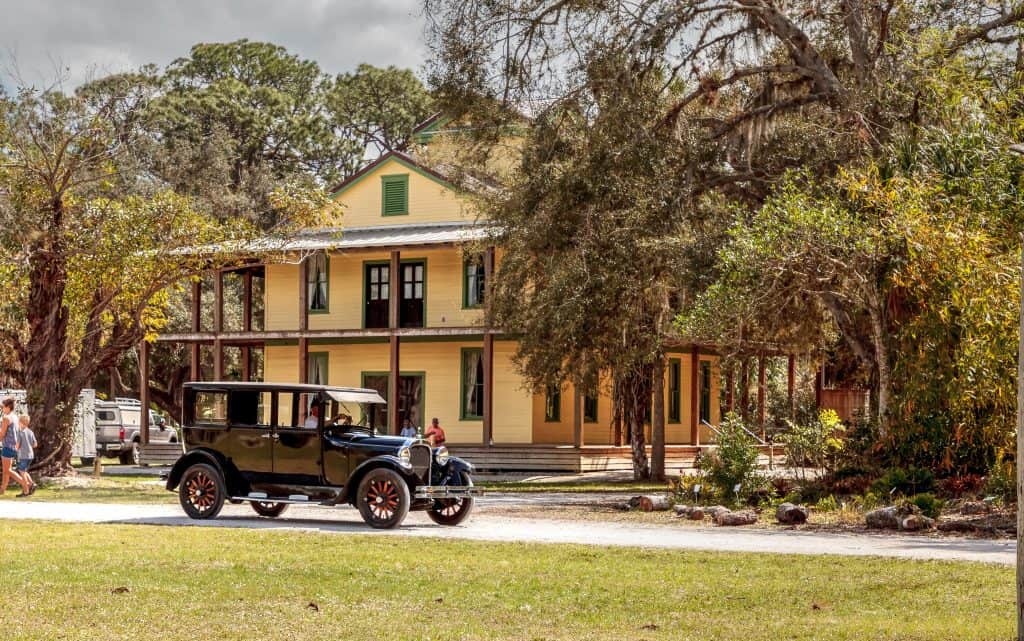 Grayton Beach State Park
Golden in the mornings, silver in the moonlight at night, Grayton Beach State Park is so much more than its pristine beaches. One of the most beautiful state parks in Florida, it has something for everyone.
Grayton Beach's sunsets are some of the best in the state. Consistently a nationally ranked beach, the sugar sand and gentle waters are perfect for swimmers. The water from the Gulf of Mexico is emerald green and makes a perfect backdrop for a day of summer fun.
Rent a canoe or kayak and explore Western Lake to see the salt marshes. Through the backwaters of the 100 square-foot lake, you'll see coastal dunes. This is a rare geological feature anywhere in the world, but you can find it right here in Grayton Beach State Park.
Get your Tolkien on and explore "Middle Earth" in Florida. The coastal forests are full of scrub oaks and magnolias bent by salt winds. The result is an eerie feeling straight out of Lord of the Rings.
If the beaches and nature trails through sand dunes, pine Flatwoods, and scrub communities aren't enough for you, extend your stay. Cabins on the grounds are nestled in the pine woods, minutes away from the beach.
You will be perfectly secluded on a separate trail from regular park visitors, making this one of the best state parks in Florida with camping.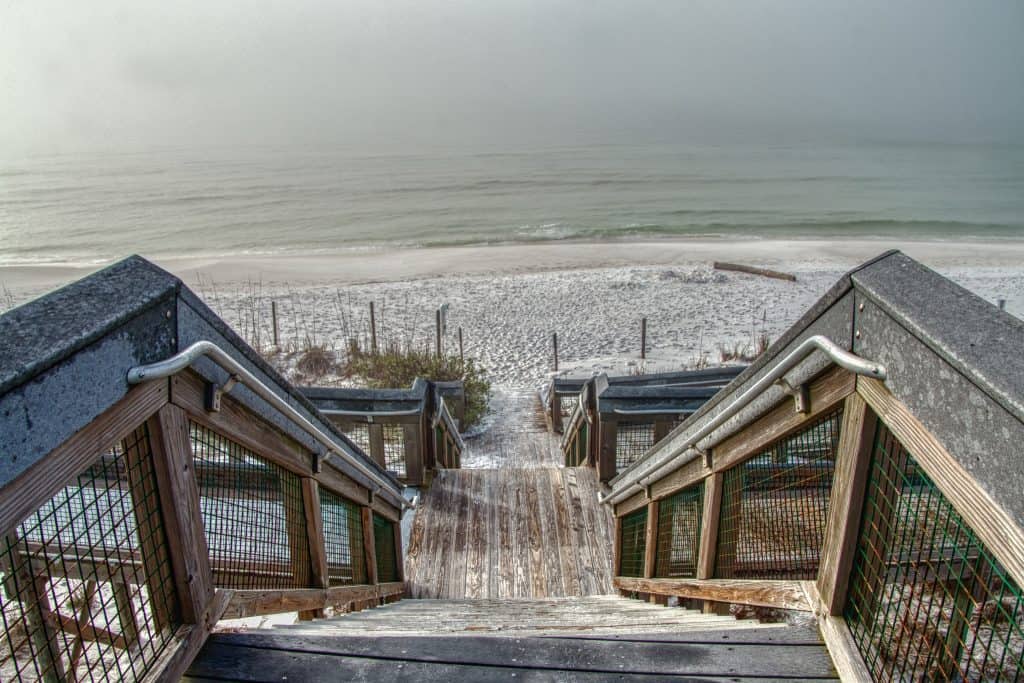 Olustee Battlefield Historic State Park
Just near Lake City, you can experience history with your own eyes at the Olustee Battlefield Historic State Park. One of the most historic state parks in Florida, the grounds are actually the battlefield for a reenactment of the largest Civil War battle ever fought in Florida.
Every February, volunteers act out the battle as Union soldiers attempted to cut off Confederate soldiers' food supply. Thousands of people flock to this event, some traveling from all over the globe.
On the Interpretive Trail, you'll pass many landmarks of the era. The Confederate Monument, a towering stone obelisk, remembers the fallen soldiers. Next, the Interpretive Center features short videos about the battle.
As you continue along the trail, you will see actual artifacts from the war. The path of the trail along with informative signs winds through the thick forest, giving you the same sense of dread these soldiers must have felt on that day.
To experience a taste of Florida history, and pay your respects to the brave men and women that served, make time to visit Olustee.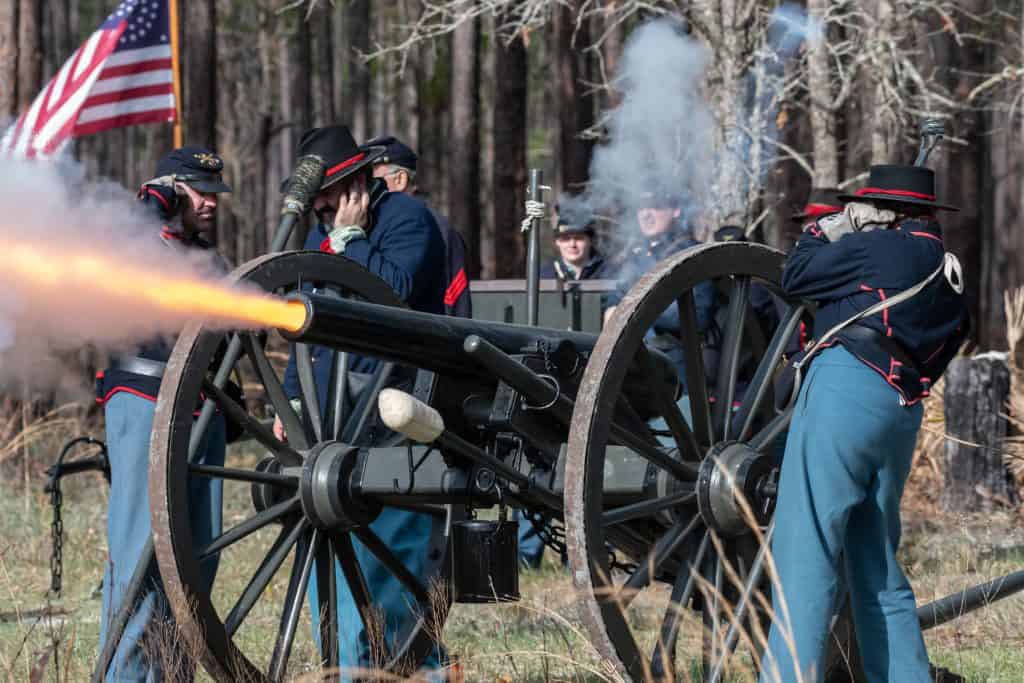 Big Lagoon State Park
The site of the beginning and ending to some of Florida's most ambitious adventures, think of Big Lagoon State Park as a gateway. Southwest of Pensacola, Big Lagoon separates Perdido Key from the Gulf of Mexico, making it one of the best state parks in Florida for exploration.
Swimmers, look no further than the park's namesake, the Big Lagoon itself. When swimming, we urge you to stay alert. Keep your safety in mind because the Big Lagoon also hosts boat traffic.
Big Lagoon State Park is also the beginning and endpoint of the Florida Circumnavigational Saltwater Paddling Trail. This paddling trail is 1,515 miles and travels around the entire state of Florida! Our arms are tired just thinking about it.
A coastal forest extends behind the shores. Sunsets can't be beaten on the winding boardwalks. A stop on the Florida Birding Trail, the park is home to 23 species of wood-warbler and a variety of ducks, sandpipers, and black-bellied plovers.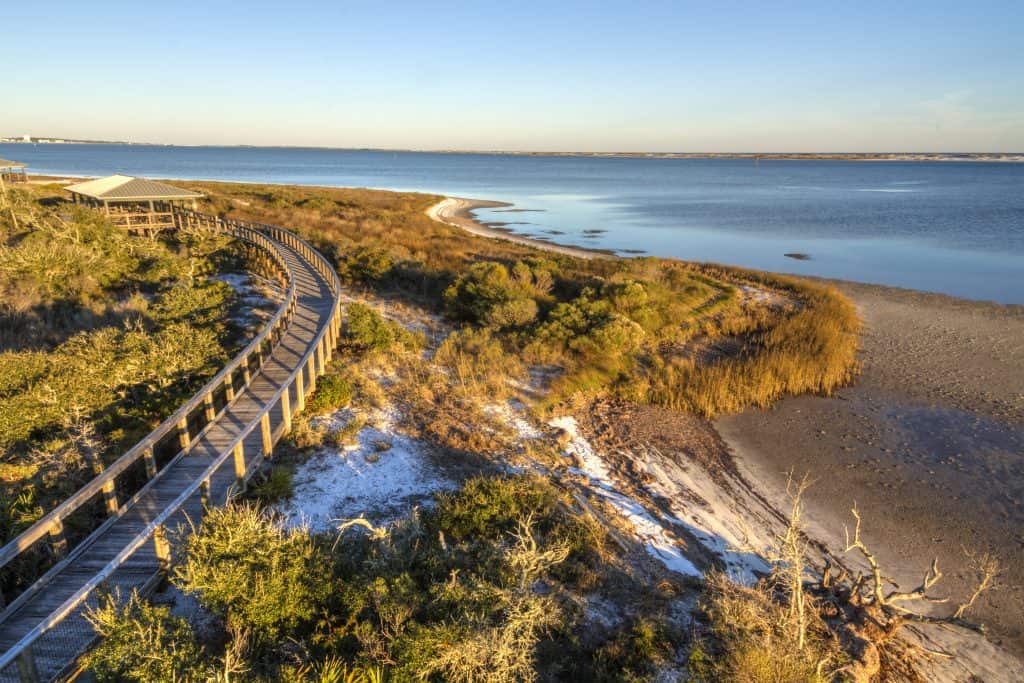 Fort Zachary Taylor State Park
Fort Zachary Taylor State Park in Key West is one of the best state parks in South Florida. It is actually the southernmost state park in the whole continental U.S.!
This park has plenty to offer. The main draw, of course, is the Civil War-era Fort Zachary Taylor. Learn about the past as you explore the old fort and enjoy the monthly historic reenactments.
When you get your fill of history, take time to relax at the beach. This is one of the best beaches in Key West and is great for the whole family.
Spend time here swimming, snorkeling, and spotting birds and marine life. If you need snorkel gear, you can rent some from Chickee Hut Beach Rentals along with umbrellas, chairs, and rafts. It is very rocky here, too, so make sure to bring water shoes.
Other things to do at this state park include hiking, biking, fishing, and grabbing a meal at the Cayo Hueso Café. When exploring Florida Keys state parks, you cannot miss out on Fort Zachary!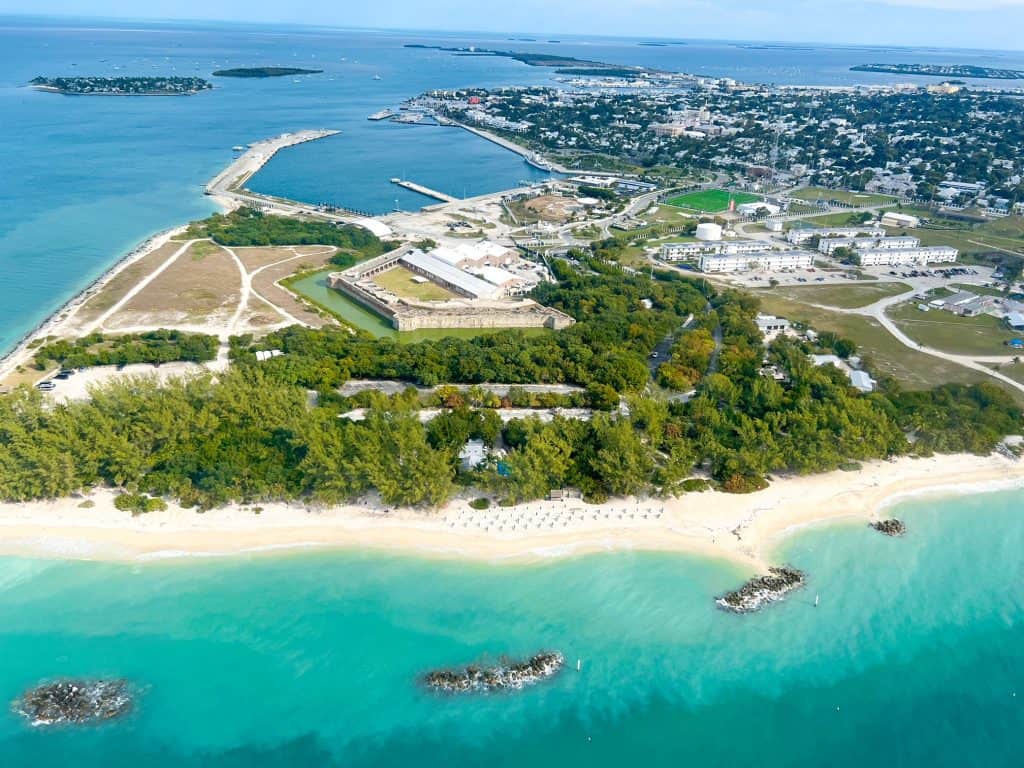 Did You Find This Post Helpful?
If so, we would love to keep in touch! We enjoy seeing photos and comments about your experiences in Florida! You can follow us on Instagram and we will repost your photos on our feed and comment too! Just tag us at @floridatrippers and hashtag #floridatrippers. We can't wait to see your travels!