So, you're planning a tropical getaway to the Sunshine State, but you don't know which Airbnb in Miami is the best? Well, we've got you! This list will include luxurious, affordable, quirky, and cute accommodations that Miami has to offer. 
Whether you are looking for a secluded feel, party vibe, or have your heart set on an epic beachfront view, you will be able to find it here! There are so many amazing Airbnbs in Florida and Miami is no different!
Miami is a fabulous city to visit with rich culture, stunning beaches, and amazing food. So, get ready to find your dream Airbnb in Miami!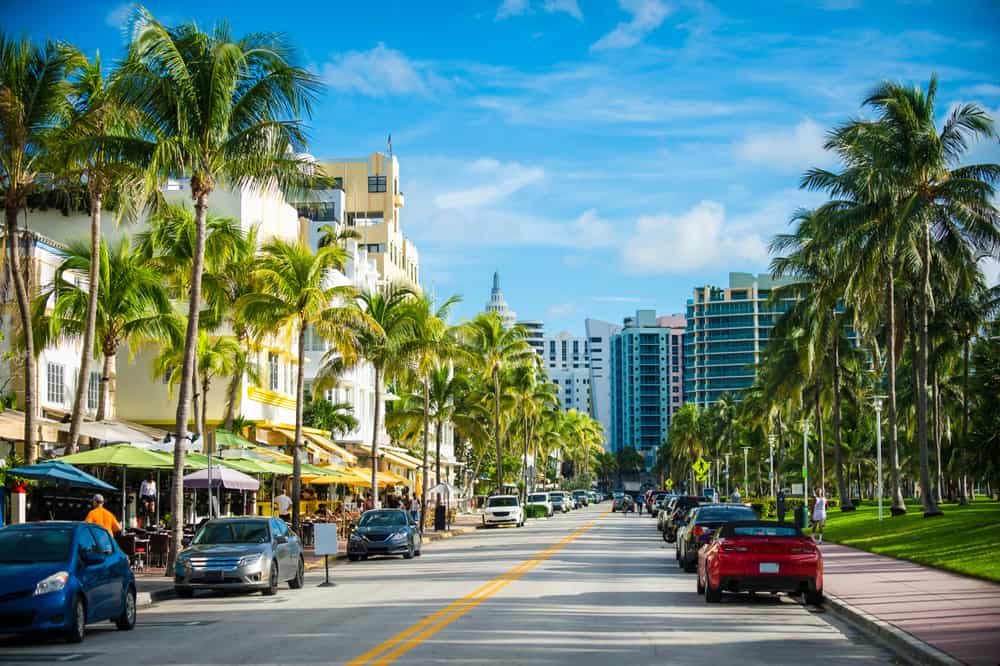 What Are A Few Things I should Know About Visiting Miami?
Miami is a city that loves to have a good time, so you should expect a vibrant party atmosphere that keeps going all night long. Even if you are just spending a weekend in Miami, there is so much to see and do.
There is plenty of entertainment to be found with several bars, clubs, and live music on almost every corner.
Wear Sunscreen!! You don't want a sunburn to ruin your good time, so make sure to cover up or wear sunscreen. Also, make sure to reapply frequently to ensure the best prevention. It will be hot and humid, so you will want to stay hydrated too!
Be sure to pack more than just beachwear. Even though you might think that it all you need, most clubs and restaurants enforce a dress code. Your luggage should have a few swimsuits, sunglasses, a hat, some causal outfits, and at least one dressy outfit.
The coffee is strong!!! Very tasty, but also extremely strong. Don't let that tiny espresso fool you into thinking it won't pack a punch. Café con leche is Spanish for coffee with milk and can be ordered at almost every cafe and restaurant in Miami. It is a delicious drink that you should give a try, but probably not right before trying to sleep.
If you are planning your visit to Miami during the summer months, we suggest that you enjoy the beach during early to mid-morning or later into the evening. Most days the weather forecast will call for afternoon showers and thunderstorms.
Art is very well respected and enjoyed in Miami, so you will want to take advantage of visiting some of the beautiful galleries and museums during your trip.
We definitely suggest checking out Wynwood Walls which is an outdoor museum of international street art and one of the best things to do in Florida! It would be a great place to do a little photoshoot because the murals are brightly colored and make a great background.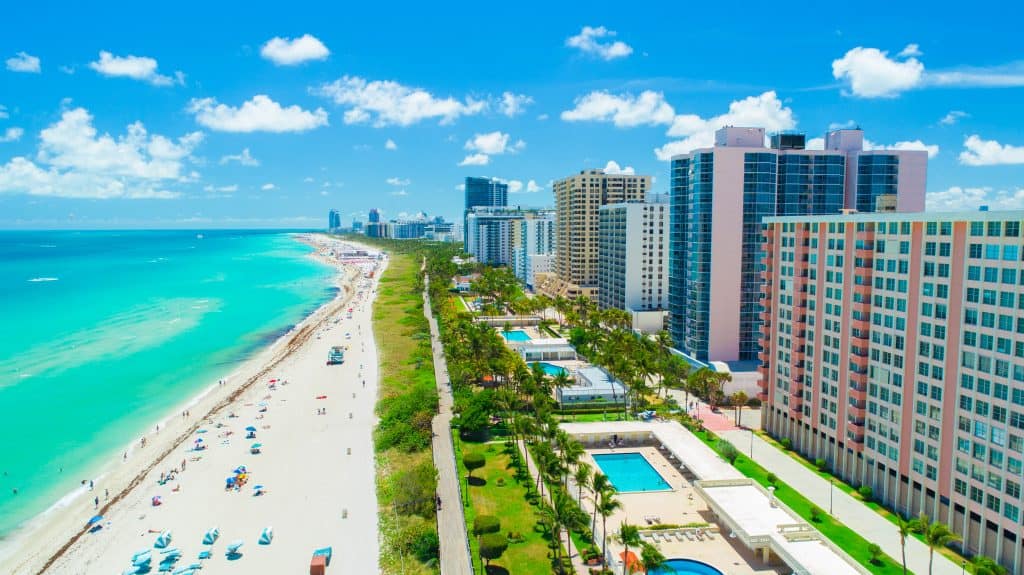 19 Best Airbnbs In Miami (Treehouses, Casitas, & More)
Bentley Rooftop Pool
What says "luxury vacation" more than a rooftop pool? This entry on our best vacation rentals in Miami list is serving opulence, without a crazy price tag.
This VRBO is in the Bentley Condo complex. You get access to all the amenities of the complex including access to the rooftop pool and hot tub, as well as free bike rentals.
Your private condo unit has 1 bedroom, with 2 beds. It can sleep 4 people. You'll love the natural light and sea views from this unit! It has one full bathroom showcasing lots of beautiful marble and walk in shower. This is a luxury hotel experience not to be missed!
The location of this property makes it one of the best vacation rentals in South Beach Miami. The South Beach area is very trendy. Explore the nightlife on Ocean Drive or soak up the sun at Lummus Park. The Bentley makes a great homebase to explore South Beach!
Check Rates: VRBO.com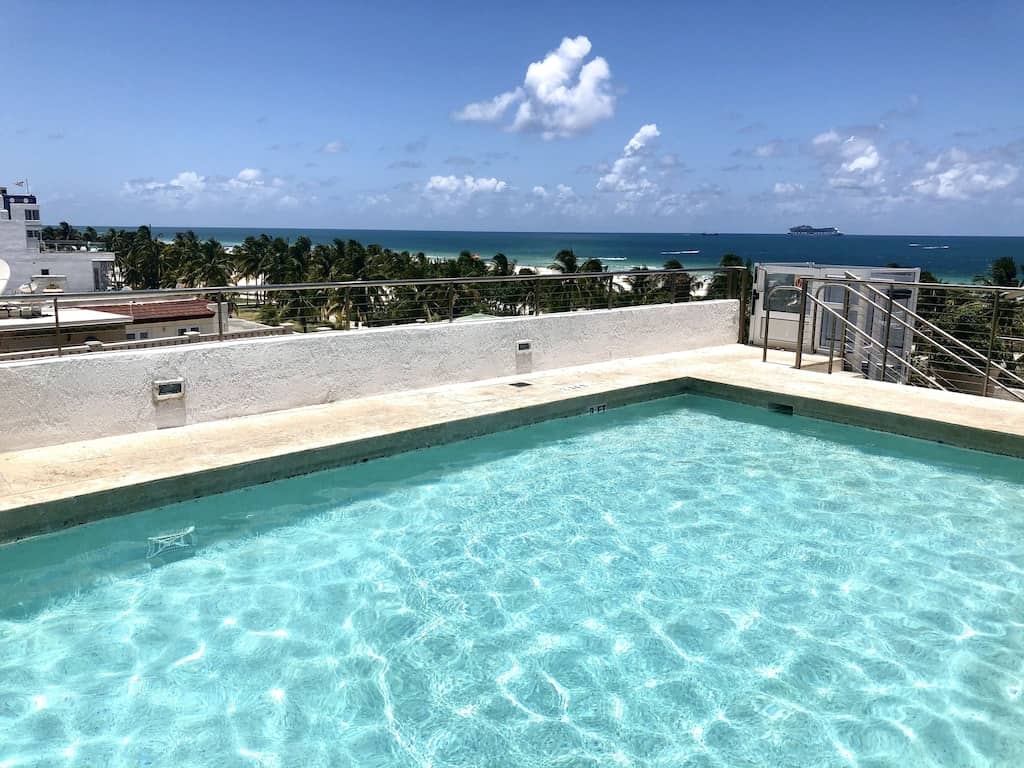 Artsy Studio
Miami is known as a bright and artsy city, and this vacation rental definitely reflects that. Check out this fun custom wallpaper!
This cute condo fits everything you'll need in 585 square feet. It is a studio style so has no detached bedroom. It can sleep up to 4 guests. The unit has a full bathroom with a soaking tub.
The Artsy Studio has a very spacious sleek modern kitchen. It includes an espresso machine, so you'll be properly caffeinated for all your Northeast Miami adventures.
The condo complex has a fitness center and a really elegant pool. You're sure to have a relaxing time at this Artsy Studio.
Check Rates: VRBO.com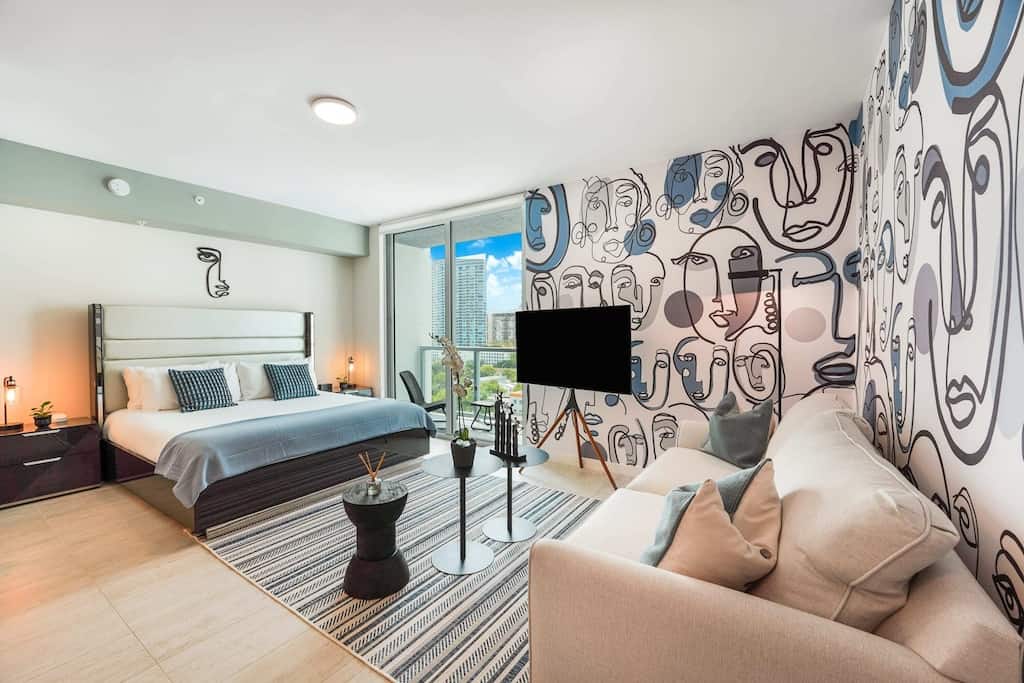 Studio on the Beach
If you want to save money while being as close to the beach as possible, this is the entry on our best VRBOS in Miami list for you! This South Beach Studio is right in the trendy Art Deco district of Miami, and is also a very reasonable price.
The property sits directly on the beach. You won't miss a moment of sand and sun on your Miami vacation! It is also within walking distance to lots of the iconic shops and restaurants of the Art Deco district of South Beach Miami.
The studio is 200 square feet and can sleep 2 guests. It has a full bathroom. They've squeezed an impressive kitchen into this space, it has a small refrigerator, microwave, coffee maker, 2 burner cook top, a toaster, pots, pans, dishes, and silverware. This is definitely one of the best cheap Airbnbs in Miami!
Check Rates: VRBO.com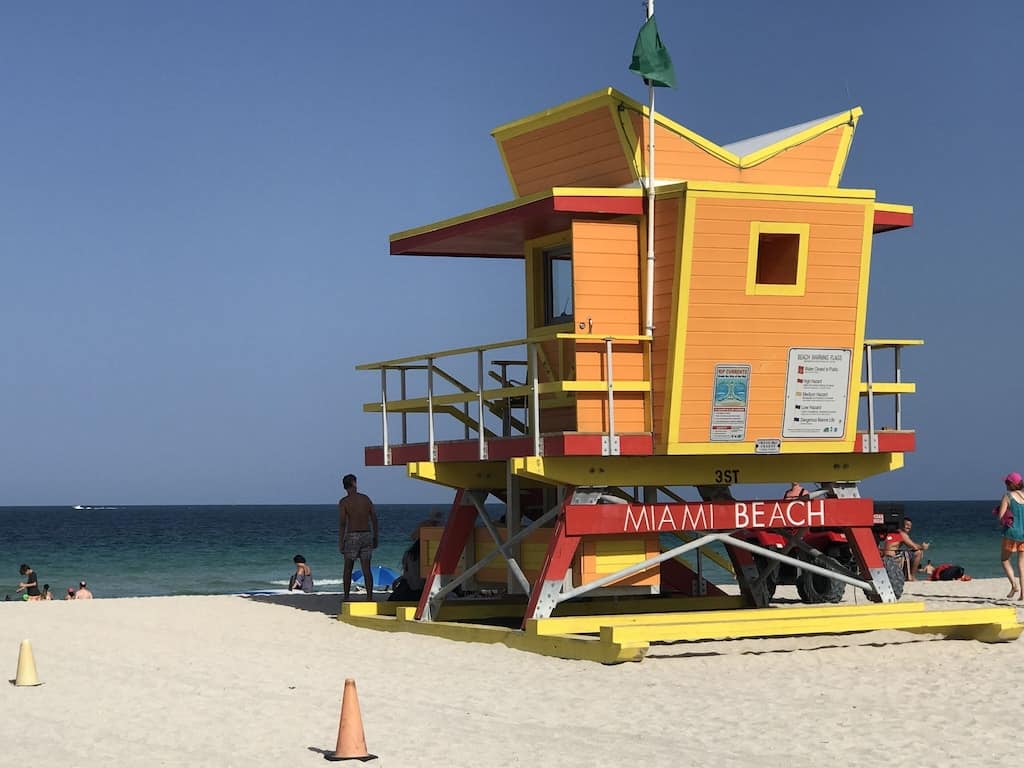 Guest Casita
If you're looking for old-world charm, this is the entry on our list of the best Miami Airbnbs for you! This Guest Casita in Coconut Grove has a fantastic Spanish flare.
This casita features totally swoon-worthy dark wood detailing with white adobe walls and Moroccan lanterns. Talk about an Instagrammable stay in Miami! If you're a foodie you'll love the woodfired pizza oven included in your outdoor dining area. This is truly one of the Best Places To Stay In Miami!
This entry of our Miami vacation rentals list is located in North Coconut Grove, Miami's oldest and most desirable residential neighborhood. It can sleep up to three guests and has one bed. It has one full bathroom and a really nice backyard for you to explore. This one really takes the top spot of all Miami cottage rentals!
Check Rates: VRBO.com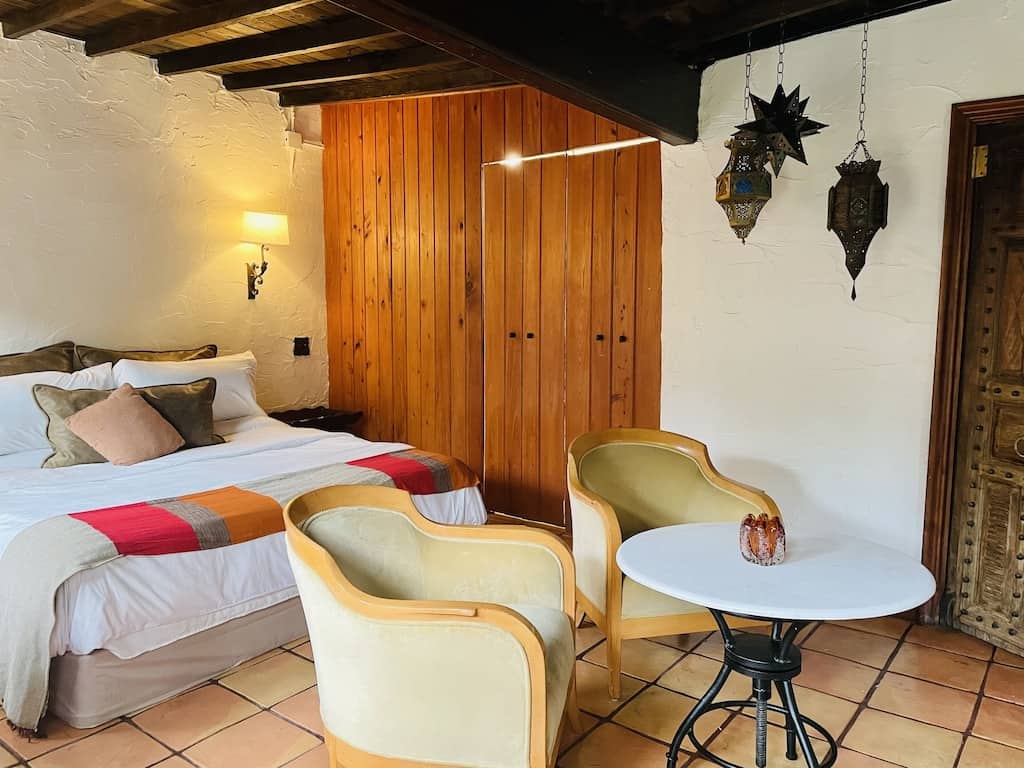 Tree-house Canopy Room
If you are looking for a truly unique experience, then look no further than this incredible Tree-house Canopy Room Airbnb in Miami! Get in tune with nature as you stay in this amazing private room in a large treehouse. In addition to the quirky sleeping accommodations, you also get to enjoy goats, pigs, emus, roosters, and cats that live on site.
No need to set an alarm because the resident roosters will welcome the day with early crowing. This is the perfect place for those looking to unplug from technology and unwind in nature. It can accommodate up to 2 guests with 1 bedroom, 1 bed, 1 shared bath, outdoor shower with hot water, and shared kitchen.
Kayaking, bicycle rental, and sailing are all available for small fees. Staying at this Airbnb in Miami, you will be close to the Art District and approximately 15 minutes from South Beach and the airport.
Check Rates: Airbnb.com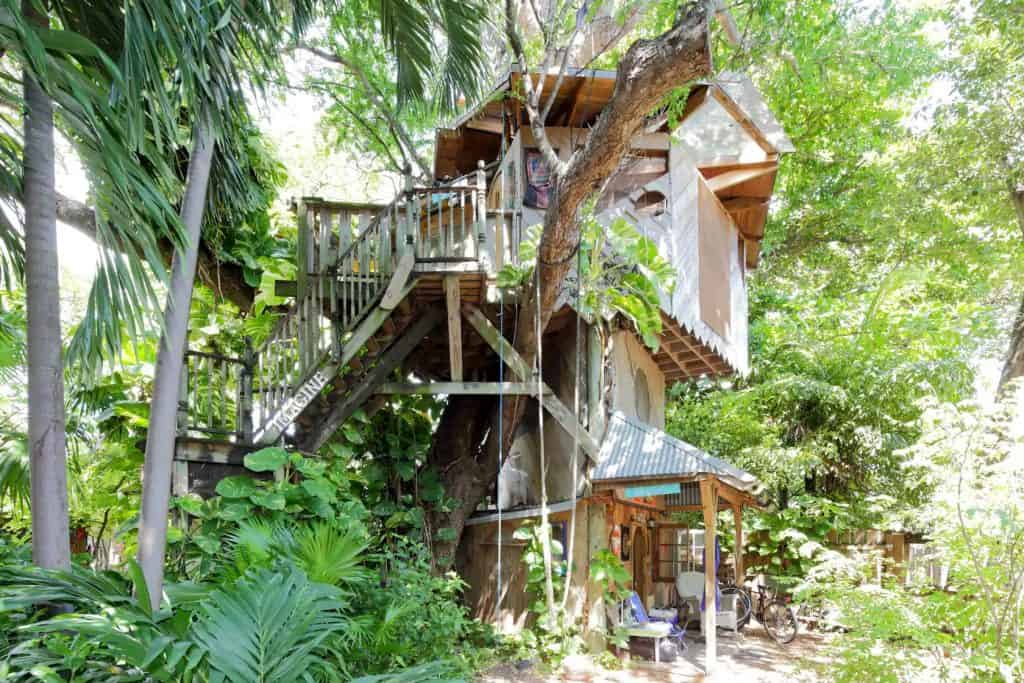 Colorful Luxury Stay
This entry on our list of best Miami Airbnbs has put a fun modern twist on the colorful beachy style. It is located in the exclusive Setai resort complex.
Come live a life of luxury at the Setai resort complex. The Setai was named number ten of the 'Top Hotels in the United States, 'Best Hotel in the State of Florida', and one of the 'Top 100 Hotels in the World'. The property has beach access, luxury dining, and a beautiful pool.
This unit has a beach view from the balcony. It has 2 bedrooms and 2 full bathrooms. It can sleep up to 4 guests. The floor-to-ceiling windows here make sure you won't miss a moment of beautiful Miami sunshine on your vacation.
Check Rates: VRBO.com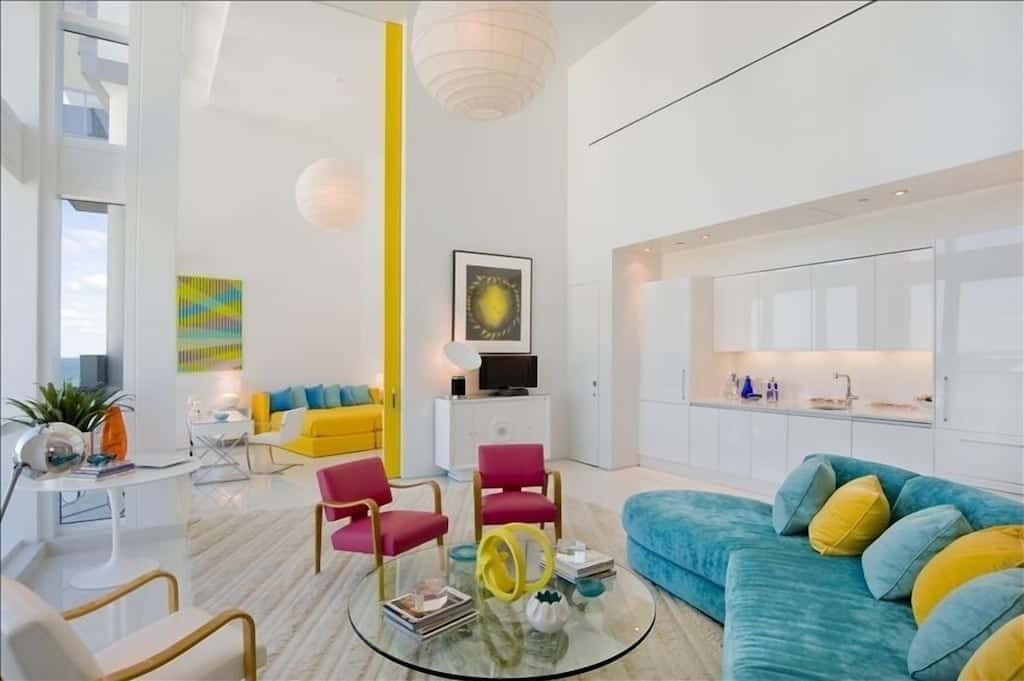 Dramatic Oceanfront Views
Here is another entry on our list of best Miami Airbnbs with absolutely breathtaking views! This VRBO also has floor-to-ceiling windows so you don't miss any of the beautiful Atlantic views.
This VRBO can sleep 6 guests in 2 bedrooms. It's 1550 square feet boasts 2 full bathrooms. It also has a very modern kitchen and lots of patio furniture for spending time on your 50-foot wrap-around terrace.
This full-service building includes a beautiful pool, poolside tiki bar, 24-hour doorman, security, and a world-class fitness center. This spectacular location is "mid beach" so you can get to both North and South Miami with ease!
Check Rates: VRBO.com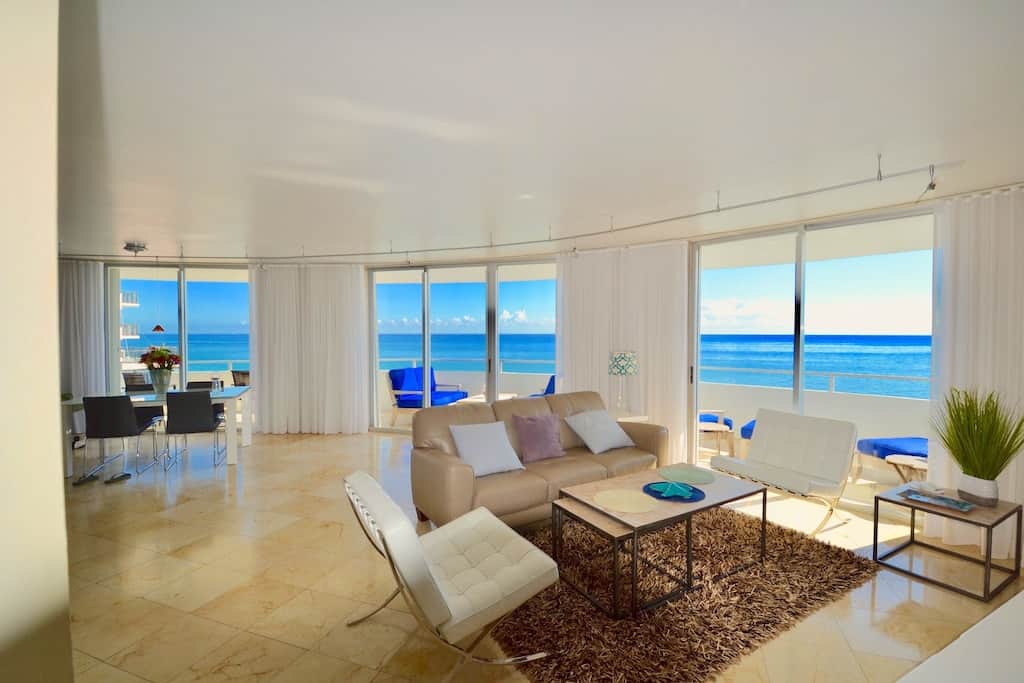 Luxury Loft With Rooftop Pool
Our next Airbnb in Miami is a luxury loft with an incredible rooftop pool! Just imagine cooling off a sparkling pool all while taking in the stunning Miami city skyline.
This luxury loft can accommodate up to 4 guests with 2 bedrooms, 2 beds, 2 baths, fully stocked kitchen, living room, dining area, and washer and dryer.
The loft allows plenty of natural sunlight in with large windows that feature palm tree views. Located in the much desired SoFi District you are about a 5 minute walk from the beach. Plenty of juice bars, cafes, and coffee bars right around the corner.
Check Rates: Airbnb.com
Miami Cottagecore
If your perfect vacation involves staying in cozy cottage, this is the VRBO for you! This is one of the best Miami vacation rentals for cottage lovers.
The cottage has two bedrooms and two full bathrooms. It can sleep up to 4 guests. The adorable backyard and sweet & homey cottage decor make this a really special find.
This cottage is located about a mile from the Miami Downtown shopping district and Bayfront Park. You're sure to have a great time at this excellent example of Miami cottage rentals!
Check Rates: VRBO.com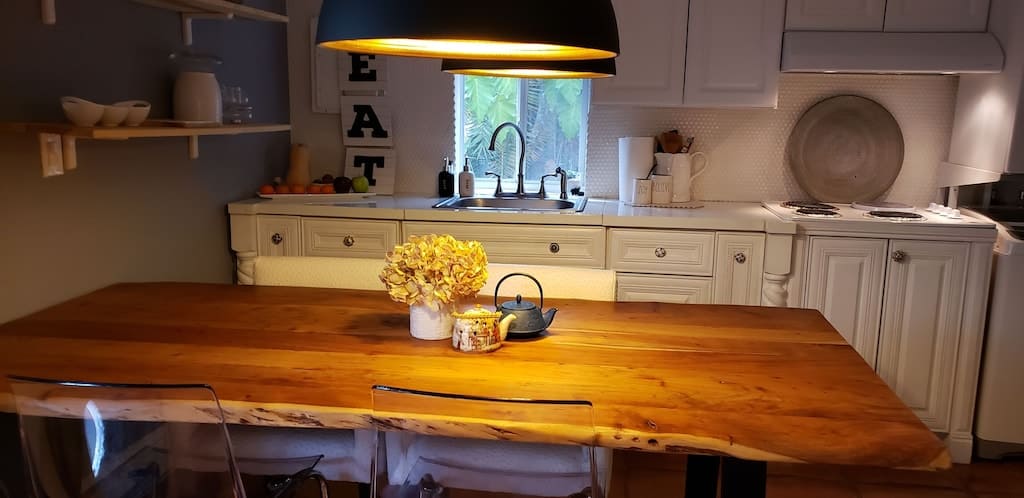 Alexander Luxury Condo
If you are looking for a resort-style pool with a waterfront view, then this is definitely for you! This condo is a steal price-wise especially considering it can sleep 7.
The suite has 2 bedrooms and 4 beds. It also has 2 bathrooms, a seating area, a balcony with a water view, and a full kitchen. The Alexander Condo complex amenities include 2 pools, beach access, a gym, and laundry facilities.
Located right in the center of mid beach within walking distance of the famous Miami Beach Boardwalk.
Check Rates: VRBO.com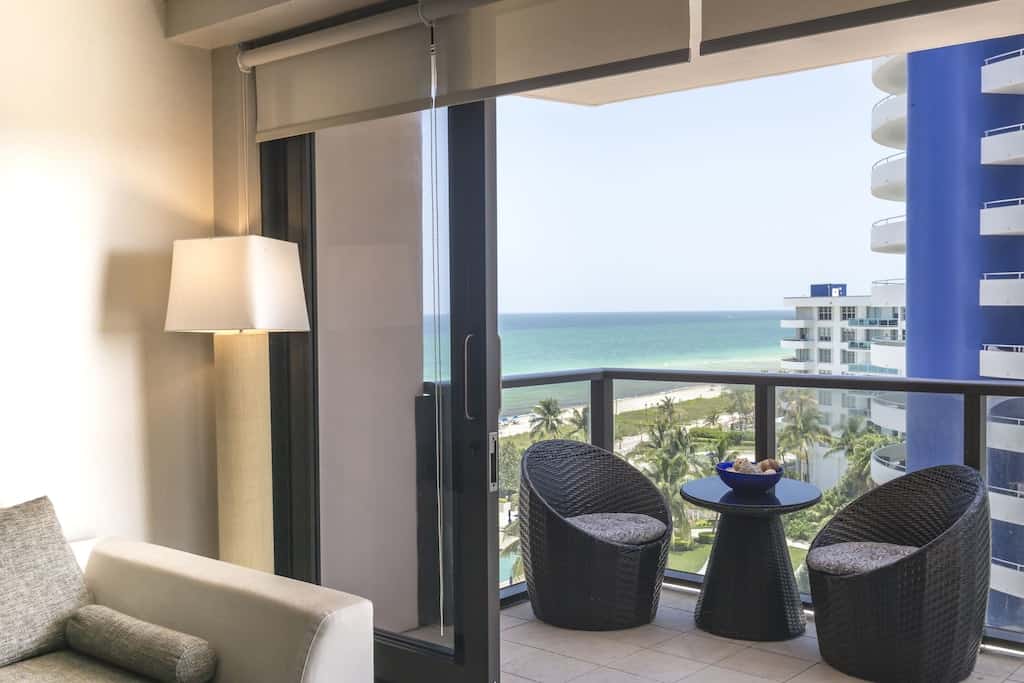 Casa Luna Bungalow
Casa Luna Bungalow is an adorable Airbnb in Miami that captures a sweet and happy vibe. It is located in a really gorgeous art deco building from the 1950s.
The Casa Luna Bungalow can accommodate up to 3 guests with 2 beds, 1 bath, a small kitchen, cafe table, and a small seating area. Located just one block from the beach and in a prime location for shops and restaurants.
The owner will gladly leave you a list of recommendations for restaurants and activities, as well as arrange for boat rental upon request.
Check Rates: Airbnb.com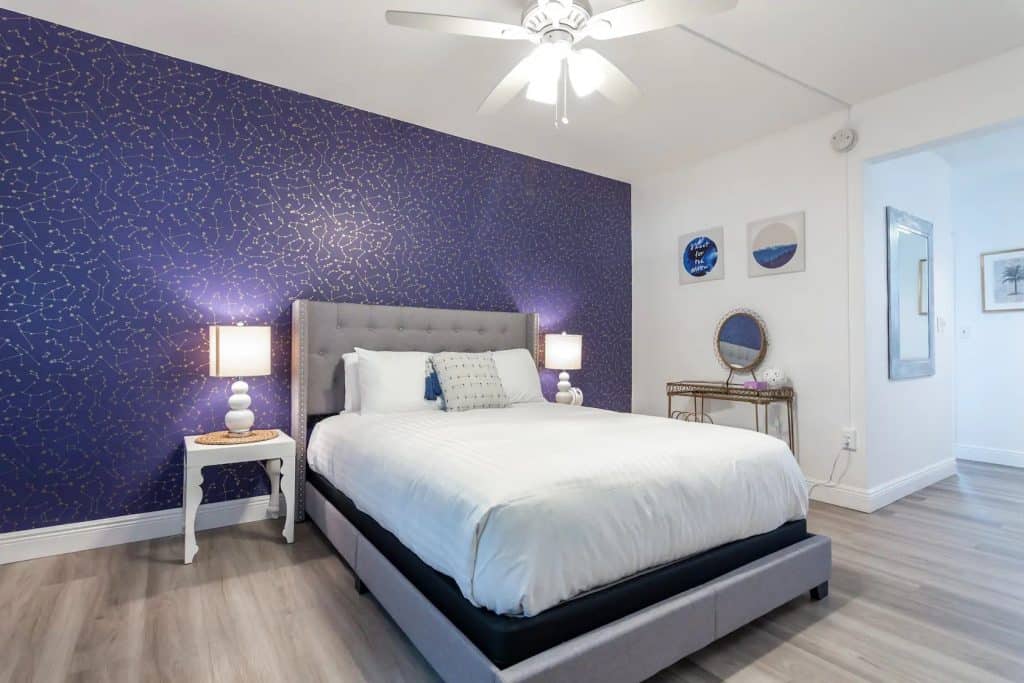 Collins Avenue Condo
This is a romantic condo with a luxury feel, without the luxury price tag. The Collins Avenue Condo has direct access to the beach and is located in Surfside. This area is known for its great beaches and also its walkability.
This condo has it all! The balcony has amazing ocean and city views It can accommodate up to 4 guests with 1 queen bed & 1 queen pull-out sofa. It has 1 bathroom. The property has a kitchen with full-sized appliances, so you can plan on making some delicious meals here! This VRBO is accessible by the elevator so is a good choice if you're not a fan of stairs.
Some other amenities you can enjoy when you book this condo: 24/7 valet parking, beachfront pool, gym with an amazing ocean view, laundry facilities, and a picnic area.
Check Rates: VRBO.com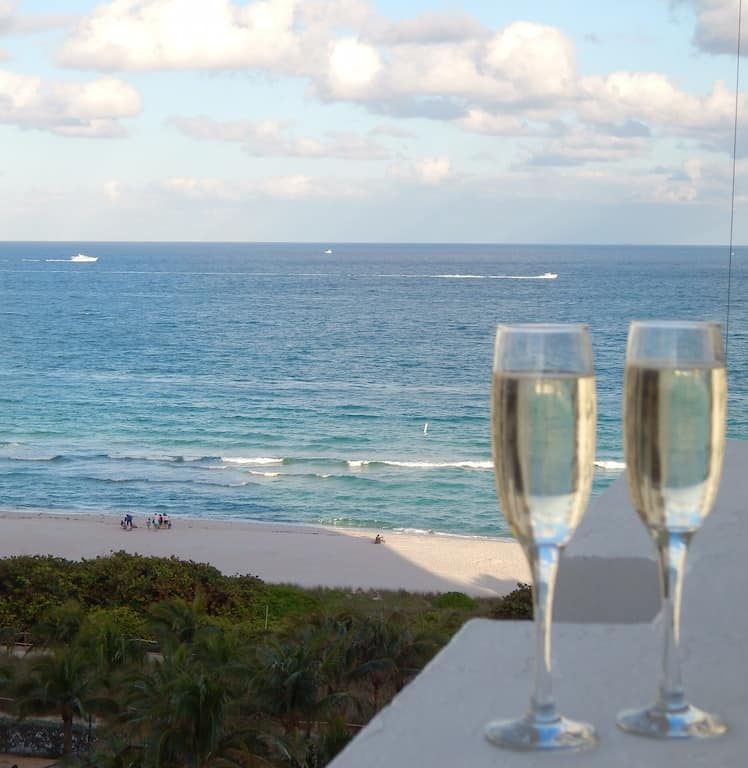 Boutique Hotel On Ocean Drive
Our next Airbnb in Miami is a beautiful 1 bedroom located in the iconic Penguin Hotel on Ocean Drive. Conveniently located across the street from South Beach and right in the middle of some of the best restaurants, bars, and shops.
The decor is fun and modern with a mostly white color palette, but with large colorful murals that really make the room pop. Wooden floors and stylish furniture really complete the look. This room can sleep 2 guests in one king-sized bed.
There is a daily resort fee for guests, but it includes wifi, ala carte breakfast, 2 adult beverages, beach towels, and 2 bottles of water for each day of your stay. Guest also have access to a wonderful rooftop pool.
Check Rates: VRBO.com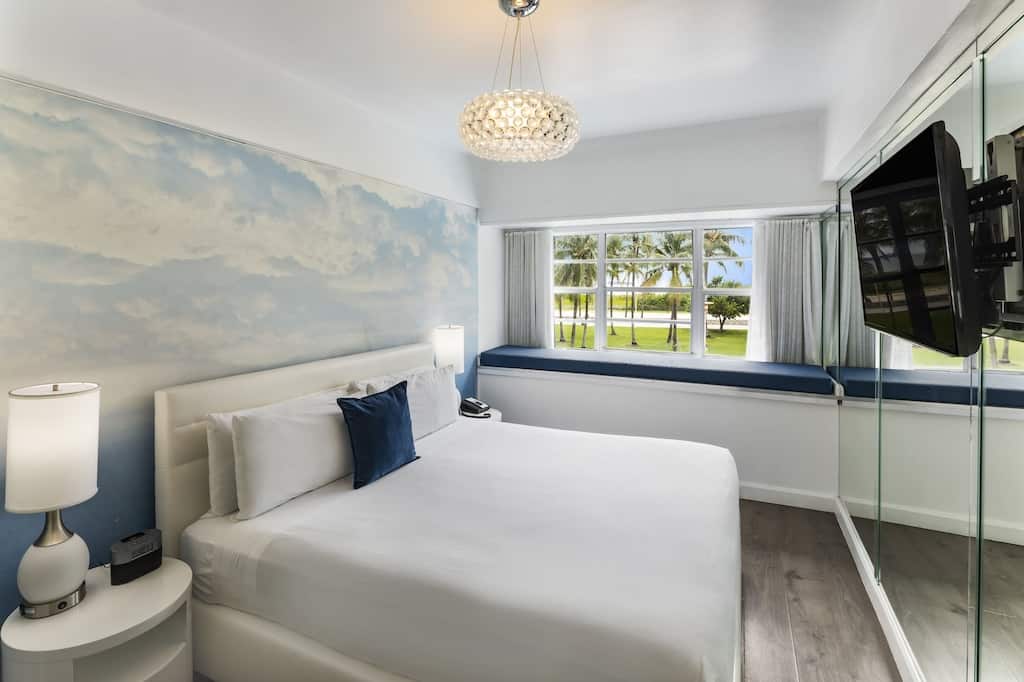 Luxe Bungalow Retreat
Wow, this luxe bungalow retreat is an amazing Airbnb in Miami that excels at providing a true tropical paradise escape. It can accommodate up to 2 guests with 1 bedroom, 1 bed, and 1 private bath.
Designed & operated by artist/designer Marco G, there is special attention to detail throughout the property to make it most enjoyable and relaxing.
The real standout for this bungalow is that is has an incredible pool with lounge chairs, a covered seating area, a large hammock, and a dense lush garden surrounding it.
Please note that there is no access to a kitchen, but restaurants are within walking distance.
Check Rates: Airbnb.com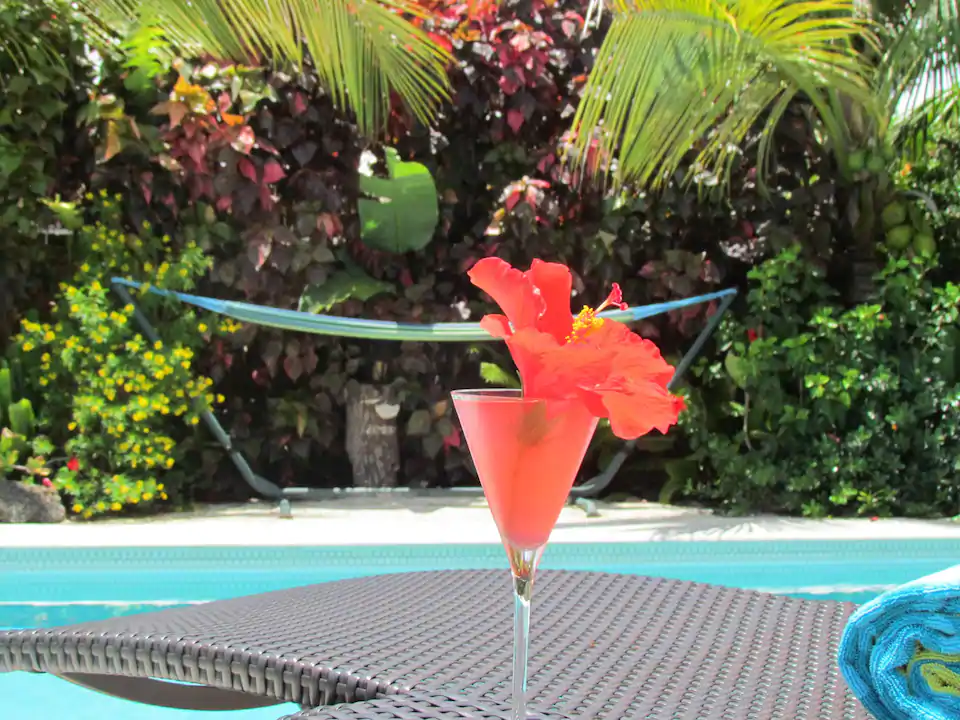 Jewel in South Beach
If you're looking to have a house to yourself for your next Miami getaway, this is the entry on our best Miami Airbnbs list for you! This lovely house is less than a mile from Lummus Park Beach and is a few blocks from famous Lincoln Road. I can imagine having an awesome Miami bachelor or bachelorette party here!
This 3,000 square foot house can sleep up to 16 guests! It has 12 beds and 4 bathrooms. It has a unique blend of styles with lots of bright white and modern touches, as well as cool colorful antiques. You'll love watching the sunset from your private rooftop patio!
This property definitely would help you have a stay to remember in beautiful South Beach Miami.
Check Rates: VRBO.com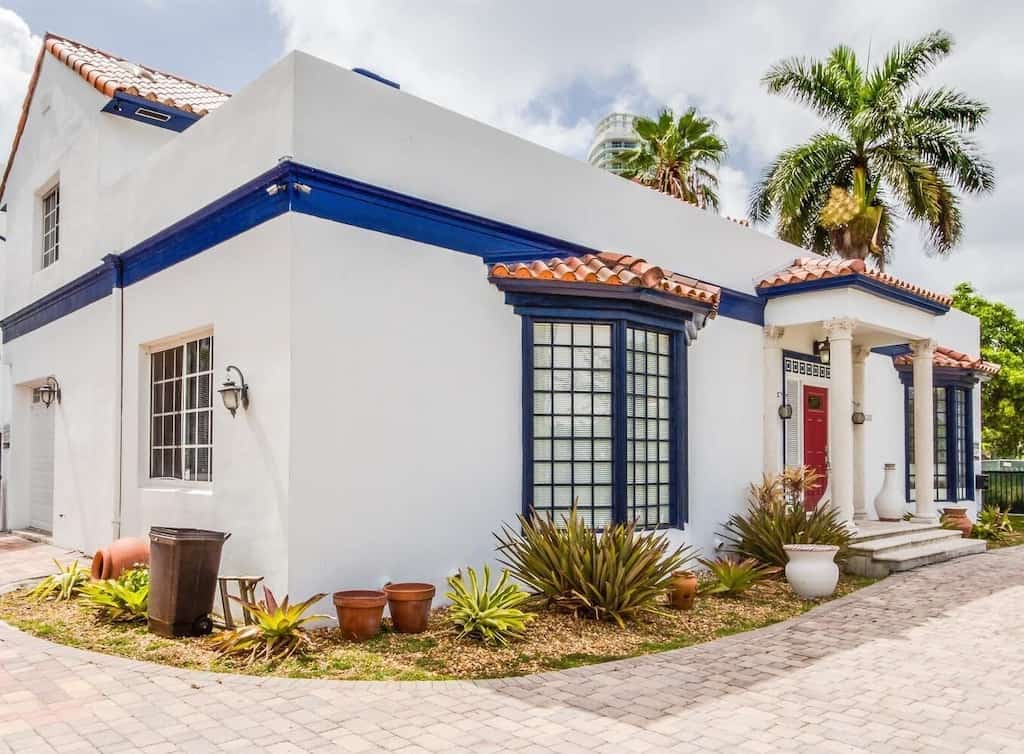 1926 Cottage
This really sweet cottage is newly updated but has a charming history to it! It is almost 100 years old, built in the old world Spanish style once so popular in Miami.
This is the perfect entry on our best VRBOS in Miami Beach list for you if you want old-world charm with modern comforts. The 2 bathrooms and kitchens in this place have every modern amenity you could want, but the house definitely has a vintage charm you just can't find in modern homes.
The cottage has 2 bedrooms and can sleep up to 6 guests. It's near the bay in the Coconut Grove neighborhood. This is definitely a good choice for your next Miami vacation if you want vintage charm and privacy from your VRBO.
Check Rates: VRBO.com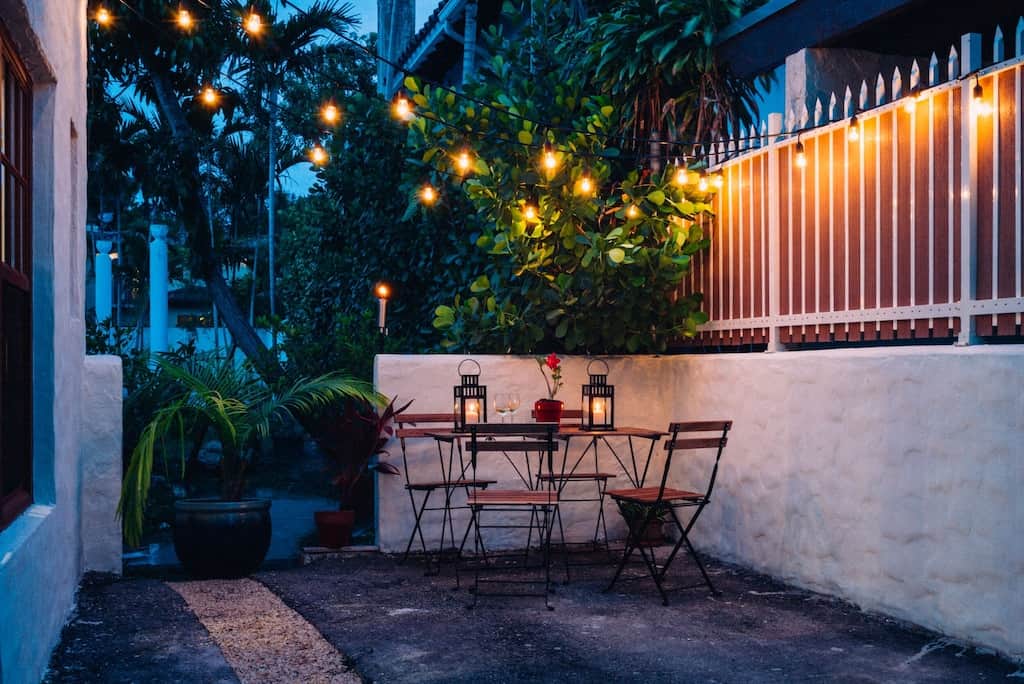 Sea View Condo
This lovely condo has direct beach and pool access and is less than a mile's walk from the Miami Beach Boardwalk. Truly a perfect place to soak up the sunshine and relax. There's even a tiki bar on the beach!
This condo is 1,000 square feet and can sleep up to 6 guests. It has 2 bedrooms and two full bathrooms. One of the bedrooms has an epic ocean view! The unit is on the 10th floor so the views of the Atlantic throughout are really special. The unit has a small kitchen with full-sized appliances, including a dishwasher, so cooking would be a breeze here.
Convenience is the name of the game at this resort, there is a mini-mart and a hair/nails salon located on-site. Come relax and treat yourself at one of the best Airbnbs in Miami.
Check Rates: VRBO.com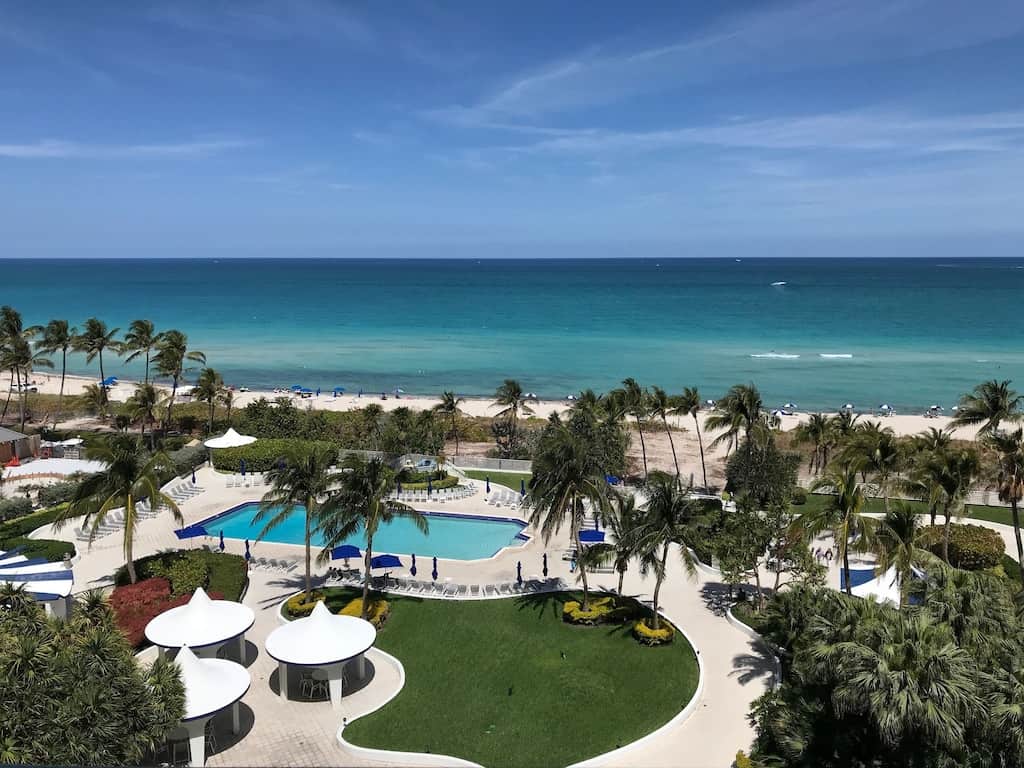 The Secret Garden
Here is a luxury VRBO in Miami not to be missed! If you're looking to rent one of the Airbnbs in Miami with a pool, it doesn't get cooler than this.
The Secret Garden House is two stories with two really cool covered decks and hammocks on the second floor. It is surrounded by a lush jungle of palm trees and is extremely private.
The house can sleep 8 guests in 4 bedrooms. It has 3 bathrooms. The inside is very stylish, with beautiful custom murals, quirky antiques, and luxury finishes. The kitchen in particular would be an absolute dream for a foodie traveler. Other thoughtful touches include a billiards table, an electric vehicle charger, and an outdoor play area for kids.
Check Rates: VRBO.com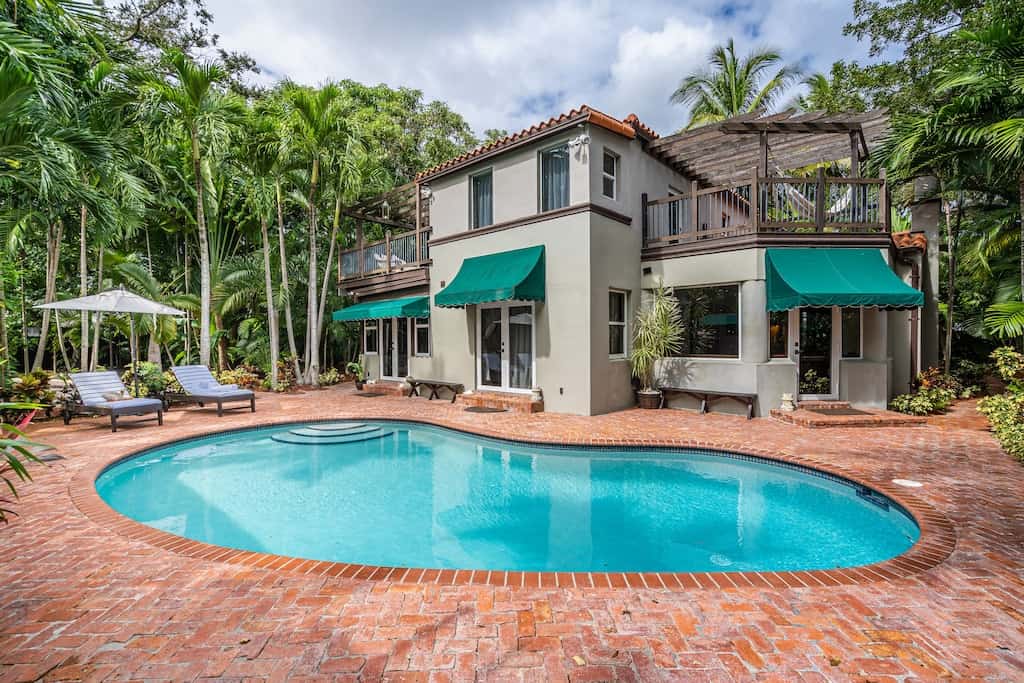 Luxury Villa with Optional Yacht Rental
Closing out our list of the best vacation rentals in Miami with a true showstopper. This luxury villa is designed to have every comfort, including the option to charter a 60-foot yacht as part of your stay.
The villa can sleep 16 guests in 6 bedrooms. It has some clever futons and murphy beds to comfortably accommodate a big crew! The canopy bed and soaking tub in the master bedroom are really spectacular. The property has 3 full and 1 half bath. This gourmet kitchen just begs for a seafood cookout!
You'll love the private saltwater heated pool outback. It has a view of the canal and optional yacht. The backyard area also includes a covered pergola, a firepit by the dock, an outdoor kitchen/bar, and an outdoor dining area that can seat 14. You are sure to make some incredible memories at this Luxury Villa!
Check Rates: VRBO.com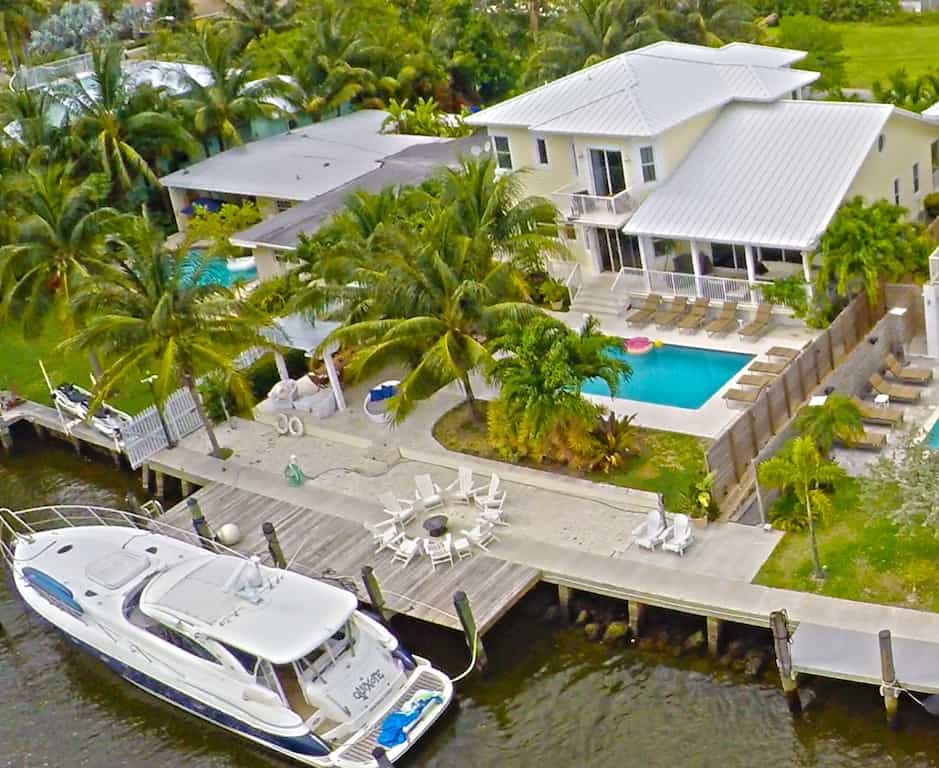 Well, we hope you have enjoyed learning a little bit about traveling to Miami and seeing all of these amazing options for accommodations.
Whether you pick a cozy casita, hotel condominium, or embrace nature in a tree house, just remember to have a great time and make lots of fun tropical memories. Safe travels and sweet dreams at your Airbnb in Miami.