If you are looking for where to stay in Miami, we have you covered. Check out our list of the best areas and neighborhoods to stay in for your trip!
This guide features the best areas of Miami and breaks the options down by neighborhood. Whether you are looking for a luxurious beachside hotel, a historical landmark hotel, or a trendy hot spot, this guide covers it all! Keep reading to discover the Miami neighborhood that best fits you!
Be one of the almost 25 million visitors who arrive in Miami each year to enjoy the beautiful white sand beaches, the nightlife, eclectic culture, and the sunny warm weather. The places to stay in Miami are endless!
Each area of Miami offers visitors a different vibe, cultural influence, restaurants ( we even had a post on vegan restaurants), entertainment, shopping for souvenirs are more! We have put together the perfect Three-Day Itinerary for you!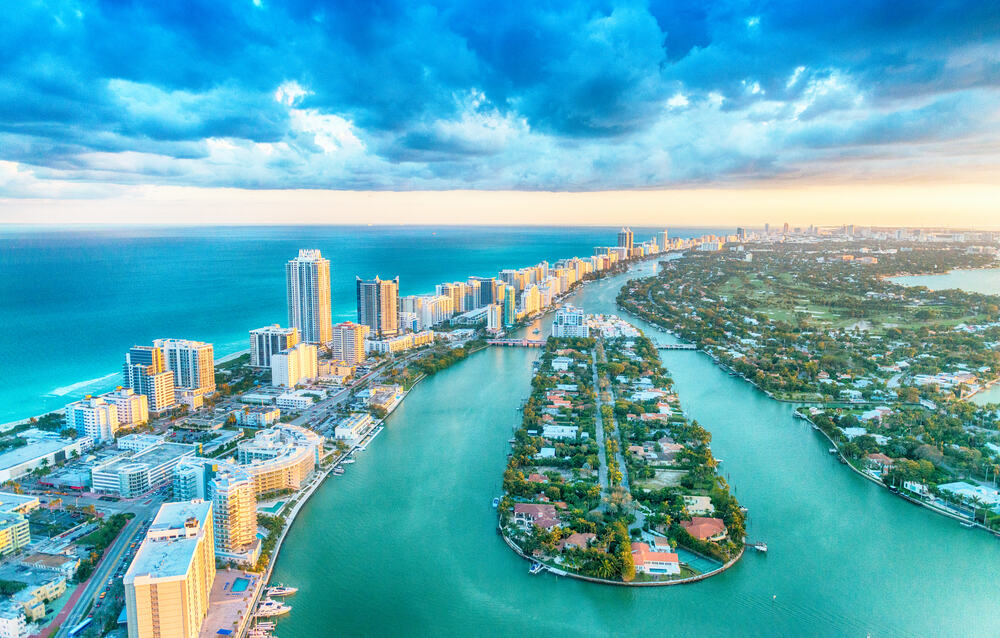 Understanding Miami Areas And Neighborhoods
We have you covered on the best areas to stay in Miami! Whether you are looking for the glitz and glamour of South Beach, downtowns Riverwalk, Miami Beaches famous Ocean Drive, Coconut Grove's historical landmarks such as Viscaya Museum, Little Havanas Cuban influence along Calle Ocho, Key Biscayne's luxurious seclusion, Brickell financial capital or a romantic stay in a Mediterranean-Esq Coral Gables this guide helps you with Miami accommodation that best fits your travel style.
For those looking for fun tours to take while visiting Miami check out or guide.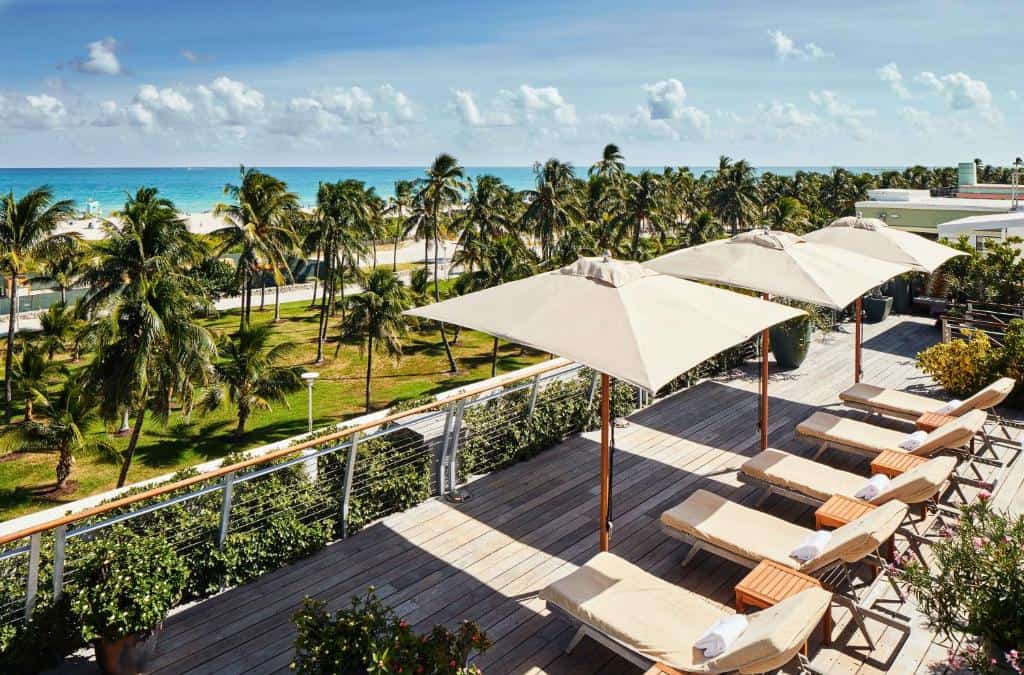 Safest Areas In Miami
The first question that might come to mind is how safe is Miami? While safety is a concern in any big city, for the most part, Miami is a very safe city to visit. Every neighborhood on our list is a great option depending on the type of trip that brings you to Miami.
Some of the safest neighborhoods in Miami include Coral Gables, Coconut Grove, Key Biscayne, Brickell, and Miami Beach. You will just want to use your best senses when walking after dark along the beach areas or areas that are less touristy.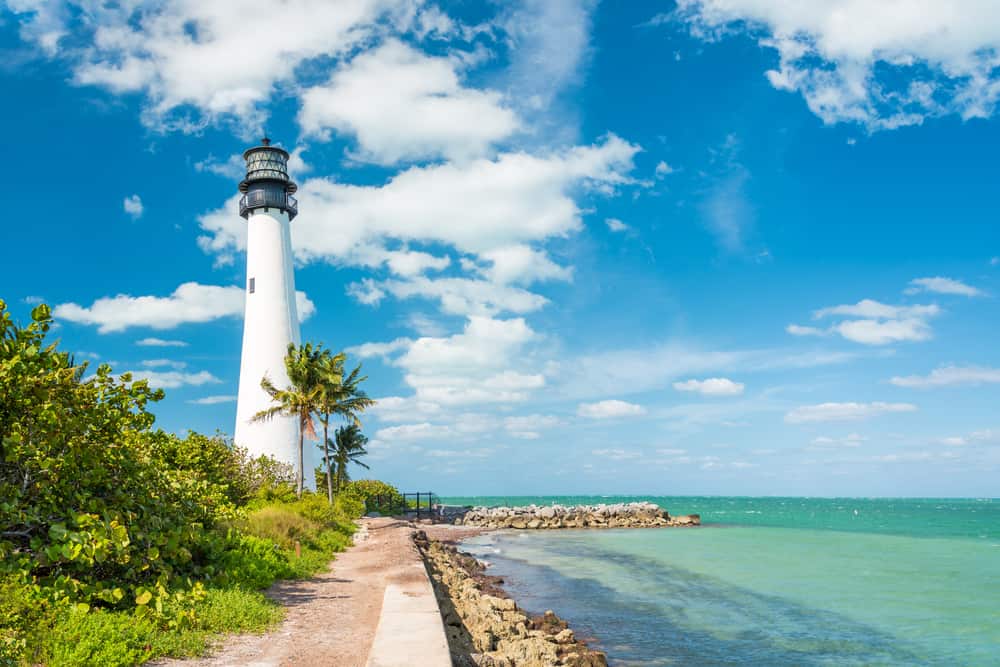 Downtown Miami Is Where To Stay For First Timers
For those looking at where to stay in Miami and want to be in the heart of the action, Downtown Miami is the place to be!
Whether you are a first time visitor unsure of where to stay on your trip to Miami or a regular visitor you will be close to sports arenas, ballet, museums, art, restaurants and all the things to do that brings travelers from around the world here!
This is truly one of the Best Places To Stay In Florida!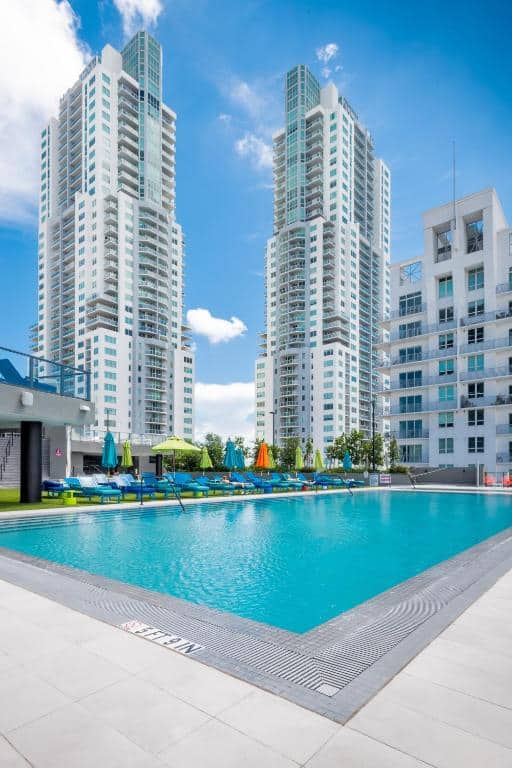 Best Places To Stay In Downtown Miami
Eurostars Langford
The Eurostars Langford gets our vote for one of the best hotels in downtown Miami. The hotel has the perfect location in the heart of downtown Miami where you are within walking distance of museums, culture, and restaurants.
This eclectic hotel takes its design from the vibrant downtown area, paired with luxurious and modern accommodations. Think oak floors, warm vibrant colors, and vintage furniture with modern amenities.
End your evening by heading up to Bloom Skybar, where you can have a drink under the lights while taking in the Miami skyline and listening to live music. For those looking for dinner, dine at Estacio Cental a Spanish tapas-style restaurant.
To Check Rates: Click Here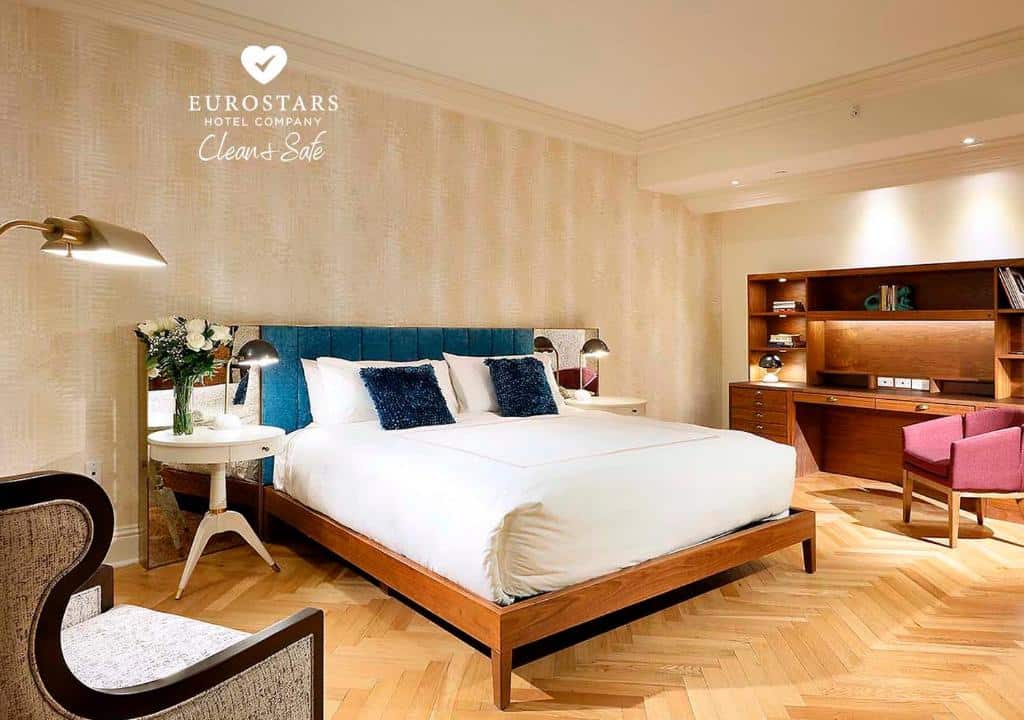 The Guild Downtown
If you are looking for downtown Miami accommodations, that offer a calming oasis The Guild is that place! This stunning hotel's centerpiece is the rooftop pool while staying in the heart of one of the best neighborhoods in Miami. You are just minutes from the American Airlines Arena where you can catch a basketball game, see a ballet or explore the nearby shops.
The otherwise monochromatic room features a bright design wall, in the perfect layout for work or relaxation. A great option for those wanting a hotel but also amenities of the best vacation rentals in Miami. Wash and dryer in rooms, fully equipped kitchens, complimentary coffee, and the softest sheets! Plus if looking for family-friendly options of where to stay in Miami with kids, the rooms sleep up to 6.
Other amenities here include the stunning pool, restaurants, coffee shop, state-of-the-art gym, and outdoor bbq grills. You can make the most of the warm Florida weather here at one of the best places to stay in downtown Miami!
To Check Rates: Click Here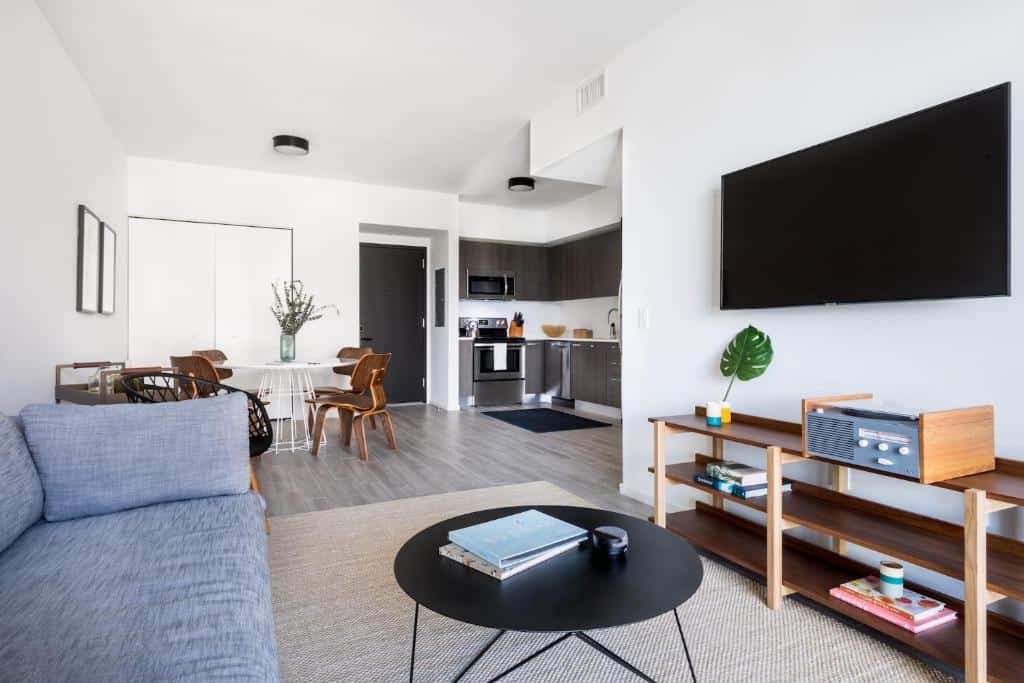 South Beach Is The Best Miami Area For Nightlife
If you are coming for the nightlife this is one of the best areas of Miami! You will be right in the heart of all the best over-the-top nightlife. South Beach is known for rooftop bars to nightclubs that stay open all night, daytime pool parties, and gorgeous white sand beaches!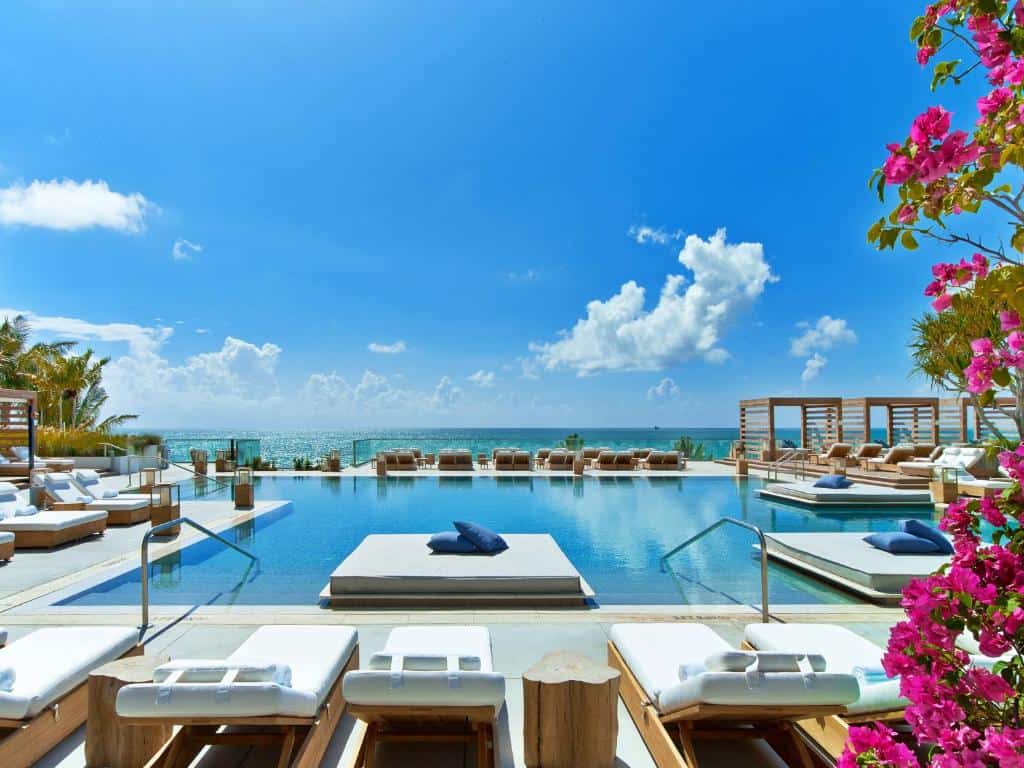 Best places to stay in South Beach for Nightlife
W South Beach
For those looking to be in the center of nightlife, The W South Beach is the best place to stay in Miami! Located on Collins Ave the newly renovated W Hotel offers guests oceanfront views, beach acmes, and rooftop basketball and tennis courts.
You never have to leave the W, dine at Mr. Chows, hang out at one of the several bars, or sit poolside or beachside here in luxury. This is one of our favorite Beachfront Hotels In Miami!
Splurge on the suites here. They are truly spectacular with large ocean-facing living rooms with balconies, the rooms feature light and bright design with wood floors, brightly colored living rooms, and gorgeous marble bathrooms with large tubs.
To Check Rates: Click Here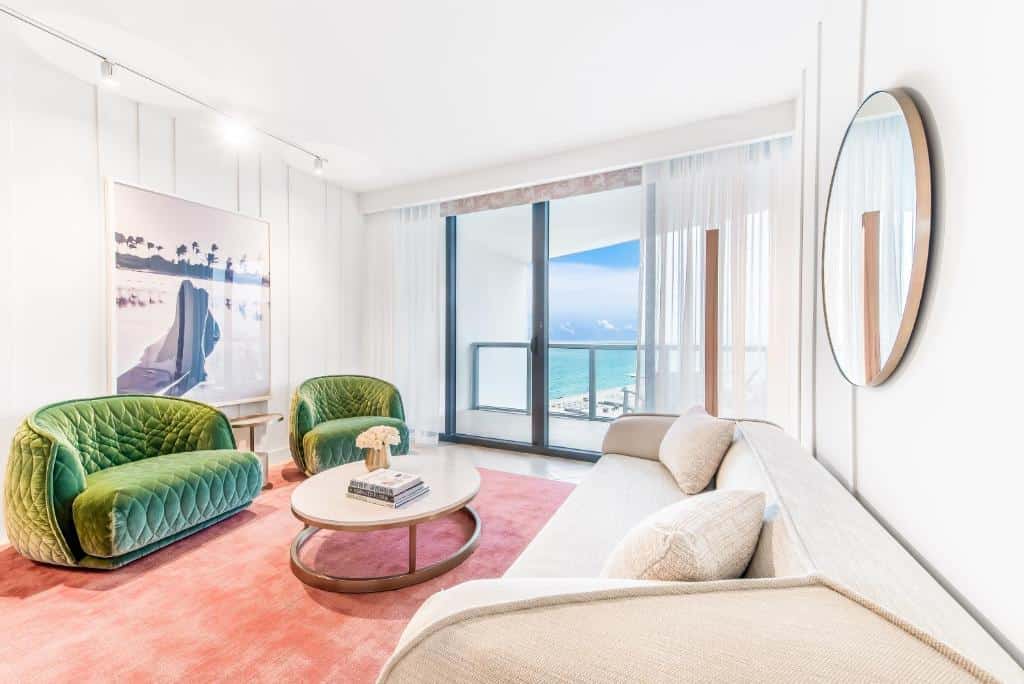 1 Hotel South Beach
The 1 Hotel South Beach is one of the sustainable Miami accommodations that features reclaimed materials while still being a luxury resort.
Enjoy the 600 feet of beachfront access (at one of the best beaches in Miami), farm-to-table dining, rooftop bars, an adults-only swimming pool in addition to the two ocean side pools, bike tours, outdoor yoga, a kids club, and spa are just some of the amenities offered here.
The rooms and suites here are retreats where guests are surrounded by nature with a rain shower and large tub, organic cotton linen and bed, a large daybed, and a wooden desk in the living room.
To Check Rates: Click Here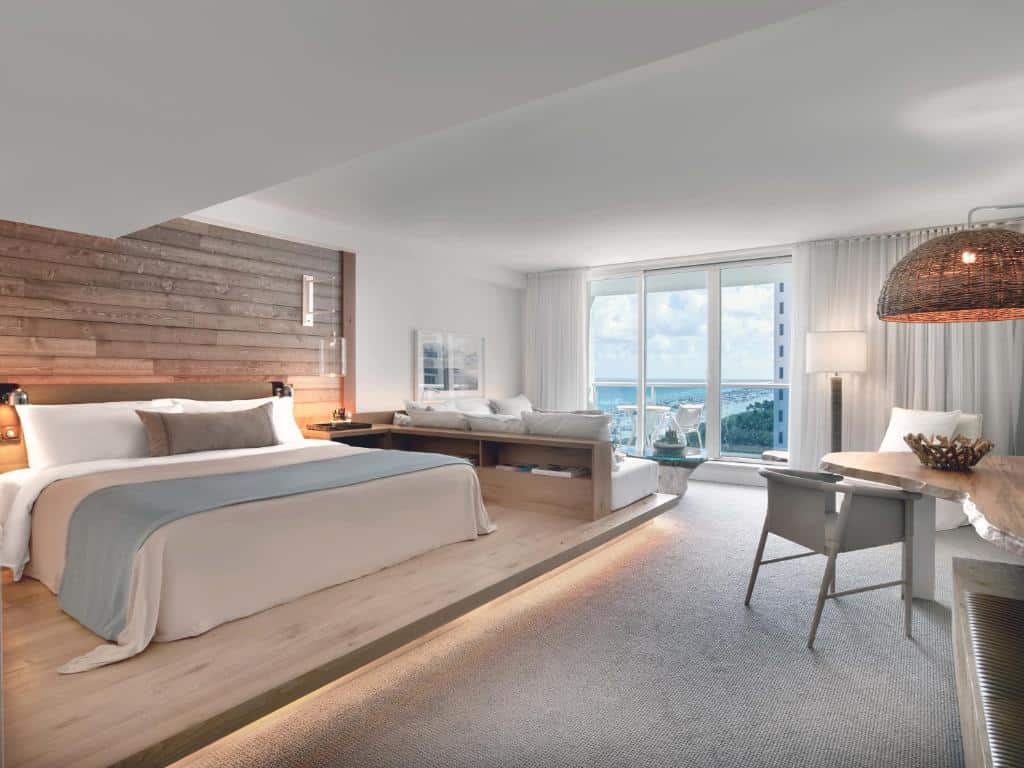 Hotel Breakwater
Another art deco place to stay in Miami, The Hotel Breakwater is a boutique hotel in South Beach. This stunning property is located right on Ocean Drive!
The outside is an art deco masterpiece and the inside is a great mix of neutrals and bold yellows and blues with a glass-enclosed swimming pool. Relax at the Art Deco bar, or rooftop pool, or dine Cuban food at Havana 1957's.
Miami city center and Bayfront Park are within 10 minutes drive of the hotel. Lincoln Road Mall and New World Symphony are 17 minutes walk away.
Oh, and it has rain-style showers and organic toiletries!
To Check Rates: Click Here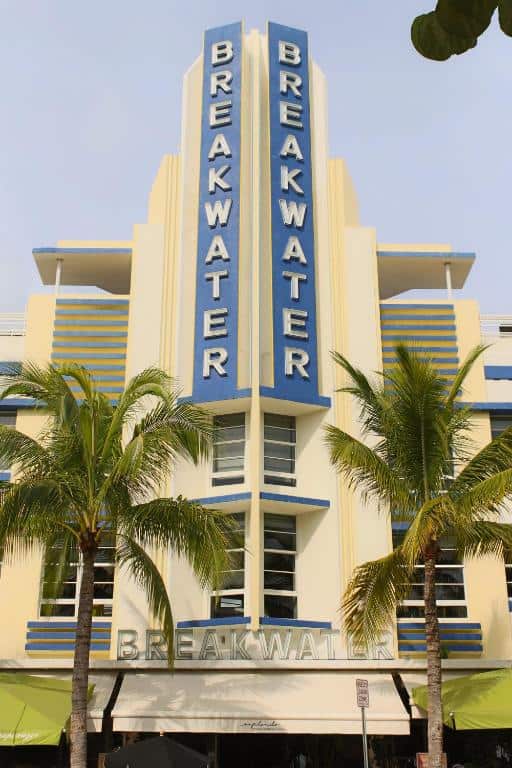 Key Biscayne Is The Best Area In Miami For Families
If traveling with your family, Key Biscayne is one of the best neighborhoods to stay in Miami! Located just over the Rickenbacker causeway from Miami, it is known for its tranquil yet luxurious vibe surrounded by Crandon Park and Bill Bags State Park. The barrier reef right off shore keeps the water calm with sightings of dolphins!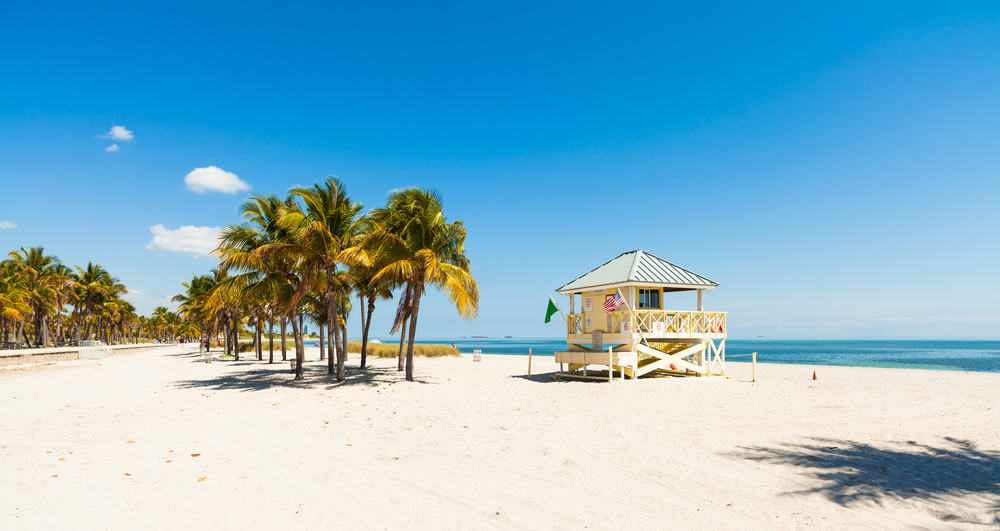 Best places to stay in Key Biscayne
Ritz Carlton Key Biscayne
The Ritz Carlton is the perfect spot to relax for a weekend getaway. Ranked one of the safe places to stay in Miami this luxurious hotel is the perfect place to stay in Miami with kids. It also gets our vote as one of the best small beach towns in Florida.
Just minutes from downtown, it feels like worlds away in your own private beachfront oasis complete with kids camp, spa, golf course, and tennis complex.
The rooms here are tranquil and calming some offer ocean views and balconies, or choose club access where breakfast, lunch, snacks, hors d'oeuvres, and desserts are served all day long, in addition to an open bar.
To Check Rates: Click Here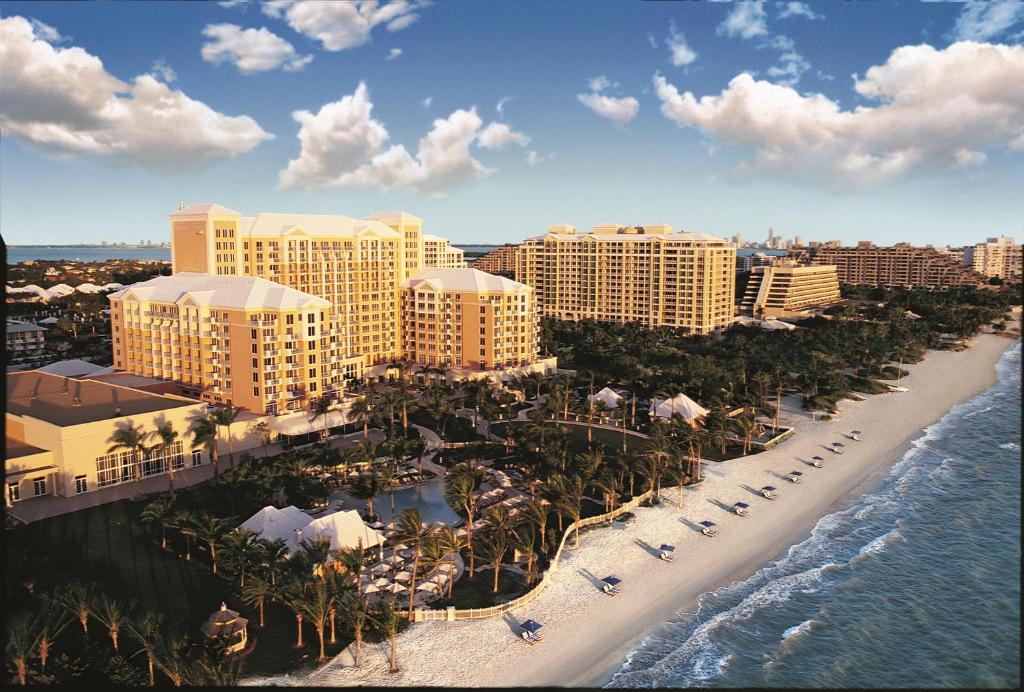 Miami Marriott Key Biscayne
For families, Miami Marriott Biscayne Bay offers one of the best parts of Miami to stay in. Located between downtown and Biscayne Bay enjoy the waterfront location coupled with all the attractions you could want just a short drive away.
The hotel features views of the Port of Miami making this the one of options of where to stay near Miami if departing on a cruise! You can rent boats, go water skiing or relax in the pool here.
Rooms here are your typical Marriott standards.
To Check Rates: Click Here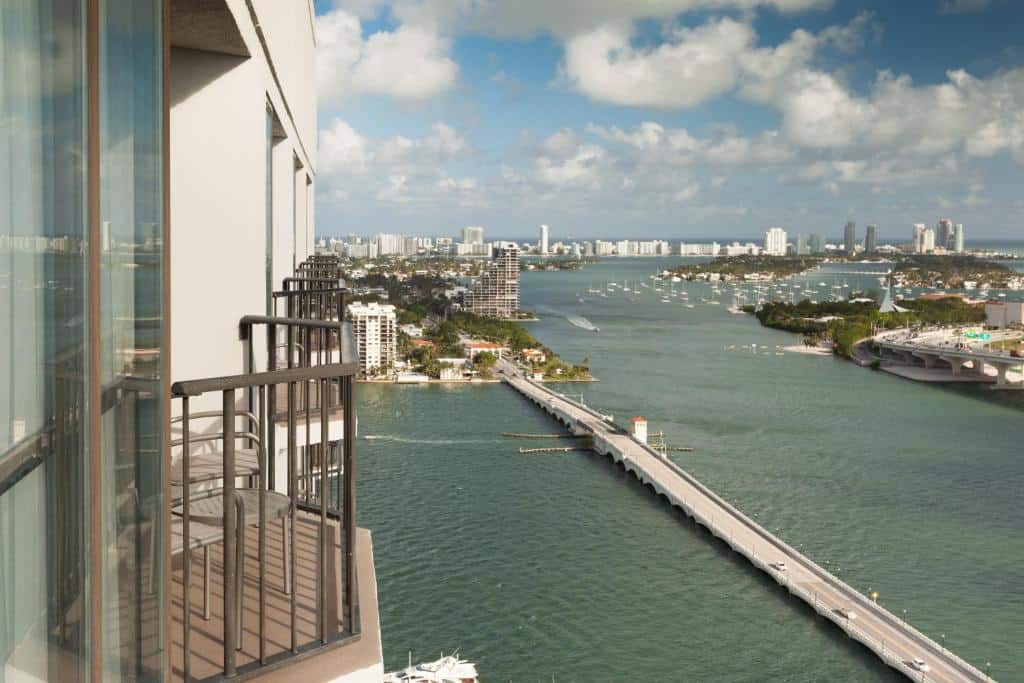 Miami Beach Is The Best Place To Stay On A Budget
If you are looking at neighborhoods for that won't break the bank in Miami these great budget options in Miami Beach are for you!
Located just 3 miles east of Miami, Miami Beach is north of 23rd ave. Miami Beach is known more for its beaches, gorgeous tree-lined streets, restaurants, shopping, and culture!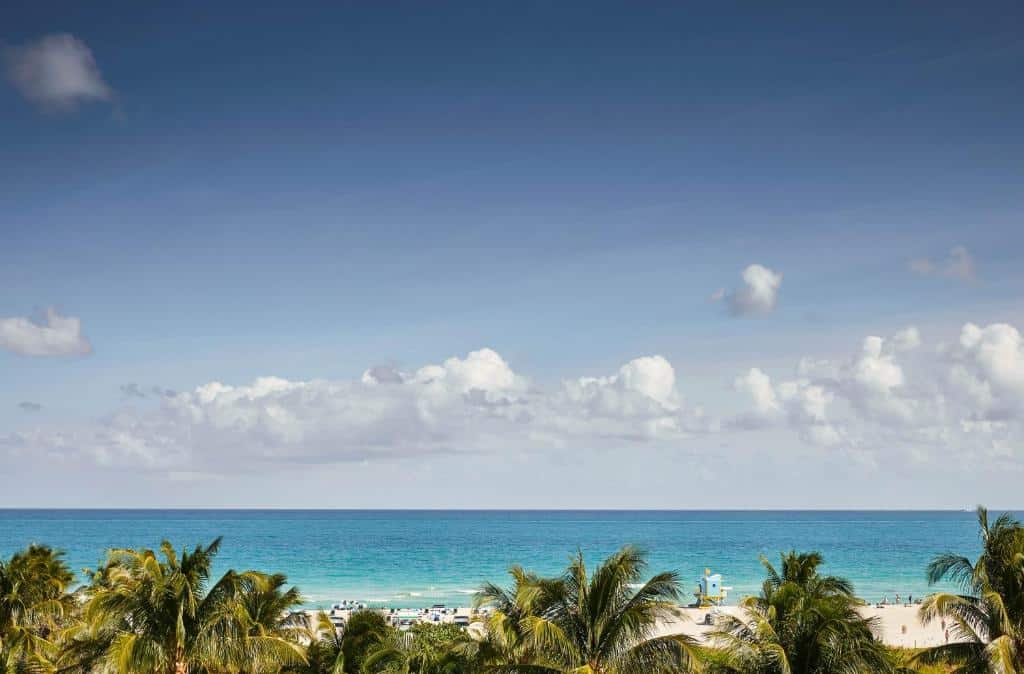 Best Hotels in Miami Beach
The Betsy Hotel
Our first option The Betsy hotel is one of the best hotels in Miami! Right off of the iconic Ocean Avenue, this luxury boutique beachfront hotel is known for not only its amazing service and amenities but extras like yoga and live music.
Rooms here feature marble bathrooms with plush robes, artwork from the owner's private collection, a Steakhouse, and Trattoria restaurant, and an outdoor sundeck overlooking the palm trees and ocean.
To Check Rates: Book Here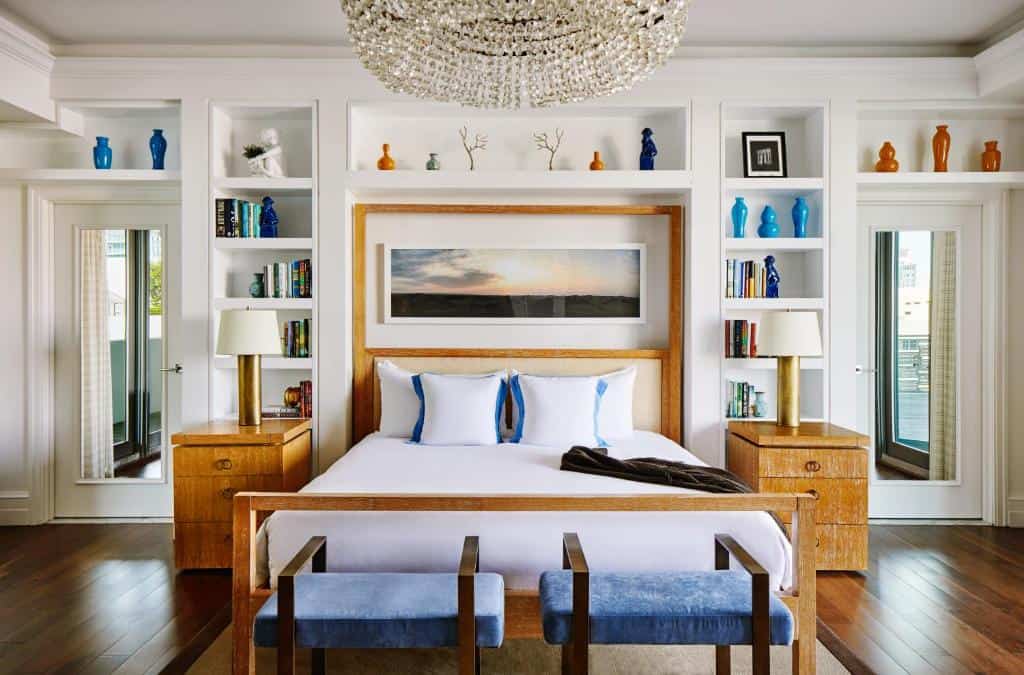 Esme Hotel
For those looking for lodging in Miami Beach, that is outside the hustle Esme hotel is a hidden gem. The Spanish-influenced architecture, rooftop pools, and its own little village feel right in the heart of Miami Beach.
The rooms here feature a dark and moody vibe with smart technology, a rooftop pool and deck that turns into a party after dark, and several restaurants that bring old-school Miami with Instagram-worthy backdrops! Trust us this is where to stay in Miami Beach if you are looking for that old-world Miami glam.
To Check Rates: Click Here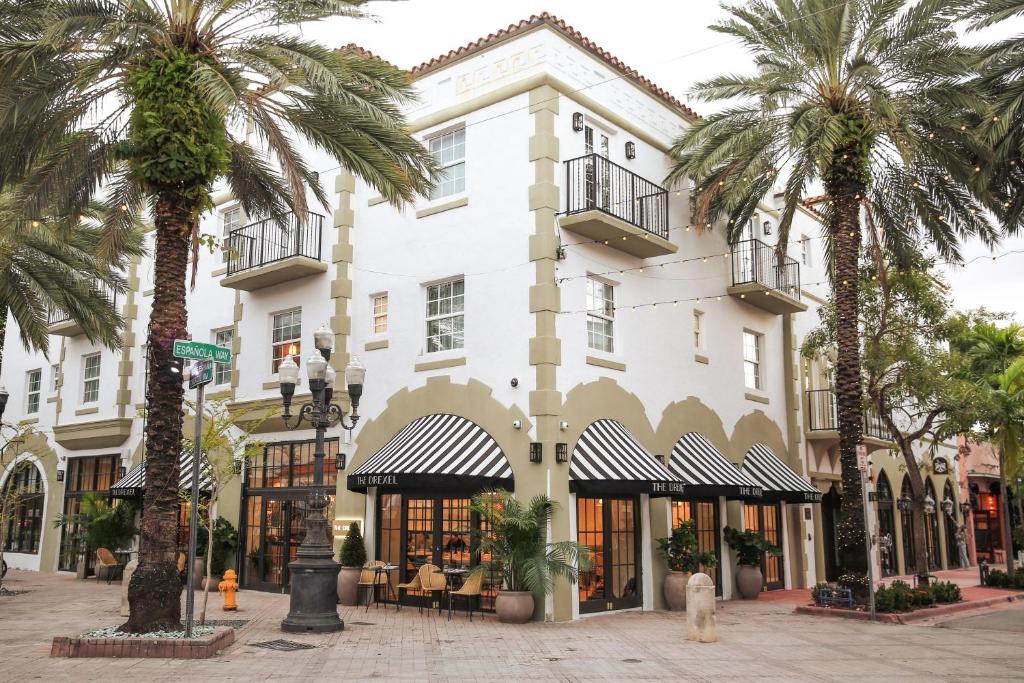 Coral Gables: The Quiet/Romantic Area In Miami
For those looking for a romantic weekend escape to Miami, we couldn't think of a better neighborhood to stay in than Coral Gables. Known as the "City Beautiful" for a reason, this gorgeous treelined area is known for beautiful historic homes and landmarks, as well as being centrally located.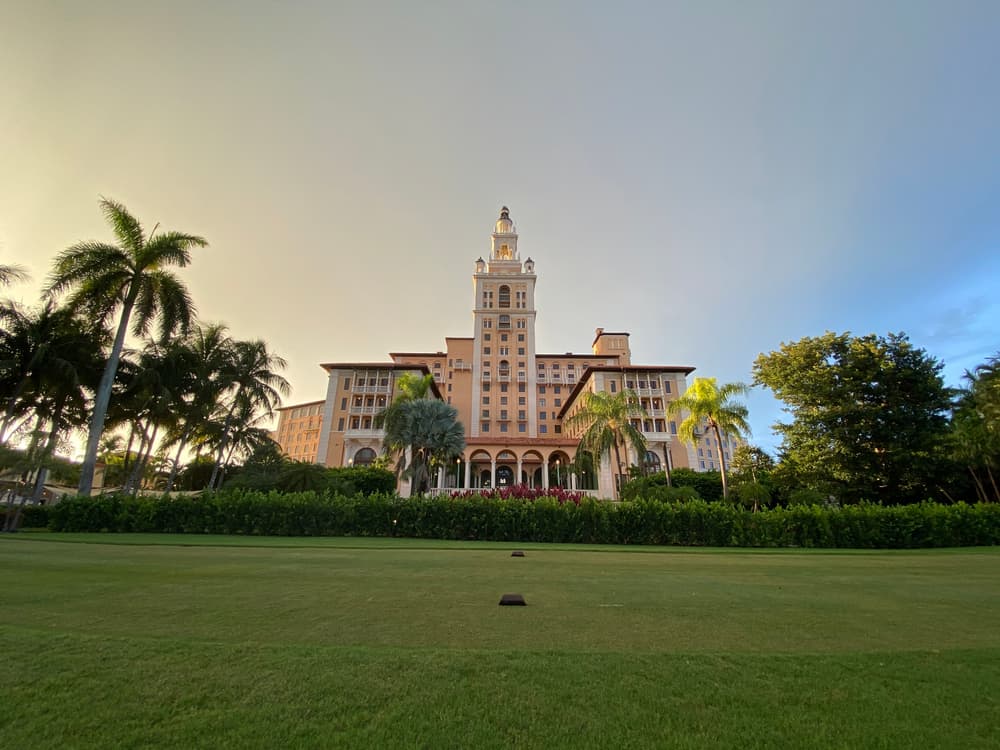 Best Coral Gables hotels
Biltmore Hotel
Not only is the Biltmore one of the more unique and cool hotels in Miami, but its timeless luxury also keeps guests coming back. Plus, The Biltmore Hotel is a national landmark with almost 100 years of history
Standing high like an orange castle the Biltmore is a breathtaking sight! The hotel features tennis courts, a gold course, tropical landscapes, and a breathtaking pool area there is so much to explore on the grounds here.
The historical rooms here are opulent with views of tropical landscape, gem-colored tones with calm guests, and transport them to another era with all the modern amenities one could want.
To Check Rates: Click here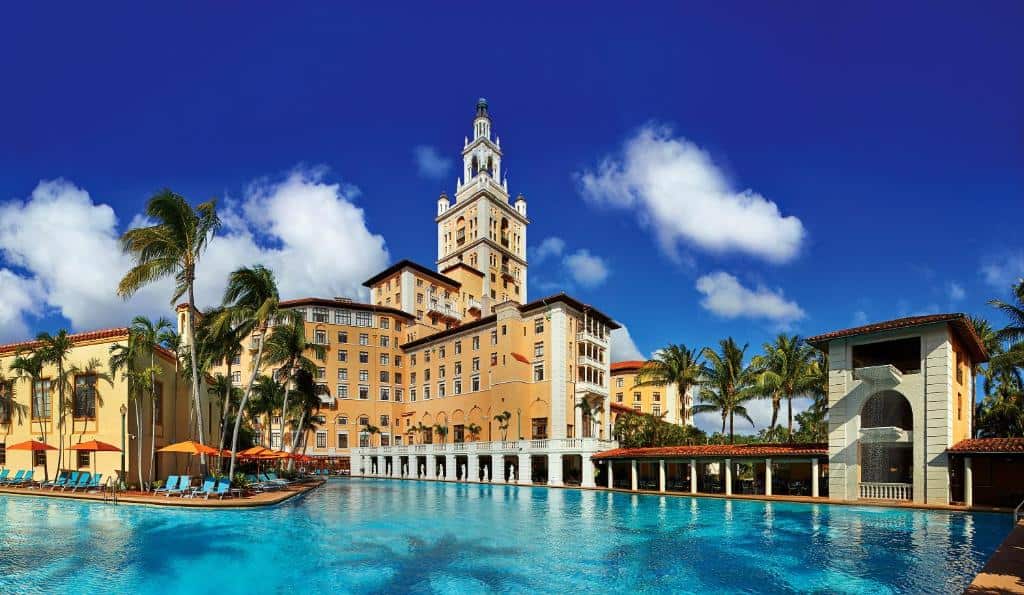 Hyatt Regency Coral Gables
Hyatt Regency Coral Gables cotton candy pink exterior blends in wonderfully with the lush tropical surroundings. Think of a European seaside hotel, just minutes from Miracle mile, and coconut grove.
The rooms here feature muted tones large rooms featuring seating areas, and marble bathrooms, and many rooms feature balconies.
Sit in the lobby listening to piano music, have a drink at the bar, relax in the courtyard pooler dine in the indoor courtyard with a water feature.
To Check Rates: Click here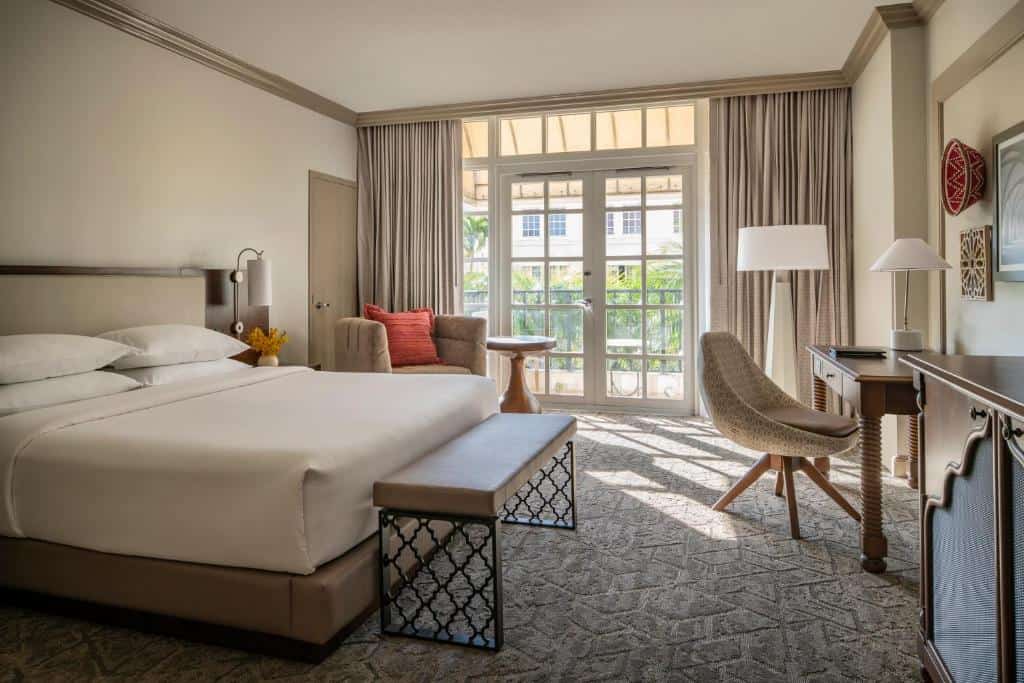 Little Havana/Coconut Grove Are The Best Neighborhoods for Food
The birthplace of the Hispanic Culture in Miami is Little Havana. If you happen to be n the area on the last Friday of the Month, Little Havana hosts a mostly gallery night showcasing the neighborhood. Make sure to try some Cuban coffee while here!
Coconut Grove is a funky neighborhood of Miami located on the Marina known for its tropical vibe with large Banyan and Palm trees, quiet residential streets, and wonderful art galleries.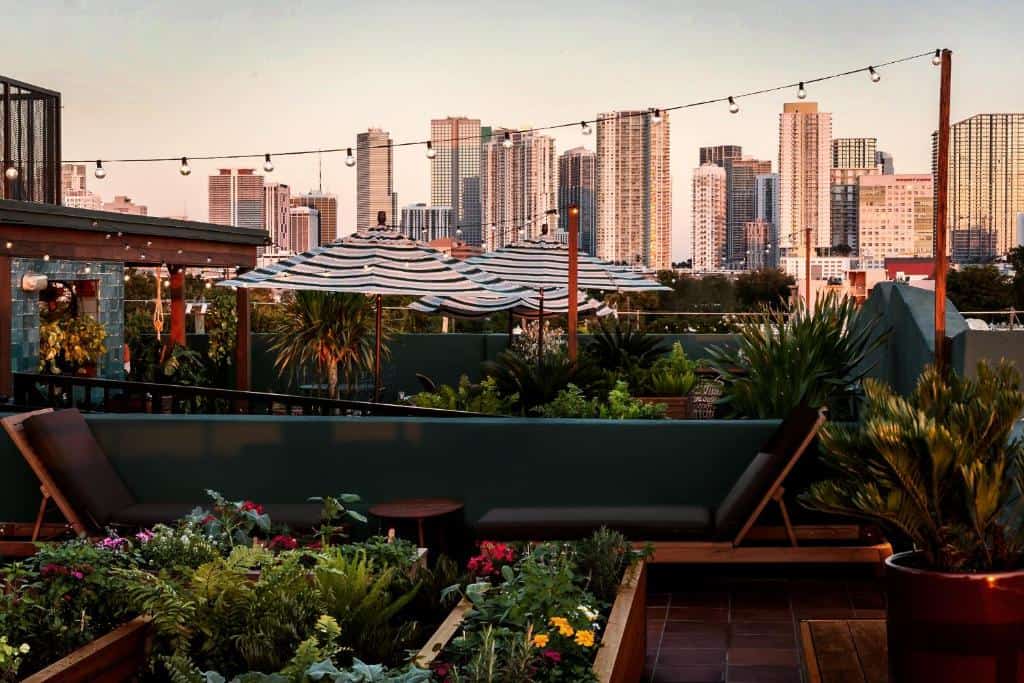 Best hotels in Little Havana/Coconut Grove
Life House Little Havana
We think one of the best bed and breakfasts in Miami is Life House located in Little Havana. Guest describe this hotel as a tropical oasis of the 1920s with a terraced rooftop overlooking the Miami skyline, restaurants, a bar, and more!
The guest rooms here feature a tropical Miami vibe with dark woods and exotic textures with Le Lebo bath products. Dine at the Terras rooftop features foods from around the Latin American region's best street foods.
To Check Rates: Click Here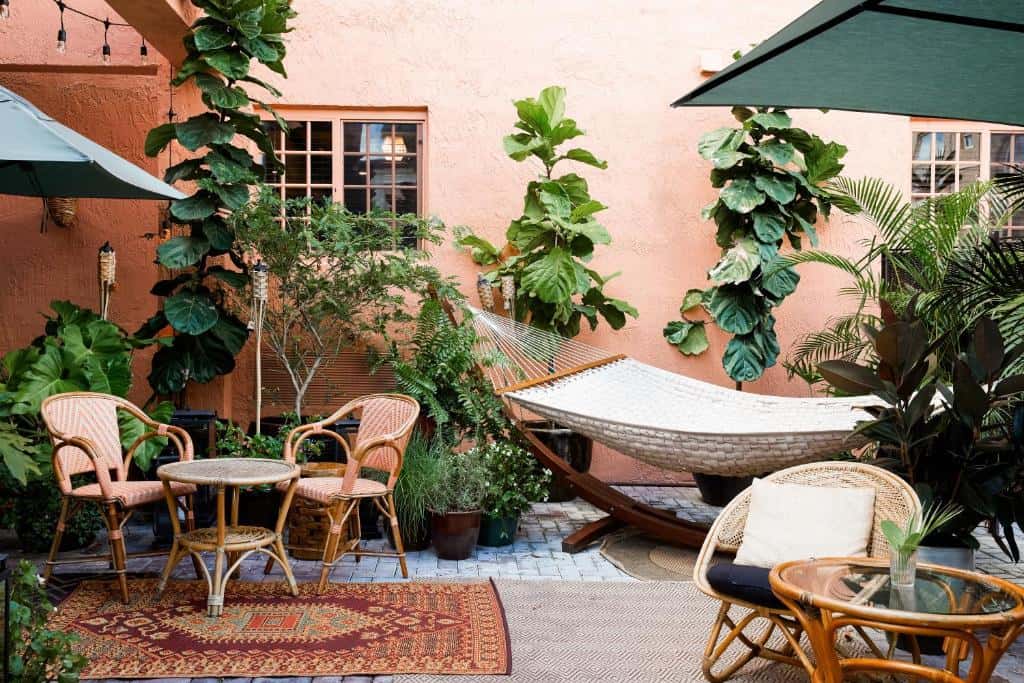 Mr. C Miami Coconut Grove
If you wish to stay in the Coconut Grove area, Mr. C is one of the best places to stay in Miami! A Cipriani family-owned property, the nautical theme blends European glamour with the flair of Miami. We vote this one of the best honeymoon resorts in Florida.
The calming blue tones of the room allow travelers to escape the hustle and bustle of Miami. Rooms feature views of Biscayne Bay with double sinks and rain showers, and some rooms offer private balconies with day loungers.
Amenities include a rustic Italian Eatery – Bellini's which serves a brunch, lunch, and dinner menu. While Il Giardino serves crepes with live music! Enjoy the pool and dine poolside under the covered deck. OR rent a free bike to enjoy a cycle around Miami. For one of the best breakfast spots In Miami head to Green Street Cafe nearby.
To Check Rates: Click here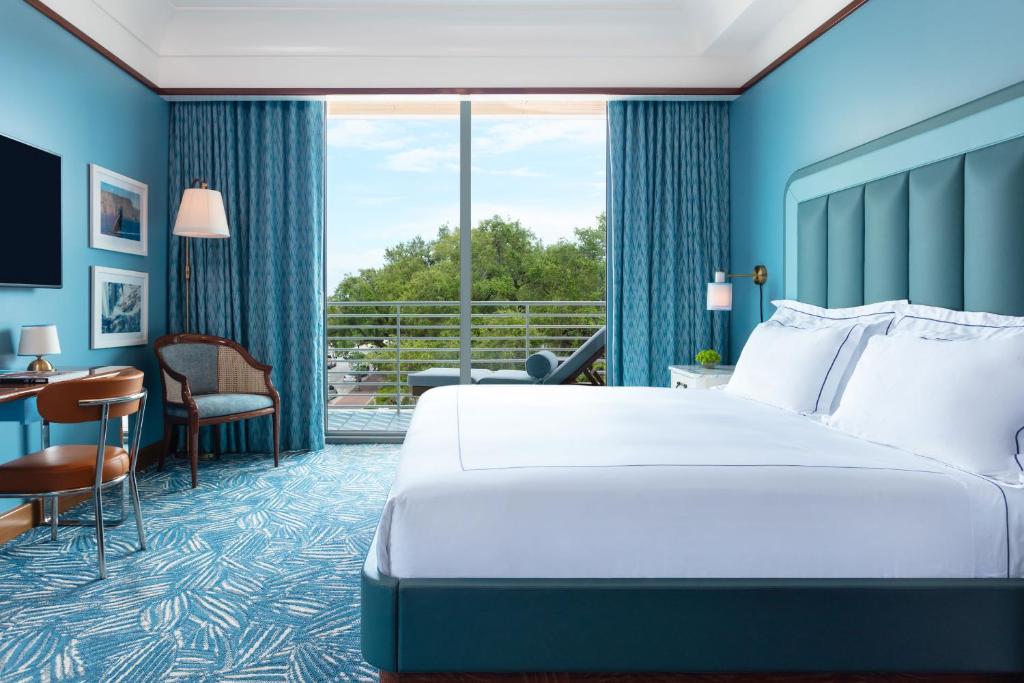 Brickell Is The Place To Stay For Hip Business Travelers
The financial district of Miami is located in Brickell and is our pick for one of the best places to stay for business travelers. Located on the waterfront near downtown Miami, the "Manhattan of the South" has vibrant energy with restaurants, bars, cafes, and more all within walking distance.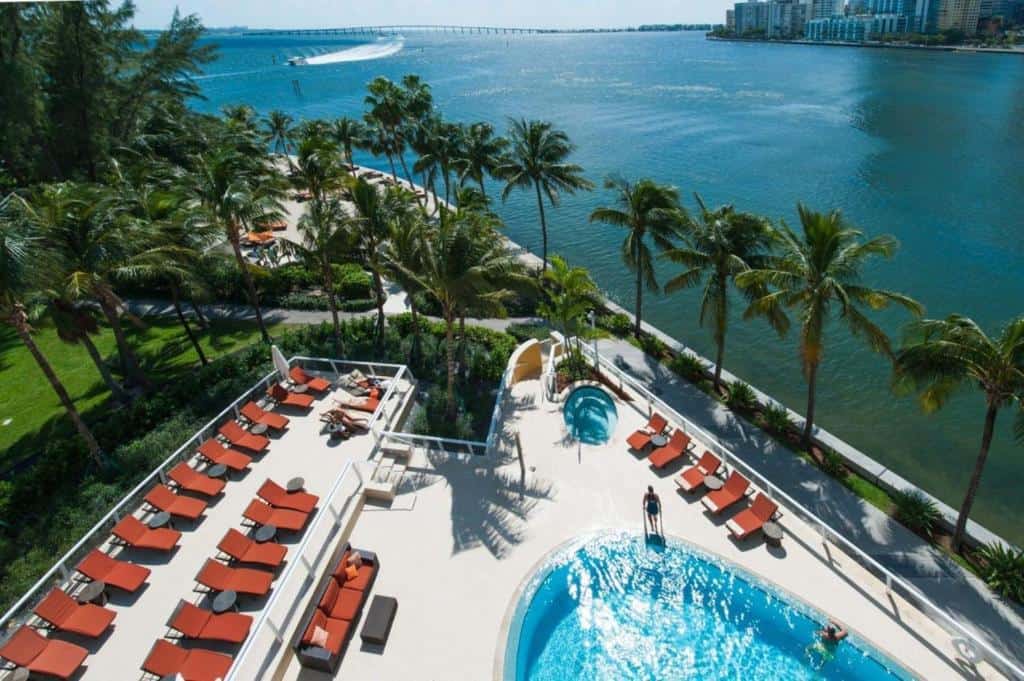 Best hotels in Brickell
SLS Brickell Miami
SLS Brickell offers business travelers coming to Miami unparalleled access to luxury accommodations while being near just a 10-minute walk to downtown Brickell with all the best amenities. The hotel acts as a retreat for business travelers.
Enjoy design by Philippe Starck with nightly turndown service, bright white and black furnishing, balconies with views of downtown Miami, and large suites for longer stays.
More so, amenities include a Ciel Spa, 2 pools, world-class dining, a large gym, and the use of a Lincoln Black Label Navigator or Aviator house car to take you within 10 block radius of the hotel. Or gets can walk to the Metromover just 2 minutes away.
To Check Rates: Click here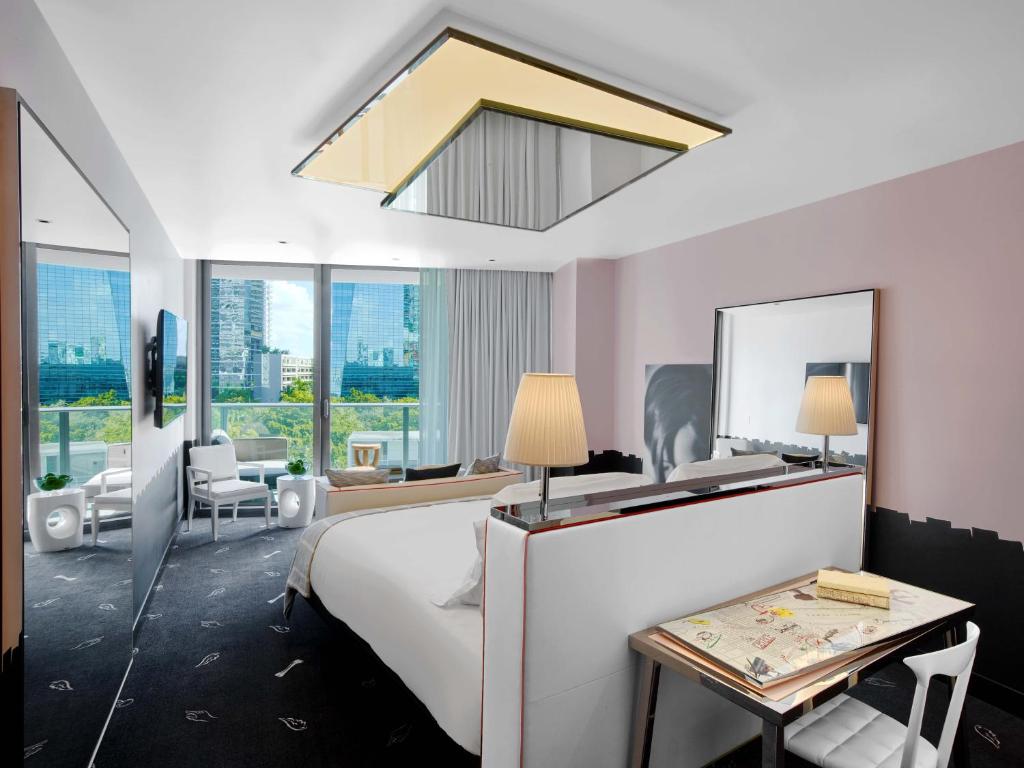 Mandarin Oriental
Mandarin Oriental is located in the Miami area on Brickell Key Island, just a few miles from the city center of Miami which makes it one of the best areas to stay in Miami for those that want to be close to the action, but not TOO close.
Equally important, this hotel offers all the amenities expected of a hotel of this caliber and for luxury, travelers is the best place to stay in Miami! From the gorgeous pool area, turndown service, butler service, full facility spa, and fitness center, and not to mention the absolutely stellar in-house restaurants!
To Check Rates: Click Here