Are you looking for the best swimming holes in Florida? You've come to the perfect place! Although the cities offer impressive attractions, the unsung hero of the state is the swimming holes, which are the best places to swim in Florida.
Whether you're looking for underground swimming holes in Florida, a secret swimming area, or the best swimming spot that Orlando has to offer, we have it all here to make planning your Florida trip that much easier!
Florida has so much to offer, especially for those who are in the market for crystal clear blue water and sunshine. These are truly some of the best places to swim in Florida!
Make sure you have enough sunscreen, Florida sunburns can be suspiciously sneaky, and before you know it you can get cooked like a crab in the Florida sun if you're not careful!
Aloe gel is a lifesaver in case you get distracted and forget to thi, so make sure to have some handy as well!
10 Best Swimming Holes in Florida You Must See!
Gilchrist Blue Springs
If you're looking for the best of secret swimming holes in Florida, this may be the one for you! This magical water hole in florida is located in the Ruth B. Kirby Gilchrist Blue Springs State park, 20 miles north of Gainesville along the Santa Fe river which it feeds directly into.
The park's hours are 8am to sundown 365 days a year, but if you want to spend the night camping or in an RV, you can book a reservation on the park's website
If you're wanting to camp and planning on arriving in the evening, the park requires that you call them at 386-454-1369 for a gate code to access the park, and the park also requires that camping setups are finished by 11PM at the latest.
The springs are easily accessible by car, however, the park warns that during the rainy season the roads are extra tough to navigate.
The most notable amenities are the concessions stand, a rental business for swimming equipment, and covered picnic pavilions in case you want to bring your own food when visiting this swimming hole in Florida.
We have a whole page dedicated to Gilchrist Springs so check it out for more info and tips!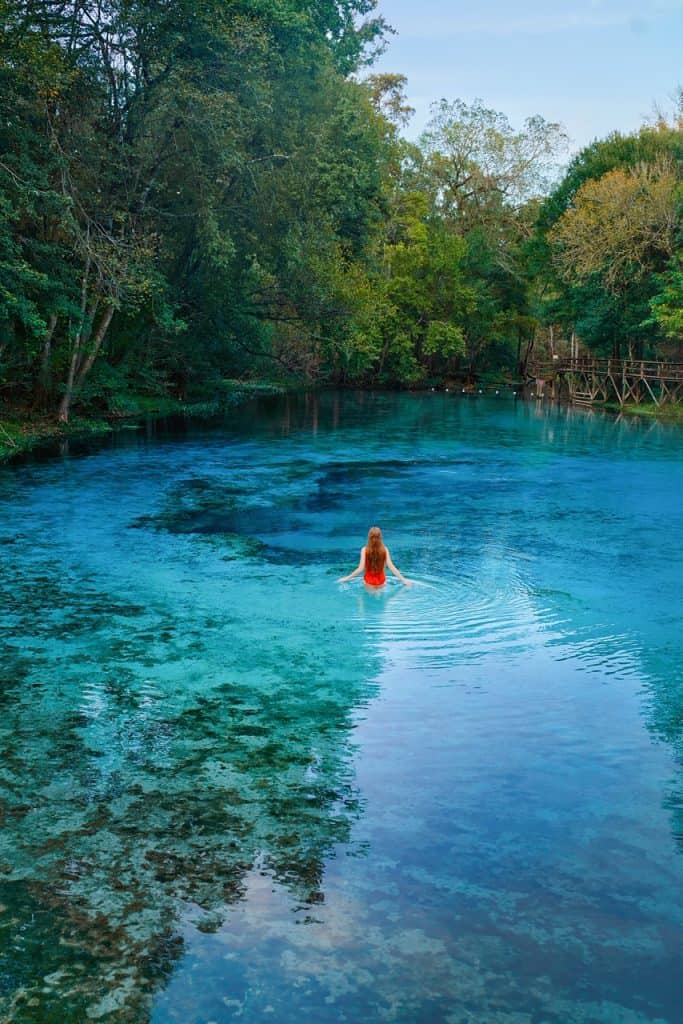 Devil's Den
Famous for being one of the best underground swimming holes in Florida, Devil's Den will have you feeling like you're going back in time!
The name comes from the steam rising from the lukewarm water in the morning seen by American colonialists when they first landed, but don't let that scare you away!
Once down the entrance stairs, the space opens up to reveal stunning mushroom-shaped cavern filled with pristine clear water! It is one of the best underground swimming holes in Florida!
This swimming hole is affectionately called one of the most prehistoric places in North America, as fossils dating back to the Pleistocene era have been found throughout the swimming hole which are now on display in museums!
Keep in mind though, you are only allowed to snorkel and scuba in Devil's den as it is truly one of the best places to swim in Florida
Luckily for us, there are still interesting fossils in the spring that you can see while diving!
Reservations are required for snorkeling, which can be found on the website, but If you're scuba certified, there are no reservations necessary which is why it is one of the best underground swimming holes in Florida!
If you want to really soak in the magic of Devil's Den and one day trip is just not enough, the springs offer several options for accommodation, including private cabins, spacious RV parks, and campgrounds – all of which can be booked on the spring's website.
On top of the great options for overnight stays, the springs has a gift shop with fun souvenirs and snacks, and last but certainly not least there is scuba and snorkel equipment available for rental in case you're like most people and don't want to bring your own!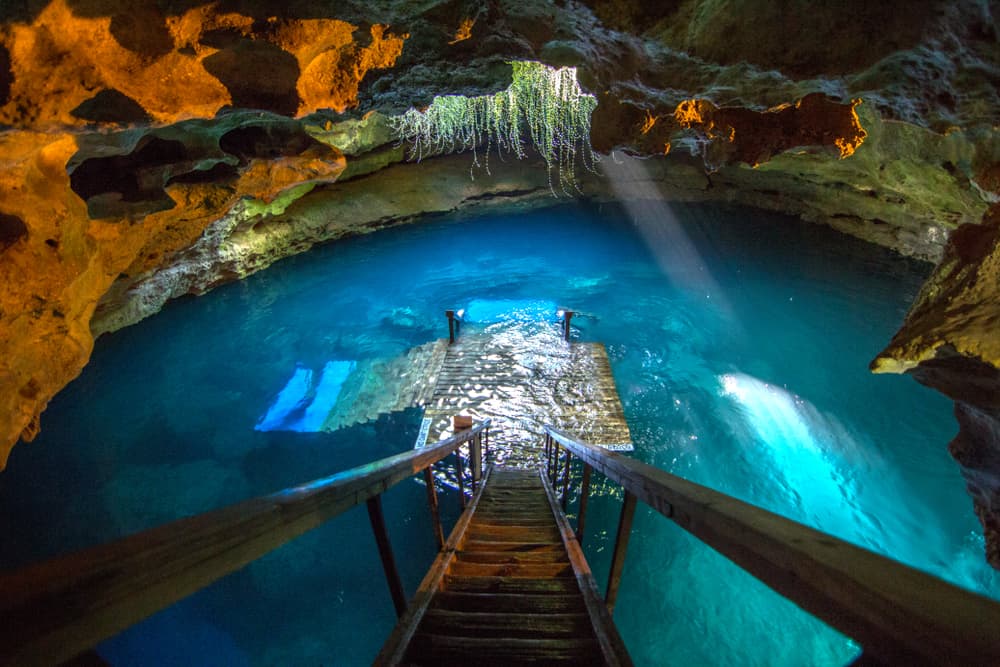 Venetian Pool
If you like the idea of a swimming hole in Florida, but are looking for something closer to a "normal" pool then this is your spot! Located in the city of Coral Gables, the Venetian Pool is one of the fanciest municipal pools you'll ever see, boasting a bridge and two waterfalls (and limited concessions)!
On top of the gorgeous scenery of the waterfalls, there are small caves that you can explore in case you want some extra excitement!
Not to worry if you're not big on swimming, there are plenty of spaces for you to recline in the Florida sunshine – the ambience of the old-style buildings and breeze are enough to carry you deep into relaxation!
The pool itself, opened in 1924, is fed from underground aquifer springs, and is drained/cleaned daily to ensure a fresh swimming experience!
Tickets are required for entry, and can be purchased at the Coral Gables city website. This is one of the secret swimming pools in Florida that locals mainly know about!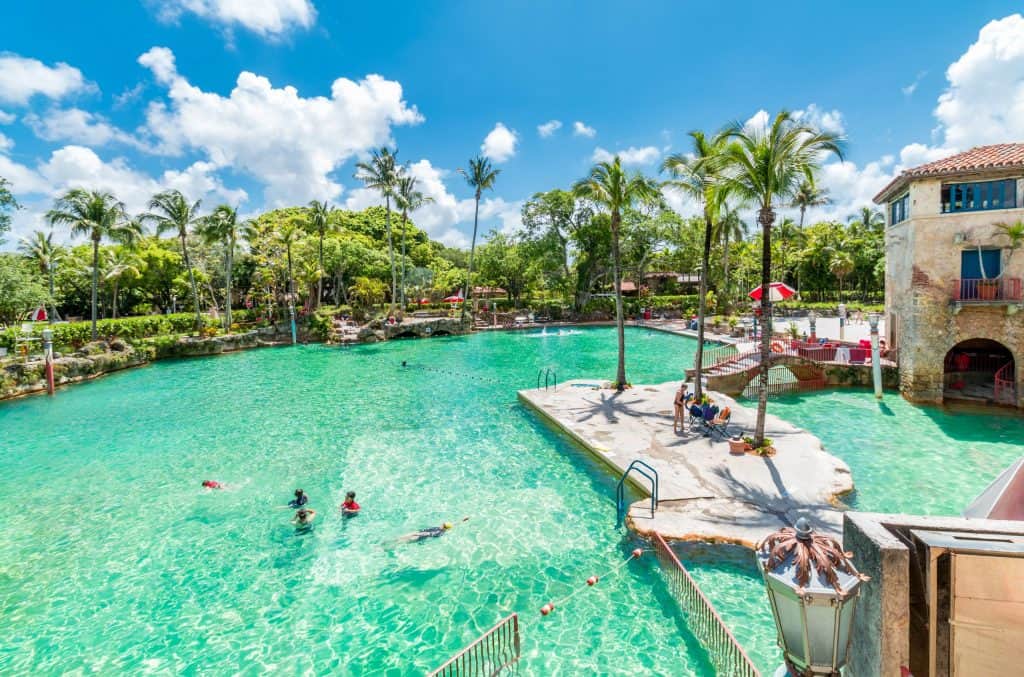 Weeki Wachee
Have you ever wanted to see LIVE mermaids in person? This is your park! Located in a state park of its namesake, Weekee Wachee is one of the best swimming holes in Florida – and also has been confirmed as the deepest freshwater cave system in the United States!
Weekee Wachee offers a myriad of outdoor activities such as boat tours, kayaking, paddling, snorkeling, and free-swimming, most of it is available in Buccaneer bay, the main beach. It is truly one of the coolest best places to swim in Florida!
For kayak reservations click here! The beaches of the spring have gorgeous white sand, and there are chairs available for rent. If you're not the kind to bring food on a trip that's no problem at all because there are concessions stands located all throughout the park.
On top of the day-trip activities, Weekee Wachee also offers event spaces for things like family reunions or weddings and even have their own catering staff on site available to book! For more info on reunions you can call 352-597-8484, and for more info on their wedding venue visit their website!
The park's hours are 9am-5:30pm, and admission is charged per person instead of per car like some other parks in this list, $13 for adults, $8 for children (6-12 years) and children under 5 are in for free.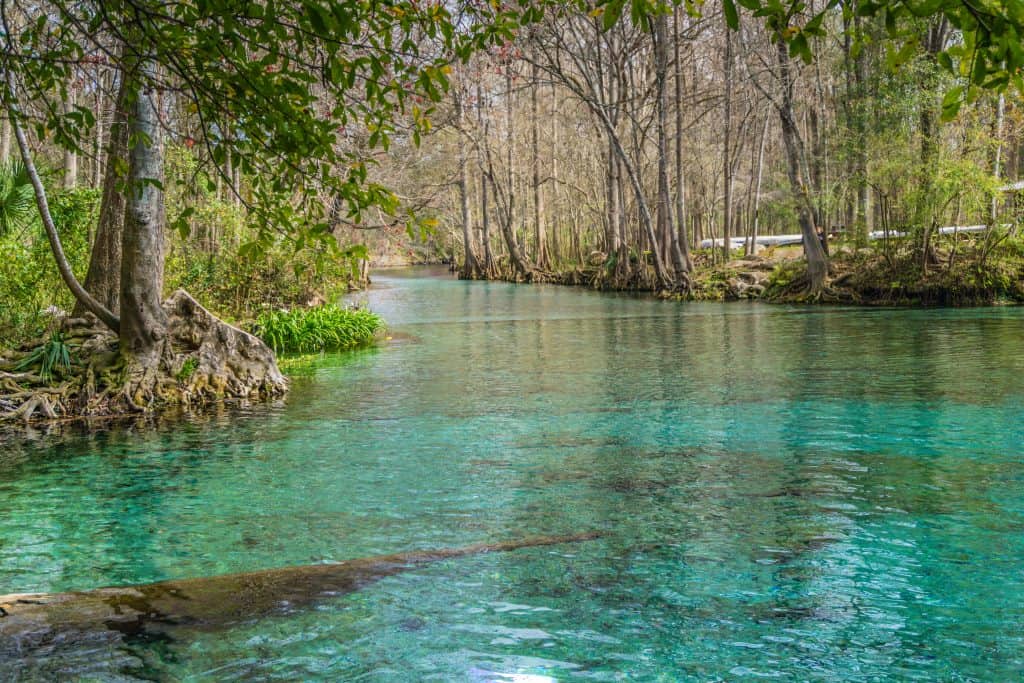 Kelly Park's Rock Springs
Located in Apopka Florida, in Orange county, the Rock Springs in Kelly Park is a swimming hole in Florida you don't want to miss!
The park was donated by a wealthy philanthropist and Doctor, and is a public, county-run asset.
The park features gorgeous, mostly shallow emerald water which is perfect for tubing and kayaking because the springs are pumping out more than twenty-thousand gallons a minute!
The water is a refreshing and brisk 68 degrees, so if you're someone who already runs cold make sure to dress accordingly! It is one of the best secret swimming holes in Florida!
The tubing run is about 30-40 minutes by tube and only a fraction of the 8.5 miles belonging to the spring, so most people do the whole thing few times to get the most out of their trip if they're not kayaking.
To enjoy the full glory of the rock springs, we suggest kayaking! The tubing run is only 3/4 of a mile long and the rock springs go for 8.5 miles
If you're wanting to tube, make sure you make tube rental arrangements beforehand, as the park doesn't have any rental facilities for that equipment.
Our favorite way to bypass the schlep of dragging around a big inner tube is to just bring a pool noodle: easy to carry and also fun to ride the current on!
As the name suggests, there are lots of rocks in the spring, which combined with the steadily moving water can make for some gnarly cuts if you're not careful so either bring swimming shoes or just tread carefully.
We have a whole page dedicated to Kelly park's activities, check it out as it really is one of best Orlando swimming holes.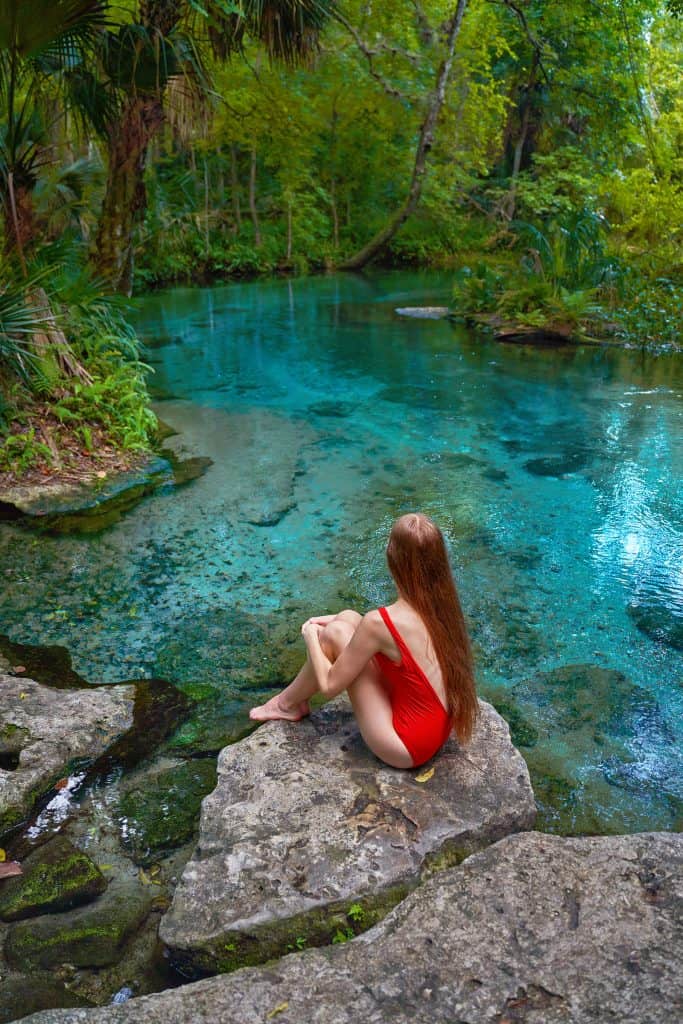 Ginnie Springs
Even though Florida has amazing swimming holes, one of the drawbacks is that so many of them do NOT allow any alcohol on the premises, if that's a deal-breaker for you and you absolutely need to have a river beer, then this is the Florida swimming hole for you!
Yes, you read that right, Ginnie Springs allows alcohol! Huzzah. Keep in mind this swimming hole is near a college town, so this spot gets quite 'lively' around peak times such as weekend days and peak seasons like summer and holidays.
On the flip side, the weekdays and off seasons are very mild, and sometimes you might even be the only ones there which is an awesome perk to this swimming hole in Florida.
Another thing that sets this spot apart is the fact that it rarely ever closes entry due to being at full capacity – this can be a godsend if you're not wanting to wake up super early to beat the crowds which is something you absolutely have to do for some spots on this list!
The springs' facilities offer rentals, which makes it very convenient to do if you're coming from out of the state. There are so many great things to do at Ginnie springs that we have a whole page about it!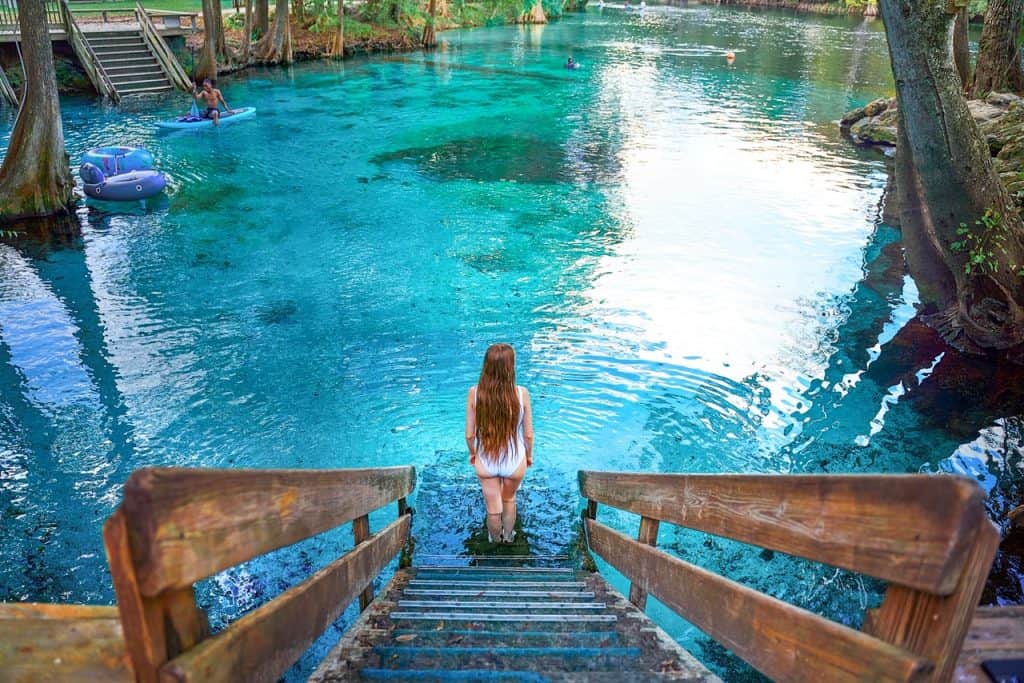 Wekiwa Springs
If you're looking for a gorgeous swimming hole close to Orlando, you absolutely must go to Wekiwa Springs at the Wekiwa Springs state park! It's one of the best places to swim in Orlando, and just 20 minutes from downtown! Even without consideration for the location, this is one of the Best Swimming Holes in Florida!
This spot is especially if you're on a budget because it is only $2 for admission and $6 per 8 people – a huge bargain for gorgeous waters and beautiful surroundings for hiking, if you're into that sort of thing.
For that small cost, you're able to go swimming, snorkeling and scuba diving, and kayaking. Since the water is shallow diving and jumping are not allowed for safety reasons, however flotation devices are allowed!
Pets are allowed in some campgrounds, call the park for more info!
The springs also has campgrounds available for reservations, check it out on their website!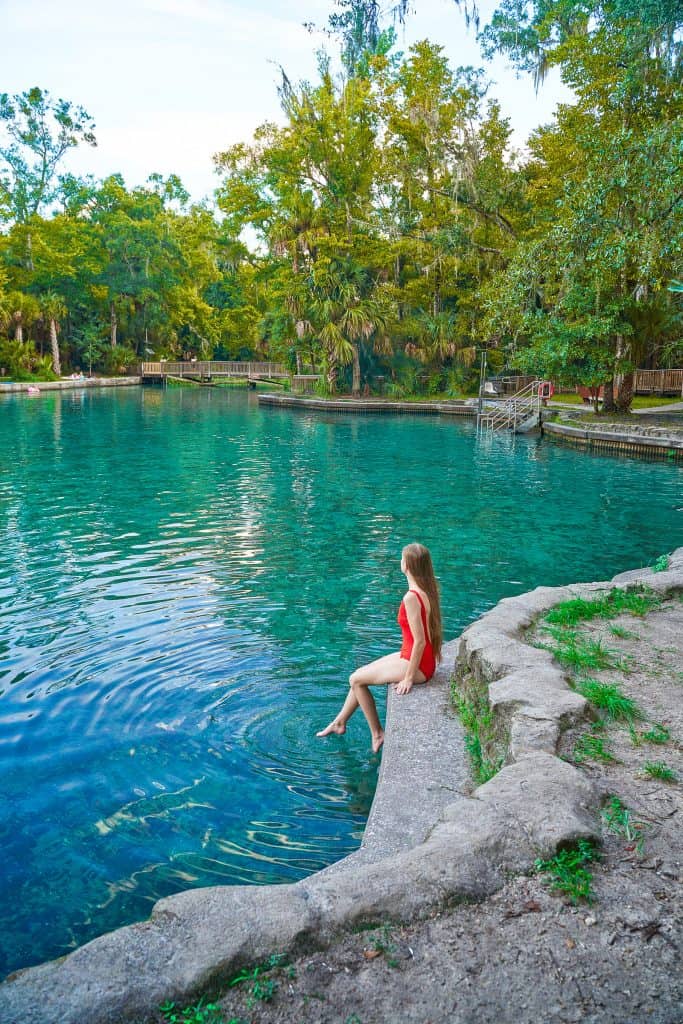 Rainbow Springs
With a name like Rainbow Springs, we can assure you the hype is real! At this spot you can find Blue Ibis, colorful native and non-native plants, white Herons, and emerald waters, all aplomb with color!
No wonder it is one of the prettiest springs to visit in Florida!
The swimming area features gorgeous fine white sand and limestone rocks, which are much less of a concern here than other rockier Florida swimming holes on this list!
This spring offers all the great classic waterhole thoroughfare such as rentals for kayaks and canoes, campgrounds for camping, a very large free-swimming area, and a spacious picnic areas and some gorgeous hikes!
The park features man-made waterfalls on the hiking paths that really add to the majestic qualities, and there are even native species gardens along the hiking path as well so you have a chance to learn something about the ecosystem of the area in this unique Florida swimming hole.
When coming for in-water activities please keep in mind that save for a small toddler pool the water is over 5 in most areas going up to 18 feet, so life jackets are a must for smaller children and those who aren't adept swimmers. Please note there is not a lifeguard on duty anywhere here!!
The park also does not allow any type of inflatable objects in the swimming area so either bring a life jacket or a pool noodle if you are visiting this swimming hole in Florida.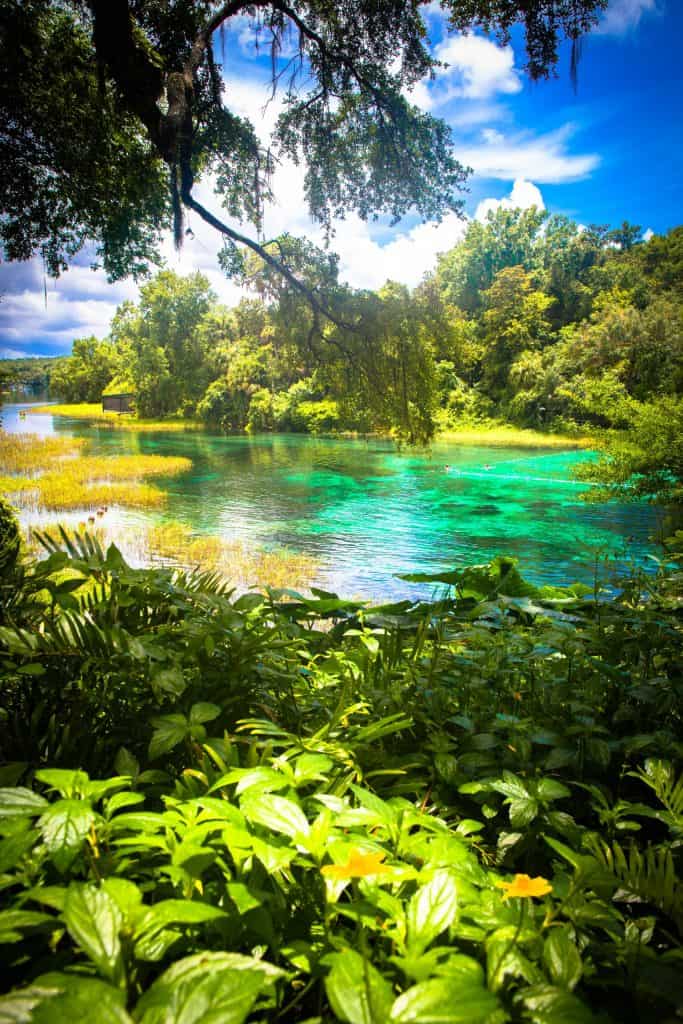 Ichetucknee
If you're looking for one of The Best Tubing Places in Florida you MUST make it out to Ichnetucknee which is truly one of the best Florida swimming holes.
The tubing launch point is accessible by walking a little over half a mile, or you can take a tram for $7.50.
The park offers rentals for tubing, but there are sizing restrictions in place, so make sure it adheres to less than 60" in either direction!
This is one of the longest tubing spots on our list, with over an hour and a half of tubing time depending on the time of year, making it the best swimming hole in Florida.
The park also has great nature trails, and is a wildlife refuge so you're sure to see some beautiful wildlife in case tubing or swimming isn't your thing!
The water is a nice 72 degrees year-round so this is the perfect spot of tubing no matter what month you're visiting this water hole in Florida.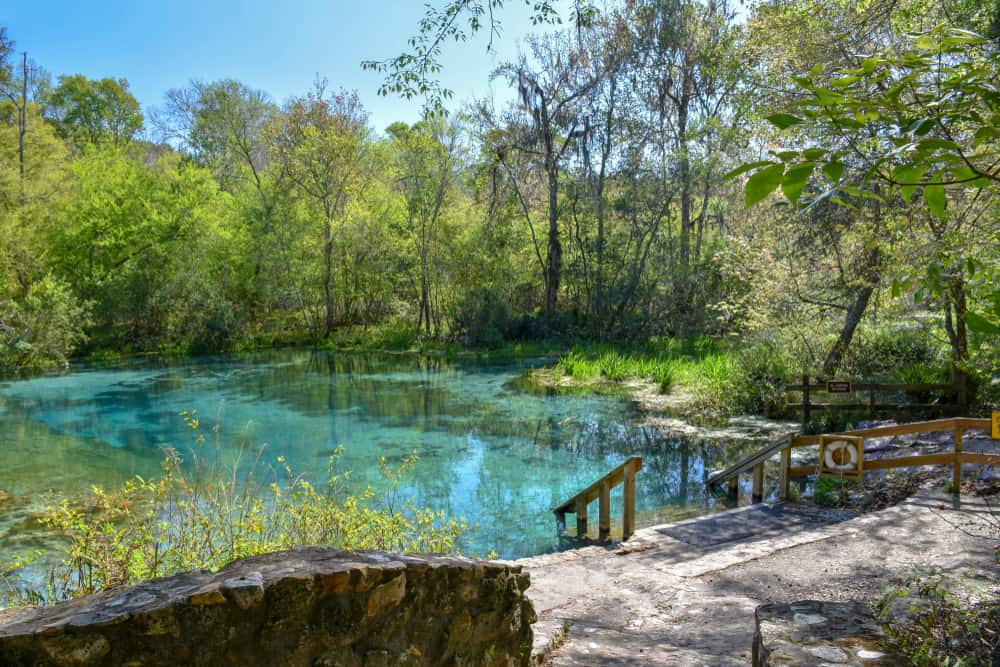 Madison blue springs
If you're looking for one of the Best Natural Springs in Florida you have to visit Madison Blue Springs!
This giant spring merges with the Withlacoochee River, so it's great for swimming, kayaking, diving, and even cave diving (only if you're certified though, it can be deadly if you don't know what you're doing!)
Since the weather and water are sometimes warmer in Florida, occasionally there can be bacterial outbreaks which make only kayaking a safe option for this spring, so make sure to check the state park website to stay informed when visiting one of the best swimming holes in Florida!
Madison blue Springs is a great place for bird watching, picnicking and general nature appreciation as well if you're looking for activities outside of the water!
The spring opens at 8am and closes at sundown, and the fees vary depending on how many people are in your group when visiting this Florida swimming hole.