Are you looking for the best places for breakfast in Saint Augustine, Florida? We have got you covered with a list of breakfast places you do not want to miss!
There is no denying that Saint Augustine is PACKED with things to do. From castles, beaches, museums, ghost tours, and national parks, the nation's oldest city has a lot to offer. But in between the hustle and bustle of visiting (whether on a couples destination or over spring break or anything in between), you have to make sure to eat!
While we have talked about some of the best restaurants in Saint Augustine before, we want to make sure we stress the best places for breakfast in Saint Augustine too. So get your tummy ready: you won't be disappointed!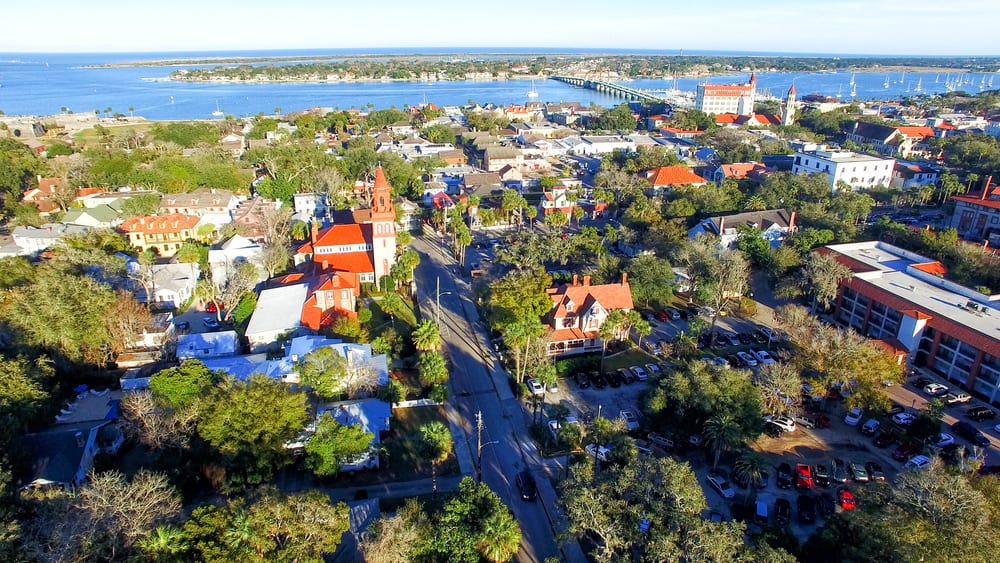 12 Best Places for Breakfast in Saint Augustine FL
1. The Blue Hen Cafe
If you are looking for one of those breakfast places in Saint Augustine that will not disappoint, try out the Blue Hen Cafe! With a warm atmosphere and great food, the Blue Hen is one of the best places for breakfast in Saint Augustine. Who doesn't love comfort food after all?
This little breakfast joint is located amongst the historic homes in the Lincolnville district. This means many locals and tourists love it here! So don't be surprised when guests are milling around the district for tables: the blue crab quiche is to die for, after all.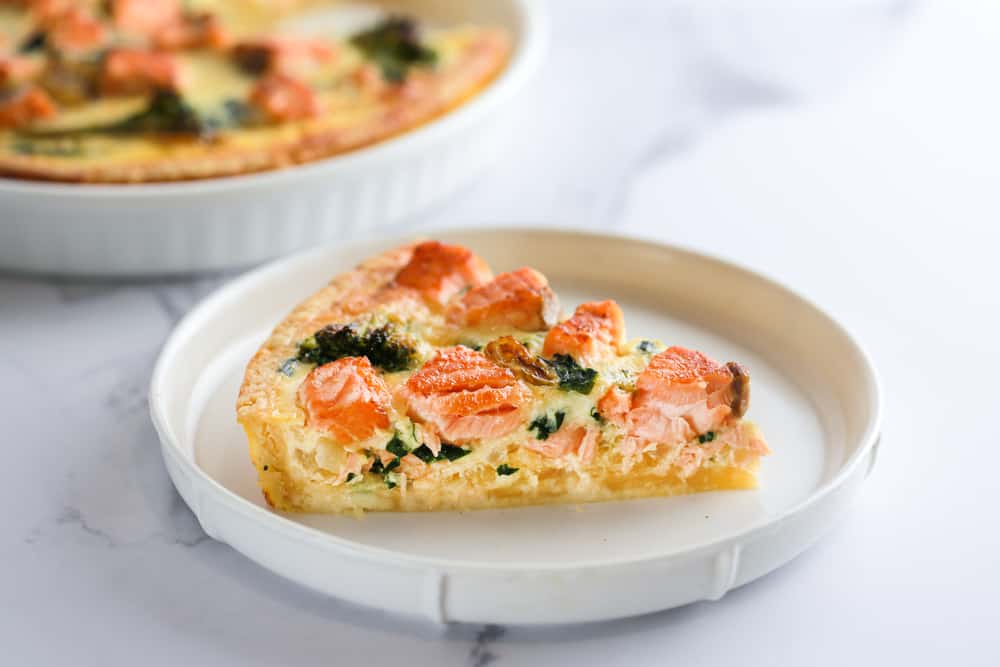 2. Ancient City Brunch Bar
Opening in 2021, this new brunch bar is hands down one of the breakfast spots in Saint Augustine you must check out! Ancient City Brunch bar offers a variety of services. From breakfast, to bruncharcuturie, lunch, catering, and private events, you can enjoy the vastness this bar has to offer!
Locals and guests flock to the Belgium waffles and French toast sticks. And the brie cheese with honey and crackers is perfectly sweet! But if you are here you must check out the a bruncharcuterie boards. Sharing is caring!
3. The Kookaburra (Downtown)
Looking for breakfast in downtown Saint Augustine, but also craving a good cup of coffee? Check out the Kookaburra! This Australian-American coffee shop serves specialty coffee, espresso, and Aussie pies, making it a unique place for breakfast in Saint Augustine.
Take a sip of a Hot Aussie that features vanilla and cream. Or maybe try a "Brekkie Pie" with sweat potato, spinach and broccoli. Either way, with rotting offers of baked goods, and even fantastic vegan breakfast Saint Augustine options, this place is a great shop to stop at!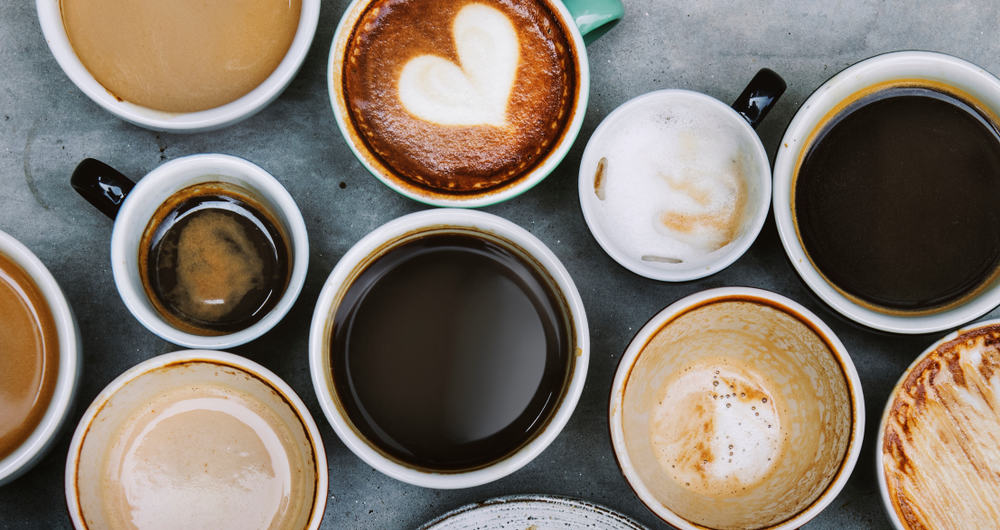 4. Metro Diner
What is a breakfast list without a diner? Diners in Saint Augustine are popular, but only some of those diners offer the best breakfast in Saint Augustin! Which means we had to add Metro Diner to our list.
With comfort food and diner classics, the friendly service at Metro will have you coming back! The diner truly feels like you are eating right at home. Enjoy blueberry lemon pancakes, a variety of scramble bowls, or even some fried chicken and waffles. You won't be disappointed!
5. Sunday
Try visiting Sunday on Sunday! Sunday is one of those newer, more modern cafes, but that doesn't mean it doesn't have some of the best breakfast food in Saint Augustine. In fact, people flock to Sunday's for their sourdough. This places sandwiches are to die for!! And, it is healthy!
So stop in and enjoy a root vegetable hash, or maybe even roasted shiitake and oyster mushroom toast. Change up your tastebuds with a banh mi sandwich and order green tomatoes on the side. The fresh flavor will have you coming back– just not on Mondays because Sunday is closed then!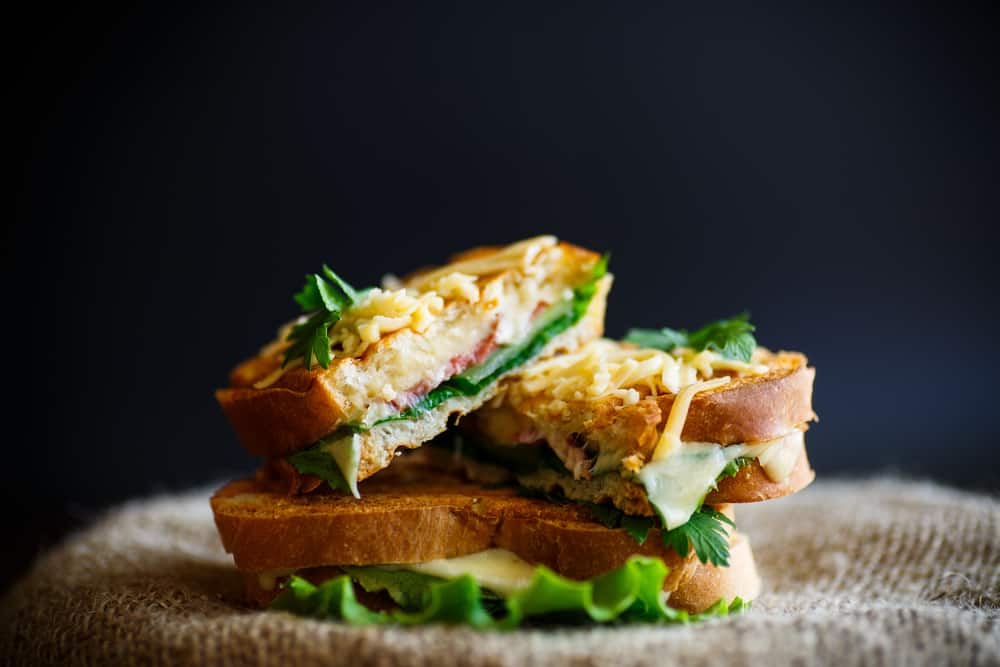 6. Les Petits Pleasures
If you are looking to change up your breakfast in Saint Augustine routine, go satisfy your sweet tooth! Les Petits Pleasures is a little European-bakery/cafe. They are well known for their pastries, crepes, and sandwiches. It is all very French!
Here they offer customizable omelets, but of course people love the selections of eclairs, cakes, tarts, and more. The relaxed environment is also a plus: you can enjoy your sweets and breakfast without any disturbances!
7. Obi's Fillin' Station
Who would think that one of the best breakfast places in Saint Augustine would be gas station themed? This is, in fact, one of the spots for best Saint Augustine brunch! The car-decor only adds to the ambiance of the American fare.
The memorable atmosphere adds to the menu here, and it goes beyond breakfast. So if you don't want the AMC Eagle (which is the All American breakfast sandwich), you can always fill up on deli sandwiches and hot dogs too! And don't forget the Spare Tire– a burger on two donuts is something you must try.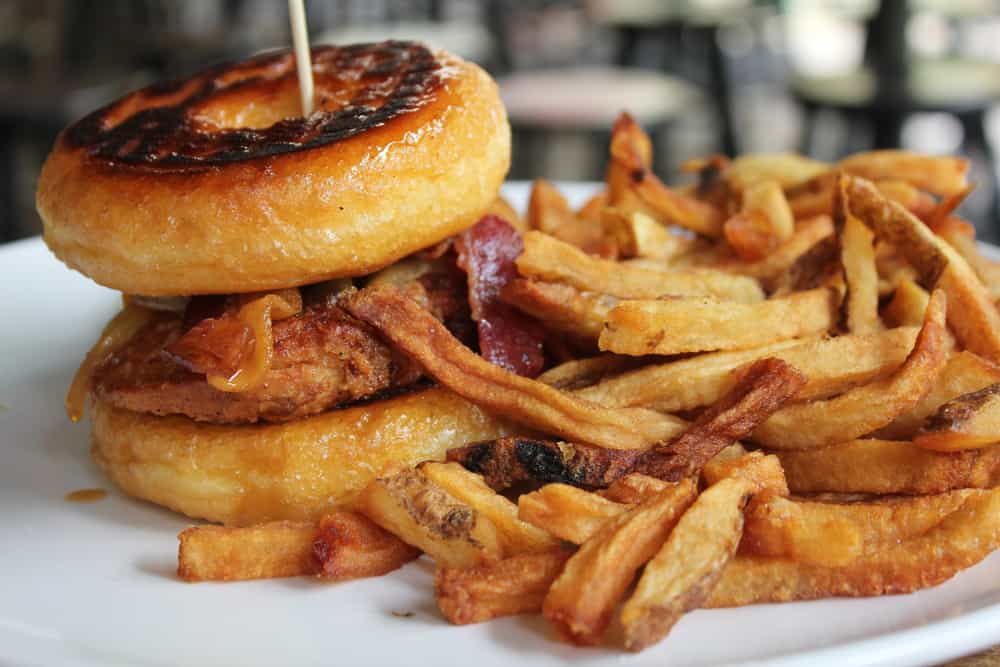 8. Harbor View Cafe
Harbor View Cafe– also known as Mary's Harbor View Cafe– is a great place fo have breakfast in Saint Augustine, FL. With its cozy nature on the Bayfront, people really enjoy the views and welcoming nature. It is a peaceful way to start your day!
And in combination with the atmosphere, the service is great, and the American breakfast fare is tasty. With French toast, eggs, and sandwiches, this is a classic place. Try their grits!
9. Alms & Fare– Wellness Bakery
Make sweet things simple at Alms and Fare. This is a breakfast joint that is perfect for our friends that need gluten free breakfast in Saint Augustine. Their options are delicious yet nutritious, so no one will be sad to eat here!
With all organic ingredients, using naturally sweet products, and being dairy free in addition to gluten free, this is great! From baked goods, tea, coffee, lattes and smoothies, there are great options. And it is prefect for breakfast on the go when you are looking for breakfast in downtown Saint Augustine!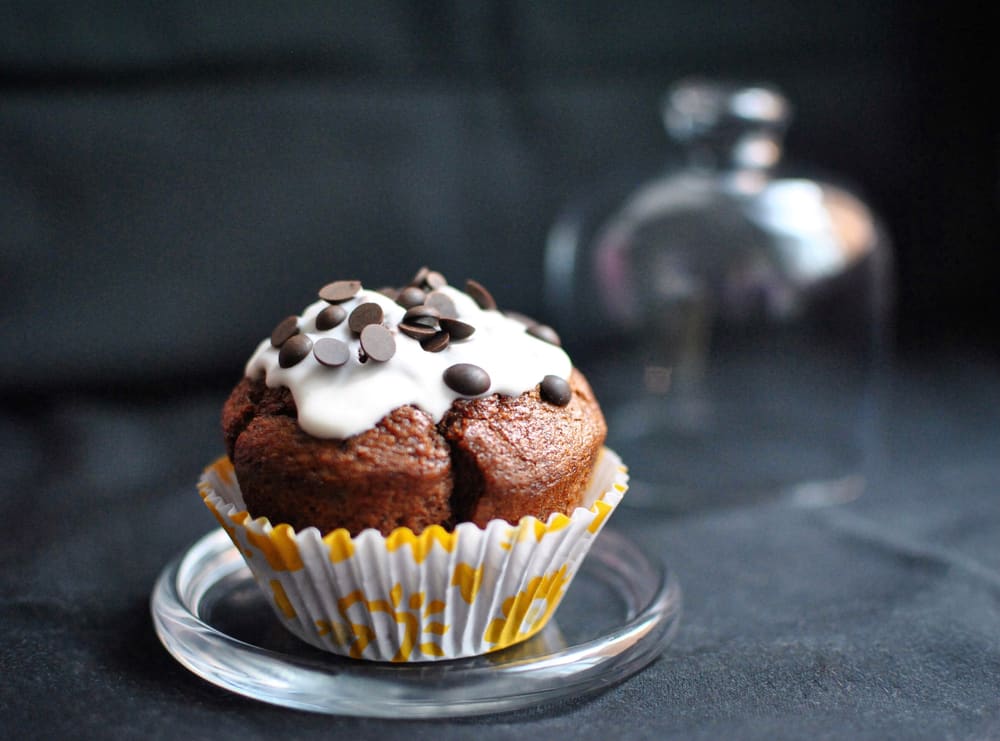 10. Creative Juices Natural Cafe
Located in the heart of Anastasia Island, this Cafe is one of those best breakfast restaurants in Saint Augustine, especially for those looking for vegan options! Dietary restrictions don't have to be hard when at Creative Juices!
From tons of juice options, to smoothies, açaí bowls, salads, wraps and more, you won't be disappointed with the options here. And better yet, all baked goods are also gluten free here too! If you want to eat clean here, that is easy! So try breakfast in a healthy way!
11. Farmhand Kchn
Farmhand Kchn is an urban inspired kitchen, so you will fined unique breakfast in Saint Augustine at this place! Here, the chefs seek to have guests leave with happy bellies and full hearts. It is easy to eat clean here, and most options are vegan friendly too!
With pancakes, French toast, vegetarian breakfast, vegan bagels and more, this place will try to satisfy everyone. There are tons of options! Even the pickiest of eaters can find something here, which is great for family dining if needed. Plus, you can get breakfast or brunch! No need to settle on one tastebud!
12. Georgie's Diner
Would it surprise you if another diner found itself on the list of best breakfast in Saint Augustine, FL? We don't think so! At Georgie's, authentic greek dishes are cooked to perfection. Factor in the friendly service and 60's atmosphere, you won't want to leave!
This casual diner is a perfect place to enjoy a meal. It is open all day (7 a.m. until 8 p.m.), and your options are endless. Try classic French toast and waffles, or enjoy an omelet– the greek one is to die for! You can also enjoy lunch and dinner too: it is all the joy of being at a diner!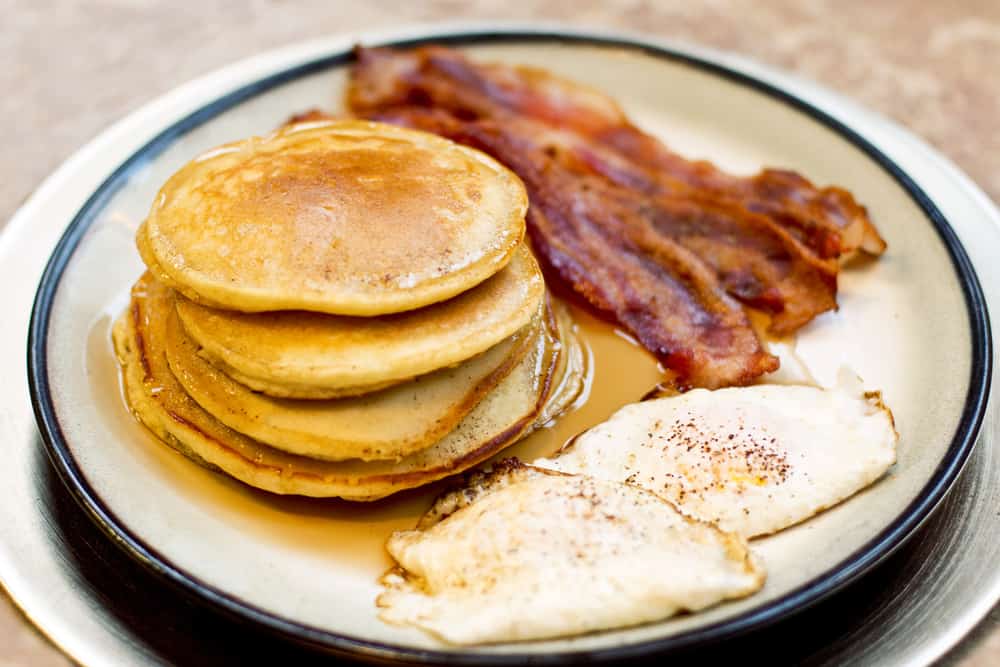 And there you have it, folks, 12 places for the best breakfast in Saint Augustine! From vegan options, to classic diners, places with a view and all in between, your belly will be full, and you'll be happy!