Are you looking to plan the most romantic Florida honeymoon? You have come to the right place! First of all, congratulations on getting married and choosing to plan a Florida honeymoon. We think that Florida is a great place to honeymoon. There are so so many things to do, there are the most EPIC beaches, and of course, the most iconic sunsets.
We are based in Florida and absolutely love it. These are our personal recommendations as well as some of our favourite hidden gems to make your Florida honeymoon the most romantic trip of your lives.
There really is something for everyone in Florida. If you're looking for a relaxing sandy beach getaway at a resort, an energetic city break, or to take some time exploring the natural springs there really is something for everyone! Oh, and you can't forget that we have Disney World and Universal!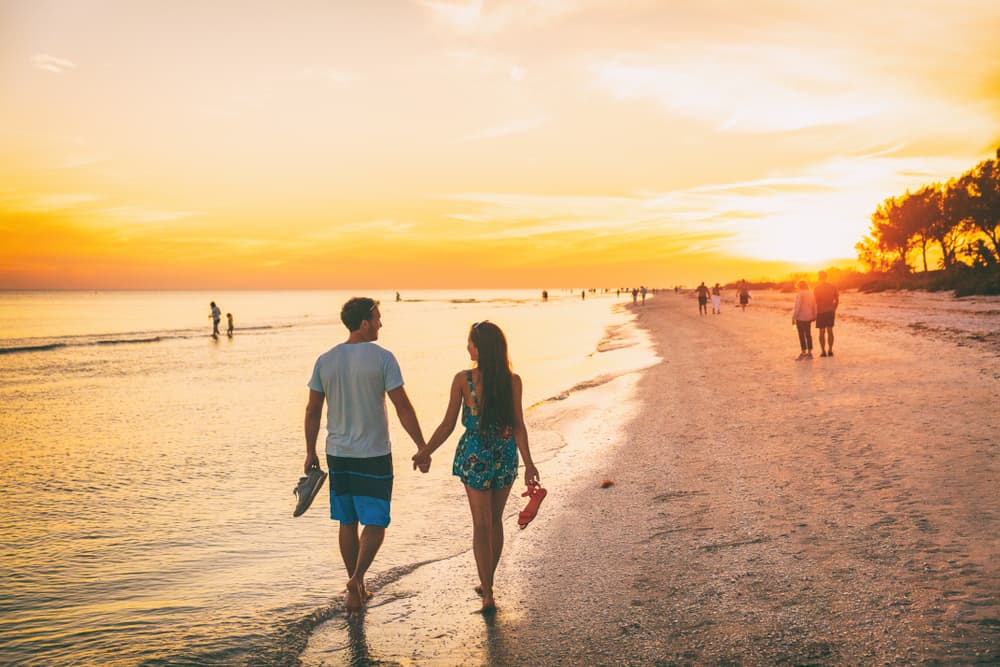 When To Honeymoon In Florida
We really don't think there is a bad time to Honeymoon in Florida. Florida gets warm weather all year round.
Whilst the winter months are the colder months, you definitely won't be shivering on your Florida honeymoon! The temperatures mostly sit comfortably in the 70s F (20s C). The summer months are HOT but also be aware that it is hurricane season.
It's really a matter of preference when you choose to honeymoon in Florida. The summers can sometimes be a bit intense if you're not used to the humidity and heat so if that's the case we Fall or Winter. However, if you love the sun and heat then Spring and Summer will be great for you!
Bare in mind that peak season in Florida is between mid-December – April, so if you're looking to save some cash then travel during the off season!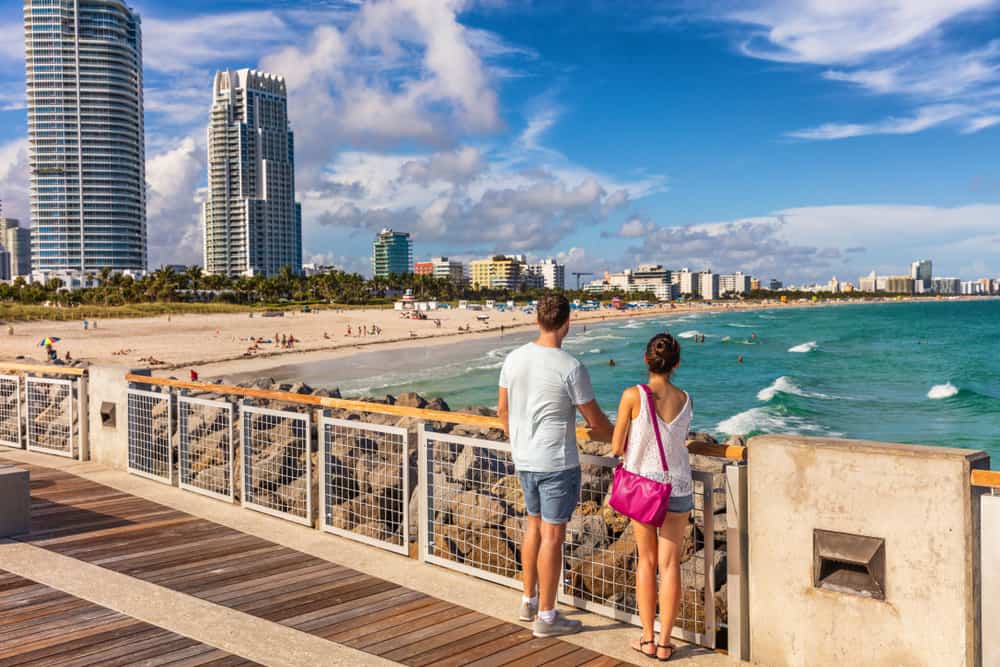 Romantic Florida Honeymoon Hotels
There's a tonne of romantic hotels all around Florida for your Florida honeymoon. We think that resorts are a great choice for honeymoons as there is often a tonne of fun, romantic, and relaxing activities to do such as spas or water sports.
You always receive top service at resorts and what could be better than celebrating your honeymoon than with poolside, or beachside, cocktails!?
Here is a list of some of our favourites, if you're wanting to see a longer list you can check out our full list of honeymoon resorts in Florida.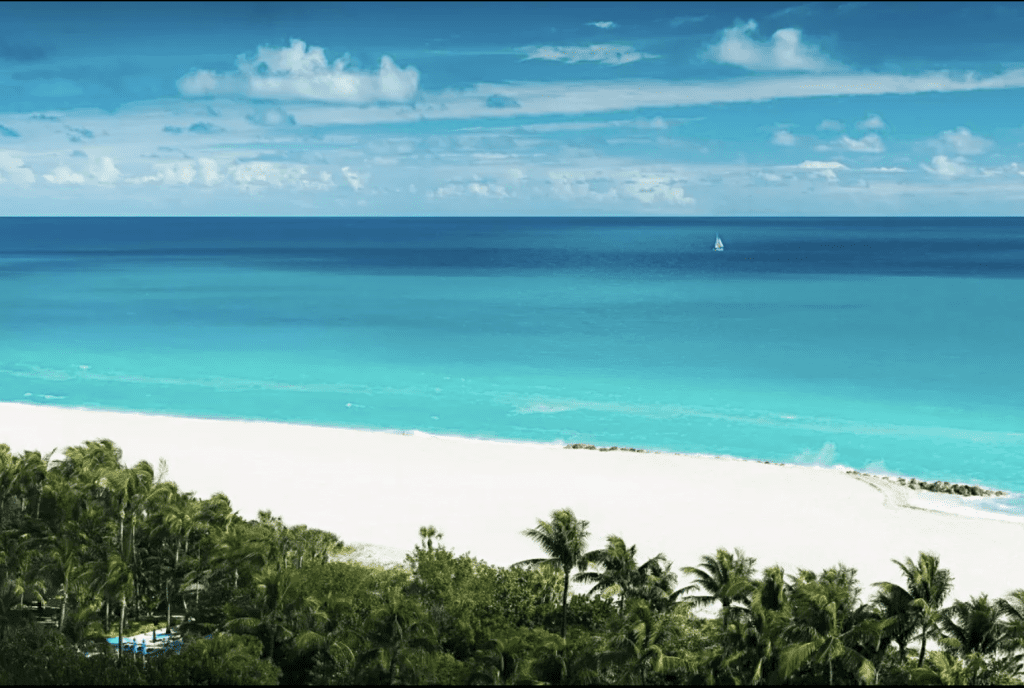 SandPearl Private Beach Resort
We LOVE SandPearl! It's one of our favorite resorts to visit so we can vouch for how good it is. The Sandpearl is also one of the best beach resorts in Clearwater!
Located in Clearwater Beach, Sandpearl is just 0.6 miles away from Pier 60 and 2.1 miles from Sand Key Park. There's a tonne of things to do on this resort including parasailing, beach volleyball, a full-service spa, and a boutique and art gallery. It would be a great Florida honeymoon hotel!
The Miami Beach Edition
The Miami Beach Edition is the ultimate Florida honeymoon resort! This place has everything from an ice skating rink, 2 outdoor pools, a bowling alley, to a nightclub and an outdoor movie theater right on the beach. If you're looking to spend your Florida honeymoon relaxing at a resort, we can't think of anything better than this!
Isla Bella Beach Resort and Spa – Florida Keys
If you're looking for a classic beach-style Florida honeymoon with The Hamptons style decor, then Isla Bella is the place for you. The rooms come with a terrace or balcony for you to have a romantic evening with your partner watching the beautiful Floridian sunsets. It sounds perfect to us!
The Plymouth South Beach
We love the Art Deco style in Miami South Beach, and if you choose to have your Florida honeymoon in this resort, you will be staying in a 4 story art moderne building! The rooms are custom designed by Fernando Santangelo and include furniture from Restoration Hardware. There is a beautiful outdoor pool on site and the hotel offers free transfer services to private Plymouth Beach.
The Breakers Palm Beach
The Breakers is such a beautiful place to have your Florida honeymoon, especially as there is so much on offer here! With 11 on-site boutiques, 5 different hot tubs, four pools with private poolside bungalows, and tennis courses. It's also located just half a mile away from a private beach, just in case you needed any more convincing.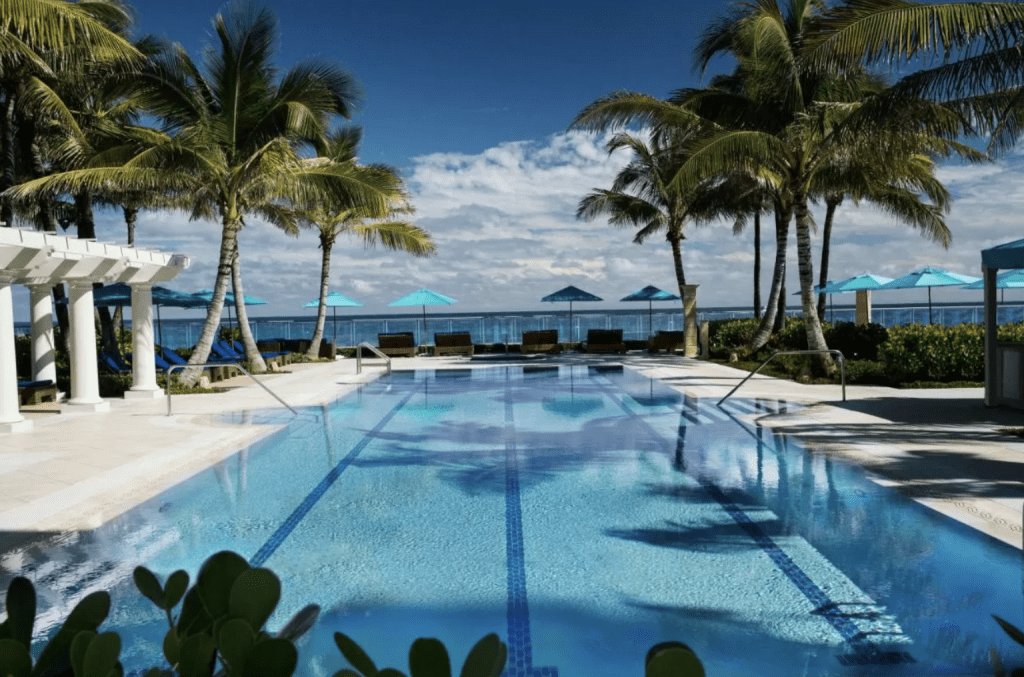 What To Pack For Florida
A Travel Adaptor Specifically Designed for US Outlets
If you're going on your Florida honeymoon from outside the US, you're going to want to bring a travel adaptor with you. Some modern hotels and resorts do have USB options in the walls now, but do you really want to chance it? It will save you a lot of stress if you bring one and will prepare you for a 'just in case' scenario!
Reusable Water Bottle
Florida is HOT. Extremely hot in the summer and also very humid, so you can get dehydrated quite easily and that is the last thing you want on your Florida honeymoon! You're going to want to bring a water bottle with you to stay hydrated, especially on those long beach days!
Portable Power Bank So You Can Keep Going Strong
We've all been there. You wake up to find that your phone didn't charge, or you go to take a photo and -boom- battery died. You're going to take loads of photos on your Florida honeymoon to cement those beautiful memories. Bring a portable power bank with you so you never miss out on taking a gorgeous snap!
Action Camera for All Your Unforgettable Moments
There's a whole lot of exploring to do on your Floridan honeymoon. Your memories will last a lifetime, but there is no harm in taking some video to help remember things a little better! And lucky for you, cameras are kind of (read: very much) our thing.
Sun Protection
We cannot stress this one enough! Sun protection is so, so important, especially in Florida when the heat is strong! If you're coming from a country that's not as warm (such as the UK) then sun protection will SAVE your skin. We always recommend SPF50 to protect your skin.
If you need some more guidance on what to pack for Florida, we have a full packing list blog post for you to read.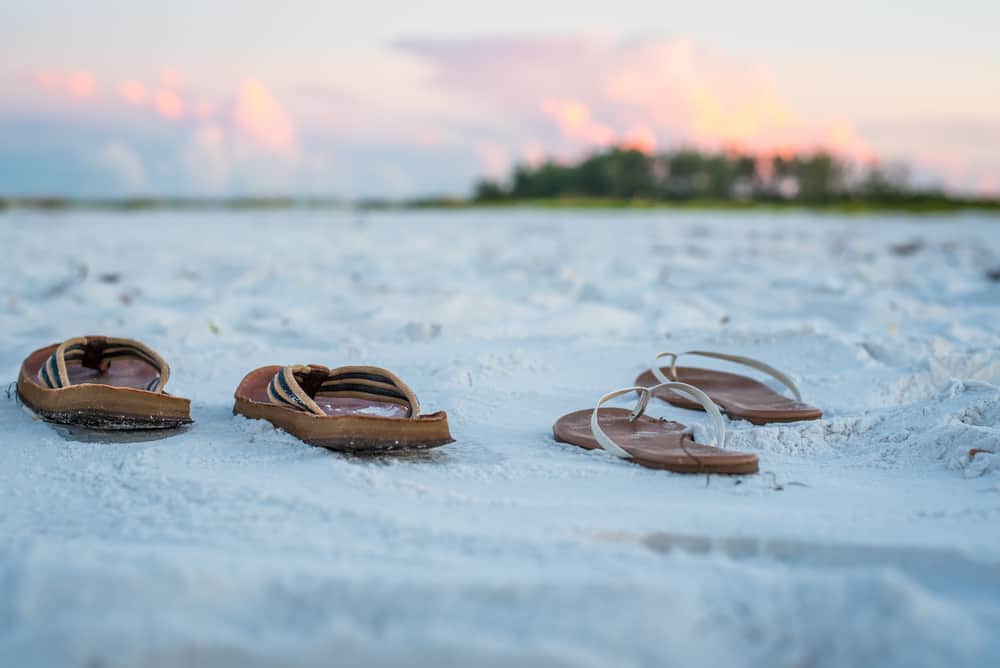 What To Do On Your Florida Honeymoon
Go Snorkeling in the Dry Tortugas
The Dry Tortugas are seven beautiful islands that make up the 100 square mile national park. It's one of our favourite national parks, and if you're looking to explore more national parks on your honeymoon we have a National Parks in Florida post for you!
The Dry Tortugas is home to Fort Jefferson, named after the 3rd US President, Thomas Jefferson. But that isn't the only thing that makes this place so special. There are some gorgeous coral reefs and marine. Whatever your skill level, you can enjoy swimming amongst tropical fish and coral, right off a stunning sandy beach. The perfect Florida honeymoon activity!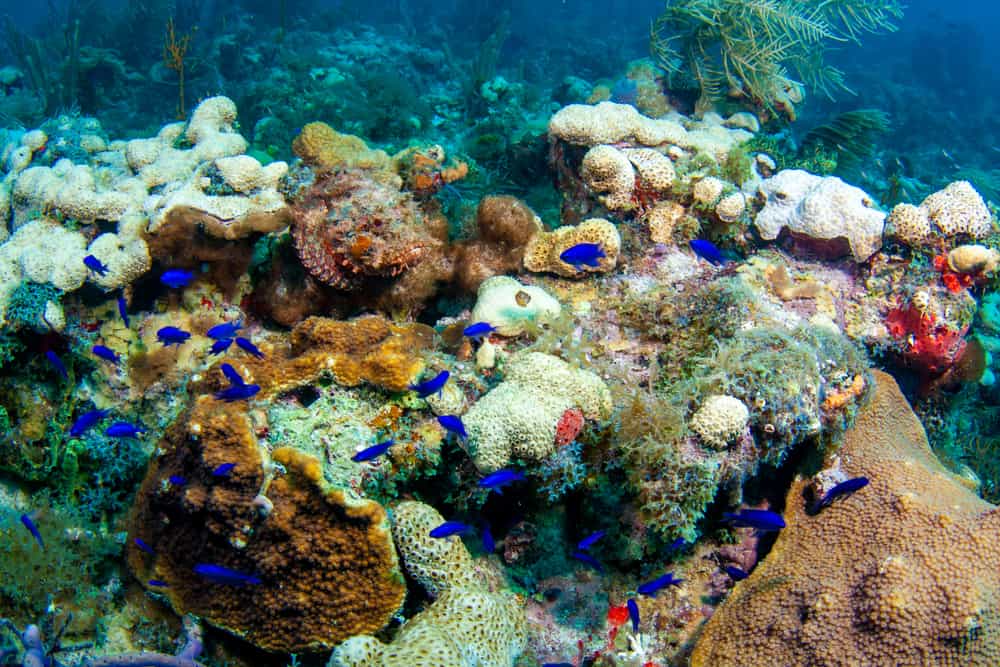 Go Swimming in the Springs
Natural springs are one of our favourite natural wonders, and Florida has over 700 of them – that's the highest in the world! Obviously, that's way too many for us to write about, but you can check out our Prettiest Natural Springs post for some inspiration.
Springs are so beautiful because the water is so clear. You can see entire eco-systems under the water, including aquatic plants, turtles, and manatees. Visiting one of Florida's natural springs is really a special experience, one that we know you will enjoy on your Florida honeymoon.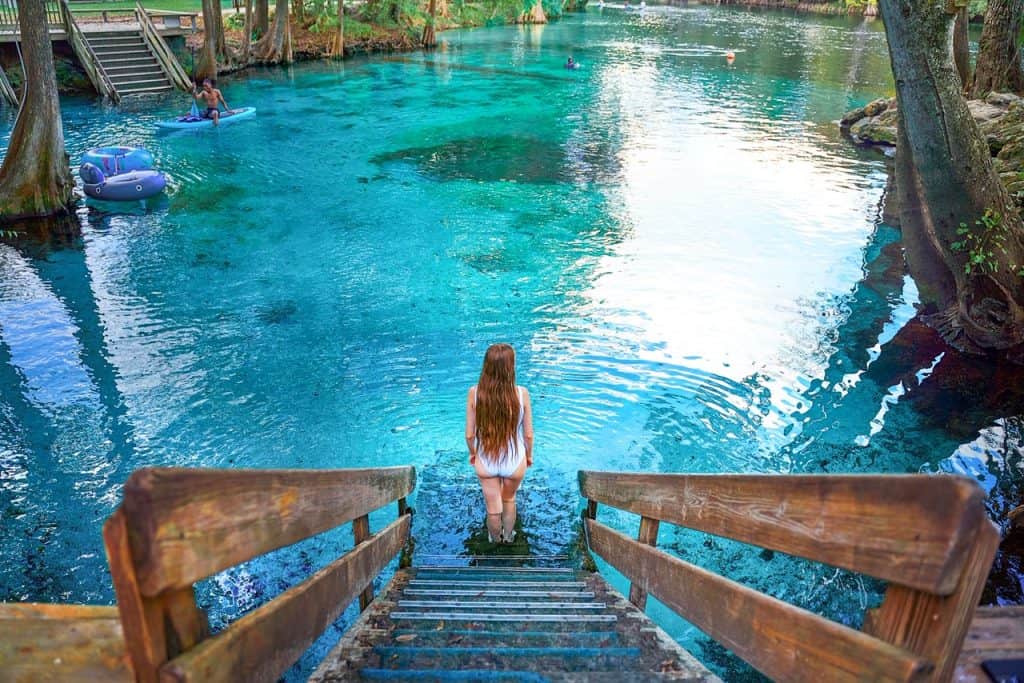 Go Island Hopping
Did you know that there's a bunch of islands around Florida? you can see our list of the best Florida islands for you to visit here and we really recommend you do some island hopping on your Florida honeymoon!
All of the islands are super beautiful and are also really romantic! Can you imagine sitting on one of the sandy beaches, drinking wine and watching the sun go down? It's the perfect way to end the day after doing some exploring of the surroundings, taking in the wildlife, and even doing some water sports.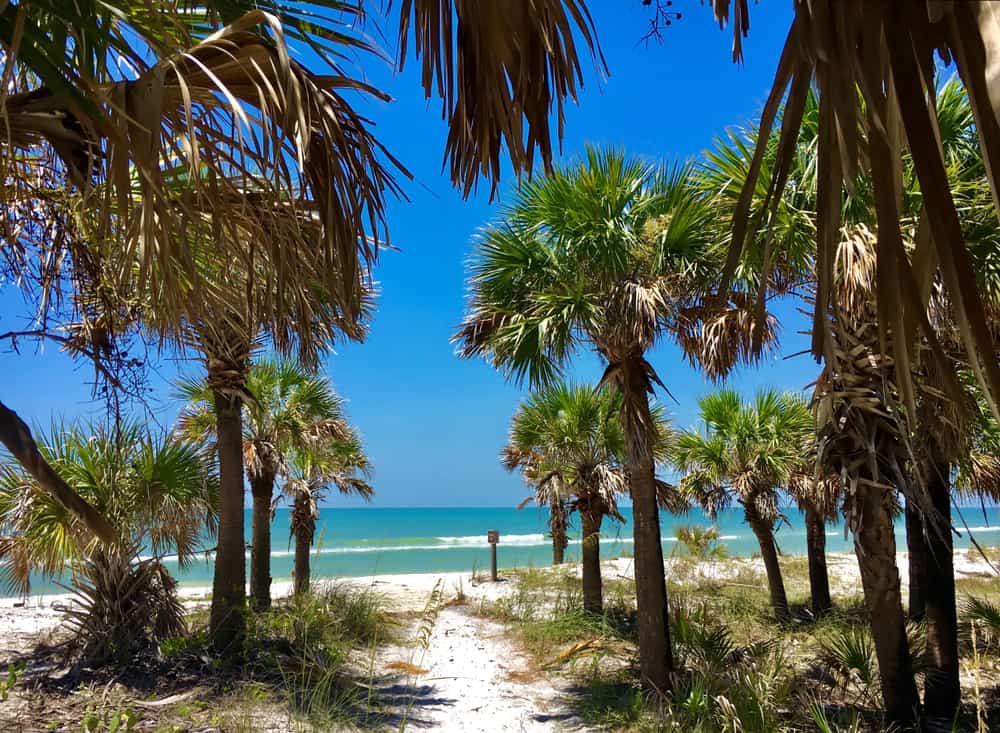 Go on a Beautiful Hike
With 175 state parks and 3 national parks you really are spoiled for choice when it comes to hiking on your Florida honeymoon!
We love hiking. we think it's a great way to spend time together as it's just you, your partner, and nature. Hiking is great any time of day, but we love hiking at sunrise and sunset to get those beautiful views as it's a great way to unwind.
We have a list of our favourite scenic hiking trails for you to get some hiking inspiration.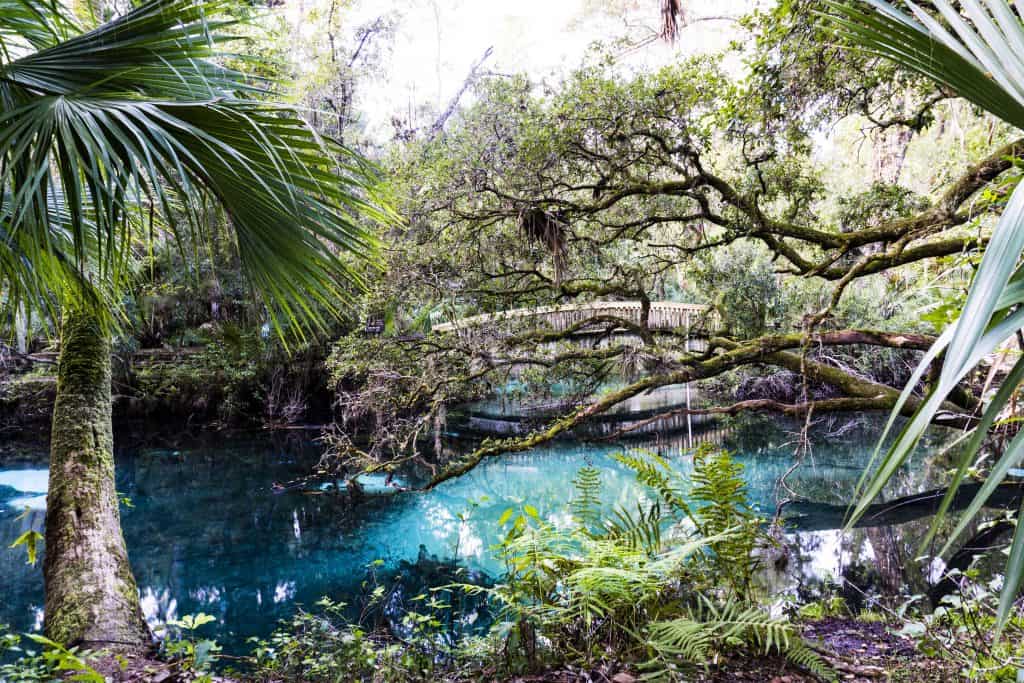 Have a Spa Day!
Is there a more perfect time to go to a spa than on your Florida honeymoon!? We don't think so!
There's a lot of spas to choose from in Florida, so to make it easy for you've we've made a list of our favourites here.
Wedding planning can be so stressful! So what better way to get rid of all that stress tension that having those knots massaged out of you? Having a couples day at spas is the perfect way to relax on your Florida honeymoon and there are so many treatments for you to choose from. Many often have hot tubs and saunas too!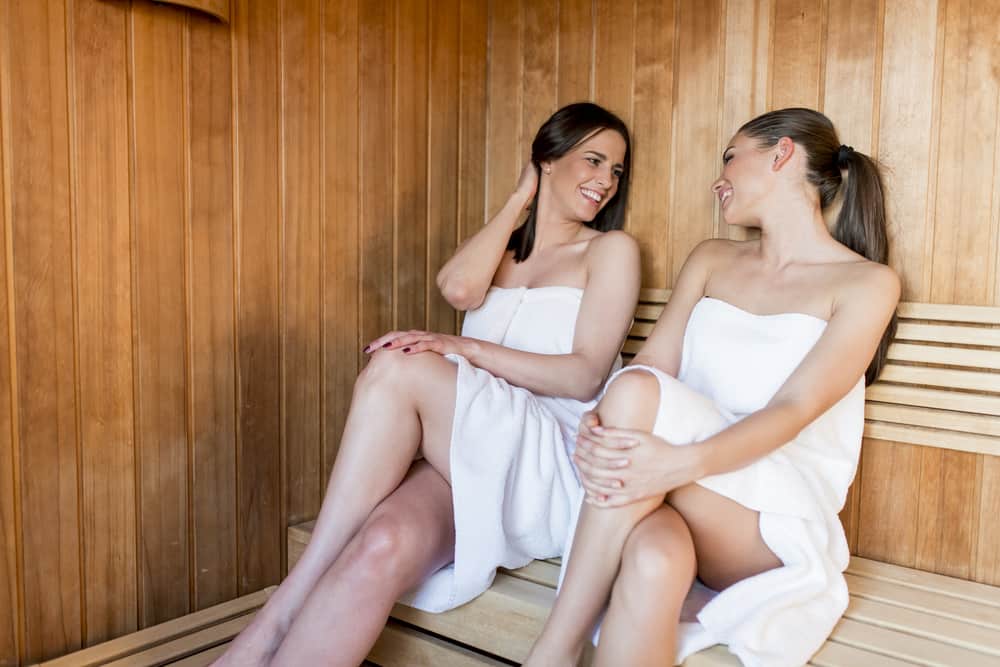 Getting To Florida
It's super easy to get to Florida for your Florida honeymoon, no matter where you are.
There are 6 major airports in Florida (Miami, Orlando, Tampa, Fort Lauderdale, West Palm Beach, Jacksonville.) They all have major US carriers such as Delta Airlines and United Airlines. Miami and Orlando are served by European carriers including British Airways and Virgin Atlantic.
Florida is a year round vacation spot, so fares will be the highest during summer and the holidays. The best time to book is during the off season, which is between February – May and September – December (excluding holidays).
If you're travelling to Florida by train, then you will be travelling by Amtrak to Miami station, which is just shy of 10 miles from the city centre. It's the final stop on the network along the East Coast. Amtrak also serves Jacksonville with serves running to Orlando and Tampa.
It's also possible to drive to Florida as it has such as extensive interstate network. The I-10, 1-75, and 1-95 from the north.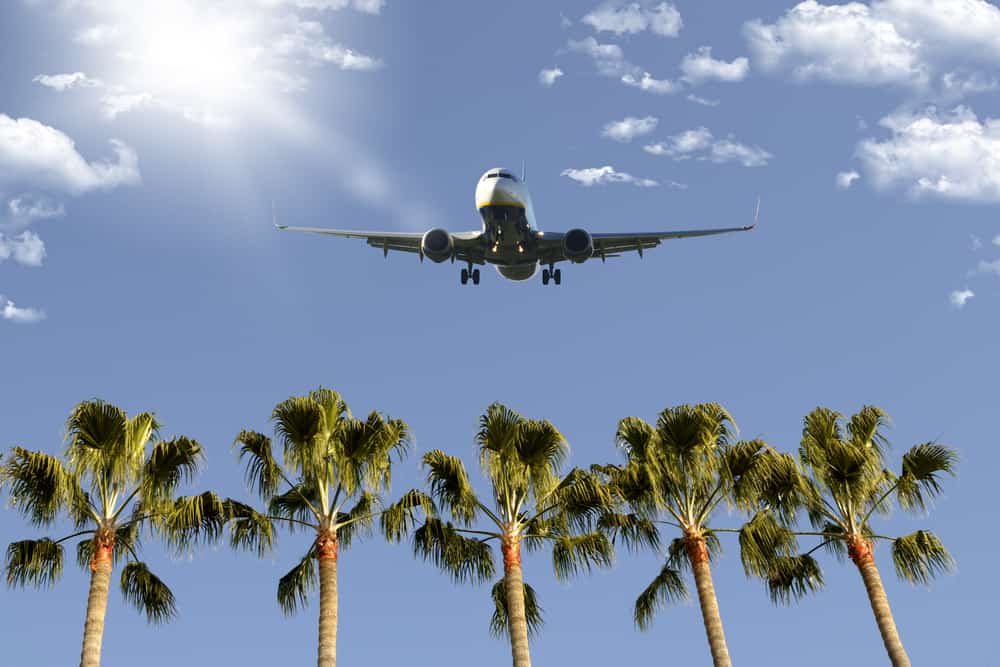 Getting around Florida
Both Uber and Lyft are both available in Florida to help you get around. Taxis can be quite expensive so these are a great option.
For trips within town, as a more affordable option you can try trams or buses. Some cities such as Miami beach offer bike sharing programmes.
For travelling between cities in Florida, the Florida Shuttle Transportation has shuttles between most major cities. Amtrak also has services that run from Jacksonville to Orland and Tampa.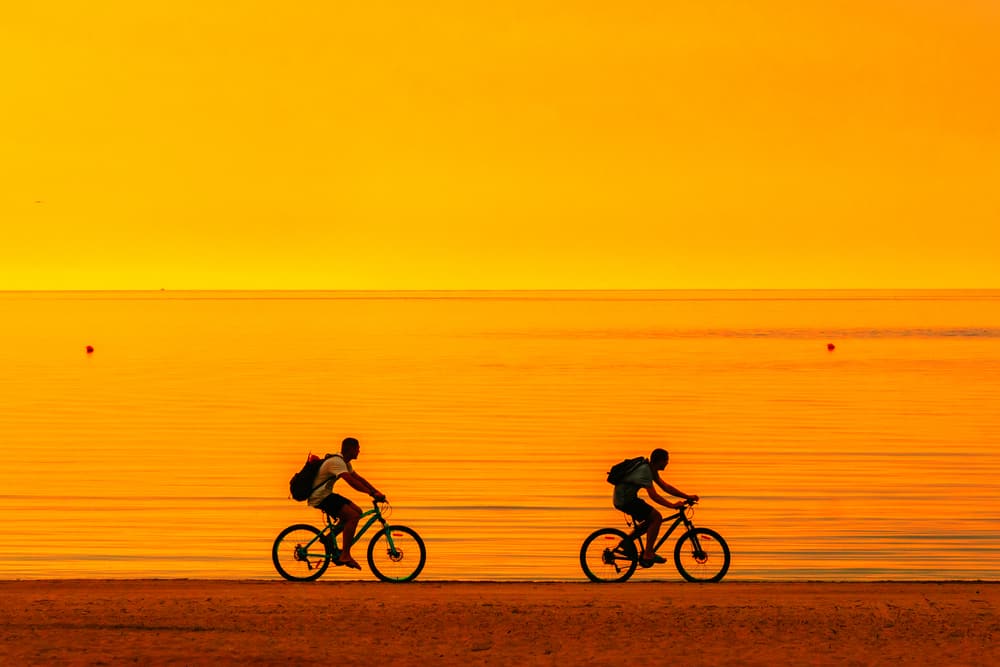 Florida is such a beautiful and vibrant place that we just know that you and your partner are going to have such an amazing time on your Florida honeymoon. Many congratulations on your marriage and we wish you a long and happy life together!
Did You Find This Post Helpful?
If so, we would love to keep in touch! We enjoy seeing photos and comments about your experiences in Florida! You can follow us on Instagram and we will repost your photos on our feed and comment too! Just tag us at @floridatrippers and hashtag #floridatrippers. We can't wait to see your travels!