Are you looking for the best things to do in Saint Augustine? We have you covered with our list of the Saint Augustine attractions you can't miss!
A visit to the nations oldest city has lots to offer, founded in 1565 it wasn't until Henry Flagler transformed the city into a bustling hub in the late 1800's with the railroad. From castles, beaches, museums, national parks, ghost tours, distilleries and wineries there is a ton of things to do in Saint Augustine.
Saint Augustine is one of most romantic cities in Florida as well as a great place to visit anytime of the year or if looking for a spring break destination! Located on the Atlantic coast Saint Augustine
If you are hungry after exploring Saint Augustine check out our list of the best restaurants in Saint Augustine!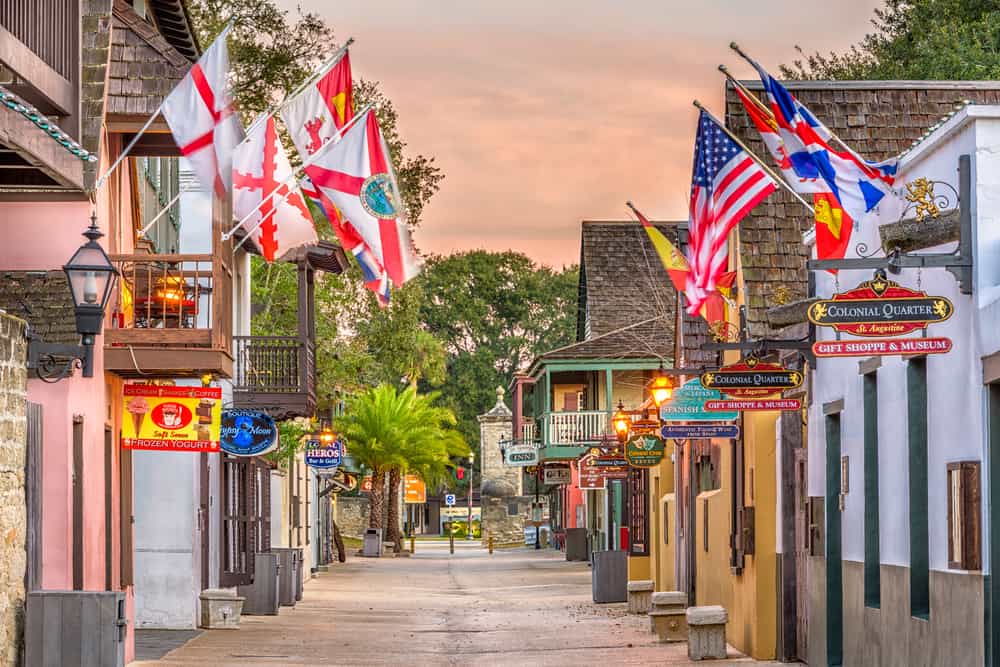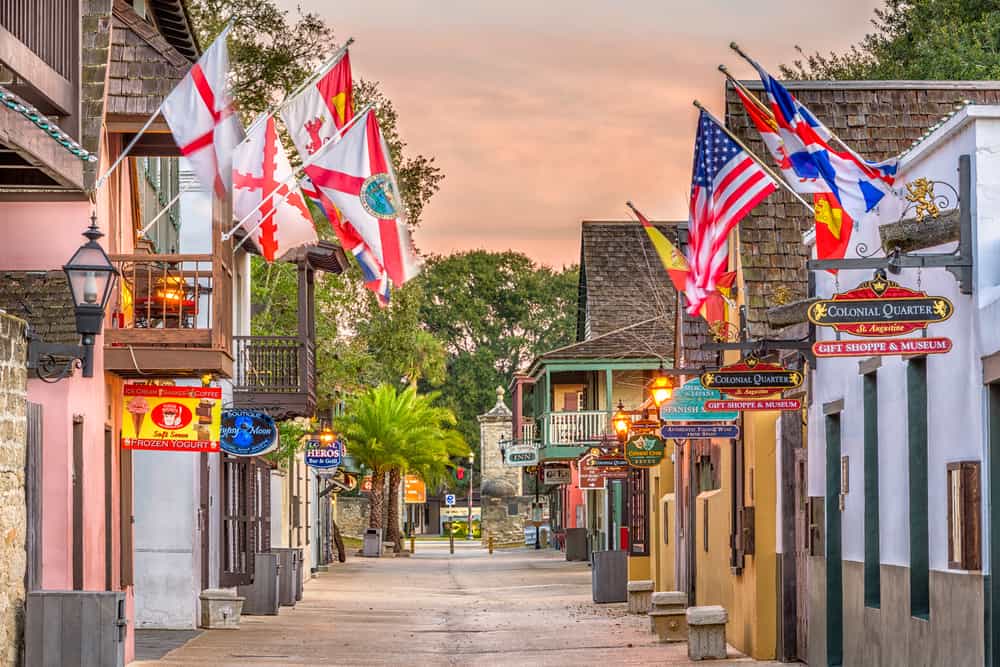 14 Best Things To Do In Saint Augustine You Can't Miss
Columbia
Columbia Restaurant has locations in Tampa, Sarasota, and Saint Augustine. It is one of the best restaurants in Florida you must try! Located in the historic district in St. Augustine it only makes sense one of the oldest Florida restaurants opened a location in the Nations oldest city!
The award-winning Spanish and Cuban food us served in a fun dining experience. The restaurants serves local Gulf seafood and family recipes that have been passed down from generations before. And is the perfect place to stop in for lunch when exploring historic Saint Augustine.
Entree favorites include Paella a la Valenciana with seafood, la Completa Cubano feast with roast pork, empanadas, the 1905 salad which is big enough for the table, Grouper Jimmy and stuffed shrimp!
Lunch is served until 4 pm try the chicken and yellow rice, palomilla steak, mahi-mahi, meatloaf or an original Cuban sandwich. Make sure to leave room for dessert like key lime pie or churros.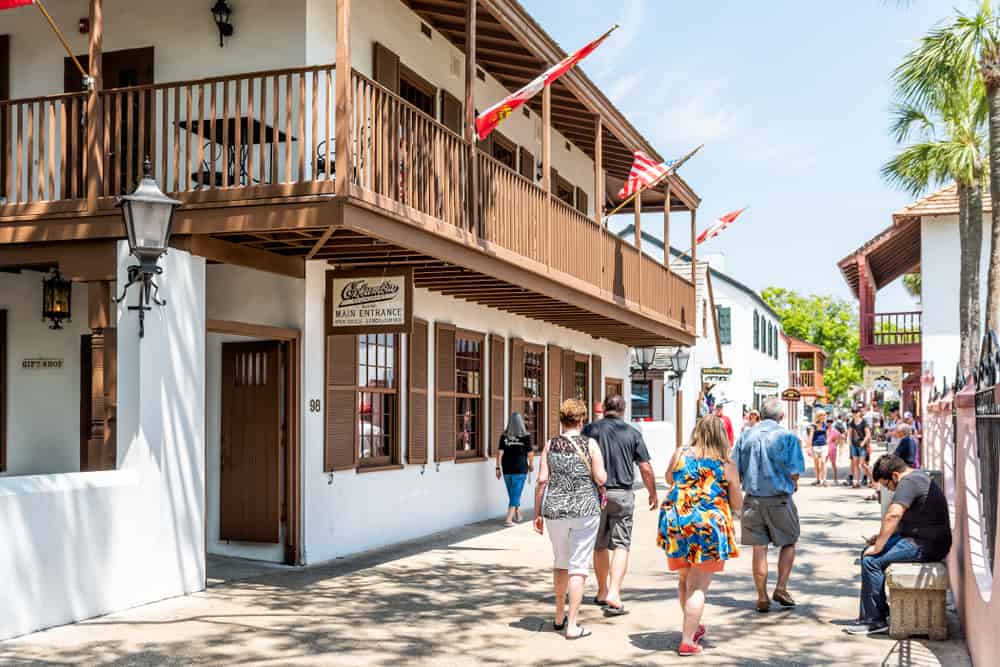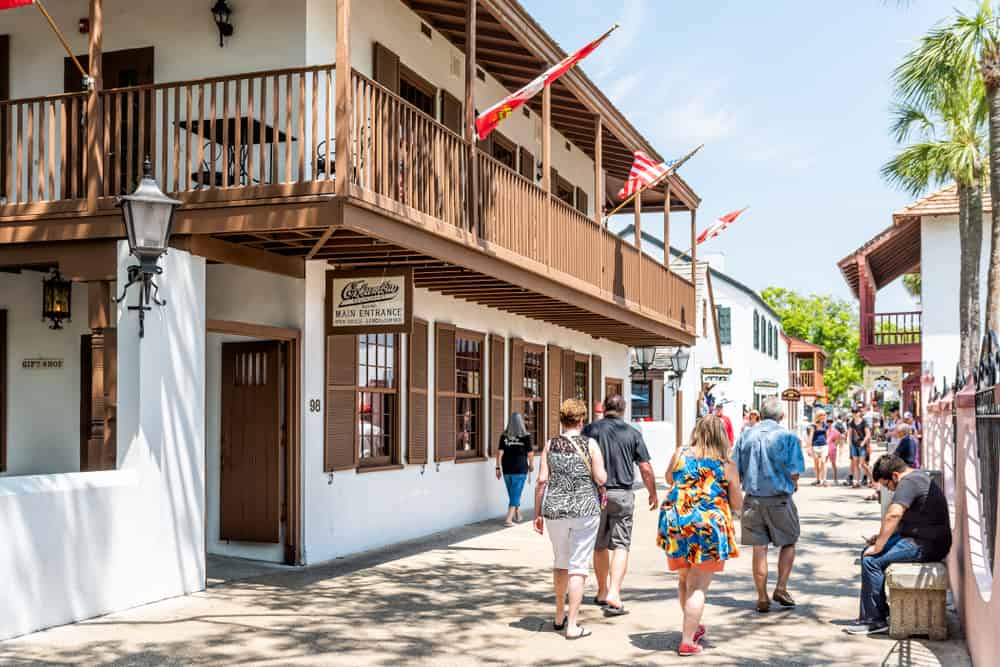 Trolley Tours
Trolley Tours is one Saint Augustine attractions for both daytime or one of the things to do in Saint Augustine at night! Tickets can be purchased for either 1 day, 2 day or after dark night time tour during the holiday season to view the lights of the city.
The Trolley Tours are live narration by a knowledgeable guide, and are hop on hop off with over 22 stops for the last 30 years. The tour guides narrates you though America's oldest city on the green and orange trolleys.
The loop takes about and hours and half if you don't get off, however the trolley comes by each stop every 20 minutes and includes admission to the Saint Augustine History Museum as well as service to most hotels.
Book Tours Here: Trolley Hop on Hop Off Tour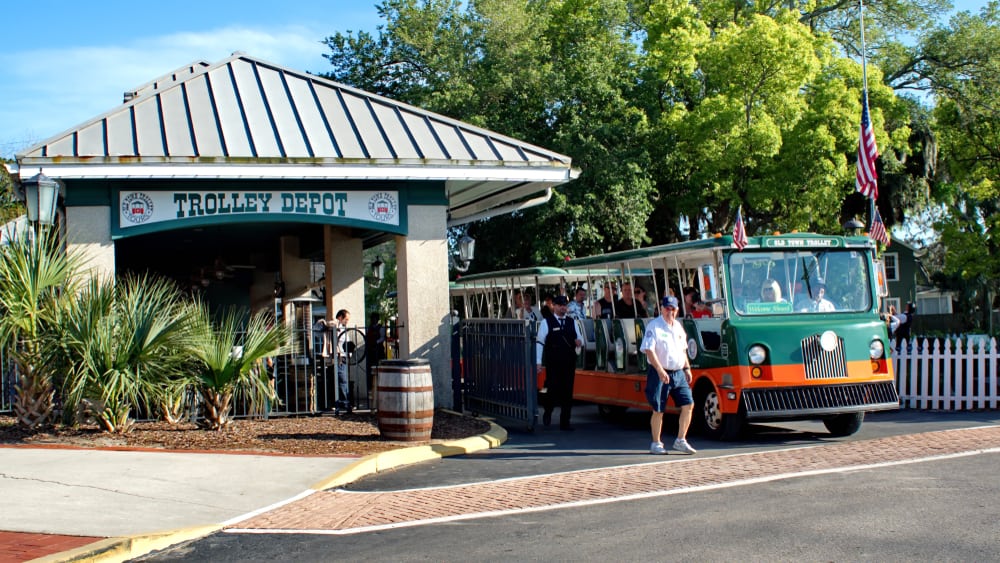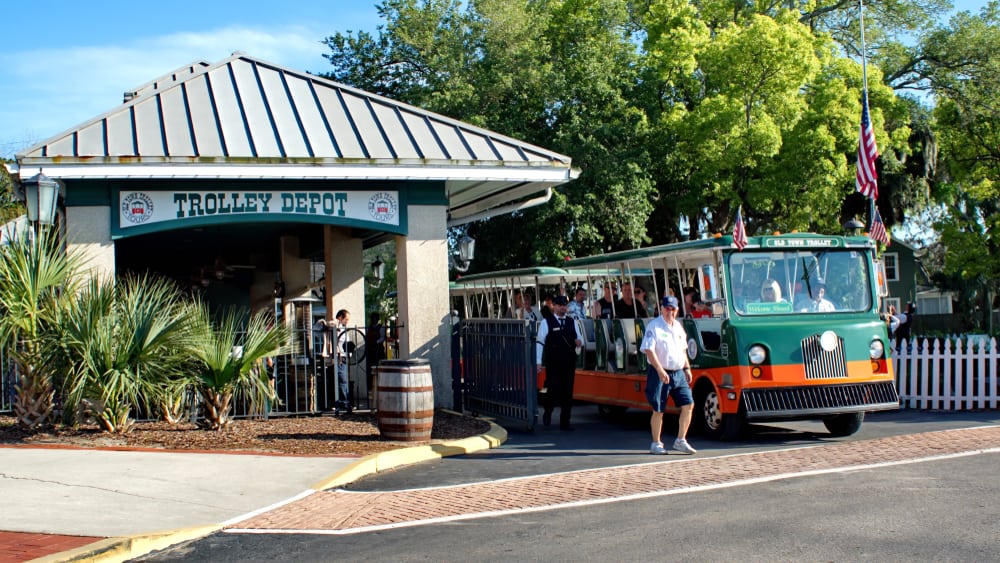 Haunted Tours
Saint Augustine is known for haunted ghost tours. This city has a history filled with ghost stories over the past few hundred years making it the perfect city for your next paranormal vacation! Perfect if visiting in the fall or during halloween time!
We have a list of the best Saint Augustine Ghost tours for you to check out while visiting. This is one of the best things to do in Saint Augustine at night as you walk or ride around the nations oldest city and experience paranormal tours, ghost tours, historical sights after dark.
Book Tours Here: Haunted Tours in Saint Augustine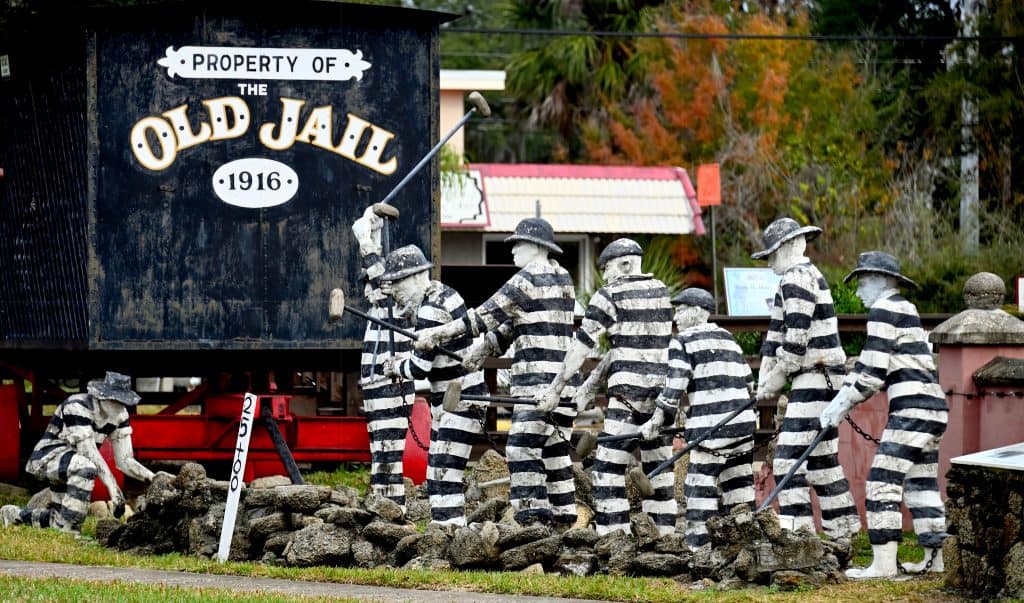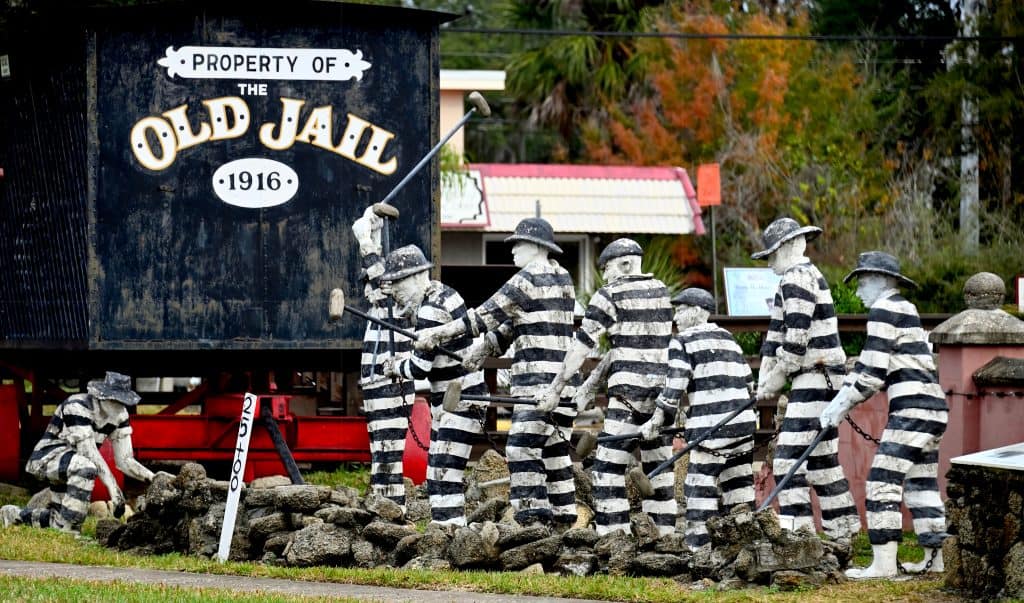 Visit The Lighthouse
Saint Augustine Lighthouse is the oldest lighthouse in Florida and should be a must visit Saint Augustine attraction. Building began in 1871 and took 3 years to complete and was first lit on October 15, 1874 and is still an active lighthouse today!
The lighthouse stands 167 feet tall with 219 steps to the top with distinct black-and-white spiral stripes, topped by a red lantern guarding Florida's oldest port and was built using brick. You can learn about the over 500 years of history at the museum located on property.
For families with small children or those under 44 inches (who are not allowed to climb steps) there is a family fun ship yard playground at the base of the lighthouse.
Admission is $12.95 for adults and $10.95 for seniors and children 12 and younger.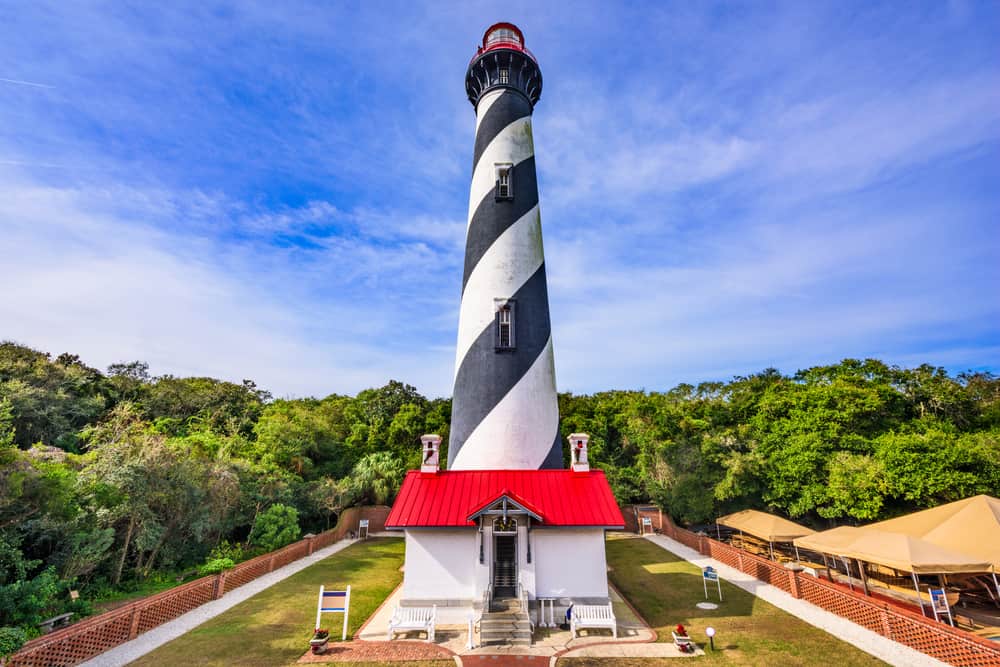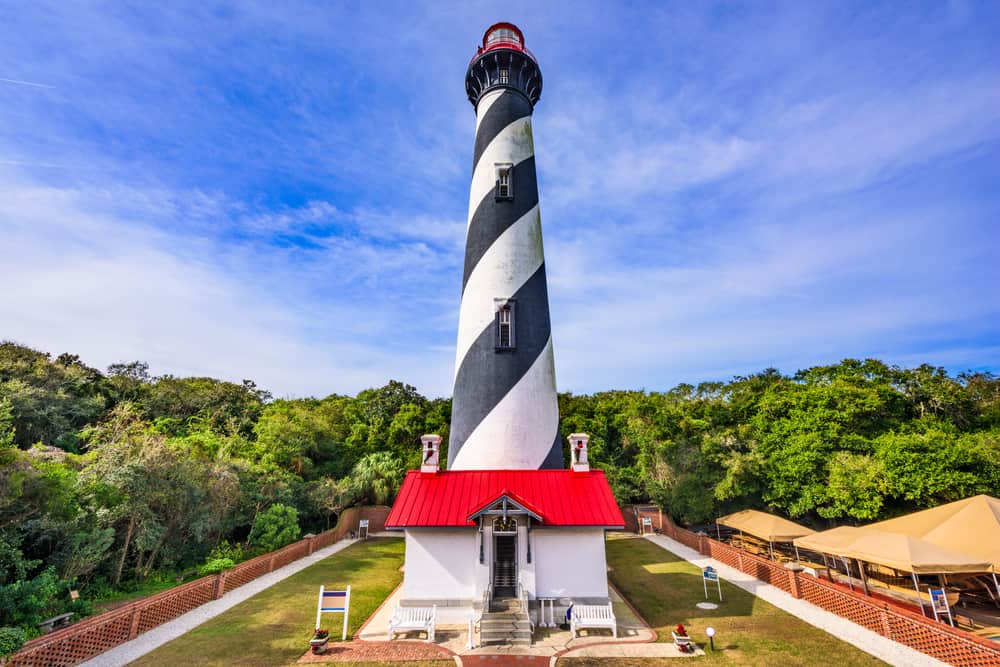 Saint Augustine Distillery
Saint Augustine Distillery is located in historic area and is one of the activities in Saint Augustine for those 21 and older. Founded in 2013 by 20 local families the Distillery aims to educate guests on the spirits in one of the most visited distillery's in the United States.
If you love whiskey or and interested in learning about whiskey the Saint Augustine Distillery run the number one whiskey tour in North America. It is free and runs 7 days a week! Making it one of the great free things to do in Saint Augustine.
The distillery is housed in the historic Ice Plant building and you will learn about distillation process and how local agriculture is turned into amazing spirts.
Castillo San Marco
Castillo San Marco is one of the best National Parks in Florida and is located in Saint Augustine. This monument was built by the Spanish to control their empire from other European powers. In 1763 after the Treaty of Paris it was controlled by the British.
Built by Spanish over a 23 year period in the 17th century (1672-1695) it protected Saint Augustine from both pirates and the British who attacked in 1702 and burned much of Saint Augustine down.
A visit to Castillo San Marco will transport you back over 315 years though the history of the oldest masonry Fort in the United States. Take a ranger led tour and visit the soldiers rooms, cannon firing, gun deck and more!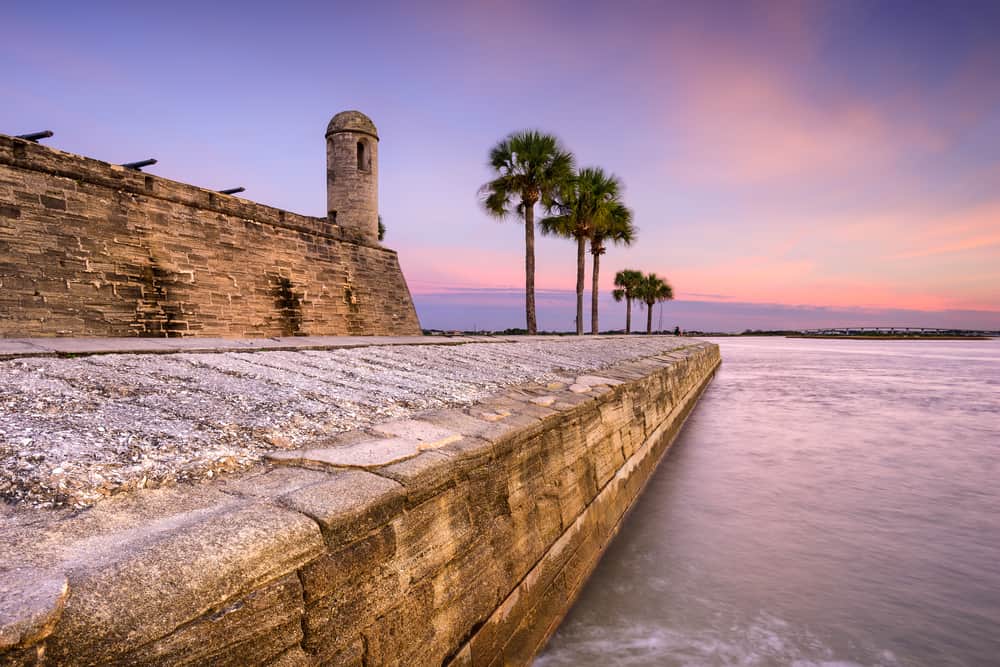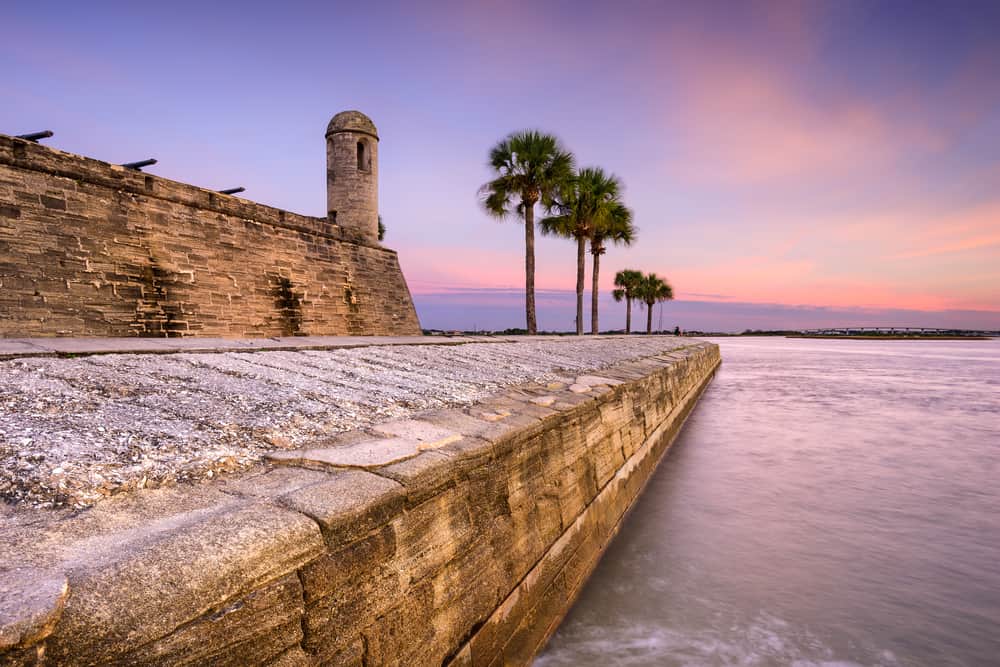 Lightner Museum
The Lightner Museum is one of the Saint Augustine attractions. Housed in the former Alcazar Hotel built by Henry Flagler known for it opulence and attracted over 25,000 guests in the late 1800's and 1900's. It was known as the palace of happiness.
Founded in 1948 the Lightner museum has curated one of the best fine and decorative arts collections in the country. From paintings, furniture, stained glass, and the Otto Lightner Collection the museum gives a glimpse into life in the 19th and 20th century Gilded Age.
If needing a place to stay checkout our suggestion for Bluefish Bungalow one of the Airbnb cottages near the museum. Click HERE to check rates on Airbnb!
Castle Otttis
In St. Augustine you can find historic Castle Otttis which was built by Ottis Sadler and Rusty Ickles in 1988. This castle was built " in remembrance of Jesus Christ" and took over 3 years to complete. Castle Otttis is open for tours by appointment only.
The Castle was based on design of Irish Castles from the 20th century and you can view turrets rising above the trees as you enter the castle. It stands open to the elements with its rock walls standing over 50 feet tall acting as a landscape design.
Catholic historians helped design the interior to evoke the atmosphere of an Abbey, or an old Irish church. Castle Otttis is a deeply religious experience and visitors should act with respect. Visitors can attend scheduled religious services here which can be found on the website.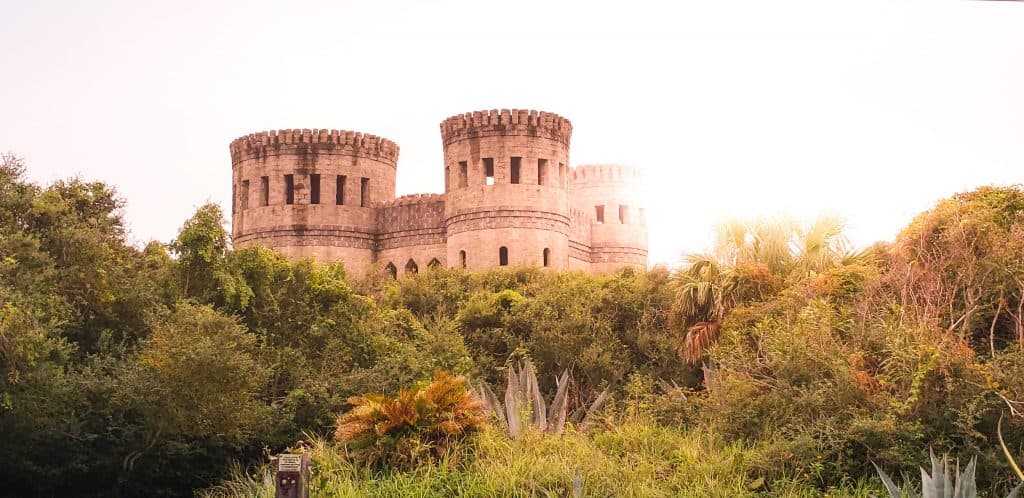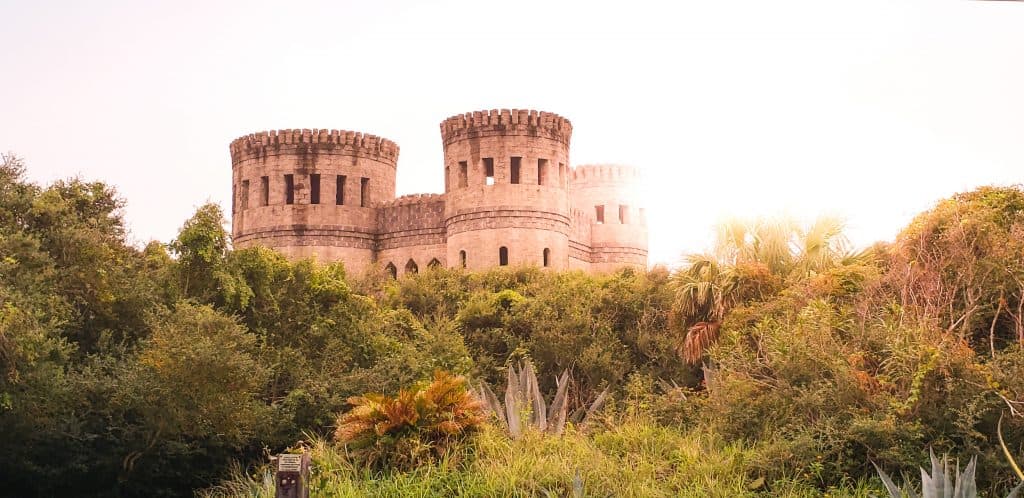 Anastasia State Park
Anastasia State Park is one of the pristine white sand beaches to visit in Saint Augustine. It costs $8 per car to enter the 1600 acre state park known for its wildlife, beautiful beaches, marshes, and sand hammocks.
For those who love adventure or outdoors Anastasia State Park should be on your list of things to do in Saint Augustine. From canoeing to kayaking, biking to hiking the Ancient Dunes Trail, fishing or enjoying the 4 miles of pristine white sand beaches.
Make sure you explore the old Spanish coquina quarries that began mining coquina in 1671 for the nearby Castillo San Marcos Monument and you can also see the Saint Augustine Lighthouse.
This is one of the most epic places to camp in Florida with over 139 full service campsites many of which are located right off the beach!
San Sebastian Winery
If you are looking for things to do in Saint Augustine head to San Sebastian Winery. Founded in 1996, the Winery is located inside one of Henry Flagler's old railroad buildings in historic area of downtown!
The tours and tastings are complimentary and you will enjoy exploring the winery and learning about the winemaking at San Sebastian Winery. The last step of the tour is tasting the delicious Florida wines!
The grapes are grown on a 75 acre vineyard in nearby Clermont Florida as well as along the Florida panhandle. Head to the third floor of the winery and visit the The Cellar Upstairs, serving wine alongside delicious appetizers and live music on the outdoor deck on Friday, Saturday and Sunday.
If looking for one of the best restaurants in Saint Augustine after visiting San Sebastian Winery, Crave is located across the street.
Fort Matanzas National Monument
Fort Matanzas is a National Monument in Saint Augustine that was completed in 1742. The fort used fortified coquina to fortify the Spanish Military settlement of Saint Augustine against the British. It protects Saint Augustine along the Atlantic coast of Florida to guard the Matanzas inlet and river.
Visitors to the fort will take a free five minute ferry ride to the fort located on Rattlesnake Island and are issued at the Visitors Center at the Fort for free. Fort Matanzas name means "slaughter" and was named after 1565 when Menendez killed 250 French Huguenots.
The Fort frequently hosts reenactments and living history demonstrations to visitors on Wednesday and Saturdays. There are also walking trails and a boardwalk through the forest where one can find shells, fish or picnic for lunch.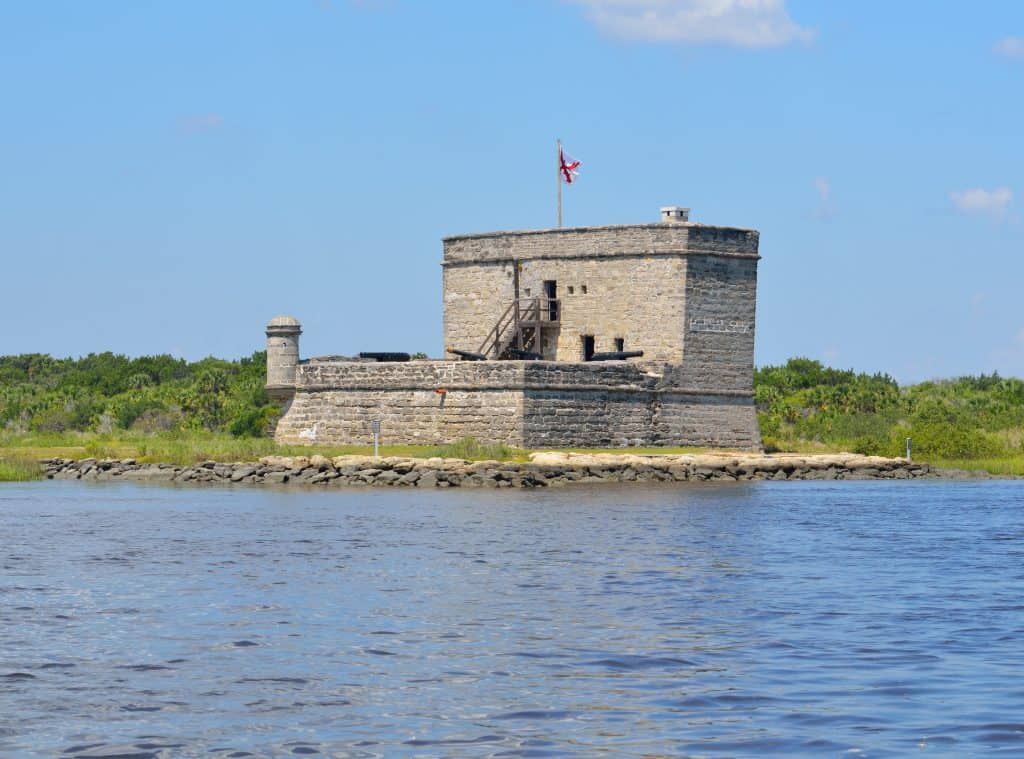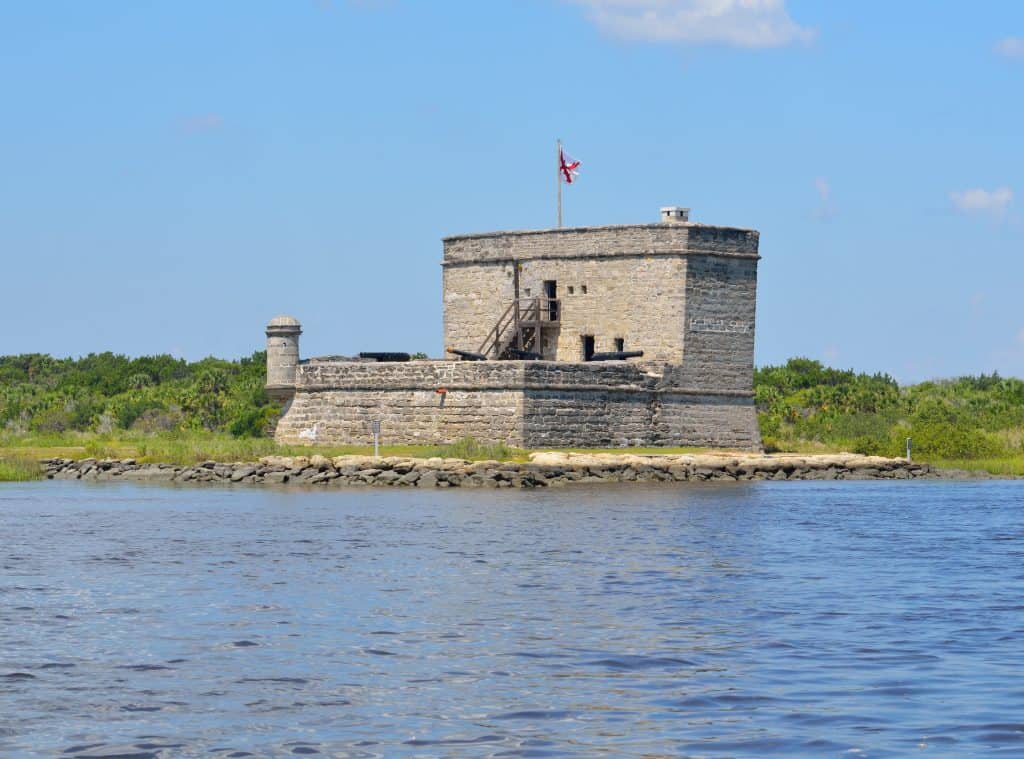 World Golf Hall of Fame
The World Golf Hall of Fame is open daily ( minus Thanksgiving and Christmas Day) from 10 am to 6 pm Monday through Saturday and 12 pm to 6 pm on Sunday! Admission is $20.95 and $5 for children.
I've actually been here with my Dad multiple times growing up as he is a HUGE golf fan!
Located at the World Golf Village in Saint Augustine this museum is interactive. From the Hall of Fame Challenge to Golf Simulator, a visit to the members locker room, as well as learning about the history of golf from Scotland to the Hall of Fame and a theater telling stories of golf this is a great place to visit for golf lovers.
There are special exhibits that rotate through the year re-creating some of golf's most iconic holes, the players experience where stories are told from the tournaments members and more.
If you are looking for the best golf courses in Florida check out our list!
St. Augustine Pirate & Treasure Museum
The Saint Augustine Pirate and Treasure Museum is one of the fun things to do in Saint Augustine! This is the perfect museum to visit for families as it transports you back through 300 years of history all the way back to Jamaica!
Opened in 2010 you will be discover pirates of Sir Francis Drake and Robert Searles, you will be transported though different exhibits and over 800 artifacts.
At the museum you can view the world's oldest wanted posters, Blackbeard's treasure, oldest treasure chest, real cannons, Jolly Rogers's Flag and guided pirate tours throughout the day. There is even a treasure hunt though the museum to keep the children entertained.
Book Here: St. Augustine Pirate and Treasure Museum Tickets
Ponce de Leon's Fountain of Youth Archaeological Park
The Ponce de Leon's Fountain of Youth Archaeological Park is one best things to do in Saint Augustine if looking for something educational to do. Since 2400 BC the Native American Timucuan people began putting down roots in the area.
Located in 1513 by Ponce de Leon and being settled by Pedro Mendez Aviles in 1565 this is the oldest settlement in North America as it was founded 55 years before the pilgrims settled Plymouth Rock.
From exploring the land, waters and the Timucuan civilization, the spring where the fountain of youth was discovered and it is the oldest attraction in Saint Augustine and Florida! You can even take a sip of water from the spring like Ponce de Leon said. Or visit the Timucuan burial ground.
Admission is $18 for adults and free for children under 5 or reduced admission for those living in the area at just $9 for admission.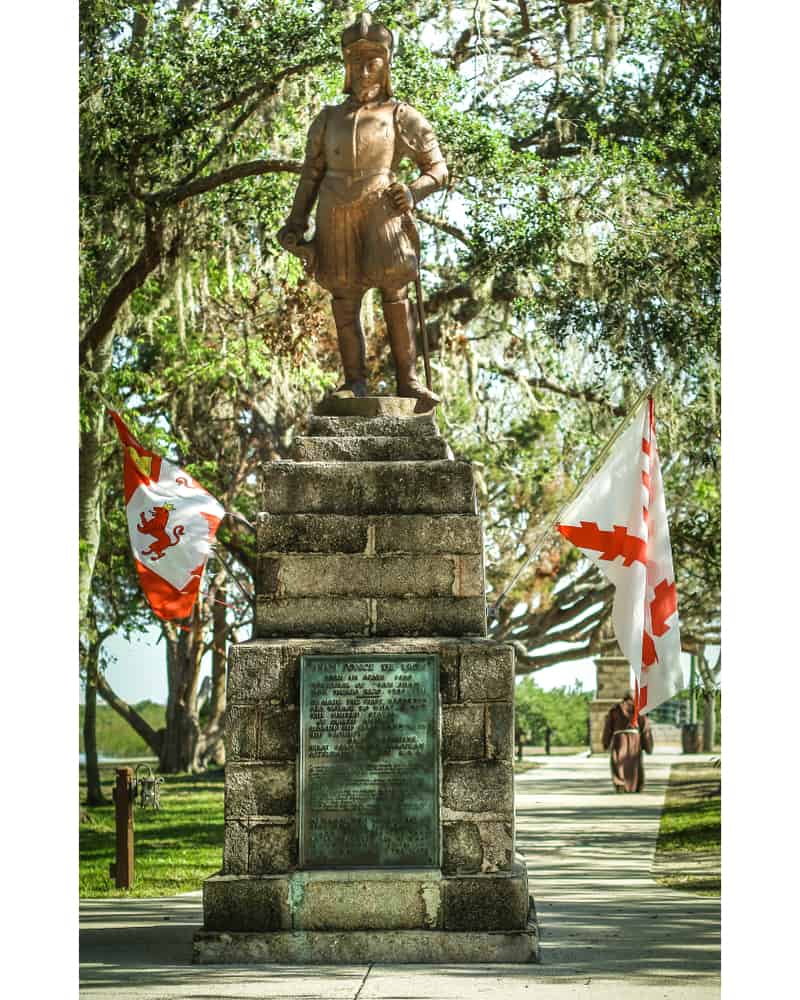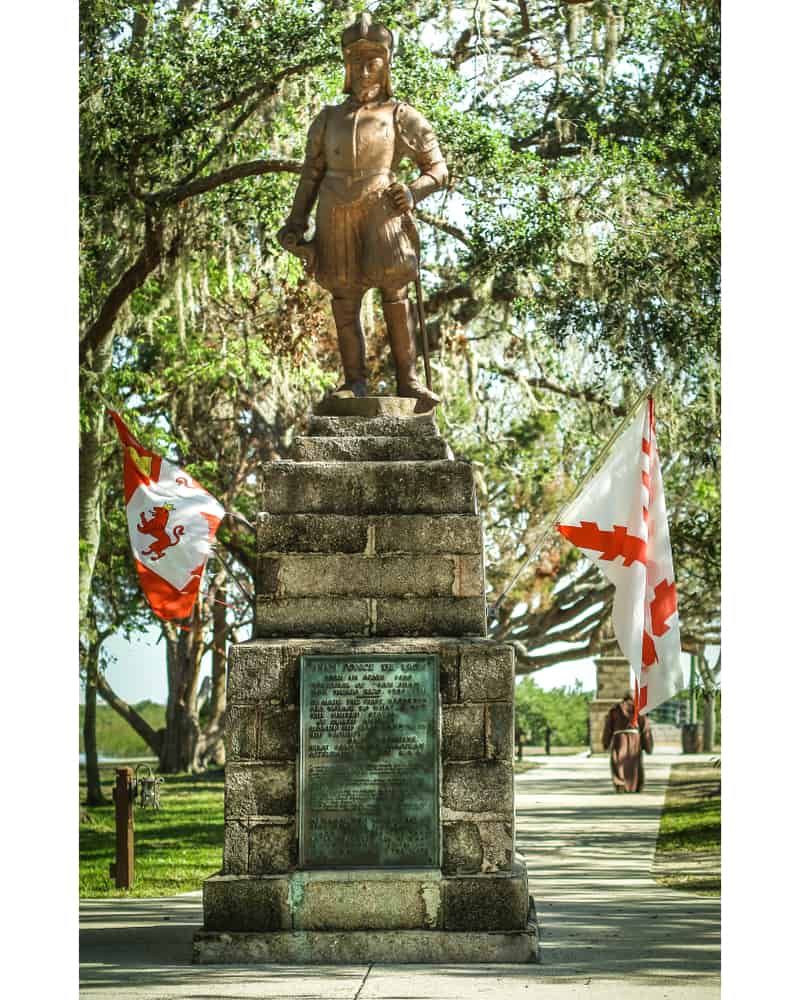 Did You Find This Post Helpful?
If so, we would love to keep in touch! We enjoy seeing photos and comments about your experiences in Florida! You can follow us on Instagram and we will repost your photos on our feed and comment too! Just tag us at @floridatrippers and hashtag #floridatrippers. We can't wait to see your travels!