Are you looking for the best things to do in Treasure Island, Florida? Look no further! We have all the things you shouldn't miss in Treasure Island.
This pleasant little city sits on a barrier island on the Gulf of Mexico. That means beautiful, warm waters and stunning sunsets!
Treasure Island, FL makes a great day trip from St. Petersburg, being just a twenty-minute drive away from downtown St. Pete. It also happens to have one of the best beaches in the St. Pete and Clearwater area.
While it may feel a little touristy, Treasure Island is a quintessential Florida beach town. Whether you're looking to relax on the sand, get out on the water, or shop unique souvenir shops, Treasure Island offers everything you need for a fun beach day.
So grab your sunscreen and get ready to explore the best things to do in Treasure Island, FL!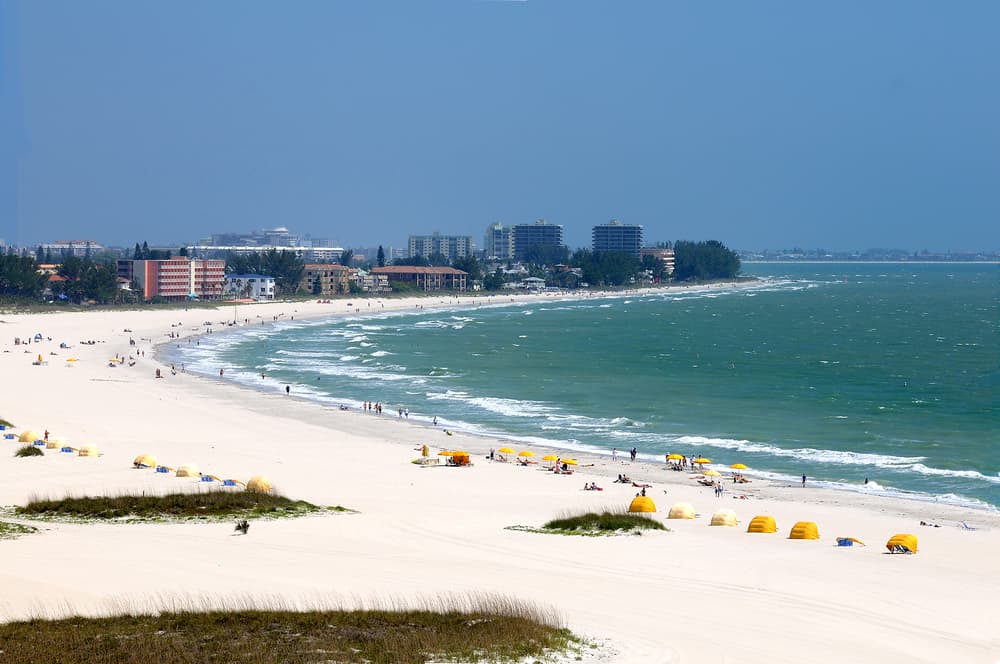 12 Best Things To Do In Treasure Island FL You Shouldn't Miss
Go to Treasure Island Beach
From my experience, you can't visit Treasure Island and not visit the beach! It's one of the best things to do in Treasure Island. Going to the beach is the whole reason to visit a Florida beach town after all.
If you're looking for a quiet spot, you can definitely find it at Treasure Island Beach. With three beachy "neighborhoods", you can find the vibe that suits you best.
In the middle, you have the widest section, known as Treasure Island Municipal Beach. Here you will find the most hotels, shops, and restaurants. You'll also have the .85-mile-long Treasure Island Beach Trail, which runs parallel to the water.
If you walk north or south, the beach will narrow a bit, and it will become more residential. To the north lies Sunrise Beach, and to the south is Sunset Beach, where a boardwalk covers the southern tip of the island.
At any of these sections of the beach, you can expect the iconic beauty and warmth of Gulf beaches!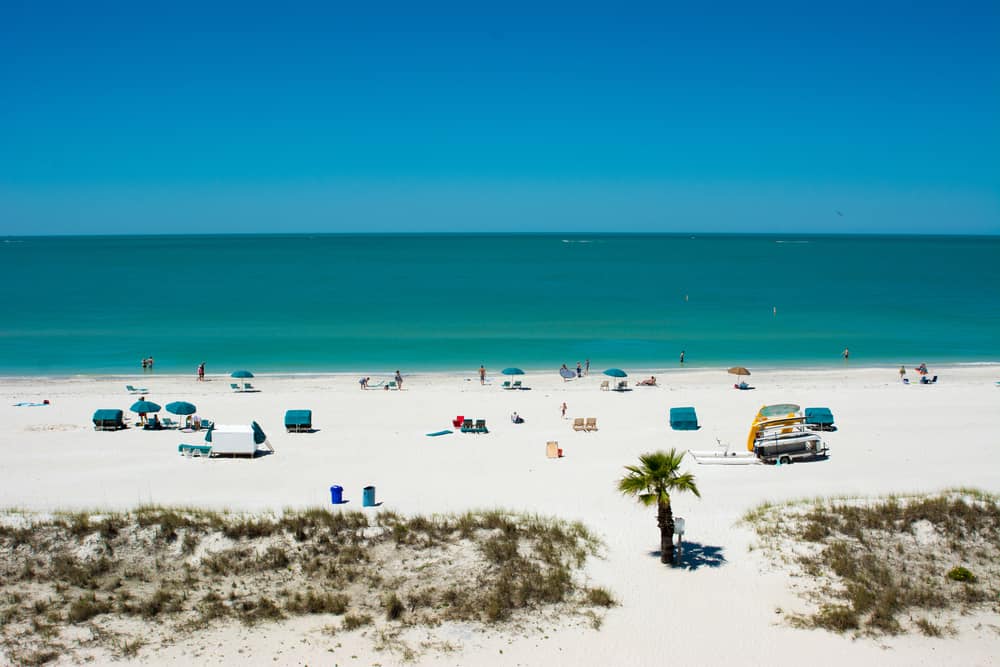 Join the Sunday Sunset Drum Circle
If you happen to visit Sunset Beach on a Sunday evening, you can catch the weekly sunset drum circle! Experiencing this Sunday ritual is definitely one of the more unique things to do in Treasure Island.
Drummers start playing around 4 pm until the sun goes down. All are encouraged to drum along if you have anything to play. If not, feel free to dance! If you don't want to participate, it's totally okay to bring a beach chair and be an audience member.
The drum circle takes place on Sunset Beach, behind Sloppy Joe's.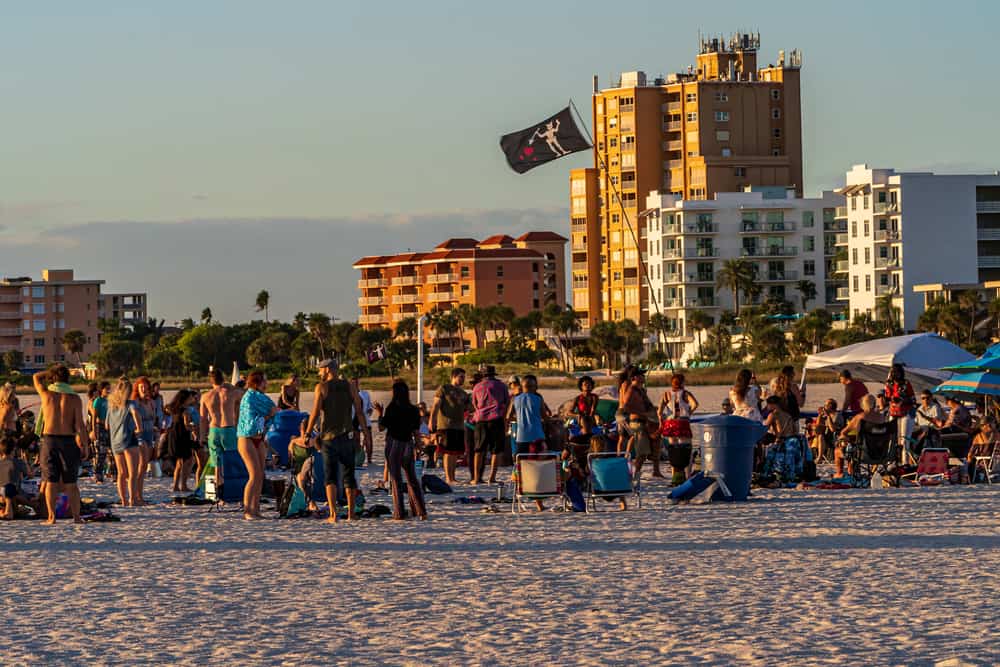 Visit the Florida Shell Shop
If you don't feel like shelling, or your searching hasn't yielded any treasures, head to the Florida Shell Shop. Visiting this unique souvenir shop is one of the best things to do in Treasure Island, FL for those who like shells, or just want to visit a fun store!
The Florida Shell Shop has been around since 1955. It is a family-owned and operated business, offering more kinds of shells than you could possibly imagine. They have everything from local shells to coral to sea glass.
The Florida Shell Shop prides itself in providing a feeling of "Old Florida". When you step into the shop, you might feel like you've stepped back in time.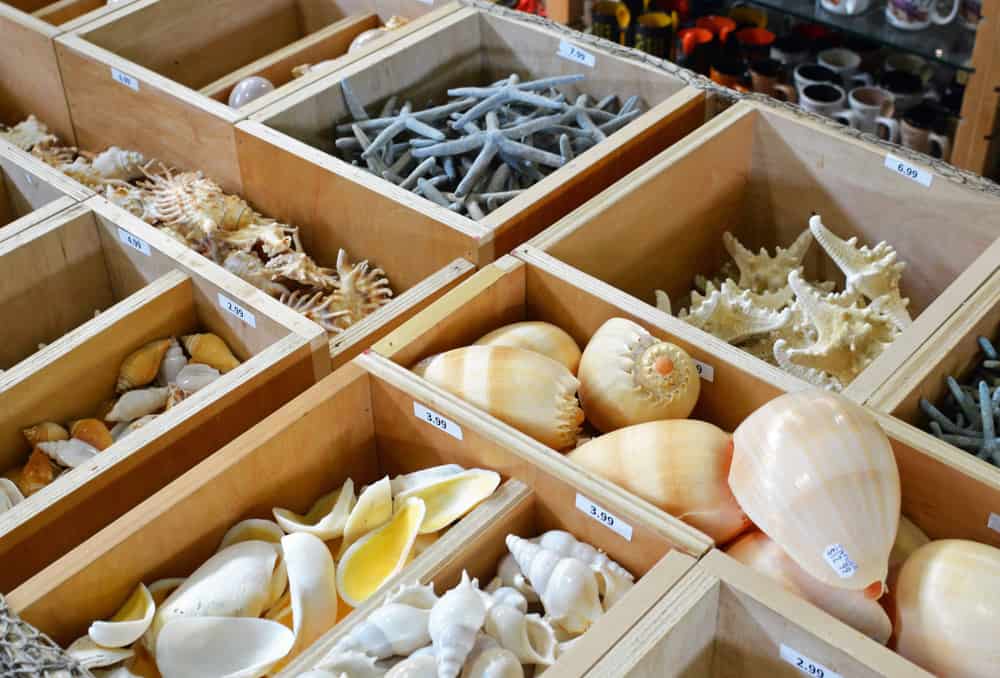 Go on a Dolphin Cruise
If you're looking for fun things to do in Treasure Island, try going on a dolphin cruise! This adventurous outing will get you out on the water, and you'll be able to see some of the ocean's cutest creatures.
Adventures Cruises offers a combined dolphin-watching and shelling cruise. Leaving from Sea Dog Restaurant and Brew Pub in Treasure Island, they'll take you out on the water for two hours.
You'll be able to see dolphins in their natural habitat! Adventures Cruises prides themselves on being the first "Dolphin SMART" certified charter boat company in West Central Florida. You can rest assured that the crew has been trained in how to observe dolphins respectfully. Plus, you'll probably learn a thing or two about this special specie!
Adventures Cruises will also take you to the aptly-named Shell Island, where you can find some treasures to take home.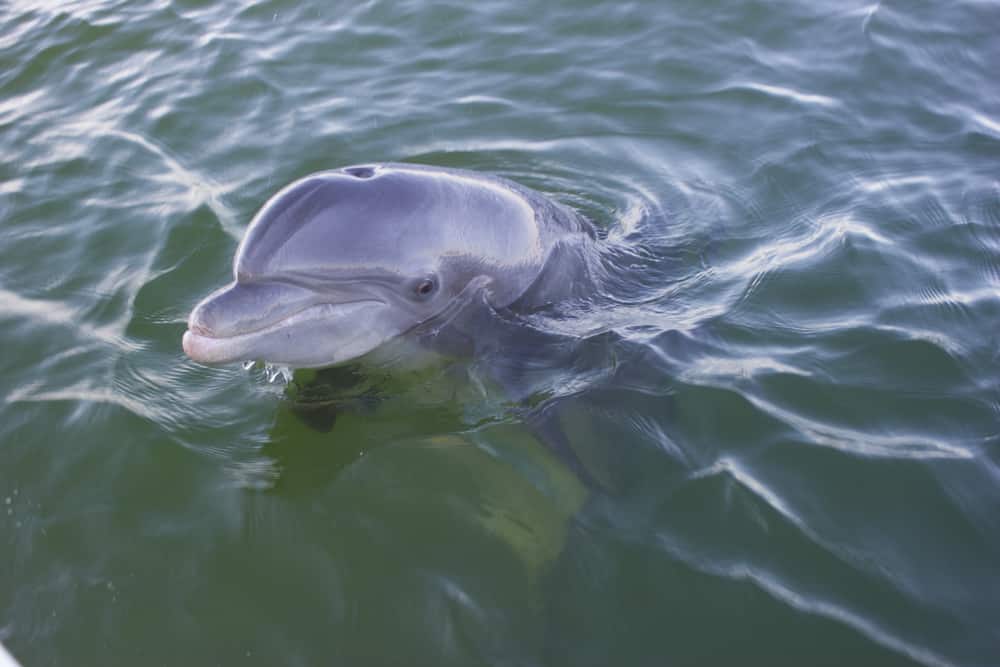 Visit Johns Pass
One of the best things to do near Treasure Island lies just to the north, in Madeira Beach. Just about a mile and a half from Treasure Island sits Johns Pass. This popular business hub across the water is full of restaurants and shops, with a bit of a pirate theme.
The water between Madeira Beach and Treasure Island was named John's Pass after a pirate named John Levique, who was said to be the first to pass through the narrow channel caused by a hurricane in 1848.
Wander the wooden boardwalk, stop in a bar for some grog, or keep an eye on the water for dolphins.
If you're making a day of it, many tours leave from Johns Pass…including a pirate ship cruise!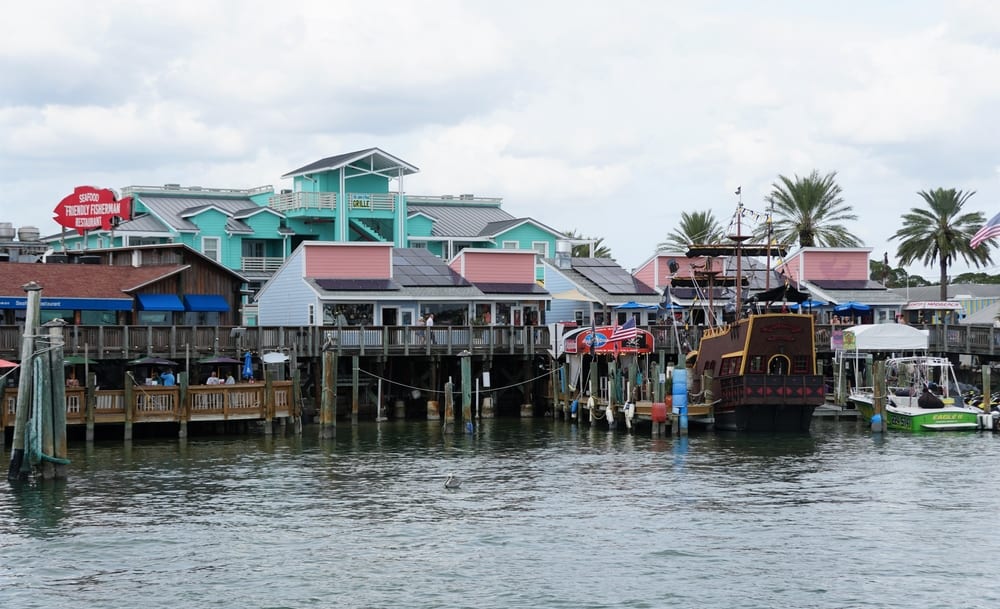 Eat at Caddy's Waterfront
Although there are now multiple locations, the original Caddy's Waterfront location can be found on Treasure Island's Sunset Beach! Ordering from Caddy's is one of the best things to do in Treasure Island for those who want a good meal, but don't want to leave the beach.
Open for breakfast, lunch, and dinner, Caddy's serves up some great seafood, like grouper nuggets and Mahi tacos. Of course, they also have plenty of frozen adult beverages, like a "Rocky Margarita" and strawberry daiquiris.
You may come to Caddy's for the food and drinks, but you'll stay for the atmosphere. You can sit inside, outside, or even rent beach chairs so you won't have far to go when you need a refill! Catch live music in the evenings and as you watch the sunset.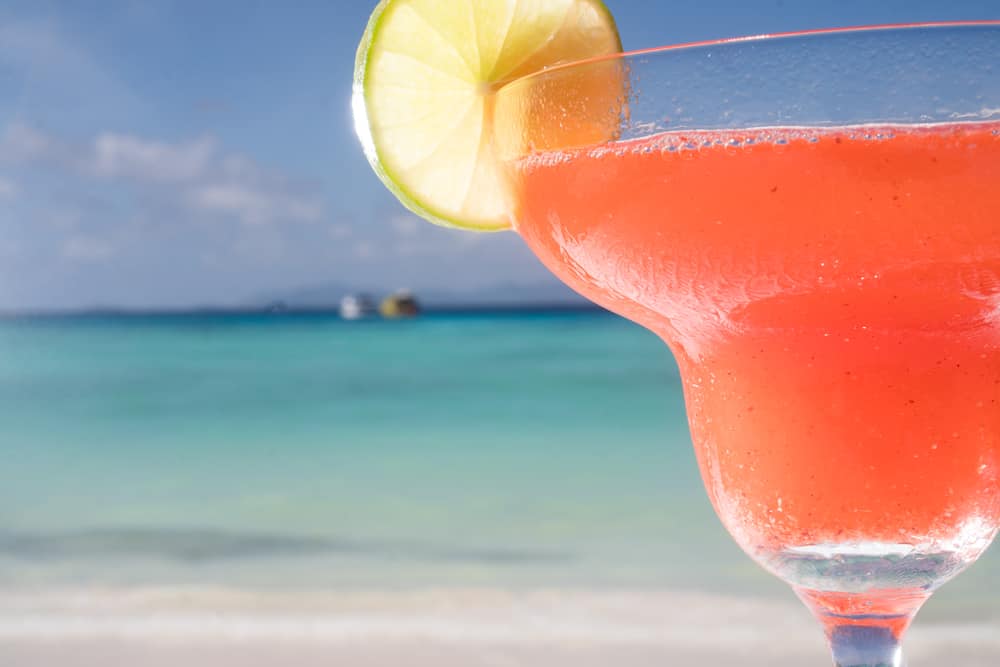 See the Sanding Ovations
One of the absolute best things to do in Treasure Island, FL is to catch the Sanding Ovations! This sand-sculpting competition brings sand castles to a whole new level.
If you visit Treasure Island in November, definitely head to the beach to see these awesome works of art. Treasure Island is officially Florida's Sand Sculpture Capital, and sand sculptures come from all over the world to compete.
Sanding Ovations is one of the best Treasure Island attractions for the whole family. In addition to the impressive sculptures, there is kite-flying, fireworks, a food court, and an arts and crafts marketplace.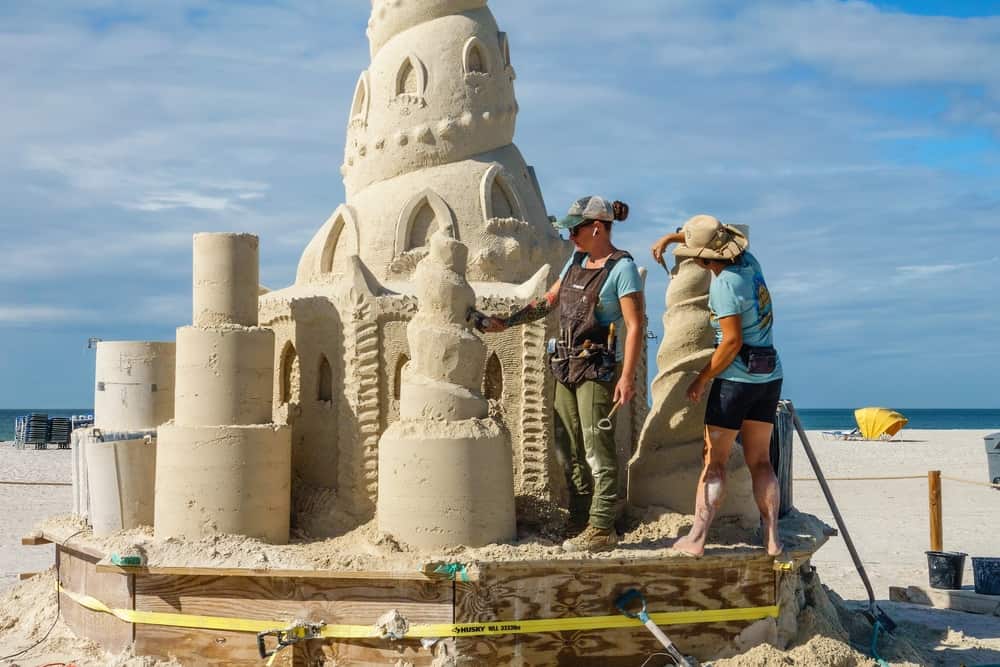 Play at Treasure Bay Golf & Tennis
If you are a golf player, one of the best things to do in Treasure Island is to head to the green! This nine-hole, par-three course is a great place to practice and spend the day outdoors.
Open seven days a week, Treasure Bay Golf & Tennis is a public facility, so you don't have to be part of a club to play! Prices vary from winter to summer, but you can play a round for under $20 (plus a discount if you're a resident).
Treasure Bay Golf & Tennis is located on the water, so you can take in some great views of Boca Ciega Bay while you play.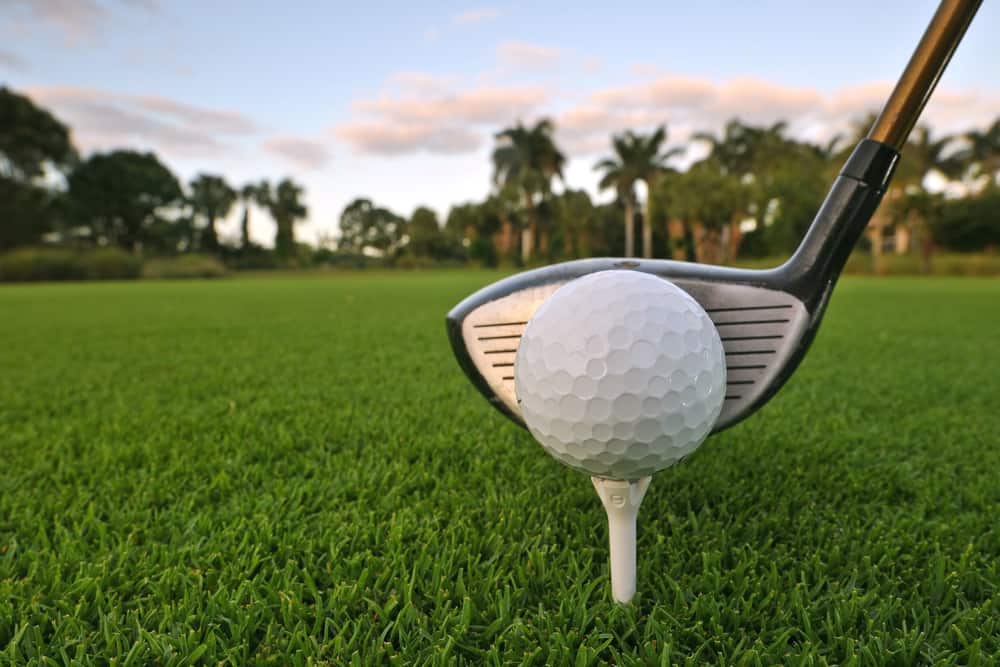 Treat Yourself at Shake Shop
For those with a sweet tooth, one of the best things to do in Treasure Island is to visit Shake Shop. As the name says, they are the place to go for all things milkshakes and ice cream!
This family-owned business is a true Treasure Island, FL establishment. Don't be surprised if you see a line out the door! Known for their creamy soft serve, Shake Shop serves up shakes, floats, and sundaes. Folks particularly love the peanut butter shakes and the banana split in a cup!
The best part is that Shake Shop is right near the beach, so you can take your ice cream or milkshake with you and enjoy it by the water.
Sail Aboard a Schooner
One of the most romantic things to do in Treasure Island for couples is to go for a sail at sunset! Climb aboard the schooner, Suncoast Horizon, and take in the gorgeous colors of a west coast Florida sunset.
Suncoast Horizon departs from (and returns to) The Club: Treasure Island. You'll sail for two hours, beginning an hour before sunset, so you can get that golden-hour glow as well. This Treasure Island activity is great for those looking to avoid crowds, as the tour only takes a maximum of 28 people.
There is complimentary water and soda, but you are welcome to bring your own drinks on board! Suncoast Horizon will provide a cooler, and Mother Nature will provide the romance.
Book here: Suncoast Sailing's Sunset Sailing Experience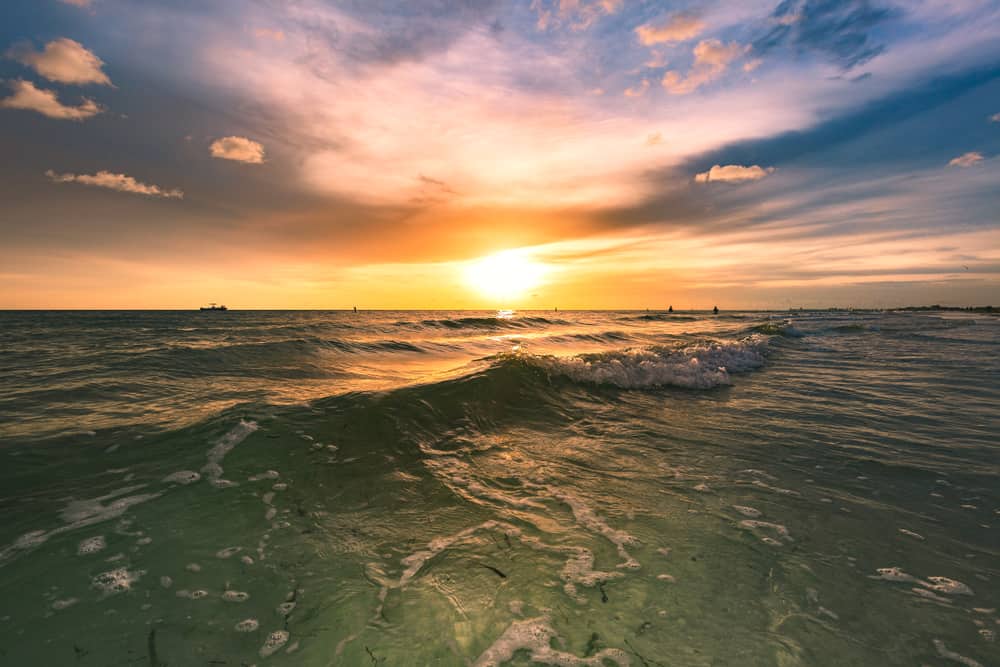 Walk the Causeway
Treasure Island, FL is indeed an island, connected with bridges to the north and south. However a third allows you to get your steps in by walking the Treasure Island Causeway! It's one of the best things to do in Treasure Island for those looking for a new exercise route.
Whether you are walking, running, or biking, the Treasure Island Causeway offers lovely views of Boca Ciega Bay and the beautiful homes along the water. Stop at Sunset Park on the St. Pete side before turning back around toward Treasure Island.
At about one-fifth of a mile one way, walking the Treasure Island Causeway won't take very long. You may have to wait a minute though when the drawbridge is up to let boats pass through!
Visit Clearwater Beach
If you are running out of things to do in Treasure Island, you can always take a trip further north! And by that, we mean just a 45-minute drive away to Clearwater Beach.
Similar to its southern neighbors, Clearwater Beach is a laidback seaside community. There you can visit one of the best white sand beaches in Florida, and wander down the popular Pier 60. You can also visit the aquarium that inspired the 2011 film Dolphin Tale!
If you don't want to drive to Clearwater Beach, try taking the Suncoast Beach Trolley, which makes stops in both Treasure Island and Clearwater Beach.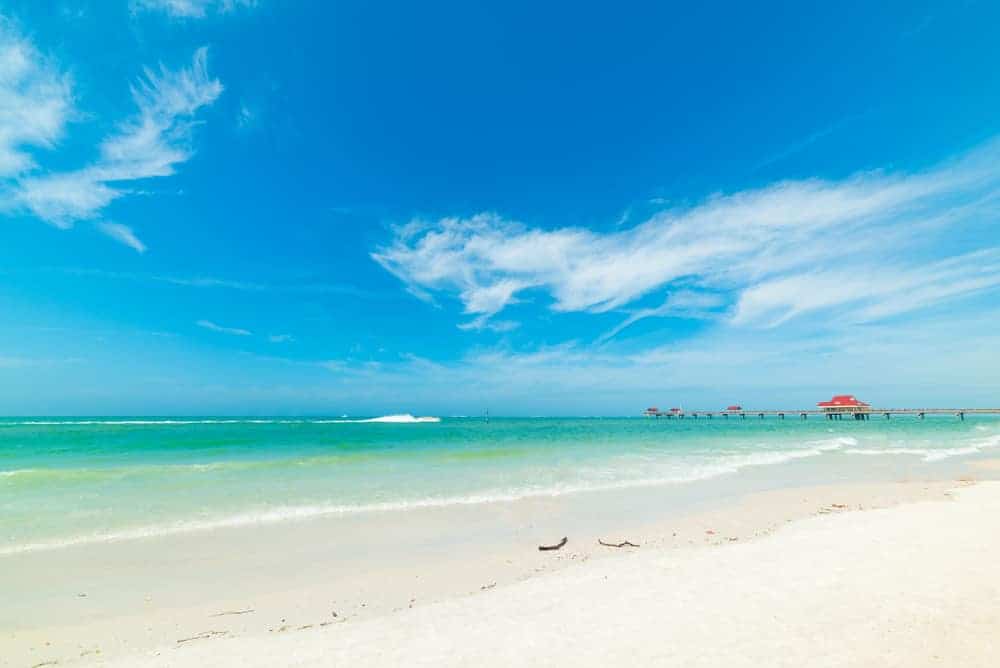 Whatever you decide to do, whether it's supporting the family-owned businesses or visiting the beach, we hope you enjoy your visit to Treasure Island, FL. Maybe you'll even find some "treasures" to take home with you!