Are you looking for a list of the best Clearwater Beach restaurants? We have you covered with the best places to eat in Clearwater Beach, Florida.
Clearwater Beach has earned itself on the lists published by Trip Advisor, USA Today, and the Travel Channel as one of the best beaches in the area perfect for families, spring breakers and girlfriend get-a-ways. After spending your day enjoying the powdery white sand and warm water or one of the various actives on the beach you are sure to work up an appetite.
Head to any of these restaurants in Clearwater Beach for some of the freshest seafood often with restaurants serving fish they caught locally, fun beachside bar and grills, upscale fine dining for those special occasions, hot brunch restaurants, causal meals like pizza, sushi, and poke you are sure to find something for everyone in your group. If you are looking for places to stay checkout our list of the best hotels for all budgets in Clearwater Beach!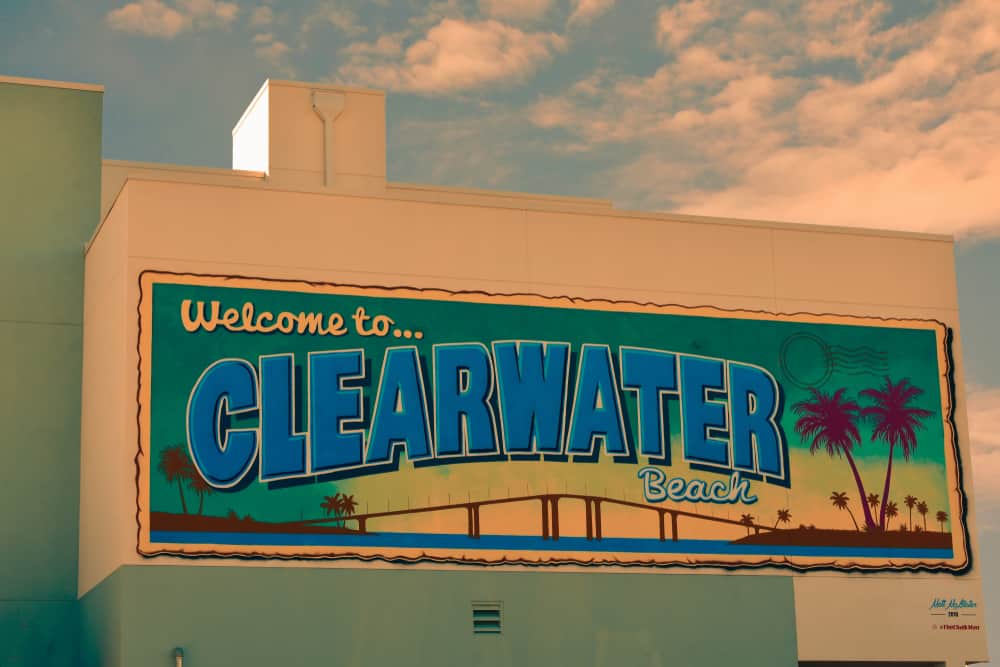 15 Best Clearwater Beach Restaurants You Should Try
Palm Pavilion Beachside Grill and Bar
As the name suggests, Palm Pavilion is one of the beachfront Clearwater beach restaurants that also has a great bar! This laid back establishment is where locals have been hanging out since 1926. Enjoy the large deck with live entertainment, a great happy hour and delicious food.
The menu features beach style nachos, shrimp and crab chowder, battered grouper bites, coconut shrimp and family favorite mozzarella sticks.
From beach bowls that can be customized with your choice of fish or meat to burgers, grouper sandwich done one of several ways to grilled chicken sandwich the menu has something for everyone.For cocktails try the Palm Rum Runner, Beach N Rita, Palm mojito, frozen key lime colada, and local beer from Cigar city and 3 daughters.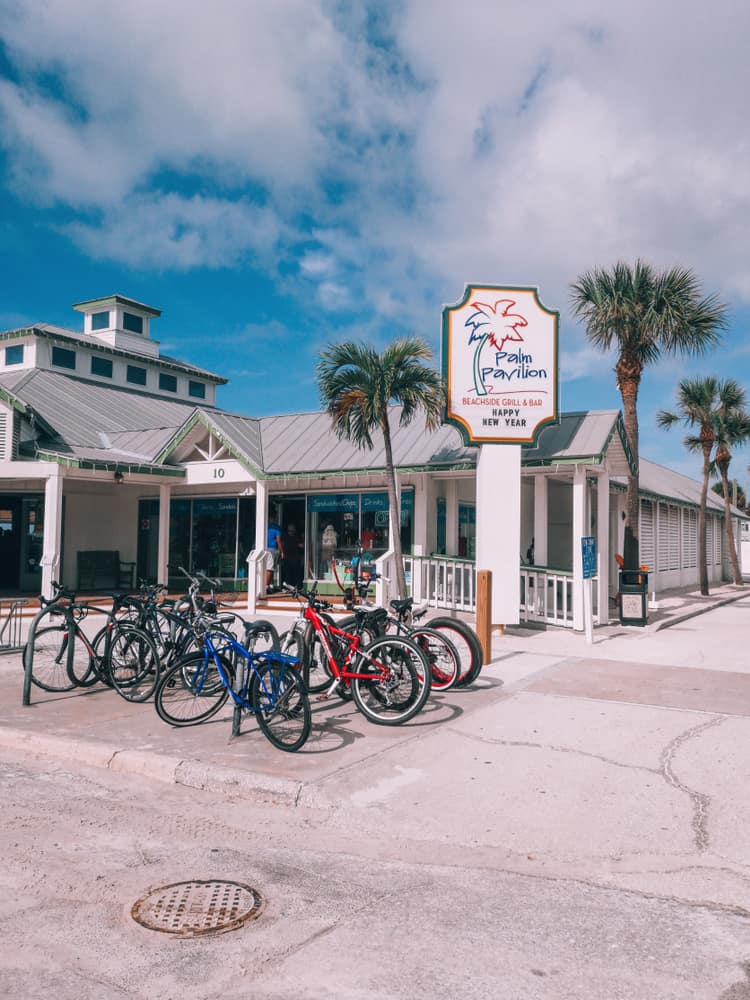 Caretta's
Caretta's is one of the best restaurants in Clearwater Beach for upscale fine dining. Located inside the upscale Sandpearl Resort it is the areas only 4 diamond restaurant. This is the place to come for special occasions. From breathtaking views to stunning all organic menu and the best part jacket's aren't required! Enjoy the outdoor dining at Caretta lounge with a sushi and raw bar and craft cocktails or inside with Caretta's standard menu.
On the menu for starters you will find jumbo crab cakes, crusted diver scallops in a chipotle cream sauce, braised short rib, kobe wagyu carpaccio. Entrees from the sea include chilean sea bass with spaghetti squash, gulf grouper with risotto and heirloom tomoatoes, ahi tuna with baby bok choy.
From the grill you can choose between a center cut filet, NY strip, cowboy ribeye, rack of elk or duroc pork chops all served with organic vegetables, potatoes and a red wine au jus.
The Sandpearl is also one of the best beach resorts in Clearwater!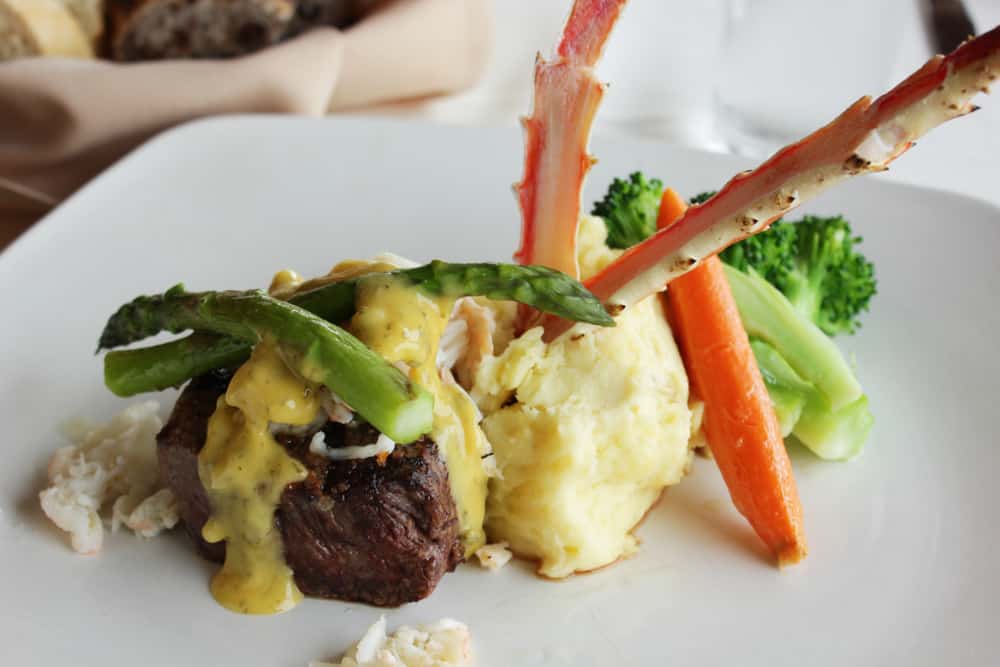 Sekushi on the Beach
Are you looking for sushi restaurants in Clearwater beach? Head to Sekushi on the Beach. They specialize in sushi, dumpling and noodles and are located on Mandalay avenue. Enjoy the large outdoor dining space perfect for enjoying warm weather.
The menu is broken up into 4 sections. Starters, sushi and sushi bowls, noodles, and dumplings. For starters try the sizzling edamame, salt and pepper grilled octopus or wagyu steak teriyaki. Dumpling and Bao buns include shrimp, pork or vegetable dumplings and steamed Bao buns like pork belly, braised short rib, soft shell crab and tofu.
In additional to all the typical sushi rolls the signature rolls include the dad bod with tuna and salmon with a habanero relish, windward roll with spicy tuna, cucumber and jalapeño and avocado, surf and turf roll with lobster salad and sushi bowls such as the 3 divas or boom goes the dynamite. Also served are ramen and udon noodle bowls in a tonkotsu or shoyu broth.
Crabby's Dockside
Crabby Dockside on Clearwater Beach is a family favorite spot serving up American food with great drinks for over 20 years. They are known for their grouper sandwich and dockside punch but the whole menu is great! And they often have live music so check website to see the schedule.
Try one of the seafood platters, the fresh gulf grouper, wings, calamari, oysters from the oyster bar, conch fritters, key west grilled shrimp skewers, warm lobster roll and more.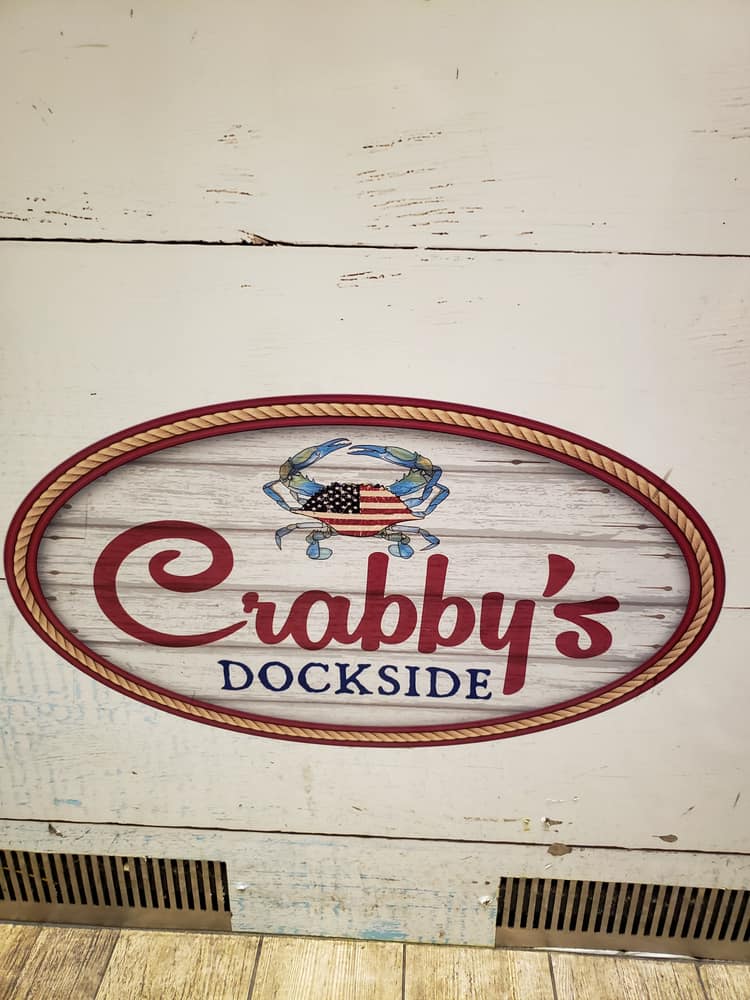 Beach Shanty Cafe
Beach Shanty Cafe is a must try for breakfast places in Clearwater Beach. This bright yellow restaurant has cozy atmosphere with a casual breakfast, lunch and brunch menu and are open daily from 7 am to 4 pm.
From simple egg plates that include home fries, toast and you choice of meat to the Shanty sampler combo with eggs, bacon, sausage, home fries and toast. To Shanty bennies like mom's favorite on english muffin with smoked ham, tomatoes and baby spinach. Other breakfast favorites include pancakes, waffles, and french toast with strawberries and whipped cream. They also have egg burritos served with you choice of toppings, and egg sandwiches perfect for ordering togo and heading to the beach.
On the more savory side there are salads, wraps including greek and shanty wrap with bacon and feta cheese, deli sandwiches like turkey club and ham and cheese. If in the mood for seafood try the fish tacos, grouper or mahi sandwich or one the sub specials.
Frenchy's Rockaway Grill
Most locals will tell you you've never truly been to Clearwater Beach if you haven't dined at Frenchy's Rockaway Grill. Sitting right on the sands of Clearwater Beach, this is one of the most famous restaurants on Clearwater beach. Walk up after a morning or afternoon of enjoying the swim and surf and dine right on the beach.
Locals know that Frenchy's pride and joy is their Grouper Sandwich. The freshest fish is either fried or grilled, and prepared in a variety of styles. Get it as a Reuben, Caribbean-style with jerk seasoning and sauce, or Buffalo-style with blue cheese. Yum!
If you're not hungry just yet, then head over to the bar. Sip on Frenchy's favorites like the Pineapple Lemon Drop Martini or the Rockaway Flip Flop Margarita. You can even get your drink in a 20 oz color-changing cup! One drink per person with valid ID.You will recognize the bar bu the brightly lit neon sign and sand area in front of the bar along with the large outdoor deck with umbrellas. Don't forget to check out our list of the best things to do in Clearwater Beach!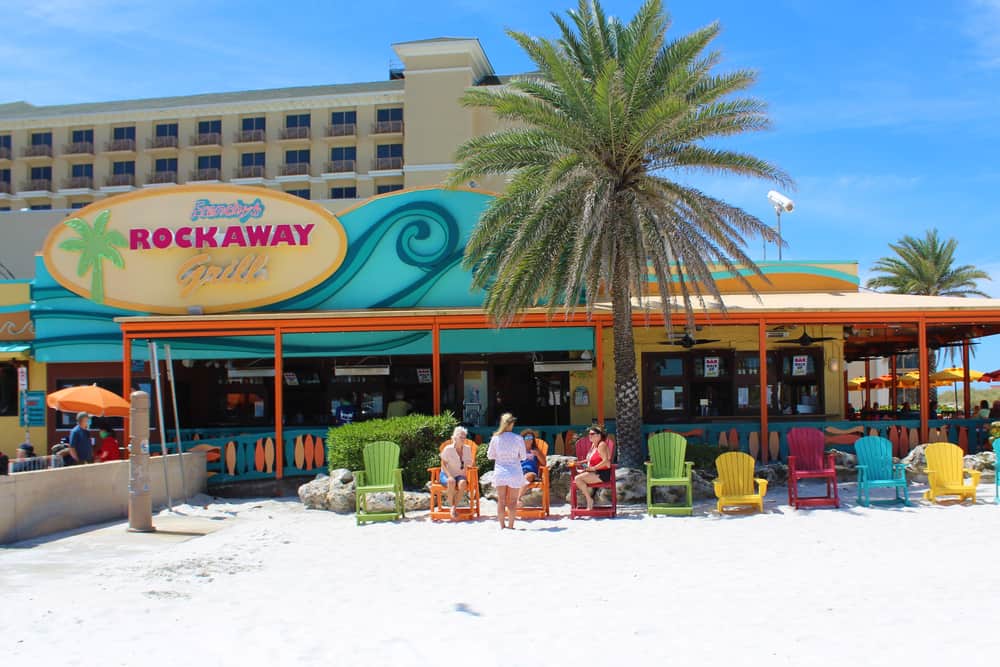 Clear Sky Cafe
Clear Sky Cafe is a Clearwater Beach restaurants that has been voted one of the best dining any time of the day. Located in the residences at Sand Pearl this no-frills cafe serves up a seafood-focused menu with live music. Just a half of block off clearwater beach this is the perfect place to eat if in the area whether you are looking for breakfast, lunch or dinner.
Breakfast menu includes two egg breakfast, shrimp and grits, fruit bowl, ribeye steak and eggs. Skillets include Mexican chorizo sausage, kitchen sink with applewood bacon and the veggie with roasted vegetables, an assortment of eggs Benedicts, omelets, breakfast sandwiches, quiches, stuffed burritos, waffles and beignets, crepes and more.
For the lunch and dinner menu you can start with grouper lettuce wraps, crab cake hush puppies, ahi tuna nachos, smoked fish dip, truffle fries and Florida Ceviche. Entrees include the Clear Sky chilean sea bass that is miso marinated, Coconut crusted hogfish with a mango salsa, blacked Mexican grill with scallops, shrimp and fish in a sriracha aioli, and King crab by the pound. From the land dishes include center cut filet, mandalay chicken with brie and lemon butter, and pastas dishes like cajun pasta, and shrimp scampi.
Marina Cantina
Marina Cantina is one of the Mexican places to eat in Clearwater Beach. This fusion restaurant serves fresh seafood caught by the restaurants own boat with flavors inspired from Mexico. This is one of the restaurants on Clearwater Beach that has a large rooftop bar overlooking the marina perfect for watching the sunset and offers live music on the weekends.
They have amazing daily specials from Margarita Monday, $4 taco Tuesday from 4 to 6 pm, Wednesday industry employee night, Thursdays ladies night, Friday and Saturday Happy hour on roof with $4 wine, well drinks, and sangria.
For the main menu try the ahi tuna tostata, cantina shrimp cocktail, quesadillas with grouper and aztec corn, snapper, shrimp or house ceviche. Tacos are served with 3 corn tortillas with choice of meats from al pastor, crispy cauliflower for those who are vegetarian, pork belly, and local caught grouper.
Principle dishes include shrimp and scallops with cantina rice, stuffed grouper del sol with jalapeño citrus cream, tequila salmon, a cantina bowl with garlic lime chicken, pan fried red snapper with oyster mushrooms and chorizo in a green mole, carne asada with queso and guacamole, chicken enchiladas, and family style sides like pinto beans with spices, clay pot black beans, chile relleno, roasted plantains, street corn and more.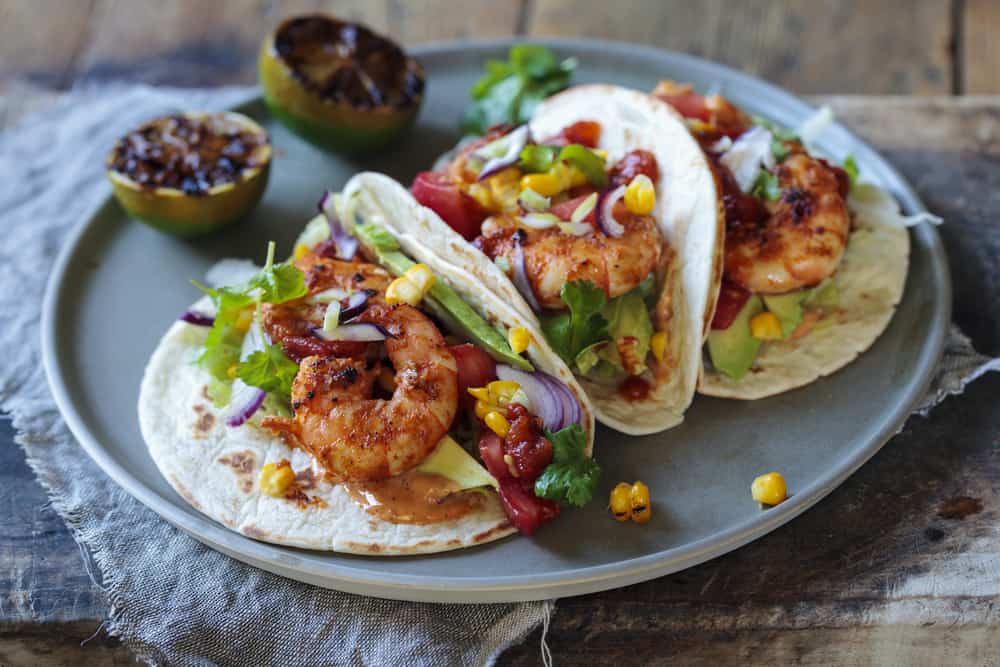 Island Way Grill
Just a three minute walk from the Clearwater Aquarium, Island Way Grill is known for their fresh seafood, hand cut steaks and stunning sunset views. If you are coming by boat they offer free first come dock slips! Daily the restaurants fishing boats head to the Gulf to catch fresh grouper, mahi, snapper and other local caught fish! It doesn't get any fresher.
They offer an award winning Sunday brunch from 10 am to 2:30 pm. Brunch starts with an assorted muffin and pastry basket, made to order cappuccinos, omelets, waffles, smoked salmon bagels, baked cinnamon crumble french toast, quiche, lunch station with chicken, seafood, potatoes, veggies, sushi and shrimp cocktail with oyster on the half shell, carving station with ham and roast beef, a salad station with 5 varieties of salads, fruit, and finally a dessert station! One drink is included and the all you can eat buffet is only $29.95.
For the dinner menu at Island Way Grill start with coconut shrimp bites, grilled octopus, chilled seafood sampler. Most come for the just caught fish dishes, from Salmon, Black Grouper or American Red Snapper plus daily specials you can have it cooked island way, wood fired, Tiana with artichokes, mushroom in a cream sauce. As for the house-cut midwestern beef steaks that are aged, ry the prime rib-eye, filet mignon or surf and turf option.
They offer a supper club menu until 5:30 pm daily, with entrees at just $15. Each menu comes with shrimp cocktail and your choice of entrees from Island way catch, filet mignon kabobs, shrimp scampi, coconut shrimp bites, shrimp Alfredo, chicken piccatta, volcano meatloaf, baked scallops and more!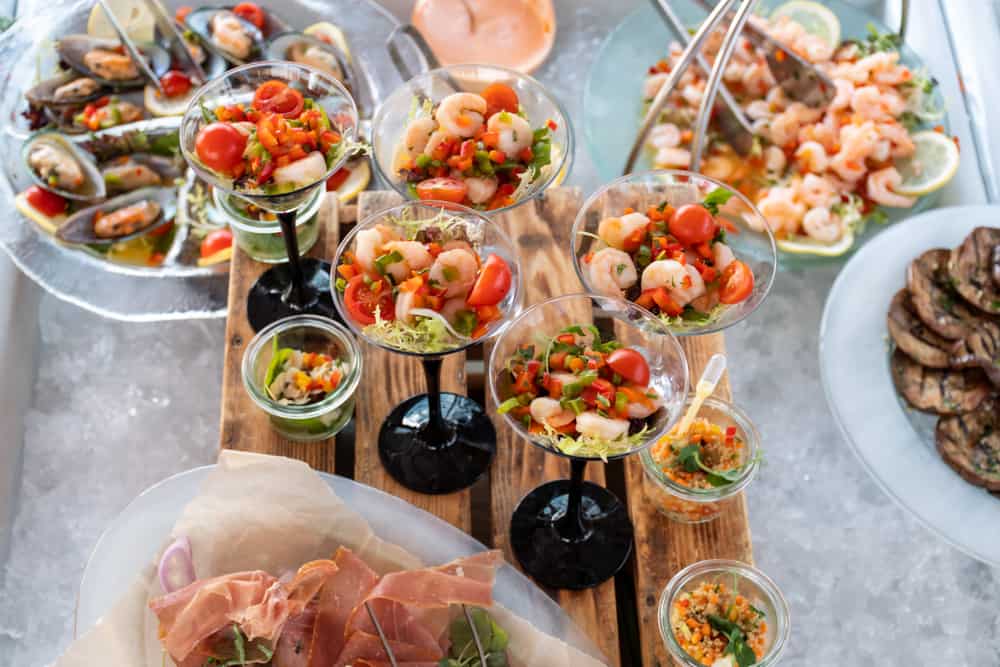 Spotted Donkey Cantina
The Spotted Donkey Cantina is located inside the Hilton Clearwater Beach resort and is a great option if looking for Mexican restaurants in Clearwater Beach. The lunch menu is served on Friday to Sunday from 12 pm to 4 pm and the dinner menu is also served daily except Mondays from 4 pm to 10 pm.
The menu is Chef inspired Mexican cuisine made with simple ingredients. You can choose to dine al fresco or inside the restaurant. Popular dishes include the Canasta chips with trio of homemade salsa with roasted tomato, black-bean and chorizo, and tomatillo avocado, the fajitas de la Cantina and the Donkey nachos with pulled pork.
Or start with the cantina shooters are stuffed jalapeño peppers with bacon and cheese, Mexican shrimp ceviche, or Sonora grilled chicken quesadillas. Other specials include the El burro pinto tacos with either barbacoa, pork carnitas or chicken, the street style roja and verde enchiladas, grilled filet mignon and shrimp burrito or El pedregual wrap and fish or shrimp Baja tacos.
Salty Island Bar and Grill
One look at Salty Island Bar and Grill and you can see why this restaurant is so popular. With its open air two story deck, brightly colored umbrellas and wooden tables with a laid back atmosphere welcomes you right off the beach. Open daily from 8:30 am to 11 pm you can dine here for breakfast, lunch, dinner and don't forget one of the best happy hours on the beach!
Start off with trying out the Cruzan Rum Crab Trap Bucket cocktail which pairs nicely with starters like coconut shrimp bites, crab cakes, calamari, ahi tuna nachos, or island nachos. If in the mood for oysters try the baked oyster bar where you can try a sampler, salty style, Crabbafeller or New Orleans styles.
Most of the lunch menu is handheld, easy to eat food perfect for a beach day. From tacos with local fried grouper, red shrimp, steak or chicken to bowls, to sandwiches such as Salty's chicken, lobster roll, burgers, and crab cakes. For a more hearty offering order one of the fish favorites. From hogfish snapper to gulf grouper and macadamia crusted grouper to shrimp dinner or Key West griller with both mahi and large red shrimp in a key lime glaze.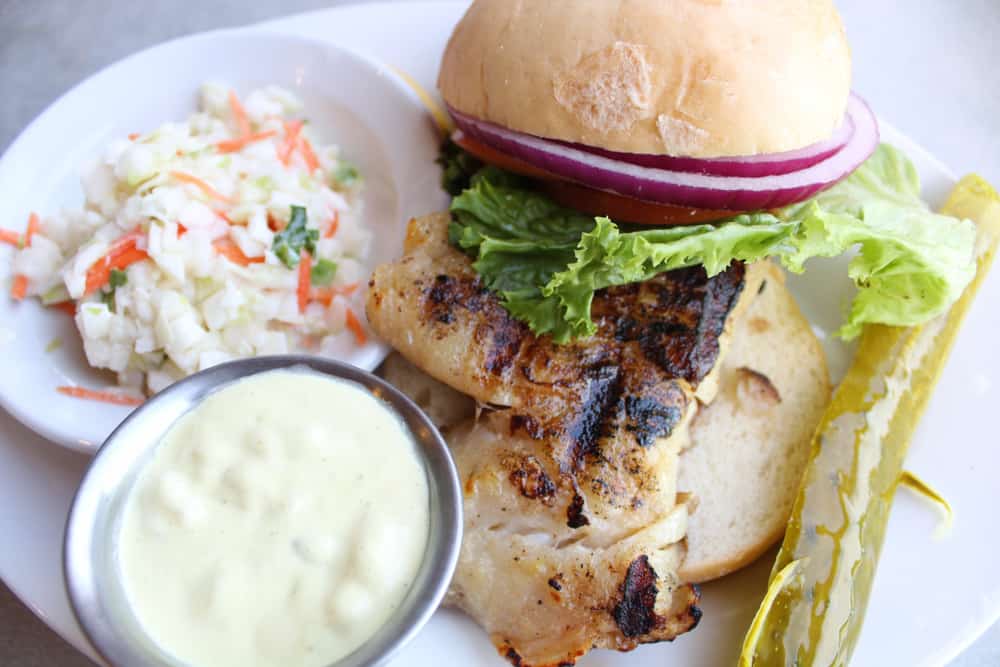 Gondolier Pizza
Gondolier Pizza is one of the Clearwater beach food options for both Italian and pizza. As with most restaurants in the area they also serve a breakfast from 8 am to 2 pm daily. And while they serve a large menu with traditional Italian food, if heading here you will want to try the pizza.
The pizza here is traditional with daily homemade dough and fresh ingredients. Pizzas come in individual size, small, medium and large. Try the Gondolier special with cheese, pepperoni, sausage, onions, mushrooms, peppers, olives, tomato and feta. They have several pizzas perfect for vegetarians with the trio veggie or the super vegetarians. Or try one of the white sauce pizzas like the Kalamantiano with fresh tomatoes, garlic, kalamata olives, feta, ricotta and mozzarella.
They have a daily pizza special from 10:30 am. to 2 pm with individual pizzas starting at just under $5, perfect for ordering and then enjoying on the beach!
Sea-Guini
Sea-Guini is one of the best restaurants in Clearwater Beach for fine dining. Located inside the Opal Sands resort, this is one of the restaurants that showcases the beautiful Gulf of Mexico from every seat and there is also an outdoor terrace for guests who want to breathe in the sea air.
What makes Sea-Guini unique is that they source all their ingredients locally from farmers, fisherman and local purveyors while crafting some unique seafood and Italian dishes. With large picture windows, amazing cocktails along with local craft beers and a curated wine list this is the place to enjoy if looking to indulge.
They are open for breakfast, lunch and dinner as well as lounge in the evenings. For the dinner menu try the anitpasto board with charcuterie and cheese, or the grilled octopus. Sea-Guini is also known for their hearth oven pizzas. Try the Rustica with mushrooms, three cheese blend, truffle essence and balsamic arugula.
All pastas here are housemade and they offer gluten free options as well. Try the Lobster pappardelle, or rigatoni bolognese with house recipe bolognese, or one of the house specials. The Gulf Coast Cioppino has clams, mussels, lobster, shrimp and scallops in a tomato broth, local pan-seared snapper with Gulf Coast shrimp, red wine braised Short rib with roasted baby vegetables.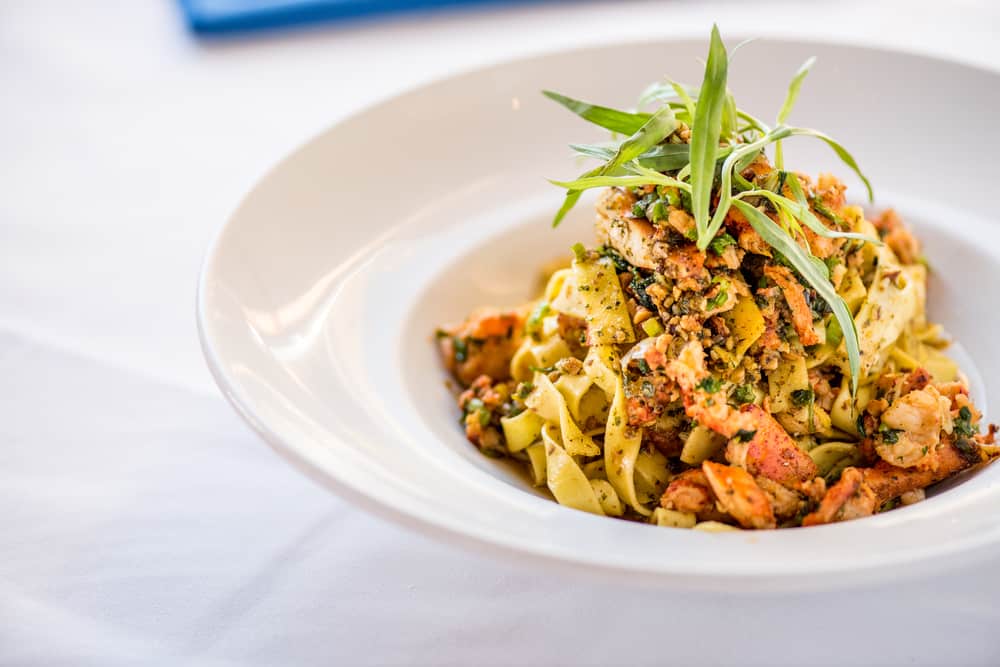 Bait House
The Bait House has been a Clearwater beach staple since the 1940's. If you are headed out fishing this is the perfect place to stop in and stock up on fishing gear and lunch at the same time. Or stay and enjoy a leisure lunch on the open air dock with the warm sea breeze where you can catch fishing boats unload the fresh catch!
This is a no frills local place to eat. Try the smoked fish dip, the popular drunken shrimp sautéed in a bourbon creole reduction, peel and eat shrimp, spicy tuna nachos, bait house clam chowder to start. The catch of the day can be served island taco style, in a fresh catch platter with two sides, and a sandwich with one side. Or in more iqiue ways like a fresh catch rueben, quesadilla or over a salad. If you are not in the mood for seafood they serve a house burger and chicken sandwich.
Poke Havana
Poke Havana is one of the best poke places to eat in Clearwater Beach. If you are looking for a healthy lunch to take to the beach this is your place. You can customize your own poke bowl or Havana bowl with fresh and flavorful ingredients that showcase a fusion between Hawaii and Havana! Located in the Clearwater Marina they are open daily from 11 am to 9 pm. And if arriving by boat you can do a dockside pickup.
The signature poke bowls include OG with ahi tuna, white rice, scallions, wakame salad, cucumber and seaweed. OR make it a dynamite with corn, carrots, salmon, spicy mayo and cucumbers. The poke Havana is something you wont see on other menus with brown rice, corn, spicy tuna, pineapple pico, avocado, cream cheese and a chile lime sauce.
For those wanting to try Cuban cuisine try the Havana's famous cuban either in a half or whole on fresh Cuban bread, pork, ham, salami, swiss cheese pickles and mustard or the Havana trio with cuban, beans and rice as well as a salad!
If none of those options work, not to worry, you can build your own bowl. Start with your size and small or large, then choose base between rice, greens and wrap, next, choose your protein from a mix of sushi grade fish or tofu, adobo chicken or carnitas and finally choose your toppings ( you get 3 free and can add additional for a small fee) and finally you can choose your sauce.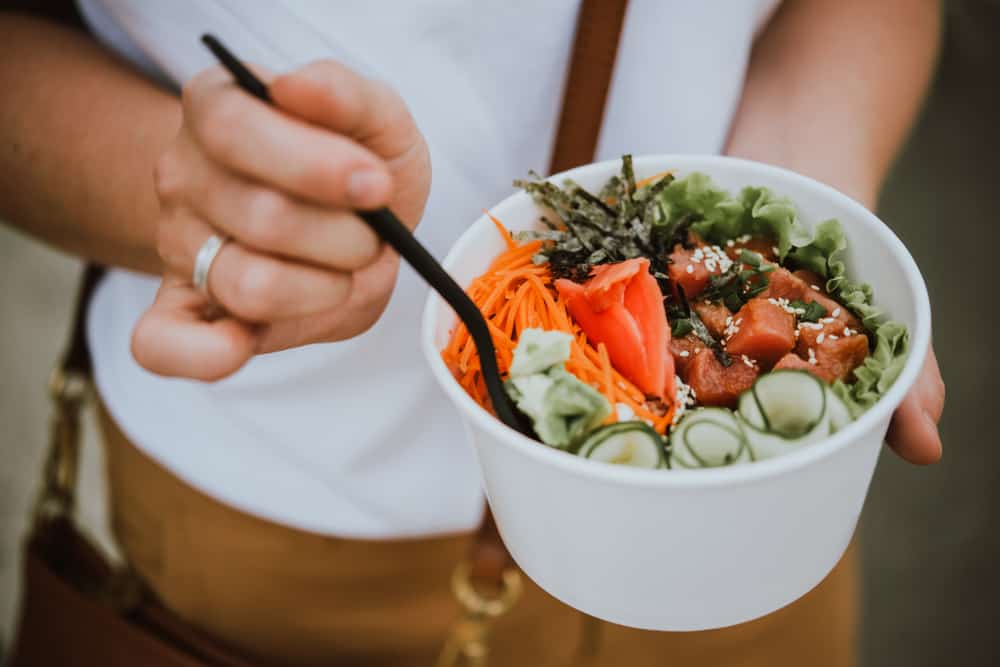 Did You Find This Post Helpful?
If so, we would love to keep in touch! We enjoy seeing photos and comments about your experiences in Florida! You can follow us on Instagram and we will repost your photos on our feed and comment too! Just tag us at @floridatrippers and hashtag #floridatrippers. We can't wait to see your travels!