So you're looking for places to go Scuba diving in Florida? Look no further, we've got you covered!
Scuba Diving is so much fun, and is definitely something that everyone should experience in their lifetime! Its such a magical experience to explore the underwater world to see things from a different perspective, and to possibly see some wildlife that you may never have seen before!
With beautiful, crystal clear waters and great temperatures all year round, Florida is the perfect place to go Scuba diving as its the only place in the continental United States with a subtropical climate, so you will never be too cold! Scuba Diving in Florida is great for all experience levels, as many places in Florida have diving instructors with you, so you will be in safe hands!
There are so many different places to go Scuba diving in Florida, and each one is unique. Whether you're wanting to see shipwrecks, manatees, or some amazing coral reefs, there will be somewhere in Florida to accommodate you!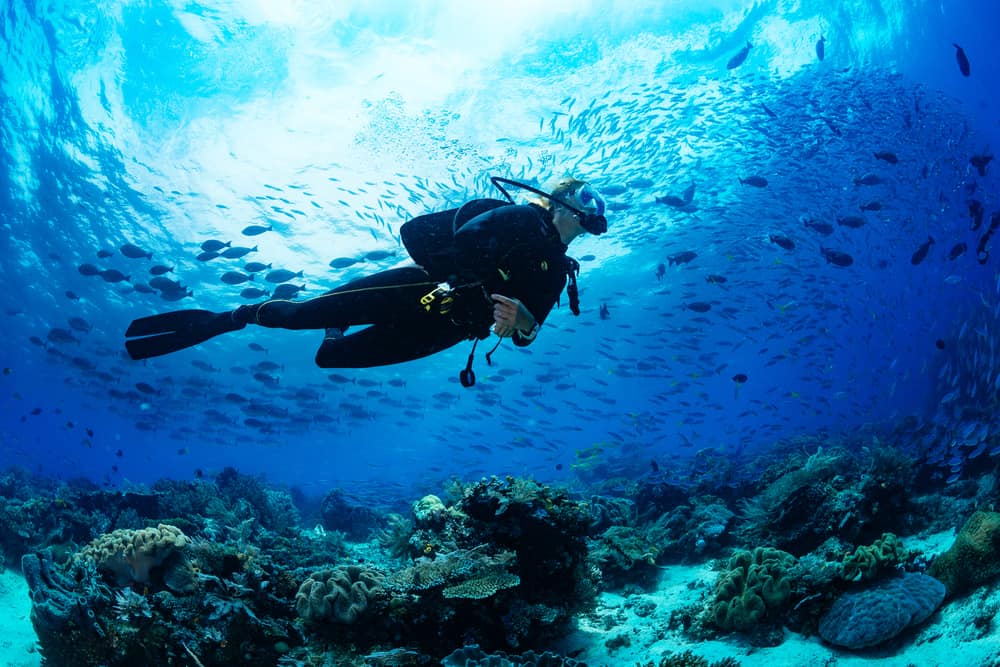 Ginnie Springs
Located just 6.5 miles away from High Springs and is one of the best places to go scuba diving in Florida as the waters are wonderfully clear!
Ginnie Springs is also one of the most popular springs to visit and there's so much to do there. If you're considering Ginnie Springs, we have a whole blog post dedicated to it here.
Whilst Ginnie Springs is on the more expensive side, it is definitely well worth the price as we think it is one of the most beautiful springs that Florida has to offer. And for that reason, we would reccomend visiting outside of it's peak times so it won't be too crowded.
There are three different sites at Ginnie Springs for certified Scuba Divers to explore; The Ginnie Ballroom, The Devil's Spring System, and Santa Fe River. The Ginnie Ballroom and The Devil's Spring systems are great for exploring amazing underwater caves, but the Ginnie Ballroom is considered much safer and better for less experienced divers. The Santa Fe River dive will allow you to see prehistoric fossils!
To learn more about diving at Ginnie Springs, you can visit the Ginnie Springs website. They even offer dive training if you have no diving experience.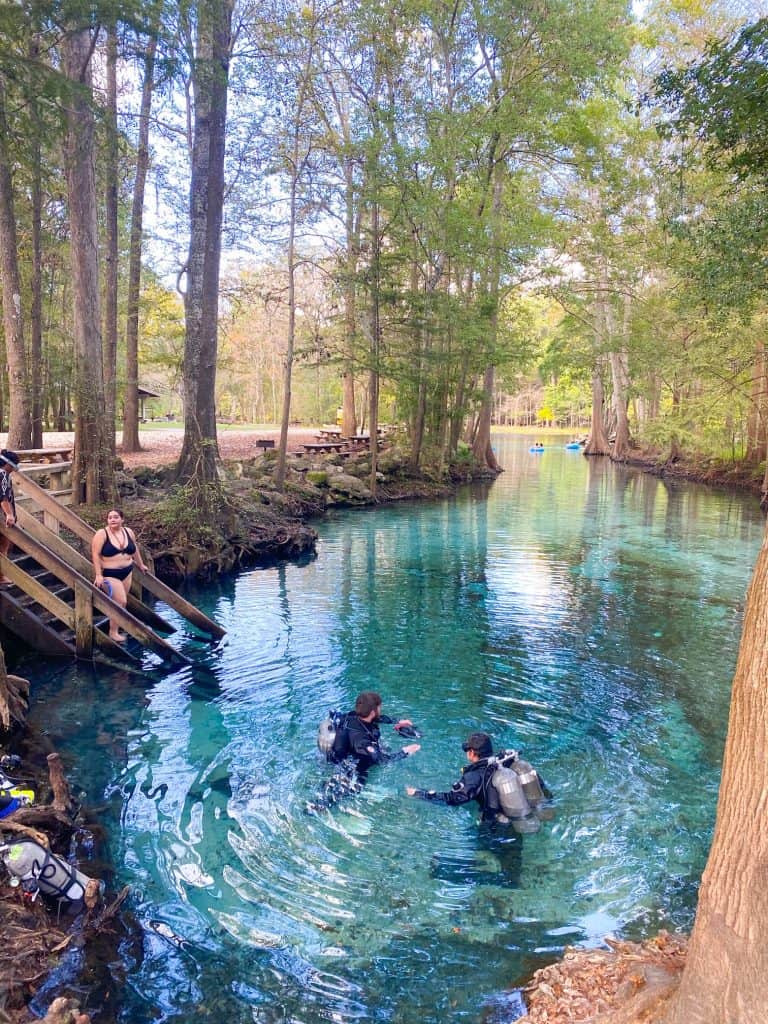 Blackthorn Wreck
Who wouldn't want to see a sunken ship in their lifetime!? Choosing to go scuba diving in Tampa will give you the opportunity to do just that.
The U.S.C.G Blackthorn is one of the most popular dive sites in Florida and lies about 20 miles offshore in the Pinellas Artificial Reef Site #2, and is located 80 feet down.
The 180 foot long Blackthorn sank in 1980, after colliding with the S.S. Capricorn just west of the Sunshine Skyway Bridge in Tampa Bay. She capsized and sank within minutes. Unfortunately, more than 20 people lost their lives.
Three weeks later, the Blackthorn was raised and removed from the shipping lane and was eventually scuttled in the Pinellas Artificial Reef Site #2 for the purpose of diving and fishing.
It's located super close to another sunken ship, The Sheridan, and whilst scuba diving around the ships are fine, it is not recommended and very dangerous to go inside the ships as visibility is so poor.
You will see a tonne of wildlife at this scuba diving location in Tampa! Goliath grouper, snapper, mackerel, schools of spadefish, and even whale sharks have been reportedly spotted in the area!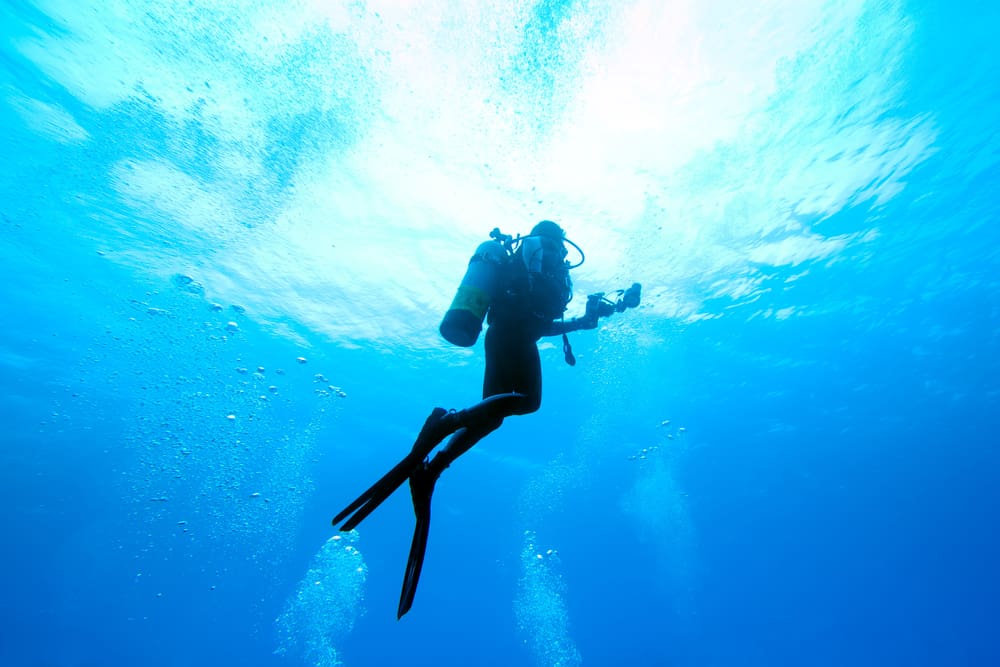 Christ of the Abyss
Key Largo is known as the dive capital of the world, so another super popular place to go scuba diving in Florida, mainly because there are a lot of things hidden underneath the water here, including Christ of the Abyss.
in 1965, a nine foot tall bronze statue was lowered into 25 feet of water off the coast of Key Largo. This statue is the third of it's kind, and is located in John Pennekamp Coral Reef State Park.
The original Christ of the Abyss state is located in the Mediterranean Sea, just off San Fruttuoso on the Italian Riviera. It's said that the statue is to represent Christ in the new world below the waves, and serves as memorial for all of those who have lost their lives at sea.
The statue that you can see when scuba diving in Key Largo only sits 8-10 feet below the surface, so it can also be seen by those who go snorkeling. If you're looking for some good snorkeling spots, check out our places to go snorkeling in Florida post!
However, you will get the best views of the statue by going scuba diving, and will also get a better look at some of the marine life that call these waters home, such as angel fish, nurse sharks, and moray eels.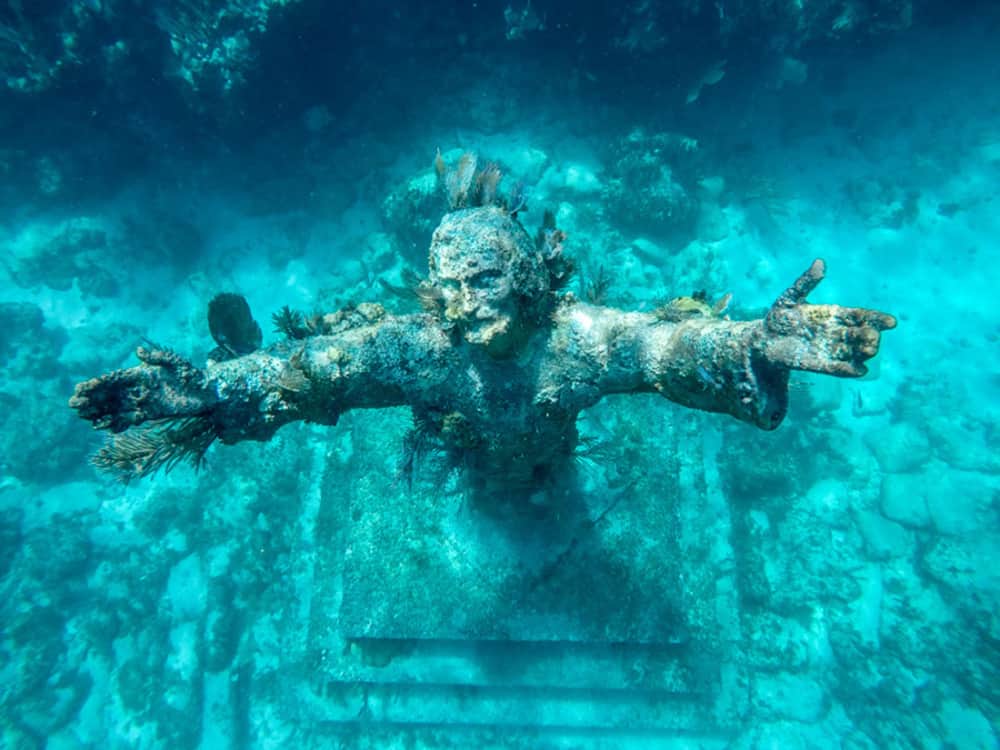 Dry Tortugas
If you want a truly special scuba diving in Florida experience, we highly recommend going to the Dry Tortugas National Park. Less than 1% of the National Park is on dry ground, making the Dry Tortugas an underwater paradise.
Situated 70 miles from Key West, the remoteness has allowed nature to thrive here. The water is crystal clear, and the corals are absolutely beautiful, with some coral structures rising 50ft from the bottom straight up! There are fish species at the Dry Tortugas that you won't find anywhere else in the world!
Some popular spots to go scuba diving in Key West at the Dry Tortugas are the Maze, the Bat Caves, Dante's Inferno, Texas Rock, and the Windjammer Wreck which is regarded as one of the most beautiful shipwrecks in the world.
It is VERY important to remember not to touch another when you're scuba diving at the Dry Tortugas. All of the corals, reef fish, and artefacts are protected and it is super important not to touch any of them, and to take care not accidentally brush up against any coral as it will probably kill it. It's also important to watch out for sea urchins and lionfish which can cause a lot of harm to you.
The coral at the Dry Tortugas is some of the most vibrant in Florida Keys, and we definitely want to keep it that way!
For more information about the Dry Tortugas National Park, you can read up about it on our blog post.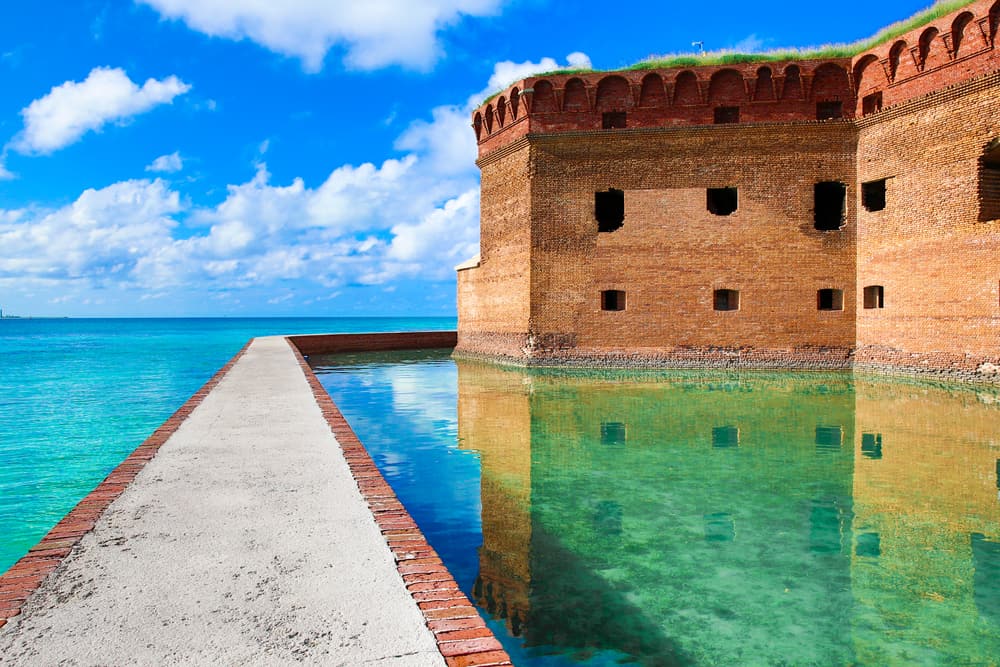 Crystal River
Crystal river is another great place to go scuba diving in Florida! It's actually a well-known place to swim with manatees up close, but that is ONLY allowed with snorkeling and NOT scuba diving!
Even though you won't be getting up close and personal with manatees, don't worry! The diving in crystal river is still phenomenal and there are multiple dive locations to choose from depending on what you want to see!
Magnolia Springs is a cave system that was shut down in 1963 after it collapsed. It has a depth of 35 feet, and you can only dive to the entrance room, but there is an abundance of sea life to observe, including manatees if you're lucky!
Big Spring, or King Spring, is the main diving spot that consist of caverns that are great for some underwater photography. You will get the chance to spot some mangrove snappers, sheepshead, and tarpon from this location.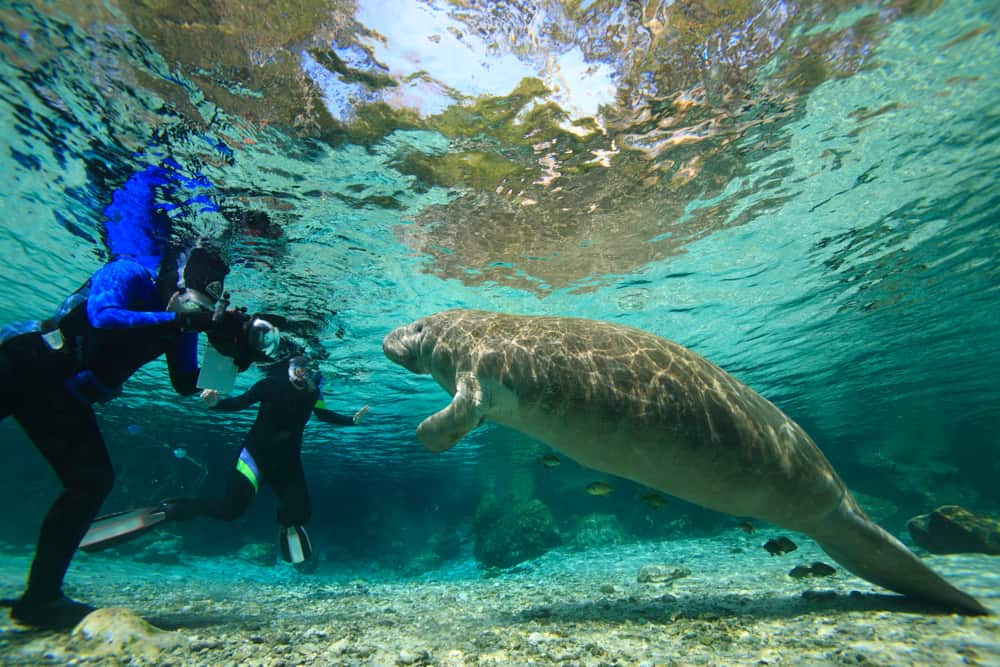 Biscayne National Park
If you're looking to go scuba diving in Miami, then Biscayne National Park is for you!
The best way to experience Biscayne National Park is by being on, or in, the water as 95% of the park is underwater. The Park preserves Biscayne Bay and it's beautiful offshore barrier reefs.
Scuba diving in Florida is great here if you are a fan of shipwrecks! The Maritime Heritage Trail gives you the opportunity to some of the parks many shipwrecks, six to be exact!
The shipwrecks span across many centuries, from the Arratoon Apcar which sank in 1878, and Erl King that sank in 1891, to the Mandalay that sank in 1966. There's such a wide variety of shipwrecks and all of them are spectacular to see for yourself.
You'll also see a lot of wildlife when scuba diving at Biscayne National Park. On top of the gorgeous coral reefs, you may be lucky enough to see Dolphins, Turtles, and even Pelicans!
It is important to note that access to the Maritime Heritage Trail is only available by boat, so it's great if you have your own but boats can also be chartered to get to Biscayne National Park.
There are so many beautiful National Parks in Florida, Biscayne is just one of them!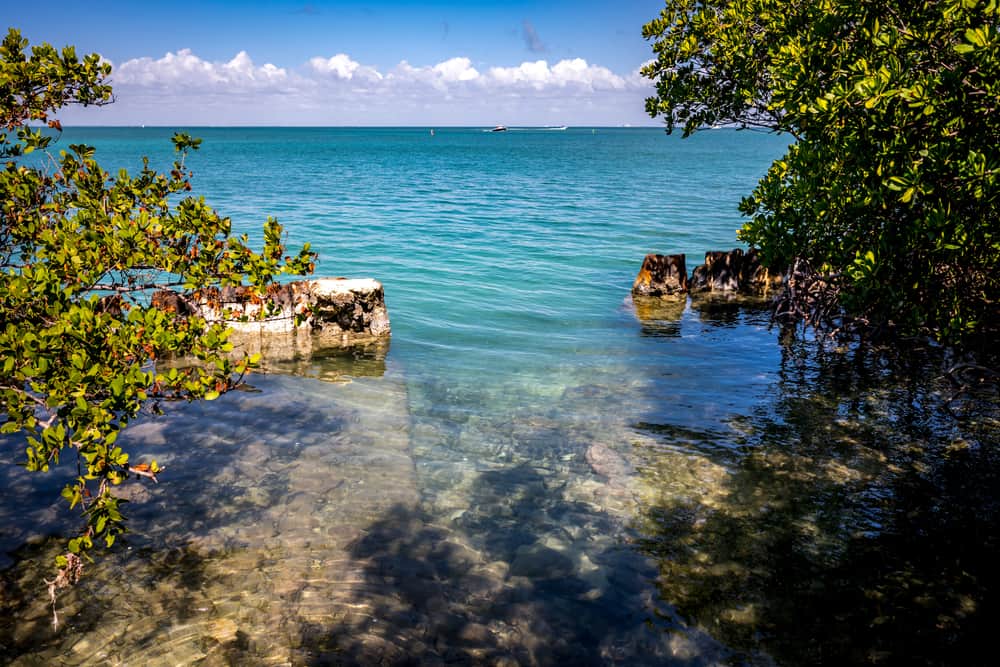 Panama City Beach
Did you know that Panama City Beach is actually the Wreck capital of the south? With over 150 dive locations and over 50 wrecks sunk as artificial reefs, there is plenty to explore.
Panama City is also a great place to be on land too! With beautiful white sand beaches perfect for sunbathing, outstanding seafood, and the largest population of bottlenose dolphins in the world, Panama City shapes up to be a perfect day out! If you want to see what else Panama City has to offer, check out our things to do in Panama City blog post for some inspiration.
Some of the best dive scuba diving in Panama City spots include the Black Bart Dive Site, an oil ring ship that sank in 1993. Divers can investigate the wheelhouse, the deck, and the cargo holds that many different types of sealife are now calling home, many of them coming from the nearby Warsaw Reef.
The most recent sunken ship you will find in Panama City when scuba diving is the El Dorado Dive site. Hurricane Michael blew this ship ashore in 2018 at Hathaway Bridge. In May of 2019, she started her second life as a dive site. Even though it hasn't been a dive site for very long, many different types of fish have moved in, making it a great place to see some wildlife!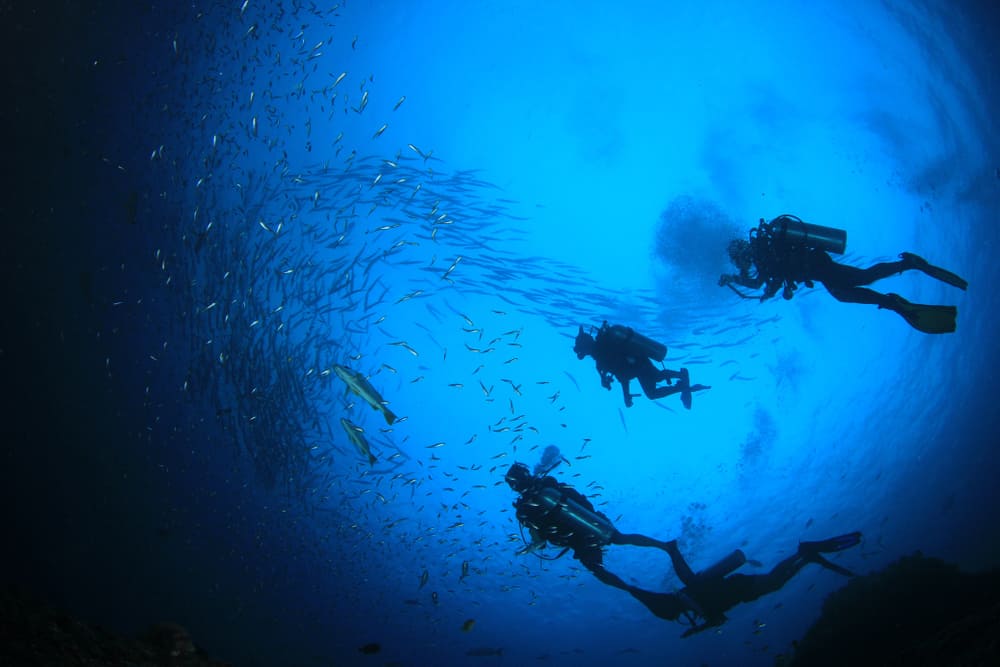 Key West
The Florida keys are known for being some of the best places to go scuba diving in Florida, and Key West is no exception!
The diving sites at Key West truly are a site to behold. With colourful coral, barracuda, turtles, blue tang, butterfly fish, and many more, those looking to see some wildlife will absolutely love it here.
We all know that there are many sunken ships across Florida, but have you ever heard of a ship being intentionally sunk before? The USNS General Hoyt. S Vandenberg is the second largest ship ever to be intentionally sunk! It's a retired navy ship to got a second life to intentionally create a dwelling for coral and fish. The Vandenberg is 522 feet long and sits 165 feet down.
There's plenty to see at this dive site, including cargo holds and stairwells. This dive site is best for more advanced divers.
Other than scuba diving, there are so many things to do in Key West that you could easily make a long weekend out of it! If you're looking for some inspiration, check out our things to do in Key West post.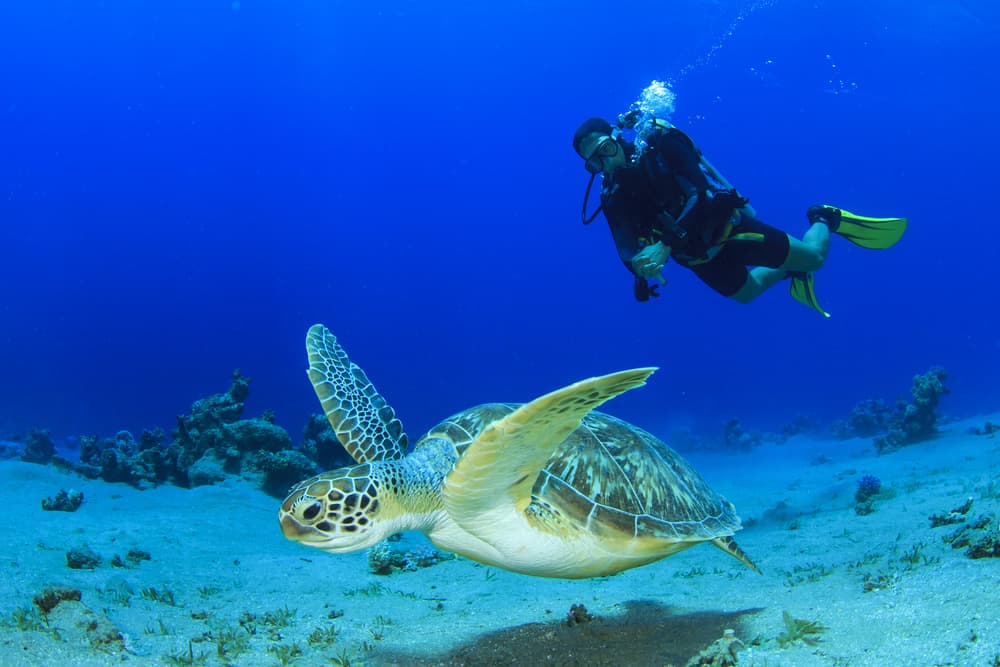 Fort Lauderdale
If you love warm waters, then choosing to go scuba diving in Fort Lauderdale is an excellent decision!
Thanks to the Gulf Stream, Fort Lauderdale waters remain warm all year round with temperatures at 72 degrees in winter and 80 degrees in summer, making it the perfect location to go scuba diving in Florida during the winter months!
Greater Fort Lauderdale is also the only place in the continental US where you can dive on a living coral reef straight off the beach! Yes, that's right, you won't need a boat! This coral reef is just a five minute swim from the shore of Lauderdale-by-the-Sea and Hollywood.
Fort Lauderdale is also a wreck heaven. Over the past 20 years, the artificial reef programs in Broward County have placed 76 artificial reefs on the ocean floor, making it the largest warm water wrecks collection in the western world.
Some of the most popular wrecks include the Kay Scutti, Tracy, and Merci Jesus which can actually all be seen together if the current is right. These wrecks are a great place to see stingrays and schooling reef fish. Hog Heaven is a wreck where you could spot a hogfish or a lionfish if you're lucky!
If wrecks aren't up you're alley, don't worry! Scuba diving in Fort Lauderdale will also give you the chance to see some fantastic reefs!
The Barracuda Reef is one of the most popular reef dives in Fort Lauderdale and is suitable for all types of divers. Depending on the season, the likelihood of seeing turtles, lobsters, moray eels, and nurse sharks is high!
For more advanced divers, the Hammerhead Reef is much deeper and perfect for coral lovers. the finger-like structure of the coral makes a perfect backdrop for underwater photography, and you never know, some stingrays and parrotfish might make the occasional appearance too!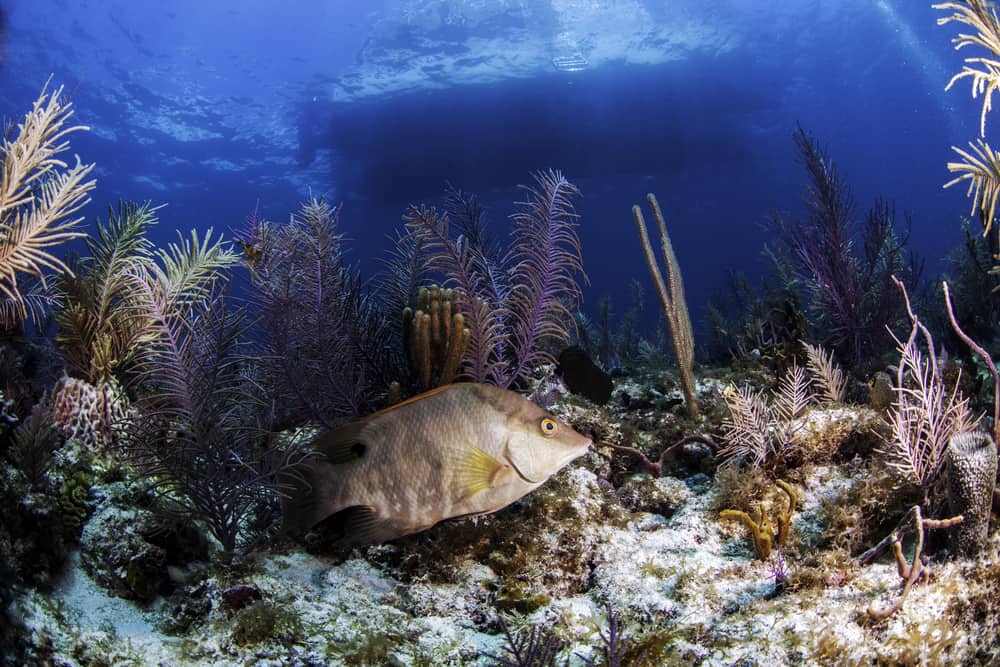 Blue Springs State Park
Yes, you can even go scuba diving near Orlando too! Blue Springs is actually one of your favourite State Parks in Florida too!
Located just 29 miles away from Orland, Blue Springs State Park has one of the biggest manatee conservation efforts in Florida, with numbers getting up to 485!
For more experience divers, there is actually a hidden cave at Blue Springs State Park that can reach depths of 117 feet! Only certified divers are allowed at that depth, but open water divers are allowed at 60 feet.
The amazing crystal clear waters with give you breathtaking views of fish, sea turtles, and the possible manatee. It's a very special experience.
Water temperatures are usually around 72 degrees, which makes it the perfect location to cool off on those hot Floridian days,
Blue Springs is one of the most beautiful natural springs near Orlando, but there are many more too! if you want to see other natural springs near Orlando we have a blog post just for you!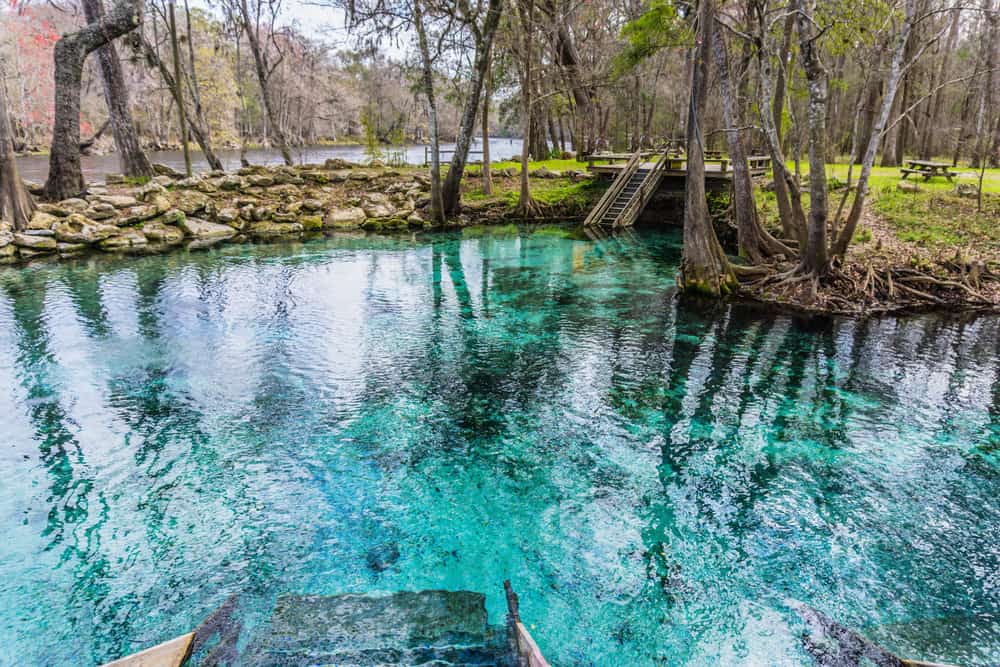 Jupiter
Jupiter is very quickly becoming a popular place to go scuba diving in Florida for more advanced divers.
A ripping current from the Gulf stream brings in all sorts of ocean life, from reef fish to giant stingrays. You may even have shark encounters, see some sea turtles, and even swim by some rare species! One thing is for sure, every dive in Jupiter will be different.
Jupiter is some of the bluest water in the western Atlantic thanks to the warm water from the Caribbean, which also means that the water is always warm, making scuba diving in Jupiter all year round!
There are so many different dive sites in Jupiter! One of the most popular is Area 51 and is known for its amazing marine life. Loggerhead turtles love to hang out in this spot, as well as reef sharks and Goliath grouper.
The Tunnels are great for spotting different types of sharks such a reef sharks and nurse sharks. There are a lot of natural swim-throughs here too! To spot some green moray eels, head to the Scarface spot where you have the chance to spot the resident green moray eel with a scar across his face, hence 'scarface'!
To see some amazing ship wrecks, the Jupiter Wreck Trek is an excellent dive site which will allow you to see three wrecks in one dive! The Zion, Miss Jenny, and Esso Bonnaire are all mating grounds for Goliath Grouper, where hundreds gather in the months of August and September!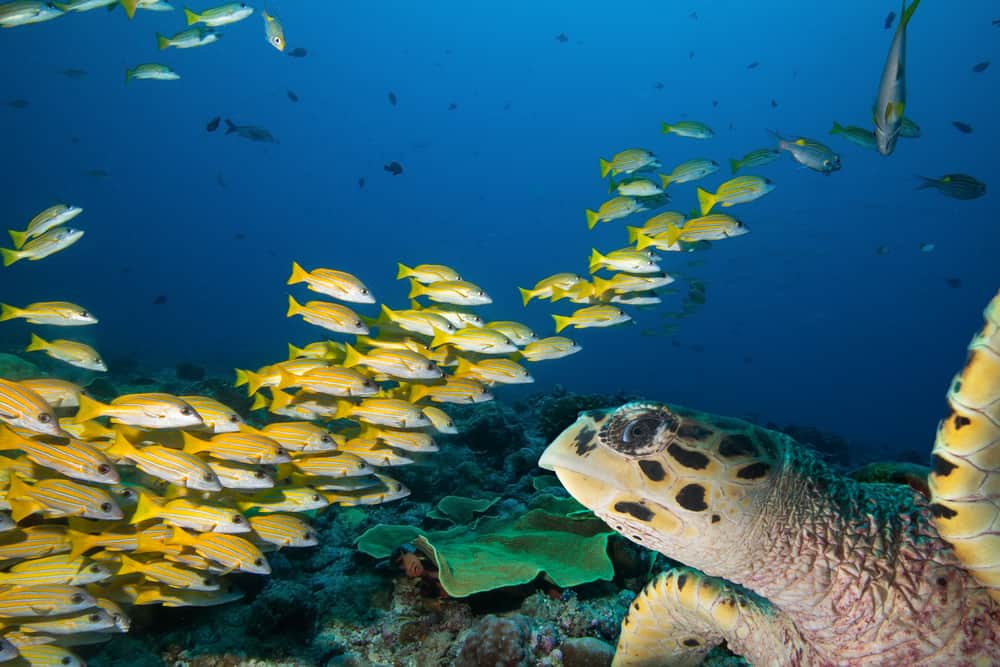 Blue Grotto Dive Resort
Located in Williston, Blue Grotto Dive Resort is an excellent location for scuba diving in Florida for beginners as only open water diving cirtification is needed. Blue Grotto is actually the safest cavern dive in the area!
The Blue Grotto is a freshwater spring and cavern. There are three areas to explore in the crystal clear water that provides excellent visibility!
The Cavern lets you dive down 100 feet and if you're lucky you may encounter Virgil, a friendly soft shell turtle who lives in the grotto. More experienced divers are allowed to go deep diving in the lower cavern, but a dive torch is recommended.
The newest feature of Blue Grotto is The Cave, which is truly one the most spectacular untouched beauties that Florida has to offer! It remains as close to its natural state as possible, mostly untouched. The rock formations are fragile and are covered by an undisturbed layer of silt. If you love cave diving, this is definitely a place to go as not many people get to see this natural wonder.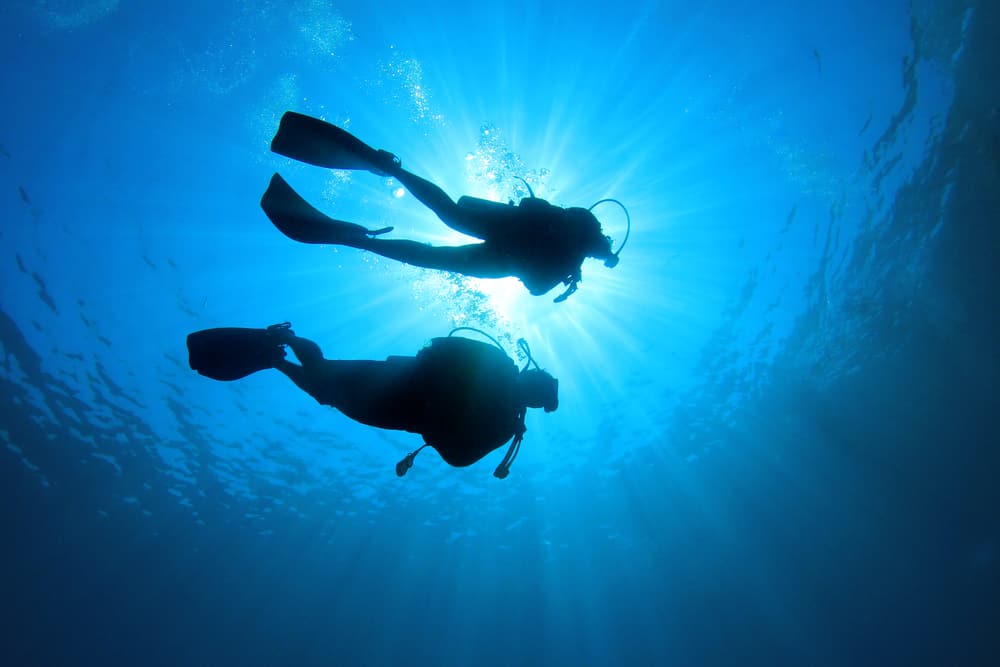 Fort Walton Beach
What's not to love about Destin? The sand doesn't get much whiter and the water doesn't get much more beautiful. No wonder it gets dubbed The Emerald Coast!
Whilst Destin is mainly known for its fishing, what some people don't know is how much fun scuba diving in Destin actually is! With so much fish to support the bustling fishing scene, you know there are going to be a lot of fish to see under the water too!
Basically, if you're a scuba diver who wants to see a tonne of fish, go scuba diving in Destin. Destin-Fort Walton Beach is the perfect place to see a whole lot of lionfish.
Given Destin's military past, history buffs will absolutely love scuba diving in Destin! There's a whole load of sunken M60 battle tanks and barrel barges along Wreck Alley. Plenty of Amberjack, flounder, spadefish, stingrays, and sea turtles now call these sunken relics home.
Looe Key
For coral lovers, scuba diving in Florida doesn't get much better than Looe Key!
Looe Key is named after the HMS Looe which sank on the reef in 1744. Now, Looe Key Reef has been named in the top 10 diving sites for 10 years, and you can totally see why. Over 150 species of fish, including angelfish and yellowtail, call this reef home. There are around 50 different species of coral present, including the beautiful fire corals, after 7,000 years of growth. Much of the reef is protected, meaning the reef life here is super healthy.
Not only is it an incredible spot to go scuba diving in Florida, it is also really accessable. There are three ferries running each day to get to the site and can easily accommodate all levels of divers.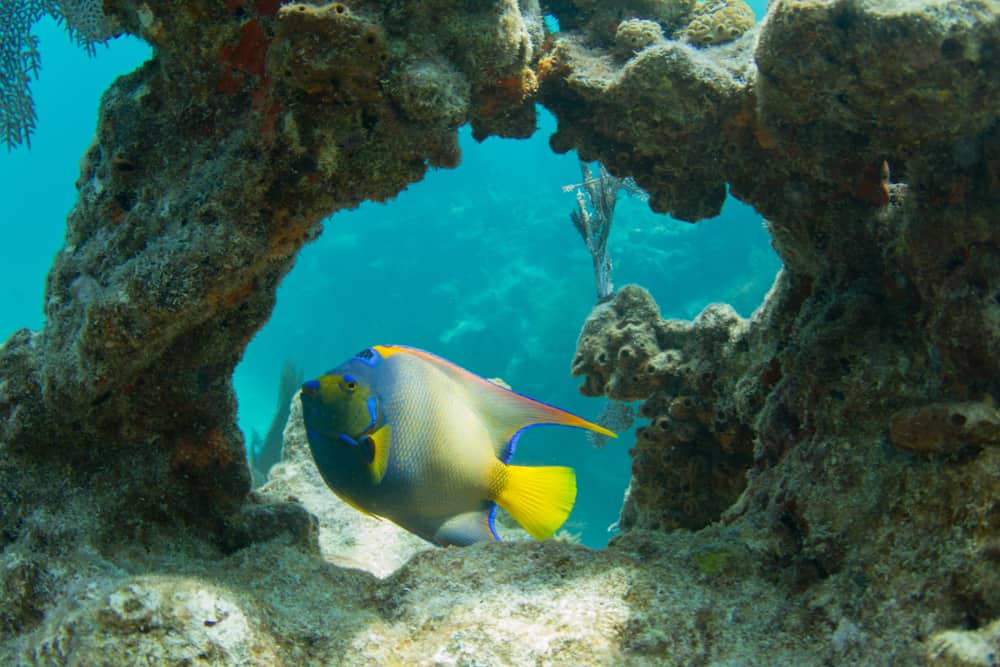 Devil's Den
Now, Devil's Den may not look like much from the surface but don't be fooled! Step down the staircase and you will be lead into a cave with an underground spring inside! This makes it one of the most unique ways to go scuba diving in Florida!
The water is crystal clear and the temperature remains a steady 72 degrees all year round. This spot is super popular with scuba divers as the depth can get to 200 feet. If you're planning to go during summer and peak times, head there early to avoid disappointment.
For up to 50 feet, there will be beautiful sumbeams streaming through the water overhead making Devil's Den a great photo opportunity! The deeper you go, you will find guppies, catfish, turtles, swim-throughs to explore, and fossil beds dating back 33 million years! Remains of camels, dire wolves, and saber-toothed cats have been discovered here!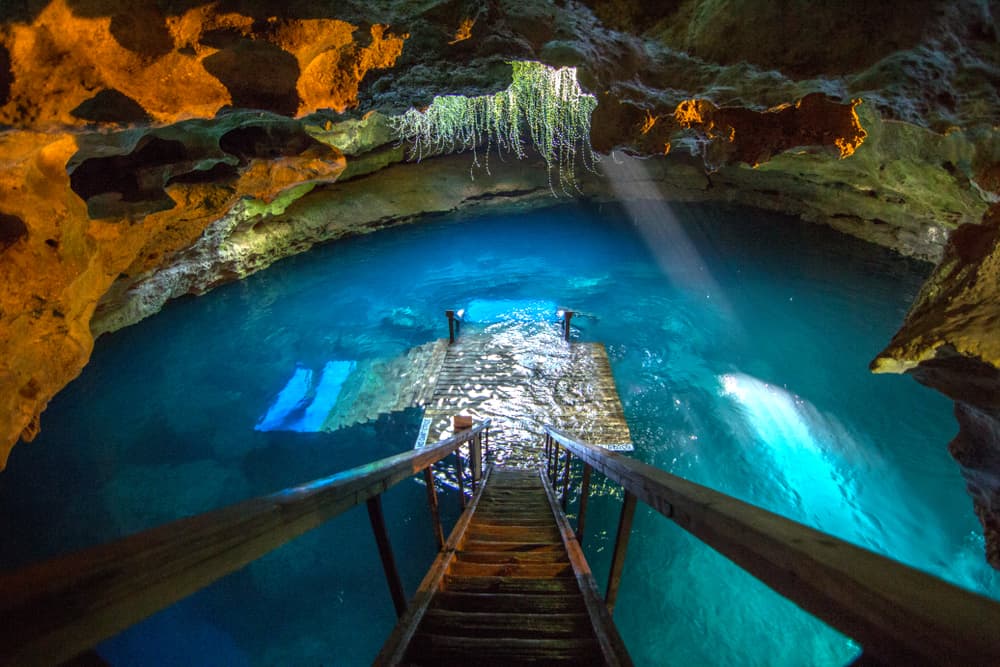 And that is our list of places to go scuba diving in Florida. There are no end of places to go scuba diving, you really are spoilt for choice! And with such a wide variety of diving sites to see, we know you will have the most incredible time! Happy Diving!