It's no mystery that the main event in Florida is the beautiful beaches in Clearwater and St. Petersburg. The shorelines draw in millions of tourists each year. If you've never experienced Florida's most beautiful beaches, this is your time.
How many other areas have multiple beaches ranked as the best beaches in the country, and even the entire world? Clearwater Beach and St. Pete Beach have earned themselves spots lists published by Trip Advisor, USA Today, and the Travel Channel.
The beaches in Clearwater and St. Petersburg are surrounded by the blue-green waters of the Gulf of Mexico. All of the sands are sugary and white. Incredibly smooth, you won't need water shoes to protect your feet on most of these beaches.
Because of Florida's subtropical climate, the waters are comfortable year-round. The waters reach their lowest temperatures in January at 70 degrees. August is the warmest at 88 degrees.
Florida weather can be fickle, so we highly recommend checking the forecast before planning any trip to the beach. If you're going to search for shells, we recommend planning a trip during low tide and ideally after a gusty storm.
When visiting the beach, we recommend of course bringing sunscreen! Even in the cooler months, the sun's rays are just as damaging. Wear your swimsuit under your clothes so you can jump right into the water. Bring a waterproof bag for your phone and keys!
If you plan on swimming, check to see if there is a lifeguard on duty, especially if you are swimming with small children. Familiarize yourself with beach warning flags: double red means no swimming at all, green means no hazard.
Get packed and hit the waves, the best beaches in Clearwater and St. Petersburg Florida are waiting for you! Don't forget to check out our list of the best things to do in Clearwater Beach!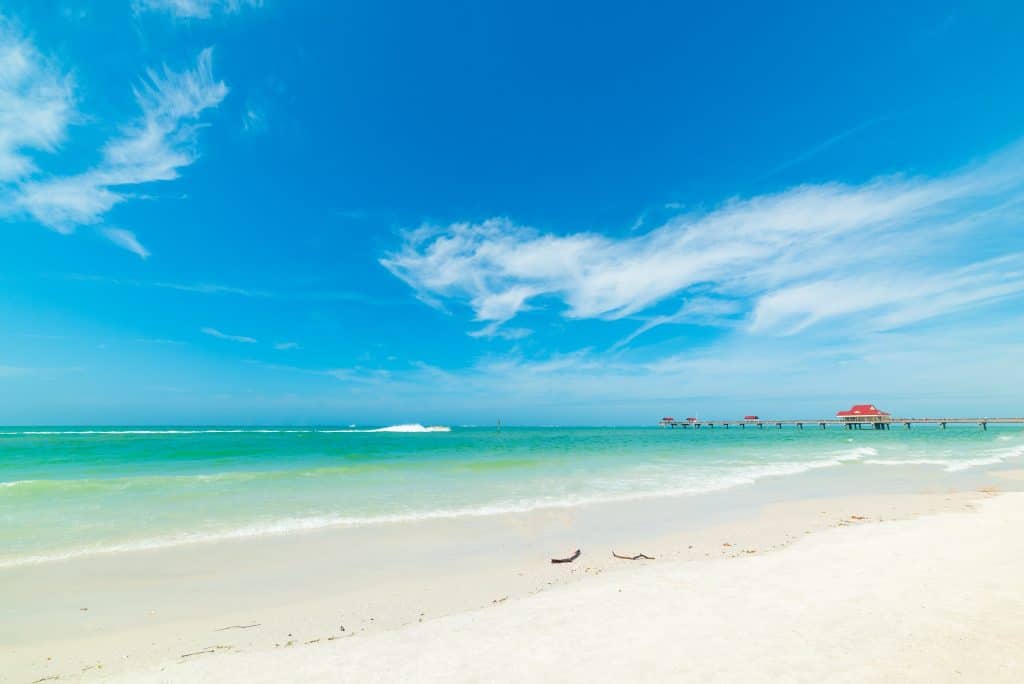 15 Best Beaches in Clearwater and St. Petersburg Florida
Fort De Soto Beach
At the very tip of St. Petersburg, you'll find 1,136 acres of five interconnected islands. Bask in the majestic, diverse ecology of the park, encompassing mangroves, wetlands, palm hammocks and a series of the best beaches in Saint Petersburg.
Although it isn't a Florida national park, Parents Magazine named Fort De Soto Beach Park the #1 Best Beach For Families in 2011! Along the 7 miles of waterfront, you'll bask in the sun on almost three miles of beautiful white-sand beaches. A natural sandbar makes a natural "kiddie pool" perfect for little swimmers.
Dad can enjoy fishing on the piers, each furnished with a food and bait concession. You're likely to snag spotted sea trout, snook, and redfish! Mom can rest easy knowing there is a lifeguard on duty.
You can even bring your furry friend to join in the fun! Fort De Soto has a dedicated off-leash dog beach! Now you don't have to feel guilty about leaving your pup at home.
If the family doesn't want to leave just yet, take advantage of the campgrounds! There are plenty of amenities to keep everyone busy, like the Quarter Master Museum, playgrounds, two large swim centers, boat launches, and nature trails.
If you want to visit, check out our post on Tips For Fort De Soto!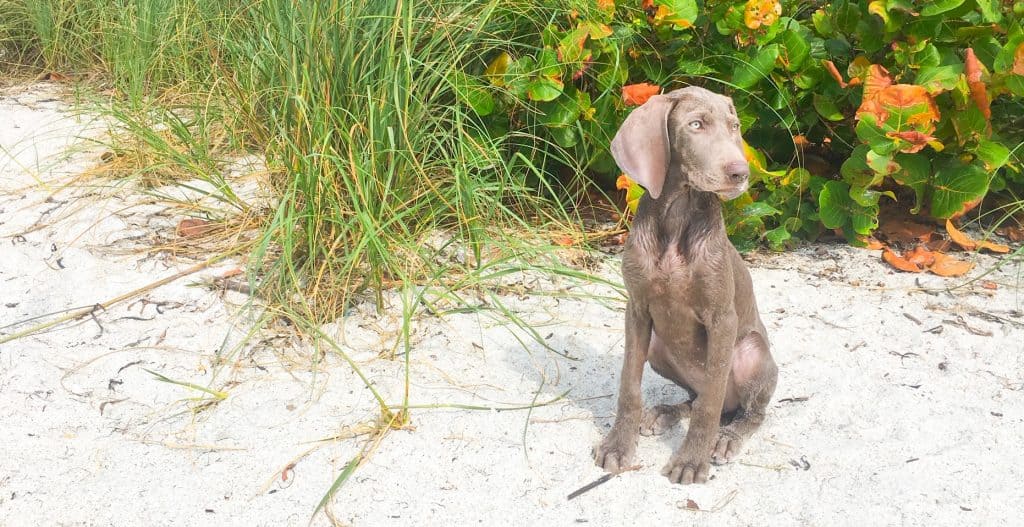 Honeymoon Island
Honeymoon Island is one of Florida's most beloved state parks in Clearwater. With its many scenic nature trails through virgin slash pine forests, it also has four miles of beaches. The lush background makes it one of the prettiest beaches in Tampa Bay!
Honeymoon Island is a famous location for weddings and romantic getaways. It never gets too crowded like some other Florida Beaches, so it's a great place to relax and enjoy the company of your special someone.
Honeymoon Island is connected to the Pinellas Trail, so you can bike there super easily! The beach is divided up into North Beach, Oasis Beach, and an on-leash Dog Beach. Each has its own huge parking lots and plenty of space.
Some notable wildlife you can see at Honeymoon Island are ospreys, turtles, rattlesnakes, armadillos. It's also a great place to find unique shells.
You can purchase seasonal or annual passes, but a day trip is only $8 for a full car or $4 for a single person. You and your family will have a great time on one of the most beautiful islands in Florida!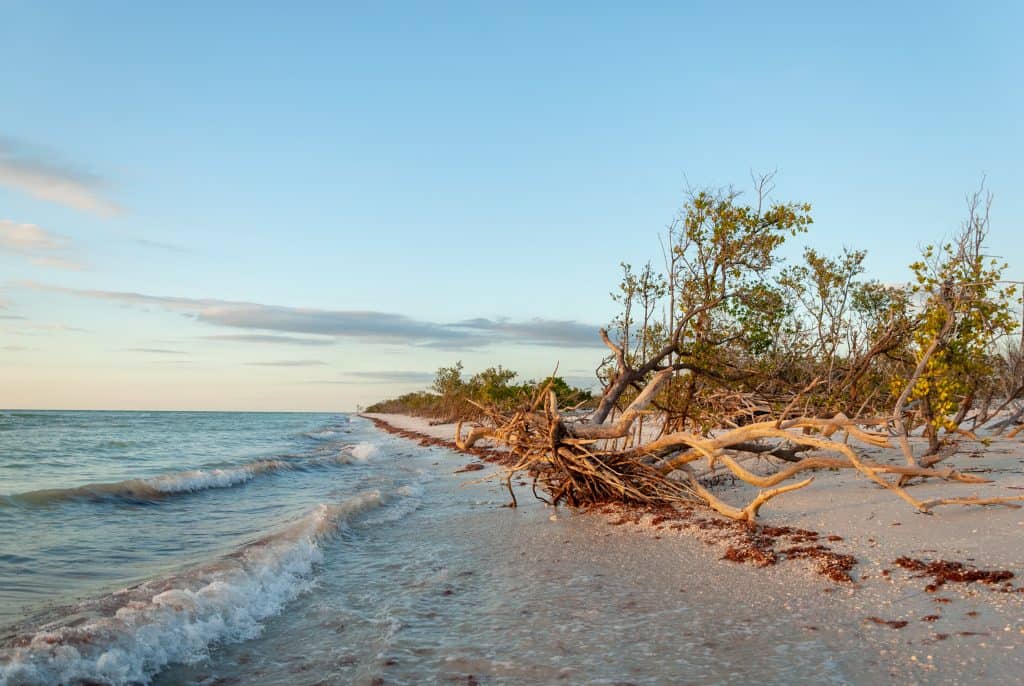 Caladesi Island State Park
West of Dunedin and north of Clearwater Beach, Caladesi was once part of a large barrier island. It broke away during a hurricane in 1921. To this day, Caladesi Island is untouched and remains one of the best beaches in Clearwater.
The easiest way to reach Caladesi is by taking the 20-minute ferry. But if you want a truly scenic adventure, you can brave the 3-mile walk north from Clearwater Beach. It's not easy, but the views are absolutely worth it.
As you explore the island, you'll find more and more activities. Walk the nature trails (but bring bug spray!). With a license, you can fish for flounder, snook, trout, snapper, whiting, and sheepshead! Pack a picnic lunch!
There is a reason Homesteader Myrtle Scharrer Betz called this place "paradise" in her memoirs. As you wander the island, you'll discover one of Florida's best-kept secrets and hidden gems. Nobody knows exactly how the secret shell trees were created. Make sure to find a shell to hang on a branch to prove you were there!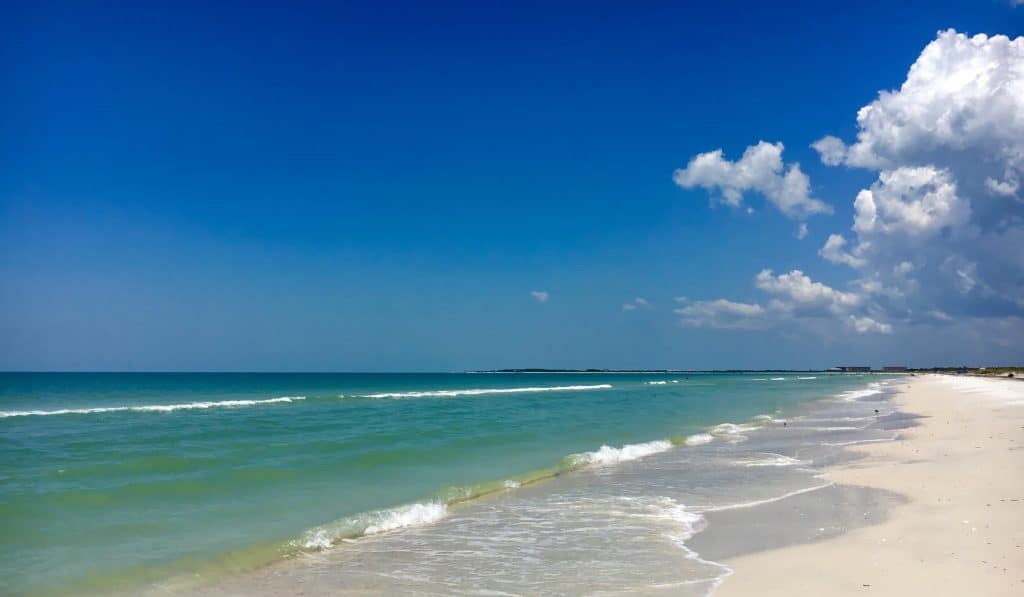 Treasure Island
Truly and island, touched by water on both sides, Treasure Island is connected to the mainland only by a few bridges and causeways. With multiple shorelines, the true "treasure" of the island is exploring the best beaches in Clearwater: all in one place. Don't forget to check out all of the things to do in Treasure Island!
Fully-developed with commercial and residential areas, Treasure Island seems a bit touristy, but in this case, that's not a bad thing. These beaches are where middle-America comes to relax, like retirees and families with their children. It's definitely more comfortable than a private beach at an upscale resort.
At the northern end, you'll find Sunshine Beach, beloved by locals, and the most laid-back on the island. There's a jetty to walk on, great for taking family photos or taking in the scenery. Satisfy your sweet tooth at the Shake Shop for milkshakes!
Next as you walk south, you'll find the Municipal Beach. Be warned, this has the largest stretch of sand from parking lot to the shoreline, so pack lightly. Here you'll find a retro snack bar and a children's playground!
Further down yet is Gulf Front Park where on Sunday nights, you'll see something very unusual. The Treasure Island Drum Circle is made up of adults frolicking, dancing, and hula-hooping around bonfires! You'll feel like a child again among the whimsy. Don't for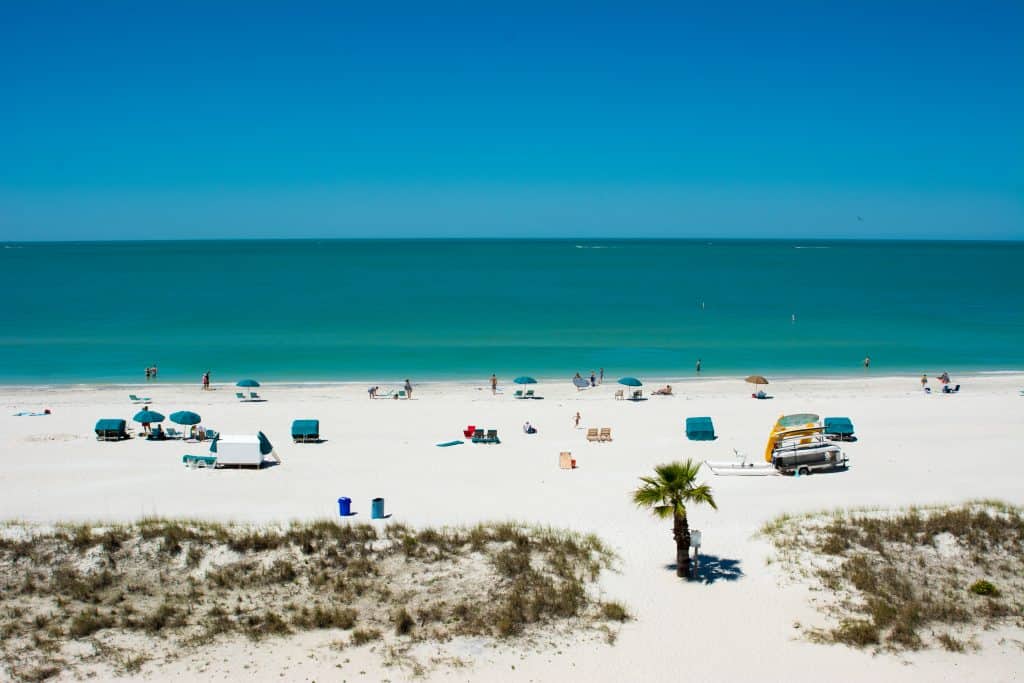 Pass-A-Grille Beach
At the southernmost end of St. Pete Beach, you'll find a quaint, quirky beach town! Among the boutiques, rooftop bars, and outdoor art markets, you'll find the best beaches in Saint Pete.
A favorite among snowbirds, this beach's name is derived from French. Pass-A-Grille means having to do with the grilling of fresh fish. Quite fitting, as anglers can catch everything from grouper to sea-bass and snapper and triggerfish in the warm Gulf waters.
Perfect for sunbathers and swimmers alike, Pass-A-Grille is devoid of high-rises, crowds, and shopping malls. Here you'll just find residents enjoying the quiet four miles of undeveloped Gulf coast shoreline.
The clear waters are perfect for snorkeling. You're likely to see dolphins or even bump into a manatee or two! Excursion services are available to take you to Shell Key Preserve to see nesting, wintering, and migrating birds!
Afterward, when you're all beached out, putter around the streets and discover small art galleries and mom and pop antique stores. Then grab a cocktail at the Hurricane on their rooftop bar and take in the gorgeous Pass-A-Grille sunset.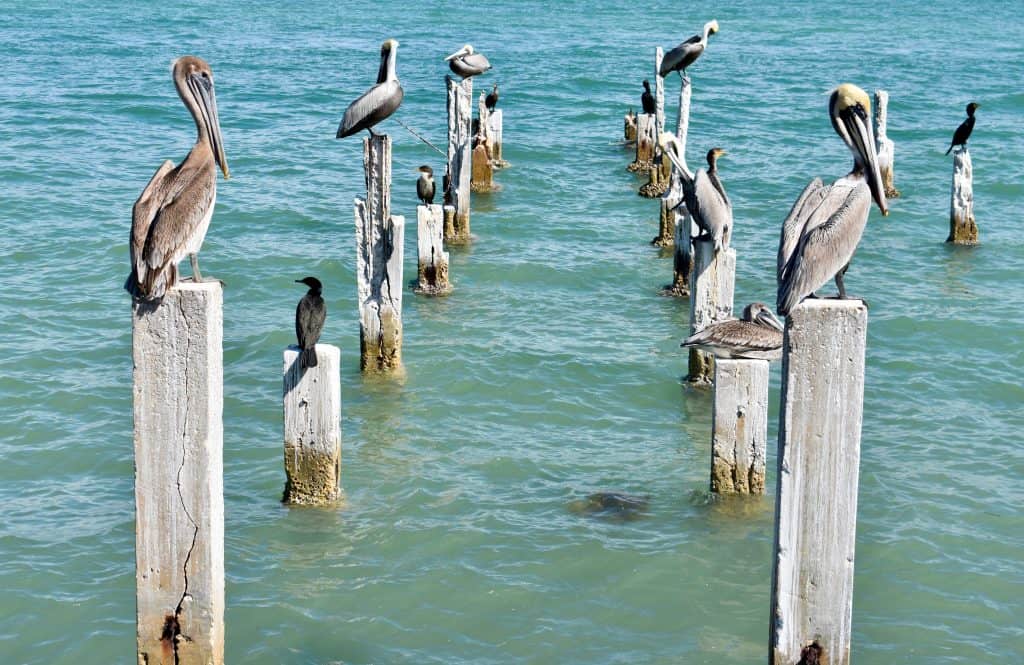 St. Pete Beach
Around 10,000 people live in the St. Pete Beach area full time for one reason: the pristine white sand beaches. A resort city on a barrier island, discover why St. Pete Beach is one of the best of all the beaches in St. Petersburg.
One of the reasons people keep returning to St. Pete Beach is the white sands. Sure, there are enough shells to collect and take home, but not nearly enough to require water shoes. The shoreline is kept immaculately clean. Do the stingray shuffle in the emerald-green waters where you'll wade no higher than the thigh, always warm from a coastal breeze.
While you could easily spend the day reclining on the sand, don't forget to take advantage of the other activities available. Kayaking and canoeing are popular, but for those that want a higher adrenaline rush, you can try speed boating, wind surfing, and parasailing!
Afterward, head to the Historic Corey Avenue Shopping District for some much needed retail therapy! If you don't want to leave the beaches just yet, check out beach bars like the Toasted Monkey and the Undertow to enjoy cocktails as the sun sets.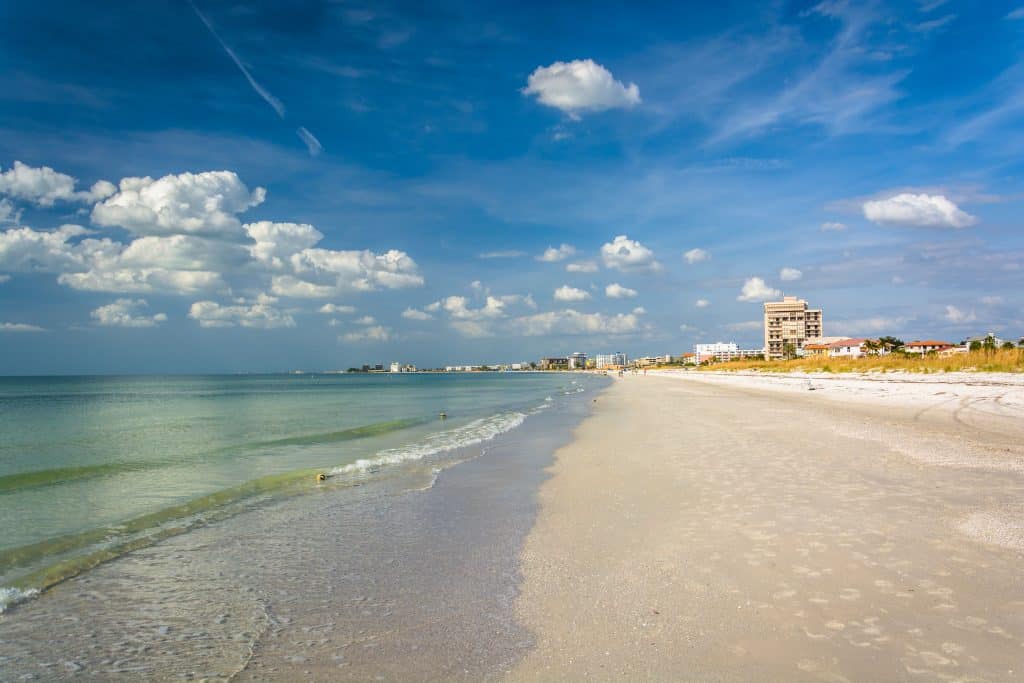 Indian Rocks Beach
Spanning 2.5 miles along the Gulf Shores, Indian Rocks Beach is perfect for a quiet weekend getaway with multiple access points to the shore. A great location for tourists, Indian Rocks is only 30 minutes from Tampa International Airport and only 20 minutes from downtown St. Pete!
Wade through the clear blue, shallow waters! Perfect for young swimmers, the waters only get deeper gradually. There are no sharp drop-off points. The shorelines here are quiet and mostly inhabited by locals, so this is definitely one of the best beaches for a romantic date night.
While Indian Rocks Beach is a secluded getaway, you can still enjoy many water sports like wave runners, parasailing, and deep-sea fishing carters! Make sure to hit the links, with some of the best golf courses in Florida just steps away.
Beyond the beach on Gulf Blvd, there are plenty of eclectic shops, taverns, and restaurants to enjoy. If a day at the beach just isn't long enough, you'll find an array of quaint motels, AirBnBs, and resort hotels in the area. So relax, and soak up the best of Indian Rocks Beach! Don't forget to check out some of the Best Restaurants In Indian Rocks Beach for your visit!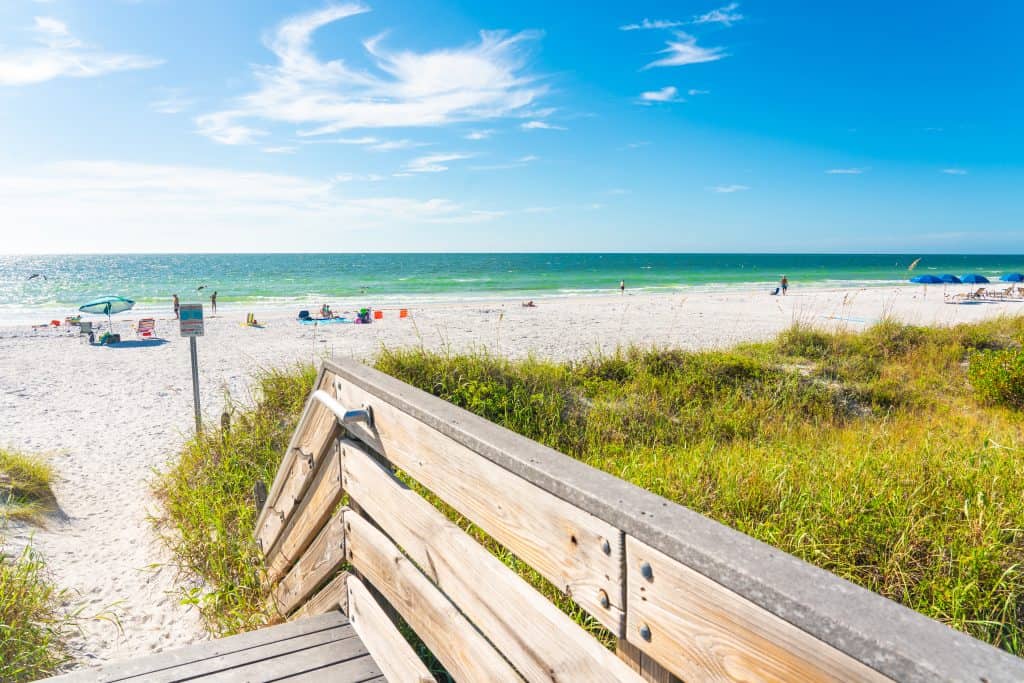 Sunset Beach
The southernmost and most beautiful of the Treasure Island beaches, Sunset Beach is in a league of its own. Due to its unique southern exposure, its name comes from the gorgeous sunrises and sunsets visible every day.
Sunset beach is not a flashy tourist trap with tacky t-shirt and surf shops or high-rise condominiums. Here you'll just find a wide, white sand beach with clear waters. The currents are calm, never too strong.
Along the shoreline, you'll find sandbars peeking through the emerald-green waters. Migrating birds pass wade through the shallow waters. Keep your eyes peeled for peregrine falcons in October, plovers and godwits traveling from arctic regions, and gannets and terns in the fall.
Sunset Beach is very involved in the local seafood industry. In addition to some of the best fishing piers, you will have no trouble finding a restaurant that serves fish caught that day. For the best of Florida seafood, try Sunset Gourmet!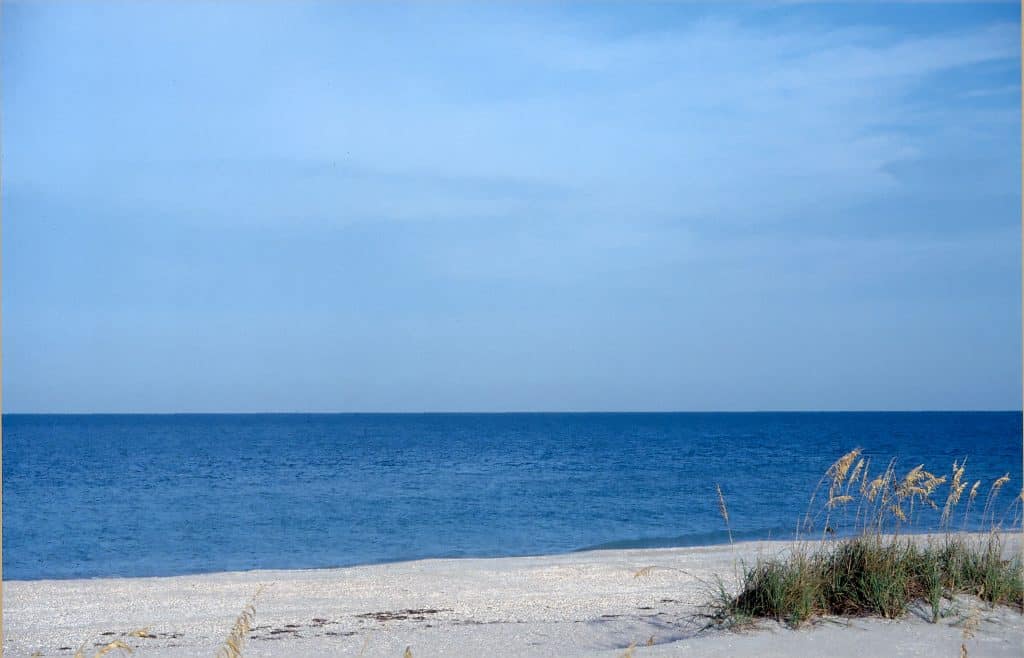 Sand Key Park
At the northern tip of the barrier island that makes up Clearwater Beach, you'll find perhaps the most serene, peaceful paradise. Get away from the hustle and bustle of Clearwater beach without going away. Sand Key Park is one of the best beaches in Clearwater!
A hefty beach, Sand Key provides guests with all the amenities needed for a fun day without the crowds. A concession stand rents out cabanas and beach chairs. You'll also find large bathhouses, a playground for the kids, and even a dog park!
Seasonal lifeguards watch the waters, so you can feel safer swimming with the little ones. Sand Key Park even offers disabled visitors beach wheelchairs, which roll easier on the sand and float in the water, free of charge.
Many endangered sea turtles migrate here to lay eggs on this beach. Always make sure to keep a respectful distance from marked nests! You can also see a variety of endangered nesting birds. Sand Key Park is also the base of operations for the county's artificial reef program!
If you want to visit here, we have a post on Tips For Sand Key!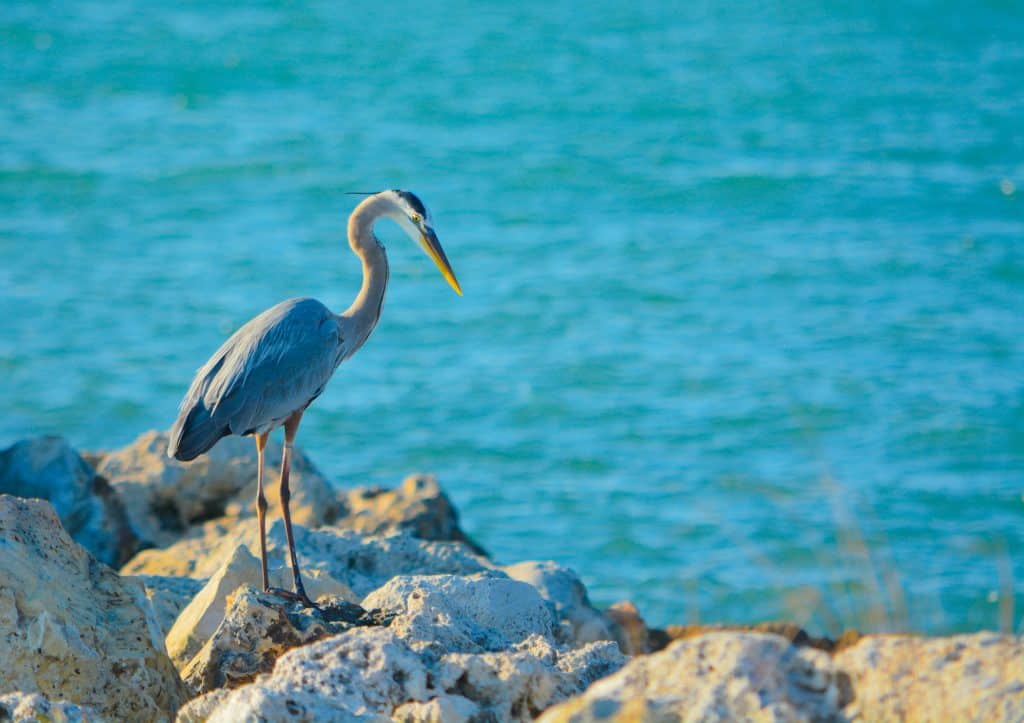 Clearwater Beach
All right folks, this is the big one. Arguably the best beach in Florida, Clearwater Beach has been named the #1 beach in America by multiple sources like TripAdvisor, USA Today, and Forbes.
You heard us right, this means that Clearwater Beach has won the coveted title over the best beaches in Hawaii, California, and the Carolinas. So what makes Clearwater Beach so great?
Florida's best paradise, Clearwater Beach boasts calm ocean waters and powdery white sands. The city works hard to maintain cleanliness, raking the sand each morning to ensure the sand stays sugar-soft. Clearwater beach is also one of the few beaches where lifeguards are on duty year-round.
Those seeking an adrenaline rush can rent jet skis and wave runners! The waters are perfect for snorkeling and scuba diving, and the winds are perfect for parasailing. Anglers can try spearfishing or charter a boat for deep-sea fishing.
Of course, there are lots of amazing Hotels On Clearwater Beach that you can choose. If hotels aren't your style, you may want to look into a Clearwater Airbnb with a view of the Ocean!
A few times a month, Sunset Cinema screens family-friendly movies. How cool would it be to watch Jaws on an actual beach? You can also find the best festivals in Florida here like the Clearwater Offshore Nationals for boaters and the Sugar Sand Festival for kids!
Clearwater Beach is also home to some of the best restaurants in Clearwater. Make sure to check out Frenchy's Rockaway Grille while you're still at the beach. Later when you want a nice night out, try Ocean Hai, or head further down the beach for a historic dinner at the Columbia.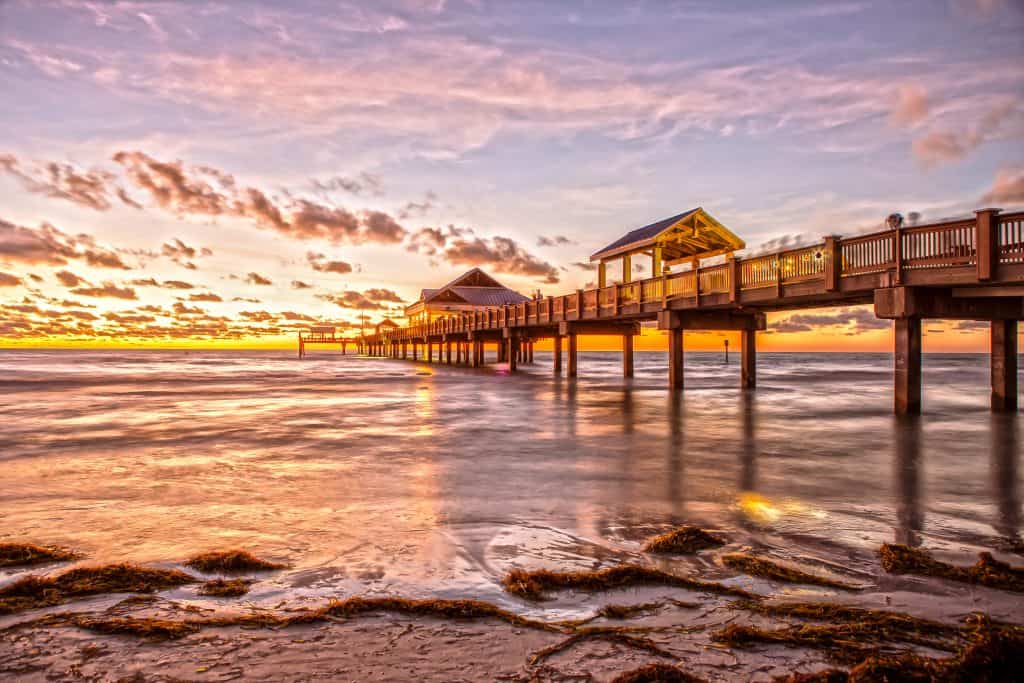 Redington Beach
Found in a small waterfront community, you'll encounter a perfect beach for a holiday, never overly crowded. Redington Beach is truly one of the best public beaches in Clearwater!
You'll find beach access tucked on boardwalks in between businesses and residences. It feels like you're discovering a secret passage way! Not at all touristy, Redington Beach is quiet and totally ideal for rest and relaxation.
Once a local's beach with small cottages, Redington has grown into a full community! The shores are long and shallow, perfect to set up a beach chair and let the waves lap at your feet. The sand is smooth, so you won't need water shoes.
Redington Beach is so leisurely and relaxing that Yoga practitioners make this a destination for meditations. The fresh salt-water air, cool breezes, and sounds of the gentle waters rushing help guide you through your practice.
Redington Beach doesn't get as much love and attention as it deserves. It's definitely a bit off the beaten path! You'll find two playground areas for kids, lots of great shelling, and tennis courts. After the beach, hit up the local museums, art galleries, and boutiques!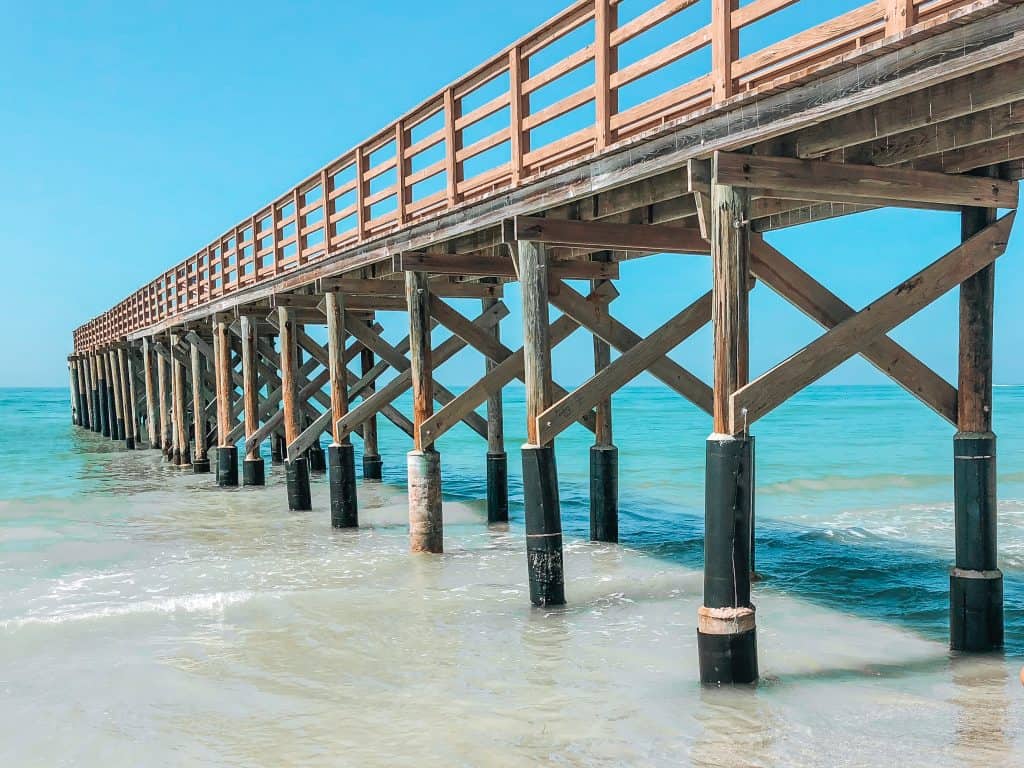 Madeira Beach
A charming beach town to the west of St. Pete, many people have fallen in love and made Madeira Beach their permanent home. Thanks to its amazing shoreline, white sands, and breathtaking sunsets, Madeira Beach is one of the best beaches in Clearwater!
Rumor has it that a pirate named John Levique first settled the area. Don't worry, you'll only find two miles of pristine white sands here. Although you can catch a pirate cruise to live out the old legend! There are also so many things to do in Madeira Beach!
Known to locals as "Mad" Beach, Madeira is anything but. You'll find families floating out in inner tubes and relaxing on the beach. Although there is great shelling here, the sands are still smooth enough so you won't need water shoes!
Madiera Beach has one of the largest fishing fleets in the state, so naturally angling is the #1 water sport here! Charter a boat to go deep-sea fishing. You can also cast your line from the pier. Then head to John's Pass Village.
The Village at John's Pass is a sea-themed community with 1,000 feet of boardwalk along the Intracoastal. Here, some restaurants will even cook the fish you've just caught. Afterward, browse the shops and art galleries. You're sure to find a perfect souvenir to take home!
Madiera Beach is one of the rare beaches in Clearwater that allows you to bring alcohol on the shores. Always drink responsibly, and only bring aluminum cans, no glass. Nobody likes stepping in glass on the beach!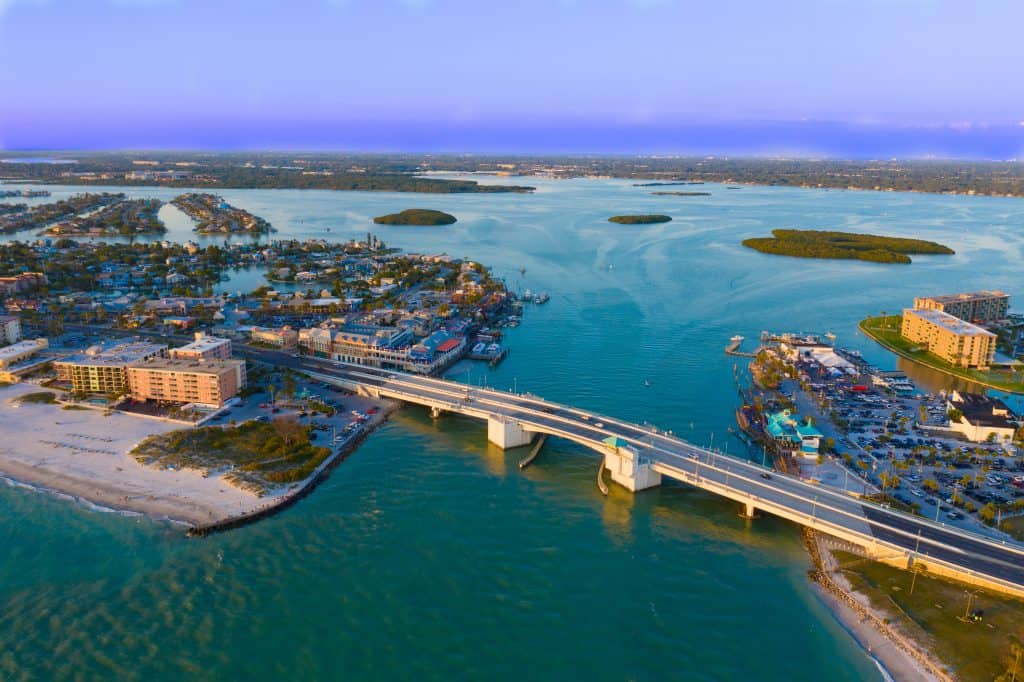 Courtney Campbell Causeway Beach
For those that have made the drive from Pinellas County to Tampa, you know the sights and views of this next beach very well. The Courtney Campbell Causeway runs 9.5 miles across the Tampa Bay, connecting the two areas.
While the Causeway does have one of the prettiest beaches in Clearwater, it's not your traditional beach. Climb down the rocks to wade in the shallow waters. Many people come here to cast nets and fish, paddle board, and take leisurely boat rides.
The main attraction of the Courtney Campbell Causeway Beach is the exercise trail that runs parallel to the beach and Causeway itself. Take a run, bike ride, or go rollerblading!
Along the trail, you'll be met with a visual feast of the Tampa Bay. The waters of the bay sparkle in the sunlight, a gorgeous shade of aqua blue. Water crashes against the rocks and fills the air with a delicious salty aroma.
In the middle of the Causeway, the road and adjacent trail rises up 45 feet over the water for boats to pass underneath. This is a magnificent place to just stand and watch the sunset, it feels like you're stepping into a panoramic postcard of Tampa Bay.
Although the Courtney Campbell Causeway Beach is not your traditional beach, it provides magnificent views and a magical aura that remains unmatched. To find parking, simply take the Causeway until you reach a turnoff point on the west side of the highest part of the bridge!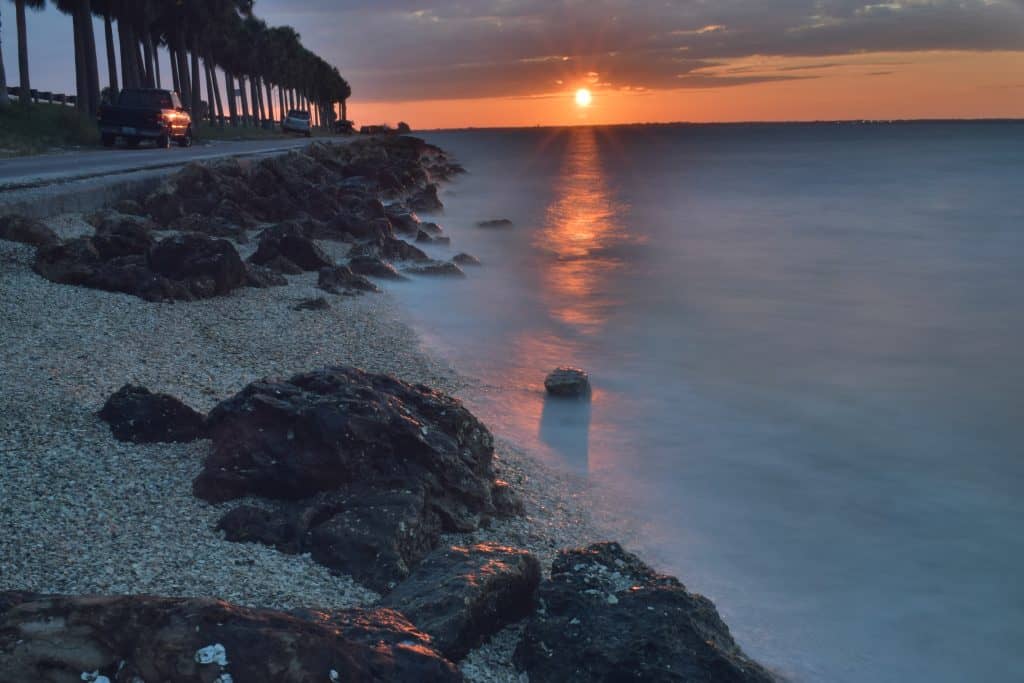 Belleair Beach
At Belleair Beach, pretend to be a millionaire for a day at the best beach in Clearwater! Belleair Beach is mostly residential, but has one gorgeous public beach accessible by way of Morgan Park.
At Belleair Beach, you'll find no crowds, no active sports, just peace and quiet. This is the best beach for a quiet afternoon of rest, relaxation, and solitude. Bring a beach blanket and layout, or knock out a few chapters in that book you're always putting down.
Belleair Beach boasts 9,500 feet of white sand shoreline with the most impressive waterfront homes as a picturesque backdrop. This is also a perfect place for boaters to launch, right next to the 7th Street Park Boat Ramp.
Park at a lot on Morgan Drive and Gulf Blvd for $4 with a 3 hour limit. Behind the beach, you'll find a park with pavilions, restrooms, showers, and benches. Just plan your trip carefully, as there are no restrooms on the actual beach.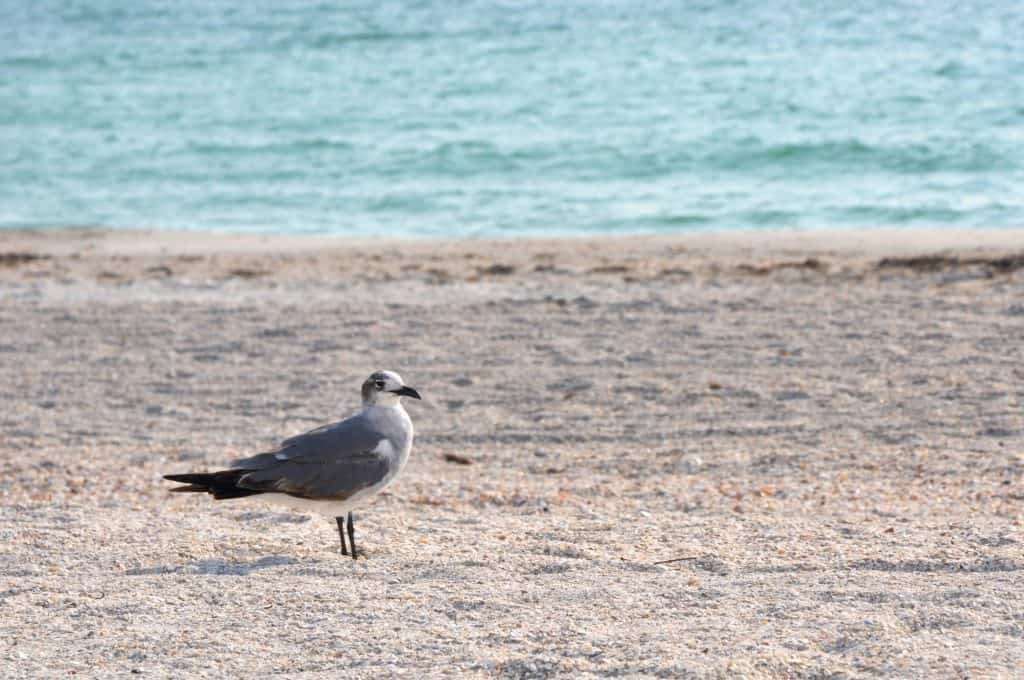 Ben T. Davis Beach
At the very end of the Courtney Campbell Causeway, you'll find a more traditional beach fronting the entrance to Tampa Bay. Ben T. Davis Beach is one of the best beaches in Clearwater, perfect for families!
This beach's sands are not the smoothest, so we recommend water shoes. The water is incredibly warm and can feel like you're stepping into a bathtub! Always shallow and wade-able, its perfect for little swimmers.
You can always see families grilling out on charcoal grills and picnic benches. If you don't want to cook yourself, you can always hit up the concession stands selling ice cream, sandwiches, and finger foods.
A shop near the public restrooms has rentable bikes, kayaks, and paddle boards. Take to the open seas, or bike along the Courtney Campbell Causeway Trail!
Ben T. Davis Beach is walking distance from some of the best restaurants in Tampa! The Rusty Pelican and Whiskey Joe's both have beach access so you can walk through the waves with a cocktail in your hand! For a more traditional sit down experience, you can enjoy Bahama Breeze!
To keep the party going long after sundown, walk over to Hogan's Beach, an extension of the brand of none other than local professional wrestler, Hulk Hogan. Self-described as "Margaritaville and Hooters times ten," play the night away with volleyball courts, fire pits, tiki huts, and cabanas. There's even a mechanical shark ride, so don't fall off!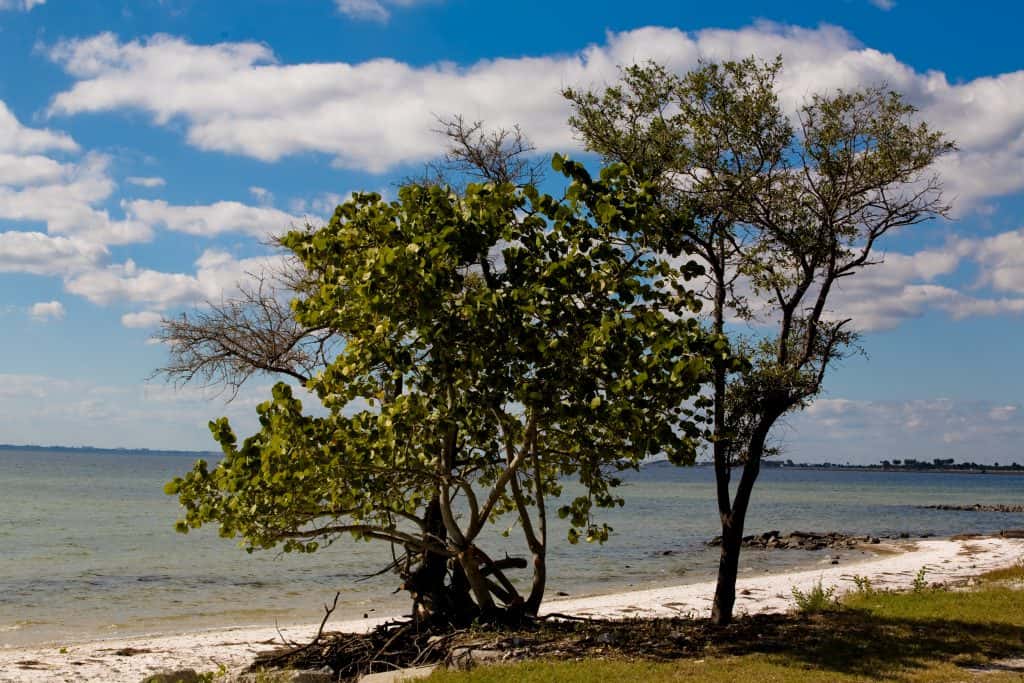 Did You Find This Post Helpful?
If so, we would love to keep in touch! We enjoy seeing photos and comments about your experiences in Florida! You can follow us on Instagram and we will repost your photos on our feed and comment too! Just tag us at @floridatrippers and hashtag #floridatrippers. We can't wait to see your travels!