After 5 PM, the bars in Tampa start to open, and nightlife is officially live. If you're looking to blow off steam after work, dance the night away, or hang out with friends, Tampa nightlife won't let you down.
Because Tampa's restaurant scene has raised the bar over the past 15 years, the rest of the city is following suit. The cocktail scene has been going through somewhat of a cultural renaissance!
SoHo and Hyde Park have the trendy bars, while Ybor has "Bourbon Street" and bustling night clubs. In Seminole Heights, you'll find the hidden gems tucked away. Channelside tends to attract tourists, while downtown Tampa is incredibly posh.
What are you in the mood for? A quiet rooftop bar? Head to M. Bird at Armature Works. A dance hall? Go to the Castle in Ybor City! No matter what you're looking for, Tampa has a unique venue for you that you won't find anywhere else.
With so many options, we understand it can be overwhelming picking between the best bars in Tampa. Of course, we're here to help! Here are our picks for the best clubs and bars you can't miss for a great night out!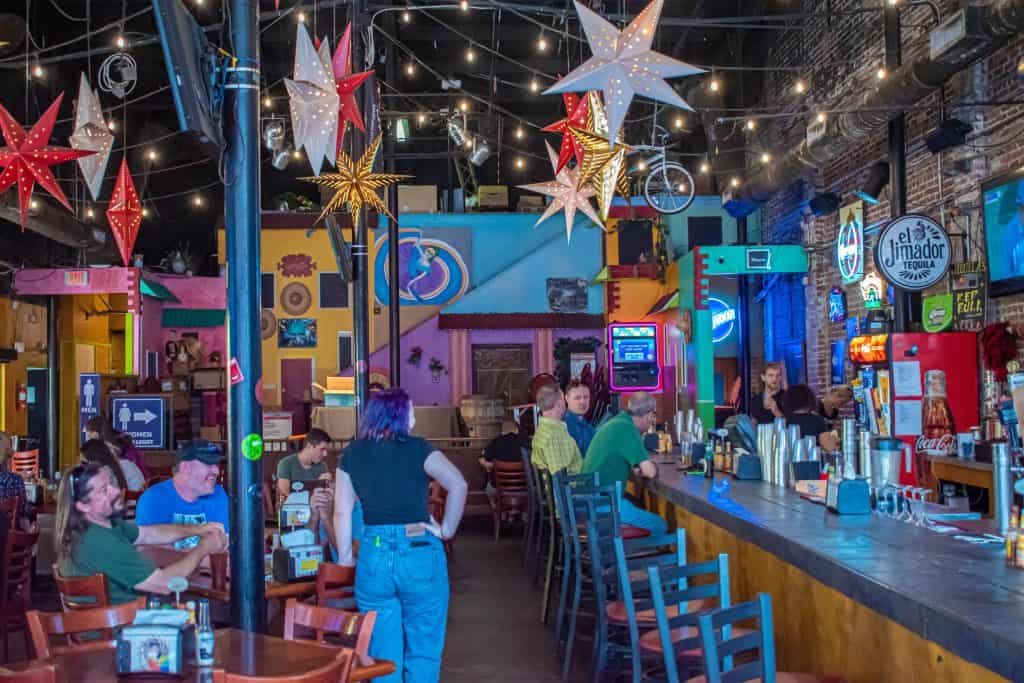 15 Best Clubs And Bars In Tampa For A Night Out
Tequila's
At Tequila's in the heart of Ybor City in Tampa, you can dine on Mexican food under the stars! But while sitting under those shimmering lanterns, the real star of Tequila's are the two full bars!
One of the best downtown Tampa bars, Tequila's features over 100 different tequilas to choose from, hailing from all over the world. Grab the limes and salt and make some memories in the fresh air of Ybor City, or in the charming restaurant inside.
Tequila's is also famous for its world class cocktails featuring Tequila of course! Try the Jalapeño Margarita with Milagro Resposado or the Tequila Mockingbird with Don Julio Silver!
To keep your Blood Alcohol Content in check, share some bites like the avocados stuffed with beef, cheese, pico de gallo. You can also try the tacos, burritos, and chimichangas, all available in vegetarian options too!
Throw back some drinks at Tequila's on 1613 E 7th Avenue on Sundays from 11 AM – 10 PM, Mondays from 11:30 AM – 10 PM, Tuesdays and Wednesdays from 11:30 – 12 AM, Thursdays from 11:30 – 1 AM, Fridays from 11:30 – 3 AM, and Saturdays from 11 – 12 AM!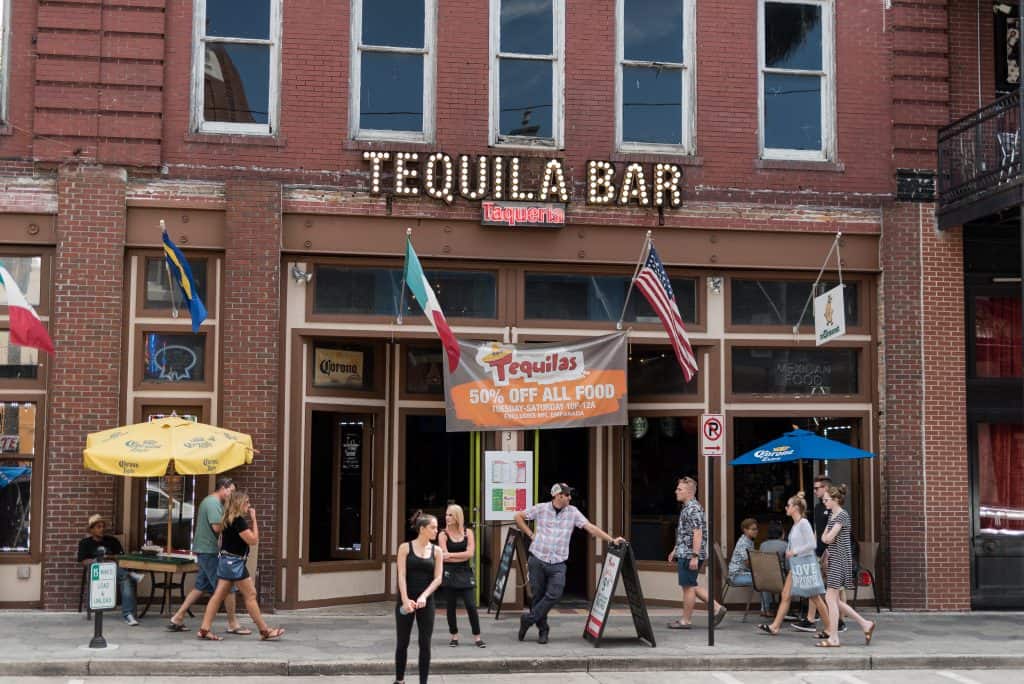 M. Bird
If you're in search of the best rooftop bars in Tampa, look no further than M. Bird at the top of Armature Works. After spending a day sampling the tastes of Tampa's biggest public market, head to the premier rooftop destination for world-class cocktails.
M. Bird may seem intimidating with its luxurious deco-inspired lounge, but don't worry! While M. Bird is perfect for a drink after work or an event, you'll fit right in, in casual attire and jeans. All are welcome!
While there is no specific Happy Hour, M. Bird mixes some of the best tropical curated cocktails and small plates perfect for sharing. A hot spot, no reservations are available. So we recommend arriving early because its first come, first served!
M. Bird remains open, no matter the weather even though its a rooftop bar. There's plenty of room over the covered patio, so they're always open rain or shine!
As you sip on cocktails, you'll enjoy unparalleled views of the Tampa skyline, incredibly gorgeous at sunset. For extra excitement, head over on Friday nights for live music by a DJ from 8 PM – 12 AM!
Check out M. Bird at Armature Works at 1903 Market St. Hours are Monday through Thursday from 3 PM – 12 AM, Friday and Saturday from 12 PM – 1 AM, and Sundays from 12 PM – 12 AM.
The Sail Pavilion
Found on the Tampa Riverwalk, the Sail Pavilion is Tampa's only 360 degree open air waterfront bar! An urban oasis, come by foot, by car, or even by boat to one of the best downtown Tampa bars.
A great place for both tourists and locals alike, the Sail Pavilion is walking distance from many of Tampa's hottest attractions and the Channelside District. Right in front of the Tampa Convention Center, the Pavilion is the perfect place to kick back and watch the sunset.
Before you head over, you can grab a sandwich right next door at Big Ray's Fish Shack, one of the best restaurants in Tampa. On occasion, many food trucks line up right on Franklin Street, next to the bar!
Make sure to bring your furry friend, especially after a fun day at one of Tampa's dog beaches! Yappy Hour is all day, with complimentary dog biscuits and water bowls. If your pup has been behaving really well, treat him to doggy ice cream in pup-cups!
Fly Bar
Found in Tampa's historic Lafayette Arcade, Fly Bar takes premier dining back to the basics. One of the best bars in Tampa, here you'll find flavorful food, creative drinks, and an uncompromising attention to detail.
A hidden gem in Tampa Bay, the eclectic setting fosters a sophisticated but inviting atmosphere. Vibrant murals highlight Fly Bar's chic urban decor. With jazz-inspired cocktails and familiar American small plates, you'll feel like you're at the height of luxury.
Try the velvety Jelly Roll with rye, pasabio, Antica Vermouth, egg white, and marmalade! One sip of the Crow Jane with take you back to prohibition with 1792 small batch bourbon, cynar 70, tio pepe fino, mint, and demerara.
On Monday nights, stop by for 50% off all wine bottles. Featured on Monday Wine Nights are Pinot Noirs hailing from Oregon, one of the country's newest vineyard hot spots!
Daily entertainment is provided by a DJ every night. If you want a quieter evening out, simply head upstairs to the best rooftop bar in Tampa where you'll get a unique view of the city skyline!
Check out Fly Bar at 442 W Kennedy Blvd on Mondays through Saturdays from 4 PM – 2 AM.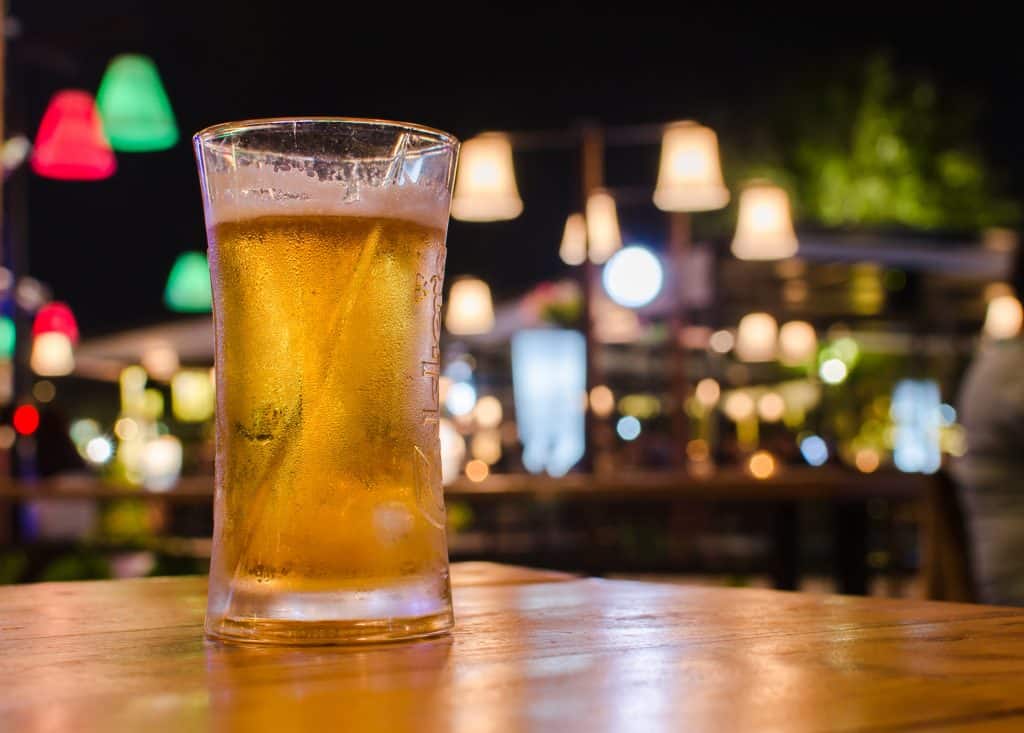 Bad Monkey
The best place to go bananas in Tampa is at Bad Monkey. One of the best Ybor bars, Bad Monkey dedicates themselves to the brave soldiers who serve their country.
You know you're at a military bar when you see six full-sized 105 mm Howitzer Shells sitting on the bar housing beer taps! Look up and you'll see the "Flying Tigers" P-40 Warhawk crashing through the ceiling!
Watch your team's sports game on 11 high-definition televisions and host watch parties. You can "own" a tap for the night on a "pay-as-you-pour" basis in one of three bar spaces!
In the main bar, you'll find a premium well along with 12 favorite local craft beers. Reserve your own beer tap for groups of 10 people or more. Socialize, watch TV, build a giant Jenga tour, throw darts, or play shuffleboard!
On the Back Monkey Patio Bar, relax in the great Ybor outdoors with a full bar and four draft beers available. Upstairs at the VIP lounge, enjoy private couch seating, a pool table, and a big screen TV!
Pour one out for the troops at Monkey Bar on 1717 E 7th Avenue on Saturdays and Sunday from 12 PM – 3 AM and Monday through Friday from 3 PM – 3 AM!
Lowry Parcade & Tavern
Sure you could sit at home on the couch and play video games, but why not go to one of the best bars in Tampa that's also an arcade? Lowry Parcade & Tavern is a hip watering hole specializing in craft beers and vintage arcade games!
Get your game face on and play classic games like Donkey Kong, Galaga, and Street Fighter. All of the machines are completely vintage! You can also play on one of the many vintage pinball machines like Deadpool Pro.
We recommend snagging seats at the 2-player multicade. A sit-down, tabletop gaming experience covered in glass, you can easily rest your drink next to the screen. All the games are two-player, so bring your friends and battle it out in games like Frogger and Burgertime!
If you need a nosh, order from the Power-Up Menu which specializes in punny bar foods. Try the Meat-Fighter Veggie Dogs or the Asteroid Cheese Nachos. Wash it down with your favorite beers, all on tap!
If you and your drinking buddies aren't afraid of a little friendly competition, then head down to Lowry Parcade and & Tavern, one of the most fun things to do in Tampa!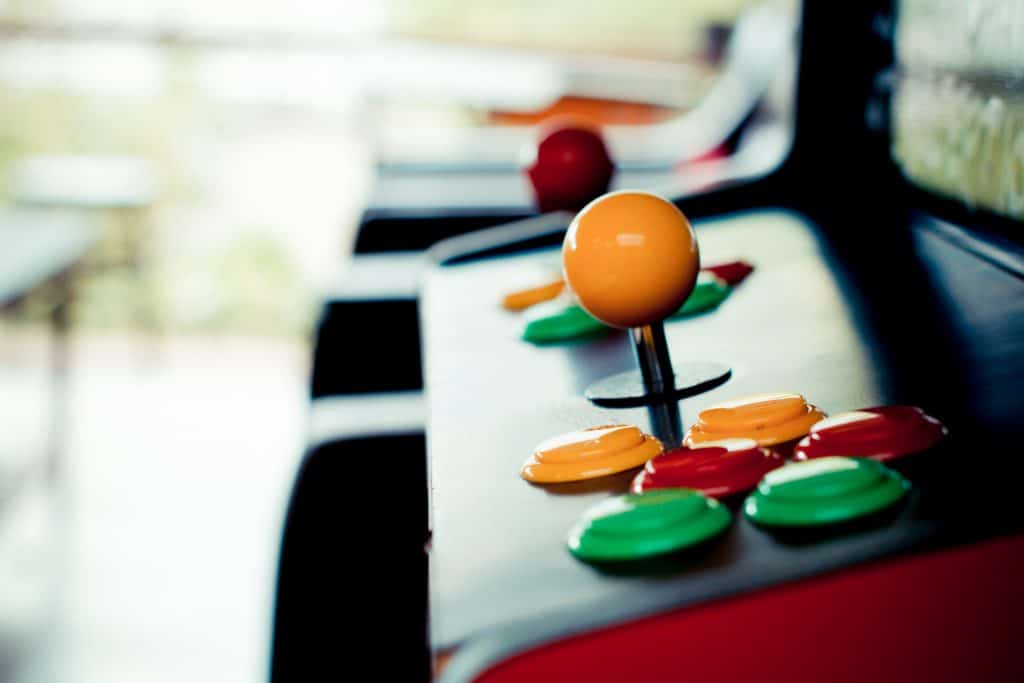 The Orpheum
In the heart of the historic district, the Orpheum is more than just one of the best Ybor bars. It reigns Tampa's live entertainment hub!
Showcasing live music and events for almost two decades, many of today's best-known and emerging artists have played shows at the Orpheum during their humble beginnings.
The venue's alumni performers include Paramore, The Killers, We The Kings, Anberlin, Colbie Caillat, Yellowcard, and New Found Glory!
In addition to some of the best national and local live music in the market today, the Orpheum also hosts professional wrestling, art shows, club events, charity fundraisers, and dance competitions. Very down to earth and unpretentious, of course, the Orpheum has a full bar.
Dance along to music spun on the turntables by a DJ! Of course, the Orpheum is a 21+ venue. While the music is good and the price is right, if you're over 25, you might feel out of place with the youth-based clientele.
You'll find the Orpheum at 1915 E 7th Avenue. Check the Orpheum's calendar for a full events schedule!
Bulla Gastrobar
Inspired by Spain's Tapas scene, Bulla Gastrobar is a fun casual gathering place. Let your senses be stirred and indulge in a celebration of good taste at one of the best Spanish bars in Tampa!
From Chef Diego Solano's strong passion for invention, Bulla Gastrobar was born. Bringing back expertise from his years cooking in Spain, those techniques and family recipes are incorporated into Bulla's menu and especially their bar.
Indulge in Spanish-inspired cocktails during Happy Hour every day from 3 – 7 PM. Share tapas plates like ham croquettes, tomatillo hummus, and fried artichoke. The cocktail menu infuses many flavors from Spain like candied ginger, peach oolong lavender syrup, star anise, and lemongrass.
The bar offers draft lagers directly from Spain as well as bottled ales, porters, and ciders from all over the world. The wine list is a fun read, with almost exclusively Spanish selections.
Our favorite cocktail is the Spanish Old Fashioned with Old Forester Bourbon, chocolate bitters, and Lustau East India Solera. A close runner-up is the La Madrilena with Old Forester 100 Bourbon, La Gitana Manzanilla Sherry, apple cinnamon infused syrup, grated cinnamon, and a filthy black cherry.
Check out Bulla Gastrobar on 930 S Howard Avenue on Sunday from 11 AM – 10 PM, Monday through Wednesday from 11:30 AM – 10 PM, and Thursday through Saturday from 11:30 AM – 11 PM.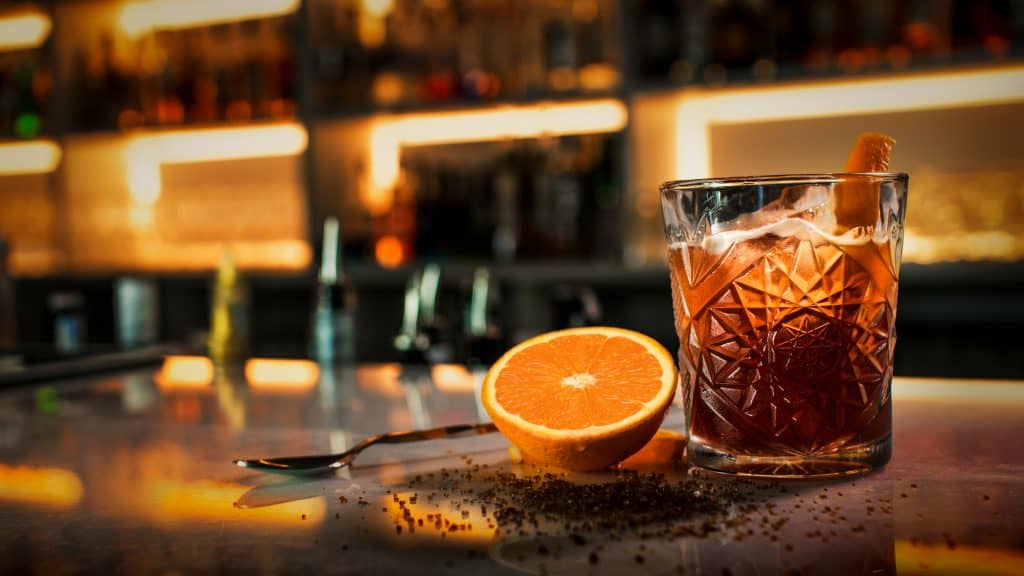 Mermaid Tavern
Hidden and tucked away in Seminole Heights, you'll find a polished gem in Tampa's bar scene. Locals swear by the Mermaid Tavern, the most uncommon gastropub in Tampa!
Much more trendy than its facade lets on, the Tavern is romantic and intimate. The tables and chairs are all eclectic and mismatched. Even so, a nautical theme pulls the space together. Behind the bar, a large blackboard showcases the evening's craft beer offerings.
Even if you're a seasoned beer connoisseur, we promise there will be a couple of rare offerings you've never heard of before! Make sure to try McKenzie's Black Cherry, a cider from Utica, NY. Beer lovers will appreciate the Prairie Artisan Pirate Bomb, an imperial stout from Krebs, OK.
Order your food at the bar, and then you'll get a number placed on your table. Our favorite nosh is the Drunken Grilled Cheese. A triple decker sandwich, this monster is made with four cheeses which use alcohol in the cheesemaking process. With an olive tapenade and blackberry chutney, the flavor profile and texture is out of this world!
Find the Mermaid Tavern tucked away on 6719 Nebraska Avenue from Sundays through Thursdays from 5 PM – 2 AM and Friday and Saturdays from 5 PM – 3 AM.
The Kennedy Soho
One of the premier Tampa nightlife hot spots, The Kennedy Soho is a boutique lounge. Join Tampa Bay for a chic, upscale evening and dance the night away!
Inside the Kennedy, you'll feel like a celebrity. Soft red lighting gives the bar and dance floor a ritzy feeling. Red velvet curtains give off a vibe that screams Old Hollywood-meets-discotheque.
The glamorous interior itself demands a great party. Celebrities like Lady Gaga have been known to make VIP appearances as patrons!
To party like the VIP you are, make a reservation to book a private space. Enjoy expedited entry, your own space to sit, and table service from a party hostess. If you're celebrating a birthday, the Kennedy graciously offers special bottle service pricing!
Ladies, make sure to sign up on the Kennedy's guest list for special offers the night you arrive. Be the first 150 to sign up on a Thursday night, and you'll get in for free! The same applies on Saturday nights and you'll also get free sponsored drinks from 10 PM to midnight!
Dance the night away at the Kennedy Blvd on Thursdays from 9 PM – 3 AM, and Fridays and Saturdays from 10 PM – 3 PM.
The Castle
For a walk on the wild side, experience the best of Tampa nightlife at the Castle, Ybor City's best dance club. All are welcome here: the goth community, steampunk enthusiasts, and fetishists.
Not only has the Castle become a Tampa icon, but people around the world recognize this dance hall. A sanctuary of "utter acceptance," patrons feel comfortable expressing themselves, no matter what. Management enforces a zero tolerance policy for violence as well as symbols and actions.
People of all walks of life arrive in formal wear, costumes, or even just a t-shirt and jeans to dance at the Castle. The venue caters to its fiercely loyal following with themed parties: 80s balls, Star Wars, cosplay events, and Vampire balls!
Low-turnover is rare in the service industry. But the joke at the Castle is "to get a job as a bartender here, somebody has to die." All of the bartenders have been working there for at least ten years with a handful serving for over 20 years. Ask their name as they sling you single-malt scotch, small batched bourbon, and an eclectic mix of beers.
When you go, don't be afraid to let your freak flag shine. Make sure to keep an eye out for the Senator, the Castle's patron saint, a sweet man named Mike who has danced in just lingerie since the early days!
Dance at the Castle at 2006 N 16th Street on Friday and Saturday nights from 10:30 PM – 3 AM!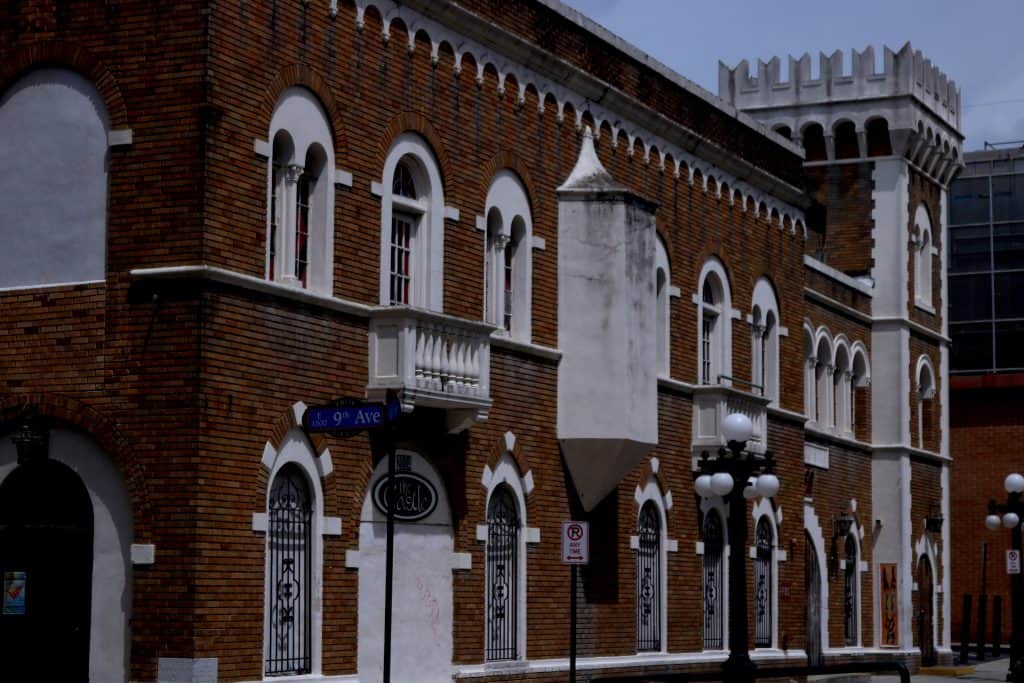 Honey Pot
One of the most warm, inclusive, and vibrant gay bars in Tampa is the Honey Pot, in the heart of Ybor City. A high energy dance club by and for the LGBTQ+ community, there's no hotter party in Tampa.
Give it everything you got on the expansive dance floor! High-energy music pounds through the stereo system as you're bathed in flashing colorful nights. No matter how you identify, there's something for everyone at the Honey Pot.
Only open on the weekend, make sure to stick around for Steam Fridays for the most spectacular drag shows at midnight! Many other events happen on Tease Saturdays including $1 drinks from 10 – 11 PM for ladies!
The DJs play a fun mix of Top 40s and LGBTQ+ anthems like "Born This Way by Lady Gaga and "We R Who We R" by Ke$ha. After you're all danced out, chill on the balcony for cheap drinks, where it's a bit quieter.
Find the Honey Pot at 1507 7th Avenue on Friday and Saturdays from 10 PM – 3 AM!
Hyde Park Cafe
Built on a vibe since 1995, don't let the name of this club fool you. An oasis dedicated to Tampa nightlife offers a raunchy good time while spinning an eclectic mix of music.
Setting the tone in Tampa's SoHo bar scene for just over a decade, all types of clientele come to dance, drink, or just hangout. With three different spaces within the "cafe," you'll be able to pace out your night accordingly. If you want a more quiet subdued night or a pounding dance party, you'll find both under the same roof.
The Velociti Room is the DJ-led dance party, the main party space. You'll hear hip hop and R&B, and on Salsa nights, you can even take dance lessons! Next door in the WB Room, chances are that DJ is spinning the exact opposite genre!
If you want to just relax and hang out, head to the Biergarten. Rest your tired feet and sip on over 60 varieties of craft beers at one of the best bars in Tampa. To keep your Blood Alcohol Content in check, you can even order bar food here, like wings, burgers, and hot dogs.
Check out the Hyde Park Cafe at 1806 W Platt Street on Tuesdays from 9 PM – 3 AM, Fridays from 8 PM – 3 AM, and Saturdays from 9 PM – 3 AM.
The Ritz
Right in the heart of Ybor City is Tampa's premiere special events venue, hosting everything from high-profile galas to popular red-carpet events and popular concerts. There's always something going on at the Ritz, housing one of the best bars in Tampa.
Inside you'll find 17,000 square feet in three distinct rooms with a grand foyer and multiple full-service bars. Among the three rooms, the musical acts perform on the Theatre Ballroom stage. It's almost like stepping back in time with the original vintage terrazzo floors and art deco mirrors.
The Ritz's musical alumni include Panic! at the Disco, Lady Gaga, The Killers, Taking Back Sunday, Dashboard Confessional, and the Foo Fighters among others!
However, the Ritz is much more than a concert venue. In 2009, the space housed the 2009 Maxim Super Bowl Party. Ken Walter's Celebrate Sinatra event has performed here. BET even used the Ritz for their Gorrie Gala and the Black Carpet Party.
Because the Ritz is such a popular hot spot, we recommend getting there early in the night. While there is no cover charge, entry is at the doorman's discretion. Expect to wait 20-45 minutes before you gain entry!
Check out the Ritz at 1503 E 7th Avenue on Mondays from 12 – 3 AM and Fridays and Saturdays from 10 PM – 3 AM.
Ciro's Speakeasy and Supper Club
If you want to get dressed up and enjoy a night out on the town, travel back in time to visit a prohibition-era speakeasy! Ciro's Speakeasy and Supper Club blurs the line between cocktail bar and illegal operation in the 1920s.
Word to the wise, Ciro's is not easy to find. Because it is themed like a prohibition speakeasy, there is no external signage. Ciro's is hidden within a condominium high-rise on Bayshore Blvd. Look for an oddly placed door next to the pool area.
Once you've found the entrance, you still need to know the password. Call (813) 251-0022 to find out the password, which changes daily. Once you enter, you'll be transported into an authentic and realistic atmosphere with the entire staff in 1920s vintage dress, serving you in character.
The star of Ciro's is their cocktails. A mixologist behind one of the best bars in Tampa is responsible for the artfully crafted drinks. You can sample sophisticated small plates like the black truffle popcorn, duck fat fries, or oysters on the half-shell on ice.
Ciro's is perfect for special occasions like birthdays and anniversaries. Private booths are available with pillows perfect for cuddling and dimmer switches to control the mood.
Ciro's Speakeasy & Supper Club is open for business every day from 5 PM – 1 AM.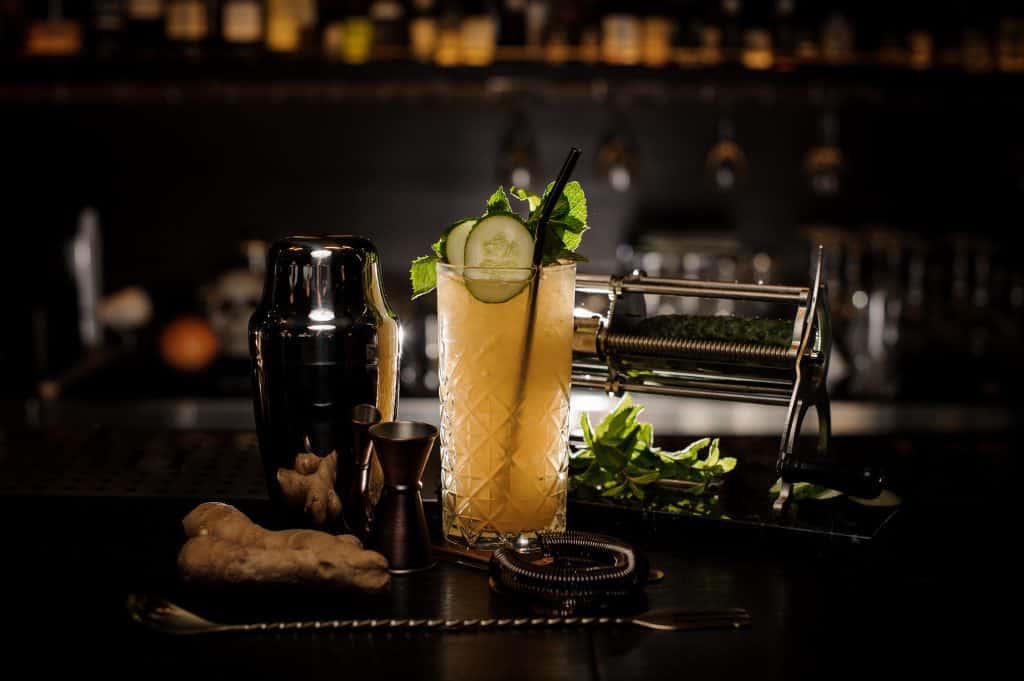 Did You Find This Post Helpful?
If so, we would love to keep in touch! We enjoy seeing photos and comments about your experiences in Florida! You can follow us on Instagram and we will repost your photos on our feed and comment too! Just tag us at @floridatrippers and hashtag #floridatrippers. We can't wait to see your travels!