Famous for its award-winning beaches, did you know the restaurants in Saint Petersburg have been getting the kind of same attention? Because of its culinary excellence, Saint Petersburg has been raking in mouthwatering reviews, making it a force to behold.
The arts scene has already been raising the bar in the area, so it's no surprise that the dining scene has done the same thing. Experiencing somewhat of a cultural renaissance, restaurants in Saint Petersburg have been slowly gaining national attention.
USA Today ranked St. Pete as one of "five underrated food cities on the East Coast." Local chef Jeremy Duclut won the Champion title of the Food Network show "Chopped." The Mill in downtown was named Best New Restaurant in Florida by Florida Trend Magazine!
The local culinary staples unique to Saint Petersburg are what make foodies keep coming back for more. Remember, this is where the Cuban Sandwich was invented. You won't taste better Gulf seafood here, like shucked and fried oysters. Some restaurants will even cook the fish you just caught!
No matter what you're in the mood for, restaurants in Saint Petersburg are ready to fulfill that craving. From Spanish and Italian to Japanese and New American, Saint Petersburg has it all.
Is your mouth watering yet? Picking just one place can be daunting. So if you're having trouble choosing where to eat in Saint Petersburg, we've picked our 15 favorite hotspots!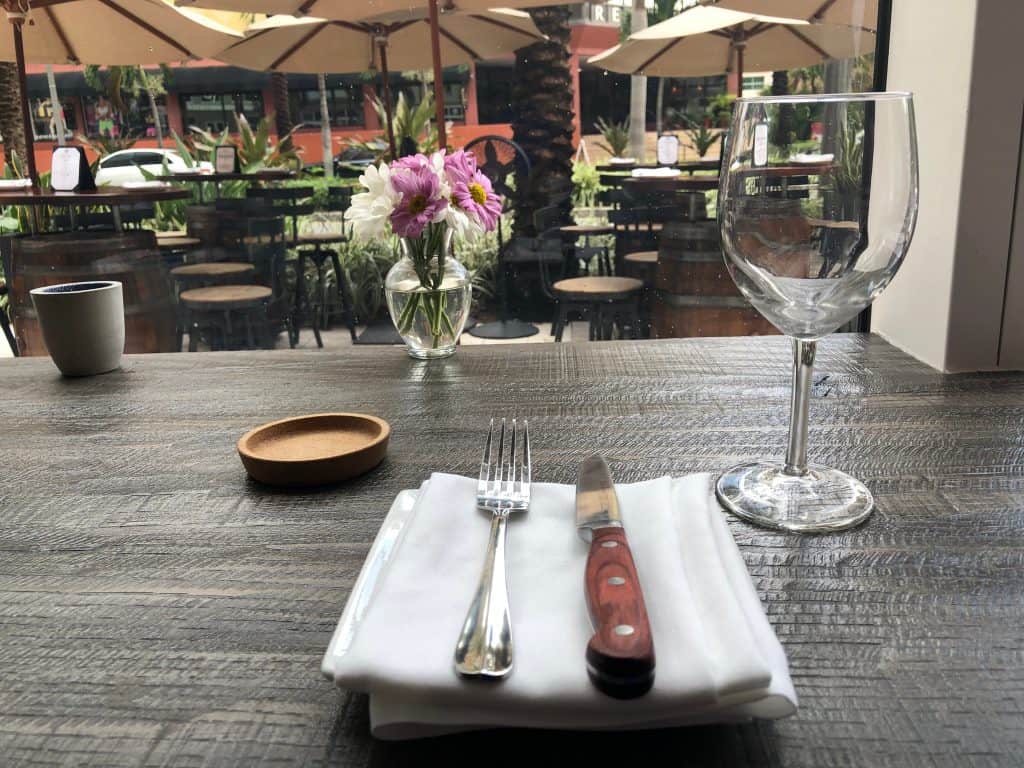 15 Best Restaurants In Saint Petersburg You Must Try
Stillwaters Tavern
Located on scenic Beach Drive with idyllic waterfront views, bask in the lighthearted ambiance of Stillwaters! With great views of the new Pier, sparkling waters of the Bay, and the glamour of the city, Stillwaters is one of the best restaurants in Saint Petersburg.
Within walking distance of the Dali Museum and the Chihuly Exhibit, Stillwaters sits in the middle of the best of the St. Pete's attractions! Here you'll find a modern American eatery with some of the most creative food, married perfectly with old-world flavors.
Stillwaters collaborates with local artisans and farmers to serve the best seasonal and locally sourced dishes with a twist. Start with the Apple-Bourbon Smoked St. Louis Ribs. The twist can be found in the fresh red cabbage, green apple, and carraway slaw on the side!
For entrees, try American favorites like Gulf Shrimp & Grits, the Cheesesteak French Dip, and the freshest Mahi Sandwich! Make sure to try the Tavern Sausages, all made in house with knockwurst, kielbasa, and lamb merguez!
At the heart of any tavern is its beer selection! Among the collection here you'll find 20 beers, many of which are regionally crafted. You can also choose from an extensive wine and cocktail list. Two house wines and specialty cocktails are even on tap!
You'll find Stillwaters Tavern at 224 Beach Drive NE. Hours are Monday through Thursday from 11:30 AM – 10 PM, Friday from 11:30 AM – 11 PM, Saturday from 11 AM – 11 PM, and Sunday from 11 AM – 9 PM. Happy Hour is 11 AM – 7 PM!
Bacchus Wine Bistro
A haven for foodies, enjoy the best wine, cheese, raclette, and charcuterie St. Pete has to offer! Named after bacchus, the god of wine, we think he would be proud of the wine and food in Saint Pete.
In a city growing and developing in modernity, Bacchus Wine Bistro remains a staple. Step into an oasis of old-world charm nestled in a bustling cityscape! The French farmhouse decor transports diners to a simpler time, where you can focus on what matters: good friends and good wine.
If this all sounds overwhelming, the knowledgable staff will guide you through a tastefully appointed menu. Choose from farm-fresh salads, sandwiches, and flatbreads. Our favorites are the Beet Carpaccio and the Pates, whether they be made from tuna, pork, or liver!
You can't go to a wine bistro without building your own planche! Go down the savory route and choose from charcuteries like foie gras, cured sausages, salt-cured meats, and of course, well aged cheeses.
For a dessert planche, choose from a variety of truffles: sea salt caramel, raspberry, buttercreme, and more! Pair with specialties like the Belgian chocolate-covered Oreos and Chocolate Caramel Pretzels.
No charcuterie experience is complete without wine, so Baccus absolutely delivers! Their Wine Library, guarded by the Vitale Brothers' Baccus mural, offers 100 selections from France, Italy, Spain, and the United States. Don't be afraid to ask for help choosing.
Find Bacchus Wine Bistro at 124 2nd Ave NE. Hours are Sunday through Thursday from 11 AM – 10 PM, Friday and Saturday from 11 AM – 11 PM. Happy Hour is 4 PM – 7 PM, every day!
Bella Brava
Since Bella Brava opened their doors in 2005, their main focus has been to bring the hills of Tuscany to the heart of St. Pete. This New World Trattoria serves some of the best food in Saint Pete!
Blending Italian cuisine with the New World urban vibe of Saint Pete, Bella Brava is less formal than a ristorante, but much more upscale than your average Italian joint. Wood stone ovens bring out the Tuscan twist on their menu, fusing classics with New World flair.
Choose between the freshest insalate, house-made pastas, and authentic, wood-fired pizzas. Our favorite dish is the Stuffed Gnocchi in Vodka sauce with roasted tomatoes, mushrooms, and Pecorino romano cheese!
Enjoy your meal in the open dining room or on the European-style patio. With a gigantic horseshoe-shaped bar, kick back and enjoy the longest Happy Hour on Beach Drive. You don't even have to feel guilty about leaving your furry friend at home: dogs are welcome!
With an expansive wine menu, choose from selections all over the world, with a focus on Italian regional favorites. At the end of your meal, you'll be saying Bella "Bravo!"
Find Bella Brava on 204 Beach Drive NE. Hours are Monday through Friday from 11:30 AM – 10 PM, Saturday from 11:30 AM – 11 PM, and Sunday from 11:30 AM – 9:30 PM.
Ichicoro Ane
Every foodie has that one restaurant they swear by. That one place they can't wait to return to even though they just dined there last night. Serving up Japanese culinary magic and an innovative cocktail menu to make spirit geeks weep is one of the best downtown Saint Petersburg restaurants, Ichicoro Ane.
When you first walk in, you'll see a glimpse of the ramen shop beyond the hostess stand. The dining room, cordoned off by minimalist blonde wood slats transports you to a different world. Just like its counterpart in Tampa, Ichicoro Ane's simplicity knows exactly what its doing!
Start with the Chashyu Bao, light, airy steamed buns filled with either pork belly, chicken, or smoked beef. Then choose from four kinds of skewers: beef, chicken meatball, or shiitake mushroom or grilled corn for vegetarians.
The main star of the menu, and our favorite, is the Tuna poke. Salivate over large chunks of sushi-grade fish served with gochujang glaze (fermented red chili paste). Scoop it up with shrimp chips as the cucumber, sesame, and green scallions round out the flavors masterfully.
Stewards of the most elegant Japanese libations, the Drinking Den only serves eight cocktails, but each one packs a punch. Try the Black Mage which features activated charcoal amaro with IPA. The Genji Glove masterfully blends white rum with matcha!
Find Ichicoro Ane on 261 1st Ave S from Tuesday through Thursday from 3 – 10 PM, Friday from 3 -11 PM, and Saturday and Sunday from 11 AM – 11 PM. The Drinking Den's late night hours are Tuesday through Thursday from 10 PM – 12 AM and Friday and Saturday from 11 PM – 1 AM.
Datz
Datz is an American gastropub that elevates your average comfort food. Described as "if Willy Wonka owned a restaurant," Datz is no doubt one of the best restaurants in Saint Petersburg.
Even Food Network has profiled Datz as one of the best restaurants in Tamps responsible for championing the gastronomic revival. Datz also offers vegetarian, vegan, and gluten-free options.
Datz features a highly eclectic menu that puts original spins on your favorite American classics. You'll first receive a complimentary popcorn basket! Afterward, try the Chicken-skin Tacos, or Bacon and Jalapeno Mac and Cheese with Sriracha aioli. Our favorite is the Short Rib Sloppy Joes.
Afterward, grab an unforgettable Bacon Bloody Mary. Then, head next door to Dough. The sister-bakery offers the craziest sweets like Creme Brulee and Froot Loop Donuts, homemade gelato, and delicate French Macarons.
Datz can be found on 180 Central Ave. Hours are Monday through Thursday 7 AM – 10 PM, Fridays 7 AM -11 PM, Saturday 8:30 AM -11 PM, and Sunday 8:30 – 9 PM.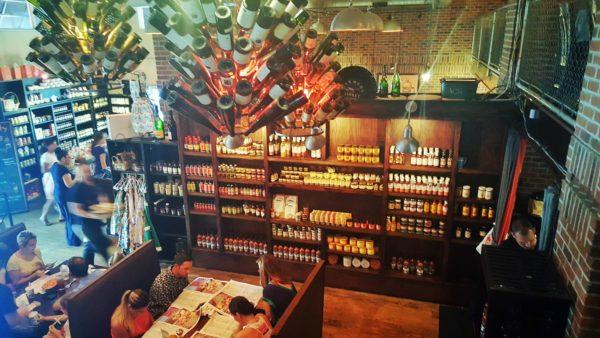 Spinner's Rooftop Revolving Bistro
For the most romantic date night, take your significant other to Spinner's Rooftop Revolving Bistro! On the 12th floor of the Grand Plaza Resort Hotel and Spa, you'll find the only revolving restaurant in Florida!
In the most romantic ambiance, enjoy the best of St. Pete fine dining. At Spinner's you'll truly "elevate" your experience, creating memories you'll be talking about long after dessert is served.
Spinner's actually revolves a full 360 degrees. Don't worry, it doesn't move too fast! As you slowly rotate, you'll appreciate an unparalleled bird's eye view of St. Pete lit up at night, the Bay, and the beautiful beaches of St. Pete.
Start with the Shrimp Ceviche made with fresh mangoes and chiles or Blackened Scallops with caramel ginger-preserved prickly pear glaze. Move on to an entree menu with the best of Florida seafood and premium-aged steaks. Our favorites are the Spaghetti Squash Primavera and the Soy Lacquered Chilean Seabass.
Finish the evening with a tropical cocktail menu, with a sophisticated representation of Florida. Choose between drinks like the Coconut Mango Mojito, Carribean Rum Punch, or the Signature Spinners 75, the Florida take on the French 75. There's also a wide variety of wines and champagnes, available both by the glass and the bottle.
Spinner's Rooftop Revolving Bistro can be found on the 12th floor of the Grand Plaza Resort Hotel at 5250 Gulf Blvd. Dine on Wednesdays through Sundays from 5 – 10 PM.
The Mill
One of the newest additions to the downtown Saint Petersburg restaurant scene is The Mill. A must-try restaurant, The Mill specializes in New American food with a Southern spin.
Since opening in 2015, The Mill has already raked in multiple prestigious awards like Best New Restaurant in Florida by Florida Trend Magazine. Chef Ted Dorsey also took home the coveted Best Chef Award in Creative Loafing's Best of the Bay and the SPDNA Sunshine Award in 2016 for Best Fine Dining.
Start with classic Southern staples like Fried Green Tomatoes, Apple Fritters, and Biscuits & Gravy. Share a plate off the slider menu with options like Grilled Cheese, Pickled Peach BBQ Grilled Chicken Club, or the Mill Sliders with bacon, pimento cheese, and caramelized onion aioli.
Make sure you've saved room for the main event. The Sausage and Waffle Benny is topped with fried green tomatoes and a gumbo file hollandaise! The iconic Croque Madame has gruyere cheese, caramelized onions, and mustard aioli on challah.
A festive and whimsical cocktail list includes the Post H20 Malone, el Duderino, and the Carrot & Schtick. Our favorite is their take on the Old Fashioned with uses orange and chocolate bitters.
Dine at the Mill on 200 Central Avenue on Tuesdays through Thursdays from 11 AM – 9 PM, Fridays from 11 AM – 10 PM, Saturday from 10 AM – 10 PM, and Sunday from 10 AM – 9 PM. Try weekend brunch on the weekends from 10 AM – 4 PM!
Boardwalk Grill
In the early 2000s, Stuart Saltzman brought his twenty years of experience in bar management to Clearwater Beach. Seeking to elevate the sports bar game in St. Pete, he did just that at the Boardwalk Grill at John's Pass Boardwalk!
A recreation of the Jersey Shore right here in Clearwater Beach, Boardwalk Grill is glitzy, yet laid-back. Everybody enjoys the feel of a boardwalk, from the fun to the games, and especially the food. Like a museum, the inside borrows elements from all over the country, not just the Jersey Shore.
Saltzman brought two secret recipes down with him from the Garden State: the hot wings and the Grouper Sandwich. They're the real deal, each scoring "best of" awards in New Jersey. Don't forget the unbeatable Lobster Rolls, Fish Tacos, and juiciest burgers on the beach!
After you've eaten, hang out on the patio for the cheapest beer on the boardwalk with stunning Gulf views. The full bar features 16 draft and 25 bottled beers with more than a dozen wines. Pull up a chair, you might even get a chance to meet Stu!
Check out the Boardwalk Grill on 204 John's Pass Boardwalk every day from 10 AM – 9 PM.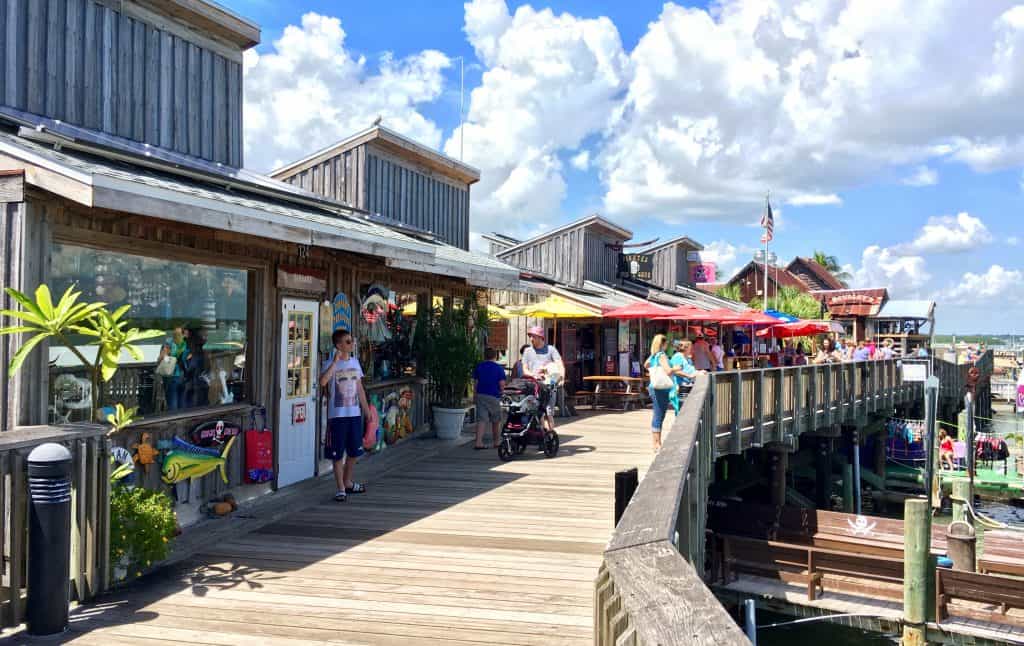 Hurricane Seafood Restaurant
Don't be fooled by the ominous name, the Hurricane isn't so much a catostrophic weather event. It is a force of nature delivering some of the best nightlife and food in Saint Pete Beach! Just like the storm, the Hurricane is hard to miss: look for the bright green building on the corner.
42 years after its opening, the Hurricane has remained a popular destination for both locals and tourists from all over the world! Still operated by the founders, the Falkenstein Family serves the freshest Gulf seafood in a casual island setting.
The Hurricane offers three floors of dining space, each with its own menu. The ground level features the original Hurricane menu, including "Mom's 1945 Crabcake Melt." On the beachfront Level 2, enjoy pork potstickers, peel and eat shrimp, and a mahi fish spread, all while taking in million-dollar views.
On the Rooftop South Deck Bar, share the Wing Ding Basket or Landshark Beer-Battered Shrimp Basket. If you still have room in your stomach, have all-day breakfast with a massive two-egg sandwich with your choice of meat, bread, and cheese.
Brave the Hurricane at 809 Gulf Way on Sundays through Thursdays from 11 AM – 9:30 PM, and Fridays and Saturdays from 11 AM – 10 PM.
Jubilee's BBQ
Formerly known as Rib City, this locally-beloved franchise rebranded itself in 2019 for a more festive name! Now, Jubilee's BBQ is still the original location for the eponymous Florida chain. One of the best restaurants in Saint Petersburg, you won't find juicier and smokier ribs anywhere else in the Bay area!
At Jubilee's the meat falls right off the bone, its so tender! In a homey, warm atmosphere, don't be afraid to get down and dirty with this barbecue! Don't worry, Jubilee's BBQ provides wipes when you're finished.
Jubilee's full menu features barbecued meats paired with specialized sauces. Choose from side dishes including made-from-scratch baked beans and coleslaw, as well as collard greens, corn pudding, and macaroni and cheese.
Jubilee's BBQ also serves locally crafted Saint Pete favorite 3 Daughters Brewery Beer. Make sure you've saved room for a frosty pint to wash down your meal!
Check out Jubilee's BBQ, open daily for lunch and dinner from Monday through Thursday from 11 AM – 8:30 PM, Friday and Saturday from 11 AM – 9 PM, and Sunday from 11 AM – 8:30 PM.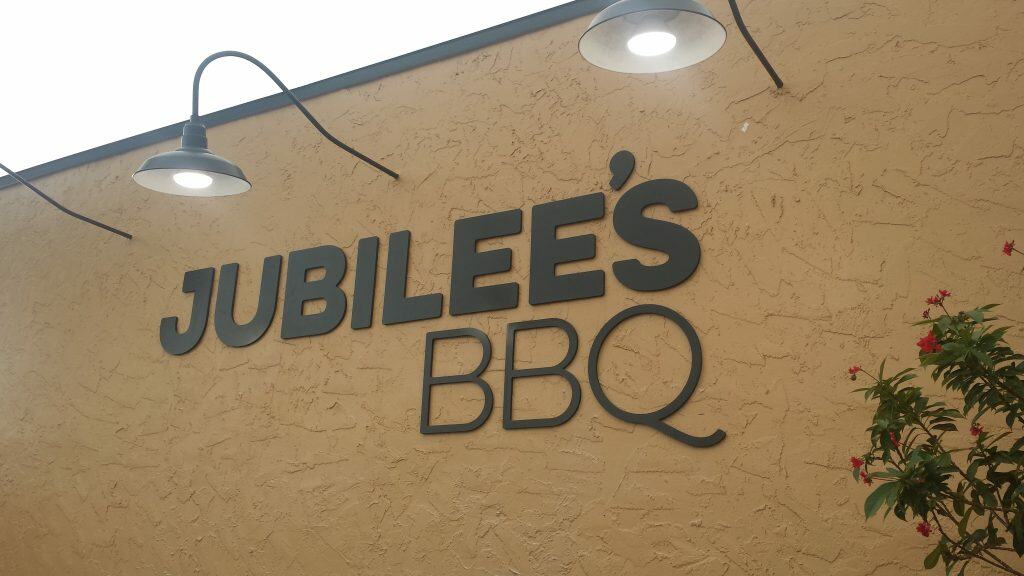 Sea Porch Cafe
Locals know the historic pink building in St. Pete Beach to be the Don Cesar, one of the best resort spas in Florida. Just inside, you'll find the Sea Porch Cafe, one of the best restaurants in Saint Petersburg.
The Don Cesar is known for its extravagance, and their restaurants are no exception. At the Sea Porch Cafe, you'll find fresh Gulf seafood and local comfort foods in this seaside dining haven. Perfect for a relaxed breakfast, lunch, or dinner, choose between comfortable indoor seating, or outdoor dining with the smell of the coastal breeze.
If a regular meal isn't enough, host a private event at Gatsby's Private Dining room. Seat up to 30 guests in this elegant space directly above the Sea Porch with stunning views of the prettiest beaches in Florida. Choose from the Sea Porch Cafe's menu.
To really feel swanky, gather at the Pink Palace for a Sunday Funday at the Sunday Champagne Brunch. From 11 AM – 3 PM, enjoy made-to-order omelets, custom carving stations, fresh salads, and delectable desserts. Then meet friends at the Rowe bar for a classic mint julep or hand-crafted spiked lemonade!
Pamper yourself at the Sea Porch Cafe at the Don Cesar at 3400 Gulf Blvd, open every day from 7 AM – 10 PM.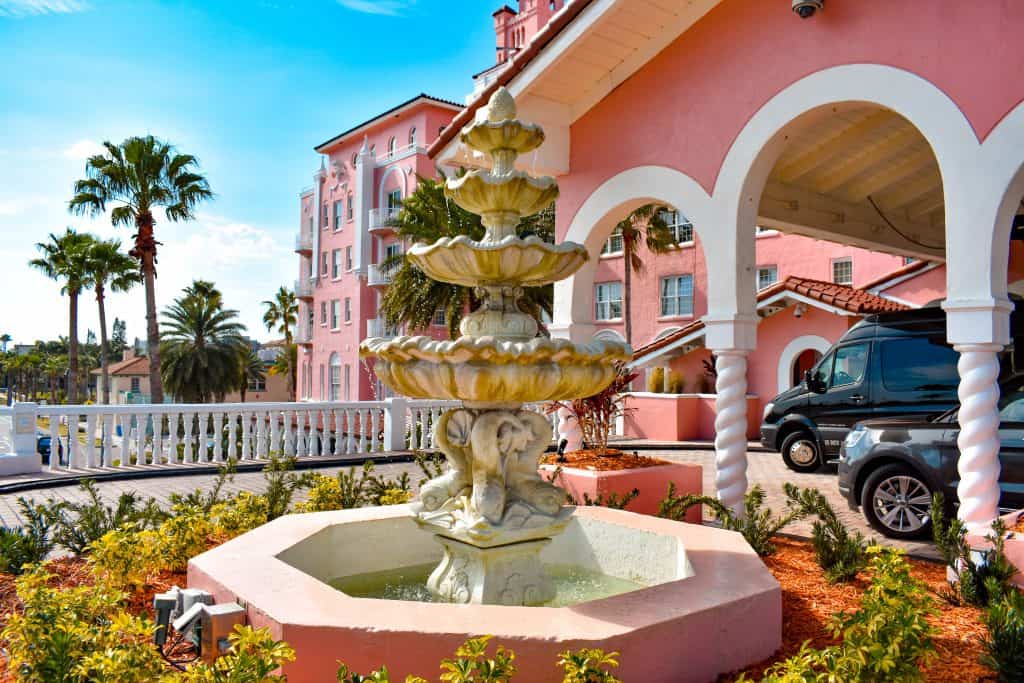 Teak
Locals know that the St. Petersburg Pier was under construction for what felt like forever. Today a sleek, modern design reflects the city's bustling development, including one of the best new restaurants in Saint Petersburg, Teak.
With a nautical-themed menu crafted by the top chefs in the Bay Area, you can immerse yourself in the most serene setting atop the Pier. Bask in the tranquil ambiance complete with 360 degree views of the entire bay.
Start your elevated culinary journey with Conch Beignets, Boiled-Peanut Hummus, and Shucked Oysters, all inspired by Florida classics you can find at seafood shacks and stands on the side of the road.
For heavier entrees, you'll find only the best of Florida surf and turf. Choose from Florida Yard Bird, roasted in jezebel sauce, or the 12 oz NY Strip! For a bit of everything, get the Summer Rental Platter with popcorn coconut shrimp, mahi bites, fried oysters, and more!
Experience Teak on the 4th floor of the new St. Pete Pier at 800 2nd Ave NE from Sunday through Thursday from 11 AM – 10 PM, and Friday and Saturday from 11 AM – 11 PM.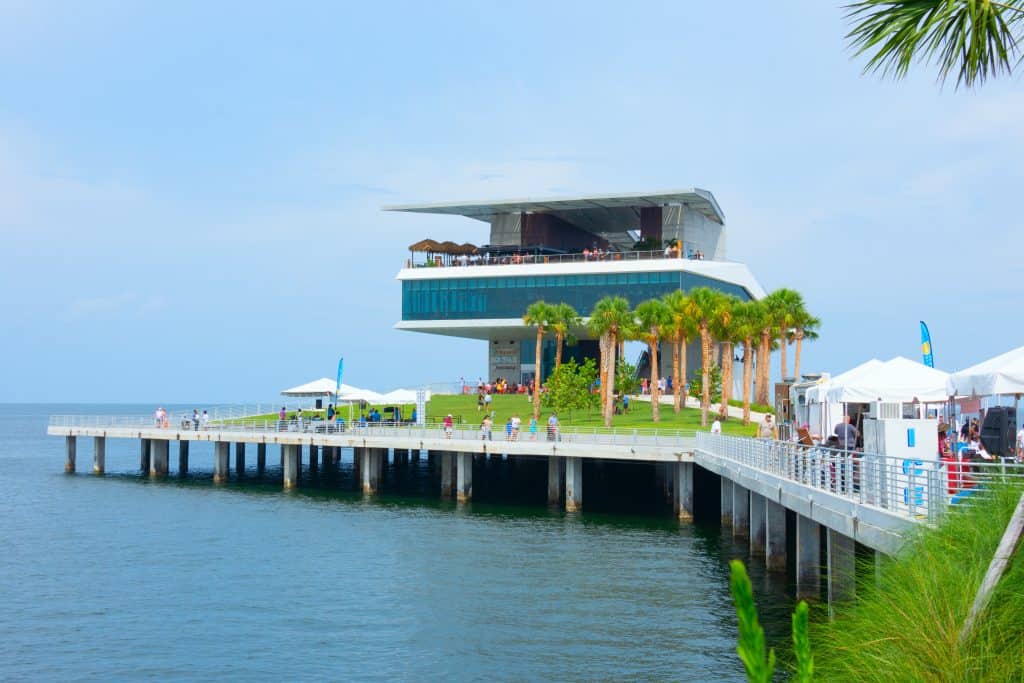 Brick and Mortar
A newer edition to the St. Pete dining scene, Brick and Mortar got its name from its journey to existence! It's rare for caterers to take the plunge into opening a full restaurant, but in April of 2015, that's just what happened.
Brick and Mortar fills an unusual niche in St. Pete. It's upscale, but not expensive, inventive, but not gimmicky. The menu features Indonesian and Spanish touches in an interesting twist on New American, making it some of the best food in Saint Pete.
Our favorite appetizer is the Ahi Tartare with avocado, ponzu, and sesame with shrimp crackers for scooping. If that seems intimidating, don't worry. You'll also find homey and even kid-friendly meals.
Try the Slow-braised Oxtail or the Crispy-skinned Airline Chicken Breast with carrots and crispy fingerling potatoes!
The ambitious beer and wine list mixes both local and nationally known craft beers on draft and in bottles. Be delighted by the choices of old and new world wines available by the glass and bottle!
Check out Brick and Mortar on 539 Central Avenue on Tuesdays from 5 – 9 PM, Wednesday and Thursday from 5 – 10 PM, Friday from 4:30 – 11 PM, and Saturday from 4:30 – 11 PM.
The Hangar
Sure, you've grabbed a quick meal before or after a flight in a crowded airport. Can you say that you've gone to an airport just for a meal? Inside the Albert Whitted Airport, you'll find this hidden gem, one of the best restaurants in Saint Petersburg.
The Hangar describes itself as not only a restaurant but a flight lounge. In downtown St. Pete, the Hangar hides in an airport, but its location affords diners an unbeatable view. Not only do you have a bird's eye view of the bay, you'll be delighted seeing plane and helicopter activity on the tarmac!
You won't find the usual airport fare here. A true fine-dining experience, you'll be wowed with exceptional pasta dishes, gigantic sandwiches, and small plates you won't want to share!
Stop by on Friday Nights to hear the smooth stylings of the Dwayne White Trio. Kick back and enjoy the smooth jazz that cements the elegant ambiance.
Because the Hangar is in an airport, of course they serve breakfast! The award-winning menu serves eggs cooked in endless ways: benedict, florentine, southern benedict, in omelettes, and even the Wheels Up Bowl. Don't forget jumbo waffles and pancakes!
Land at the Hangar inside the Alfred Whitted Airport at 540 1st Street S from 8 AM – 11 PM daily!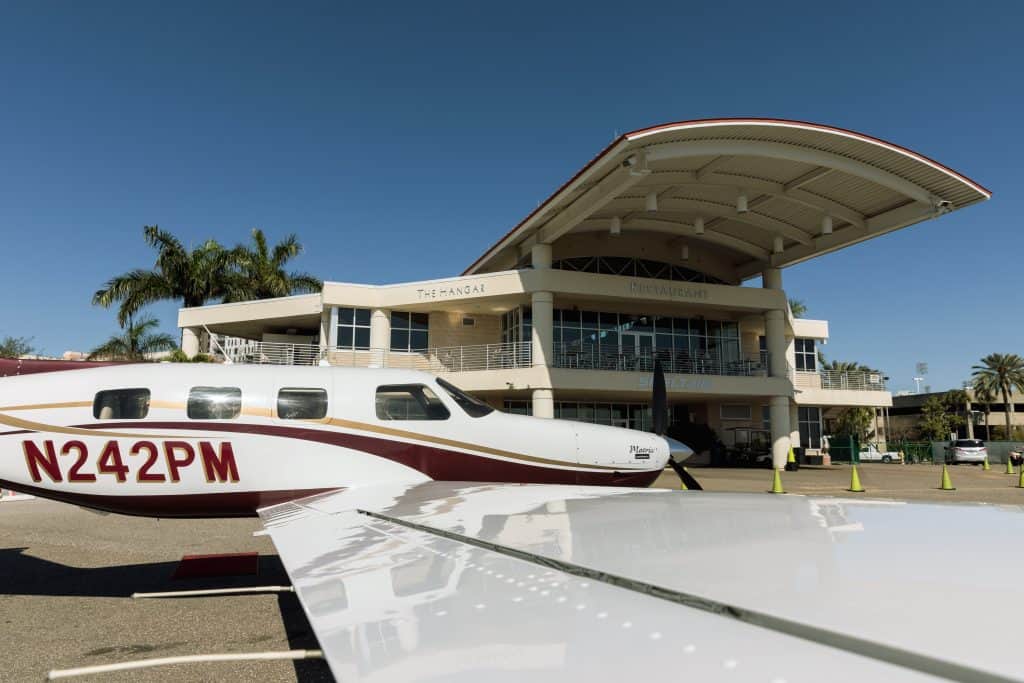 Ceviche
Inside the Ponce de Leon Hotel, you'll find a Spanish chain outpost that serves up the best tapas in the Bay area. The closest thing to visiting Spain, Ceviche serves the best authentic Spanish food in Saint Pete.
If you've ever been to Barcelona, you'll be familiar with the locals' laid-back and delicious approach to life. As you gather over tapas, or small plates, you'll taste the magic of the Iberian Coast without having to hop across the pond.
Ceviche's authentic tapas menu is expansive and caters to all tastes. Start with the house ceviche, a perfect marriage of shrimp, scallops, and squid. You can't miss the Pollo al Jerez either, chicken in pesto and sherry cream.
Vegetarians will also appreciate the Baba Ganoush, starring meaty eggplant, or the Hummus Dip made with garbanzo beans and tahini. Don't forget the Patatas Bravas, potatoes in a spicy aioli!
Get a taste of Spain on 10 Beach Drive on Monday through Thursday from 12 – 10 PM, Friday and Saturday from 11 – 11 PM, and Sunday from 12 – 9 PM.
Did You Find This Post Helpful?
If so, we would love to keep in touch! We enjoy seeing photos and comments about your experiences in Florida! You can follow us on Instagram and we will repost your photos on our feed and comment too! Just tag us at @floridatrippers and hashtag #floridatrippers. We can't wait to see your travels!