Wondering what to do in Tampa with kids? You are in the right place.
In this article, we will walk you through the best things to do in Tampa with kids and tell you all about the family activities in this area.
There is so much to see and do in Tampa, it's such a fun destination. It's also in the perfect central location to explore more of the west coast of Florida so makes a great base.
Tampa kids' activities come in all shapes and sizes from interactive museums to theme parks to wide open spaces, there is something for everyone.
Whether your child is a thrill seeker, loves nature, or is a water babe there is family fun in Tampa to be found everywhere. In fact, we are sure that Tampa will surprise and delight you.
So are you ready to see all the family activities in Tampa we have chosen for you? Pull up a chair, grab a cold drink and let us walk you through the best Tampa activities with kids.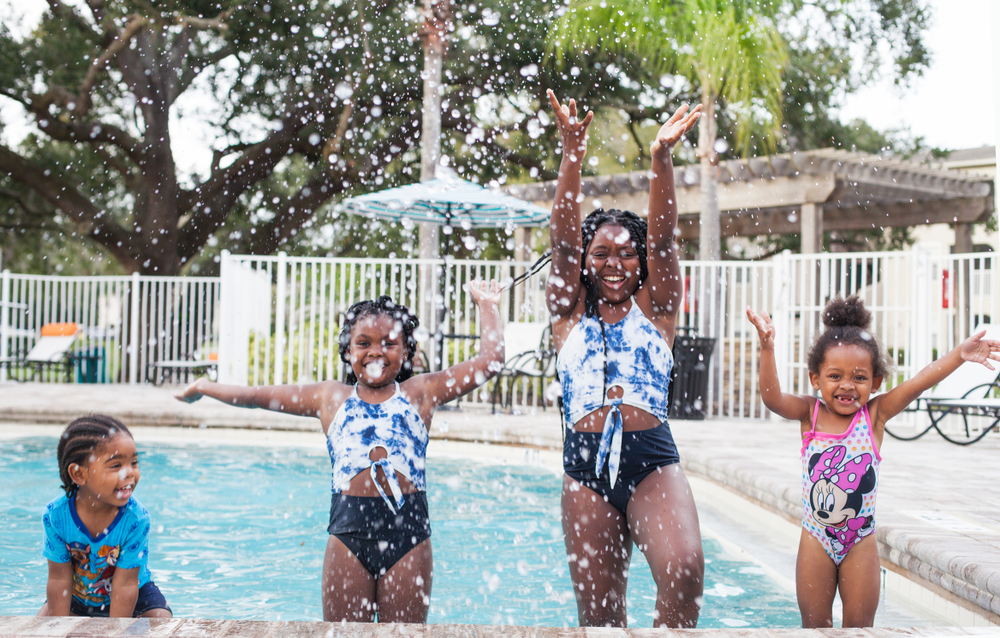 15 Fun Things To Do In Tampa With Kids You Shouldn't Miss
Busch Gardens
One of the places to visit in Tampa with kids especially if they are a little older is Busch Gardens. This theme park is something that the whole family will enjoy and makes a great day out.
Busch Gardens is an African-inspired theme park with animals, live shows, a safari, and a ton of thrill rides. It's huge with so much to see and do whatever your age. When it comes to things to do in Tampa with kids not a lot beats Busch Gardens.
Older children will head straight to the thrill rides while families with smaller children will love the animal experiences. Trek across the Serengeti Plain in an open-air vehicle or ride North America's tallest and world's fastest and steepest hybrid coaster.
At Busch Gardens you choose your own adventure it can be as high-octane or as low-key as you want. A visit here is definitely one of the fun things to do with kids in Tampa
And if you are looking for things to do in Tampa with kids at night then they do Serengeti Night Safaris which sound super fun.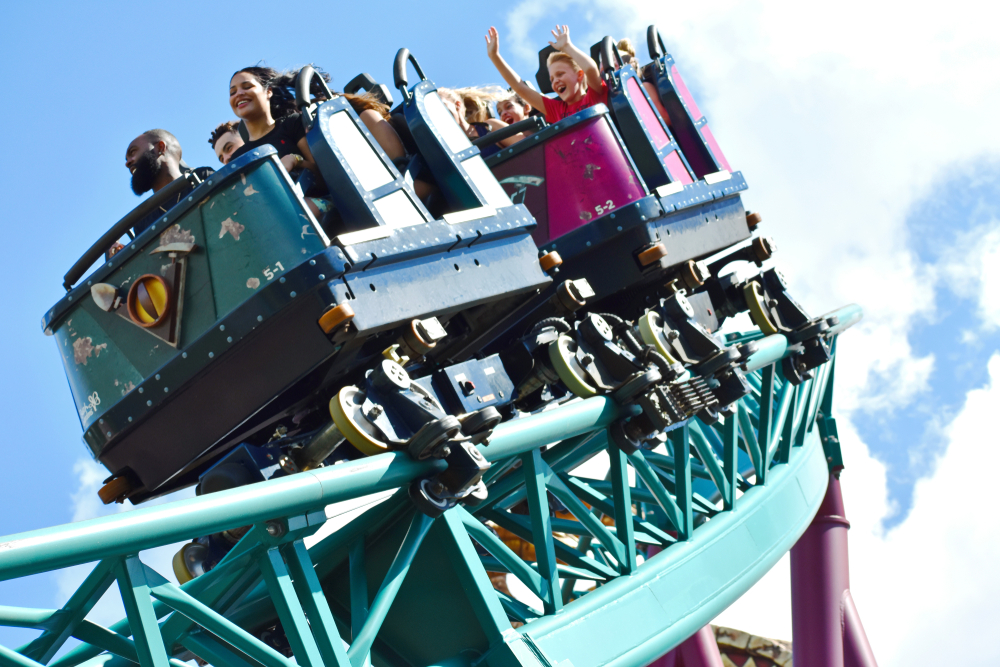 Take A Day Trip To A Florida Spring
When it comes to the best activities with kids in Tampa nothing beats a visit to one of the Florida Springs. If your child is a water babe they are going to love it here.
A visit to one of the springs near Tampa is a great way to cool off and escape the Florida heat too which is an added bonus. Depending on what you like to do will depend on which of the Springs is best for you.
Some are perfect for Florida Tubing and others are great for diving and kayaking. And one is great for seeing mermaids, yes you heard right, mermaids.
One of the must-see attractions in Tampa with kids is the Mermaids at Weeki Wachee. Weeki Wachee is the oldest roadside attraction in Florida and the mermaids perform three times a day.
Weeki Wachee Springs is one of those springs that has something for everyone and makes a great family activity in Tampa.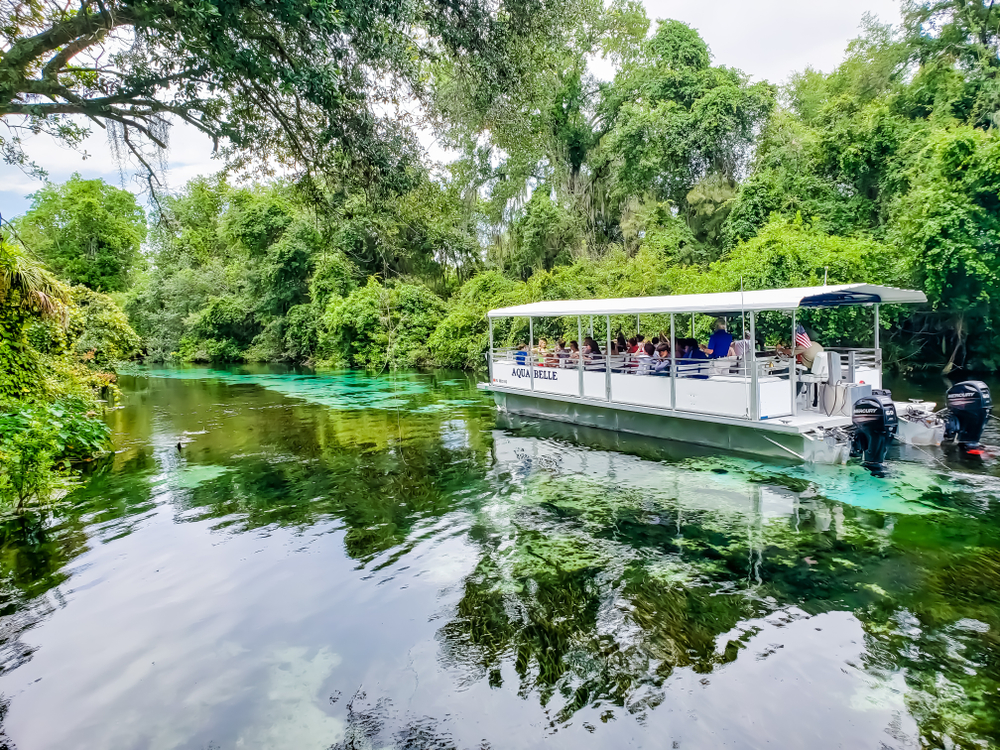 Glazer Children's Museum
If you are visiting Tampa with kids then a visit to the Glazer Children's Museum should be high on your list. The museum is an interactive learning experience that all can enjoy.
Here they encourage children to play and discover the world around them and with over 53,000 square feet of interactive exhibitions they won't get bored.
It is perfect for younger children and preteens but the adults will have fun too. There is a kid-sized grocery store, airplane, and cruise ship plus much more for them to enjoy.
Everything here is designed to appeal to children and it's not the sort of place you have to watch their every move. It's one of those activities for children in Tampa that is perfect if the weather isn't on your side.
The museum is really easy to get to as it's located in Waterfront Arts District on the Tampa Riverwalk. if you are looking for attractions in Tampa with kids then we highly recommend a visit here.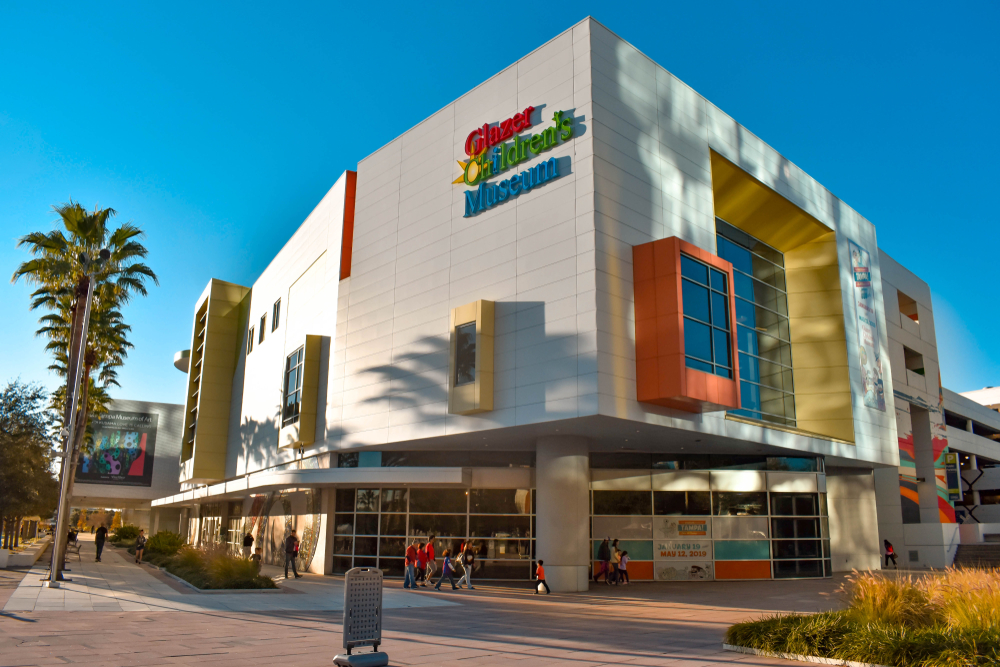 Zoo Tampa
If you are looking for activities for kids in Tampa then a trip to the Zoo might just be perfect. At Lowry Park, the zoo houses more than 1,300 animals and is known for how beautiful it is.
If you are visiting Tampa with toddlers they will love it here. Children get to see manatees, feed giraffes, marvel at giant tortoises, and have breakfast with a bear. The animal encounters here are second to none.
Zoo Tampa was rated the top Family Friendly Zoo in the country by Parents Magazine for its engaging animal exhibits and family amenities. And when the animals get too much there is an Australian-themed children's area.
If you are going to visit here and we highly recommend you do then go as early as you can the animals are more lovely in the morning and you beat the midday sun.
A visit here is definitely one of the best things to do in Tampa with kids.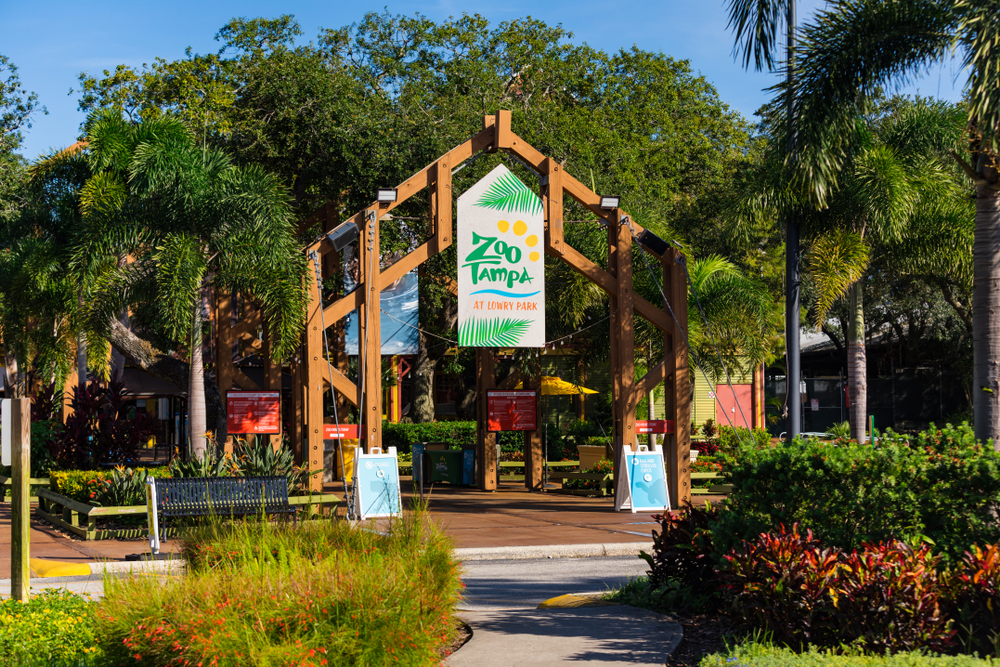 Florida Aquarium
If you are wondering what to do in Tampa with kids then how about a trip to the Florida Aquarium? it is rated among the best aquariums in the US and there is so much to explore here.
You can get up close and personal with sea turtles, sharks, lemurs, otters, and much more. There is so much to see and do and whatever your age you will find something that you find mesmerizing.
A visit here is one of the best Tampa activities with kids and what we love is how much they teach about conservation.
Exhibits include Moon Bay which is full of jellyfish a Coral Reef with stingrays and sharks and Waves of Wonder which is full of tropical fish. We also love the Mangrove Tunnel where you experience a natural wetland.
If you are visiting Tampa with kids make sure you take a trip here it's a great day out.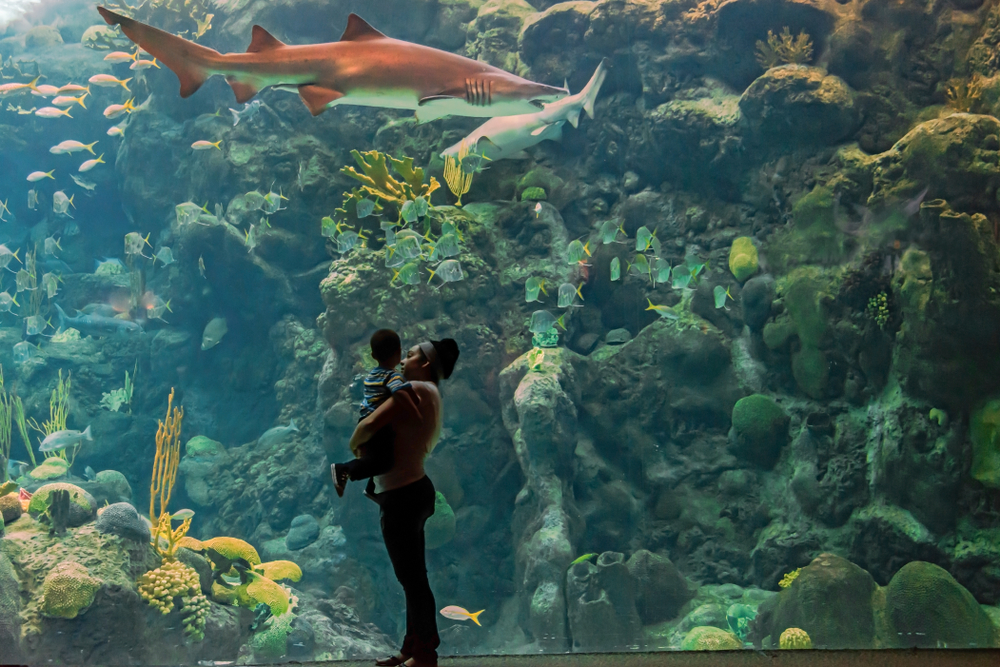 Explore Honeymoon Island Beaches
If you are looking for things to do with kids in Tampa and don't mind driving about an hour away then the Honeymoon Island Beaches are well worth exploring.
Honeymoon Island is one of Florida's best-loved state parks and when you go you will see why. It has four miles of the most beautiful beaches to explore and one of the last remaining virgin Slash Pine forests.
The park has 385 acres to enjoy and three distinct beaches. The main beach is a deep and wide white sand beach that is picture-perfect. It's a great beach for families with all the amenities you would expect. Those looking for something to do in Tampa with toddlers should head here.
If you happen to have a canine friend then this Dog Beach in Tampa is where they are more than welcome. For a more adventurous rock and seashell beach head to the northernmost tip of the island.
The thing we love about beaches is that you get to choose your own adventure and curate the day the way your family likes it. Activities for kids in Tampa here come a big side of freedom and we love it.
If you do take a trip here are some Honeymoon Island Tips for you.
Clearwater Marine Aquarium
If you are wondering what to do in Tampa with kids then the Clearwater Marine Aquarium is well worth a visit. While it's not in Tampa it's in the Tampa Bay area and about a 40-minute drive which we think is well worth taking.
The Aquarium is actually a non-profit organization dedicated to the rescue and rehabilitation of suffering marine animals. This is more of an animal rehabilitation center than a zoo-style aquarium and it is a great place to learn more about sea animals.
Stingray, Dophin, and Shark experiences are all available here. They also do boat rides and guided tours in Clearwater Bay. And Dolphintopia is where to learn all about their famous dolphin "Winter". "Winter" was the Dophin that appeared in the 2011 film Dolphin Tale.
If your child loves sea animals then this is one of the places to visit in Tampa with kids.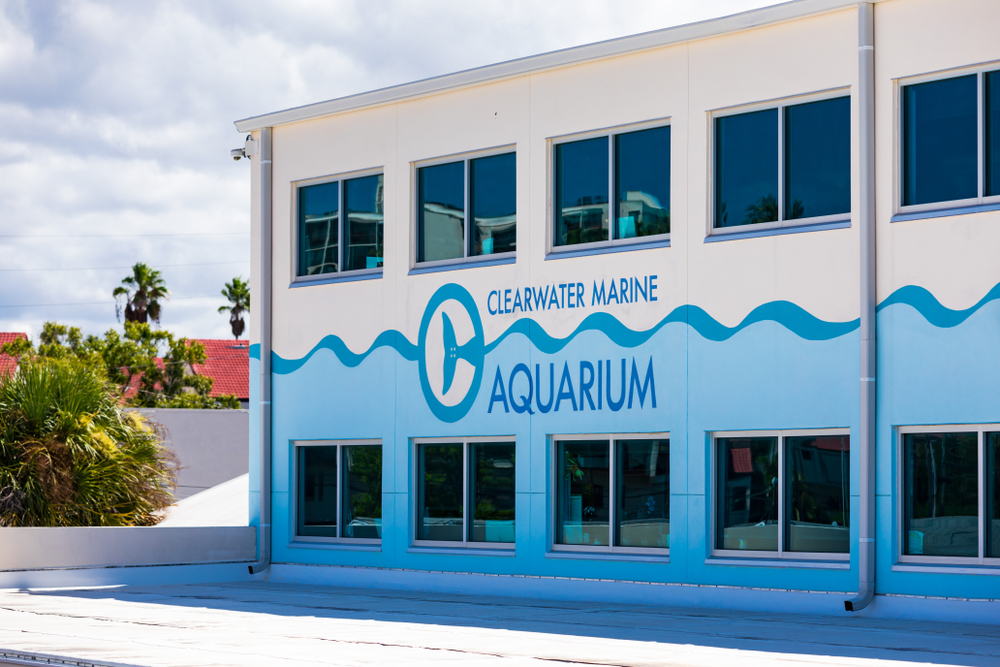 Get On Your Bike
If you are looking for something family activities in Tampa that get your children out and about then how about exploring some of the Tampa Bay bike trails?
Bring your bikes with you or rent some and just get out exploring. The Upper Tampa Bay Trail and Suncoast Trails are great for kids since they are paved and relatively smooth.
The Upper Tampa Bay Trail is located in residential northwest Hillsborough County and there are many access points just search for the one nearest to you.
The Suncoast Trail is a 42-mile-long paved trail from Hillsborough County to Hernando County but obviously, you don't need to do it all.
Other trails to consider are Pinellas Trail and Bayshore Blvd in Tampa but please note the latter is a sidewalk, not a separate trail.
For something a little shorter the Tampa Riverwalk is a great trail to explore. It's only 2.4 miles long and takes you past some of Tampa's attractions.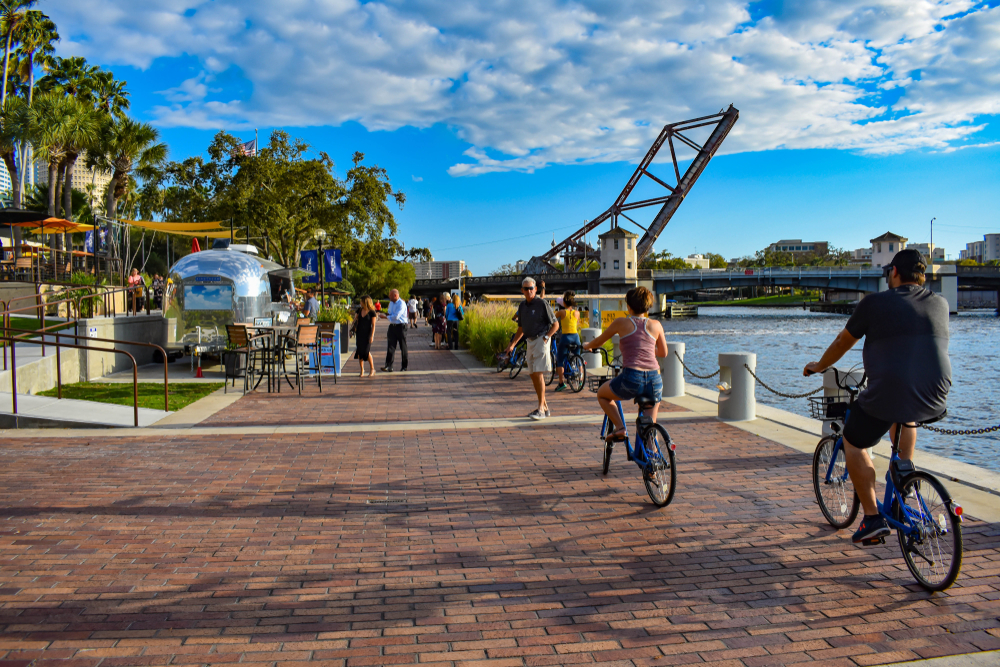 Museum of Science and Industry
MOSI, as it is known is a popular Tampa attraction that is perfect for families. The museum is packed full of interactive learning experiences and fun things for your children to enjoy.
Your child can learn about biology, anatomy, physics, meteorology, astronomy, and a host of other things. Whatever your child is into there is most likely something here that will engage them.
Outside there is a ropes course and zip line if they need to let off some steam and a nature trail for those that are quieter in nature. The list of things to do here is endless
This is one of the best activities with kids in Tampa and will keep everyone occupied for hours.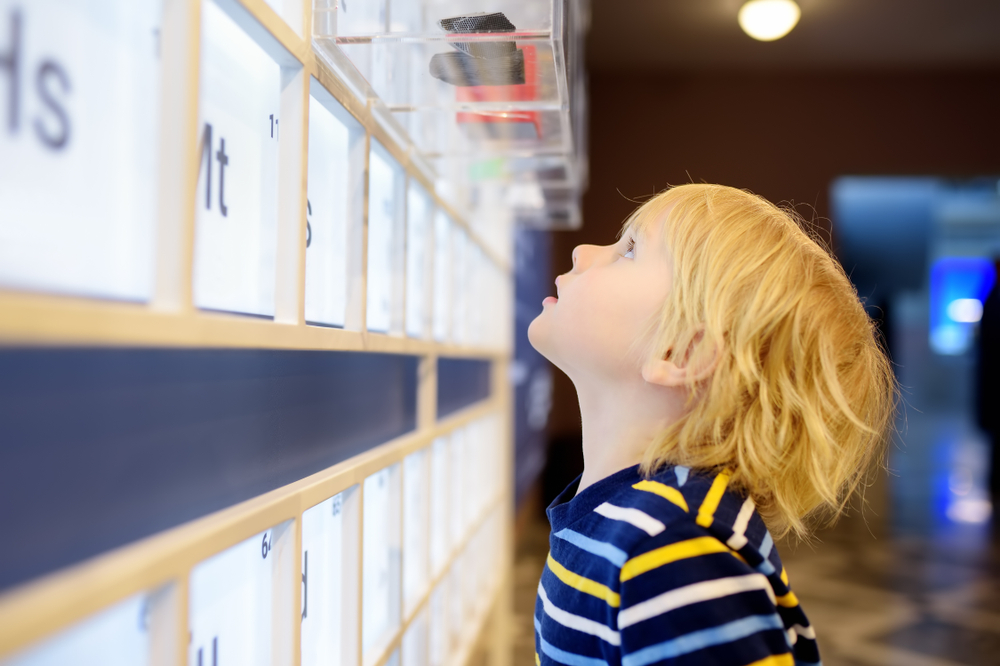 Dinosaur World
If you are looking for activities for children in Tampa then how about a trip to Dinosaur World? Take your children back in time as you explore this prehistoric museum.
It is just outside Tampa in Plant City and is home to over 200 life-size dinosaurs at Dinosaur World. There is even an animatronic scene featuring a Brachiosaurus, Triceratops, and Pterodactyl.
Your child can also become a paleontologist and dig for fossils. There are several shows and interactive exhibitions to enjoy too.
This is one of the top Tampa attractions for families and makes a really fun day out for those with smaller children.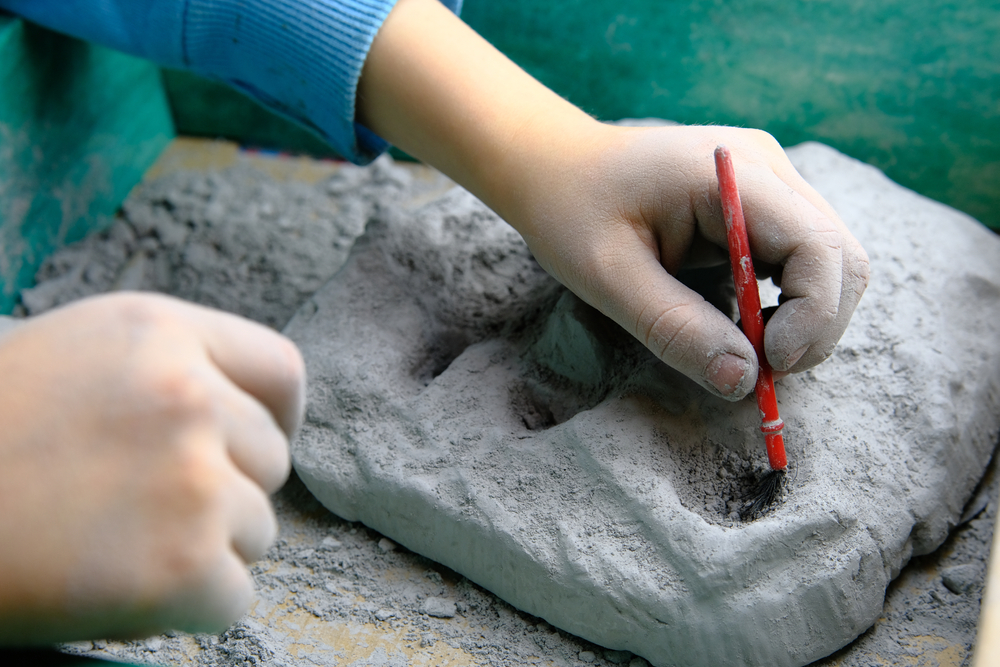 Adventure Island
Looking for fun things to do with kids in Tampa? How about a trip to Adventure Island? It's a wonderful waterpark just north of Busch Gardens and is guaranteed fun for all.
Here you will find 30 gorgeously landscaped acres of fun involving water of course. There are 10 high-speed rides for the thrill seekers and things like a miniature wave pool and five small waterslides for those less adventurous. And the lazy river is sure to please everyone.
You will find waterslides, pools, waterfalls, rapids, and much more to enjoy here. This Tampa attraction for families is seasonal so please check before you go that it is open.
This is also a great place to cool you and your family down in the Florida heat.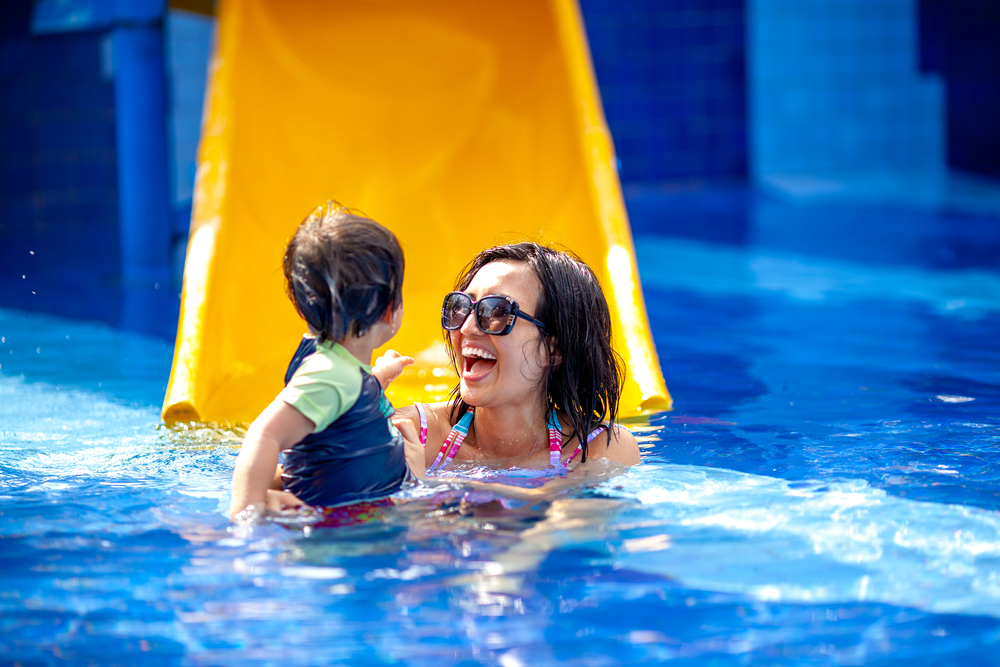 Lettuce Lake Regional Park
If you are looking for things to do in Tampa with kids that are a little more low key then how about a trip to Lettuce Lake Regional Park? This 240-acre park is just outside the city limits and only coast a couple of dollars to enter.
If your children love the great outdoors they will love it here. There is a hardwood swamp forest, a 3,500-foot-long boardwalk, an observation tower, and a wooded area that is perfect for picnics. There is also a 1.25-mile paved trail to explore.
The park also has a children's playground and a place to launch boats, kayaks, and canoes which you can rent. And if you go at the weekend guided tours are available.
It's the perfect place to just get away from it all for a while and enjoy some family time together. If your family loves walking then this article on Hiking in Tampa might give you some more ideas.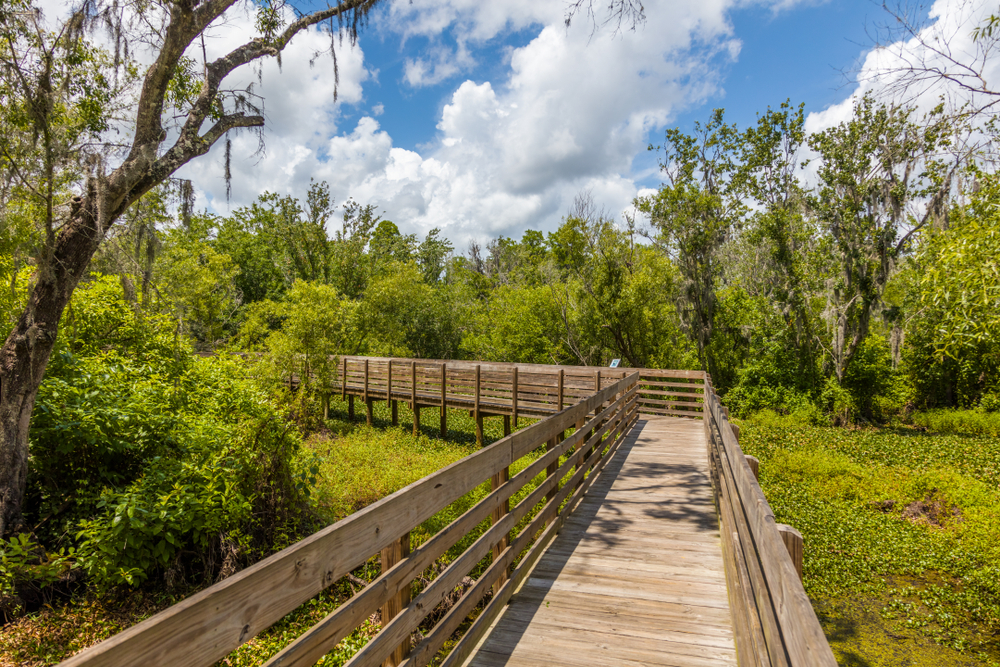 The Airosphere
If you are looking for things to do in Tampa with kids at night then a trip to The Airosphere might be perfect. It's basically a giant inflatable park that sounds like fun whatever your age.
Your children can run, bounce, climb and race around to their heart's content. There are slides, an obstacle course, a cliff jump, a wrecking ball, a toddler zone, and so much more. And if that gets all a bit too much they also have an arcade.
There is so much to enjoy here and the dedicated toddler areas mean your little ones get to enjoy themselves without fear of the bigger kids getting in the way.
And for that added fun factor during the last two hours, the lights are switched off and colorful lights and projectors illuminate the way.
If you are looking for some family fun in the evening that is great for all ages then this is the place.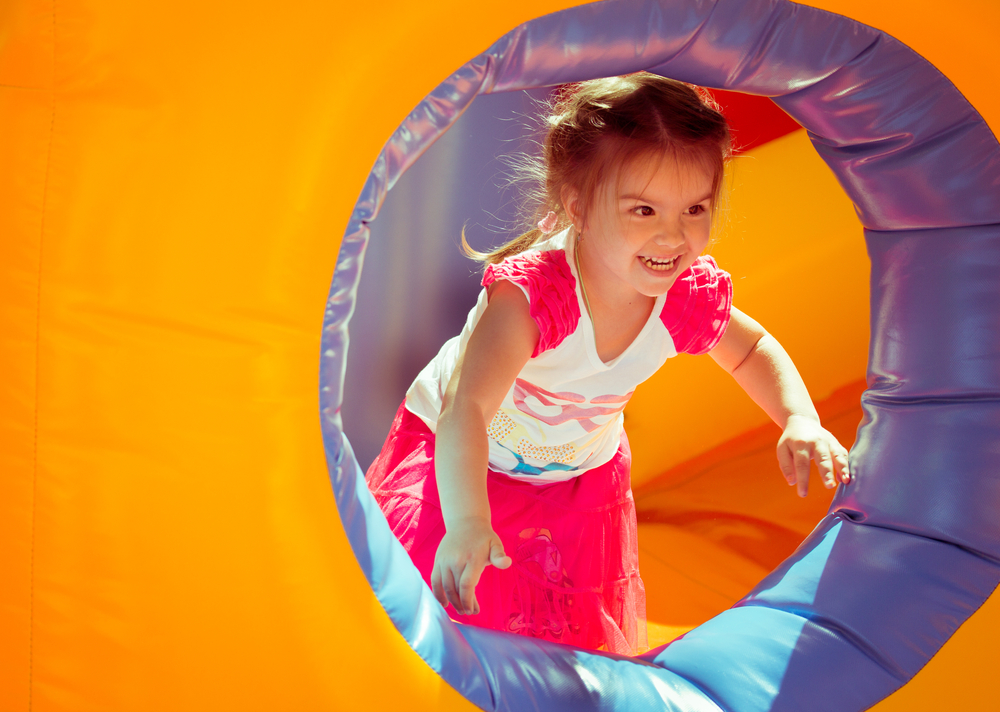 Explore Tampa Bay's Nature Preserves
If you are looking for free activities for kids in Tampa then how about just enjoying the great outdoors? You might be surprised by how many outdoor spaces there are to enjoy in the Tampa Bay area. There is a little bit of driving but we feel it is worth it.
From beachfront parks to small preserves they will be a space that is perfect for your family. They are perfect for long, or short strolls, exploring, bike riding, kayaking, picnicking, or just enjoying some relaxing time while your children amuse themselves.
Weedon Island Preserve is near the St Petersburg side of the Gandy Bridge and will take about 25 minutes to reach. This huge preserve has some great boardwalks which are perfect for children and a stroller. There is an observation tower that the children always love. This is also a great park for kayaking
A little further afield is Brooker Creek Reserve which is great for hiking and the Lower Hillsborough Wilderness Preserve is great for alligator spotting.
We love getting out into nature it gives children such a sense of freedom while also learning about the environment and habitats where they are visiting. It's a fun activity that all the family will enjoy.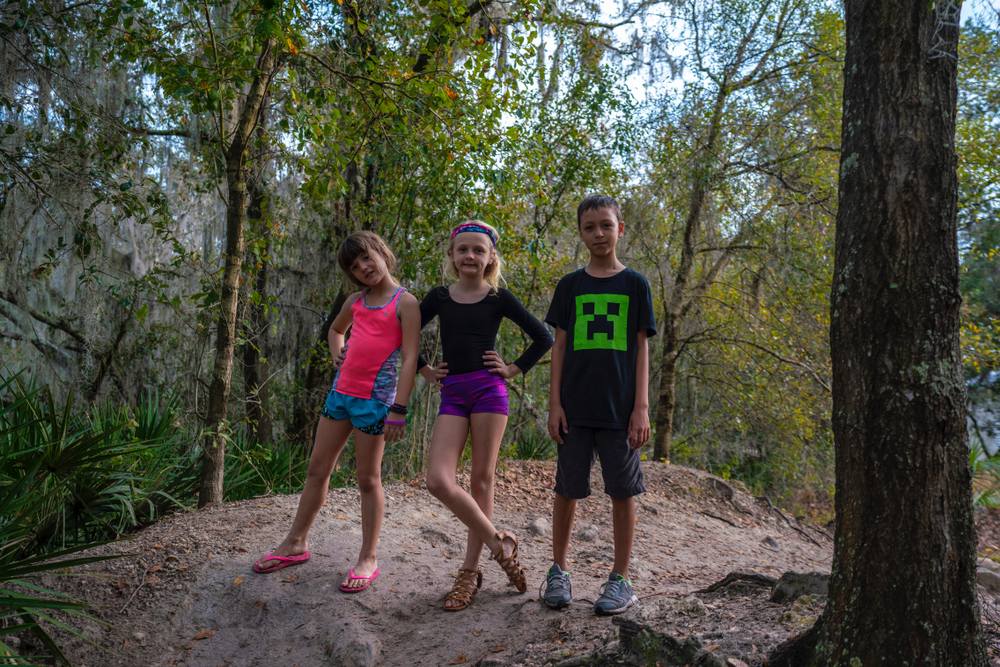 Go Water Biking
If you are looking for family fun in Tampa then how about some Water Biking? It is just what it sounds like bikes on water.
You can explore Tampa Bay on one of these boat/bike contraptions and you are free to explore the waterway however you wish. I don't know about you but seeing downtown Tampa from the waterbike sounds pretty awesome.
The bikes are designed to keep riders balanced and out of the water and the bikes come in solo and tandem versions.
Under 13's are required to wear a life jacket and as long as your four-year-old can reach the peddles they can ride. If the child is too small they can ride in the middle of a tandem bike.
This sounds like a unique way to see the sights that might even keep the most disinterested teenager alert.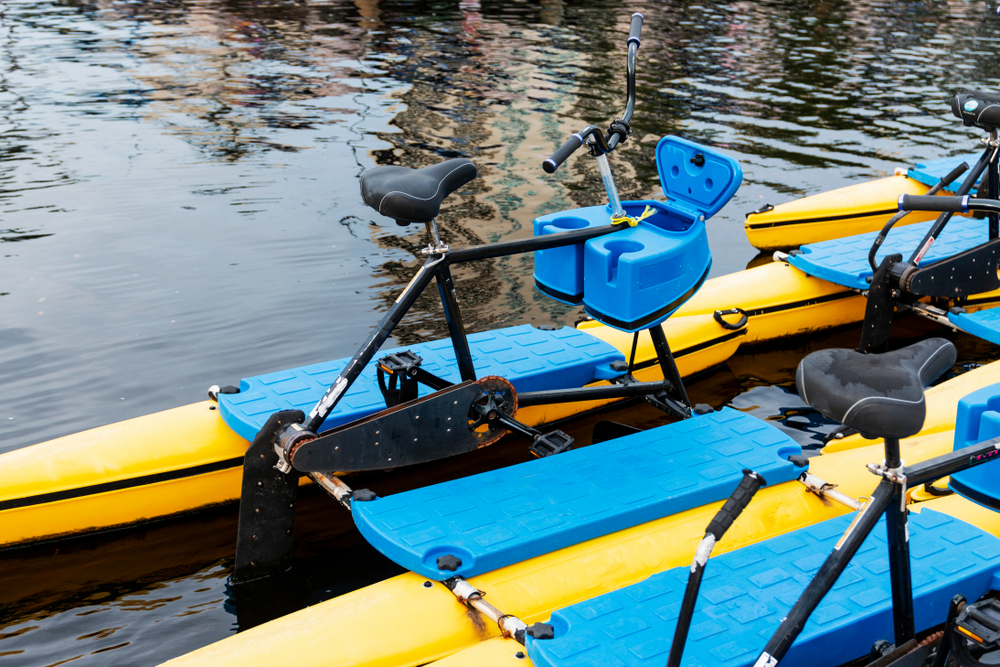 As you can see when it comes to things to do in Tampa with kids the list is endless. There are so many options to choose from it's just about what is right for your family.
I hope this list of activities for kids in Tampa has helped you decide on things to do with your children. Have a great time on your Tampa vacation and come back and tell us all about it.