If you are looking for a list of the best things to do on the West Coast of Florida, we have you covered! Check out our list of the best cities and activities to do on the west coast. 
For those looking to explore the west coast of Florida, we have put together the best stops for those looking to road trip, or just take day trips from popular west coast cities like Naples, Tampa, and Pensacola.
From visiting offshore islands, breathtaking beaches along the Gulf coast, State parks, Florida springs, and historical sights there is so much to do!
Make sure to check out our master post on the Best Time To Visit Florida including a breakdown by month, weather, events, and more!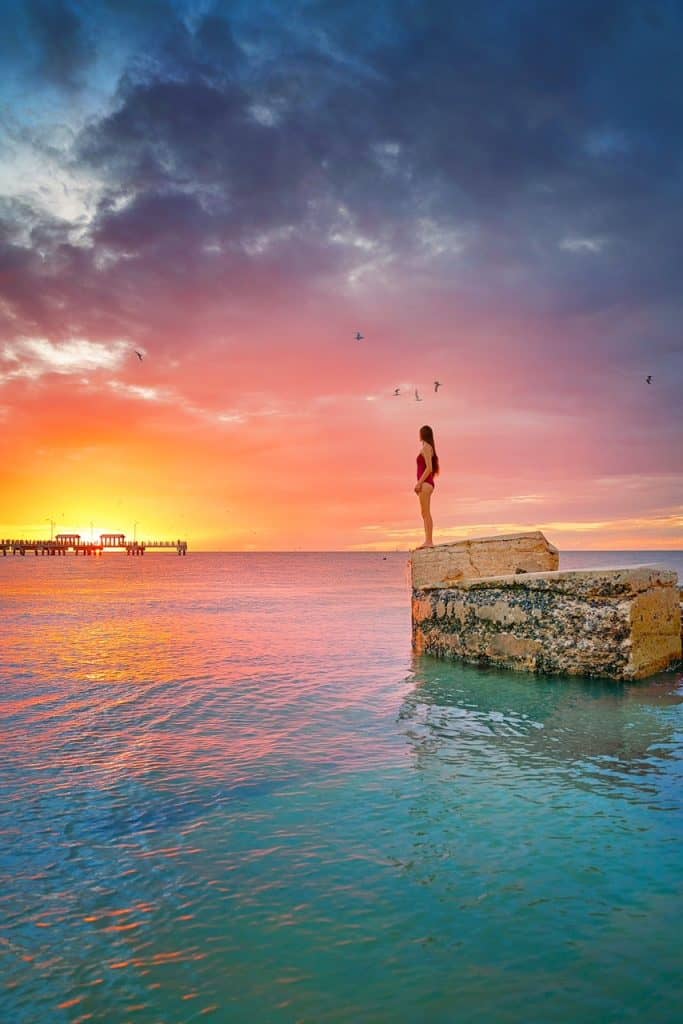 15 Best Things To Do On The West Coast Of Florida (+ hidden gems!)
Beer Can Island
Located in Sarasota area of Longboat Key, Beer Can Island is not only one of our favorite hidden gems in Florida, it is one of the best things to do on the west coast of Florida! . It is actually one of our favorite Things To Do In Sarasota so you really must visit. If you are looking to experience a magical island oasis, head to Beer Island ( also known as Greer Island), not to be confused with Beer Island in Tampa. As one of our favorite spots, we have put together this post for tips when visiting as visitors often find the location a bit tricky to find!
For visitors you will walk along the sand path for 5-8 minutes before the path starts to open up and you will see more dead driftwood and trees. You will be awarded with gorgeous driftwood trees jetting up out of the beach and ocean, making it a picture perfect background.
Almost like escaping to a deserted island with its crystal clear water and lack of crowds as with other nearby beaches! Please be respectful as this island is beautiful but has a fragile ecosystem so make sure to not litter or destroy the mangroves or driftwood trees.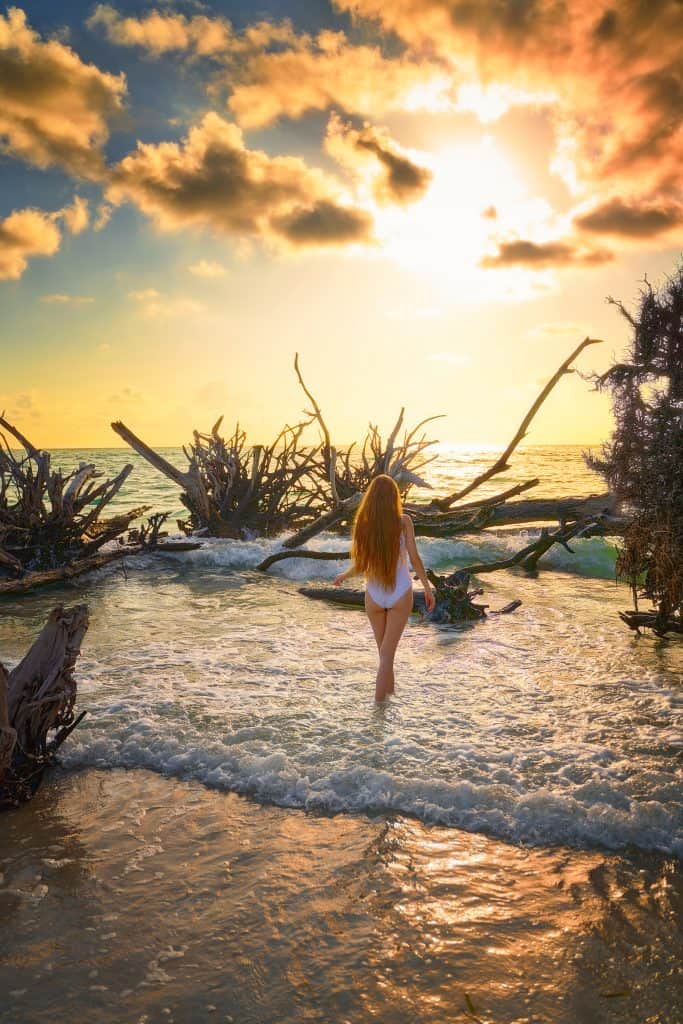 Rainbow River State Park
Rainbow River State Park is one of the best places to visit on the west coast of Florida for those seeking a serene outdoor oasis featuring 10,000 year old sapphire-blue waters, ornamental gardens, waterfalls, and mossy covered trees. Best of all there is something to do here for everyone, whether looking to tube, kayak, and swim in the spring that stays a constant 72 degrees, hike the 2.5 mile path to explore waterfalls, or simply have a picnic in the park.
Open daily from 8 am till sunset 365 day a year, admission is $2 per person. The State Park is located in the central west coast area of Florida, the nearest town is Dunnellon, and can be easily reached from Ocala, Orlando, Tampa and Naples. The entry fee does not cover water activities or the 4 mile spring run. Tubing is $20 a person and includes the 2 hour trek down the river, and your tram ticket back to the parking lot!
Likewise you can rent a kayak for 1 hour for $16 ($50 daily) and canoes are $22 for an hour ($60 daily). The State Park is open for tubing April through September. Rainbow Springs hosts the Florida Manatee Festival, one of the best festivals in Florida dedicated to the beautiful wild manatees! And the Jazz Up Dunnellon, a music festival in October.
For those looking to camp on the Florida west coast, Rainbow Springs State Park's campground is located along the river and visitors can reserve a spot at either an RV or a tent site. Campsites include free admission to the head springs and tubing area!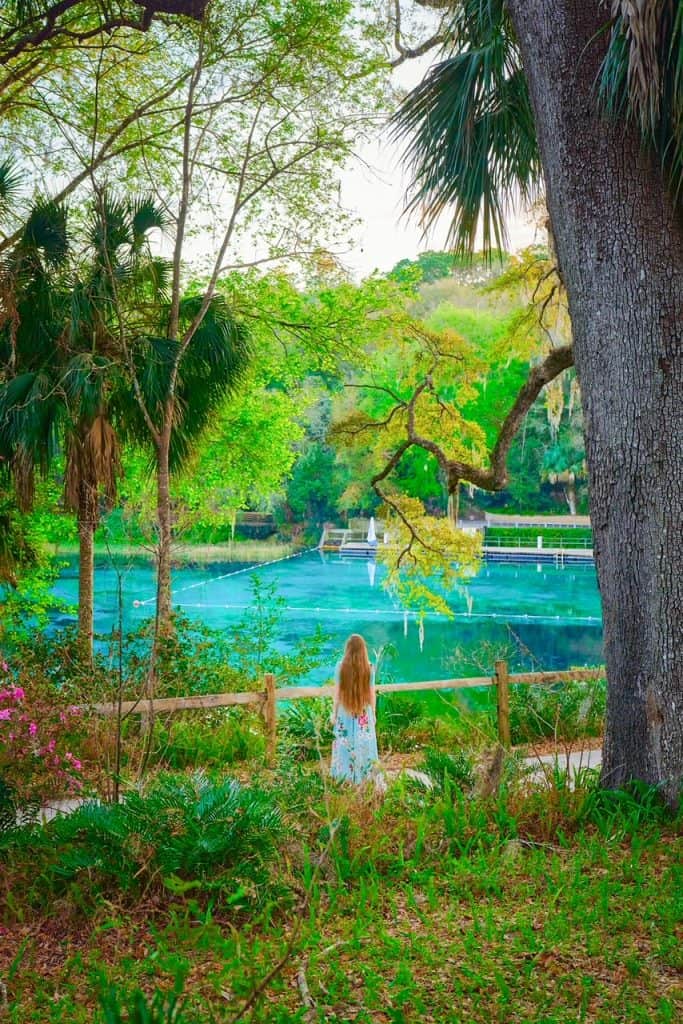 Marco Island Dome Houses
For one of the more unique things to do on the Florida gulf coast head to Marco Island and check out the Florida Dome Homes (Cape Romano Dome House). The houses are located about 300 feet offshore from Cape Romano Island, just south of Marco Island the homes are only accessible by boat or jet ski.
Built by Bob Lee a millionaire seeking the seclusion of living an island life on the ocean, these 6 unusual-looking domes on slits over the water now act as shelter to preserve bird and aquatic life off the Gulf Coast. Don't forget to check out the best things to do in Naples while you are here!
However, after Hurricane Andrew in 1992 the homes have not been inhabited and the dome structures have begun eroding back into the ocean, creating an artificial reef. Further hurricanes have continued to sink the homes making it one of the more unique reefs in Florida. Divers are in awe of the diverse aquatic life that have made the reef home. This is truly one of the best things to do in Southwest Florida!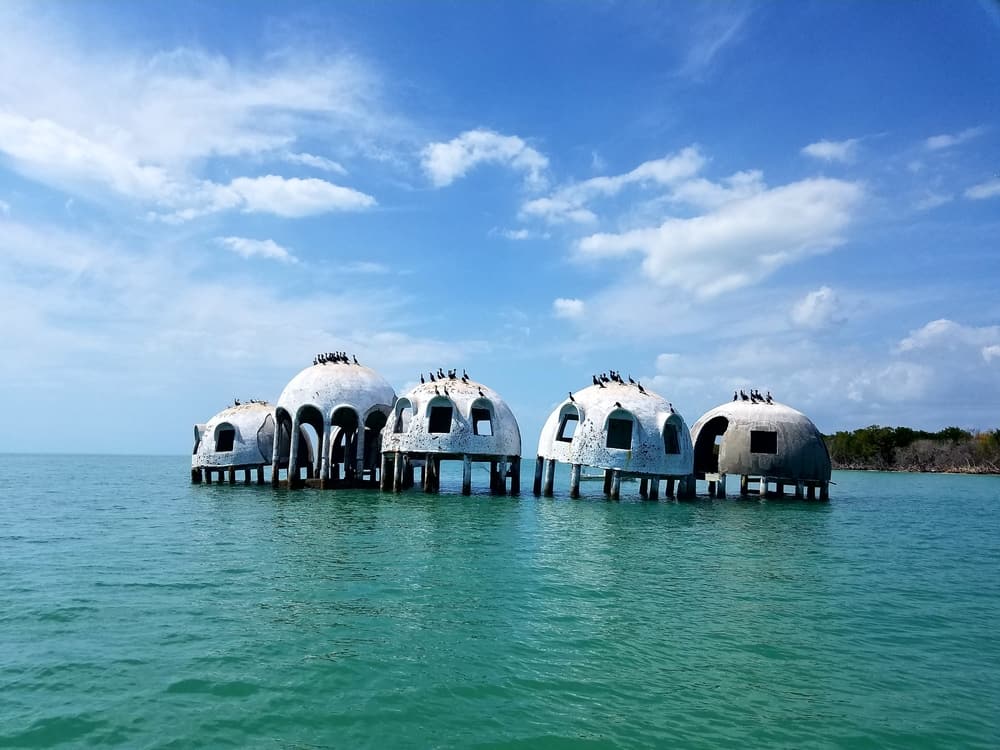 Crab Island
Found in northwestern panhandle town of Destin, a visit to Crab Island one of the natural wonders that makes Florida so quintessentially Florida!
Crab Island, Florida is one of the most famous Florida west coast attractions. If you've ever vacationed in the area it is one of the most popular summer destinations and has been features on HGTV, Good Morning America, in various travel magazines and publications across the globe.
Crab Island is not an actual island, it was manmade by the Army Corps and has eroded overtime to become a sandbar. You can rent a boat, or take a charted boat out and anchor at the sandbar for a fun day of relaxing at the enormous sandbar just off the coast. Or try the Crab Island Company offers a Shuttle Boat, or a wildly popular Adventure Tour.
The best time to visit for the best weather is from spring to fall, and it is a popular destination for snowbirds, spring breakers and families as well! While it is often considered a party destination during spring break times, there are floating food vendors during busy times.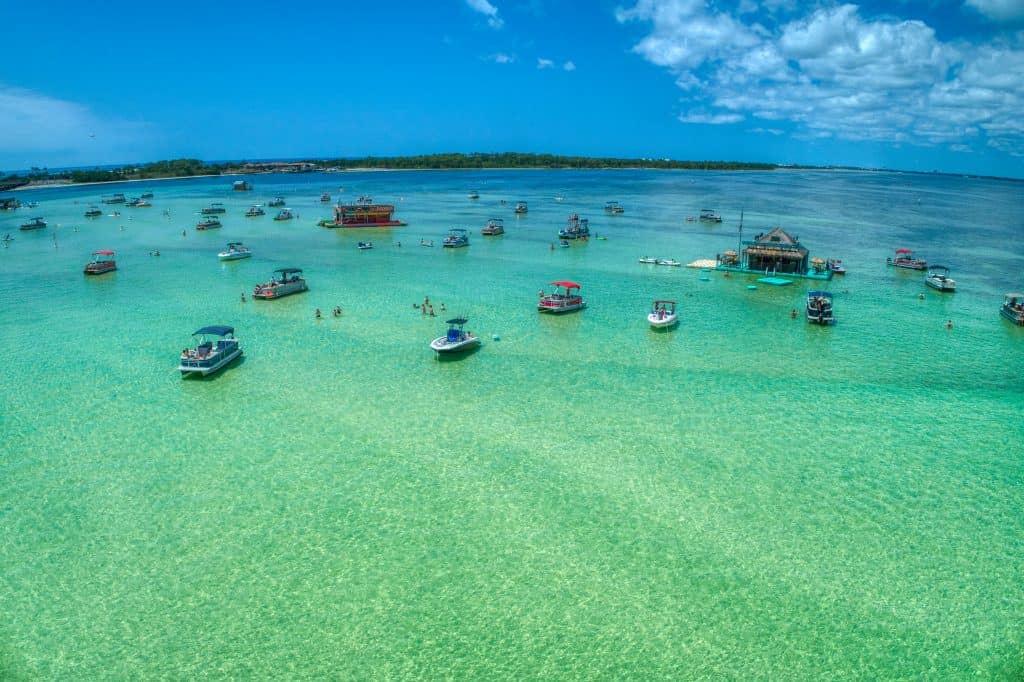 Ringling Museum
If looking for what to do in Florida west coast for museum and architecture lovers try a visit to the Ringling Museum. This historical site in Florida is located in Sarasota!
Visitors flock to the 36,000-square-ft Ca' d'Zan winter residence of John and Mable Ringling. The Renaissance inspired pink 66 acre estate complex with a courtyard and garden area showcased by flowers, fountains, and bronze and stone casts of iconic sculptures like Michaelangelo's David. We highly recommend taking one of the 90 minute tours of the gardens that are offered weekdays at varying times, as the garden and buildings make for a beautiful backdrop for Instagram photos.
Built in 1930's, today it houses 21 galleries housing masterworks from across Europe. The Ringling Museum of Art houses the collection of circus co-founder John and his wife Mable Ringling favorite artists from the Roman, Greek, Medieval, and Renaissance periods.
The entrance fee of $25 for adults at this state run museum. Reduced entrance rates are offered on Thursdays between 5 PM – 8 PM. Just an hour from Tampa by car, making it a must-visit on Florida west coast road trip day trip from Tampa.
Make sure to save time to visit the Ringling Circus Museum that showcases memorbelia and artifacts from various era's of the circus. It also features the train carriage that the Ringling's travelled across America in.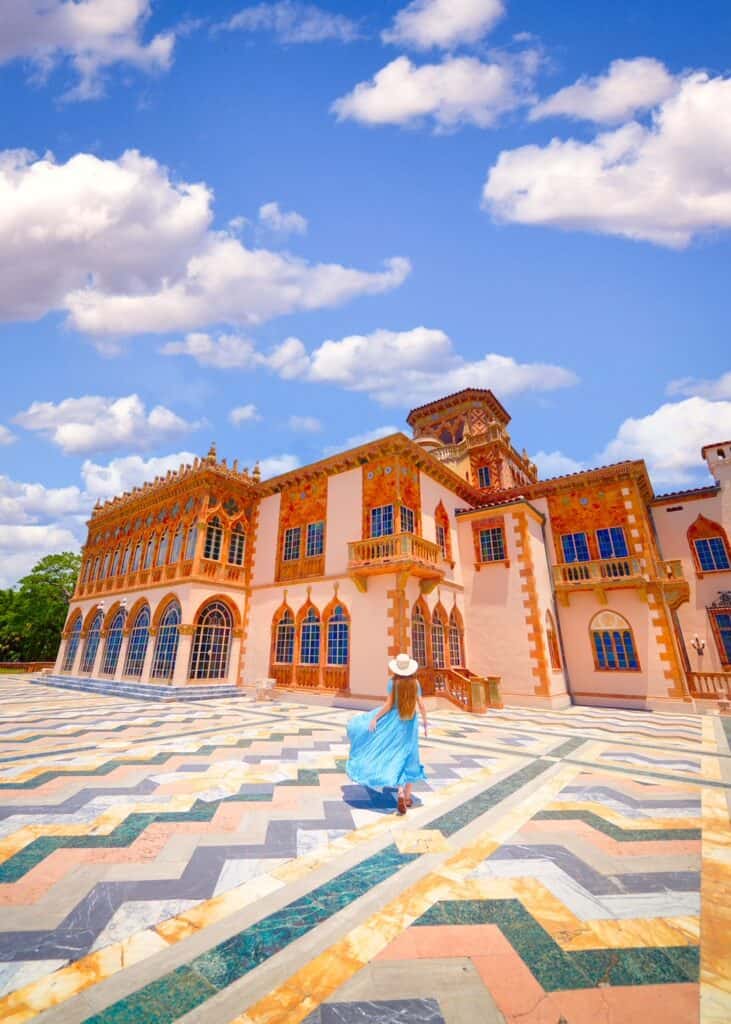 Myakka River State Park
For those looking to explore state parks in Florida, the historic Myakka River State Park is one of the Florida west coast destinations, you must visit! It is actually the only River that has been given the status of a State Park. And trust us the Myakka River is a breathtaking destination!
Over the 58 square miles of the park, the Myakka River travels through various ecosystems including wetlands, prairies, hammocks, and pinelands. Visitors can expect to see a variety of Florida Wildlife including white-tailed deer, osprey and of course alligators on their walk through the canopy! The Myakka River is one of the best places to see wild alligators in Florida.
Climb up 76 foot observation point, and walk through the towering hammock canopy to see vultures on the tops of live oak and palms. On the Birdwalk, you can see some of the rarest birds in Florida. The best time to see the most wildlife is when the water levels in the floodplain are low, usually around January through March.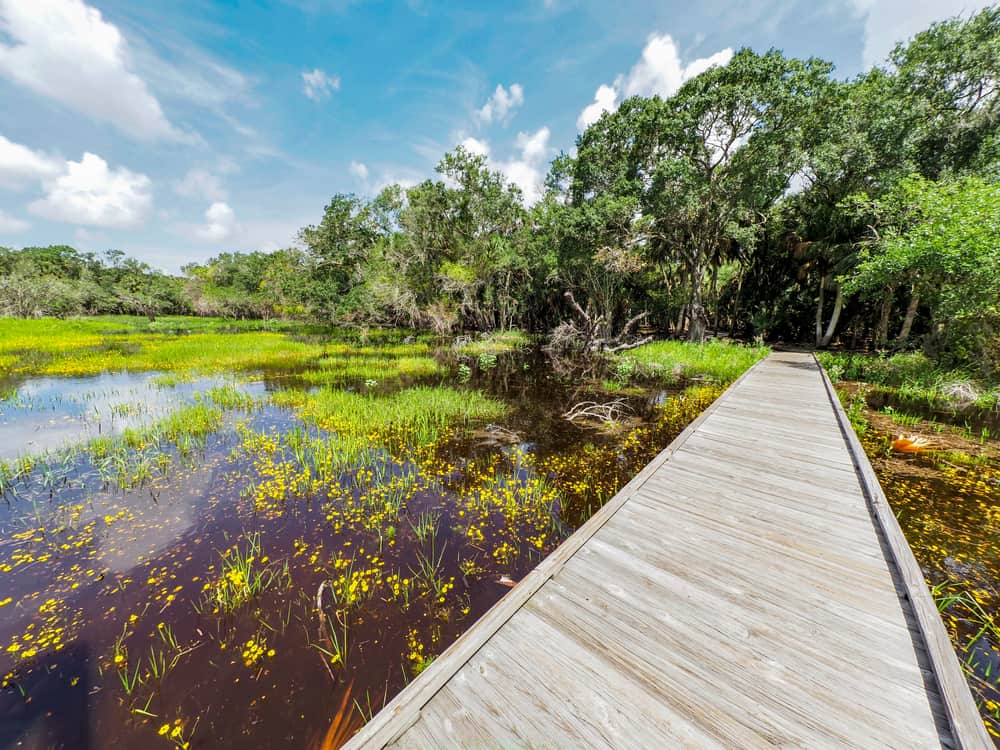 Ford and Edison Winter Estate
Just three hours away from Orlando, you will find what believe is one of the best places to visit on the west coast of Florida, the Ford and Edison Winter Estates. The Ford And Edison Winter Estate served as the winter homes of Thomas Edison and Henry Ford, two of the most well known inventors of all time.
Just think of how many inventions that we use daily were thought of here! We think there is something truly special about that, especially for those fascinated by history, invention, and science.
Once inside take one of the offered tours of the estate and the gorgeous botanical gardens! Where you will even get tot visit the laboratory used by Edison and Ford for inventions like Botanic Research. Inside the homes you will catch a glimpse inside the lives of the two men with model cars and electric experiments, as well as innovation gallery.
Explore the 20 acer botanical gardens with 1,700 plants from six continents including a rare plant Moonlight garden. Tickets are $25 for adults, with self-guided tours offered from 9 am to 4:30 pm. And the historian group tour is only $30. Trust us this is one of the things to do in the west coast of Florida that is worth the visit!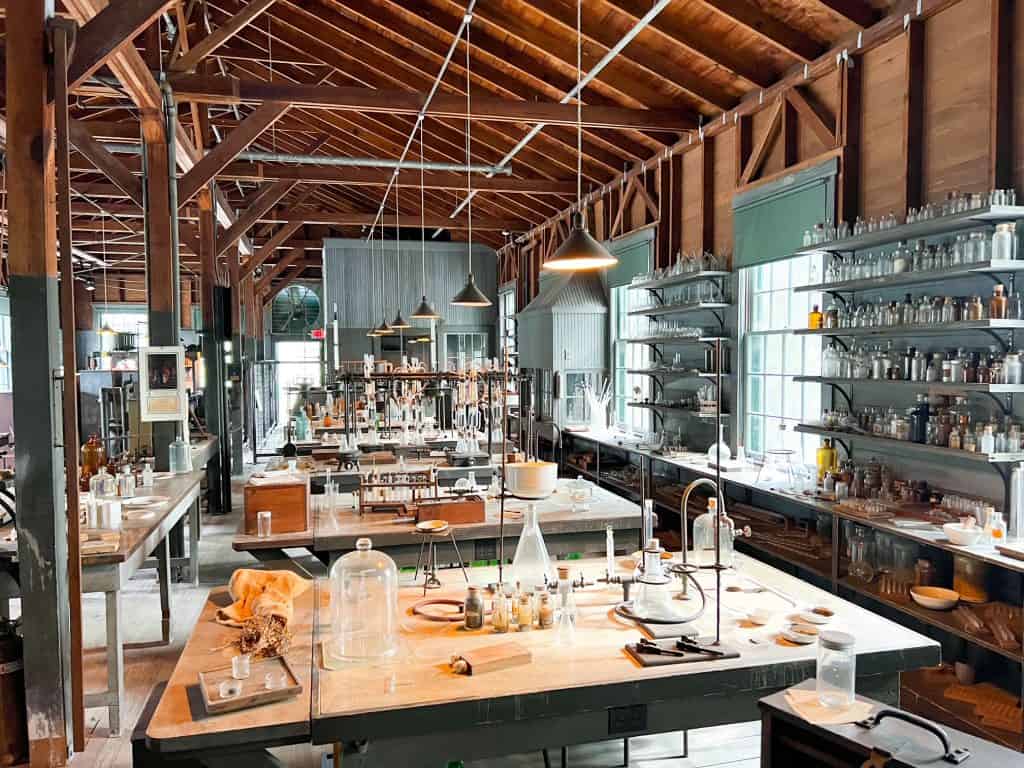 Boat Tour in Naples
If you are looking for Florida west coast getaways, why not head to Naples! Florida's West Coast beaches are beautiful, but why not try something more exciting – a boat tour! There is a variety of tours offered, and we have an entire post of different boat tours in Naples.
This tour is one of the most fun Naples boat tours, exploring the Ten Thousand Island, one of Florida's top natural attractions! It is a chain of islands and mangrove off the coast of southwest Florida, between Cape Romano and the mouth of the Lostmans River.
The tour departs Marco Island, about fifteen minutes south of Naples, with a max of 12 guests. Then you'll head to a small barrier island only accessible by boat on tour lasting about 3 hours.
The captain will point out sea life while giving interesting facts on the local history and ecology. While on the island, you'll be able to swim, go snorkeling, or shelling.
Book Now: Ten Thousand Islands Boat Tour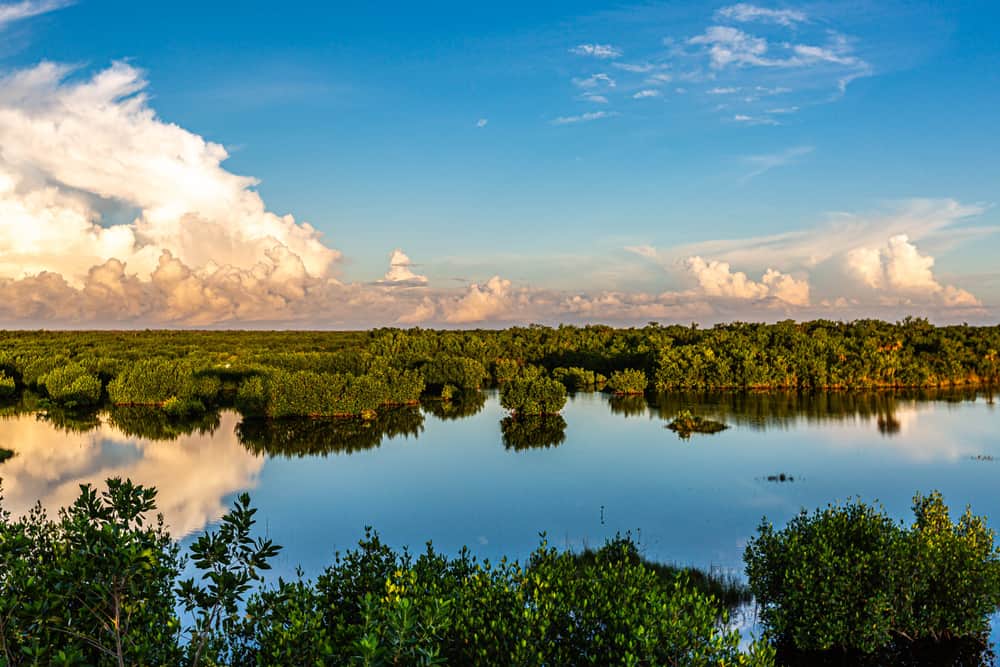 Wakulla Springs
No trip to Florida is complete without a visit to a spring. Visiting the springs are one of the great outdoor things to do on the west coast of Florida, regardless of time of year as they stay a constant 68-72 degrees year round. As it is a State Park entry fee is $6 per car, park opens at 8 am and swimming area at 9 am.
For those in North Florida looking for things to do on the west coast of Florida, Wakulla Springs should be at the top of your list! Wakulla springs are located near Tallahassee, within the Edward Ball Wakulla Springs State Park, a 6000 acre park.
The Wakulla Springs are the World's Largest Natural Spring, meaning this magical oasis provides space to relax, play, and explore. There are two level wooden swimming platforms to jump off, a large roped off swimming area, and a few sunbathing platforms for everyone to enjoy.
For those who dive, you can see remains of Mastodones at 120 feet, the first of which was discovered in 1850's in what is known as the bone cave. Plus you can camp here!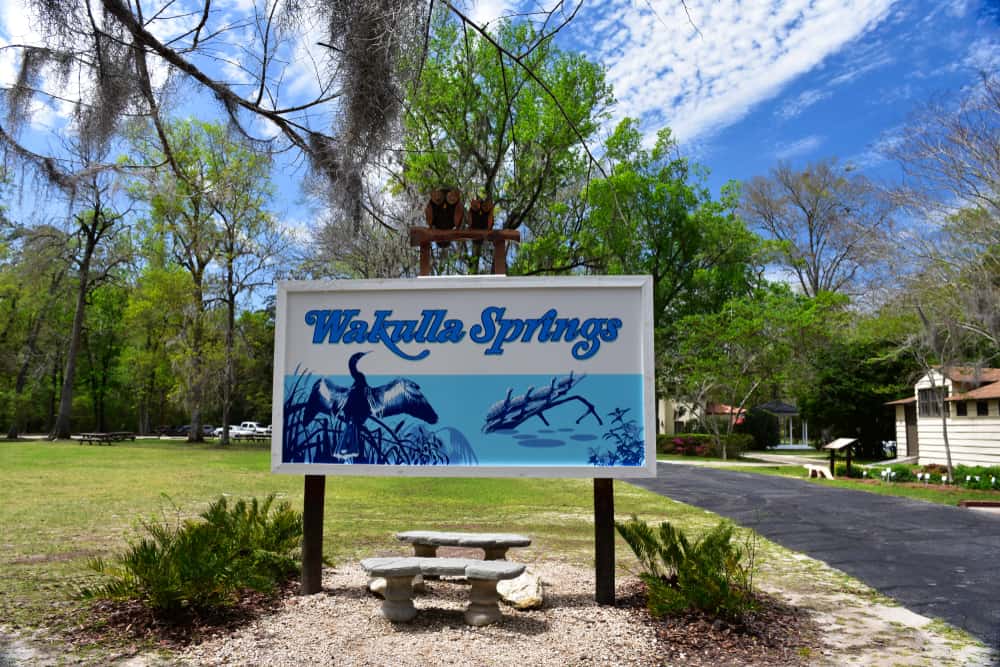 Pensacola Beach
Located in the northwestern part of Florida, this panhandle beach stretch along the Gulf of Mexico and like all Gulf beaches are known for warm water. With almost 20 miles of sugar-white sand and gorgeous blue water, Pensacola Beach is one of the best beaches on the west side of Florida.
Beaches on the west coast of Florida are some of the most beautiful beaches in the state. Stroll the Pensacola Beach Boardwalk where you can shop, eat, and listen to live music. Pensacola beach is one of the great Panhandle beach towns on the west coast of Florida to visit with families and couples alike.
There is also a pier at Pensacola Beach where you can rent fishing gear from the bait and tackle shop. And once you've explored the beach and boardwalk, the whole area of Pensacola has lots of fun things to do!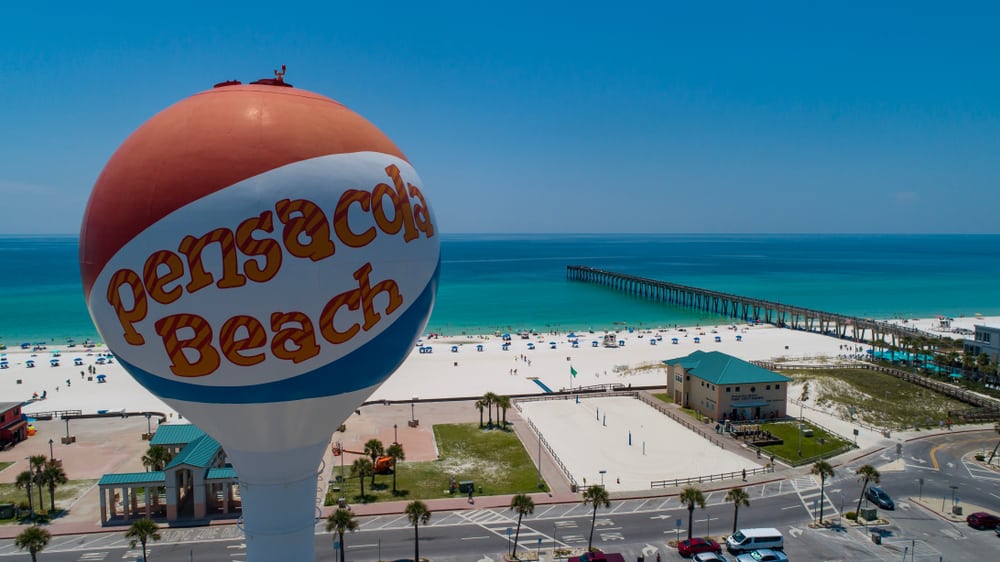 Lovers Key State Beach
This state park lives up to its name by being one of the best west coast Florida beaches. Just minutes from Fort Myers, Lovers Key State Park is best known for its perfect scenery and photographic backdrop. It's also a popular honeymoon and romantic getaway destination.
With its serene, turquoise blue waters, it's not hard to understand how this beach became known for love and romance. In fact, the beach was supposed to be sold for beach-front real estate but instead was donated to the state of Florida to be admired and enjoyed by all.
While one of the best things to do on the west coast of Florida lie back, relax, and spend time with those you love on the beautiful Gulf waters or at Lovers Key State Park. Plus the park also has lagoons and canals to explore, where you can spot wildlife.
The park offers all the amenities needed for a relaxing experience including parking, trams to the beach, and elevated boardwalks. In addition, beach wheelchairs can be rented for free to ensure every guest is able to experience the beauty of the beach. There are also restrooms and a picnic pavilion.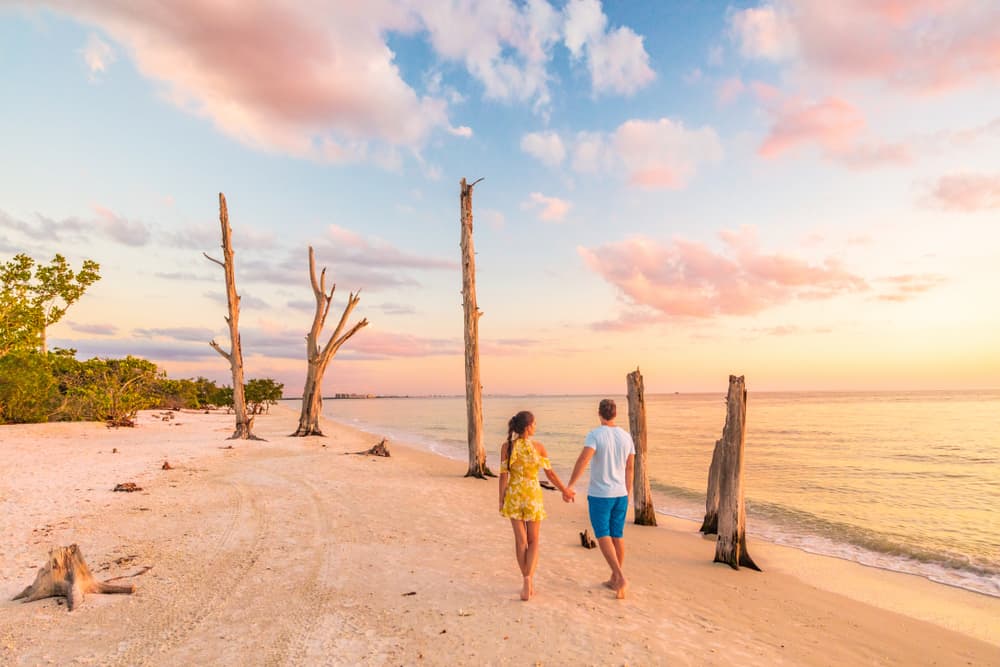 Caladesi Island State Park
Those who love the outdoors and are looking for what to do in Florida west coast, why not take a trip to Caladesi Island State Park? This beautiful barrier island paradise has remained largely undeveloped, making it one of the best beaches in Florida for those who prefer a quiet, peaceful beach trip where you can disconnect. Plus it is just a quick trip from Clearwater.
Visitors to Caladesi Island State Park can bring their fishing gear, pack a picnic to enjoy at any of the pavilions or for those with kids enjoy the playground. For those wanting to be more adventurous, the tranquil hiking trails and paths along the dunes can be so relaxing as well.
For water lovers kayak through the mangroves on the island or try camping on a boat! The marina is equipped with electrical service and water hookups as well as a grill for a completely different camping experience.
If you're up for a bit of a walk, Caladesi Island State Park is also accessible by foot from Clearwater Beach if you are willing to walk six miles.However, the easiest way to get here is via the Caladesi Ferry .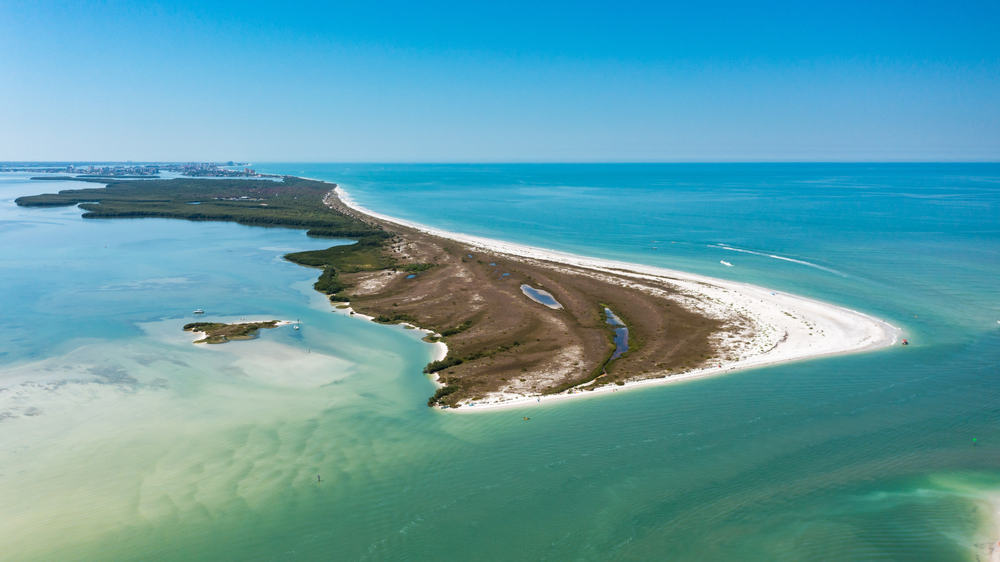 Three Sisters Springs
Just about 90 minutes north of Tampa Bay, Three Sisters Springs is actually part of a large network of about 40 natural springs called Crystal River, and perfect for those on a Florida west coast road trip.
Three Sister Springs originates in King's Bay before emptying into the Gulf of Mexico. Only accessible by boat, these springs are one of the best outdoor things to do on the Florida west coast.
At Three Sister Springs you can swim with manatees or snorkel the crystal clear water. January, one of the best times to see manatees as they migrate from rivers to natural springs to keep warm during the winter months.
Another option for those who don't want to swim in the chilly water why not rent a glass-bottom boat or kayak to get an amazing view of the springs without getting wet!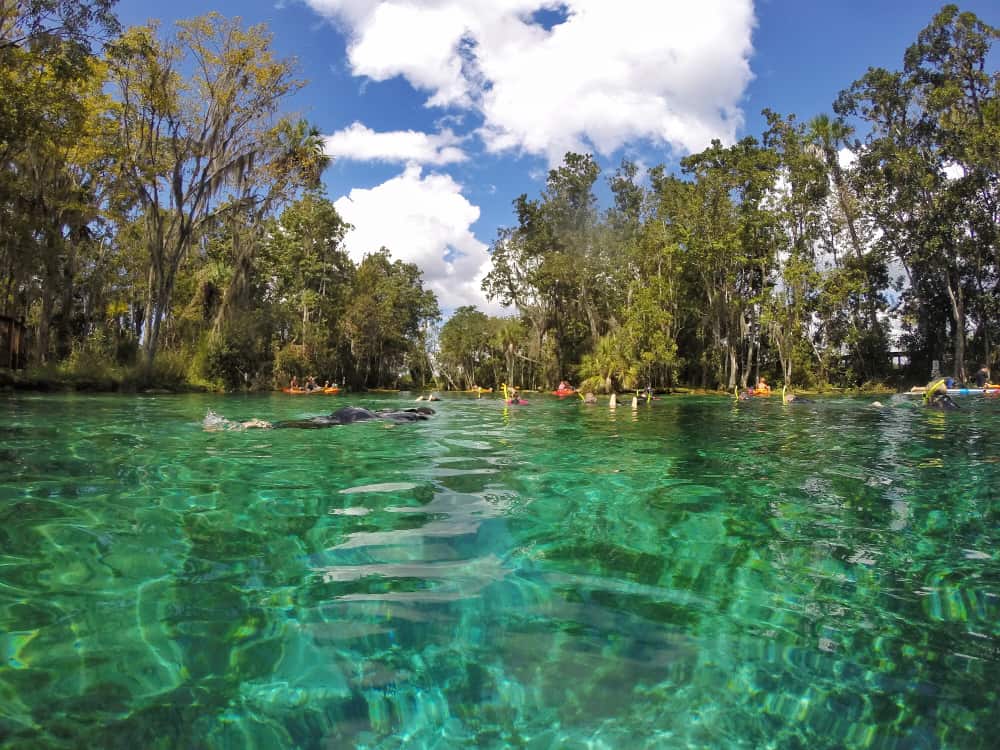 Ichetucknee Springs State Park
Ichetucknee Springs is another of the Florida springs that is located in Fort White, Florida. Ichetucknee Springs State Park is located to the south of US Highway 27, admission to the state park is $6 per vehicle.
You will find crystal-clear waters of one of Florida's natural lazy rivers where you will can either paddle or tube down the 72 degree water from this first magnitude spring. Ichetucknee Springs often can get overwhelmed with visitors during the summer. For example, on memorial day, this park can draw up to 10,000 people to the park!
If you are a diver and are certified, head to the Blue Hole Springs. This cave has more than 600 feet to explore and is a larger part of the first-magnitude springs in North Florida.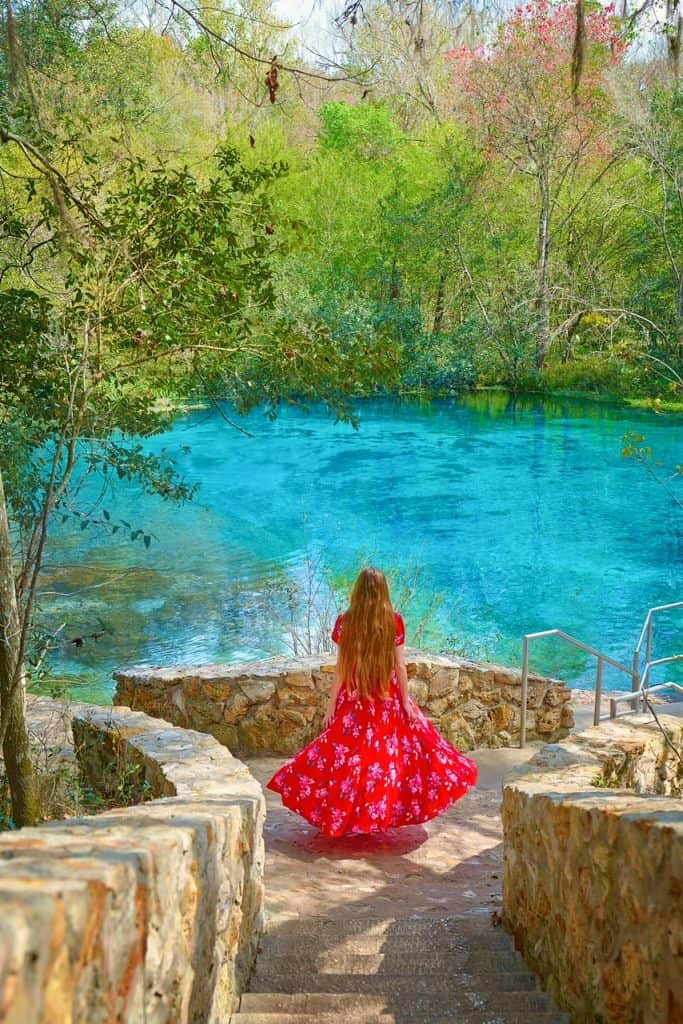 Fort De Soto
Fort De Soto Park, is truly one of the best west coast Florida playgrounds! Consisting of five offshore islands that are the perfect blend of natural coastal beaches with a unique history including a fort and more! Best of all it just minutes from Saint Petersburg one of the best cities on the west coast of Florida.
You can explore the over 7 miles of waterfront, camp at on of the 238 campsites, hike or bike over seven miles of paved trails, swim and relax on the beach, or explore the historic fort dating back to the Civil War! Making it one of the best small beach towns on the west coast of Florida!