Are you thinking about visiting Florida in July? If so you are in the right place. In this article, we will walk you through all the things to do in Florida in July so you can plan accordingly.
The best time to visit Florida is always up for debate and as native Floridians, we feel there is no bad time to visit. There is only the right time to visit for you.
For some visiting Florida in July is their only option. If you have children then this might be the only time you can travel.
While the weather in Florida in July is hot there are ways you can prepare for the heat and have a great vacation. And the good thing about visiting July in Florida is that you will find everything open. The theme parks are operating at full capacity and all the Florida attractions inside and outside will be open.
If you love the hot tropical vibe then Florida in July will be perfect for you. The water temperatures are lovely and warm, daylight hours are long and even the northern beaches have great weather.
July in Florida is absolutely perfect for sun worshippers. There are lots of other reasons for visiting Florida in July and why this state makes for a perfect July getaway.
So are you ready for us to walk you through some of the things you need to know before visiting Florida in July? Grab a drink, a notebook, and a pen, and let us walk you through all you need to know before planning Florida trips in July.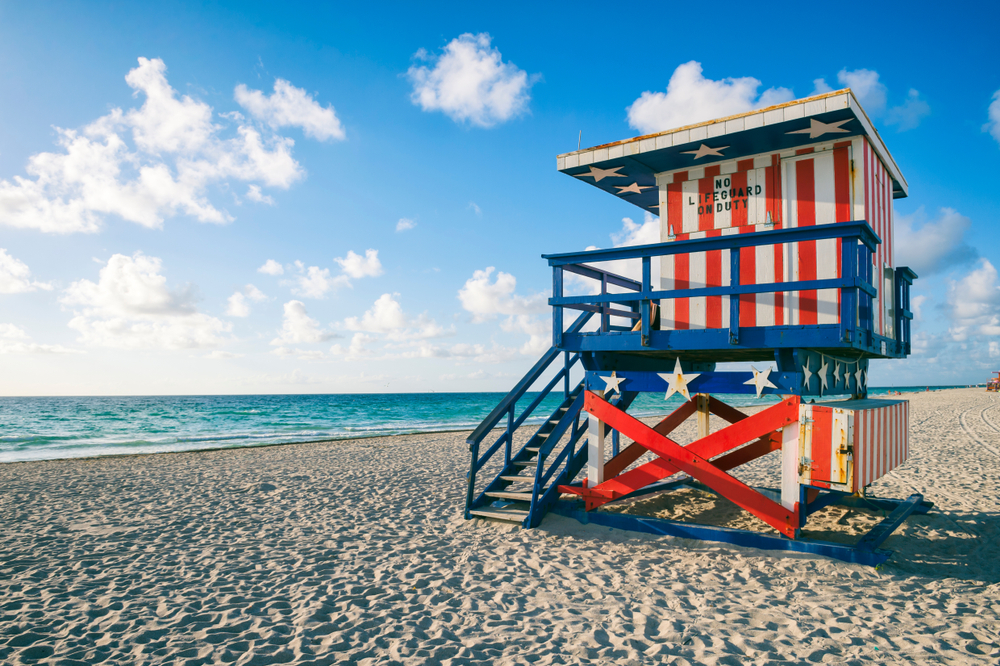 7 Things To Know Before Visiting Florida In July
It's The Rainy Season
When people think of Florida weather in July they probably think of the heat and they would be right. July in Florida is hot and muggy in fact perhaps the hottest month of the year. After April July has the most amount of sun and daylight hours.
Average temperatures in Florida in July are from the low seventies to the high nineties. However, with all this heat comes the rain and July is in the middle of the rainy season. Daily rainfall and thunderstorms are commonplace during July.
While most of this rainfall tends to happen in the afternoon over short periods of time it can last longer and can sometimes go on all day.
The later in July you visit the greater the chance of daily rainfall. For example, toward the end of July, you have a 73% chance of rain versus a 64% earlier in the month. The average rainfall is 6 inches but this varies depending on the location and can be from 5.5. inches to 9 inches.
While rain for some is off-putting often in July in Florida it can be a welcome relief. The rain cools you and the air a little thus making the atmosphere less humid. And there are some other advantages too.
During downpours and rainy periods, the theme parks and other outdoor attractions can empty. If you come prepared for the rain you can enjoy them when they are quieter. If you are prepared for the Florida weather in July it can work to your advantage.
Just watch out for thunderstorms and lighting as you don't want to be in an outdoor space in a thunderstorm.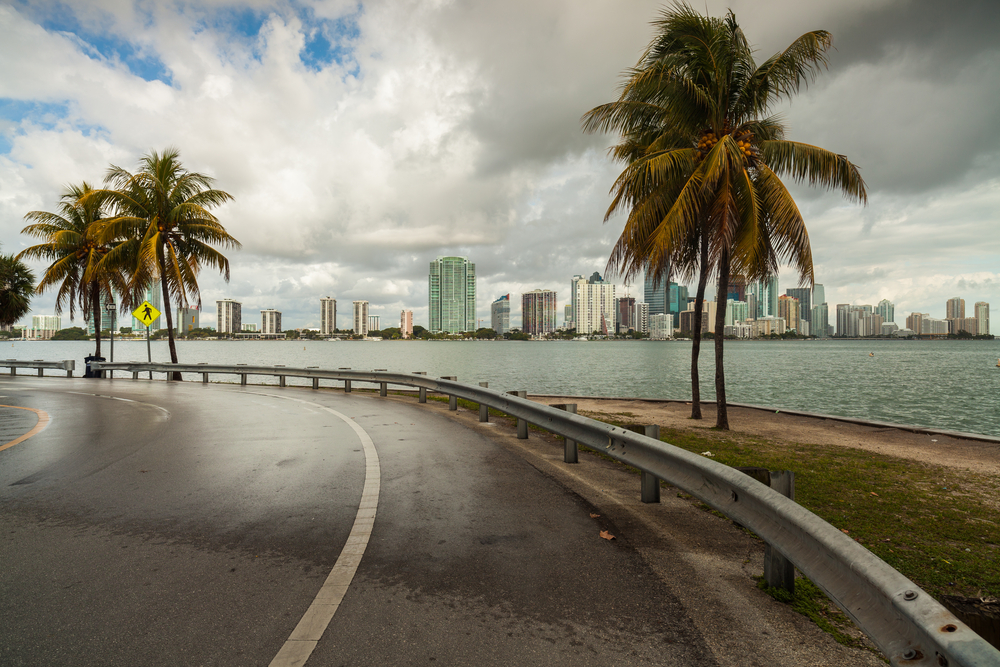 Water Temperatures Are Perfect
Most think that the sea is always hot around Florida and that certainly isn't the case. Obviously, it is relative depending on what you are used to but for us, the water temperatures in Florida can get cold.
In July the water temperatures are warm and very pleasant for all kinds of water activities. It also makes it a great time for a beach vacation with some swimming.
The best places to visit in Florida in July for the hottest water temperatures are Miami and the Florida Keys here the water can be in the mid to high eighties.
The water temperatures towards the north will be a little cooler and the Atlantic coastline will also be cooler in the low eighties.
Florida is a wonderful place for scuba diving, swimming, kayaking, and all other watersports. The warmer temperatures make it much more pleasurable.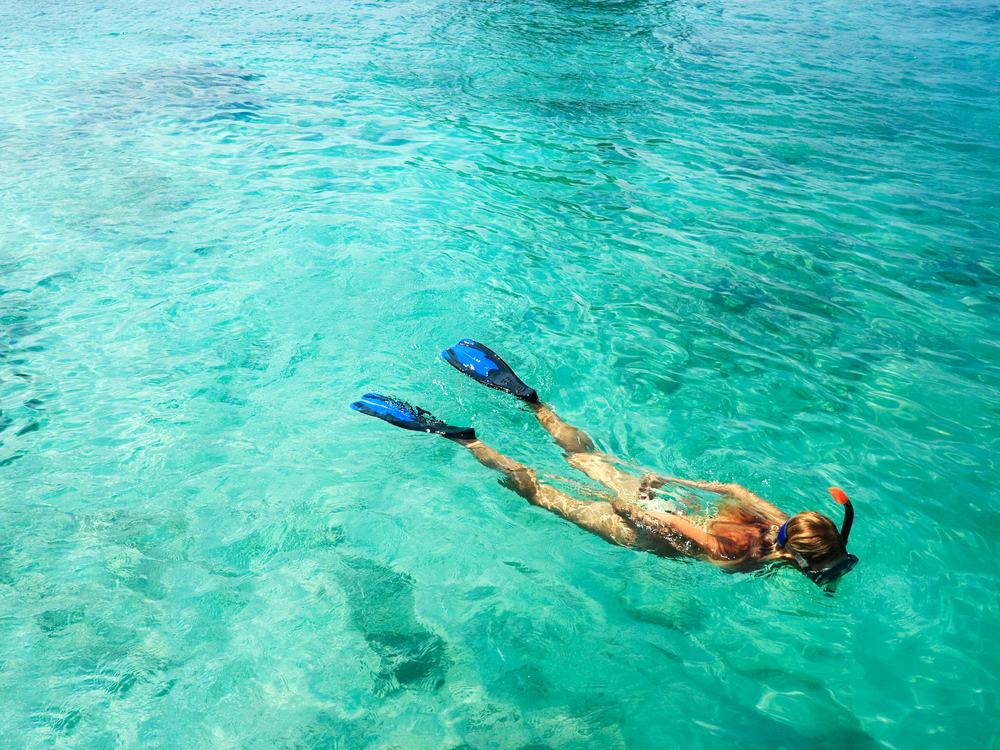 Prices Can Be More Affordable, Especially For The Florida Keys.
If you are traveling to Florida in July, especially towards the latter part of July it can be cheaper. Now we know this can vary depending on where you are traveling from. For those in the States, the later part of this month is likely to have you find a bargain.
While great prices can be found everywhere we have found that the Florida Keys are where you will find some of the best bargains. The summer months are best when traveling to The Keys as it tends to be cheaper. Hotel prices can often be 50% cheaper than in some of the more popular months like winter.
July is one of the best times to visit the Florida Keys if you are looking for a deal.
While overseas tourists tend to fill up the inland areas like Orlando and more well-known beaches like Daytona there are great deals to be found elsewhere.
Some of the lesser-known areas, like Pensacola, Panama City, Naples, Fort Myers, and places like Saint Augustine are all likely to be quieter. And when places are quiet prices tend to be cheaper. All these places are perfect vacation spots in Florida in July.
The best beach in Florida in July really depends on what you want. If you want the heat head to one of the Key West Beaches. The northern Florida Beaches tend to be less crowded and a little cooler in July. And the Panhandle beaches are always perfect this time of year.
So shop around in July and look for places lesser known and you might be surprised but the price. Your Florida getaways in July might cost you less than you think.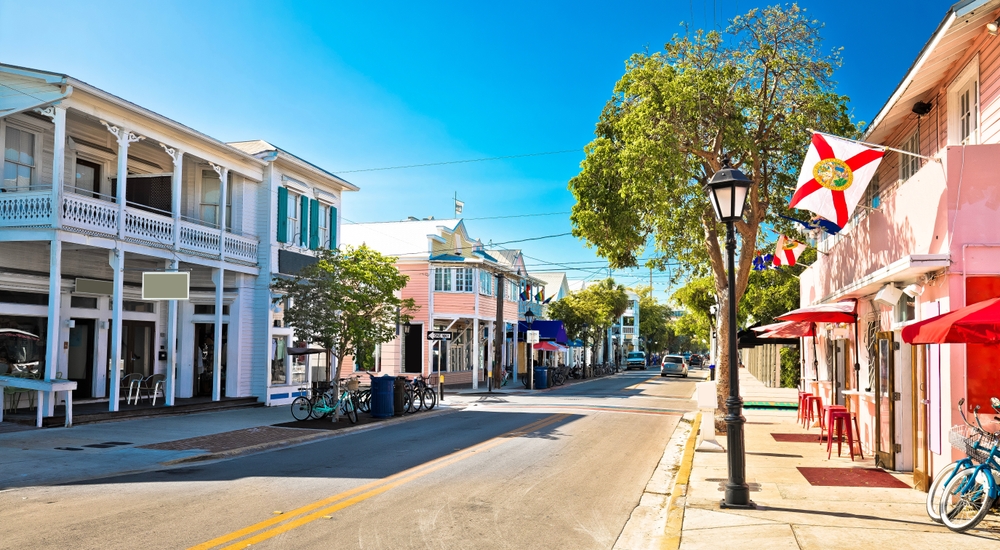 July Is Hurricane Season
Hurricane Season in Florida runs from June to November. Most Hurricanes tend to be mid-August to late September they can form anytime. September tends to be the month when hurricanes are most likely.
Now hurricanes hitting land in Florida are rare, especially ones that cause damage. Although as we write this in 2022 it might not seem that way.
Hurricanes tend to hit the southern part of Florida more. Miami for example gets a direct hit once every five years. Major hurricanes like the ones we have just seen tend to hit land every 12 years. The likelihood of you traveling to Florida during a hurricane is slim but not impossible.
Of course, storms are unpredictable. Some predicted to hit land don't and some change course at the last minute hitting an entirely different area than predicted.
Most Floridians are used to hurricane warnings and often take these warnings in their stride not changing what they do. Don't do that.
If a hurricane warning is in place do what you are told. Evacuate if you are told to do so, stay inside if you are told to, and make sure you follow any orders given.
If you are taking a Florida getaway in July just keep this in mind but don't let it spoil your plans.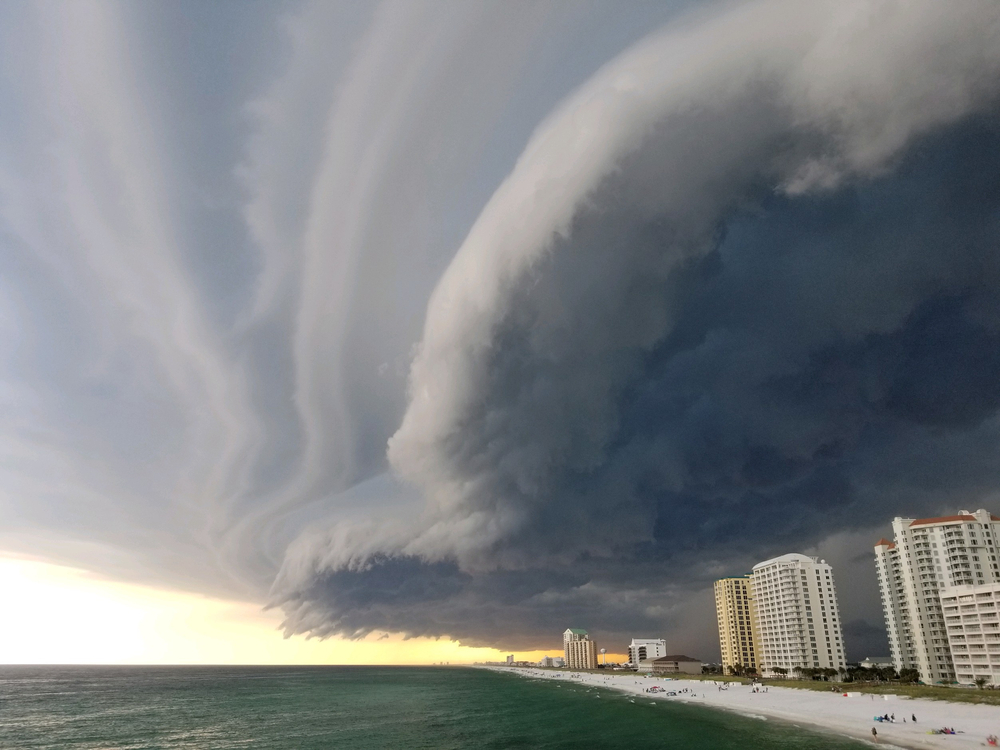 The Panhandle Beaches Are The Best To Visit in July
At the risk of repeating ourselves if you are wondering where is the best beach in Florida in July head to one of the Panhandle beaches. While everyone flocks to southern Florida it's a perfect time to beat the crowds and head north.
The Florida Panhandle is the northwestern part of the state. Nestled between Alabama and Georgia is a stretch roughly 200 miles long and 75 miles wide. The beaches are on the southern side and are on the Gulf of Mexico.
Some of the most beautiful beaches in the state are located here and you will find white sand, turquoise water, and fewer crowds. Added bonus is the water tends to be warmer here than the water on the Atlantic Coast beaches.
The most well-known beaches in the Panhandle are the Destin beaches, the Pensacola beaches, and the Panama City beaches. These are all incredibly beautiful. However, there are some lesser-known gems up this way such as Santa Rosa Beach, Grayton Beach, and Navarre Beach.
And if you are up this way make sure you visit Seaside. It is one of the best places to visit in Florida in July. Seaside is known for its late-20th-century New Urbanist design, and The Truman Show was filmed here. There is so much to do in Seaside it's a great place to visit.
The average temperature in Florida in July in the Panhandle is in the high eighties and the water is a pleasant mid-eighties.
Some of the best vacation spots in Florida in July are found in the Panhandle. The temperatures are not as oppressive and you will find fewer crowds. When it comes to things to see in Florida in July the Panhandle beaches should be high on your list.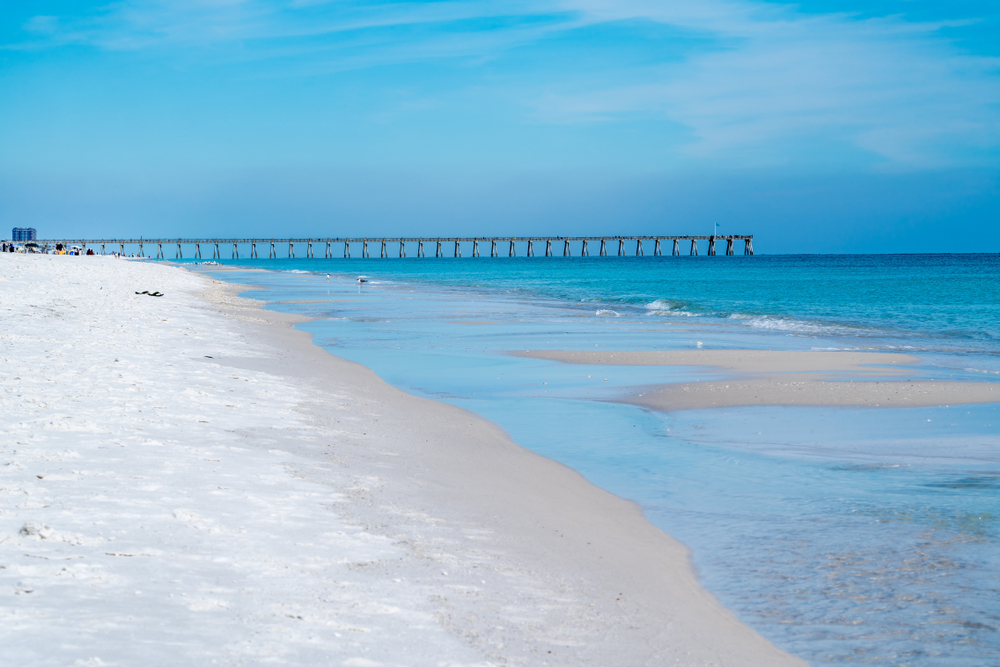 July Allows You To Take Advantage Of Fun Indoor Activities In Florida
One of the best things about traveling to Florida in July is all the fun indoor activities that await you. The heat can be so impressive that indoor activities can feel like a welcome break.
You might get to a place where air conditioning feels like it's sent for heaven particularly if you are not used to these heat levels. And the best thing is that in July all of these places will be open.
The Salvador Dali Museum in St. Petersburg is definitely one of the things to see in Florida in July. This museum features the most comprehensive collection outside of Europe, with eight of his 18 "Masterworks" on display. It is definitely one of the things to do in St. Petersburg.
The Florida Aquarium in Tampa is also a must-see it's one of the top attractions in Tampa. And f you have children they will love Ripley's Believe It or Not Museum in St. Augustine.
The Kennedy Space Center in Titusville is also a firm favorite when it comes to indoor activities. The Orlando Science Centre has a lot to offer.
This is only a small number of indoor attractions available to you. If you are visiting Florida in July make sure you know of a few indoor attractions near where you are staying or within driving distance for the days when you just can't stand another day of heat.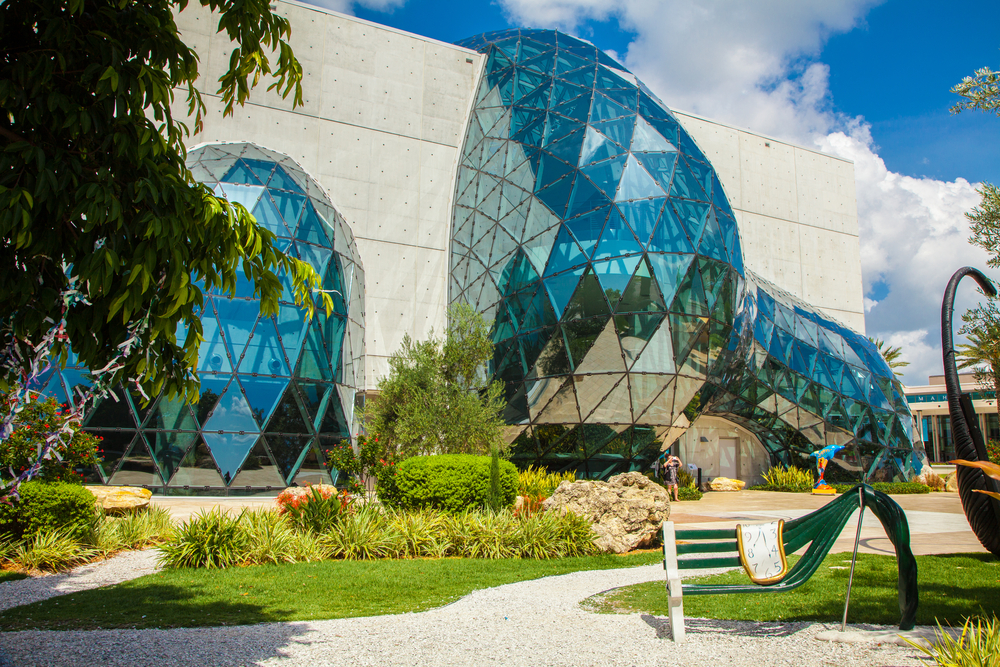 July in Florida is the perfect time for tubing the Florida Springs
The weather in Florida in July makes it perfect for visiting the many Floridian Springs. With water temperature at a constant 72° F, 22° C they make a perfect place to cool off from the Florida heat.
Florida actually has over 700 natural freshwater springs which have been formed by the natural underground aquifer and they all offer something different. And many of them are perfect for tubing.
Tubing in Florida is a perfect way to cool off without having to do any strenuous work and we love it. There is nothing like riding in a tube down a lazy river and the picturesque springs make it even more enjoyable.
Ichetucknee Springs State Park in Fort White tends to be the best for tubing but there are many more. Kelly Park/Rock Springs and Ginnie Springs also have a lot to offer.
So get in your car grab your bathing suit, and tube and away you go. Florida trips in July are made more perfect with a day spent at one of the many springs.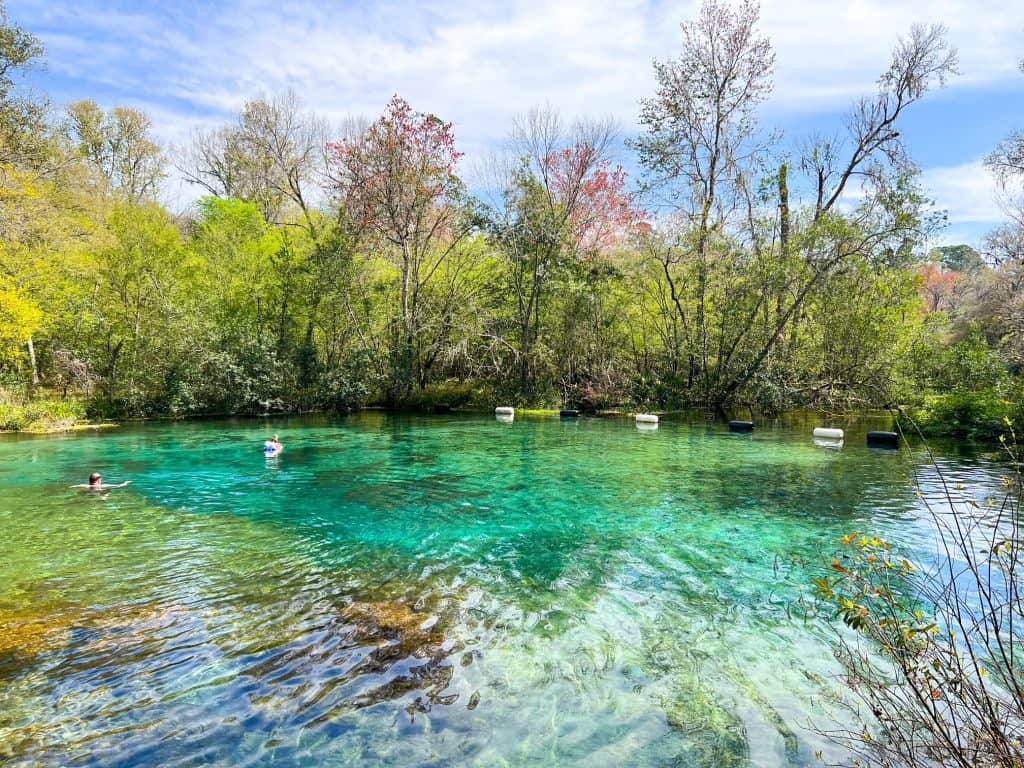 As you can see there are so many reasons to visit Florida in July. If you love hot weather then visiting Florida in July is perfect for you.
There are so many things to see in Florida in July, everything is open and the days are long. And even if you don't like the heat there are many indoor activities to enjoy and the cooler northern beaches might be perfect for you.
Enjoy your vacation and come back and let us know how it went. Also, feel free to ask us any questions below.