The best Mexican restaurants in Tampa have led to the city's development as a dining destination! In fact, Trip Advisor named Tampa as one of seven up-and-comers.
The arts and theatre communities in Tampa have been becoming more elevated in recent years, and the dining scene is right behind them. With overwhelming culinary choices, innovation never stops. Let's not forget that Tampa invented the Cuban sandwich.
Tampa created culinary stars like Greg Baker, Chris Ponte, Jeannie Pierola, and Ferrell Alvarez. But the city also draws in big names like Fabio Vivani from Top Chef and James Beard Award winner Art Smith.
If you're looking for Mexican restaurants in Tampa, we've compiled the perfect list to satisfy your every craving. If Taco Tuesday can't come soon enough, then head to Tampa where you can eat your heart out!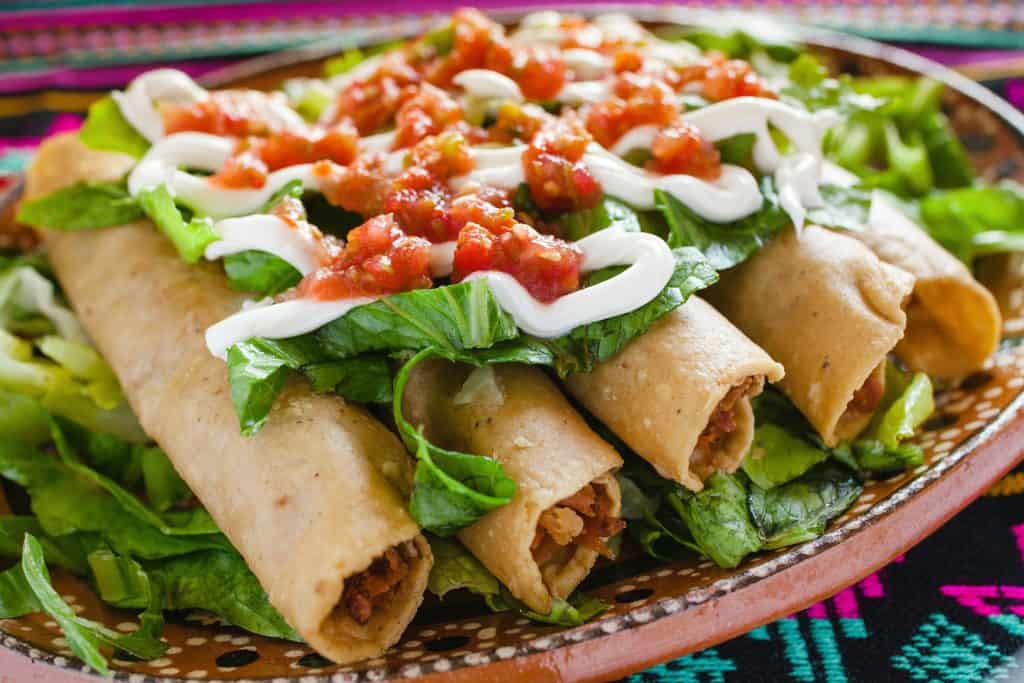 14 Best Mexican Restaurants In Tampa You Must Try
Margaritas
In your search for the best Mexican restaurants in Tampa, your first stop should be Davis Island. A beautiful neighborhood that also houses one of the best dog beaches in Tampa, you can find Margaritas, a delightful Tex-Mex destination!
When you arrive, of course the house salsa is a must-have, and won't be too spicy on sensitive palates. If salsa isn't your thing, then you can always opt for fresh guacamole. You won't be disappointed with gigantic chunks of avocado, tomato, and onion in every homemade bite!
The biggest difficulty will be deciding what combination of foods you want to eat! Do you want only one relleno and a chalupa? Or should you opt for extra refried beans and yellow rice?
The good news is you can't go wrong with any decision. The rellenos are delicious poblanos stuffed with cheese fried to perfection. You also have to consider the burrito "diablo" filled with tender pork, onions, and peppers.
Of course, you have to try some of the Margaritas, it's their namesake specialty! With a wide variety, you can't go wrong with wonderful choices like Sparkling Strawberry, Pomegranate, or the worldly French Margarita.
Find Margaritas on 209 Davis Blvd open from Sunday through Thursday from 11 AM – 10 PM, and Friday and Saturday from 11 AM – 11 PM.
Cantina Laredo
Inspired directly by the cuisine of Mexico City, Cantina Laredo is one of the best Mexican restaurants in Tampa! With a modern twist, you can enjoy the glamour and elegance of Mexican cuisine without having to cross the border.
Cantina Laredo's menu pairs traditional Mexican classic flavors with one of a kind signature sauces like chipotle-wine and Portobello mushroom or sauteed artichoke heart and roasted red bell pepper.
With a modern twist, you can also expect the finest margaritas. Made from fresh lime-juice and the finest tequila, the Casa Rita has earned Cantina Laredo some of the finest awards in the beverage industry.
At Cantina Laredo, every dish looks like a cornucopia of color that bursts with an equally vibrant flavor. You have the option of trying a variety of small plates, tapas, or opt for a more hearty entree like enchiladas, fajitas, or tacos.
Find Cantina Laredo at 2000 Piazza Ave open from Monday through Thursday from 11 AM – 9 PM, Friday and Saturday from 11 AM – 10 PM, and Sunday from 11 AM – 8 PM.
Casa Mexicana
Inside of a small quaint shopping center near Gandy Boulevard, you'll find a joint where the cerveza's cold and the salsa's hot. In a good way!
Casa Mexicana is one of the best Mexican restaurants in Tampa, and for good reason. The food is authentic. They don't rely on bells and whistles to provide guests with a good experience. It's just about the food, period.
Many locals swear by Casa Mexicana because they use only the freshest of local ingredients. Instead of using Hoss avocados, the kitchen uses Florida avocados grown on local farms to prepare the most fresh guacamole in town!
Making mouths salivate for 28 years, Casa Mexicana hosts great lunch specials, available on weekdays. Treat yourself to a large size quesadilla, taco salad, enchiladas, carne asada, or fajitas at a discounted price!
You can't miss Taco Tuesdays, either! For only $2 each, you can feast upon the freshest tacos around! Get them Mexican or American style; Casa Mexicana doesn't judge!
Find Casa Mexicana on 3642 W Gandy Blvd b, open from Sunday through Thursday from 11 AM – 9 PM and Friday and Saturday from 11 AM – 10 PM.
Senor Tequila
When you need simply the best Mexican food in Tampa, head to Senor Tequila Mexican Grill! With an extensive menu, you'll be getting a bang for your buck with over 10 menus to choose from!
At Senor Tequila Mexican Grill, you'll find all your Mexican favorites, grilled and seasoned to perfection. It doesn't matter what protein you want. Classics like incredible steaks, pork, and chicken will give you the flavor you crave.
This Mexican restaurant in Tampa will also work as a great place for a date night in Tampa! You can grab the Fajitas for Two with beef, chicken, pork, and shrimp.
Grilled together with vegetables and served with rice, beans, lettuce, guacamole, sour cream, and pico de gallo, you'll have a delicious feast in front of you! Roll it up all together with six flour tortillas for a perfect meal.
Is it really a Mexican restaurant without Sangria? Don't forget to try Senor Tequila's homemade sangria, garnished with cherries and citrus. Or opt for a taste of the tropics with a pina colada. If you want a Margarita, you'll have trouble choosing from a wide variety!
Find Senor Tequila's on 11115 N Dale Mabry Highway, open from Monday through Thursday from 11 AM – 10 PM, Friday and Saturday from 11 AM – 11 PM, and Sunday from 11 AM – 9 PM.
Loli's Mexican Cravings
With a name like Loli's Mexican Cravings, you'd expect the menu to be full of delectable favorites. One of the best Mexican restaurants in Tampa, they pull off the task with aplomb!
Regarded as one of the best taco shops in Tampa, Loli's is a humble chain gaining Bay Area notoriety. Just in 2019, the chain opened its third Tampa location on West Gandy Boulevard, joining the originals on Hillsborough Avenue and Benjamin Road.
While tacos are Loli's mainstay, you won't be left craving a hearty Mexican meal with other options like tacos, sopas, and of course, tamales. Also famous for it's vibrant atmosphere, Loli's will warm your hearts as well.
Fill your tacos with a variety of fabulous proteins. Try chorizo, carnitas, ribeye, fish, or even Lengua, beef tongue. If you're not a tolerant of spicy foods, try the pastor, pork in a Mexican Achiote sauce.
Find Lolis at 10011 West Hillsborough Ave open on Sunday and Monday from 11 AM – 8:30 PM, Tuesday through Thursday from 11 AM – 9 PM, and Friday and Saturday from 11 AM – 9:30 PM.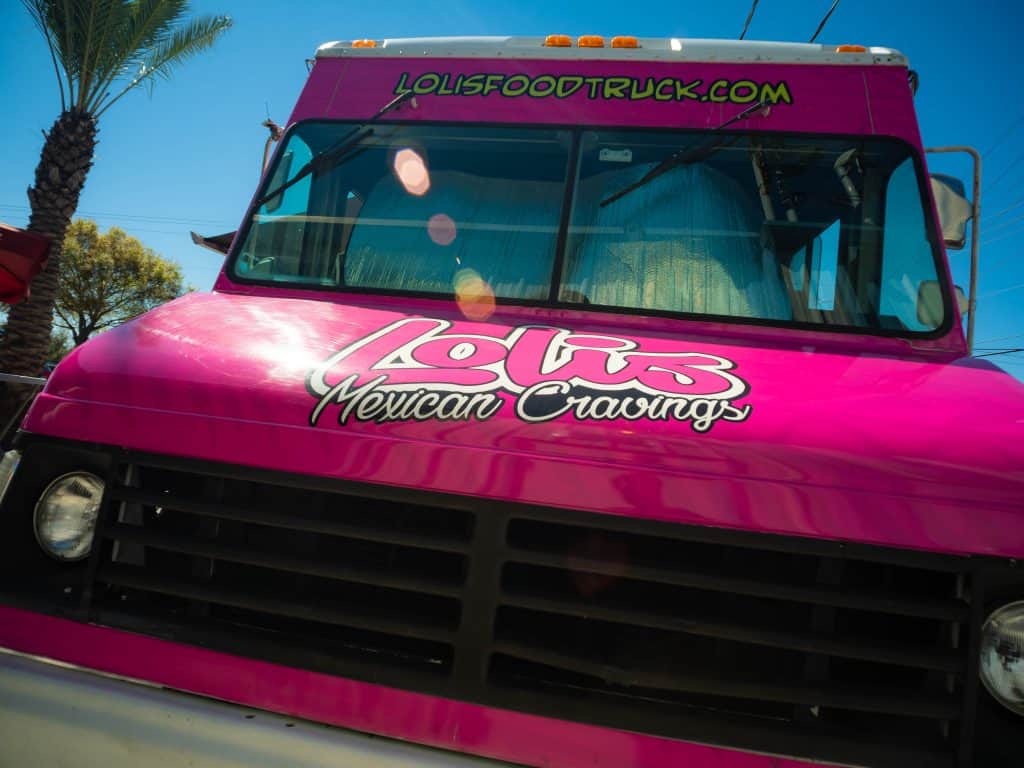 Green Lemon
Found in the SoHo District, or on South Howard in Hyde Park, Green Lemon is one of the best restaurants in Tampa. Here you'll find expertly combined traditional Mexican cuisine and modern healthy options!
First, when you enter, you'll see the walls covered in murals. The modern, upbeat style evokes an authentic atmosphere. While there are over 100 Mexican restaurants in Tampa, Green Lemon stands out with its Latin-infused Tapas and Fiesta Bowls!
Start with the Dip Trio! You'll receive three dips, organic avocado guacamole, a queso blanco, and lime salsa with chips of course. Don't hesitate to pair this with their famous margaritas. Made with Patron, options include infusions of jalapeño, orange liqueur, and fresh fruits!
Most of the menu is gluten-free with the kitchen ready to cater to any other food allergies you might have. You'll also find vegetarian and vegan options on the menu as well!
Find Green Lemon on Restaurant Row at 915 S Howard Ave, open on Tuesday, Friday, and Saturday from 11 AM – 11 PM and Monday, Wednesday, Thursday, and Sunday from 11 AM – 10 PM.
Taco Bus
Before street food was the next big trend, Taco Bus did it best and did it first. The original food truck, Taco Bus is now a popular chain with trucks and brick and mortar establishments all over the Sunshine State.
However, the brick and mortar location in East Hillsborough is where it all began. The vision of Chef Rene Valenzuela, Taco Bus is synonymous with the best Mexican food you can grab on the go in Tampa.
In fact, Guy Fieri visited Taco Bus on his hit show Diners, Drive-Ins, and Dives. He infamously said the chain had "the best torta [he'd] ever had." Buzzfeed also recognized Taco Bus as one of the Nation's Top 25 Food Trucks.
With vegetarian, vegan, and gluten-free selections, enjoy all your favorites on an expansive menu. Grab some extra napkins and try not to overeat their tacos, burritos, chimichangas, and burrito bowls.
Afterward, wash it down with pineapple and watermelon water. It tastes as if the kitchen just stuck a straw in the actual fruit. Don't forget the Horchata and Sangria too!
Find Taco Bus on 913 E Hillsborough Ave, open from Sunday to Thursday from 11 AM – 11 PM and Friday and Saturday from 11 AM – 1 AM.
Tequilas
At Tequila's in the heart of Ybor City in Tampa, you can dine on Mexican food under the stars! But while sitting under those shimmering lanterns, the real star of Tequila's are the two full bars!
One of the best downtown Tampa bars, Tequila's features over 100 different tequilas to choose from, hailing from all over the world. Grab the limes and salt and make some memories in the fresh air of Ybor City, or in the charming restaurant inside.
Tequilas is also famous for its world-class cocktails featuring Tequila of course! Try the Jalapeño Margarita with Milagro Resposado or the Tequila Mockingbird with Don Julio Silver!
To keep your Blood Alcohol Content in check, share some bites like the avocados stuffed with beef, cheese, pico de gallo. You can also try the tacos, burritos, and chimichangas, all available in vegetarian options too!
Find Tequilas in historic Ybor City at 1613 E 7th Ave.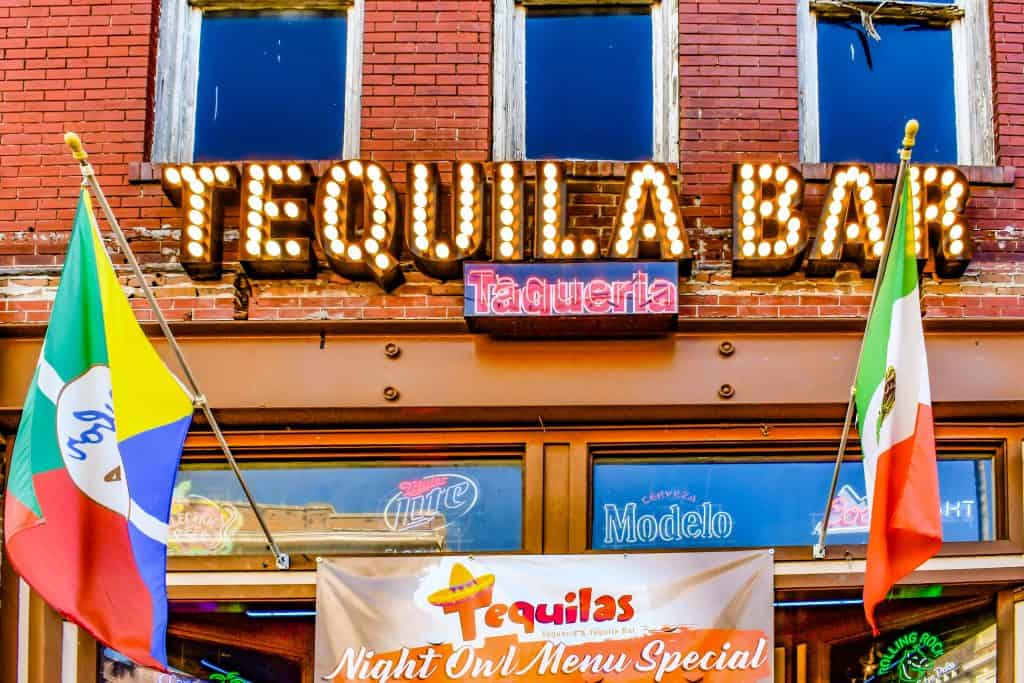 Capital Tacos
A more obscure chain recently gaining notoriety in the Bay Area is Capital Tacos! One of the best Mexican restaurants in Tampa, Capital Tacos has been creeping into the hearts of Tampa locals for many years now.
Born in Pasco and after branching down to Wesley Chapel, Capital Tacos' newest location can be found inside of Amelie Arena when the Tampa Bay Lighting take to the ice rink to play hockey!
What started as a hole in the wall corner-space with no visible sign or advertisement grew by word of mouth rapidly. Capital Tacos was named the third best taco in the country by Business Insider, the top taco joint in Florida by MSN, and the second best restaurant in Tampa by Yelp.
What makes Capital Tacos stand out is their dedication to freshness, Mexican food #doneright as they'd say. Adding a modern spin to traditional taco fillings, you won't lose any of the flavor!
Try the Austinite, filled with carne asada, cheese, and caramelized onions. If you're more of a carnitas person, try the Ranger which pairs its barbecue pulled with a spicy slaw. They're both immense crowd pleasers due to ingenuity and fresh ingredients, made from scratch daily.
Find Capital Tacos at Amelie Arena during all Tampa Bay Lightning home games. There are also locations in Land O'Lakes, Brandon, Wesley Chapel, and Brandon.
Urban Cantina
If you've never been to Urban Cantina, one of the best Mexican restaurants in Tampa, we'll sum it up for you in three worlds. Fun, fresh, and yum all come to mind and immediately!
Right in the heart of downtown, dining in is an absolute treat, but many might opt to carry food out due to limited parking. The Urban Cantina always remains packed, however, due to their delectable menu options!
Warm up with appetizers like the house Cantina nachos drizzled with white queso! Don't forget quesadillas, tacos, burritos, and tortas!
At Urban Cantina, DTF means something else entirely: down to fiesta! Keep the fun going with an extensive margaritas menu. Bottomless margs are $17 on weekend brunches!
Don't worry if you're trying to adhere to a diet, Urban Cantina makes it easy. With a SKINNY menu, you can indulge in all of your Mexican favorites. Guilt-free.
Find Urban Cantina at 200 E Madison St, open on Sunday through Thursday from 11 AM – 9 PM and Friday and Saturday from 11 AM – 10 PM.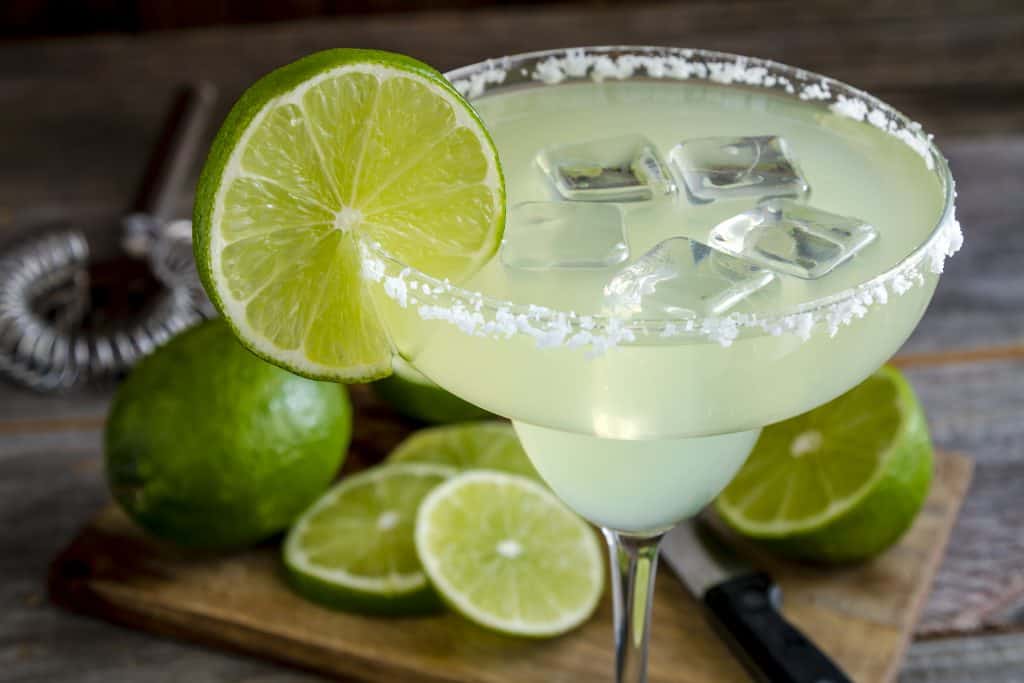 Miguel's Mexican Restaurant
Longtime Tampa patrons have seen the evolution of Miguel's since it opened in 1992. Over its nearly 30 years in business, Miguel's has become one of the most beloved Mexican restaurants in Tampa.
Miguel's follows the traditions of their "Mamma Ninfa," creating authenic, home-made, authentic Mexican food she would still be proud of today. Miguel's handles food as a way to commemorate special occasions.
That belief and tradition are still reflected today from the second you walk in. Warm hospitality rounds out a charming Mexican cantina atmosphere. Fountains trickle and glasses clink at the beautiful bar behind you. And you haven't even eaten yet.
You'll of course start with complimentary salsa with chips, still-warm from the oven. When choosing proteins for your burritos, tacos, or salads, don't forget that Miguel's specialty in seafood, so consider trying the ceviche.
Miguel's can easily be found on 3035 West Kennedy Blvd. Just look for the parrot on the sign. Dine all day on Sunday through Thursday from 11 AM – 10 PM and Friday and Saturday at 11 AM – 11 PM.
Mekenita Cantina
With so many restaurants in Tampa, it can be hard to distinguish itself. So how do you create a menu worthy of the "best Mexican food in Tampa" title?
At Mekinita Cantina, the answer is one word: seafood. Chef Rand and Tiffani Packer walked the streets of Mexico, visiting family farms and preparing traditional Oaxacan meals with local chefs.
In 2007, when they opened Mekinita Cantina, their success stemmed from the Oaxacan tradition of fresh Pacific ingredients. With table-side service and a full bar specializing in craft cocktails, they have become one of the most successful Mexican restaurants in Tampa.
Just a peek at their innovative menu and you'll notice the unique elements that distinguish their dimensional dishes like the Masa Batter Fried Tiger Shrimp Burrito. Or the Crab and Roasted Poblano Enchiladas!
After 5 PM, the kitchen offers Grande Platos which include hearty entrees that highlight the potential and subsequent flavors of Oaxacan cuisine.
Grilled Tender Braised Honey Chipotle Short Ribs are to die for with heirloom carrots, sautéed snow peas, white hominy, charred tomato guajillo lime salsa, with a shaved radish jalapeño frisee salad.
Find Mekenita Cantina in Seminole Heights on 6707 N Florida Ave, open on Monday through Thursday from 11 AM – 9 PM, and Friday and Saturday from 11 AM – 10 PM.
City Dog Cantina
If you've never been to City Dog Cantina, you won't know that they're inspired by a San Diego classic. Here, at one of the best Mexican restaurants in Tampa, you'll find fiesty flavors that will leave you barking for more.
A sharp restaurant/bar, City Dog Cantina's relaxed feel makes it one of the most friendly local watering holes in Tampa. Many residents like frequenting City Dog Cantina after visiting Maven Market Second Saturdays, one of the best festivals in Florida!
All of the portions are gigantic at an affordable price. We're partial to the Lobster Tacos, but you can always see the towering Seasoned Burger with Cilantro aioli, white cheddar, lettuce, tomato, red onion coming out of the kitchen.
A big draw for City Dog Cantina? Dogs are not only allowed but welcome! It's all right there in the name. Tampa is known for being very dog friendly and City Dog Cantina fits the bill!
Find the City Dog Cantina in the Channelside District on 1208 E Kennedy Blvd #114, open on Monday and Tuesday from 4 PM – 12 AM, Wednesday and Thursday from 11 AM – 12 AM, Friday from 11 AM – 3 AM, Saturday from 10 AM – 3 PM, and Sunday from 10 AM – 12 AM.
Bartaco
In Hyde Park, you'll find one of the best taco places in Tampa serving up street food and cocktails in a casual, fun setting! Bartaco is one of the best Mexican restaurants in Tampa.
You know you're in good hands once you pass through the brick pillars and warm blue awnings. Laden with flower boxes filled with a variety of colors, the atmosphere is fun before you even walk in.
The menu is divided into two main categories: tacos and not tacos. The tacos can filled with every delicious protein available: mojo pork, fried oysters, cauliflower, roasted duck, and sesame ribeye!
Many of those proteins show up in "not tacos" dishes like the Duck Quesadilla, Tuna Poke, and Ceviche! Or choose your protein to be mixed up in a brown rice bowl with sliced bell pepper, onions, and the topping of your choice.
Find Bartaco in Hyde Park Village on 1601 W Snow Ave, open on Sunday through Wednesday from 11 AM – 10 PM, and Thursday through Saturday from 11 AM – 11 PM.
Did You Find This Post Helpful?
If so, we would love to keep in touch! We enjoy seeing photos and comments about your experiences in Florida! You can follow us on Instagram and we will repost your photos on our feed and comment too! Just tag us at @floridatrippers and hashtag #floridatrippers. We can't wait to see your travels!