Are you looking for a breakfast restaurant in Fort Myers, Florida? We have you covered with our list of the best breakfast and brunch spots in Fort Myers!
Breakfast is often said to be the most important meal of the day! And breakfast at any of these restaurants in Fort Myers will start your day off right. From farm-to-table restaurants, hometown diners, rooftop brunch spots, vegetarian options and more Fort Myers has a ton of breakfast spots to try!
After breakfast you can then spend your day exploring Fort Myers. From wineries, museums, state parks, beaches and islands or even an Everglades boat tour there is so much to explore in Fort Myer.
After working up an appetite exploring Fort Myers check out our list of the best restaurants in Fort Myers for lunch or dinner!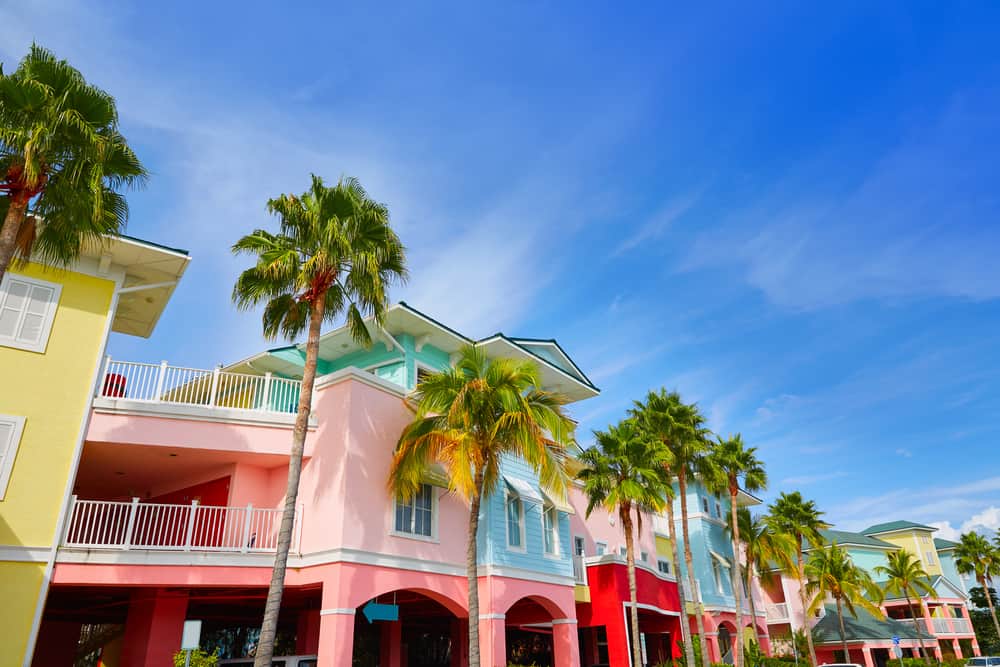 12 Places For Breakfast In Fort Myers
Keke's Breakfast Cafe
Keke's Breakfast Cafe has two different locations in Fort Myers. One in Six Mile Cypress and the other location is on Daniels Parkway. Keke's Breakfast cafe is one of the best breakfast in Fort Myers. Both locations are open daily from 7:00 am to 2:30 pm.
When looking for delicious breakfast places in Fort Myers where all food is made fresh to order head to Keke's. While a chain restaurant, Keke's does an amazing job of serving homemade dishes with fresh fruits, vegetables with high quality ingredients and amazing service!
On the weekends you can usually expect a bit of a wait but it moves quickly! On the menu you will find an assortment of typical breakfast foods from waffles, pancakes, french toast and stuffed french toast, egg dishes, and create your own combos.
Keke's in known for their delicious menu items like apple cinnamon waffle or banana nut waffle, the Florida pancakes topped with fresh strawberries, blueberries and bananas, turtle stuffed french toast with pecans, caramel and cream cheese.
For those looking for healthier fare there are an assortment of omelettes like the Greek with fresh spinach, tomatoes and feta cheese, or the Fajita omelette with Perdue chicken breast and veggies as well as eggs Florentine or Benedict. Sides include sliced tomatoes, home fries, breakfast salad or fruit!
For those looking for more of a brunch in Fort Myers, Keke's serves a lunch menu from 10:30 am until close. On the menu are panini's like ham and swiss, portabella and cheese steak Burgers including a garden burger for vegetarians and you can add an egg to all burgers! Wraps and salads are also offered.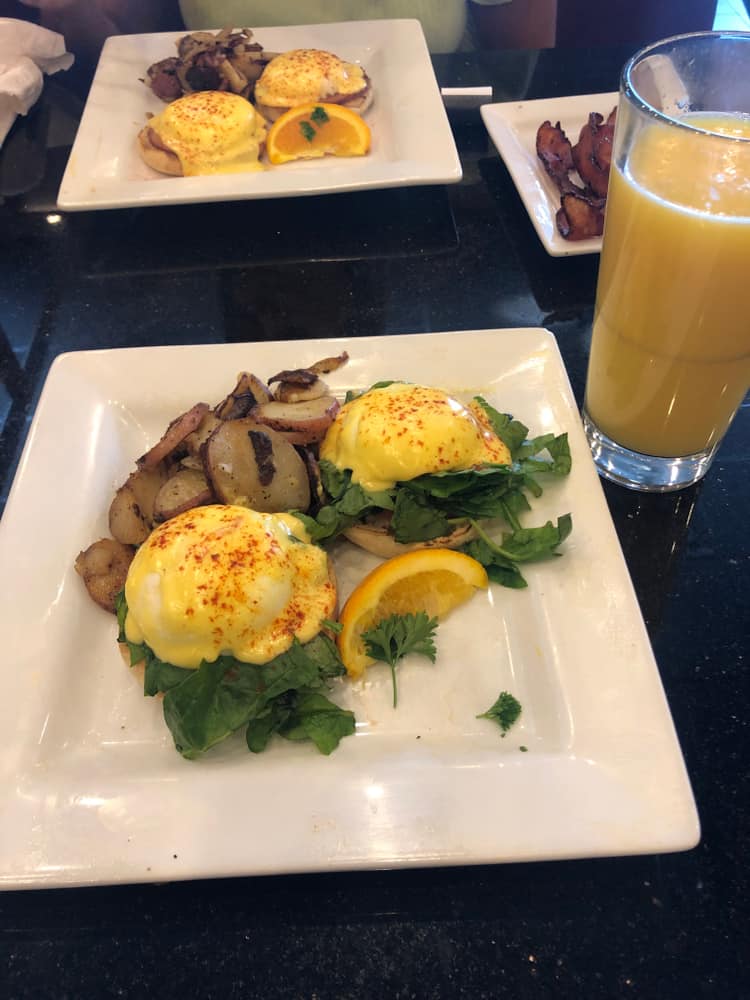 Hibiscus House Bed and Breakfast
THe Hibiscus House Bed and Breakfast is located on McGregor Avenue and serves up a homestyle plated breakfast daily in the dining room between 9 am and 10 am. The historic Hibiscus House was built in 1923 by William H. Dowling owner of the local lumber company.
For those looking for a breakfast place in Fort Myers that serves up food like your family kitchen Hibiscus House is the place for you. You can even expect the owners, Bob and Colleen to sit down and have a chat with you at breakfast!
The menu is preset with a range of dishes served from sweet to savory alongside coffee, tea, juice, breads and fruit. If you have any dietary restrictions such as gluten free, sugar free, vegan or vegetarian make sure to let the restaurant know
Fancy's Southern Cafe
If you are looking for one of the best spots for brunch in Fort Myers head to Fancy's Southern Cafe. They pride themselves on serving delicious southern food with a twist! Patrons come to dine at Fancy's for the food as well as the southern infused and unique craft cocktails!
On the breakfast menu you will find Fancy's favorite of chicken and waffles with a homemade buttermilk syrup, biscuits and gravy, shrimp and grits, New Orleans Pain Perdu – french toast with strawberries and candied pecans with two eggs, southern crab benedict, pancakes and eggs, and corned beef and hash!
For those looking for more traditional there is a southern breakfast, omelettes, and sides like hash browns, cheddar grits, and home made donuts!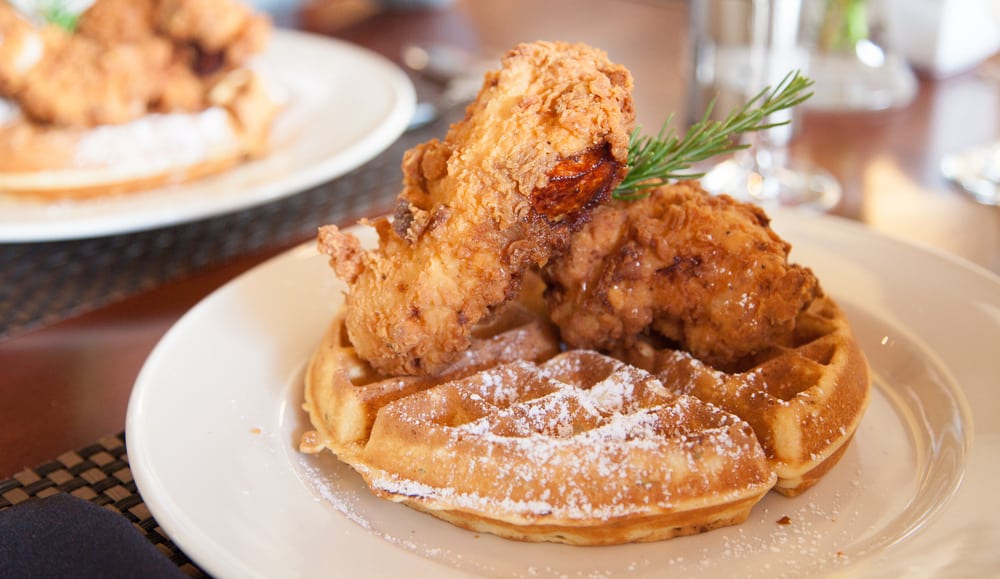 Annie's
Annie's is located just a 15 minute drive across the Caloosahactchee River in nearby Cape Coral. Trust us, this old fashioned diner is known for serving up a delicious breakfast near Fort Myers. Annie's is known for both omelettes and their soft and fluffy pancakes.
Breakfast is served from 7 am until 1 pm daily. On the menu you will find traditional egg breakfasts with your choice of bacon or sausage, country fried steak or corn beef hast.
Also on the menu are biscuits and gravy, oatmeal, fresh fruit with granola or cottage cheese, or try the southern style with two eggs, biscuits and gravy, or breakfast tacos and sandwiches.
Try the polish omelette with kielbasa, potatoes and onion or the Italian, veggie or greek. You can order short stack of pancakes, or french toast made with Texas toast! Or if dining before 10:30 am try one of the homemade crepes!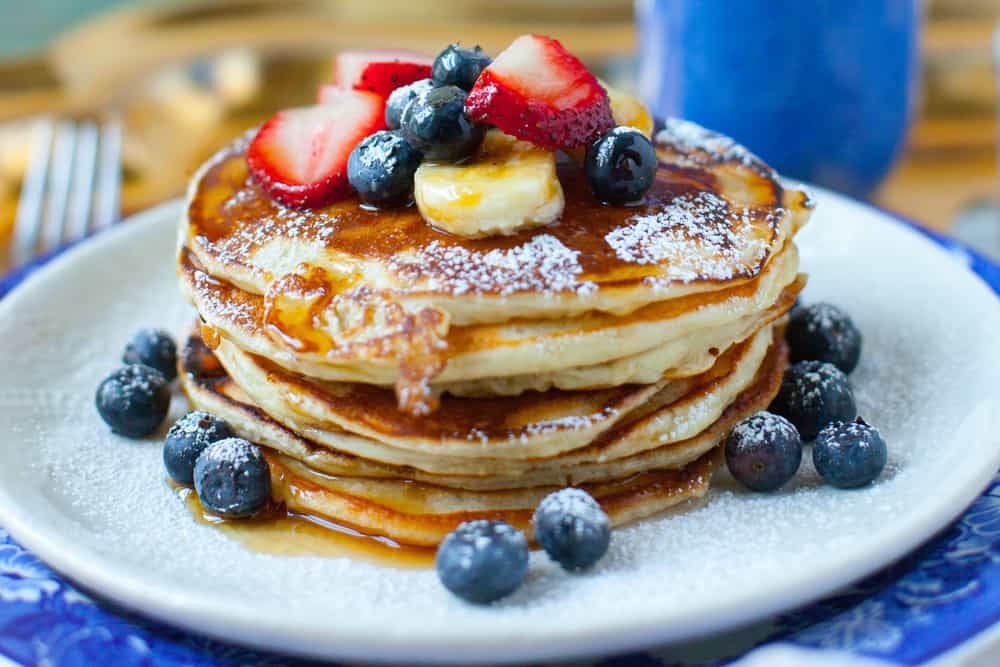 Farmers's Market Restaurant
The Farmer's Market Restaurant is a great choice of those looking for a breakfast in Fort Myers that is served starting at 6 am every day expect Sunday. Breakfast hours here are 6:00 am until 10:30 am Monday through Saturday.
Farmer's Market Restaurant is one of the longest running restaurants in Fort Myers and serves up big portions of southern inspired food with recipes being passed down generations since opening in the 1960's.
On the menu you will find the traditional old fashioned breakfast, or try something different with the It's Fishy with eggs, hashbrown or grits, toast and 8 oz of fried fish.
If in the mood for pancakes or french toast you are in luck! Try the chikcen and cakes, fried chicken served with pancakes, the biscuits and gravy or a breakfast sandwich.
The menu also includes omelettes like Ham, Sausage or Bacon or a vegetable option! There are a ton of side and a la cart options from oatmeal, fruit, cheese grits, and tons of meat options!
First Watch
First Watch has several locations throughout the area serving a delicious breakfast in Fort Myers. If you are looking for healthier food First Watch has the best breakfast in Fort Myers. Serving breakfast and brunch daily from 7 am to 2:30 pm.
What is unique about breakfast at First Watch is the seasonal menu like million dollar bacon basted with brown sugar, donuts, cinnamon chocolate chip pancake and carnitas burrito.
For those looking for healthier side menu options there is avocado toast, superfoods bowl with coconut milk chia seed pudding with fresh fruit, egg white omelettes, power wraps, steel cut oatmeal, and power quinoa bowls.
Not to worry First watch serves a traditional breakfast as well with omelettes, frittatas, pancakes, waffles, french toast covered with fresh fruit, BLT Benedict, and biscuits and gravy.
First Watch also has a juice bar with two choices of a Kale Tonic with kale, apple, cucumber and lemon and a morning meditation juice with orange, lemon, turmeric, ginger, agave and beet!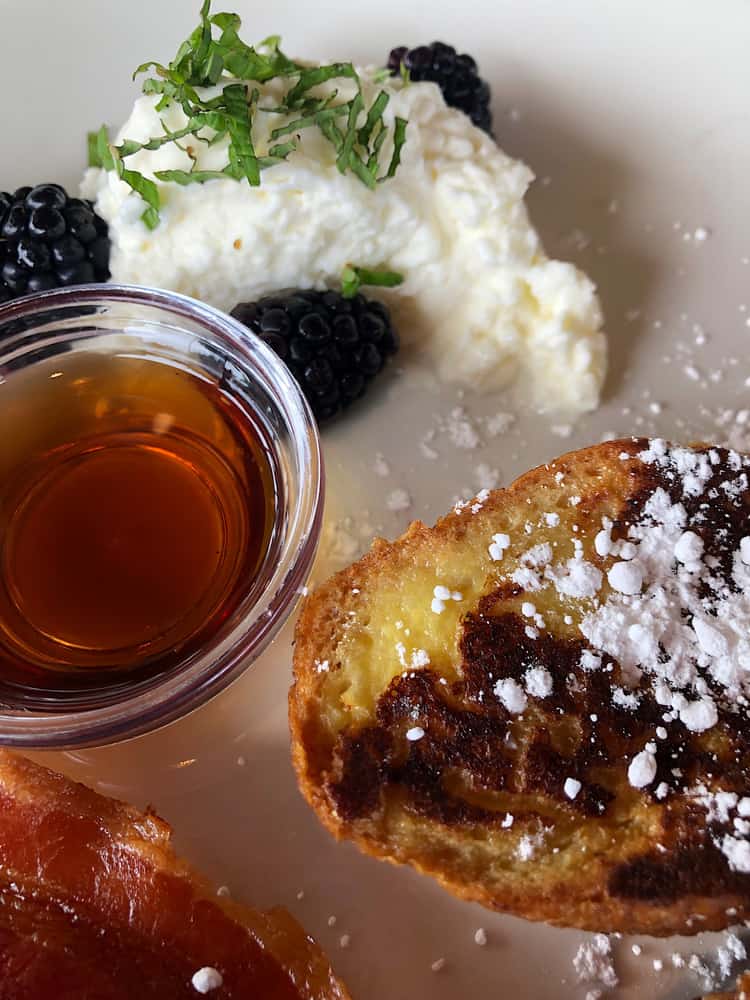 Oasis Restaurant
Oasis Restaurant is one of the best breakfast in Fort Myers for those looking to bring their dog to brunch. This American restaurant serves a casual breakfast with a large pet-friendly patio!
Oasis is also a great place for breakfast in Fort Myers for those who are vegetarian or gluten free. Try one of the three egg omelettes like the veggie omelette with spinach, mushroom, tomato, peppers and more or the greek with feta cheese and veggies for those non-vegetarians you can add Gyro meat. There is also traditional Ham and cheese or a hangover omelette,
Also popular are the assortment of breakfast sandwiches, burritos and croissants. For those in the mood for pancakes you have two options a buttermilk or a whole wheat thin and crispy pancakes. As well as Belgian waffles.
If arriving for brunch in Fort Myers at Oasis before 2 pm try one of the skillet speciality breakfasts. Like the Oasis Skillet, country frittata, eggs Benedict or chipped beef with eggs.
McGregor Cafe
McGregor Cafe is a one of the best breakfast restaurants in Fort Myers for those looking to dine outside. There is a large outdoor seating patio with tables, umbrellas and you can dine under the gorgeous trees. Try American fusion fare with made from scratch quiches, biscuits and all meats are roasted in house!
As everything is made from scratch to order meal prep does take a few more minutes than normal, but worth the wait once you taste the delicious breakfast served at McGregor.
House specials include tommy boy – two eggs, sausage, bacon and short stack of pancakes, the broadway – a bagel with smoked salmon and all the fixings and a hard boiled egg and balsamic drizzle, Quiche of the day served with salad and the benny!
Other menu items include eggs with your choice of meats, grits, home fries or pancakes, biscuit and gravy, cinnamon raisin French toast, and a choice of omelettes.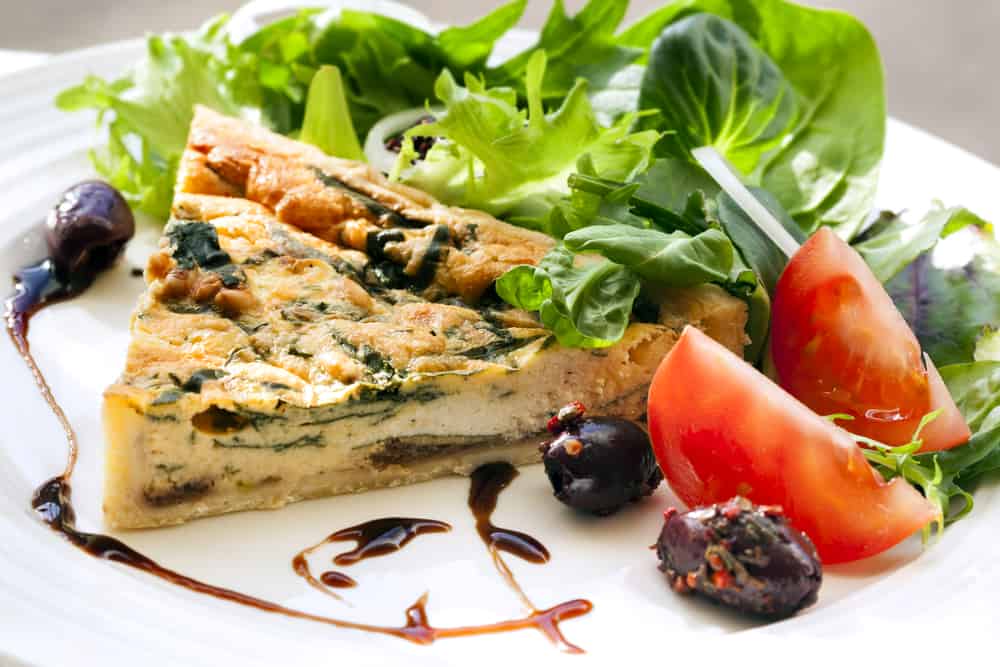 Buckingham Farms
Buckingham Farms is the places to head if looking for a farm-to-table breakfast places in Fort Myers. This 85 acre farm opened in 2009 in Fort Myers and serves ingredients grown on site. Breakfast is served Tuesday though Saturday from 8 am to 11 am!
On the menu is farm fresh classics like bacon/sausage/ham, egg and cheese on a housemade buttermilk biscuit or for vegetarians an avocado and egg biscuit. All eggs on the menu come from the farm!
Try the biscuits and gravy, Julio's hash, eggs Benedict, breakfast flatbreads, french toast, Belgian waffles either plain, with candied bacon or bananas foster. Also on the menu are wraps, and a build your own breakfast combo!
Bennett's Fresh Roast
If you are looking for a quick bite to eat near the water head to Bennett's Fresh Roast! One of the best breakfast restaurants in Fort Myers serving up hand cut from scratch donuts and fresh roasted coffee! The are open from 6 am to 12 pm everyday.
Owned by local Wink FM radio Host David Bennett, they roast over 800 pounds of coffee each month and over 15,000 donuts! All coffee is roasted the day before you drink it! Bold and intense with great flavor.
For breakfast the donut options change daily and they also serve beignets, oatmeal, overnight oats, fruit cups, breakfast sandwiches and strata.
Donut choices include buttermilk, apple fritters, glazes, peanut butter, s'more, maple toffee crunch, maple walnut, chocolate sprinkles, maple bacon, banana custard, pumpkin spice, key lime and more.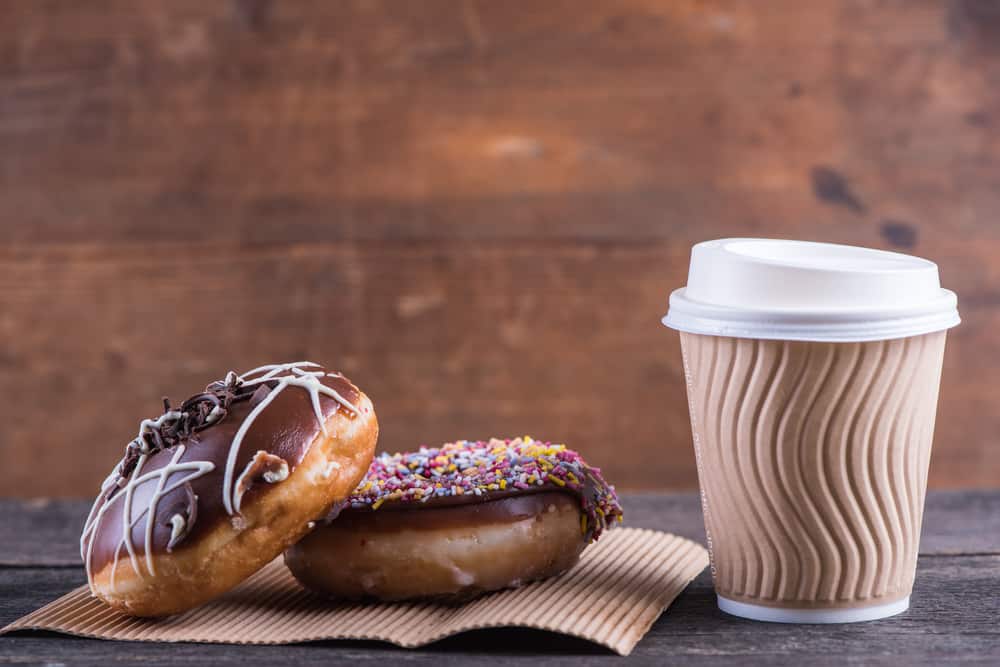 CRaVE
If looking for brunch in Fort Myers CRaVE is an excellent option! Located in a small strip mall and is popular for brunch on the weekends. They serve a large assortment of breakfast and brunch items and everything is made from scratch and to order. They make an effort to use locally sourced ingredients and cure all meat in house!
From omelettes served with potatoes or grits you can chose from california with chicken and avocado, gulf coast with shrimp, crab, asparagus and mushrooms topped with a hollandaise sauce, a filet mignon omelette among others. They also serve a large assortment of CRaVE benedicts!
For those wanting something lighter there is oatmeal, granola, fruit bowls. If in the mood for pancakes try the almost famous pancakes or french toast.
Brunch menu items include shrimp and grits, salmon and eggs, biscuits and gravy, burger or filet and eggs, and a veggie quesadilla. With breakfast you can add mimosa, manmosa, or a bloody marry!
10 Twenty Five
10 Twenty Five is your choice if looking for a more upscale brunch in Fort Myers. It is gastropub and bar in one with a great rooftop deck located in downtown Fort Myers.
The brunch menu comes with an option for bottle of champagne, 16 oz of Orange juice and one entree for just $23! On the menu you will find honey chipotle chicken and waffles, breakfast chimi, pancake sandwich with eggs cheese and syrup and potatoes, veggies breakfast bowl , cannoli french toast, country fried steak or a root veggie hash.
They have a great menu selection for vegetarian diners. A great spot to relax on the rooftop and enjoy a brunch with friends or family in a relaxing laid-back environment serving up delicious food with a great bar menu!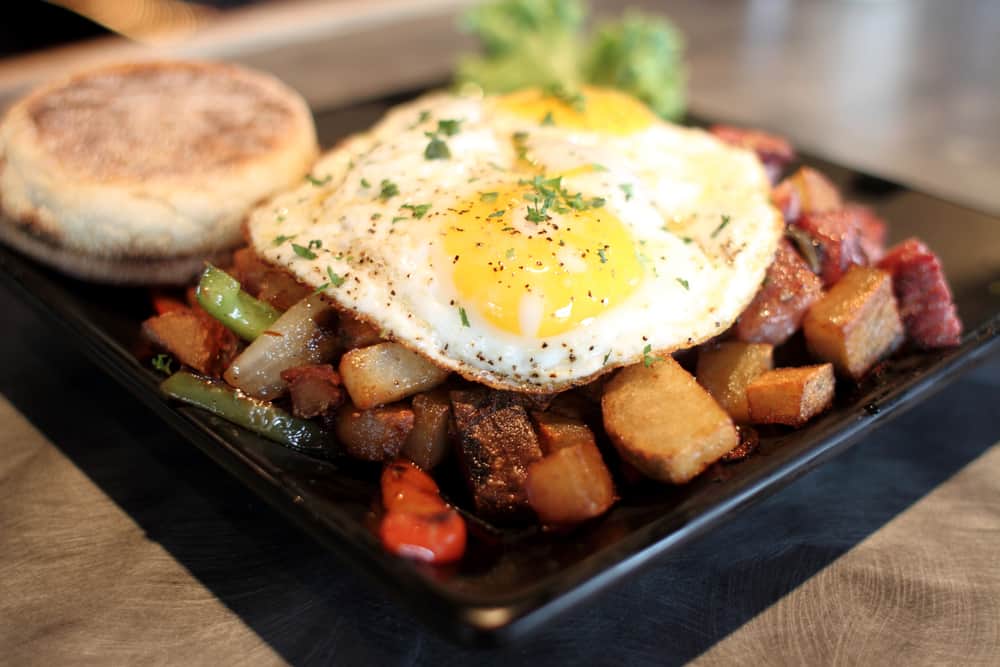 Did You Find This Post Helpful?
If so, we would love to keep in touch! We enjoy seeing photos and comments about your experiences in Florida! You can follow us on Instagram and we will repost your photos on our feed and comment too! Just tag us at @floridatrippers and hashtag #floridatrippers. We can't wait to see your travels!