Are you tired of your usual haunts for date night in Tampa? We get it. A night with dinner and a movie gets really old, really fast. Let us be your personal cupid and introduce you to some new, romantic ideas for your next night out on the town!
It's time to diversify your date nights! Creating romantic, memorable moments in Tampa doesn't have to be hard. A bustling city, Tampa has an incredible restaurant scene, a growing arts community, and too many tourist attractions for even the locals to tackle.
From quirky bars to hole-in-the-wall gems, under-the-radar parks to speakeasies, forget the hassle. We're here to help!
Don't worry! These ideas aren't exclusive to just couples. These places are perfect for you to bring a group of friends. Or make it a solo date and treat yourself to something special, especially if you're fed up with the dating scene.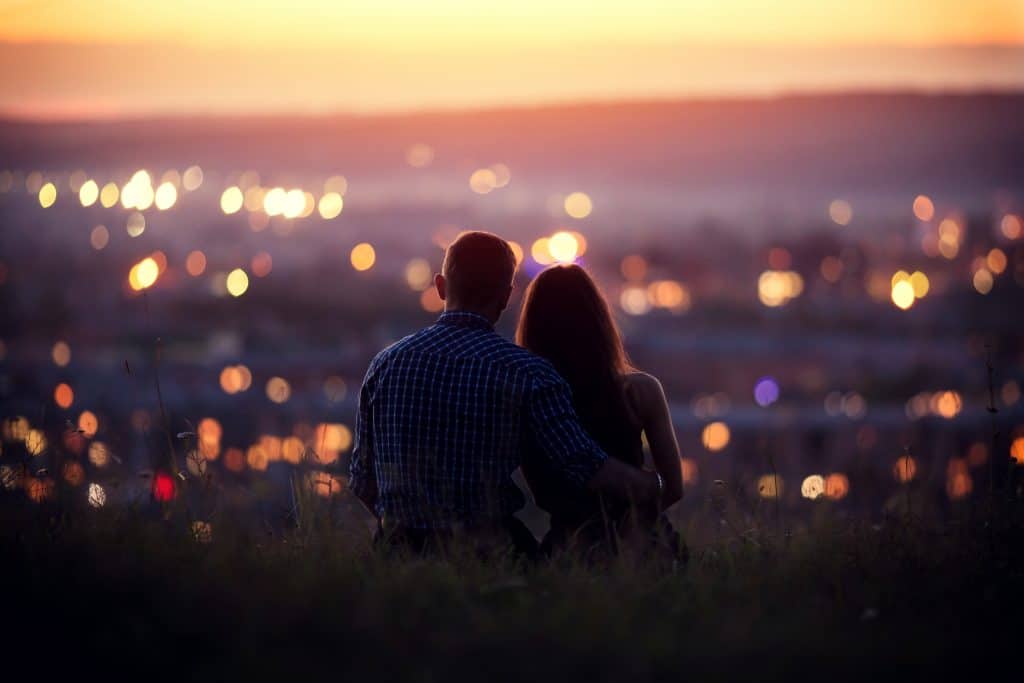 17 Romantic Ideas For A Date Night In Tampa
Glamping at Miss Ruby Lake
Let's face it, regular camping and roughing it in nature doesn't equate to romance. Take your camping to the next trip to the next level when you glamp at Miss Ruby Lake.
Miss Ruby is a renovated 1965 RV camper that holds two. Inside you'll find a queen-size bed, TV with Roku, hot plate, microwave, and a french press for quality coffee in the morning. A private bathhouse has running hot water in an open air shower.
Right next to Saddleback Lake in Lutz, use the provided kayaks to take a moonlight paddle on the lake. Toast s'mores over the firepit and grill out. You can even cuddle in the hammocks and lounge chairs.
Surrounded by majestic cypress trees and a lakeside deck, Miss Ruby is waiting for you and your next adventure. Glamping in Florida is a perfect way to reconnect with your partner and experience nature!
Check Rates: Airbnb.com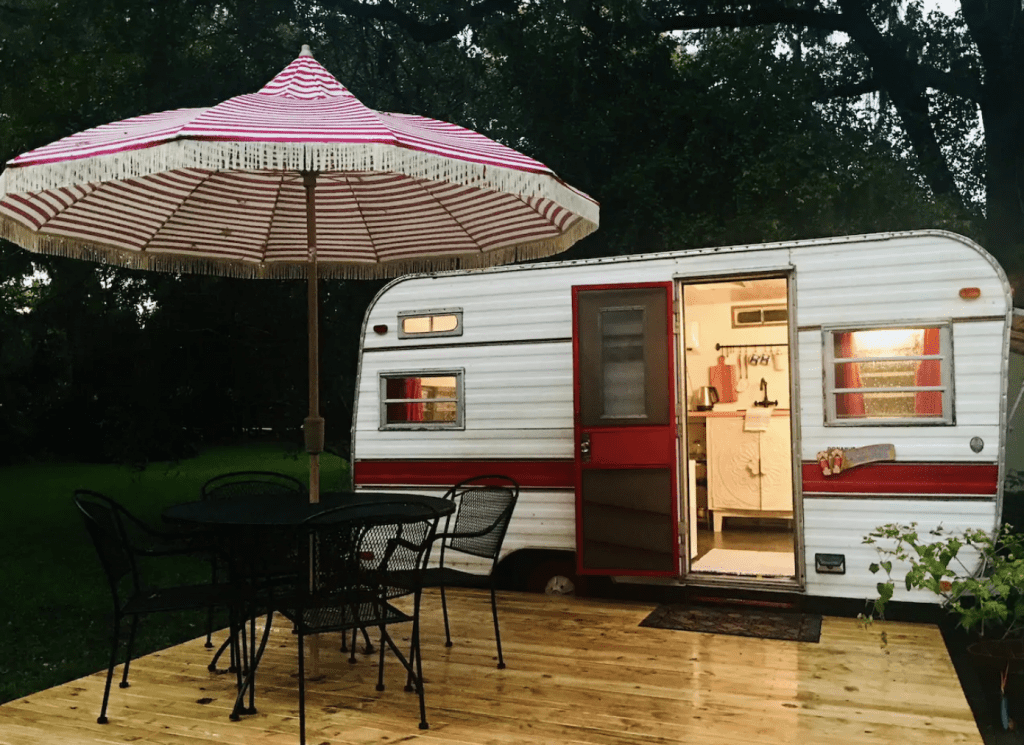 The Brew Bus
Do you ever have trouble picking out where you and your partner are going to go? Now, with Tampa's Brew Bus, you don't have to! The ultimate craft beer experience, the Brew Bus shuttles you and your partner around so you don't have to choose!
Choose between a public or a private charter and your adventure begins! No matter your level of beer knowledge, the Brew Bus prides itself on converting big beer brand loyalists into craft beer crusaders. You'll sample and enjoy the best of Tampa's local beer scene.
The Friday Night Heights tour happens every Friday and circles Tampa and Seminole Heights. The Full Pour Tour is every Saturday and includes different local breweries each week. You can even take a shuttle to and from a Tampa Bay Lightning Game.
It's time to get tipsy in style. Let Brew Bus do the work for you so you can sample a variety of beers and have safe transportation as well!
The Columbia
There are many romantic restaurants in Tampa, but we're singling out the Columbia in Ybor City. Not only does it celebrates over a century of history, culture, and cuisine integral to the area, its atmosphere is unbeatable.
Once a sleepy Cuban cafe, the Columbia gained popularity when it was transformed into a vibrant dining room featuring live music and flamenco dancing. 115 years and five generations later, the same family runs the restaurant today, the oldest in Tampa Bay.
Once you step inside The Columbia, you'll recognize the experience is something truly special, from the flamenco dancing, to the incredible ambiance, and the hospitality provided by the staff.
Highlights of the iconic menu include the savory "1905 salad," the traditional chicken and yellow rice, sangria by the pitcher, and the legendary flan. Sharing a meal here is one of the most romantic things to do in Tampa.
To dine at The Columbia is truly to taste the inspiring culture of the region, and of those that founded it. Make sure to share a piece of flan when you go.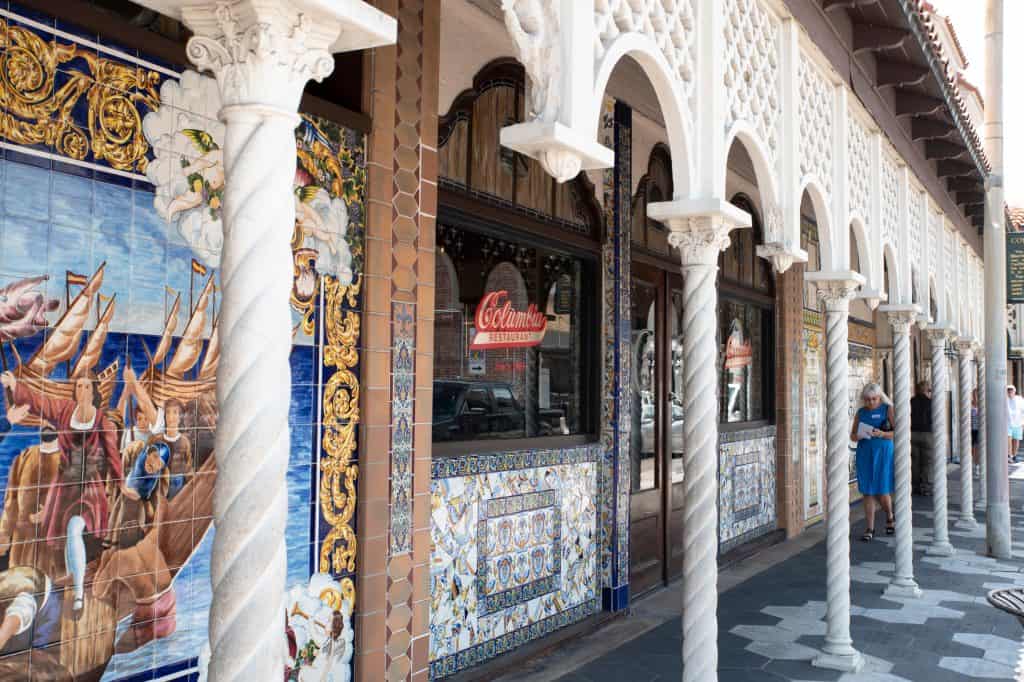 Thai Temple
For a more cultural excursion, skip making breakfast together and head to the Thai Temple on the banks of the Palm River. Wat Mongkolratanaram, or Wat Tampa, will transport you to another country.
A Buddhist Thai Temple, Wat Tampa hosts a charming Sunday Market weekly from 8:30 AM – 1:00 PM, rain or shine. We advise arriving before 11:00 AM, it can get very crowded quicky.
At the Market, vendors set up their tables on a covered porch. You can browse and buy everything from delicious thai foods, orchids, fruit trees, plants and fresh fruit, vegetables, and herbs! Bring cash, no credit cards are accepted.
Choose between yummy options like fried bananas, pad thai, spring rolls, and mango sticky rice. Meet back up at a picnic table underneath a shady oak tree to share your meals. The portions are huge, so you can easily create a dim sum experience!
What separates the Thai Temple from other markets is the ambiance. The read turrets lined with ornate gold trim will make you feel like you're in Thailand. Step out onto the dock and feed the fish bits of bread to end the perfect date.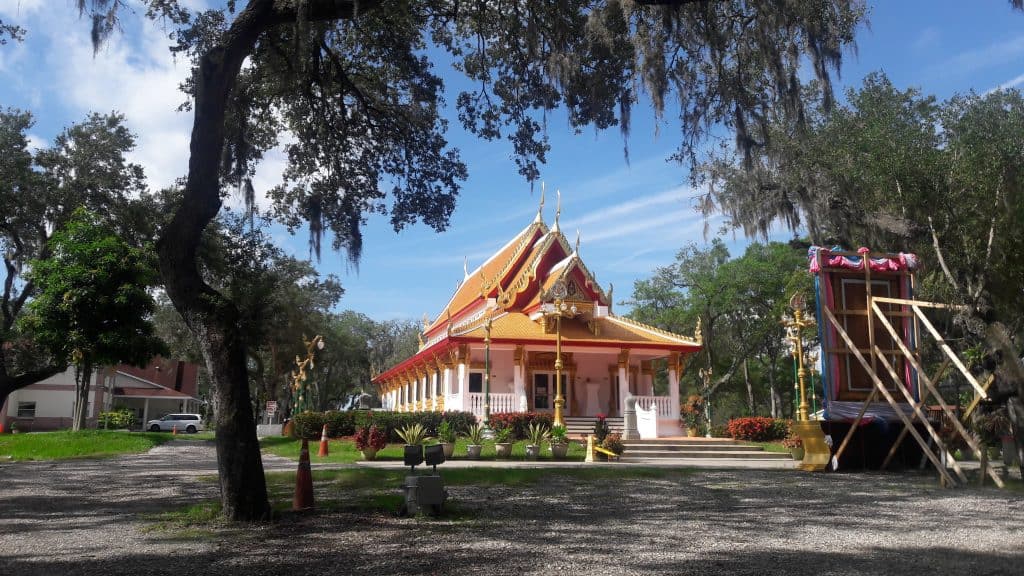 Rock The Park
If you and your partner want to spend some time out of the house listening to live music under the stars, then head over to Curtis Hixon Park for their Rock the Park series!
Rock the Park is a free monthly music concert series, one of the best music festivals in Florida! On the first Thursday of every month, watch the park as its transformed into a mini-arena with stadium seating. The best musicians of Central Florida play music of all genres starting at 6:30 PM.
Hosted by Brokenmold Entertainment and Tampa's Downtown, you can hear groups like The Lawsuits, Sleeping Pills, and Demi Nova perform. Enjoy the exciting vibe under the stars with food trucks and a full bar on the premises.
If you want to bring your furry friend with you on date night, no worries! Go ahead and bring your pup to date night, Rock The Park is a pet-friendly event!
Saunders Planetarium at MOSI
One of the most fun things to do in Tampa for couples is to pay a visit to the Museum of Science and Industry, or MOSI. The area's premier science museum, MOSI is so much more than school field trips.
Start your day with a romantic walk through the butterfly garden. Then tour the hands-on exhibits that shows you exactly how the human heart works or how electricity travels.
The focal point of your romantic visit to this intersection of science, technology, and innovation will be at the Saunders Planetarium. Lean back as the lights dim to see the stars light up above you using a state-of-the-art projector.
As you tour the night sky you'll be guided by one of MOSI's expert astronomers. Through the simulated night sky, you'll see constellations and can see what the universe looked like in the past, the present, and even the future.
Planetarium shows are held daily, so grab the hand of someone you love and take star-gazing to a whole new level at the Saunders Planetarium at MOSI.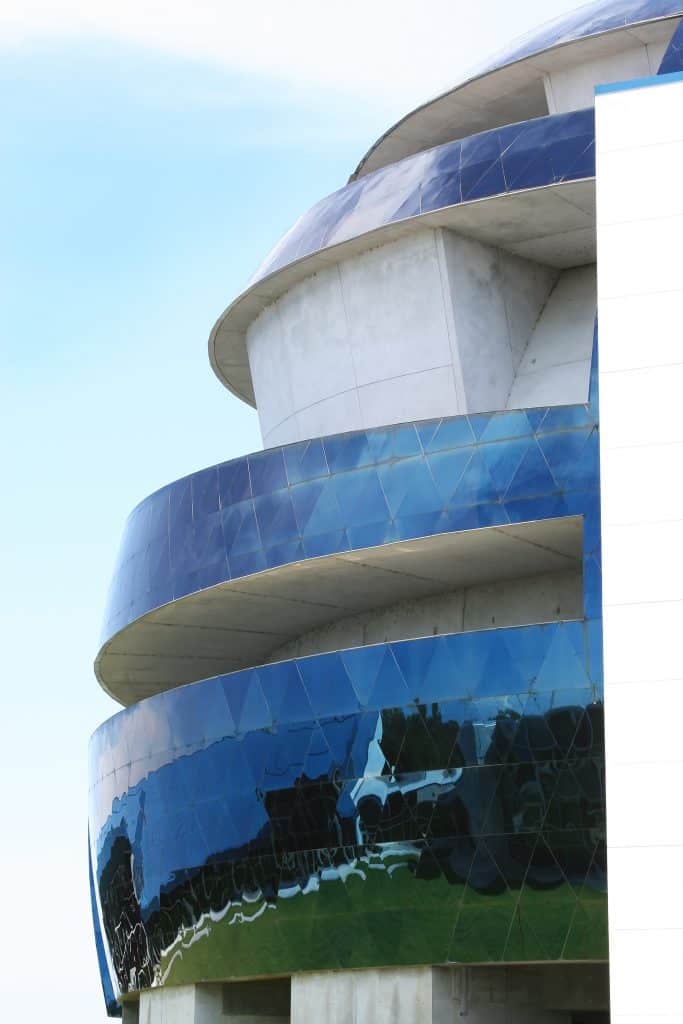 The Rolling Pin
You're on a budget and want to economize by cooking your partner a nice, home cooked meal. But you don't know how to cook? The Rolling Pin in Brandon is here to the rescue!
Also a kitchen emporium, The Rolling Pin is a cooking school open since 1995. Offering a robust variety of classes, you will be inspired and engaged the next time you set foot in the kitchen. Taking a class together is one of the best things to do in Tampa for couples!
The Rolling Pin offers classes like "Spectacular Sushi Made Simple," "French Macaroon Cookies Workshop," and "How To Cook Traditional Pasta Sauces." They even offer couples cooking workshops with a rotating theme. Check their calendar to sign up, spots are limited.
After you've finished your class, browse the shelves. After seeing the variety of kitchen items available, you'll be inspired to host a couples' dinner party at your home!
Tampa Theatre
For a unique movie-going experience, visit the The Tampa Theatre. Now a city landmark, the opulent interior by John Everson adds an old-world ambiance lost to the new architecture found in new theaters.
When you step inside, you'll be transported to a lavish, romantic Mediterranean courtyard. Surrounded by old-world statuary with flowers and gargoyles, the ceiling above you is a nighttime sky with twinkling stars and clouds floating by.
Today, it runs as Tampa's only non-profit movie palace, after citizens rushed to save the historic theater when faced with closure. Daily film showings range from international films, documentaries, and foreign flicks.
The theatre, equipped with a sizable stage, has also become a performance venue for special events and touring musical artists like Ray Charles, John Legend, and The Police.
No matter what you're going to see at the Tampa Theatre, the ambiance is sure to cast a romantic mood you'll always remember on this date night in Tampa.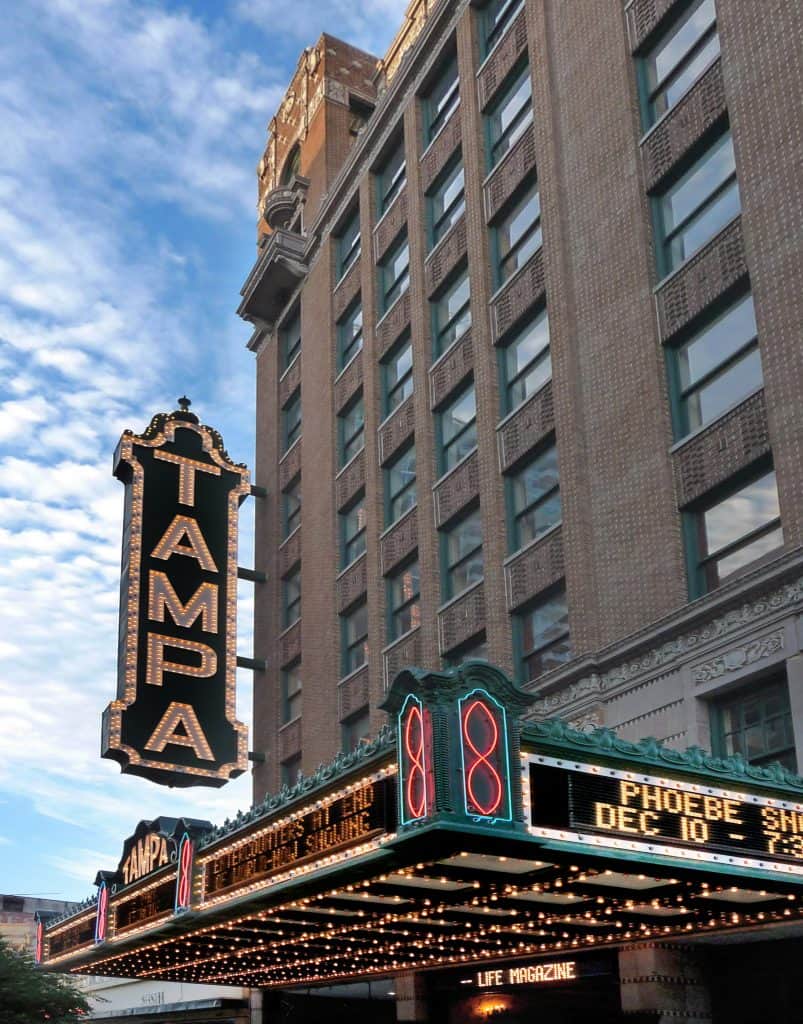 Keel & Curley Winery
Wine is one of the most romantic beverages, so why not spend a day surrounded by it? Take a trip to Keel & Curley Winery, one of the most romantic date night ideas in Tampa.
It all started in the spring of 2003 when blueberry farmer Joe Keel needed to find something to do with his end of crop berries. That first foray into wine-making has turned into a state phenomenon.
On a tour of the winery, you and your partner will walk through the fields where the blueberries are picked. Afterwards, taste the blueberry-infused wines that range from sweet to semi-dry to dry, no matter your preference. Tours are offered every hour on the hour from 1-4 PM for $5 per person.
After your tour, sit down and enjoy a meal together at the restaurant at the winery. Enjoy American fare like nachos with mojo pork and a variety of cheese plates. Next to a quaint lake, you might even see a family of otters playing.
Make sure to taste the winery's ciders and beers as well. The ciders are made from New York apples infused with Florida fruits. Try beers like the Mango Guava IPA or the romantic Valentine's stout with chocolate and strawberry notes.
Fourth Friday
Like it's name indicates, on the fourth Friday of every month, take your partner out on the town to celebrate Tampa's rich arts and culture scene. As you walk through downtown, you will get a taste of everything that Tampa has to offer.
Venues are set up exhibits and programs by local participants that you can tour! Past venues include the Tampa Museum of Art, the Henry B. Plant Museum, and Jobsite Theatre. At each of these exhibits, be sure to grab a free Fourth Friday wristband.
The wristband will grant you access to exclusive exhibits, live music performances, and qualify you for special deals offer by local restaurants and bars. Many downtown shops and eateries stay open later just for the foot traffic!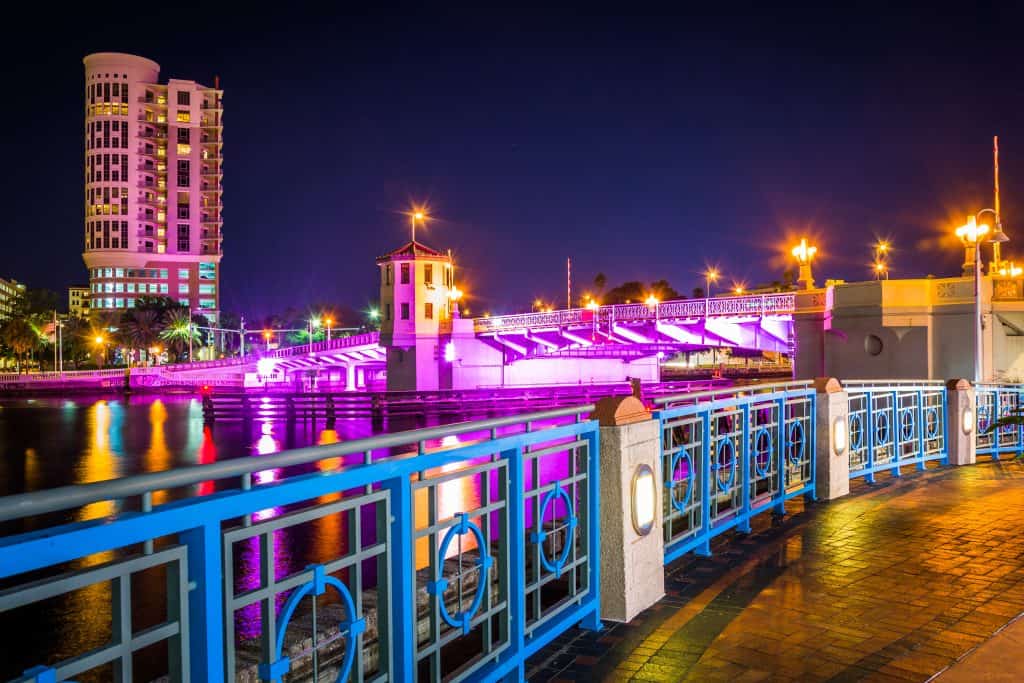 Armature Works
One of the most classy ways to enjoy date night in Tampa is to venture out to Armature Works. A 22,000 square-foot open industrial market, this is the perfect place for you and your partner to grab cocktails under the stars and enjoy a casually romantic date night in Tampa.
Before dinner, grab cocktails from one of the many rooftop bars underneath the stars. Once you're finished, head back downstairs to the marketplace. In different booths, the best chefs and restauranteurs are showcased.
You can split up and grab your own food, then meet up at a communal table to eat together. If you want a more traditional restaurant experience, then visit a formal sit-down restaurant like Oak & Ola.
To make it a truly special night, visit on the second Wednesday of the month from 5:30-9:30 PM for Heights Nights Market. Browse the rotating array of artists selling handmade goods, jewelry, art and wood-working. You and your partner can even dance to live music.
Armature Works also hosts many pop-up events. You and your partner can enjoy cooking classes, wine tasting, or even a roller-skating rink!
STRAZ Center For The Performing Arts
The David A. Straz Jr. Center for the Performing Arts opened its doors in 1987 and has remained the Tampa Bay Area's premier center for all things theater since. There's nothing more romantic than enjoying holding hands during a show.
Besides Carol Morsani Hall, which houses the biggest and brightest Broadway touring musicals (Hamilton, anyone?), the STRAZ Center also has five adjacent performance spaces of varying sizes to accommodate both professional regional and community theater productions of all forms.
To turn your trip into one of the most romantic things to do in Tampa, arrive early and have dinner at Maestro's Restaurant. Because Maestro's chefs create a special menu for each show, you'll never have the same experience twice! We recommend booking your reservations in advance.
After the show, grab a cup of coffee or nightcap at the Steam Heat Cafe. Then, with warm beverages in hand, walk along the romantically-lit Tampa Riverwalk under the stars before calling it a night on a perfect date night in Tampa.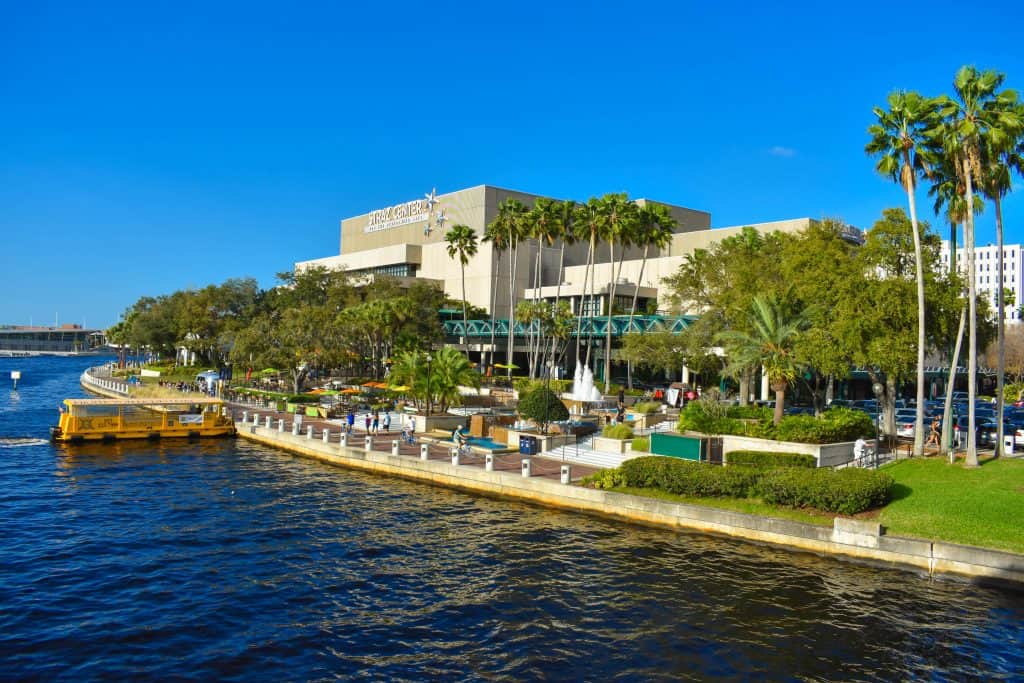 Lowry Parcade & Tavern
Sure you could sit at home on the couch and play video games, but why not go to Lowry's for a geeky, fun date night in Tampa? Lowry's Parcade & Tavern is a hip watering hole specializing in craft beers and vintage arcade games!
Get your game face on and play classic games like Donkey Kong, Galaga, and Street Fighter. All of the machines are completely vintage! You can also play on one of the many vintage pinball machines like Deadpool Pro.
We recommend snagging seats at the 2-player multicade. A sit-down, tabletop gaming experience covered in glass, you can easily rest your drink next to the screen. All the games are two player, so bring your partner and battle it out in games like Frogger and Burgertime!
If you need a nosh, order from the Power-Up Menu which specializes in punny bar foods. Try the Meat-Fighter Veggie Dogs or the Asteroid Cheese Nachos. Wash it down with your favorite beers, all on tap!
If you and your partner aren't afraid of a little friendly competition, then head down to Lowry Parcade and & Tavern, one of the most fun things to do in Tampa!
Midnight Kayaking at Little Manatee River
If you're the outdoorsy type, then you and your partner may have explored many of Florida's State Parks. But have you ever kayaked under the stars? Visit the Canoe Outpost at Little Manatee River to experience one of the most romantic things to do in Tampa.
Whether you're a first time paddler or an experienced enthusiast, Canoe Outpost guarantees that you will have a positive experience. The beauty of the waterways combined with Florida's lush nature is a great way to spend your evening.
In addition to regular kayaking, canoeing, tubing, and paddleboarding, Canoe Outpost hosts midnight paddles at night. Midnight paddles usually occur once or twice a month, so check their schedule to reserve your spot.
When you paddle down Little Manatee River, you'll be surrounded by only the sounds of the water lapping and the night forest. During a short break, you'll listen to live acoustic music with some food and drinks before paddling back under the stars.
A single-person kayak is $50 while a two-person kayak is $75. Only 50 people can paddle at once, so sign up early!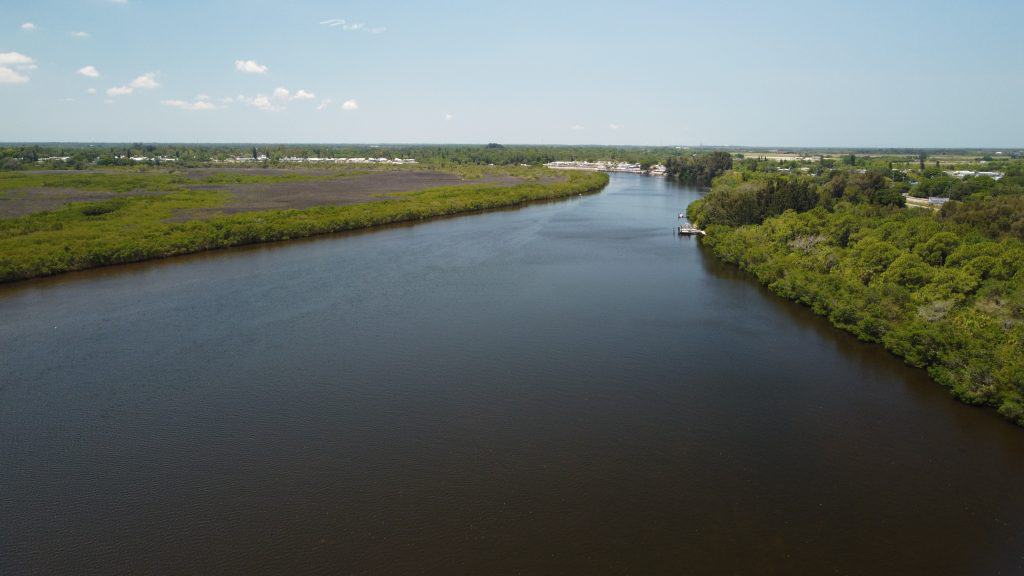 Ciro's Speakeasy and Supper Club
If you want to get dressed up and enjoy a night out on the town, travel back in time at visit a prohibition-era speakeasy! Ciro's Speakeasy and Supper Club blurs the line between cocktail bar and illegal operation in the 1920s.
Word to the wise, Ciro's is not easy to find. Because it is themed like a prohibition speakeasy, there is no external signage. Ciro's is hidden within a condominium high-rise on Bayshore Blvd. Look for an oddly placed door next to the pool area.
Once you've found the entrance, you still need to know the password. Call (813) 251-0022 to find out the password, which changes daily. Once you enter, you'll be transported into an authentic and realistic atmosphere with the entire staff in 1920s vintage dress, serving you in character.
The star of Ciro's is their cocktails. A mixologist behind the bar is responsible for the artfully crafted drinks. You can sample sophisticated small plates like the black truffle popcorn, duck fat fries, or oysters on the half-shell on ice.
Ciro's is perfect for special occasions like birthdays and anniversaries. Private booths are available with pillows perfect for cuddling and dimmer switches to control the mood.
Ciro's Speakeasy & Supper Club is open for business Monday through Sunday from 5 PM – 1 AM.
Epperson Lagoon
To cool off from the Florida sun, visit the Epperson Lagoon in Wesley Chapel for a refreshing date night in Tampa! The first of its kind in the United States, Epperson Lagoon is a 7.5 acre manmade lagoon with a variety of aquatic activities!
Try your hands at the water obstacle course or race down Slidezilla, the inflatable water slide. Put on a Virtual Reality helmet and jump in the water to swim through coral reefs, soar as you sky-dive, or float in outer space.
If you just want to relax, snag and reserve an umbrella and lawn chairs and just kick back in this tropical beach paradise. Swim in the crystal-clear waters and enjoy family lawn games.
Once you've had your fill of fun in the sun, swim up to the Sand Bar. Enjoy specialty cocktails at this full bar submerged in the water. Sip on your drinks and bask in the beautiful Florida sunset at the end of your perfect date.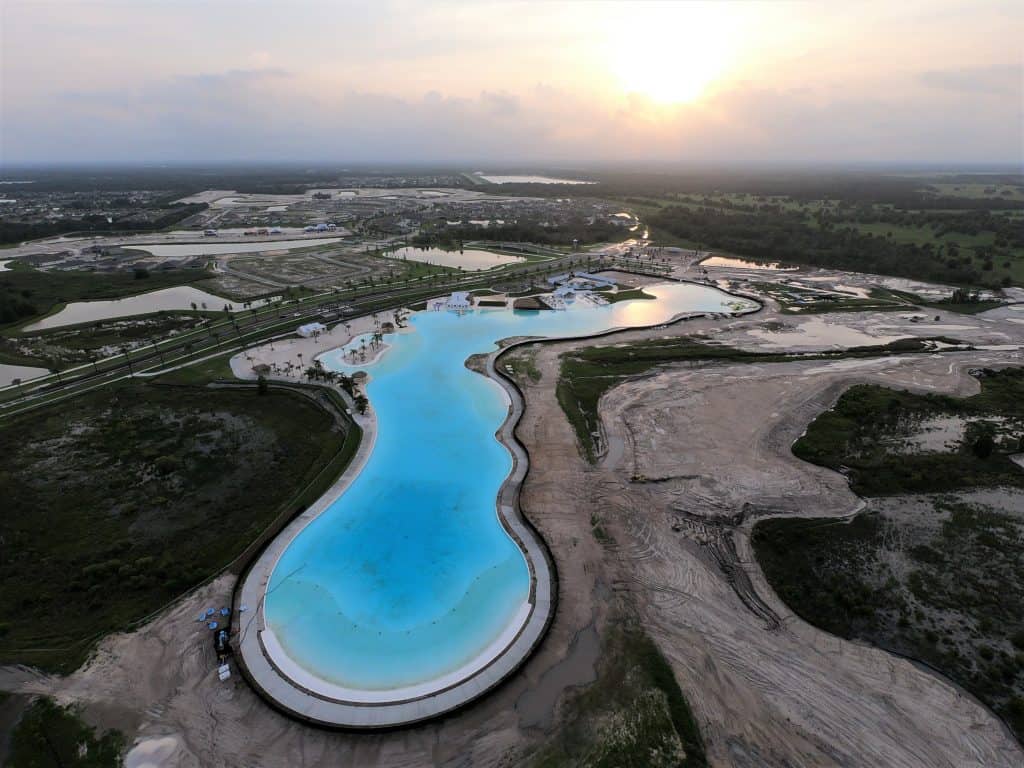 Funlan Drive-In and Swap Shop
For a taste of the bizzare, explore the Swap Shop at the Funlan Drive-In. Sure you could hit the movie theaters and sit indoors to watch the latest blockbuster, but what could be a more romantic date night in Tampa than going to an actual drive-in?
First, you'll want to check out the Swap Shop, one of the biggest flea markets in South Florida. People travel from all over the United States and even Canada to trade wares here.
In this quirky collection of outdoor booths you'll find unique antiques, one-of-a-kind collectibles, locally made crafts and local produce. The vendors rotate, so you never know what you'll find. For $5 you can set up your own booth, so clean out the garage and leave with some cash!
Besides the flea market Swap Shop, you can also enjoy an array of amusement park rides on the Midway. There's even an indoor video arcade!
After you've shopped, pull your car up to one of the 4 screens to watch the newest blockbuster hit at the Drive-In. Tickets for the drive-in are only $7, so you won't break your budget. Movie's start at 8:30 sharp, so don't be late!
The Swap Shop and Drive-In are open 365 days a year, rain or shine. The Drive-In can hold 700 cars! Visit the Funlan website for a free movie ticket. Scroll down and you'll see it.