Are you wondering where you can kayak with manatees in Florida? You have come to the right place. In this article, we will walk you through where to kayak with manatees and give you all the information you need.
Kayaking with manatees in Florida is such a special experience, one we feel everyone needs to have once in their life. All the places we have mentioned here allow you to do this safely and in no way endanger the animals.
Manatees are such lovely creatures also known as sea cows they are like giant friendly animals in the water. They are also are protected under the Endangered Species Act and under the Marine Mammal Protection Act.
These protections were put in place when the numbers started to decline. In 1991 there was believed to be just over 1,200 and now there are approx 6,500. They are still a threatened species though so please be careful.
The best place to kayak with manatees in Florida is in the springs. The water tends to be clearer here so you can see them easier. In winter they move towards the springs so there is more of a concentration in one place.
The best time to see them tends to be from November to March peaking in December, January, and February.
While kayaking with manatees in Florida please don't ever touch the manatees or interfere with them in any way. Just observe them from your kayak and be a passive observer of them. Do not feed them human food or chase them.
Manatees are intelligent animals and really friendly and curious so they might approach you if you are lucky. If they do just observe. Never kayak over a resting manatee and use shallow paddles so you keep your disturbance to a minimum.
So are you ready to learn where you can kayak with manatees in Florida? Here are the best manatee kayaking spots in Florida.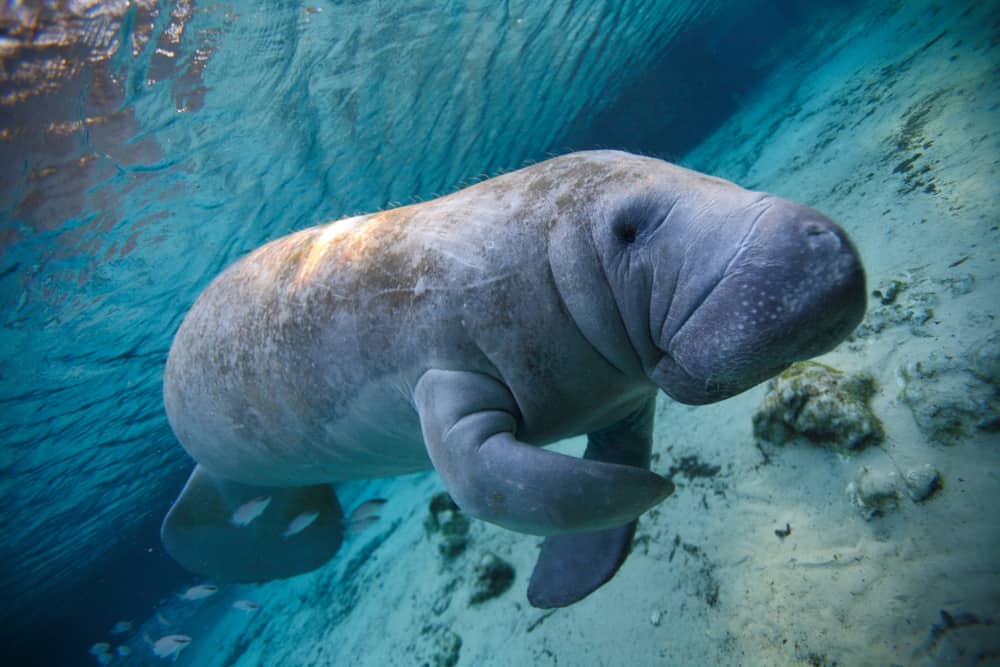 9 Best Places To Kayak With Manatees In Florida
Kayaking Crystal River
Crystal River has one of the largest populations of wild manatees in the world. If you want to kayak with manatees in Florida, Crystal River is a perfect day out and a great place to see these amazing creatures.
Just 90 minutes from Tampa it's easy to get to and well served with amenities. You can hire kayaks here or go on a kayak tour. You can of course also bring your own kayak.
Crystal River is in Kings Bay Park and Three Sister Spring is accessible from the river. The water is refreshing and the scenery is luscious. This really is a beautiful area.
It is best to go as early as you can and on a weekday when the area is less busy. If the water is crowded with manatees you might find the location or parts of the location closed. Do not go into the closed areas they are there to protect the manatees.
Manatees flock here in the winter months for the warmer water of the springs. There are 70 springs in this 600-acre bay. It is believed as many as 800 manatees arrive here in the winter months.
During peak manatees months you can not kayak in the springs however you will see manatees in other areas. If you come just before they close the spring off you are likely to see some in the springs.
This is also one of the only places you can swim with manatees.
If you are looking into kayaking with manatees in Florida and are short on time this is the place to go.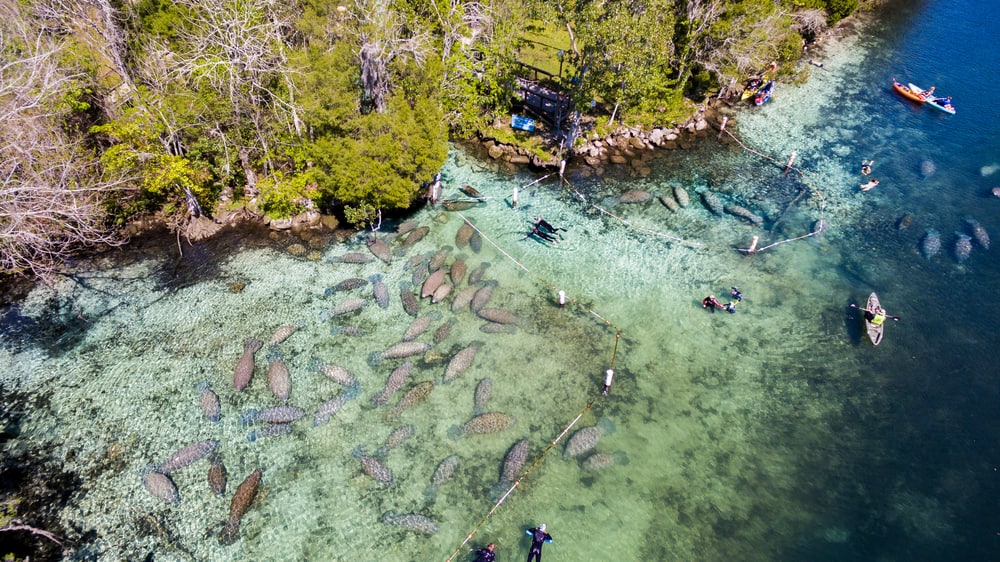 Kayaking Manatee Park in Fort Myers
A warm-water refuge for the manatee when the Florida water gets too cold for them. The warm water in Manette park is not heated by a spring but by a power plant that discharges warm water.
Again the best time to see them is in December to February but they do hang around from November to March.
Some areas are closed to kayaks but you can spot them outside of these closed areas. The water isn't clear here like a spring so they are a little more challenging to find.
The park is free to enter although parking does cost. You can rent a kayak or bring your own. You can also enjoy the butterfly garden, nature trail, and ethnobotany trail in the park.
The area around the canal where the manatees 'hang out' is off-limits with a fence. This area is always busy so kayak upstream a bit on the Orange River. Not only will it be more tranquil but you will get to see curious manatees by your boat.
A great spot close to Fort Myers.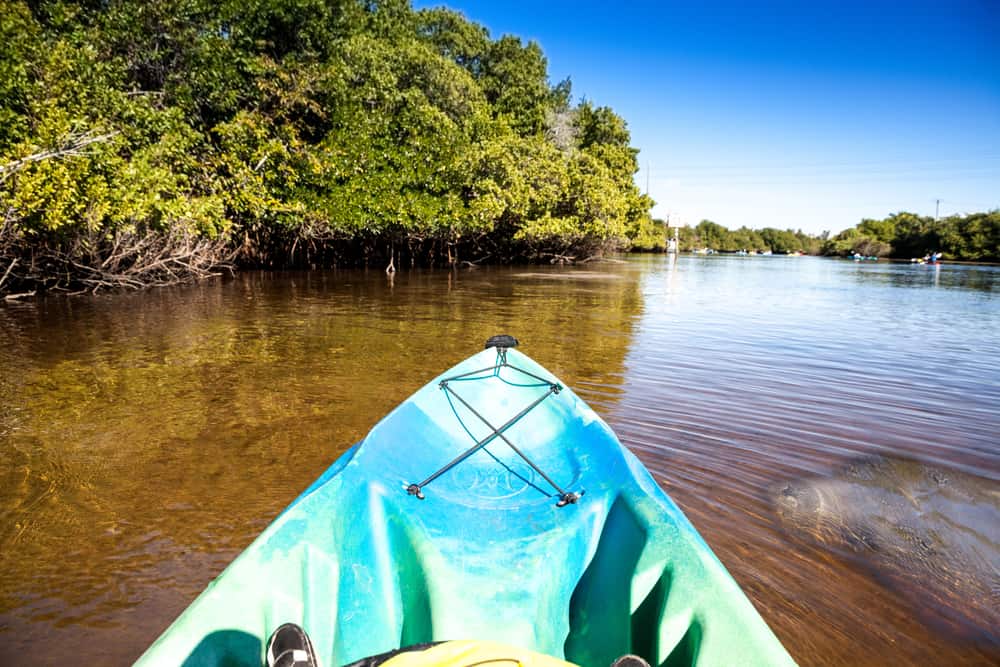 Kayaking In Blue Springs Orlando
Blue Springs State Park was established after researchers tracked manatees swimming up from the St Johns River and it is a great place to kayak with manatees in Florida.
Swimming with the manatees is not permitted however by kayak you can easily see the manatees from a safe distance.
The water here is so clear and they are really easy to spot and as many as 500 have been known to frequent this area at peak season. In peak manatee season the spring is closed off to kayaks but you often will see them in St John's River.
In the summer some manatees come to this area to birth and nurse their young calves so you may see one out of season.
A lot of research happens in Blue Springs and there is an under and over water webcam so you can spy on the manatees even when you are not there.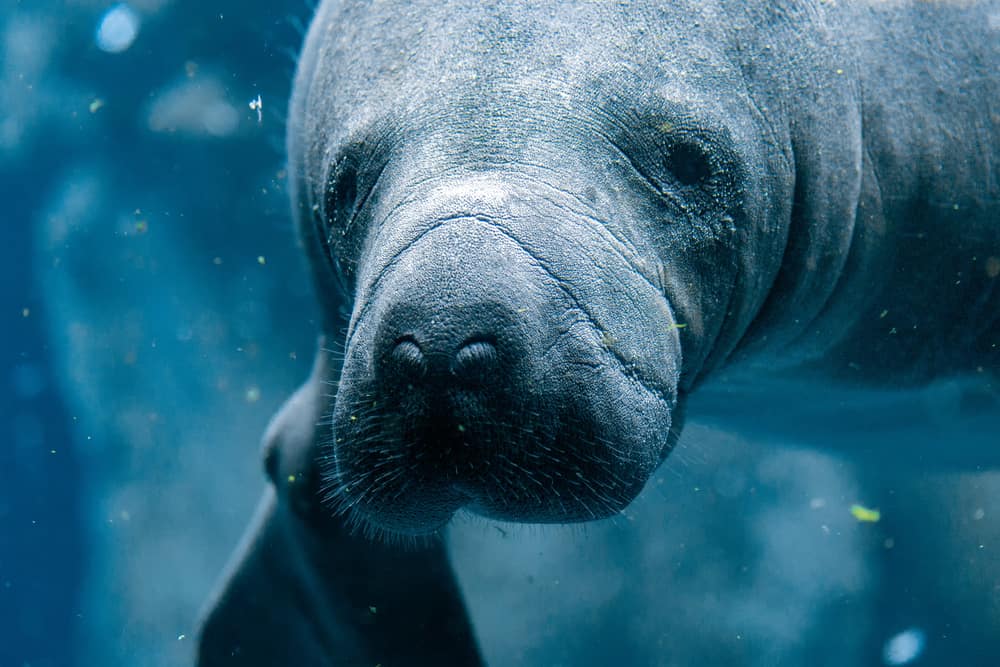 Kayaking At Silver Springs
Famous for its glass-bottom boats and used as a location in many a blockbuster kayaking with manatees in Florida doesn't get better than at Silver Springs State Park!
Firstly you can actually hire glass-bottom tandem kayaks. Second, you have five miles of protected waterways here. Thirdly the water here is so clear.
In the winter the manatees will come into the spring area in the warmer months they will venture out to the river. You will know you are near one from ripples in the water or the trademark noise they make when they surface to breathe.
This park is one of the largest artesian springs in the world. There are lots to do here and while it can get busy it tends to not be quieter than some of the easier-to-reach spring locations in the state.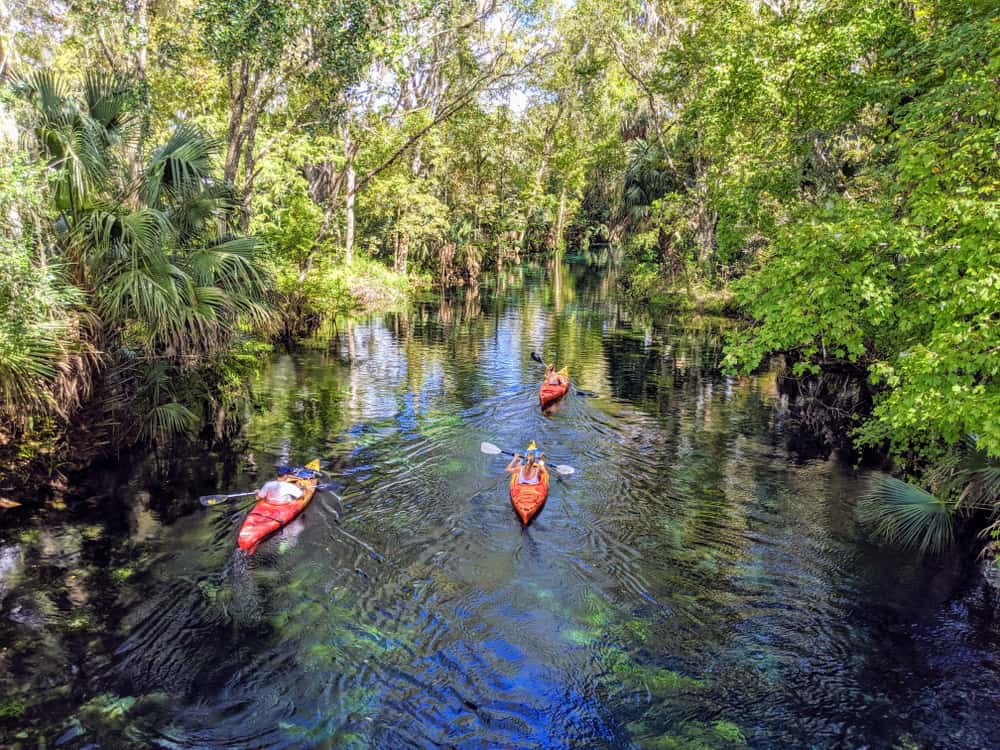 Kayaking At Manatee Springs State Park
Located in Chiefland, Florida it's a first magnitude spring, and manatees love the warm water at the mouth of the springhead from the Suwanee River.
It opens at 8 a.m until sundown it costs $6 a vehicle. This state park has an 800-foot boardwalk that overlooks the springs so it's also easy to see the manatees without even getting in the water.
The kayak launch area is near the northwest corner of the parking lot and you can rent a kayak if you don't have one.
The springs are also home to 5 miles of underwater caves and are a popular scuba diving location. You will also find a picnic area, tables, grills, and pavilions.
The park also offers 8.5 miles of nature trails and a safe connection to the 32-mile Nature Coast State Trail. There is much more to do here than just kayak with manatees.
A great location to really make a day of it.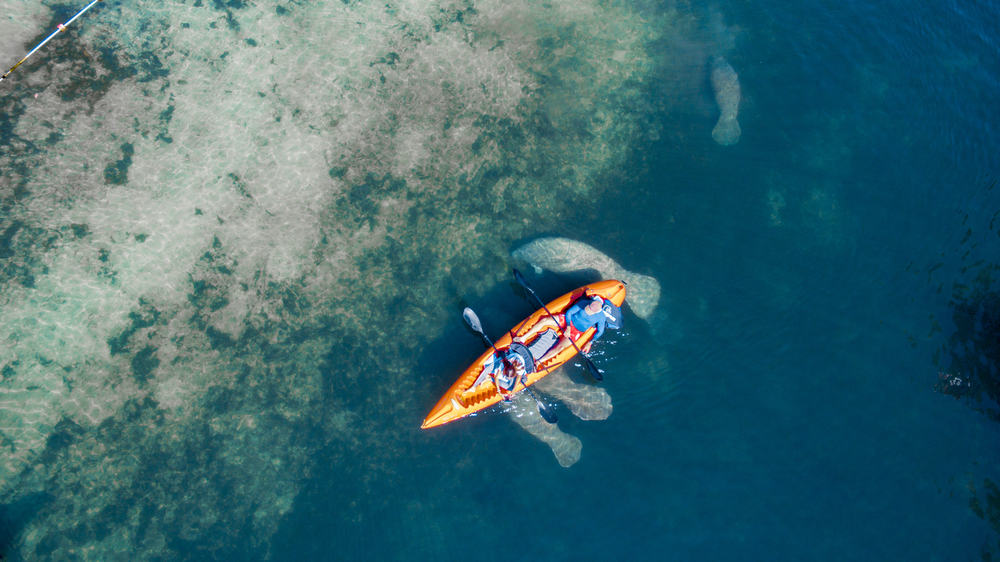 Kayaking In Lovers Key Fort Myers Beach
Despite having one of the loveseat beaches in Florida this island is a perfect place for kayaking with manatees. Manatees can be seen in the lagoons and canals surrounding the island if the water is at the right temperature.
While you can do a lot here bird watching and beachcombing to name a few we recommended you rent a kayak and enjoy the waters. The island is so secluded you can often hear the manatees communicating with each other before you actually see any.
Park rangers lead tours daily that last about three hours and this is the best way to know you are looking in the right direction. The guides will lead you to all the hotspots. Hopefully, you will see these amazing creatures playing, rolling around, and somersaulting.
You don't have to go on a tour there is a kayak launch, use the boat ramp, but we feel it gives you the best chance of seeing manatees.
This place really is beautiful and don't be surprised if you see a wedding taking place it's a popular wedding location.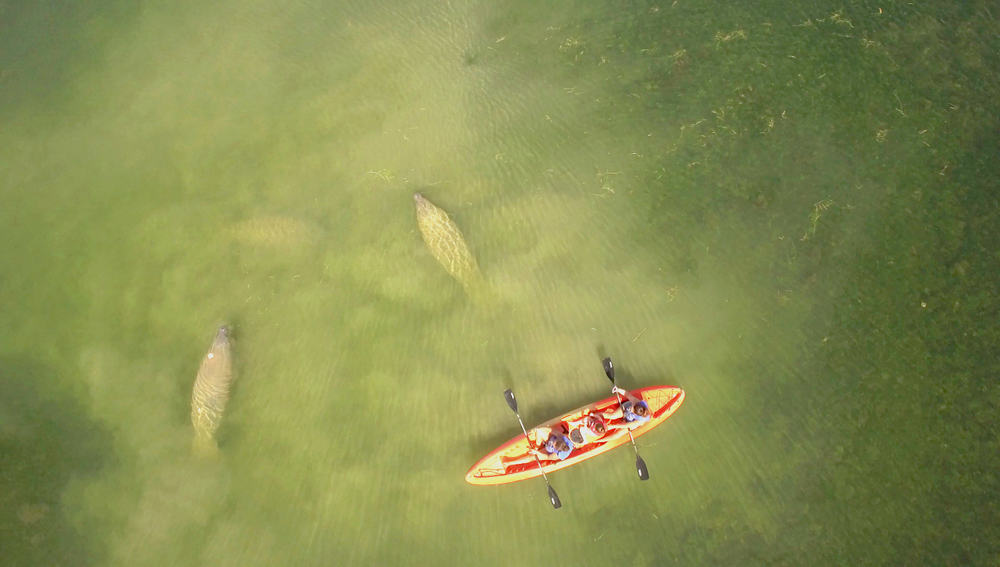 Kayaking At Weeki Wachee Springs State Park
Weeki Wachee Springs State Park is home to the deepest freshwater cave system in the country and abundant protected wildlife, including manatees.
The springs and river that feed it are beautiful and with average water temperatures in the river of 72 F, you will often see manatees in the warm waters or the clear spring.
You can see manatees at any point on the river and springhead and look out for the darker areas of the river as there are some underground springs here which the manatees love.
When kayaking with manatees here head upstream as this is where you are most likely to find them. You can launch from the spa area or rent a kayak here.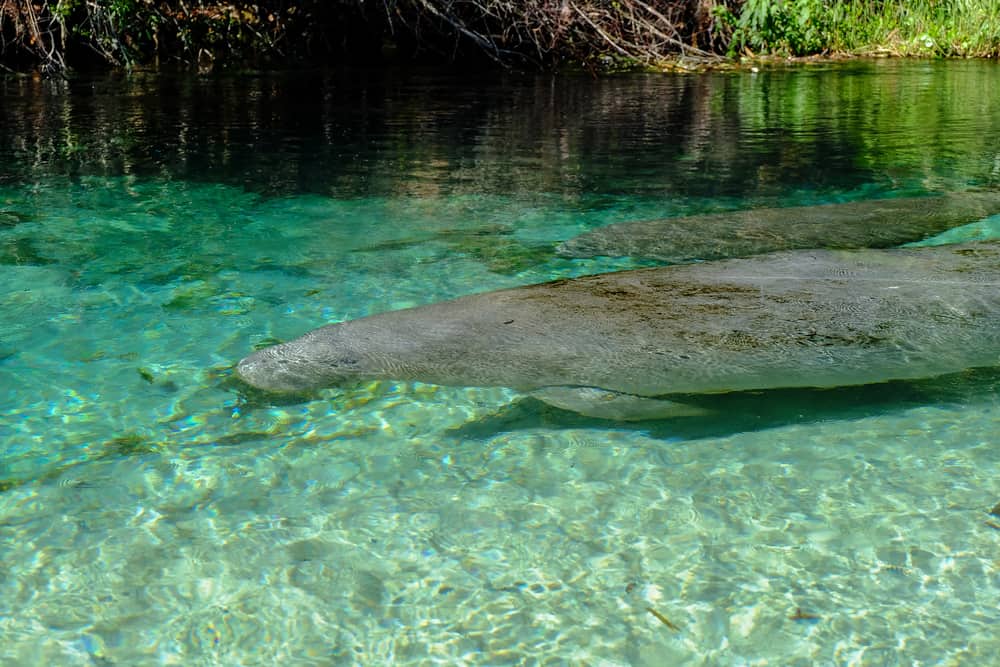 Kayaking At Tarpon Springs
In Craig Park there is Spring Bayou it's a freshwater spring that attracts manatees. The manatees are best seen here between December and March.
You can launch a kayak here along the southern bank of the Anclote River however we recommend if you can going on a tour in one of the completely clear kayaks.
Firstly completely clear kayaks need we say more but secondly, the manatees are less protected here so you don't want to do anything to disturb them. Thirdly a local guide will have much more knowledge of where the manatees are preferring to hang out at the moment.
Only 45 minutes from Tampa this is a great spot to go if you are short on time. There are also lots of things to do in Tarpon Springs so you can totally make a day of it.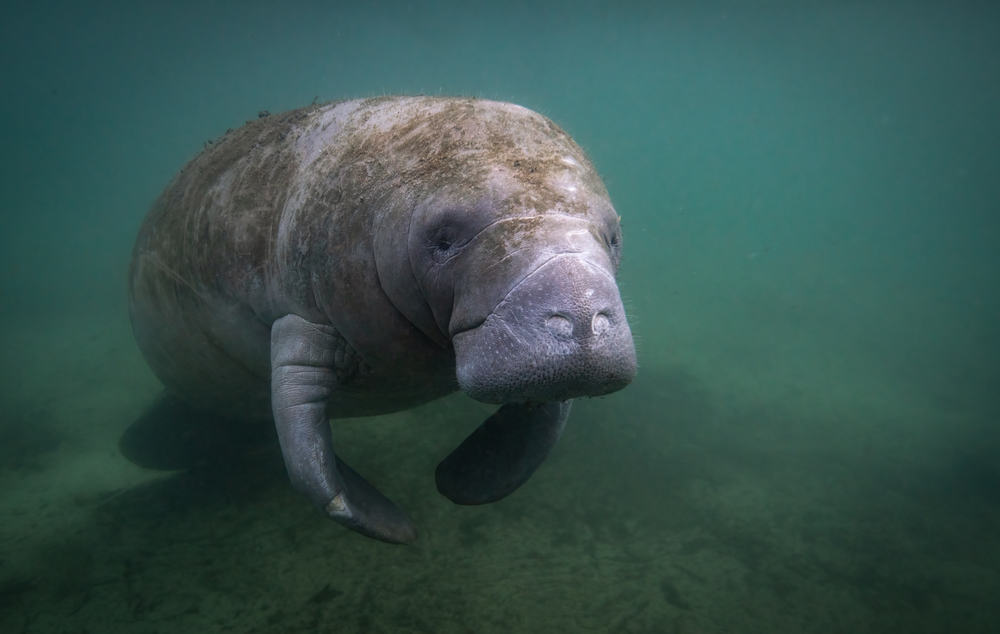 Kayaking At Ichetucknee Springs
Many think that the Ichetucknee River and Springs are some of the best kayaking in Florida. This area is just naturally beautiful and the blue-green water and lazy river are just so relaxing. It's a real tropical paradise.
No one told the manatees though and while you can kayak with manatees here we can't guarantee you will see one wherein some of the other locations you almost definitely will.
The river is fed by nine springs and the current is gentle making it great for tubing in the summer and kayaking in winter months where you might spot a manatee.
It's a beautiful three-mile paddle from the northern to southern point. If you are patient and lucky you will see a manatee or two but don't expect the numbers you get elsewhere.
Whether you see an elusive manatee or not you won't be disappointed as the other wildlife is much easier to spot in the quieter winter months.
If you have never kayaked before this is a great place to start the water is crystal clear, there are no barriers along the way and the current is swift enough to carry you without scaring you.
Bring your own canoe or hire one. You will need to park in the southern part of the park and you will be shuttled to the northern starting point.
If you want to chance to see a manatee in a beautiful location then this is for you.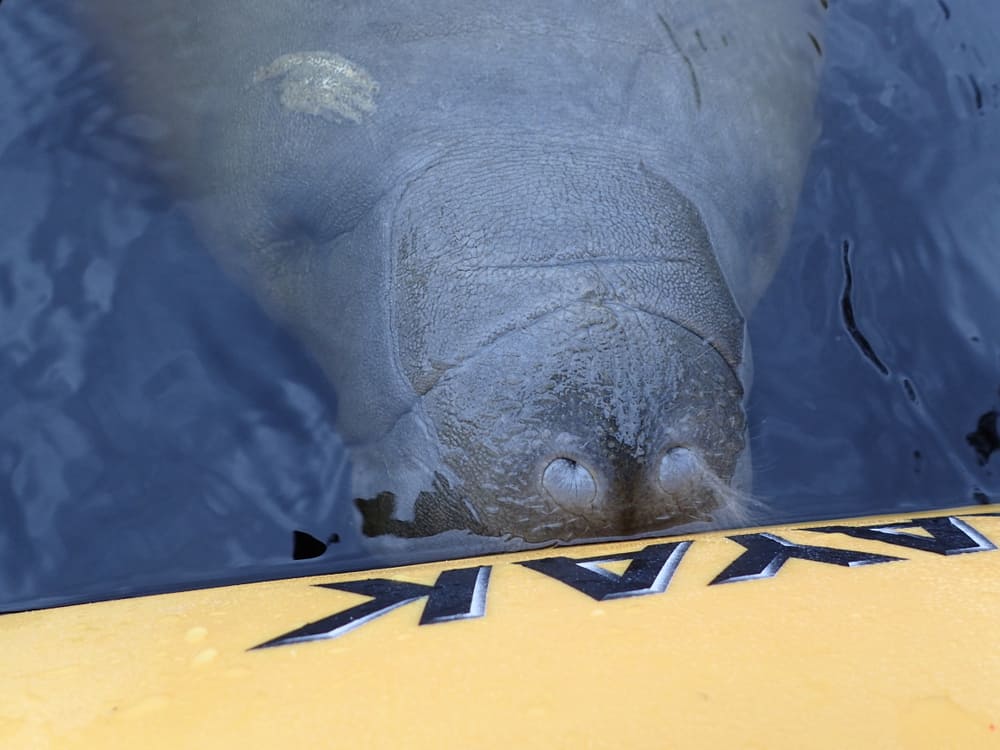 As you can see there are many places to kayak with manatees in Florida. There is nothing like seeing these gentle giants in the wild.
Manette kayaking in a once in a lifetime experience, it is a special privilege that we hope you get to experience. Please come back and tell us all about it. We would love to know how kayaking with the manatees went for you.